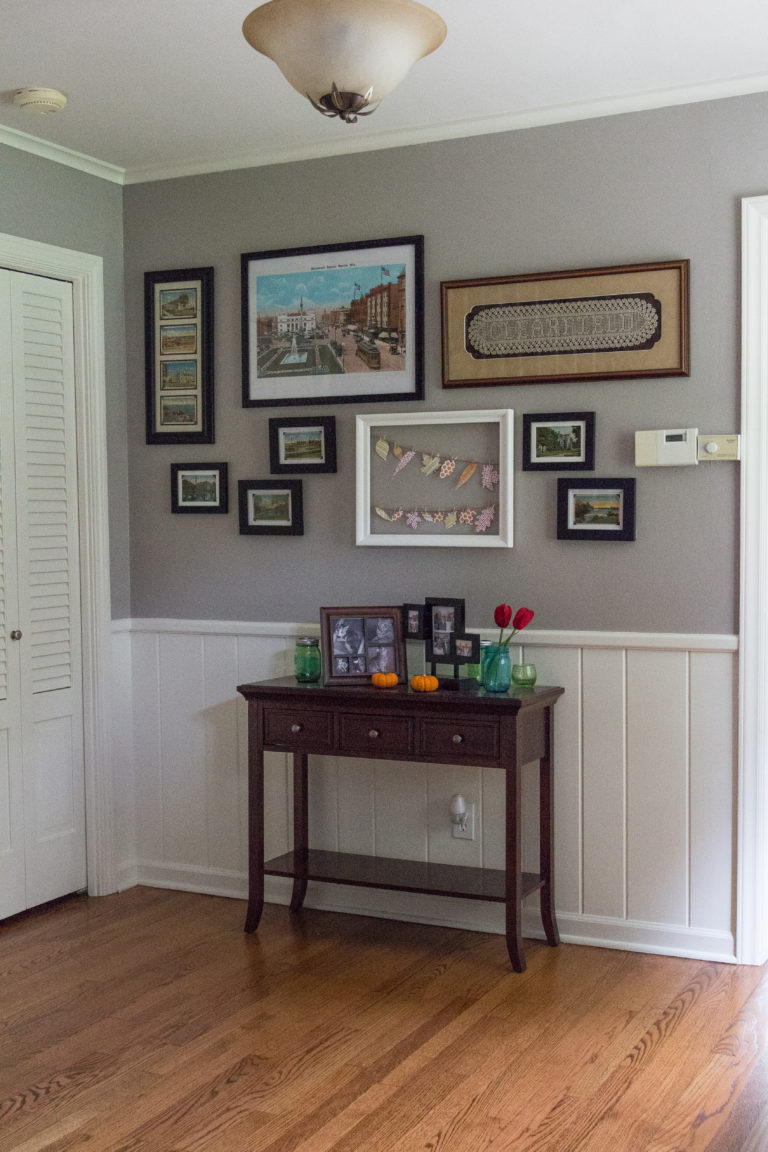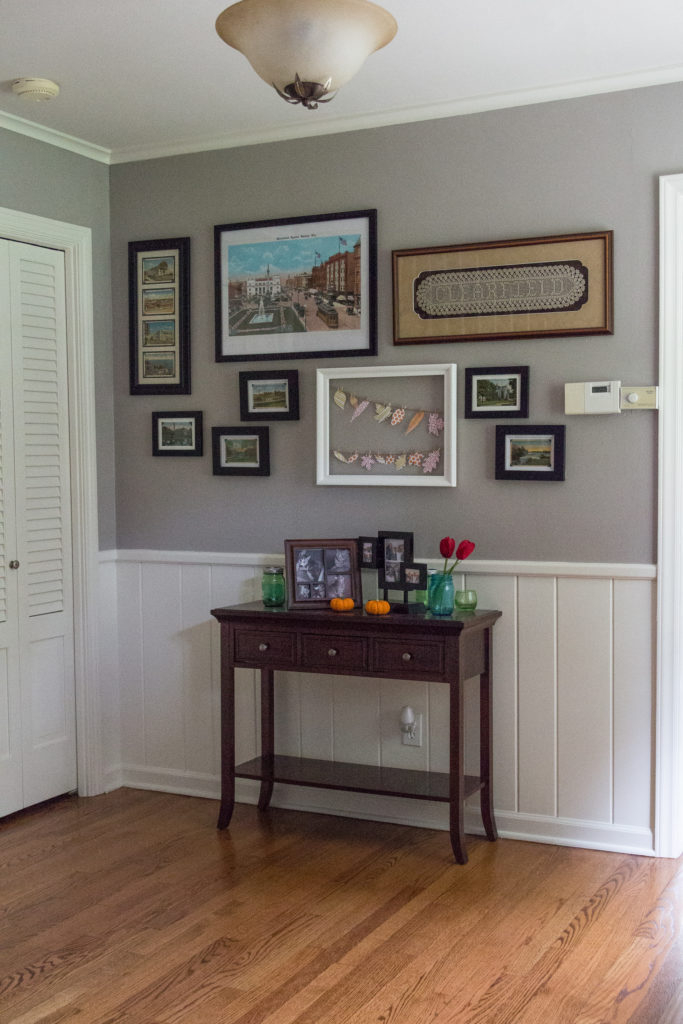 Today I'm sharing a tour of our entryway. We're blessed with a generous entryway space in our home. It's so nice when people come over or we're getting ready to go somewhere not to be crowded into a tiny space, which happens so often because it seems like there's never enough room in the entryway. There is definitely enough room in this entryway, which is awesome. In our previous residence, we had a lovely three-season room entryway, which I did decorate. I've expanded on those decorations and also added some furniture for this entryway.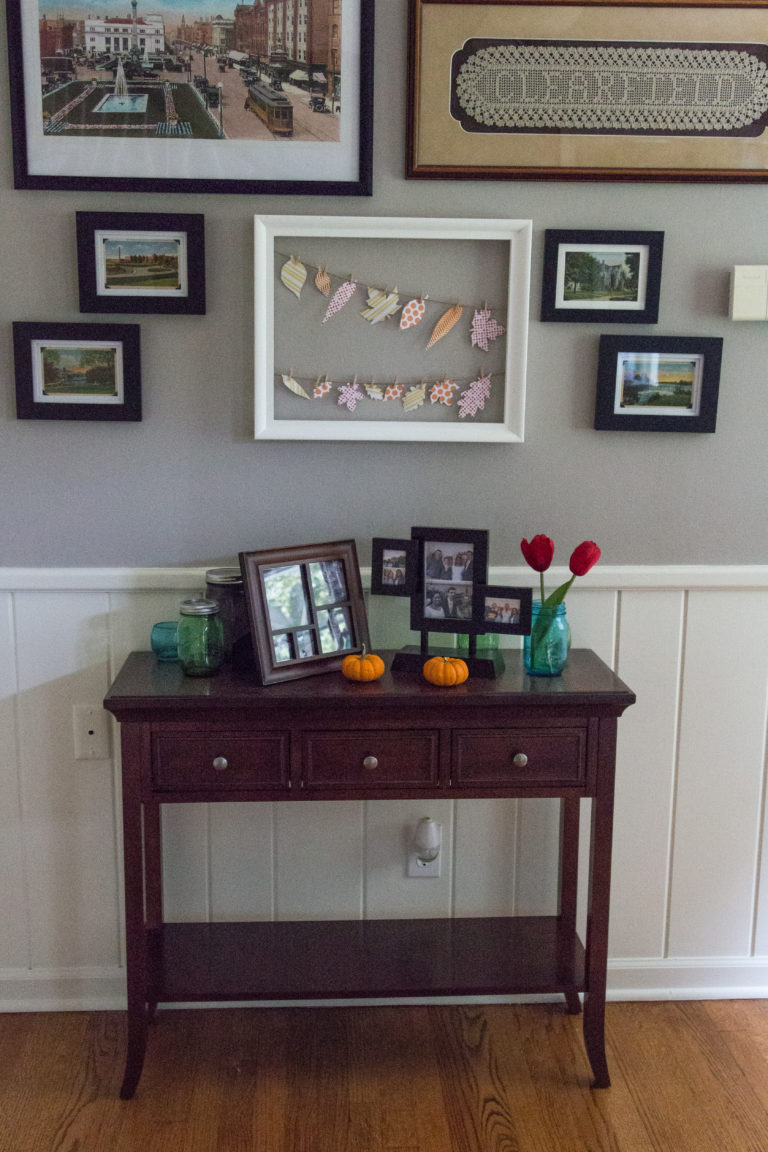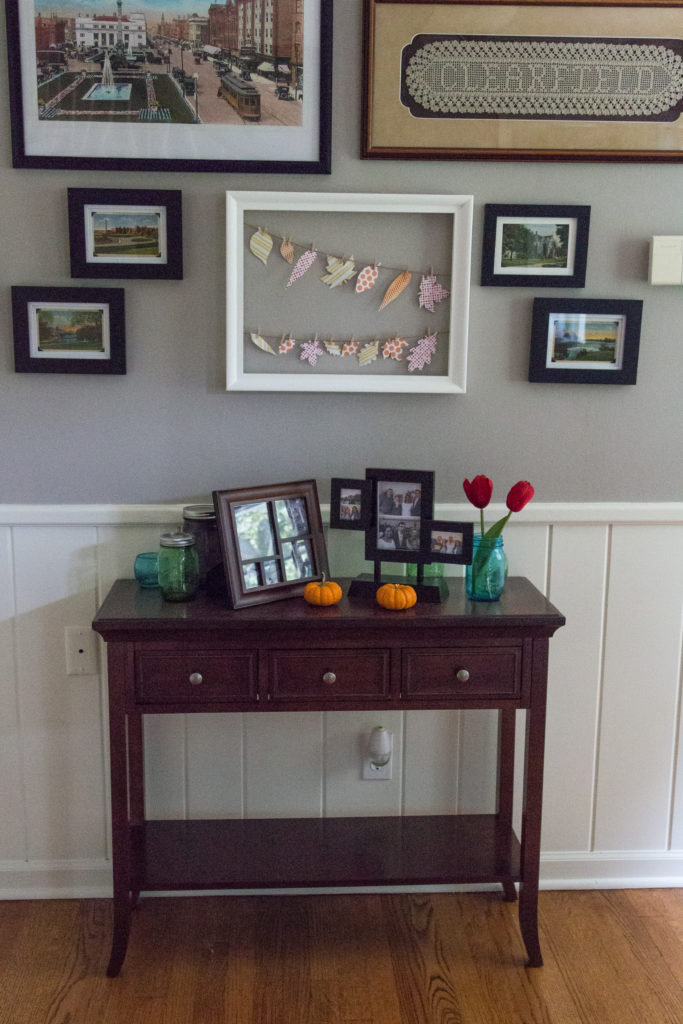 The entryway started with the "Clearfield" frame, open white frame, and Monument Square print. We received the "Clearfield" frame as a wedding present and finally have a place to display it where everyone sees it when they enter the house. I made the open white frame right before we moved. We received the frame with a canvas print as a gift that we hadn't asked for…and never displayed. I removed the canvas, painted the frame white, and strung up the twine. I switch out the items in the frame for different seasons and holidays. The leaves template is available right here.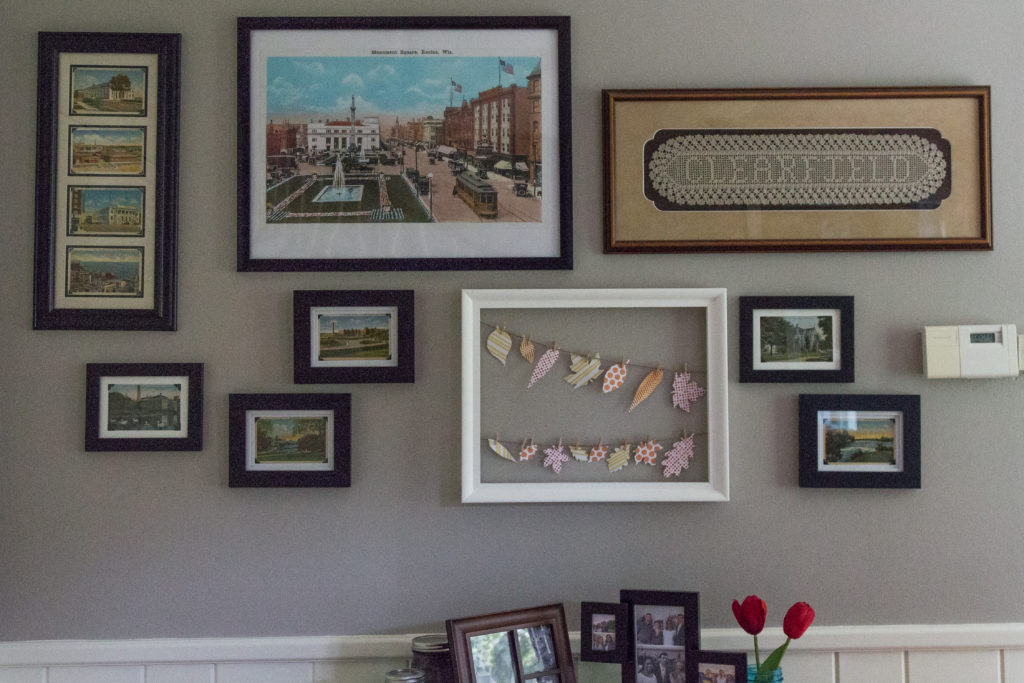 While were living in Milwaukee, I designed a Milwaukee gallery wall. I still have all of those prints up around the house (and will be sharing them in future room tour posts). But I wanted some prints for the entryway more centered around the new location. The Monument Square print is a reprint of a vintage postcard, and it got me searching for more vintage postcards. (It also led to me finding the lighthouse print for the guest bedroom.) I've since hunted down several dozen Wisconsin postcards and again, will be sharing more of them in future posts.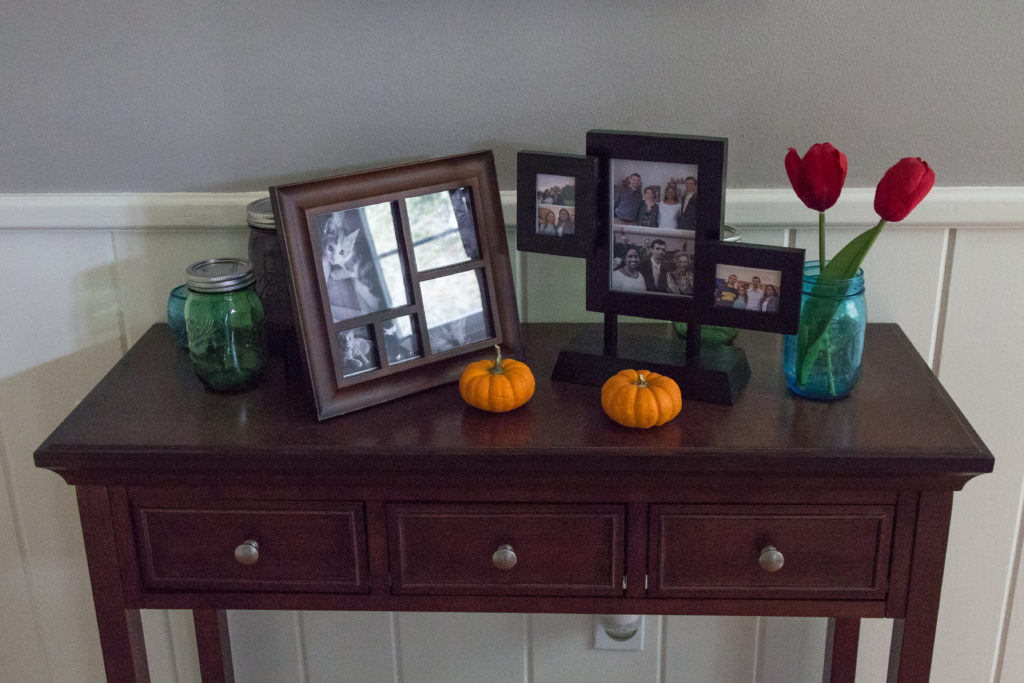 Both of the frames on the console table were gifts. None of the openings are standard so it's a pain formatting, printing, and cutting images for them. The last time I'd switched out the pictures was when we were showing our Iowa condo (2011). Needless to say, I was way overdue to switch them out again. The frame on the left is black and white prints of our boys and Angel. The frame on the right is pictures of us with our good friends Joe and Melitta.
I mentioned in my kitchen art tour that I split up my glass jars throughout the house. Since we've lived here, I've added a few new pieces, too. I bought the mini pumpkins for my pumpkin muffins post and am now enjoying them in the living room and kitchen.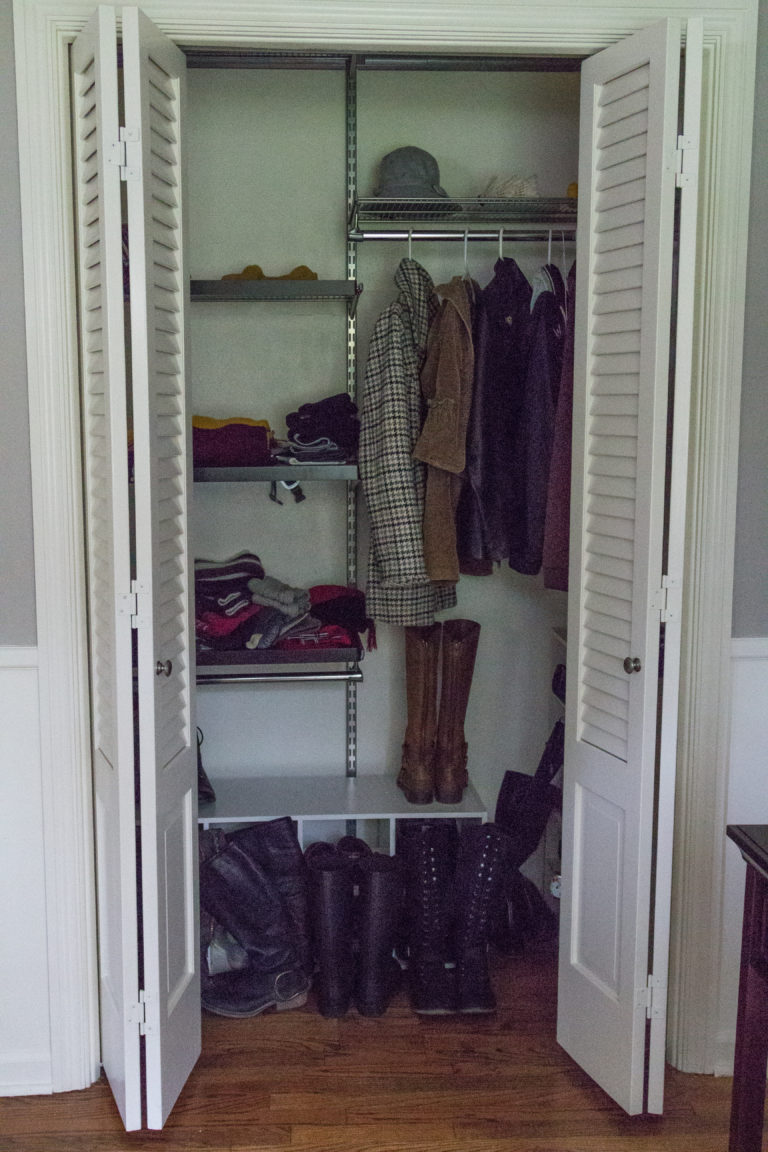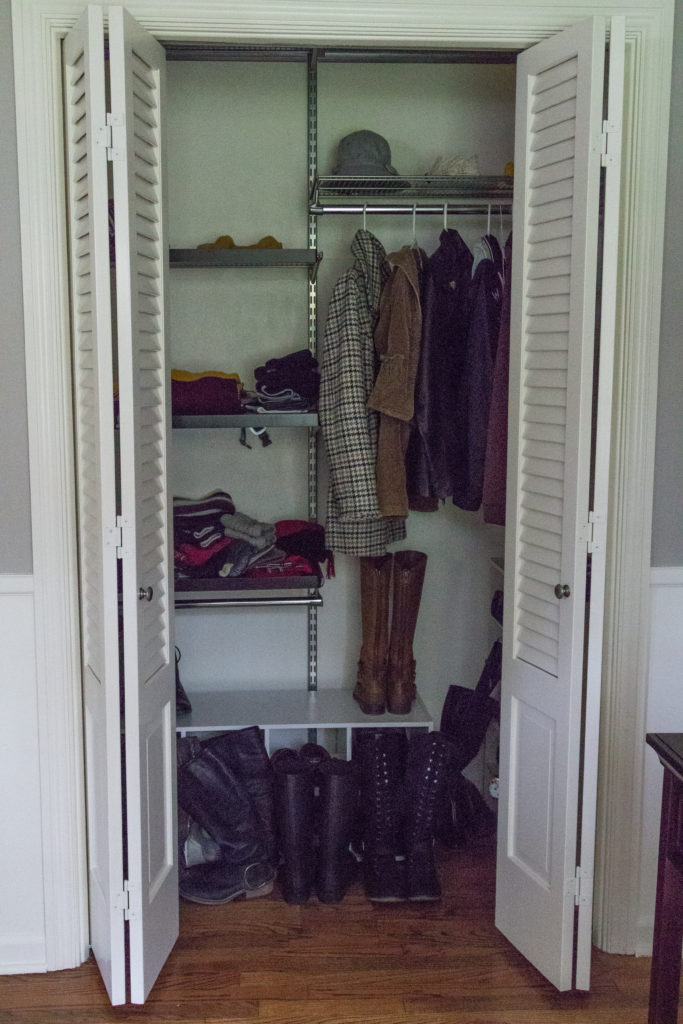 The coat closet isn't very exciting, but it's very functional. It was in need of a coat of paint so I gave it a fresh coat of my default neutral for this house: Baby Chick by True Value. The previous owners picked the gray and white shades in the room, which we really like and aren't going to change anytime soon.
Since I had to take out all the shelves and hanging bar, I used the opportunity to rearrange them and bring in my two shoe racks from our previous residence. I also keep some footwear in an upstairs closet and switch out items for different seasons. At some point, I may try to keep more footwear upstairs year round so this closet isn't quite so full. But for now, this system has worked okay. Jake keeps most of his footwear and outerwear in the mudroom by the back door. When we have a lot of company, I move my coats into the laundry room.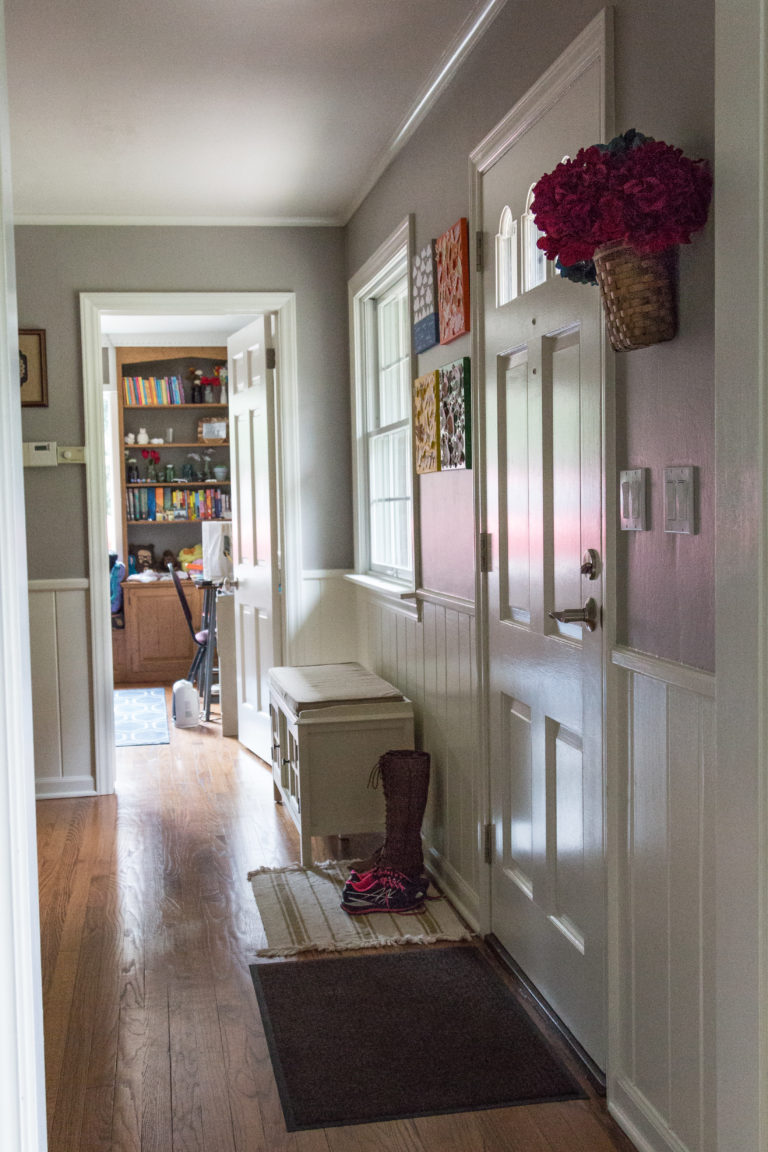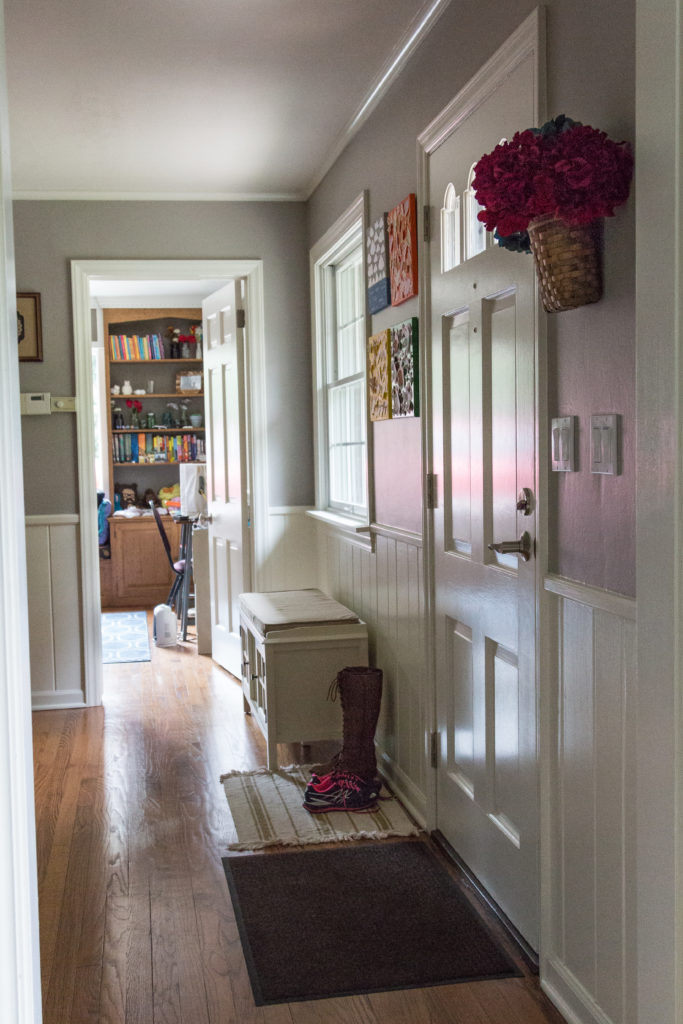 Before we moved, I almost ditched the wooden basket because I had no idea what to do with it. (It was another random gift.) Somehow inspiration struck at the last minute, and I picked up some silk flowers for it. Perfect. I have a tiny "home sweet home" cross-stitch to hang up under the flowers. Of course, I forgot about it before this shoot. #fail There's always something. You can see my office to the right of the entryway. I still have a couple bigger projects to tackle before I give a full reveal of the office, but I'm so excited to start showing off little bits of recent progress.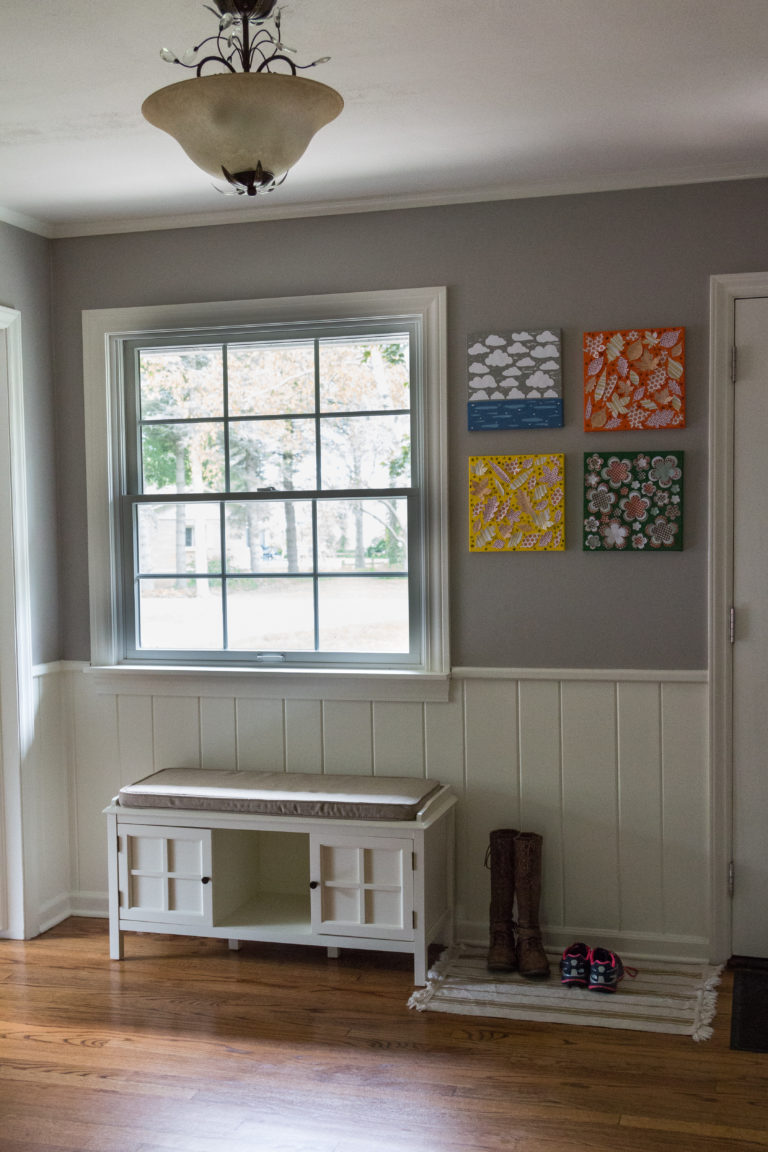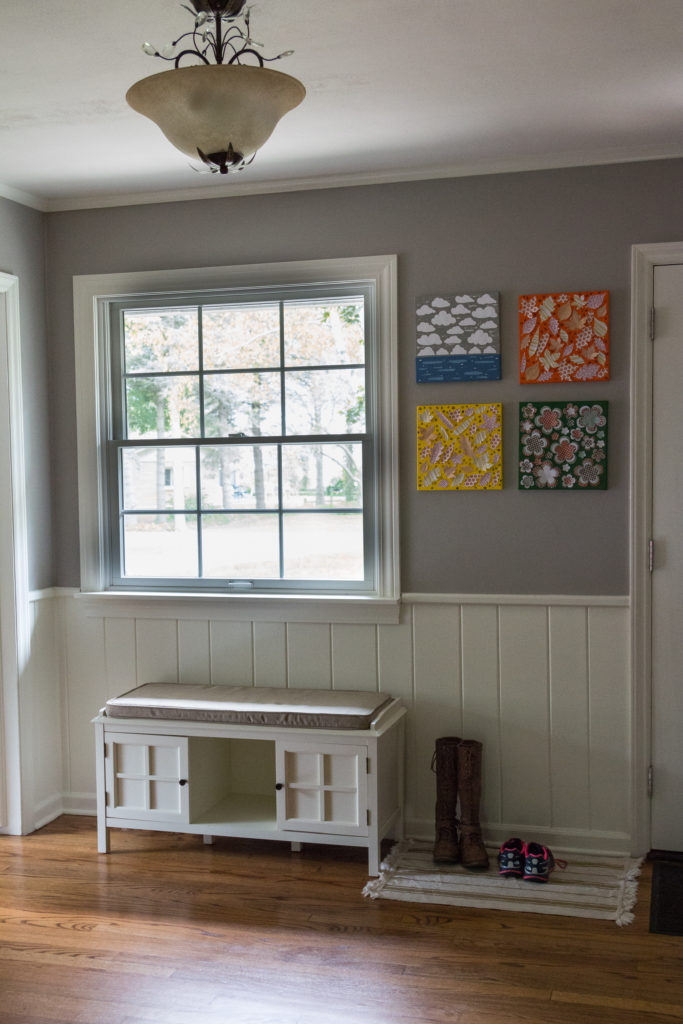 I made the canvas art. I switch it out for different seasons and holidays. Currently, I have about nine canvases. I may add a few more this year, but a dozen will be more than sufficient to keep the space fresh and fun. Not surprisingly, the bench cubby is a very popular cat hang out. I'm displaying my two current favorite footwear items, which you can find here and here.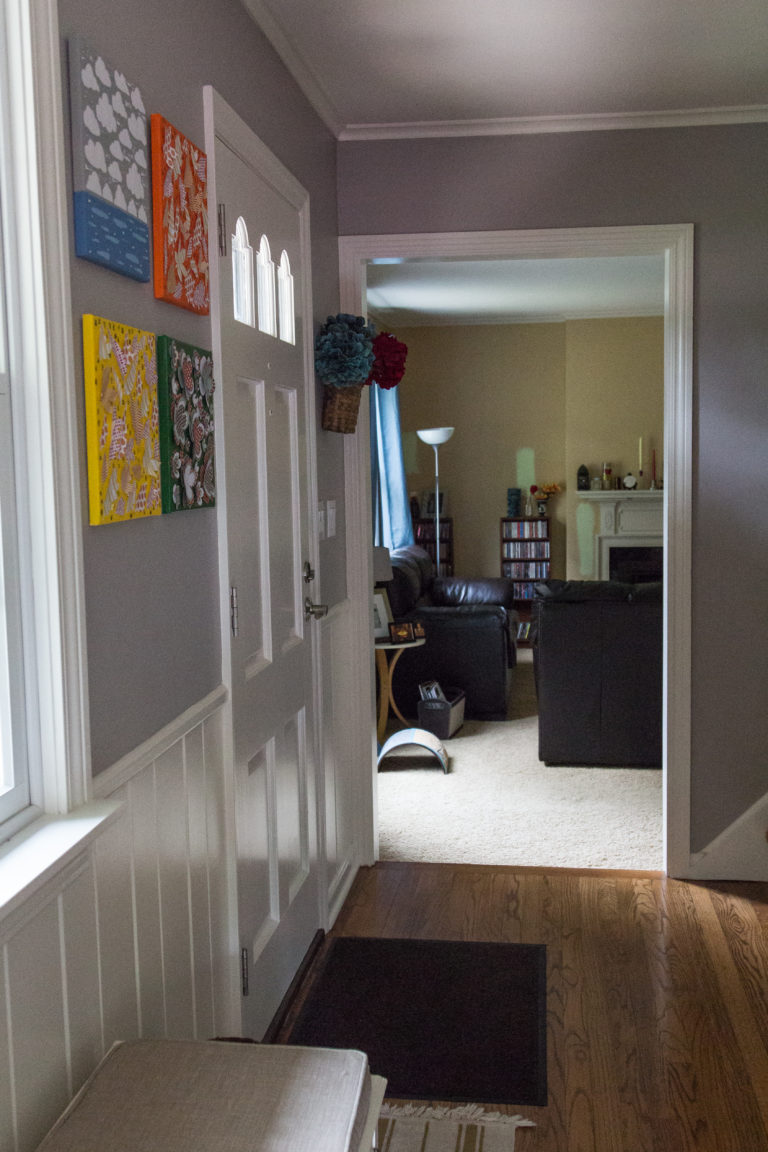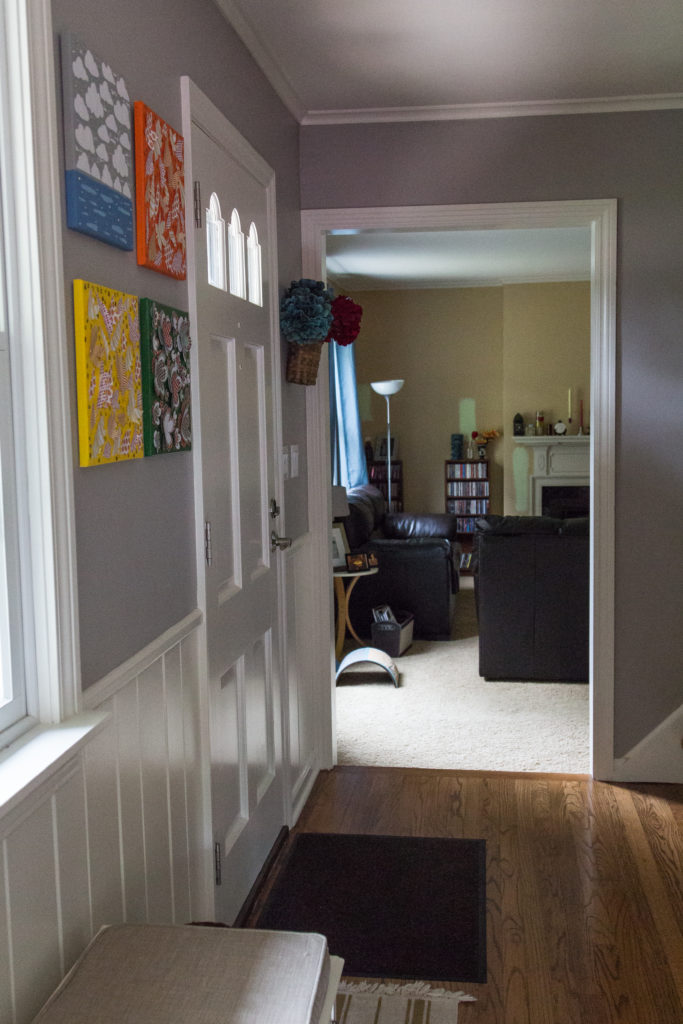 Finally, you can see the living room to the left. I'm going to paint it, and then we'll get some frames on the walls before I show off the room in full. We have settled on the light green color you can see sampled to the left of the fireplace. I'm so excited to lighten up the space and put up some art.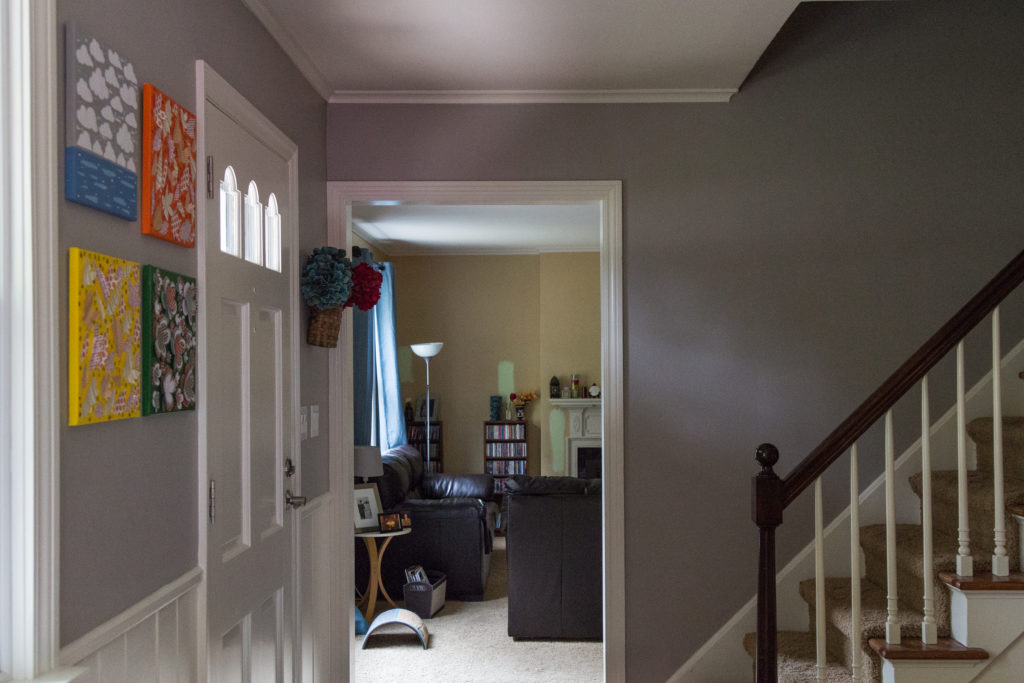 Sources:
Console table: Target
Bench: Target (shell)
Throw rug: IKEA
Doormat: Menards
Monument Square print: AllPosters
"Clearfield" frame: Wedding gift
Seasonal / holiday canvas art: DIY
Seasonal / holiday open frame: DIY
Silk flowers: Michaels
Glassware: Crate and Barrel, Michaels, and World Market. The glass votives were a seasonal item. You can always find Ball jars at Michaels and World Market.
I've bought most of my vintage postcards through CardCow. I've also picked up a handful of cards from Etsy and eBay sellers. The postcard and large print frames are from Michaels. The other frames in this space were gifts.
I also have home tours of our guest bedroom, kitchen art, and powder room. Check them out if you haven't already! I'll continue to share one or two home tours monthly.
Anyone else tackling home projects lately?
Save
Save
Save