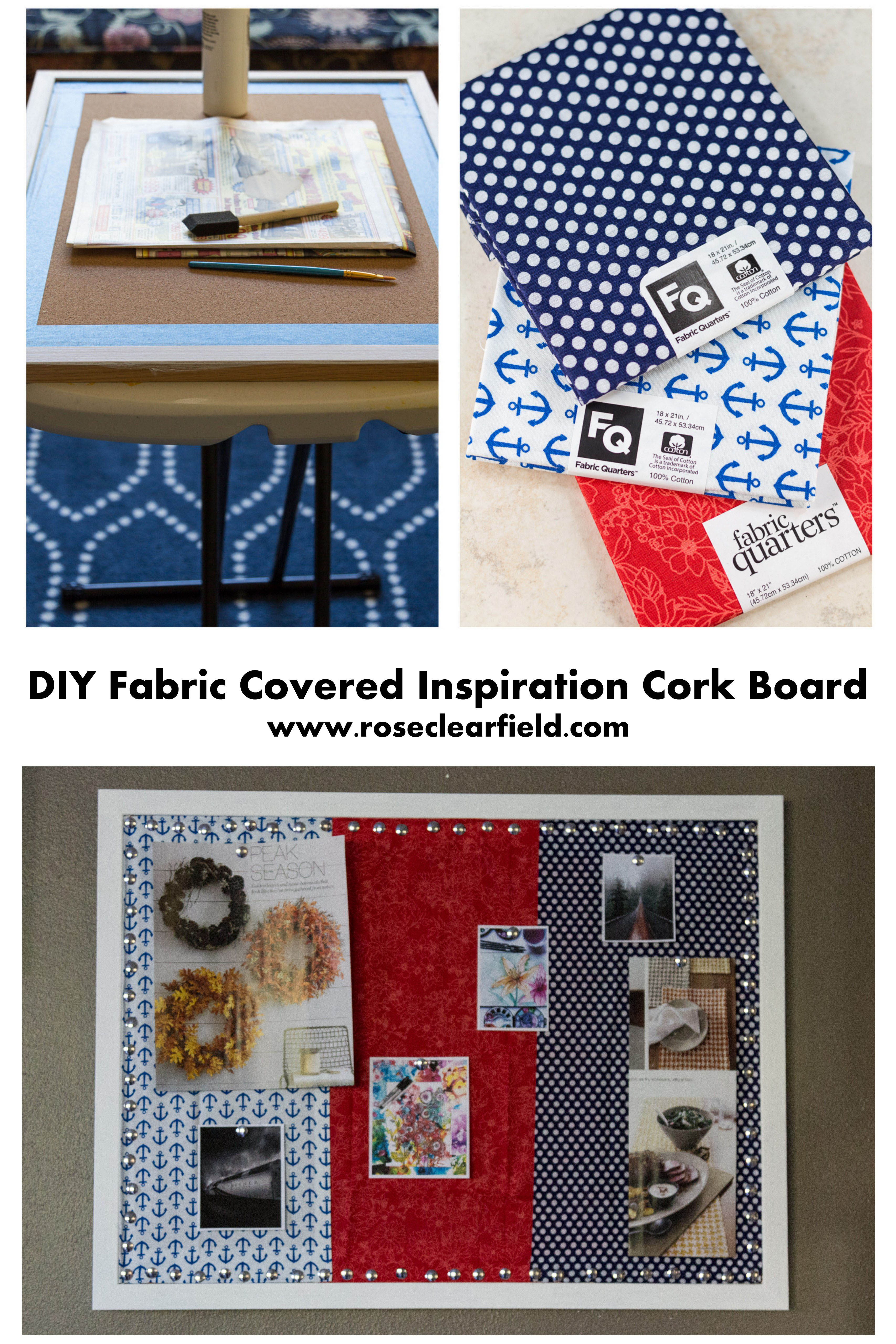 In an age of Pinterest, smartphone cameras, and numerous note taking apps, it's easier than ever to save inspiration on the go. These resources are great for recording inspiration and logging ideas to refer back to later. But there's nothing quite like creating a real life board. A fun fabric covered inspiration cork board serves as the perfect place to save ripped out magazine and catalog pages, quick camera roll and Instagram feed printouts, paint chips, and virtually anything else that speaks to you that you can look at in your office or studio.
A real life inspiration board can be as simple as a plain bulletin board or magnetic board. Of course, I had to decorate my board a little bit. This tutorial inspired my board. I love the look with the fabric and push pins. I put my own spin on the cork inspiration board and am sharing it here today.
Materials for the Fabric Covered Inspiration Cork Board
18″ x 24″ cork board – Office Depot, $26.49 (You may be able to get a board for less at Michaels, Hobby Lobby, or Jo-Anns with a coupon.)
Fabric in the colors and patterns of your choosing – I bought three fat quarters from Jo-Anns, $2.49 each (I'm sure that many of you reading this post already have fabric on hand. I don't keep fabric stocked at home so I buy what I need for specific projects. The size of the board will dictate the amount of fabric you need. If you choose to cover the frame, make sure to factor in the extra fabric.)
Thumb tacks, 100 count – Office Depot, $2.49
Acrylic paint in the color of your choosing – I had it on hand, but you can buy it at any big box store or big box craft store for about $1.50
Two sawtooth hangers or other hanging hardware – I had them on hand, but you can buy them at any big box store or hardware store for about $3.00
The other supplies you'll need are a large pair of fabric scissors, painters tape, a hammer, and a small paintbrush, all of which I already had on hand.
Step-by-step instructions
Here's my bulletin board, straight out of the packaging. You can see exactly where the label was situated under the plastic. So it's just as well I was planning to cover it.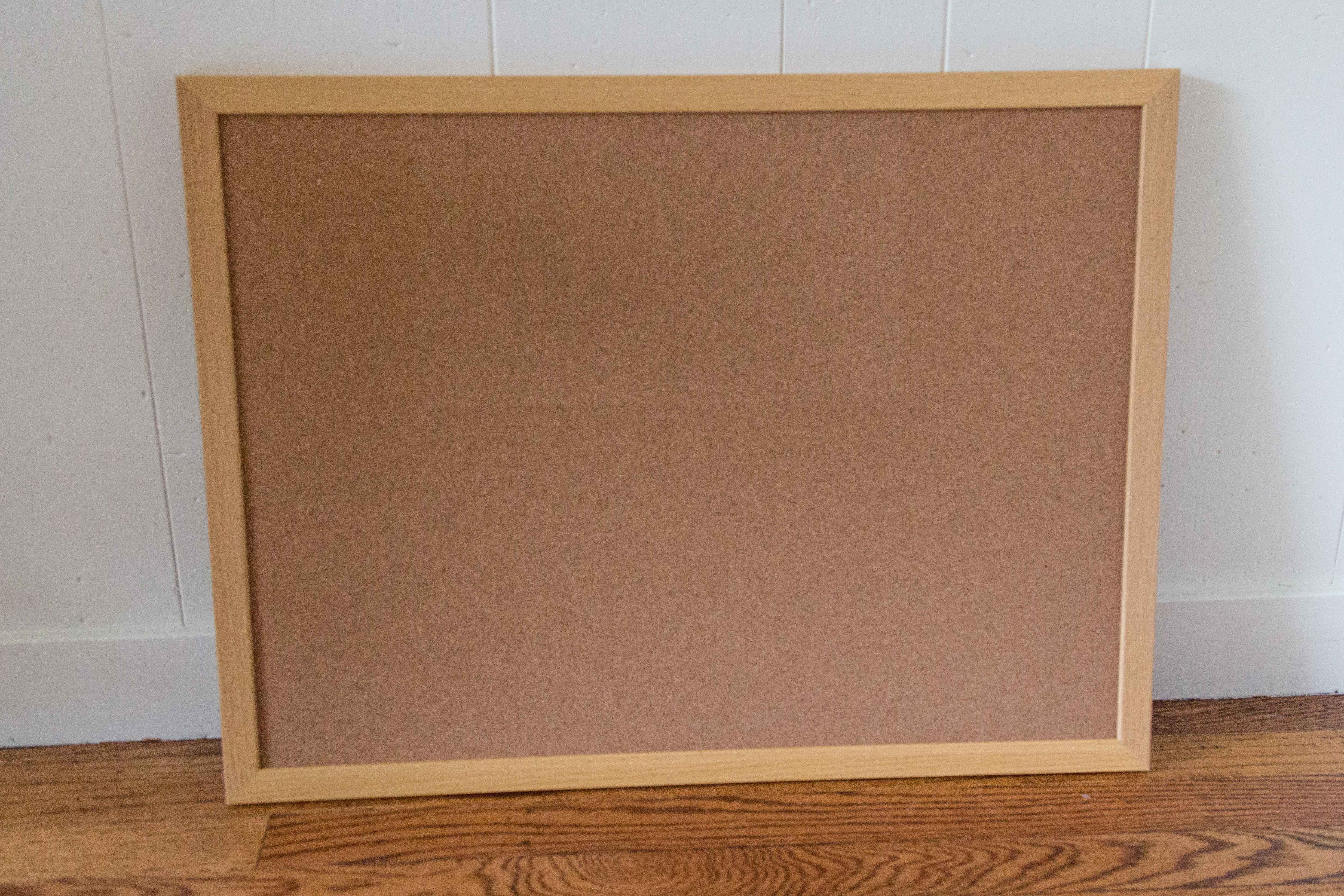 If you're going to paint the frame, tape off the frame with painter's tape.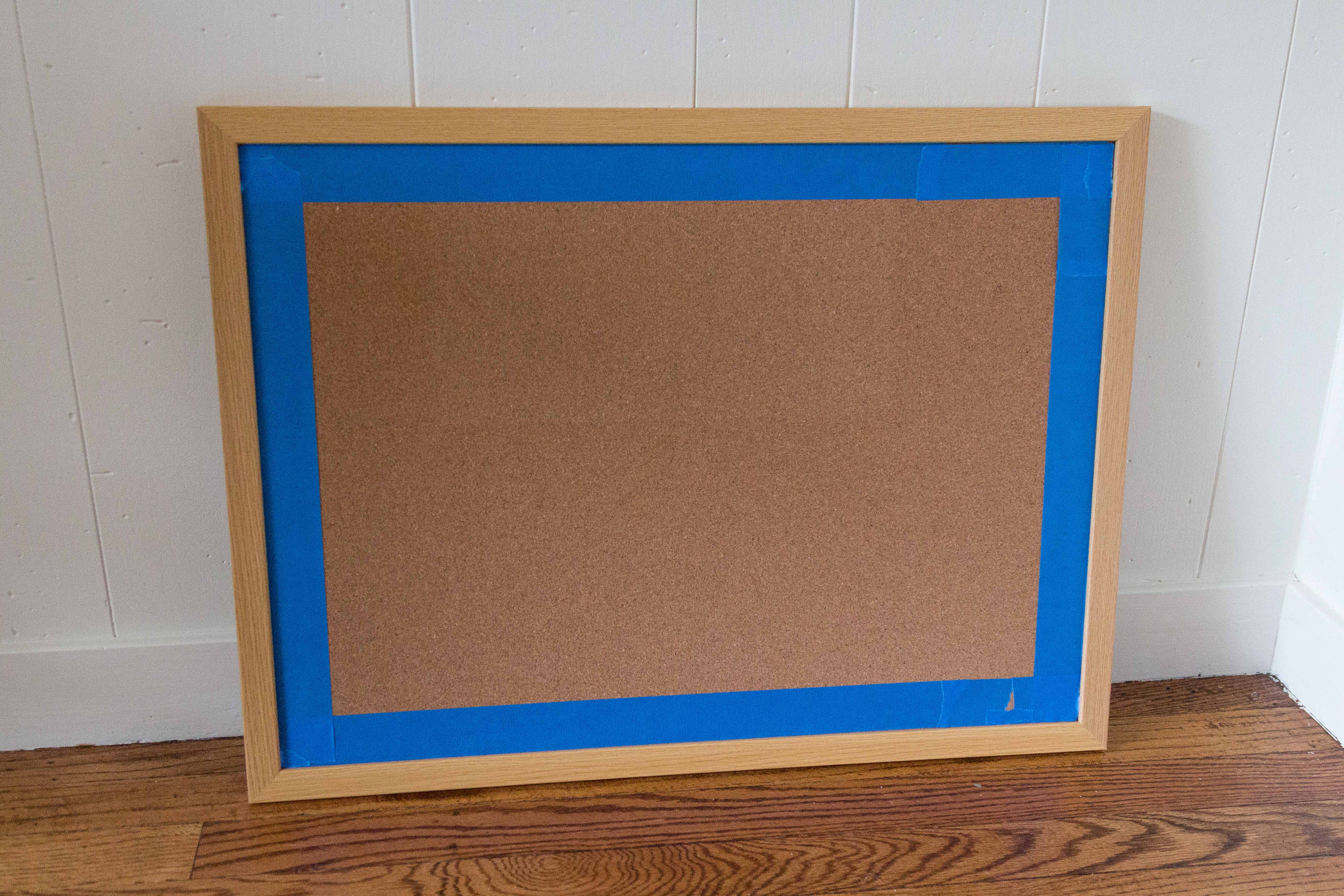 Paint the frame with acrylic paint. Depending on the color of the paint, most likely you'll need to do at least two coats.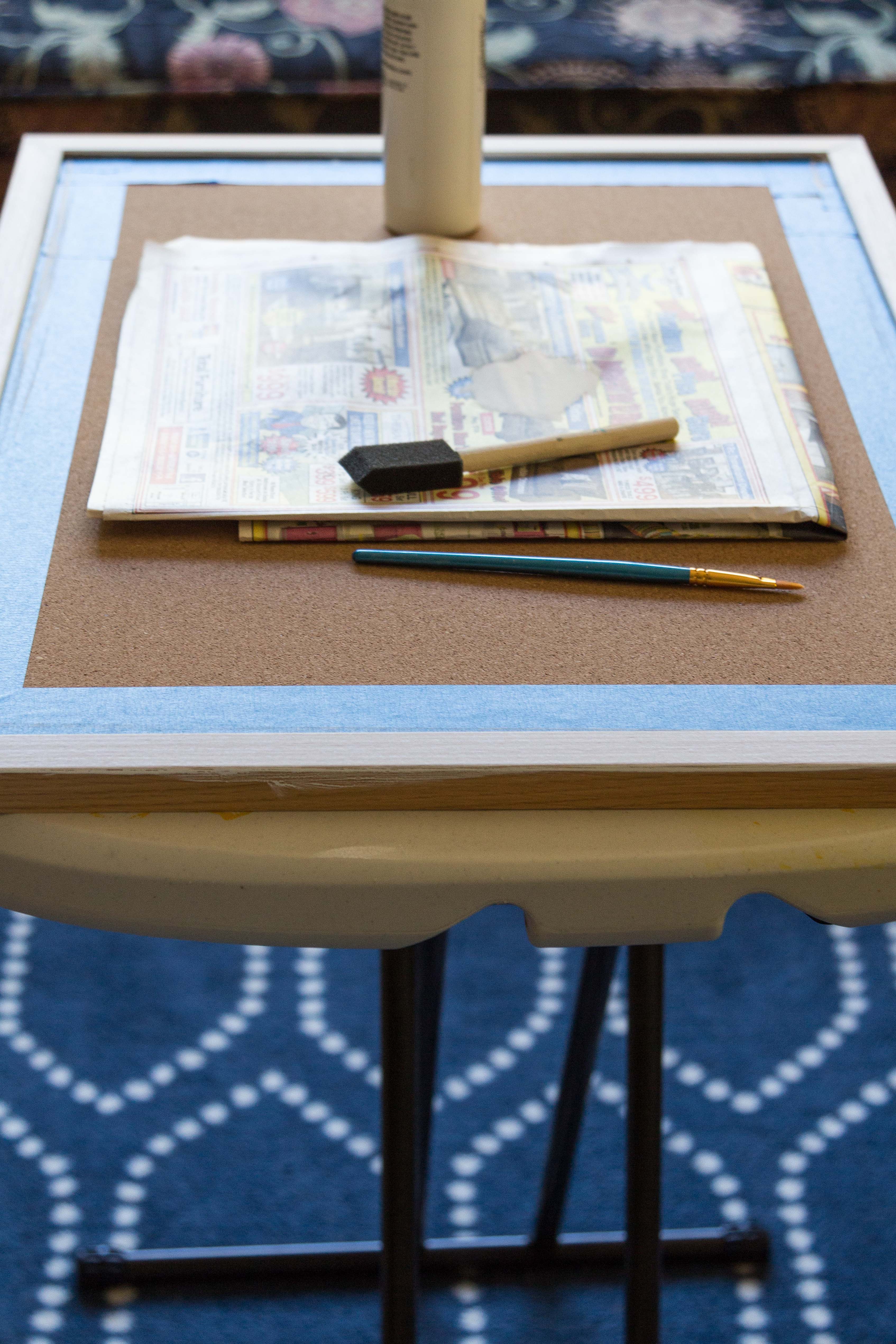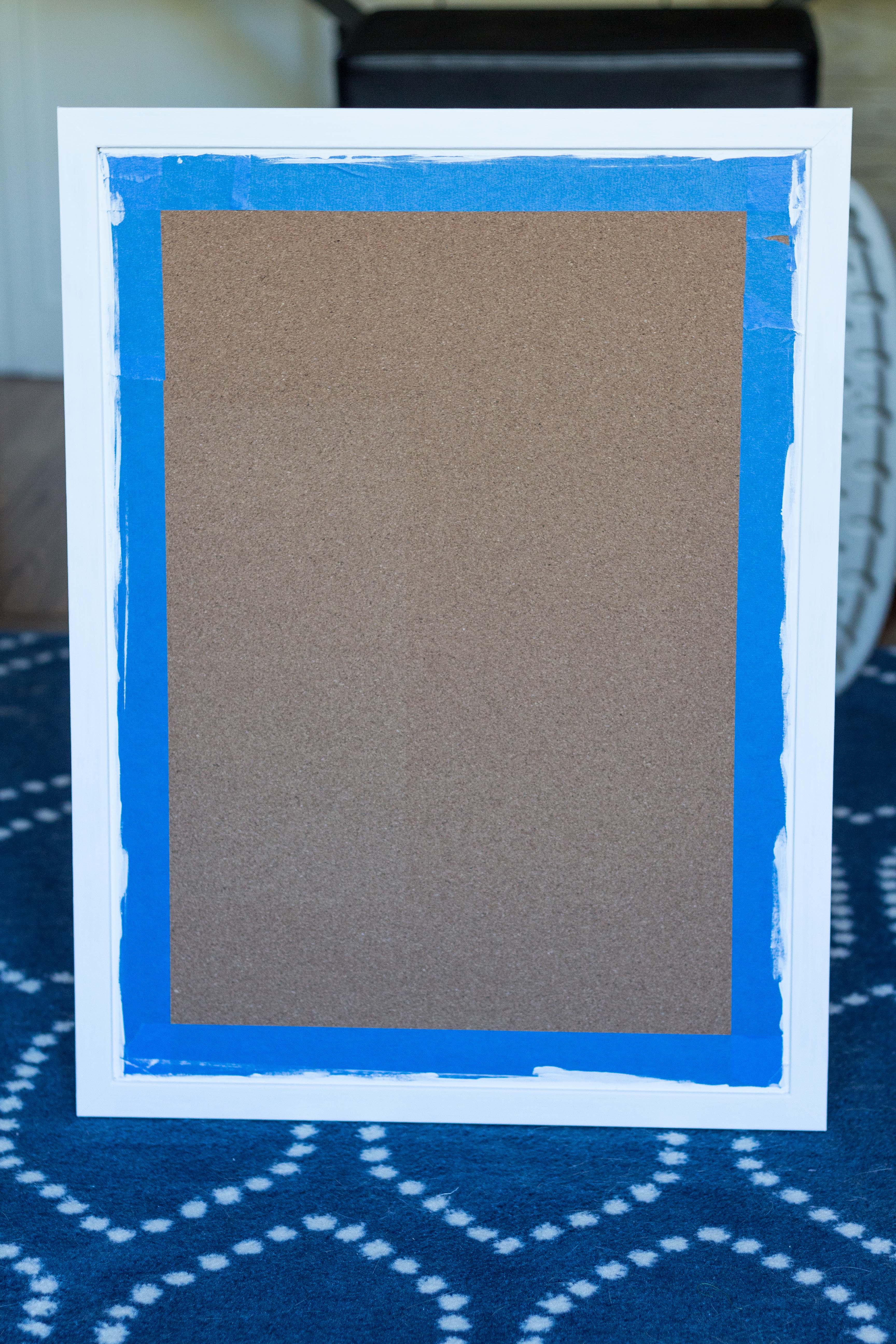 Remove the painter's tape. As you can see, I pulled off a tiny piece of the cork. Since you're planning to cover the cork with fabric, it's not a big deal if this happens.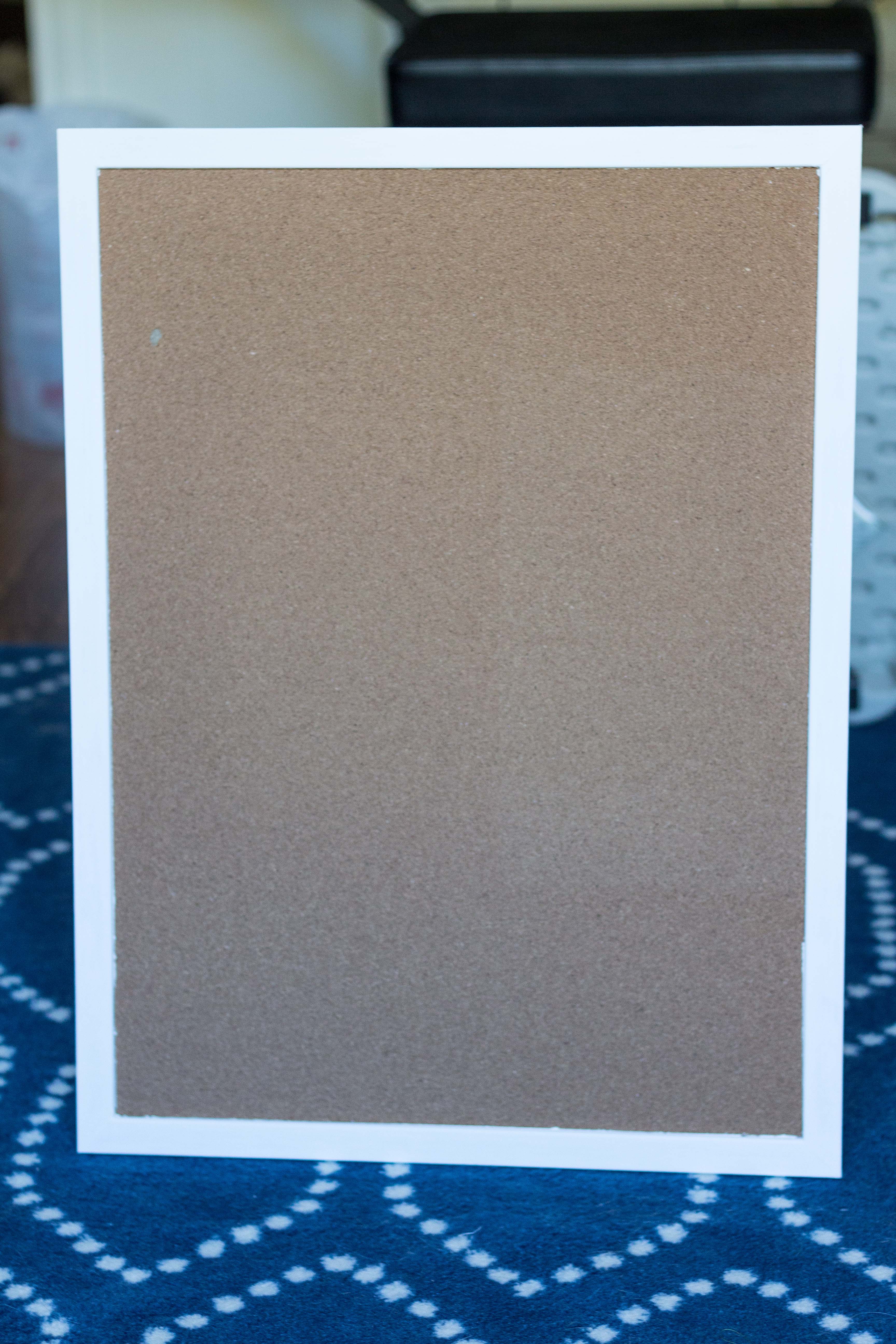 Lay out your fabric. I hate ironing and didn't iron my fabric (no judgment if you make the same decision). A quick iron will smooth out any fold lines and wrinkles. If you don't iron your fabric, your inspiration items will help hide the lines and wrinkles. Cut the fabric to size, leaving a little extra around the edges. You'll fold it under when you secure it so the edges are flush with the frame.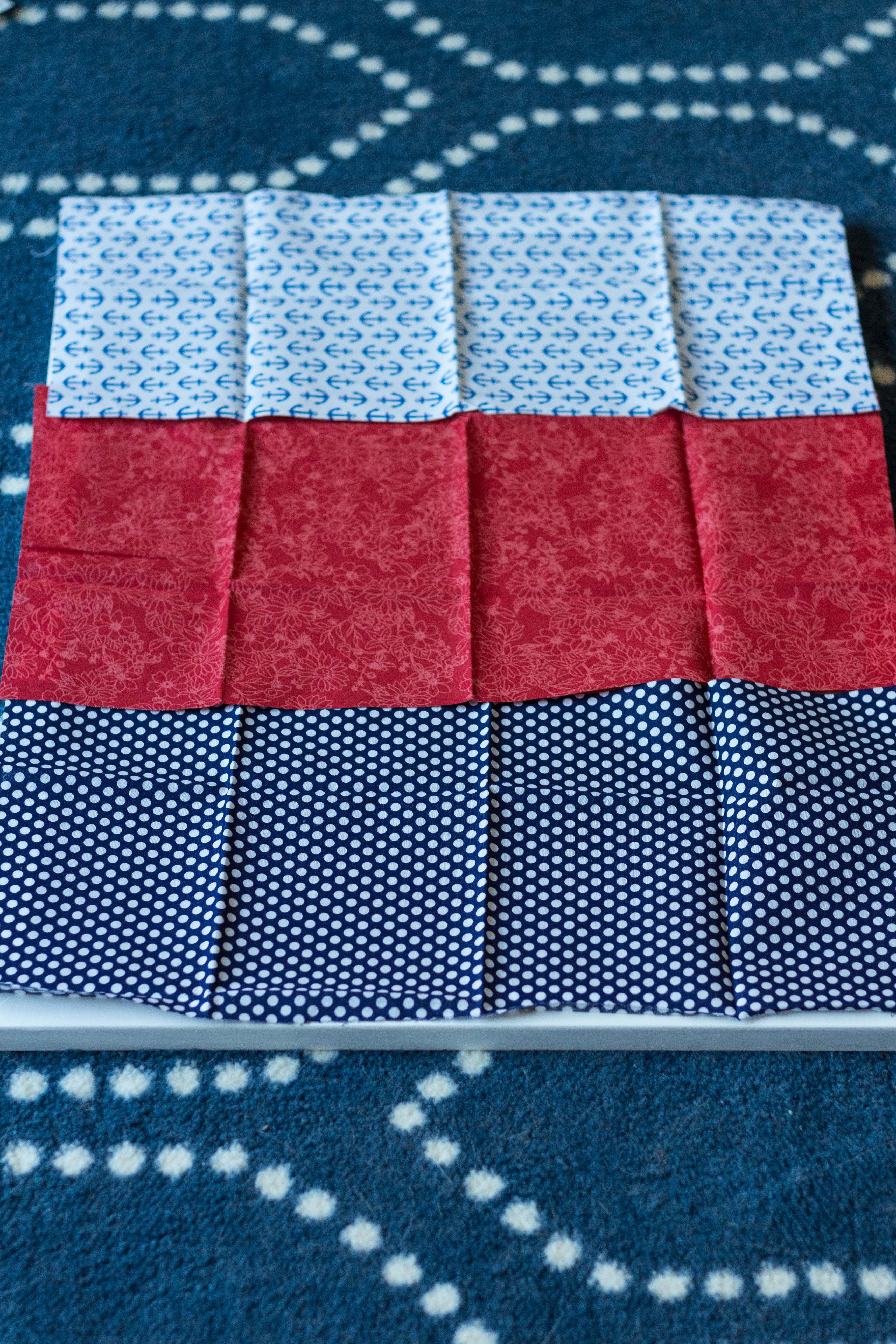 Some decorated cork board tutorials involve gluing down the fabric. As I wasn't going to cover the frame, I decided it would be easier to secure the fabric with the tacks. This method also gives you more flexibility to adjust the fabric as needed to get placed just right. When you're happy with the layout, begin tacking down the fabric. I worked slowly, folding the fabric under around the edges and overlapping the three pieces slightly. Again, you can remove the tacks and adjust it as needed.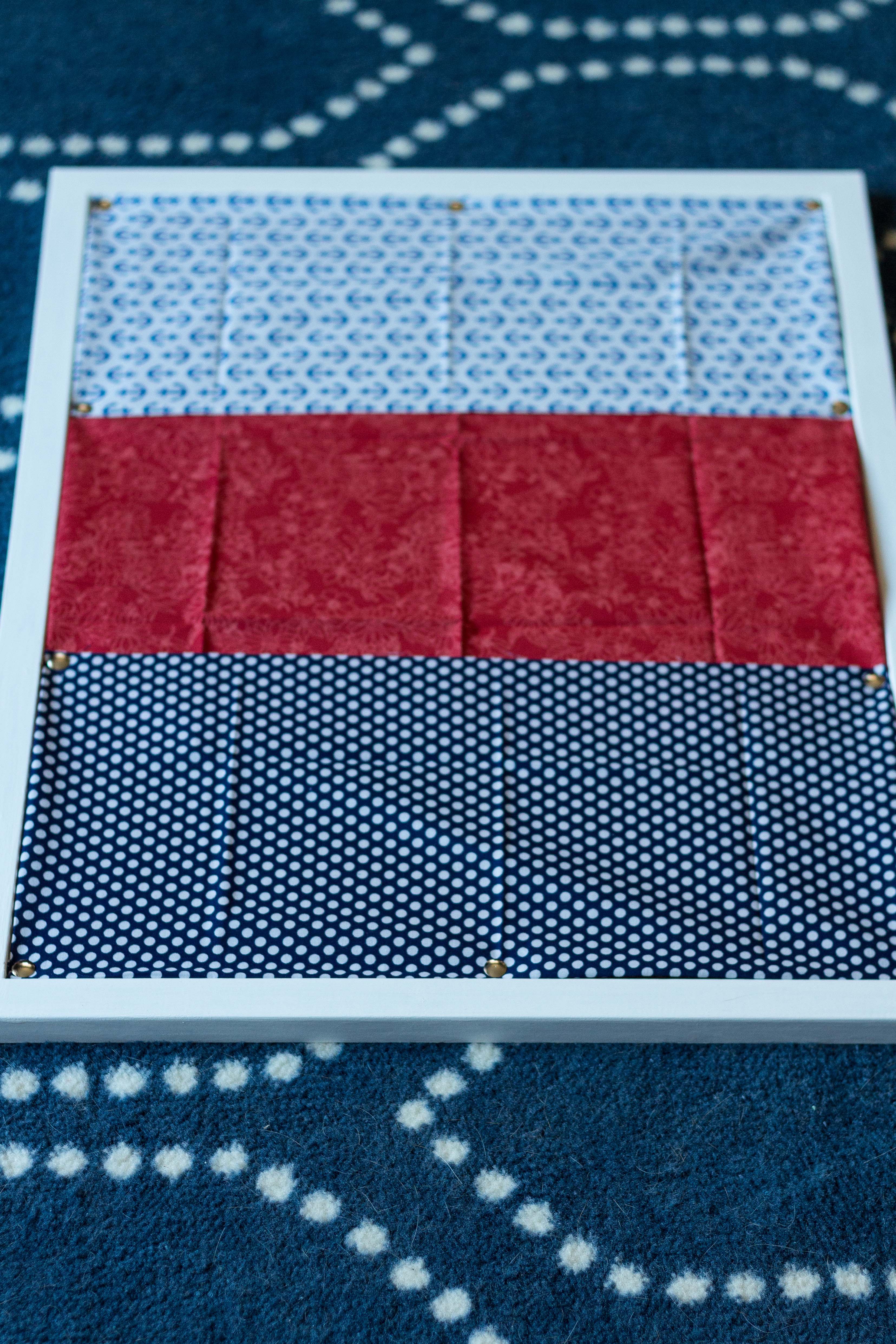 Once you've secured the fabric, fill in the remaining border with tacks. Pushing tacks through multiple fabric layers is…tough. I know it sounds ridiculous, but you may not want to do it all at once. I used about 90 tacks total, which was perfect because I still have a handful from my 100-piece pack for the inspiration items.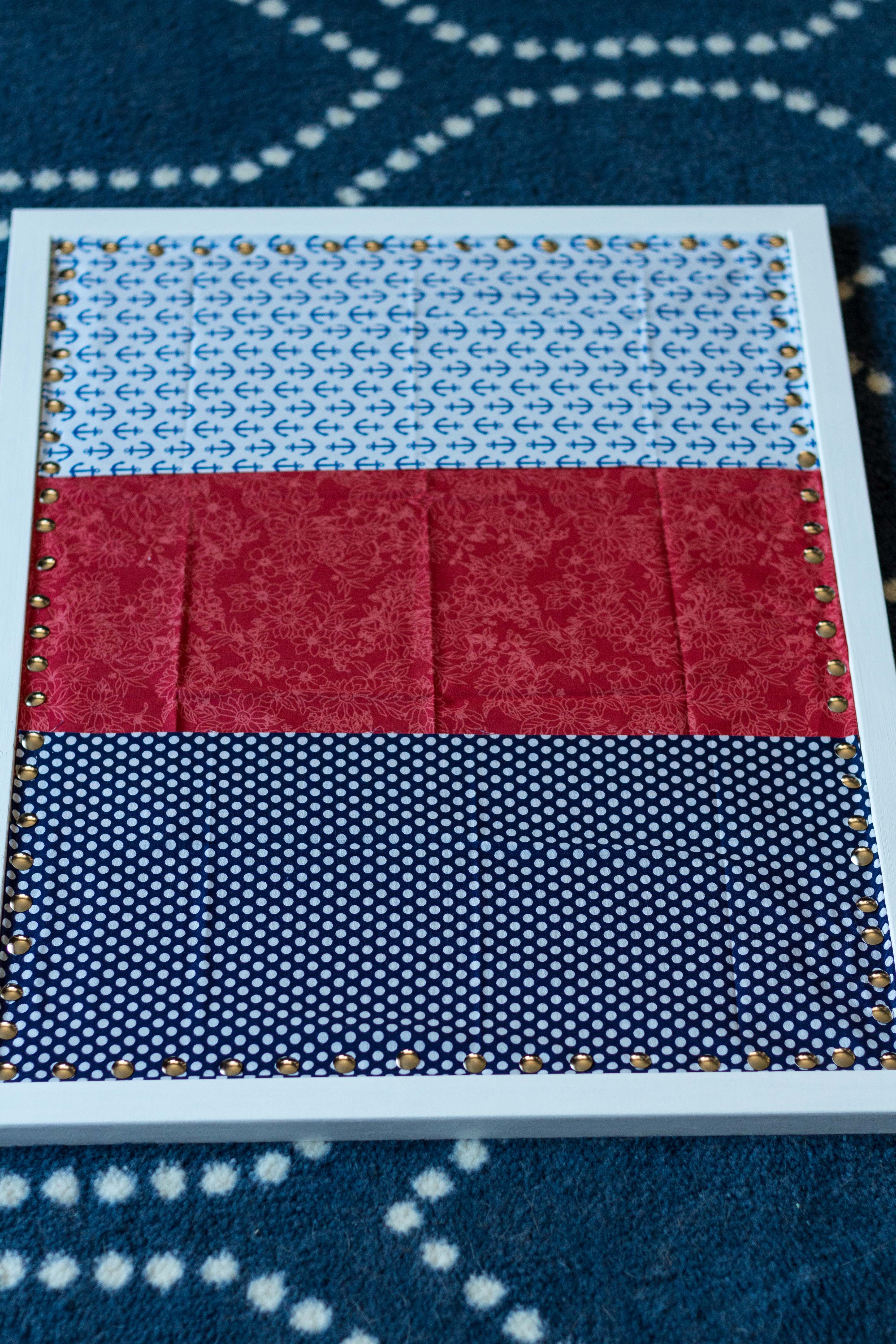 Finally, I attached a couple of sawtooth hangers on the back to hang it. It's completely up to you if you want to use sawtooth hangers or another type of frame display hardware.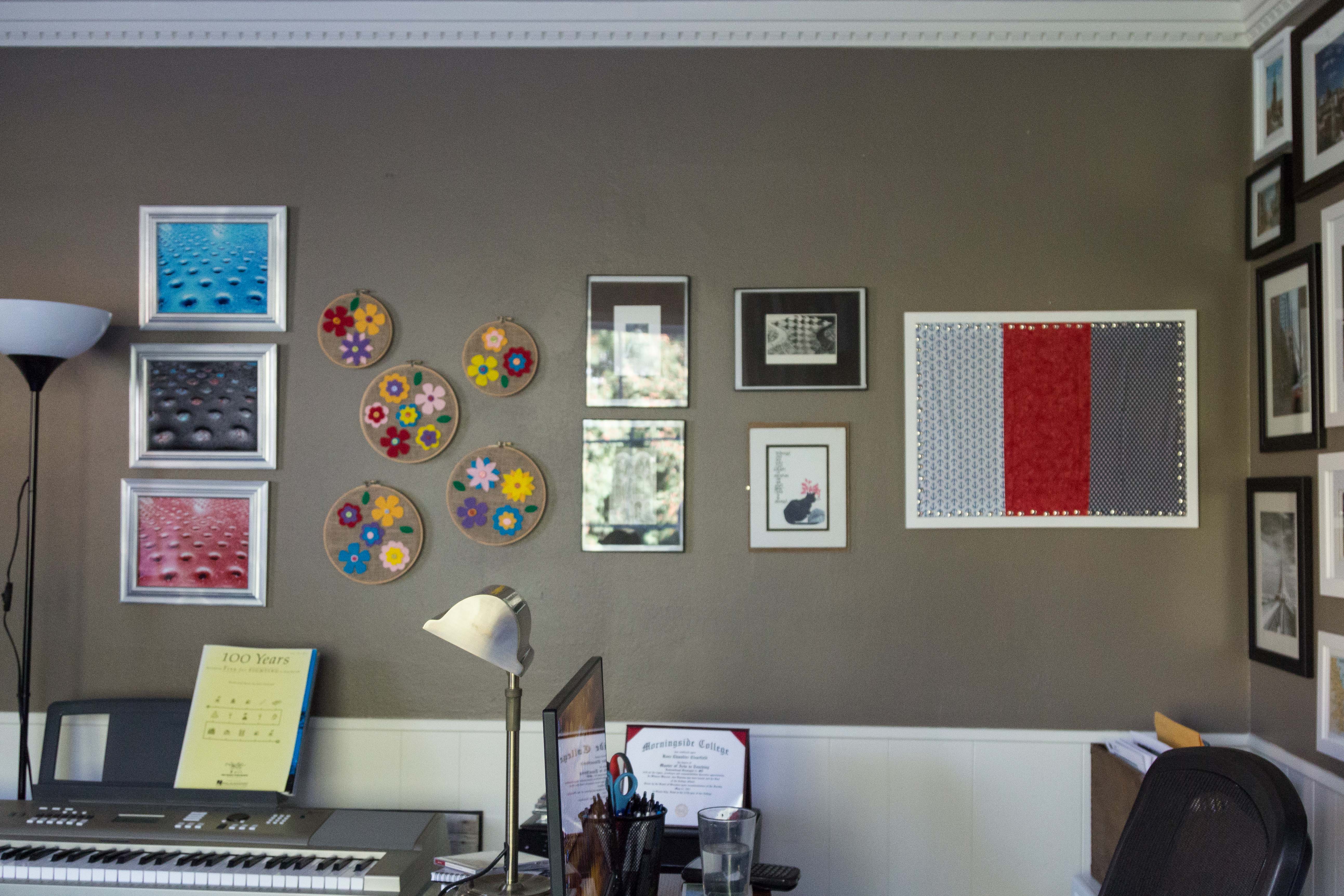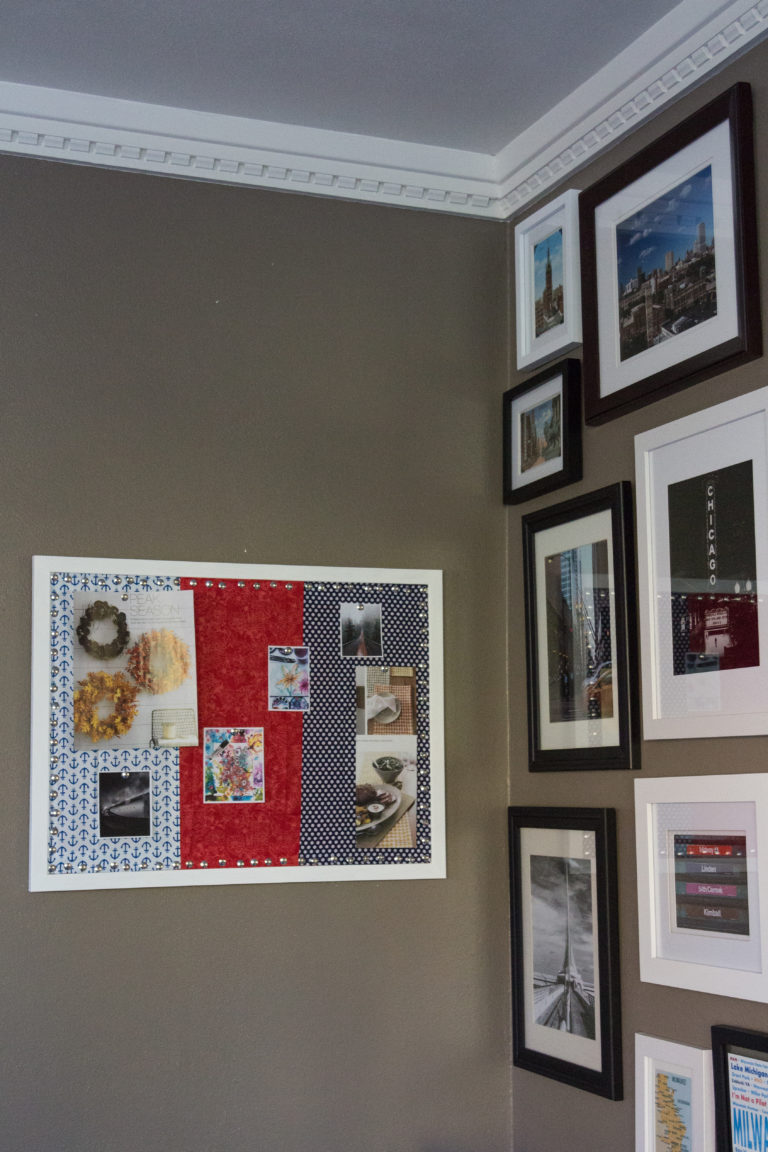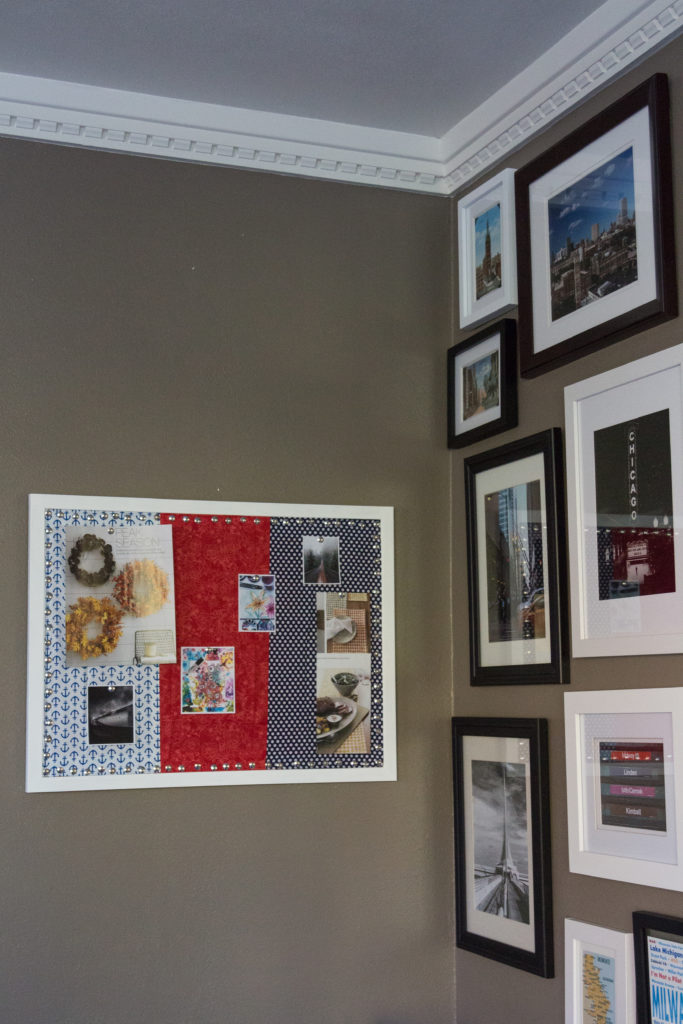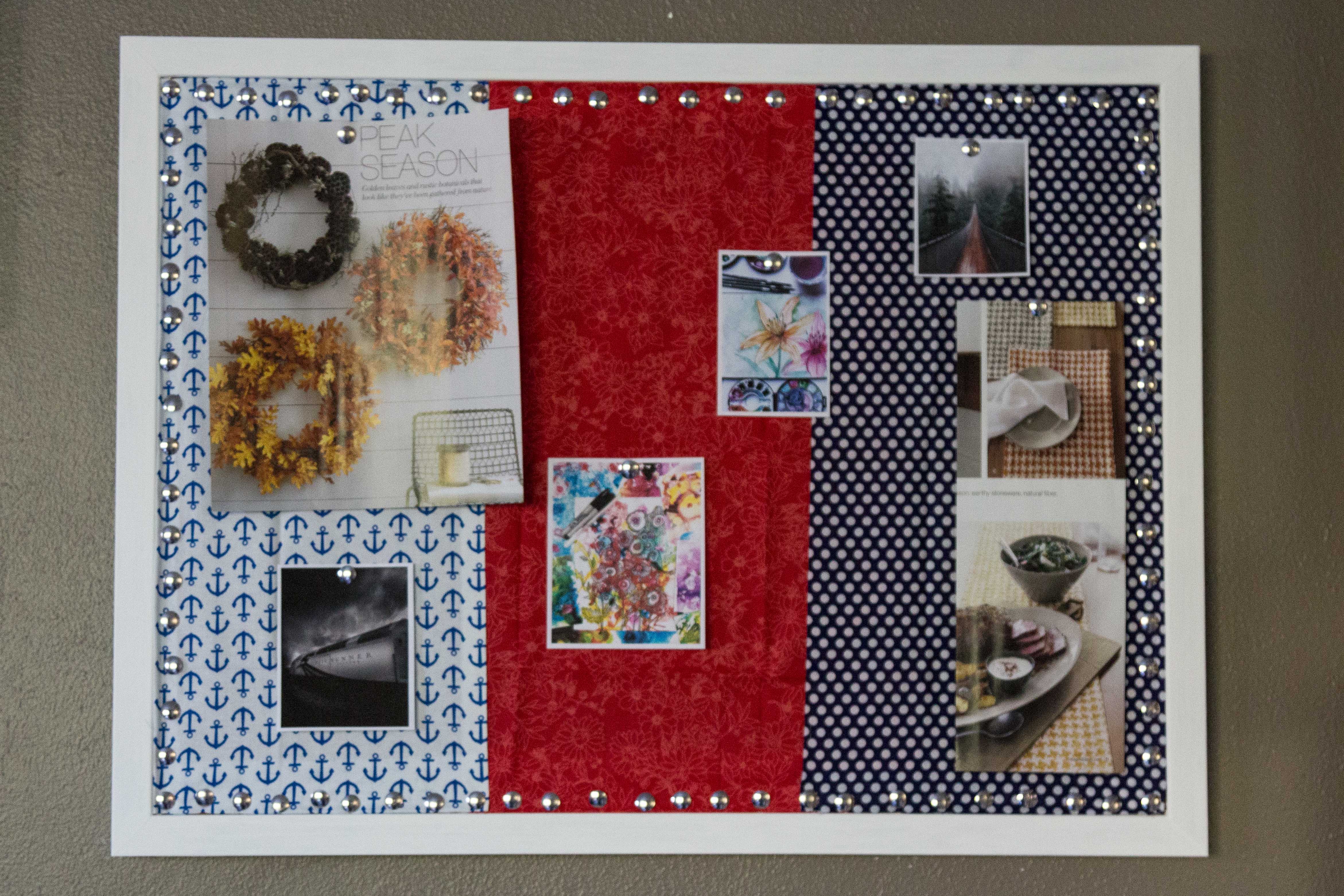 The items I have on my fabric covered inspiration cork board right now should come as no surprise to anyone who knows me. I have a couple pages from Crate and Barrel catalogs, a couple print outs of Alisa Burke images, and a couple print outs from Instagram, one from Jason Peterson and one from punkodelish. As I switch up my inspiration items, I'll try to provide updates on Instagram and Facebook.
How do you gather inspiration?
Do you have a real life inspiration board?
Save
Save
Save
Save
Save
Save