I feel like I'm jumping the gun a little bit posting about baby's first Easter basket before St. Patrick's Day. But Easter is early this year. I don't want to stack all of my Easter posts up next week, so I'm starting today. And then I'll have a little St. Patrick's Day post up tomorrow. Don't mind the craziness of my blogging schedule. Instead, get excited to see what I picked for my baby's first Easter basket.
Keep in mind that this Easter, I shopped for an eight-month-old. My baby's first Easter basket selections are geared toward six months to one-year-old babies. If you're shopping for a different age range, you may need to adjust your selections slightly.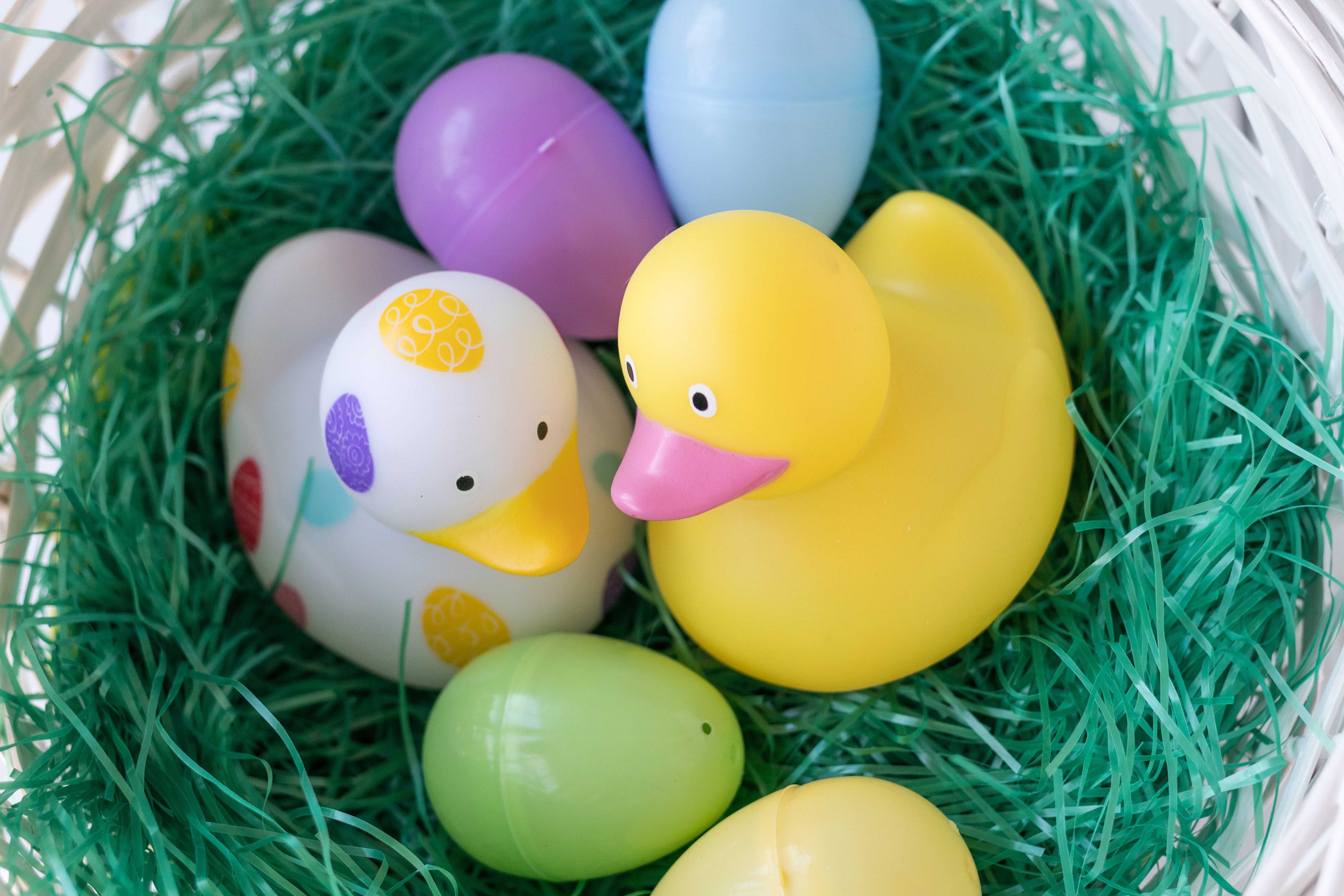 I had the rare opportunity to shop at Michaels for a half an hour by myself at the end of February. I picked up the basket, Easter grass, and rubber ducks. I also picked up the set of plastic eggs that you see in a few of these pictures. They aren't really part of the basket, but I will have them out for the holiday, and Tommy can play with them.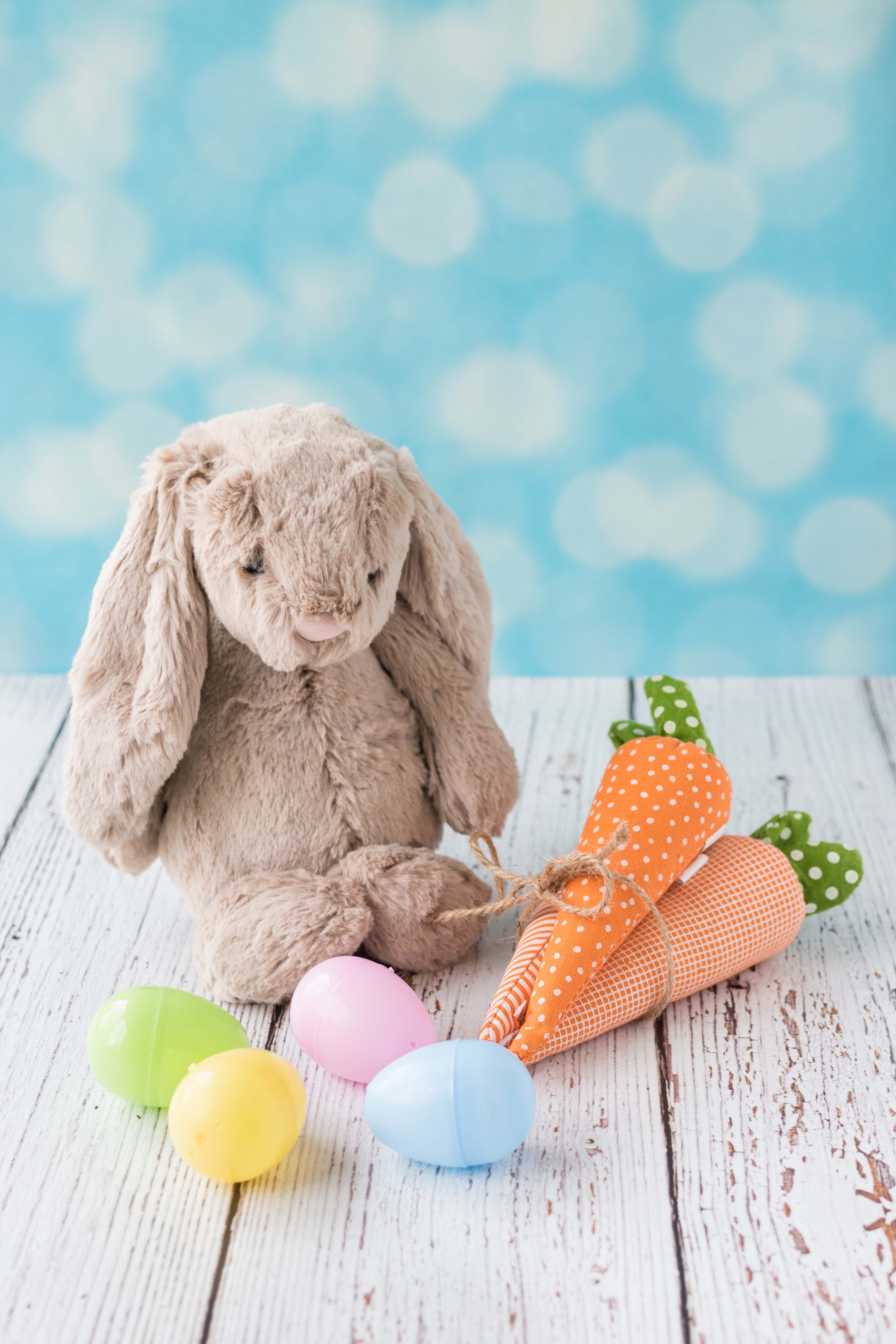 I am a huge fan of the Jellycat brand and just a huge fan of stuffed animals in general. I have unapologetically bought Tommy most of the stuffed animals he owns. Who can resist the little Jellycat bunny? It's so soft. I picked up the carrots in the dollar section at Target while scouting for Easter-themed craft supplies. They are really well made and are just a cute item for Easter. I'll keep them on hand in future years as a photo prop (if Tommy doesn't destroy them, which is okay, too).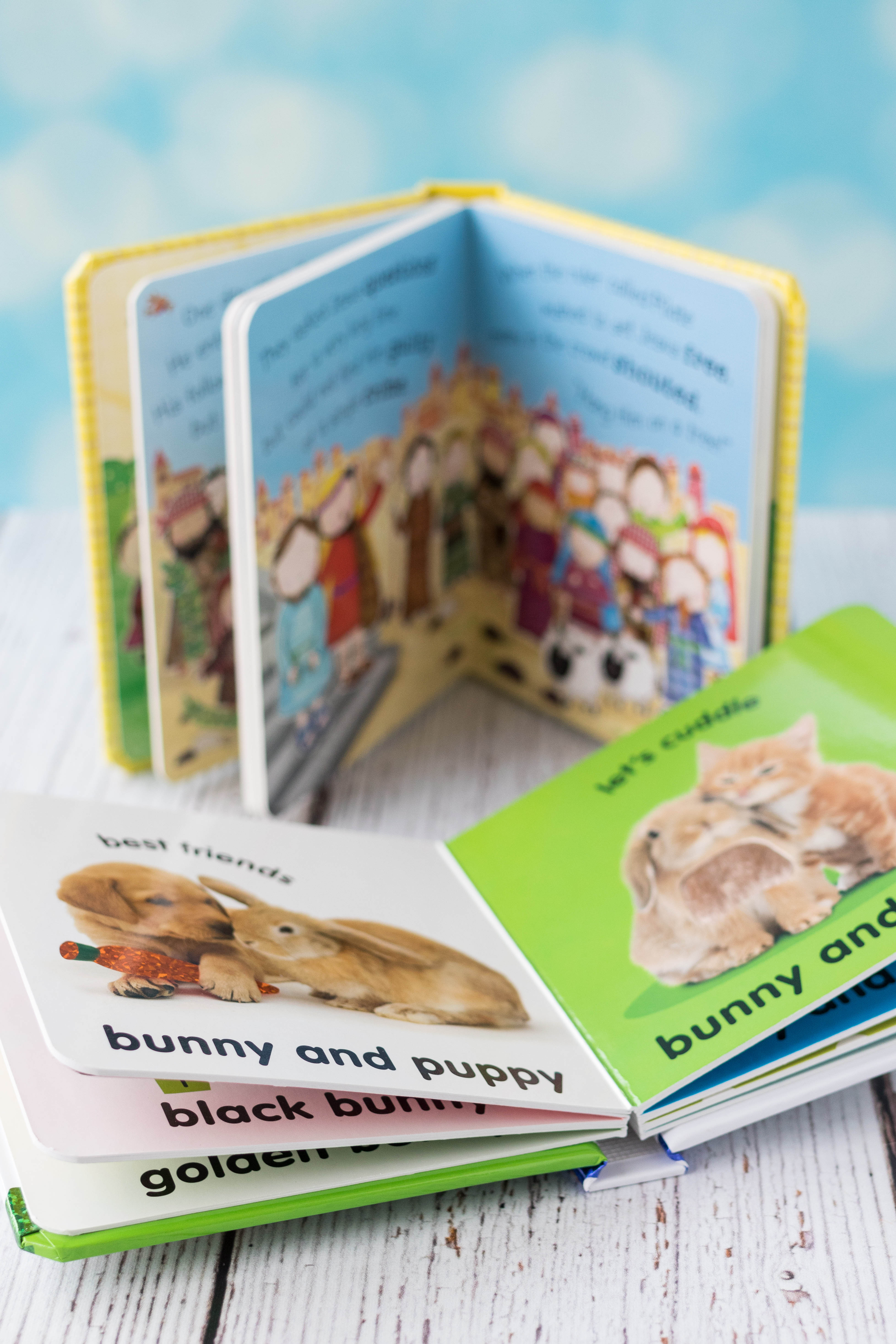 Then I added a couple of board books, The Story of Easter and Baby Touch and Feel: Bunny. I wanted at least one religious Easter item for my baby's first Easter basket, and I wanted one touch and feel book. Tommy has a handful of sensory board books and absolutely loves them. He actually wishes that all of his board books were sensory books and looks for texture in any book. I know that he's going to enjoy the new touch and feel bunny book. Also, can we talk about how the cat in the touch and feel book is an orange kitty? Nine times out of ten, the cats in baby board books are orange tabbies. (Because they're the best, obviously, but I'm a little biased.)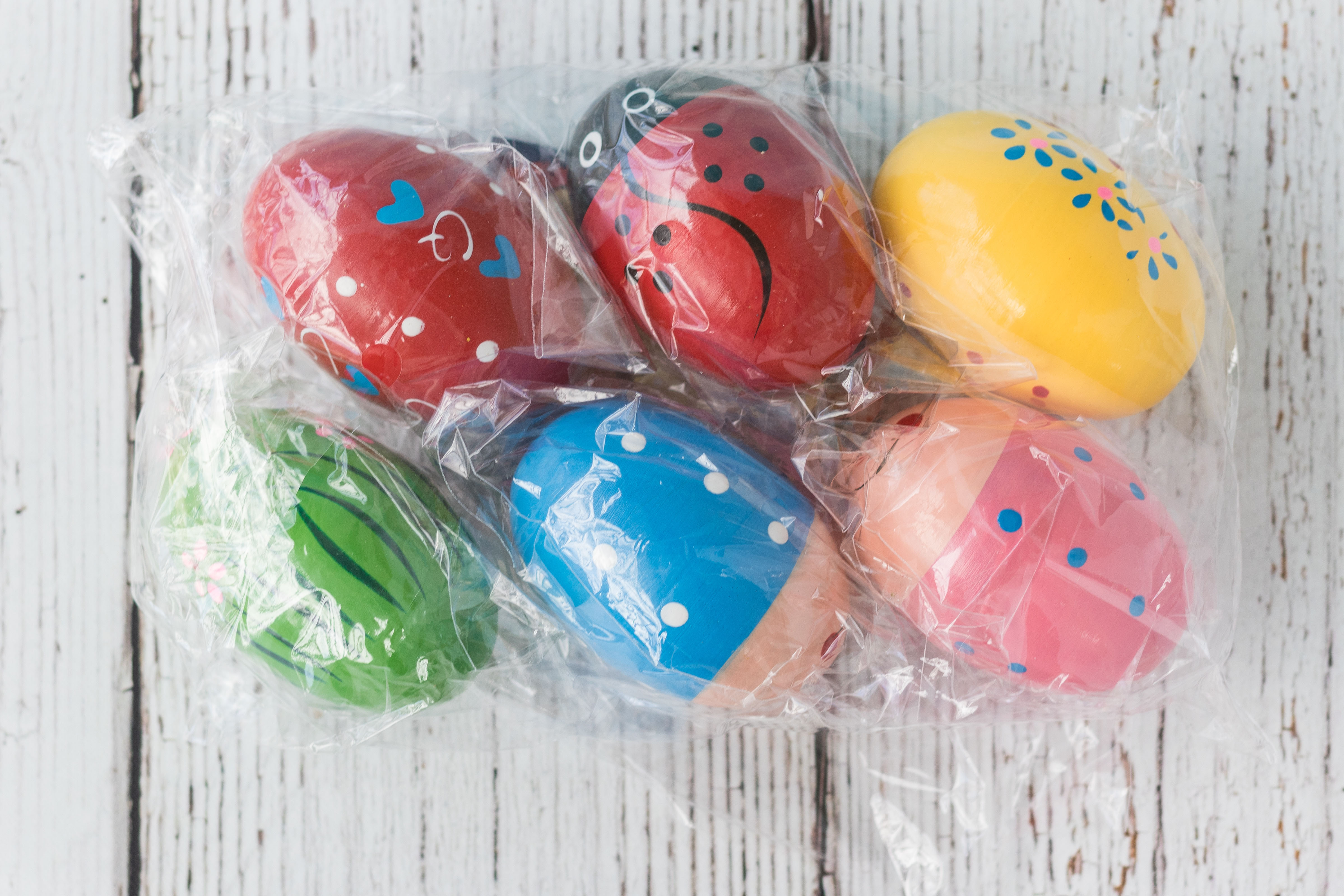 Finally, I got a set of egg shakers with a fun set of patterns for spring. Tommy has loved rattles for several months now. At eight months old, he's also a fan of pretty much any toy or other object that makes noise or can be used to make noise (i.e. will make a loud noise when you bang it on a table). I come from a family of musicians and honestly can't believe I didn't pick up egg shakers before.
This set of egg shakers is nice and sturdy, and the paint job is really high-quality. I don't think they're hand-painted, but they look hand-painted. Egg shakers are the perfect size for babies' hands and will remain a great toy for years to come.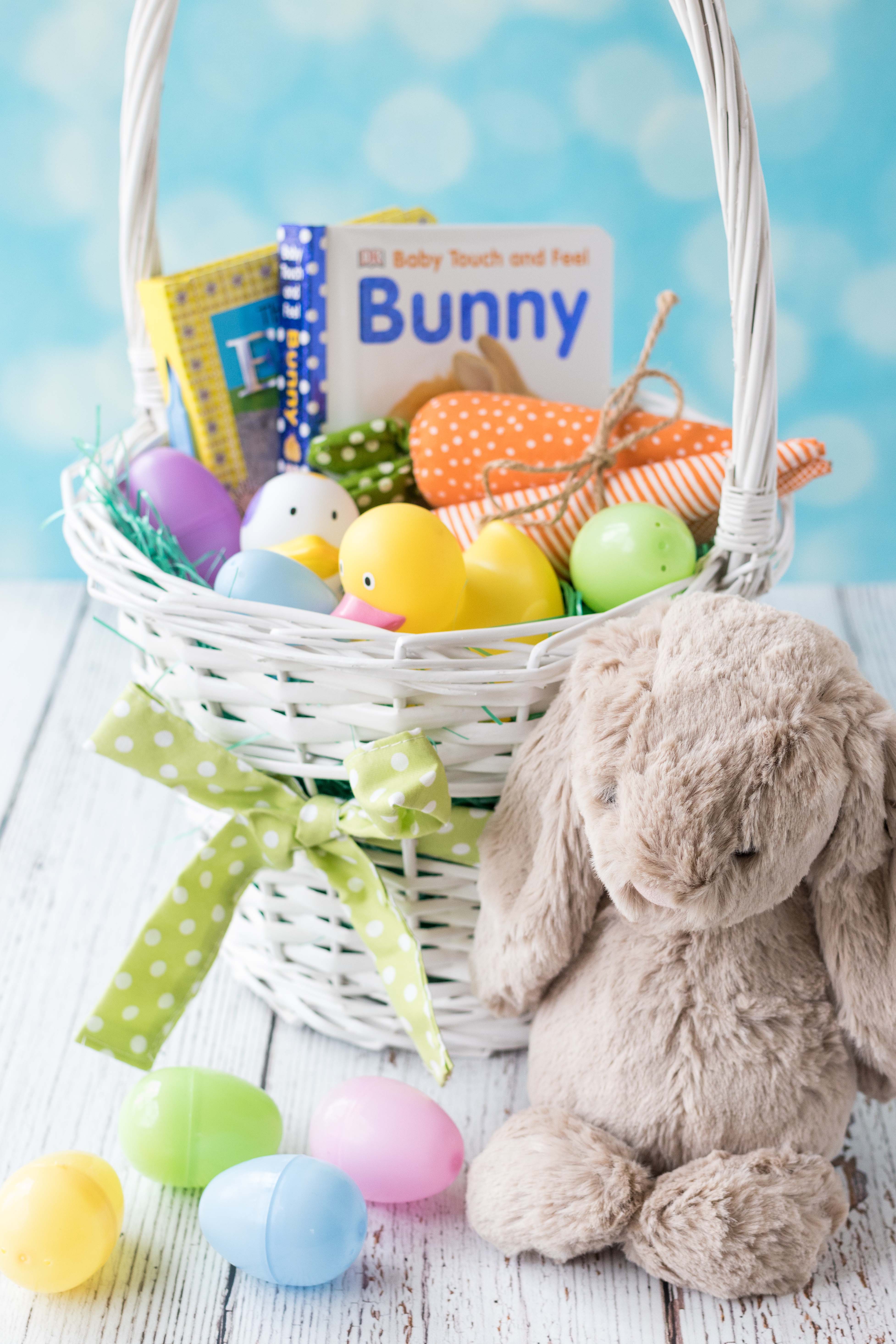 [Disclaimer: There are a few affiliate links in this post. Thanks for your support!]
Do you have any favorite baby's first Easter basket picks?
I'd love to hear about your favorite Easter baby items! Feel free to leave links in the comments.
More Easter fun!