Yes, you read the title right: Bailey's Pumpkin Spice tres leches cake. Possibly the best six words to read during the fall.
Lindsay of Pinch of Yum posted the recipe on Instagram on the first day of fall. It was my introduction to Bailey's Pumpkin Spice, and I kind of lost my mind. How do you top Bailey's Espresso Creme? Actually, you don't, but Pumpkin Spice is the closest you'll ever get.
So I wanted to run out and get some immediately so I could make this recipe. But I couldn't find Bailey's Pumpkin Spice in stores for over two weeks. It was disheartening to say the least. (#firstworldproblems, I know.) Why did Bailey's commission multiple bloggers to release Pumpkin Spice recipes before it hit the shelves? I have no idea. Maybe I just live in an area that didn't get it as soon as other areas.
But I finally found it right at the Pick 'n Save closest to my house and am now making the recipe. After thinking about it so much, I'm not sure it could have ever lived up to the hype. But it came pretty darn close. I don't really buy into the theory that everything needs a pumpkin spice flavor in the fall. I still love original tres leches cake and don't feel it needs any improvement. However, pumpkin spice tres leches is a fun way to mix up the recipe during the autumn months.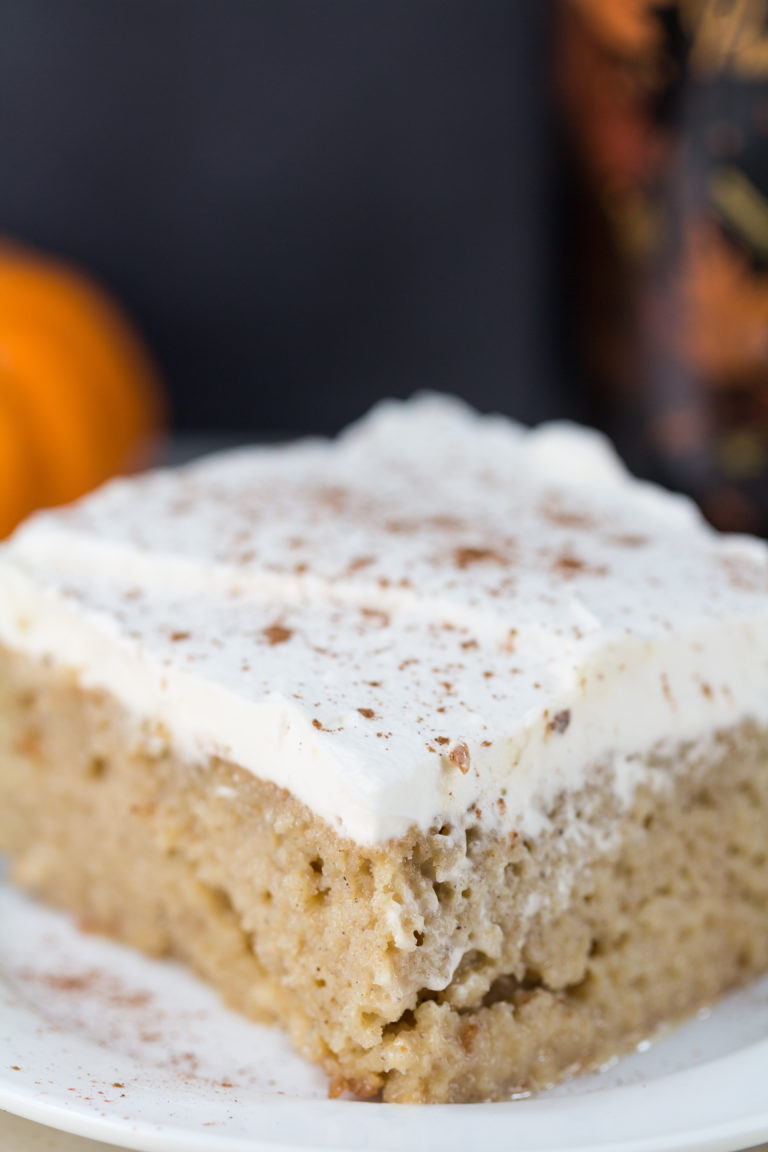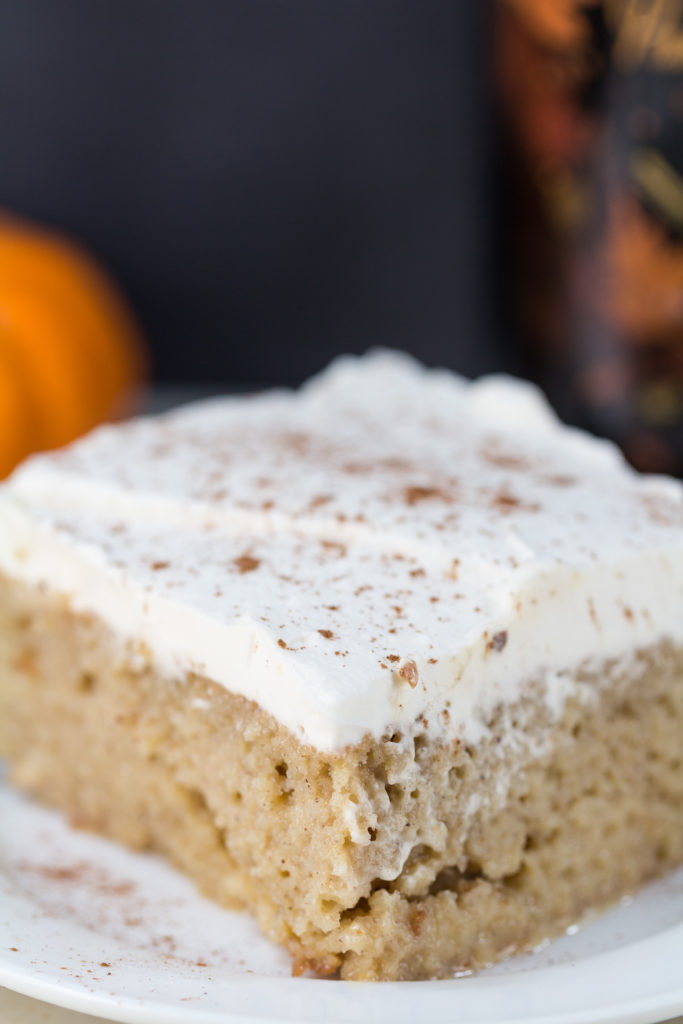 My personal notes on the recipe:
A couple of basics that aren't in the original recipe: Grease the 9×13 pan. Mix the wet ingredients in a large bowl and the dry ingredients in a small bowl. Then add the dry ingredients into the wet ingredients.
I always use soy milk, regardless of the type of milk a recipe calls for (in this case, it's whole milk) because that's what I keep on hand. I've never had any issues making this substitution, which includes this cake recipe.
For the spices, I use one teaspoon salt, one generous teaspoon cinnamon, and a pinch each of ginger, nutmeg, and cloves. My personal preference is less nutmeg and more cinnamon. Always. Feel free to adjust accordingly to suit your own tastes.
For the milk mixture, I use 1 12 oz. can evaporated milk, 1 14 oz. can condensed milk, one cup heavy cream, and 3/4 cup Bailey's Pumpkin Spice, which was just about the right amount for the cake to absorb the majority of it.
I top my cake with fresh whipped cream and a sprinkle of cinnamon. I add a splash of Bailey's Pumpkin Spice, a splash of vanilla extract, and a couple teaspoons of sugar to one cup heavy whipping cream. After I've whipped and spread the whipped cream, I finish the cake with the cinnamon.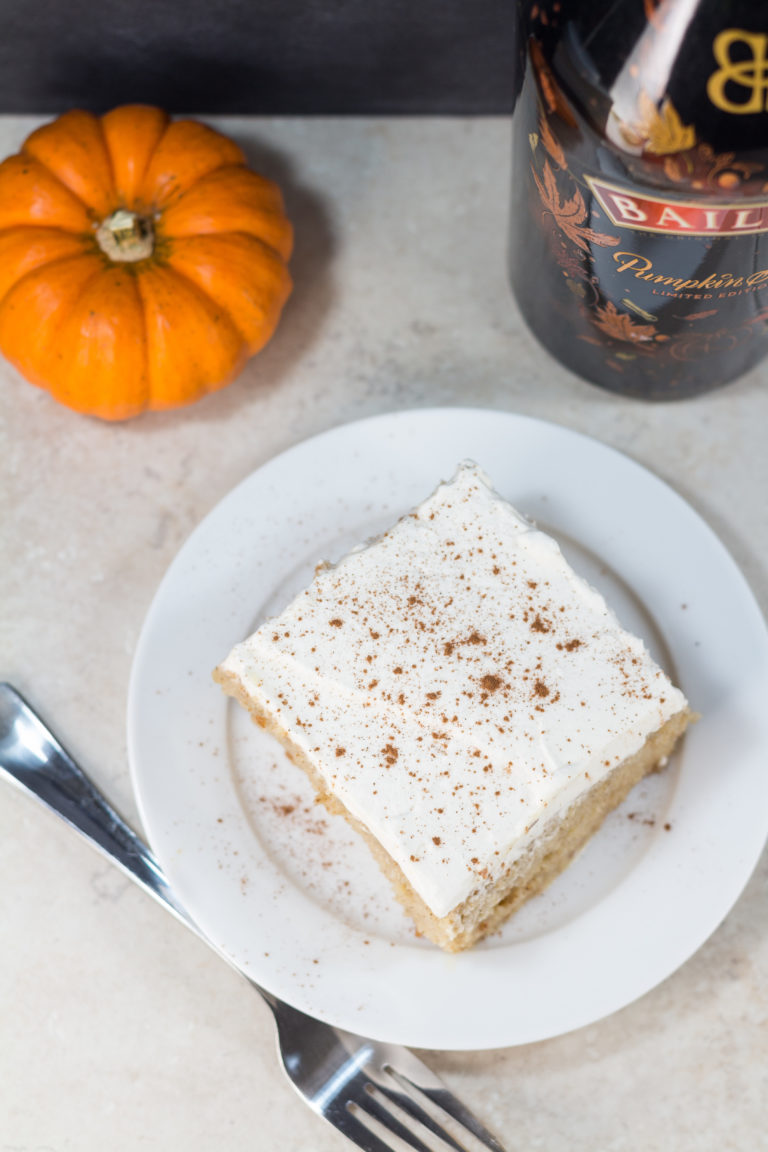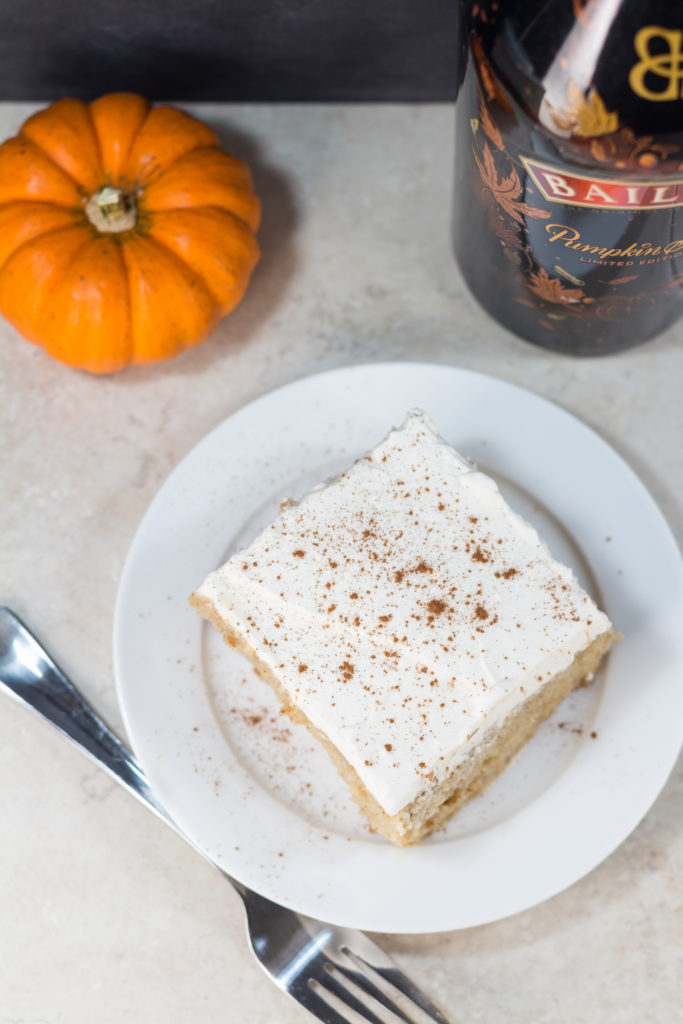 Finally, on a non-pumpkin spice-related note, for those who were curious how the new lights setup would work without the lightbox, I took all of these photos with that setup. I am so happy with the results and will continue to use the arrangement for many future blog posts. Someone else is happy with the new arrangement, too.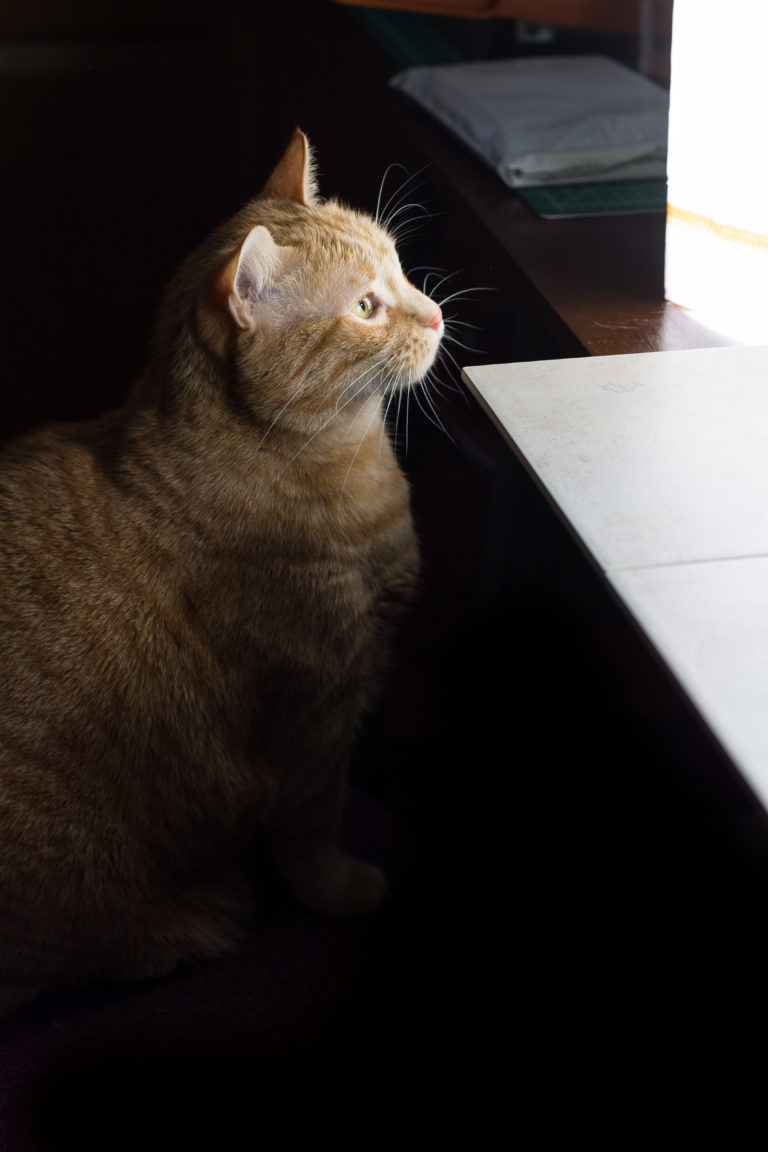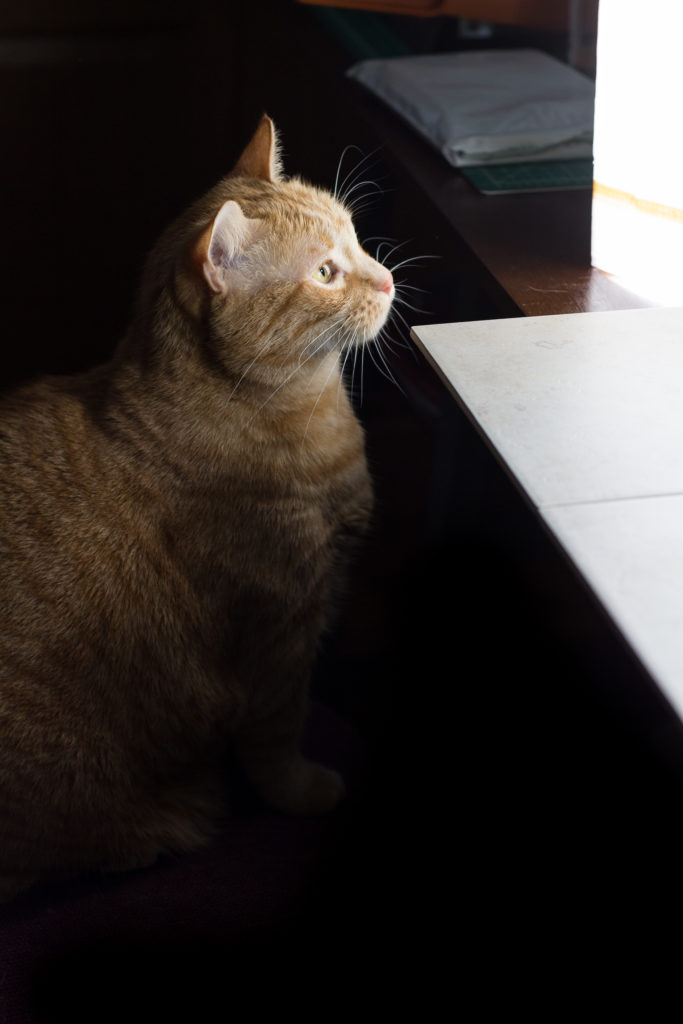 Again, the full recipe with Lindsay's awesome video is available right here. Please make sure to pass along your thanks to her for this great recipe.
More fall recipe inspiration: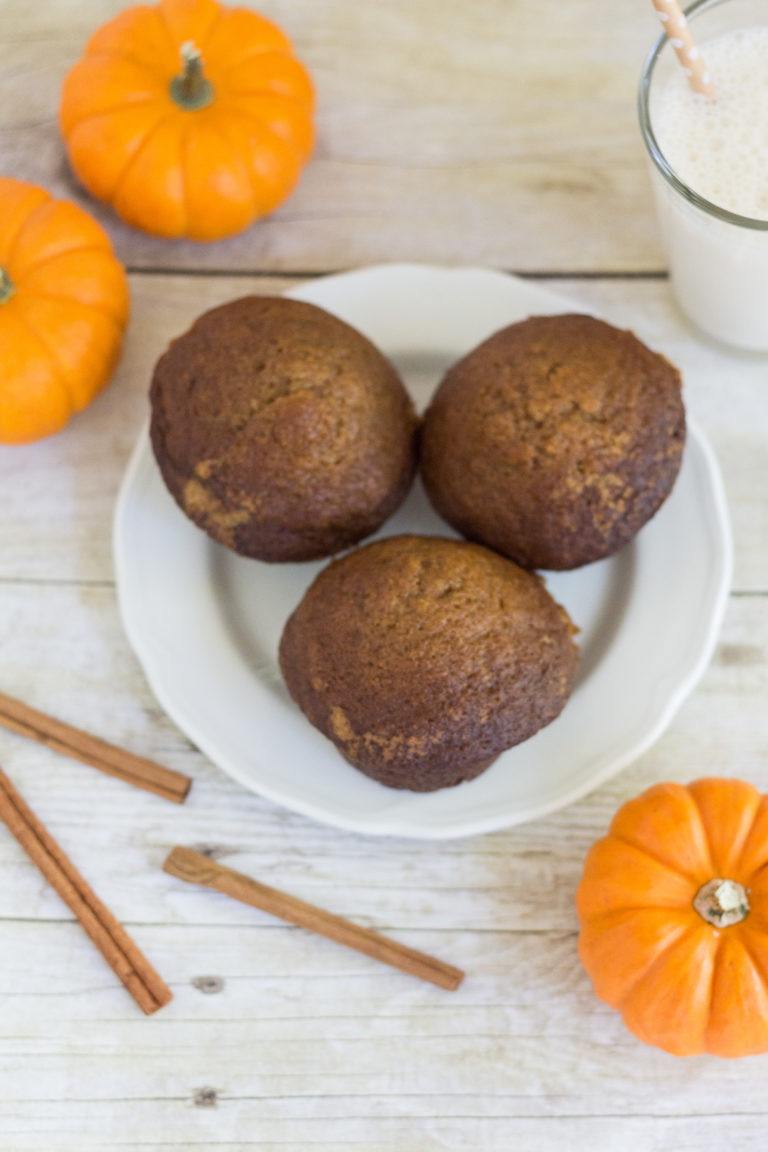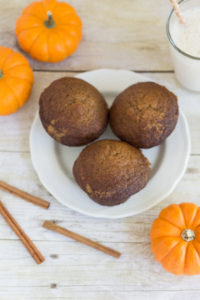 The Most Simple, Perfect Pumpkin Muffins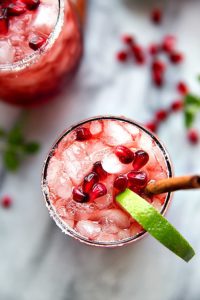 Non-Alcoholic Drinks for Thanksgiving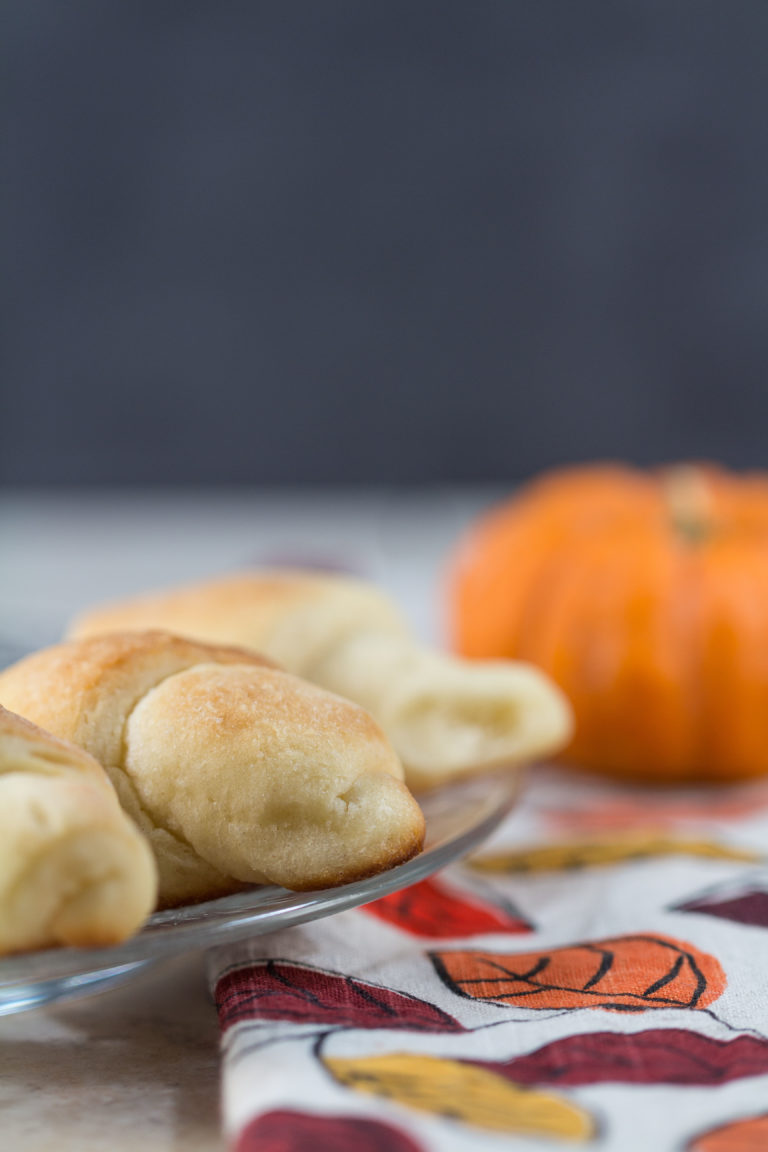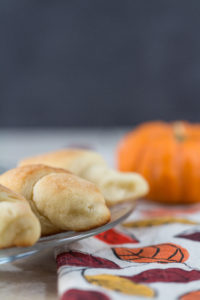 Homemade Buttery Crescent Dinner Rolls
Head to the fall section of my blog for additional autumn recipes as well as free printables, decor ideas, outfit inspiration, holiday DIY projects, and more!