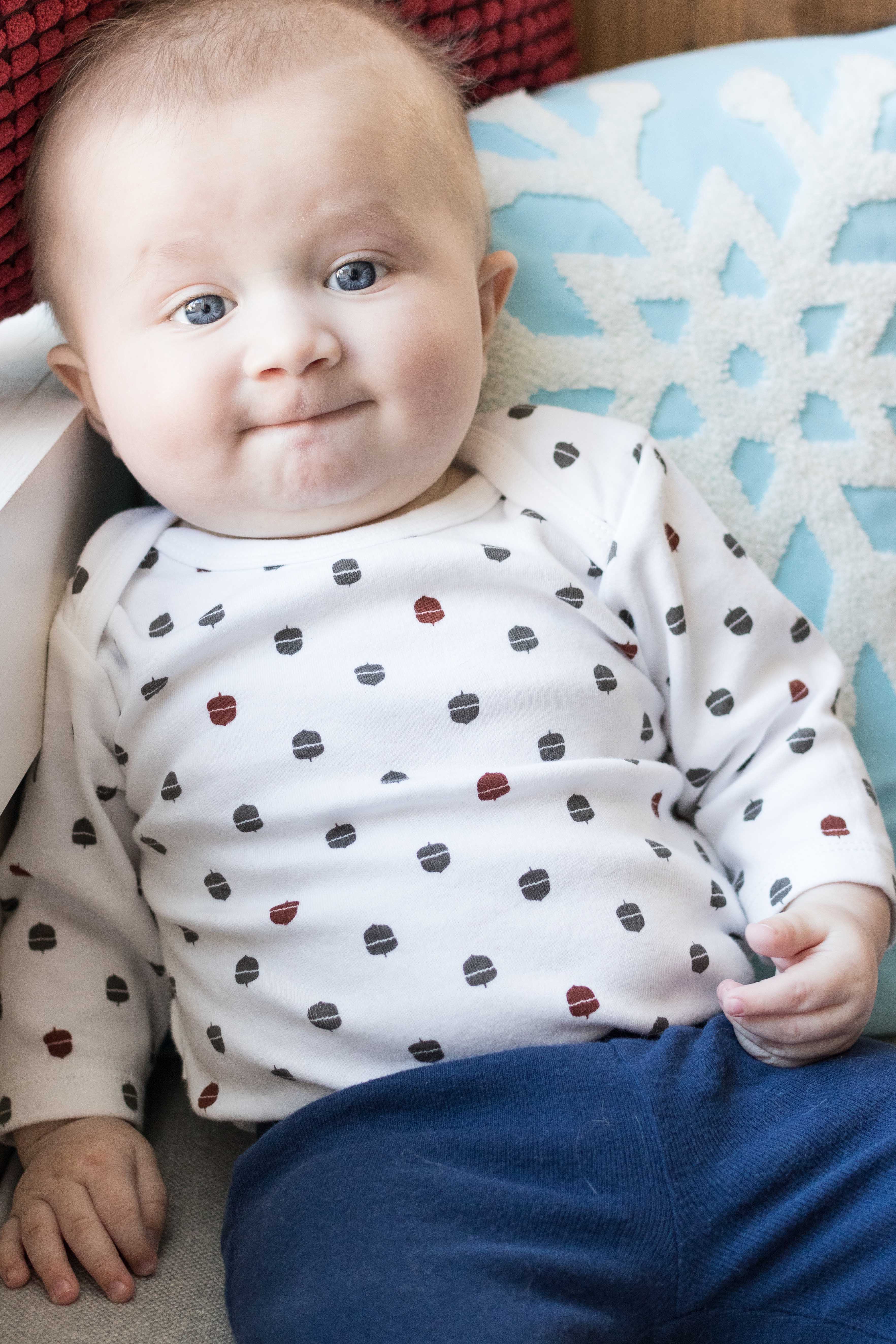 This past week, Tommy turned six months old.
When we went to his six-month doctor appointment Tommy weighed 16 pounds 8.9 oz and measured 27 1/4 inches long, putting him in the 29th percentile for weight and 74th percentile for height. His head circumference is 17 inches.
This past month, Tommy has been building on his mobility and interaction skills like crazy. He is moving whenever possible, bouncing like crazy in his bouncy seats, scooting all over his activity mat and kick 'n play, and kicking his arms and legs when he's laying on the floor or on the bed. Since the last update, Tommy has rolled over FOUR times during tummy time, which means he rolled from his stomach to his back. (No pictures or video yet.)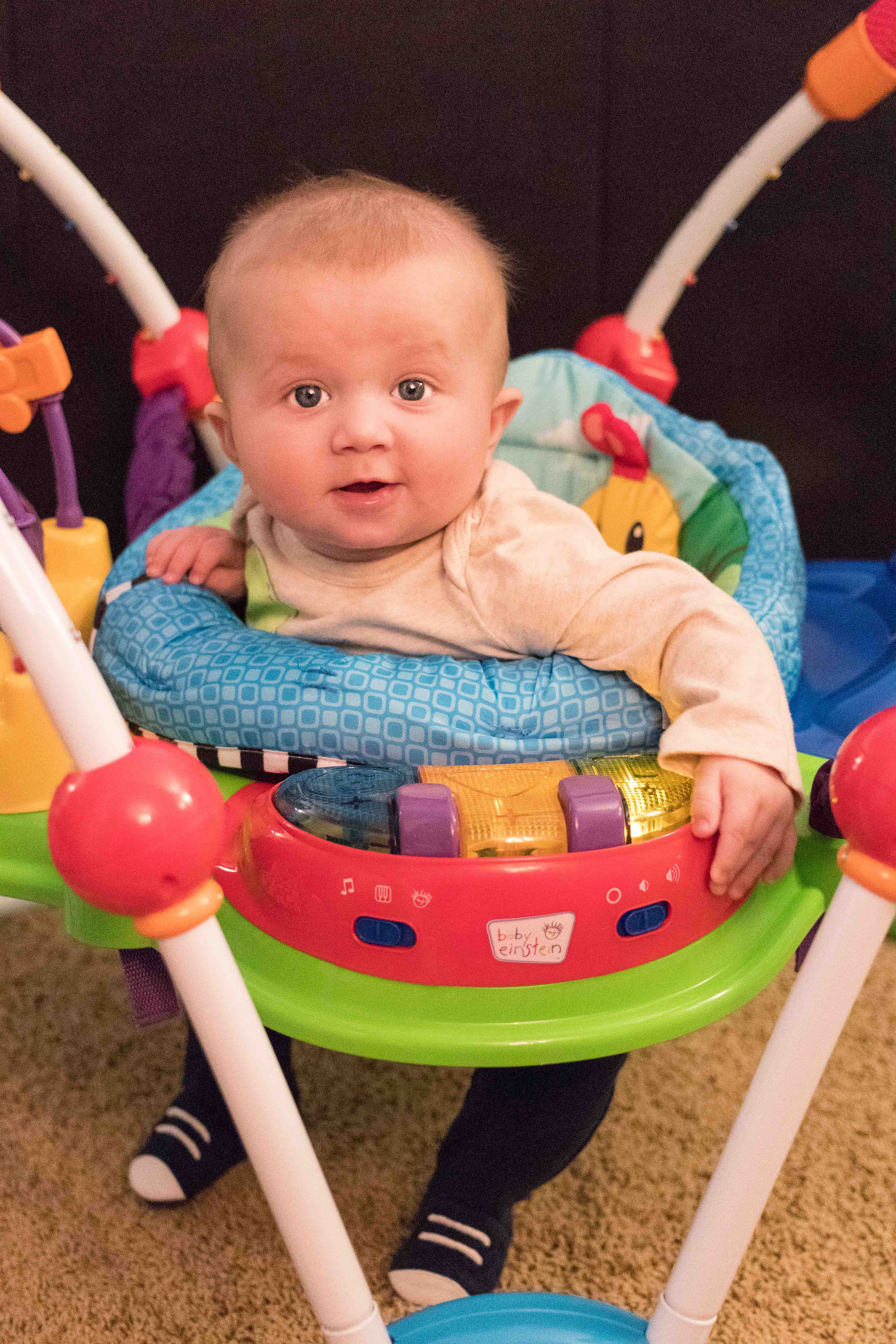 Tommy is also obsessed with trying to sit up on his own. He tries to sit up from a flat on his back position and sits up independently in his bouncy seat all the time. Almost everyone who has spent time with Tommy this past month has seen him attempt one or both of these skills. He still isn't steady enough to sit up completely on his own for very long without tipping forward or to the side, but he's getting so close and loves to work on this skill whenever possible, too.
Tommy still enjoys his bouncy seats and activity gym. He's become so mobile, scooting around and trying to sit up whenever possible, that we need to monitor him pretty closely during both of these activities. He got a new Baby Einstein jumper and Fisher Price kick 'n play piano for Christmas, both of which he's already been enjoying a lot. Having a variety of sensory stimulation keeps him more interested. Each month, he engages more and more with the toys. Lately, one of his favorite things is to twist and look at the mirror in the activity gym. He is also really into his rattles and reaches for them immediately, even grabbing them on his own independently when they're on the floor next to him.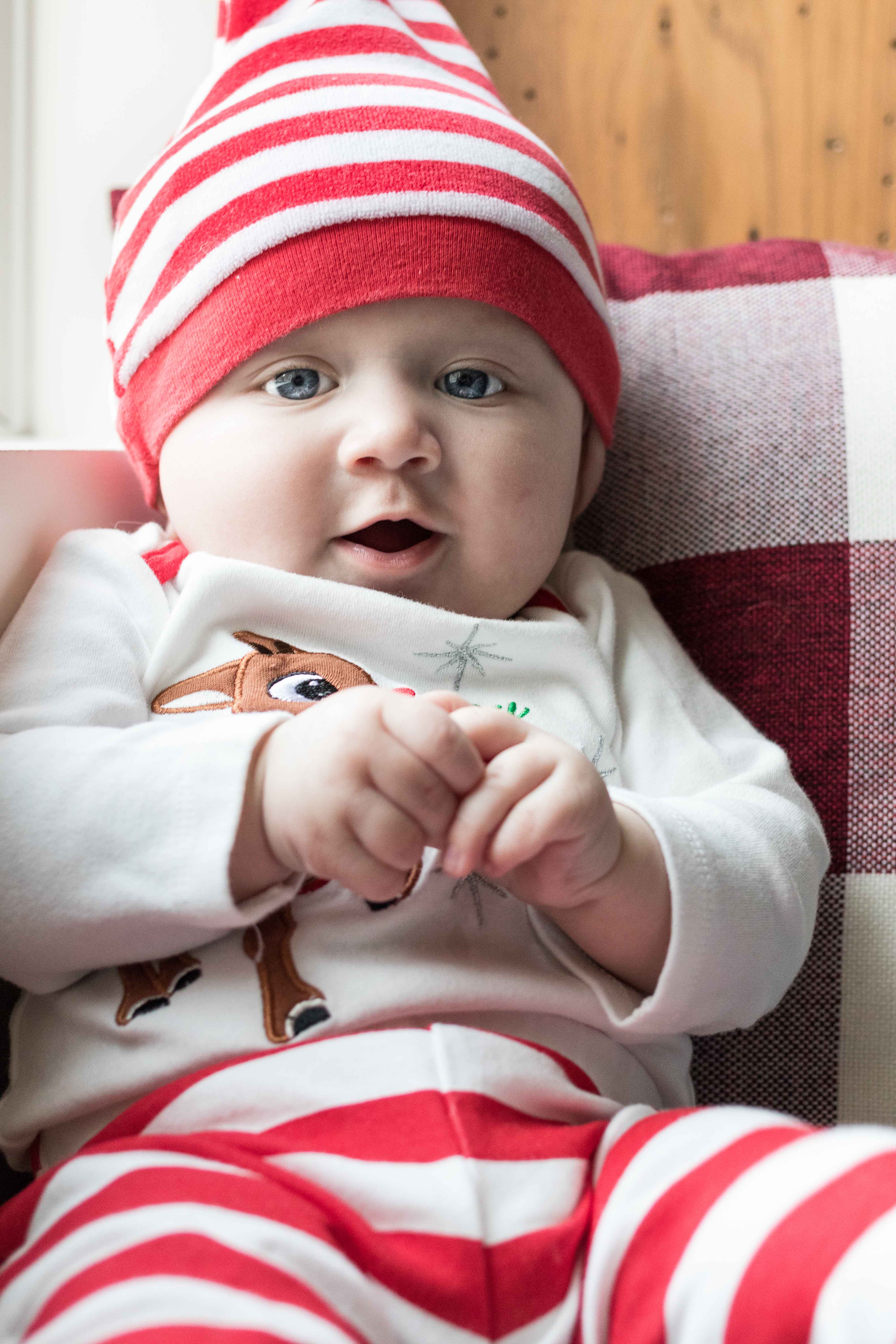 Obviously, one of the biggest highlights this past month was Tommy's first Christmas. We were fortunate to get to celebrate with both of our immediate families and Tommy's birth family, all of whom gifted Tommy a wealth of meaningful, age-appropriate gifts. We braved the late night mass on Christmas Eve, and Tommy was a champ. Our little night owl stayed awake for the entire mass. Tommy loved looking at the tree and checking out the presents as they stacked up during the weeks leading up to Christmas. He enjoyed ripping open and playing with the paper a bit with us and our families. The longer present opening sessions with our immediate families got overwhelming and he did better sitting on someone's lap or hanging out in his bouncy chair than having to engage with the presents.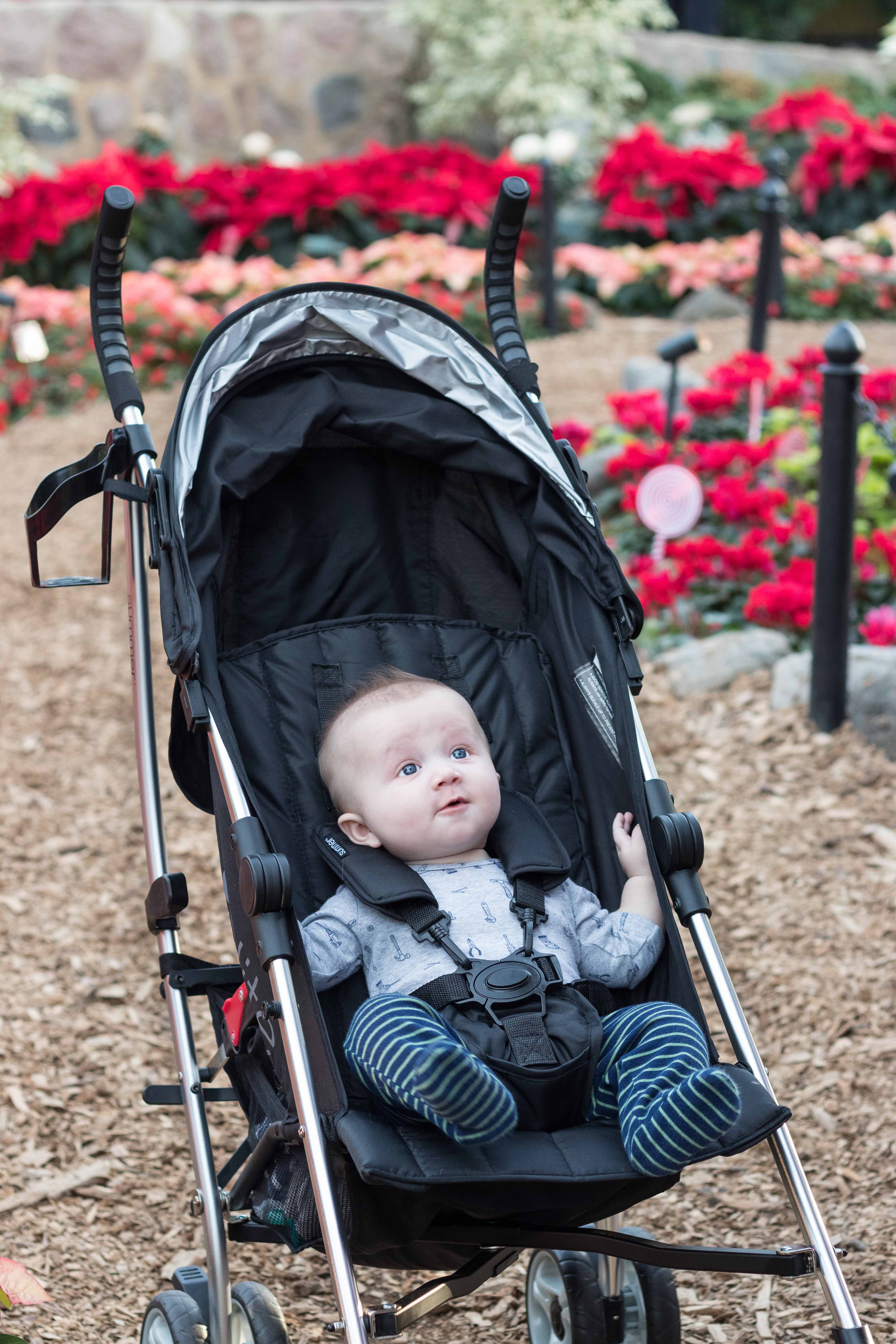 This past month, Tommy and I visited the Mitchell Park Domes for the Naughty or Nice holiday floral show. We also went to the Milwaukee Public Museum because I wanted to see the Streets of Old Milwaukee decorated for the holidays (post coming).
Besides continuing to grow like crazy, Tommy's biggest physical change this past month has been his hair growth. He has so much more hair than he did a couple of months ago, giving his face a lot of character. Once he's able to sit up independently, his hair will fill in evenly. For now, the growth in the back and on the sides is pretty funky, with the best growth on the top of his head. It still seems to be dark blonde/light brown, varying in appearance depending on the current light conditions. He reaches up to feel his hair all the time. Tommy's eyes have remained deep blue. At this point, it seems like deep blue is going to be his permanent eye color.
Tommy's eating and sleeping routines remain largely unchanged from last month. Spoon feeding rice cereal and sitting in his high chair are both still pretty overwhelming, so we're only doing these activities in moderation. We've also tried giving him a few different kinds of baby puffs (the type that dissolve in your mouth), which has also been fairly overwhelming. He has eaten a few completely but always reacts strongly to their texture and flavor.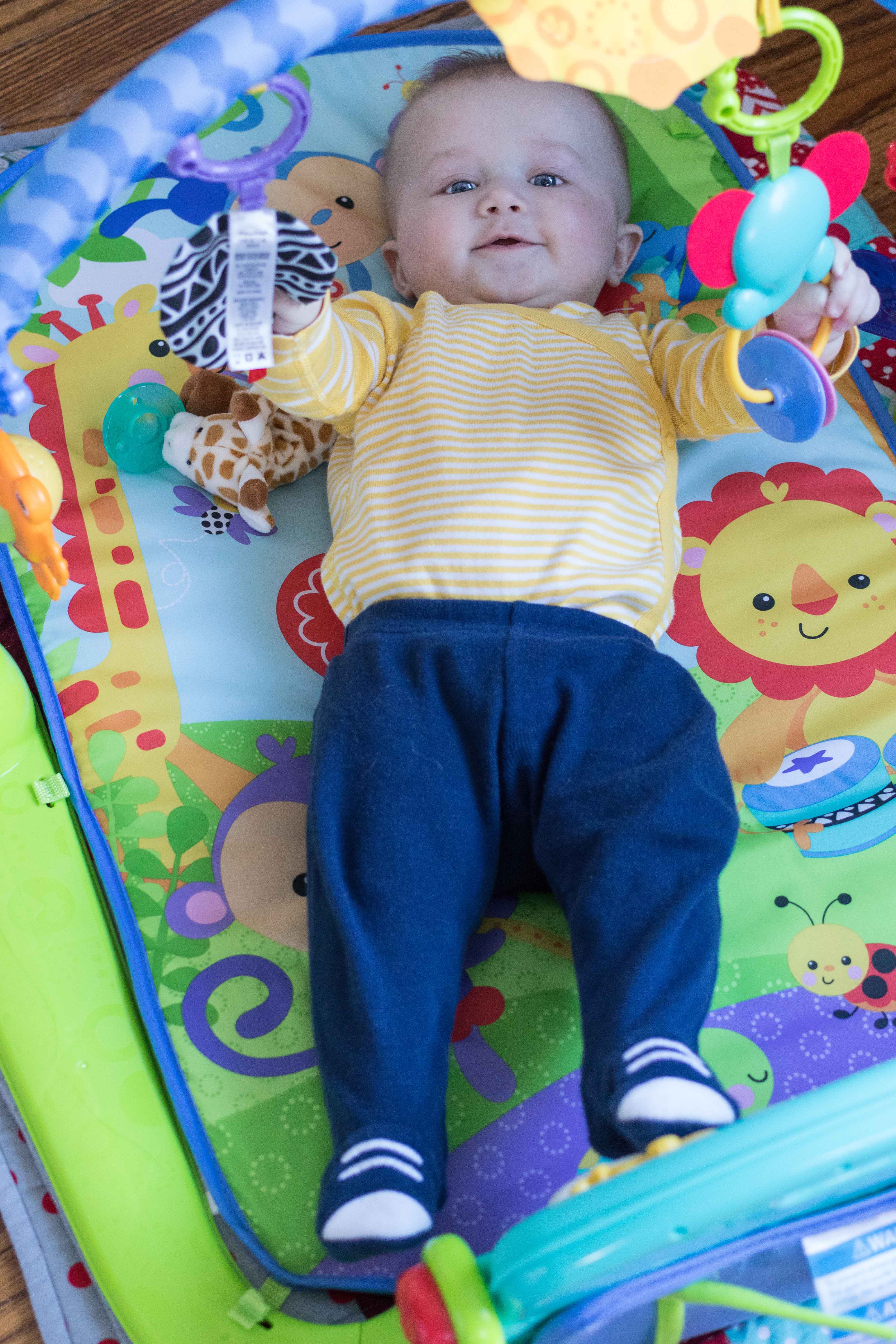 As we move past the six month mark, we can start feeding Tommy purees as well. He's still eating 6-7 ounces of formula every 3-4 hours during the day, totaling 4-5 daily feedings. As Tommy becomes more alert, he gets more distracted during his feedings. Even when he's in his room (as opposed to in the living room with family visiting, in church during a mass, etc.), he still gets more distracted than he ever has before, looking at the cats wandering around, snow falling outside, etc.
Tommy continues to follow our 10:30/11:00 p.m. to 7:30/8:00 a.m. sleep schedule. Most nights, we get Tommy in his pajamas by 8:30/9:00 p.m. and keep our nighttime activities very low-key. He almost always falls asleep in our bed while we're reading or watching TV, and then we move him to his crib. As he gets a little older, we'll develop more of a bedtime routine with prayers, stories, etc.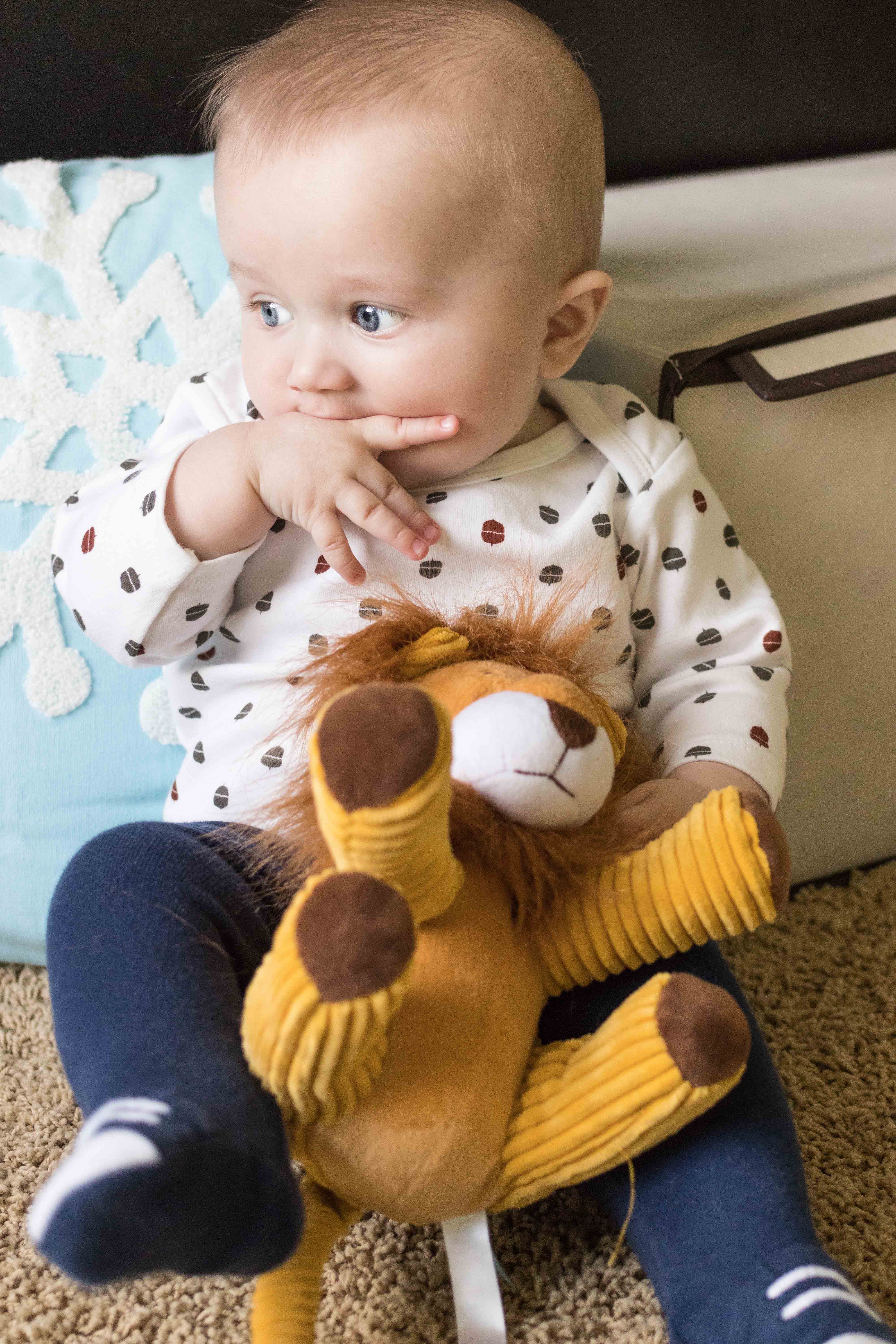 Occasionally, Tommy wakes up crying during the night and needs his pacifier to fall back asleep. Otherwise, he sleeps soundly through the night in his own room with virtually no issues. As Tommy has become more active, he's napped more soundly than he ever did at 2-3 months, taking at least one, sometimes two, long naps during the day (for Tommy, a long nap right now is 1-1.5 hours). He has no consistent nap schedule. Toward the six-month mark, Tommy started going down for one nap in his crib per day. He still often naps wherever he falls asleep (in his bouncy seat, on his activity mat, etc.).
Tommy remains solidly in size 2 diapers and is wearing mostly 3-month (some 6-month) pants and a mix of 3-6 month and 6-month onesies, pajamas, and jackets. I put him in footed pants almost any time we go outside to avoid the stress of wearing (and potentially losing) socks, which Tommy still has no interest in wearing, regardless of the weather.
For both me and Jake, the three to six month time frame has been so much fun. We're really looking forward to the next few months.