Today I'm sharing a short tour of the wall art in my kitchen. In previous residences, I haven't had the option to display art on the kitchen walls. Aside from space over the sink to hang a calendar, I've had very limited space for hanging art. My one big kitchen decor project in our Milwaukee house was my glass jars with flowers display. I still love these jars and flowers. Lacking a big display area now, I have them arranged in small groups throughout the entryway, living room, kitchen pass through, and my office. I'll share photos of them again at some point. But today, I'm focusing on the wall art in the kitchen.
Personally, I'm not a big fan of most kitchen wall art. Chalkboard or chevron prints with cheesy kitchen related jokes or lines about the things you do when you're hangry or lacking coffee don't fit my style. At all. And most of what you see on Etsy and similar sites is along these lines. Search Etsy for kitchen wall art, and you'll see what I mean. So it's taken me a while to find tasteful pieces that fit my style and work in the existing space.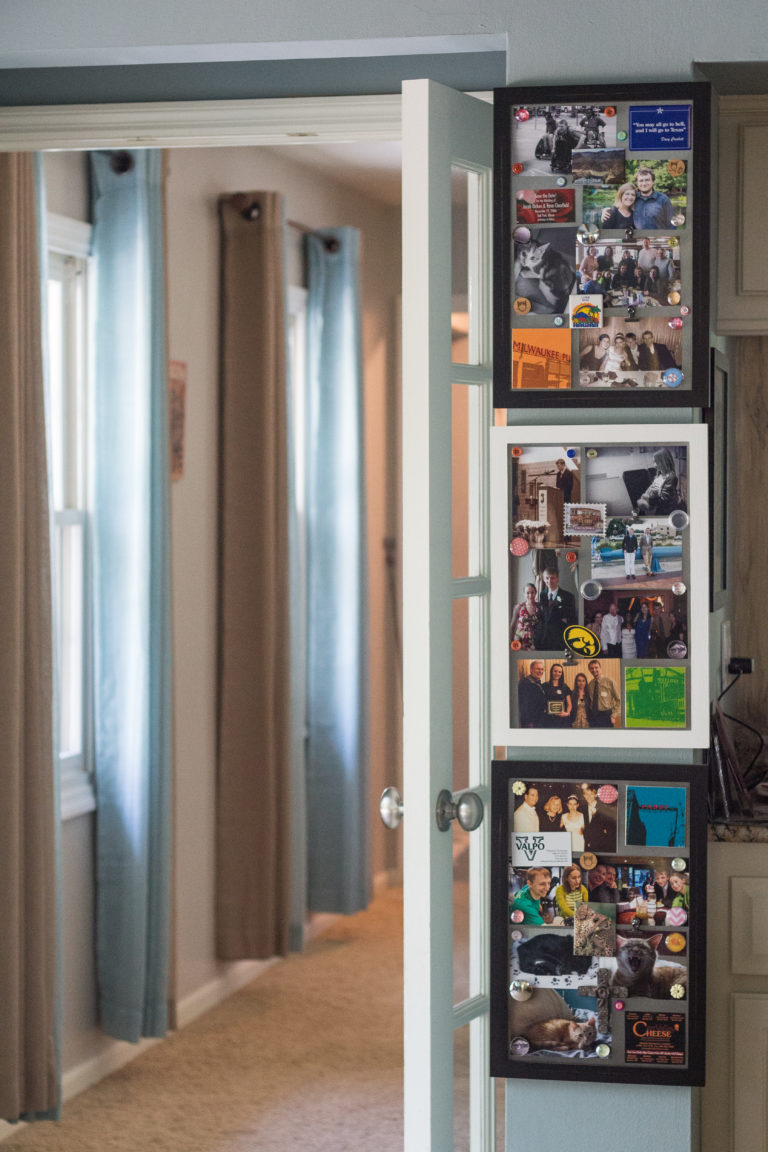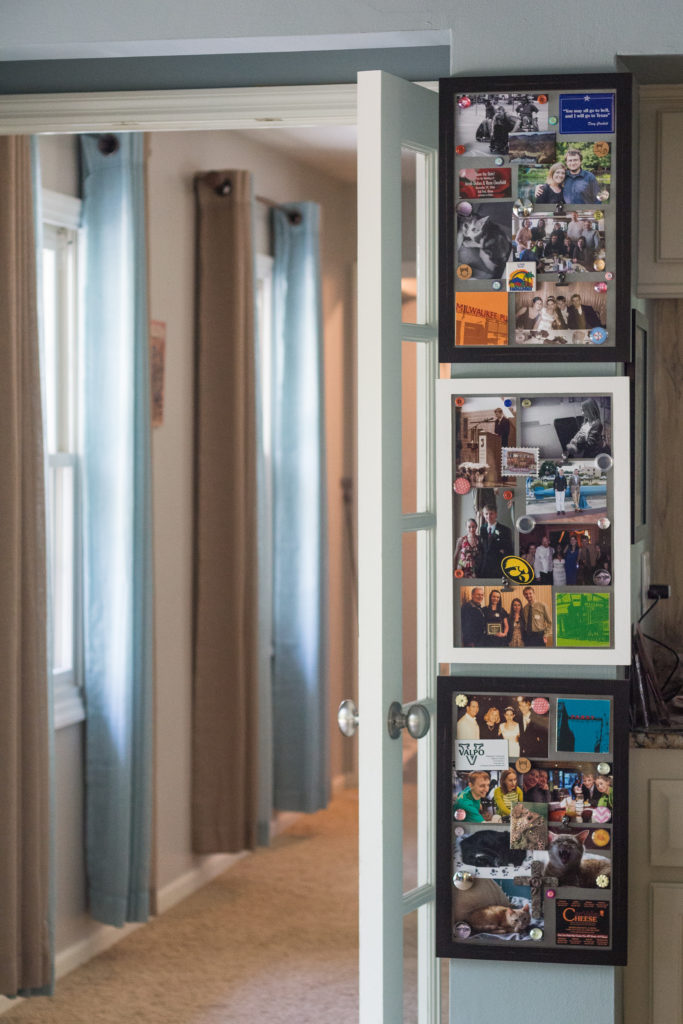 For many years, one of my trademark kitchen features was the refrigerator covered in photos and magnets. In Milwaukee, I could also display Christmas cards on the side. I left them up all year round because I love looking at the pictures people send. Now I have stainless steel appliances, which as I'm sure many of you know, are not magnetic. So I picked up the magnetic framed boards at Target. The white framed board was originally a really boring medium brown that didn't fit my style so I painted it.
Then I had to pair down the photos and magnets I wanted to display. The boards have less than half of the items I had displayed in Milwaukee when we moved. I try to switch up / update my kitchen photos a couple times a year, but I've only swapped out one or two photos since we moved.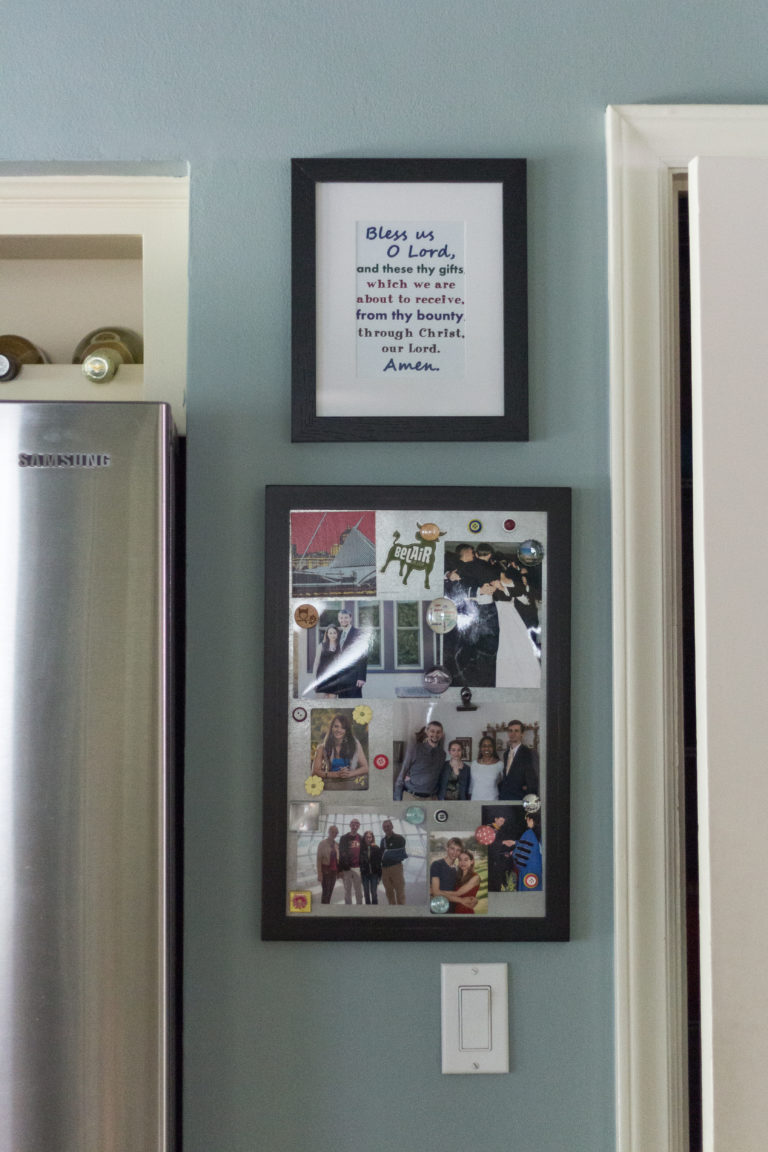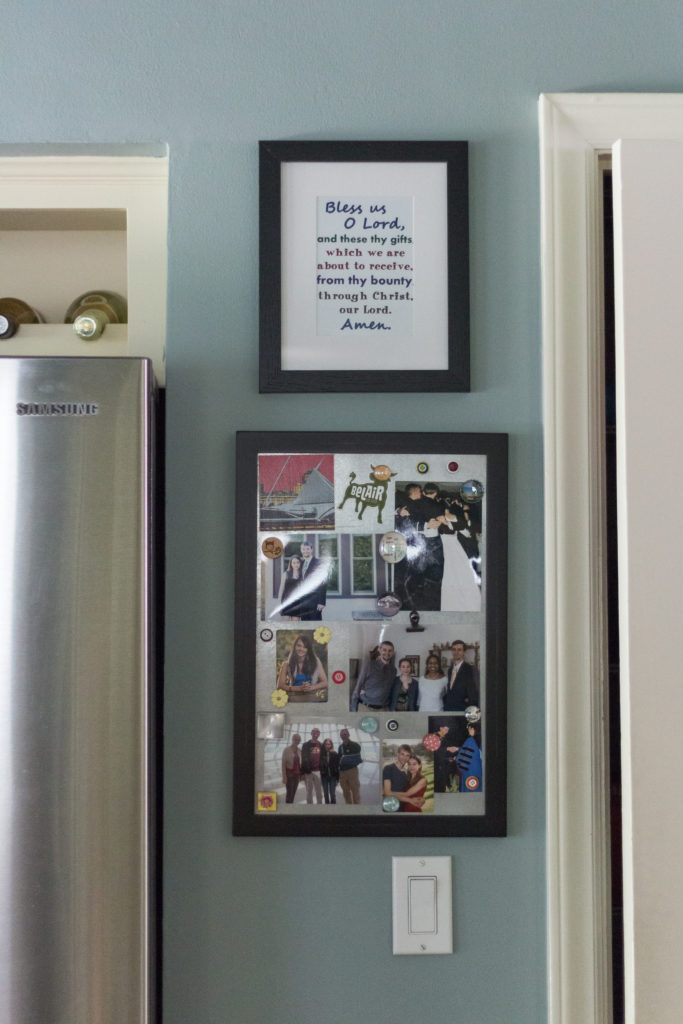 I'm not sure when or how it struck me that I wanted to display "Bless us oh Lord" in the kitchen. I couldn't find a print with it that I loved so I made my own. I know it's so simple, but it's one of my favorite pieces in the house now.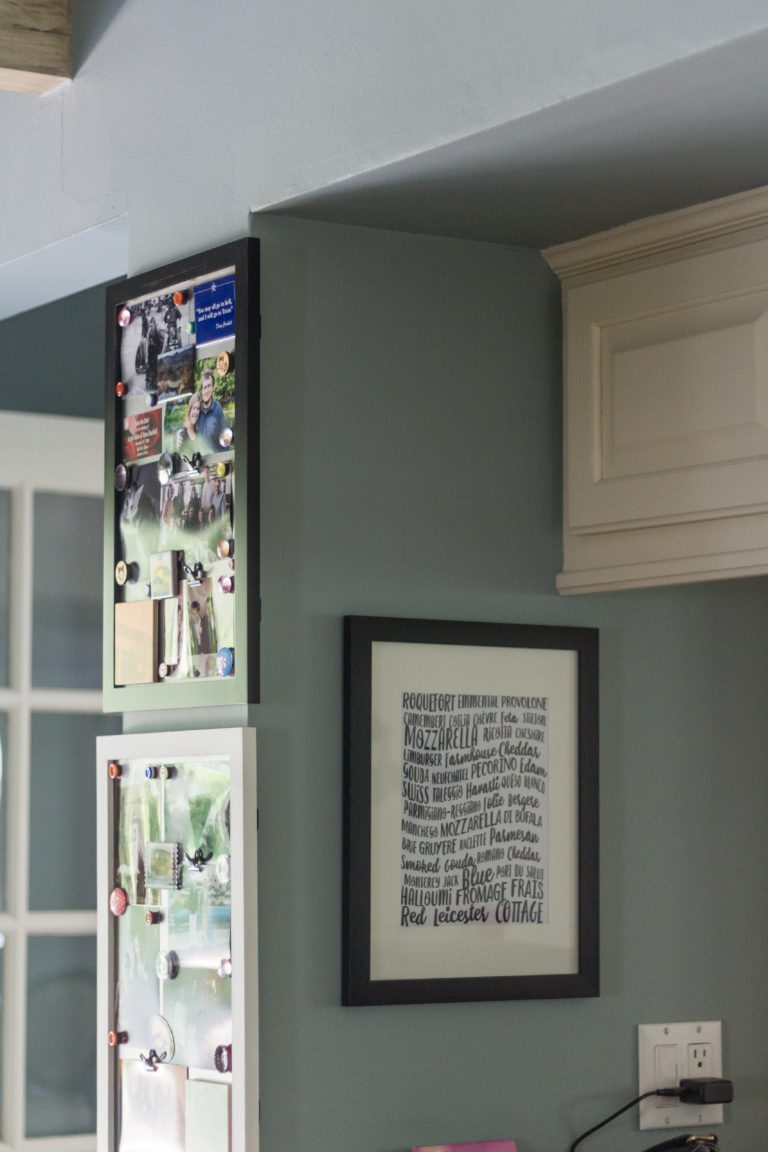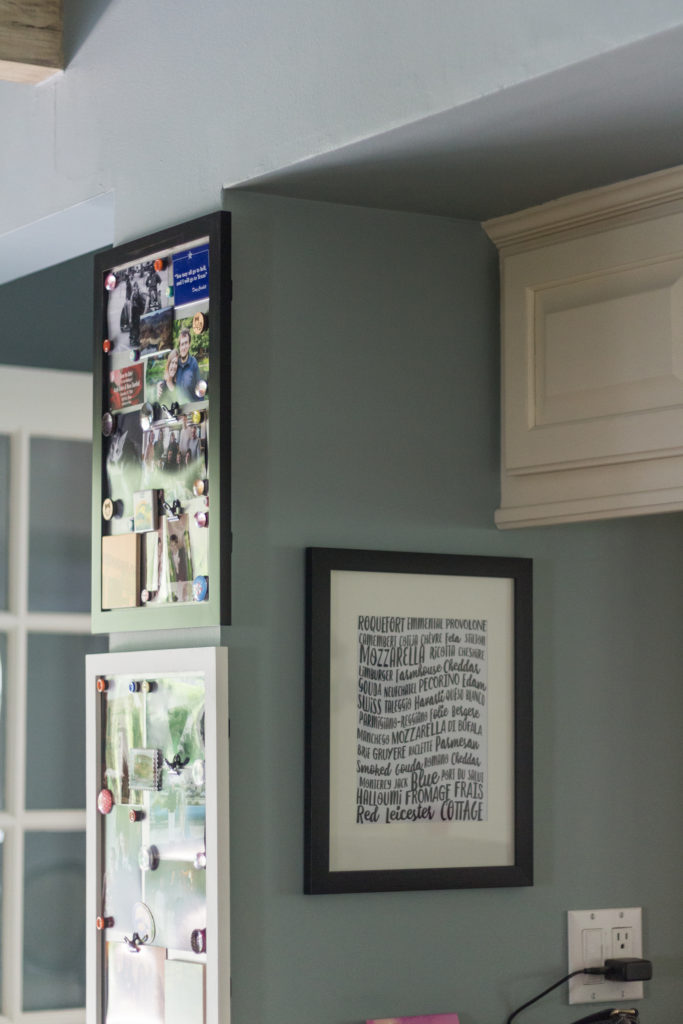 Jake and I almost always serve a specialty cheese when we have people over, typically a local smoked variety. Plus we live in Wisconsin. Enough said, right? The cheese print fits us.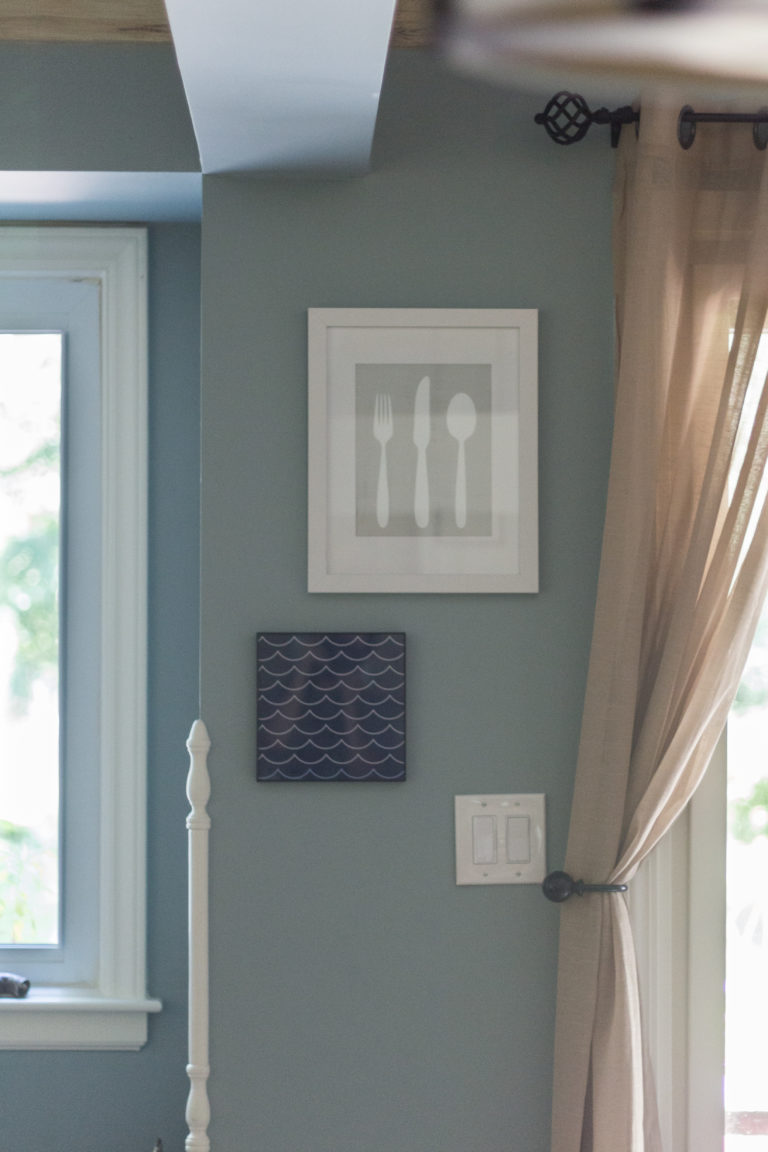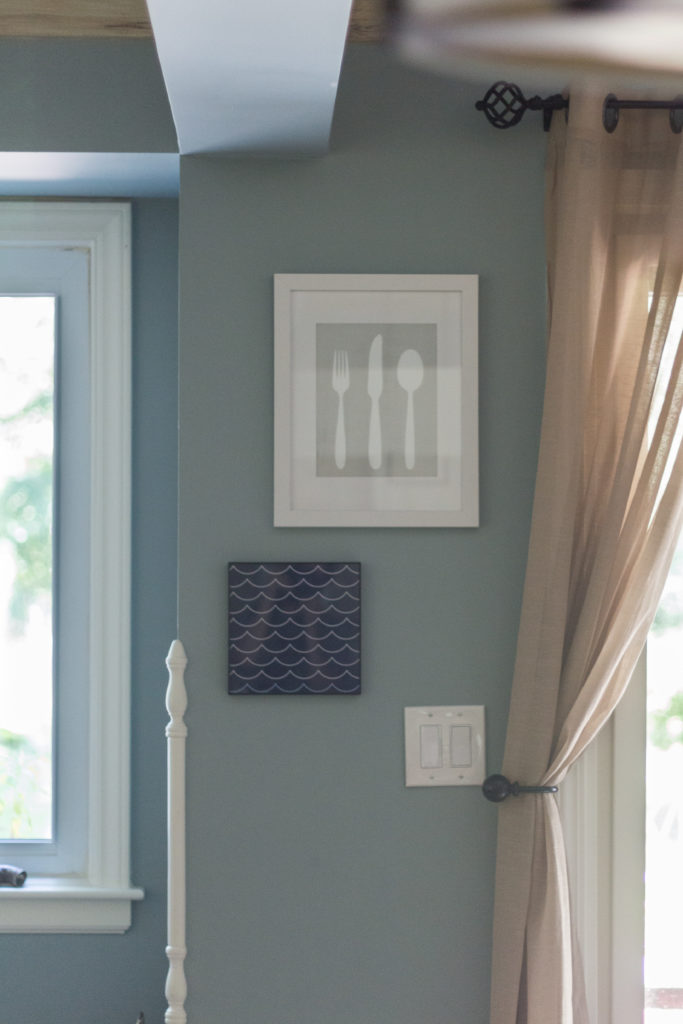 I never would have filled this space on my own, but the silverware print is on a hook that's painted onto the wall. Until we re-paint the kitchen (which isn't happening anytime soon), something has to go there. I spent way too long browsing silverware prints to find just the right design. The girl who made this print is the same girl who made the lighthouse print I have in our guest bedroom.
I displayed the 8″x8″ square frame in the entryway in our Milwaukee house, but it fits better in our new kitchen. I swap out the art periodically to fit the current season or holiday. I use a combination of catalog covers (I love Paper Source) and free printables I've found online. I have a full list of the free printable sources I've used thus far at the end of this post.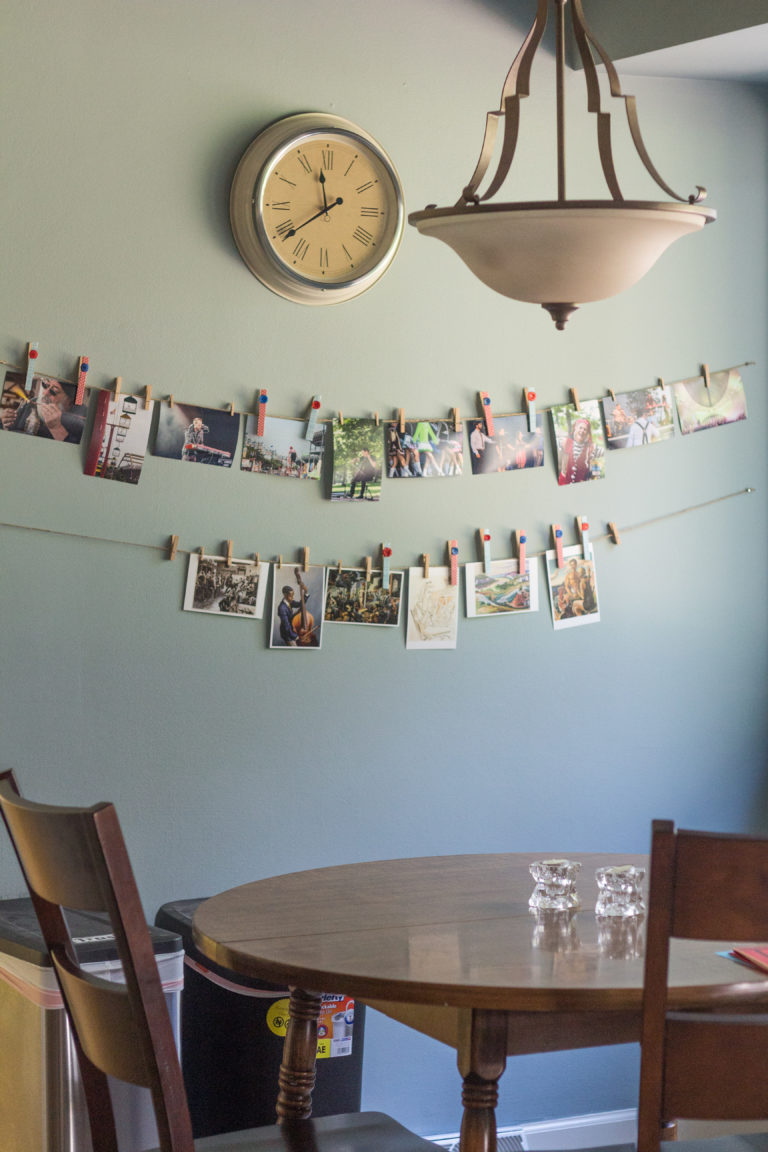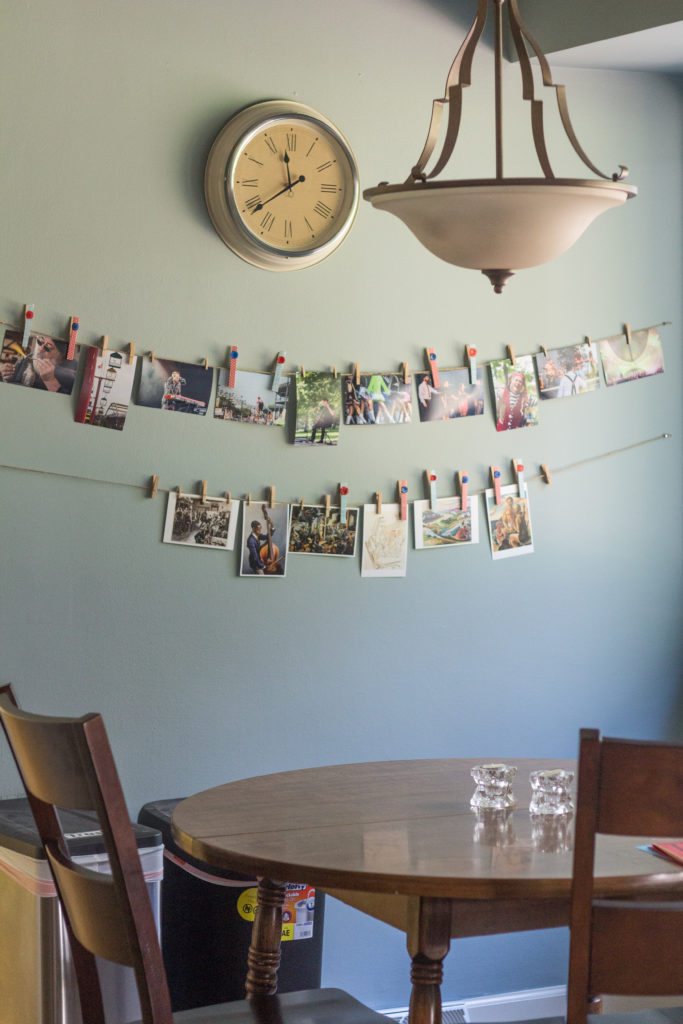 Finally, in our Milwaukee house, I had a large clothespin photo display between the living room and dining room. Similar to the mason jars, I don't have a space in our new home for this exact display. I took most of the current photos from that display for some new frames in my office and made the new clothespins displays another rotating season / holiday / whatever else I feel like display.
This past month, I've had varying festival photos on the top display because we're well into festival season here in southeast WI. The bottom display has postcards from the current special exhibit at the Milwaukee Art Museum, American Epics. (It's there until September 5. Go see it.) For September, I'm planning to print a selection of my new Glacier National Park photos and create an all Glacier display with some new postcards I got while we were there.
Sources:
Magnetic boards: Target (unfortunately, the medium brown is the only style available now, but it's very easy to paint or cover over it with fabric or scrapbook paper)
"Bless us oh Lord" – DIY design, printed with SmugMug
Cheese: Etsy, printed with SmugMug
Silverware: Etsy (background color – whisper)
The "Bless us oh Lord," cheese, silverware, and rotating square print frames are all from Michaels. If you'd like more specific details for locating any of these frames, let me know.
Free printables for the rotating 8″x8″ square frame: Sandy Toes and Popsicles, Remodelaholic, Brit + Co, Tater Tots and Jello (this post has the pictured waves), and My Love for Words. I cropped all prints to 8″x8″ and had them printed with SmugMug. I have some more free printables collected over here as well.
[Disclaimer: There are a few affiliate links in this post.}
How do you decorate your kitchen?
Feel free to leave links to favorite products!
Save
Save
Save
Save
Save
Save