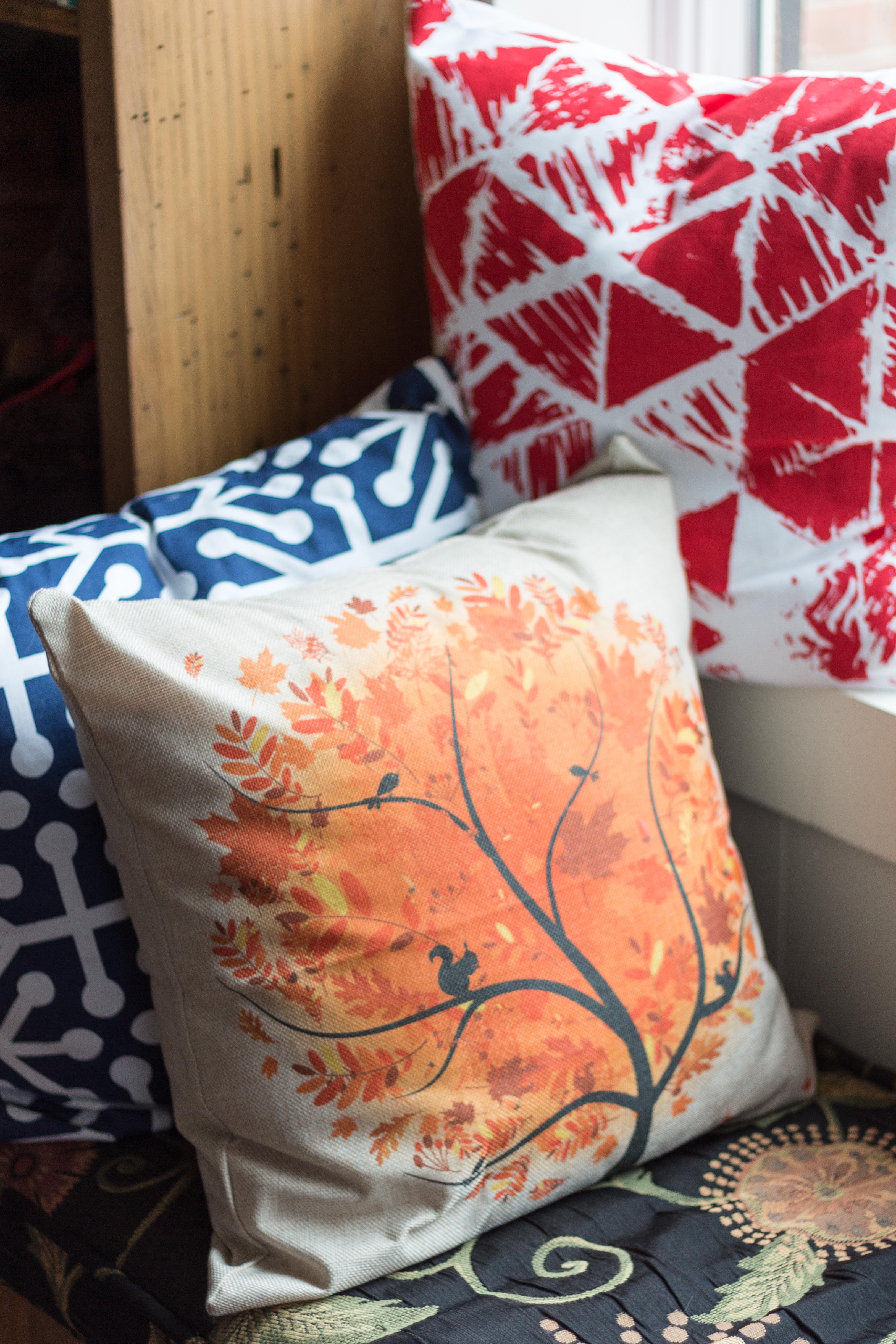 [Disclaimer: Amazon didn't sponsor me to write this post. The Amazon links are affiliate links. Thanks for your support!]
I'm a firm believer in decorating a home without breaking the bank. From making items yourself to scouting great sales and other deals, there are so many ways you can decorate your house beautifully on a budget. $10 and under throw pillows on Amazon are the perfect option for finishing out your living room, office, or bedroom.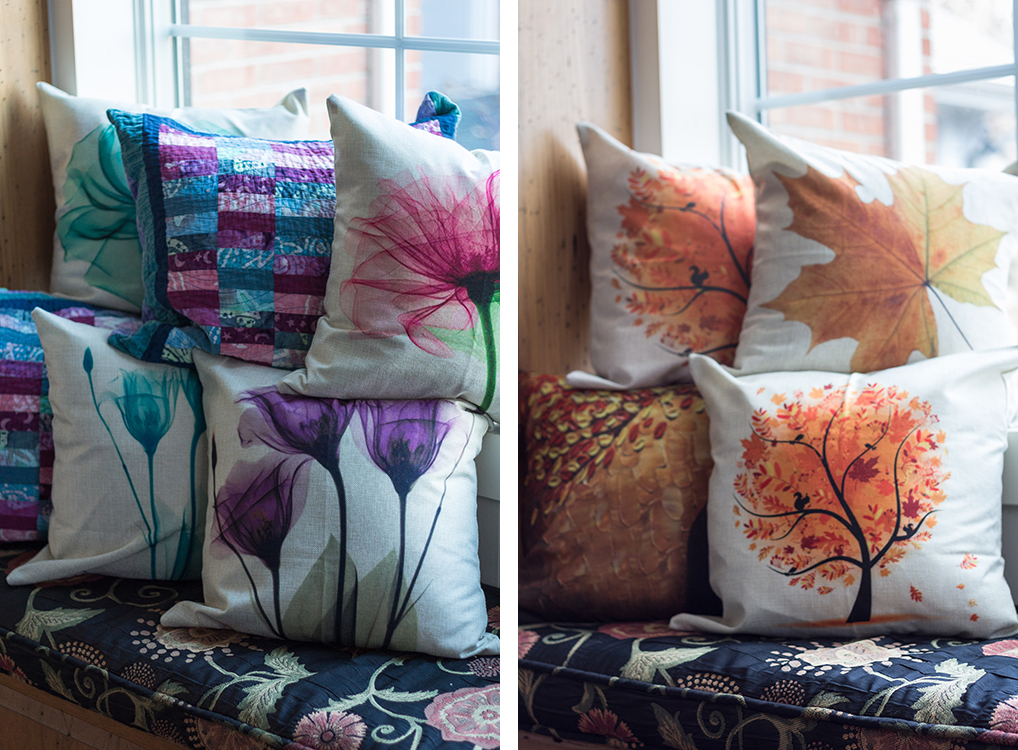 One of my final decorating tasks in my office is overhauling the pillows on my office window seat. Yes, my office has a window seat with a view of the lake. What more can you ask for in an office, right? The long seat cushion (which came with the house) is in okay shape but not my taste at all. I'm still planning to replace it at some point. When we moved to this house, my collection of throw pillows was old and really in need of a complete makeover. During the past few months, I've slowly been replacing the pillow forms and selecting new pillow covers I can switch out for different seasons and holidays.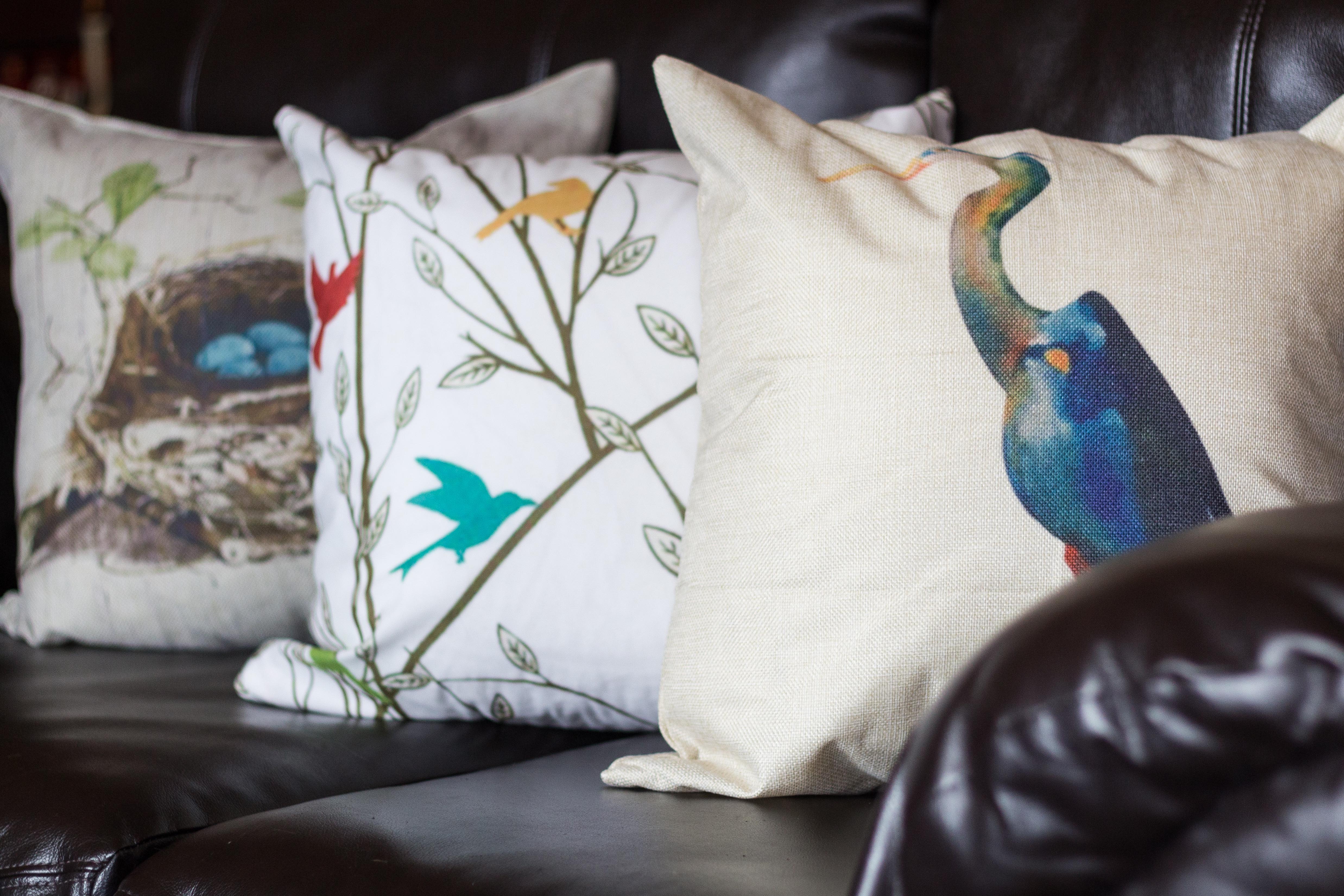 I have to thank Courtney of A Plus Life who wrote a post a while back about shopping on Amazon for throw pillows. Her post inspired me to check out Amazon, and I was blown away. The vast majority of these $10 and under throw pillow covers on Amazon are well under $10. In most cases, single pillow covers are available for $5 or less. You'll be hard pressed to find such a great deal elsewhere.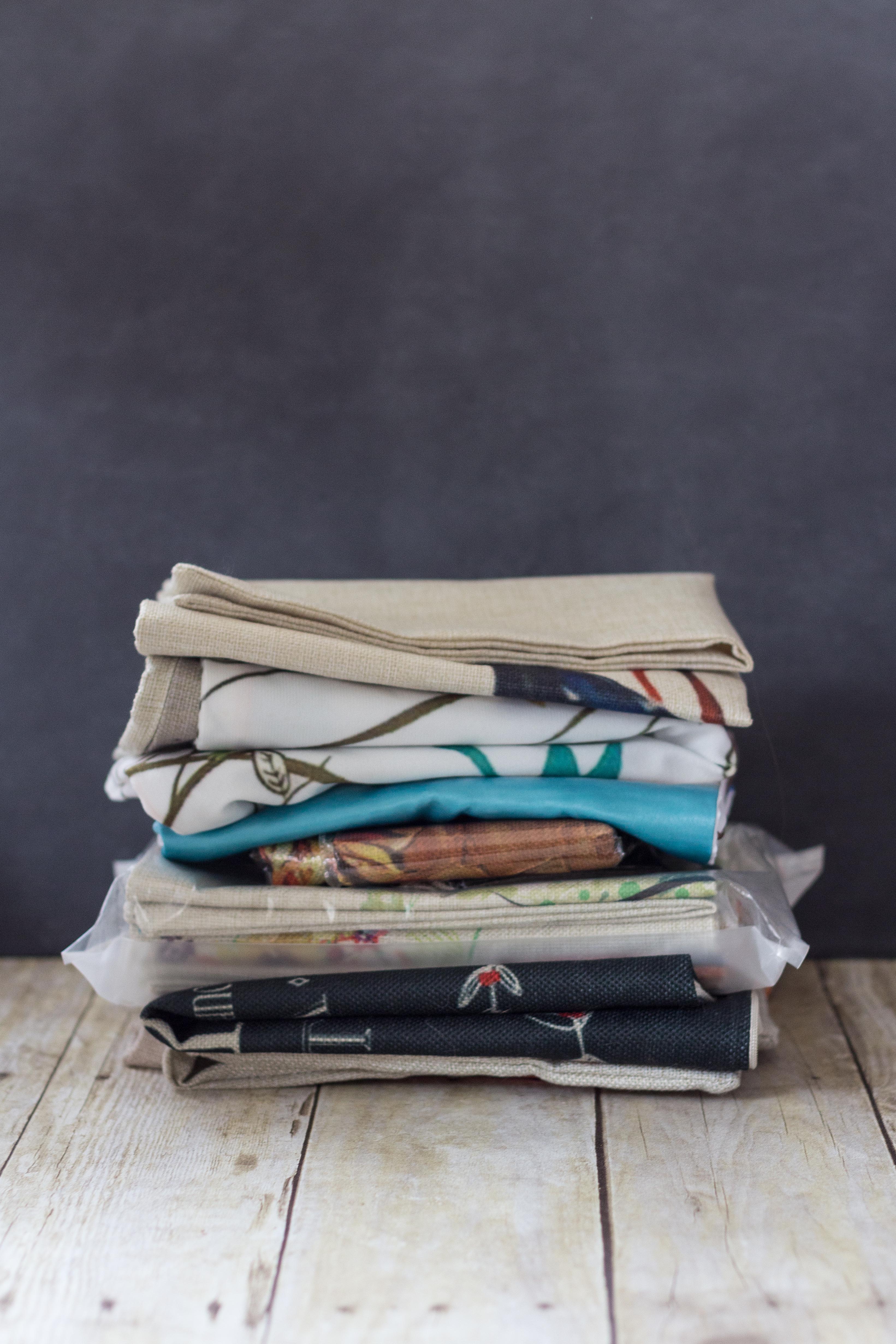 I ordered this pillow form. The pillow forms do cost more than $10. However, given the crazy low prices of the covers, the purchase still won't set you back too much. I love having separate pillows and covers, so you can replace them as needed and so you can switch them up periodically without storing tons of pillows. Pillow covers take up much less space than pillows.
Remember your pillow forms should be one inch larger than your pillow covers. For example, I decided to get 18″x18″ pillow covers, so I got 19″x19″ pillow forms. I decided to get all of my forms and covers in the same size, but mixing up the sizes creates a beautiful, layered aesthetic, too.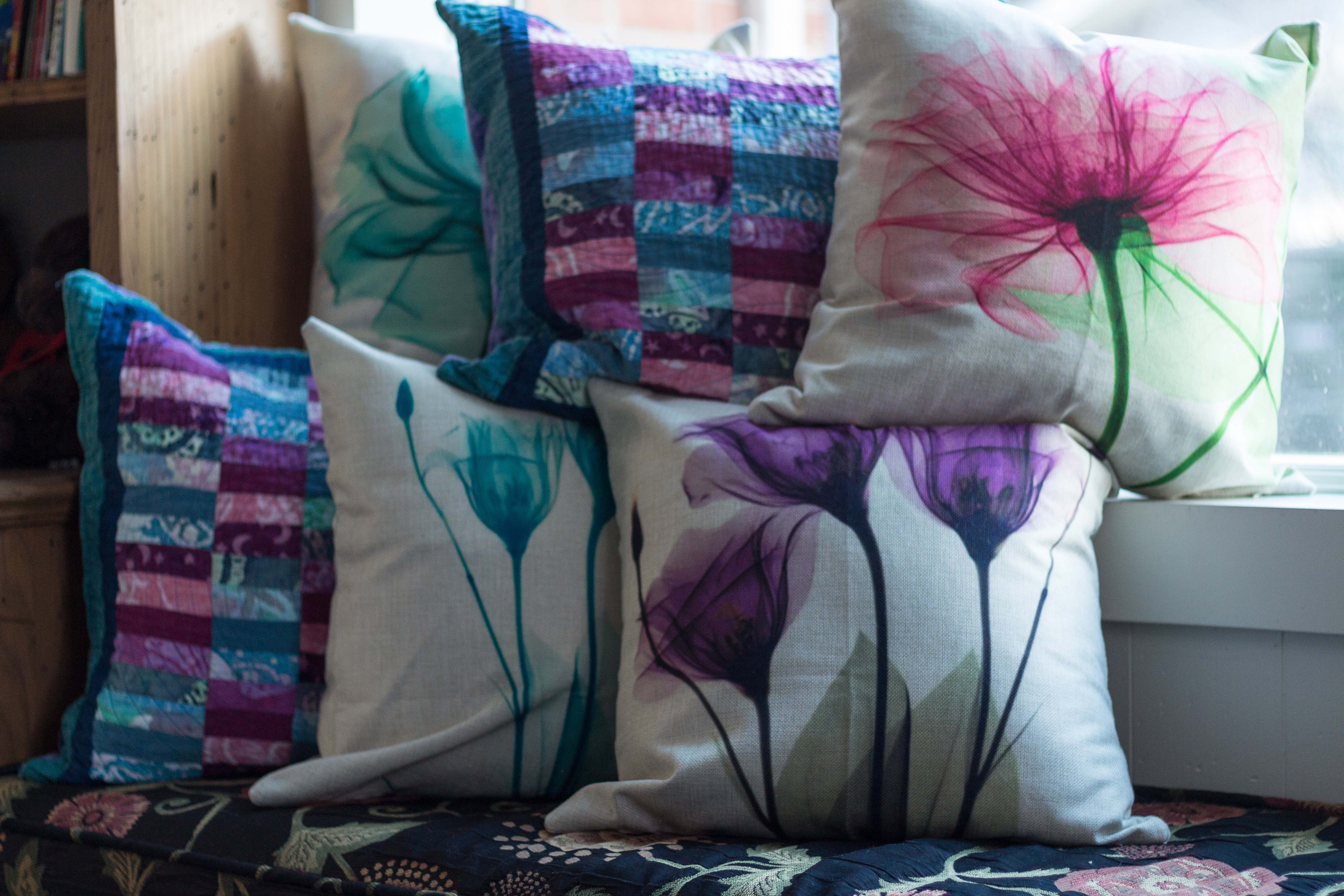 With the exception of the quilted pillow covers, which my mom made to match a quilt and which are still in great shape, all of the pillow covers I'm sharing in the photos in this post are $10 and under throw pillows on Amazon. I got rid of my entire set of old, flat pillow forms and replaced them with the form I linked above.
Of course, the kitties approve of the new pillows, too.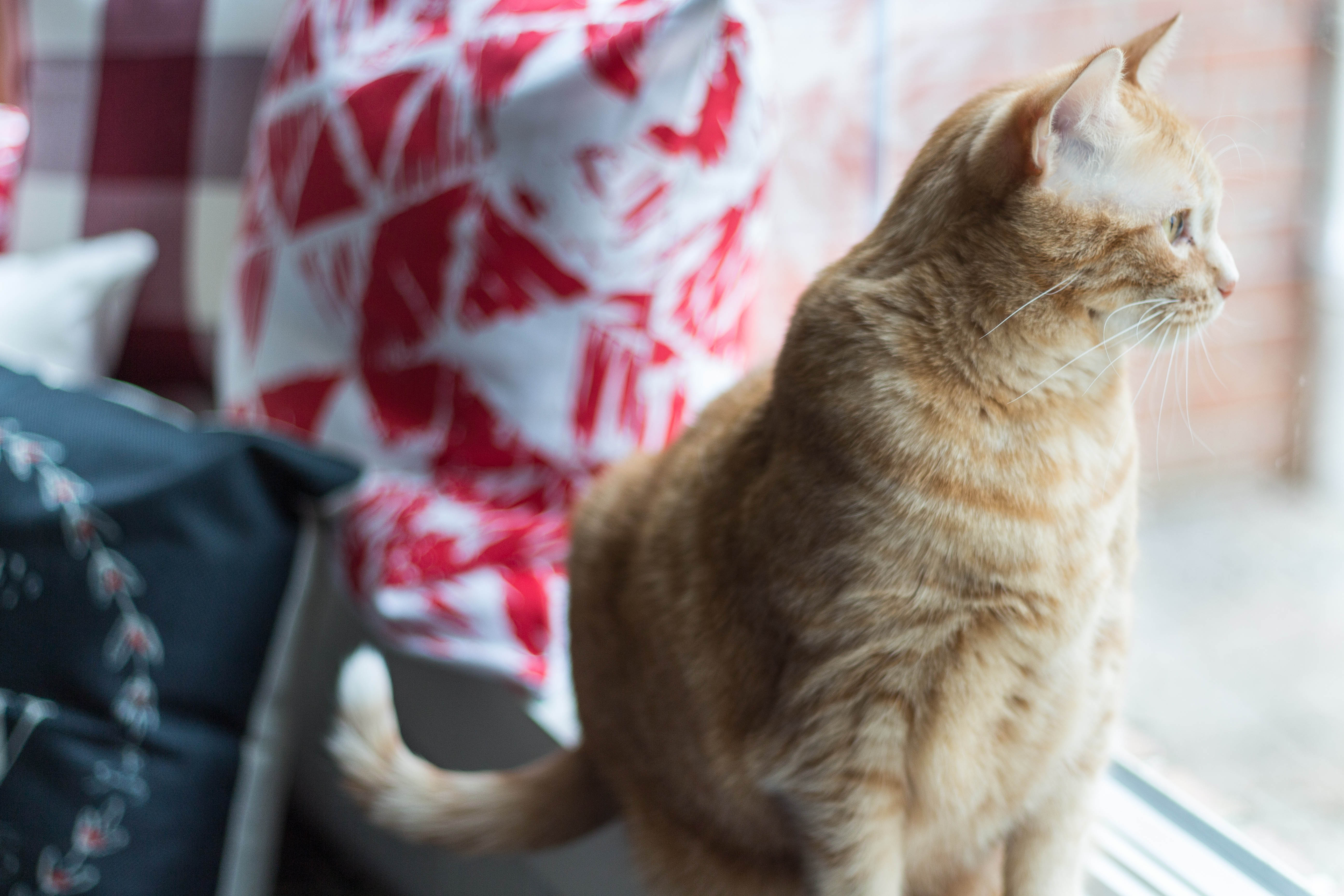 I've linked everything I've purchased and included a few other options, too. If you have any questions about specific pillows I've featured in this post, don't hesitate to ask.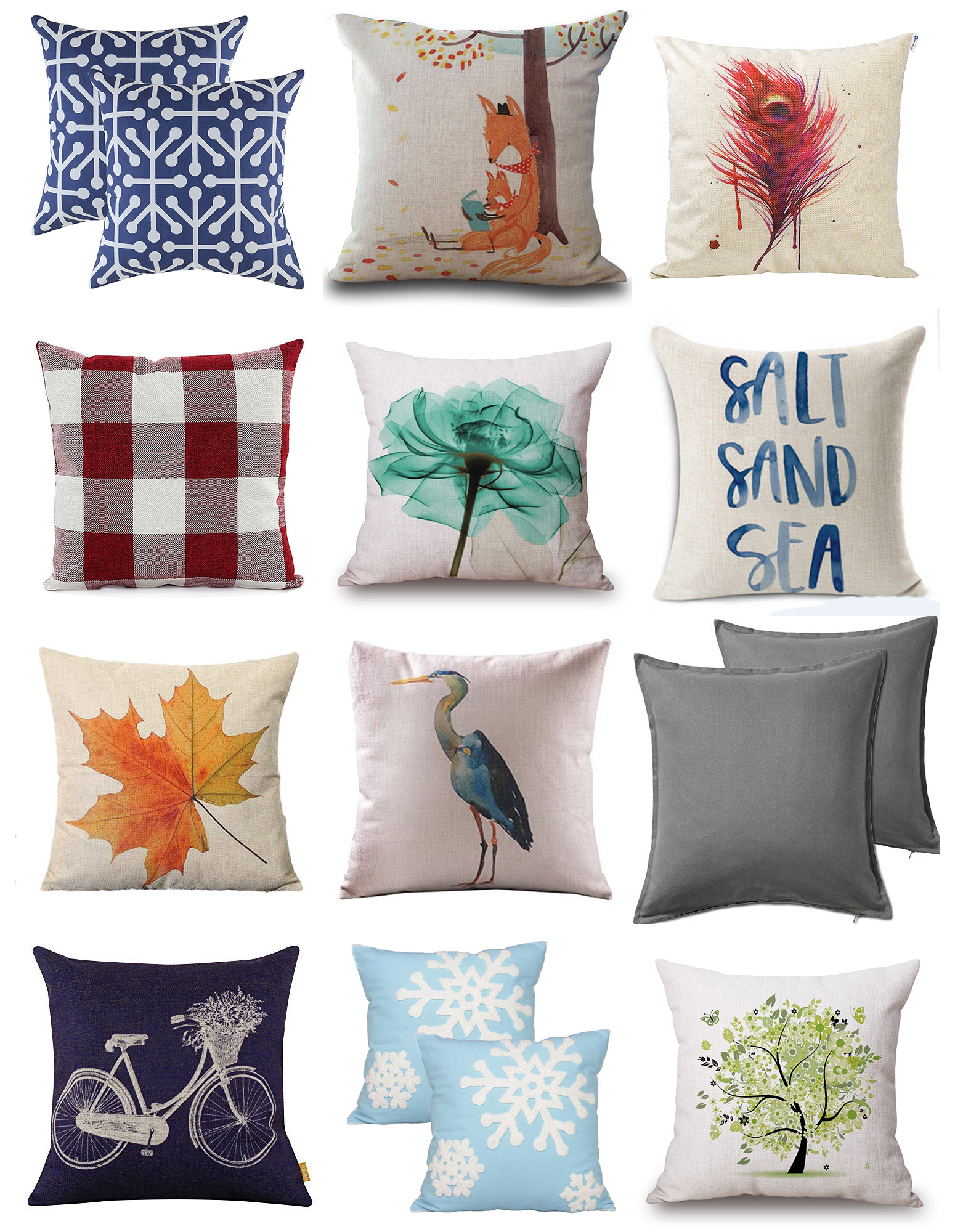 General/year-round
TreeWool (multiple patterns and colors) // flower trees (multiple colors) // four seasons of trees // velvet (multiple colors) // solid color (multiple colors) // outdoors – set of 4 // neutral triangles // blue and green leaves and patterns // home sweet home // you are my sunshine // not all who wander are lost // black and white patterns – set of 4
Spring
bird's nest // multicolored birds // transparent pastel flowers // green leaves // spring patterns // jacquard bird // abstract painting // Easter – set of 6 // Happy Easter shabby chic (multiple designs) // mason jar with flowers // green tree // blowing dandelion
Summer
watercolor bird // seashells on the beach // butterflies // oil painting hummingbirds // bicycle // "God is good" sunset // watercolor salt sand sea // Emerson quote // dragonfly (2 colors) // genius in the sea collection (multiple designs) // feathers (multiple designs)
Fall
leaves // autumn tree // maple leaf // pumpkin spice and everything nice // happy fall vintage tags // yellow leaves // fall foxes – set of 5 (also sold separately) // pine cones, acorns, and fall leaves // owls Happy Thanksgiving // happy pumpkin // give thanks // pine cones
Winter/Christmas
plaid // snowflake (multiple colors) // have yourself a Merry little Christmas // Merry Christmas – set of 4 // pine trees // car with Christmas tree on top // Merry Christmas – set of 6 // Merry Christmas – pine tree A // winter bird // let it snow // snowman // deer with antlers
Please keep in mind many pillow cases ship directly from China, which is why they're so cheap. The cases are high quality, but the shipping often takes a few weeks. If you're ordering for an upcoming season or holiday, make sure to allow plenty of time for shipping.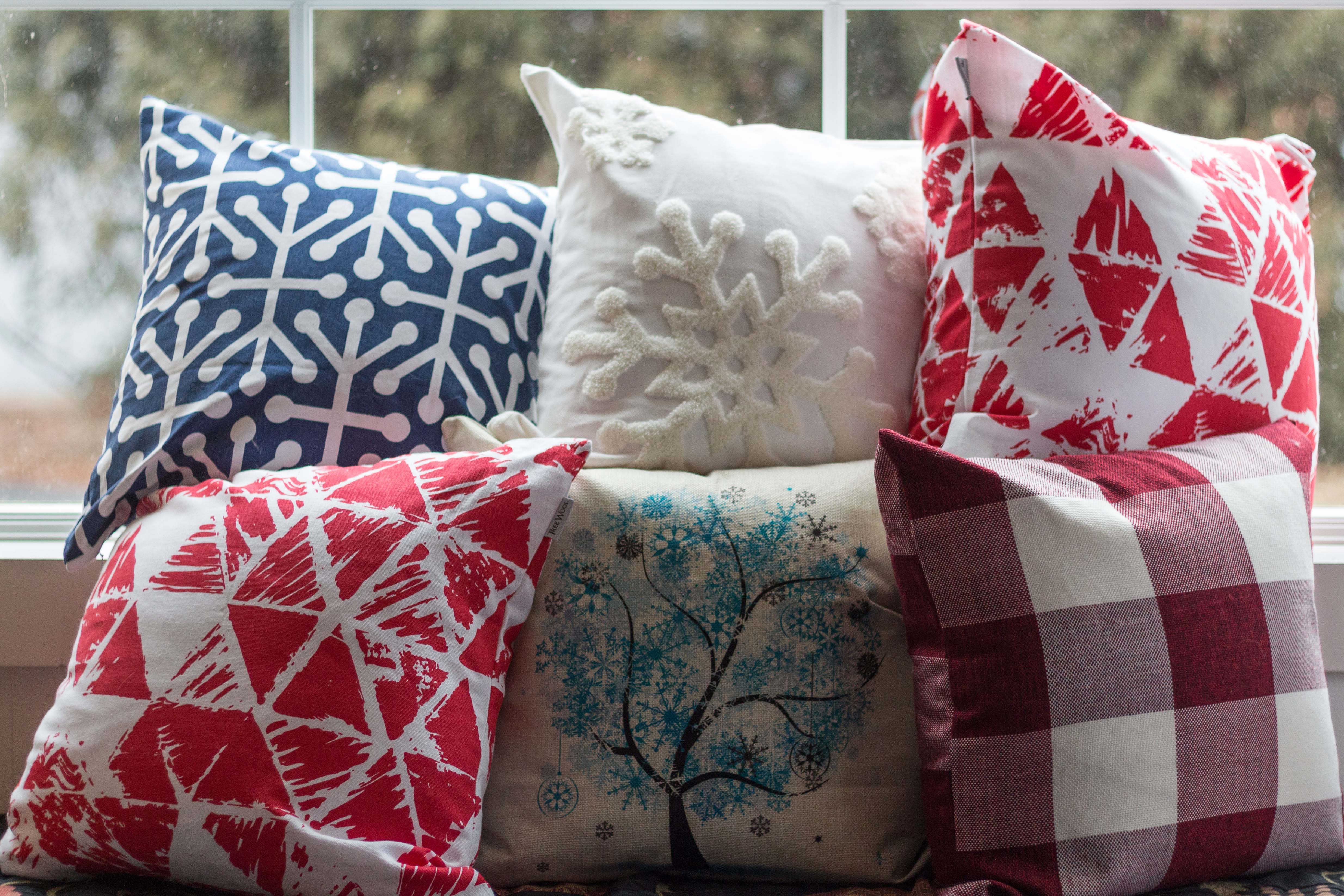 If you order any $10 and under throw pillows on Amazon, I'd love to see pictures! Post a snap to my Facebook page, tag your image #RoseClearfield on Instagram or Twitter, or send me a message on Snapchat (randomcreative).
More home resources!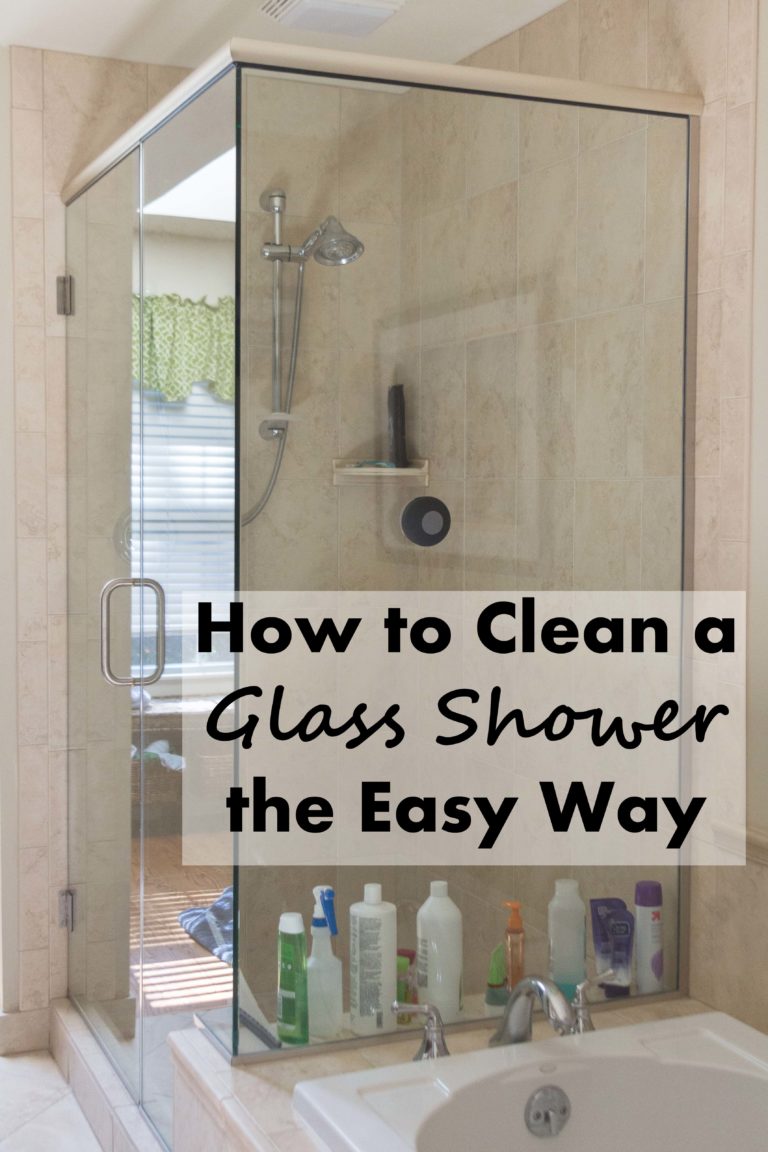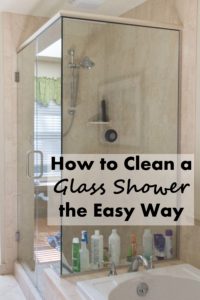 How to Clean a Glass Shower the Easy Way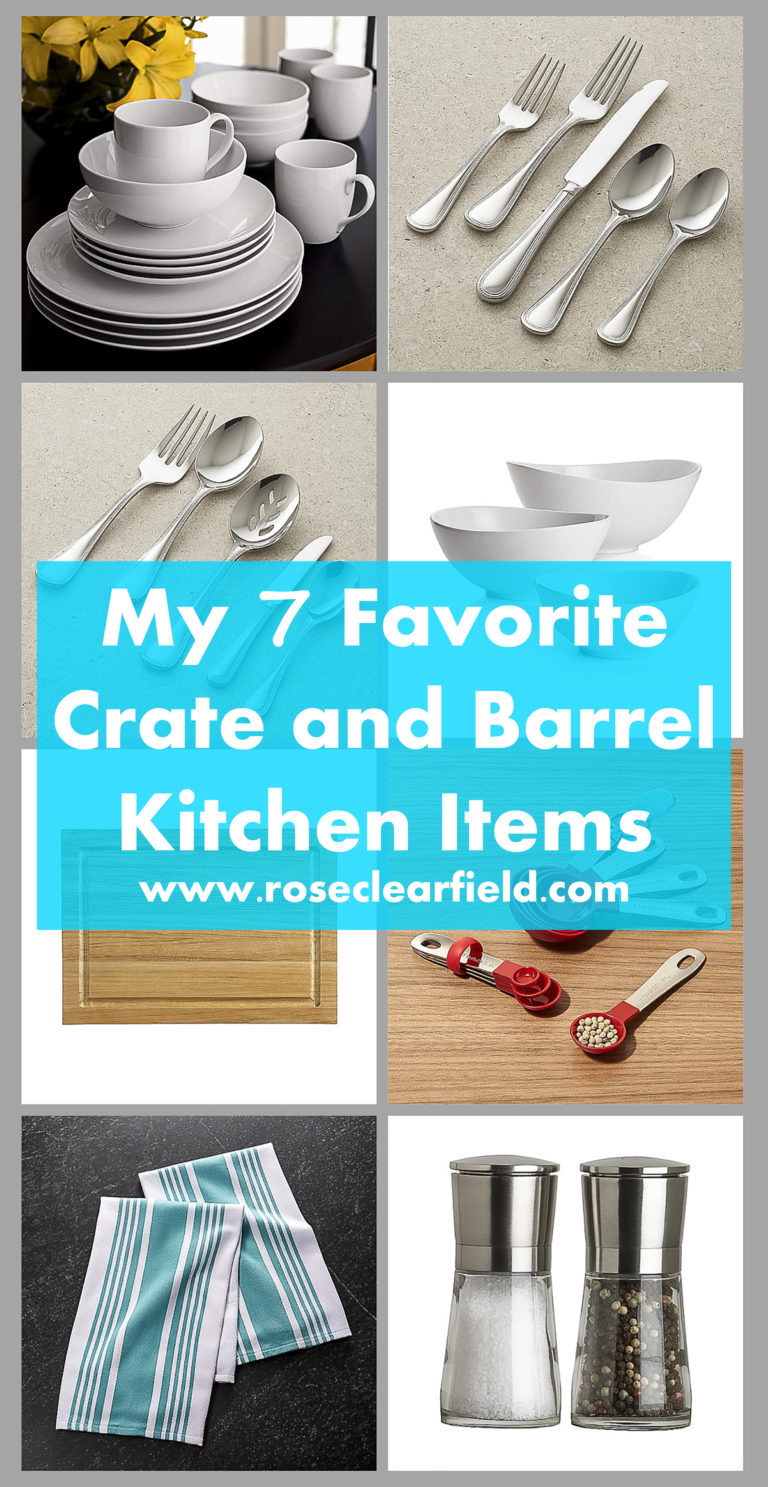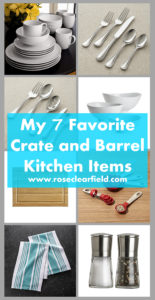 My 7 Favorite Staple Crate and Barrel Kitchen Items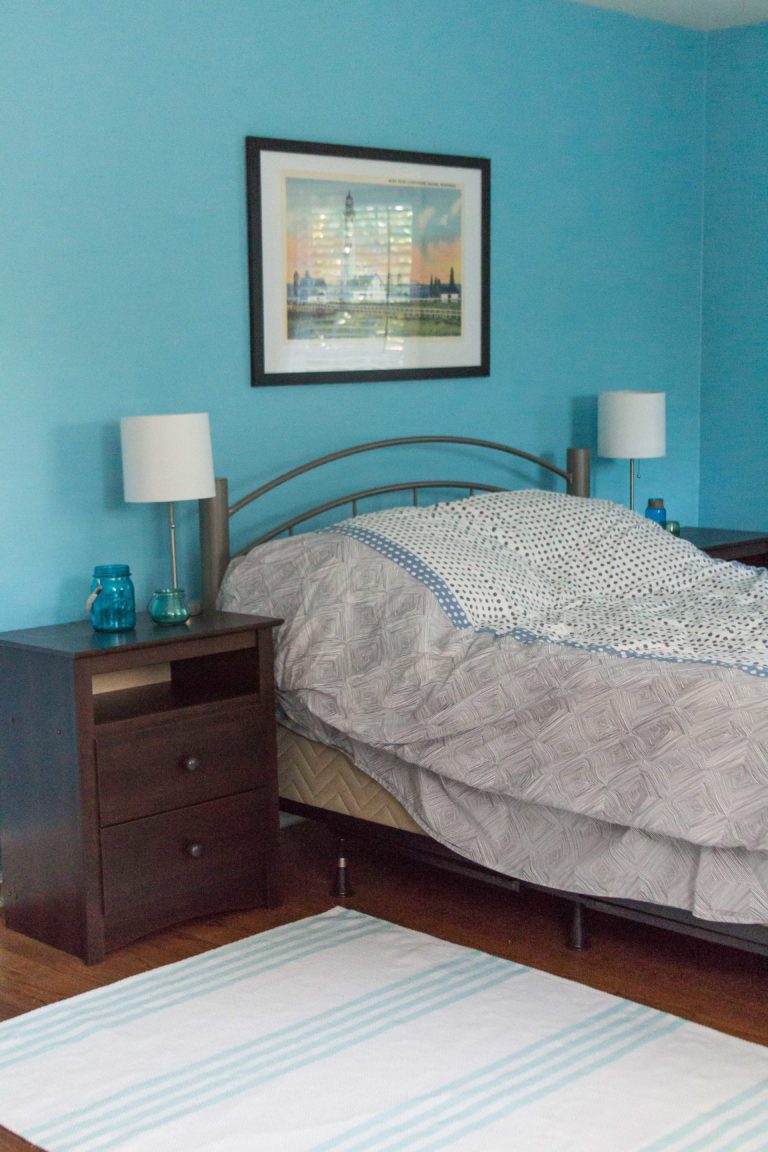 Save
Save
Save