People seem to think that once you've adopted a child, everything is okay now.
Adoption makes you a parent. It doesn't cure infertility or erase that past.
I realize that infertility is an uncomfortable topic and most people want to do everything they can to avoid it at all costs. I think that once we feel like our family is complete, I'll be able to move on from my infertility past a little bit more. But with just one child that we spent many many years to bring into our lives, the pain is still very real. My infertility past isn't that far behind me. We're still infertile, and we have no idea how long it will take to adopt another child.
I really appreciate that my child will not ever feel like a lesser family member or not an equal in groups of friends' kids. However, pretending like he arrived the same way that biological children did and glossing over my feelings isn't helpful. It's actually pretty rude. Adoption doesn't fix everything, including the following.
Adoption doesn't mean that a couple's grieving process is over.
Every couple must decide when they're ready to close the door on fertility treatments or if they haven't done fertility treatments, move on from trying to get pregnant naturally. There is no right or wrong time to call it quits on trying to get pregnant. Each couple must decide what their limits are financially, physically, and emotionally.
In many instances, this process takes time and involves a lot of grieving. It isn't a good idea to start pursuing adoption until you're at peace to move onto this new path. However, there is no point in the adoption process or even many years down the road when you're long past adoption that the grieving process is over forever.
This grief looks different for everyone. Many people will reach a point when they don't experience grief every day or even every week or month but will still have occasional triggers. For couples who have had significant grieving during their journey to conceive, such as losing a child at 20 weeks, the grief will always be there on some level. Adoption won't ever take it away completely. Glossing over this grief, pretending that it doesn't exist, or saying something "helpful" when you don't know what to say is really hurtful and may even be downright offensive.
Adoption doesn't allow you to have the same baby preparation experiences, which leaves many couples feeling cheated.
Preparing to adopt a child looks very different from preparing to bring home your own baby. We've spent thousands of dollars and shared more with our social worker than any single family member or friend knows about us. We've never seen an ultrasound of our child, let alone had our own ultrasound. No one threw us a baby shower. We didn't have a traditional nesting period or in utero bonding experience with our child. I could go on and on but you get the idea. While our adoption story is amazing and we're beyond grateful to have a child, it isn't the same as having the experiences of preparing for a biological child.
Adoption also leaves you feeling cheated of some of the essential elements of having your own babies.
Hands down, the single hardest element about parenting an adopted child is not breastfeeding. I never imagined that I'd be exclusively formula feeding my baby, and it's really tough. I could write an entire post on this topic. But suffice it to say, I would still give a lot to be able to breastfeed and have that bonding experience. Many women also grieve the loss of feeling their children move inside them and numerous other aspects of birthing and caring for biological children.
Adoption doesn't take away all the pain of watching other couples' pregnancy announcements, baby showers, gender reveal parties, etc.
100% honesty: I was inspired to write this post because I'm blown away by the lack of sensitivity we've continued to experience post-adoption of baby #1 from our own family. I know that there's nothing that says family will be more sensitive, understanding, etc. of infertility and adoption, even when you've shared your entire story with them. But it's awful to show up to holidays and other family functions, knowing that people will just carry on as though your circumstances don't exist. To anyone who has experienced a similar lack of sensitivity, I'm so sorry.
More generally, I actually do have a number of friends and a few family members who get it and continue to use discretion and demonstrate a high level of respect, which is great. No matter how the rest of our adoption journey goes, pregnancy announcements, baby showers, and gender reveal parties are never going to be my favorite things in the world. Unless it's a very close friend or family member or someone I know has been trying to have kids for a long time, most likely I'm not going to get overly excited about a pregnancy. I know that offends a lot of people. But it's my reality, and I don't feel like I should have to pretend otherwise.
If you're planning to invite a friend or family member to a baby shower or gender reveal party whom you know is struggling to get pregnant or has faced infertility issues, please talk to them ahead of time. Don't send an invitation out of the blue and then get judgemental when they don't respond or they turn it down with no explanation. Do your best to be understanding of their response and know that any negative feelings are not personal.
Finally, adoption comes with its own emotional component.
Even under the best of circumstances, adoption is tough. All things considered, Tommy's adoption went very smoothly. And it's still tough. I'm not saying this in a "poor me" way, it's just the reality of adoption. We're raising a child who isn't biologically our own. It's impossible to know what sorts of identity issues and questions he'll have as he gets older. There will always be birth families involved. Every single day we celebrate may be a tough day or a day of mixed emotions for those families. Many of them will be for me as well, particularly Mother's Day.
I know that this is a sensitive subject and that I've probably offended a few (possibly more than a few) people with this post. It's a topic that's important to me and that I will continue to discuss from time to time, even though it always comes at the risk of offending people. I urge everyone who has faced infertility, regardless of the outcome of your journey, to share your story. The more people who share their stories, the less stigma there will be about infertility and the more everyone will understand the journey so many couples face around the adoption process.
Adoptive parents, what have been your biggest struggles with the adoption process?
As always, I'd love your insight on this topic!
Pin this post for easy access to this adoption resource later!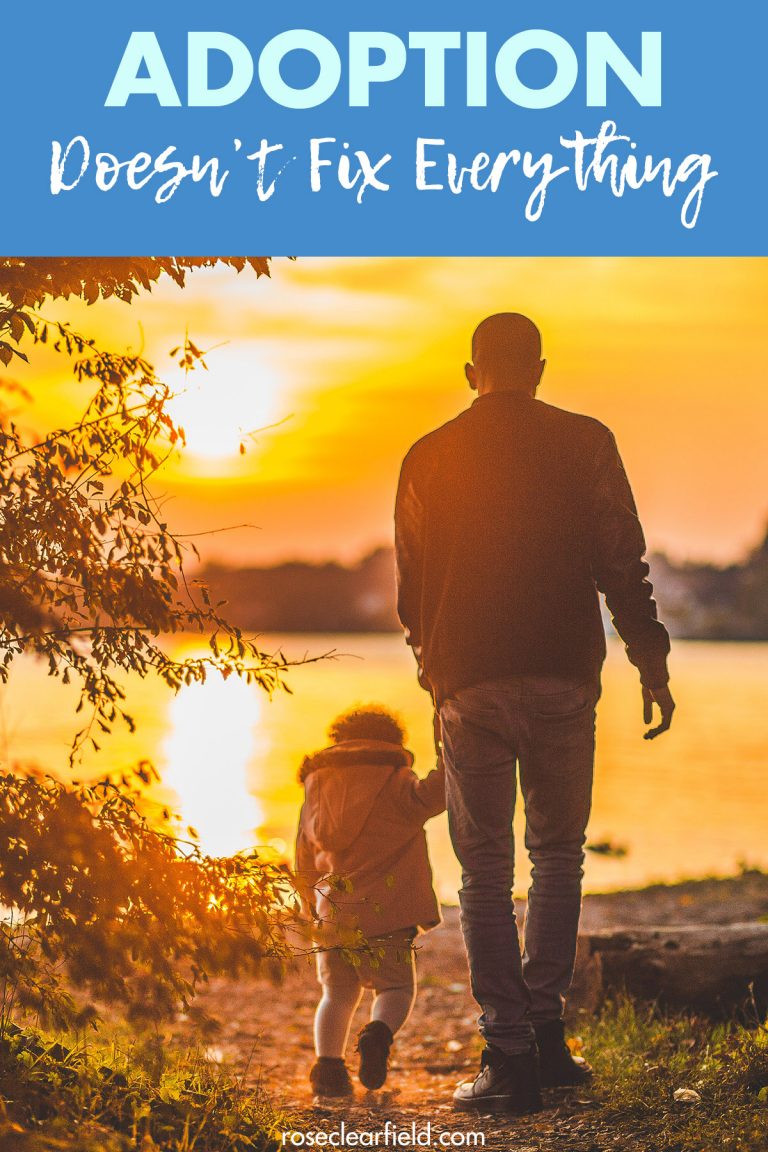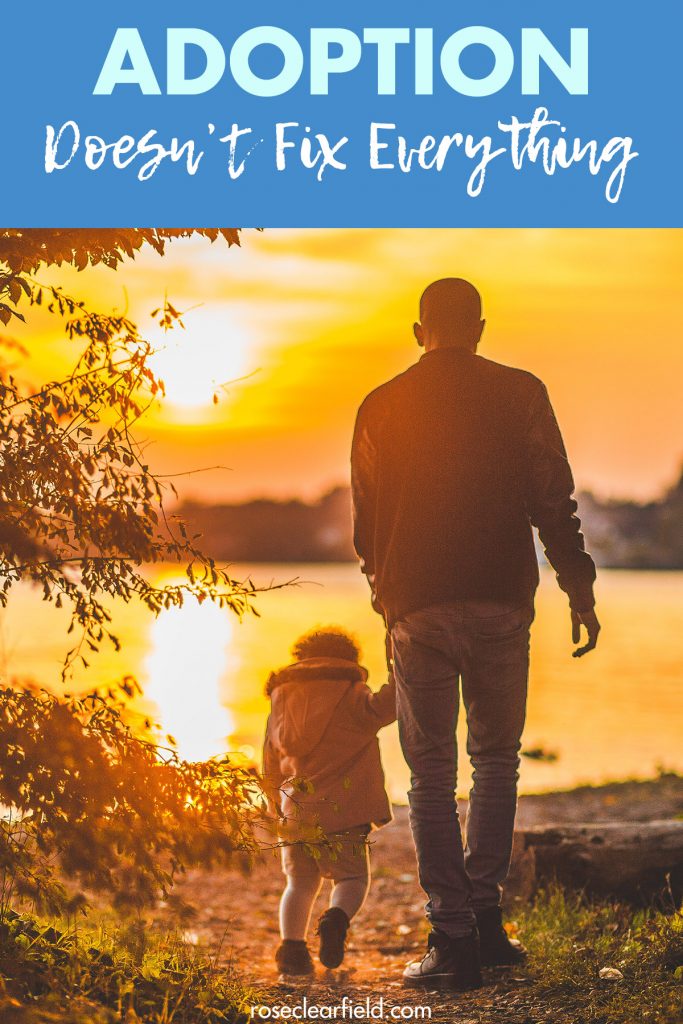 More adoption resources:
Visit the adoption section of my blog to learn more about our adoption story and access more adoption resources.