Adoption is a long, complex, and expensive process. Even with the best of intentions and guidance from awesome social workers, it's easy to mistakes. The following tips will help you avoid the biggest common adoption mistakes.
1. Failing to do your research
Not all adoption agencies are created equal. Unfortunately, there are adoption scams out there and people praying on couples' emotions to make a quick buck. Among the qualified, reputable agencies, there is quite a bit of variation. It's important to choose an agency that's a good fit for your family. You want to feel comfortable with the staff and be able to front the costs. Beyond selecting an agency, it's important to understand the process of the home study, adoption match, and adoption finalization. While your agency will walk you through everything, it's a good idea to review these steps on your own, so you don't have any major surprises.
2. Jumping into the process without considering the financial side
Private adoption is expensive. Infant domestic adoption starts around $20,000. Depending on the specific agency and exact circumstances, it may be considerably more. International adoption is more expensive than domestic adoption. The costs are often upward of $30,000. There are grants available for adoption. Some people fundraise for a portion of their adoption funds. You may receive a federal tax credit following an adoption finalization, which does help offset some costs. A reputable agency will provide you with expenses information upfront. You'll never have to pay the full amount for an adoption all at once, which allows you to budget for different stages of the adoption process.
3. Deciding to adopt because you want to save the world
Adoption is a wonderful way to grow a family. If you are unable to conceive or simply feel called to grow your family through adoption, it's well worth pursuing. It's important to approach adoption from the right perspective. Taking a "we're saving the world" perspective is a dangerous path. Suddenly you find yourself wanting to say yes to every adoption profile, regardless of the medical history, drug use, etc. or you want to adopt a dozen children from the orphanage because how could you possibly say no to any of them? You can't adopt all of the children in the world who need homes. You need to do what's best for yourself and your family.
4. Not addressing expectant parents properly
When you create an adoption profile, you're sharing your words and images with potentially dozens of expectant parents. Expectant parents are just that: moms or couples considering making an adoption plan. They are real people making some of the hardest decisions of their lives. Expectant parents deserve respect and compassion. Don't put words into their mouths. Avoid phrases in your adoption materials like "you can't imagine how much we will love your child." People mean well with this type of remark, but it's very offensive. Let expectant parents process their emotions without any bias.
5. Focusing on too much negative or positive in your profile
Many couples pursuing adoption have faced infertility. It's okay to mention your infertility past briefly without getting into the timeline, testing, diagnosis, or treatments. Expectant parents don't need that information. On the flip side, no one expects your family to be perfect, including social workers and expectant parents. You don't get approved for a home study or matched with expectant parents because your life is perfect. Let your personality shine through as you share your lives and talk about your interests, passions, and plans for the future.
6. Attempting to navigate an adoption without professional help
Pursuing adoption without professional help is a really bad idea. There is a ton of legality involved with adoption. When you don't have qualified help or you choose to go against the professionals' advice because you think you know better or you're trying to save money, you're bound to get into trouble. If you make an adoption match outside of an agency, contact your social worker immediately to get them involved in the process.
7. Not considering open adoption
I'll be honest: I never imagined I'd have an open adoption, especially one that involved a lot more than sending occasional emails. I feel fortunate that we work with an adoption agency that strongly advocates for open adoption and that my son has birth family that want to be an ongoing presence in his life. If you're pursuing domestic adoption and are wary of open adoption, put yourself if your future child's shoes for a minute. Open adoption is one of the best gifts you'll ever be able to give him or her.
8. Falling for scams
Unfortunately, there are adoption scams. People will prey on the emotions of adoptive families to make a quick buck. There are also individuals out there running shady adoption agencies. If it sounds too good to be true, most likely it is too good to be true. The most prominent adoption agencies are well known for a reason. There's nothing wrong with choosing a smaller, lesser-known agency, but make sure you do your research.
9. Not following social media protocol
When you've waited years to grow your family, it's tempting to post your good news right away. The guidelines for social media posting vary from one state to next. Review the policies with your social worker, so you're clear on them in advance. Regardless of the specific policies, I strongly advise against posting anything publicly until the parental rights have been terminated. If you have an open adoption, talk to the birth family about their preferences for you sharing information about and pictures of them.
10. Forgetting that adoption is a lifelong process
Finalizing an adoption is just the beginning of life with adopted children. Once you no longer have an active home study, it's still important to attend trainings periodically and maintain a strong adoption community. The early years with adopted children are the easiest as far as the topic of adoption goes. As children get older, they may have questions or issues may arise. Being part of an adoption community will help you support your kids as they need it.
Telling or not telling family and friends
I'm discussing telling or not telling family and friends at the end of this post because I've read advice that goes both ways. And I understand why people take both positions. Telling family and friends you're starting a home study or entering the adoption waiting pool is a great way to get support and prayers. However, telling people opens the floodgates for a wealth of unsolicited questions, stories, and comments. Your family and friends will constantly ask for updates. As though you adopted a baby three months ago and forgot to tell everyone.
We have been open about our adoption journey right from the start. I truly believe the wealth of people praying for us led to the adoption of our son. I also understand why couples don't want to deal with endless questions because it gets really old. You may also want to tell a select few trusted loved ones and not share everything with the whole world, which is great, too. Follow your heart.
Adoptive families, did you make any of these common adoption mistakes?
What advice would you give other adoptive families for avoiding the biggest adoption mistakes?
Pin this post for easy access to tips for avoiding common adoption mistakes later!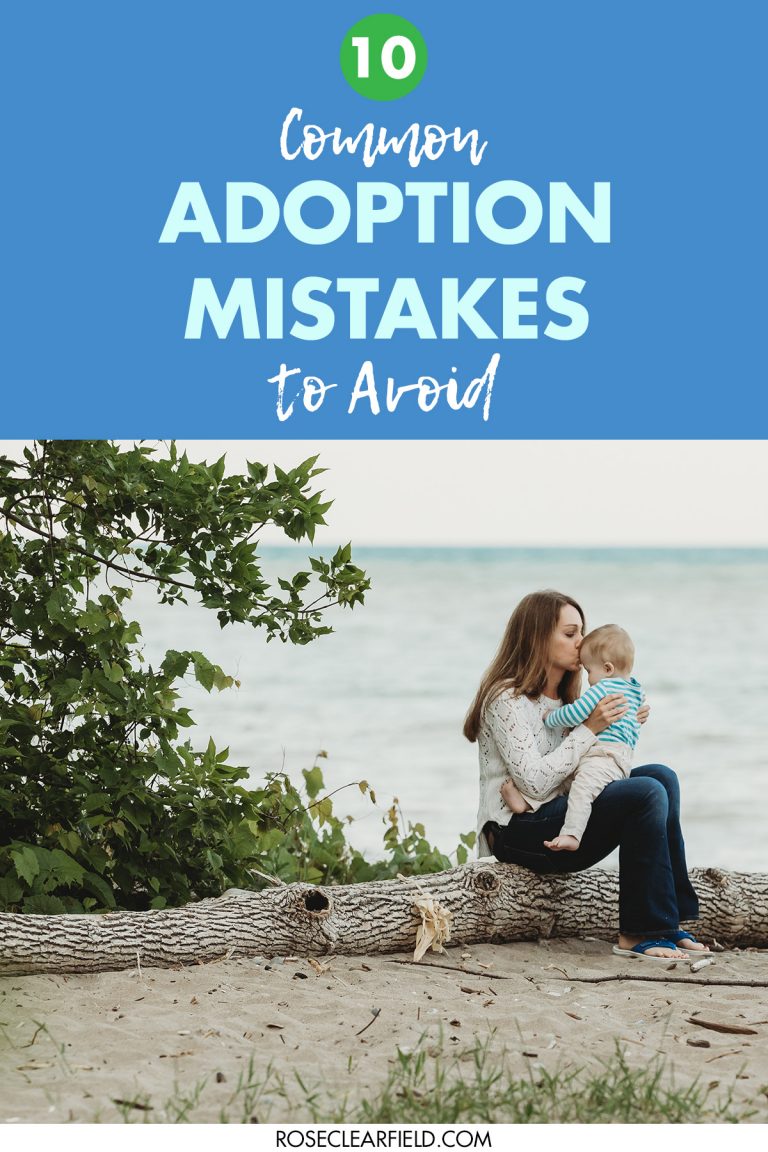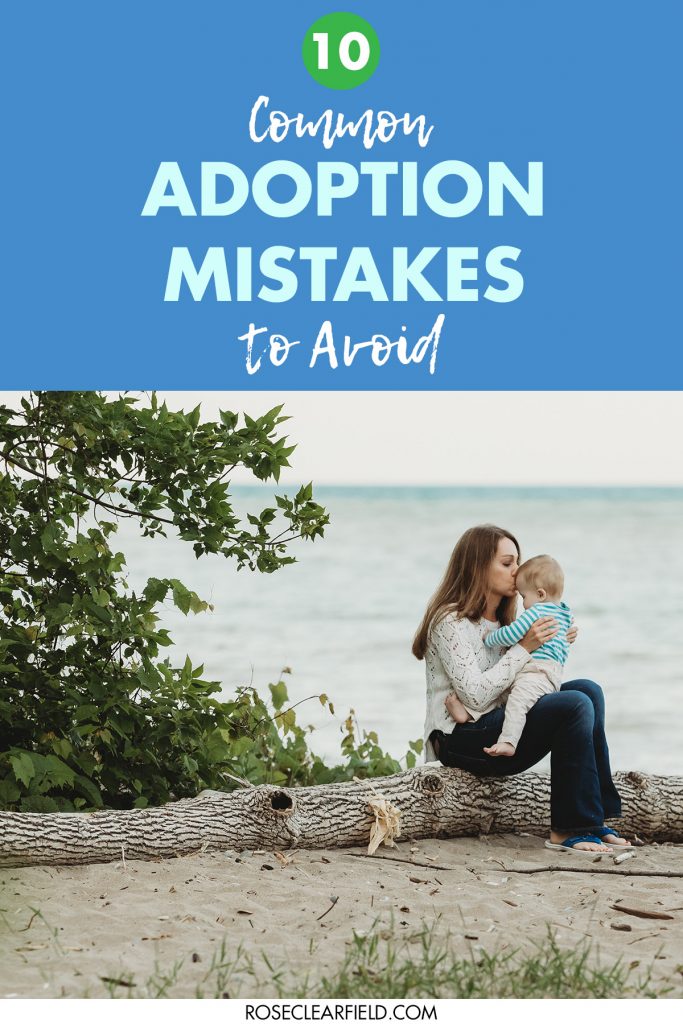 More adoption resources: