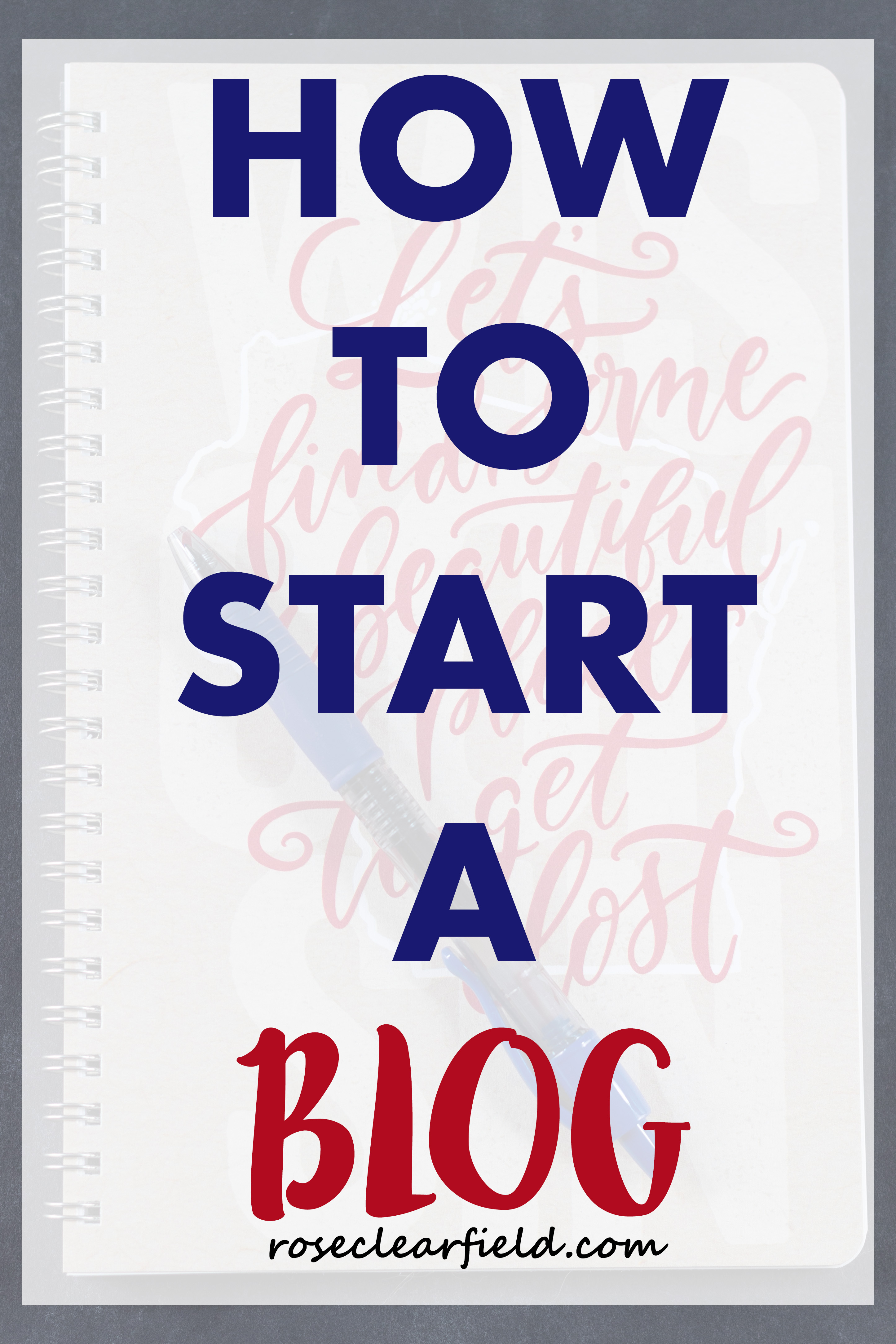 Do you love to write? Do you enjoy sharing your recipes, DIY projects, fashion tips, parenting advice, etc. with friends and family? Maybe your loved ones have even encouraged you to start a blog. Starting your own blog is a simple, straightforward, affordable process. If you've always thought about having a blog, take the plunge today! I explain the basic steps you need to follow to get your new blog up and running in a matter of hours.
Brainstorm domain names
Your domain name is the URL for your blog. My domain name is https://www.roseclearfield.com. My blog serves as a professional platform for potential freelance writing clients to contact me. I also write on a wide variety of lifestyle topics (i.e. DIY, home projects, recipes, photography) and didn't want to hedge myself into writing about one specific topic. As such, I decided to keep my domain simple and use my own name.
A domain name should accurately reflect your blog and should be relatively short, easy to say, and easy to spell. Brainstorm domain names until you settle on three or four you really like. Your preferred domain name may already be taken, so it's good to have a few backup domain name ideas.
Choose a host and register your domain name
There are two type of blogs: hosted and self-hosted. On this page, I'm primarily discussing self-hosting blogs. A self-hosted blog gives you full control over your blog, which includes the layout, ads, and affiliate links. It is more work and costs more money but offers much greater freedom and much greater potential for revenue.
There are numerous web hosts, which makes it a little overwhelming to choose one, especially when you're brand new to blogging. Currently, two of the most popular web hosts for new bloggers are Bluehost and Siteground. Both Bluehost and Siteground offer hosting starting at $3.95/month with free domain name registration. These startup packages are perfect for blogs with less than 10,000 views, which is fine for a new blog. You can always upgrade your hosting package as your blog grows. If you're ready to pay a little more per month right from the start, check out DreamHost, which is another great web hosting service for WordPress bloggers.
When I was ready to start roseclearfield.com, I wanted to use WordPress because of the customization options and potential for monetization. If you're in the market to start a blog but don't want the complexity of WordPress, check out Squarespace or Wix.
Once you've settled on a hosting service, use their domain checker to see if your preferred domain name is available. After you've selected your domain, you can finish signing up for web hosting.
Install WordPress
Now that you have your domain name and a web service to host your new blog, you're ready to install WordPress and get started setting up your blog. (Please note: installing WordPress doesn't apply to Squarespace and Wix bloggers.) WordPress is a powerful, open source software that's perfect for designing all sorts of websites, including blogs. It's not the only option for a self-hosted blog, but it's a very popular one. Within your web host site, there should be a section called Website Builders. Click on the WordPress logo and follow the instructions to install the software. Paste your new Admin URL into the browser, and enter your Username and Password to log in and get started with your blog.
Before you make your new website visible to the public you should complete the following four steps.
Purchase and install a premium WordPress theme
Write and schedule 5-10 blog posts
Create About Me and FAQ/policies pages
Register for social media accounts
Purchase a premium theme
WordPress has a handful of free themes. You get what you pay for, and WordPress themes are no exception. Premium WordPress themes are optimized for mobile devices and search engines, which means your website will look great on a wide variety of devices and will get found easily on all major search engines. Many premium themes are also optimized for certain types of blogs, such as food blogs or fashion blogs. Currently, I'm using DIYThemes and have been really happy with it. I run the Classic Responsive Skin, which is streamlined and professional. Other popular premium themes include The Genesis Framework (which includes StudioPress Themes), and Elegant Themes.
Write 5-10 blog posts
I know you're itching to get your new blog up and running as soon as possible. But you're not going to have anything to show readers if you haven't written any posts yet. Write and schedule a minimum of five posts before you make your blog public so you'll have a new post go out right away and the content will keep flowing from there. One of your first posts should welcome readers and explain a little bit about yourself and your blog. Your other initial posts should be representative of the type of content you'll be sharing. For example, if you have a lifestyle blog, one post might be a recipe while another post might be a DIY project.
Create About Me and FAQ/policies pages
You don't have to have your entire blog fleshed out immediately, but you should have a few initial components in place, including an About Me page and an FAQ/policies page. You may have other ideas for specific pages as well. For example, right away I created a Freelance page to promote my freelance writing services and a Resources page, which details my camera equipment and other blogging resources. An About Me page gives readers a little information about the author behind the blog. An FAQ/policies page is required for all third-party websites, such as ad networks and affiliate programs. It also gives readers more details about key aspects of your blog, such as what you do with reader information you collect (i.e. email addresses for a mailing list) and how affiliate links work. I urge you to visit the About Me and FAQ/policies pages for several successful bloggers you follow to gather inspiration for your own pages.
Register for social media accounts
Finally, social media networks are critical for success as a modern blogger. There is a common misconception that if you have great content, people will find it. For the vast majority of bloggers, it takes a lot of work to get a blog off the ground. Social media is integral for making those initial connections and getting people to start sharing your content, which gets it to begin circulating, attracting new followers and increasing your blog views.
I strongly urge you to create separate social media accounts for your blog, so you don't spam your family and friends with endless blog content. If they want to follow your blog, they'll follow the new social media accounts. Creating separate accounts also allows you to brand these new accounts for your new blog. While Facebook and Twitter have been the two standard social media networks for past decade, many bloggers now get better engagement through niche social media networks, including Instagram, Pinterest, LinkedIn, Google+, and Snapchat (my username is randomcreative). Consider creating accounts for at least one or two of these niche networks that are the best fit for your new blog.
Again, I recommend checking out the social media accounts for several successful bloggers to gain inspiration for setting up your own accounts and starting to post content.
[Disclaimer: There are a few affiliate links in this post. Using these links to purchase products and sign up for services is a simple way to support my blog without costing you anything extra. Thanks for your support!]
Save
Save