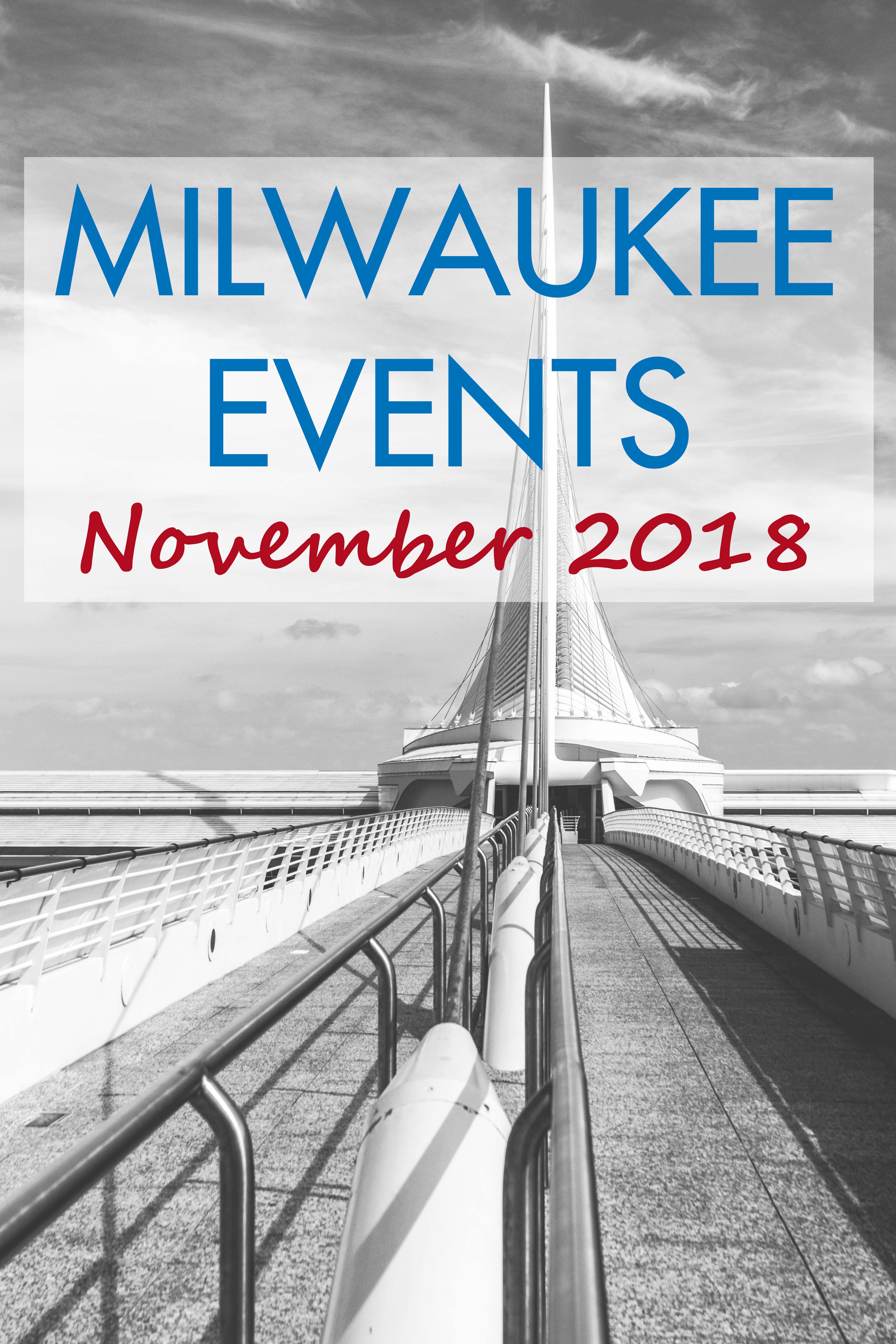 I haven't been keeping up with my Milwaukee events posts lately. Frankly, they haven't done as well as I hoped they would, and I've had other priorities on the blog this year. But my November posts always do well with people looking up holiday event information. So I'm bringing it back to give you all the details on fun holiday festivities in the greater Milwaukee area this year.
Please note that as of publishing this post, I haven't been able to find any information about the 2018 Milwaukee Christmas tree lighting. If I do, I will be sure to update this page. Thanks!
Milwaukee Holiday Lights Festival: The festival kicks off on November 15 in Pere Marquette Park. The pre-show events begin at 5:30 p.m. with the Christmas tree lighting at 6:30 p.m. There will be local performers and free cookies and hot chocolate. Once the tree is lit, the rest of the downtown lights display will kick off. There will also be fireworks. Following the show, the free Jingle Bus will take people through the downtown to view the newly lit display. The 2018 display runs through January 1, 2019.
Holiday Folk Fair International: Nov. 16-18. Held at the State Fair Park Exposition Center, the folk fair features three days of traditional music, dance, and food with a music pavilion, cooking demonstrations, international stage, coffee house, world cafe, vendor booths, interactive exhibits, and much more.
Milwaukee Holiday Parade: Thursday, November 17, 9:30 a.m. The parade features over 100 units including floats, marching bands, costumed characters, local celebrities, giant helium balloons, speciality vehicles, live animals, and of course, Santa.
Deck the Streets of Old Milwaukee: November 17, 2018 – January 22, 2019. The Milwaukee Public Museum transforms the Streets of Old Milwaukee into a Victorian-esque holiday wonderland featuring wreaths, holly, garlands, ribbons, bells, and more. The exhibit kicks off on Saturday, November 17 from 10:00 a.m. to 2:00 p.m. The event includes holiday craft making, interactions with costumed docents, and holiday musical performances. View rarely seen Streets of Old Milwaukee artifacts as well.
Annual Tree Lighting @ Bayshore Town Center: Friday, November 18, 6:00 p.m. The festivities kick off with a performance on the Town Square stage from the North Division High School Drumline, followed by a parade with Santa. The parade begins at Fountainview Drive and completes at Centerpark Way at the back of the stage. A section of the Patriot Brass Marching Band heads up the parade, followed by the Mayor of Glendale riding in a horse-drawn carriage, and then reindeer pulling Santa in his sleigh. There will be free cookies and hot chocolate in the Town Square.
Candy Cane Lane: November 23-December 26, 6:00-9:00 p.m. on weekdays, 5:00-10:00 p.m. on Saturdays and Sundays. There are over 300 homes that participate in the annual Candy Cane Lane. View decorations in West Allis from 92nd to 96th Street between Montana Avenue and Oklahoma Avenue. The event is free, but donations to the MACC fund are always appreciated.
Country Christmas: November 23-25 and November 30-December 31, The Ingleside Hotel in Pewaukee. Country Christmas is the largest, grandest drive-through holiday lights event in Wisconsin. Country Christmas admission includes the Christmas Village, Country Christmas Trail, and Streets of Bethlehem.
Christmas in the Ward: Friday, November 30, 5:30-8:30 p.m. Kick off the holiday shopping season in the Historic Third Ward with a tree lighting, fireworks, live reindeer, visits with Santa, costumed characters, live entertainment, cookie sale, horse-drawn carriage rides, and of course, shopping.
Also, don't forget to check out the winters' farmers market, which kicks off Nov. 3! Located in the Mitchell Park Domes Annex, the market runs every Saturday from 8:00 a.m. to noon through April 14. 50 weekly vendors supply produce, eggs, meat, poultry, and dairy products as well as locally produced jams, honey, baked goods, maple syrup, cider, sauces, soups, and global cuisine. Market admission and parking are free. Coat check is available. Regular Domes admission applies to enter the conservatories.
A few more happenings in Milwaukee in November:
Nov. 3: Family Free Day at the Milwaukee County Zoo
Nov. 3-4: Journal Sentinel Wine & Food Experience
Nov. 4: Sticky Fingers Food Competition and Fest
Nov. 4: Grace Fine Art & Craft Festival
Nov. 10: Veterans' Day Parade
Nov. 10-11: Trainfest
Nov. 17-Dec. 31: Christkindlmarket
Nov. 24-25: Urban Garage Sale
Are you looking for even more things to do in Milwaukee on the cheap?
Check out Free Things To Do In Milwaukee WI.
[Disclaimer: I do not work for the city of Milwaukee. I am not paid to promote any of the events listed on this page. I'm simply a resident of southeast WI who loves Milwaukee and enjoys attending and generating exposure for events in Milwaukee.]