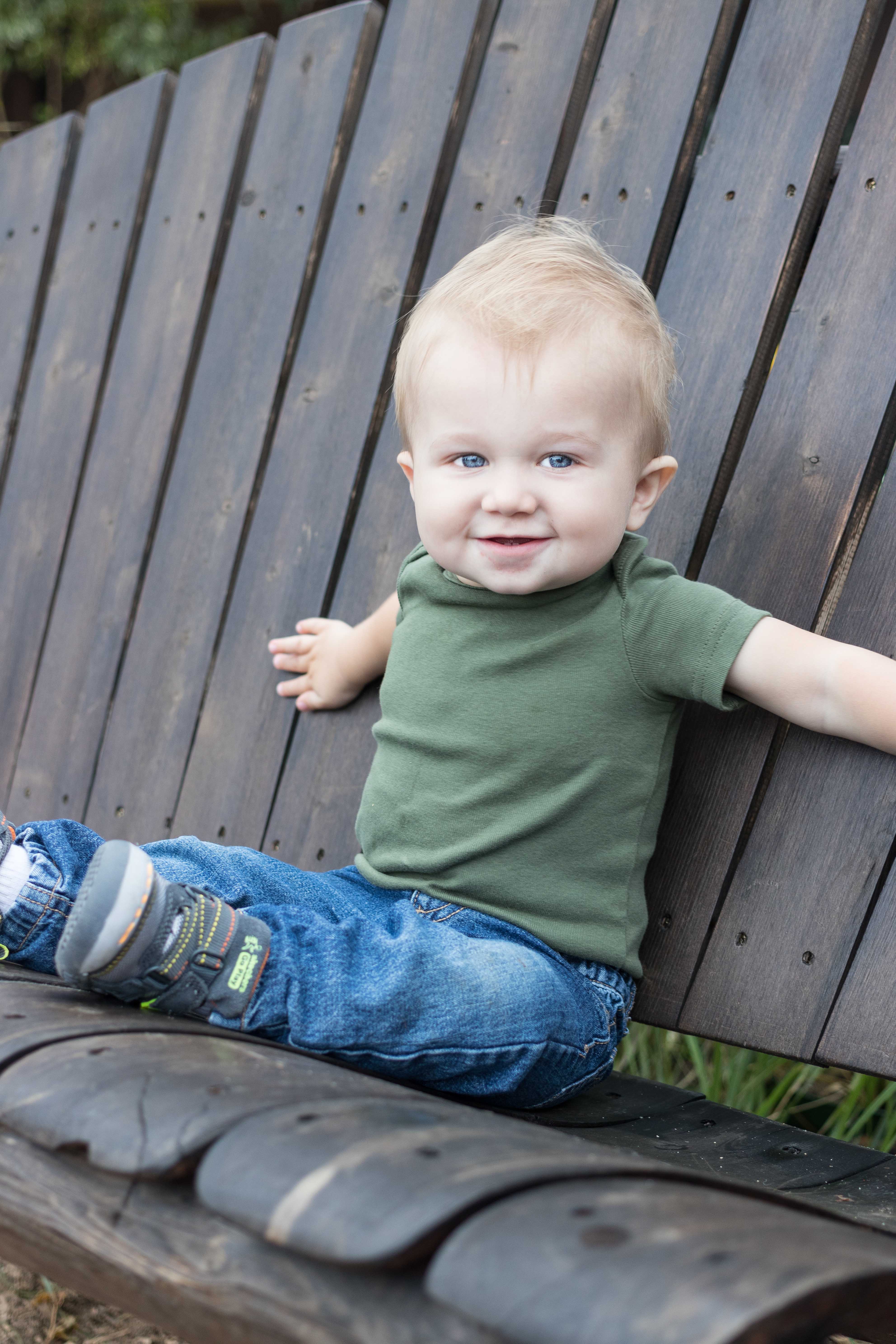 This past week, our Tommy turned 15 months old.
Tommy's big milestone this past month has been learning to walk! When we left for Montana in early September, he was just starting to take a couple of steps independently. By the end of the trip, he was walking whole lengths of our friends' house. He's just been building his skills from there, walking more confidently on his own every day. He still falls down fairly frequently but doesn't want much hand holding assistance anymore.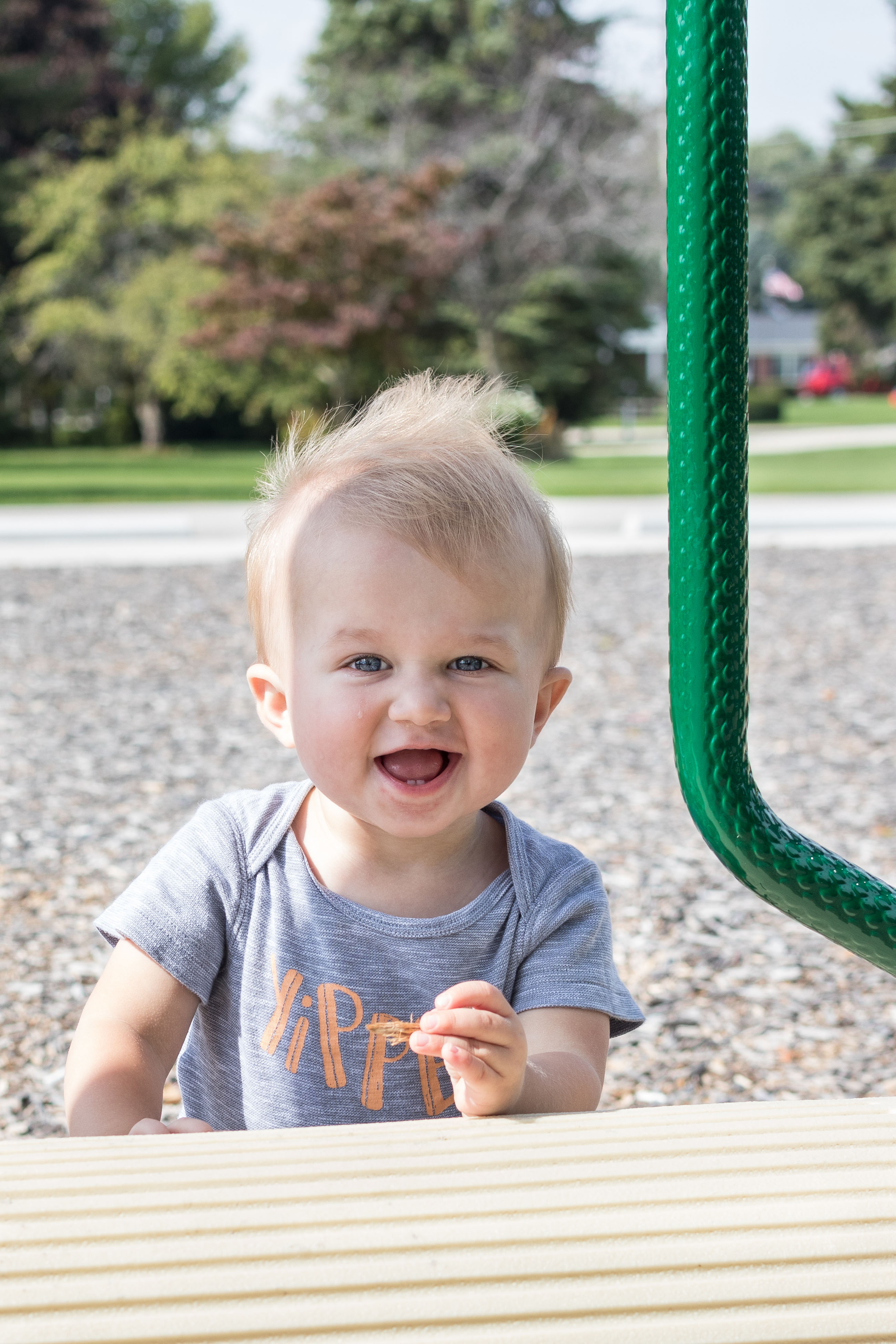 Currently, Tommy's favorite activities include walking everywhere, opening doors and drawers and cabinets in every room of the house, playing with the spatulas and wooden spoons and hand mixer attachments in the kitchen, stealing the remotes (and sometimes pretending that they're phones), snatching cell phones and Kindles, following us around like a little shadow, talking to people whenever we go, busting out dance moves (with or without music), getting pulled around on his sled, and trying to talk to Alexa.
Tommy says "dada," "mama," and "hi" all the time and imitates tons of other words and sounds that we make. He uses the "more" and "all done" signs all the time. I've started using the "please" sign when I say it, but Tommy isn't signing it yet. I am constantly surprised at how much he understands when we talk to him, especially when it's about him, such as "Tommy's food" or "it's time for Tommy to take a nap." Tommy waves "hi" and "bye" consistently. He has also started doing high five consistently with me and Jake and somewhat consistently with other people.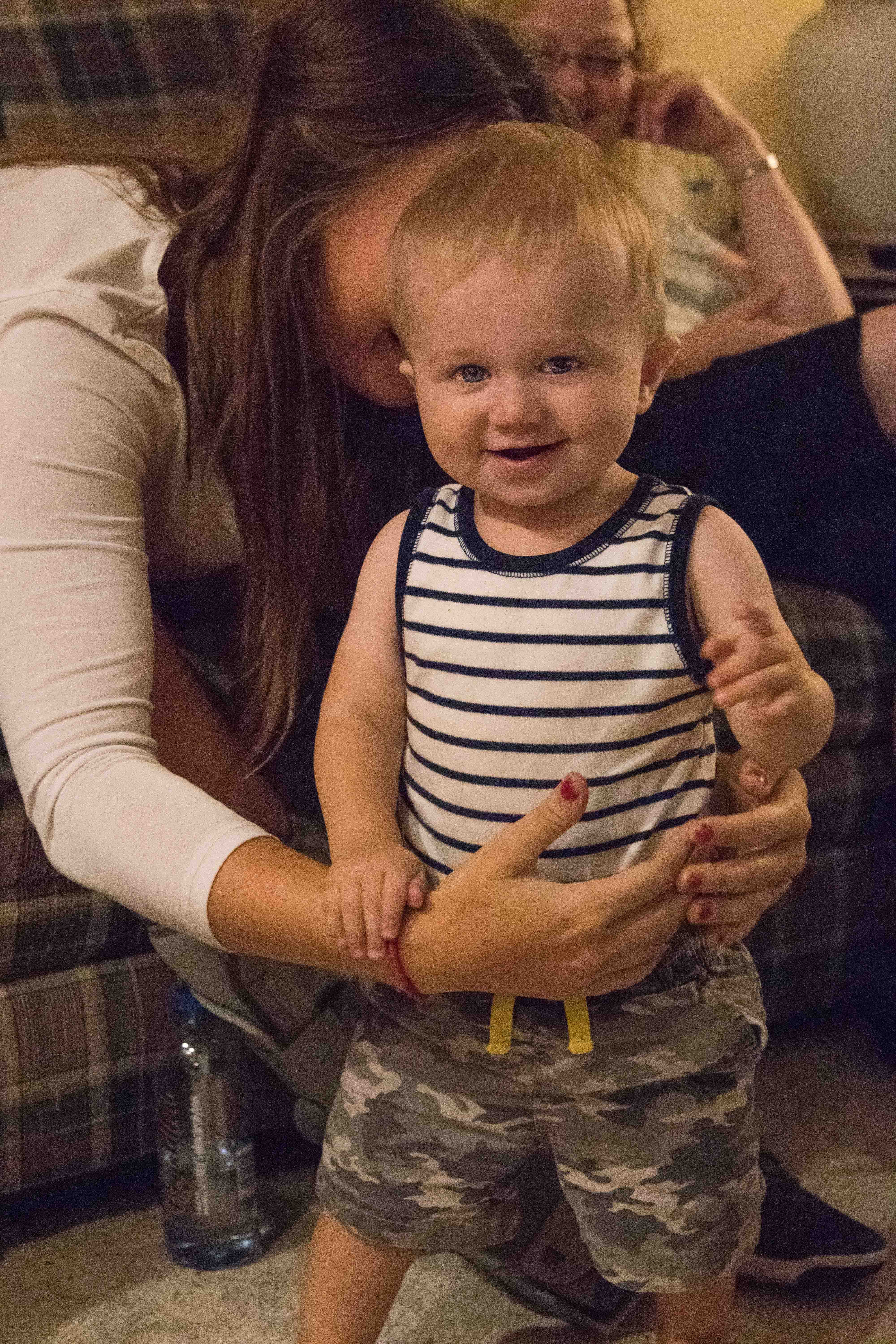 Tommy has slowed down a little on milk consumption, drinking 5-6 oz. at a time for a total of 20-25 oz. per day (as opposed 7-8 oz. at a time for a total of 25-30 oz. per day last month). He also isn't as frantic about needing milk right away when he's hungry. His food schedule is the same as last month with fruit (usually blueberries or grapes) and buttered toast for breakfast, a snack around lunchtime or mid-afternoon, and whatever we're eating for dinner. At least a couple of days a week, Tommy will sit with us in his high chair for the full duration of dinner, 20-30 minutes, and eat the whole time.
I'm not sure that Tommy has gained a lot of weight or height in the last month. However, since he's taken off with walking, he's building so much new muscle and standing taller. Consequently, he looks a lot taller and much more like a toddler and less like a baby. He went up a shoe size to size 5 for the fall. He's still wearing mostly 12-month and 12-18-month clothing. All of his warm pajamas and jackets from the spring still fit (for now ha), which is nice.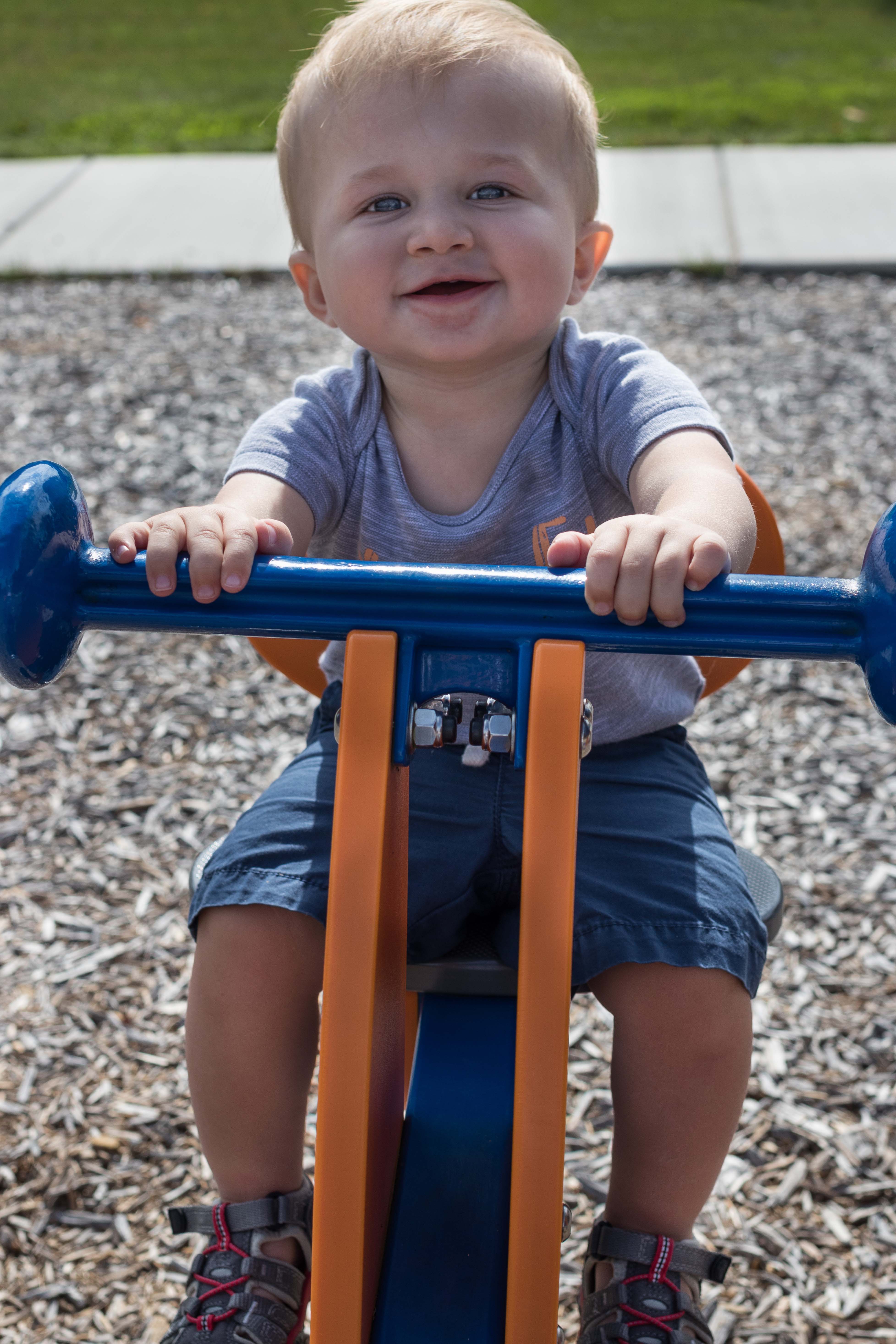 Tommy has his two middle bottom teeth fully in and the two middle top teeth and one of the top teeth right next to them about halfway in as well. He has one more bottom tooth and one more top tooth primed to start making their way up any day.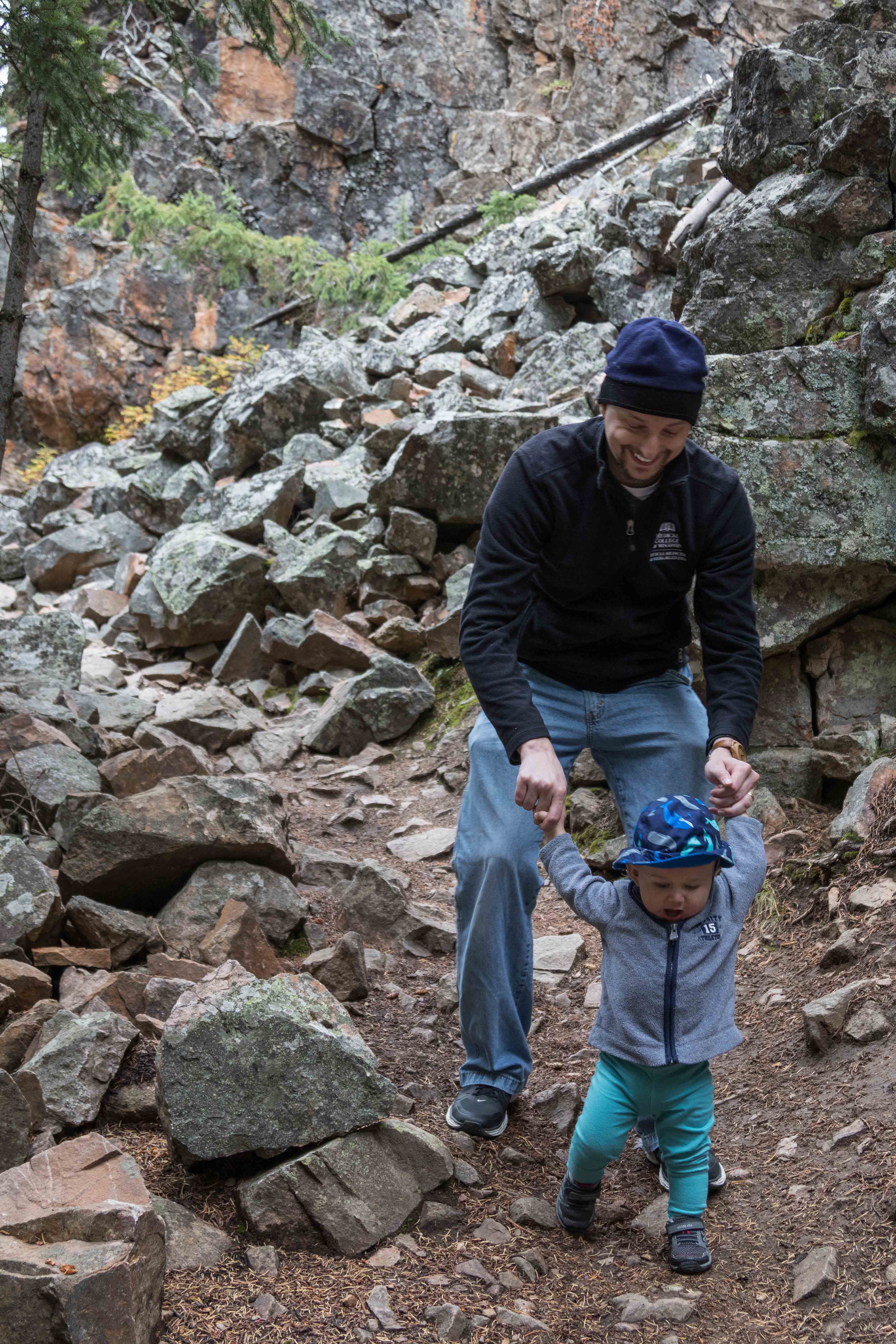 It's been an eventful month. We kicked off month 14 with a week-long trip to visit some good friends in Montana. In addition to being the trip where Tommy learned to walk, it's also the trip where Tommy made a dog friend, Seamus. He had such a blast petting, chasing, and playing with Seamus all week, as well as occasionally trying to use him as a pillow. You can read more about our trip here.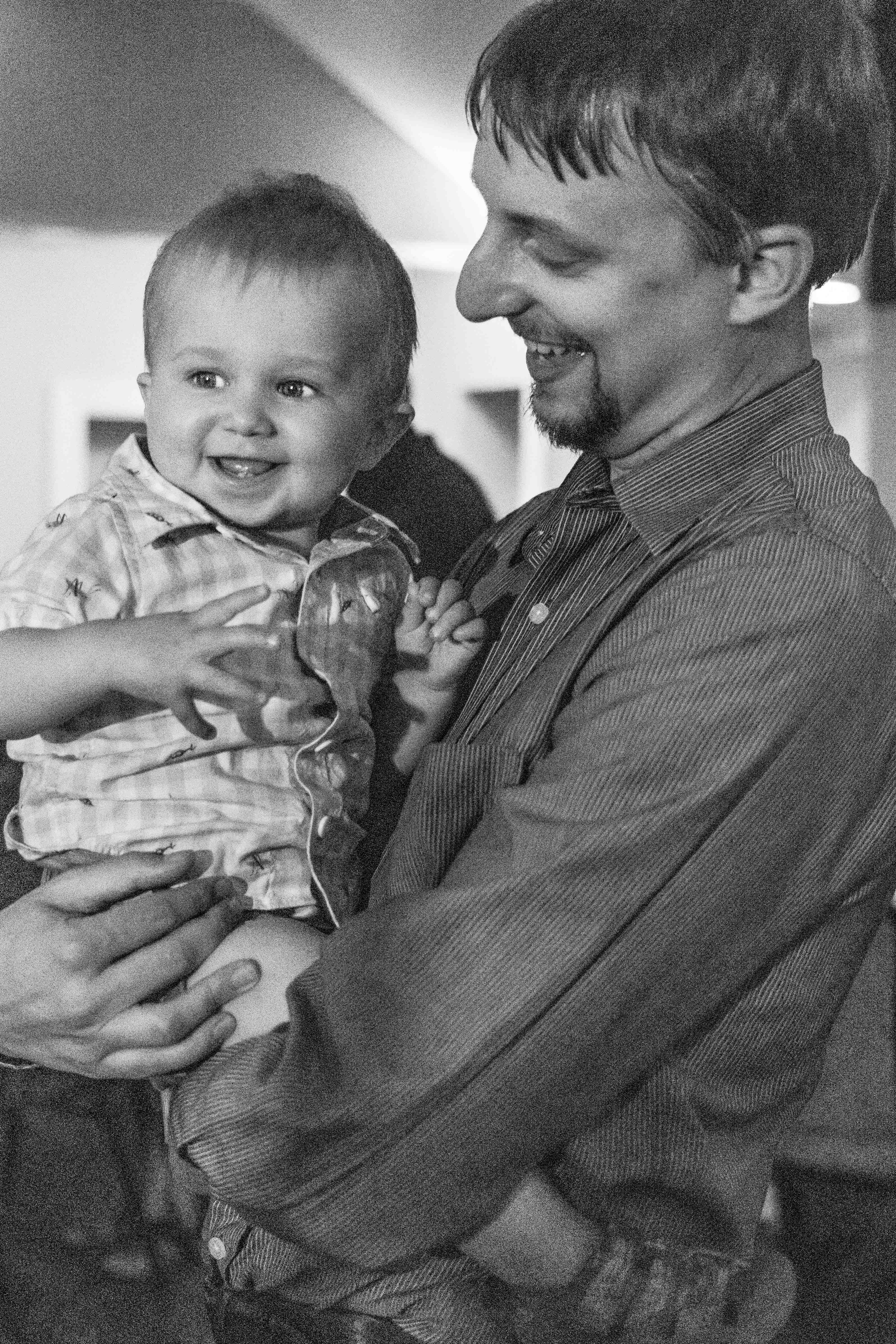 The day we got back from Montana, we attended a wedding for an old friend of Jake's, right in the Milwaukee area. Tommy had been to two weddings previously but both before he turned three months old. Not surprisingly, he had a fantastic time, despite getting into town the night before and getting a total of 10 minutes of nap in the car between the ceremony and reception. (Also, don't mind Tommy's outfit. This is what happens when your kid blows through the one spare outfit, still in your bag from vacation and not with a wedding in mind, within minutes of arriving for the ceremony.) We socialized with everyone – both families, the entire wedding party, all of the kids in attendance. Tommy wanted to be on the dance floor for a solid hour and a half, busting out tons of moves.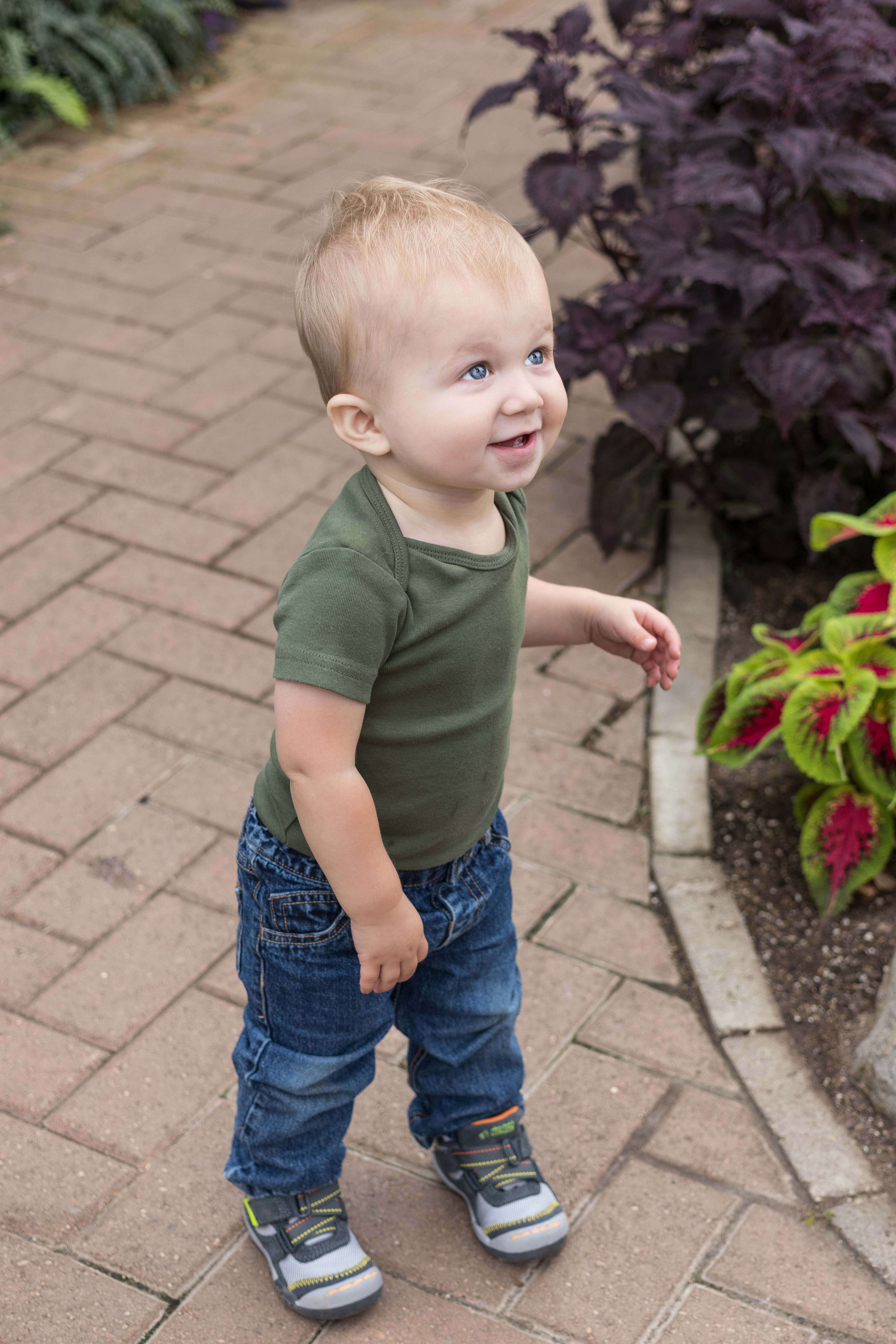 This month has included time with all four grandparents, Aunt Katie, and Tommy's birth mom and grandma. The two of us took day trips to Madison and Chicago. We also did a short stint of Doors Open Milwaukee, visited the Mitchell Park Domes for their fall show, and saw China Lights 2018. The highlight of the Domes for Tommy is that he's now tall enough to operate their wheelchair door buttons. Who needs flowers when you can go in and out of the dome doors over and over again?
We're kicking off month 15 with a little trip to Washington D.C. Tommy and I are tagging along with Jake for a medical conference. By the time this post goes live, we'll actually be back. I'll have a trip post up later this month.
To see all of my past Tommy updates, head to the Family section of the blog.