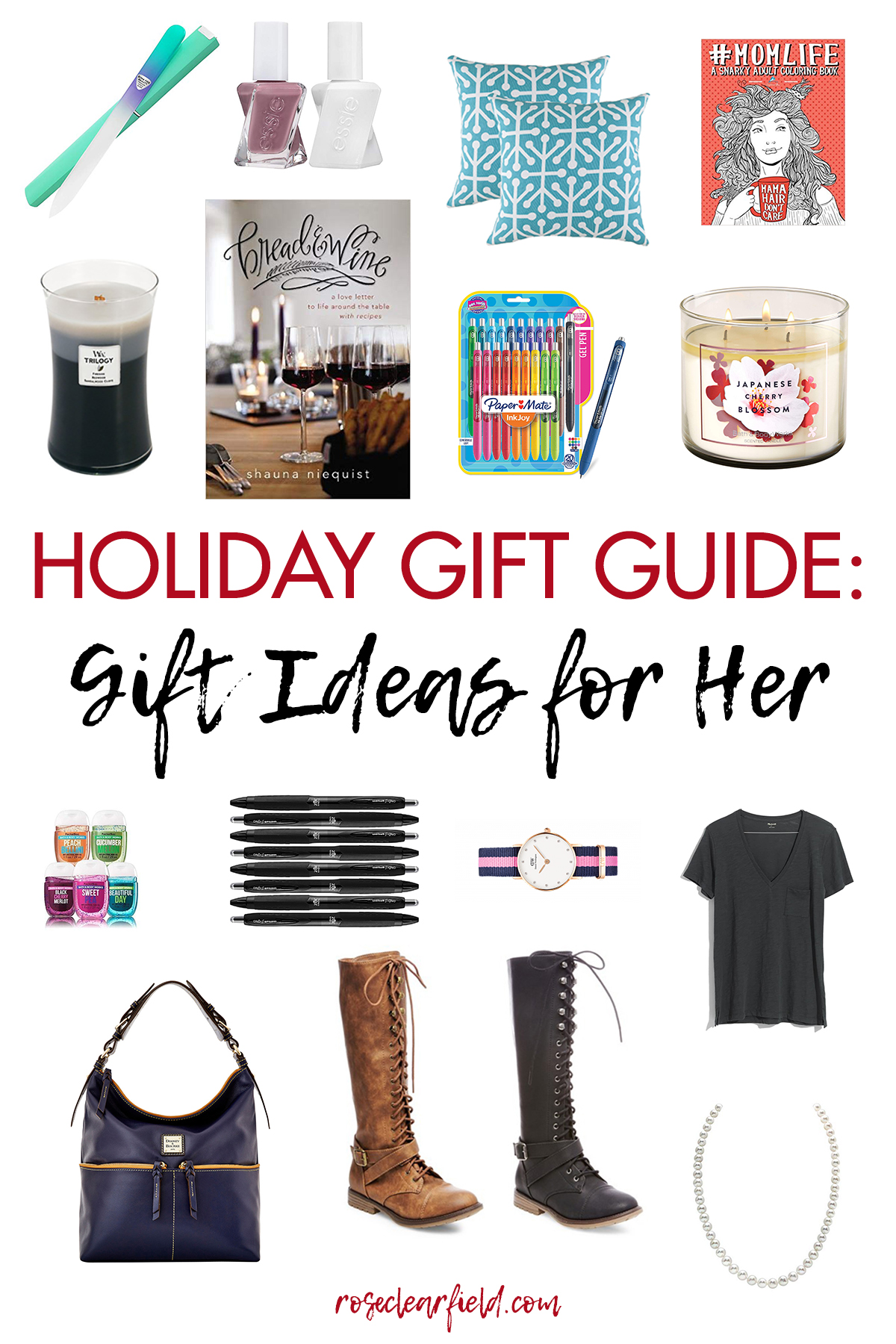 I'm continuing my gift guides today with a holiday gift guide for her.
All of these gift ideas are items I use myself all the time and/or have gifted to close family members. I've listed the gift items roughly in price order. There is a large price range here with something for everyone.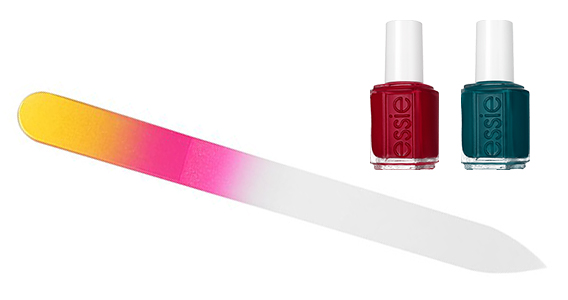 Glass nail file with high-quality polish
A glass nail file is so much nicer to use than a regular nail file. It makes a great addition to a nail polish gift. I am a huge fan of the Essie Gel Couture line. Pick up the Couture top coat with a couple of polishes. I love Stitch By Stitch and Take Me to Thread.

Bath and Body Works travel hand sanitizer
I know, I clearly haven't moved past 2003. Bath and Body Works hand sanitizer is a completely unoriginal gift idea, but it's still well received. I always give the women in our immediate families travel hand sanitizer. Most of them work with kids and/or ride public transportation daily, and as such, are always in need of more sanitizer by the time the holidays roll around again. You can buy multiple travel packs online and individual travel sanitizers and holders in store.

No products found.
Gel pens
I'm a little obsessed with gel pens and am very picky about what I use on a day to day basis. My go-to for the past few years has been the Pilot G2. Hands down, it's the smoothest pen I've ever used. If you like gel click pens, the Uniball Signo line is another great choice. For the colored gel pens, check out the Paper Mate InkJoy pens. There are a number of assorted sets available.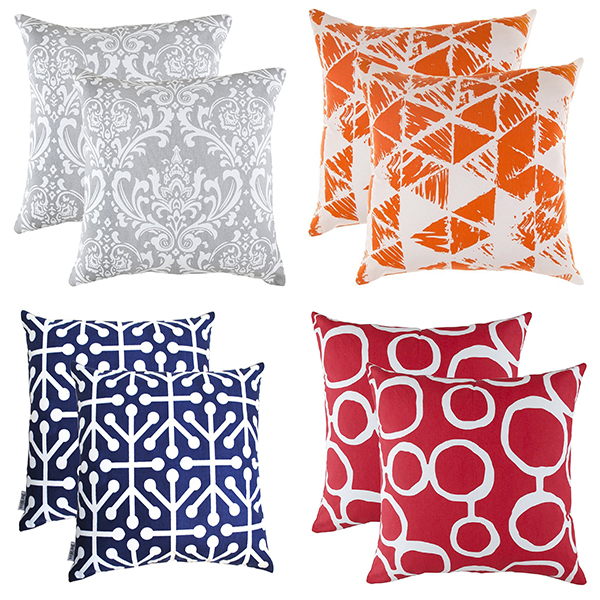 TreeWool pillow covers
I have purchased all of my throw pillow covers on Amazon and couldn't be happier with them. They're durable, reasonably priced, and easy to switch out for different seasons and holidays. I've chosen a few of my favorite TreeWool covers, which are so colorful and versatile. Pictured: damask, ikat triangle, ringo, and octaline.
Adult coloring book with colored pencils
A coloring page is the perfect way to relax at the end of a long day without the stress and time of a full DIY project. There are so many adult coloring books for women available today. Complete the gift with a nice set of Prismacolor colored pencils.
Bread and Wine by Shauna Niequest

Bread and Wine is a must read for modern women. It's rare to find someone who speaks so honestly about real topics ranging from marriage to infertility to spirituality without coming off as preachy or judgmental. I found myself nodding along with at least one or two points in every chapter.
Japanese Cherry Blossom candle
The Japanese Cherry Blossom candle is another not particularly original gift idea but still a classic. I've had a handful of favorite Bath and Body works scents over the years, but I always come back to Japanese Cherry Blossom. It's sweet without being overpowering or overly sugary.
WoodWick Triology Candle
My other go-to candles are WoodWick Trilogy. The wood wick sounds exactly like a crackling bonfire. My favorite WW candle right now is warm woods, which is subtle, so you can burn it for hours without getting overwhelmed by the smell.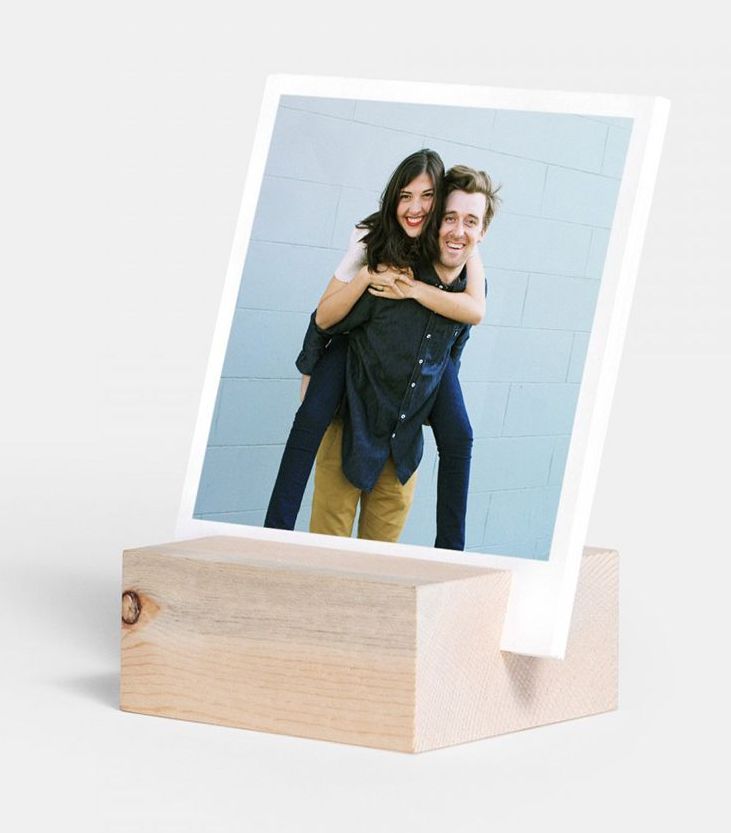 Artifact Uprising Wood Block + Prints
Artifact Uprising has some of the most beautiful, professional, unique photo products that you'll find anywhere right now. Their Wood Block + Prints set is simple and versatile, perfect for virtually anywhere in a home or office.
Madewell Whisper Cotton V-Neck Pocket Tee
I know I've talked about the Madewell Whisper Cotton V-Neck pocket tee a lot. It's such an awesome, versatile t-shirt at a great price point. You can layer it up or down so easily for different seasons and occasions.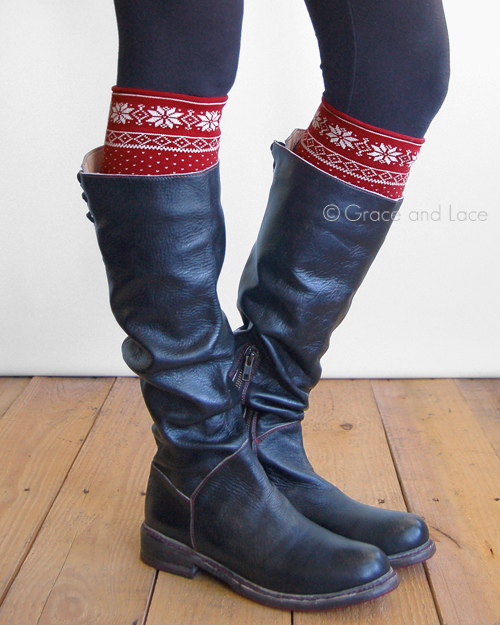 Grace and Lace boot cuffs
Boot cuffs are the perfect way to dress up skinny jeans and tall boots. Add a fitted jacket and suddenly an average outfit becomes pulled together and polished. I love Grace and Lace boot cuffs more than any other boot cuffs I've seen in the last few years.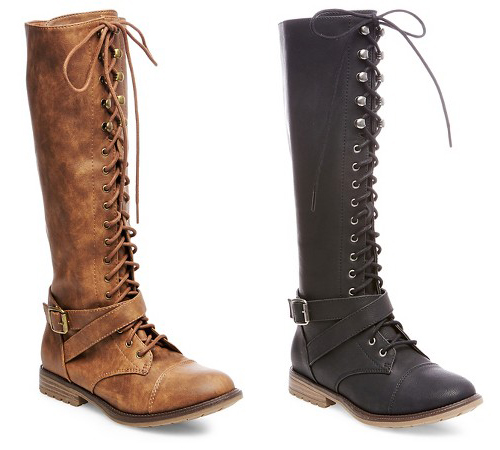 Target Kamryn Combat Boot
Many of you know that I'm absolutely crazy about the above pictured tall lace-up boots from Target that I own (both colors) and have worn over and over again for the past few years. Sadly, they don't make this style anymore. But now they have a very similar version as a short boot: the Kamryn faux leather combat boot. I absolutely love that it has real laces up the front and zips up the side. They are so comfortable. You can't beat the quality, especially at this price point.
Pearl necklace
I'm sure it seems a little old-fashioned, but I wear pearl necklaces more than any other type of necklace, even for casual occasions. It's a timeless jewelry piece that always looks great. I love this Pearl Source pearl necklace because you can customize the length and pearl size.
No products found.
Daniel Wellington watch
I've been wearing a Daniel Wellington watch for several years now and continue to be impressed with the general fit and the durability of the strap. Most watch straps are terrible quality and consequently, look like junk within a year. My Daniel Wellington strap is still going strong. I have a slightly smaller, now discontinued version of the Classic Winchester in rose gold.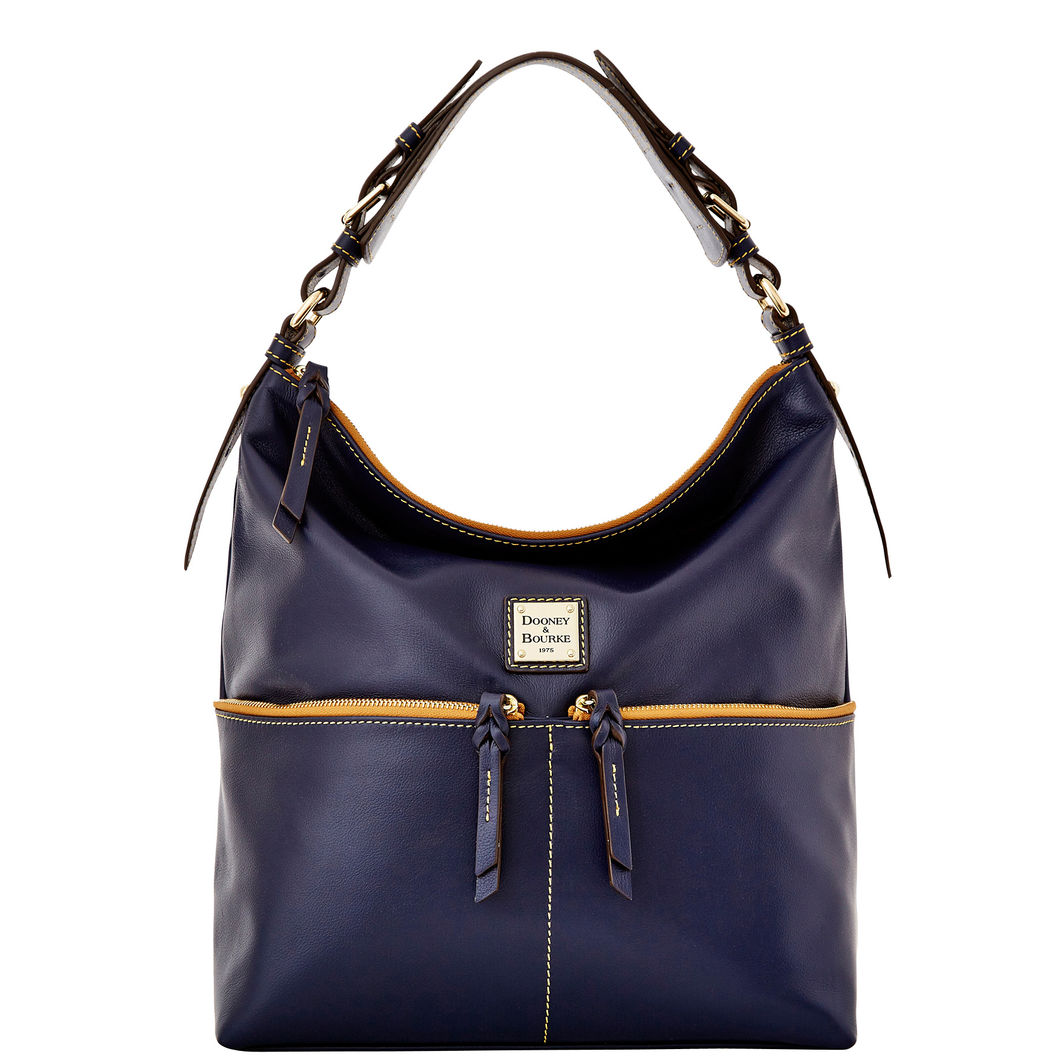 Dooney and Bourke bag
I've had a Dooney and Bourke bag very similar to the one pictured above for years now. (It's discontinued, but they still offer a similar bag.) Prior to having a kid, I used it day in and day out, and it hardly shows any wear. While Dooney bags aren't cheap, they're a lot less expensive than many designer hand bags. I think they're worth every penny for the quality you get.
[Disclaimer: There are a few affiliate links in this post. Thanks for your support!
More gift guides for her!


Nordstrom Holiday Gift Guide: For Her


Valentine's Day Target Gift Basket: For Her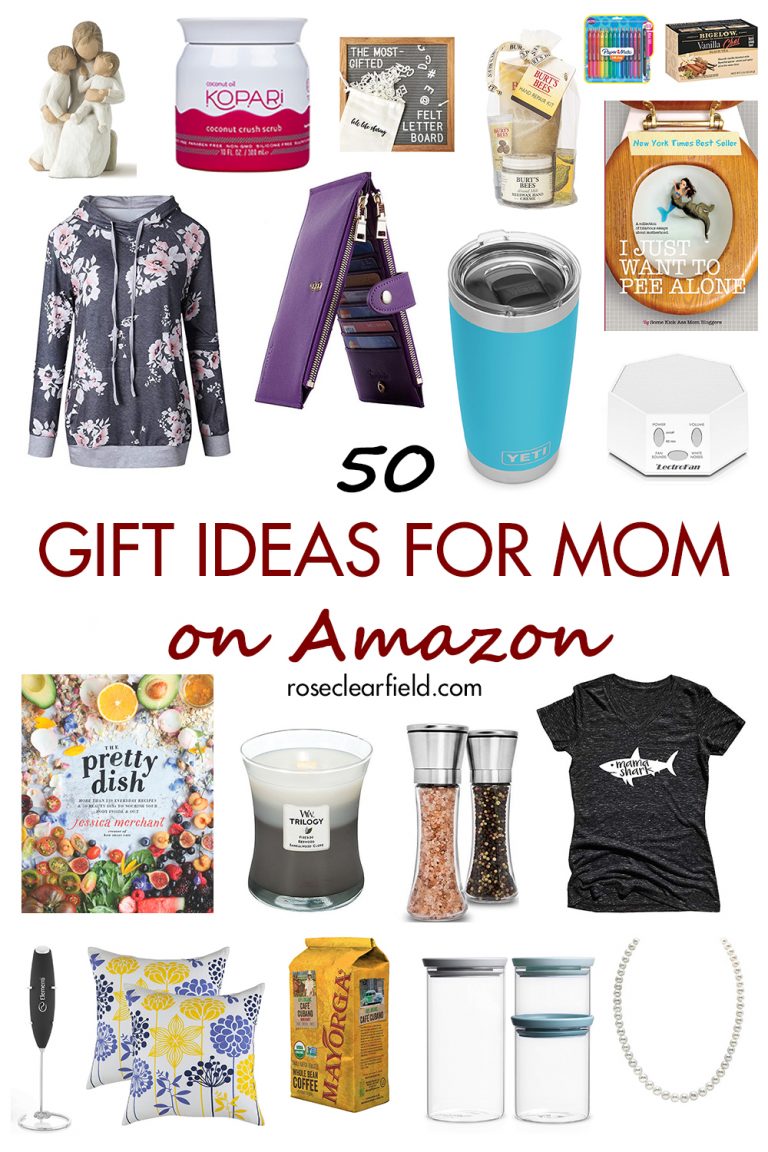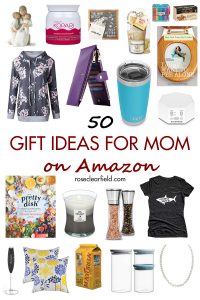 50 Gift Ideas for Mom on Amazon
Save
Save
Save
Save
Save
Save
Save
Save
Save
Save