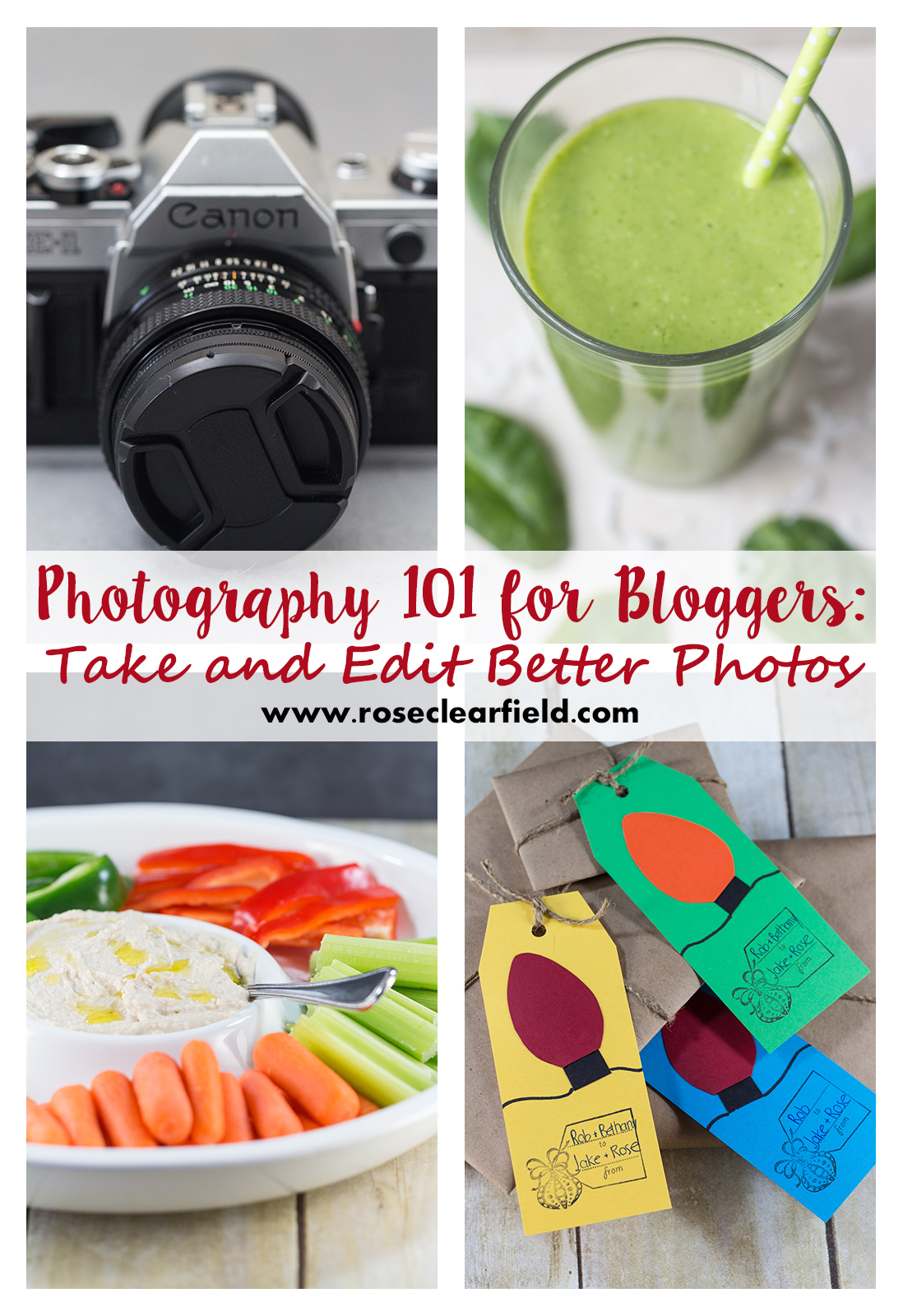 Great photography is such an important part of creating, growing, and maintaining a successful blog. Blogging is extremely competitive with hundreds of individuals launching new blogs each month. Creating stunning images that reflect your brand is critical for setting yourself apart from the crowd.
It's easy to get overwhelmed browsing successful blogs and think you'll never take pictures anywhere near that good. I see so many bloggers who give up on the notion completely and resort to one of two strategies.
Getting by with the same mediocre smartphone or auto mode DSLR shots they've been using for months or even years.
Relying exclusively or nearly exclusively on generic stock photos.
Poor quality or average photos don't cut it. I know it sounds harsh, but it's true. And turning to stock photography, even really good stock photography, isn't the answer.
But my photography is terrible. I'm paying to use high-quality stock photos. Why isn't that a good strategy?
An occasional stock photo on a blog is okay. But you're not creating your own brand by adding the same 3-4 fonts and colors to stock images for all of your blog posts. Again, I know a lot of people don't want to hear this strategy isn't a good move. I think the following examples will drive home the importance of using your own, high-quality photos to build your blogging brand.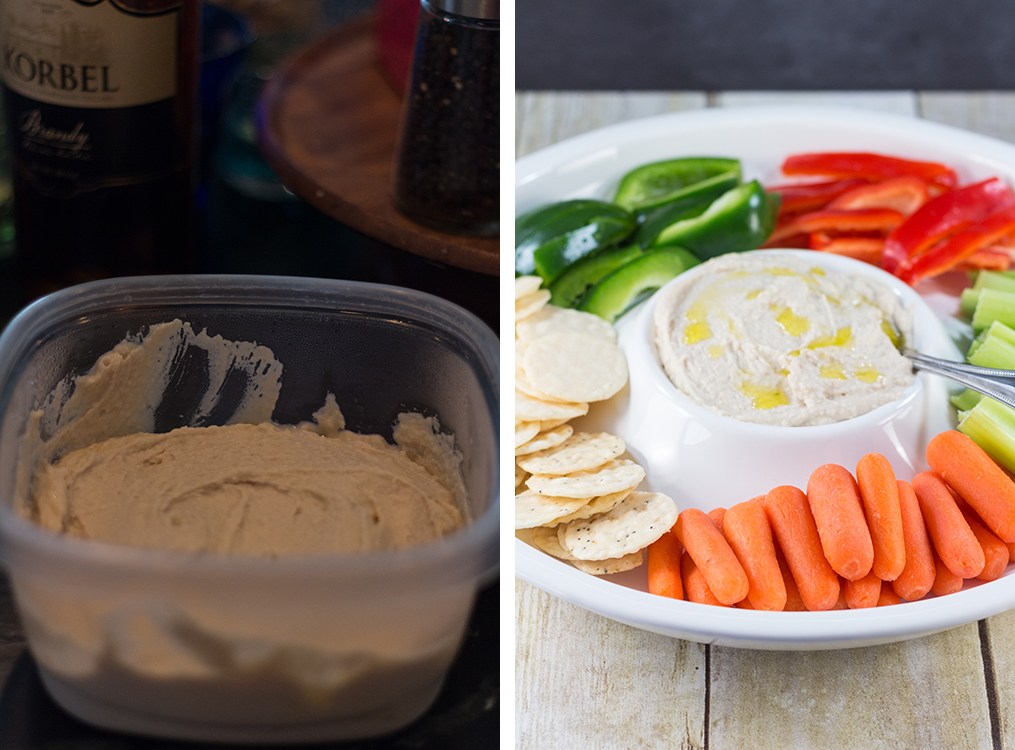 The first photo is a quick shot of homemade hummus, straight out of the camera. I used a DSLR camera. Case in point that the camera doesn't take good pictures. The hummus is in a Tupperware container in unflattering yellow kitchen lighting. There are several distracting elements in the background. The second photo is a shot of the same homemade hummus. Yes, the exact same batch of hummus. And I used the same DSLR camera. The hummus is in a chip and dip platter, surrounded by sliced veggies and crackers. I added a spoon and drizzle of olive oil to give the shot a more polished, professional aesthetic. I also took the second photo with artificial natural daylight bulbs so it's well lit with flattering light.
Anyone can take the first photo. It's mediocre at best, and it will never get noticed among the competition. The second image is strong with a great composition, good lighting, and lots of detail. It will stand out on Pinterest, Instagram, and Yummly.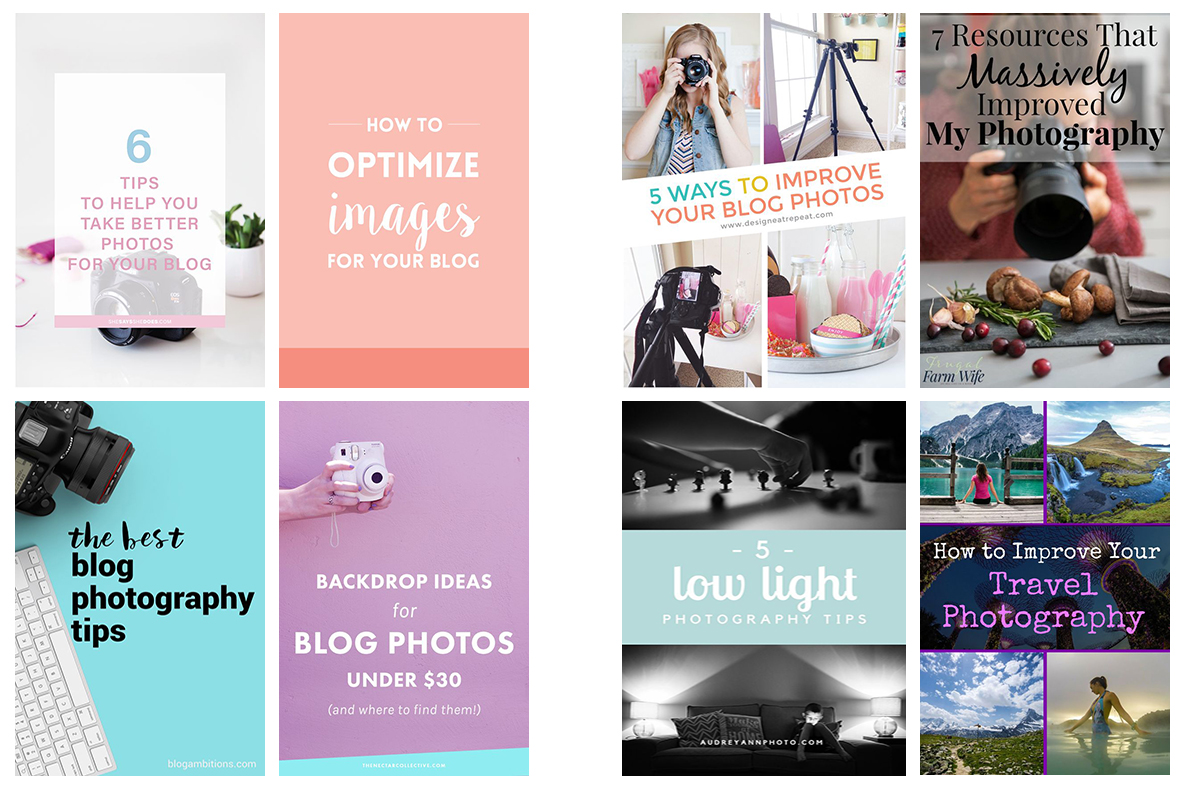 The above photos are header images bloggers have created for posts about improving your photography. The photos on the left are header images using stock photography or what might as well be stock photography because it's so generic. Anyone could have created the images on the left. They give me no confidence in the bloggers' photography skills. They also provide zero clues about the blogger or the brand of the specific blog. The photos on the right are header images using the bloggers' own photos. All of these graphics are well branded without being obnoxious and feature high-quality images the bloggers shot and edited themselves.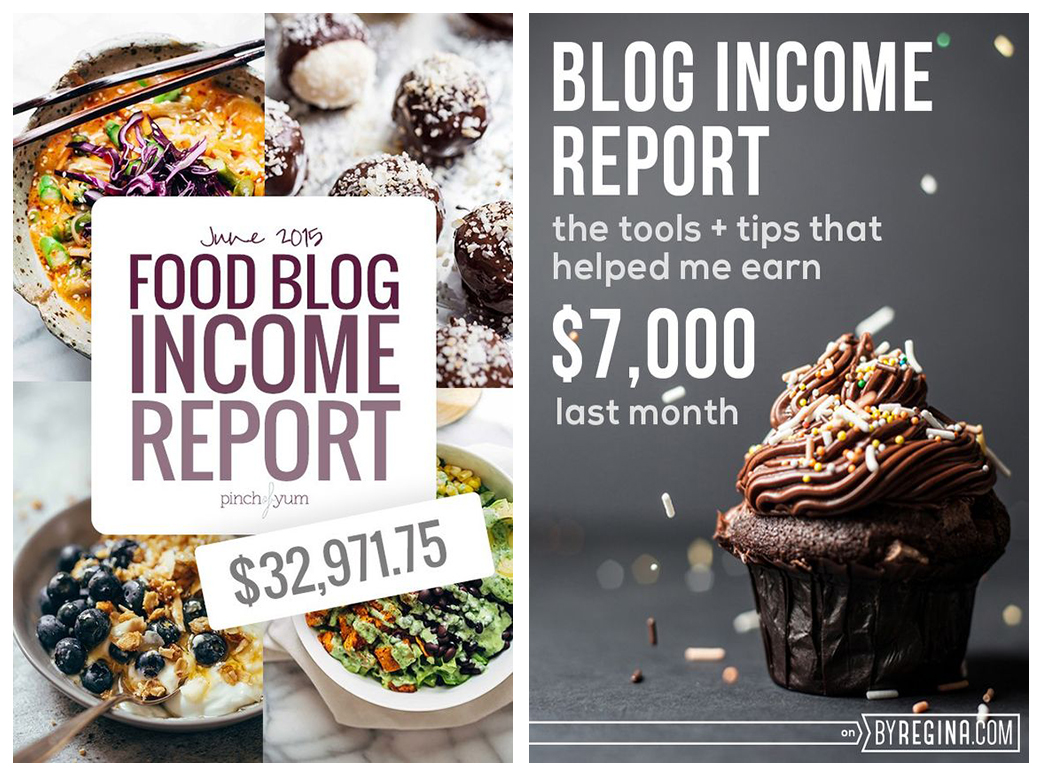 My final example is header images for blog income reports. The upper images are strong headers that represent the blogs' styles accurately. The lower images are just a few of the hundreds of stock images with text bloggers have used for their income reports. I sorted through 100 images on Pinterest to find the two strong examples. Learning to create these types of images is huge for your blog brand.
I'm not a photography expert or an expert in blog photography or blog branding. I don't pretend to have all the answers about photography or to create the most amazing blogging images. I'm still learning so much and know there are so many photographers who blow everything I do out of the water. But I've learned a lot about taking and editing photos and have made a few key purchases, all of which has helped me take my photography skills to where they are today.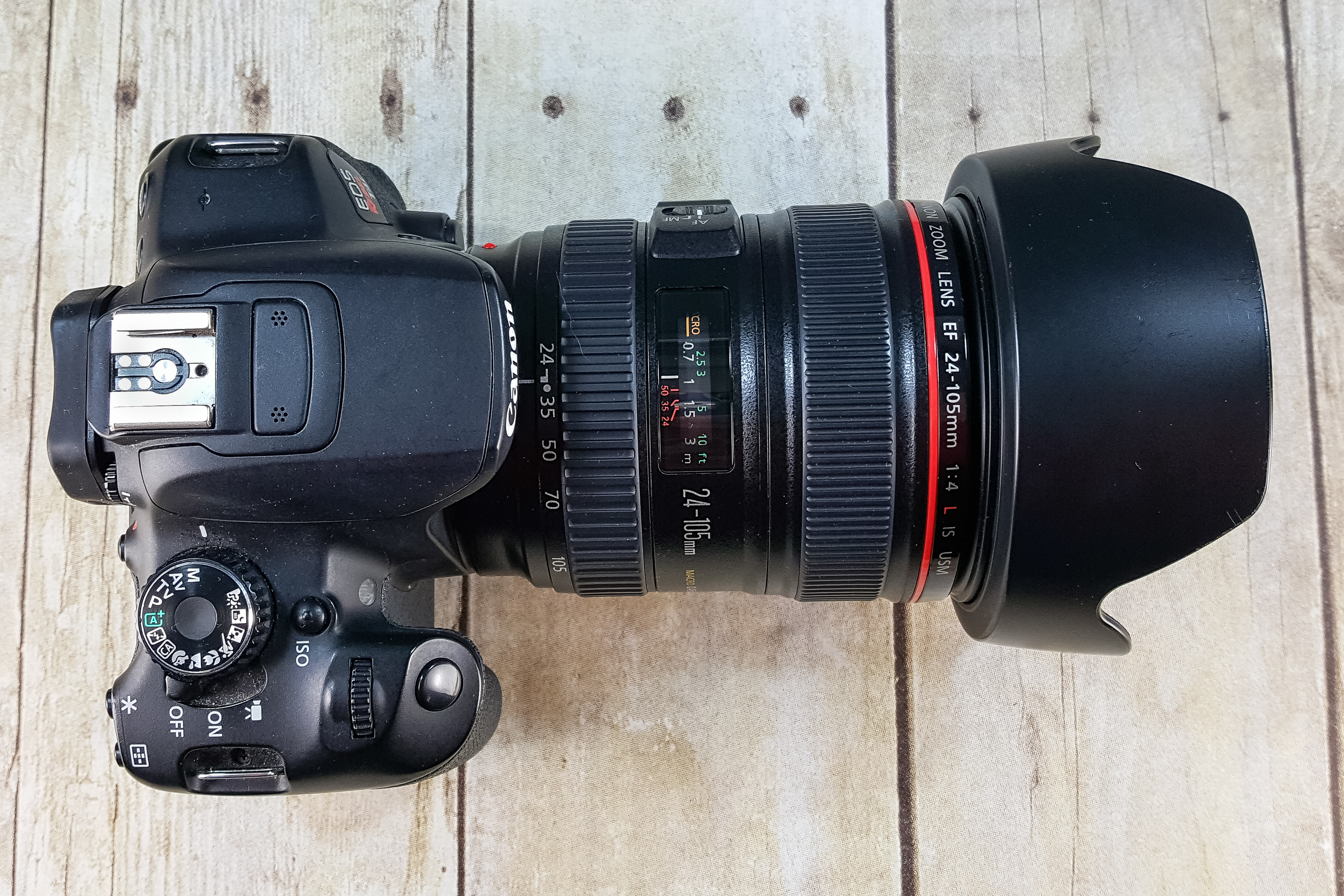 Invest in a DSLR camera
A DSLR is a major purchase, especially when you're brand new to blogging. But it will help you achieve results that simply aren't possible with a smartphone camera. Yes, smartphone technology has come a long way. And yes, there are lots of photographers creating amazing images, all with their smartphones. As a blogger, there's nothing wrong with creating an occasional social media post or even blog post with exclusively smartphone images. But you'll be able to achieve so much more with a DSLR.
I've been shooting with Canon cameras since 2010 and can't recommend them enough. Canon offers consistent, high-quality cameras with impressive battery life and an extensive selection of lenses. For beginner DSLR users, I recommend a Canon t6i or 80D. Purchasing the 50mm f/1.8 along with the camera body and kit lens will open up a whole new world of shooting potential for your blog. From there, you'll be able to figure out what type of lenses are the best fit for your photography style and blog content. You can read more about the current camera equipment I shoot with over here.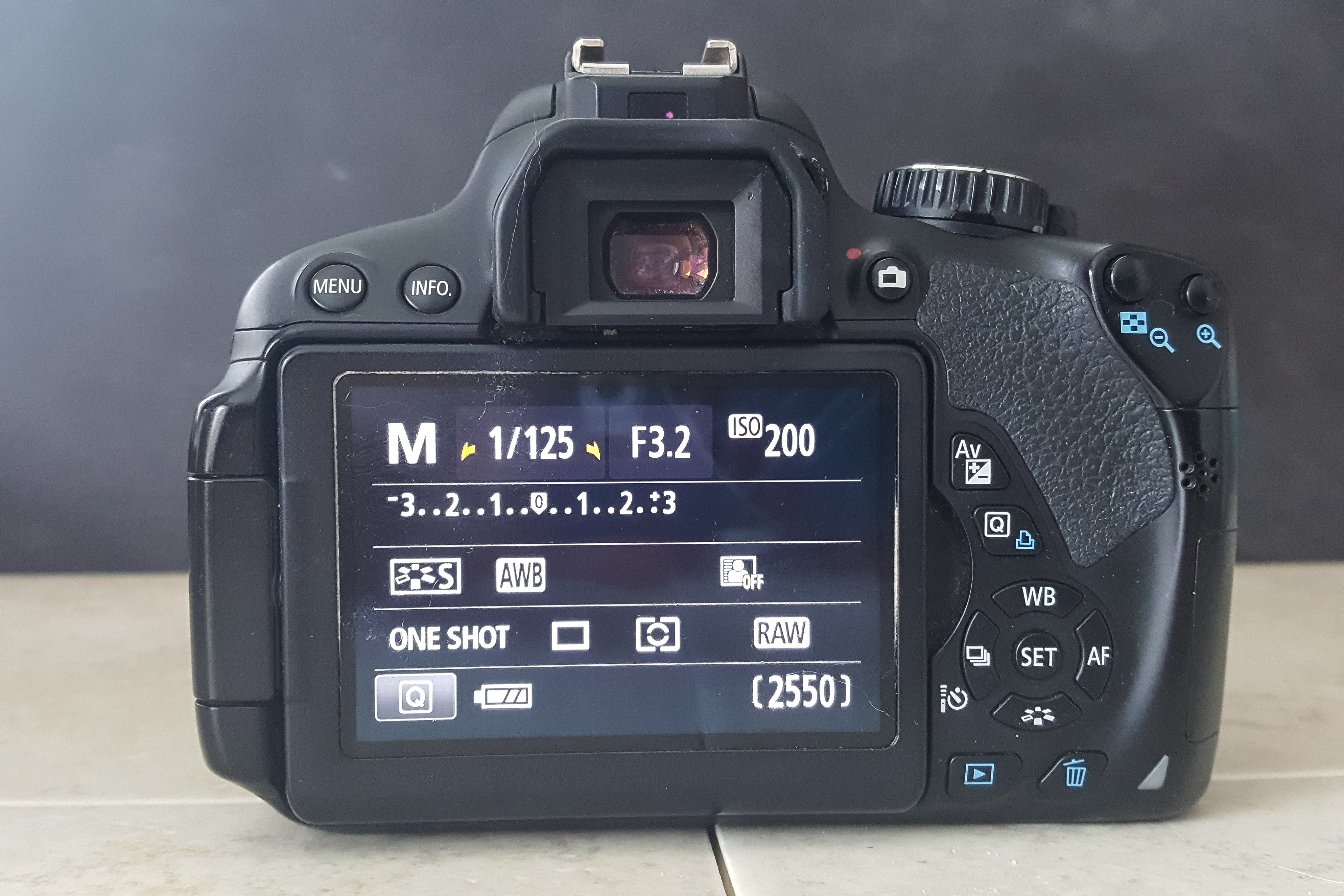 Learn your camera settings
Regardless of the type of camera you're using for your blog photography, you should learn everything you can about that camera. Whether you're shooting with an old smartphone or a brand new high-end DSLR, learning the camera settings will make a huge difference in your photography. I see so many bloggers using a DSLR with a kit lens on Auto Mode, and the photos don't really look any different than smartphone photos. There are tons of free articles that explain camera setting basics. I also explain camera setting basics in full detail in my product photography ebook, which is a great resource for anyone just starting to learn the ins and outs of styled shoots. Additionally, I recommend Pinch of Yum's Tasty Food Photography (which is a great resource for all bloggers, not just food bloggers).
Invest in the Adobe Creative Cloud Photography Plan
Once you've invested in better photography equipment, it's time to invest in better photography editing equipment. Most people don't realize the vast majority of photos they see in print and online publications are edited. Editing is not cheating. It helps you turn your good photos into great photos. If you're already editing your photos with a free program, such as Google Photos or Picmonkey, that's a great start. Learning to crop and complete a simple light adjustment makes a big difference. You can use a free program to add text and borders to create header images and other blog graphics for sharing posts on social media.
When I first got serious about photo editing, I bought Lightroom outright. You can still purchase Lightroom on its own. However, Adobe now offers subscription plans for all of their software. I switched to the Creative Cloud plan in mid-2016 so I could upgrade from an outdated version of Photoshop Elements to the full Photoshop and upgrade to the current version of Lightroom.
Adobe's Creative Cloud photography plan is $9.99/month and includes Lightroom and Photoshop, two powerful software programs for editing images and creating blog graphics. They allow you to do so much more than you'll ever be able to do with a free editing program. Subscribing to the cloud plan gives you access to all of the latest software updates, eliminating the need to shell out $150-$300 every few years when a new version is available. Since 2013, I've been primarily using Lightroom for editing and Photoshop for resizing images and creating blog graphics. I was nervous about taking the plunge and adding another monthly fee to our budget, but I've never looked back. I use both programs every single day I'm working on my blog.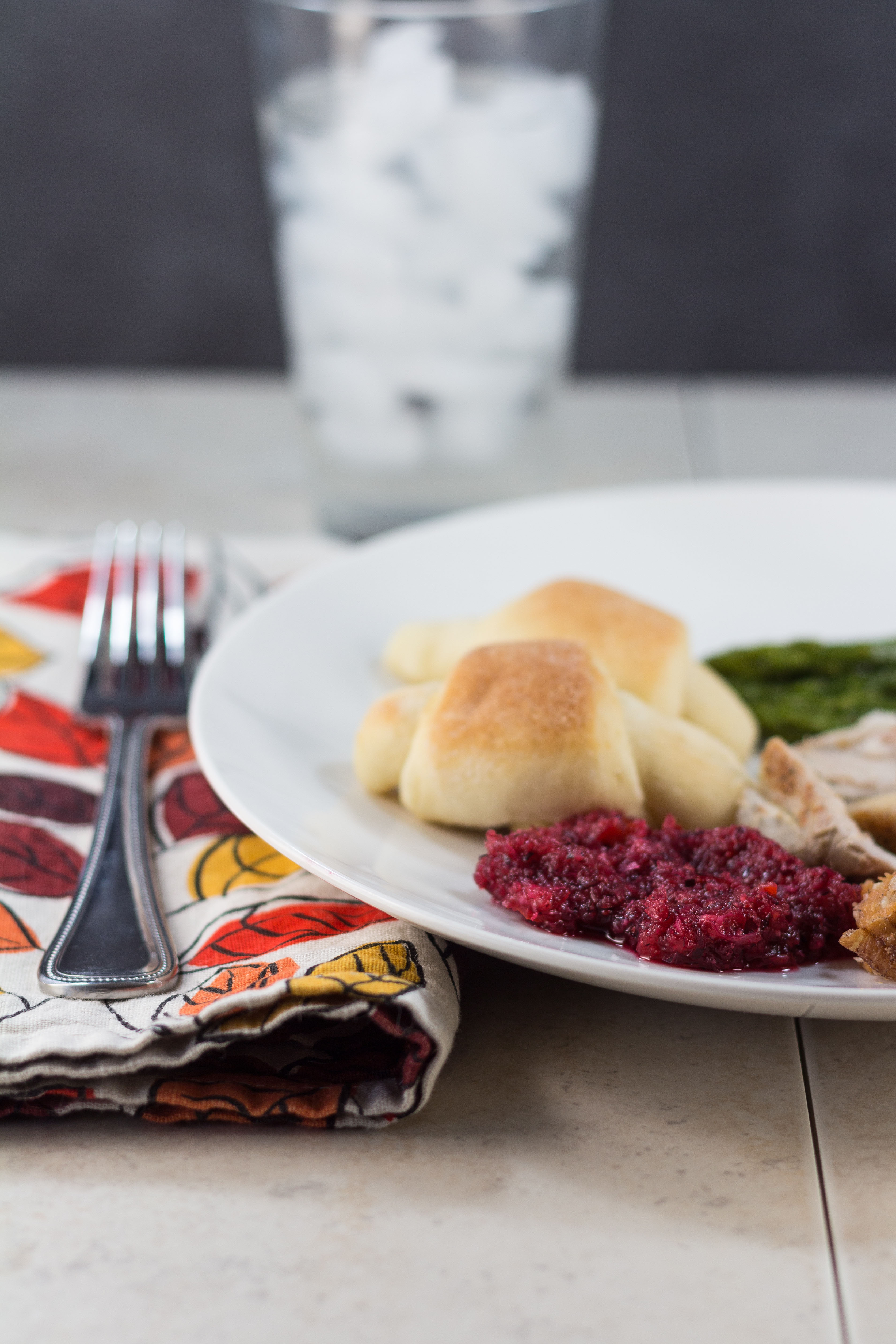 Gather a set of basic backdrops and styling props
Of course, there's no limit to the amount of money you can spend on photo backdrops and styling props. But you can start building a basic collection on a very small budget. Most likely you already have a few items at home you can start using today.
Backdrops and styling props give your photos a professional finish. The above example is from my buttery crescent dinner rolls post. For my backdrops, I used a few tiles I got from Home Depot and my black chalk poster board, which is just black foam core with white chalk detail. For this recipe post, I used a couple different plates to style the rolls (click through to see the other plate) as well as a fork, towel, water glass, and pumpkin. I got the backdrop supplies for less than $10 and picked up the pumpkin for $2. I already owned everything else. You can read more about my go-to backdrops here and here.
For shoots against natural backgrounds, pay attention to distracting elements. From stray mail on the kitchen counter during a recipe shoot to a branch intersecting with a person's head during a fashion shoot, distracting elements make a well-composed photo look merely average. Courtney's Stitch Fix Review #1 is a great example of a shoot against a natural background without any distracting elements.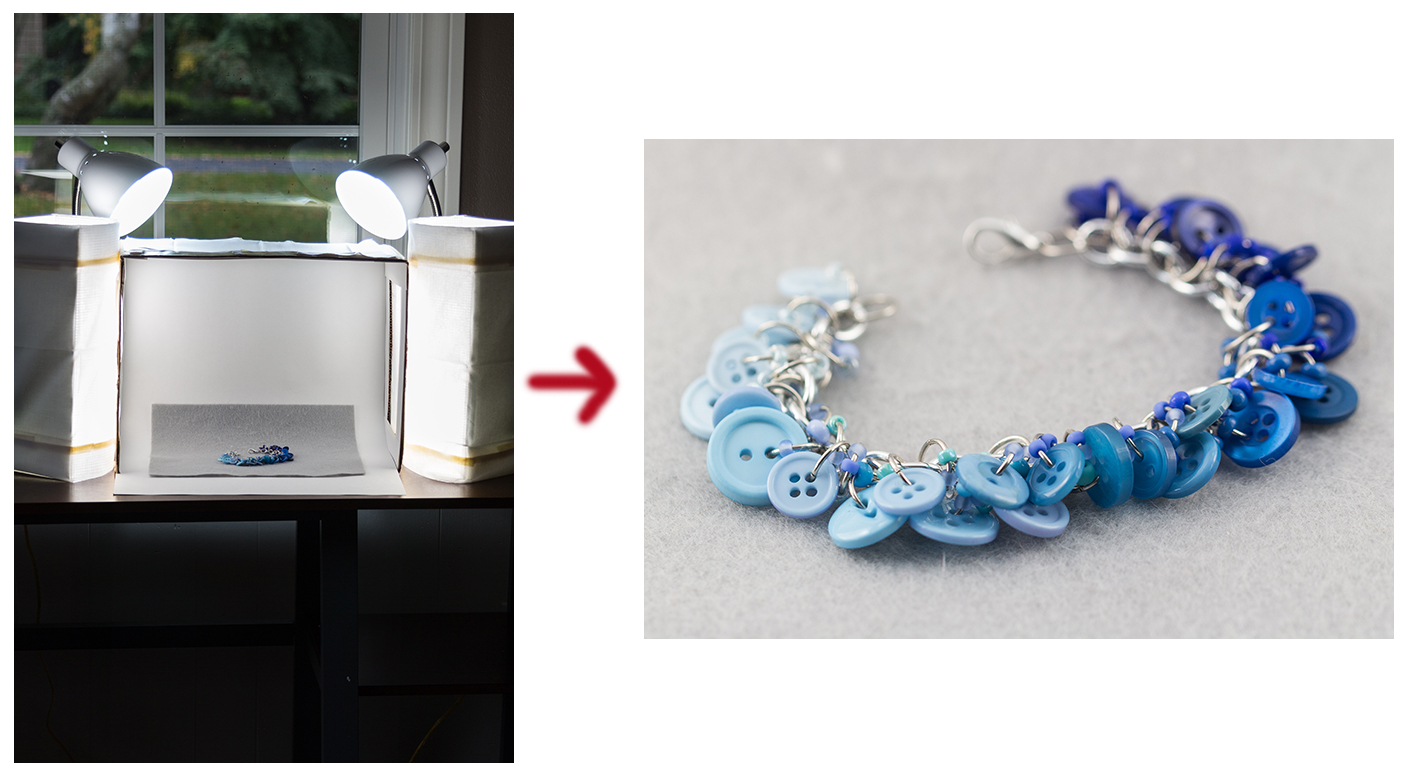 Shoot in natural light or with daylight bulbs
I know there's endless debate about shooting in natural light versus artificial light. Many bloggers swear by natural light and will never use artificial light. There's no question natural light is amazing. But there's nothing wrong with using artificial light either. Numerous professional photographers use artificial light and achieve amazing results. I urge you to experiment with both types of lighting to figure out what works best for you.
When you aren't shooting with natural light, shoot with daylight bulbs. I shoot with natural light as needed for certain types of post, such as home tours. The rest of the time, I use the lighting setup pictured above, which I outline in my DIY photography lightbox tutorial post. I have two desk lamps with 60W daylight bulbs and two DIY Lowel lights with 100W bulbs. I use these lights with the lightbox and for larger shoots. This combination of lighting enables me to keep my ISO levels at 100 or 200 to create detailed, bright images.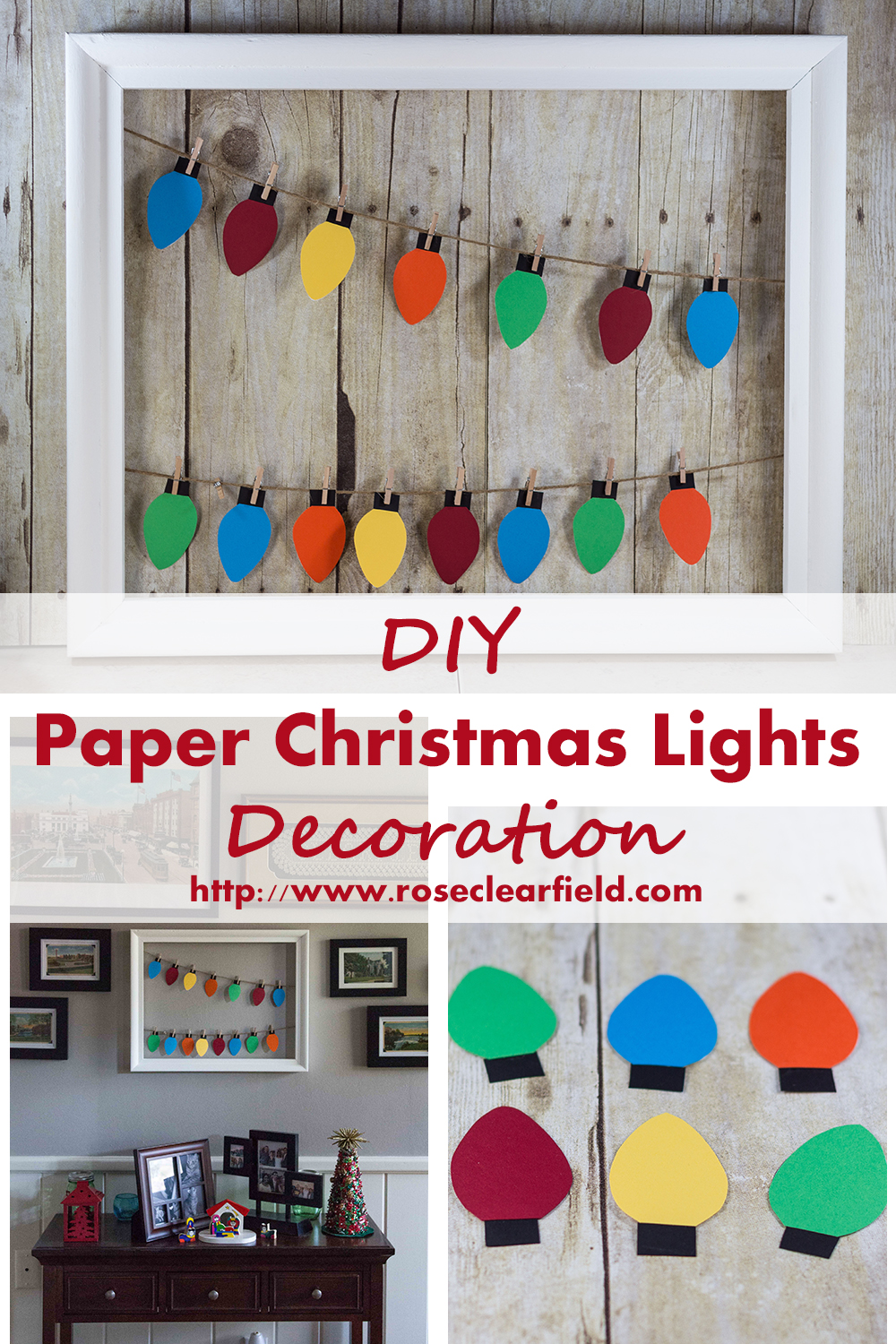 Start shooting and editing with Pinterest in mind
For most bloggers, Pinterest is a huge traffic source. Creating high-quality vertical images greatly increases your odds of getting lots of repins. You don't have to shoot all your blog images in portrait orientation. But you should have at least one or two vertical images in each post that will make great pins. It takes time and practice to get in the mindset of shooting and editing with Pinterest in mind, but it's well worth the effort.
If your strongest image is a horizontal or landscape orientation image, consider creating a vertical Pinterest graphic that includes the horizontal image. The above example is a graphic I created for my DIY paper Christmas lights tutorial that includes a horizontal image of the finished paper lights.
Learn from the best
One of the best ways to improve any type of creative skill is to learn from the best. As you read blog posts from bloggers you really admire, pay attention to what makes their photos so great. Don't blatantly copy favorite bloggers' photos but consider what makes their images strong and use those assets to improve your own photography. For example, if a food photographer creates strong compositions with well-placed props, think about how you can use props in your own recipe shoots.
Strive to keep improving your photography
As a creative, it's way too easy to stagnate with your skills. It's good to have confidence in your photos and feel that you're creating images that enhance your written content. It's not good to fall into the mindset that your photos are good enough so you don't need to work on your photography skills anymore. You should always strive to keep taking and editing better photos for your blog. From week to week or even month or month, you may not notice any difference in your photos. But when you look back at your photos from six months or a year ago, you'll be surprised how far you've come with your photography skills.
More photography resources!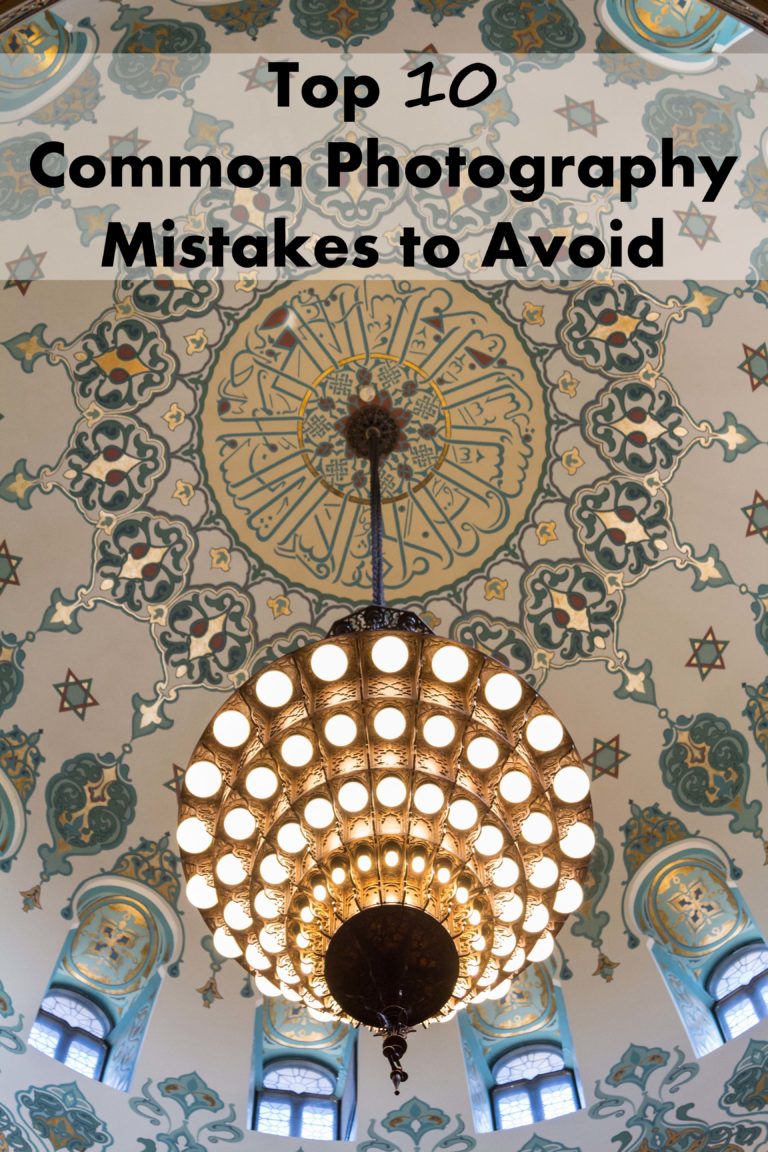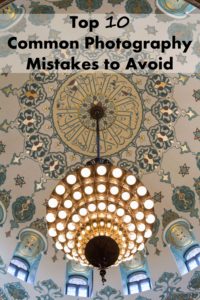 Top 10 Common Photography Mistakes to Avoid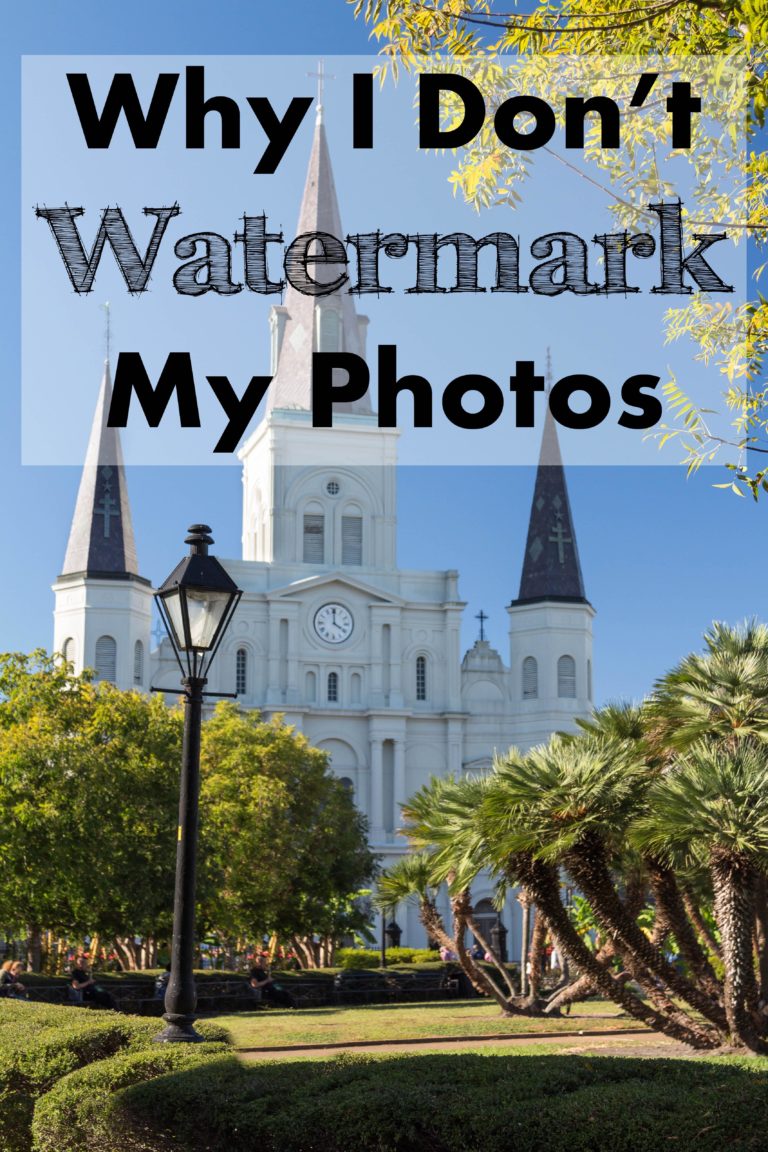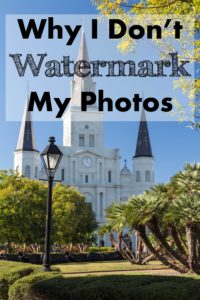 Why I Don't Watermark My Photos
[Disclaimer: This post contains a few affiliate links. Using these links to purchase products and sign up for services is a simple way to support my blog without costing you anything extra. Thanks!]
Do you have any additional photography tips for bloggers?
Share your insight in the comments!
Save
Save
Save
Save
Save
Save