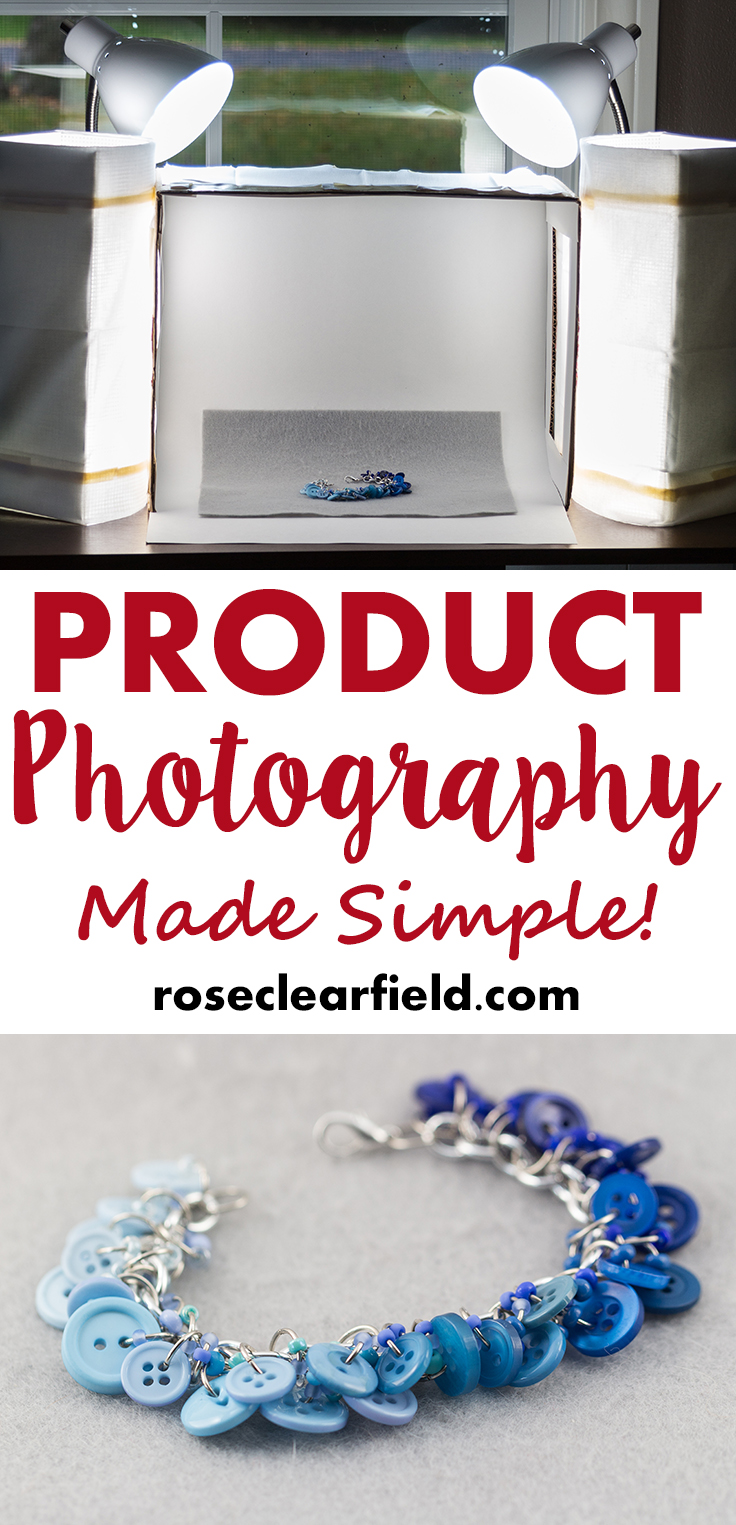 A little over two years ago, I released my first ebook: Jewelry and Other Small Item Product Photography. I'm excited to announce that I've spent the past couple of months updating the existing content, adding 22 pages of new content, and creating a brand new affiliate opportunity.
A little background on Jewelry and Other Small Item Product Photography
I've loved photography my entire life but didn't get motivated to improve my skills until I opened my Etsy jewelry shop and started blogging publicly. At the time, I had a very basic, four-year-old point and shoot camera and absolutely no experience with product photography. I built my entire skill set from the ground up on a very limited budget. I truly believe anyone can use the camera they're currently shooting with to improve their product photography significantly, showcasing their items to their fullest potential and driving more sales.
Why did you update Jewelry and Other Small Item Product Photography?
I needed to make some critical updates to the ebook, namely including a link to this blog and re-branding it to match the blog. While the original content is still relevant, I needed to make some updates. I've also had a few ideas stirring for a while on new content I wanted to add. So I made my updates, added my new content, and planned an official re-release. The updates and additional content provide the most up to date information available about the current camera market, Etsy, Lightroom, Photoshop, and social media marketing.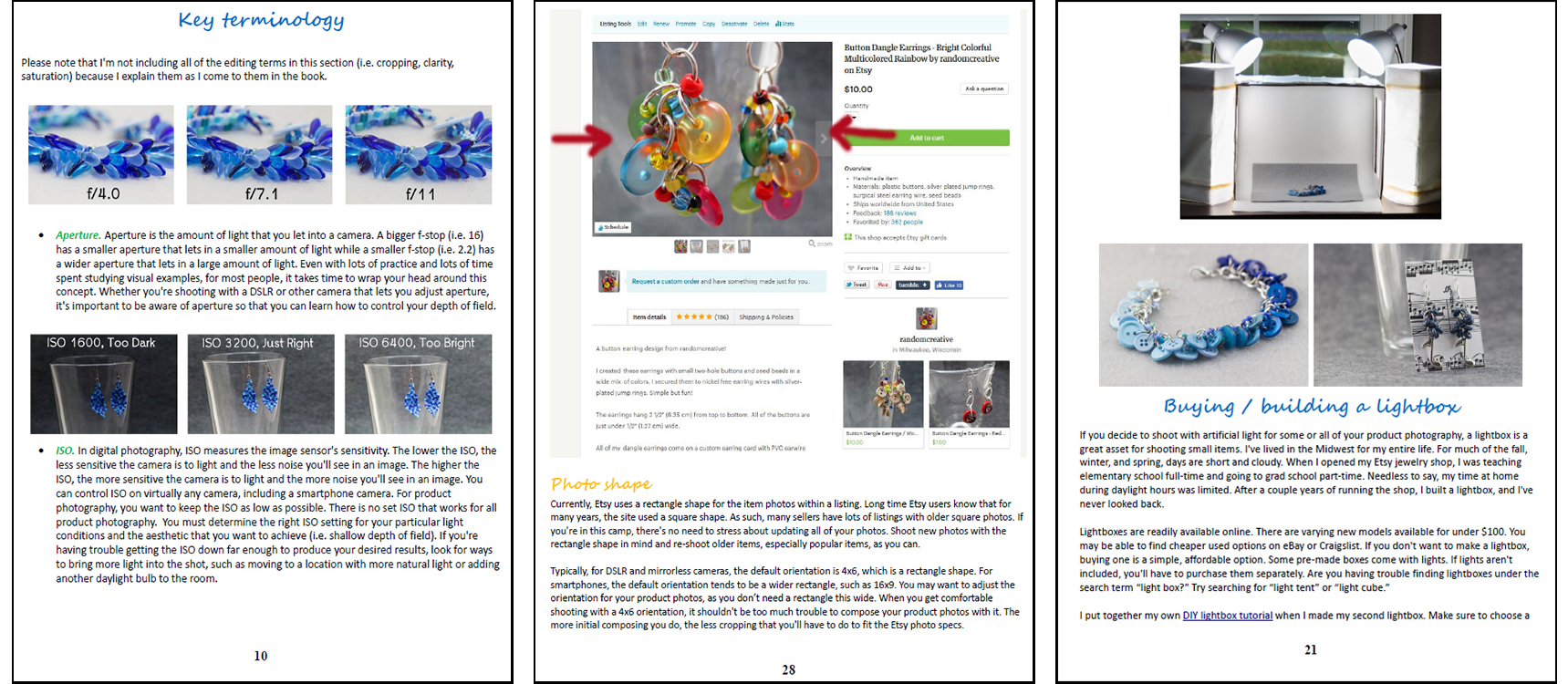 What do I get in the updated version?
I updated all of the existing sections, which are as follows.
Why good product photos are important
Key terminology
My recommendations for cameras
Should I upgrade to a DSLR?
Getting started
Lighting basics
Buying/building a lightbox
Props, backgrounds/backdrops, and styling
Highlighting multiple features
Basic cropping and editing
Etsy
Shooting With a DSLR: The Exposure Triangle
Why should I think about shooting and editing in RAW?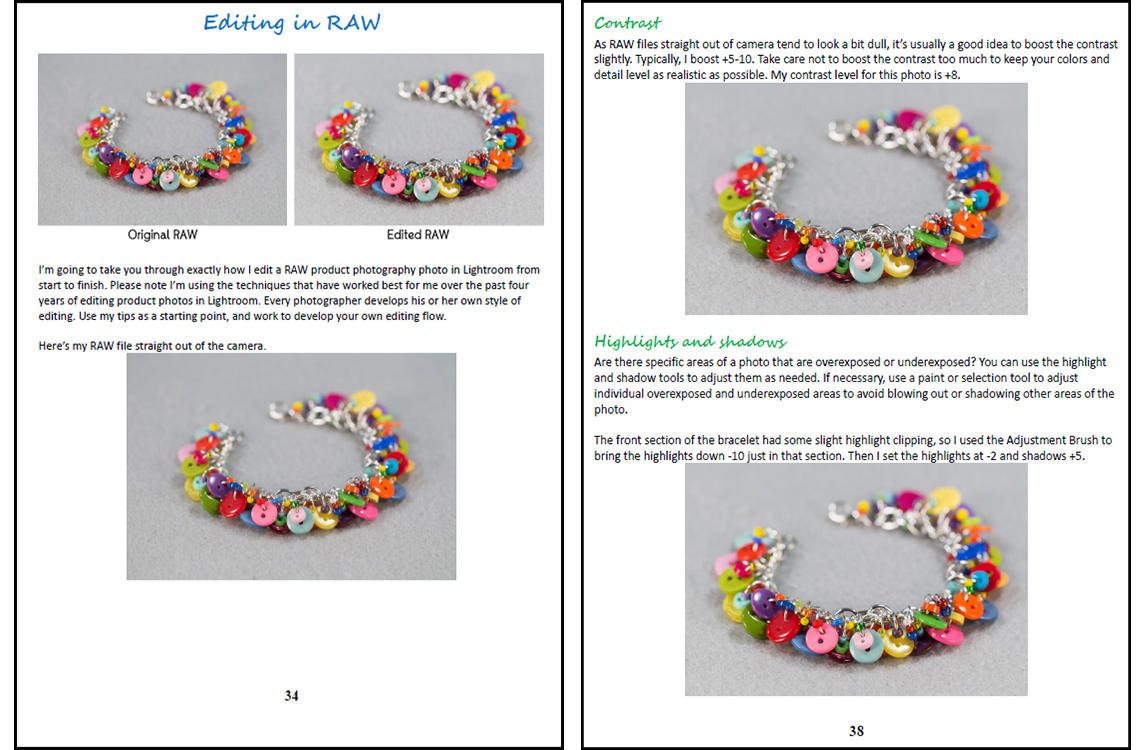 I added the following brand new sections.
Editing in RAW step-by-step tutorial. I take you step by step through my entire process of editing a RAW product photo file in Lightroom.
Should I watermark my photos? I discuss the pros and cons of watermarking photos, so you can make an educated decision about your own photos.
Social media sharing. I discuss the importance of social media sharing and provide specific suggestions for sharing images and other graphics on Facebook, Twitter, Pinterest, and Instagram.
The updated version also includes my never before released 8 Reasons to Use Lightroom for Your Product Photography. I started using Lightroom in mid-2013 and have never looked back. It is an extremely powerful tool that has allowed me to take my editing skills to a new level and streamline my entire post-process routine, saving me time and keeping me more organized. In my guide, I give you the details you need to make an educated decision about purchasing Lightroom outright or subscribing to the Adobe Photography Creative Cloud (CC) plan.
Where can I buy Jewelry and Other Small Item Product Photography?
For the past two years, I've offered Jewelry and other Small Item Product Photography on Amazon and Etsy. I still offer it for sale on both of these sites! I now also offer it for sale directly on the blog in my ebook area. Look for the red purchase button! The book is the same price on all three sites. You receive a PDF format through Etsy and roseclearfield.com and a Kindle format through Amazon.
Are there any testimonials or reviews for Jewelry and Other Small Item Product Photography?
A couple of ladies were so kind to review the newly revised product photography ebook in exchange for a free copy. I've chosen select quotes to share here. Please click through to see their full reviews.
Natasha: "This e-book ended up impacting my life in a major way! Before reading Rose's book, and her photography resources blog posts, I struggled with product and blog photography. I had horrible lighting issues, my white balance was perpetually off, I only used free online photo editors, and I was clueless about photography terms like "ISO" and "exposure triangle." Rose's resources are what convinced me to purchase Lightroom, which eventually also led to me getting Photoshop. Perhaps most importantly, though, the first edition of Product Photography Made Simple convinced me to abandon shooting in JPG and start shooting in RAW. Without RAW captures, much of the creative work I do today would not be possible…Although Product Photography Made Simple is a fantastic beginner resource, there are also helpful tips for folks who already have some photography experience and Rose's techniques are easy to use with non-product photography."
Angie: "If you're struggling to get the sales you need, or know that your product photography has room for improvement, I can't suggest this book enough. Rose really does break everything down to its most simple form to help even the most novice of photographers improve their photos. I think my very favorite thing about her advice is that she teaches you to take great pictures before editing. When you can get a picture right on camera, you save so much time in post-processing. (That's everything you do once you upload your files to the computer)…Whether you need help with lighting and colors, or you want to learn more about editing, you'll find it here."
How do I become an affiliate?
Becoming an affiliate takes just a couple of minutes. Head over to my affiliate area, and register for a new affiliate account. Once you have your login, you'll get an affiliate link and have access to your affiliate dashboard to track clicks and sales. Affiliates earn 50% on commission sales. Affiliate links have a 30-day tracking cookie. Affiliates have the capacity to earn on referrals for all roseclearfield.com products and services, which means you'll be able to earn on future ebook releases and other offerings. In the affiliate area, I have Pinterest images and banners to help you promote the ebook.
Thanks for your support!
Save
Save
Save