Familiarizing yourself with the best things to buy after Christmas will help you make the most of post-holiday season sales.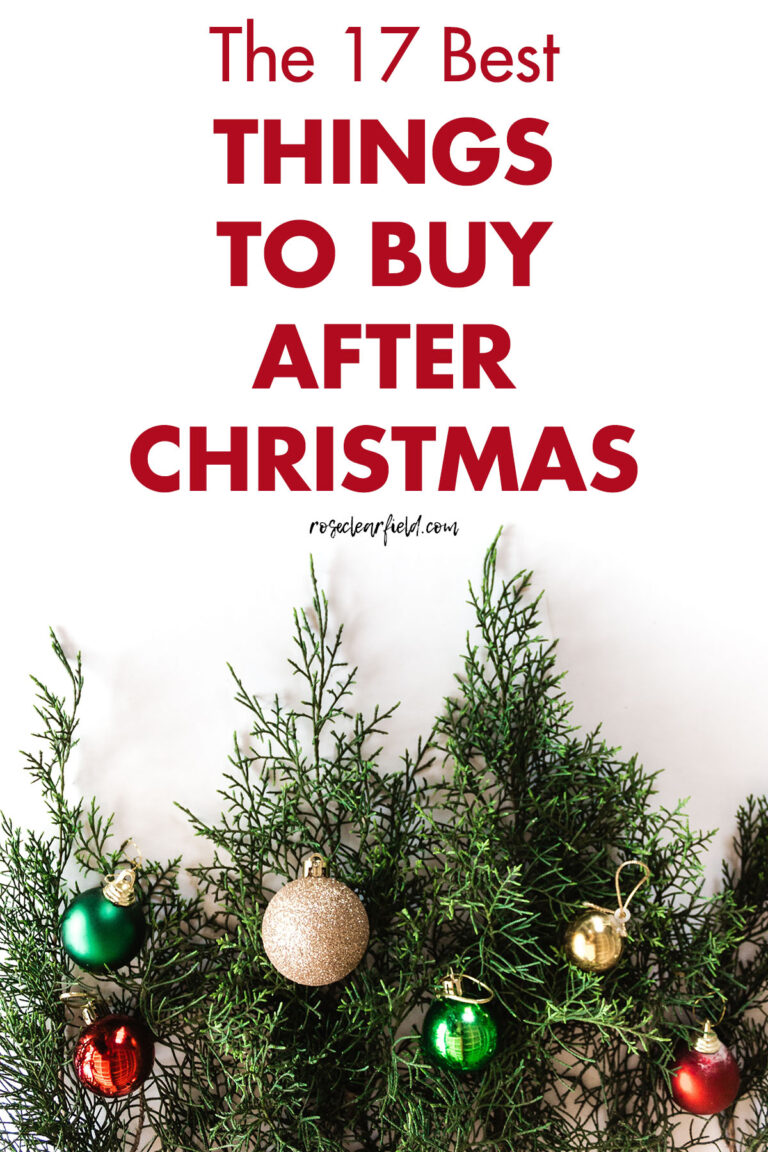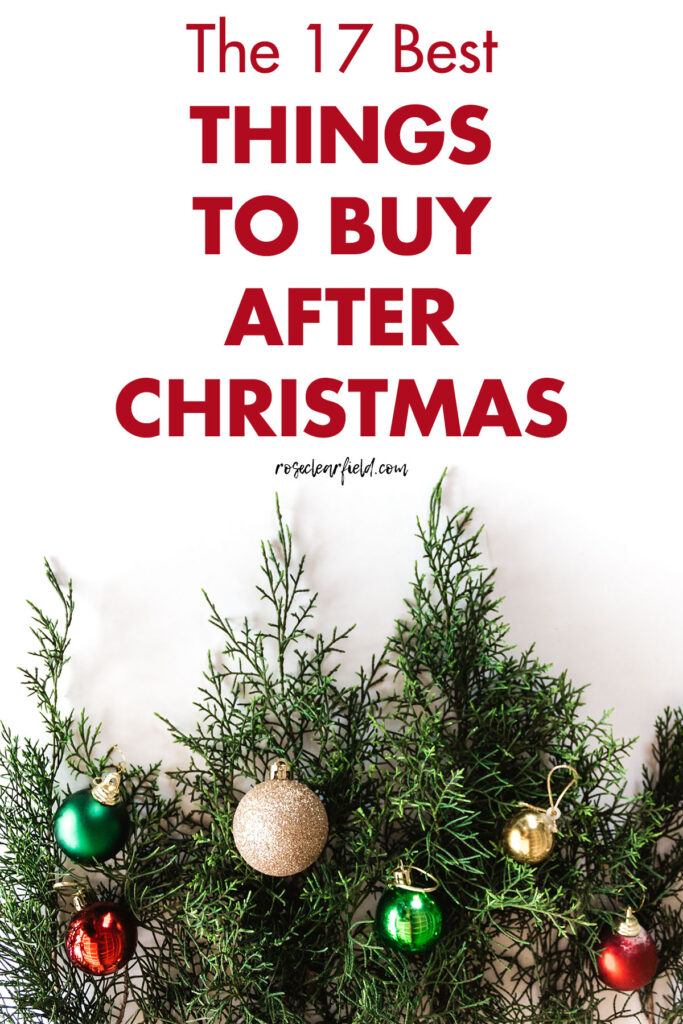 Waiting to shop the post-Christmas sales is always a gamble. You'll definitely find amazing deals that weren't available a few weeks ago. But you'll also have a more limited selection.
In addition to markdowns on holiday items, there are other January sales that should be on your radar, such as New Year's resolution-related fitness sales including gym membership promotions, "white sales" on bed and bath linens, furniture clearance for new inventory, and deals on vacation packages.
You'll find deals on the best things to buy after Christmas both in stores and online. Watch for deals from your favorite retailers and search "January [year] promotions" to see the current deals from all major retailers.
Watching the post-Christmas sales and planning ahead for annual January sales will help you save on big-ticket purchases and on presents for the upcoming year, including birthdays, weddings, housewarmings, and other holidays.
1. Holiday decorations and supplies
As with any major holiday, everything gets marked down significantly immediately afterward. You can save as much as 80 percent or more on trees, wreaths, ornaments, dishes, storage containers, greeting cards, wrapping paper, bows, gift bags, gift tags, and more. It's a great way to save a lot of money on major purchases and stock up on items for next year.
The week after Christmas is also a perfect time to pick up paper plates, napkins, and cups as well as table linens and other party supplies. These items all keep for future holidays. Additionally, you can use red, white, and metallic items that don't say Christmas for New Year's, Valentine's Day, and birthdays.
2. Holiday treats
The week after Christmas is an ideal time to purchase cookies, candy, chocolate, popcorn, and other goodies for New Year's Eve and New Year's Day parties. You can also freeze items that aren't overly Christmas-y for Valentine's Day and St. Patrick's Day and other upcoming events, such as birthday parties.
3. Baking supplies
The week after Christmas is a great time to stock up on baking supplies that keep well, such as cupcake liners and cookie tins, as well as supplies that you can use for other holidays, such as baking chips and red sprinkles.
4. Holiday clothing and accessories
Stores and online retailers don't want to hang onto their holiday clothing and accessories until the following season. You'll find deep discounts on all remaining merchandise after Christmas. Keep an eye out for sales from favorite retailers to buy pieces for future holiday seasons.
5. Boxed gift sets
During the holiday season, tons of retailers offer boxed gift sets, including cosmetics, fragrances, and skincare items. You won't find these sets any other time of the year. Many boxed sets aren't Christmas-themed and can be split up for smaller gifts and used as gift basket components all year long.
6. Candles
Stock up on your favorite holiday candles when they're on clearance, and store them for the next Christmas season.
7. Winter clothing
Once the holiday season is over, retailers are ready to move out their winter clothing and make way for spring clothing by late January or early February. It's a good time of year to buy big ticket items, such as parkas, for significantly less. If you have kids, shop a size up, so you're ready for the next cold weather season.
8. Toys
Many retailers find themselves with an excess of toys following the Christmas rush and don't want to keep everything on the shelves for the slower winter season ahead. Shop for kids' birthdays and any other major events in the upcoming year.
9. Video games
Right after the Christmas season, the most popular video game consoles are often hard to come by for a while. But you'll find great deals on video games. Steam always has a winter sale that starts a few days before Christmas and runs through early January. The dates are announced in advance, so be sure to check ahead of time and plan accordingly. Many retailers, such as Best Buy and Gamestop, run video game sales right after Christmas as well.
10. High-end TVs
There are lots of TV discounts during the holiday season. However, the best deals tend to be on lower-end TVs. Retailers wait until after Christmas to put high-end TVs on sale in preparation for the Super Bowl. If you've had your eye on a top-of-the-line TV, it's worth waiting for the post-Christmas deals.
11. Open box electronics
Another great way to save on TVs and other electronics is to shop the open box items that get returned after the holidays. You'll find lots of electronics that have simply been opened but never used and in new condition.
12. Bed and bath linens
Traditionally, many retailers hold "white sales" during the month of January, which feature bed and bath linens. It's an ideal time to replace worn-out sheets and towels and to shop ahead for bridal showers, weddings, and other upcoming events. Some white sales start right on January 1st while other sales are held later in the month. Search "white sales" for all of the best deals this year with dates for specific retailers.
13. Fitness equipment
As so many people make New Year's resolutions to get in shape, retailers often wait to mark down their fitness equipment until after Christmas. You'll find discounts on everything from dumbbells and barbells to ellipticals and treadmills. In addition to gym equipment, you'll find deals on workout gear, such as clothing, sneakers, protein powers, foam rollers, and water bottles.
14. Fitness trackers
Similarly, January is a great time to bite the bullet on a fitness tracker, as there are so many deals on trackers in the new year. Do your research ahead of time, so you're ready to spring for the deal that you want when you see it. Fitbit remains an extremely popular brand. Garmin, Apple, Amazon Halo View, Engerwall, Spade & Co., and Whoop are also great options.
15. Gym memberships
Gyms are competing with one another for all of the New Year's resolution-related signups. As such, you'll find all sorts of gym deals in January, including reduced enrollment, free months, and other perks and bonuses, such as discounts and access to premium amenities at lower costs.
It's important to keep in mind that gym memberships vary significantly. High-end gyms with lots of amenities in expensive cities will always cost more than basic gyms in the suburbs, even with January promotions. However, as the new year is such a popular time to join a gym, you're likely to get some sort of special perk or discount for signing up in January, even at a basic gym.
16. Furniture
Furniture stores start rolling out new furniture collections in late January through early February. In preparation for the new inventory, they mark down the remaining pieces from the previous year's collections. You'll see deep discounts throughout January and even through Presidents' Day in February.
17. Vacation packages
Once the holidays are over, the travel industry is pretty slow until spring break. Many cruise lines, all-inclusive resorts, waterparks, and other travel companies offer vacation packages early in the year to get people planning for the year ahead. When you have a vacation in mind and can put down money for it well in advance, it's worth booking a package when you see a great deal.
Pin this post for easy access to the best things to buy after Christmas resource later!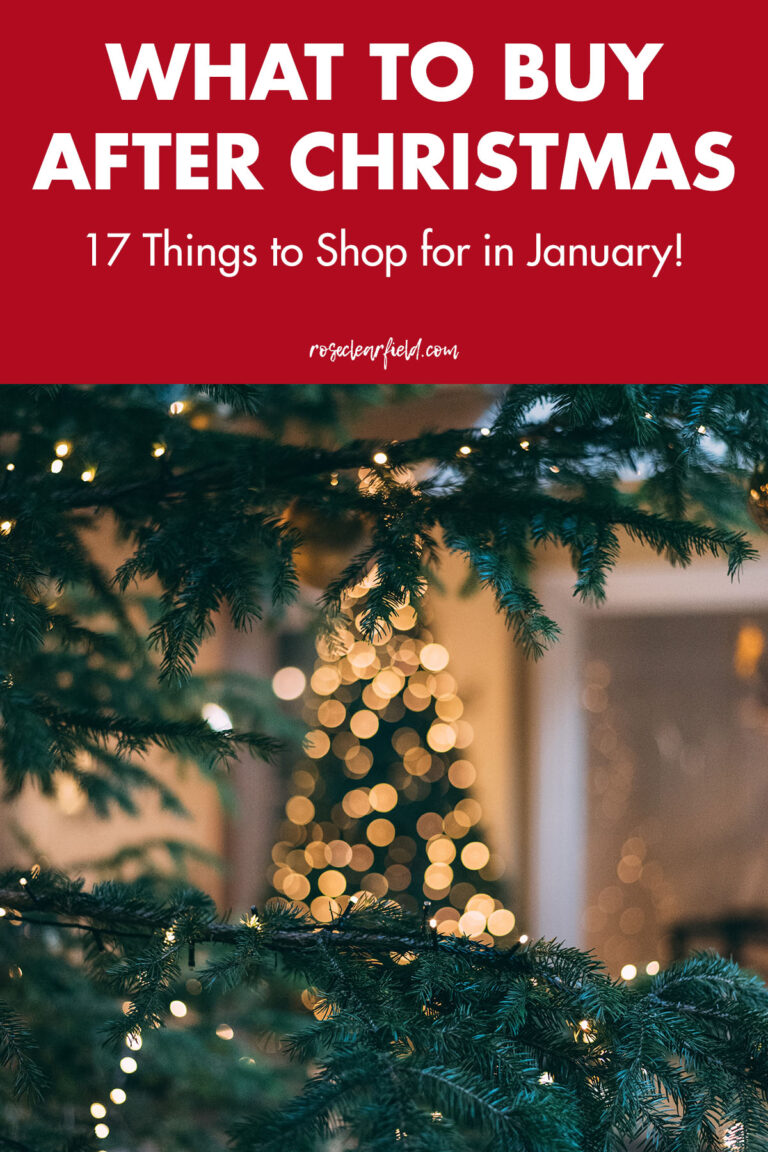 Most post-Christmas resources: