Easter drinks for kids make the holiday that much more fun. Whip up a special mocktail or two for Easter brunch or dinner.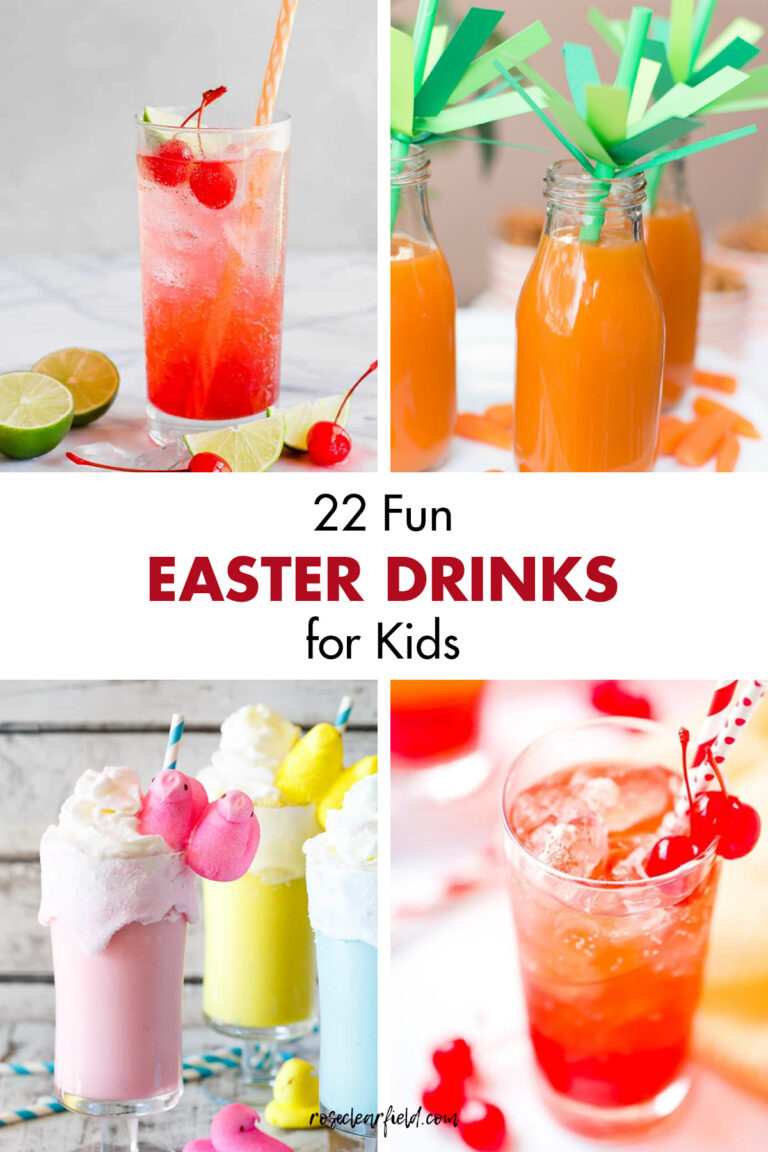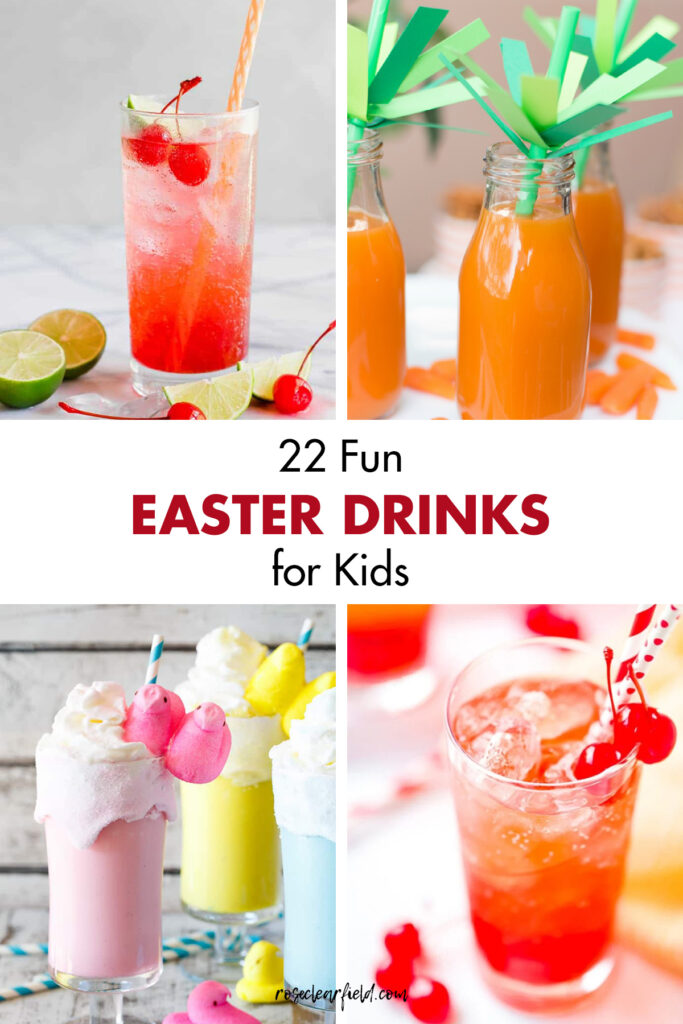 I've rounded up 22 fun Easter drinks for kids to give you something special to serve your own kids as well as nieces, nephews, etc. during the big Easter meals and other holiday gatherings. There are festive Easter mocktails, pastel drinks, classic non-alcoholic drinks, and other fun spring-themed recipes. I also have a non-alcoholic drinks for Easter round-up with even more festive drink recipes for children and other non-drinkers. It's nice to have a few options for designated drivers, pregnant ladies, and anyone who simply may not feel like drinking.
Happy Easter!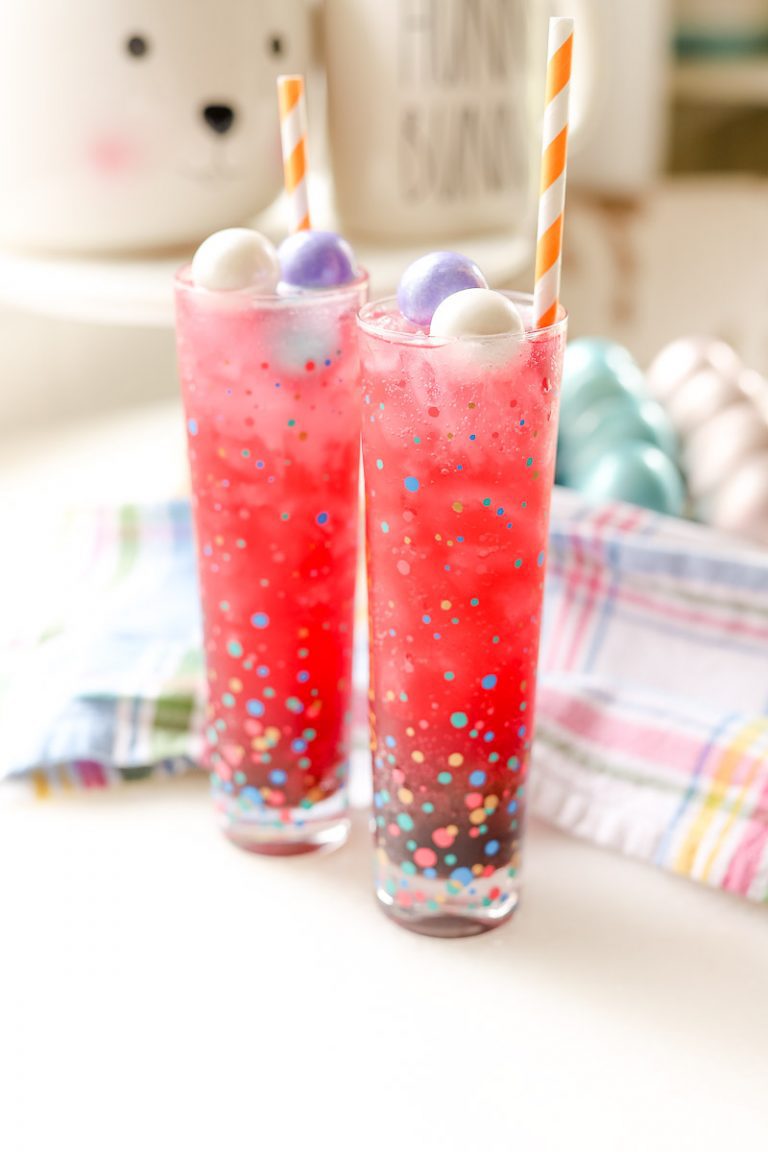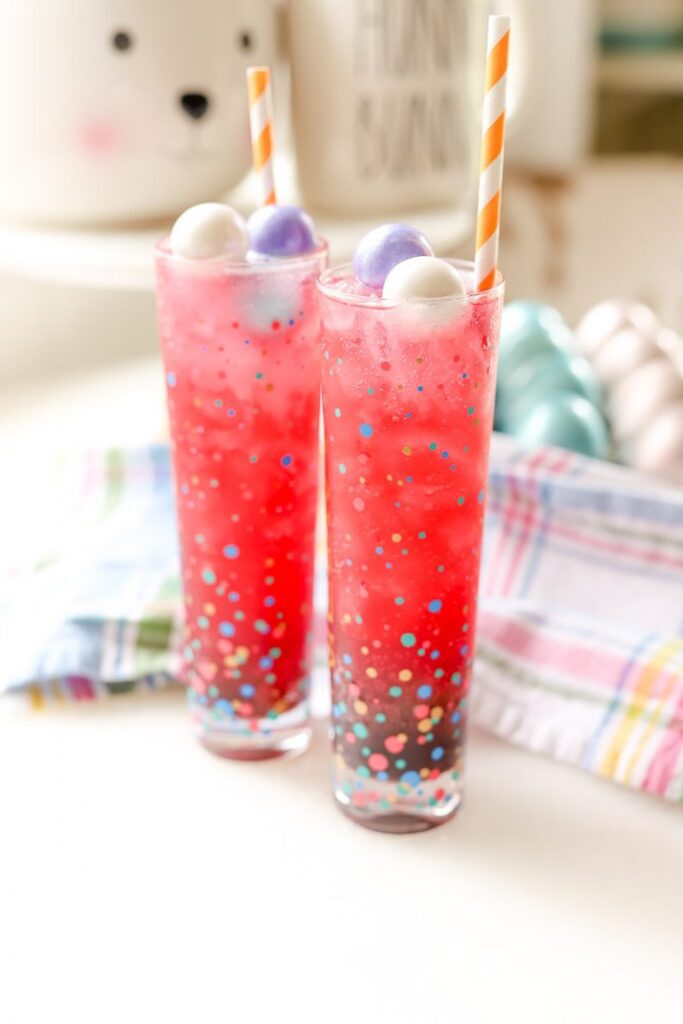 Easter mocktail
The Worthey Life's Easter mocktail is both beautiful and sweet with just the right amount of fizz. You can make the blueberry simple syrup ahead of time, so the drink comes together quickly on Easter.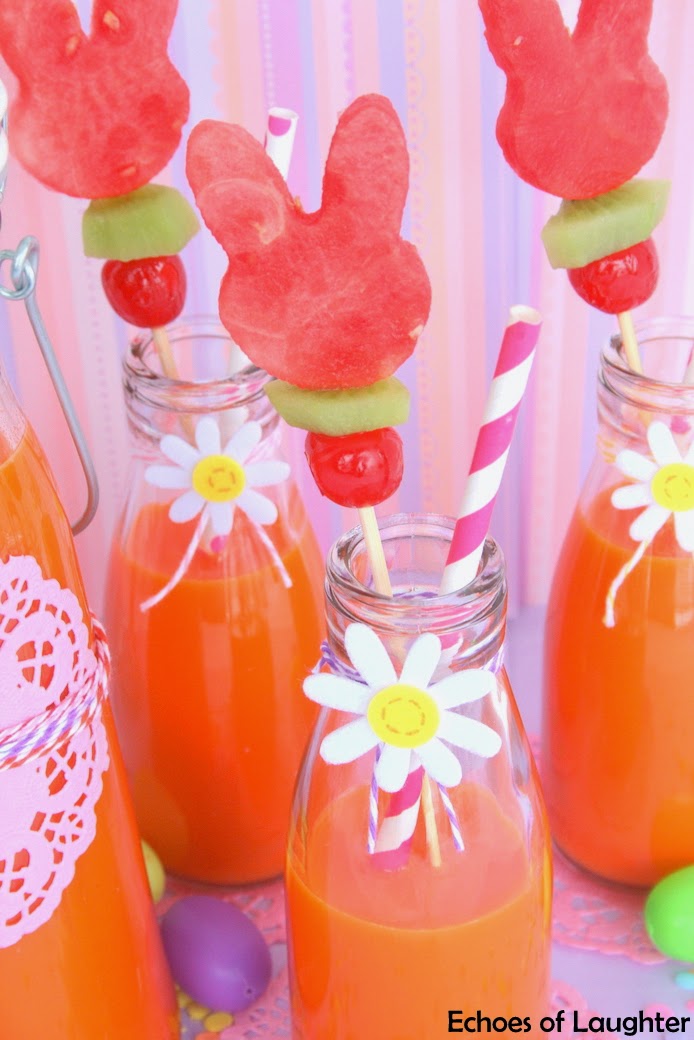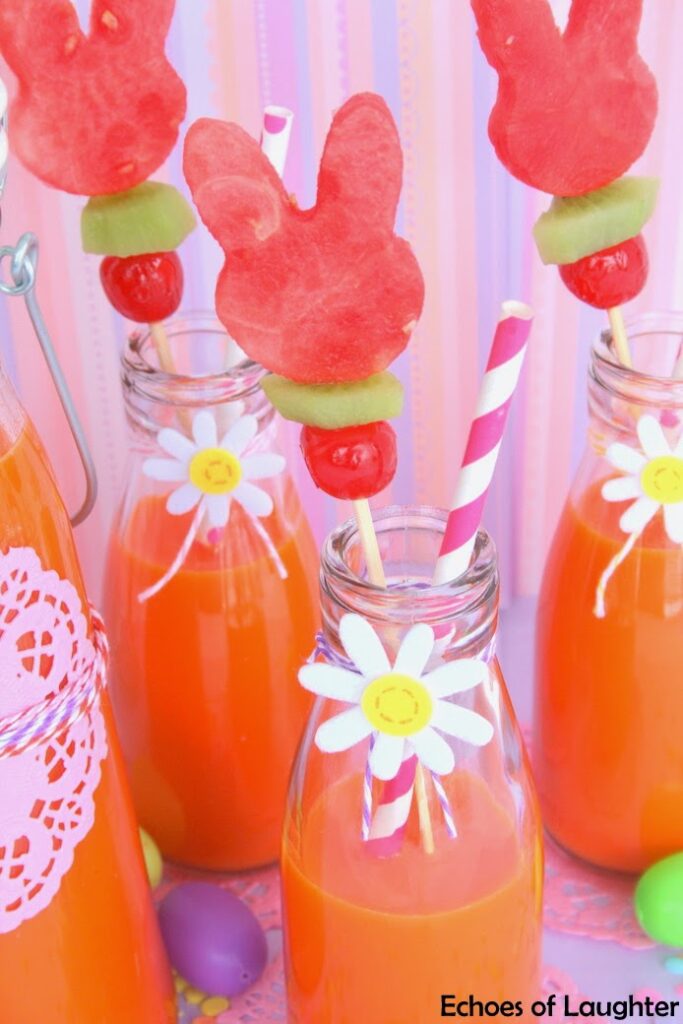 Easter bunny mocktail
Tater Tots and Jello's Easter bunny mocktail is such a fun way to serve the chilled juice of your choosing. Kids will love the fruit skewer bunnies and decorated milk bottles.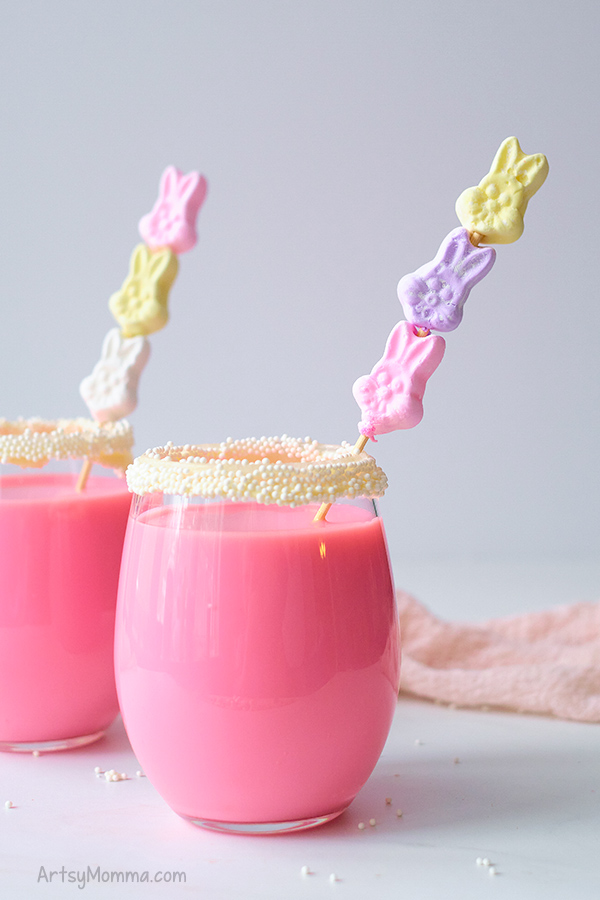 Easter drink with bunny marshmallows
Artsy Mama's Easter drink with bunny marshmallows features strawberry milk, white chocolate-rimmed glasses, and bunny marshmallow skewers. None of the steps take very long, and the result is so cute.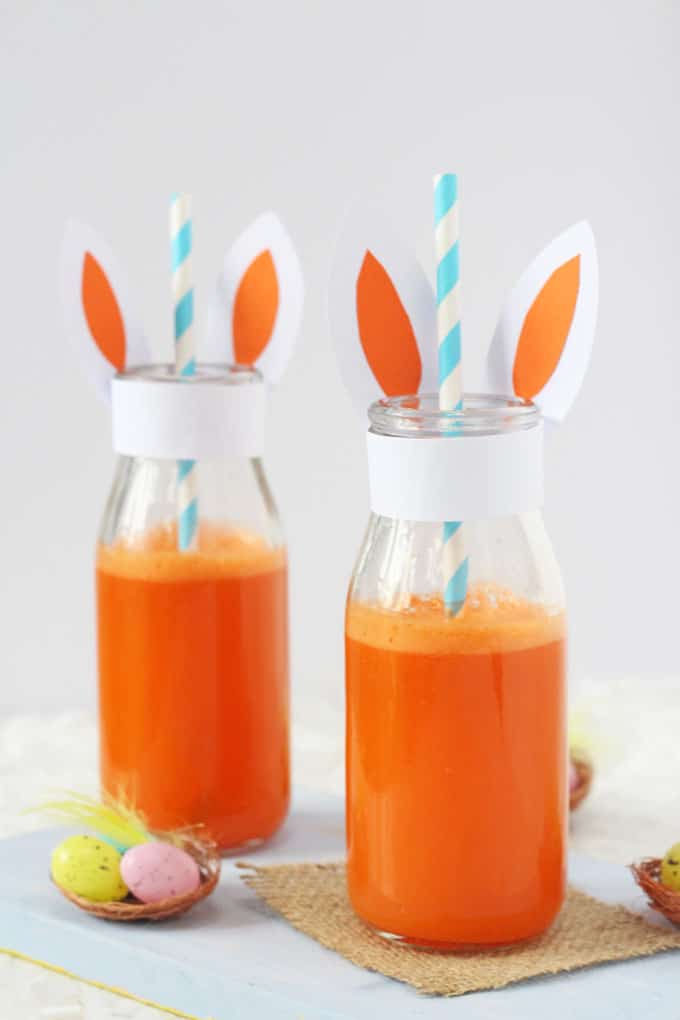 Carrot and orange Easter juice
My Fussy Eater's carrot and orange Easter juice is just two ingredients and comes together so quickly in a juicer. It's the perfect healthy Easter drink to balance out all of the holiday candy.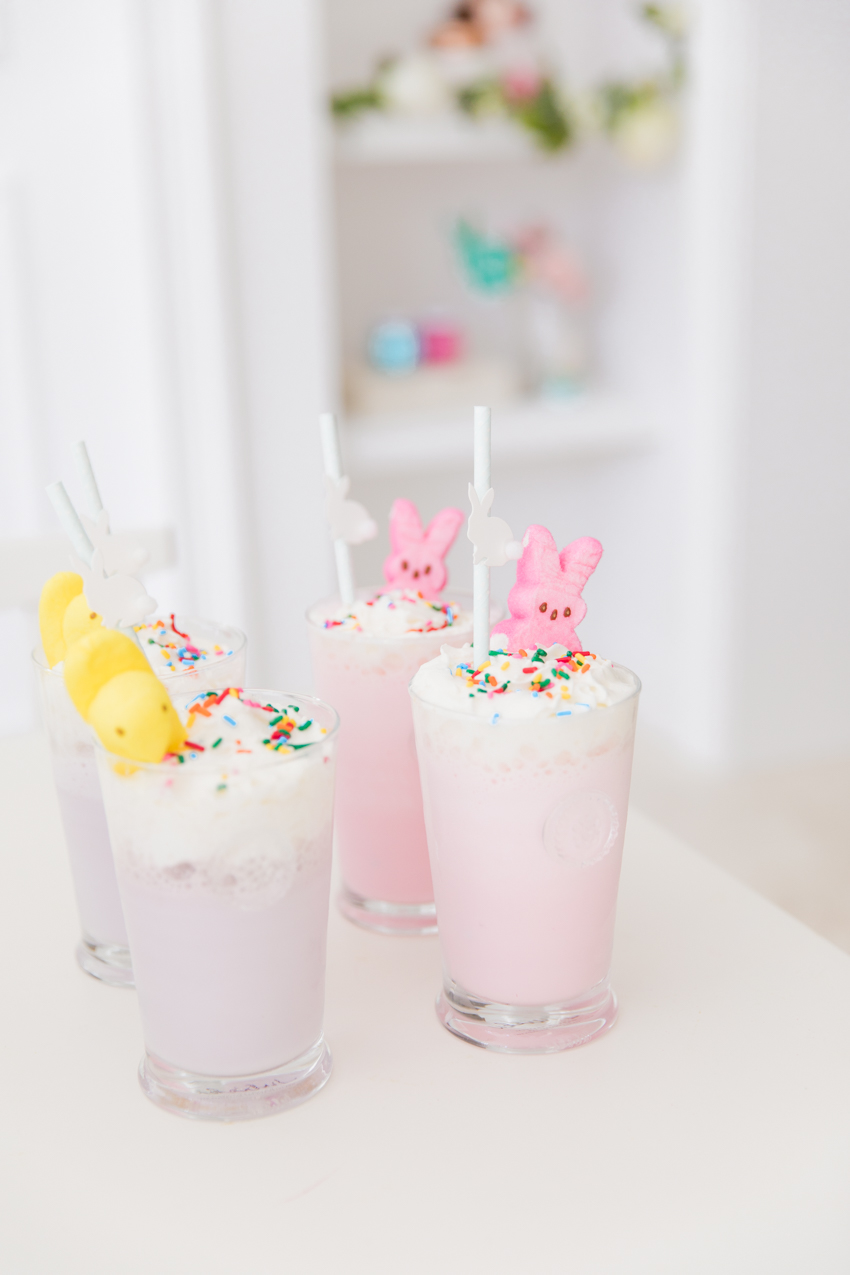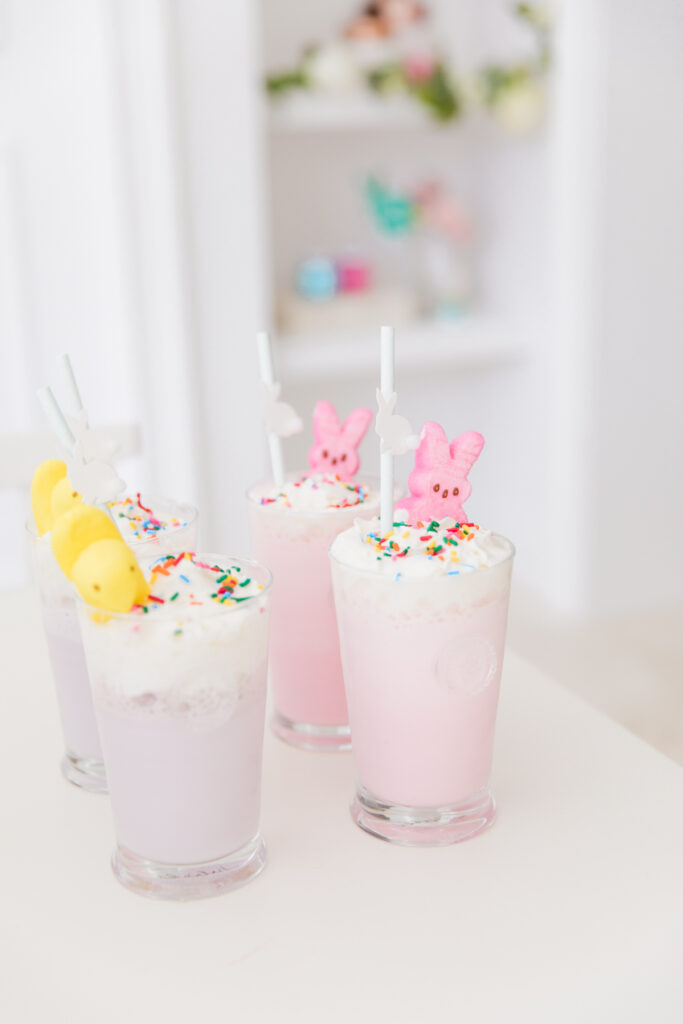 Pastel Easter milkshakes
Fashionable Hostess uses a few drops of food coloring to transform basic milkshakes into beautiful pastel Easter milkshakes. Her Easter kids' table couldn't be more beautiful, too.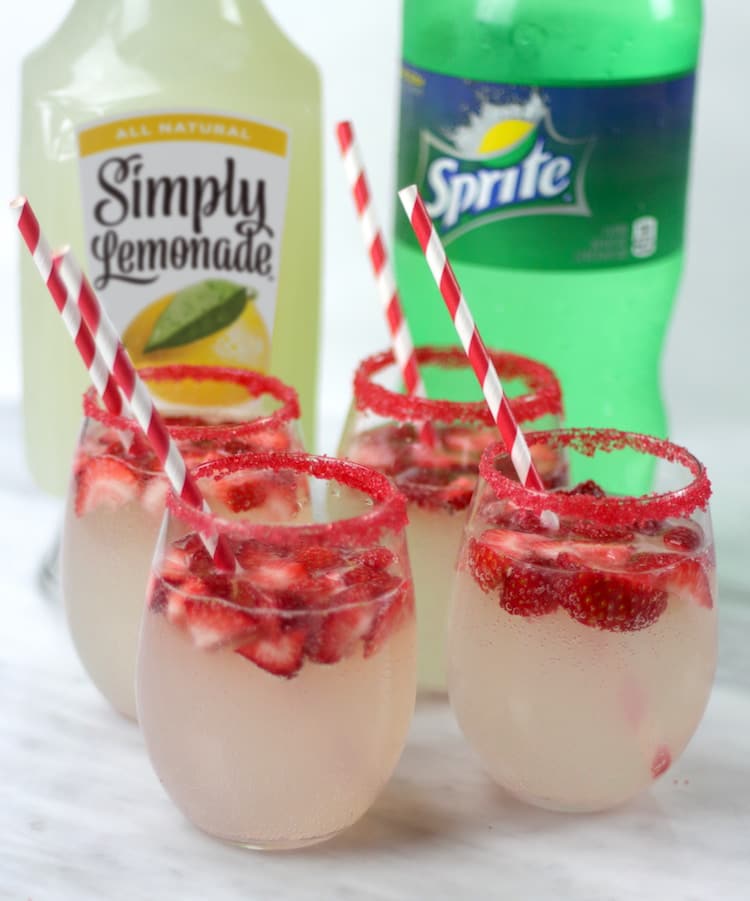 Strawberry lemonade spritzer
Saving You Dinero's strawberry lemonade spritzer is so simple and festive with colored sugar for the rims. After the cold months of winter, everyone will enjoy fresh strawberries.
Shirley Temple
A Shirley Temple is a fun drink for virtually any occasion, and Easter is no exception. Julie's Eats and Treats' Shirley Temple is just three ingredients. Everyone will feel so fancy drinking them.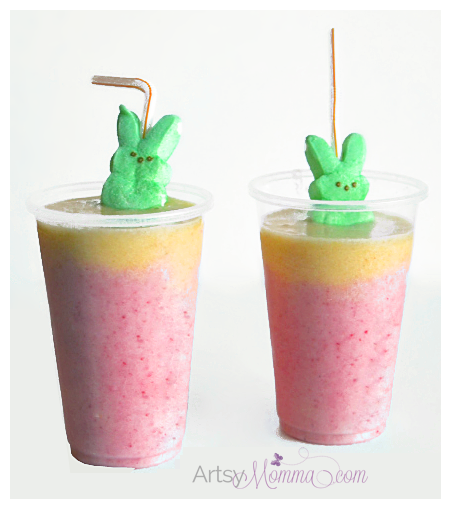 Easter smoothie
Artsy Mama's Easter smoothie is so beautiful with three layers of color. There are lots of ways you can switch up the layers with different fruits.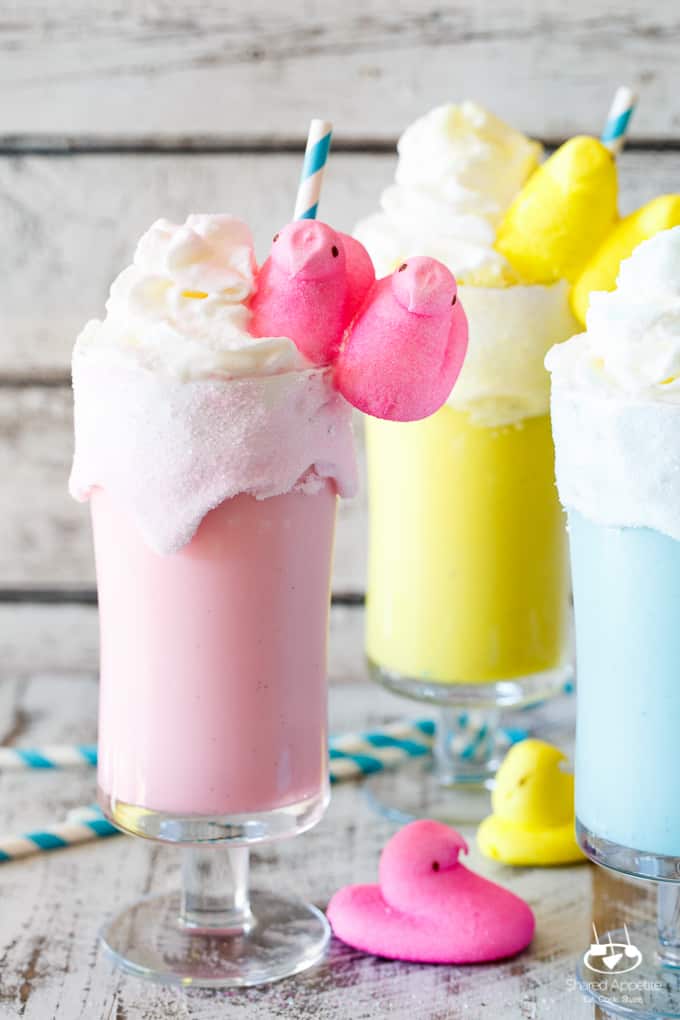 Toasted marshmallow Easter Peeps milkshakes
Shared Appetite's toasted marshmallow Easter Peeps milkshakes take classic vanilla milkshakes up a notch with toasted Peeps, marshmallow fluff-rimmed glasses, and food coloring to match the Peeps.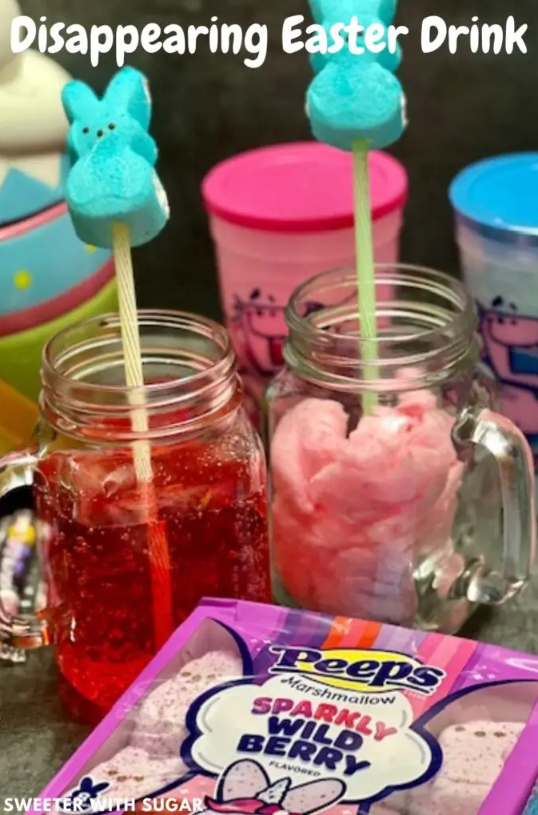 Cotton candy drink
Kids will never get tired of watching the cotton candy disappear into Sprite with Sweeter than Sugar's disappearing cotton candy Easter drink. Using different colors of cotton candy will produce drinks in different colors, which kids may also enjoy.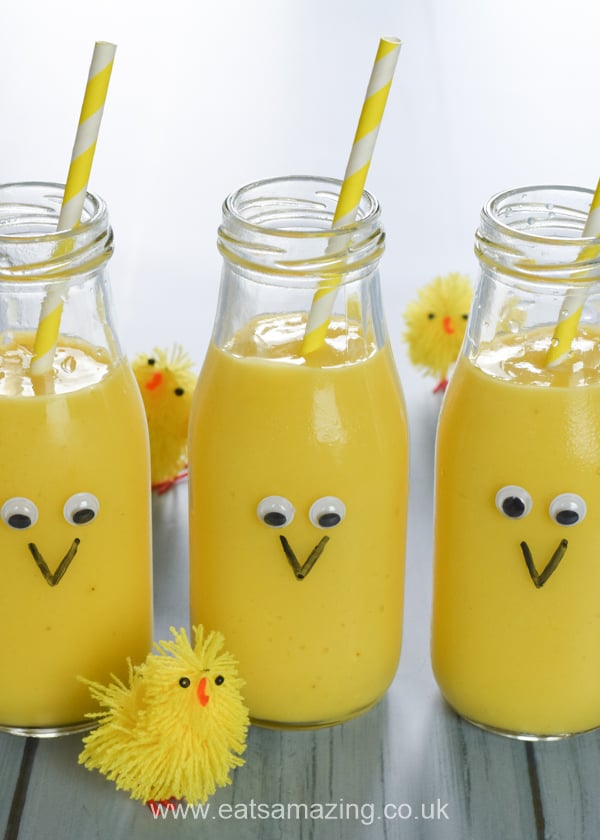 Chick-themed Easter smoothie
Eats Amazing's chick-themed Easter smoothie couldn't be cuter and is so easy to make, creating a simple, healthy drink for kids to enjoy on Easter. There are so many fun ways that you can tweak this concept for different holidays and other special occasions.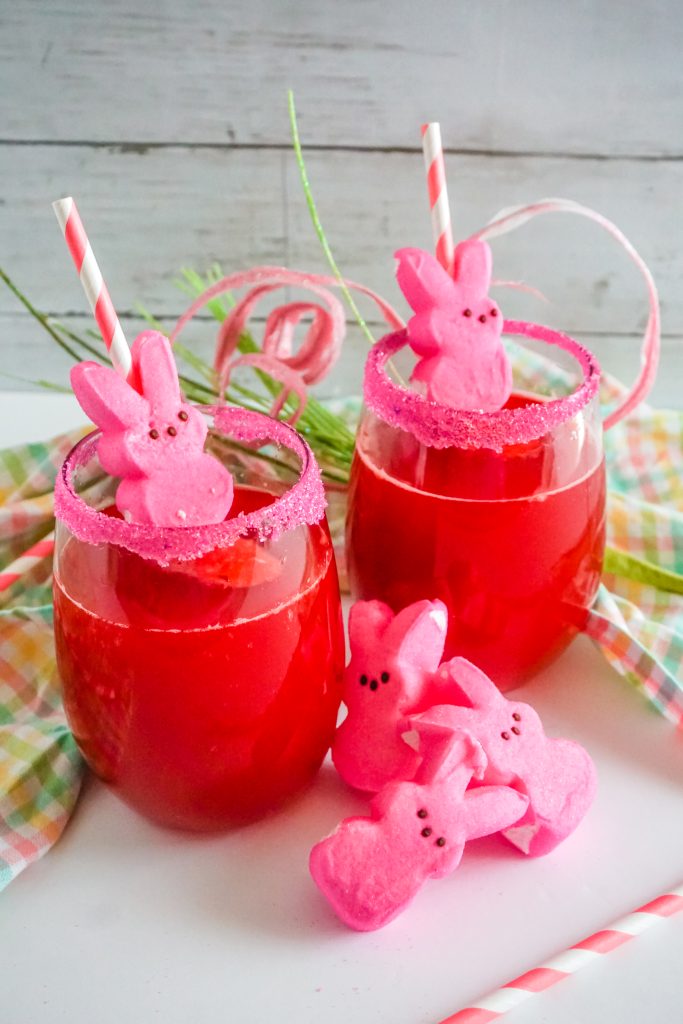 Easter punch
You can't go wrong with a classic punch recipe for a holiday gathering. Our Wabi Sabi Life's Easter punch is loaded with fruity flavors and is sure to be a big hit with kids and adults alike. I love how she styles with glasses with pink sugar and pink Peeps for the straws.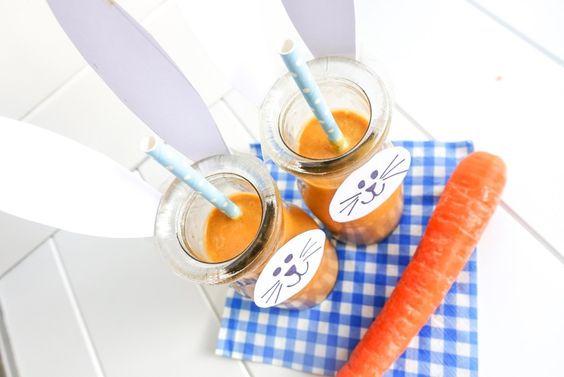 Carrot cake smoothie
Eat Pray Love Play's Easter carrot cake smoothie is an unexpected healthy treat for kids and adults alike to enjoy on Easter. The smoothie tastes like a milkshake but is packed with nutritious ingredients and just a little sweetener. Of course, the bunny face on the glass adds the perfect holiday touch.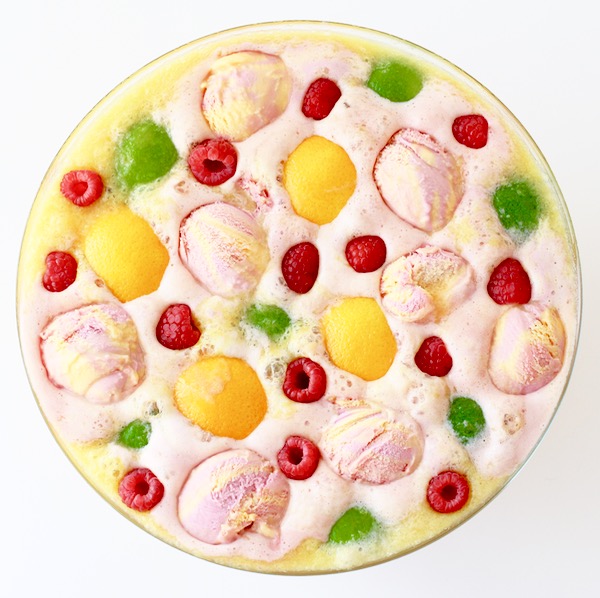 Rainbow sherbert punch
You'll be hard-pressed to find a prettier punch than The Frugal Gal's rainbow sherbert punch. The punch recipe is just four ingredients, and then you'll finish the bowl with fresh fruit slices for that extra aesthetic and to garnish the glasses.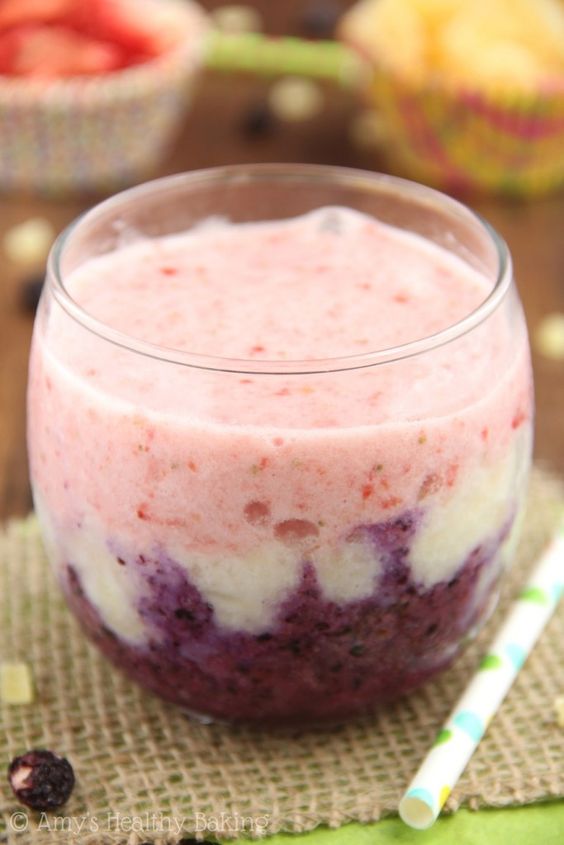 Fruity Easter egg smoothie
Amy's Healthy Baking's fruity Easter egg smoothie is packed with three different fruits and has the most beautiful pastel layers and naturally sweet taste.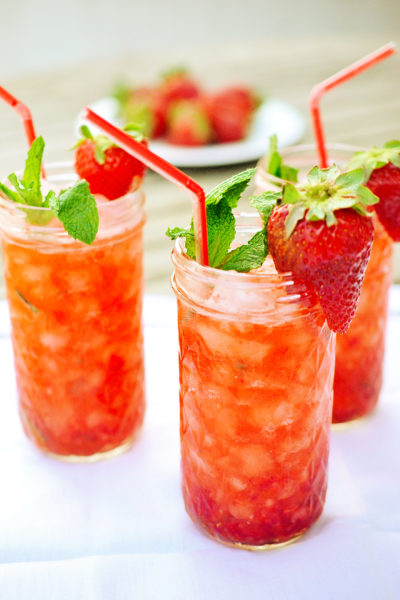 Strawberry virgin mojitos
The Jolly Tomato's strawberry virgin mojitos or mini-jitos are light, fruity, and refreshing. Kids will have so much fun muddling their own virgin mojitos.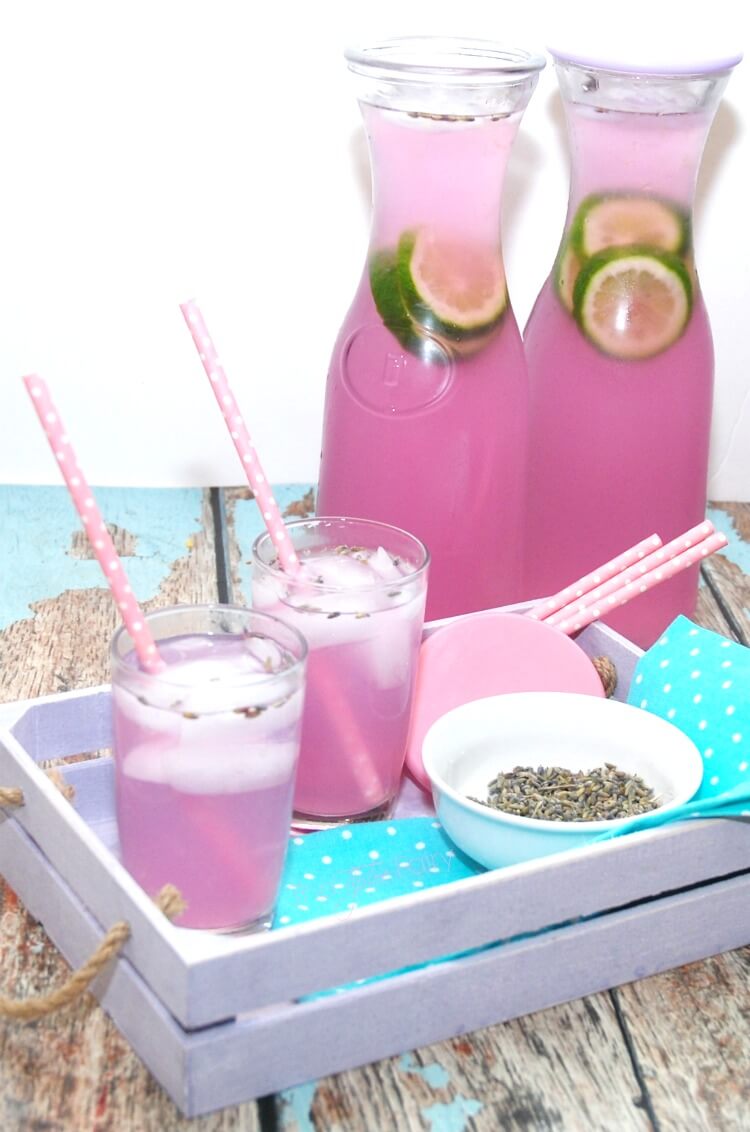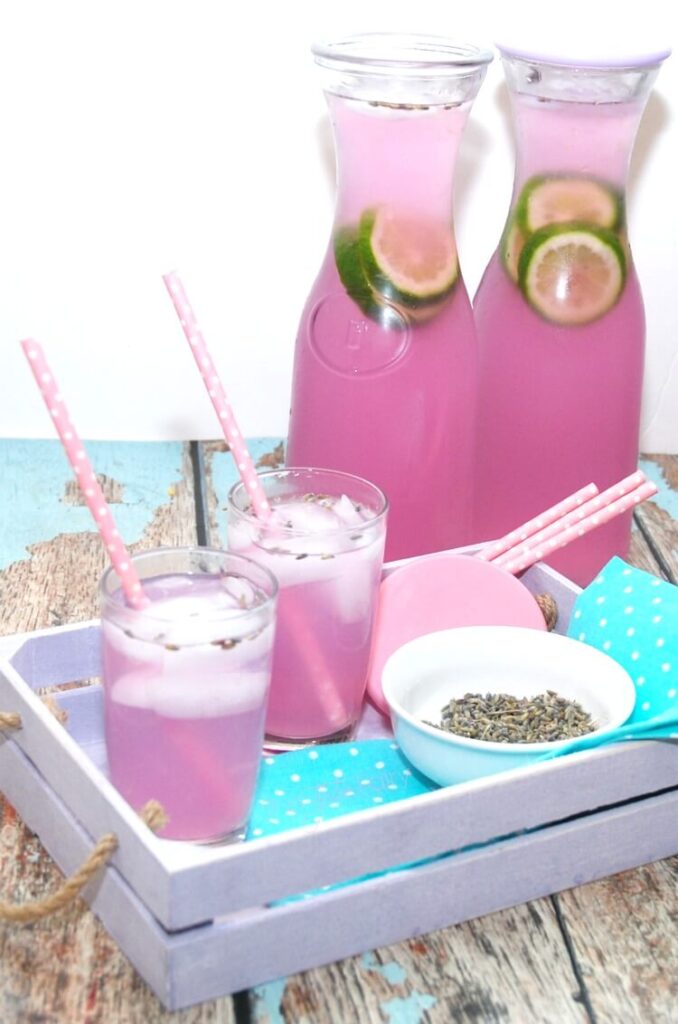 Vanilla lavender limeade
The Tiptoe Fairy's vanilla lavender limeade is a fun twist on the more popular lavender lemonade. It has the most beautiful purple shade and gives you all of the calming, soothing benefits of lavender.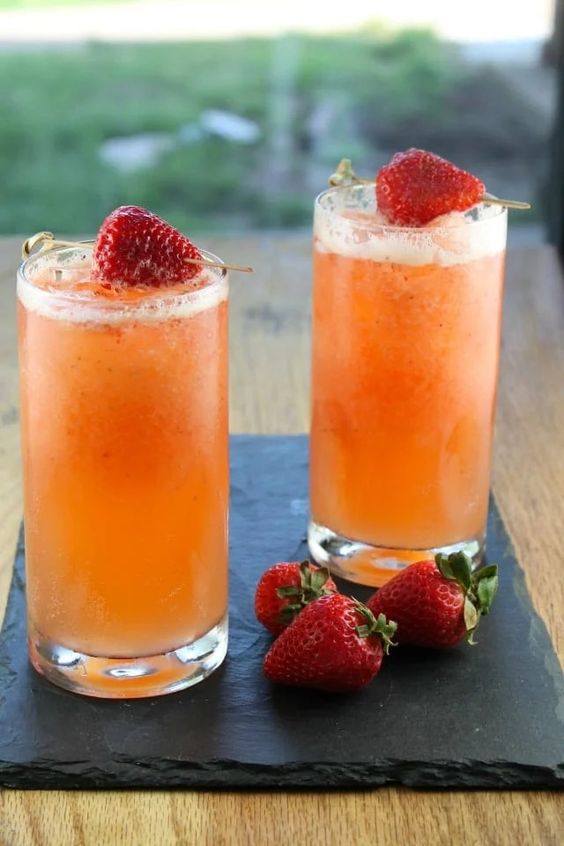 Strawberry mango coolers
Miss in the Kitchen's strawberry mango coolers are a refreshing change of pace for Easter after months of winter drinks. They're perfect for spring and will carry you straight through summer gatherings as well.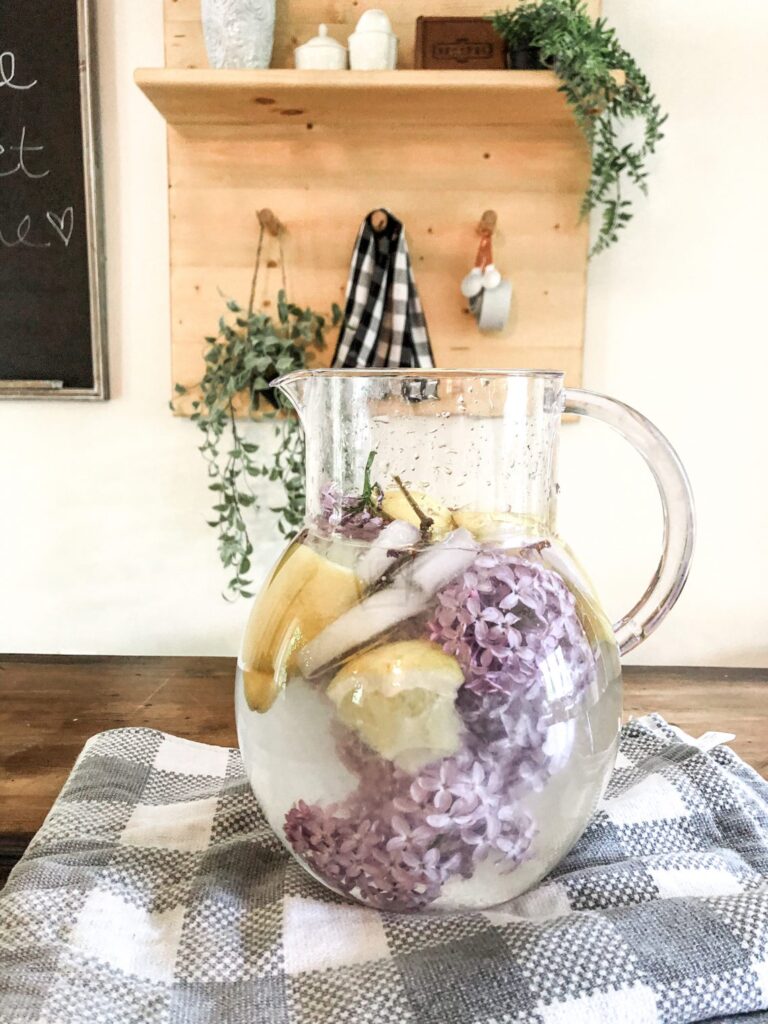 Lilac lemonade
Our Tiny Nest's lilac lemonade is a must-have for anyone who loves the smell of lilac. It's the perfect spring-themed drink and couldn't be prettier. You can adjust the quantities of lemon, lilac, and sugar to suit your personal preferences.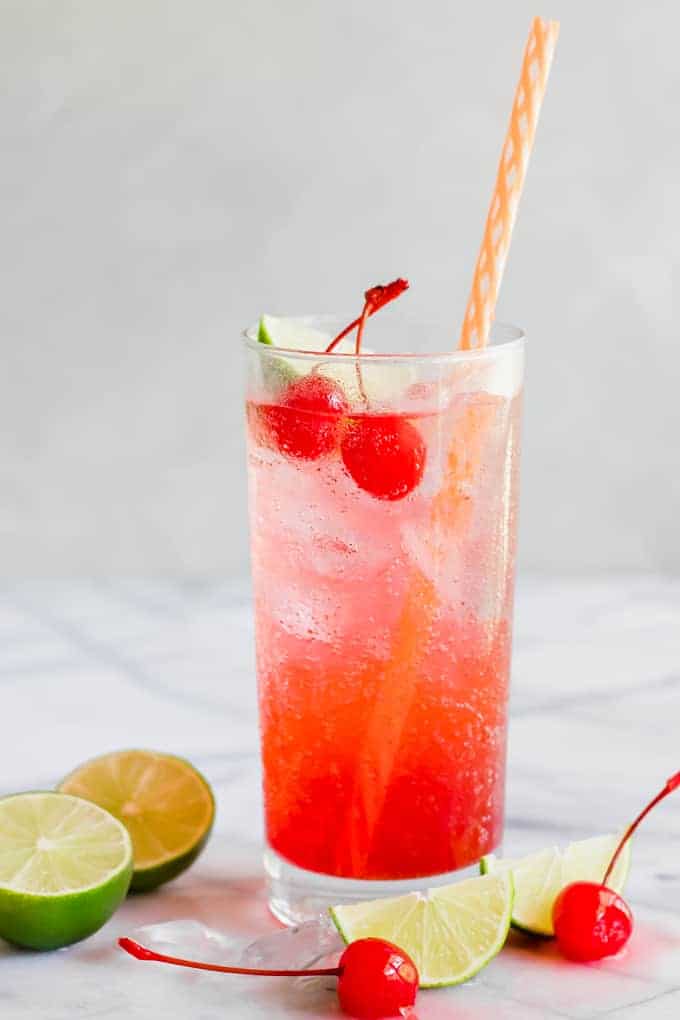 Cherry limeade
If you're a big fan of Sonic's cherry limeade, you have to try making House of Yumm's cherry limeade to re-create this favorite drink at home. It's just three ingredients and will keep everyone refreshed during spring and summer social events.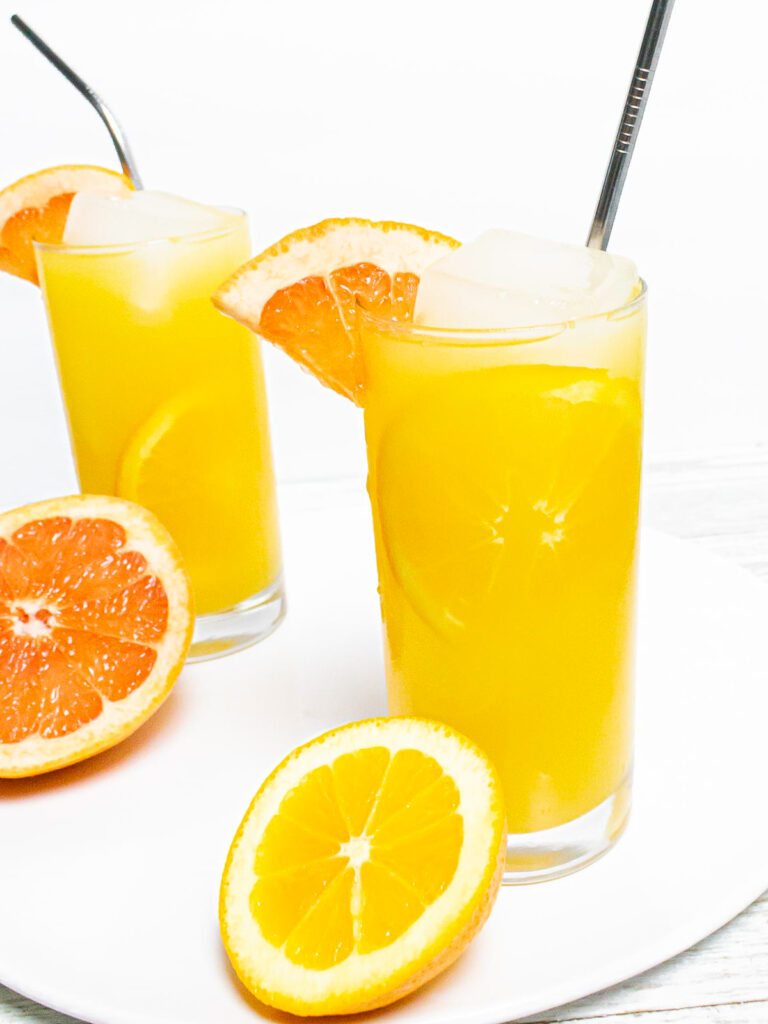 Orange grapefruit punch
My Mocktail Forest's orange grapefruit punch is just as bright and refreshing as you would expect. It's beautifully sweetened, fruity, and fizzy. She has lots of tips for making swaps for the ingredients as needed.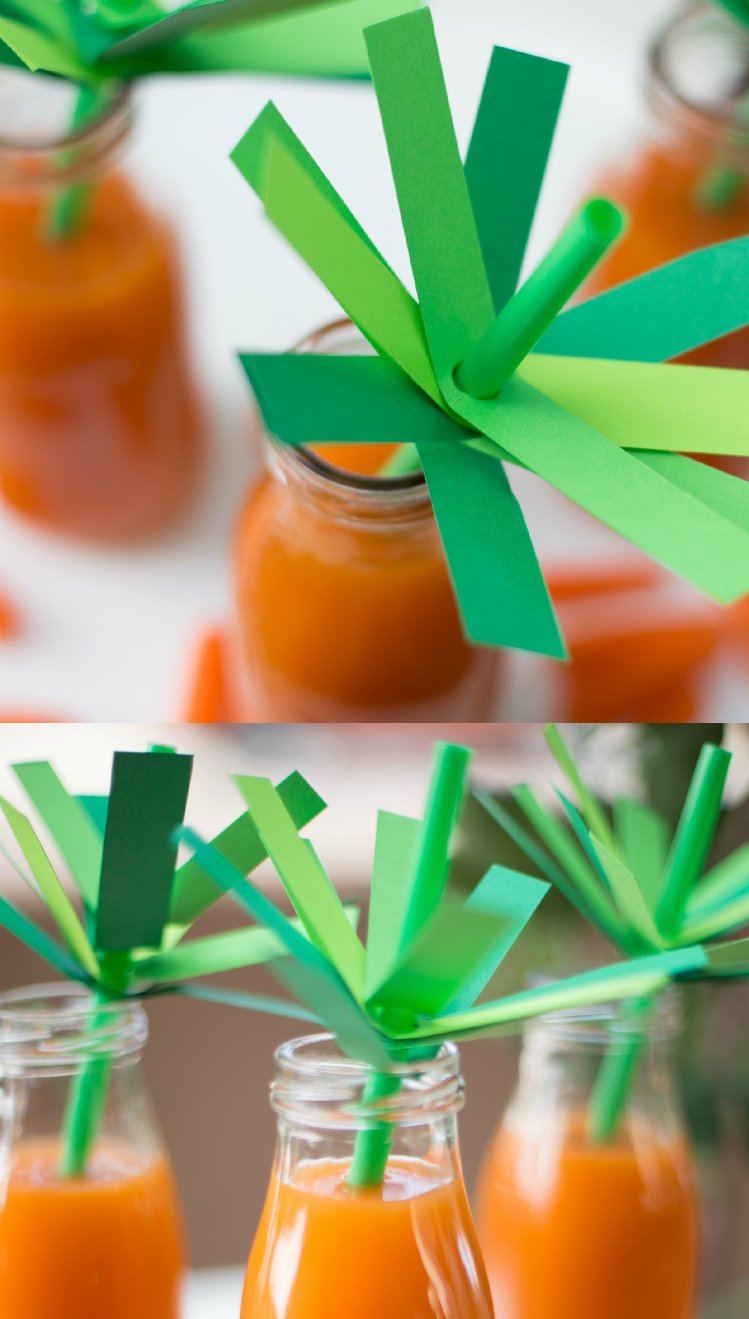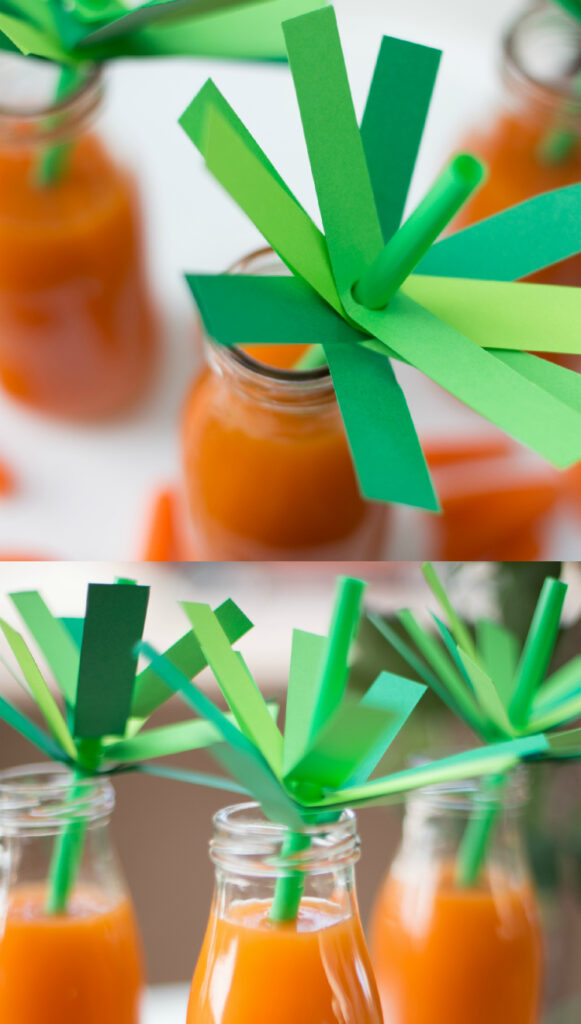 Carrot-top drinks
Just Destiny Home has the cutest carrot-top drinks with DIY carrot-top green straws to dress up a store-bought or homemade orange carrot smoothie.
Did you make one or more of the fun Easter drinks for kids recipes from this post?

I want to see it! Tag your pictures #RoseClearfield on Instagram or Twitter or post a photo to my Facebook page. Make sure to tag the original recipe creators as well.
Pin this post for easy access to the fun Easter drinks for kids resource later!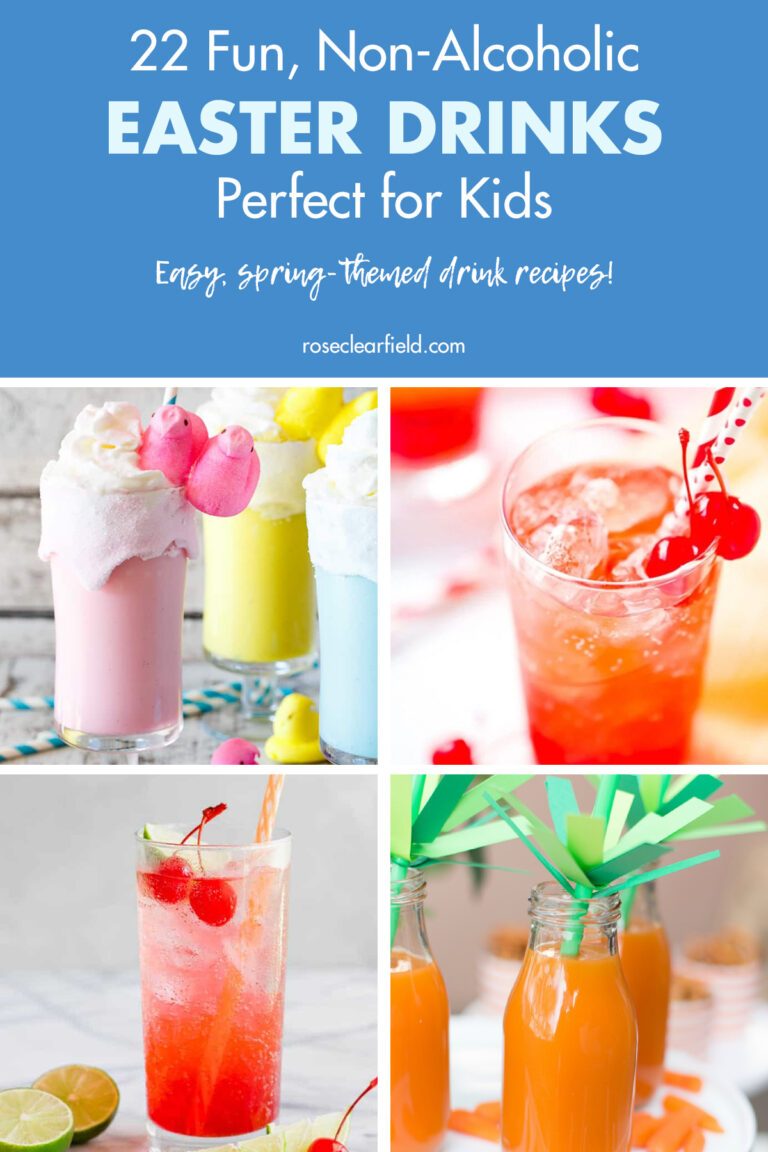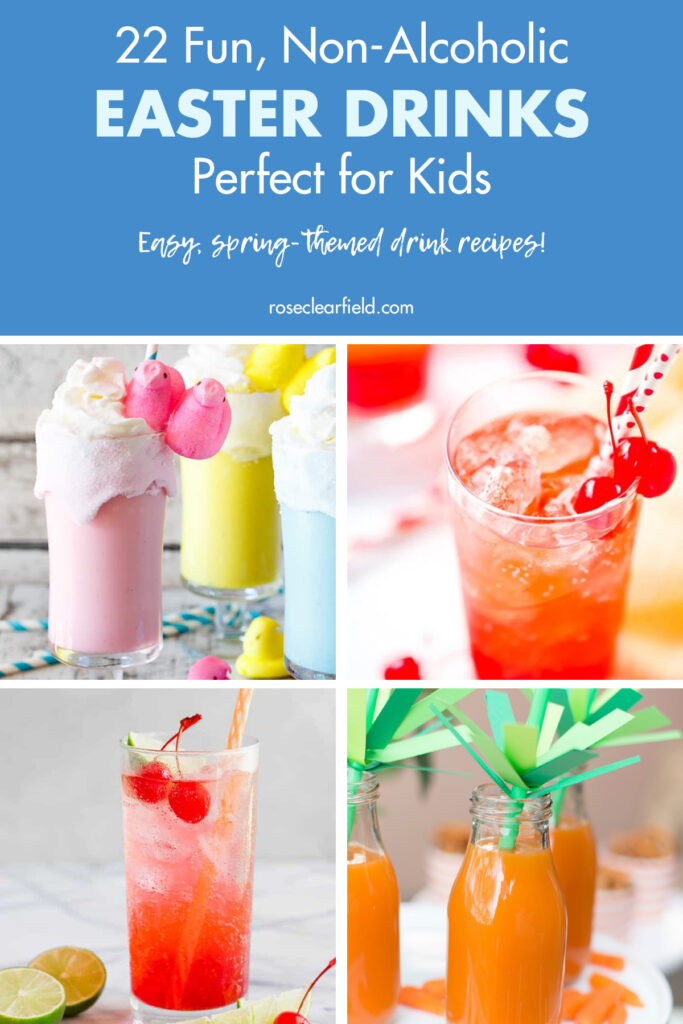 I also have a non-alcoholic drinks for Easter round-up with even more mocktails and spring-themed, alcohol-free recipes!
More Easter resources: