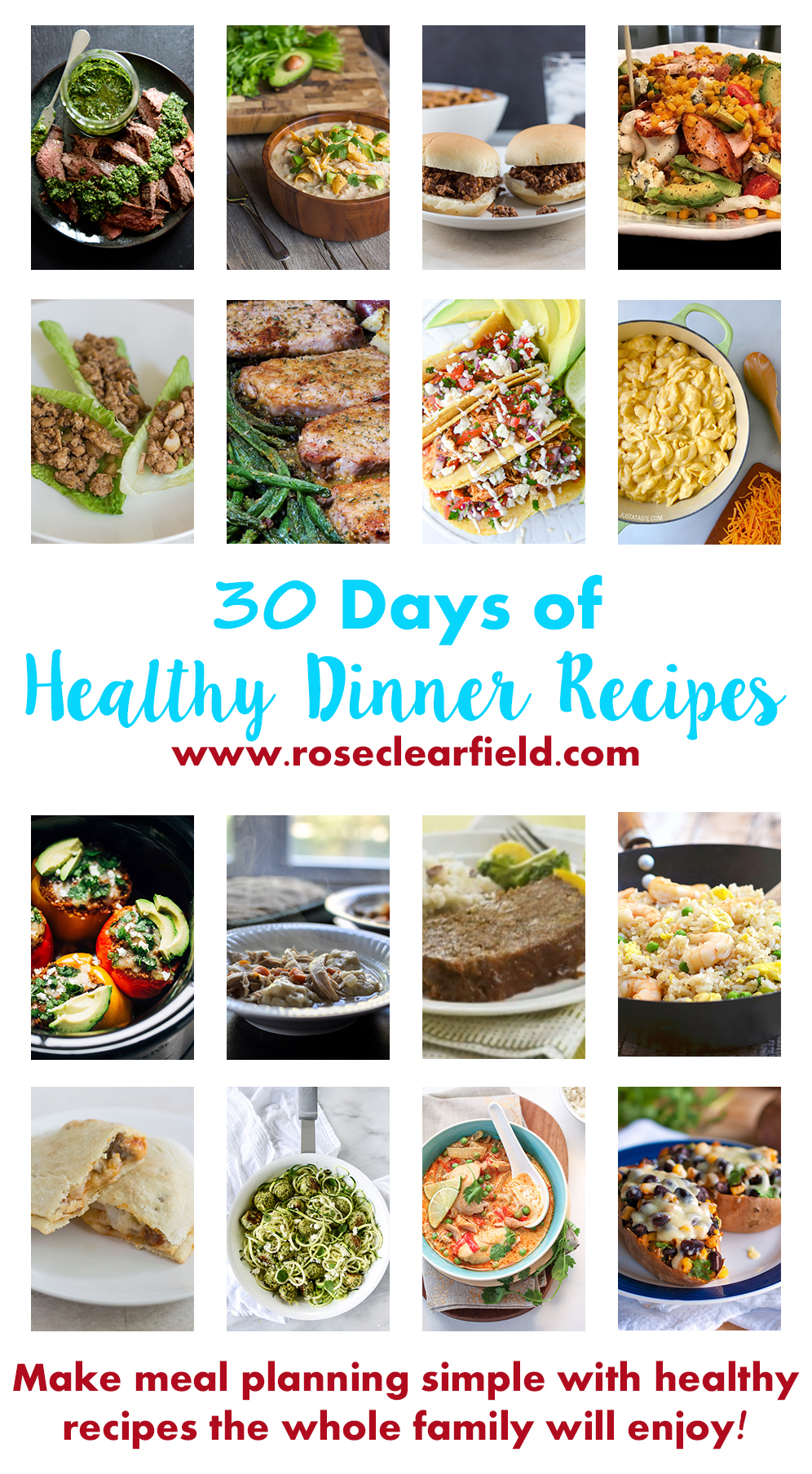 January is the perfect time for a little dinner planning inspiration. After a month of way too many amazing cookies and chocolates (not complaining), it's time to get back to a more normal meal schedule. If you've made a 2017 resolution to eat better, a roundup of 30 days of healthy dinner recipes just made your life that much easier. I also know what it's like to face the daily grind of deciding what to make for dinner. You start a new week, and your mind is blank. Having a few go-to recipe sources makes life a lot easier.
My 30 days of healthy dinner recipes plan is largely based on the recipes I make on a regular basis. In the instances where I'm not sharing my exact recipes, I'm sharing recipes that are very similar. All of these recipes consist solely of easy-to-find, familiar ingredients, eliminating the need to make trips to multiple grocery stores each week (no one has time for that). Over time, as you determine which recipes work best for your family, you'll be able to stock up on pantry staples accordingly, making your life even easier.
I've arranged the 30 days of healthy dinner recipes into groupings of five to make weekday meal planning a breeze. I don't ever cook from scratch seven days a week. Realistically, at most, I cook three or four dinners per week. The other nights, we're eating leftovers, grilling out, or eating out. (Yes, I'm talking about grilling in January. It does happen in Wisconsin.) I don't ever need seven dinner ideas in a single week, and I know that most people don't either. Arranging the 30 days of meals over six weeks means you really have a month and a half of dinner plans. Win-win. Happy healthy eating!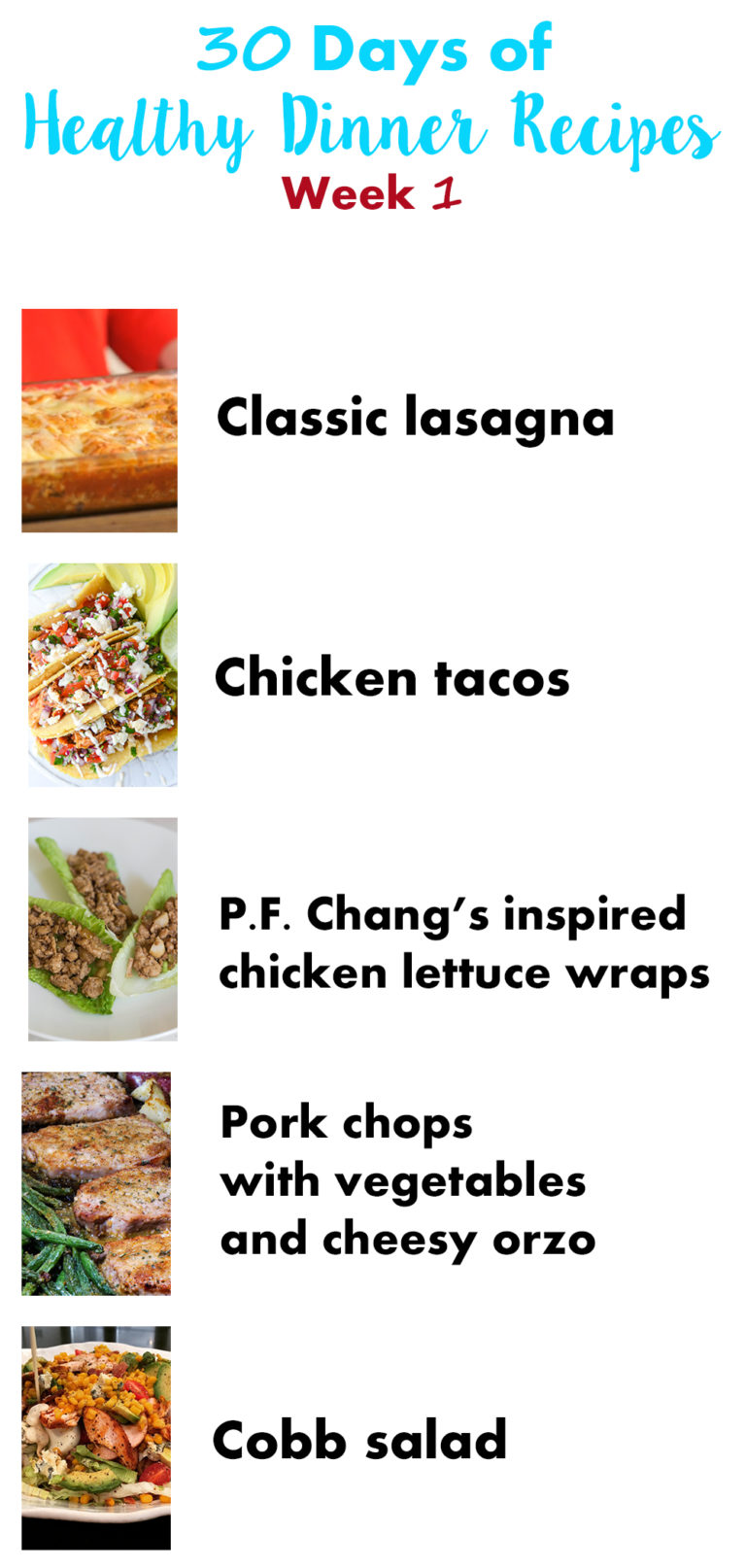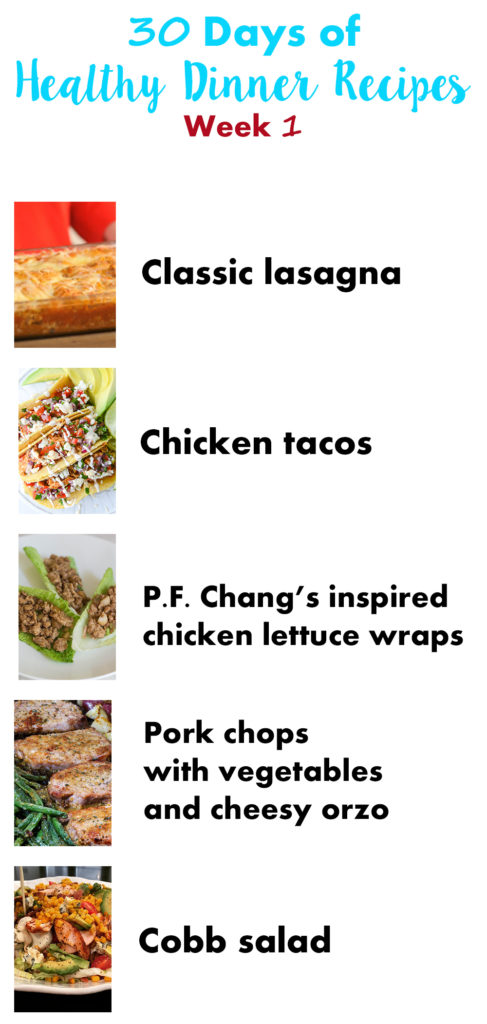 Week 1
Classic lasagna (or a vegetarian alternative!)
P.F. Chang's inspired chicken lettuce wraps with baked crab rangoon and egg drop soup
Pork chops with vegetables and potatoes and cheesy orzo
Cobb dinner salad with honey mustard ranch dressing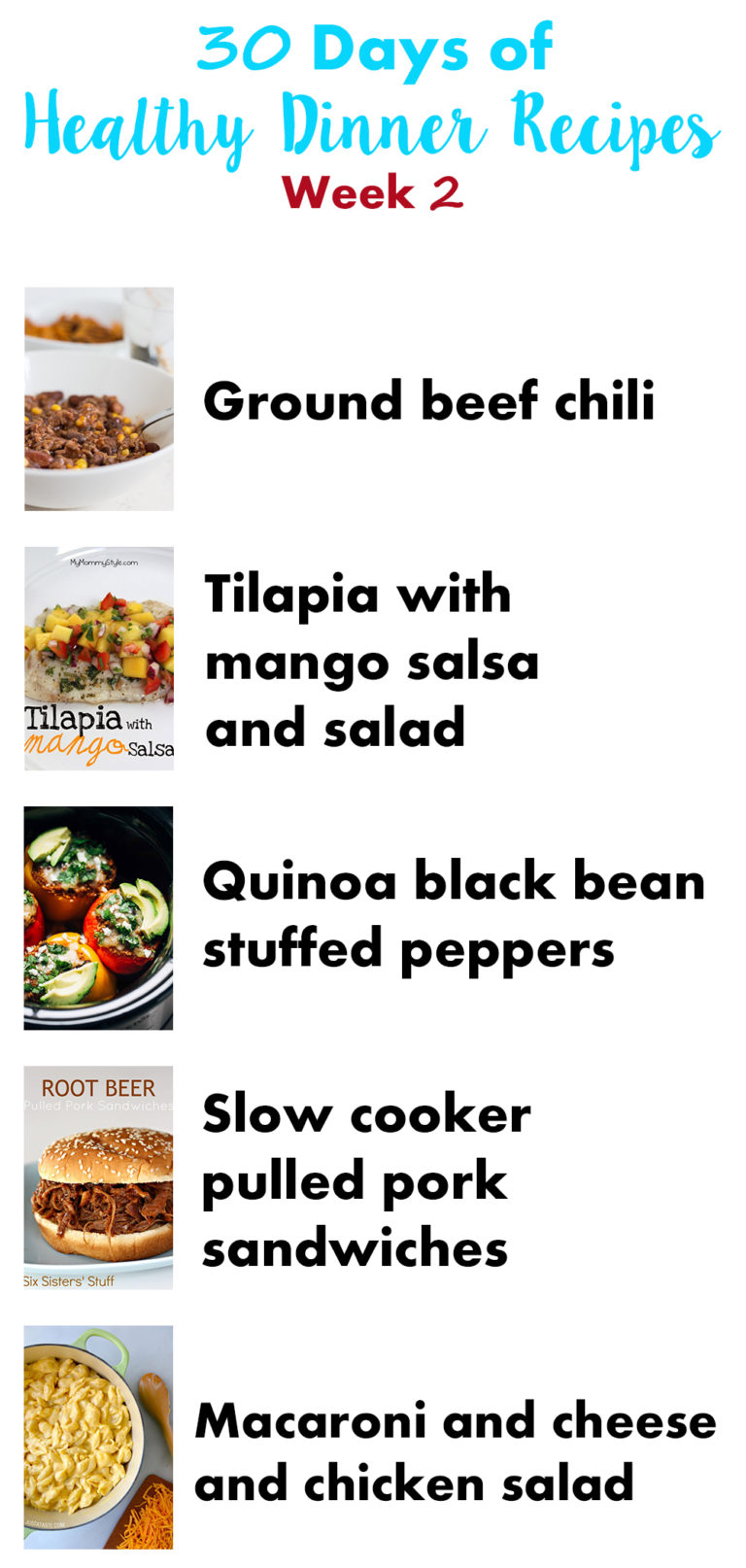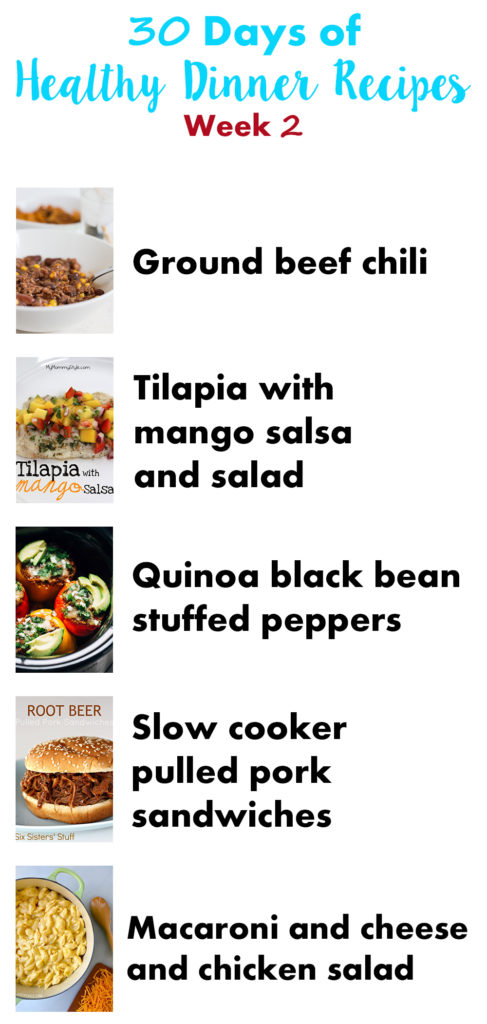 Week 2
Tilapia with mango salsa and Romaine salad with creamy roasted garlic dressing
Quinoa black bean slow cooker stuffed peppers
Slow cooker root beer pulled pork sandwiches
Macaroni and cheese and chicken salad (It sounds like a weird combination, I know. You'll have to trust me on this one. Macaroni and cheese and tuna salad is an awesome combination, too!)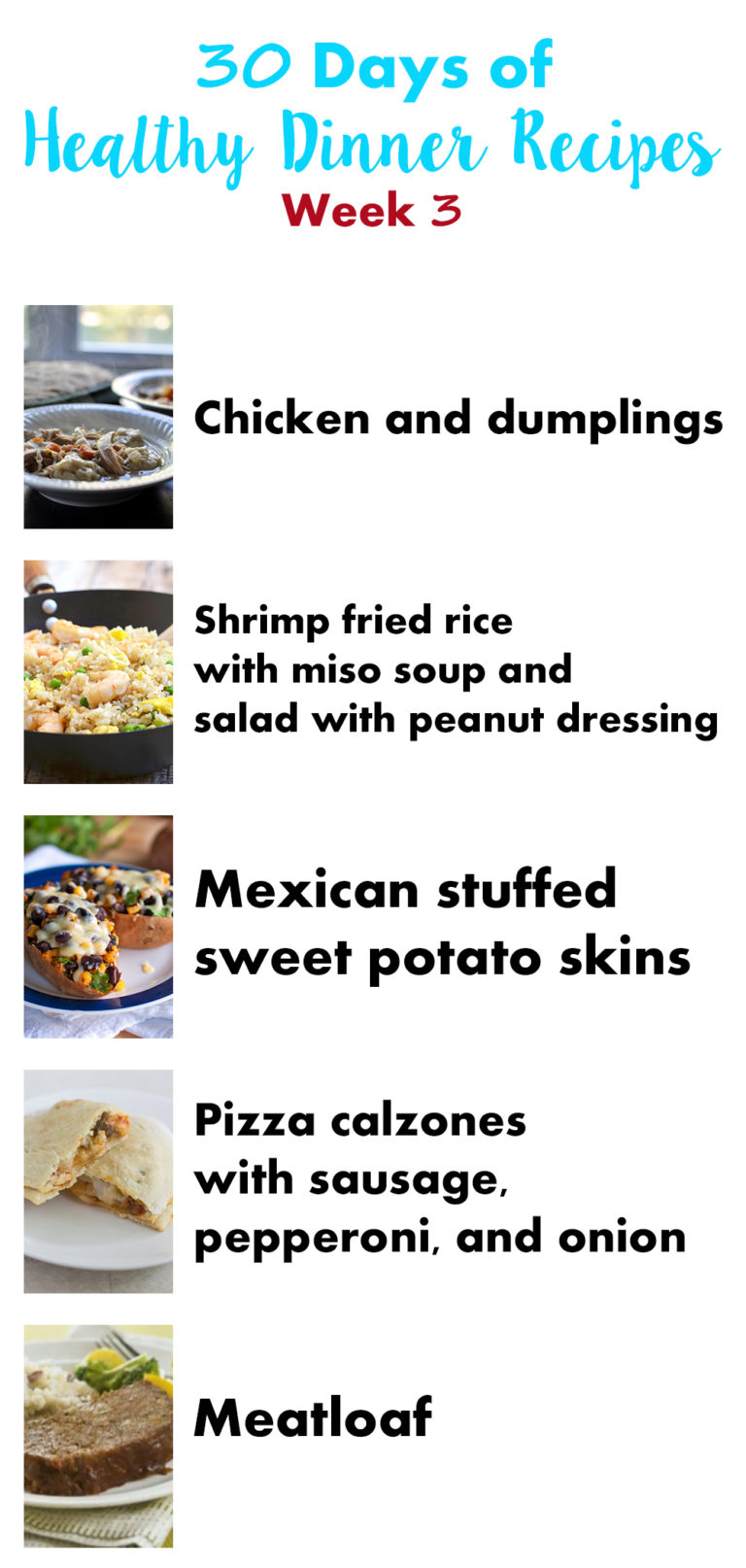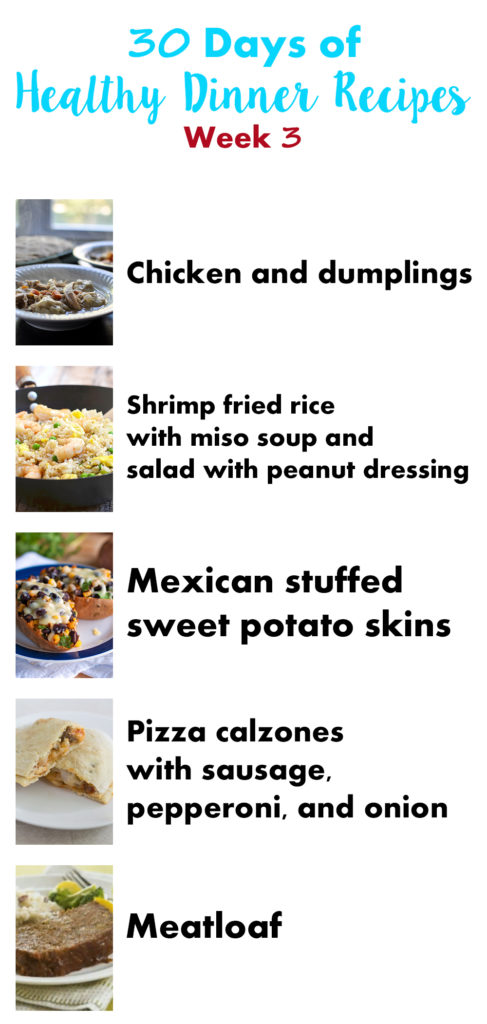 Week 3
Shrimp fried rice with miso soup and salad with peanut dressing
Mexican stuffed sweet potato skins
Pizza calzones with sausage, pepperoni, and onion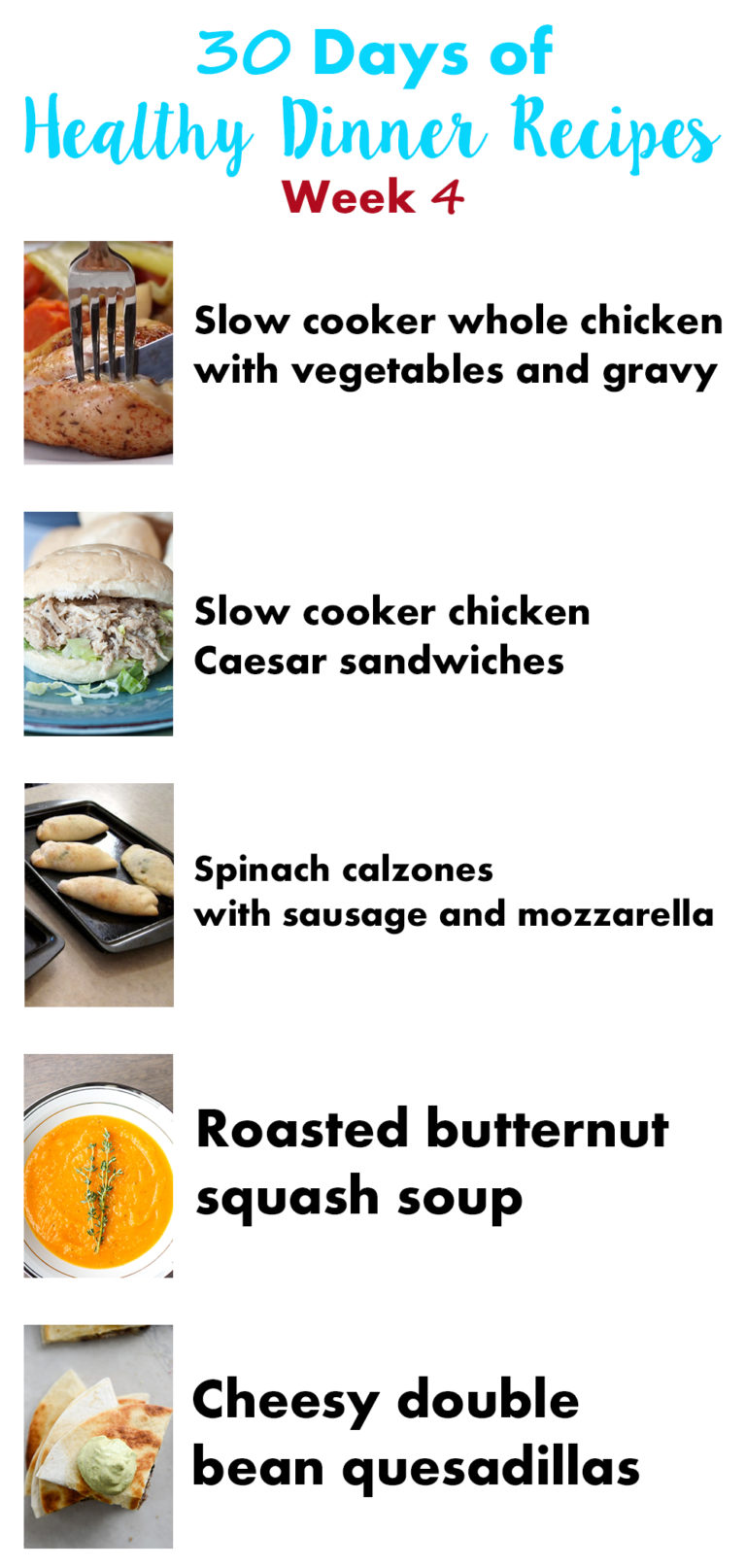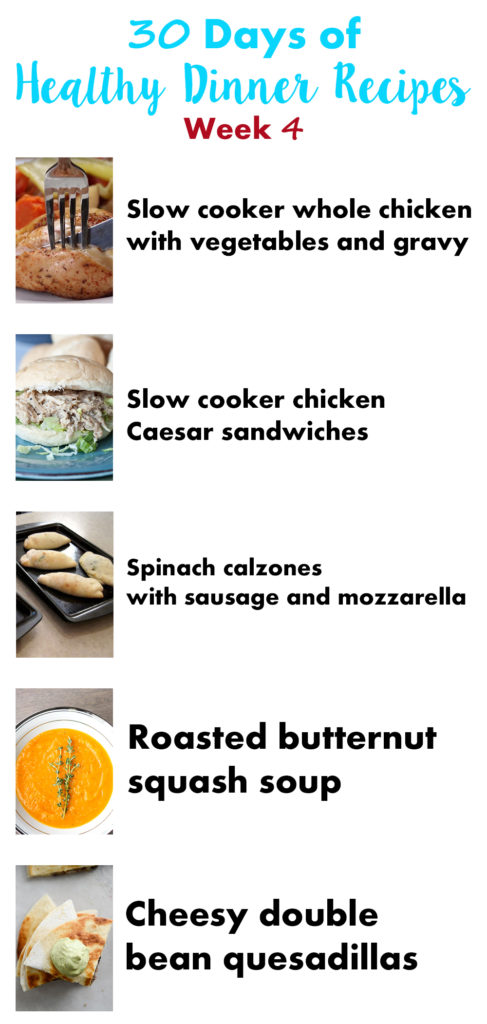 Week 4
Slow cooker whole slow cooker chicken with vegetables and gravy
Slow cooker pulled chicken Ceasar sandwiches (If you have leftover chicken from the whole chicken, use it for this recipe! Simply heat it through with the sauce in the slow cooker or on the stove.)
Spinach calzones with sausage and mozzarella
Cheesy double bean quesadillas with homemade avocado ranch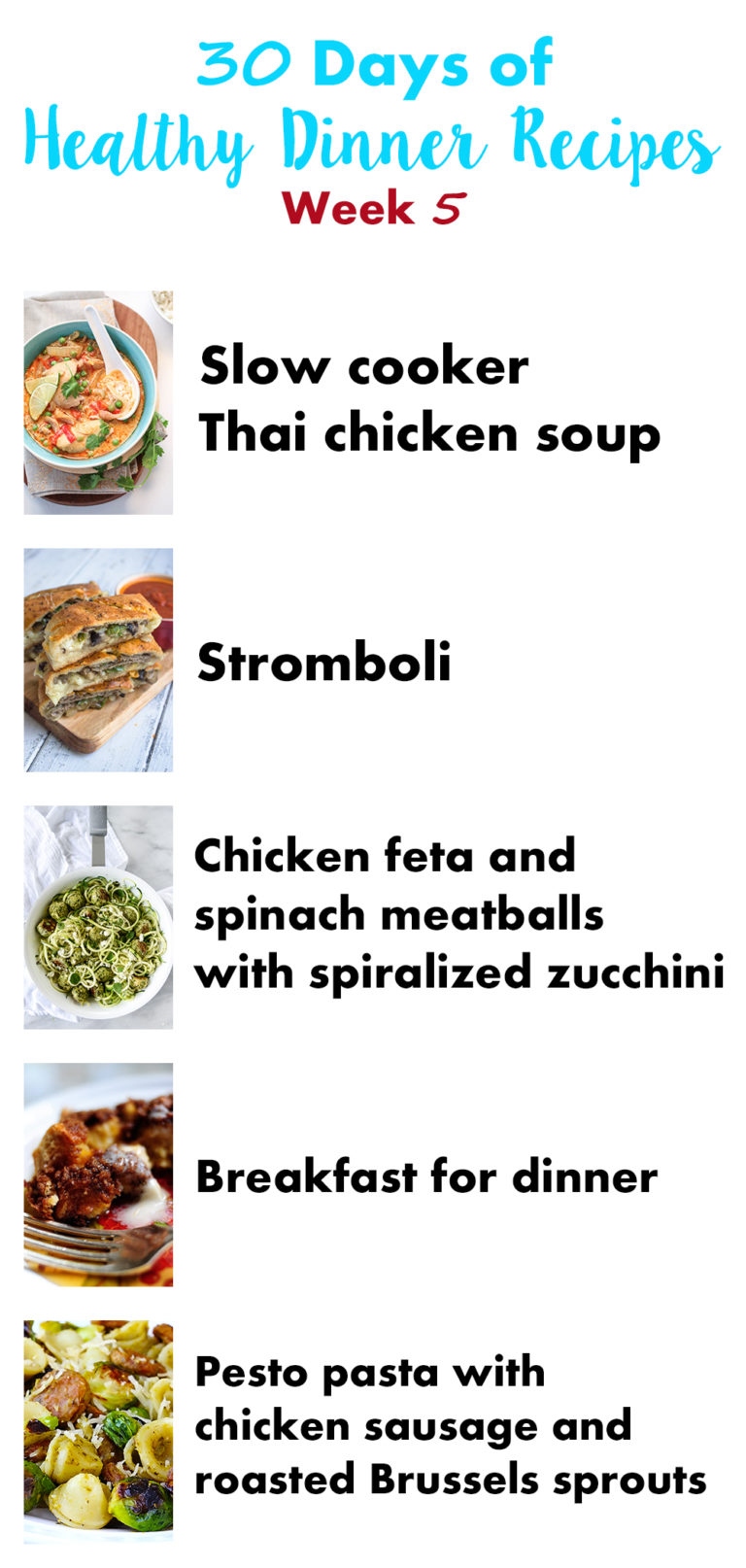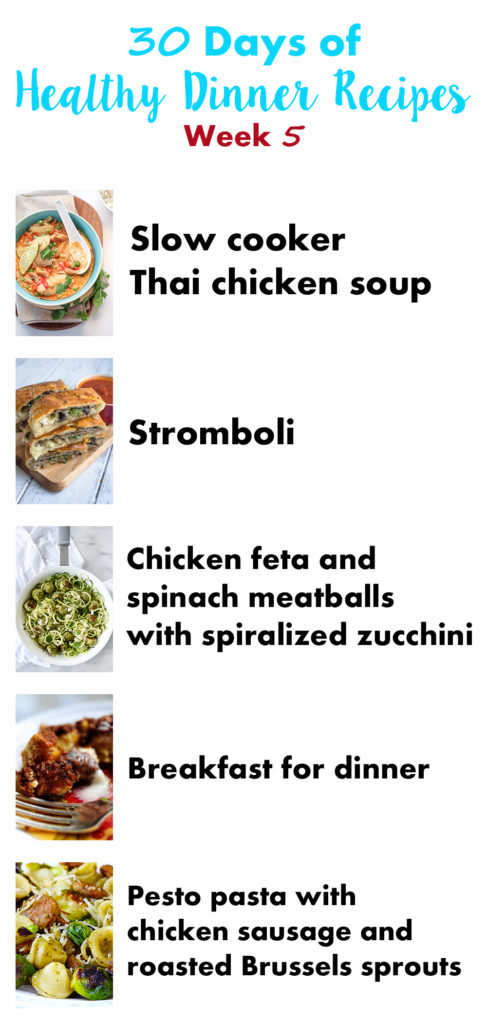 Week 5
Chicken feta and spinach meatballs with spiralized zucchini
Breakfast for dinner! Cinnamon baked French toast with berry fruit salad and the best bacon ever
Pesto pasta with chicken sausage and roasted Brussels sprouts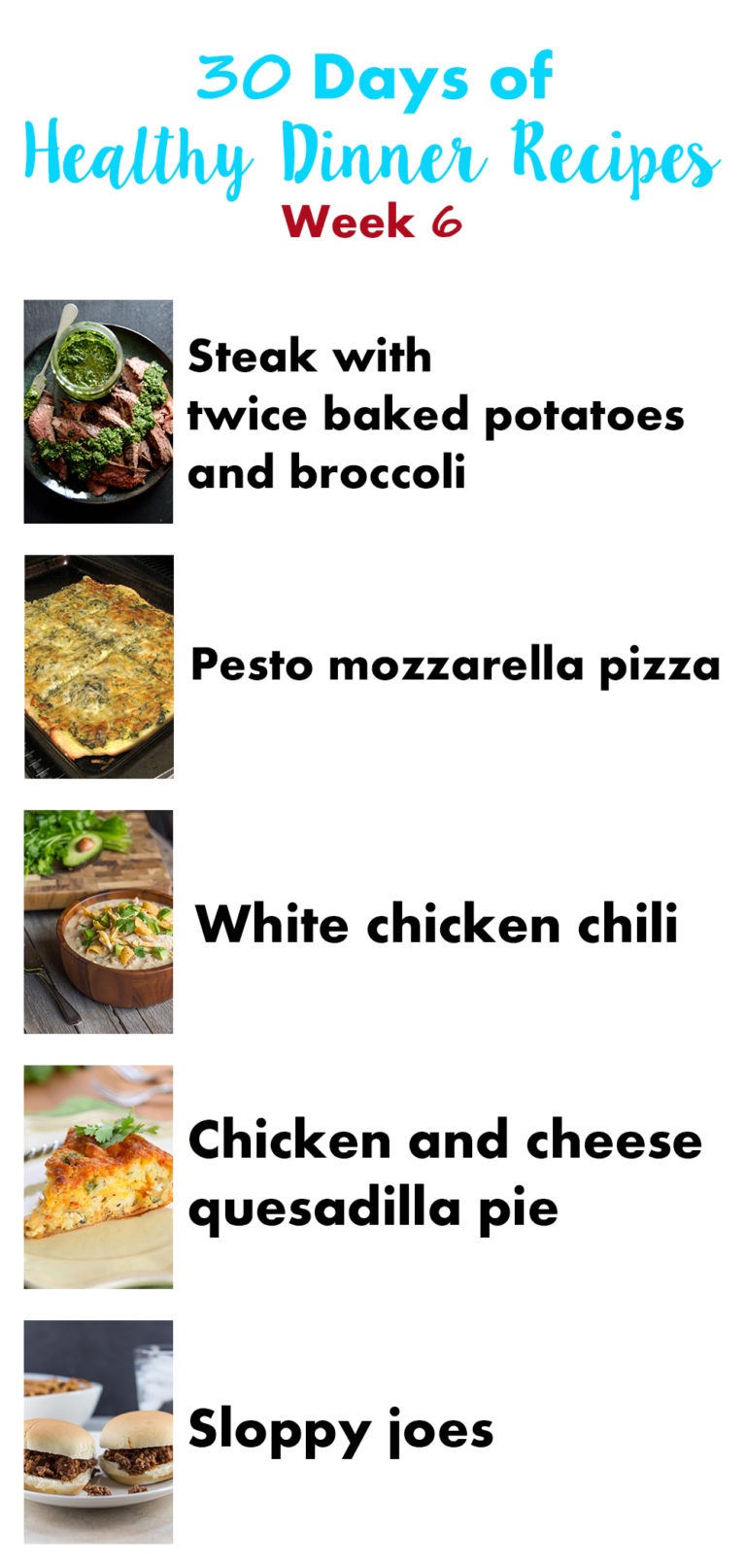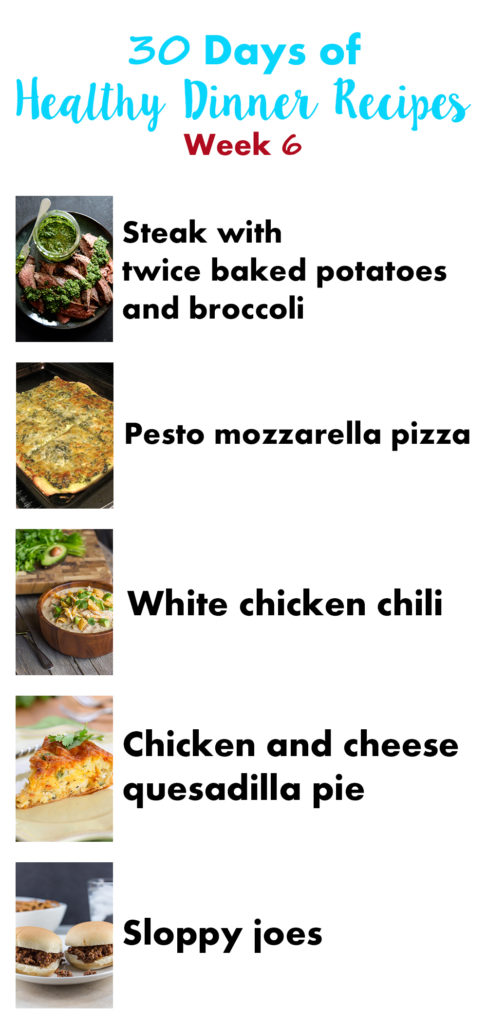 Week 6
Steak with twice baked potatoes and broccoli
Chicken and cheese quesadilla pie
*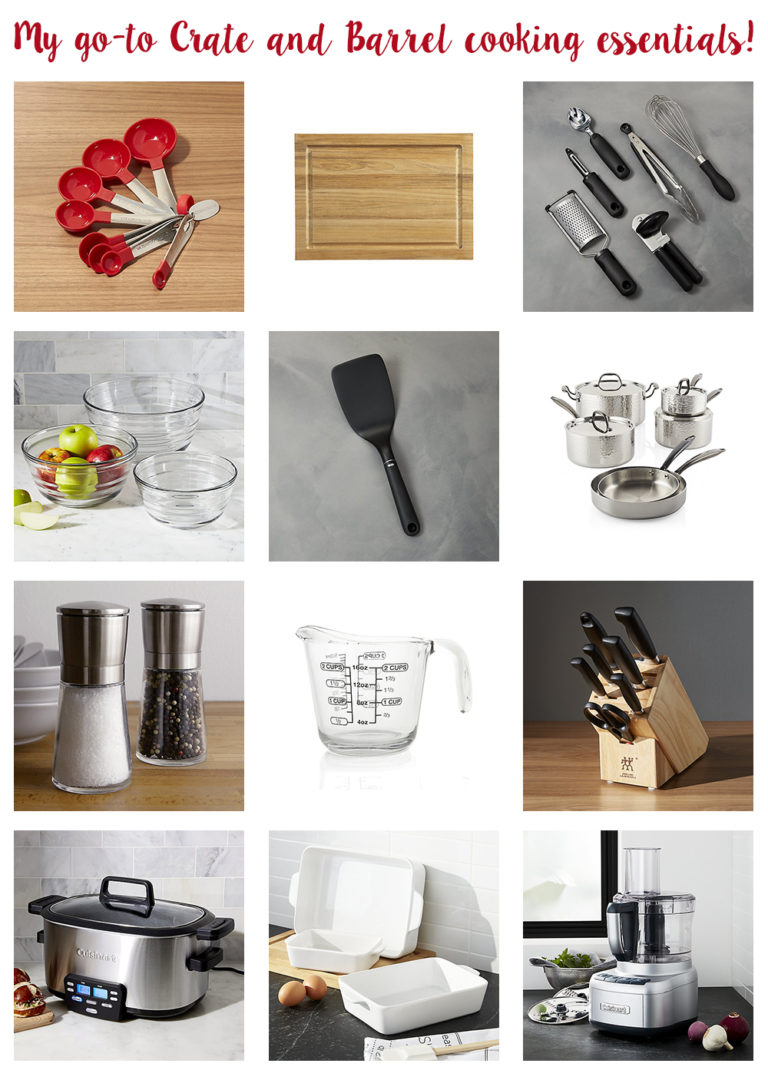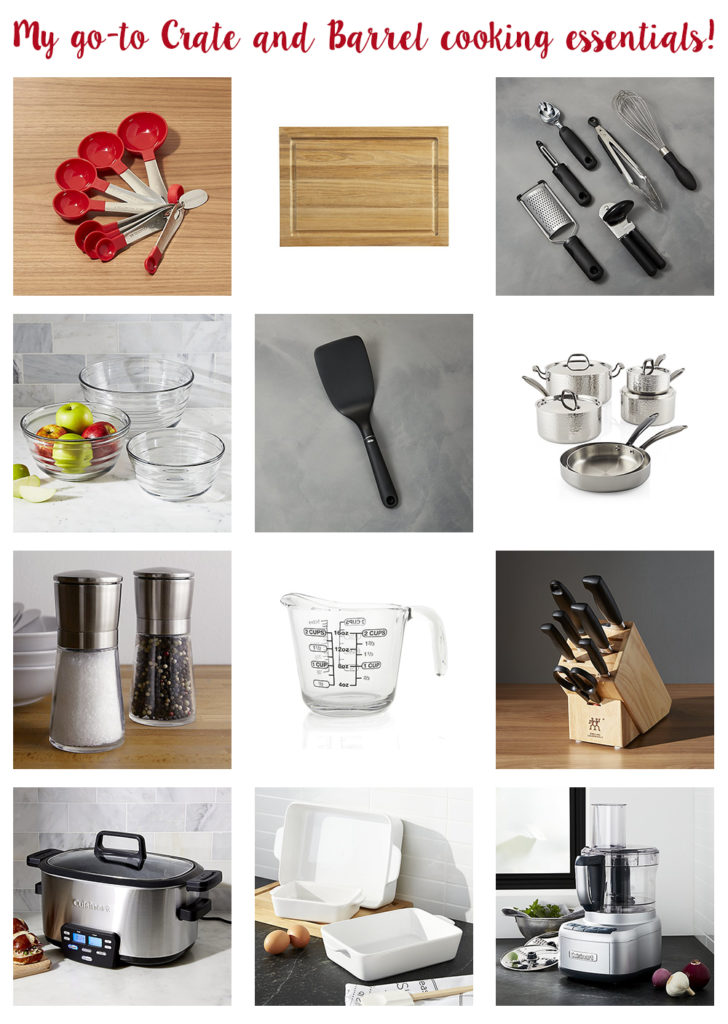 measuring spoons // wood cutting board // kitchen utensils
glass bowls // spatula-turner // cookware set
salt and pepper mills // glass measuring cup // knives set
multicooker // baking dishes // food processor
[Disclaimer: The cooking essentials items links are affiliate links. Thanks for your support!]
Pin this post later for easy access to the healthy dinner ideas!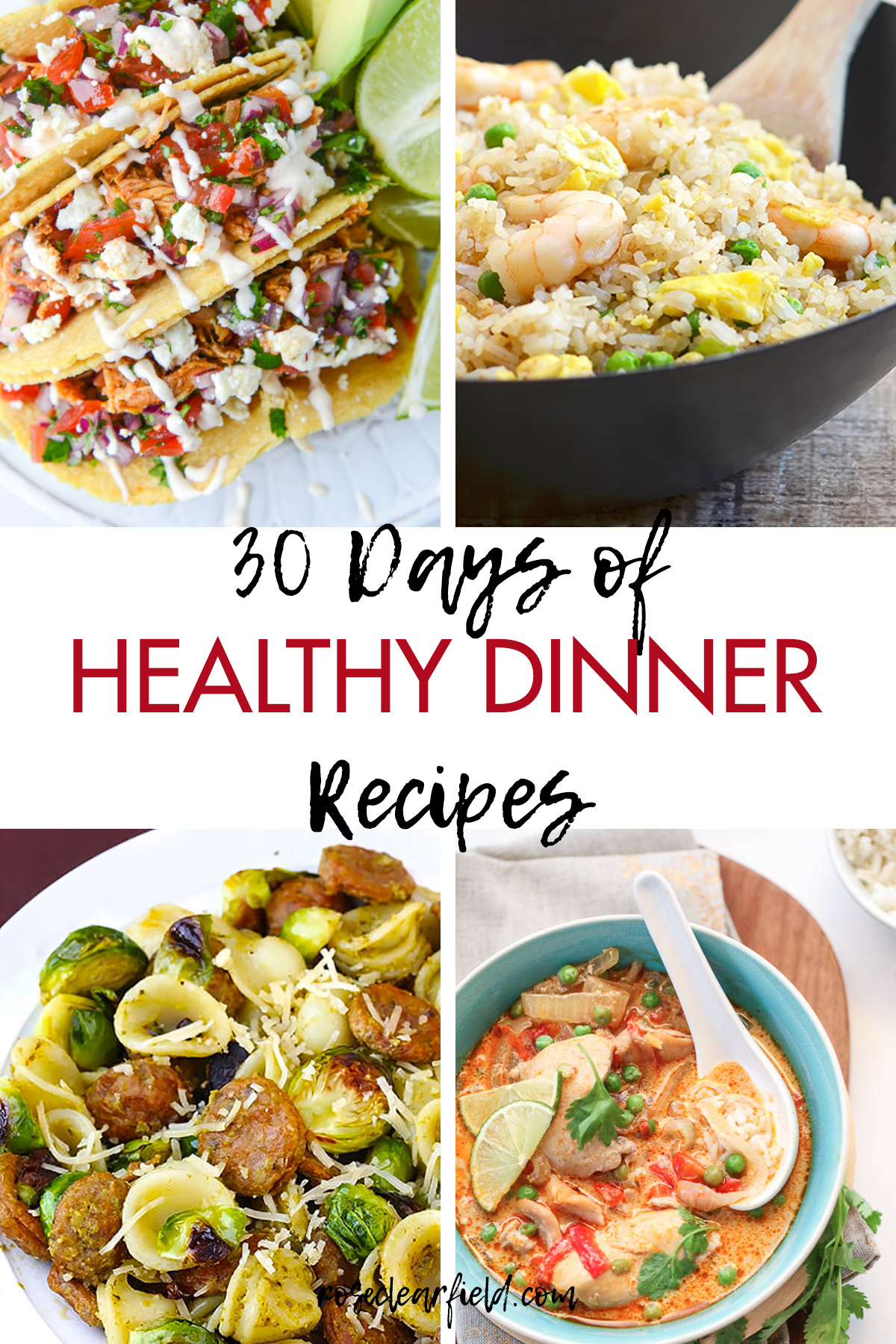 What are some of your go-to healthy dinner recipes?
Feel free to leave links in the comments!
More healthy eating resources: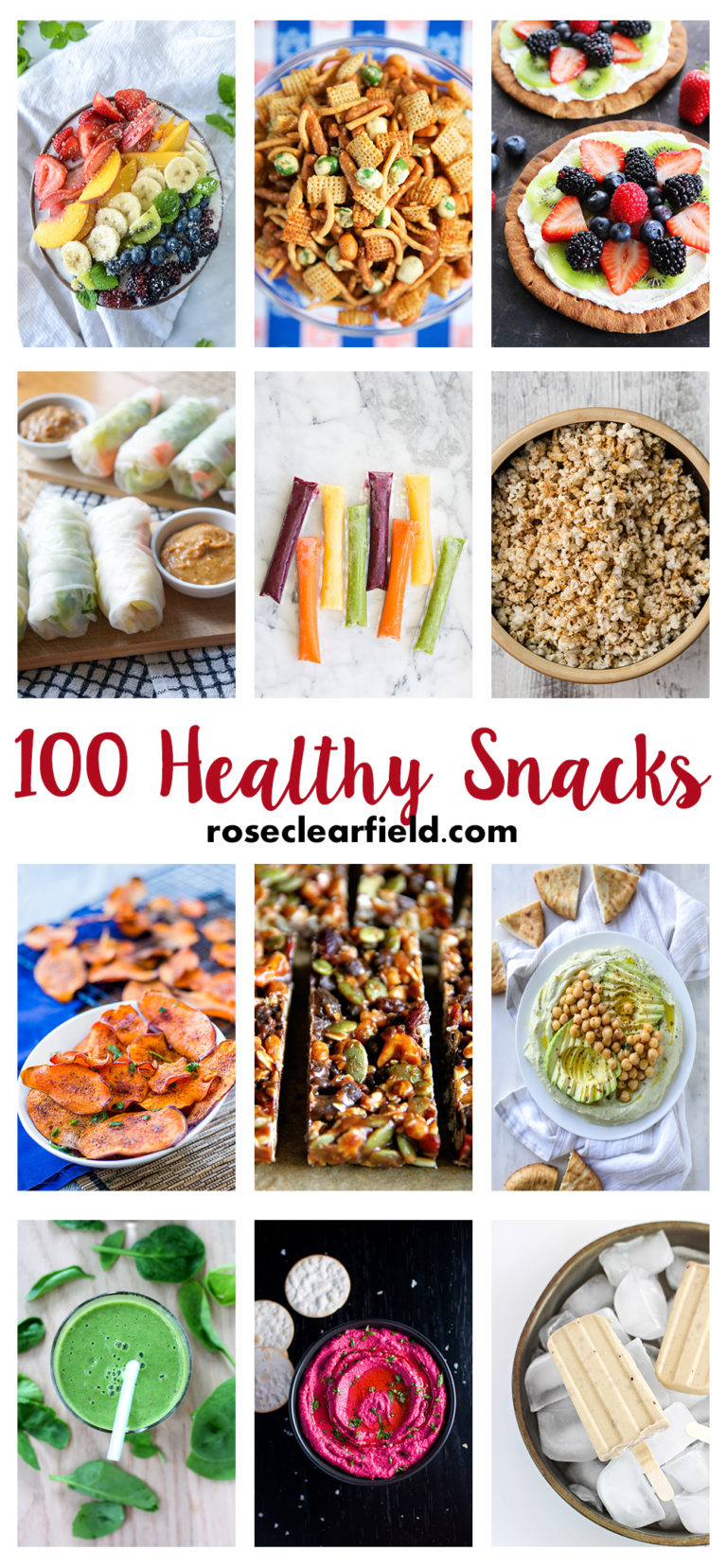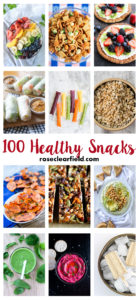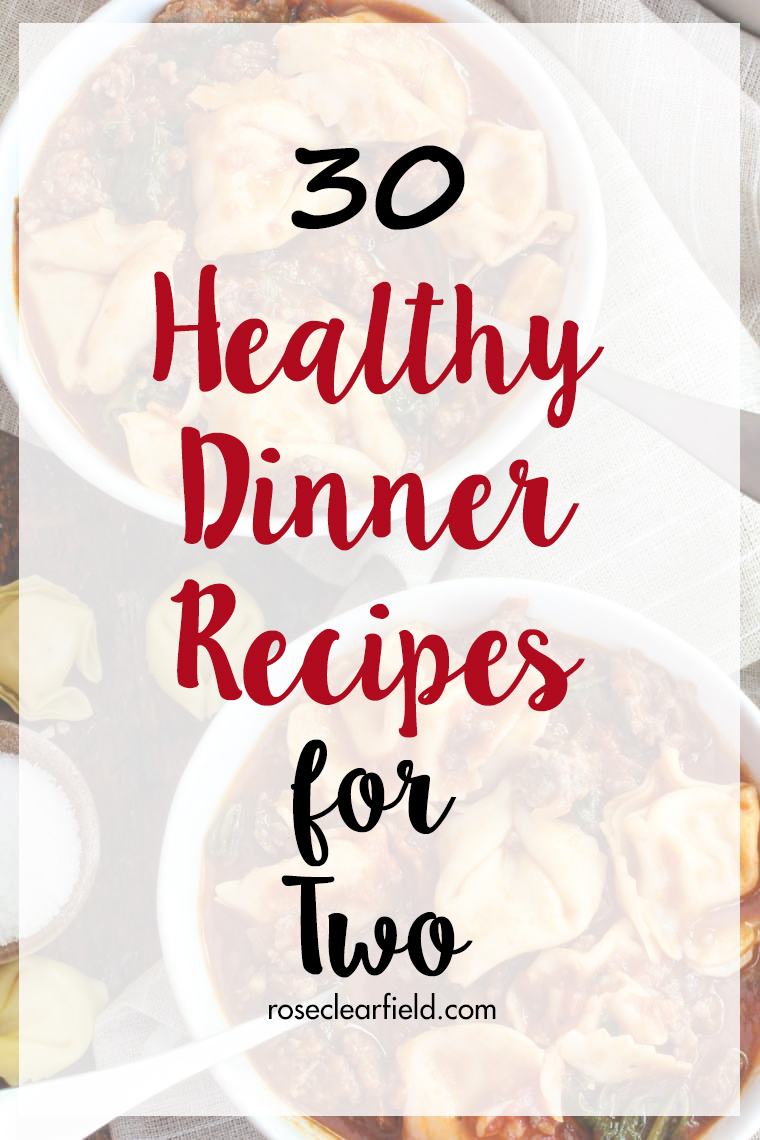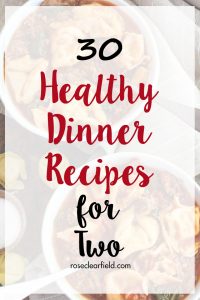 30 Healthy Dinner Recipes for Two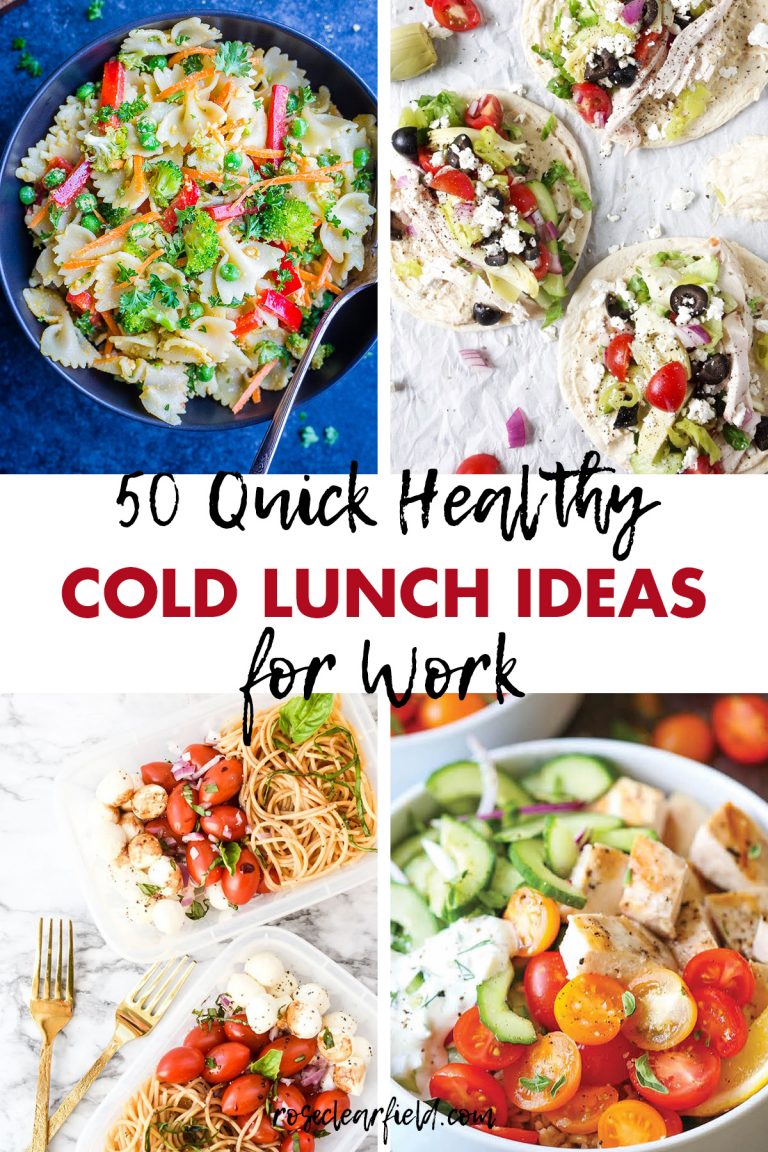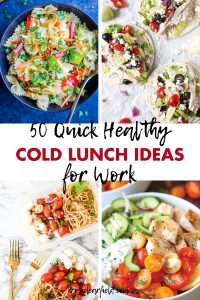 50 Quick Healthy Cold Lunch Ideas for Work
Save
Save
Save
Save
Save
Save
Save
Save
Save
Save
Save