Coming up with interesting new lunches week in and week out is always challenging.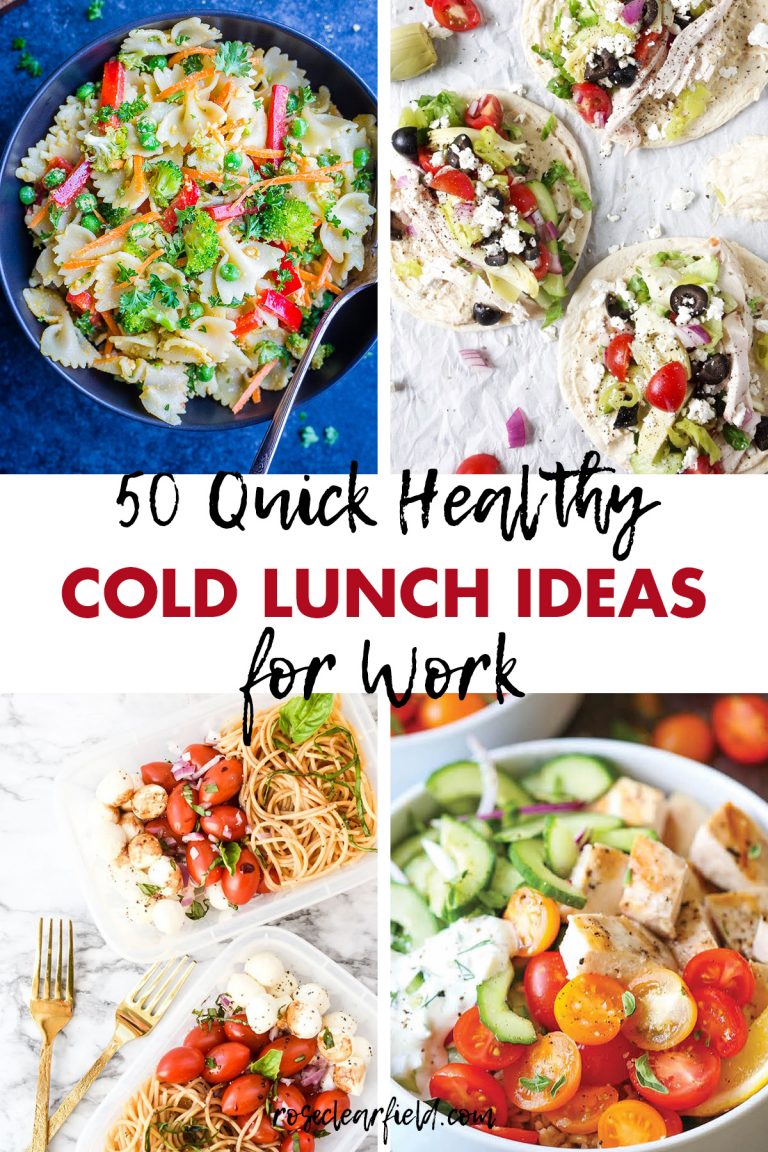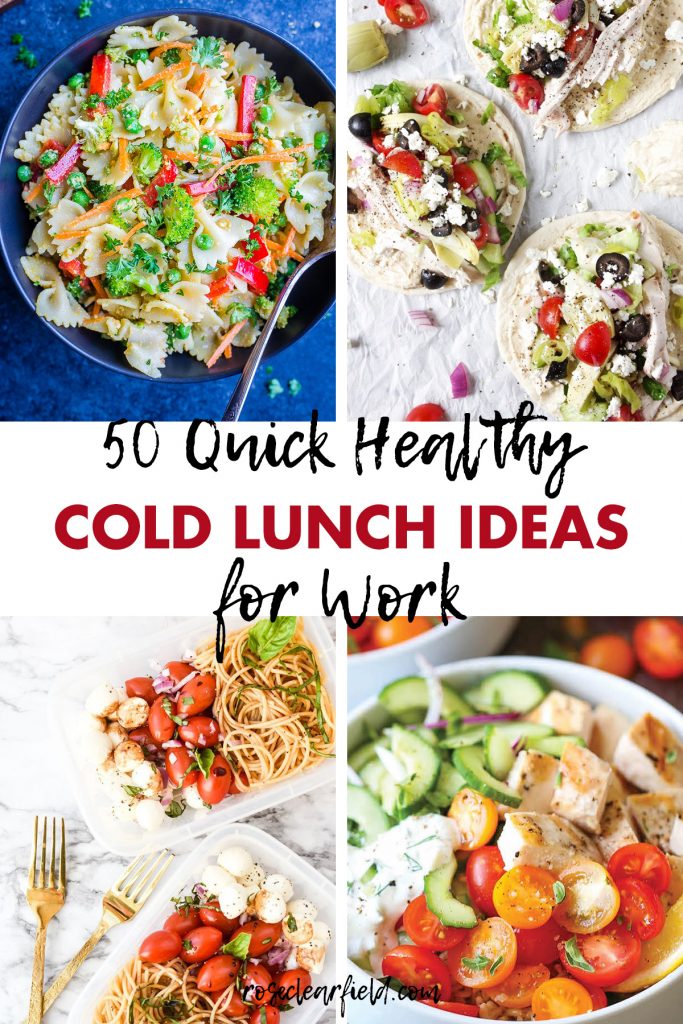 Everyone likes lunch, but no one likes to think about what to make for lunch and then actually make said lunch. As such, it's easy to get into a boring lunch rut or start relying on less-than-healthy choices. Enter quick healthy cold lunch ideas for work. I've rounded up 50 quick, no-heat lunch ideas, perfect for packed lunches, including sandwiches, wraps, salads, and bowls. Many of these lunches are perfect for meal prep, which means you can make your entire week's worth of lunches at the beginning of the week.
I've limited this round-up of quick healthy lunch ideas for work to cold lunch recipes. Personally, I love having a mix of cold and hot recipes in rotation for work lunches. But I know that cold work lunch ideas are more versatile. You never have to worry about finding a microwave, which is important when you're pressed for time or always on the go. I do have a hot work lunches round-up, too!
Tips for packing work lunches
When you use quick healthy lunch ideas for work often, it's worth learning how to pack a great lunch. Here are a few tips for ensuring your lunches stay crisp and flavorful.
Invest in basic kitchen prep items, high-quality glass containers, and a good lunch box.
Packing work lunches is much easier when you have the right tools. You don't need anything complicated or expensive to meal prep. A basic set of pots and pans, good knives, a few utensils (i.e., wooden spoons, spatulas), and a set of mixing bowls will be sufficient for the vast majority of cold lunch ideas in this post.
Once you've made your food, pack it in glass food storage containers. Glass containers are safer and more durable than plastic containers. Pick up a nice lunch box as well for easy, safe transport and storage.
Keep greens and dressings separate to prevent sogginess.
There's nothing more depressing than a soggy salad or sandwich. When you're packing anything with greens and/or dressing, keep these components in separate containers until you're ready to eat. For certain types of sandwiches, such as egg salad and tuna salad, you may want to keep the salad separate from the bread.
Consider whether it's better to pack individual servings at the beginning of the week or assemble them as you go.
With some recipes, you can meal prep for the full week ahead and pack the individual servings right away, such as with roast veggie and chicken bowls. With other recipes, it's best to prep the ingredients at the beginning of the week and then assemble the individual portions each night, such as wraps and sushi bowls.
Get as much as you can ready the night before.
Unless you're an early morning person, the morning routine will almost always go more smoothly when you do as much work prep as possible the right before. With the majority of the lunch prep already completed, it shouldn't ever take you more than five minutes to finish getting your lunch ready in the morning.
Don't be afraid to make ingredient substitutions or omissions.
No recipe is written in stone. Customize recipes as needed to fit your personal tastes or the ingredients you have on hand. If you aren't crazy about a certain flavor pairing or you're getting burned out on a recipe, switch up the ingredients. A new dressing or vegetable pairing can completely transform a salad.
50 Quick Healthy Cold Lunch Ideas for Work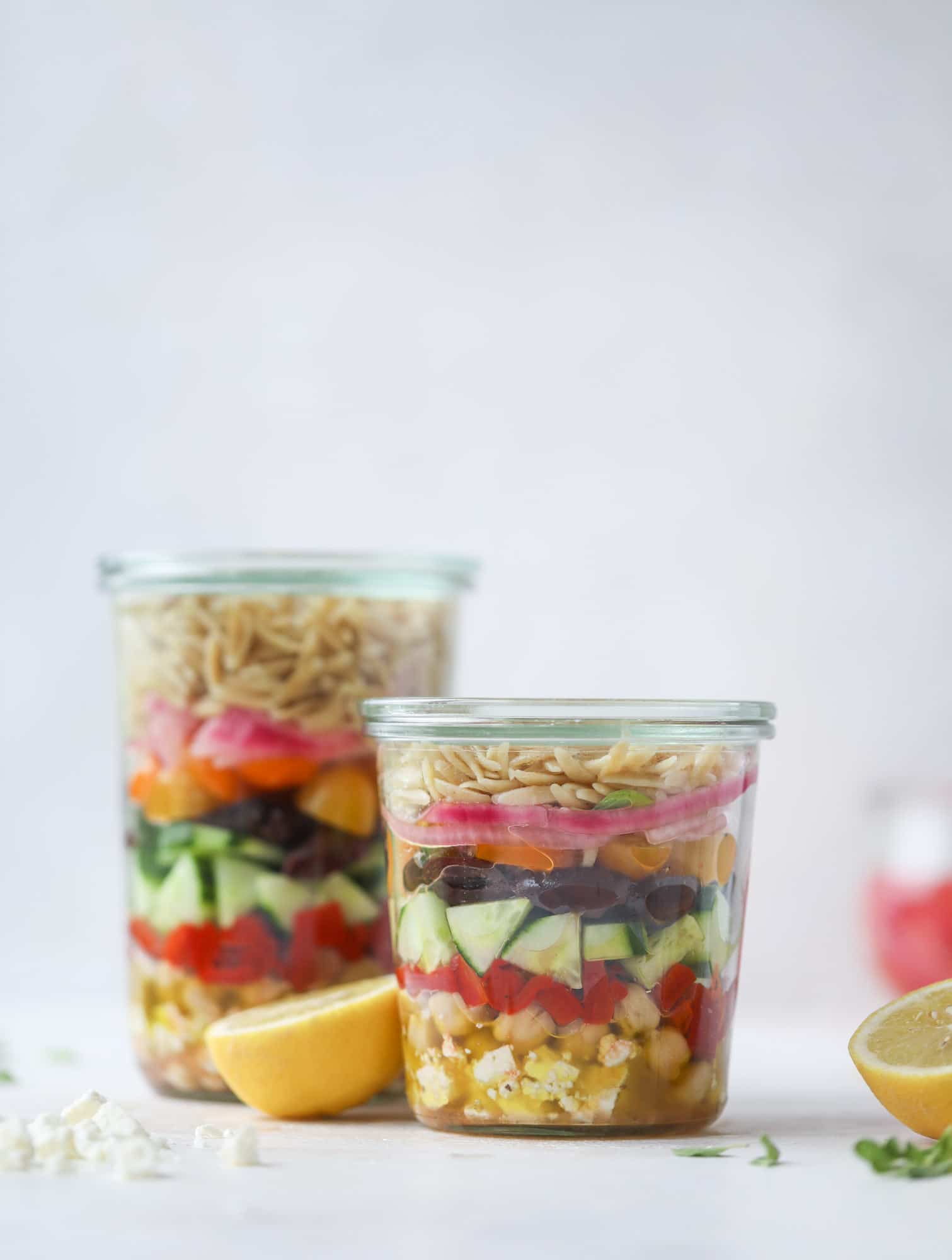 Greek Orzo Salad in a Jar
You have to find just the right recipe for salad in a jar. Greek orzo salad in a jar from How Sweet Eats works perfectly because it doesn't have lettuce and you add the dressing to the bottom of the container, preventing sogginess. There is so much flavor packed into this little jar.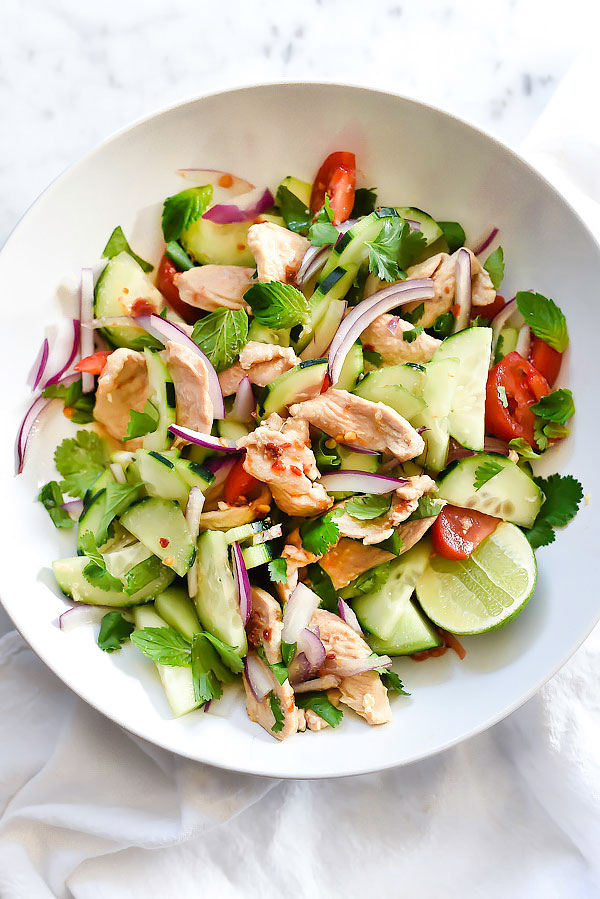 Thai Chicken and Cucumber Salad
Thai chicken and cucumber salad from Foodiecrush is an easy lunch recipe to prep at the beginning of the week and then portion out to grab on the way out the door every day. I love all things Thai (or Thai-inspired, whatever), and it's hard to go wrong with a Thai chicken recipe.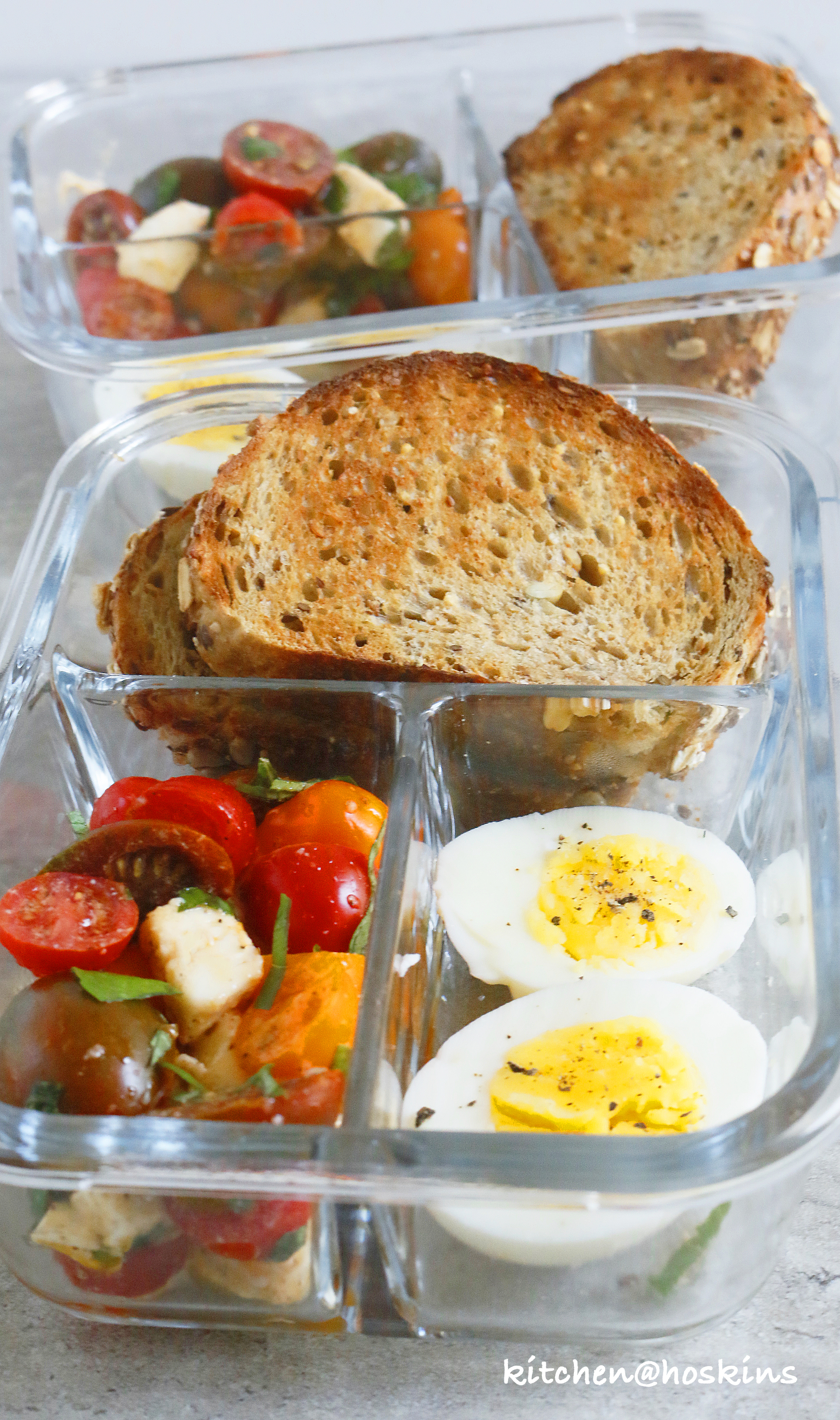 Caprese with Garlic Toast Lunch Box
You know that I'm a little obsessed with Caprese and make Caprese skewers all summer long. Kitchen @ Hoskins' Caprese with garlic toast lunch box is a great way to take advantage of fresh basil and tomatoes while they're still here in the fall. Adding a hard-boiled egg is a perfect flavor twist and helps fill you up, making for a complete meal.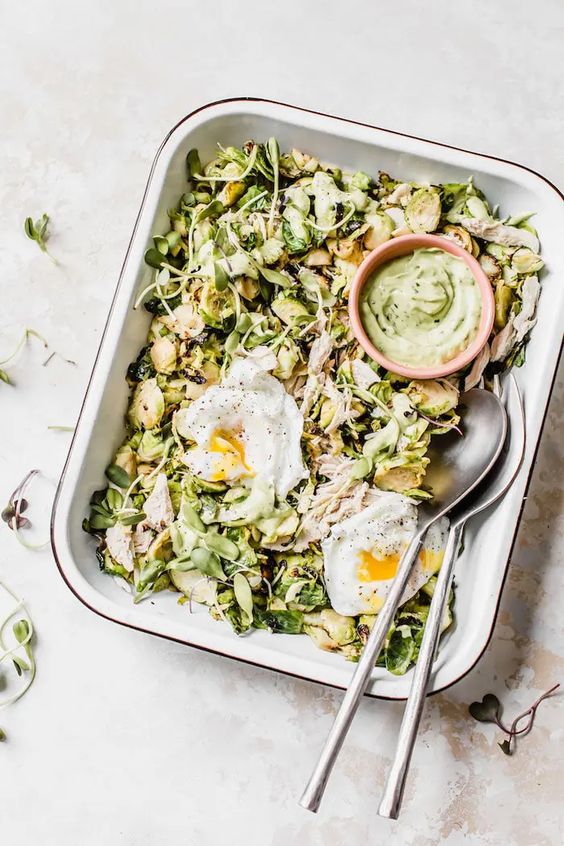 Chicken Brussels Sprouts Salad
The Almond Eater's chicken Brussels sprouts salad is a great make-ahead lunch recipe for the whole week. As a work lunch, obviously, poached eggs don't work so well. So I would hard-boil eggs instead.
Easy Mediterranean Chicken Wraps with Hummus
Hummus pairs beautifully with classic Mediterranean salad ingredients in The Forked Spoon's easy Mediterranean chicken wraps with hummus. For cold work lunches, it may be easier to make it ahead of time as a salad and eat it with pita or flatbread on the side.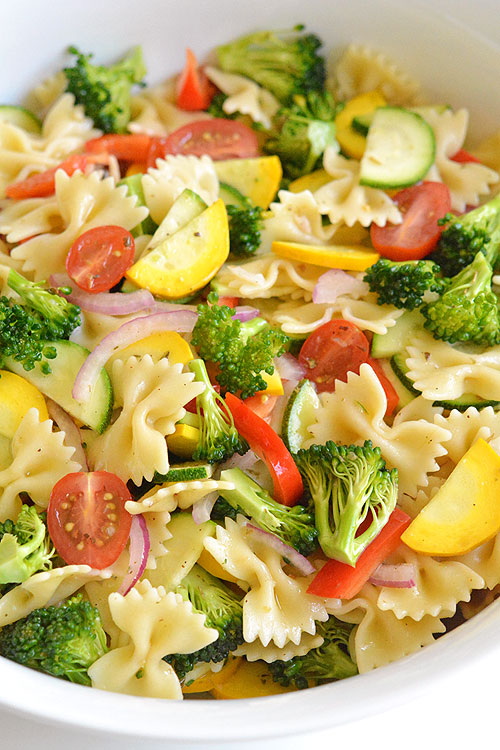 Garden Vegetable Pasta Salad
One Little Project's garden vegetable pasta salad is a simple, versatile recipe that you can customize as you like to suit your taste preferences and the veggies you have on hand. Feel free to switch up the pasta or substitute another grain (i.e., brown rice, quinoa) as well.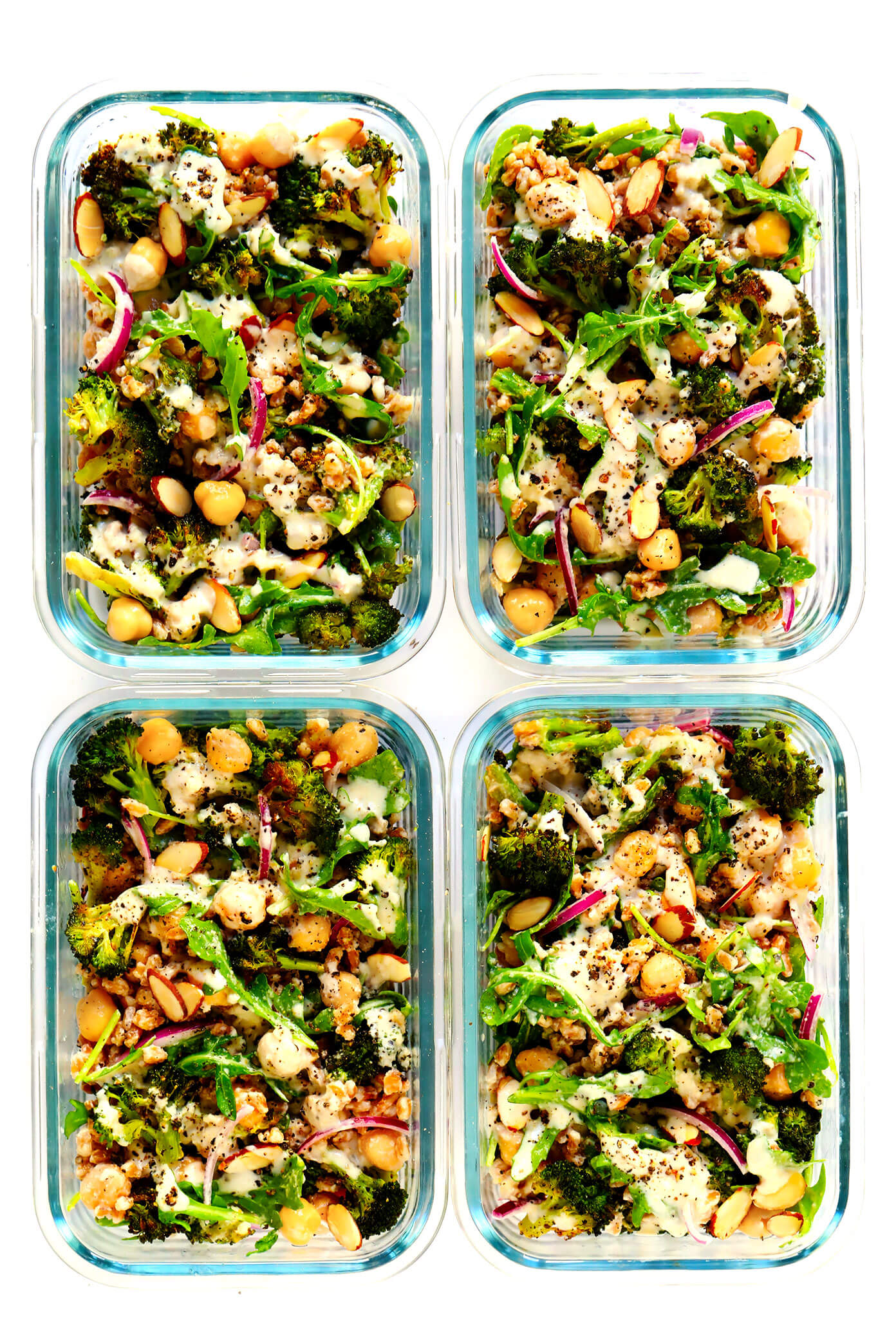 Roasted Broccoli and Farro Bowls
Gimme Some Oven's roasted broccoli and farro bowls is one of those versatile recipes that tastes good hot or cold. It features farro, broccoli, arugula, and chickpeas, well seasoned and topped with garlic-lemon tahini dressing. It's hard to go wrong here. For a packed work lunch, I would keep the dressing separate until serving to prevent sogginess.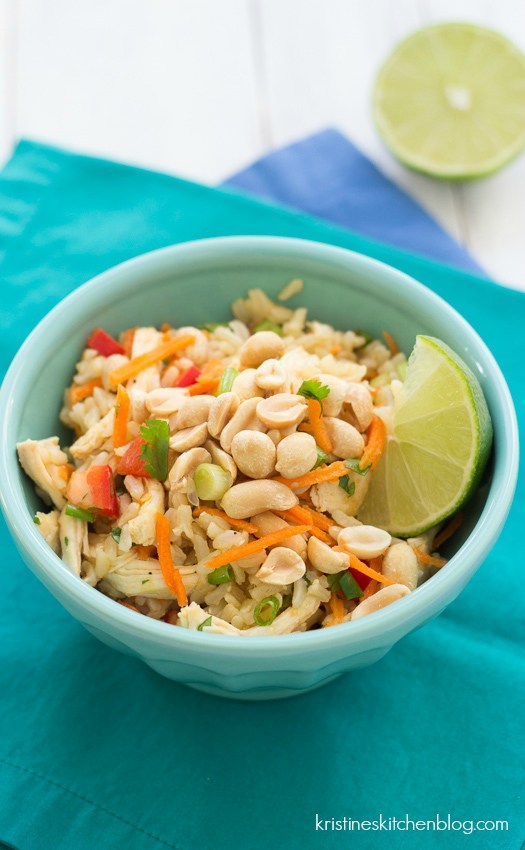 Chicken and Rice Salad with Ginger-Sesame Dressing
A chicken and rice dish that's best served room temperature or cold, what? Yes, Kristine Kitchen's chicken and rice salad with ginger-sesame dressing is colorful and packed with flavor and made for work lunches.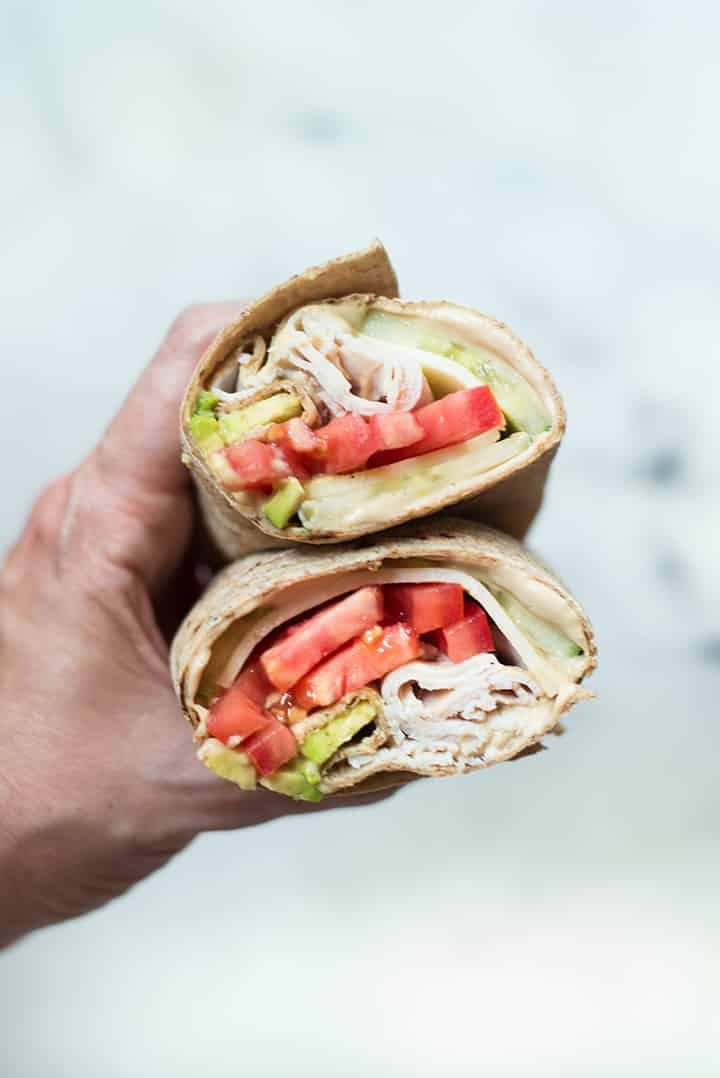 Avocado Turkey Hummus Wrap
Sometimes the most basic, tried and true recipes are the best. A Sweet Pea Chef's avocado turkey hummus wrap is no exception. There's no reason to alter the classic recipe ingredients list here.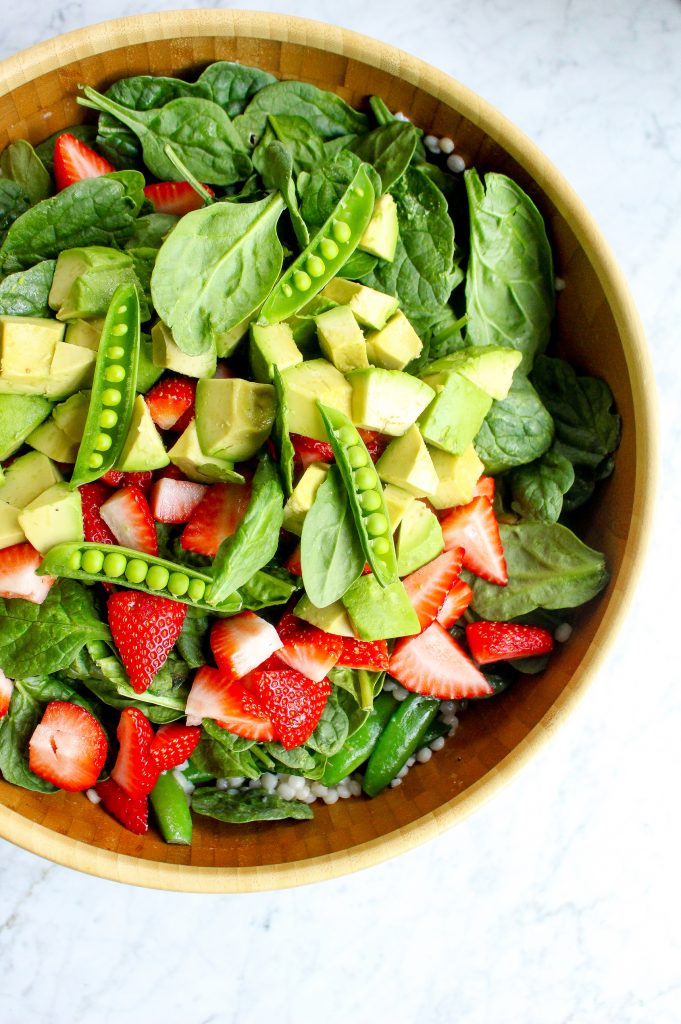 Israeli Couscous Salad with Strawberries, Snap Peas, & Lemon Poppy Seed Dressing
The combination of ingredients in Yes to Yolk's Israeli couscous salad is fabulous. I never would have thought to pair snap peas and strawberries. The lemon poppy salad dressing it's well worth the effort to make everything pop with a burst of citrus.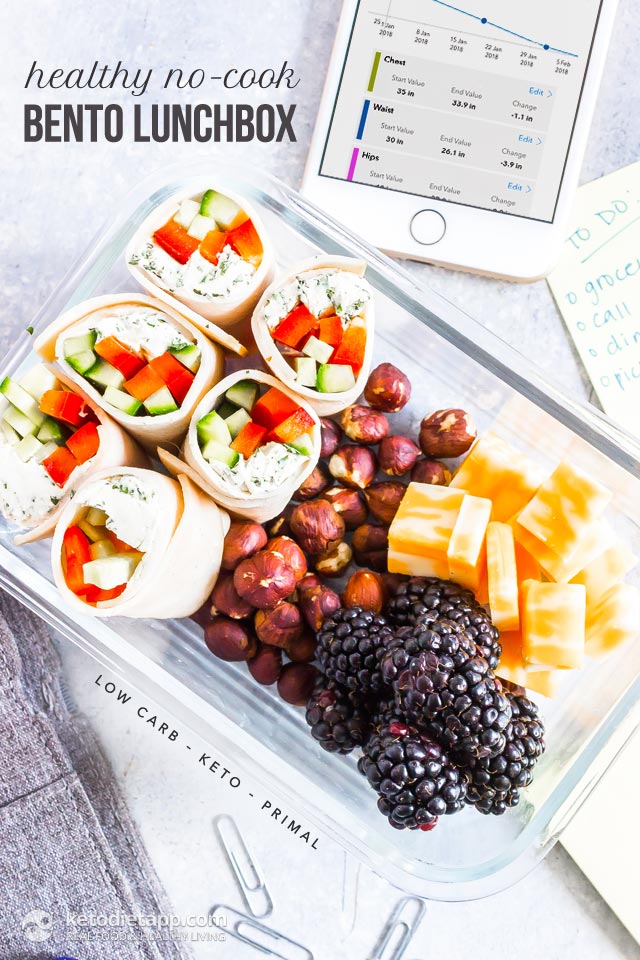 Keto No-Cook Bento Lunchbox
There are a ton of fantastic no-cook bento lunchbox ideas that make great work lunches for adults. I chose Keto Diet's no-cook bento lunchbox because it's so easy and it's packed with colorful fruits and vegetables. You can customize this concept any way you like to suit your personal tastes or what you have on hand.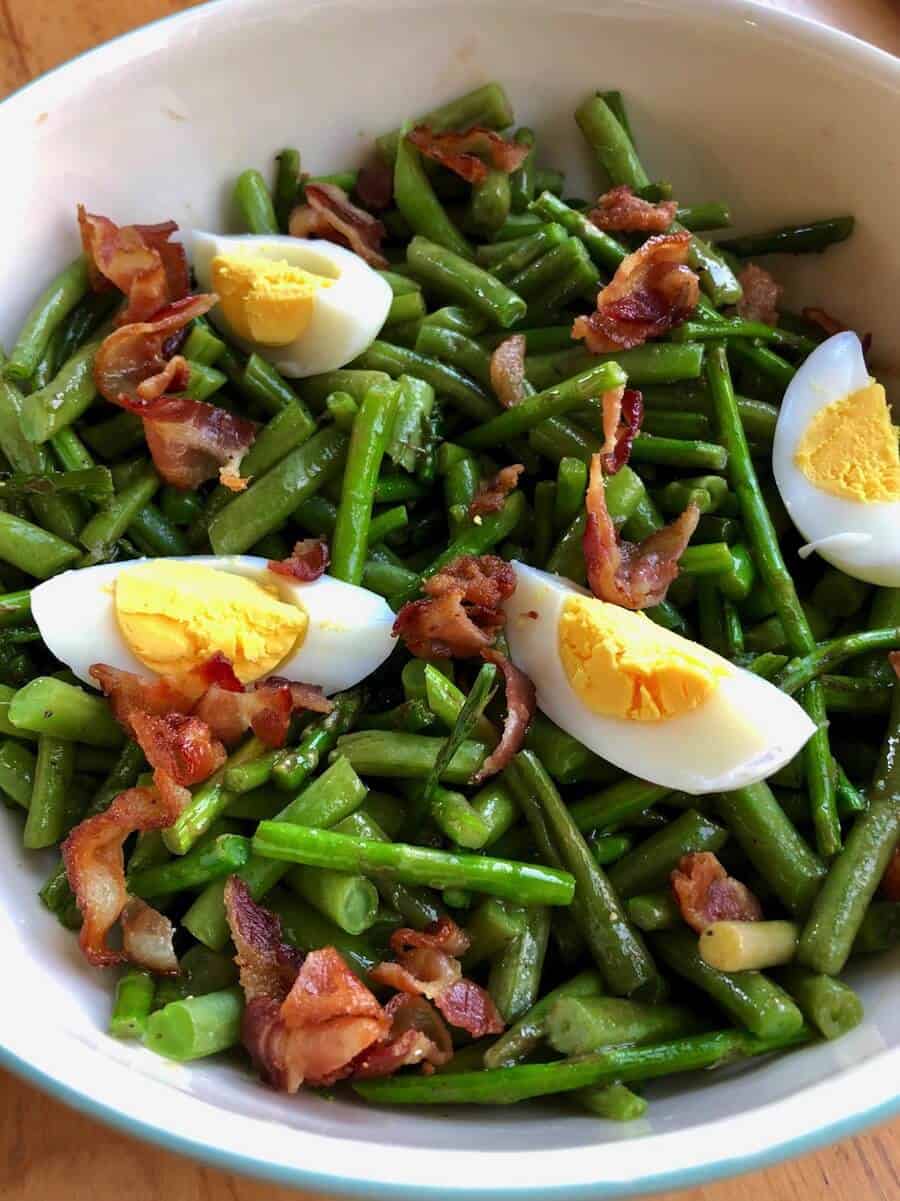 Roasted Asparagus and Green Bean Salad
You know much I love roasted veggies. Roasted vegetables served cold aren't everyone's thing. But sometimes you just have to trust that the recipe works. This Farm Girl Cook's roasted asparagus and green bean salad features delicious roasted veggies, topped with bacon and hard-boiled egg.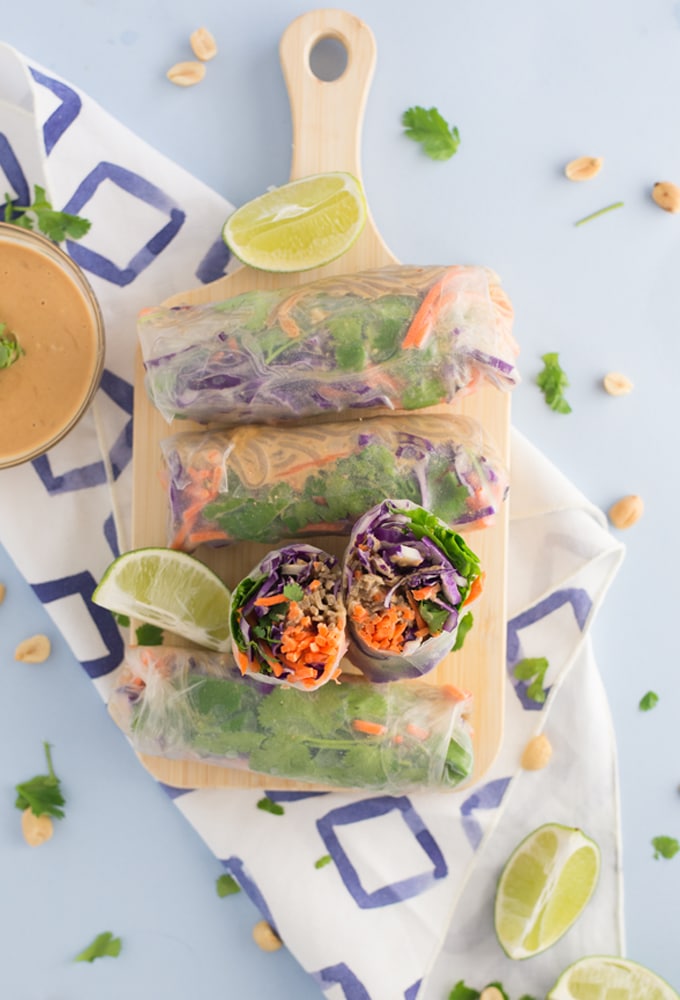 Peanut Noodle Vegetable Spring Rolls
I know you're thinking that spring rolls don't sound like a quick lunch idea. You do need to set aside half an hour for the prep, but then you'll have lunch for the week. I can't resist a good peanut sauce (it's kind of a theme in this lunch round-up), and Mindful Avocado's peanut noodle vegetable spring rolls are no exception.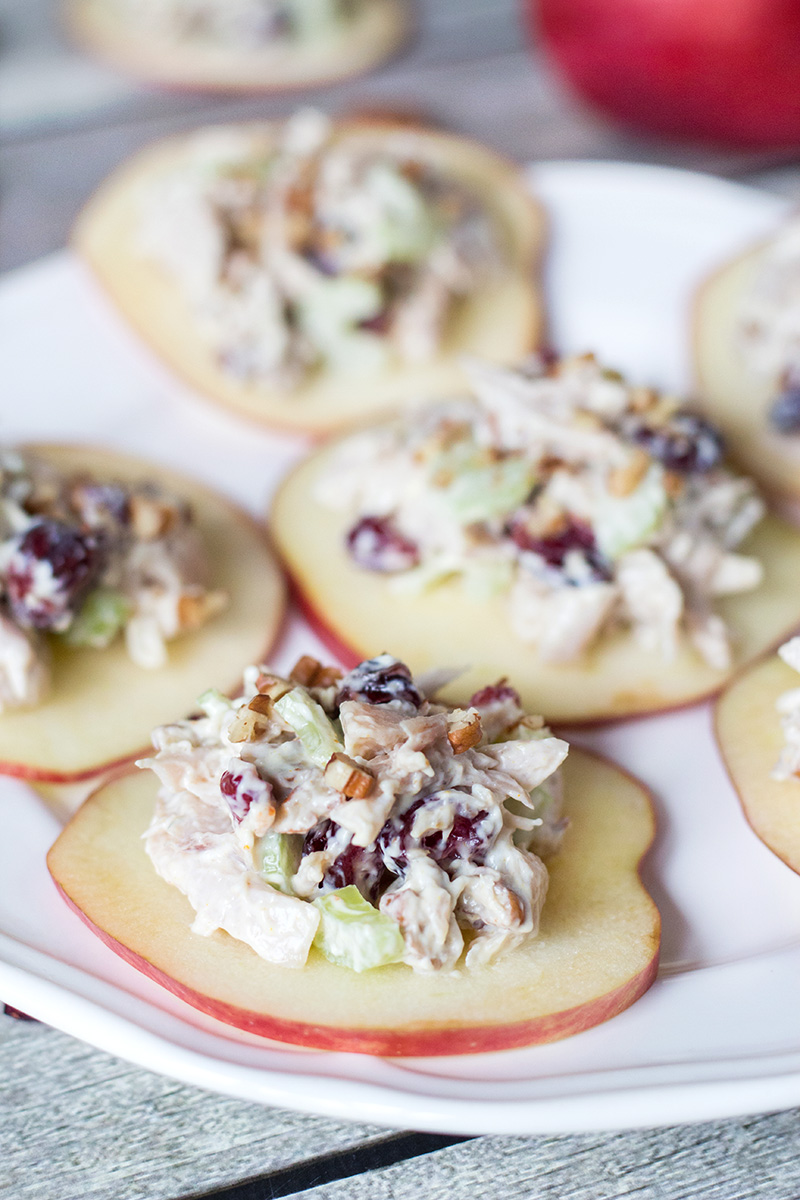 Cranberry Chicken Salad on Apple Slices
I had a hard time narrowing down a single chicken salad recipe to include in this post. (I may have included one more.) Chicken salad is one of my go-to weekday lunches, and I've saved a ton of chicken salad recipes on Pinterest over the years. I had to go with Yummy Addiction's cranberry chicken salad on apple slices. Serving the salad on apple slices is such a simple, healthy twist on this classic recipe. For a work lunch, pack a whole apple, and slice it when you're ready for lunch.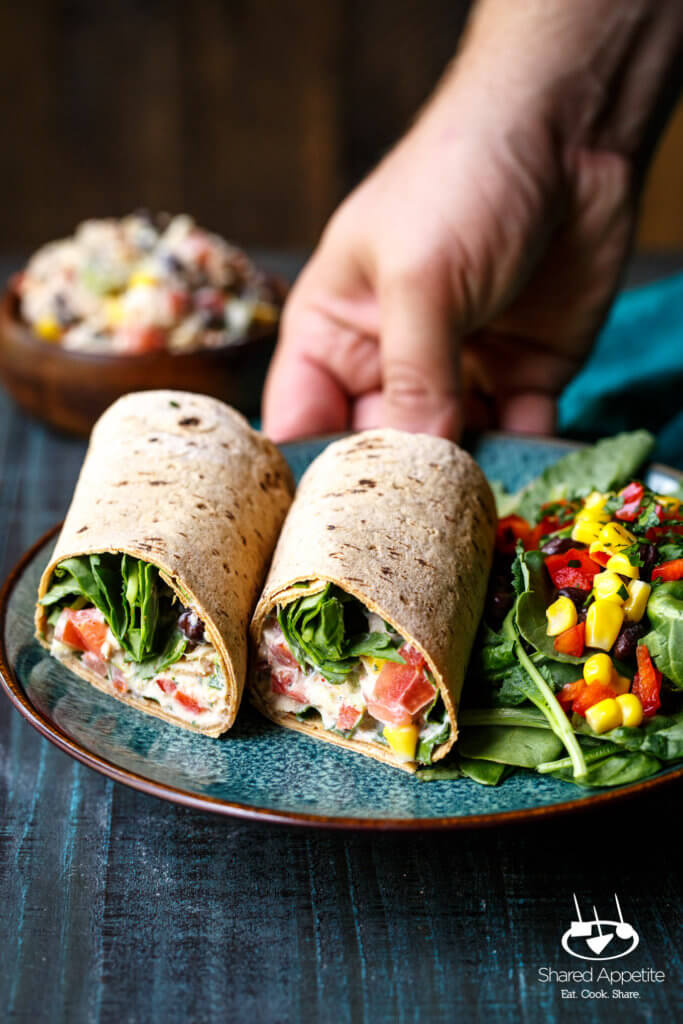 Southwest Tuna Salad Wraps
Shared Appetite's Southwest tuna salad wraps are a simple variation on classic tuna salad (which I love) to mix up your lunch routine once in a while. Tuna is a great base for bell pepper, black bean, corn, tomato, and avocado.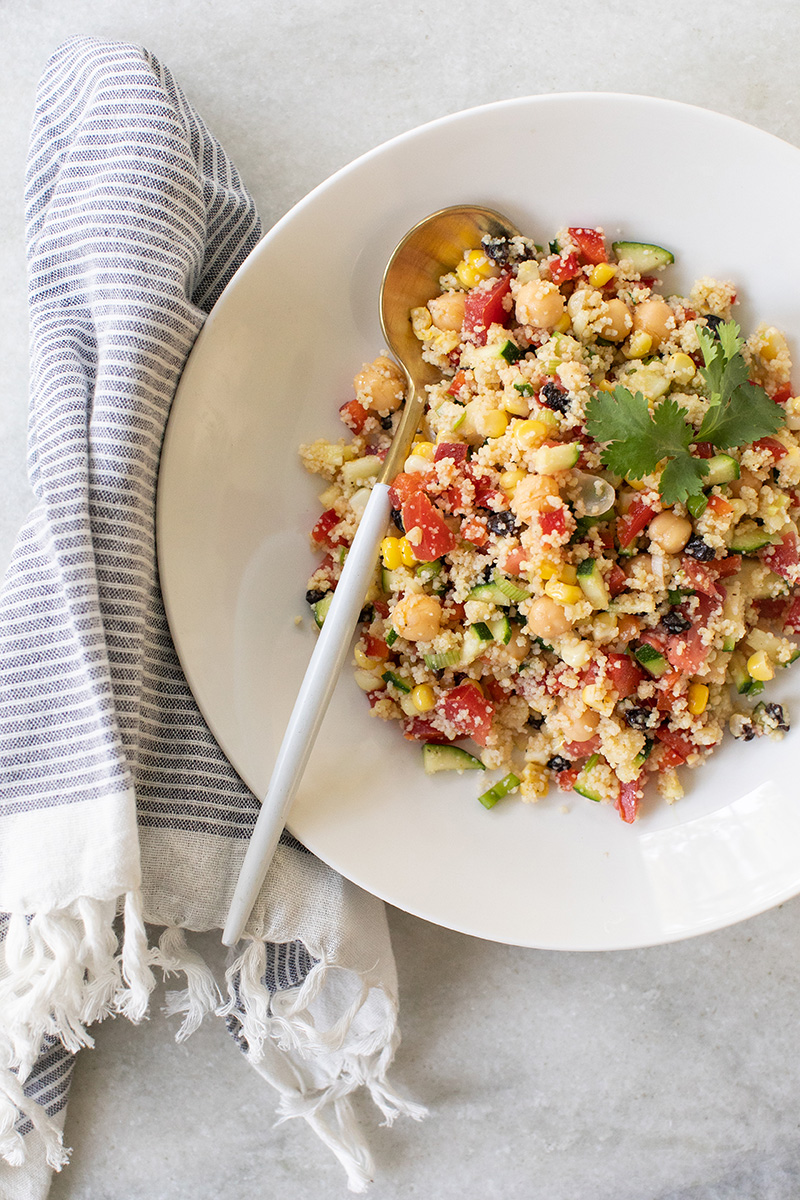 Vegetable Couscous Salad
Sugar and Charm's vegetable couscous salad is flavorful and colorful. Made with fresh veggies, it's topped with a delicious cumin curry dressing. Originally intended as a side dish, I would kick it up a notch with chicken or shrimp to make it a full work lunch.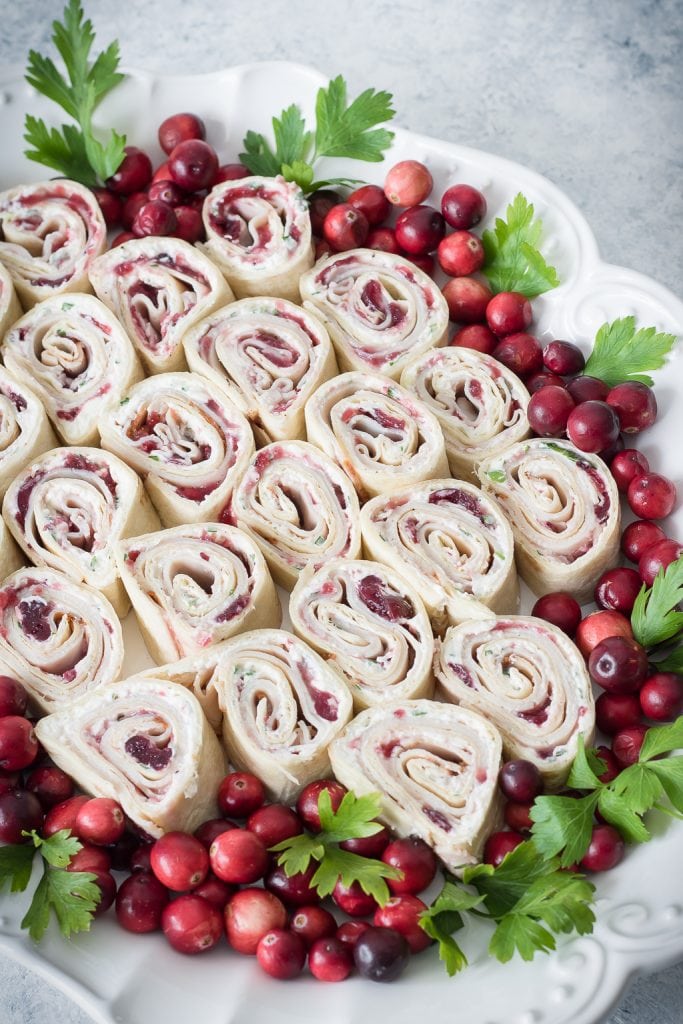 Cranberry Turkey Pinwheels
I like This Silly Girl's Kitchen's cranberry turkey pinwheels as opposed to a more traditional turkey wrap for a work lunch because it doesn't involve lettuce. The bite-sized pinwheels have just the right amount of kick, thanks to the cajun-spiced turkey and green onion. They pair perfectly with a green salad.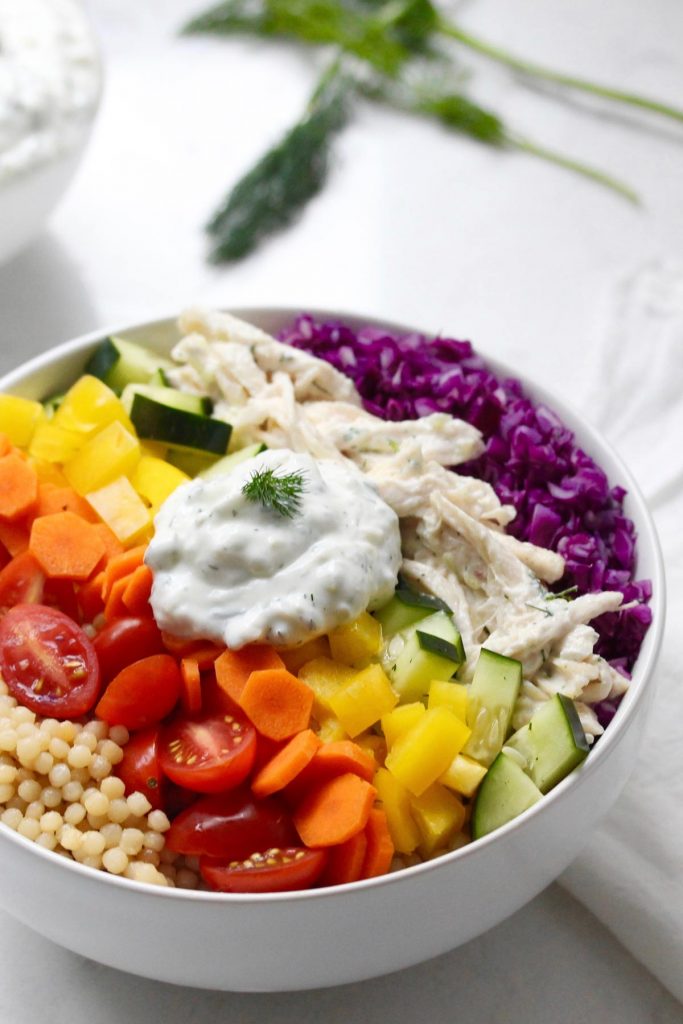 Rainbow Couscous and Tzatziki Chicken
How gorgeous is the Zested Lemon's rainbow couscous and Tzatziki chicken? Not surprisingly, with so much color, it's packed with nutrients. Rachel even gives instructions for packing individual servings in jars for lunch, so they don't get soggy.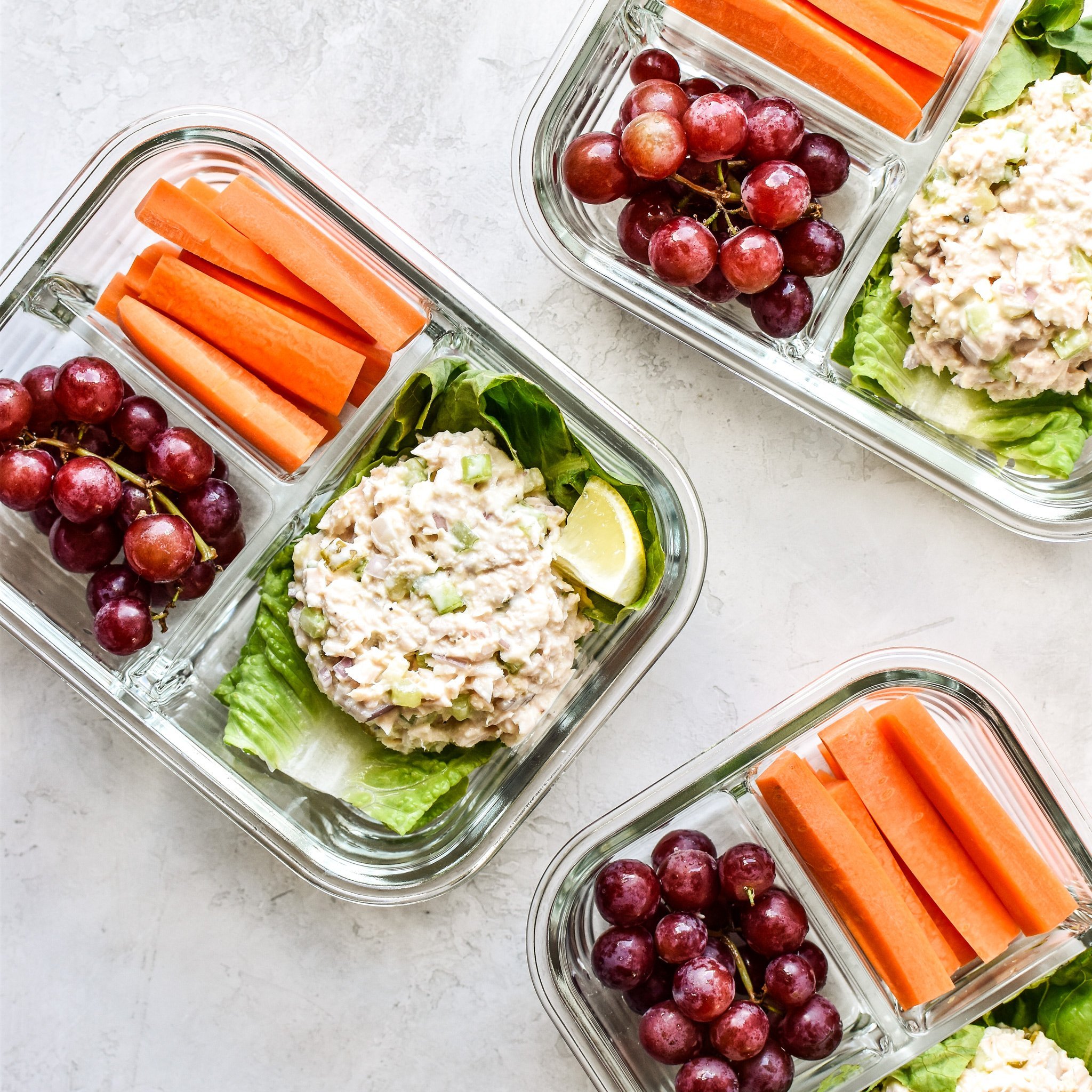 Low Carb Tuna Salad Lettuce Wraps Meal Prep
There are tons of great tuna salad recipes out there, the vast majority of which are ideal for work lunches. So don't feel limited to this option. I like Project Meal Plan's full tuna salad lunch with the tuna salad served on lettuce, paired with simple fresh fruits and veggies.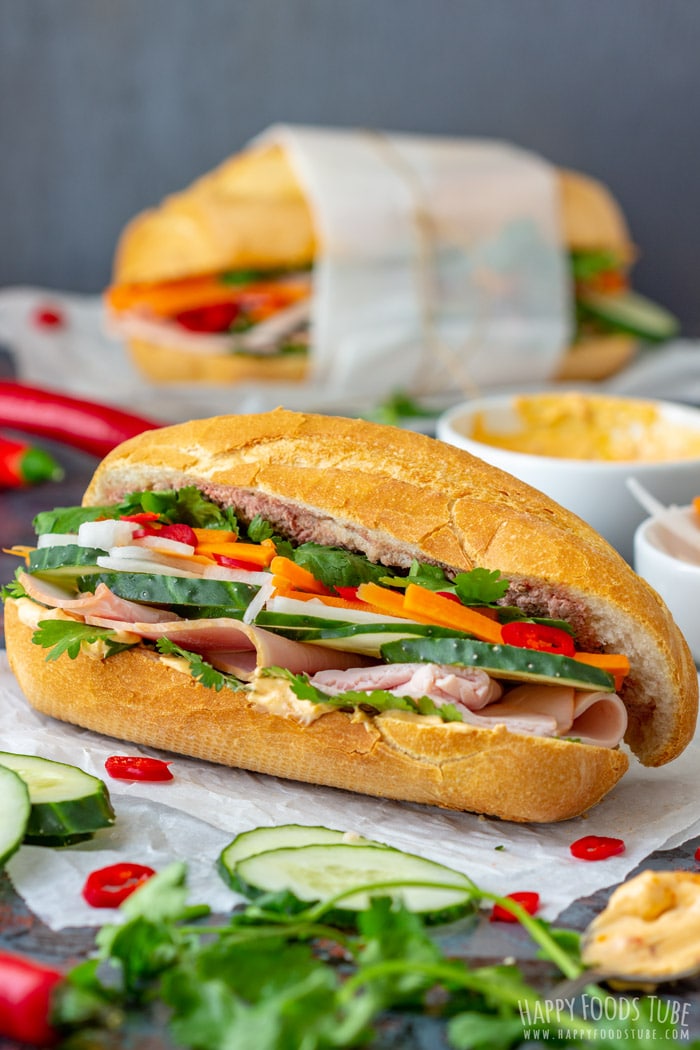 Vietnamese Banh Mi Sandwich with Cold Cuts
If you're a fan of banh mi, you have to try Happy Foods Tube's Vietnamese Banh Mi sandwich with cold cuts for a work lunch. It's packed with fresh and pickled vegetables, cilanto, and the cold cuts of your choosing.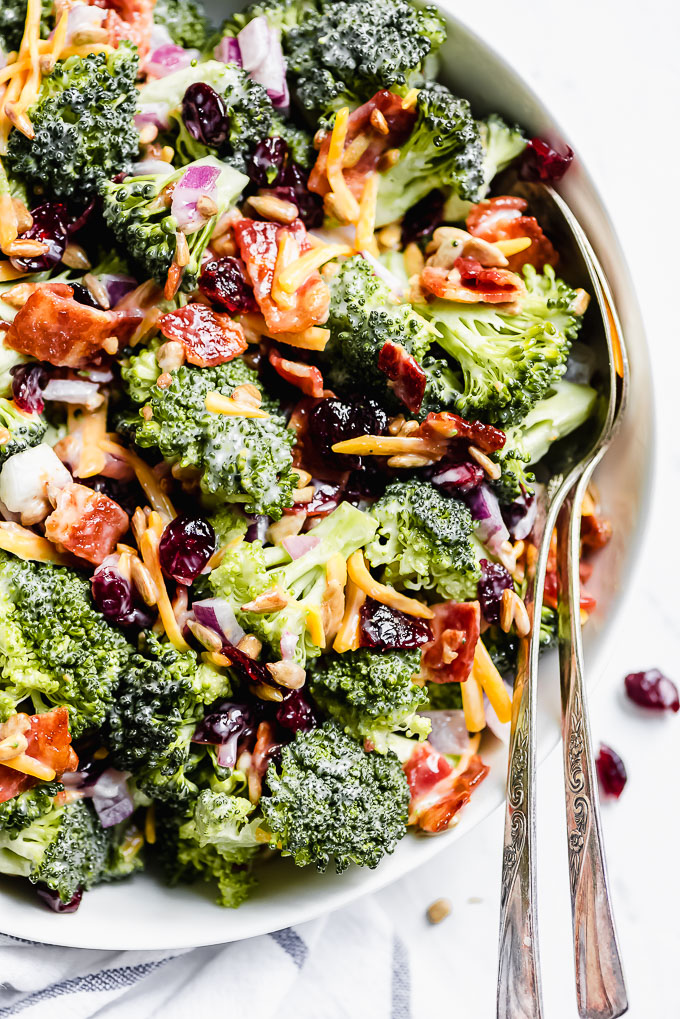 Broccoli Bacon Salad
Garnish and Glaze has loaded so many good ingredients into her broccoli bacon salad: cheese, dried cranberries, red onion, and sunflower seeds. It's topped with a simple, delicious apple cider vinegar dressing.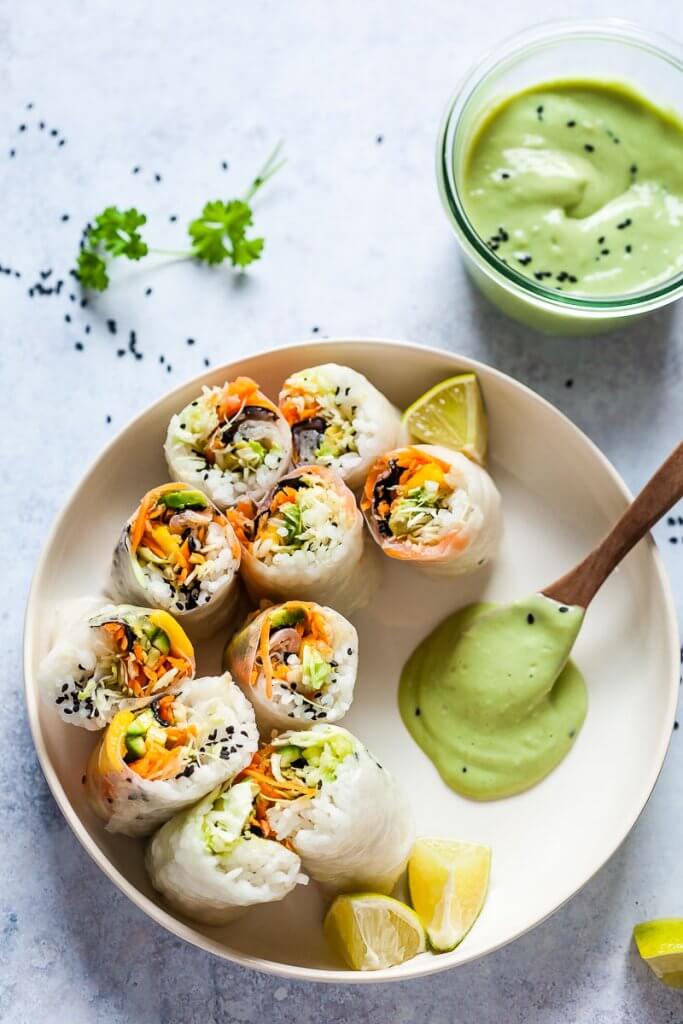 Fresh Sushi Spring Rolls
You'll never go back to sushi takeout after you've made Vibrant Plate's fresh sushi spring rolls, complete with avocado dipping sauce. They take you through the entire process, making homemade sushi straightforward and stress-free.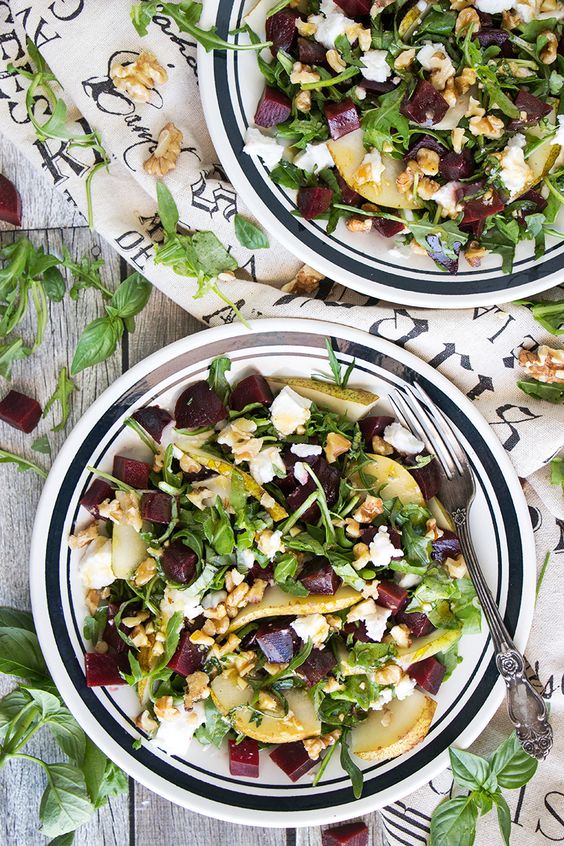 Cold Beet Salad with Goat Cheese, Arugula, and Pear
I know, unless you're crazy about beets, cold beet salad probably doesn't sound too appealing. Don't knock Yummy Addiction's cold beet salad with goat cheese, arugula, and pear until you've tried it. The salad is so refreshing with unexpected flavors.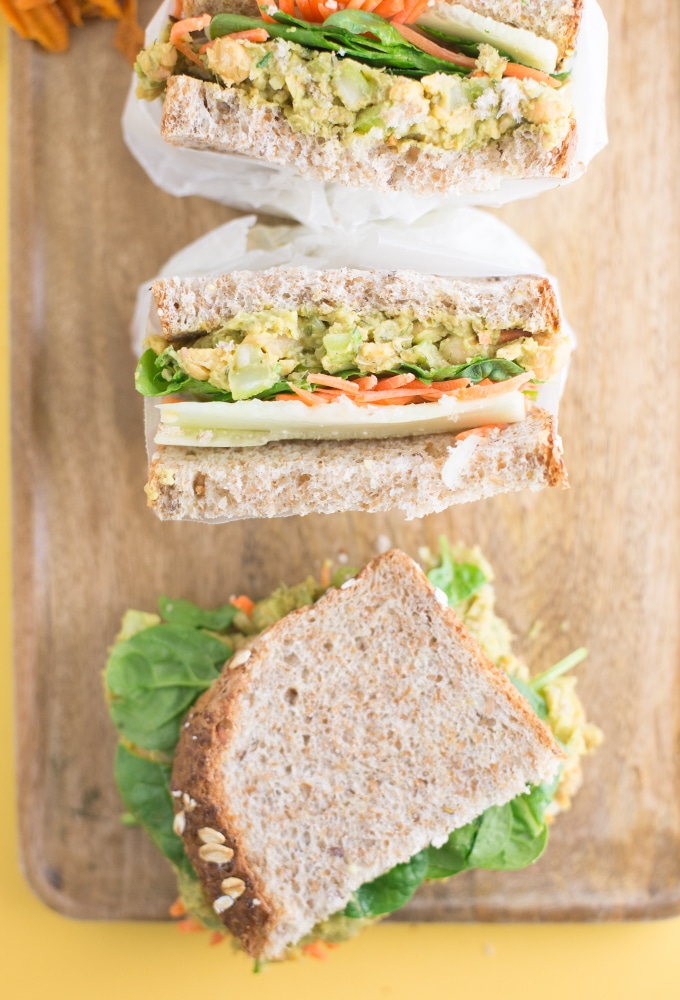 Chickpea Salad Sandwich
Mindful Avocado's chickpea salad sandwich is the perfect way to mix up your sandwich routine. Chickpeas provide a refreshing change from tuna and chicken and will keep you full all afternoon. You may want to pack the ingredients separately and assemble your sandwich at work to keep it crisp.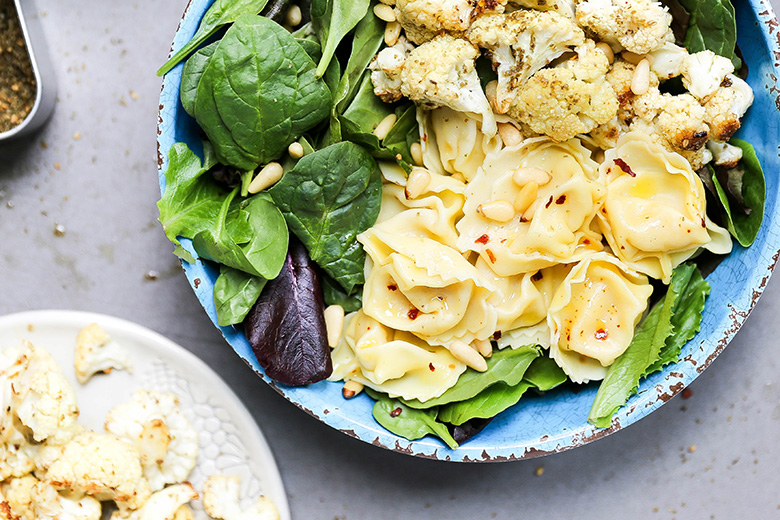 Za'atar Roasted Cauliflower and Tortellini Salad
I realize that not everyone wants to eat cold tortellini and cauliflower. But for me, Floating Kitchen's za'atar roasted cauliflower and tortellini salad is one of those dishes that I love hot or cold. The combination of fresh greens, roasted veggies, and cheese tortellini works so well. Just keep the greens separate until you're ready to eat it.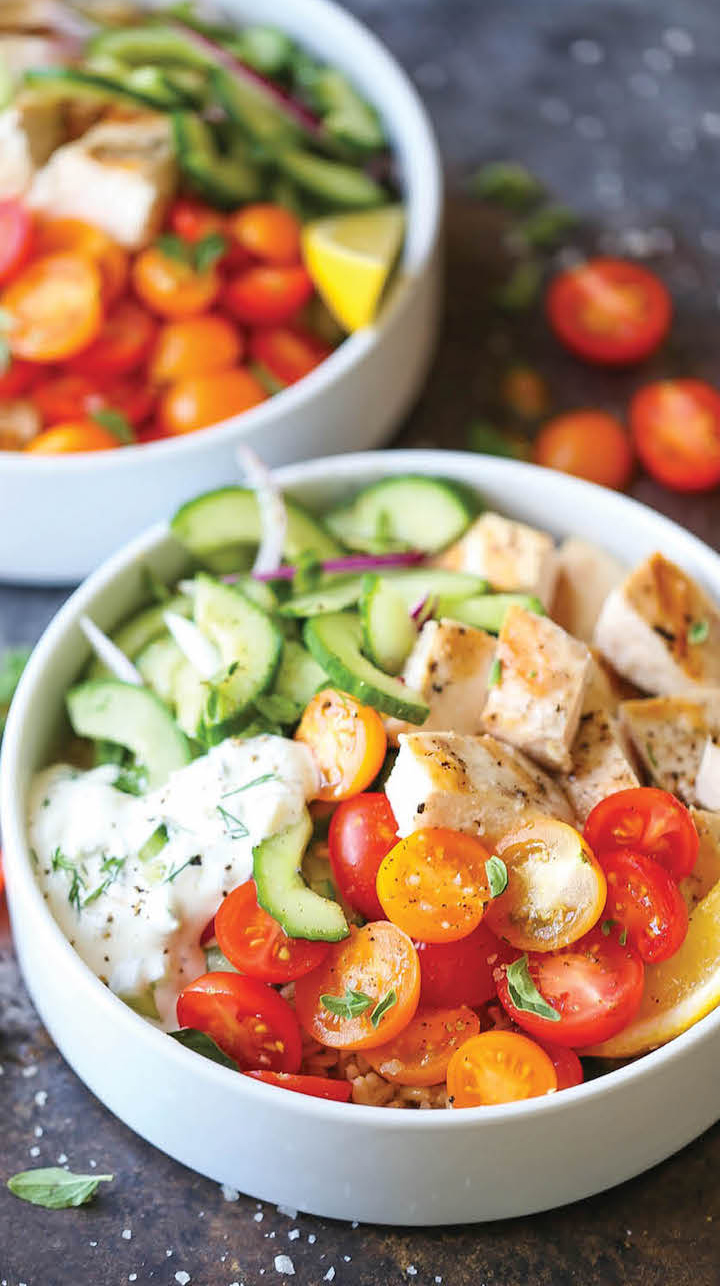 Greek Chicken Meal Prep Bowls
Damn Delicious's Greek chicken meal prep bowls are a little time intensive on the prep side, but well worth the effort. As with all of the recipes here, the time you put in gets you lunch for the whole week. You'll appreciate having flavorful Greek chicken topped with fresh cucumber salad and tzatziki sauce every day.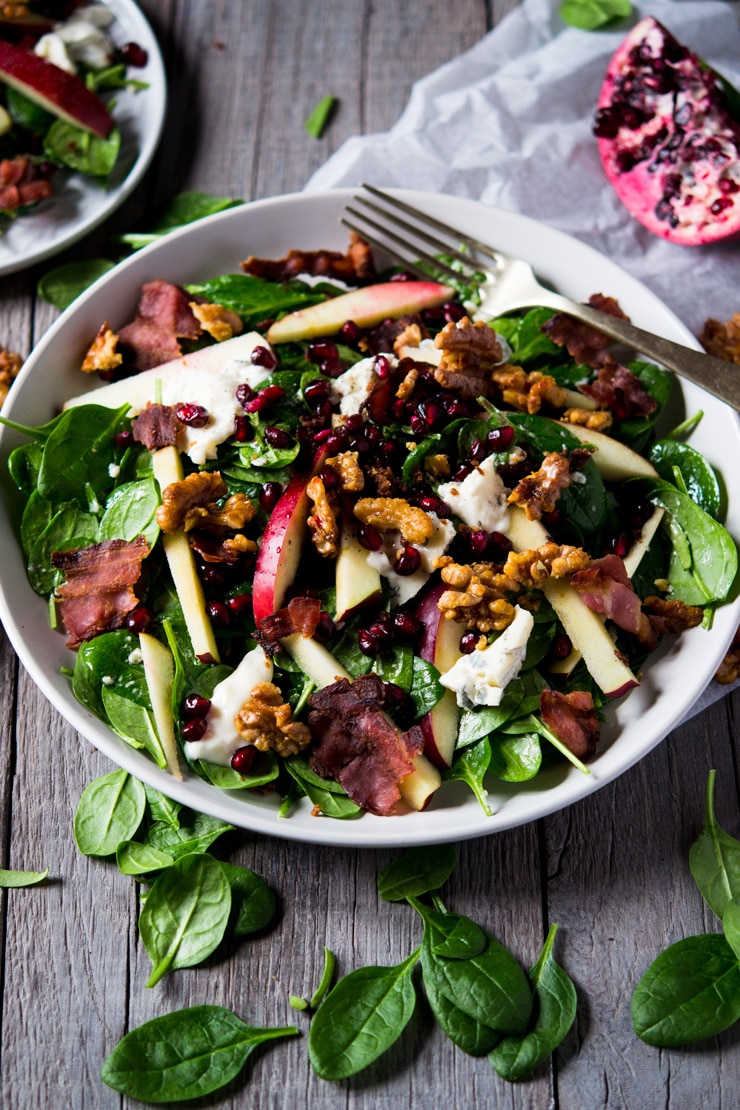 Spinach, Apple, Gorgonzola, and Candied Walnuts Salad
Like many people, I have no trouble eating salads everyday through the summer when there is a wealth of fresh ingredients readily available. I'm a little less inspired during the depths of winter. Inside the Rustic Kitchen's spinach, apple, gorgonzola, and candied walnuts salad to the rescue. It's well worth the effort of making a batch of candied walnuts for it.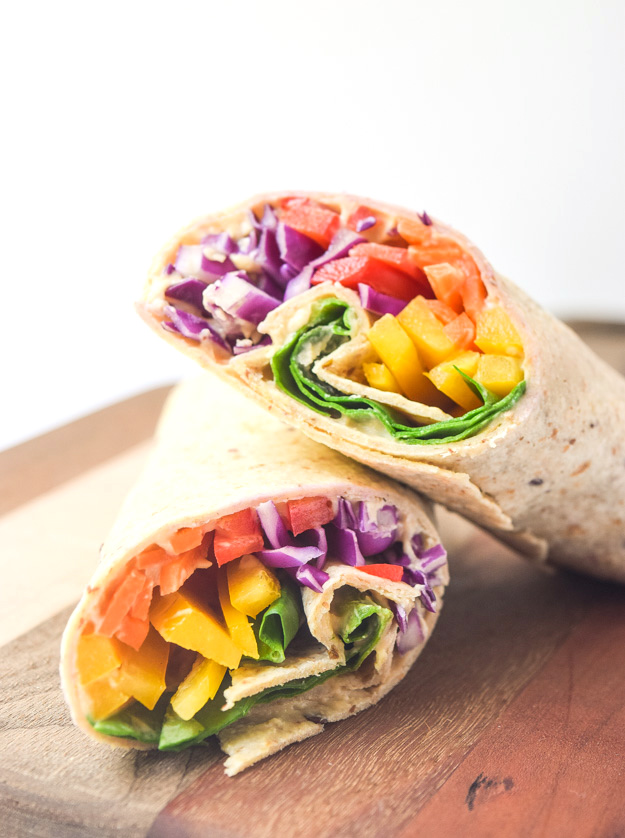 Rainbow Hummus Wraps
Tasty Thin's rainbow hummus wraps are another fantastic rainbow lunch dish bursting with flavor and color. Nikki has several variation ideas to keep this wrap recipe fresh and interesting for work lunches week after week.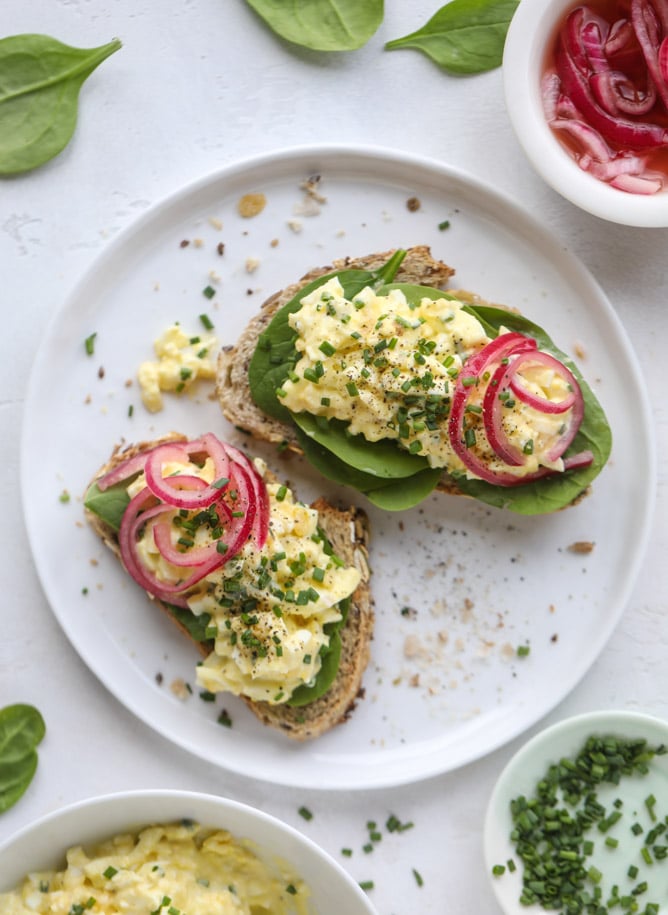 The Best Egg Salad Ever
When you hard-boil eggs for the week ahead, How Sweet Eat's egg salad is always a good work lunch recipe. You can make a big batch and switch up how you eat it. One day pack a couple of pieces of bread to make a sandwich. The day next have it over a small green salad. The following day scoop it up with tortilla or kettle chips (my favorite). You get the idea.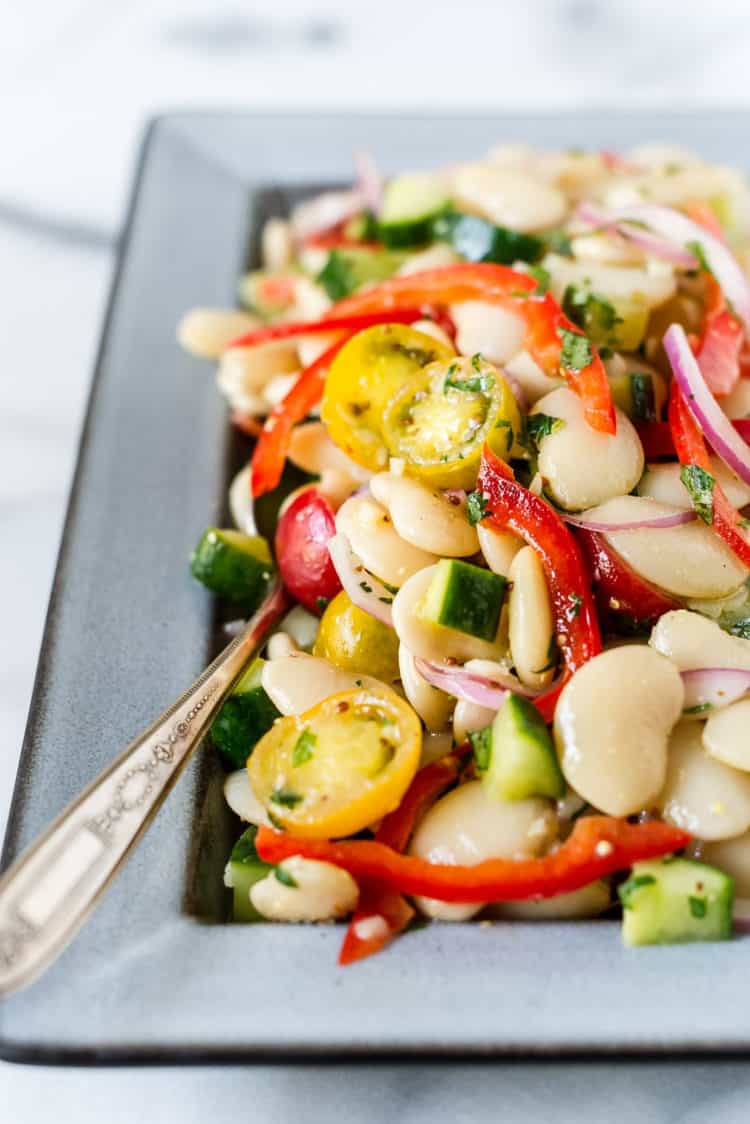 Lima Bean Salad
I know, lima beans make me want to cringe, too. Kitchen Confidante has completely modernized the concept of a lime bean salad with tons of fresh veggies and a tangy lemon mustard dressing. You won't even think about the fact that you're eating lima beans.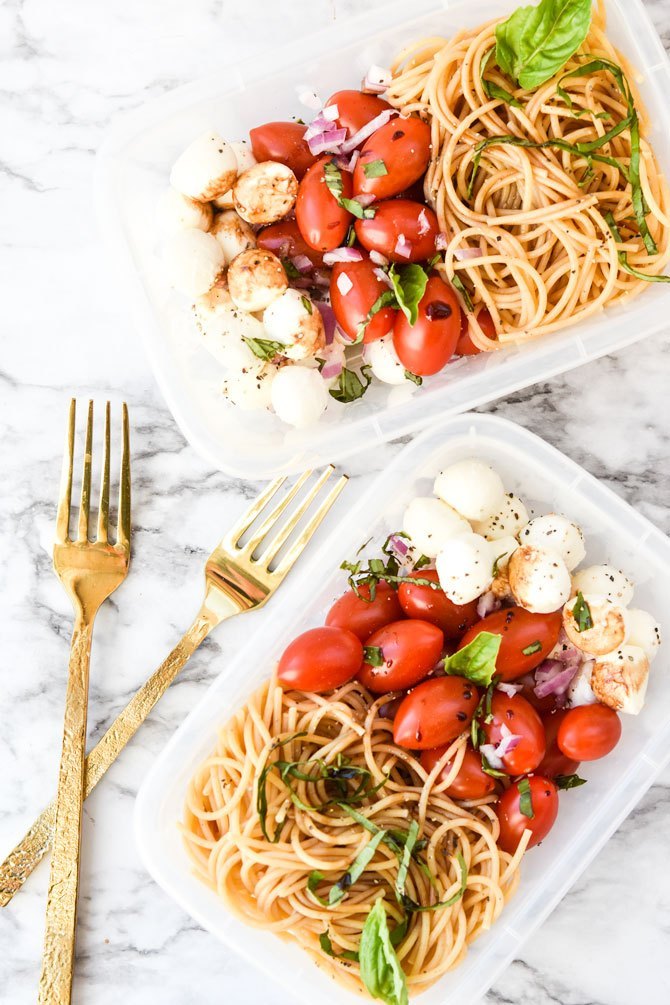 Caprese Cold Noodle Meal Prep
Meal Plan Addict's Caprese cold noodle meal prep is another fantastic way to enjoy Caprese as an easy, filling work lunch. It's no secret that Caprese is perfect with pasta, and I love that Steph has found a way to turn the pairing into a cold lunch.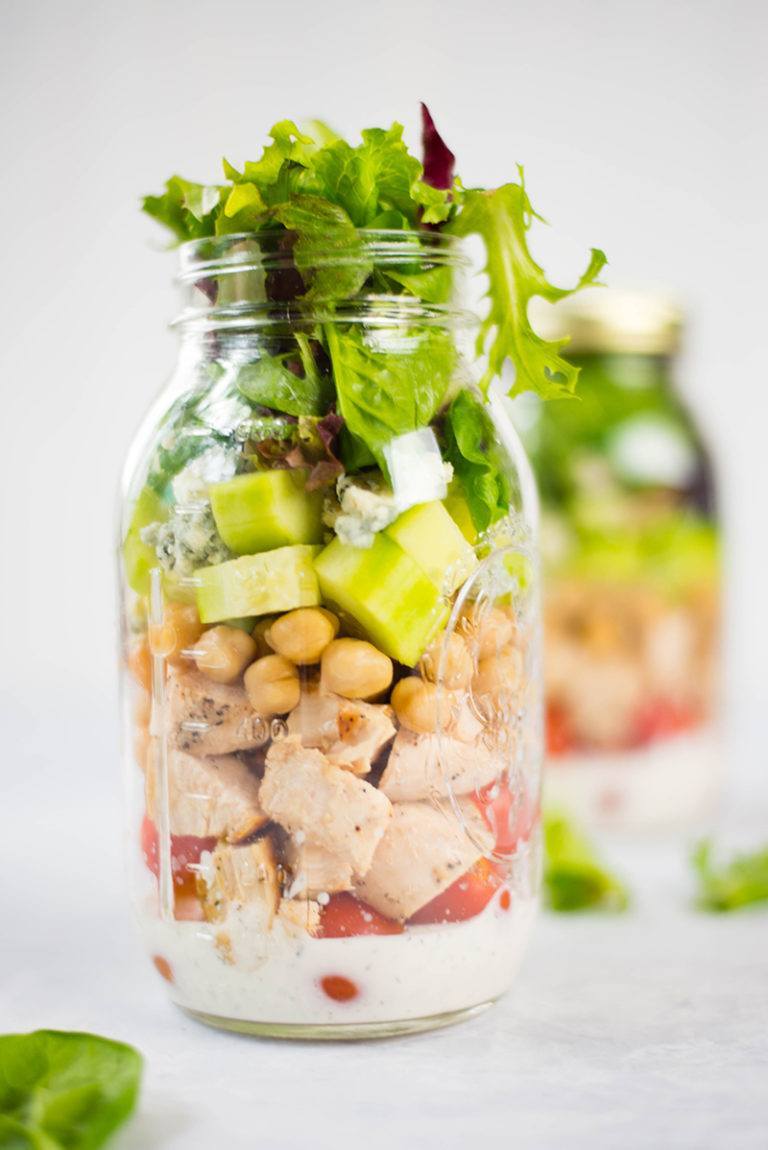 Chicken Cobb Mason Jar Salad
I didn't want to include too many mason jar salads in my quick healthy lunch ideas for work list because they're a little overplayed these days. But after Jessica's Greek orzo salad, A Sweet Pea Chef's chicken Cobb is at the top of my list. It's hard to go wrong with a good Cobb salad. Lacey takes it over the top with homemade Ranch dressing.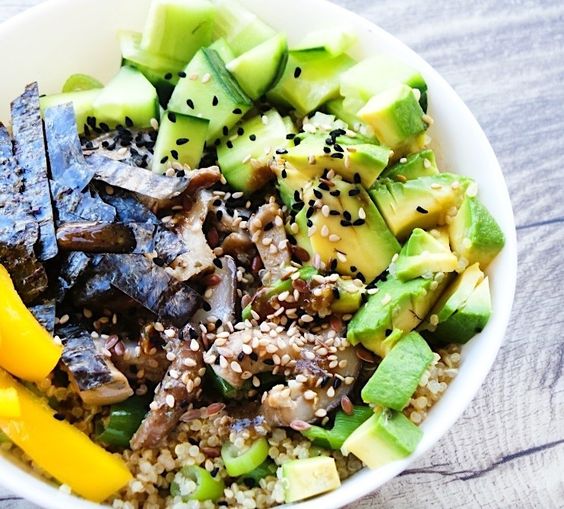 Vegan Quinoa Sushi Bowl
Even easier than making your own sushi, you can make Beauty Bite's vegan quinoa sushi bowl, which comes together much more quickly and tastes just as good. You would never imagine that this recipe is vegan, and you won't miss the meat at all. I would double it for meal prep to get a week's worth of lunches out of a single prep session.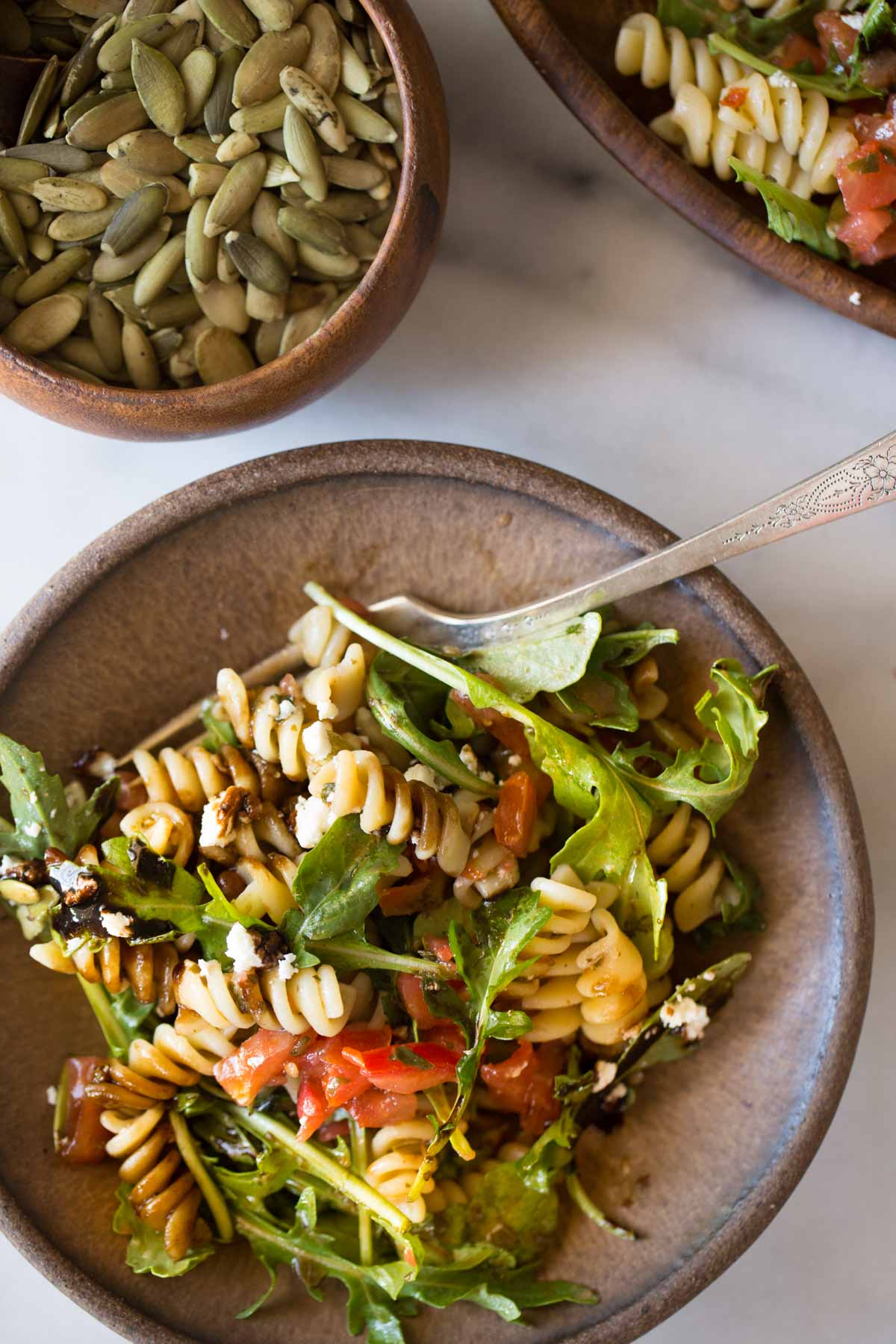 Bruschetta Pasta Salad
Lovely Little Kitchen's bruschetta pasta salad has everything you love about bruschetta in a quick, tasty pasta salad. For a work lunch, I'd add chicken or even leftover grilled steak.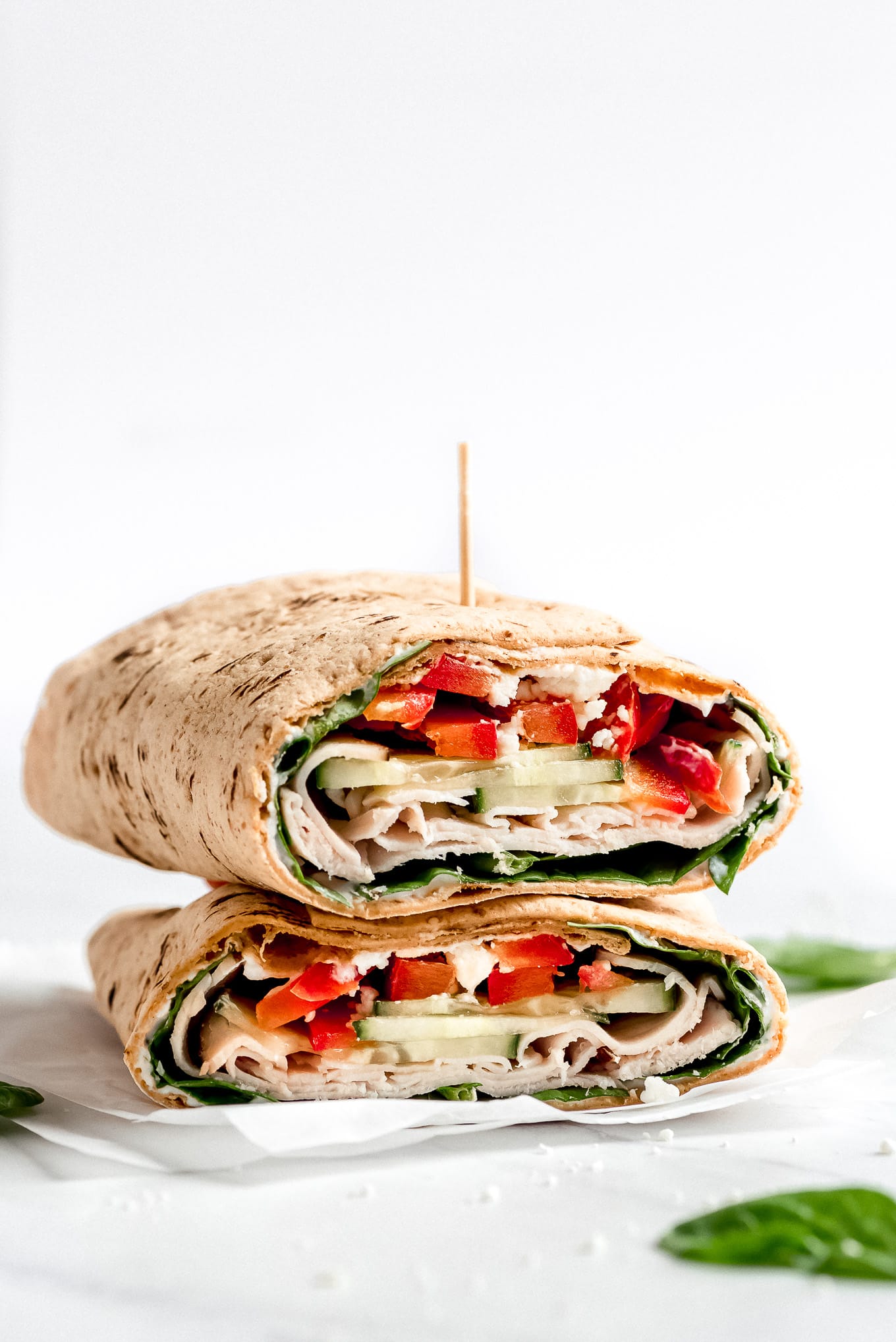 Turkey Ranch Wraps
Turkey ranch (or chicken ranch!) is a tried and true combination that works so well as a wrap. Garnish and Glaze's turkey ranch wraps are filled with spinach, fresh veggies, feta, and a creamy Greek yogurt Ranch spread.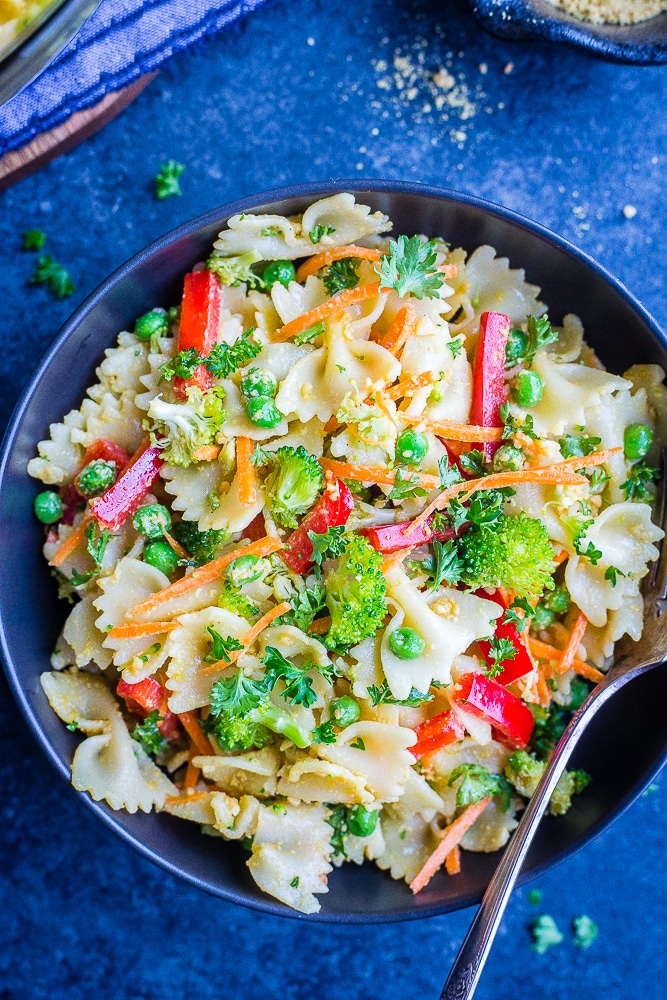 Primavera Pasta Salad
Pasta primavera converts effortlessly into a delicious cold pasta salad, which is perfect for work lunches. She Likes Food makes her pasta primavera salad with carrot, red pepper, broccoli, and peas and tops it with a red wine vinaigrette.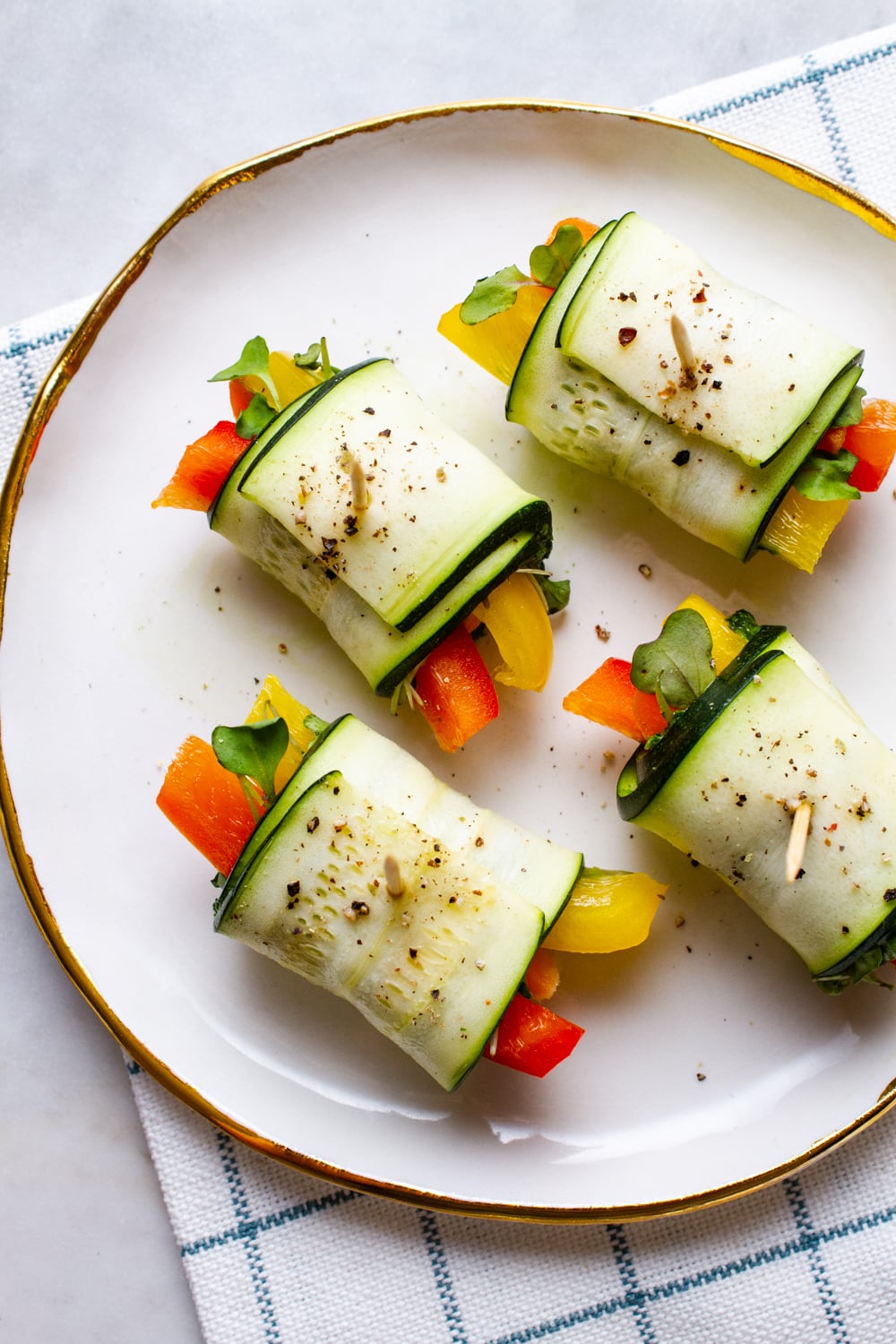 Raw Zucchini Wraps with Kale Pesto
The Simple Veganista's raw zucchini wraps are so nutritrious, satisfyingly crunchy, and couldn't be easier to make. If you love pesto, make a big batch and freeze it, so you can pull together this type of recipe whenever you like.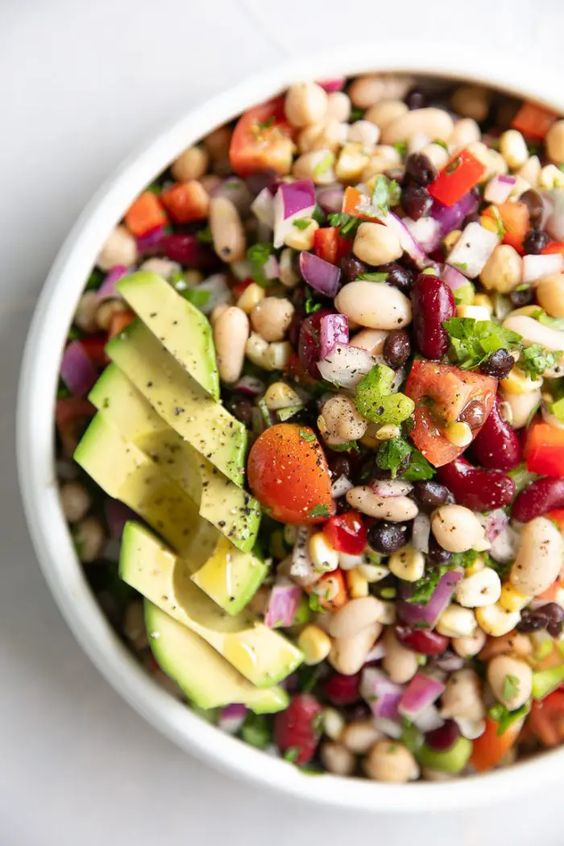 Mexican Bean Salad
I'm sure that bean salad doesn't sound like the most exciting work lunch. The Forked Spoon's easy Mexican bean salad will completely change your mind about bean salad. Her recipe is so easy and packed with flavor. For lunch, I would round it out with chicken or serve it over greens.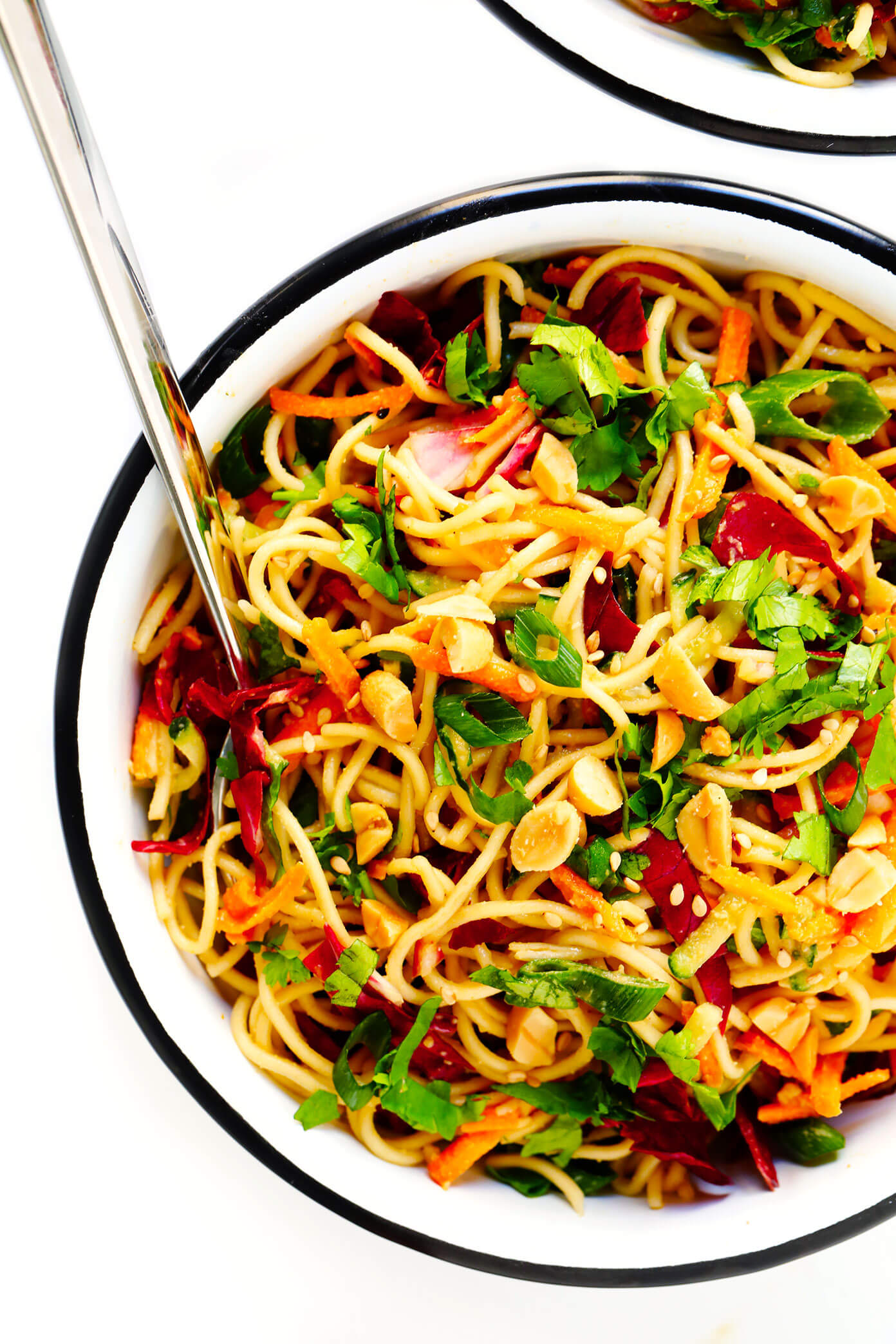 Cold Sesame Peanut Noodles
You know how much I love sesame peanut recipes. Gimme Some Oven's cold sesame peanut noodles features a to-die-for sesame peanut dressing that's perfect over sesame noodles with lots of fresh veggies. You can easily add chicken, beef, shrimp, or tofu to amp up the protein.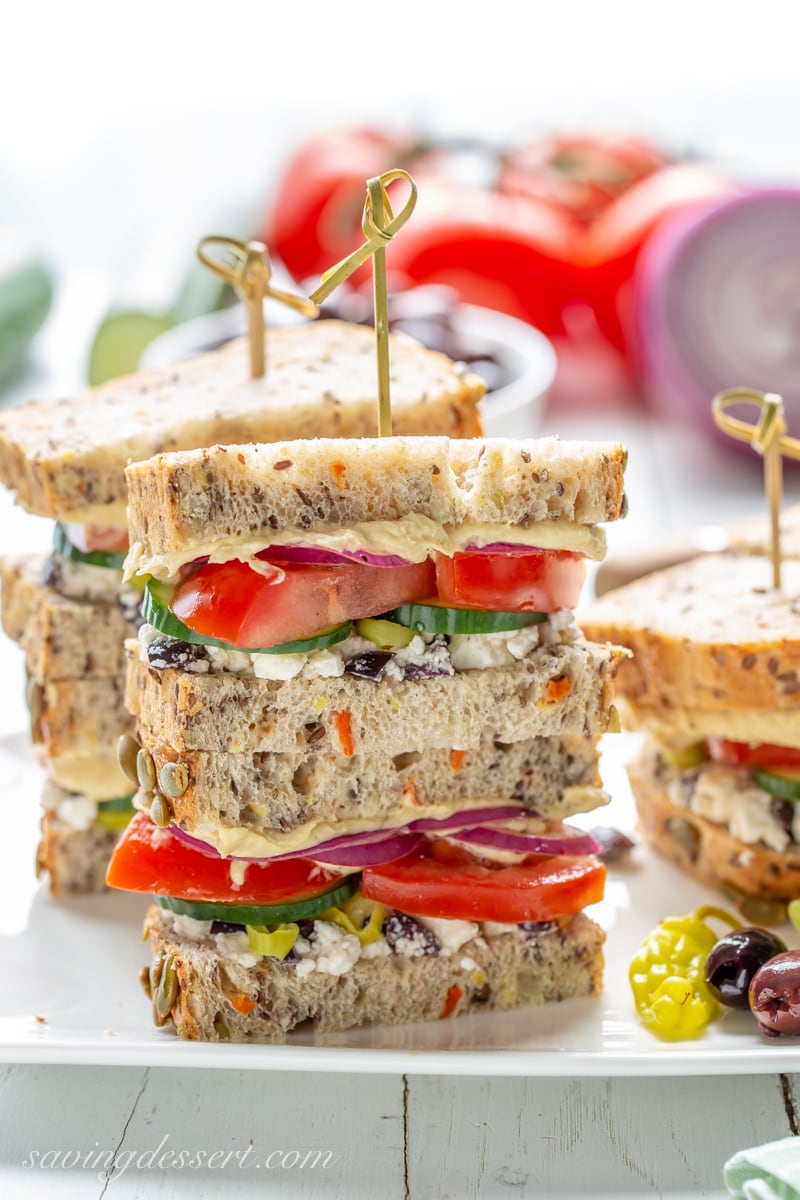 Greek Salad Hummus Sandwich
Saving Room for Dessert's Greek salad hummus sandwich takes everything you love about a Greek salad, packs it into a sandwich, and completes the meal with a little hummus. A hearty, thick-sliced bread will add to the flavor and help keep the sandwich from getting soggy.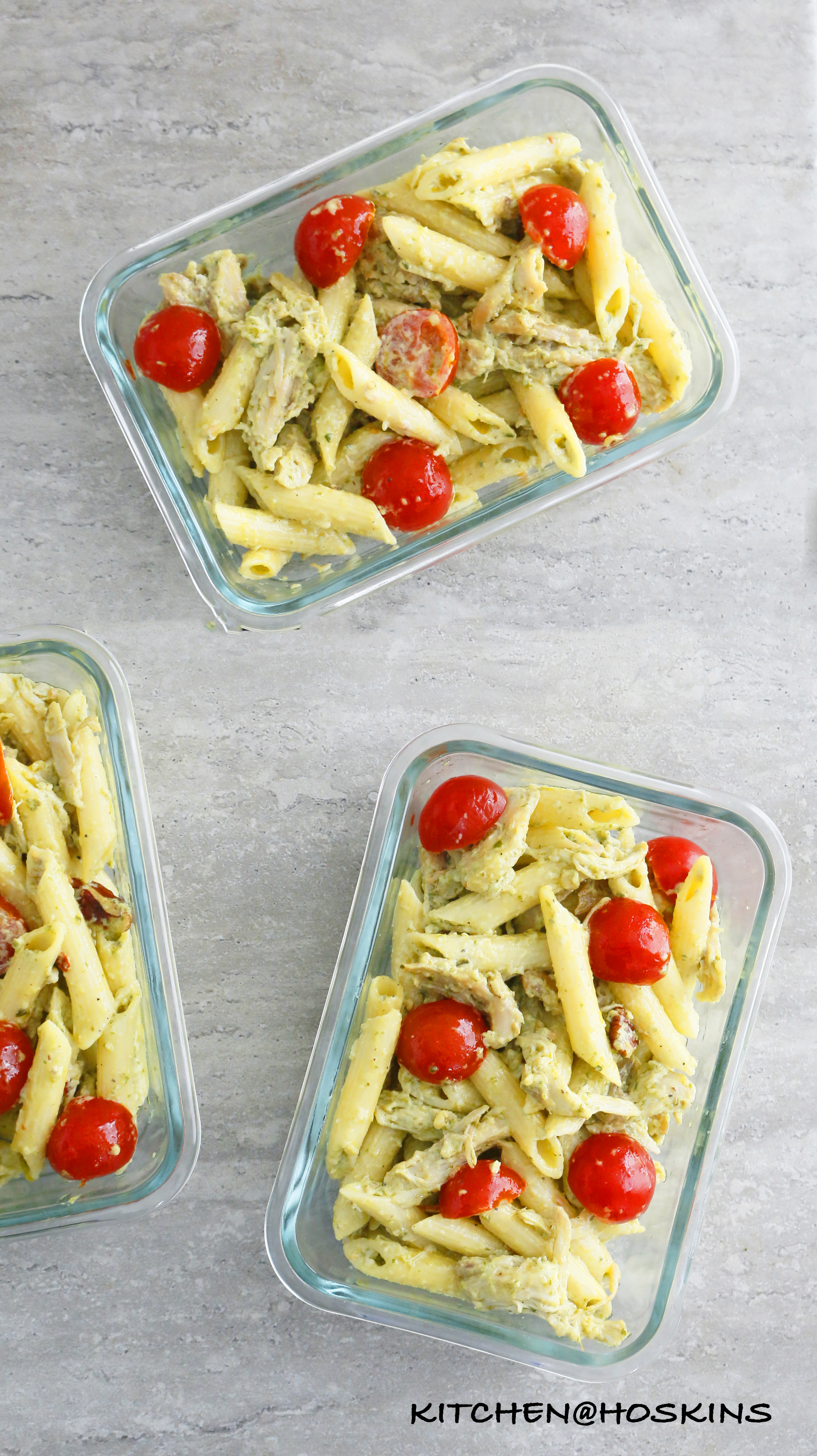 Creamy Chicken Pesto Pasta Salad
Chicken and pesto is an amazing flavor combination. It's no surprise that they work perfectly in Kitchen @ Hoskins' creamy chicken pesto pasta salad. You can easily swap Greek yogurt or sour cream for mayo or switch up the toasted pecans for walnuts or cashews. There are so many variation possibilities here.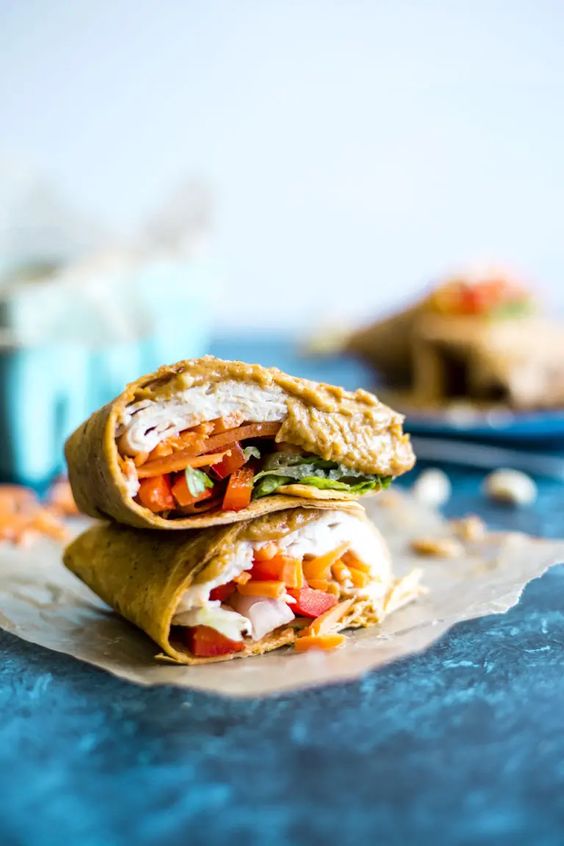 Thai Peanut Turkey Wrap
Thai peanut sauce in a turkey wrap is genius. Using sliced deli turkey, The Almond Eater's Thai peanut turkey wrap couldn't be easier. I would prep the sauce and veggies on Sunday night, so you can assemble wraps quickly throughout the week.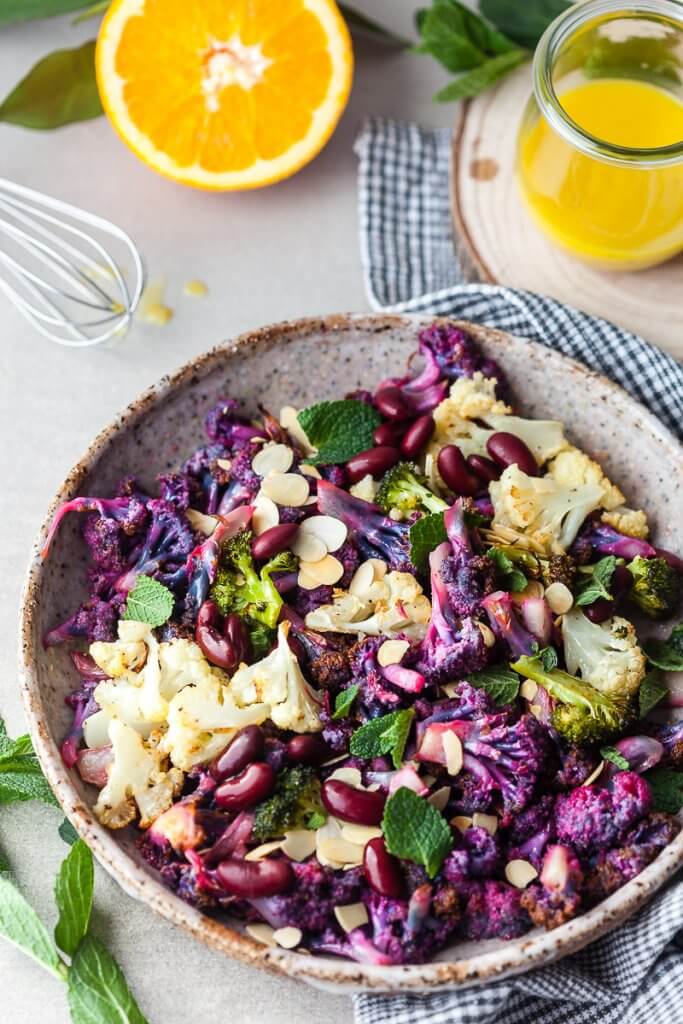 Winter Purple Cauliflower Salad
I love Vibrant Plate's winter purple cauliflower salad because it's so different from most winter salads. A spinach-based winter salad, like the one from Inside the Rustic Kitchen that I linked above is delicious, but sometimes you want something besides a spinach salad. Purple cauliflower, paired with broccoli, white cauliflower, and kidney beans, is great.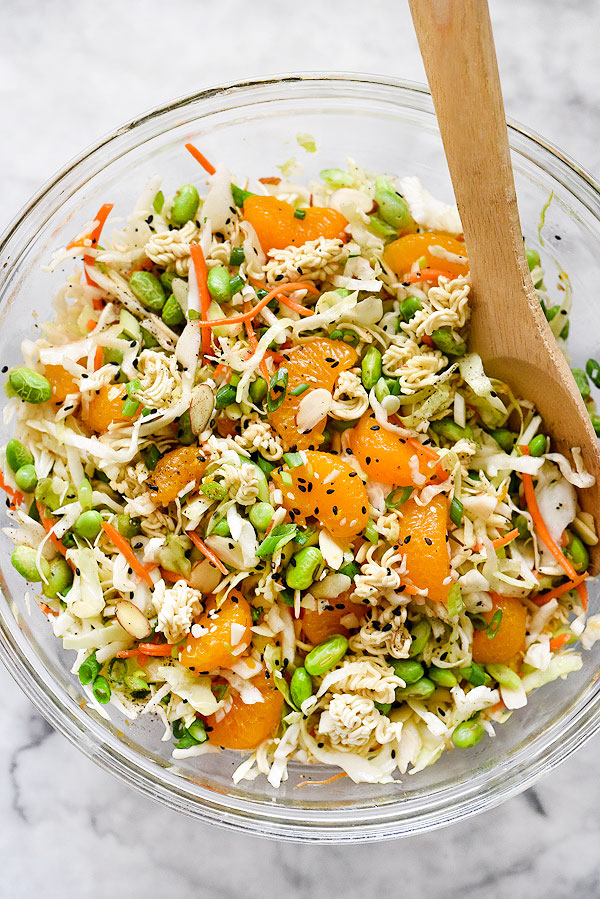 Asian Ramen Noodle Salad
Foodiecrush's Asian Ramen noodle salad is one of my absolute favorites. The Ramen noodles and cabbage give it a lot of crunch, and it has just the right mix of sweet and savory. The recipe makes a huge batch, which means you're set for lunch all week.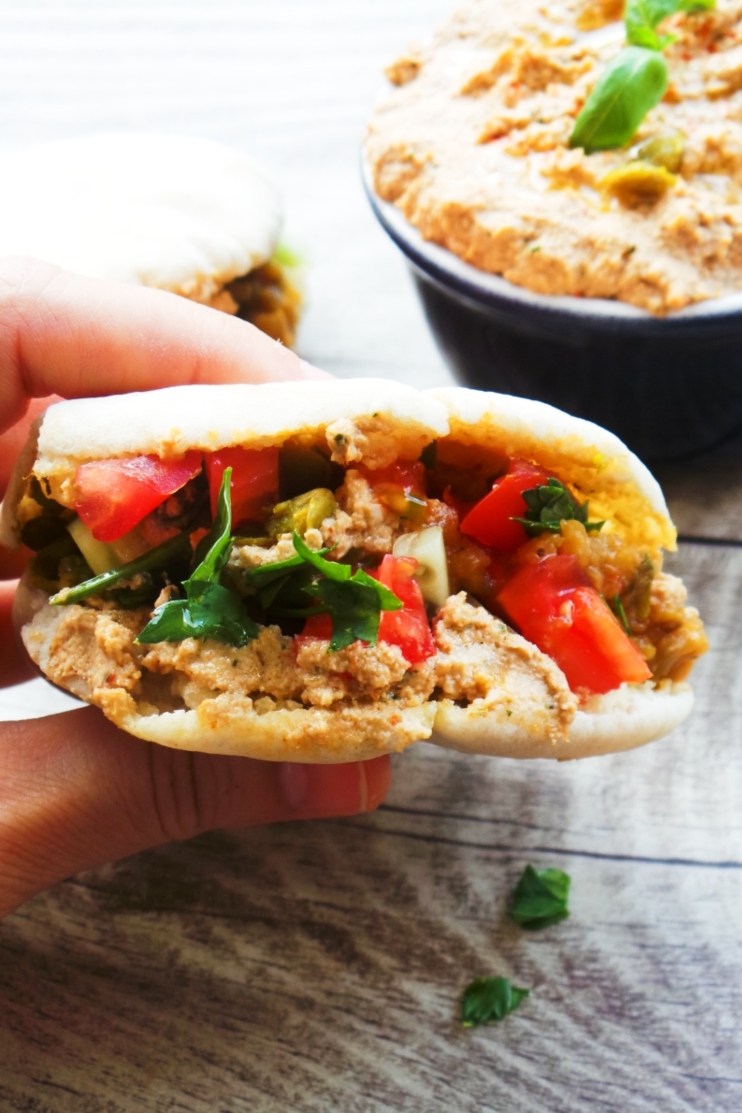 Spicy Turmeric Lentil Wraps
Beauty Bite's spicy turmeric lentil wraps are perfect for anyone looking for new vegetarian wraps for the work lunch rotation. Cooking lentils couldn't be more easy, and they keep well in the fridge all week.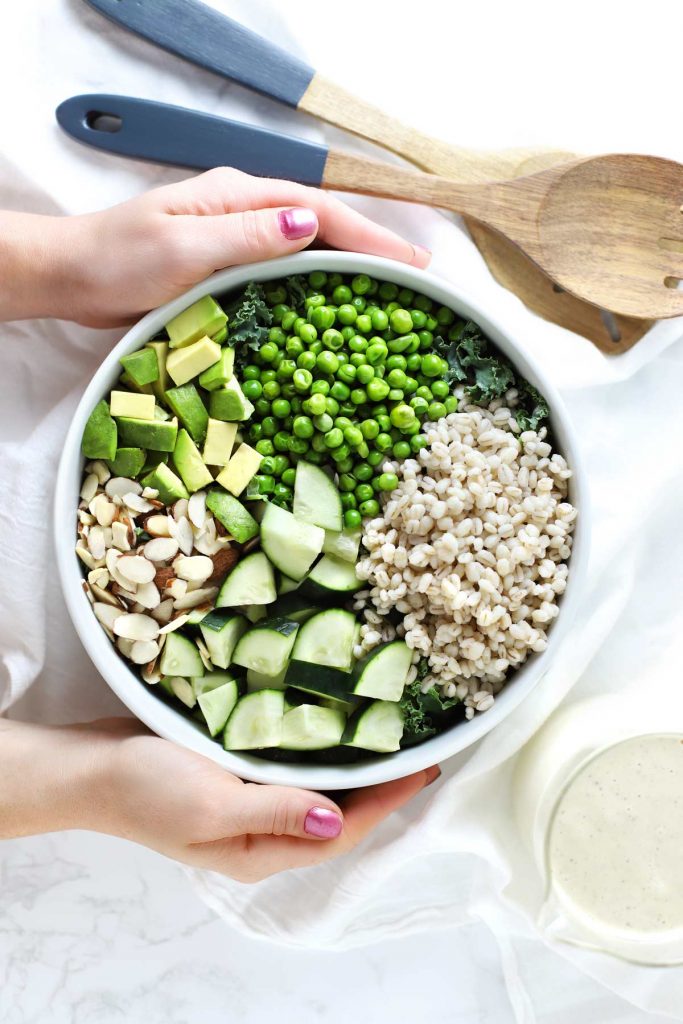 Green Grain Summer Salad
The Zested Lemon's green grain summer salad is packed with healthy, flavorful ingredients, guaranteeing you'll stay full and satisfied all afternoon. The lemon garlic cashew sauce takes it over the top.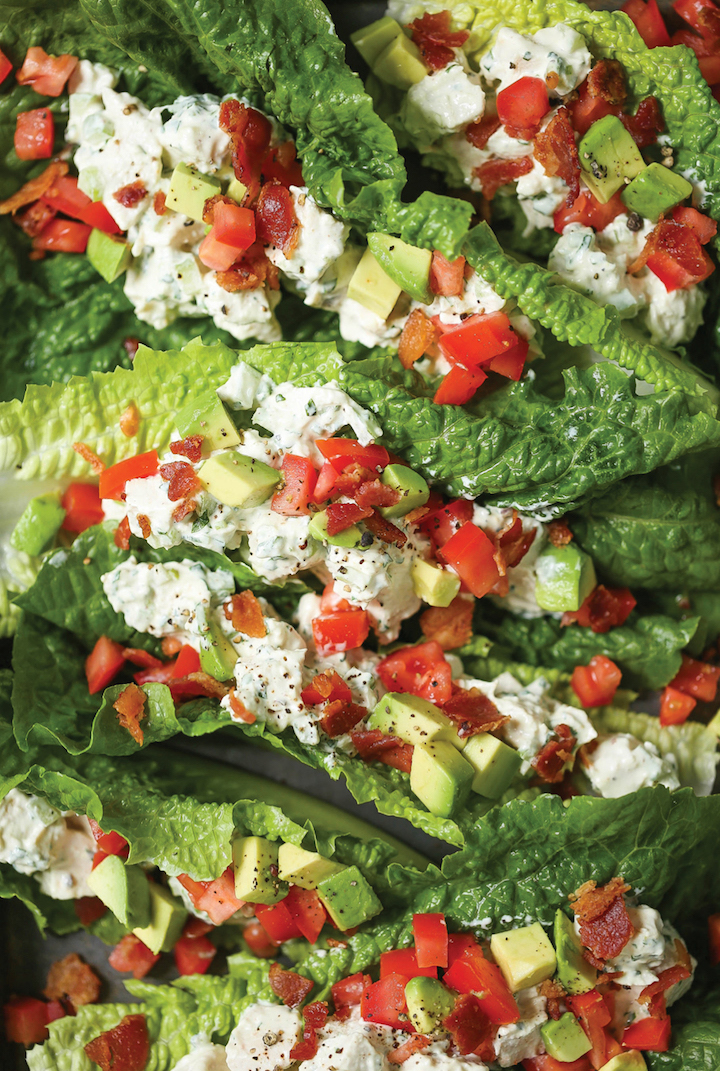 Chicken Salad Lettuce Wraps
Okay, so I had to include one more chicken salad recipe. Damn Delicious has a lightened-up chicken salad lettuce wraps recipe with lettuce instead of carbs and Greek yogurt instead of mayo. Pack the lettuce leaves separately and wait to assemble the wraps until right before eating.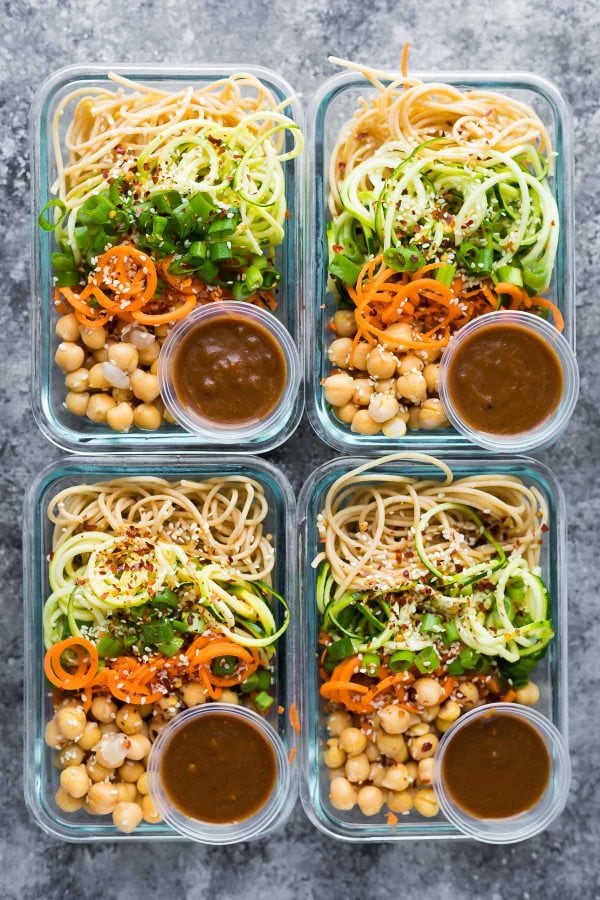 Cold Sesame Noodle Bowls
Don't hate me for including one more sesame recipe. Sweet Peas and Saffron's cold sesame noodle bowl is light on carbs, thanks to the abundant spiralized vegetables. Thinly sliced veggies work great, too. Don't skimp on the almond butter sauce.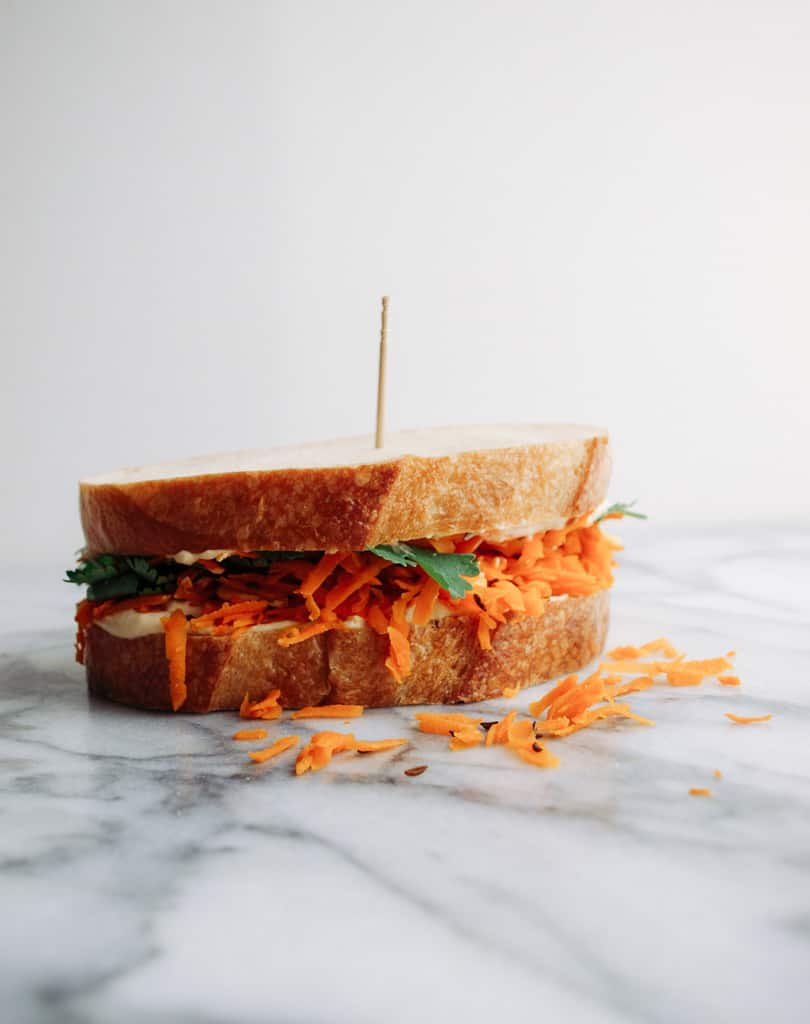 Spicy Carrot and Hummus Sandwich
The Simple Veganista's spicy carrot and hummus sandwich is deceptively simple yet so satisfying. To fill it out as a work lunch, I would add meat, cheese, or more veggies to the sandwich or serve it alongside a hearty salad.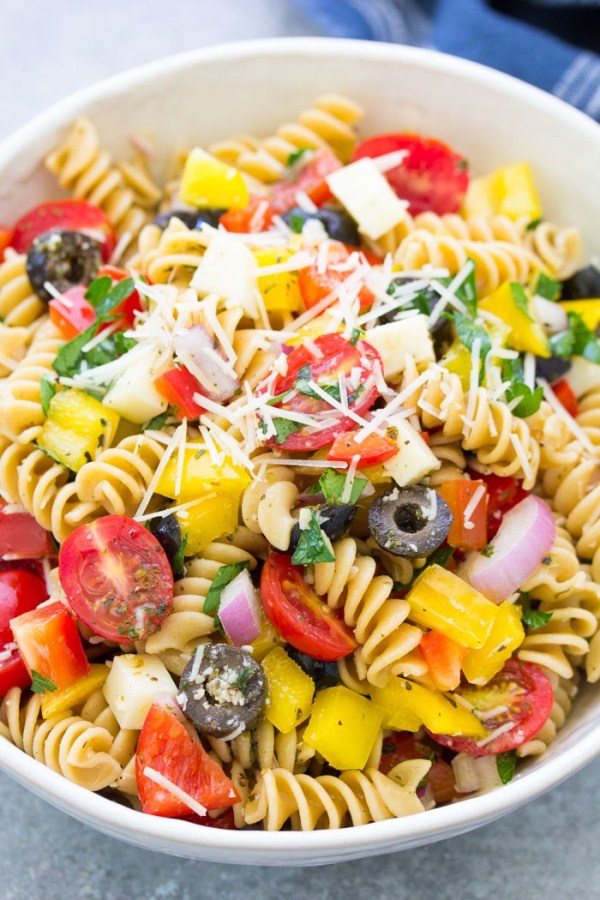 Italian Pasta Salad
Kristine's Kitchen's Italian pasta salad tastes even better the second day when the flavors have had time to meld together, creating an ideal work lunch. There are lots of veggies, meats, and cheeses that work well in Italian pasta salad, so feel free to experiment with different combinations.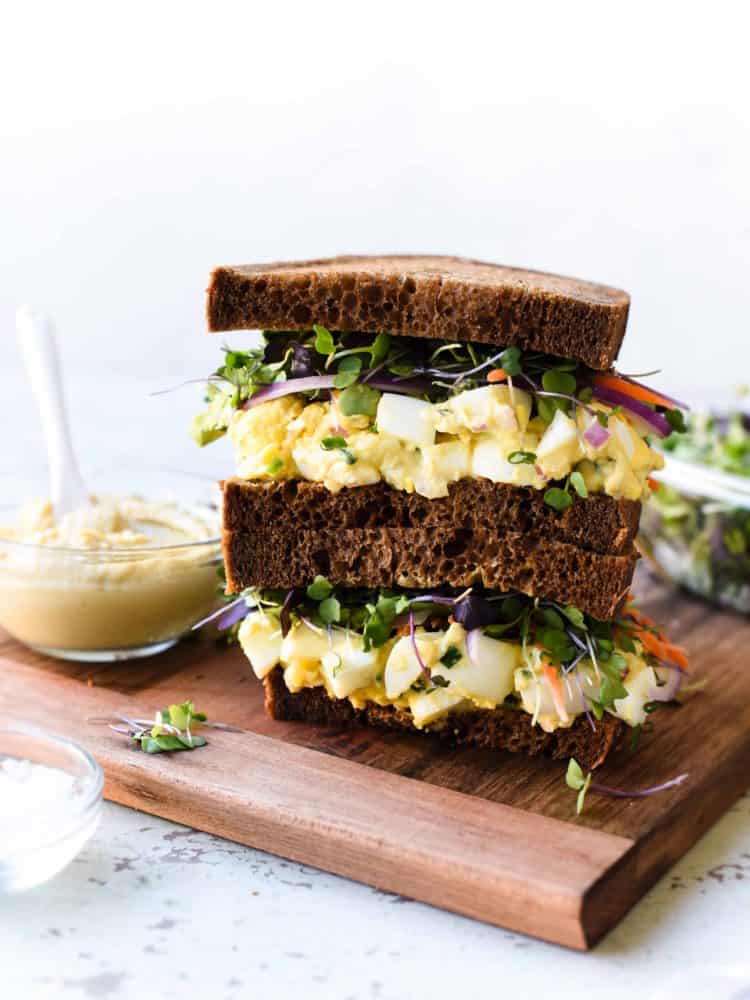 Hummus and Tahini Egg Salad
I had to include one more egg salad recipe, this time hummus and tahini egg salad from Kitchen Confidante. The addition of both hummus and tahini ensures that it's extra flavorful and creamy. For a work lunch sandwich, I would pack the bread and lettuce separately and assemble it at lunchtime.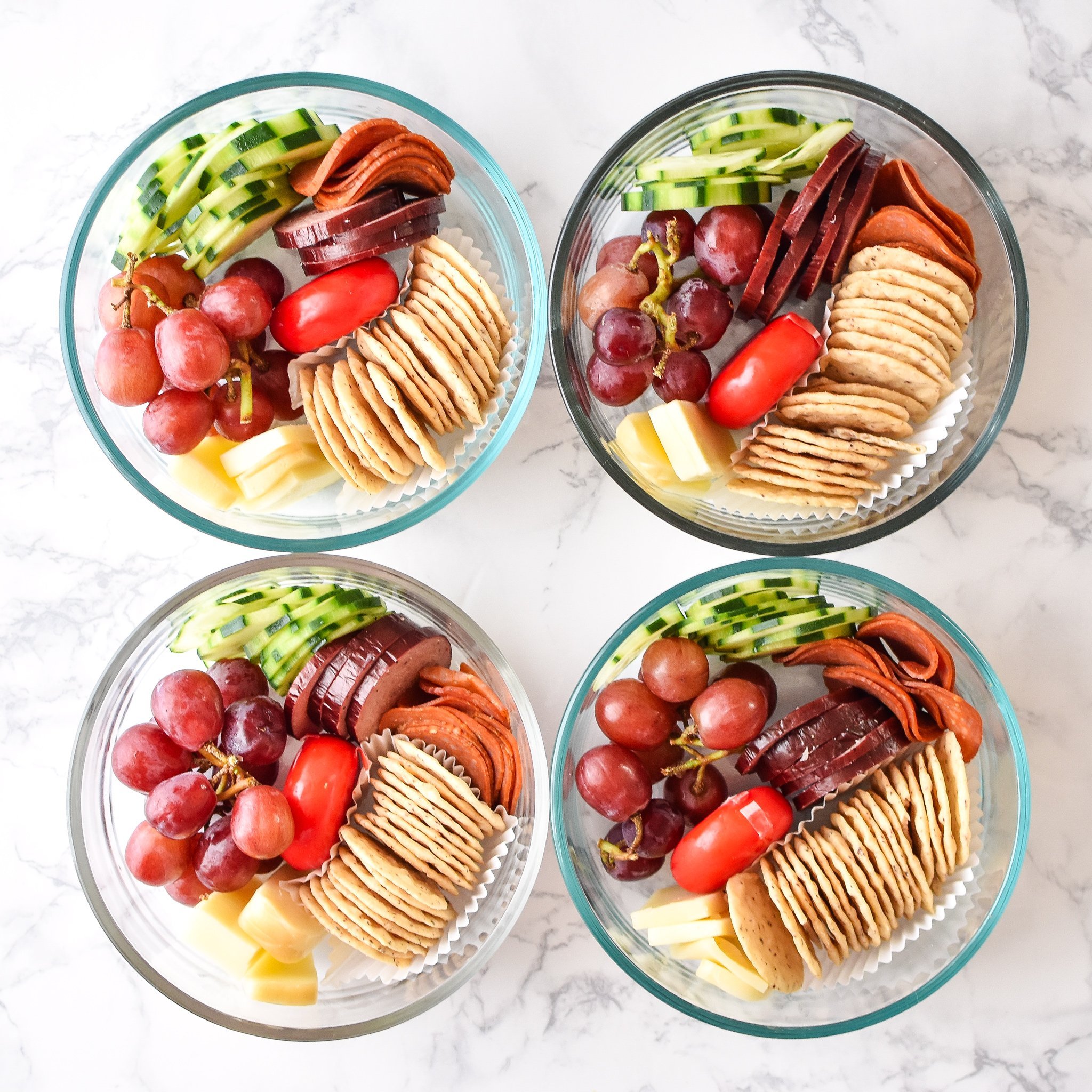 The Ultimate Snack Lunch
Who ever gets tired of snack lunch or dinner? Snack lunch is always a good option for a packed work lunch, especially when you're pressed for time. Splurge on good crackers, cheese, and meat, and take the time to include at least one fruit and one vegetables to round out the lunch. Grab some inspiration for your snack lunches from Project Meal Plan.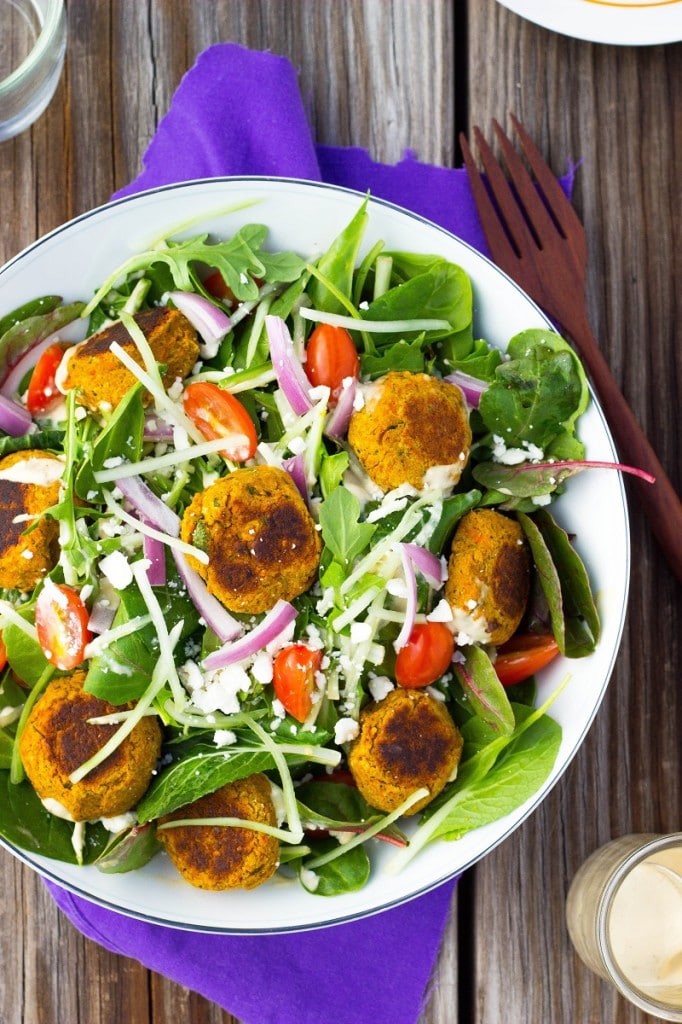 Roasted Carrot Falafel Salad with Citrus Tahini Dressing
I'm not sure what's more exciting about She Likes Food's roasted carrot falafel salad with tahini dressing: eating falafel for lunch or the citrus tahini dressing. It's one of the more time intensive prep recipes here but well worth the effort once in a while.
Tell me about your favorite quick healthy cold lunch ideas for work!

How do you keep your work lunch routine healthy and interesting? What are your staple work lunches?
[Disclaimer: There are a few affiliate links in this post. Thanks for your support!]
More quick healthy lunch ideas for work!
More healthy eating recipes: