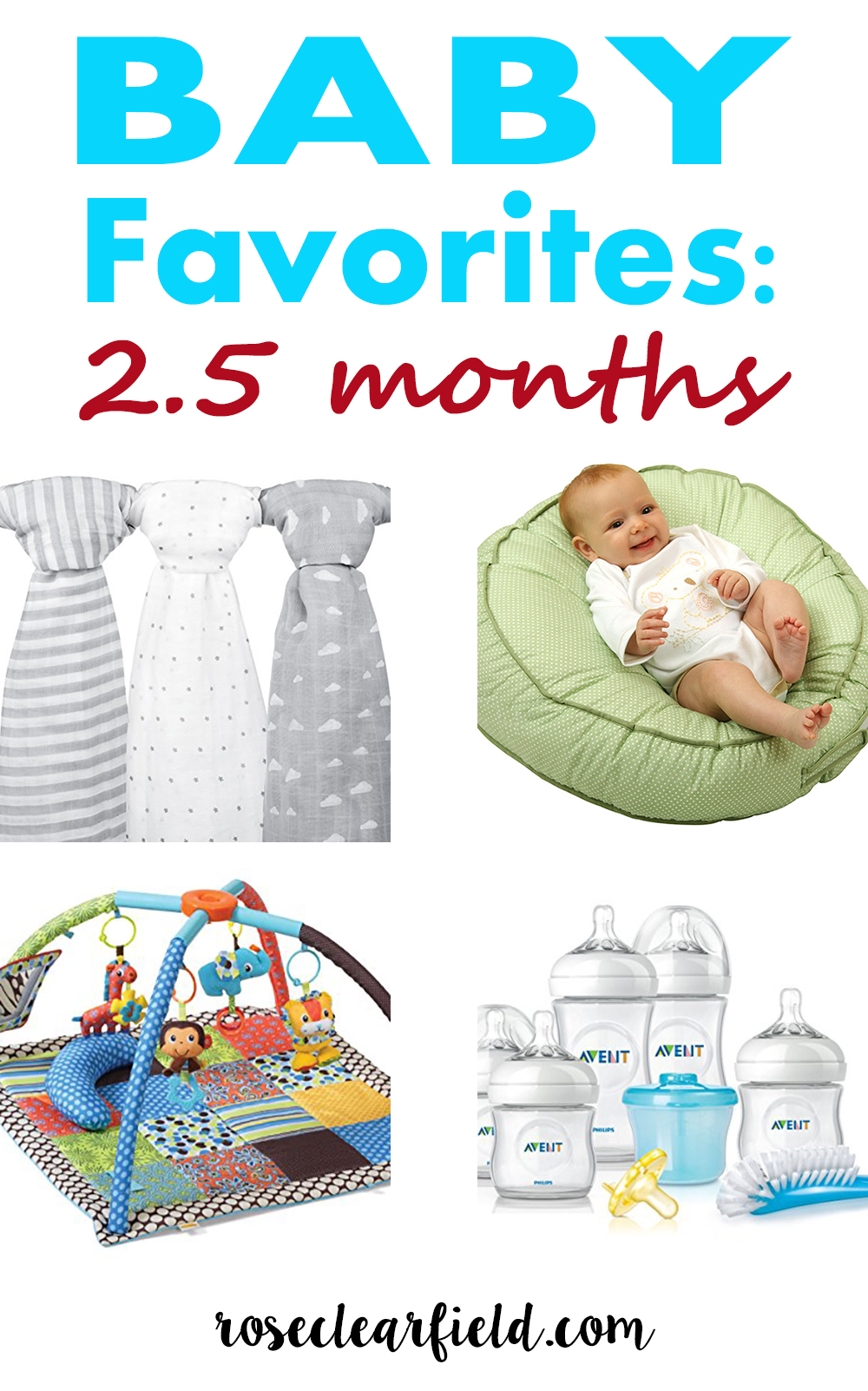 I know that I promised a baby favorites post within a week of my two month Tommy update. The post has now stretched into a 2.5 months favorite post. I'm sharing just a few of the items we've been loving over the past ten weeks or so with our little guy. Baby favorites posts have been so helpful for me to figure out what I needed. I hope this post will be helpful for others as well.
One of the first things I wanted when we came home from the hospital was a stroller. Getting to go for walks almost every day and take Tommy along with me for shopping and other errands has been critical for my sanity. We have a click-connect carseat system and got a click-connect Graco stroller as well. I've been so happy with it. The stroller is lightweight, easy to steer, has ample storage, and will accommodate Tommy as he keeps growing for months to come.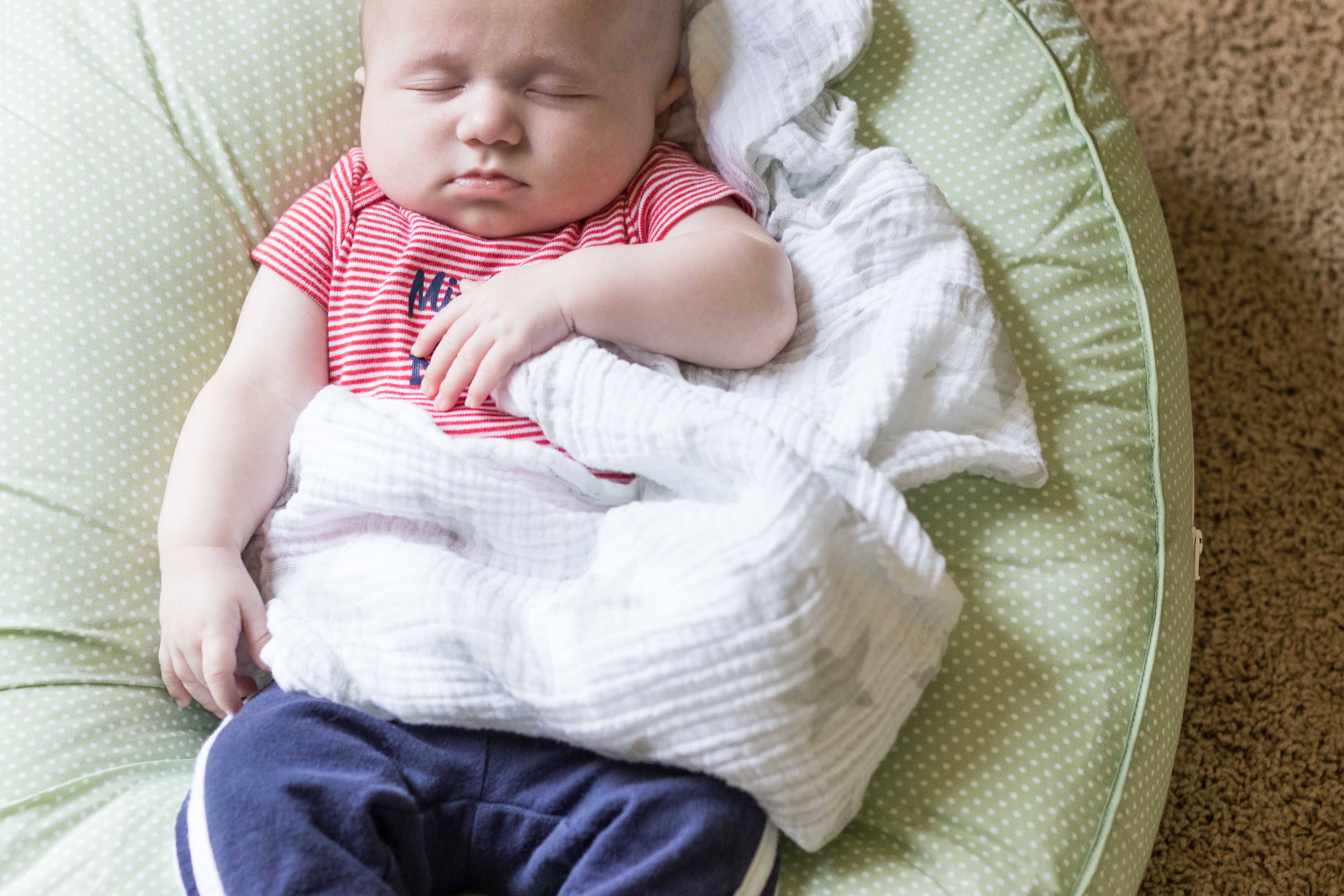 We were extremely lucky to get two hand me down bouncy chairs before we even knew we were getting Tommy. We also received one as a gift from Jake's work (similar). Having a bouncy chair on each level of the house has been a lifesaver. At two and a half months, Tommy is just figuring out how to bounce himself. The other baby seat I absolutely love is the Leachco podster. I put it on our registry, and we didn't get it until Tommy was almost two months old. I wish we'd had it from day one. Tommy is so comfortable in the podster, and it's so easy to move it around the house or throw it in the car for visiting family and friends.
The other place Tommy hangs out when he's not snuggling with one of us or in his bassinet is his activity gym. The activity mat is another item I bought right away and am so glad that I did. The older he gets, the more fun he has interacting with the animals and looking in the mirror. He still really only touches the animals unintentionally, which is so funny because he'll hit one with his hand or foot and then have this look on his face like, oh I did that?!
Before becoming a mom, I had no idea that I would use swaddle blankets so much. We have a few different brands but have mostly been using the lightweight The Little Linen and aden + anais swaddles because they're so perfect for summer. We have some fleece swaddles as well, which I know will be in more regular rotation this fall and winter. You cannot have too many swaddle blankets around because they're so darn useful for cleaning up formula/milk, spit up, and pee; wiping up other miscellaneous spills; providing extra padding when you're changing diapers on the go; etc.
Obviously, since we adopted Tommy, we're feeding with formula, which means that formula and bottles have been a huge part of our lives the past couple of months. I know that formula feeding is so different for everyone and no single type of formula or bottles will work for all babies. But we've been using Gerber Good Start and the Philips Avent bottles and have been so happy with both. Tommy has had zero issues with latching, spitting up, or excessive gas. I love the Philips Avent starter set that I linked because it comes with a formula travel case, bottle brush, and pacifier.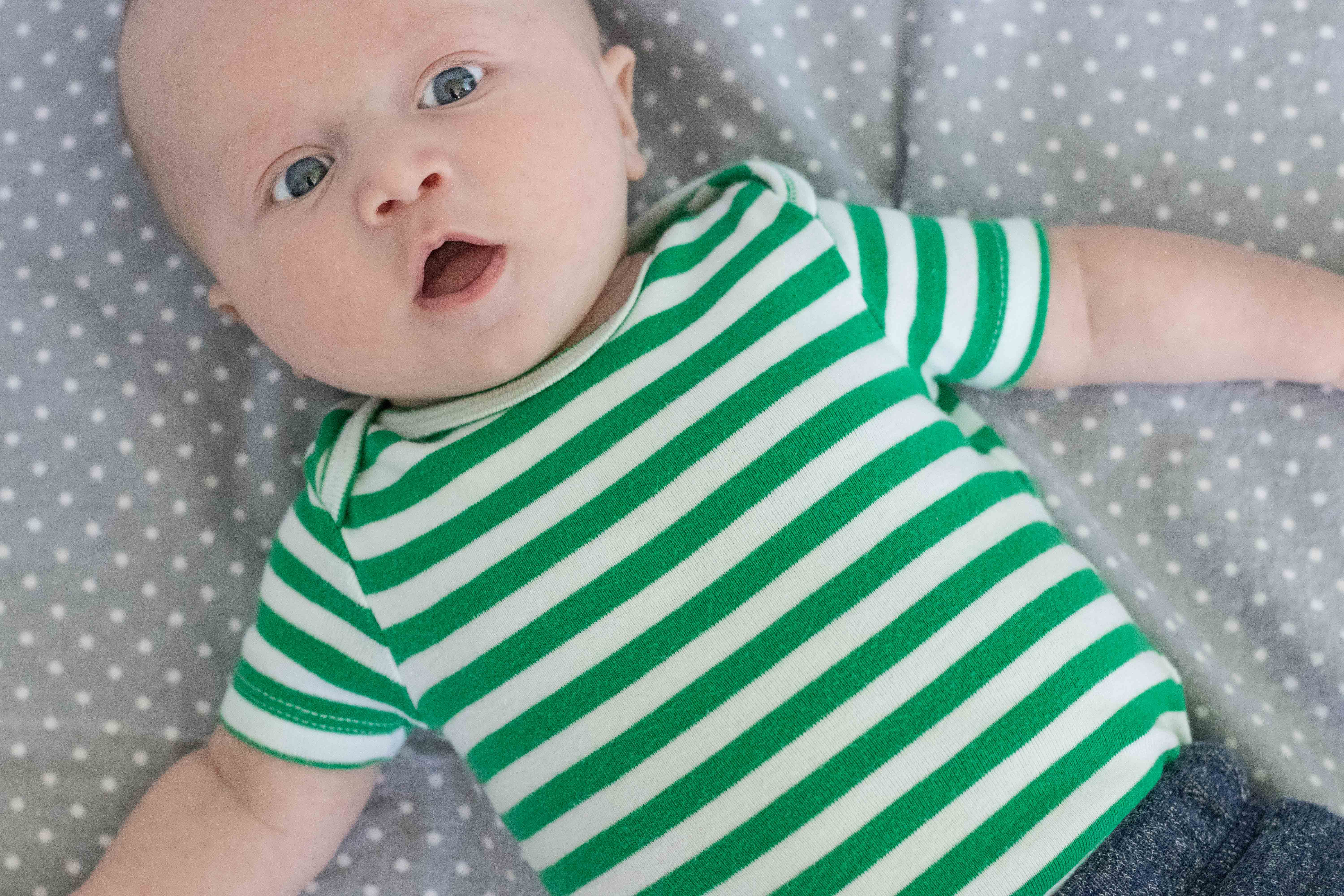 My personal favorite place to shop for baby clothes is Primary. They did a limited stripes run this summer, which (shockingly) I loved. Tommy will be wearing their striped pieces for the next couple of years. We're now flooded in clothes, thanks to a ton of gifts and a few large sets of hand me downs from friends. But during the first few weeks with Tommy, I combed the online clearance items at Old Navy and Kohl's periodically. I'm sure I will again as Tommy gets older, too. I check out the sale racks at Target every time I'm there but only have a handful of Cat & Jack items that I really love. Finally, I splurged on a few Hanna items because so many people rave about their pajamas. Tommy will be able to start wearing them this fall and winter.
There have been a few other items that have made a huge different for me personally during these few couple of months with Tommy. Before becoming a mom, my pajama collection primarily consisted of 10+ year old work out pants and shorts and old t-shirts from college. I didn't have a lot of stuff, and it was all ridiculously old. I also washed it all the time because most nights, I would sweat through at least one or two items or they'd get spit up on or peed on. So I've bought a bunch of new pajamas, mostly from Target, Kohl's, and Old Navy, nothing too exciting.
I cannot say enough good things about the Hydro Flask water bottle (I have the 18 oz size in pacific, and I got the separate straw top). It is going to be one of my go-to gifts for new moms from now on. I bought it not even really thinking about the mom factor, but I couldn't have made this purchase at a better time. Having cold water on the go and around the house is so important. I'm also traveling with a water bottle more than ever since I need to keep water with me to feed Tommy, so having a nice water bottle makes it that much better.
Finally, one way that I've managed to stay sane and feel put together as a new mom is to keep up my nails. I know that it's trivial and something many new moms are happy to go without. But it's made me feel polished and with it on days that I otherwise wouldn't at all. I'm planning to write a separate post about my nail routine at some point. The short of it is that for our Europe trip, I got a gel manicure, which was awesome. After returning from the trip, I bought a gel UV light, which has been a game changer. I've linked the one I own. I use Essie polishes, including base and top coats, almost exclusively these days.
[Disclaimer: There are a few affiliate links in this post. All of the products I've linked are products I own and love. Using these links to shop is a simple way to support my blog. Thank you!]
Mamas, what items do you own and love for yourself or your little one?
Feel free to link products in the comments!
Save
Save