Having a handy list of deep cleaning living room tasks makes it easier to tackle tough cleaning chores on a regular basis, maintaining a spotless, germ-free living room.
With everything happening in the world right now, many people are at home and striving to keep their homes cleaner than they would normally. It's the perfect time to tackle deep cleaning living room tasks and additional deep cleaning household chores that don't make it to the top of your weekly to-do list most of the time.
I've compiled a list of the top 20 deep cleaning living room tasks to help you keep your general living spaces as clean as possible. At least one or twice yearly, it's ideal to go beyond your weekly cleaning chores list and give your home complete deep clean. I share my favorite cleaning hacks to make deep cleaning as simple and stress-free as possible without using a ton of chemicals.
I highly suggest taking on a maximum of 1-2 deep cleaning living room tasks each day, spreading out the list over a month or so. Depending on your work schedule and other commitments, you may prefer to take on 3-4 tasks on each of the weekend days, leaving the weekdays for daily cleaning. It's completely up to you. Either way, I recommend spacing out the work load, so you don't get overwhelmed and burned out.
At the end of the post, I have a download for a free printable checklist to help you keep track of the deep cleaning living room tasks you've accomplished.
Throughout this post, I mention microfiber cloths a number of times. I own this set of microfiber cleaning cloths and love it. I like having a large set, so I have them on hand all week for various cleaning chores. Simply throw them in the washing machine as you use them and then run them with your next load. You can also collect them in a basket and run them with your towels loads.
20 deep cleaning living room tasks
1. Move furniture/large items to vacuum
Moving furniture and other large items to vacuum is a pain and not necessary/worth the effort for daily or weekly vacuuming. Once or twice each year, take the time to move the sofa and chairs as well as any large items and vacuum behind them. For furniture items that aren't practical to move, such as large shelves full of books, use a vacuum attachment to pick up dust and debris underneath and behind them.
2. Dust all surfaces and knick knacks
Grab a microfiber cloth or Swiffer duster and your favorite duster spray, and wipe down all of the visible surfaces and knick knacks. As you pick up small items to dust them, don't forget to dust the surfaces underneath as well. If you're trying to avoid chemicals in cleaning products, make your own dusting spray.
3. Clean windows, mirrors, and picture frames
I stick to good old Windex and microfiber cloths for cleaning windows, mirrors, and glass frames. There are lots of recipes for homemade glass cleaner if you prefer a chemical-free solution. Make sure to wipe all around the frames as well, especially along the tops, where dust and pet hair tend to collect over time.
4. Clean window tracks and screens
Once you've cleaned the window glass, clean the window tracks and screens.
There are a couple of popular cleaning hacks for getting every last inch of your dirty window tracks sparkling clean again. The first hack is for the smooth portion of the window track, which involves using Q-tips or an old toothbrush. First Home Love Life and The Intentional Mom share their best tips for this cleaning strategy. The second hack is for the ridged portion of the window track, which involves scoring a sponge with a utility knife. Top Buzz covers this simple strategy. Between the two hacks, you'll be able to remove all the dirt in the window tracks with ease.
To clean window screens, wipe them down with a microfiber cloth with warm soapy water. For best results, remove the screens from the windows before cleaning them. Allow them to dry completely before fitting them in the windows again.
5. Vacuum, lander, or dust window coverings
Over time, dust, hair, and small debris collects on curtains, blinds, and other window coverings. For blinds, run a dry microfiber cloth or Swiffer duster over them. For cloth curtains and window coverings, take a vacuum attachment to clean them or take the coverings down and run them through the washing machine. Follow the instructions on the curtains for washing and drying them safely.
6. Dust the light fixtures and ceiling fans
Run a microfiber cloth or dry Swiffer duster over the light fixtures to get rid of dust and cobwebs. If the light coverings are particularly dirty, take them off and wash them or wipe them down with a microfiber cloth with warm soapy water. While you're cleaning the light fixtures, take the time to replace any burned out bulbs.
To dust ceiling fans, I like the pillowcase method. Cover each fan blade one at a time with a clean pillowcase. Use the case to pull the dust and other debris away. The dirt gets trapped in the pillowcase, preventing it from spreading all over the living room. Throw the pillowcase in the washing machine when you're finished with it.
7. Remove sofa/chair cushions and vacuum
I'm not at all embarrassed to share that we eat in our living room regularly, which means that inevitably, we get crumbs in between the sofa and chair cushions. Over time, pet hair and other small debris creeps in between the cushions as well. Once a month, when you vacuum the living room, take off the sofa and chair cushions. Vacuum underneath the cushions, and vacuum the cushions themselves.
8. Polish all hardwood surfaces
Before polishing wood surfaces, make sure that they're clean. I like to sweep hardwood floors and rub down other hardwood surfaces with a dry microfiber cloth before polishing them.
For hardwood floors, I use a microfiber floor cleaner and diluted Pine-Sol all-purpose cleaner. I fill a glass spray bottle with water and add a couple of tablespoons of Pine-Sol. Shake it up, and spray it on the floor cleaner pad. Repeat as necessary to keep the pad wet while you clean the floor. You can also make your own wood floor cleaner. Make sure to add a few drops of essential oil, especially if you don't love the smell of vinegar.
For other hardwood living room surfaces, such as the coffee table and furniture legs, I use a microfiber cloth and Method Daily wood surface cleaner.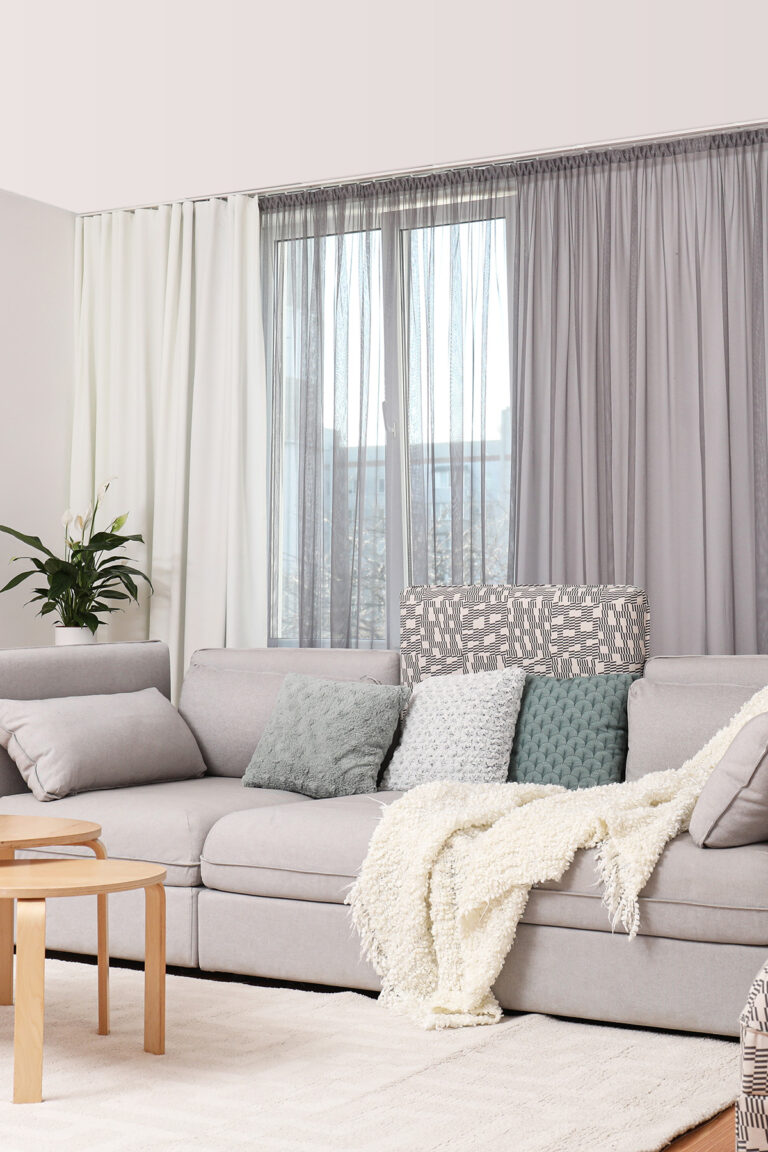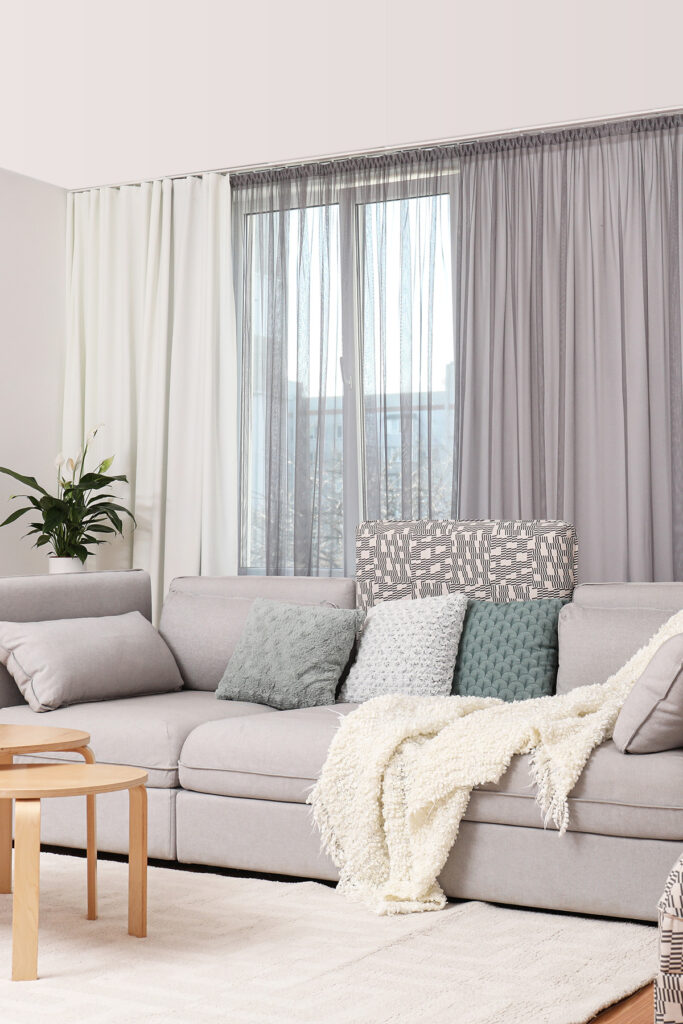 9. Wash the throw blankets and if possible, throw pillows
Run a washing machine load with the throw blankets for the living room. Many living room throw pillows are decorative and not designed for washing machine use. You can hand wash the throw pillow covers or refresh them with a general fabric spray. An all-purpose disinfecting spray works well, too. It's very hard to come by a commercial one right now, but you can easily make your own multipurpose disinfecting spray.
Once or twice a year, take off the throw pillow covers and wash the pillows. I love that resource from Housewife How-Tos about washing your pillows, which includes why you should wash them and how often you should wash them.
10. Wipe down the baseboards
Even when you're careful to sweep, mop, or vacuum right up to the baseboards regularly, they still get dirty over time, collecting hair, dust, and debris. Take a microfiber cloth with warm soapy water, and work your way all around the baseboards in the living room.
11. Wipe down the vents, light switches, and outlets
Run a store-bought or homemade disinfecting wipe over over light switches and outlets to clear them of dirt and debris and eliminate germs and bacteria. As store-bought wipes are so hard to come by right now, I highly recommend making your own disinfecting wipes.
Once a month, run a dry paper towel or microfiber cloth over the heating vents to remove hair and dust. Then use a microfiber cloth with warm soapy water to clean the vents.
A few times a year, use the vacuum cleaner attachment to pull as much dirt and hair out of the vents as possible.
12. Clean the TV, remotes, and other electronics
To clean TV and computer screens, I use screen cleaner with a microfiber cloth. The product I'm linking here is a clean product, but you can also make your own screen cleaner if you prefer. Then I wipe down the tops of the screens and any other surfaces, such as the bases of the desktop computer monitors, with a dry microfiber cloth.
To clean the remotes, wipe them down with an alcohol prep pad. Take the time to get in and around the buttons to remove as many germs as possible. You can make your own wipes. Be sure to use a recipe with alcohol, like the one I've linked here.
For other electronics, such as stereo equipment and the wireless phone charger, I wipe them down with a dry microfiber cloth. Whenever possible, lift up items to clean underneath them.
13. Treat any stains on the carpeting, rugs, and furniture
Inevitably, over time, you get occasional small stains on carpeting, rugs, and furniture, especially if you have pets and/or small children. The best way to stay ahead of these stains is to spray areas as soon as something happens. My favorite product for treating stain areas immediately is Resolve Spot + Stain. I have used a handful of products over the years with both cats and kids and haven't found anything that works nearly as well.
For tougher stains that have been there a while, I love this carpet cleaning guide from Good Housekeeping on removing different types of stains as well as tips for maintaining carpet and how to refresh carpet with baking soda.
14. Remove cobwebs
Over time, cobwebs tend to collect in the corners of the ceiling. I have a similar stick vacuum cleaner that I love for cobweb removal and other quick vacuum jobs. You can use a vacuum attachment, but a stick vacuum is much lighter and easier to maneuver, which ideal, especially for higher ceilings. Personally, I opted for the corded stick vac, as it's much less expensive and doesn't involve the hassle of batteries. I know a lot of people love their high-end cordless stick vacs, which work great for cobweb removal, too.
Circulating the house for cobwebs once every few months is sufficient for me. Depending on the age of your house and your general cleaning habits, you may find you need to complete this task more or less frequently.
15. Wipe the tops of the door frames
Once or twice a year, I grab a step stool (may not be necessary if you're tall) and work my way through the whole house with a couple of dry microfiber clothes, wiping down the tops of the door frames to remove dust, dirt, and hair that collects there.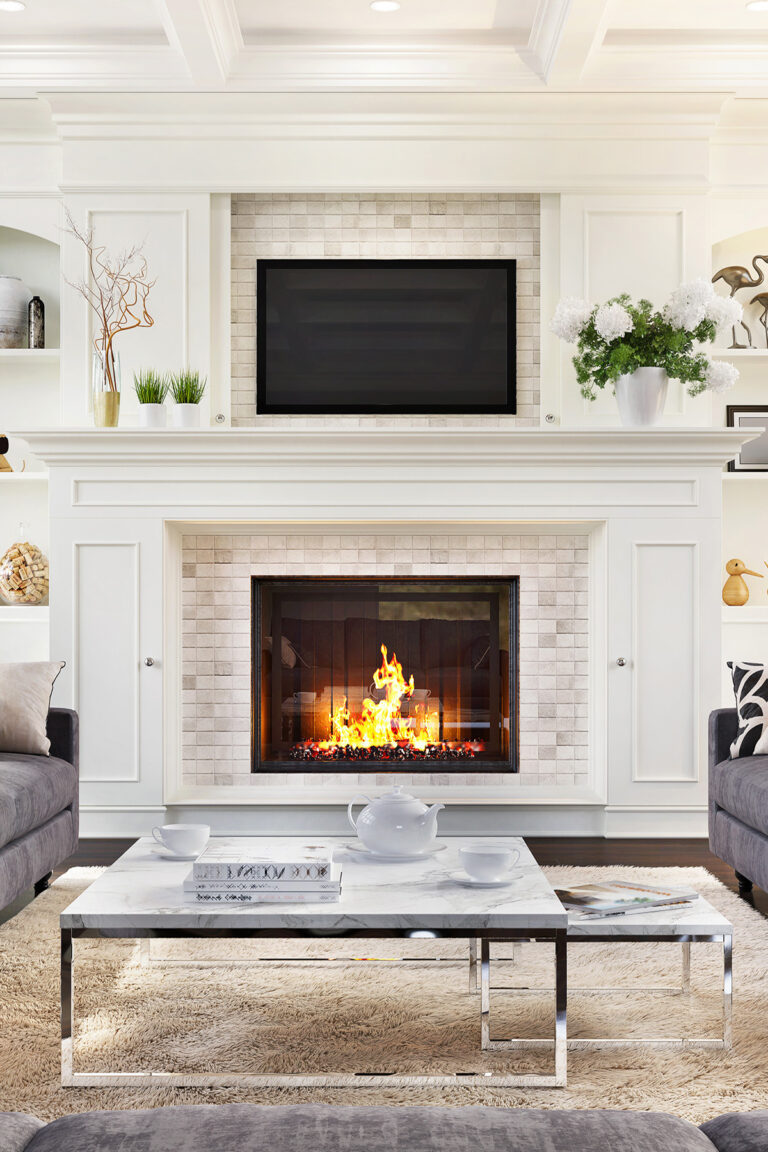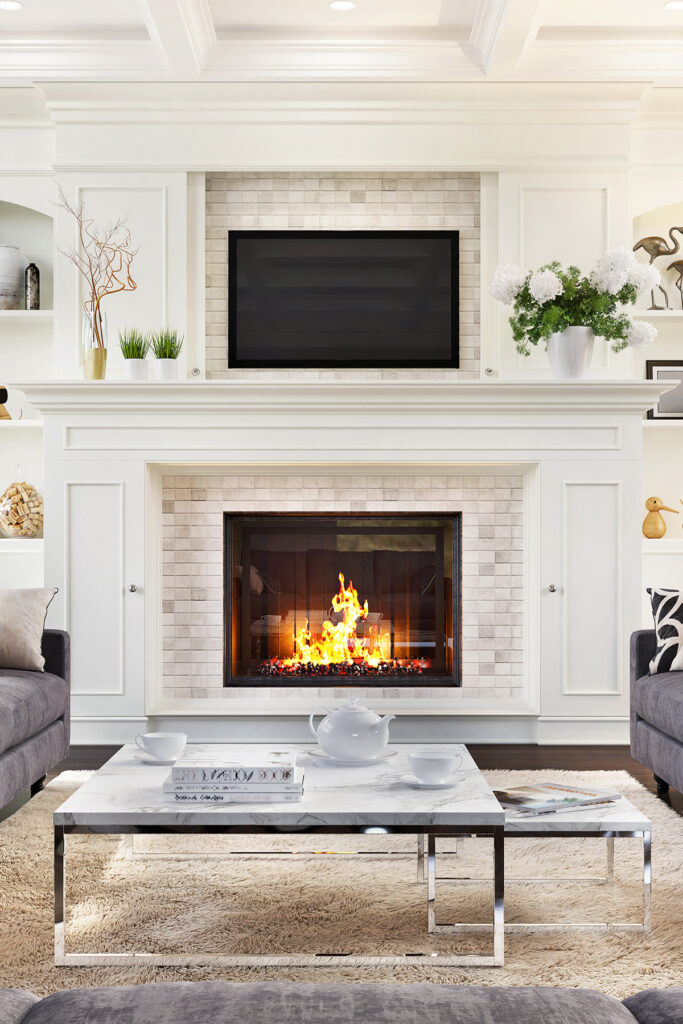 16. Clean the fireplace, mantel, and hearth
Take everything off of the mantel, and remove all items from the hearth. Sweep the hearth. Dust the mantel and hearth thoroughly as well as any items you display in this area. If surfaces or decor pieces are especially dirty, use a microfiber cloth with warm soapy water to clean them.
Bob Vila has a comprehensive tutorial for cleaning a wood-burning fireplace. It's important to clear out the ashes and soot regularly to keep the room neat and the fireplace operating safely.
Both gas and wood-burning fireplaces should be inspected annually to ensure the fireplace itself as well as the chimney is in good working order. Annual inspections also help you take care of minor issues before they become expensive repairs.
17. Organize all media
Go through the books, CDs, records, DVDs, and any other media that you keep in the living room. Work through one shelf at a time. Organize the items you do want to keep, wiping them down with a dry microfiber cloth before placing them back on the shelves. Make a pile of items to sell or donate. Move any items you no longer want in the living room to other areas of the home.
18. Disinfect the toys
A simple bleach solution is ideal for plastic toys. Add one half cup of bleach to one gallon of water in a bucket, bathtub, or kitchen sink. Allow the toys to sit for at least five minutes. Rinse the toys and allow them to air dry fully before storing them again.
To wash stuffed animals and fabric toys, place them in mesh fabric bags and run the washing machine on a permanent press or delicate cycle with cold water. If the animals have any sort of plastic component (i.e., plastic eyes and nose) or are stuffed with plastic pellets, let them air dry. All-fabric animals and toys will hold up fine in a permanent press or delicate dryer cycle.
For all other toys and additional kids' items that you store in the living room and are in need of cleaning (i.e., board books that have been in a baby's mouth), spot clean them with a microfiber cloth and warm soapy water. Allow them to dry completely before storing them.
19. Dust and polish the side tables
If you didn't already clean the side tables when you polished the hardwood or dusted the knick knacks in the living room, give the side tables a thorough cleaning. Remove all items and dust them with a dry Swiffer or microfiber cleaning cloth. Polish the tops and sides of the tables with the wood cleaner or all-purpose cleaner of your choosing before replacing the side table items.
20. Remove any items that shouldn't be in the living room
Before you start cleaning the living room, grab an empty laundry basket. As you work through the deep cleaning living room tasks, place any items that shouldn't be in the living room in the basket. Then distribute them to their appropriate places once you're done cleaning.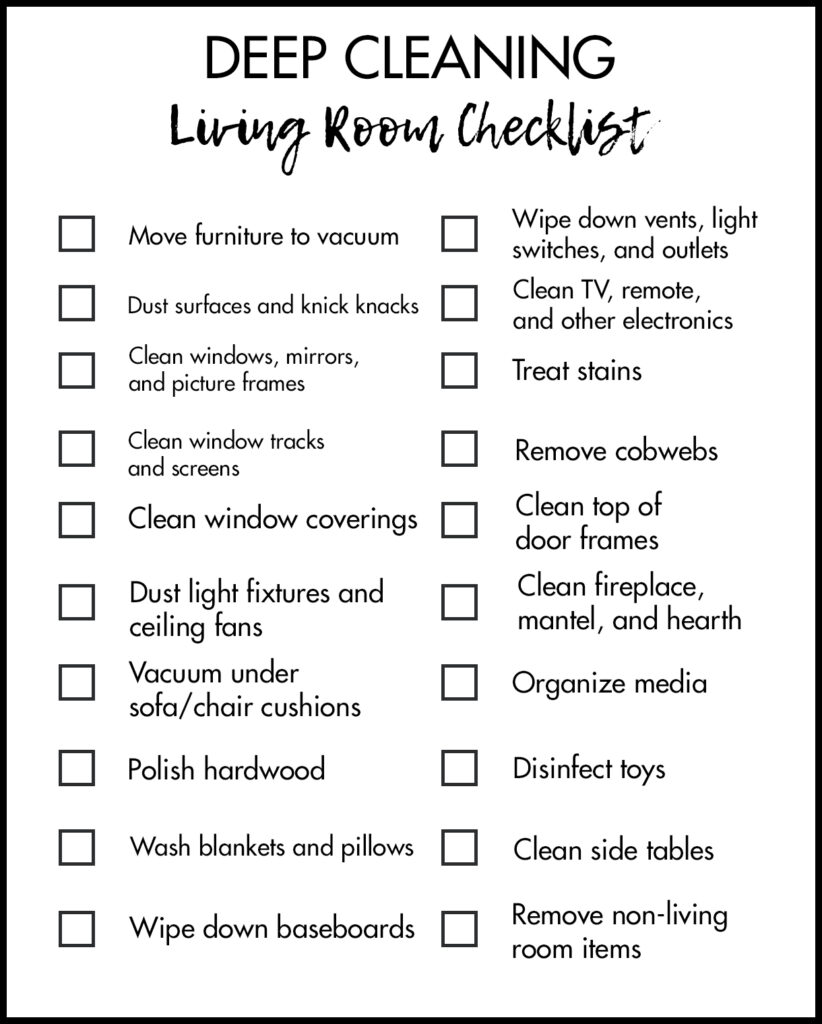 Download your free living room tasks printable checklist!
Make it simple to keep track of your living room deep cleaning with a printable checklist!
[Deep cleaning living room tasks checklist]
[Disclaimer: There are a few affiliate links in this post. Thanks for your support!]
Did you use one or more of the tips from this deep cleaning living room tasks resource?

I want to hear about what worked well for cleaning your living room! Tag your images #RoseClearfield on Instagram or Twitter or post a photo to my Facebook page.
Pin this post for easy access to the deep cleaning living room tasks and FREE printable checklist later!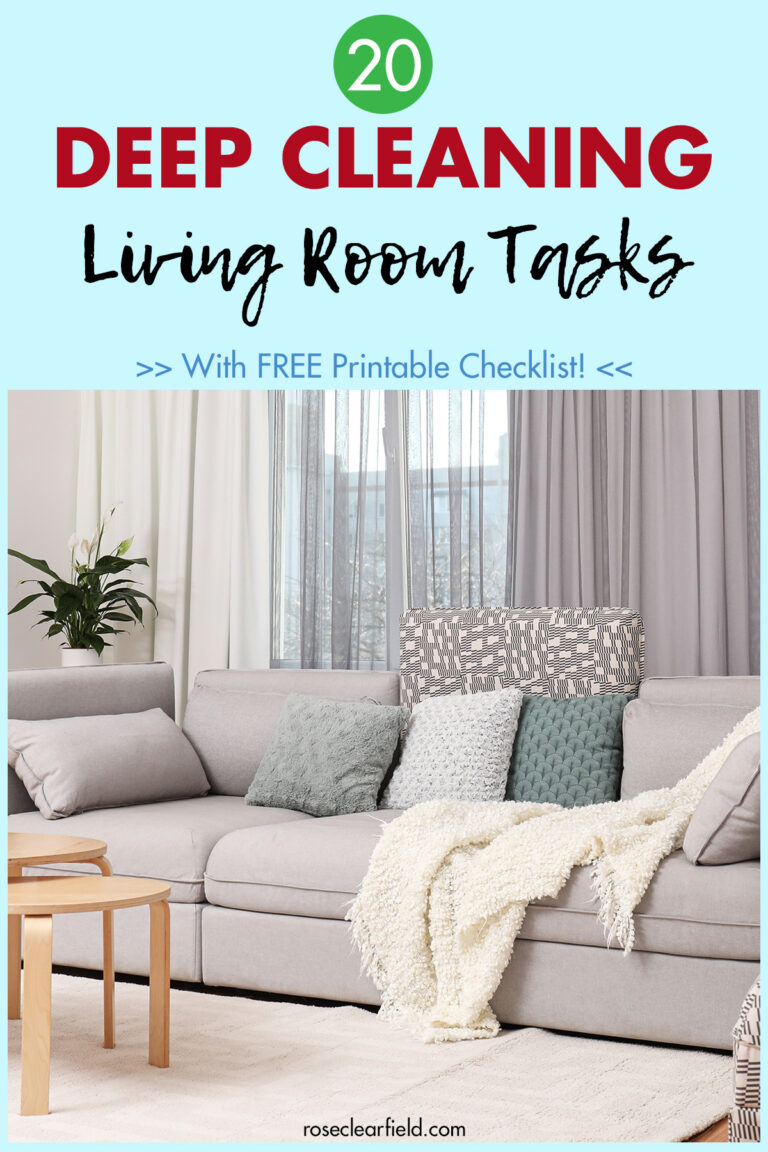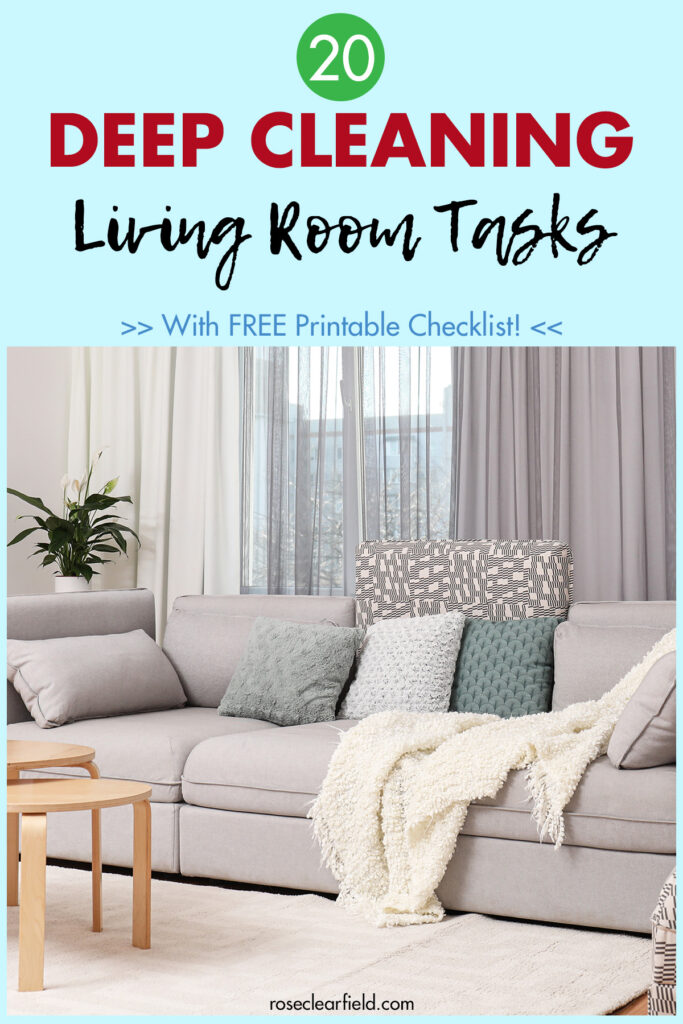 More deep cleaning resources: