Learning how to clean a glass shower the easy way with the right tips and products makes this dreaded chore a breeze!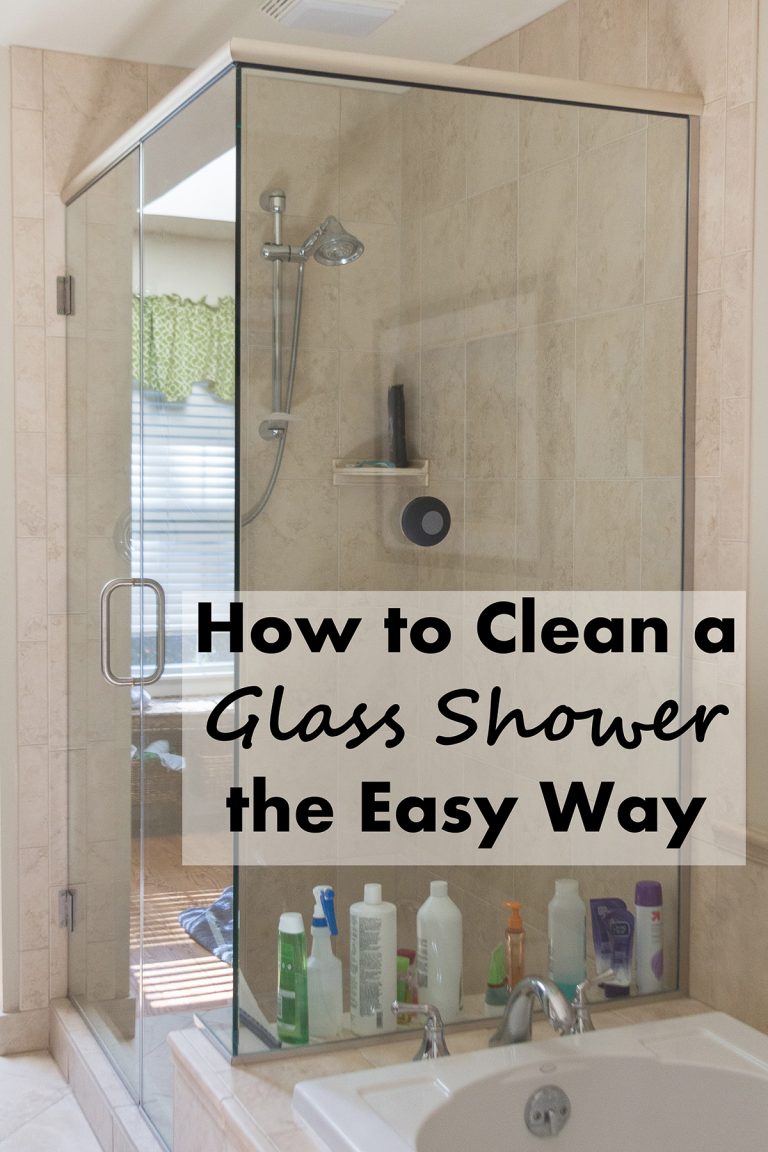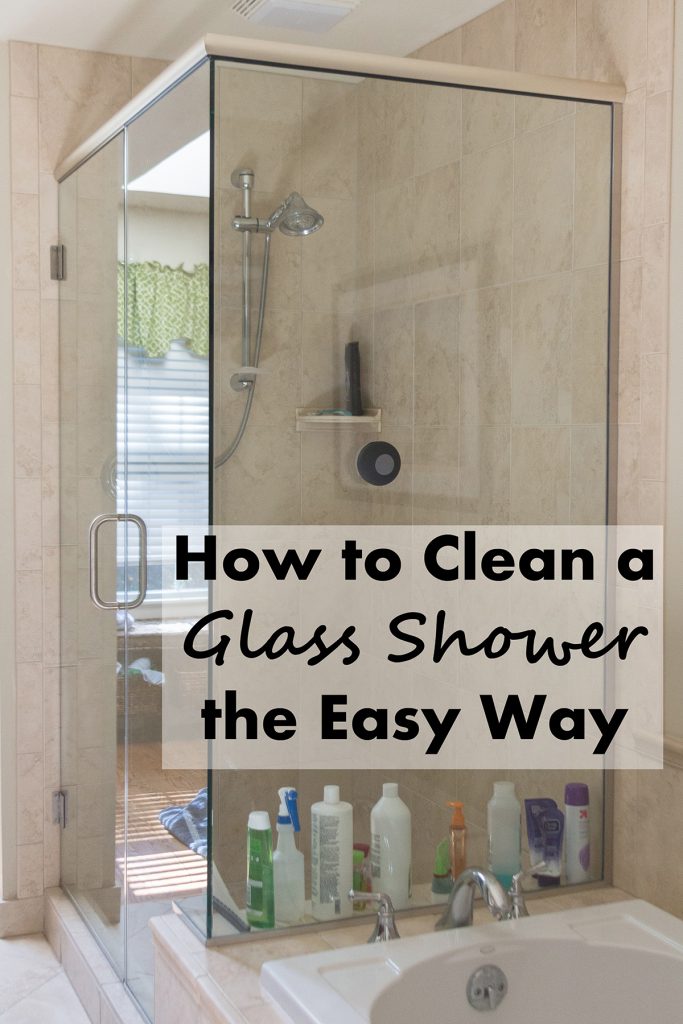 How to clean a glass shower doesn't seem like a very exciting topic. However, if you've ever spent hours scrubbing shower walls in vain to remove mold or hard water spots, you know how important it is to find the right cleaning tips. With the proper advice and tools, you can turn backbreaking scrubbing into a simple cleaning process.
Cleaning the shower is one of my least favorite chores. I would rather clean any other part of the bathroom twice than tackle the shower once. Consequently, in the past, I've been pretty lazy about it. When we moved to our current house, I knew that I had to step up my game. Our master shower has two glass walls and a glass door. Thankfully the previous owners took great care of the shower. I did not have to deal with years of built up hard water stains and soap scum before starting a regular cleaning routine. (To those who have dealt with or are currently facing these issues, I'm so sorry.) But I knew that it would be important to clean the shower regularly to keep it in top condition.
The following details the simple steps I follow daily and weekly to maintain a beautiful glass shower free of streaks, hard water stains, soap scum, and mold.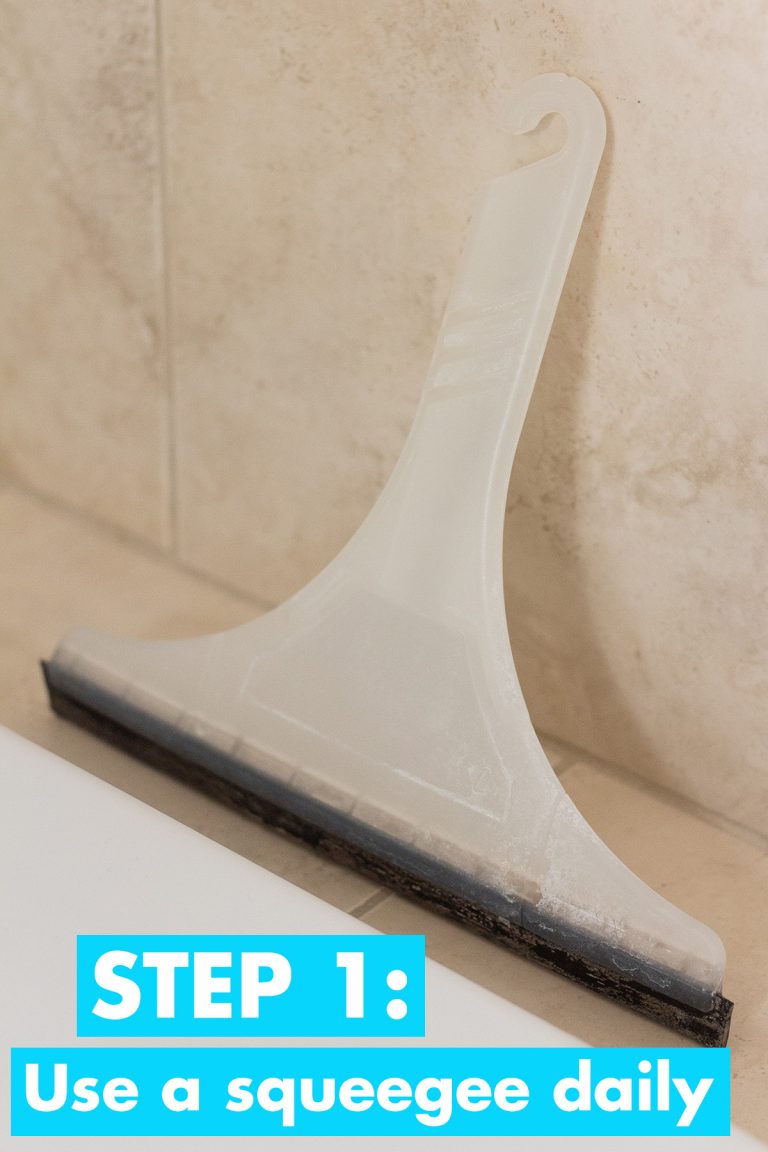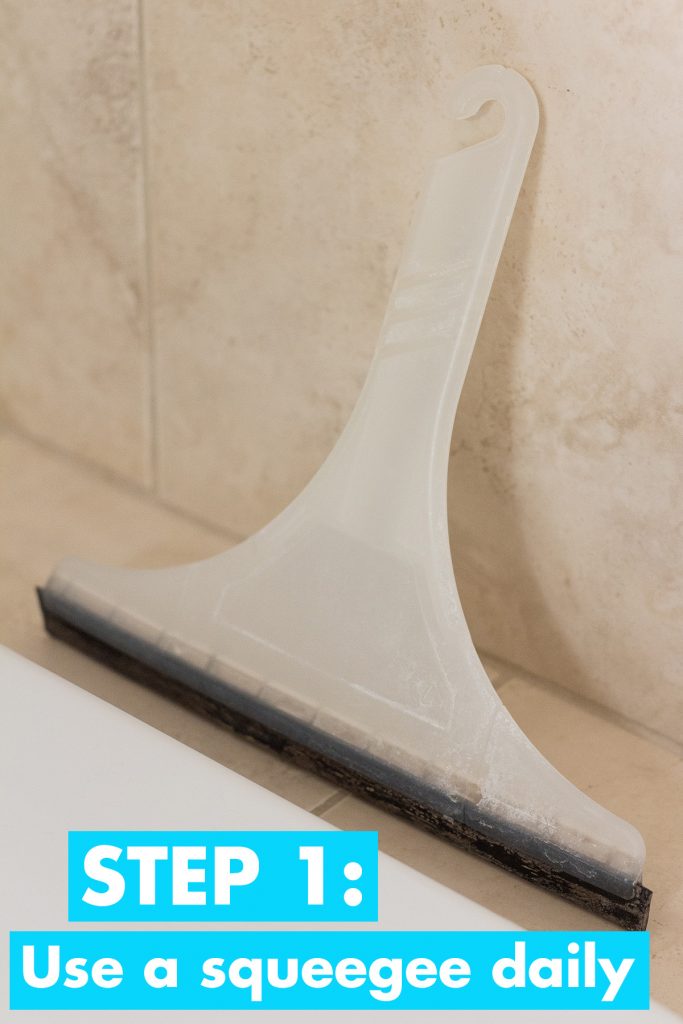 Step 1: Use a squeegee daily
The less water is left on glass following a shower, the less water dries on the glass, simplifying the cleaning job. Taking one minute to squeegee the glass after a shower makes a huge difference in the overall condition of the glass. No, we don't squeegee after every single shower, but I try to use the squeegee at least once a day. Depending on the number of showers taken daily in your glass shower, you may need to use it multiple times per day. You can pick up a squeegee at any big box store or save yourself the hassle and order on from Amazon. I use the plastic one I linked there. I've also gotten great feedback from multiple readers about the stainless steel version.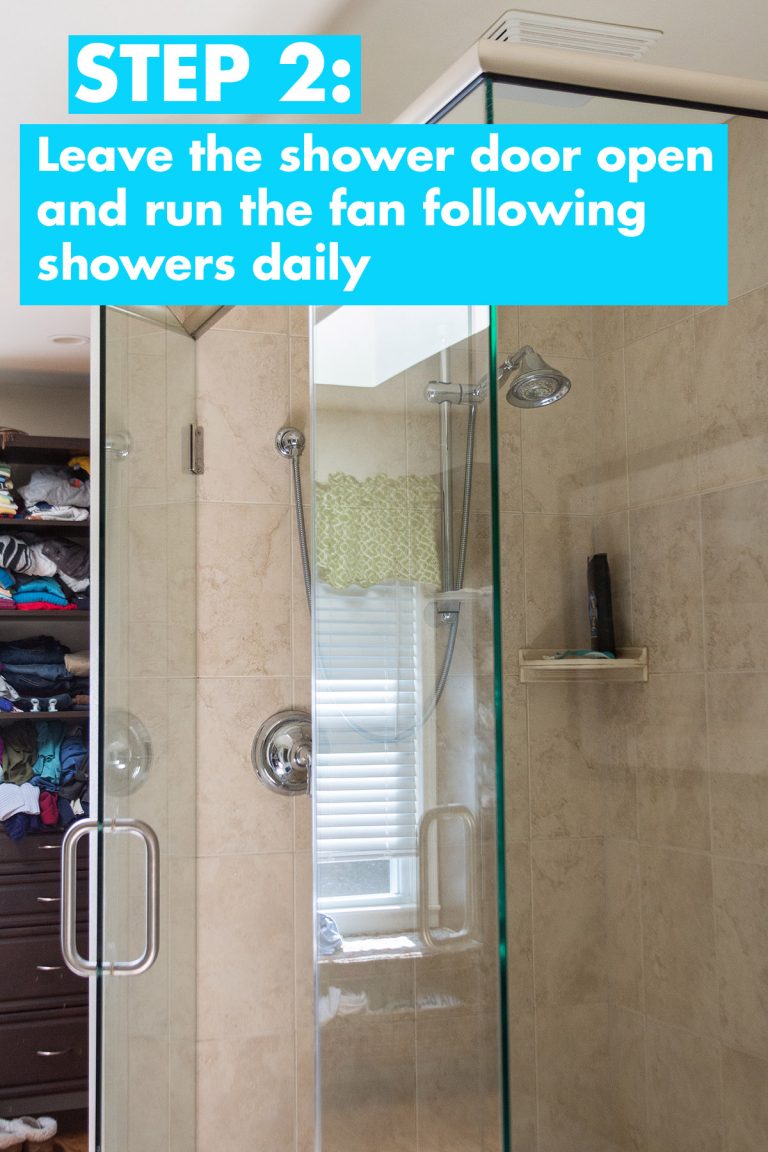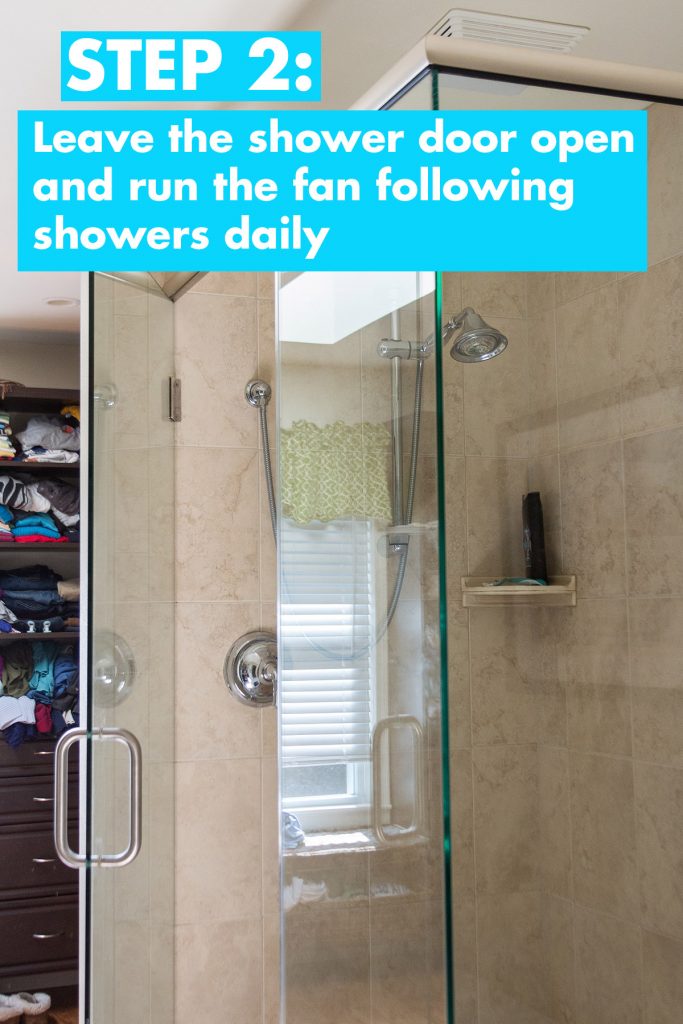 Step 2: Leave the shower door open and run the fan following showers daily
Leaving the shower door open and running the bathroom fan immediately following a shower helps to further reduce the amount of water left in the shower, minimizing mold growth and simplifying the cleaning job. I leave the shower door open while I finish getting ready in the bathroom. Even with an open top shower, water still dries on the door and gets trapped in and around the base of the door. Leaving the door open minimizes these issues. If I run the fan, I run it once I'm out of the bathroom because it's pretty noisy. If you don't mind leaving the fan running while you're taking a shower or immediately afterward, let it run.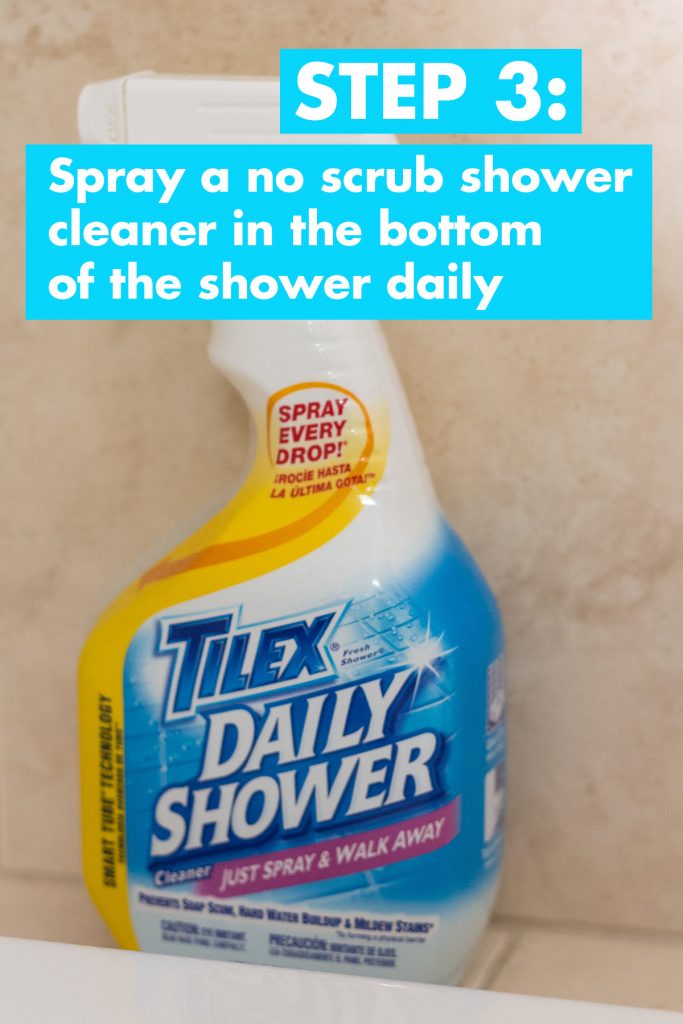 Step 3: Spray a no-scrub shower cleaner in the bottom of the shower daily
The no scrub shower spray (I buy it at Target) is more for preventing mold growth on the tile than glass but is still key for the overall cleaning process. I've been using a no scrub spray since my college days when I had a lot of gross roommates who didn't want to clean anything ever in an effort to keep the shower tolerable. It's simple, inexpensive, and effective. I spray it once I'm finished getting ready and am going to shut the shower door. Sometimes the cats check out the shower while it's still wet, and I don't want them getting into it. If you don't have this issue, you can spray it whenever.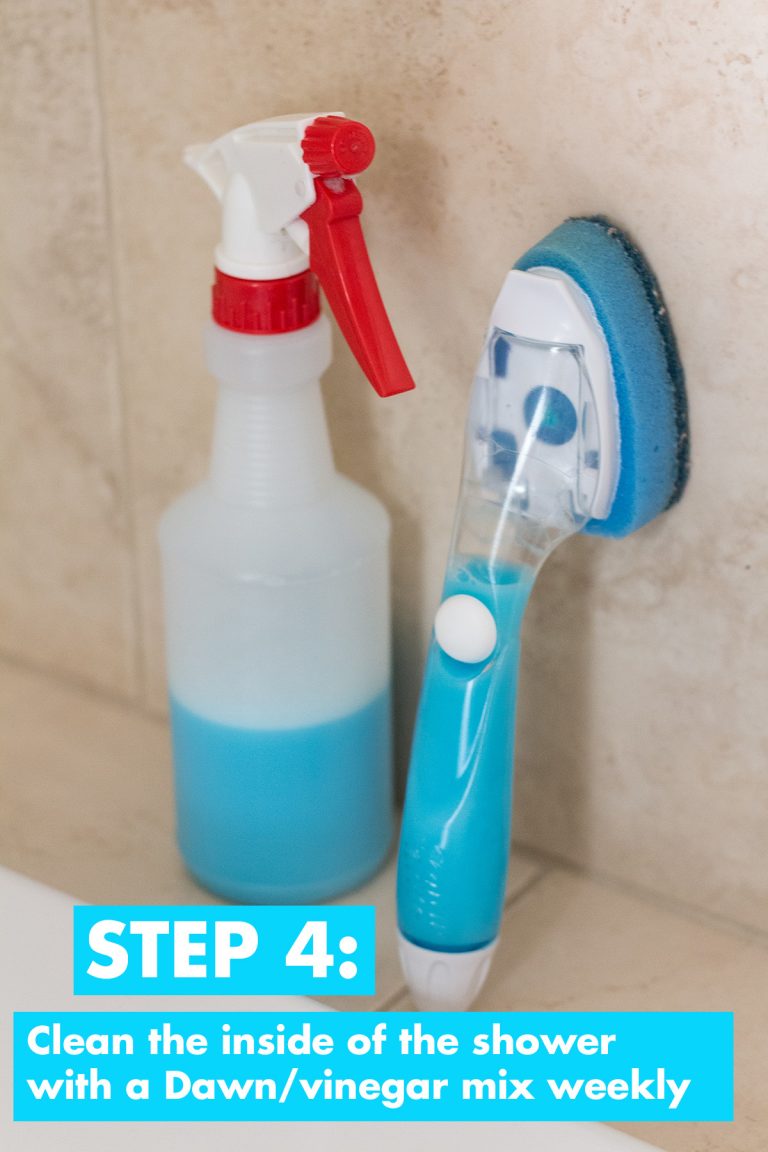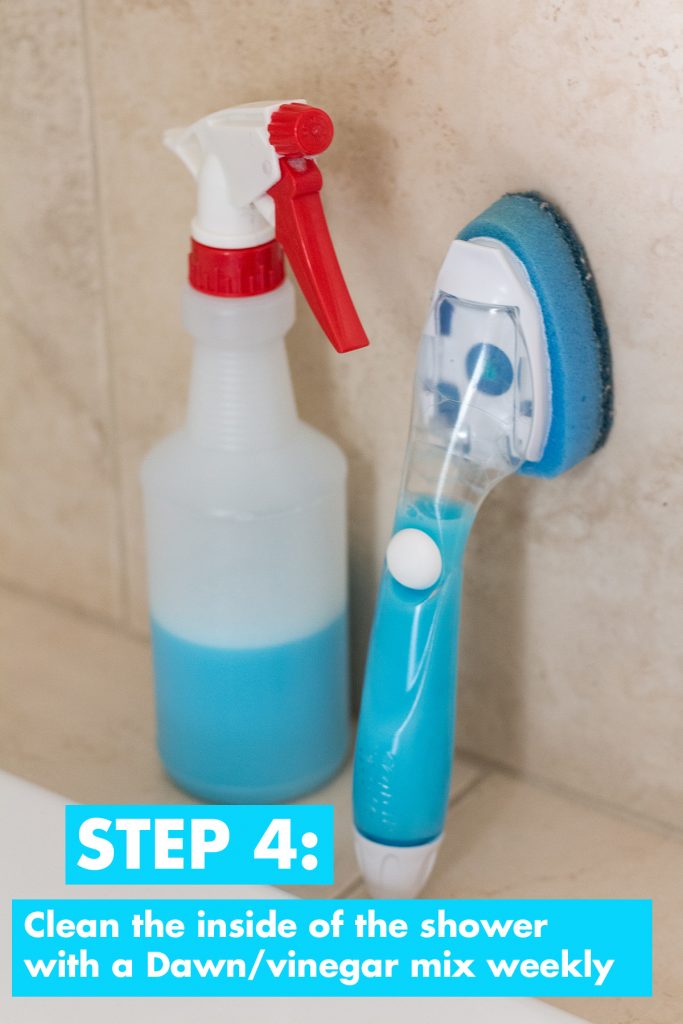 Step 4: Clean the inside of the shower with a Dawn/vinegar mix weekly
The Dawn/vinegar mix is the heart of my shower cleaning routine and really the reason for this post because it has changed my entire outlook on cleaning a shower or tub. It sounds dramatic, I know, but a dreaded chore becoming an easy chore is huge. I did a lot of research about varying glass shower cleaning solutions and ended up settling on equal parts Dawn and vinegar.
I use a spray bottle for the majority of the job and a soap filled sponge (again, pick one up at Target) for the edges and any problem areas (i.e., spots prone to getting stubborn hard water stains). Simply fill up the spray bottle and sponge with equal parts Dawn and vinegar and apply the solution. Once you've applied the solution to the entire shower, let it sit for a couple of minutes. Then use the handheld shower head to rinse down the shower. I lay down a couple of towels on the bathroom floor before rinsing in case some water leaks out around the door. That's it! You don't have to do any scrubbing whatsoever.
Dawn mixed with vinegar smells pretty strong. If you don't like a powerful vinegar smell, you can mix in a few drops of essential oil. Some people complain about this solution because Dawn is one of the more expensive dish soaps. First, Dawn is one of my all-time favorite products. Yes, it is more expensive, but it's worth every penny. Second, unless you're cleaning multiple showers or tubs daily, you don't use that much solution. For the level of effectiveness with no scrubbing and the fact that it gets the job done with no chemicals, again, it's worth it.
I love the Dawn/vinegar solution and use it for the master bathroom tub and guest bathroom tub as well. Simply spray on the solution, let it sit for a couple of minutes, and then rinse the tub thoroughly. Typically I use a large plastic cup for the rinsing. If you have a handheld shower head, you can always use it to rinse a tub, too.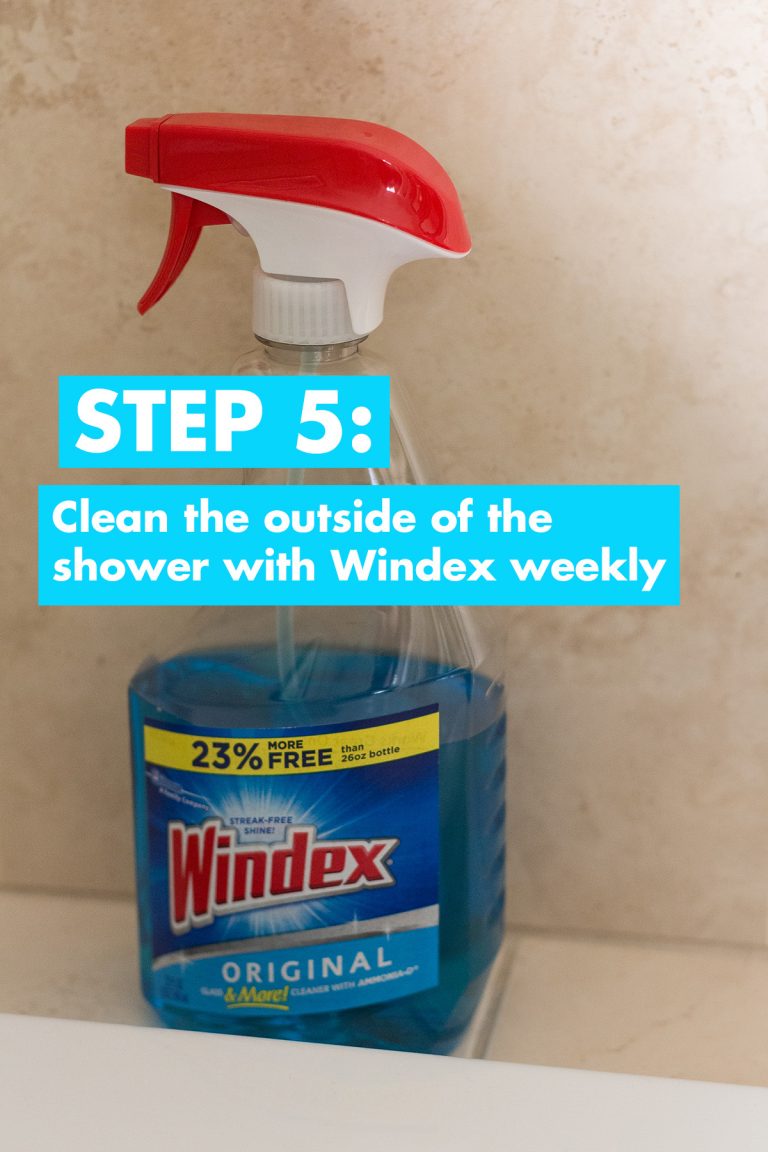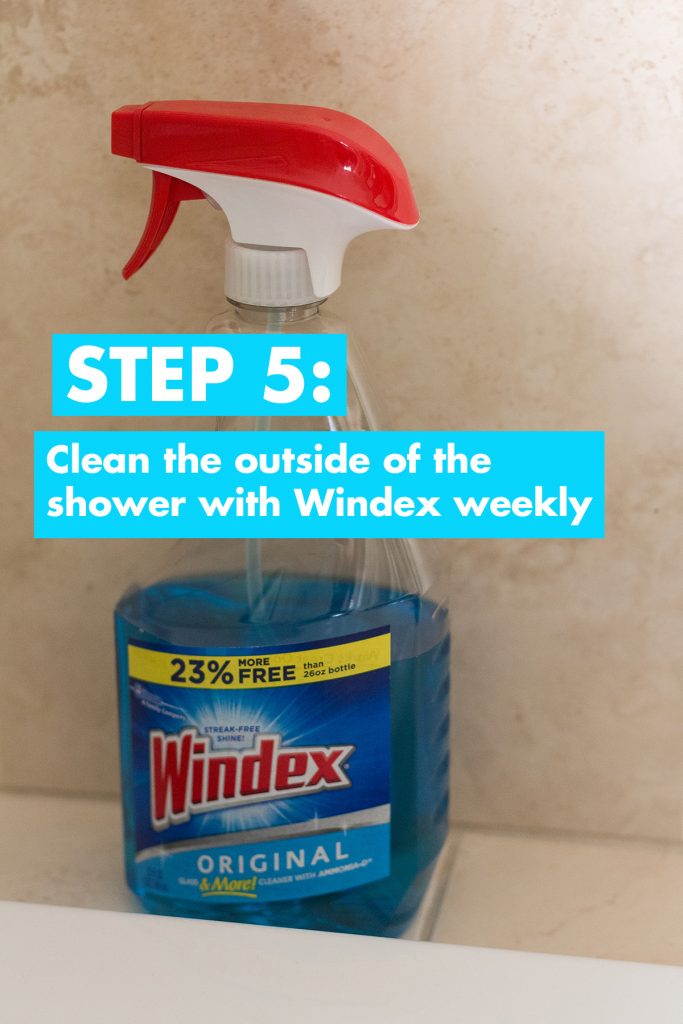 Step 5: Clean the outside of the shower with Windex weekly
To clean the outside of the shower, I use regular Windex. I think that it works perfectly and doesn't leave any streaks. If you want to use a natural solution, there are lots of options available. Simply search "natural glass shower cleaner" on Pinterest. I love the idea of using natural cleaning products whenever possible, but until I use up my current Windex supply, I'm sticking with it.
Finally, if mold growth does occur in the shower, I tackle it with RMR-86 Instant Mold Stain & Mildew Stain Remover. I could do commercials for this product. There is nothing else I have ever used that wipes out mold like RMR-86. I recommend spraying it and running the bathroom fan for about 10 minutes before rinsing it thoroughly.
I know that it seems like a lot of steps. Once you get into the routine, you can complete the daily tasks in under two minutes and the weekly tasks in under 10 minutes.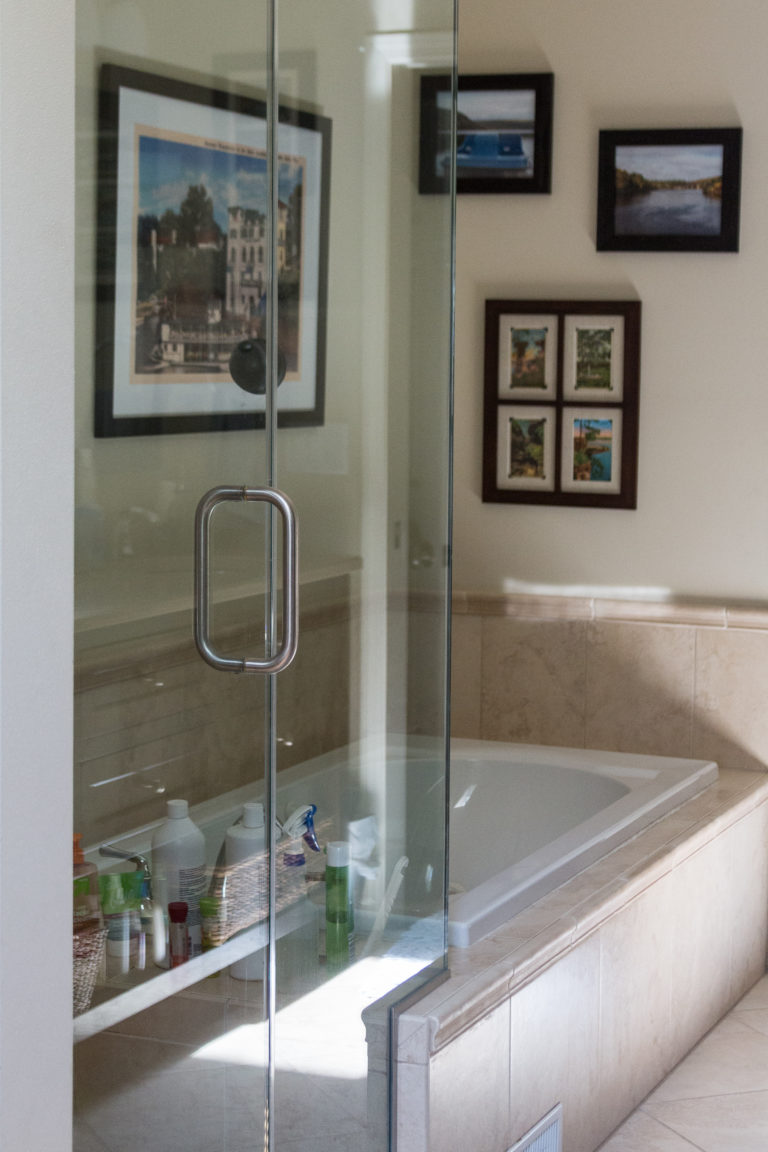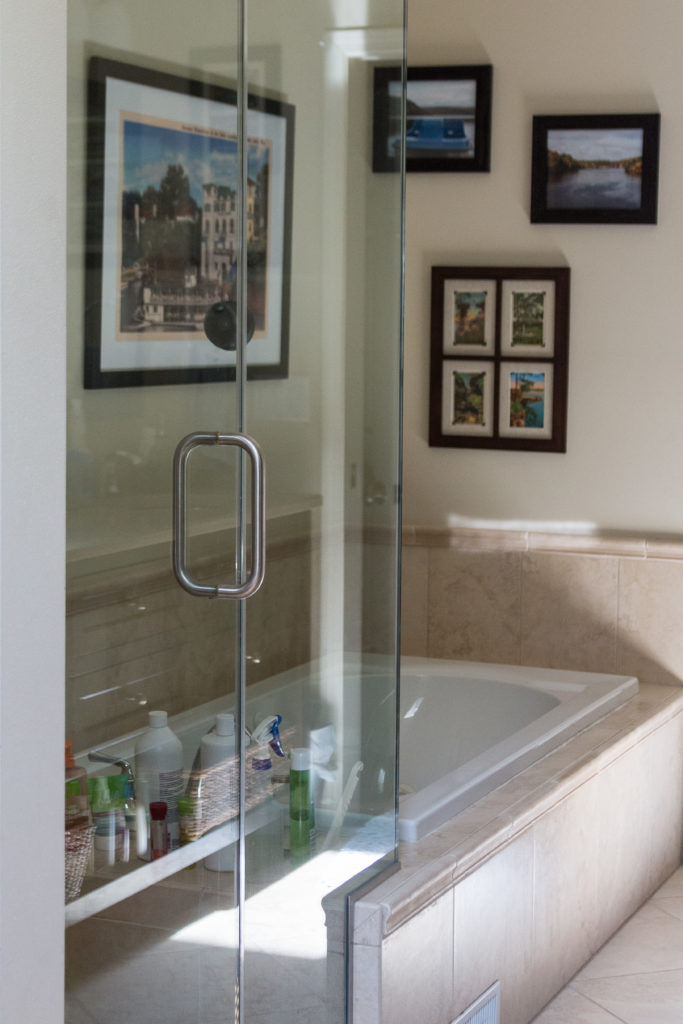 [Disclaimer: There are a few affiliate links in this post. Thanks for your support!]
Do you have any tips on how to clean a glass shower?

I'd love to hear about your favorite cleaning hacks!
More household resources:
Save
Save
Save
Save
Save
Save
Save
Save
Save
Save
Save
Save
Save
Save
Save
Save
Save
Save