Keeping a list of deep cleaning bathroom tasks ensures you tackle tougher cleaning chores regularly to maintain sparkling, sanitary bathrooms.
With the current situation in the world, many people are at home a lot more and are striving to keep their houses cleaner than they normally would. It's the perfect time to take on deep cleaning bathroom tasks and other deep cleaning household chores that typically don't make it to the top of your weekly to-do cleaning list.
At least one or twice a year, it's ideal to go beyond your weekly cleaning routine and give your home a complete deep cleaning. I've compiled a list of the top 20 deep cleaning bathroom tasks to help you keep your bathroom(s) as clean as possible. I share my best cleaning tips to make bathroom cleaning as easy and stress-free as possible while using a limited amount of chemicals.
I recommend tackling a maximum of 2-4 deep cleaning bathroom tasks per day, spreading out the list over two or three weeks. Depending on your work schedule, you may prefer to stick to daily cleaning tasks on weekdays and tackle 3-4 tasks on each of the weekend days. It's completely up to you. Regardless, consider spacing out the work, so you don't get overwhelmed or burned out.
At the end of the post, I have a free printable checklist to help you keep track of which deep cleaning bathroom tasks you've finished.
In a number of the deep cleaning bathroom tasks, I mention microfiber cloths. I have this set of microfiber cleaning cloths and love it. It's nice owning a large set, so you have them on hand all week for various cleaning chores. Once you've finished with your microfiber cloths, simply throw them in the washing machine and run them with the next load. You can also collect them in a basket for your next towels load.
20 deep cleaning bathroom tasks
1. Remove hard water stains
If you have hard water, inevitably, over time, hard water stains do accumulate, even with regular cleaning. The best product for the removing hard water stains is vinegar. Spray it on the hard water stain and let it sit for a few minutes before scrubbing.
When vinegar alone isn't sufficient, make a paste with two tablespoons vinegar and one tablespoon baking soda. Spread the paste on the stain and let it sit for a few minutes before scrubbing. You may need a sponge or scraper to get rid of really stubborn spots. This solution is guaranteed to remove even the toughest hard water stains.
2. Wipe down and shine faucets
When you're cleaning the bathroom sinks and countertops, take an extra minute to wipe down and shine the faucets as well. My preferred sink/countertop cleaning product is Ajax, which works well for faucets, too. Make sure to rinse it off completely and dry the faucets immediately afterward, so you don't get water spots.
If you have hard water stains on your faucets, refer back to step #1.
3. Sweep and mop floors
My favorite method for cleaning linoleum or tile bathroom floors is with an old-fashioned mop and pine cleaner. Move the mats/rugs, garbage cans, and other bathroom items out of the room. Sweep the floor before you begin mopping. Warn family members before you start mopping, so they can clear out for a while, allowing the floor to dry thoroughly.
I also recommend keeping a Swiffer and wet cloths on hand for spot cleaning. While I prefer a full mop cleaning, I'm much better at keeping up with small spills with the Swiffer. The less major spills you're dealing with, the quicker the full mopping goes, too.
No products found.
4. Wipe down toilets and use toilet cleaner
My go-to method for wiping down toilets is with Clorax wipes. They get the job done quickly and effectively with no mess. At the time of writing this post, Clorax wipes are all but impossible to buy. If you're looking for an alternative, this is the perfect time to make your own reusable disinfecting wipes. When I run through my current Clorax wipes stash, I'm going to give it a try and will report back!
Once you've wiped down all of the toilet surfaces, use the toilet cleaner of your choosing for the toilet bowl. Typically, I use the Target brand toilet cleaner and a standard toilet brush. I like this OXO hideaway compact toilet brush design. Allow the toilet cleaner to sit for a few minutes before flushing the toilet.
After cleaning the toilet bowl, rinse out the brush thoroughly. I like to leave it propped in between the toilet seats to dry before placing it back in its holder. (You can see an illustration of this concept at Organizing Home Life.)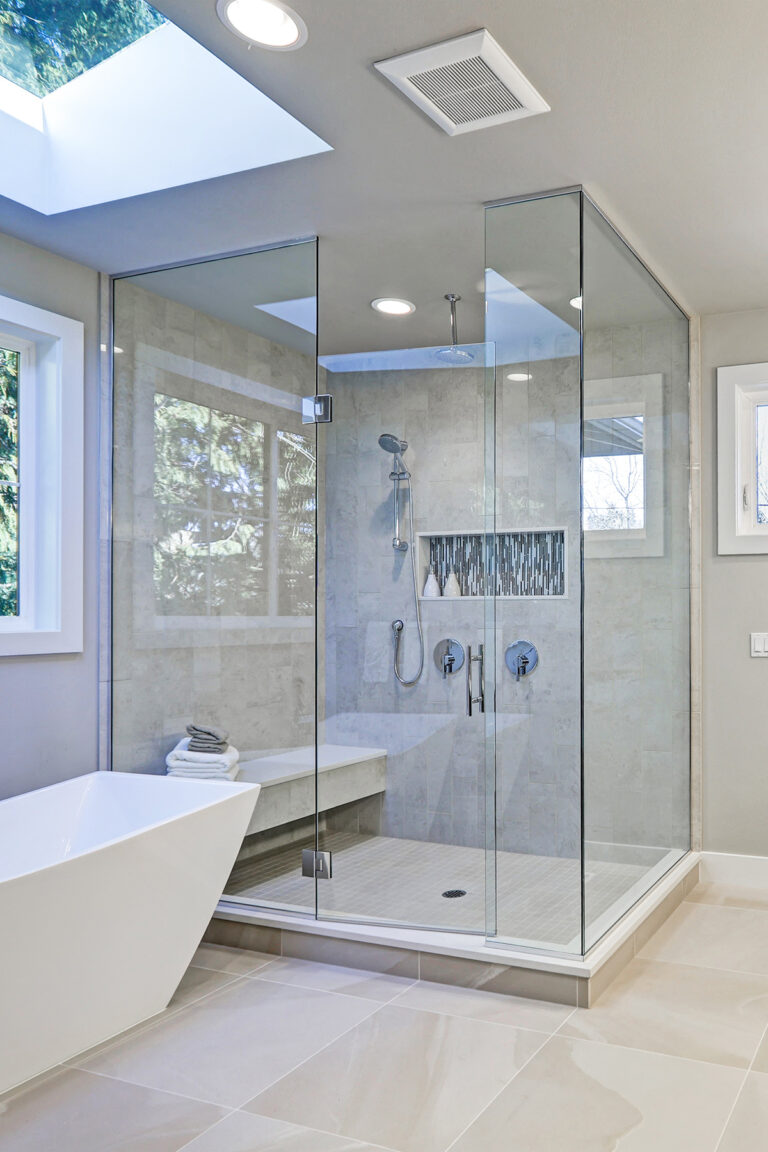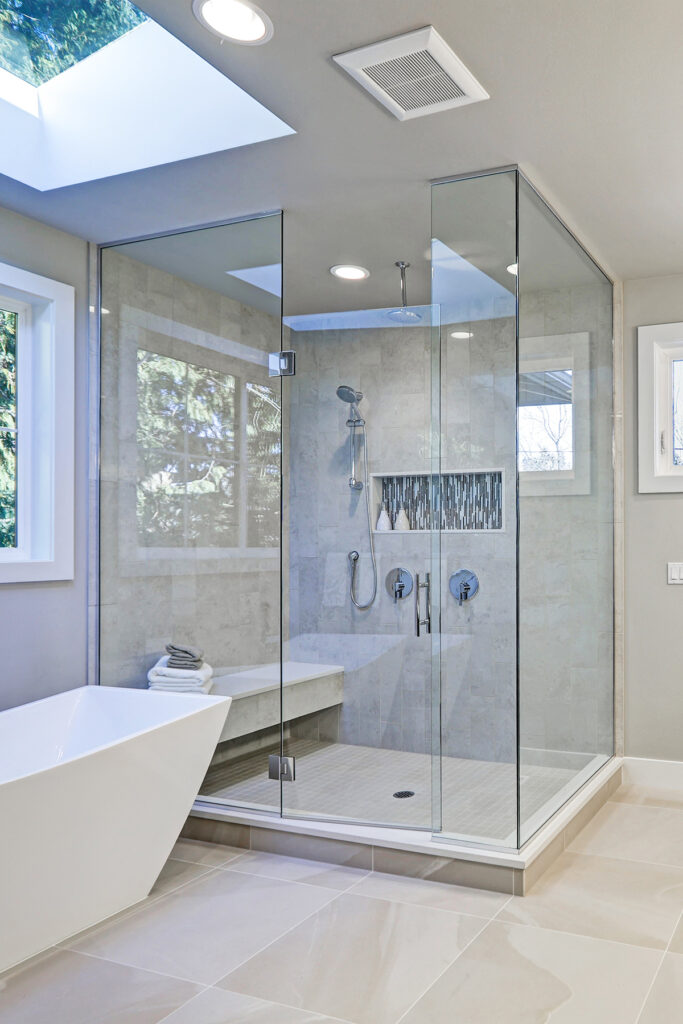 5. Clean showers and tubs
I have a dedicated post about how to clean a glass shower the right way. It describes the cleaning routine I have for my glass shower with daily and weekly cleaning tips for keeping the glass in top condition.
I use the homemade, chemical-free cleaning solution in that post for standard tubs as well. I finish out the tubs with a quick wipe around the edges with Clorax wipes or Ajax.
When a spray-on cleaning solution isn't enough for the tubs, I scrub them down with Ajax. If you have stubborn mold, I highly recommend RMR-86 Instant Mold Stain & Mildew Stain Remover. It really is a miracle cleaning product that will quickly become one of your favorites. I don't use anything else for our shower and tub mold.
6. Wash the towels and bathmats
I wash all of the bathroom towels twice a week and all of the bathmats once every two weeks or so. Depending on the number of people in your house, you may want to run towels and bathmats more frequently. If you forget about washing the bathmats, at least make sure to throw them in the wash while you're cleaning the bathroom floors.
My current favorite bathmat is the Buganda Memory Foam soft bath mat. It feels amazing underfoot and is available in a variety of sizes and colors. If you have trouble with bathmats getting destroyed by frequent washings, let them air dry or dry them on a delicate setting.
7. Clean the mirrors, windows, and framed wall art
I'm sure that the vast majority of you are already cleaning your bathroom mirrors as part of your weekly cleaning routine. At least once or twice a year, clean the windows and framed wall art as well. My go-to mirror and window cleaner is Windex. There are lots of recipes for homemade window cleaner if you prefer a chemical-free option.
8. Clean and organize the drawers, bins, and closets
Take everything out of the drawers, bins, and closets in the bathrooms. Wipe down all of the interior surfaces. Discard old and expired items. Replace the remaining items in the storage spaces. Reorganizing the bathroom storage is the perfect time invest in new bathroom storage organizers to make the space more efficient.
9. Wipe down the cabinet and drawer exteriors
When you've finished cleaning and organizing the storage space interiors, wipe down the cabinet, drawer, and door exteriors. A microfiber cloth with warm soapy water will clean the spills and other residue. If you have wood cabinets or other exterior wood surfaces in the bathroom, give them a final polishing with wood cleaner and a microfiber cloth.
10. Wash or replace shower curtains liners
For shower curtain liners that are in decent shape but in use of a little cleaning, spray them down with RMR-86 or a similar product. After it sits for 10 minutes, rinse the curtains thoroughly.
For shower curtain liners that are dirty/moldy but not ready for replacing yet, wash them in the washing machine as follows.
Load the shower curtain liner and two full-sized towels into the washing machine. The towels help protect the liner and enable the machine to remove dirt and mold more effectively.
For extra moldy curtains, add one cup of baking soda as well.
Run a delicate cycle with hot water. Hot water helps the shower curtain hold up much better than cold water.
Use regular laundry detergent with no fabric softener.
Hang the shower curtain up to dry. Do not put it in the dryer. The heat will melt the plastic. [Source]
If your shower curtain liner is damaged (i.e., torn) or has been through multiple washes and remains moldy, replace it. A high-quality mildew resistant antimicrobial shower curtain is well worth the money.
11. Scrub and reseal grout
Over time, grout gets moldy and dingy. For grout in good condition and in need of a cleaning, I recommend Bar Keepers Friend with a grout cleaner brush. For grout in rough condition and in need of a heavy cleaning, I recommend IT JUST Works! Grout-EEZ super heavy duty tile and grout cleaner and whitener. The latter product also comes with a grout cleaner brush.
No products found.
Once you've scrubbed your grout, touch it up with a white grout pen. You'll restore the aesthetic of your grout, leaving it clean and protected.
For grout in need of resealing, AQUA-X grout sealer is affordable and very highly-rated.
12. Wipe down baseboards
Even when you take care to sweep and mop right up to the baseboards, they take a beating over time, collecting hair, product residue, and other debris. Take a microfiber cloth with warm soapy water, and work your way all around the baseboards in the bathrooms.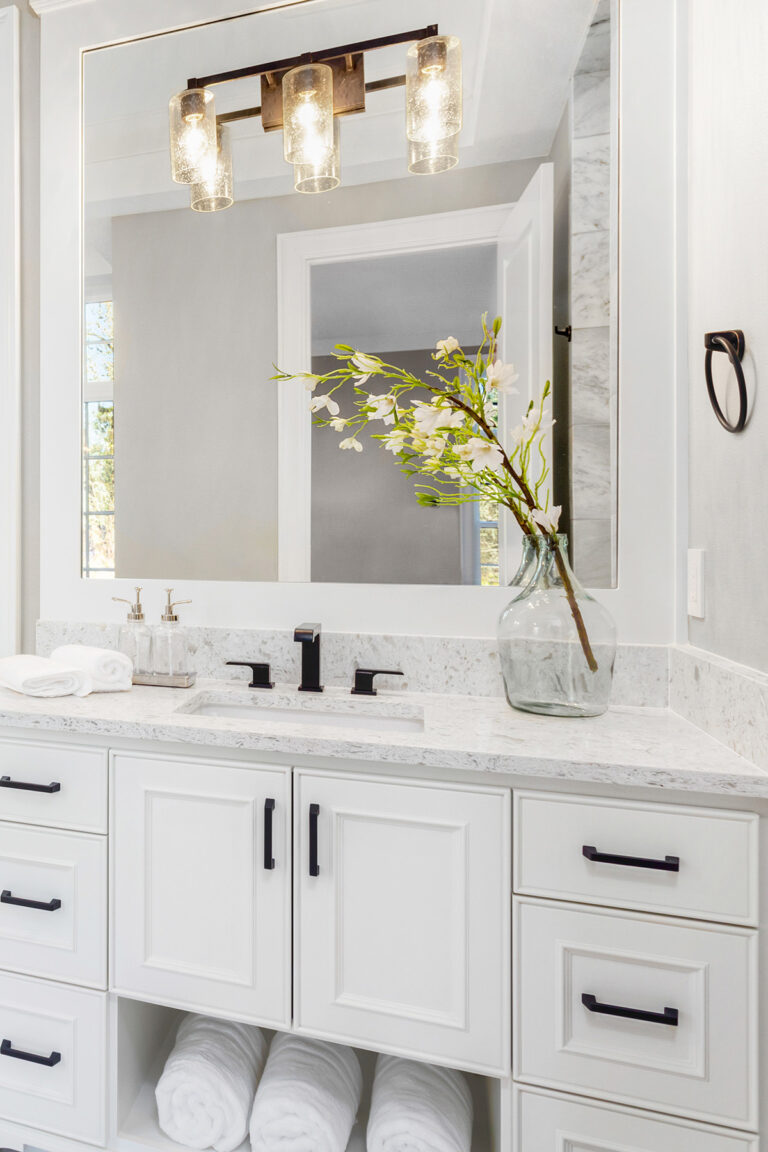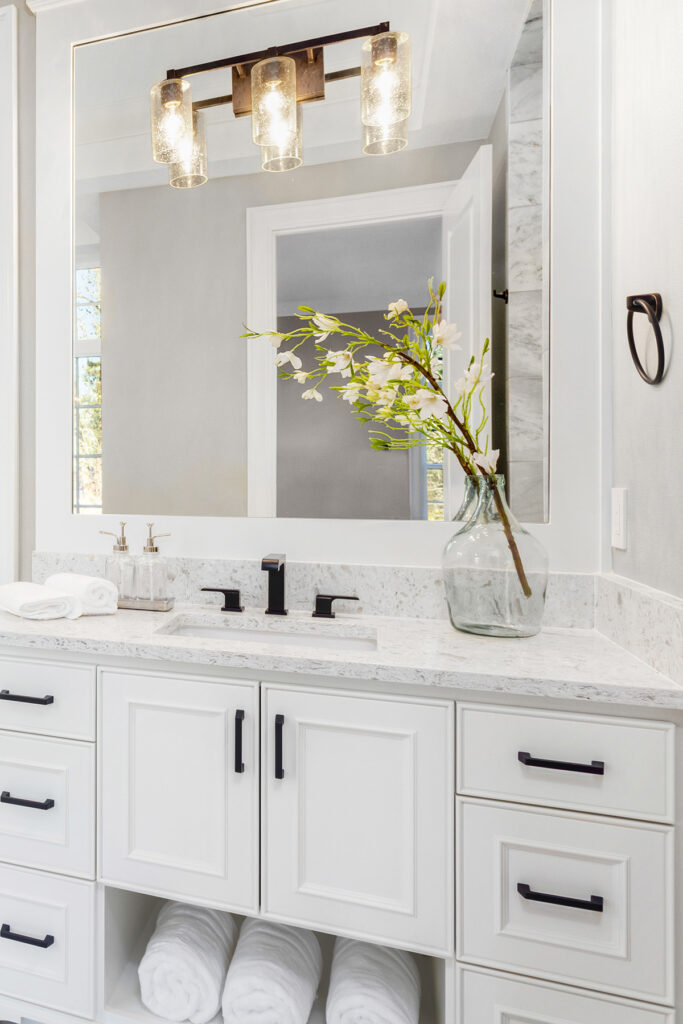 13. Disinfect the sinks and countertops
I recommend wiping down the sinks and areas of the countertops right around the sinks daily or at least two or three times per week. I use a microfiber cloth with warm soapy water or a general all-purpose non-porous surfaces cleaner, such as Mrs. Meyer's, for this task.
Once a week, take everything off of the bathroom countertops to give them a more thorough cleaning. I wipe the surfaces down with a Clorax wipe to remove the majority of dirt and product build-up. Then I finish with a round of Ajax. Allow the sinks and countertops to dry completely before replacing everything.
Once a month, wipe down bathroom countertop items, such as toothbrush holders, tissue covers, and soap dispensers. A Clorax wipe or microfiber cloth with warm soapy water works well.
14. Wipe down the vents, light switches, and outlets
Run a disinfecting wipe over light switches and outlets to clean them of dirt and debris and wipe out germs and bacteria.
Once a month, run a dry microfiber cloth or paper towel over the vents to pull out dust and hair. Then clean the vents with a microfiber cloth with warm soapy water.
A few times a year, use a vacuum cleaner attachment to suck out as much hair and dirt from the heating vents as possible.
15. Dust the light fixtures
Run a dry Swiffer duster or microfiber cloth over the light fixtures to remove dust and cobwebs. If the coverings are especially dirty, take them off and wash them or wipe them down with a microfiber cloth with warm soapy water. Replace any burned out light bulbs as well.
16. Empty the trash
Get in the habit of checking the bathroom trash cans and other small trash cans before you put the garbage out for pickup, so they never get too full. Personally, I like to line small trash cans with plastic grocery bags. I replace them with new bags when they're full. If you don't like to line your small trash cans, simply dump small trash can contents into a larger garbage bag.
17. Refill or replace the room fresheners
My favorite natural room freshener for bathrooms is a basic reed diffuser. Once or twice a month, change out the water and add a few drops of reed diffuser oil or the essential oil of your choosing. (I like lavender or lemon for a bathroom, but don't feel limited to these options.) Once or twice a year, swap out the reed diffuser sticks for new ones. The diffuser sticks I'm linking here are natural wood and available in eight different colors.
My favorite commercial air freshener is Renuzit blissful apple and cinnamon. I find most commercial air fresheners to be way too strong and chemically scented. But we never get tired of the apple and cinnamon scent. The air fresheners last about a month.
18. Clean the exhaust fan
Cleaning the bathroom exhaust fans once or twice a year keeps them running efficiently for fog-free showers with limited moisture. Take the following steps to clean the bathroom exhaust fans.
Run a vacuum cleaner attachment over the vent.
Remove the vent cover. Typically, a bathroom vent has metal springs on either side. Squeeze the springs together and tug gently to remove the cover.
Give the vent cover a thorough cleaning with soap and water, scrubbing it down if necessary. Allow it to air dry.
While the cover is off, run the vacuum cleaner with the attachment over the vent area again.
Put the dry, clean cover back in place. [Source]
19. Dust or vacuum the window coverings
For blinds, run a dry Swiffer duster or microfiber cloth over them. For cloth curtains and window coverings, use a vacuum attachment to clean them or take the coverings down completely and wash them in the washing machine. Follow the instructions on the curtains for drying them.
20. Repair any leaks and clogs
Bathroom leaks lead to high water bills, wasted water, and hard water stains. It's best to repair leaky faucets and toilets in a timely fashion. If you don't feel comfortable tackling bathroom repairs yourself, hire a plumber.
For slowly draining sinks and showers, my favorite drain product is the Green Gobbler drain clog dissolver. I know there are a lot of natural drain cleaning techniques out there. None of them have ever come close to what Green Gobbler has done for some of our sinks and showers.
For bathroom clogs that can't be solved with drain dissolver or a standard drain snake, hire a plumber.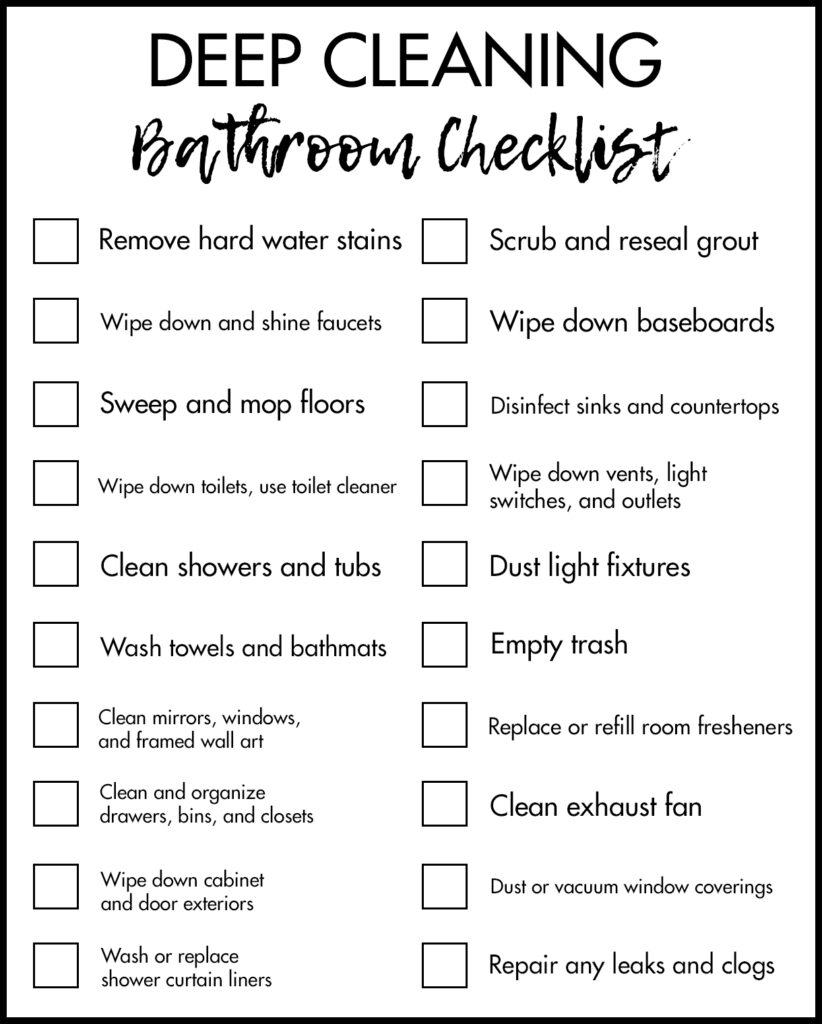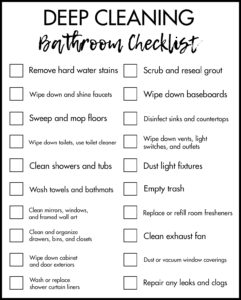 Download your free deep cleaning bathroom tasks printable checklist!
Make it easy to keep track of your bathroom deep cleaning with a convenient printable checklist!
[Deep cleaning bathroom tasks checklist]
[Disclaimer: There are a few affiliate links in this post. Thanks for your support!]
Did you use one or more of the tips from this deep cleaning bathroom tasks resource?

I want to hear about what worked well for cleaning your bathroom! Tag your images #RoseClearfield on Instagram or Twitter or post a photo to my Facebook page.
Pin this post for easy access to the deep cleaning bathroom tasks and FREE printable checklist later!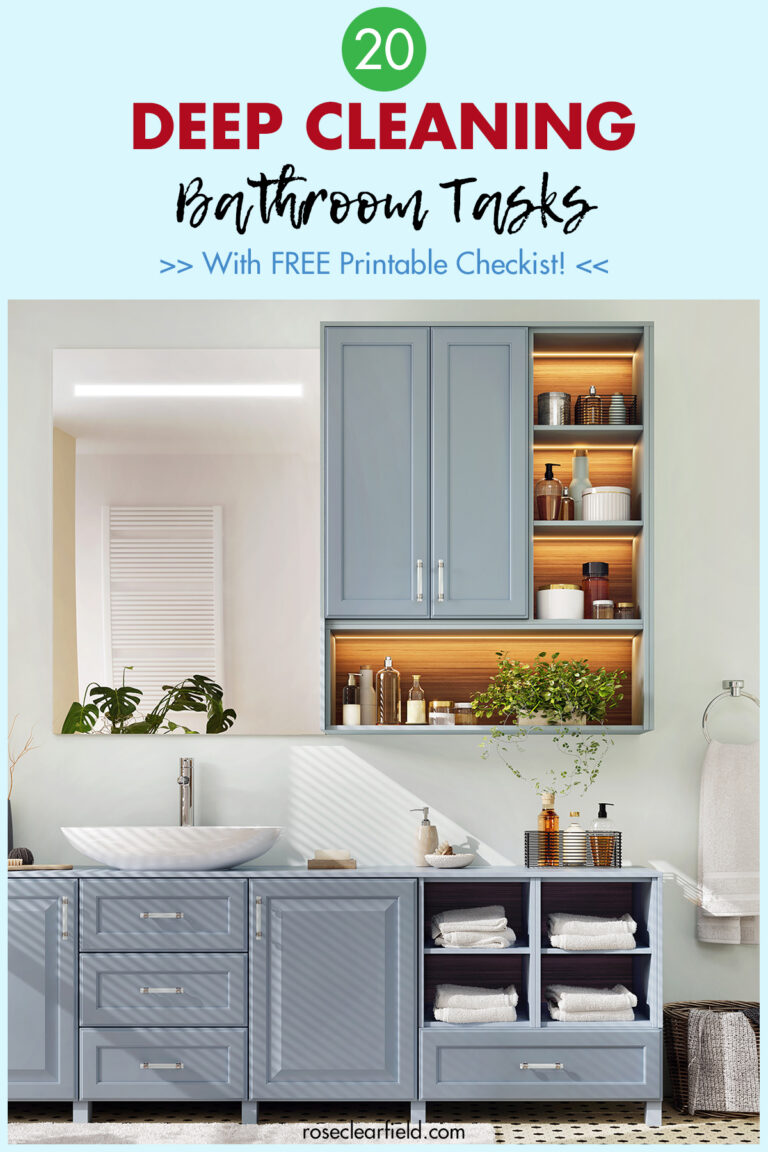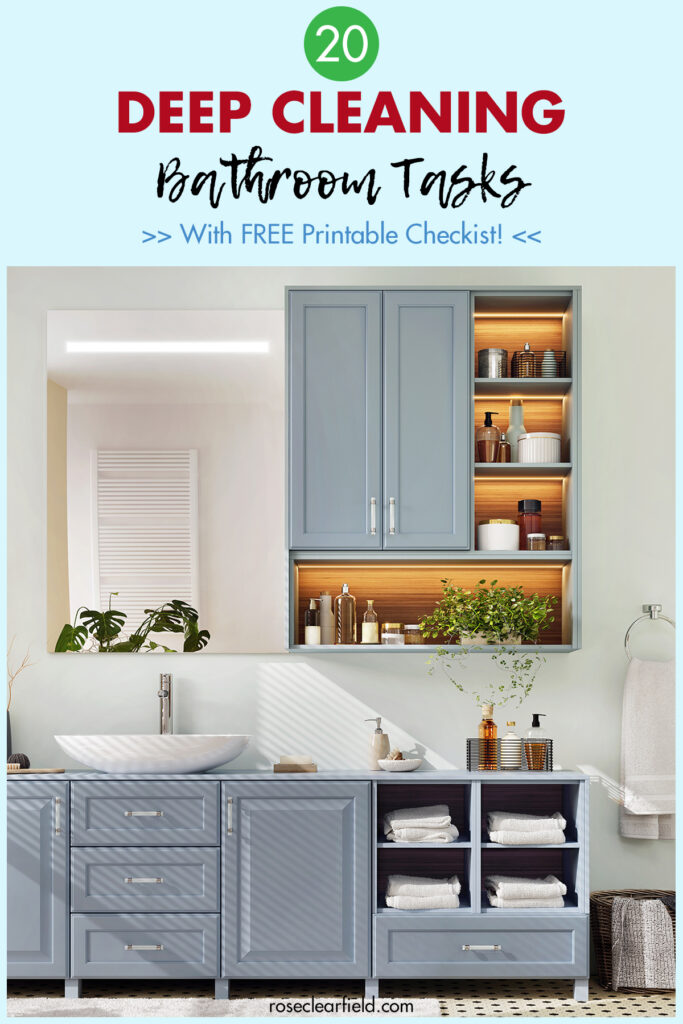 More home cleaning resources: