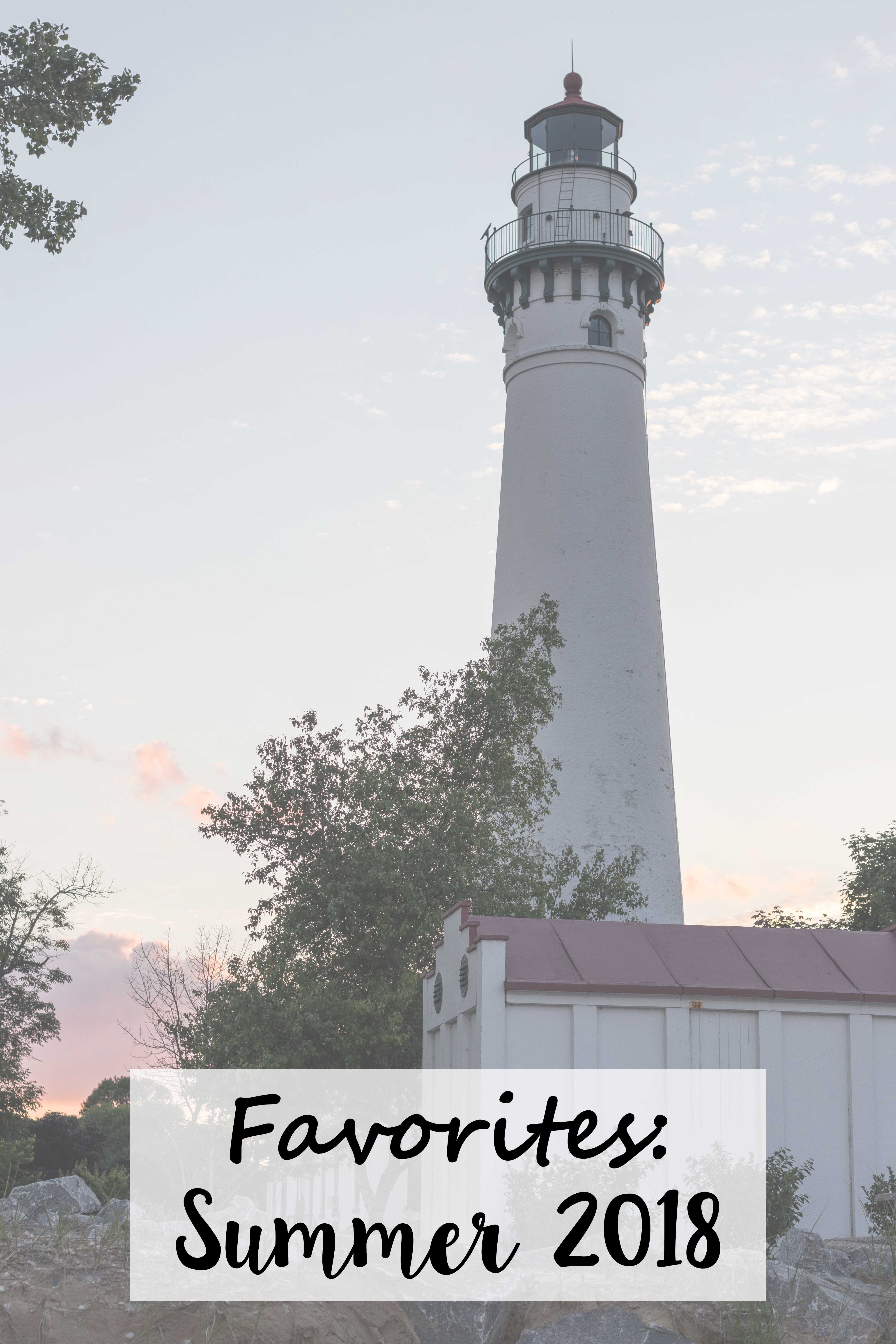 As I haven't written a favorites post in nearly two years, I'm still not sure what to call this post. Now that it's nearly the end of August (how did that happen already?), I'm calling it a summer favorites post. I'm wrapping up my favorites from the past few months, and in most cases, from a little bit longer than that, too.
I may or may not be writing this post because I want to talk about the jeans that changed my life. I am not a big fan of skinny jeans and only wear them in the winter with tall boots. But all you can find everywhere these days is skinny jeans. Until very recently, the jeans I rotated through the most often were from 2012/2013. I was way overdue to replace them, but with what? I also have a lot of trouble finding pants that fit well, even from stores that I shop at regularly (like LOFT).
Enter Courtney's jeans suggestions, which helped me completely overhaul my pants collection (yes, beyond jeans!). I never in a million years would have thought to buy jeans at American Eagle. But they have multiple non-skinny styles in a huge range of sizes at a great price point. I took a complete gamble and ordered a couple of pairs online, knowing that I could return them if they didn't work out.
Needless to say, they worked out great. I've since bought several more pairs, including khakis (which are also so hard to find these days), capris (I've worn them a ton this summer), and shorts (I was way overdue to update my shorts collection, too). I've updated my skinny jeans as well, and they're some of the best skinny jeans I've ever owned. (Obviously, this says a lot. As I previously mentioned, I don't love skinny jeans). AE runs sales all the time. If you keep an eye out, you can find any of the styles I've linked for 25-50% off.
Foundation primer is one of those products that I didn't believe would make a difference until I tried it for myself. I am super basic when it comes to anything skincare and makeup related and don't ever want to add new steps to my routine. I finally tried the BareMinerals Prime Time Foundation Primer during an Ulta sale. Blown away. The difference is huge. I don't go without it now.
During the same sale, I picked up their Coconut Shower Whip Moisturizing Body Cleanser. If you've been reading my blog for any length of time, you know that I'm a huge fan of all things coconut. Most of the time, I'm still living in 2000 and using Japanese Cherry Blossom. (They're still carrrying it two decades later, so clearly, I'm not the only one.) But I like to switch it up with coconut in the summer. Ulta's shower whip is really nice. The smell isn't overwhelmingly sweet (one of my big pet peeves with many beauty products), and the application is smooth.
Additionally, on the subject of Ulta, can we talk about how they carry my all-time favorite shampoo and conditioner? I have been using these two products most of my life (not an exaggeration), and they're getting harder to find in stores. With a one-year-old, I don't have a lot of time and energy to hunt for this sort of thing in multiple stores. Being able to order it online (in large sizes!) is amazing.
Tommy has reached an age where you can't sneak food past him and he wants to try everything. As such, I'm trying to keep healthier chips and snacks in general on hand. I strive to do this anyway, but I've upped the game the last six months. I really love Food Should Taste Good and Way Better chips and buy multiple varities of both brands regularly now. I've also been branching out and trying more of the Good Thins flavors because Tommy loves their rice crackers as much as we do. I'm sort of stuck on the sweet potato flavor, though. SO good.
One of my all-time favorite candles is Nature's Wick Apple Tree from Target. Of course, they stopped carrying it a while back. You can only get it as part of a three-layer candle. More recently, they introduced Nature's Wick Fig Tree, which is almost as good, and that says a lot. Similar to beauty products, I'm super picky about candle scents. Most candle scents are just way too strong and often, way too sweet, too. Fig Tree is nice and subtle with no sickly sweet hints whatsoever.
I haven't talked about what music I've been listening to in ages. Truthfully, these days 90% of the time when I'm the car, I'm listening to an audiobook or a talk radio podcast. I do switch it up sometimes, and I've been loving Chris Thile & Brad Mehldau's album. I'm a huge fan of both of them and still can't even believe how well their styles come together on this album.
Finally, I have to give a quick mention to Kristy's twins. Enough said, right? But seriously, they are some of the cutest babies ever. I can't even. Follow her on Instagram and watch her stories for your daily does of cute. I die every time. I'm also so in awe of Kristy. She now has five kids and still makes it a priority to eat healthy and finds time to work out every single day.
[Disclaimer: I am not sponsored to talk about any of the products in this post. I bought all of the items myself or received them as gifts. There are a few affiliate links. Thanks for your support!]
What have you been loving lately?
Feel free to leave links in the comments!