Free printable rainbow to-do lists make list making so much more fun, keeping you motivated to stick with it.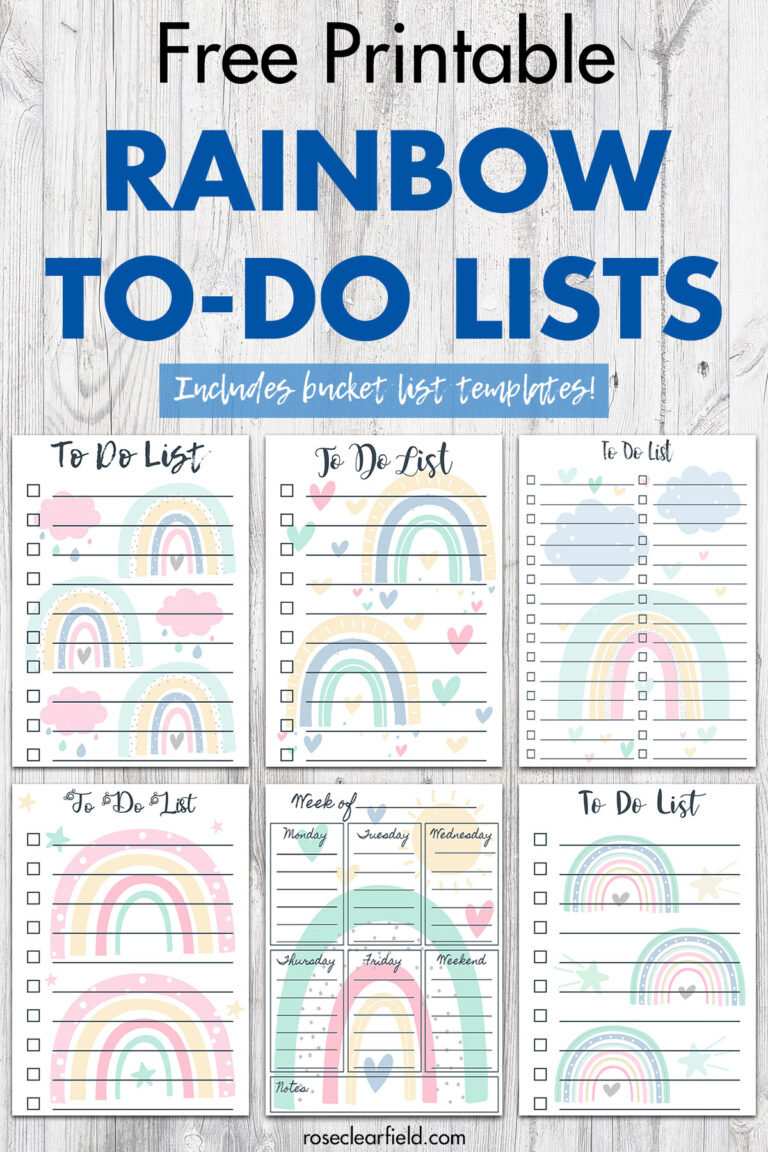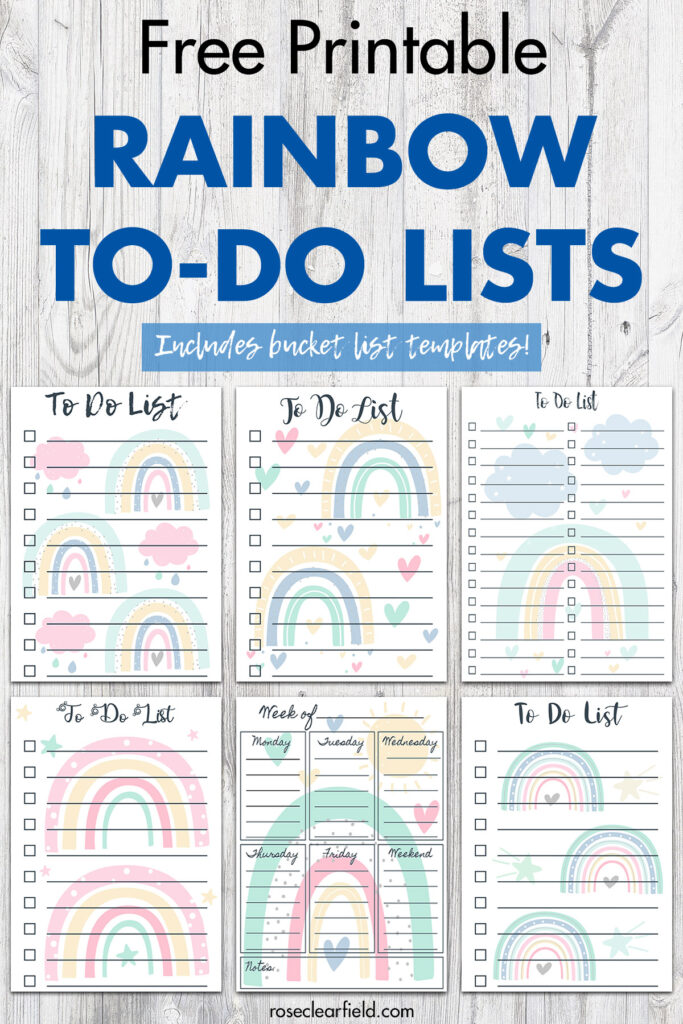 I've created an extensive selection of 32 free printable rainbow to-do lists for all of your list-making needs. With a generous array of whimsical rainbow designs and multiple list options in both 5 x 7 and 8 x 10 sizes (including bucket list templates!), you're sure to find just the right lists to fit your personal needs and preferences.
Why make to-do lists?
There are a host of proven benefits of making to-do lists. Even with the best of intentions, we all have things we want to accomplish that just never seem to get done. As your mental to-do list grows, it's easy to get overwhelmed. Instead of starting with a few small tasks and checking them off the list, you don't get anything accomplished. Your list just grows from there, creating a vicious cycle.
Putting your to-do list in writing helps you move past this hurdle. First, you acknowledge that there are tasks you need to finish. Then with a written list in hand, you can prioritize the most important tasks and start working on them. As with any new habit, it may take time to get accustomed to making weekly, or even daily, to-do lists. As you get more accomplished every day, you'll come to depend on your new habit.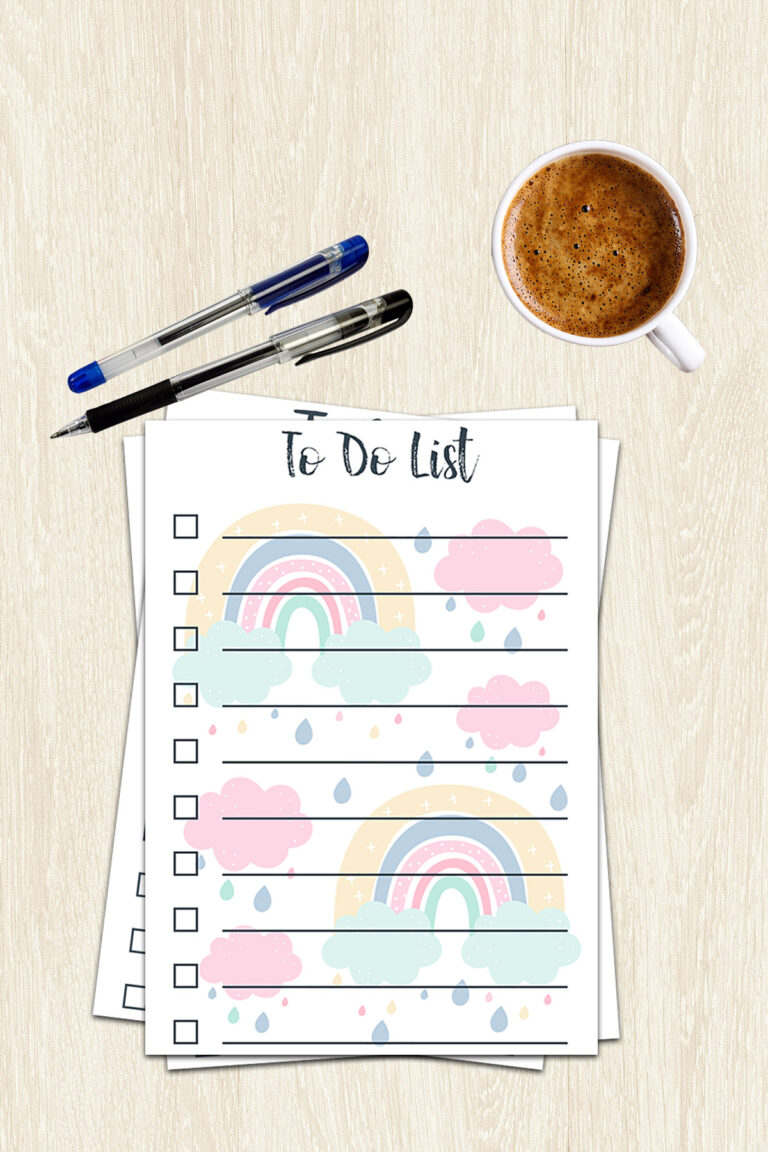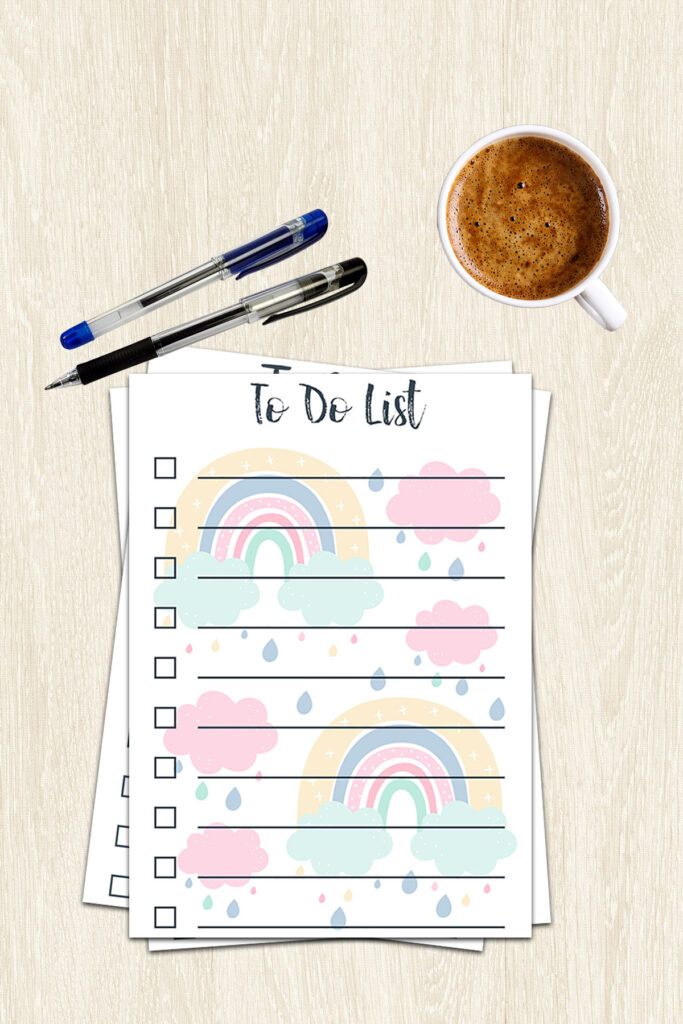 How can I use my new to-do lists?
To-do lists are available in all shapes and sizes. It's important to select to-do lists that work well for you, so you're more likely to use them on a regular basis. There are four primary tactics for using to-do lists that I had in mind while making these free printable rainbow to-do lists.
Organize your day. Before heading to bed, create a to-do list for the day ahead. You'll get a better night's sleep with a plan ready for tomorrow. [Source]
Organize your week. Some people function best when they have their tasks outlined for the whole week ahead. Start each week by making a simple outline with the two or three most important priorities for each day. As the week progresses, you can tweak the tasks as needed for any given day.
Prioritize your tasks. It's an established fact that it's best to begin the day with one of your easiest tasks. [Source] I know that this practice seems counterintuitive. Starting with a basic task gives you the momentum you need to move onto more involved items on the to-do list. Making a list in writing simplifies this prioritization process.
Plan ahead to get favorite events on the calendar. We all start a new year or new season with big intentions for the months ahead. But then the weeks slip away before we know it. Writing a bucket list helps you keep beloved activities at the front of your mind. Display your completed bucket list on the refrigerator or in another high-traffic area of the house, so you'll remember to keep working through it.
Please don't feel restricted to these options. I'd love to hear about additional ways you intend to use your new rainbow to-do lists!
About the to-do lists
The free printable rainbow to-do lists are for personal use only. You may print them as many times as you like, including for classroom use. You aren't authorized to use the designs or the lists themselves for commercial purposes.
Please don't distribute the download files. If family, friends, or co-workers would like their own to-do lists, please send them a link to this post where they can download their own files. Thank you!
Free printable rainbow to-do lists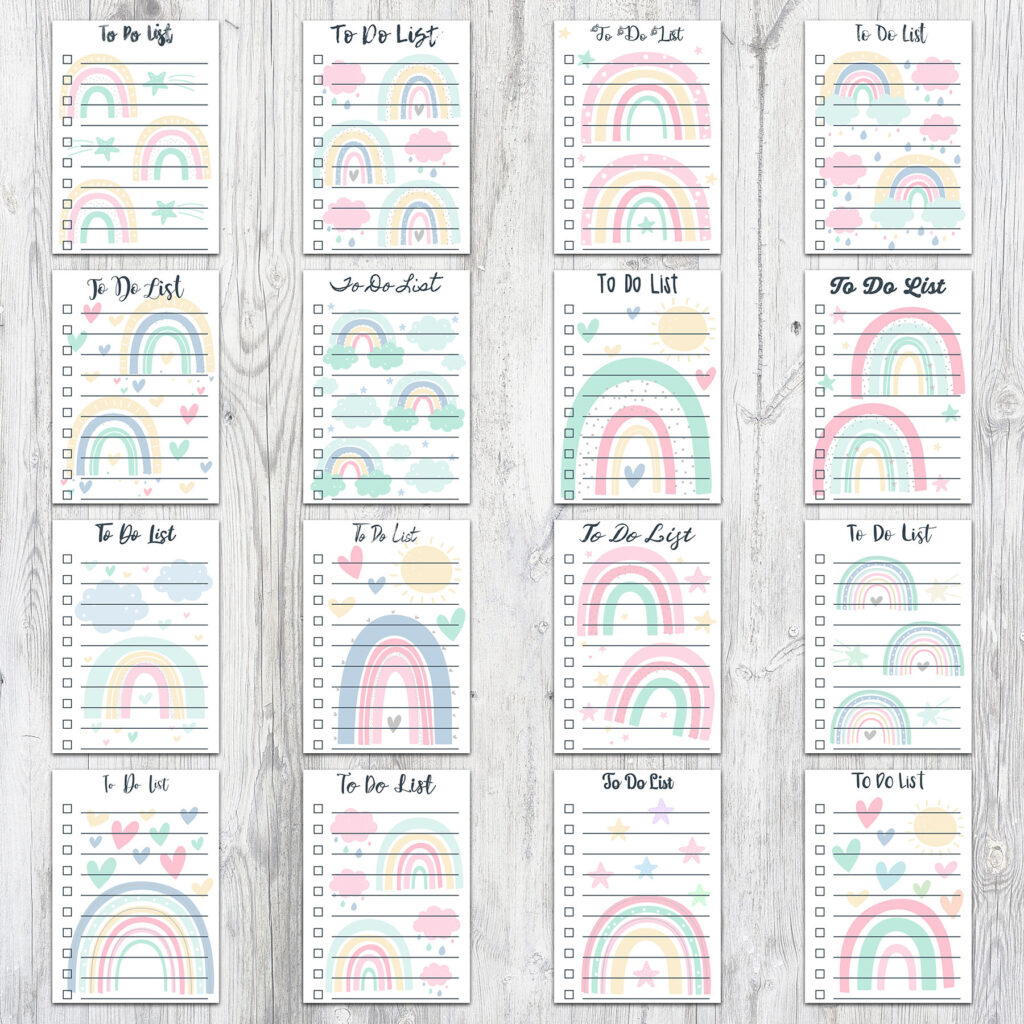 5 x 7 One-Column To-Do Lists
I have 16 5×7 to-do lists, each one featuring a different rainbow.
>> [Rainbow 5 x 7 To-Do Lists] <<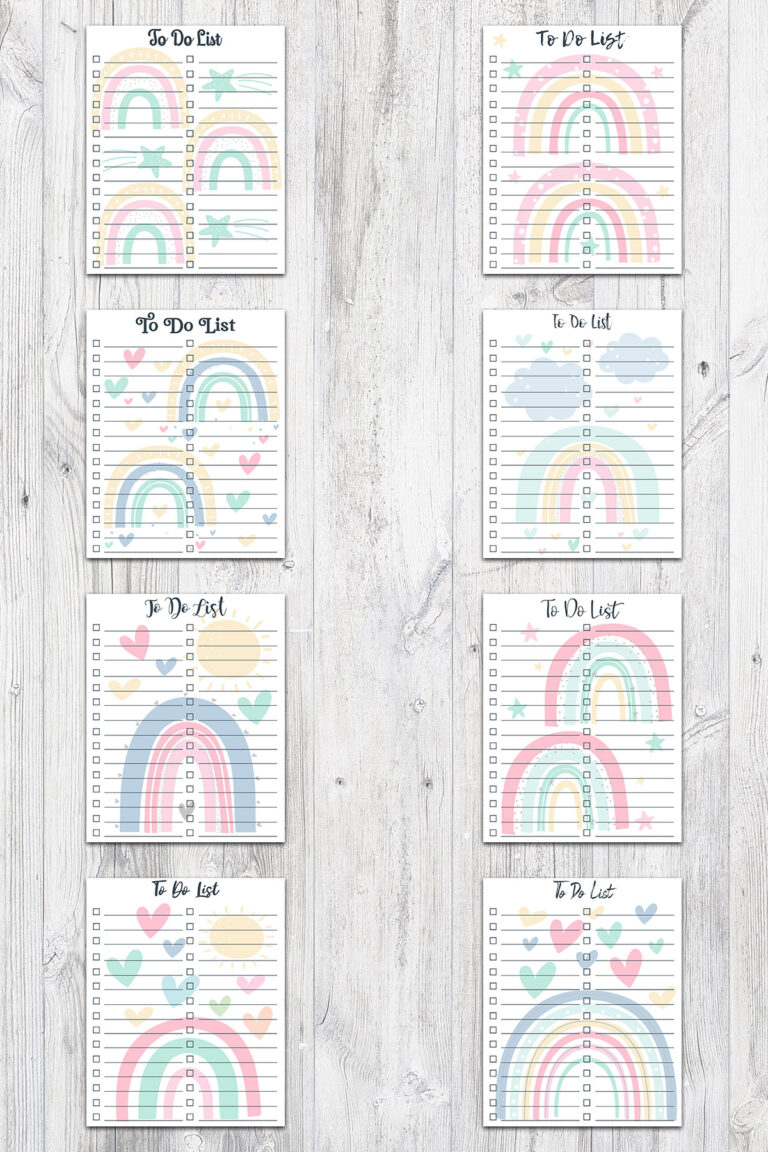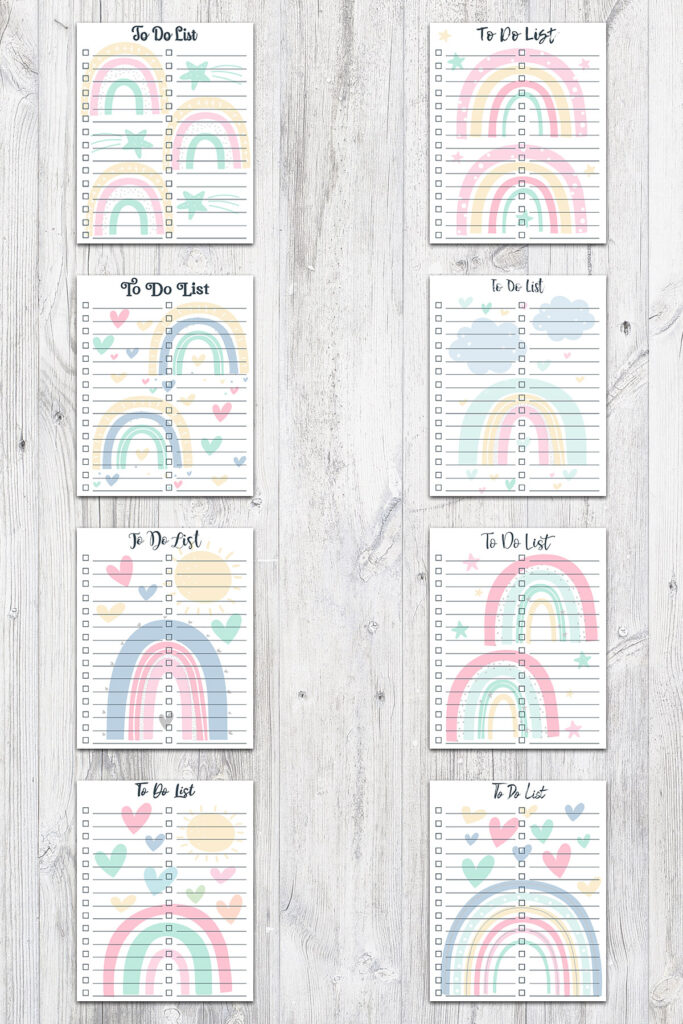 8 x 10 Two-Column To-Do Lists
I have eight 8 x 10 to-do lists.
I only created two-column 8 x 10 to-do lists. I'm assuming that if you prefer a smaller list format, you'll use one of the 5 x 7 versions. If you'd like a one-column 8 x 10 list format, please let me know. I'm happy to make one!
>> [Rainbow 8 x 10 Two-Column To-Do Lists] <<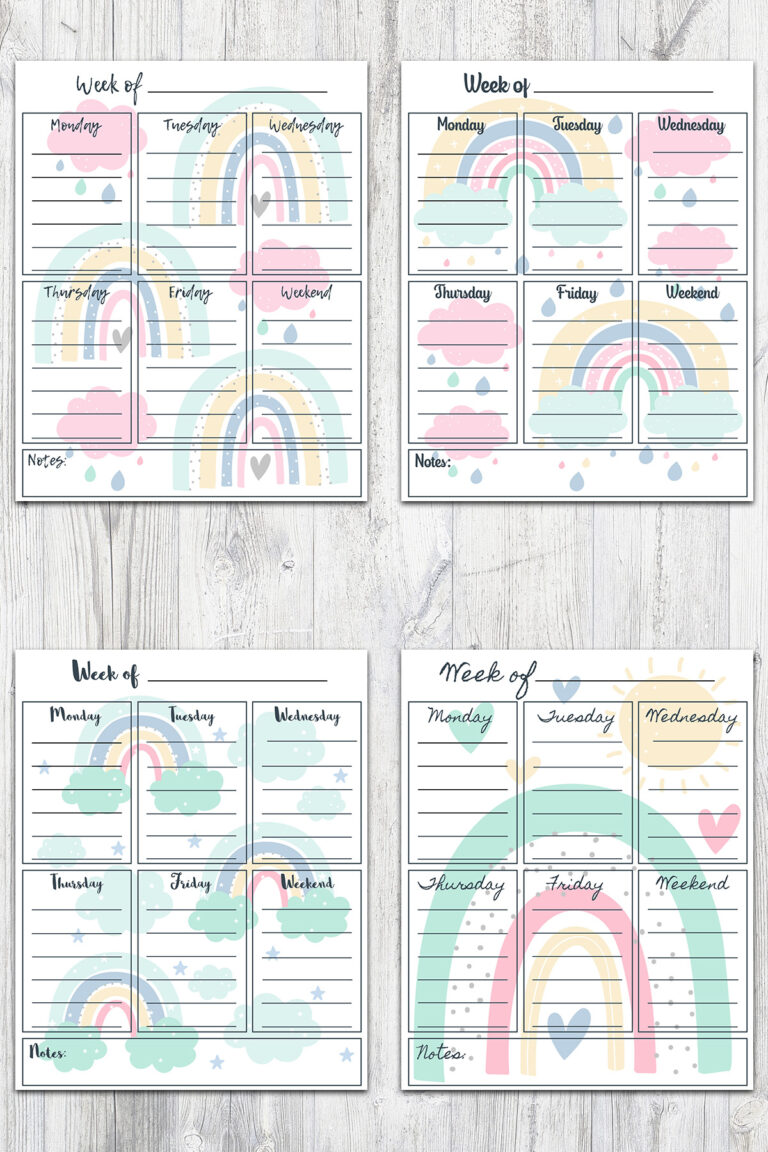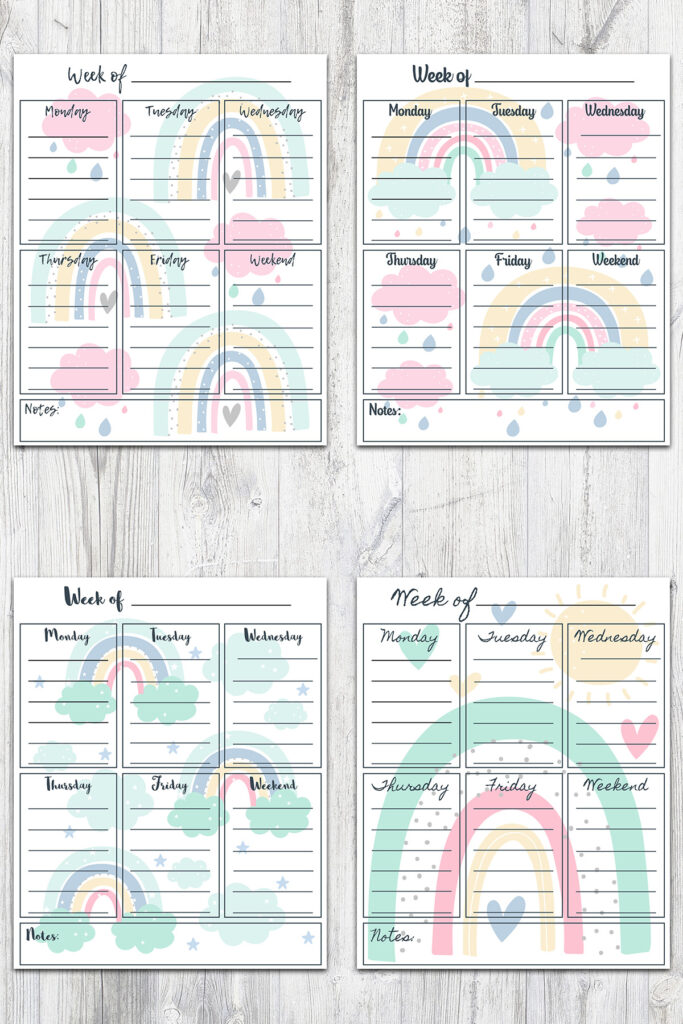 8 x 10 Week To-Do Lists
I have four 8 x 10 week to d0 lists.
The week layout is perfect for planning the full week ahead.
>> [Rainbow 8 x 10 Week To-Do Lists] <<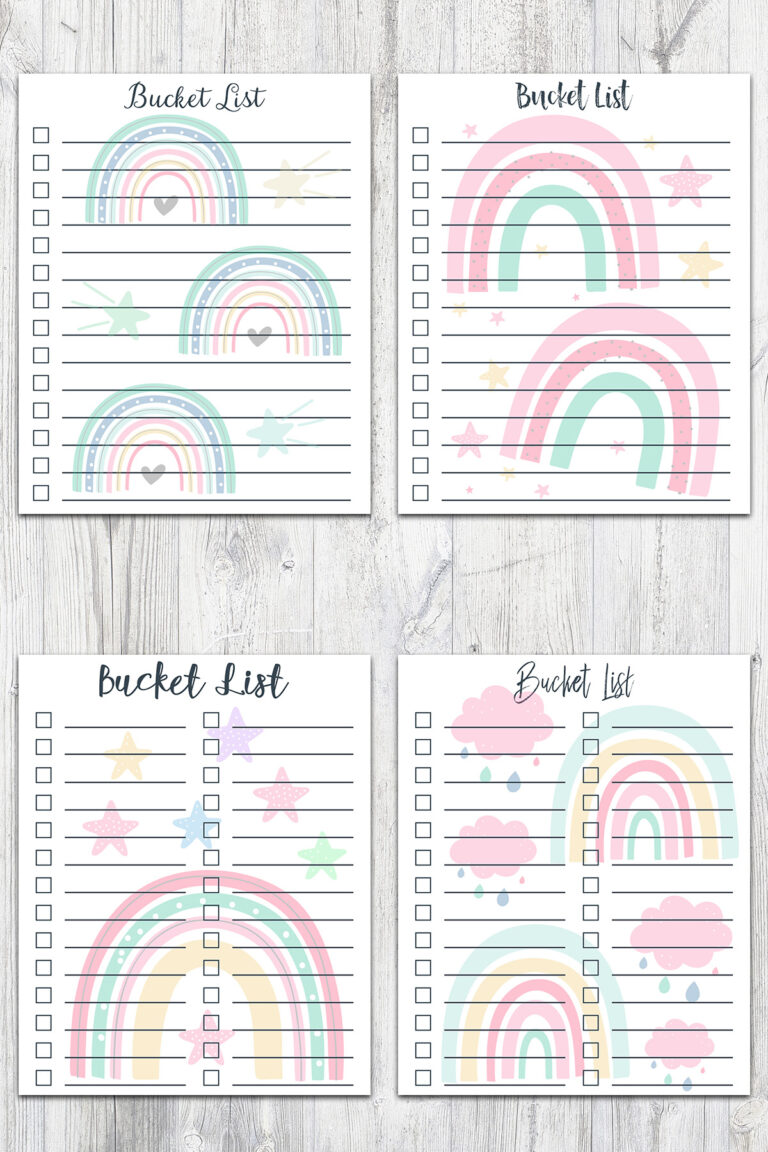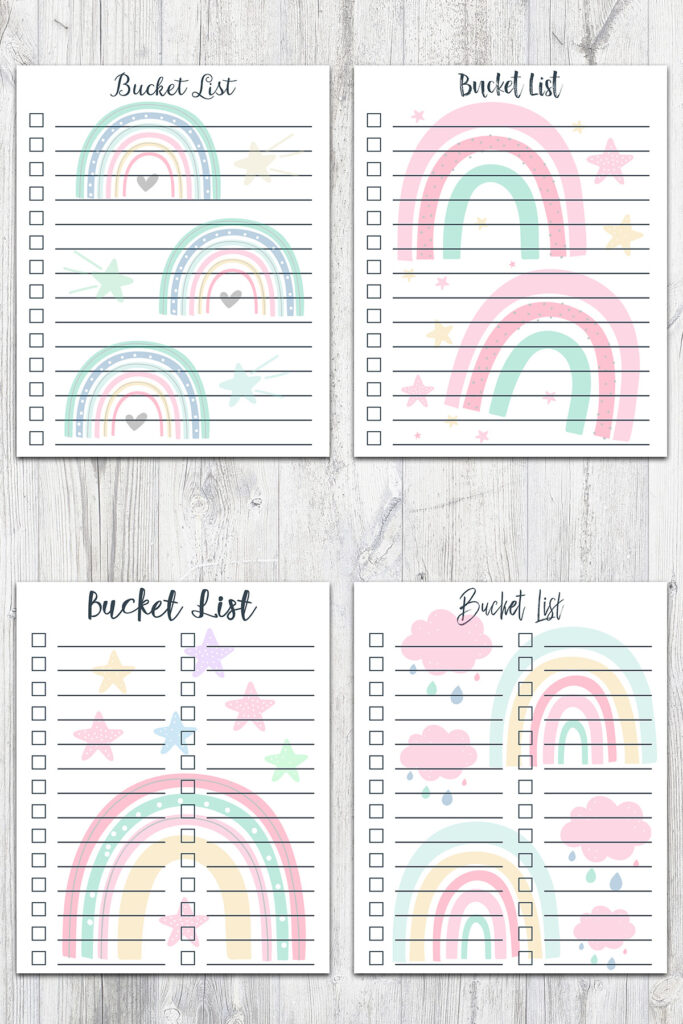 8 x 10 Bucket Lists
Making personal or family bucket lists ensures you get to all of your favorite activities over the coming year or during the upcoming season.
I have two one-column bucket list templates and two two-column bucket list templates.
>> [Rainbow 8 x 10 Bucket Lists] <<
I explain how to extract and download the ZIP folder in my free vintage dictionary page printables post. The link will take you right to those directions.
Printing the to-do lists
My recommendation for printing the 5 x 7 to-do lists as quickly and easily as possible is to purchase 5 x 7 memo sheets. Your lists will be formatted just right, and you won't have to spend time cutting the paper to size. A 500-sheet pack is reasonably priced and will last you for a year or longer.
The 8 x 10 to-do lists print perfectly on regular 8.5 x 11 printer paper. Check that the margins look the way you want them to on the print preview image before printing. If the fit is off, check for a "shrink to fit" option, which should fix any issues. Stock up on printer paper for the year ahead.
Are you interested in any additional rainbow to-do list formats?
If you don't see exactly what you'd like in this post, feel free to contact me. I'm happy to make more to-do lists to cater to your specific needs and preferences!
[Disclaimer: There are a few affiliate links in this post. Thanks for your support!]
Are you using the free printable rainbow to-do lists?

I'd love to hear about your favorite designs and how you're using the lists! Tag your images #RoseClearfield on Instagram or Twitter or post a photo to my Facebook page.
Pin this post for easy access to the rainbow to-do lists later!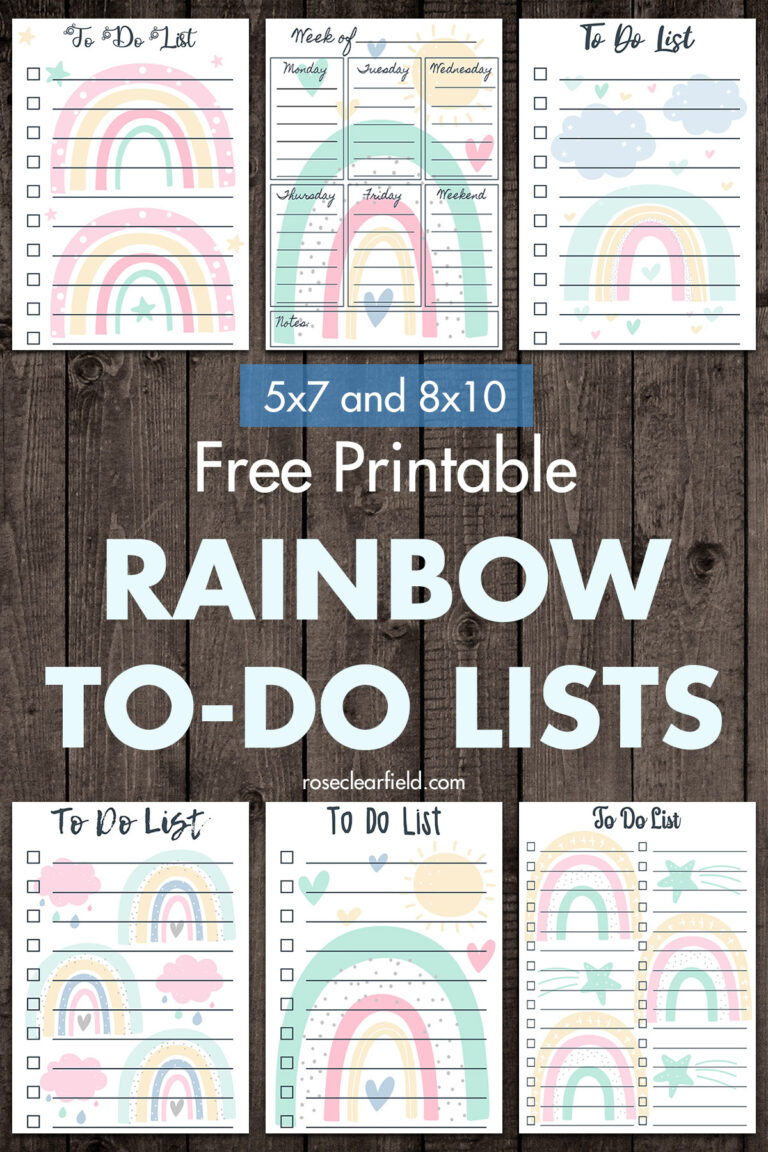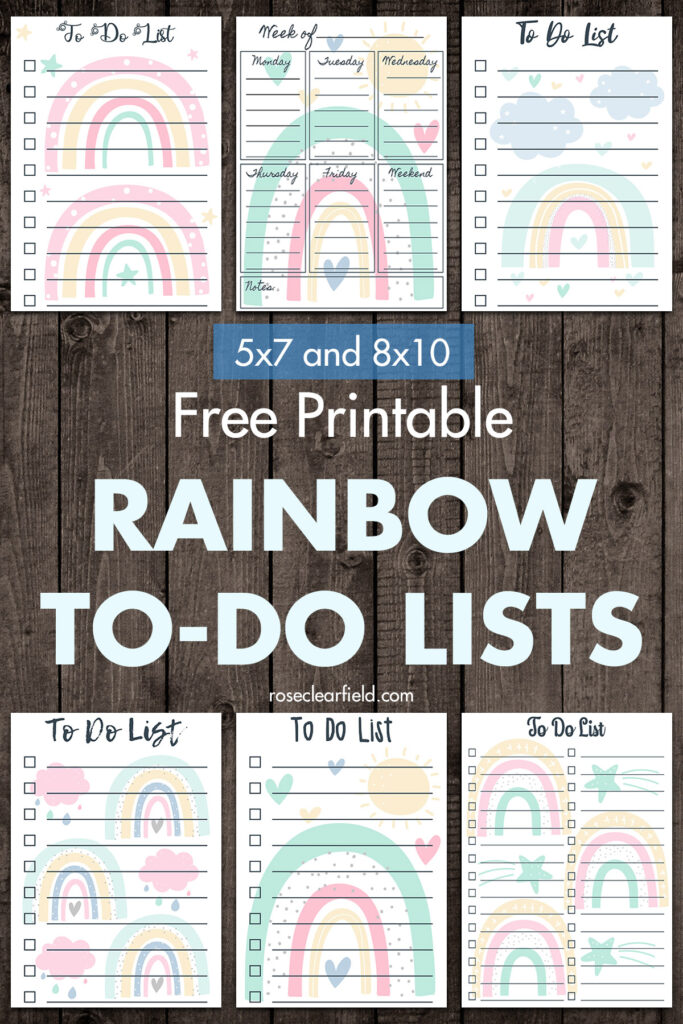 More free printable to-do lists:
Visit the free printables section of the blog for even more free printables, including additional to-do lists as well as recipe cards, sheet music, home decor, greeting cards, and kid activities.