To-do lists are a lot more fun with beautiful holiday designs.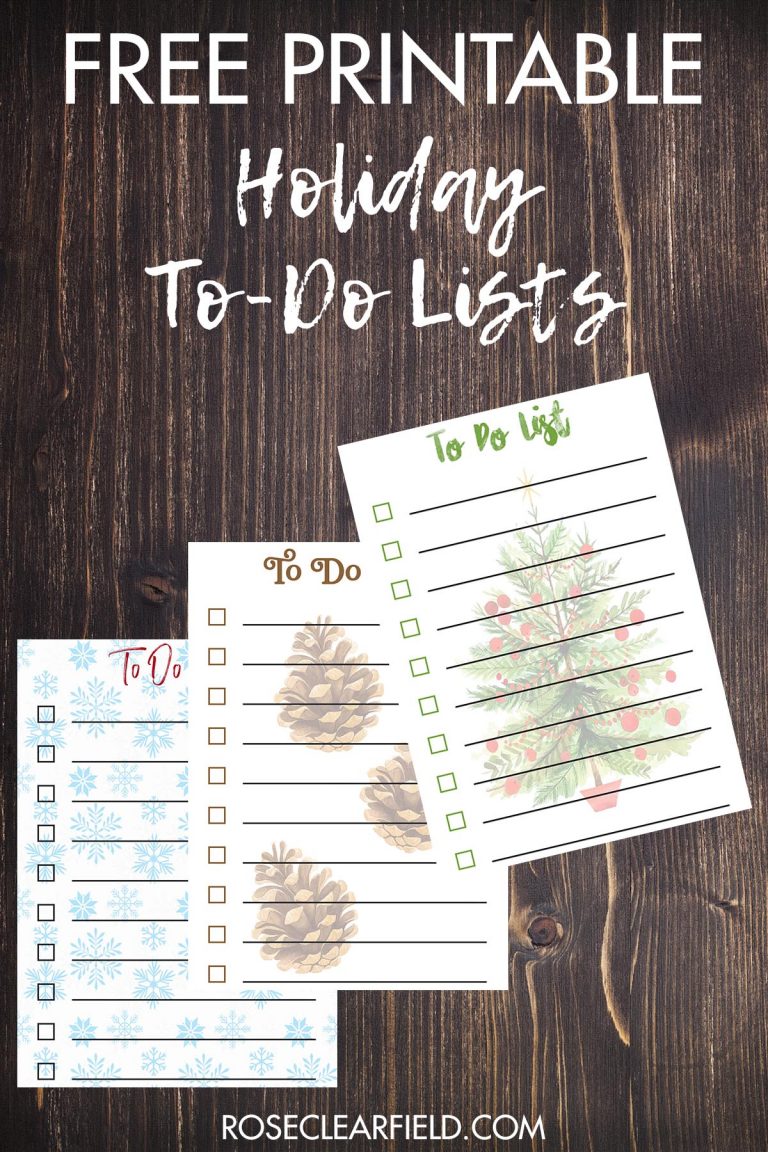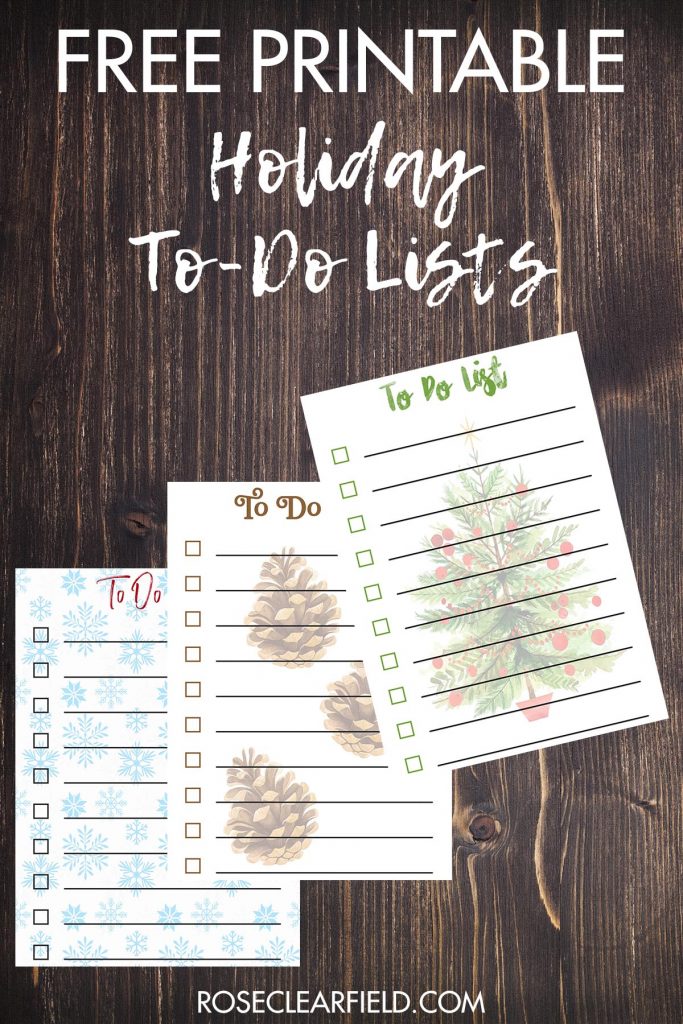 I've created 14 free printable holiday to-do lists for all of your Christmas list-making. With a wide range of gorgeous holiday-themed designs and multiple list options in both 5 x 7 and 8 x 10 sizes, you're sure to find an option that's perfect for your list-making needs and preferences.
Let me be clear that I am not sharing a full holiday planner with printables for present shopping, card sending, meal planning, etc. I'll be honest: it's just not my style. I stay organized with much more basic list-making tools, which is what you'll find here. Enjoy!
Why make to-do lists?
There are many proven benefits of creating to-do lists. Even with the best of intentions, we all have tasks we want to accomplish that just never seem to get done. As your mental to-do list grows longer, it's easy to get overwhelmed. Instead of starting somewhere and attempting to accomplish a new task, you don't do anything. The mental to-do list gets even longer, creating a vicious cycle.
Writing down your to-do list helps you break through the psychological barrier. You acknowledge that you need to get things done. With a physical copy of the tasks, you're able to start prioritizing the most important items and checking them off the list. As with any new habit, most likely it will take time to get used to writing to-do lists. However, before long, you won't know what you did without to-do lists because you get so much more accomplished now.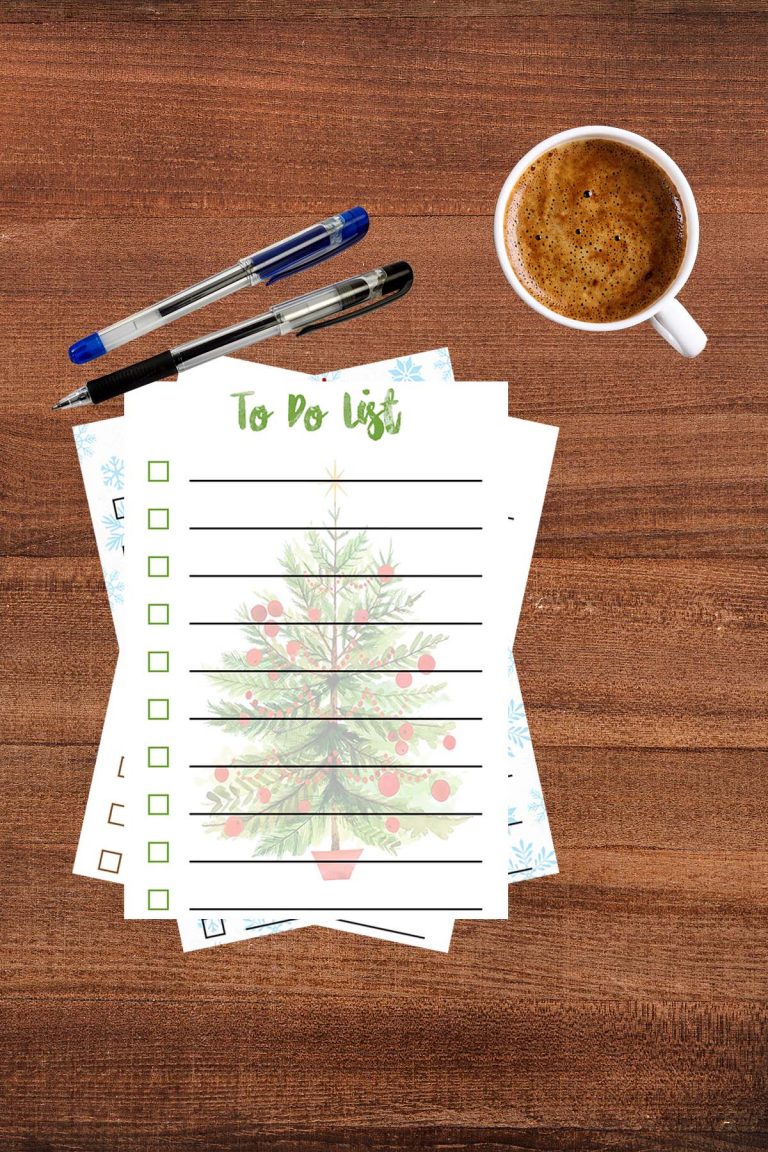 How can I use my new to-do lists?
You can find to-do lists in virtually any size with numerous different designs and formats. It's critical to select to-do lists that fit your personal style and preferences, so you're more likely to stick with them. There are a few key methods for using to-do lists that I had in mind while making these free printable holiday to-do lists, which are as follows.
Work through specific holiday tasks. Again, I don't use a complex planner for holiday agendas or any other aspect of my life. A simple 5 x 7 or 8 x 10 to-do list is perfect for me to sketch out Christmas gifts to buy or a holiday menu that I'm planning.
Organize your day. The holiday season is crazy. Writing out a to-do list for the next day before you go to bed will help you sleep better and get more accomplished the following day. [Source]
Organize your week. Some people operate best when they can get a look at their tasks ahead of them for the entire week. Begin a new week by creating a rough outline, highlighting a few top priorities for each day. As you go through the week, you can adjust each day's tasks as needed.
Prioritize your tasks. It may seem counterintuitive, but it's been proven that it's helpful to begin a new day with one of your easiest tasks. [Source] From there, you'll gather steam and prepare to tackle more difficult items on your to-do list. Having a written to-do list makes this prioritization strategy straightforward.
Plan ahead to get favorite holiday events on the calendar. We all go into the Christmas season with big dreams for our family for the weeks ahead. But then before you know it, you're taking the tree down, and you didn't get to half of the events you wanted to attend. Making a holiday bucket list helps you prioritize favorite family holiday activities. Keep your completed Christmas bucket list posted on the refrigerator or another prominent place in your home, so you remember to keep checking off items.
Please don't feel limited to these options. I'd love to hear about other ways you're going to use your new holiday to-do lists!
The free printable holiday to-do lists are for personal use only. You may print them as many times as you like, including for classroom use. Please don't distribute the download files. If family, friends, or co-workers are interested in their own to-do lists, please send them over to this post. Thank you!
Free Printable Holiday To-Do Lists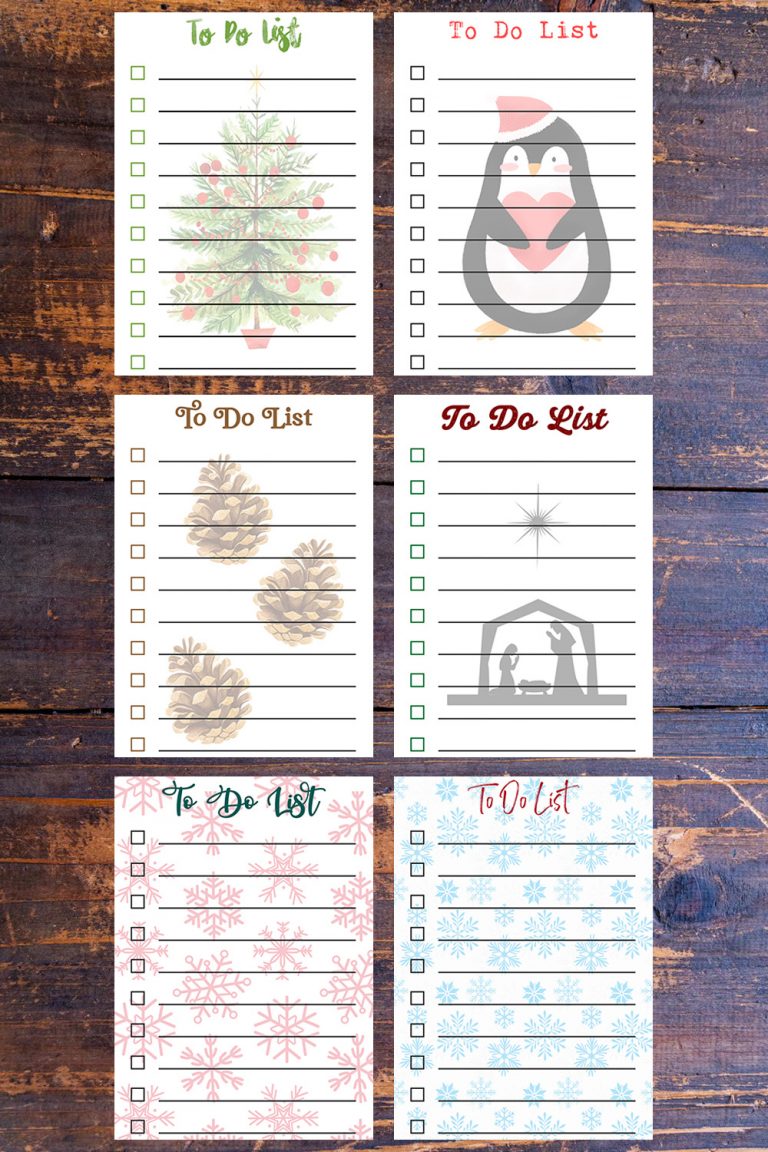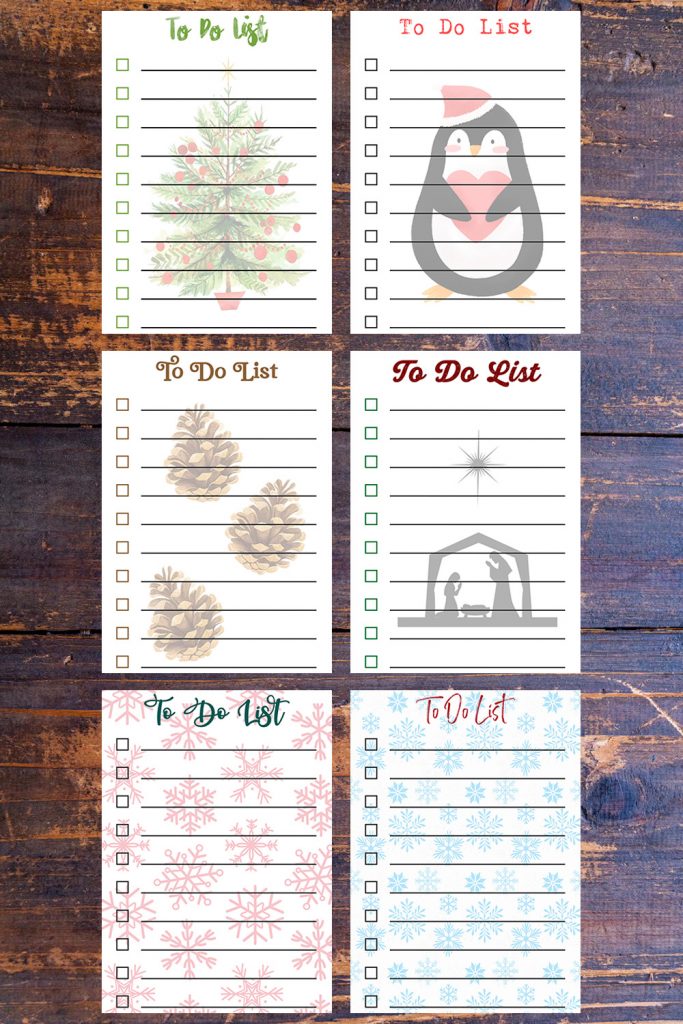 5 x 7 One-Column To-Do Lists
I have six 5 x 7 one-column, to-do lists with the following holiday backgrounds: Christmas tree, penguin, pine cones, nativity silhouette, red snowflakes, and blue snowflakes.
[Christmas Tree – 5 x 7 To-Do List]
[Pine Cones – 5 x 7 To-Do List]
[Red Snowflakes – 5 x 7 To-Do List]
[Blue Snowflakes – 5 x 7 To-Do List]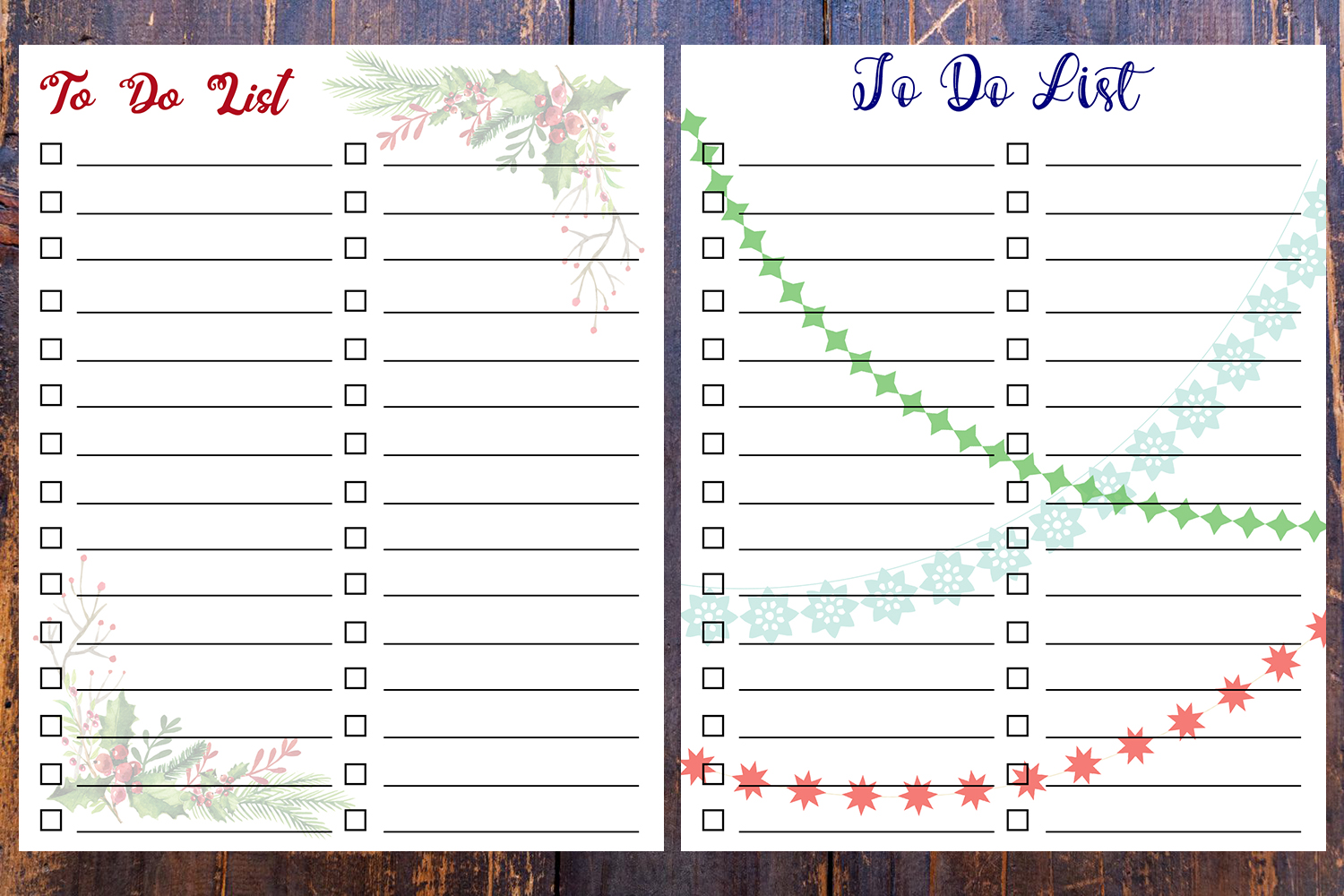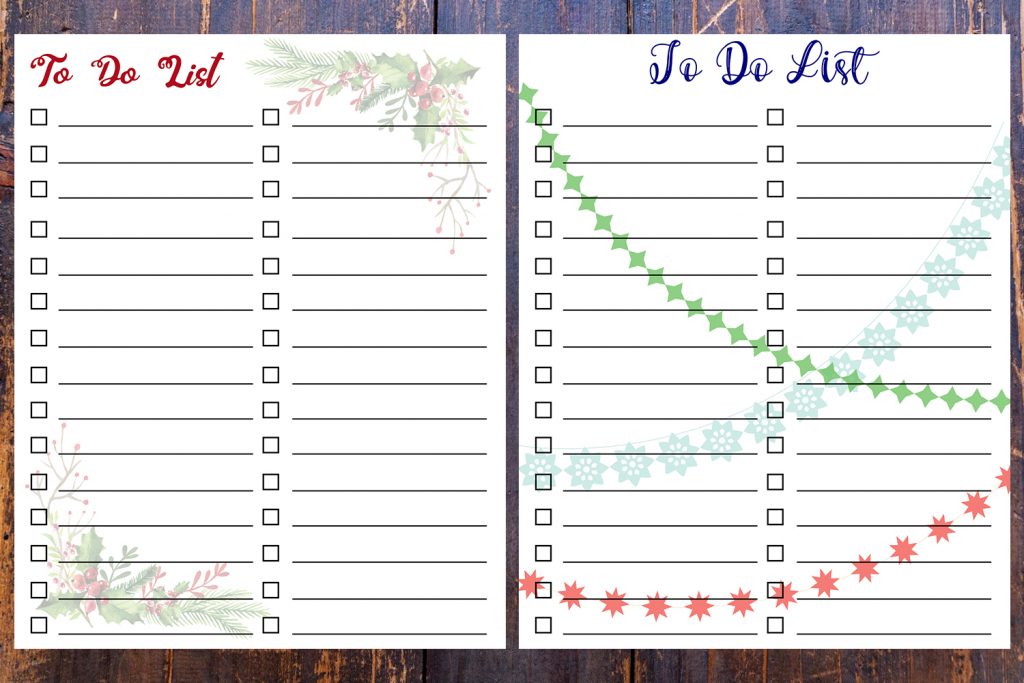 8 x 10 Two-Column To-Do Lists
I only created two-column 8 x 10 to-do lists. I figure that if you would like a smaller list size, you'll use one of the 5 x 7 versions. If you'd rather have a one-column version in the 8 x 10 size, let me know! I'm happy to create something for you.
[Holly Branches – 8 x 10 Two-Column To-Do List]
[Garlands – 8 x 10 Two-Column To-Do List]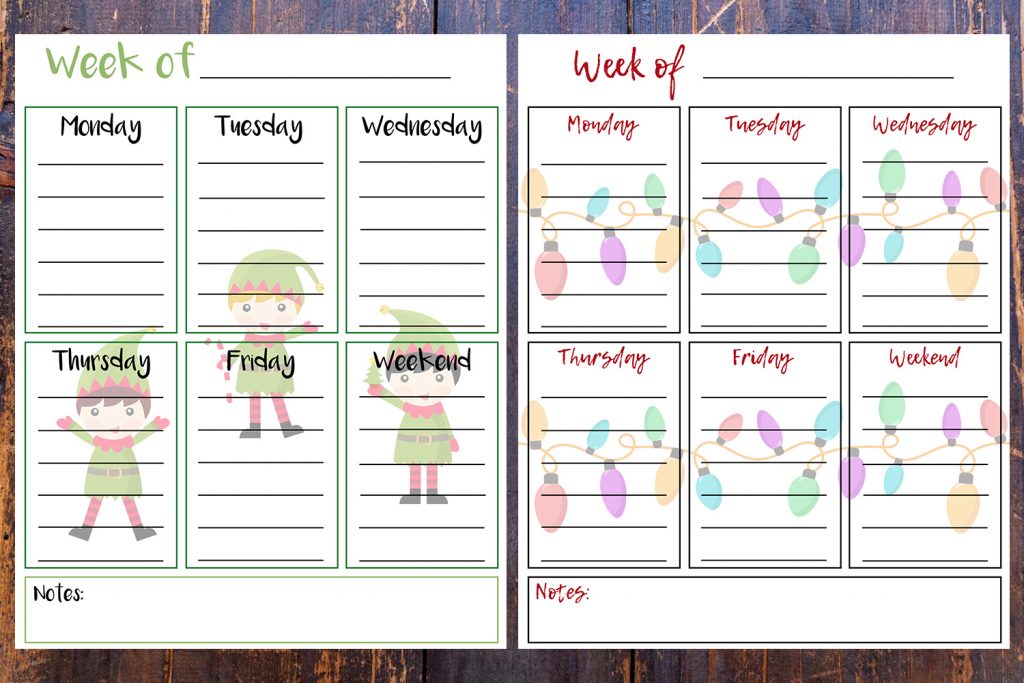 8 x 10 Week To-Do List
The week layout is perfect for planning ahead for the entire week.
[Elves – 8 x 10 Week To-Do List]
[Christmas Lights – 8 x 10 Week To-Do List]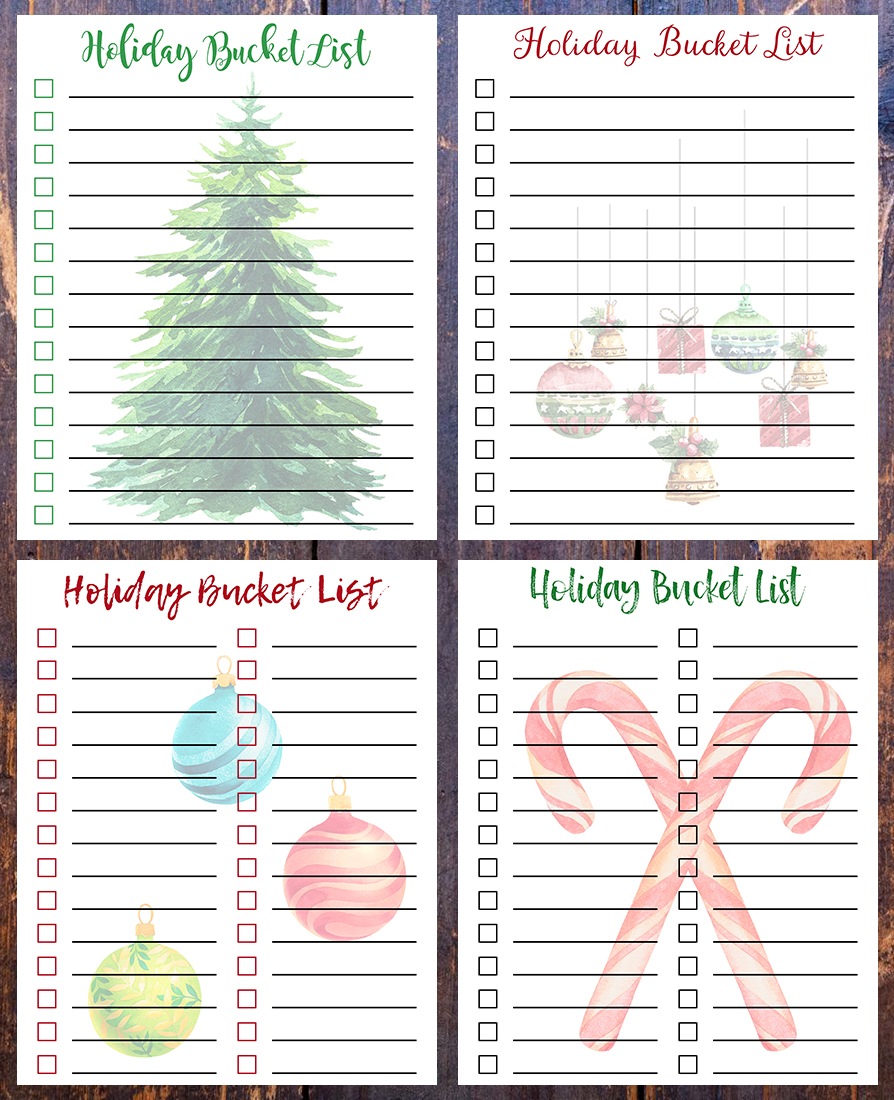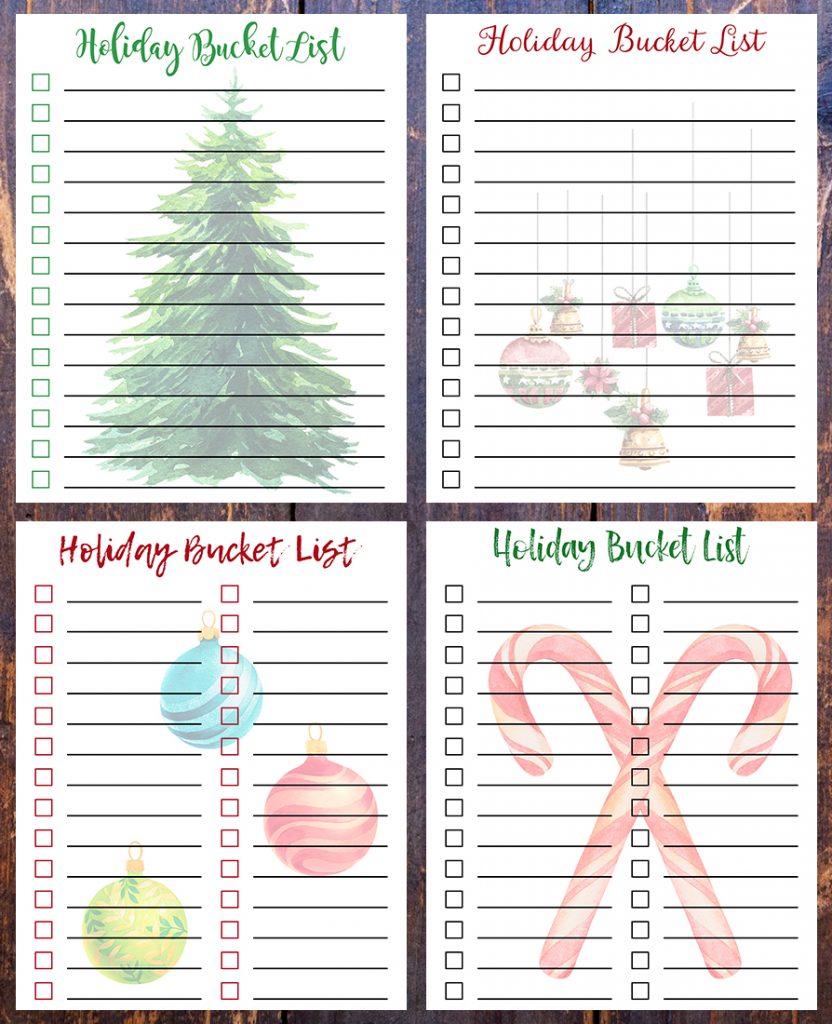 8 x 10 Holiday Bucket List
Make a Christmas season family bucket list to ensure you get to all of your favorite activities and events over the coming weeks.
One-Column
[Pine Tree – Holiday Bucket List – 8 x 10 One-Column List]
[Ornaments – Holiday Bucket List – 8 x 10 One-Column List]
Two-Column
[Watercolor Ornaments – Holiday Bucket List – 8 x 10 Two-Column List]
[Candy Canes – Holiday Bucket List – 8 x 10 Two-Column List]
Get the complete set of holiday to-do lists all at once!

>> [Download the full set of free printable holiday to-do lists!] <<

All 14 printable lists in one convenient download.
I explain how to extract and download the ZIP folder in my free vintage dictionary page printables post. The link will take you right to those directions.
Printing the free holiday to-do lists
My recommendations for printing the 5 x 7 to-do lists quickly and easily is to purchase 5 x 7 memo sheets. Your lists are formatted perfectly for this paper size, which means you won't have to spend time trimming down the paper. A 500-sheet pack is reasonably priced and should keep you set for a year or longer.
The 8 x 10 to-do lists print perfectly on regular 8.5 x 11 printer paper. Check the print preview button before hitting print to ensure that margins are formatted the way you like. If the fit is off, look for a "shrink to fit" option, which should correct any issues. Stock up on printer paper for the new year ahead.
Are there additional free printable holiday to-do lists you'd like to see here? Don't hesitate to ask! I'm happy to create a design just for you.
[Disclaimer: There are a few affiliate links in this post. Thanks for your support!]
Are you using the free printable holiday to-do lists?

I'd love to hear about which designs you like and see how you're using them! Tag your images #RoseClearfield on Instagram or Twitter or post a photo to my Facebook page.
Save the printable Christmas to-do lists for easy access later!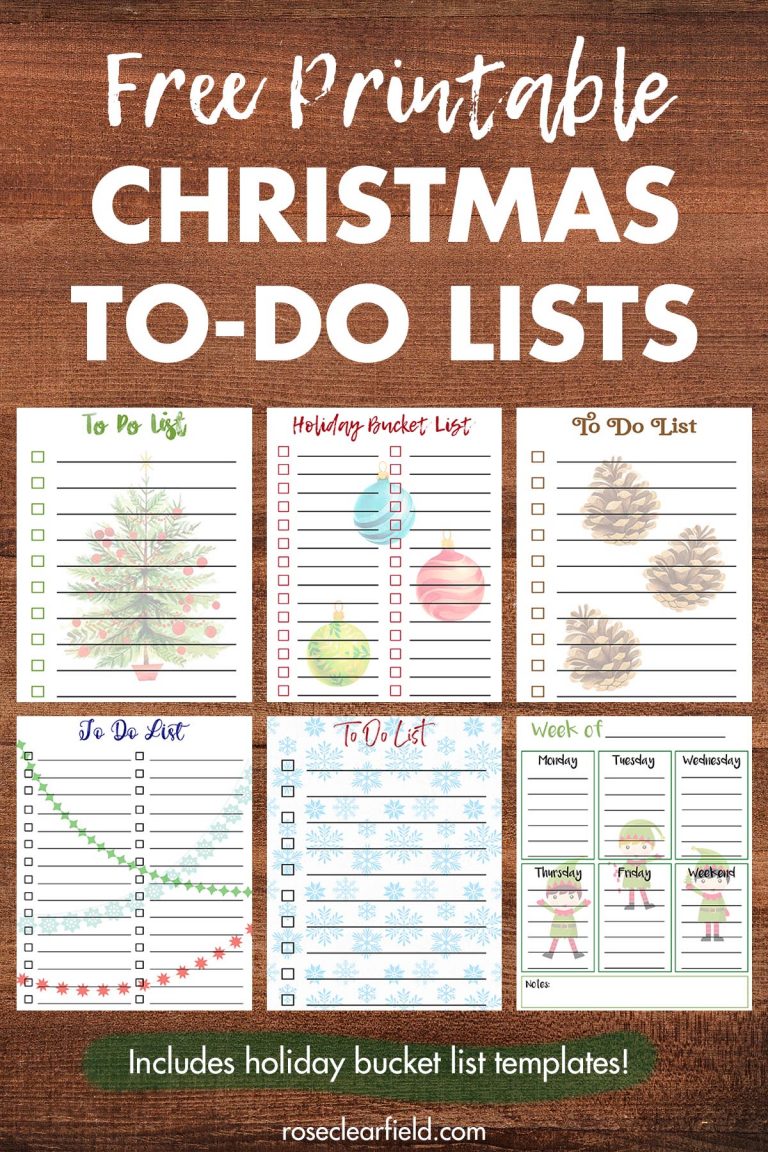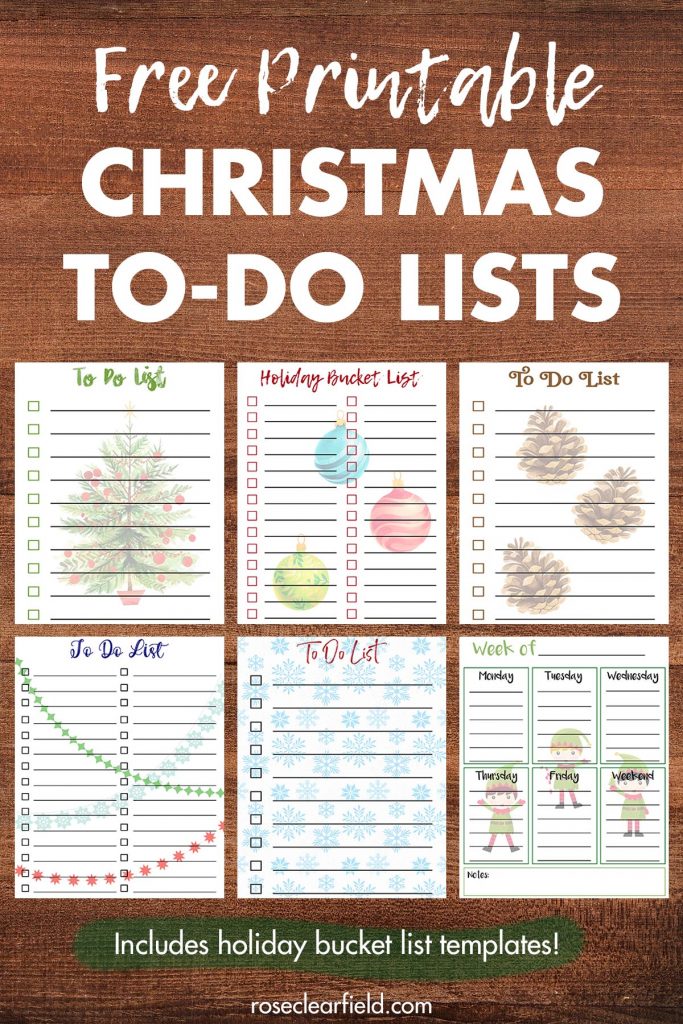 More free holiday printables:
Additional holiday resources: