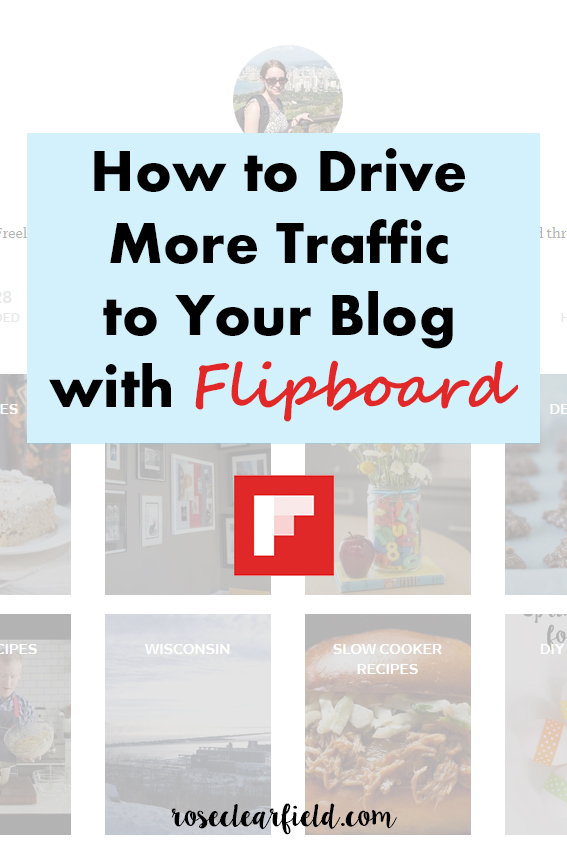 Flipboard is an often overlooked but very powerful platform for increasing traffic to your blog. The program compiles content from news feeds, blogs, social media sites, photo sharing sites, and more, and then presents it to users in a magazine format in which they can "flip" through the articles, photos, and videos. Users also have the option to like content and save it in their own magazines.
If you're looking for another platform to share your blog that's easy to use and requires just a minute or so of your time each day, I highly recommend checking out Flipboard and learning how to drive more traffic to your blog with Flipboard.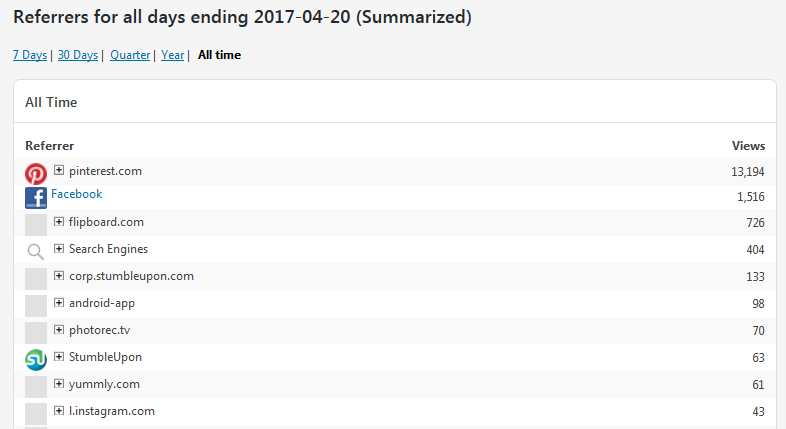 stats via Jetpack
Why am I discussing how to drive more traffic to your blog with Flipboard?
It may surprise you to learn (it's still sort of surprising to me, too) that as of mid-April 2017, Flipboard is my third highest traffic referrer for this blog, after Pinterest (#1) and Facebook (#2). It significantly beats out Twitter, Instagram, and Google+. Currently, it's also beating out Stumbleupon. Moreover, since I created a master spreadsheet to help me keep track of which posts I've shared where and when most recently (thanks to Amber's Automation Education course), I've been sharing to Flipboard every single day. And I've been seeing traffic every single day. Some days it's only 5-10 hits, which isn't much, I know. But it is consistent, which is more than I can say for the other platforms it's beating out right now. On the best days, I get as many as 50-100 (or more) hits.
But I don't want to learn how to use or spend time on another social sharing platform. Won't it be time-consuming to add Flipboard to my social sharing routine?
I know that the last thing bloggers want is to add another social sharing platform to their daily share routine. Believe me, I don't either. I promise that Flipboard is intuitive. You won't have to spend hours figuring out how it works. Once you've set up your account, it'll only take a few seconds to share new content and flip a few other posts each day.
I'm not going to walk you through signing up for an account because it's very straightforward. Make sure to use the name of your blog for your account, so it's easy for blog followers to find you on Flipboard. Once you have your new account, you're ready to implement the following tips to drive more traffic to your blog with Flipboard.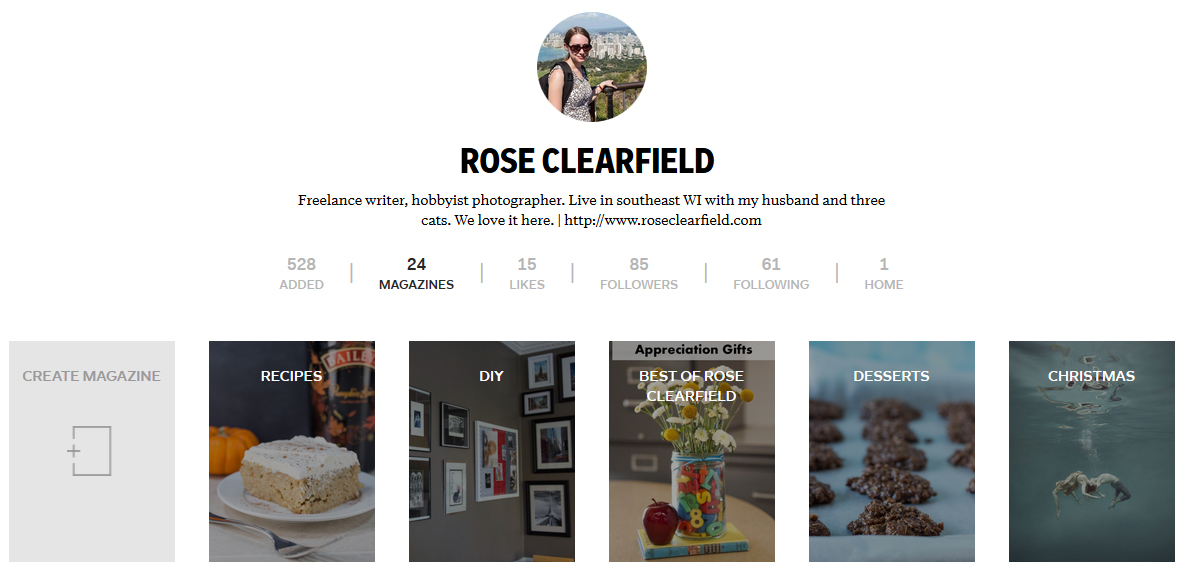 Create magazines with simple titles
Instead of boards, Flipboard has magazines (which is sort of funny given that they have "board" in their name). Arguably, my biggest mistake early on with Flipboard was creating too many niche boards. Unless you're going to spend a lot of time on Flipboard or you're trying to target really specific niches, it isn't worth your time. (For example, if you're a food blogger, you may want to create different boards for appetizers, side dishes, desserts, etc.). Keep it simple. I primarily pin to the following boards: Best of Rose Clearfield, DIY, Recipes, and General Photography Resources. I have a couple other food boards I use, too. At some point, I'll create a general Holidays board. The vast majority of my evergreen posts fit into one of these categories. For posts that don't have an obvious fit, I put them into my Best of Rose Clearfield or Worth a Read board.
Optimize your Flipboard account
Just as you would optimize any other social media or sharing platform account, you should optimize every aspect of your Flipboard account. Upload a photo of yourself or your blog logo, fill out the bio section (and include a link to your blog!), and add descriptions to your boards. The good news is that once you've completed these tasks, they're done. Aside from updating Flipboard info once or twice a year, you won't ever have to optimize your account again.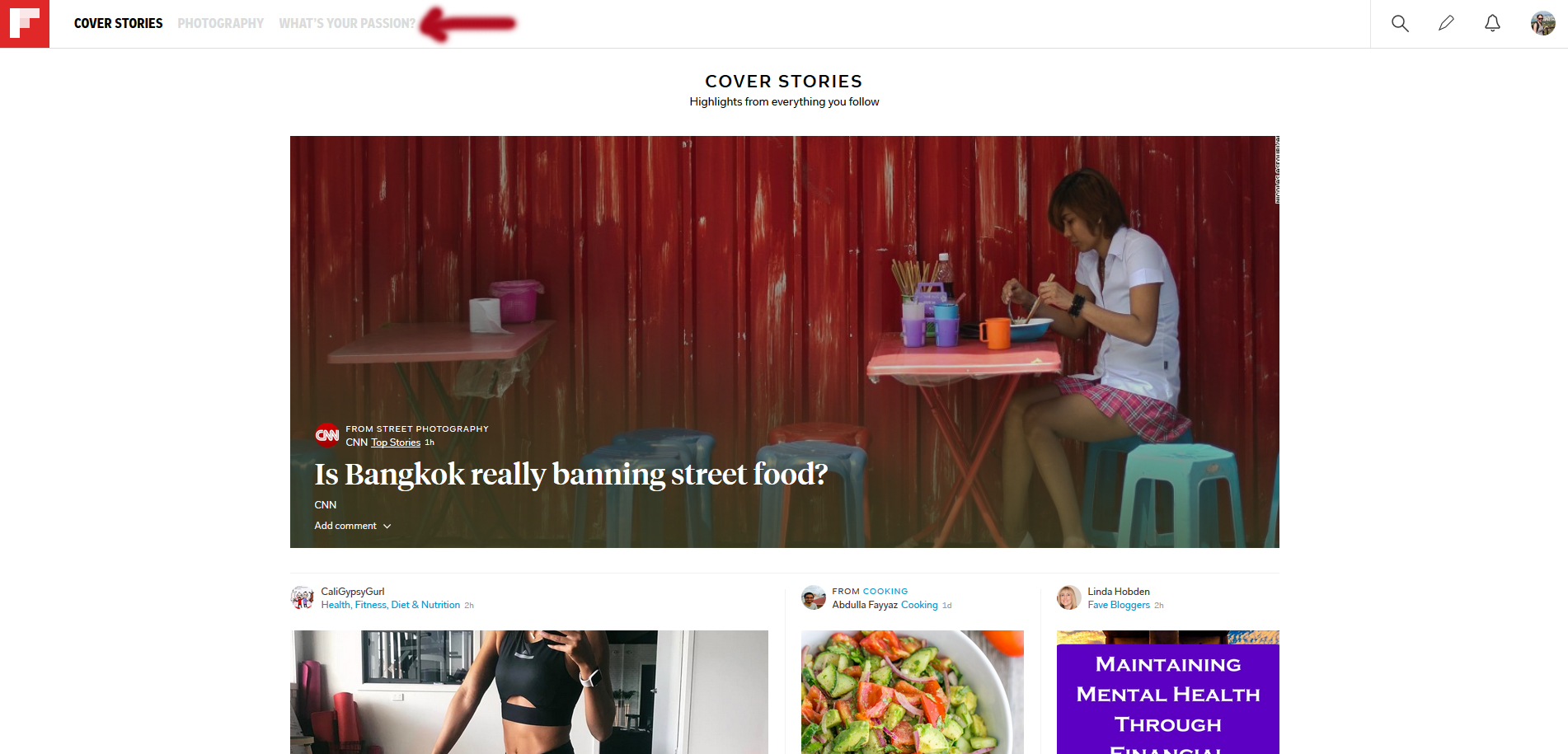 Follow topics
There are two key steps to ensure you have relevant content to flip every day. The first step is to follow topics relevant to your blog. On the Flipboard site, there's a button on the top lefthand corner of the screen that says "What's Your Passion?" Click on this button to select topics. Flipboard will suggest topics for you and list featured topics. You can also search their topics.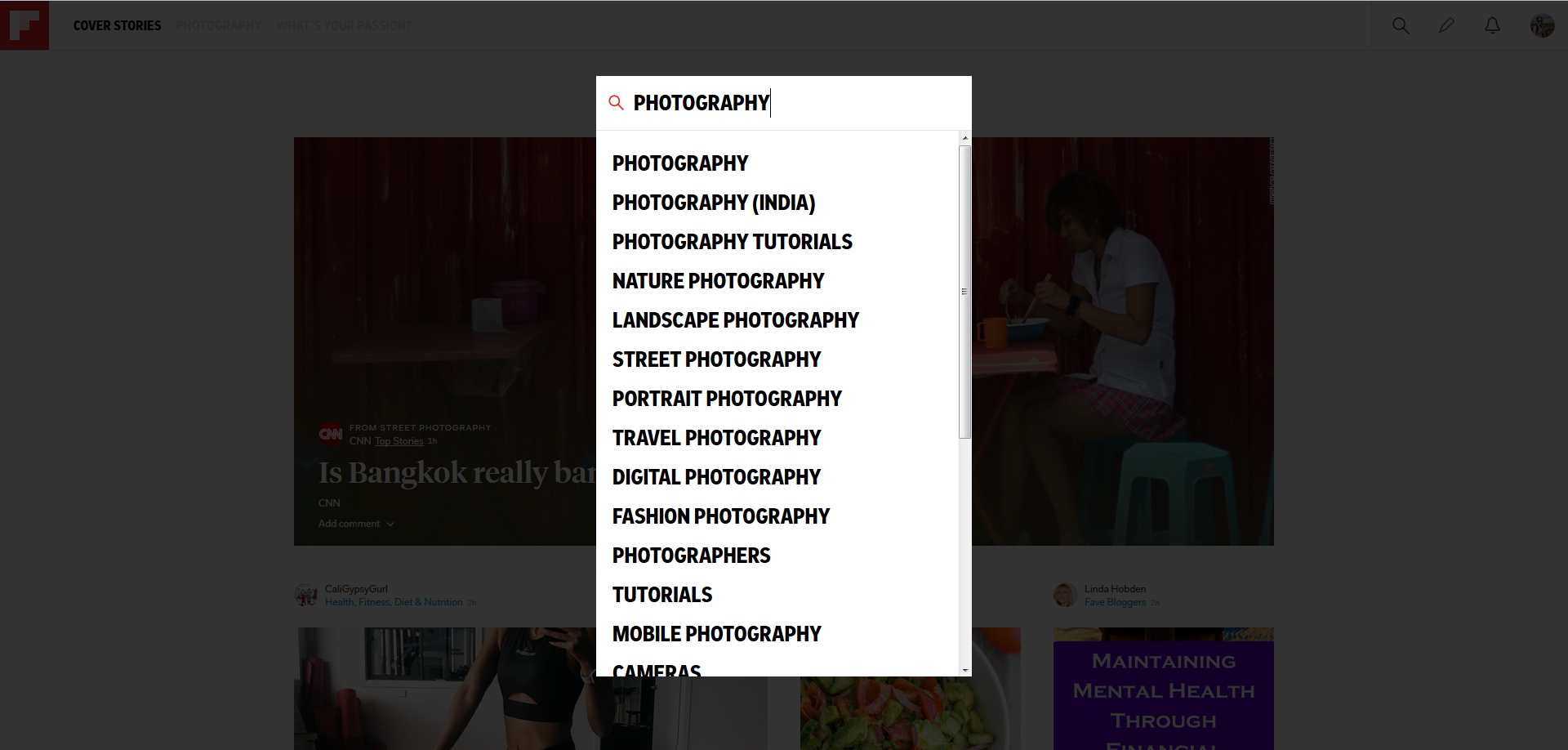 For example, I like to follow photography topics on Flipboard. In addition to the general photography topic, there are a number of sub-topics. When you search "photography," you'll see the sub-topic results, such as cameras, travel photography, and photography tutorials.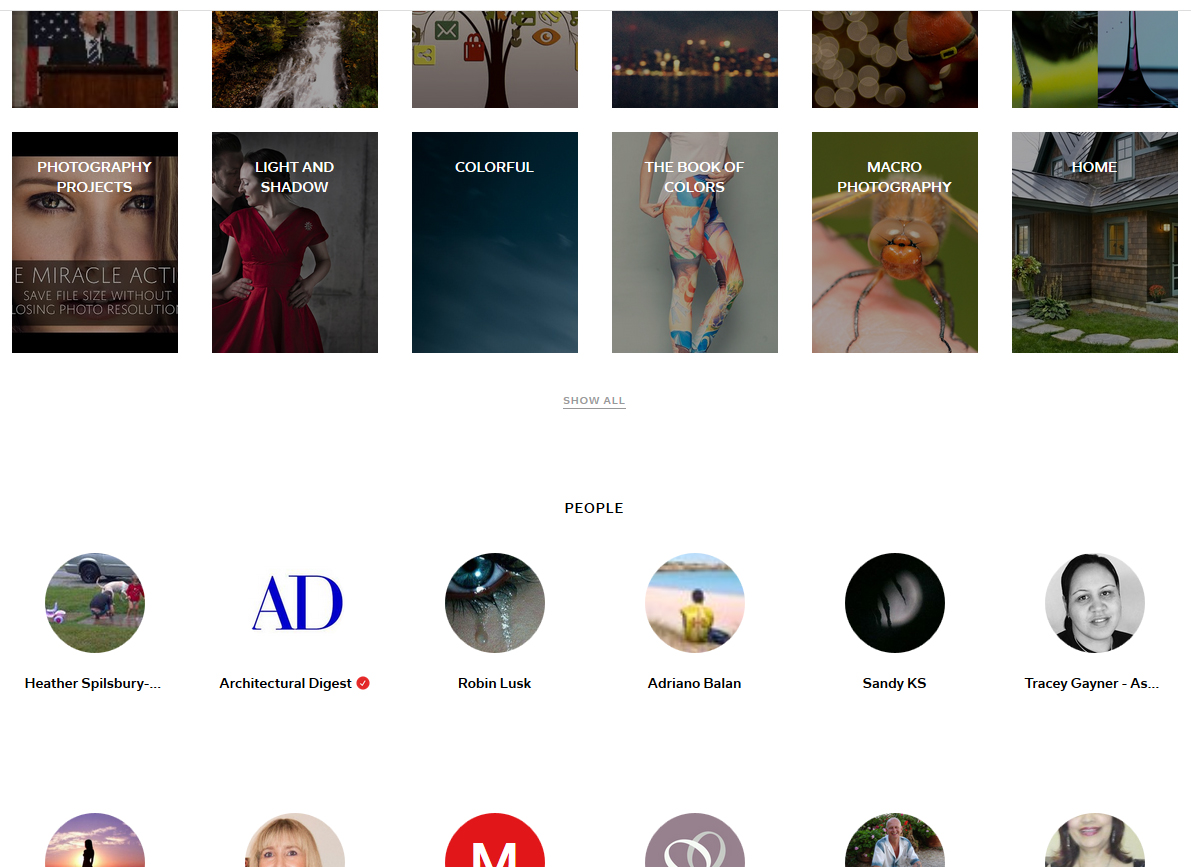 Follow accounts that are a good fit for your blog
The second step is to follow accounts that are a good fit for your blog. For example, I follow Chris Gampat of The Phoblographer and Brit Morin of Brit + Co. Finding accounts to follow on Flipboard isn't as easy as it is on major social media networks because most blogs and websites don't have Flipboard buttons like they do for Facebook, Twitter, and Pinterest. My best advice is to do a Google search for accounts you follow elsewhere. Once you get started on Flipboard, you may naturally come across other great accounts to follow.
Flip a few times every single day
As with any social sharing platform, consistency is critical for success. My second big mistake on Flipboard was not using it more consistently sooner. I really wish you could schedule flips. But once you get into the habit, it's not hard to flip daily. I recommend downloading the Flipboard app for your phone. When you're checking your social media accounts or have a few minutes of downtime before an appointment or standing in line at the grocery store, flip a few articles.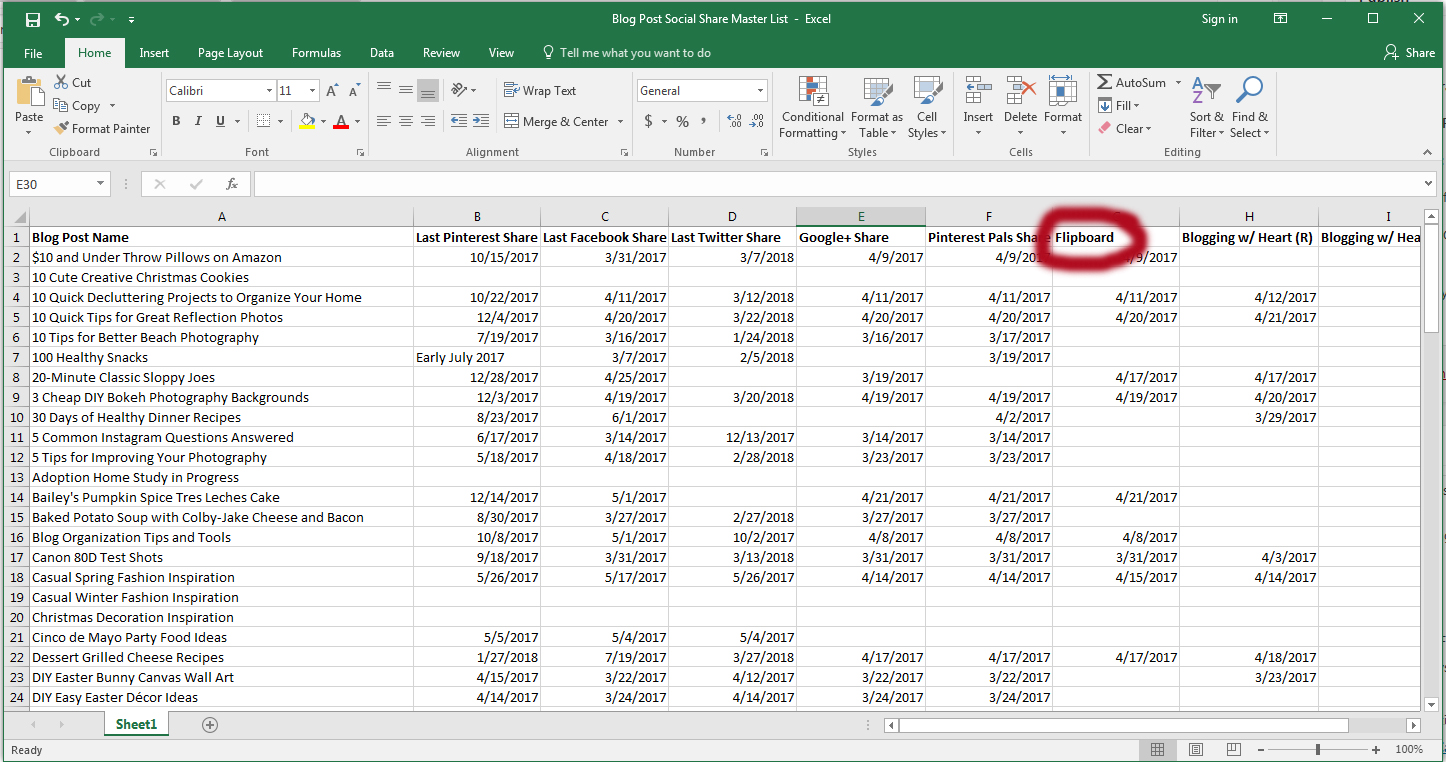 Add your new blog content
Again, creating a master spreadsheet for my blog content, which includes Flipboard, has been huge for ensuring I flip every single new blog post (and go back and flip old posts). The day your post goes live, flip it, and then document it on your spreadsheet, so you won't have to second-guess yourself later or spend a bunch of time sorting through your flipped content to see if it's there.
Connect with fellow bloggers
I actually created my Flipboard account after stumbling across a thread about Flipboard on HubPages. A number of veteran HubPages writers use Flipboard to keep sending traffic to their older articles. So I follow a number of long-time HubPages users. But I'm always looking for bloggers to connect with and follow, too! Get a thread going about Flipboard in a Facebook blogging group, and let your readers know about your account as well.
A couple more ideas
The previous suggestions to drive more traffic to your blog with Flipboard are suggestions I've implemented personally. The following suggestions are other ideas that I haven't tried yet myself (but may at some point). If you do, I've love to hear about the results!
Share your magazines. Write a social media update, send an email blast, or include a note about one of your magazines for an upcoming holiday, a relevant blog post, etc. You can even embed a magazine in a blog post. On the right side of the magazine page, click Share and then Embed this Magazine.
Invite Flipboard users to contribute to a magazine. Similar to Pinterest group boards, you can create group Flipboard magazines in which multiple users can contribute. Within a magazine, click the Edit button on the right side of the page. Then on the left side of the page, click Members. Copy the URL or share it via Facebook or email.
Finally, don't forget to follow me! I love connecting with new bloggers on Flipboard and will always make the effort to flip content from people I know when I see it show up in my feed.
[Disclaimer: All options are 100% my own. Flipboard did not sponsor me or endorse me to write this post in any way. I do not earn anything if you sign up for Flipboard. The only affiliate link in this post is for the Automation Education course. Thanks for your support!]
Do you have any tips on how to drive more traffic to your blog with Flipboard?
Share your advice in the comments!
More blogging resources: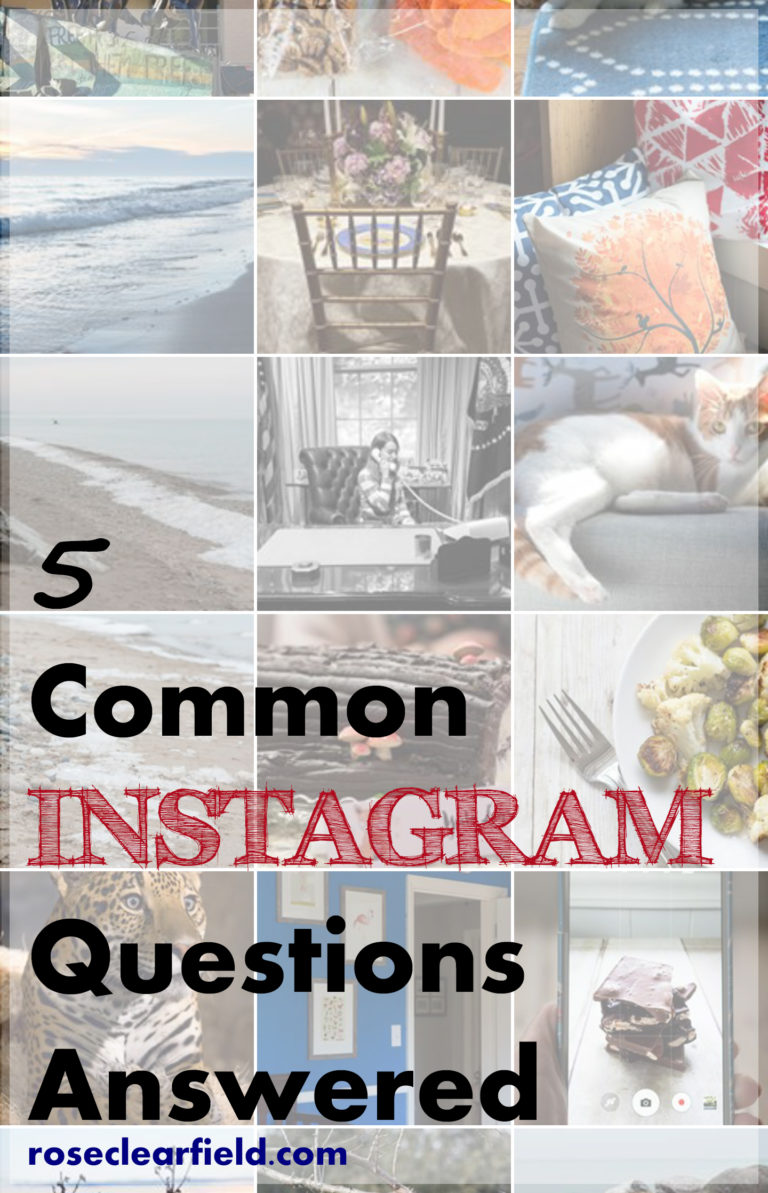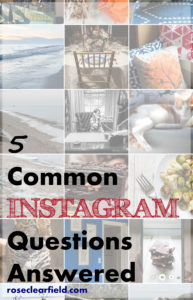 5 Common Instagram Questions Answered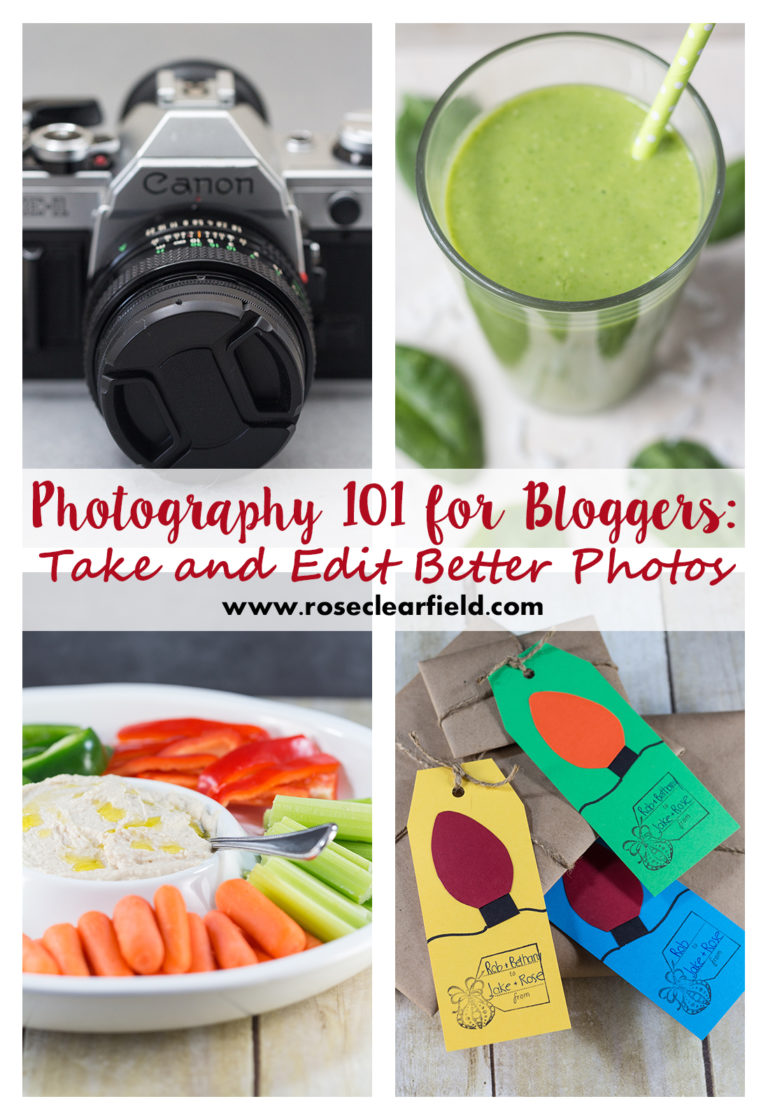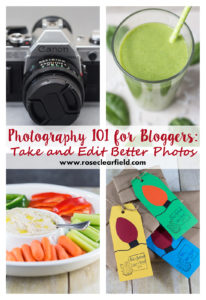 Photography 101 for Bloggers: Take and Edit Better Photos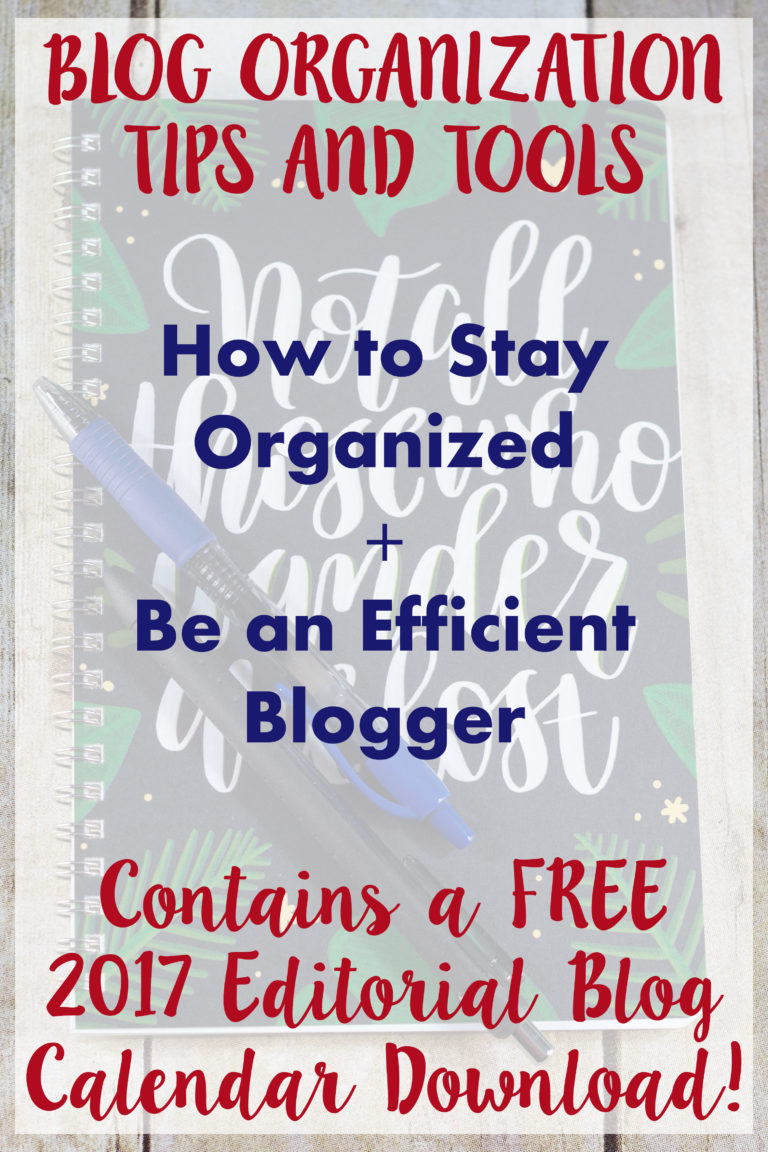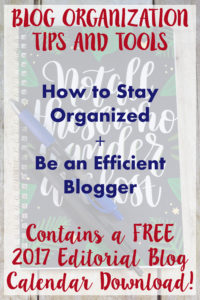 Blog Organization Tips and Tools
Save
Save
Save
Save
Save