Adoption is expensive. Having to travel across the state or to another state for an adoption adds even more expenses to this already costly process. Smart planning and a few tips on how to save money traveling for domestic infant adoption will help you reduce your costs significantly.
Stay with family or friends
Working with an out-of-state adoption agency in a state where you have family or friends you could stay with until you're cleared to go home will reduce your travel expenses substantially. Make sure they understand the flexible nature of your time frame, including that it could be up to a couple of months before you're approved to travel home.
Don't be afraid to talk to everyone you know about the possibility of using their vacation rentals as well. Staying with family or friends in their full-time home can be a lot, especially when you have a newborn baby and are staying for one or two months. Many people are happy to offer use of a vacation rental or second property for free or at a significant discount, especially during the off season.
Weigh the cost of driving versus flying
Depending on how far and where you're traveling, it may make more sense to drive versus fly. Every situation is different. Be honest about the factors at play for your adoption travel, and plan accordingly.
If the adoption will take place less than five hours away, most likely you won't save money or time by flying. On the flip side, if the drive will take more than a couple of days and/or involves challenging terrain (i.e., mountains), most likely flying is the better option. Consider the number of people traveling as well. If you're planning to bring multiple kids or other family members (i.e., grandparents) with you, plane tickets can add up quickly.
Be smart about how you book your flights to maximize savings
Generally, you'll save the most money booking airline flights online, either through airline websites or discount travel sites. There are no longer preferred days to book flights (you can read more about that at Discovery). However, you'll still save money booking flights three weeks to three and a half months in advance and flying on a Tuesday or Wednesday.
Whatever you do, don't buy nonrefundable tickets or tickets that don't allow for date changes, even when they're a great deal. The baby may end up coming a whole month early. If this happens, you'll be out the full fare when your tickets can't be refunded or modified. You're much better off spending a little more money to get flexibility for changes and cancellations.
Use your frequent flyer miles and/or hotel reward points
If you travel often and/or have a credit card that earns you frequent flyer miles, traveling for domestic infant adoption is the perfect opportunity to use up existing miles and points. You'll save a bundle on some of the most expensive travel costs. If you're early in the adoption process, think about applying for or switching to a credit card that earns frequent flyer miles. Every little bit helps with your expenses.
Stay in a property with a kitchen and on-site laundry
It is well worth the time and money to research hotels and other rental properties, such as cabins, that include a kitchen and on-site laundry, for the bulk of your time away from home. Having your own kitchen gives you a lot more flexibility for meals, which will save you a ton of money. It also makes it so much easier to wash and dry baby bottles. In many cases, it makes the most sense to get a hotel upon arrival at your destination, as the time frame is often up in the air until the last minute. Then switch to a place that includes a kitchen and laundry when you're ready to be a little more settled.
Personally, I think a standalone house makes the most sense for the majority of your stay. You'll have a lot more options that include a kitchen and laundry facilities that you won't be sharing with anyone else. You'll have more space, which often includes a yard. And you won't be worried about a newborn baby waking up anyone outside of your own family.
Don't be afraid to talk to hotel managers and Airbnb owners about your situation
There are a couple of key reasons to speak to hotel managers and Airbnb owners prior to traveling for adoption. One, as your time frame is unknown, it's important to have as much flexibility as possible for extending your stay. Whenever possible, you want to stay at places where possible extensions won't be a huge hassle. Second, many people are willing to offer discounts and make other accommodations when they know why you're traveling. While there are no guarantees, it never hurts to ask.
Book a rental care through a wholesale site
Just as it's often cheaper to book a flight or hotel through a travel discount website, it's often cheaper to book a car this way. The rental care companies are competing with each other. As such, they'll offer lower rates when they know they could lose your sale to one of their competitors. Again, inquire about the possibility of extending your rental prior to traveling, so there are no surprises.
Be smart about when and where you stock up on essential baby supplies
If you fly for adoption, it makes the most sense to buy baby essentials at your destination. If you drive and space allows, buy a few supplies prior to traveling. You'll be able to maximize your savings and will have one less thing to worry about upon arrival. Once you've arrived, shop smart. Avoid making last-minute purchases at stores with high prices, such as convenience stores. Buy the bulk of your baby supplies through larger retailers with lower prices, such as Target and Costco.
Consider shipping instead of packing items to avoid extra luggage fees
For bulkier baby supplies, such as car seats and pack 'n plays, it may be the most cost effective to ship instead of pack them, especially for flying. Talk to hotels and Airbnbs about getting items shipped right to your lodging. You can also make use of shipping centers, such as the FedEx store, and anywhere that offers package pickup, such as Walgreens.
Fellow adoptive parents, I'd love to hear your best tips for how to save money traveling for domestic infant adoption!
Share them in the comments!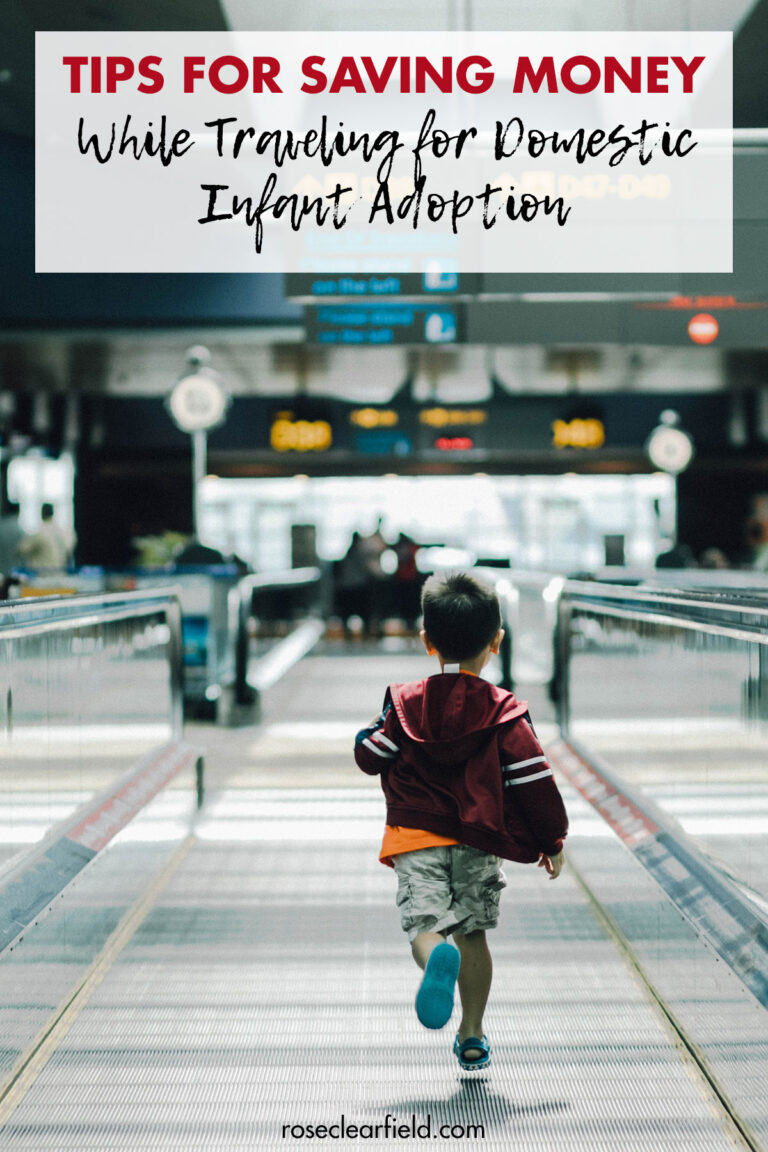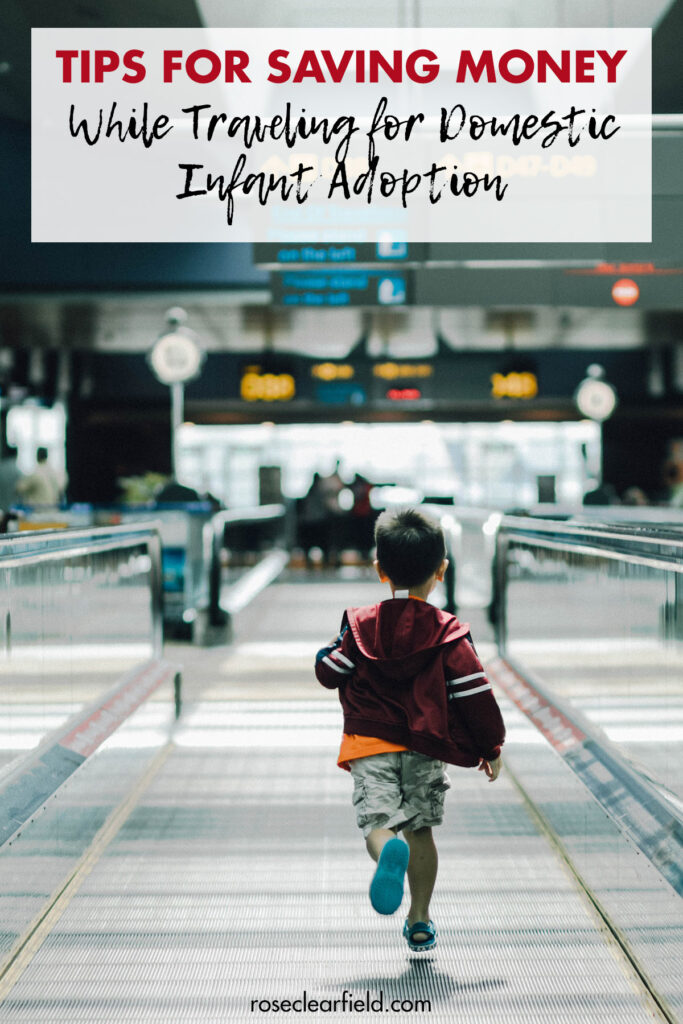 More adoption resources:
Visit the adoption section of the blog for even more adoption resources, including waiting to adopt and open adoption resources, and to learn more about our adoption journey.