Shopping for guys is always harder than shopping for girls, right? I know that I've talked about this before, but shopping for the women in my family is easy, while I'm always coming up short on ideas for the men, even (especially?) the ones I see all the time (namely my husband and father-in-law). If you've waited until the last minute and don't want to order something online or you like the idea of making a gift but don't know what to make, a DIY Father's Day gift is perfect. I'm sharing just a few of my favorite handmade gift options for Dad.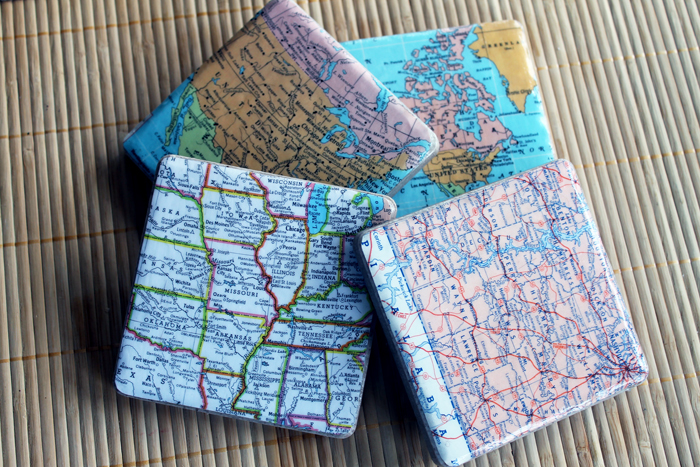 Coasters
You can never have too many coasters. It's always good to have a spare set in the living room, man cave, game room, or even dining room to protect your beautiful table. If Dad has plenty of coasters at home, he can bring a couple of them to work for his coffee mug or water tumbler. I love the classic photo coaster concept and have gifted them for holidays and weddings on multiple occasions. For Father's Day, I also love map coasters from The Country Chic Cottage, natural branch coasters from Garden Therapy, and beer coasters from Hip 2 Save.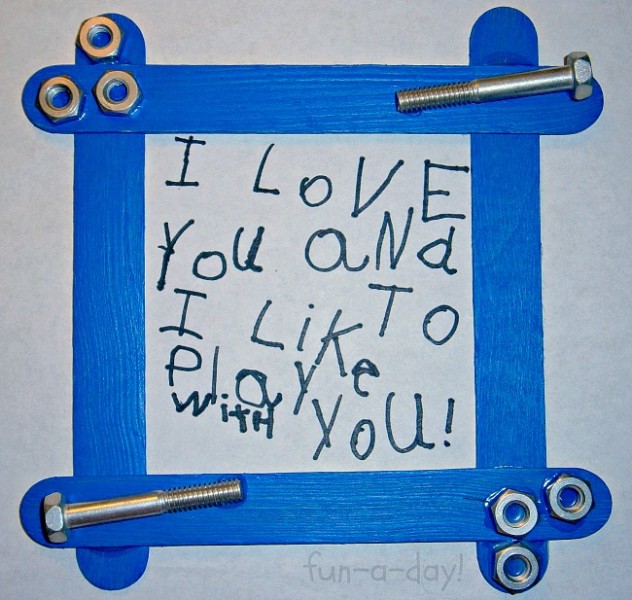 Framed homemade art
Framing homemade kid's art for Mother's Day or Father's Day is a classic, but you really can't go wrong with this gift. Framing a piece of art preserves it, ensuring you'll keep in on your wall for years to come. A simple frame from Target or Michael's is perfect. Of course, I love the idea of making a frame, too. Buggy and Buddy has an adorable puzzle piece frame while Better Homes and Gardens has a tutorial for a DIY shadow box, ideal for showcasing children's art. Father's Day frame ideas are great as well, such as Fun-A-Day's nuts and bolt's frame. You can customize this concept for virtually any hobby or interest.

"Dad" or "I love Dad" photo piece
Another classic for Father's Day, you don't have to be a professional photographer to make a cute "Dad" or "I love you, Dad" piece. If you are planning to have photos taken in the spring, though, it's easy to arrange a few shots for this purpose. Designer Trapped shares her best tips for creating a "D-A-D" photo. Bambina Babe and Positively Splendid have some additional fantastic Father's Day photo ideas.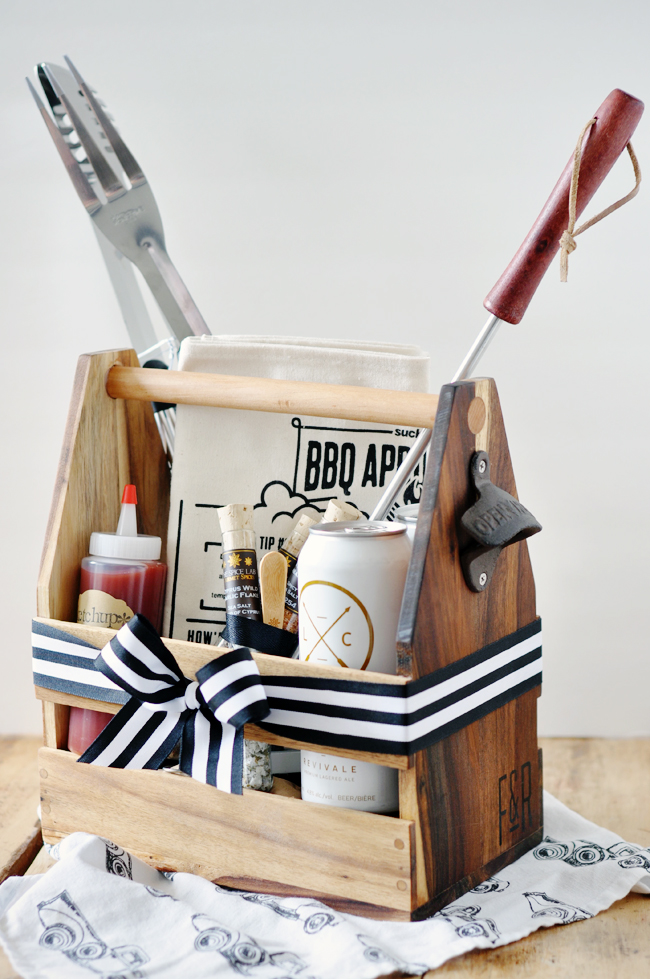 A tool-related gift
I know that not every dad is handy. Again, you can customize tool-themed gifts to fit numerous hobbies and interests from fishing to cooking to photography. I absolutely love Moss Wood Connections' upcycled nuts and bolts canvas art. (I may have to make one for my father-in-law one of these years). The tool wall art from Craftulate is another fun kid-friendly art project. I also like the idea of giving Dad a "toolkit" of sorts with real tools or other supplies to fit his passions, such as this DIY cookout kit from Lark & Linen.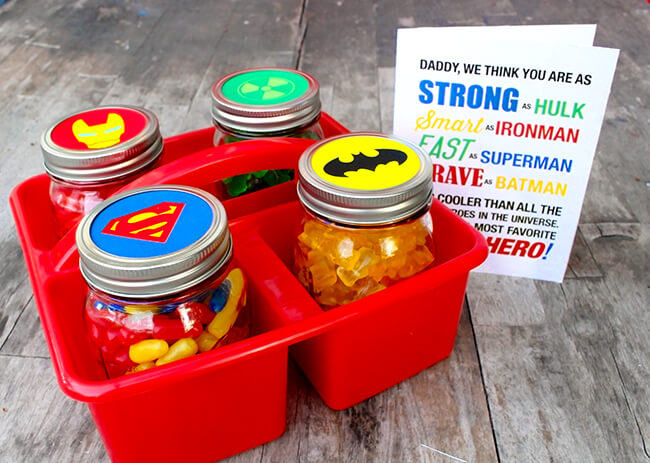 A superhero-themed gift
There are lots of Father's Day gifts themed around the message: "Dad, you're as: strong as Hulk, smart as Ironman, Fast as Superman, and Brave as Batman," complete with fun superhero graphics. Sandy Toes and Popsicles shares a fantastic superhero printable with this message to add the finishing touch to any superhero gift, as well as a fun gift idea for it. Crafty Morning has another great printable for kids to complete with a handprint, and Pizzazzerie has printable "super dad" snack labels for holiday goodies.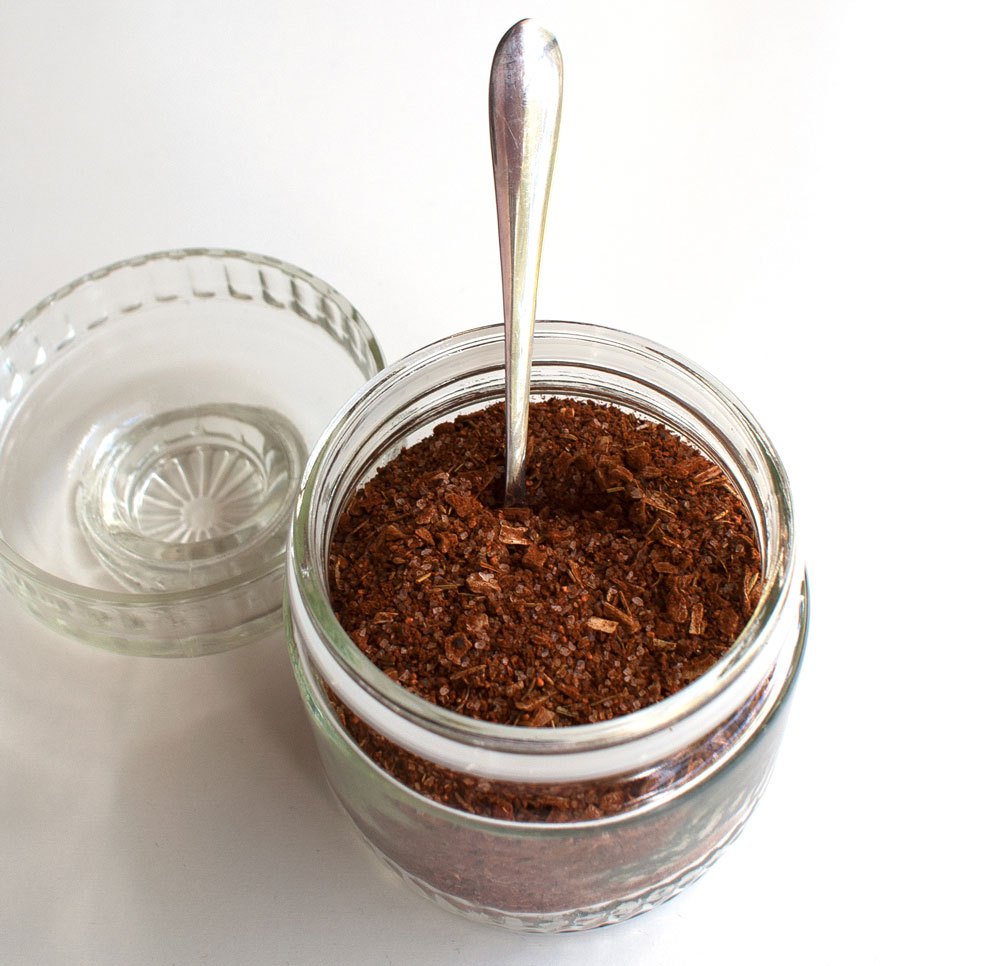 Food gift
I love to gift food gifts for any occasion, and Father's Day is no exception. I enjoy putting together themed food gifts, such as pasta dinner with whole wheat noodles, marinara, and pesto. I often include little food gifts for Christmas, such as favorite chocolates. You can't go wrong with coffee and tea gifts as well. For Father's Day, steak or barbecue rubs are very popular, too. Pick up recipes for steak rub from Sprinkles and Sprouts, Caribbean rub from Today's Creative Life, and barbecue rub from Living on a Dime (which includes a number of other homemade rub/seasoning recipes).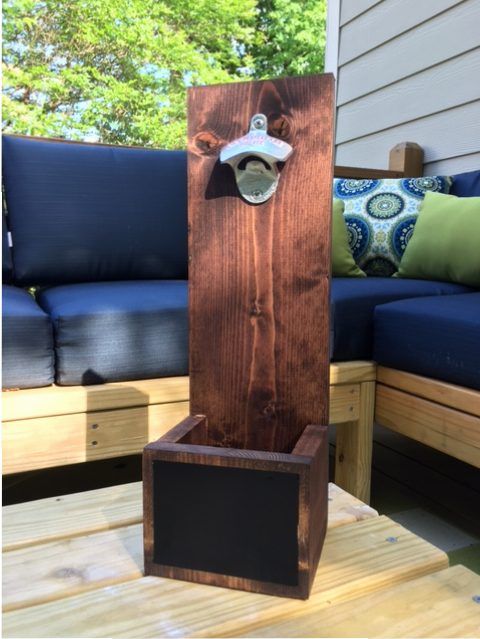 DIY bottle opener
A DIY bottle opener is a perfect addition to a basement bar, man cave, or even casual den or kitchen. Personally, I like the simple wood bottle openers the best. Some designers feature a built-in container for bottle caps, which is neat, too. Many people choose to add funny or cheesy sayings to their bottle openers, so if you like that sort of thing, there's plenty of inspiration out there. Check out tutorials on Artsy Pretty Plants and Shanty 2 Chic.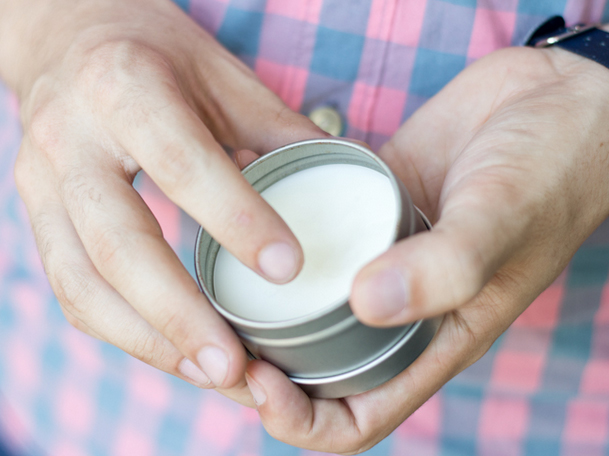 DIY skincare or shaving product
While most people think of gifting homemade skincare products to women, they make a great gift for guys, too. Shaving cream (Everyday Roots) and shaving butter (Teach Beside Me) are always popular options. After shave cream (Her Own Wings), mustache wax (The Crunchy Chronicles), beard oil (Blooming in Bedlam), and hair pomade (Momtastic) make awesome gifts for guys, too. One of the best parts of DIY products is that you can switch up the scents with ease. If Dad doesn't like mint, swap in lavender or eucalyptus.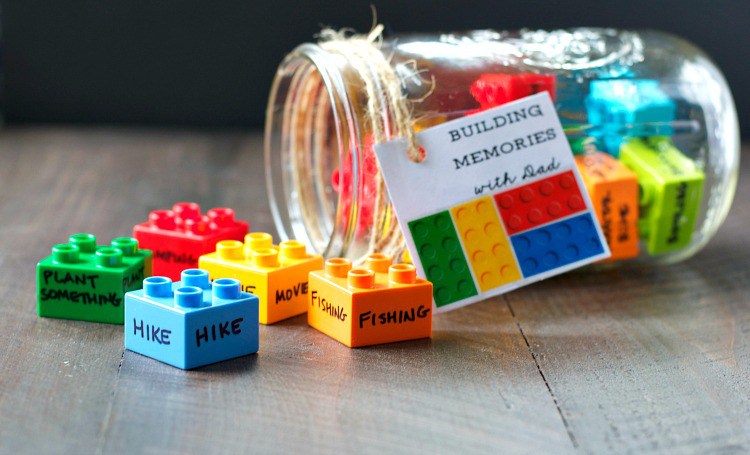 Building memories with Dad gift
I love the building memories with Dad gift because it's a fun twist on a classic gift idea. A jar full of Legos, each with a different kid-Dad activity, will give you ample ideas to stay busy every weekend until the next Father's Day rolls around. I'm always a fan of experience gifts, too, and this gift fits the bill for that as well. Check out the tutorial at The Seasoned Mom.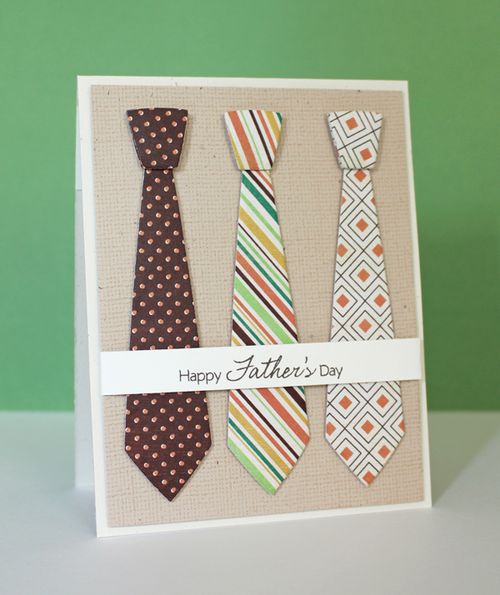 Handmade card
A homemade card adds a sweet touch to any Father's Day gift, handmade or otherwise. Making your own card is also perfect for presenting a gift that's tough to wrap, such as a restaurant or theater gift card. A finger-painted Father's Day card (Clare's Little Tots) is perfect for getting little kids involved. The neck tie card is another standard for Father's Day. Grab tutorials from Prairie Paper & Ink and Stylow. DIY Projects has a fantastic roundup of Father's Day card tutorials ranging from classic to nerdy with something for everyone.
Pin this post for easy access to the Father's Day gift ideas later!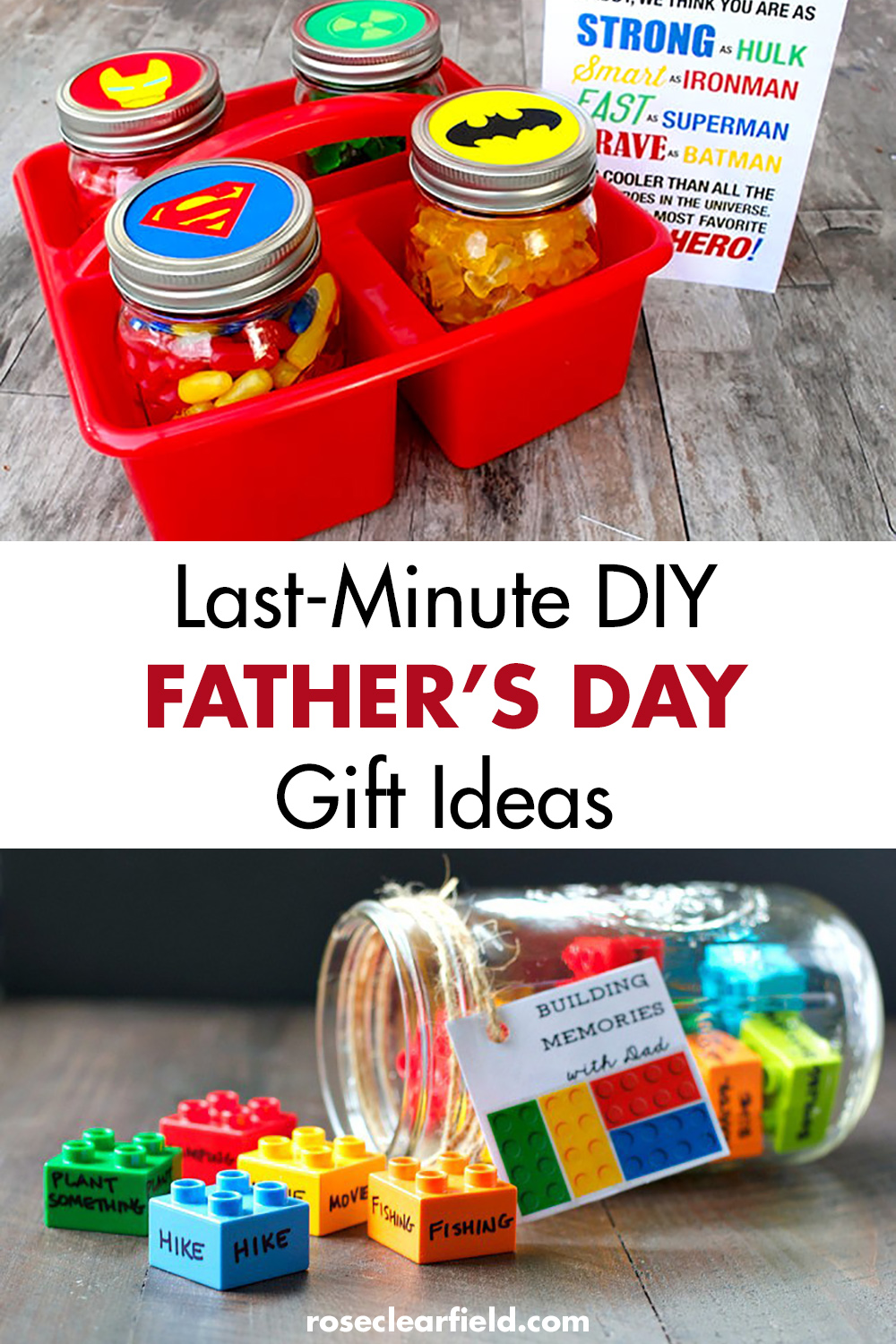 More gift ideas for Dad: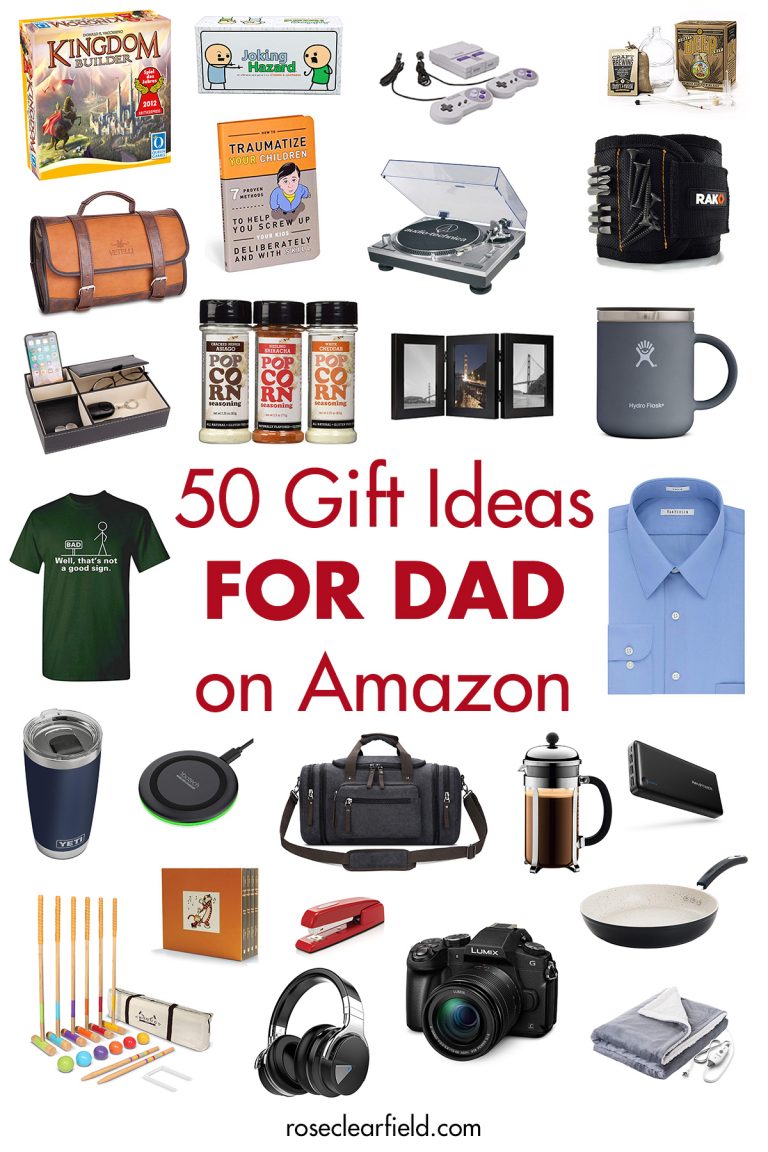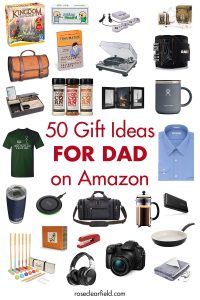 50 Gift Ideas for Dad on Amazon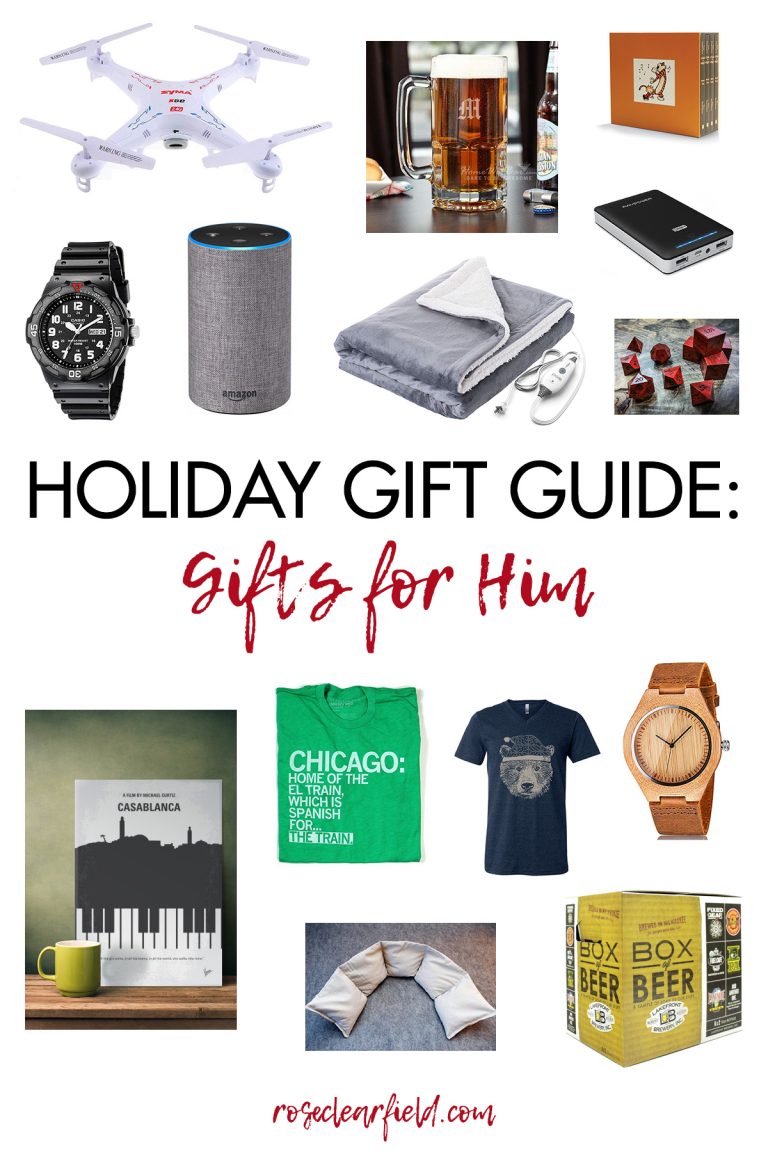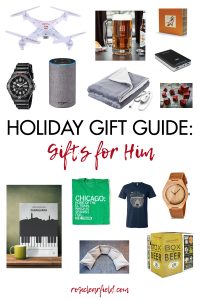 Holiday Gift Guide: Gift Ideas for Him


Nordstrom Holiday Gift Guide: For Him
Save
Save
Save
Save
Save