Adoptive is an expensive, lengthy process. It is possible to change course once you've started down a given adoption path (i.e., state system, private agency). However, it's even more expensive and time-consuming. Knowing the key questions to ask when considering domestic infant adoption will ensure that both you and your spouse feel confident in your decision.
Why are we considering domestic infant adoption?
When you decide to pursue adoption, one of the first major decisions you'll have to make is whether you want to pursue international or domestic adoption. It may be possible to start the international adoption process right now. However, I strongly encourage you to review the current situation and statistics. It's important to understand exactly what the process involves and what sort of time frame you're looking at right now. Hopefully, as things are able to open up again more over the next few years, the general dynamics of international adoption will improve.
The current situation aside, many families opt for domestic infant adoption because they want the opportunity to adopt locally with an agency right in their community or within the United States. Generally, domestic infant adoption is less expensive and involves less travel and paperwork than international adoption. It also offers the potential for an open relationship. Many families also choose domestic infant adoption because they're hoping to adopt a newborn baby. You'll almost never adopt a child under one year old through international adoption.
Above all else, you want to be honest with yourself about what type of adoption is the best fit for you and your family. There is no single path for adoption that is a great fit for everyone.
Do we want to work with a state system or private agency?
There are three general routes for domestic infant adoption: state foster care systems, private agencies, and independent adoptions.
State foster care system
The ultimate goal of a public agency adoption or state system is to reunite children with birth family. However, there are situations where a child has been removed from a home, and the situation remains unresolved. In these situations, the state will move forward with terminating the legal parental rights. The nature of foster care is that the home situations are complicated. Many children in the foster care system have needs requiring specific education and training on the foster parents' part. Typically, the public adoption process is less expensive because the state is able to provide substantial financial assistance. You may receive a newborn or infant placement through a state system. Many children in the foster care system are older.
Private agency
Many people who are interested in domestic infant adoption choose a private agency because there is a much better chance of getting placed with a newborn or infant and there is a lot less uncertainty. A mom can change her mind at any time during the process up until she signs away her rights. This does still leave a lot of room for uncertainty. However, once she has signed, your adoption will be finalized within a matter of months. Typically, birth parents are voluntarily placing their children for adoption. A private agency will present waiting families with these potential adoption situations as they become available. Generally, private adoptions are significantly more expensive than state adoptions. Adoptive families are responsible for all of these fees.
Independent adoption
In some instances, families will opt to use an adoption attorney to complete an independent adoption outside of an agency. Independent adoptions are legal in all but a few states. Keep in mind that you will still need a valid home study from a reputable home study provider even if you aren't working with an agency. An adoption attorney can be a good option if you've matched with a birth mom on your own and haven't already committed to a specific agency. Adoption attorney fees tend to run about the same as private agency fees.
What is our adoption budget?
A home study costs between $1,000 and $3,000 with most home study providers. You'll need a valid home study from a reputable home study provider for any adoption. Generally, foster care or public adoptions are less than $3,000. Many children in the foster care system qualify for adoption assistance or an adoption subsidy, which will cover many of these costs.
A private agency or independent adoption will cost anywhere from $20,000 to $40,000, sometimes higher. Depending on the specific situation, you may cover a birth mom's living and legal expenses, as well as her therapy/counseling. If the child is born in another city or state, you'll also be responsible for travel expenses, which can vary significantly. When you travel for an out of state adoption, plan to spend a minimum of two or three weeks in that state before you'll be cleared to return to your home state.
Are we willing to travel?
There are a lot of factors to consider when deciding if you can travel for adoption, including work schedule/commitments, budget, and other children. Adopting through the state system or a local private agency or attorney greatly reduces your chances of having to travel more than a few hours away. However, there are no guarantees. You may live in close proximity to a national agency or consulting group that will be able to provide opportunities for a potentially quicker adoption without having to travel. However, generally working with a national agency or consulting group involves being willing to travel out of state.
Are we willing to take on an unpredictable time frame for growing our family with lots of factors that are out of our control?
Let me be clear that every route to adoption comes with an unpredictable time frame and a lot of factors that are completely out of your control. Using a private agency or attorney tends to be quicker and offer more predictably than going through the state system or adopting internationally. The most unpredictable part of the domestic adoption time frame is waiting to match with an expectant mom. You could get a call within days of completing your home study or it could take a matter of months or years. You'll have basically no control over the matching process and most of what happens afterward. You must be prepared to go with the flow and do what you can to keep things moving smoothly.
Do we understand that there is a risk of a mom changing her mind at any time during the process?
One reason that many families are understandably wary about pursuing domestic infant adoption is that there is always a chance of the mom changing her mind during the process. This can happen at any time from before an agency or attorney even presents profiles to the mom to right up until the moment she's planning to sign away her rights. No matter how early or late in the pregnancy you've matched with a mom and what happens during the pregnancy and birth, there is always this risk.
Reputable agencies and attorneys work to establish good relationships with expectant moms. They provide support for them throughout the pregnancy to help reduce the incidence of failed adoptions, in which a mom does change her mind. Even with the best practices, the risk is still there. As such, it's important to be prepared for that possibility.
What age(s) and race(s) are we open to adopting?
For every avenue of domestic infant adoption, you'll have to specify what age(s) and race(s) you're open to adopting. I encourage you and your spouse to sit down and talk through this topic at length before you meet with your social worker. It's a personal decision and not one to be made lightly.
Have we considered all of the major factors that we may face every single time we review a profile?
Every time you receive a new profile opportunity, in addition to the age and race of the child, you'll also want to consider drug and alcohol exposure, mental health history, pre-existing medical conditions, and family dynamics (i.e., the child has full or half-siblings in other adoptive homes, one or both parents are currently in jail).
As part of the adoption process, you'll fill out a preferences form. Among many choices, you'll list whether or not you're open to certain types of drug and alcohol exposure, mental health conditions, etc. There are no right or wrong answers. You must be honest about what's best for you and your family and what you feel capable of as a parent. Regardless of what you put on the form, I encourage you to review every profile opportunity you receive. You never know when a certain situation will speak to you, even when it doesn't match your exact preferences.
Are we open to open adoption?
There are two types of adoption: open adoption and closed adoption. Today, more than 95% of domestic infant adoptions in the United States have some level of openness. Most agencies and attorneys advocate for open adoption. It's believed to be what's best for adoptees, which I think is true. If you are wary about open adoption, I highly encourage you to read my 10 myths about open adoption debunked and FAQ about open adoption posts. Beyond that, there are a couple of key reasons I encourage all adoptive families to consider an open adoption relationship.
Access to medical information
When you have an open adoption, you'll receive a lot more medical information about the birth mom and potentially birth dad than you will in a closed adoption. With an ongoing relationship, you'll be able to ask follow up questions as needed. This is especially important when you're seeking information as it relates to your child (i.e., family history of allergies).
Potential to connect in the future
Exchanging basic contact information at the time of the adoption makes it much easier for both birth and adoptive families to contact one another in the future. You never know when you'll have a medical question or your child will suddenly have questions about his/her birth family that you can't answer. Being able to reach out to the birth parents, even when you don't have a close relationship, is invaluable.
Open adoption is one of the biggest gifts you'll ever be able to give your adopted children and their birth families. Your children will be able to start forming a relationship with their birth family from an early age. In turn, their birth families will know how their biological children are doing, which provides a huge peace of mind.
I wish all families just starting their domestic infant adoption or other adoption journey all the best with this process. If there is any way that I can be praying for you specifically, please let me know.
Adoptive parents, are there other questions to ask when considering domestic infant adoption that you would add to this list?

As always, I'd love your input!
Pin this post for easy access to the questions to ask when considering domestic infant adoption resource later!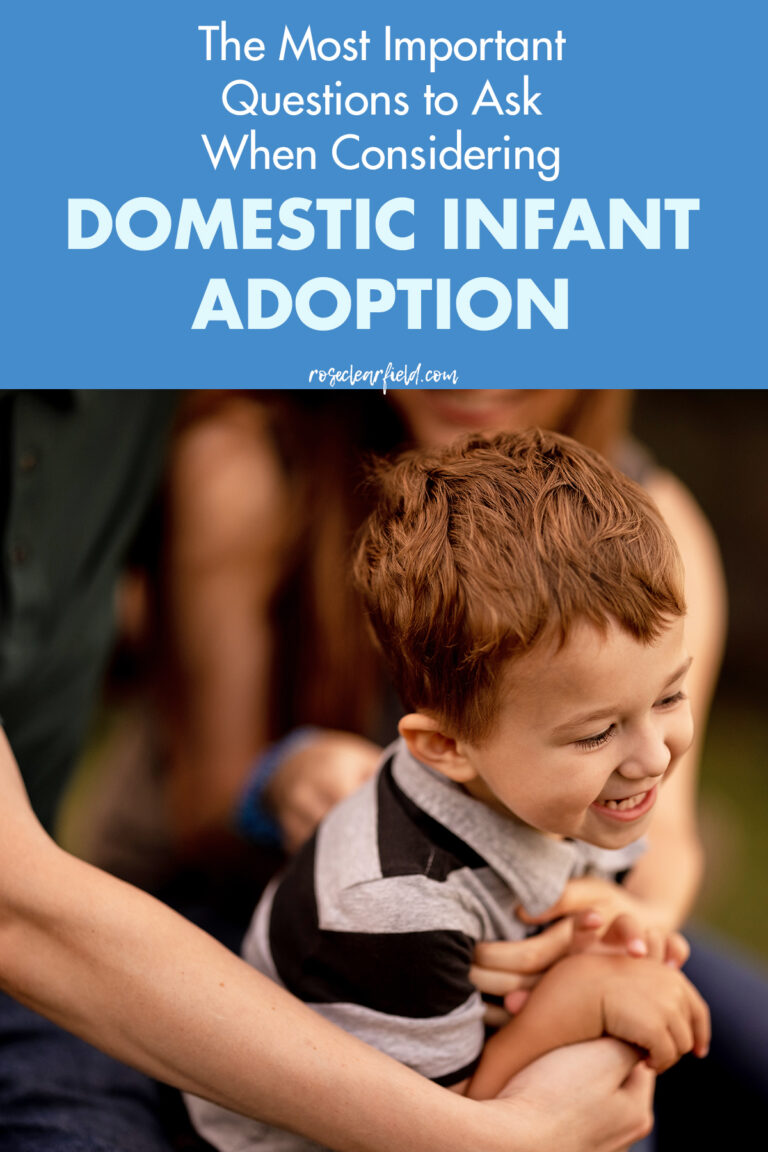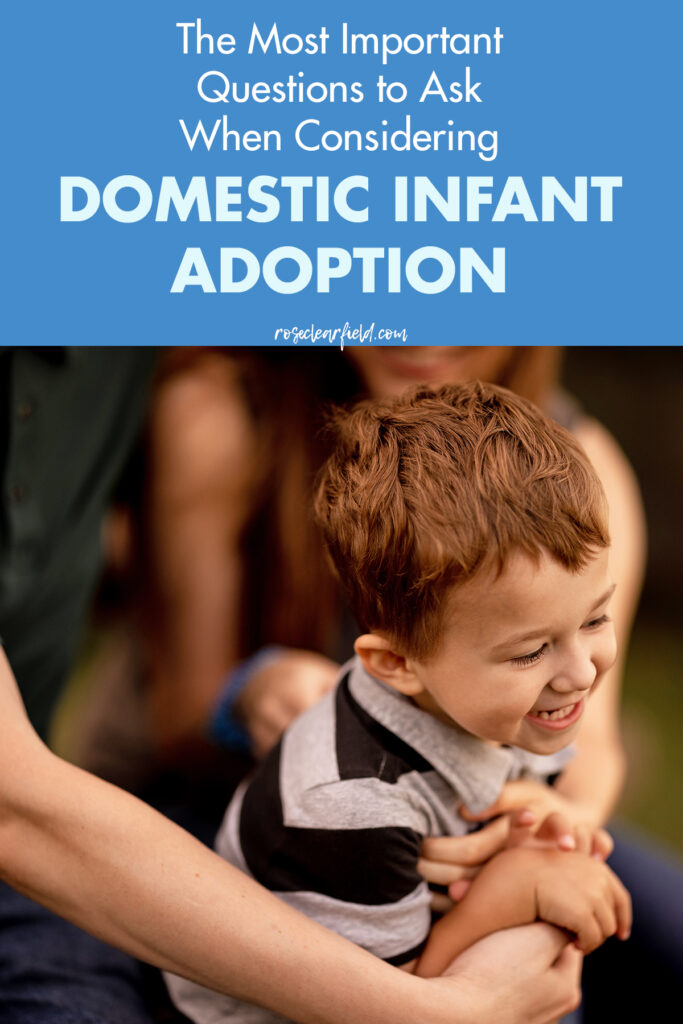 More adoption resources:
Visit the adoption section of the blog for additional adoption resources, including open adoption and waiting to adopt, and to learn more about our adoption journey.