Preparing for an adoption home study is often an overwhelming process. It involves a lot of time and paperwork and has a high emotional component as you get ready to enter the adoption waiting pool. The more you can do to prep ahead of time, the less stress and anxiety you'll have and the more you'll be able to streamline the process.
Understand what a home study involves
A home study is required for every adoption, which includes foster care, private adoption, and international adoption for newborns, babies, and older children. In some states, and for all international adoptions, a home study is required by law. Even when a home study isn't legally mandated, virtually all adoption agencies require it.
A home study is a comprehensive screening of the home and life of the prospective adoptive parents. A couple must complete and get approved for a home study before they can accept a foster placement or go into a waiting pool to view expectant parent profiles.
A home study involves a social worker collecting detailed information about you and your spouse's personal background, family history, health, finances, and parenting plan. It includes a wealth of paperwork and at least one home visit.
Find a home study provider
It's critical to work with a licensed social worker at a reputable, licensed agency to complete your home study. There are two general types of agencies that provide home studies. Some agencies specialize specifically in home studies. 1-800-HOMESTUDY is a good resource for finding this type of agency in your area. Some agencies are full-service adoption agencies that provide home studies and adoption placement services. Full-service adoption agencies vary significantly in size and scope from small local agencies to large national agencies.
There is no one size fits all solution for obtaining a home study. Make sure you feel comfortable with the provider you choose and that they are a reputable, licensed agency.
Secure your financing
The cost of a home study varies widely. Typically, in the United States, the cost ranges from $1,000 to $3,000. The exact figure you pay will depend on the exact circumstances of your adoption situation, such as where you live and the type of adoption you're pursuing (i.e., domestic, international, foster). The cost of the home study is just the beginning of the adoption cost. Typically, domestic infant adoptions are $20,000-$30,000 or higher. International adoptions start around $30,000 and go up from there.
Your social worker will discuss the payment schedule for your home study before you begin the process. While you may not need to pay the entire fee upfront, it's important to have the majority of the funding when you begin, as you'll need to pay the remainder within three or four months. Additionally, once you've completed your home study and are in the adoption waiting pool, you may match with a mom or couple at any time. It's best to be prepared for a short matching process, which means having the full savings for an adoption.
There are a ton of resources with info about adoption grants to offset the costs. If you are eligible for any grants or other benefits, such as an employer benefit, take advantage of these opportunities. You'll also find a lot of resources with fundraising ideas for adoption. I'm of the personal (and somewhat unpopular) opinion that you should fund the majority of your adoption yourself. If family and friends wish to contribute, they are welcome to do so, but should not be put upon to contribute.
Create a paper organization system
As soon as you start your home study, you'll amass a staggering amount of paperwork. It's important to stay organized, as you never know when you'll need to make multiple copies of paperwork or when you'll need to re-send a particular piece of paperwork. At a minimum, I recommend creating a dedicated manila folder in your file cabinet for adoption paperwork. You may even want to have a separate folder just for the home study. Then you can create an additional folder once you've matched for all of the subsequent paperwork. If you need to update your home study after a year, it's nice to be able to refer back to that initial paperwork quickly to streamline the update process.
Create a digital organization system
You'll also want to keep close track of your paperwork in digital form throughout the adoption process. In addition to saving the paperwork you receive digitally, I highly suggest making digital copies of your physical paperwork. Any time you fill out a form, scan and save it before sending it to the appropriate party, so you can access it again as needed.
I recommend creating the following digital organization systems to keep your digital home study content organized.
A hard drive folder. In your documents folder, create a separate home study folder for all of your home study documents.
An email folder. Throughout the process of getting home study certified and matching for adoption, you'll receive a ton of emails. Save them in a separate folder.
A cloud storage folder. Once you're home study certified, it's ideal to have a Google Drive or Dropbox folder with a copy of your home study, a digital version of your profile book, and your birth mom letter template, so you're ready to present at any time, even in the middle of a work day or while you're traveling.
Start gathering your documents and records
There are a lot of documents and records that you must present to get home study certified. Your social worker should be able to provide you with a list of the necessary documentation. I recommend spacing out this process, so you don't get frustrated or overwhelmed. Starting as early as possible also limits the possibility of delays while waiting for paperwork. For example, if you need to order a new birth certificate or marriage license, you can work on other home study paperwork while you wait for it to arrive.
Install smoke and carbon monoxide detectors as needed
The general guidelines for smoke and carbon monoxide detectors are one smoke alarm and one carbon monoxide detector each on every level of the house as well as one smoke detector in every bedroom being used as a bedroom. (For example, if you're using a bedroom as an office, it doesn't require a smoke detector because no one sleeps there.) Most likely you'll need to add a few detectors to get your home ready. Check the age of the existing detectors and replace any as needed. You can purchase smoke detectors and carbon monoxide detectors at any big box store or hardware store as well as on Amazon, which is what I've linked here.
Ensure you have an up to date fire extinguisher
I know that this sounds like a given. But two out of the three residences we've purchased didn't come with a fire extinguisher at all. Again, fire extinguishers are available at every big box store and hardware store and as well as on Amazon, which is what I've linked here. If you can't remember when you purchased your fire extinguisher, check the date on it and replace it if needed.
Install outlet covers
Most home study providers will require you to install outlet covers over any outlets that aren't currently in use. Outlet covers are another basic item you'll be able to find at big box stores, at hardware stores, and on Amazon. I recommend doing an outlet inventory, so you know how many to purchase. It never hurts to have a few extra on hand, as you'll inevitably miss a few during your initial count.
Review any other safety considerations
Just a few other safety considerations you may need to take into account for your home study include the following.
Pool. Most likely if you have a pool, you already have appropriate safety measures in place, including a barrier (i.e., fence) around the pool and a secure cover when it's not in use. If not, get your pool properly secured.
Weapons. Keep your unloaded guns and ammunition as well as any other weapons (i.e., knives, swords) in a locked safe or other secure location that children can't access.
Alcohol. If you own large quantities of alcohol, especially hard liquor, keep it in a locked cabinet.
Please keep in mind that I'm reviewing general safety guidelines for home studies. Your home study provider may not have this exact list. Always double check with your social worker to confirm you're completing all of the necessary home safety tasks.
Make an emergency exit plan
I know that this sounds 100% ridiculous, especially in your average household residence where doors and windows are easily accessible in every room. But if you know anyone with an active home study, most likely you're familiar with this task. You have to draw a floor plan of every level of your home and indicate the best emergency exit paths from every room. It's one of those things that you just have to do and not worry about how silly it looks. My drawing skills leave a lot to be desired, and my emergency exit plan is in no way drawn to accurate scale. It doesn't matter at all.
Talk to family and friends about getting reference letters
Most home study providers request a certain number of reference letters from their family's relatives and friends. Typically, they cap the number of family members you're able to use for reference letters. Make a short list of close family members and friends you'd like to use as your references and ask them ahead of time if they'd like to do this for you.
Start collecting pictures for your profile
Creating an adoption profile is one of the most intimidating parts about preparing to go into the adoption waiting pool. You want to create a beautiful, unique profile that sets you apart from the crowd and portrays your life accurately without coming off like a sales pitch. Learning what not to include in your profile is just as important as making sure that you do cover all the important elements. Above all else, you want to cater your profile to birth moms. If it isn't relatable to moms and couples, you'll have a hard time matching.
It sounds simple enough to collect pictures for your profile. However, unless you take tons of pictures all the time, I guarantee you'll want to take a few pictures at upcoming family events to ensure you have lots of recent pictures of your loved ones. Most likely you'll also want to take pictures of things you see all the time but don't necessarily have a lot of pictures of, like your home and neighborhood.
Practice interview questions in advance
In true introvert form, I do best in interviews (and truthfully, a lot of social situations) when I've practiced what I'm going to stay ahead of time. This list of home study interview questions from Binti is one of the most accurate sets of sample questions I've come across online. Review them on your own or talk through them with your spouse, so you can both practice answering them out loud.
Does my home need to be fully kid ready?
No. Social workers don't expect to see a complete nursery, fully stocked with everything you need. They do expect to see the bedroom you'll use for a child. Most social workers don't require you to install baby gates until the baby is born. As baby gates aren't a concern with a newborn child, it's not a task that I would make a high priority in preparing for an adoption home study.
Does the home need to be spotless for social worker visits?
A social worker will visit your home at least once to do a safety walk through. Depending on your specific circumstances, you may have some of your interviews in your home as well. A social worker never expects your home to be spotless during any of these visits. I'll be honest: I did clean my house a lot the first time we had a social worker visit. We didn't have kids yet, and it was something to do during the day while waiting for the visit. If you want to clean, go for it. But don't stress about making everything perfect.
If you ever have questions at any point during the home study process, don't hesitate to ask your social worker. Social workers want to get families home study certified and are happy to help in any way that they can, so things go smoothly and there are no surprises.
I wish all families preparing for an adoption home study all the best as they gear up to get home study certified and enter the adoption waiting pool. If there's any way that I can be praying for you specifically, please let me know.
[Disclaimer: There are a few affiliate links in this post. Thanks for your support!]
Pin this post for easy access to this adoption home study resource later!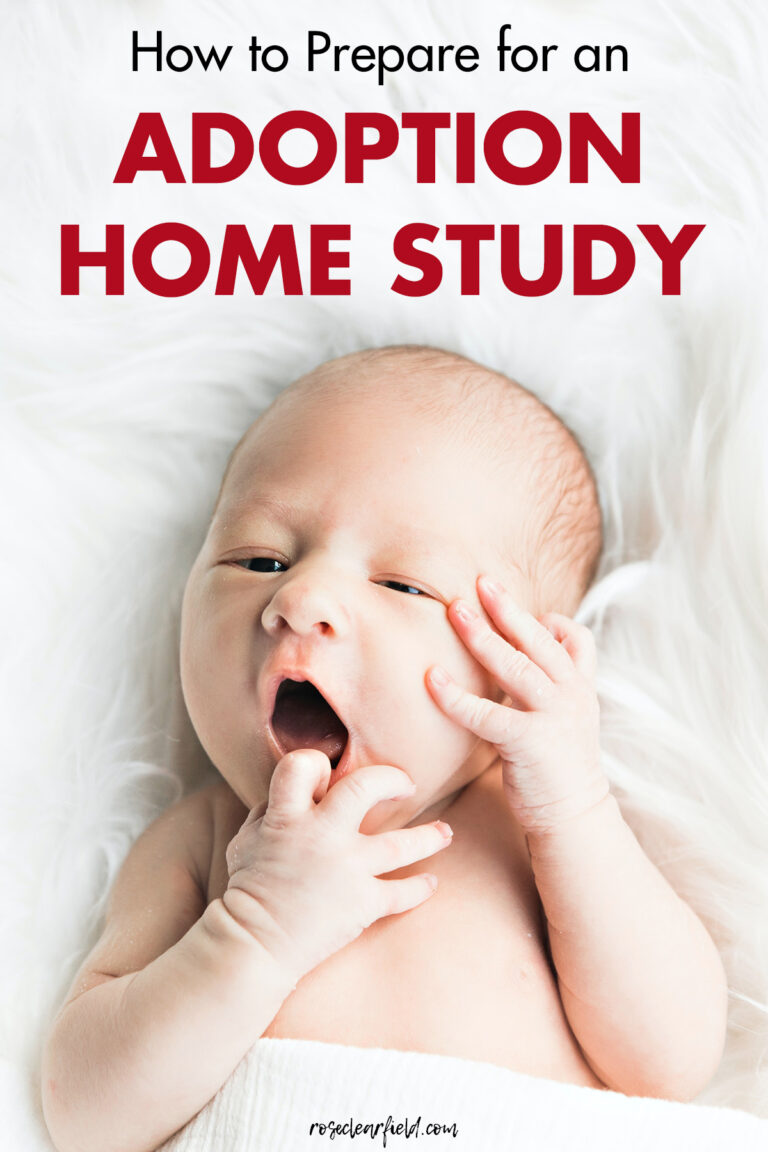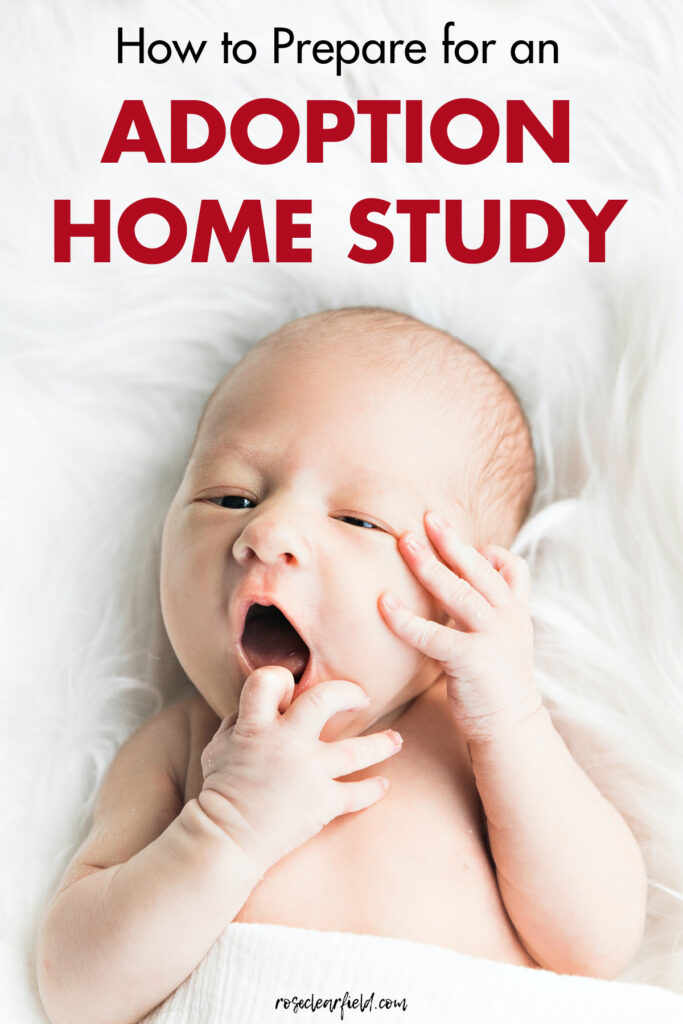 More adoption resources:
Visit the adoption section of the blog for even more adoption resources, including waiting to adopt and open adoption, as well as to learn more about our adoption journey.