This past week our Genevieve turned six months old!
As you're reading Genevieve's update, keep in mind that she was born six weeks early and think about her milestones accordingly.
At Genevieve's six-month doctor's appointment, she weighed 15 pounds one ounce (26th percentile), measured 24.5 inches in length (4th percentile), and had a head circumference of 16.5″ (37th percentile). Since her three-month appointment, Genevieve made huge gains in weight and head circumference and a small gain in length. It's so exciting to keep watching her percentiles go up at each appointment.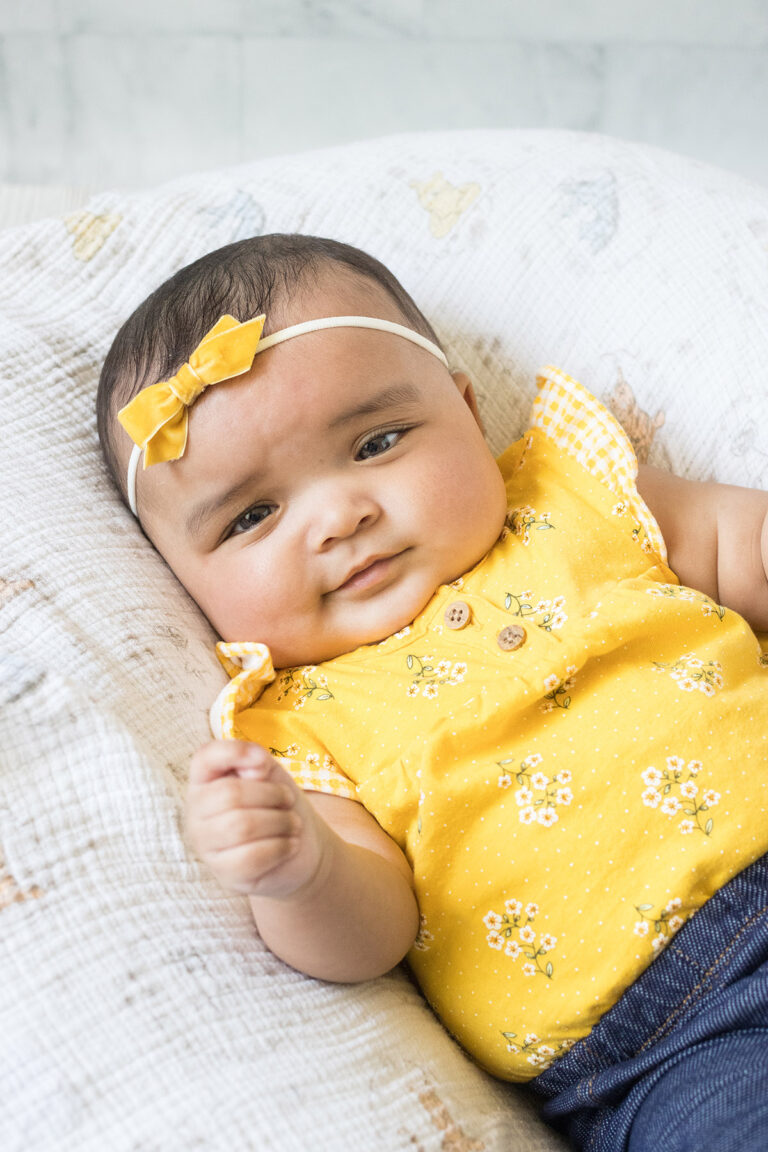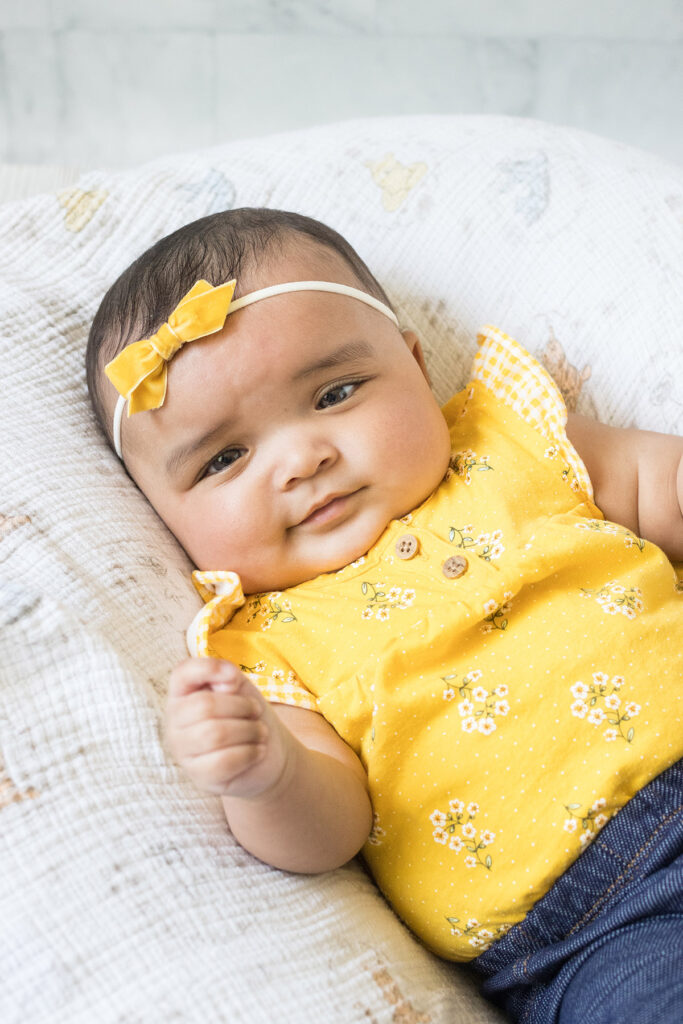 We turned such a fun corner with Genevieve's personality this past month. She smiles for us all the time now and is so interactive with family members, both our immediate family and all of her grandparents. The picture above shows just the tiniest hint of the kind of smile that we see frequently. Genevieve is so close to laughing. We get the cutest little chuckles now.
While Genevieve has been so much less anxious and crying a lot less the past month, she still screams frequently. She's not even always mad, it's just one of her regular methods of vocalizing. We love hearing Genevieve work on her voice, but her screams can be absolutely ear-splitting, especially in the car or when she's right next to you.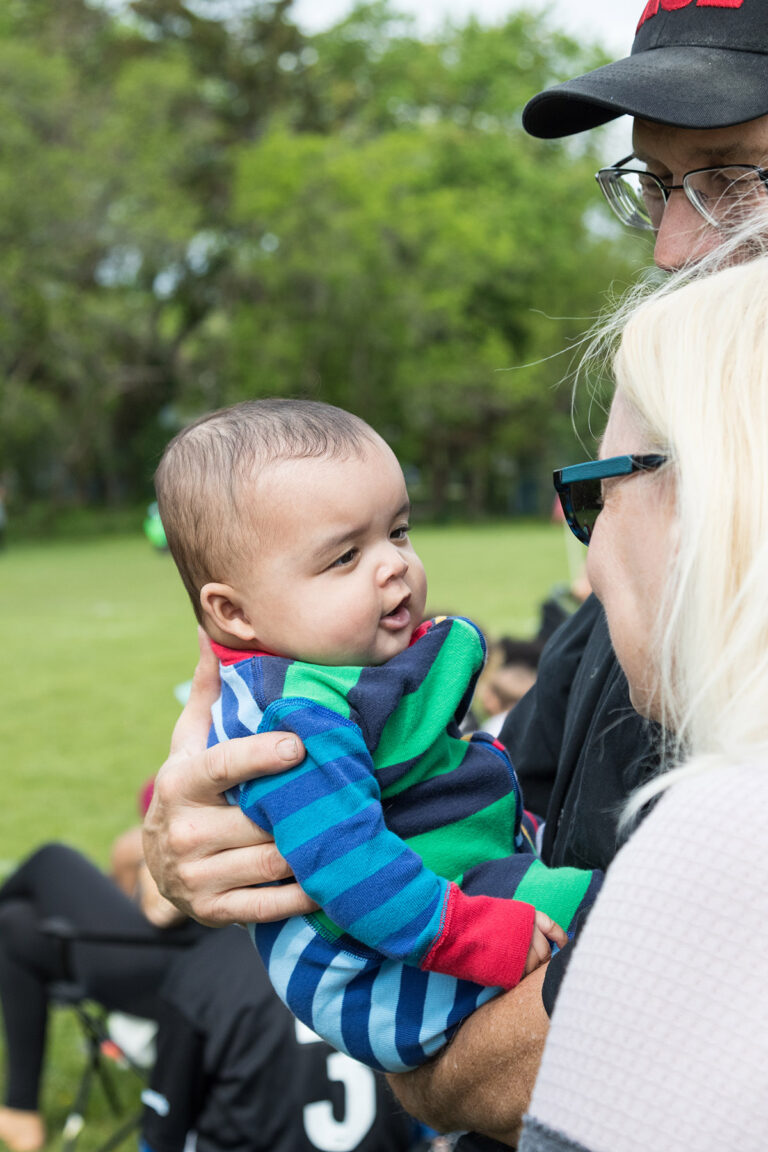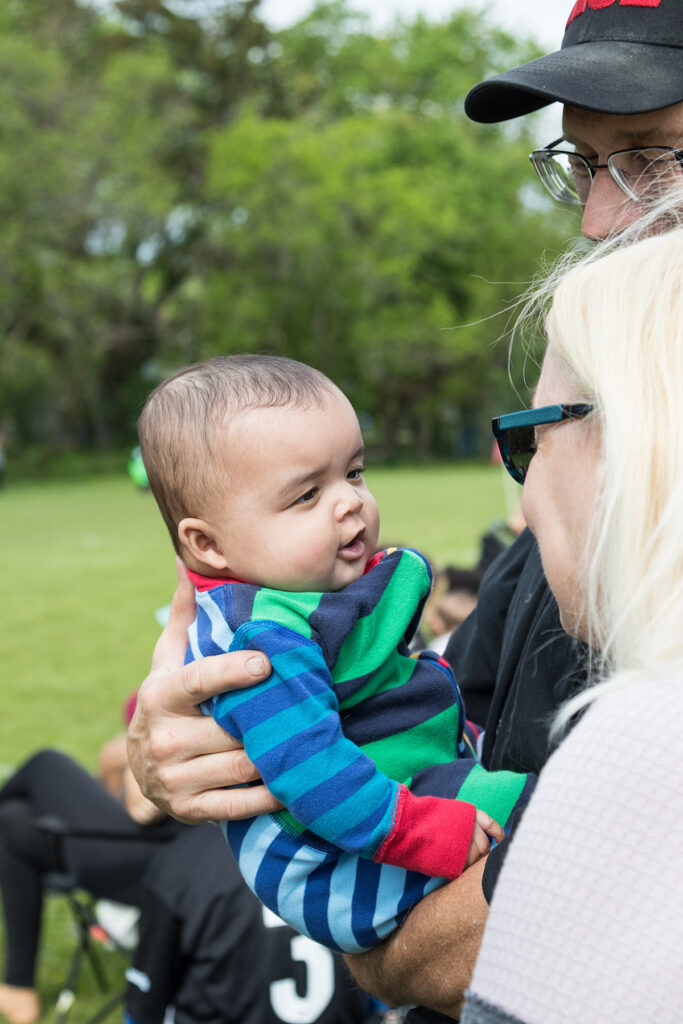 All of Tommy's April soccer games got rained out. They played the full spring season of games in May. Both girls did so well sitting through so many soccer practices and games. Thankfully, I had help at every game and most practices, which was much appreciated.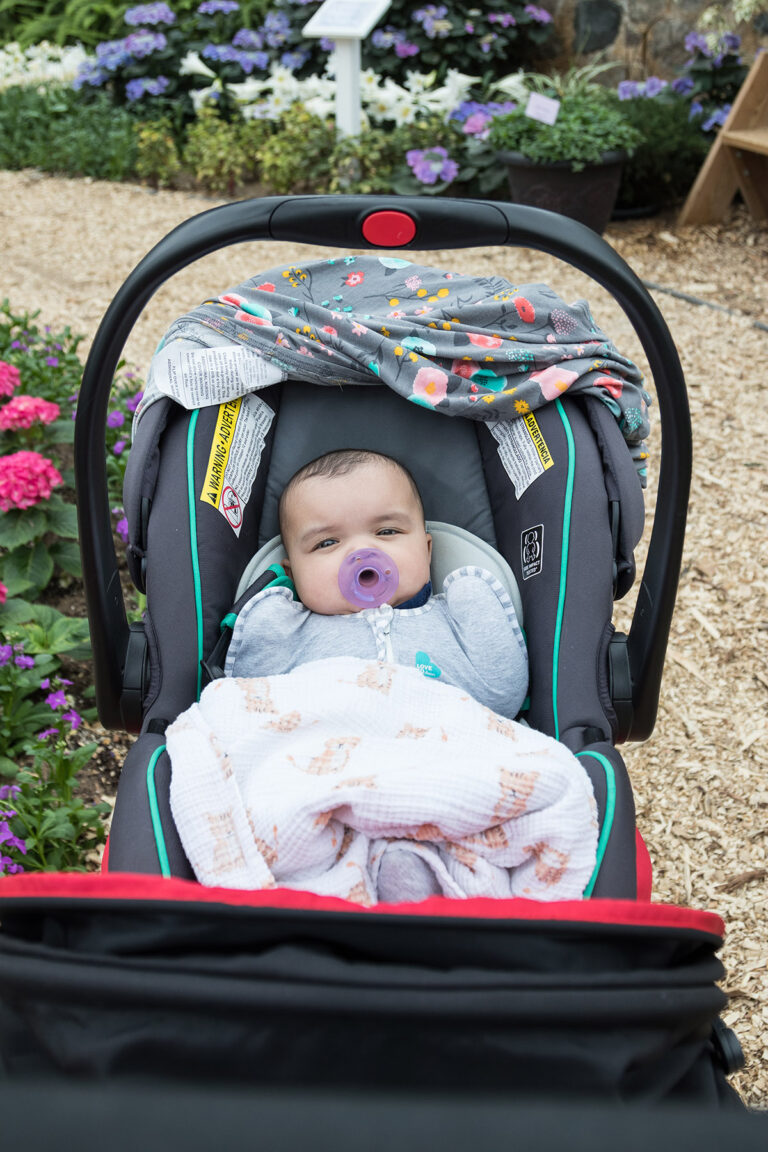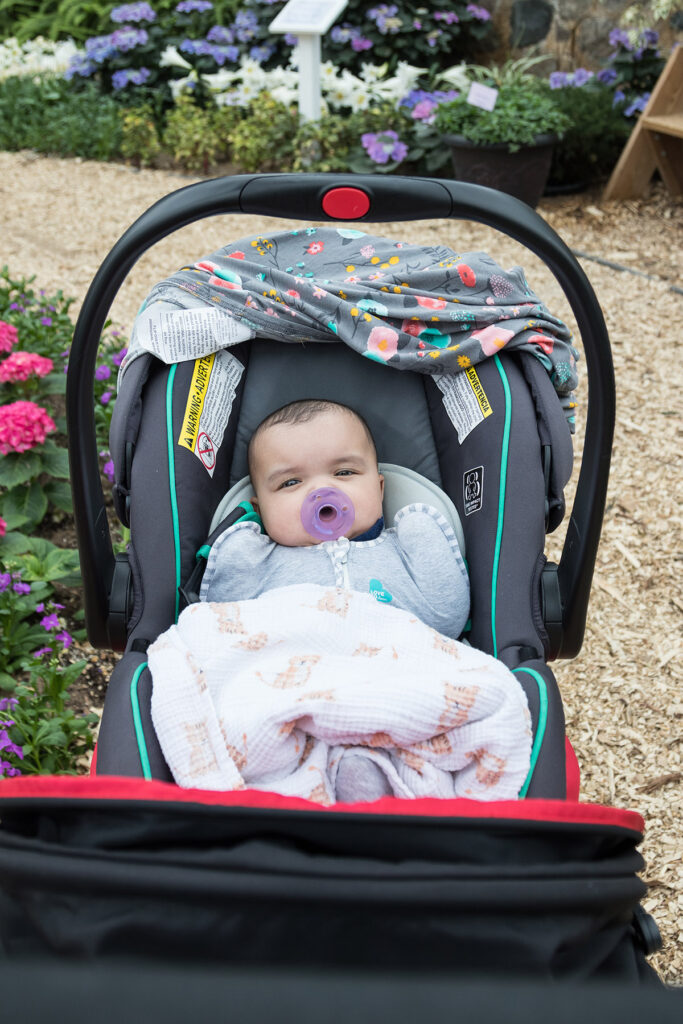 Between the crazy soccer schedule, me and the three kids being sick, Jake working all but one weekend, and a lot of lousy weather, we didn't do too many outings. But we did fit in one more trip to the Domes.
We ended the month with Jake's one weekend off in May – a long weekend for Memorial Day. The soccer season wrapped earlier in the week, so it was the one weekend that we didn't have games. We were all healthy and had good weather for the long weekend. I'm so thankful.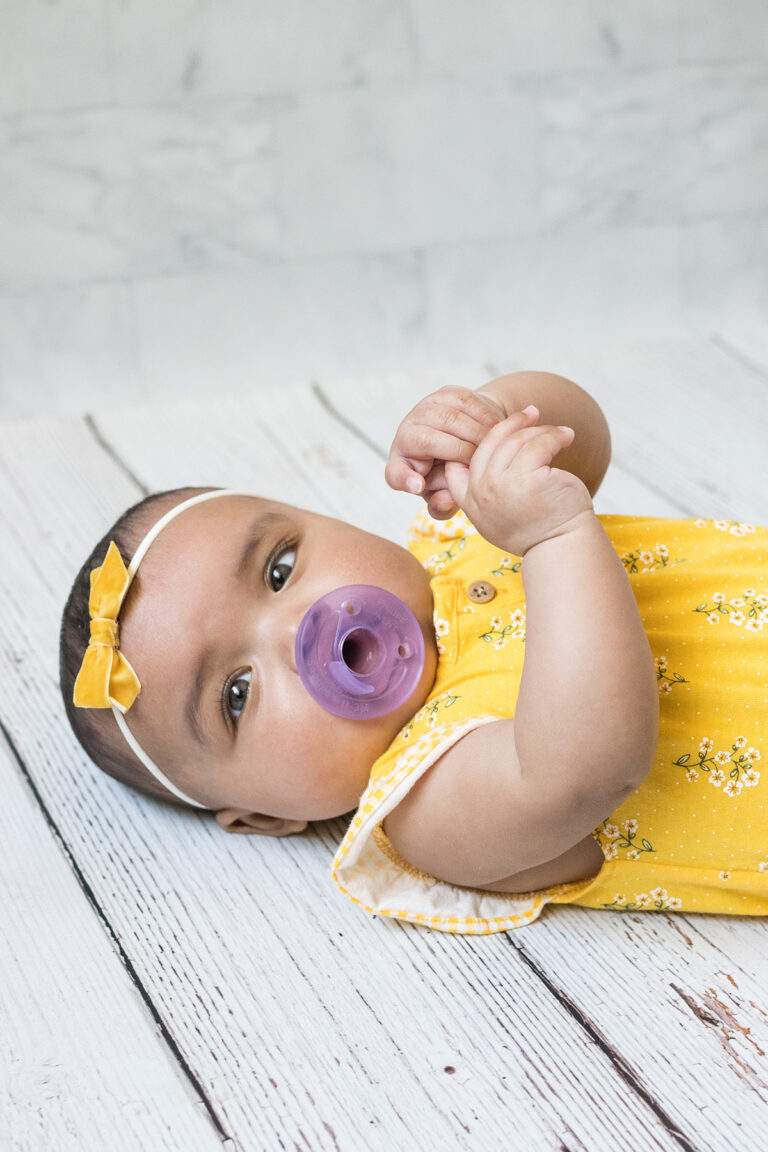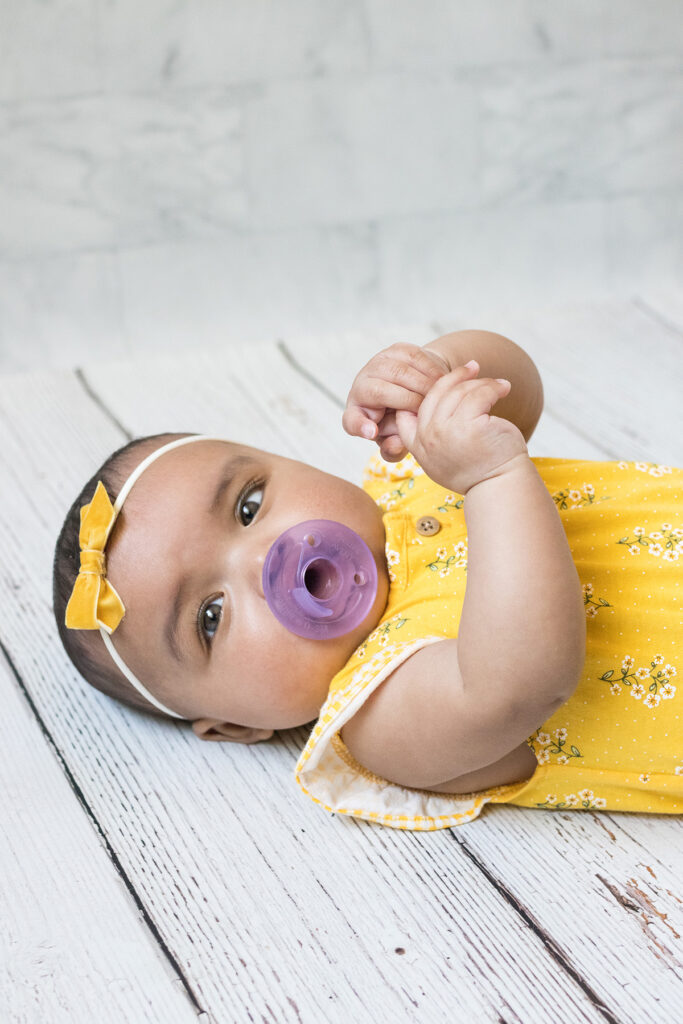 We've been working on a few big transitions for Genevieve this past month. The first transition has been getting her out of her swaddle except when she's sleeping. Genevieve absolutely loves her swaddle and wants to wear it 24/7. As it's helped her tremendously, she has worn it a lot. But it's well past time to make the transition.
It's definitely been a process. Genevieve has spent time almost every day mad that she's not swaddled. But it's getting better. She's learning how to settle herself without the swaddle. And she's learning to associate the swaddle with long naps and sleep.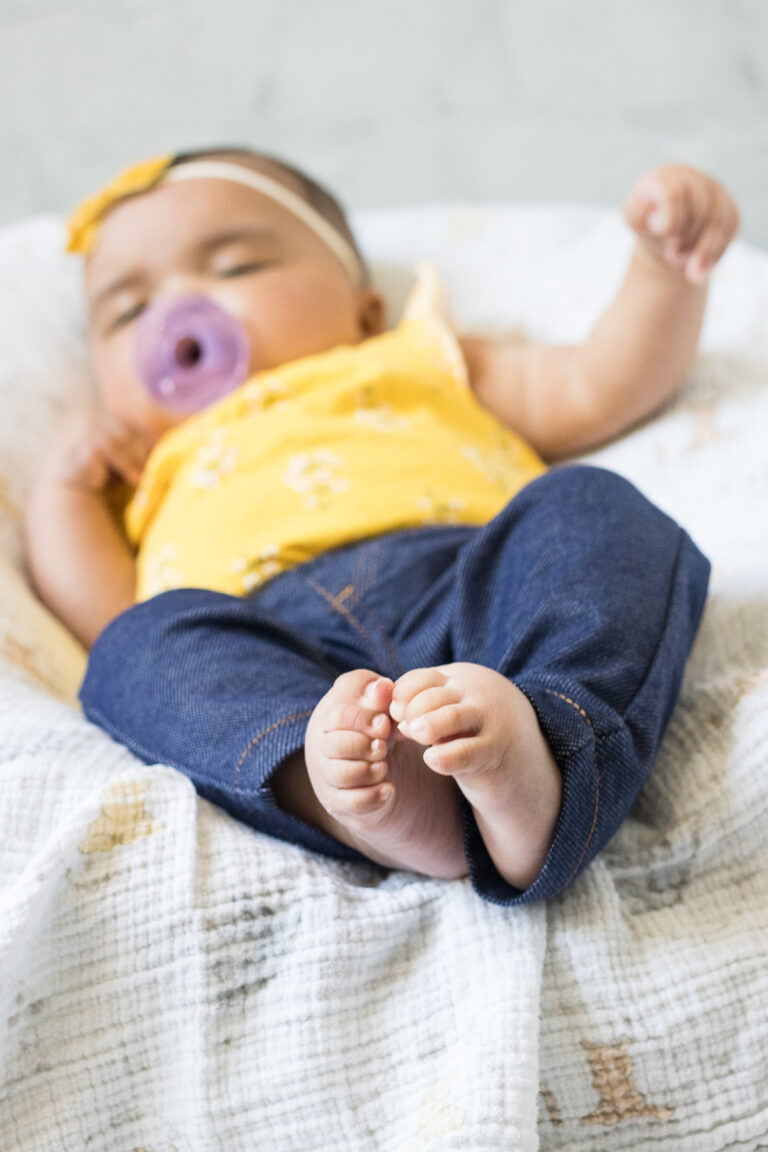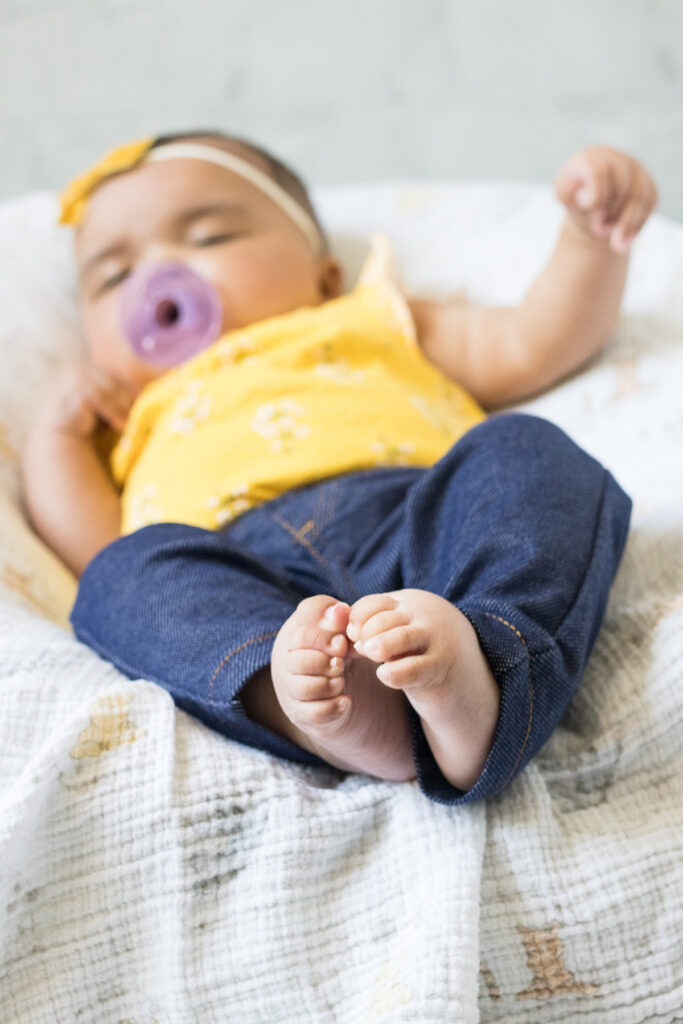 The second big transition for Genevieve this past month has been sleeping in her own room. She's past the little baby stage of sleeping through everything. So we wake her up when she's in our room. But she also still screams a lot, so I've been holding off on moving her, as I don't want her waking up the other kids.
The first few times Genevieve slept in her own room, she had total sensory overload. It took her a long time to settle because she was so distracted by everything. She's slowly been doing better. Over the course of the month, we transitioned Genevieve to taking all of her naps and sleeping at night in her room.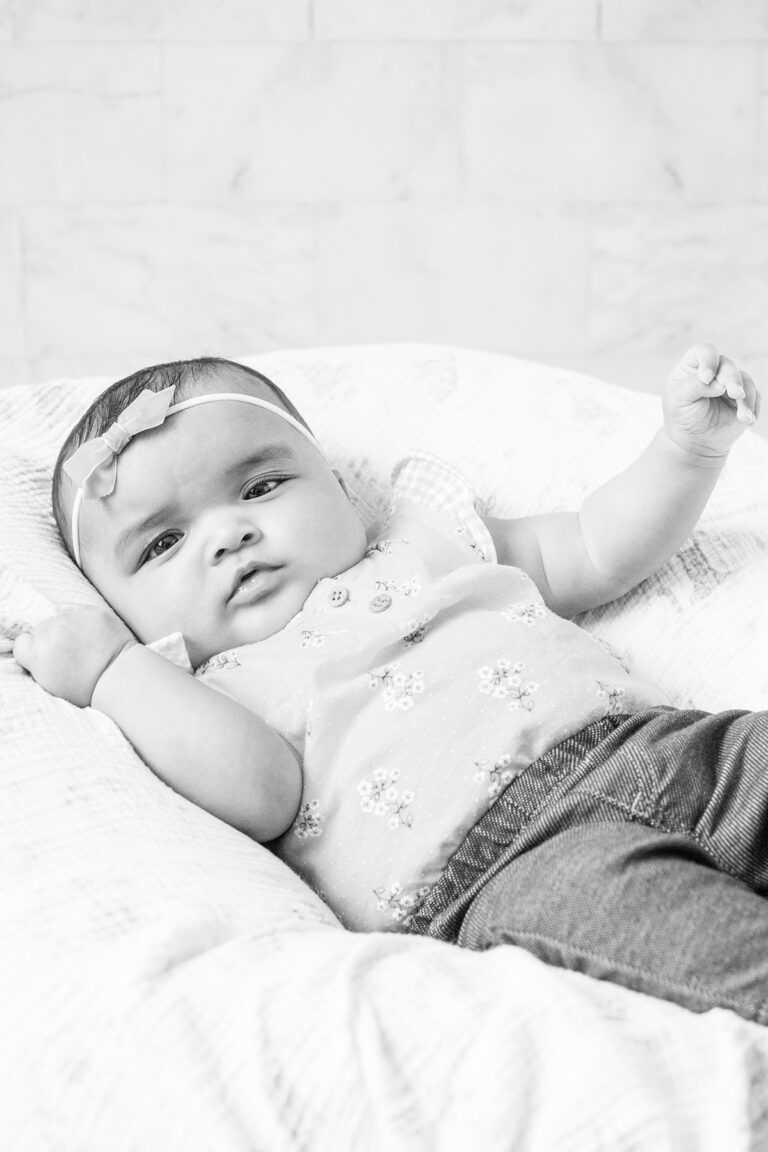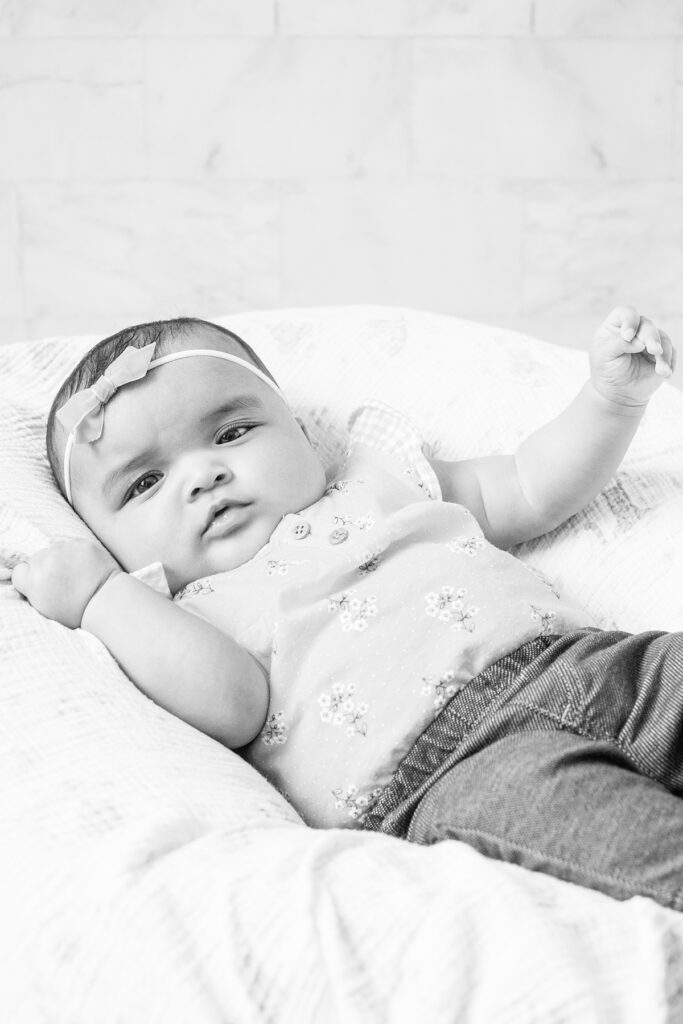 I bought a couple of bassinet inserts for Genevieve. She's still sleeping in one of those inserts in her crib and is nowhere near ready to sleep without it. Genevieve has also loved the built-in vibration and white noise with her bassinet. She still does well with the light/noise from the Hatch.
With the exception of a few rough nights, Genevieve has been sleeping through the night pretty well. Lately she just wants to wake up really early, often 5:30/6:00. I'll resettle her a few times to get her to 6:30/7:00.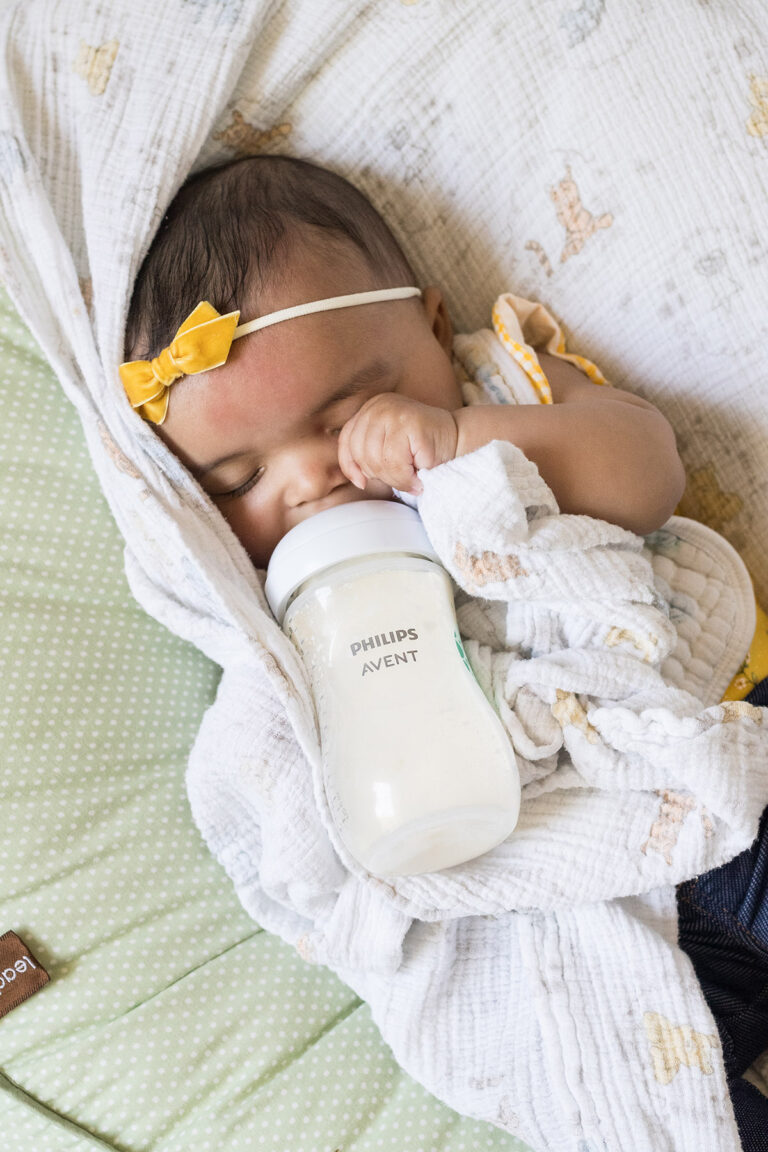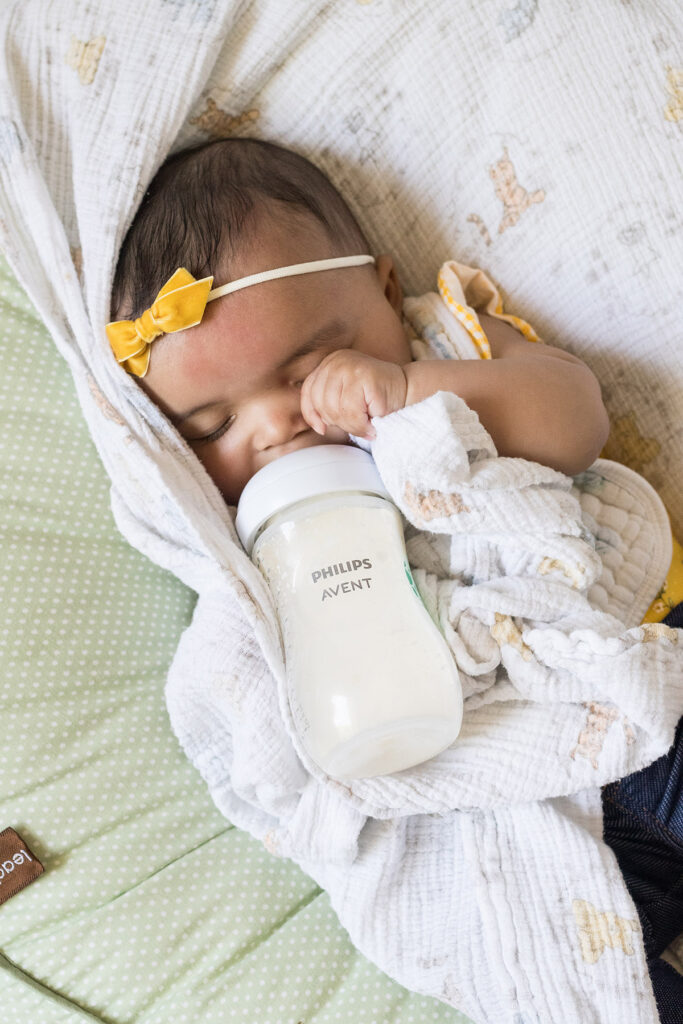 The third big transition for Genevieve this past month has been feeding herself. She's expressed interest in holding the bottle previously but wasn't able to do it independently. She is now. The more Genevieve holds her own bottle, the more confident she gets and the better she does with it. Genevieve has been holding steady eating six ounces in a sitting four times per day.
To everyone has asked me about the formula shortage directly in relation to Genevieve, thank you. Unfortunately, the formula she's been on from the beginning in the NICU is completely unavailable right now. We'll run through our current stash of it in about a month. I was able to stock up on more formula, just not the same brand. So I'm praying she does okay with the transition.
Genevieve continues to blow through the diaper sizes. I actually quit on size 1 with half a box left and give it to someone else and moved Genevieve right up to size 2. As soon as she finishes her single box of size 2 this next month, I'll move her right up to size 3. I've already been using some of Olivia's leftover overnight size 3 diapers with a liner at night, which still isn't always sufficient. It blows my mind.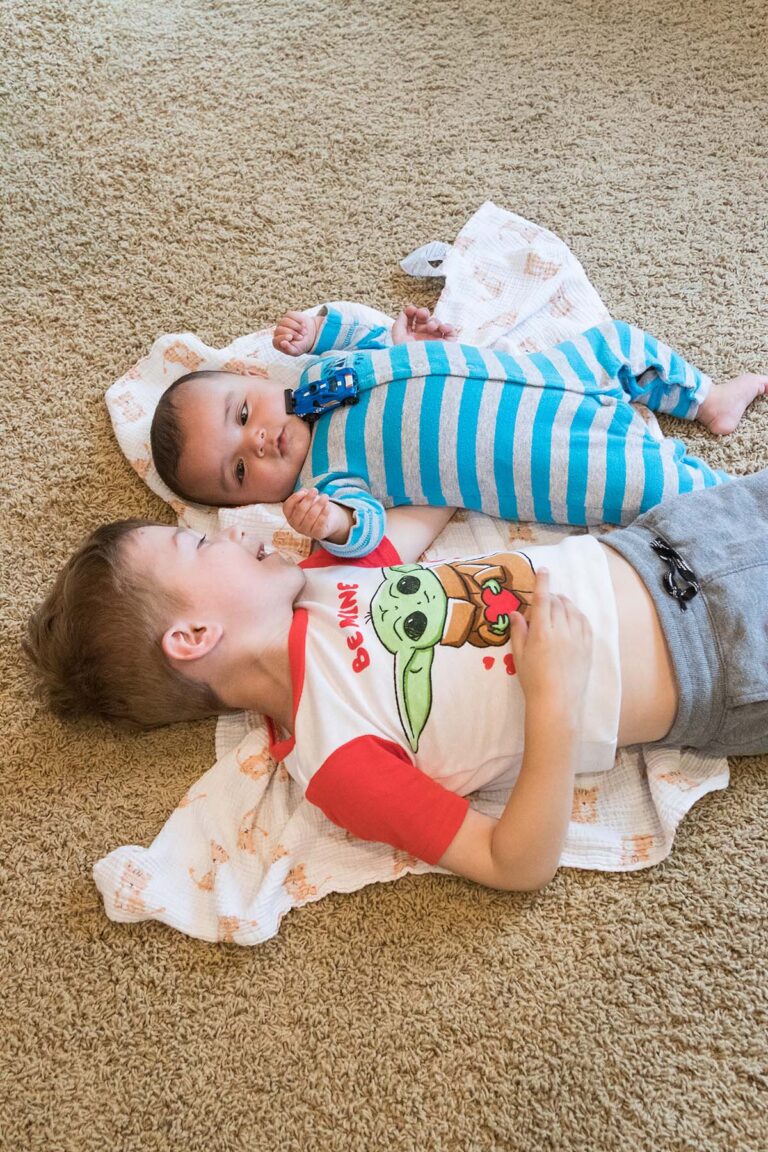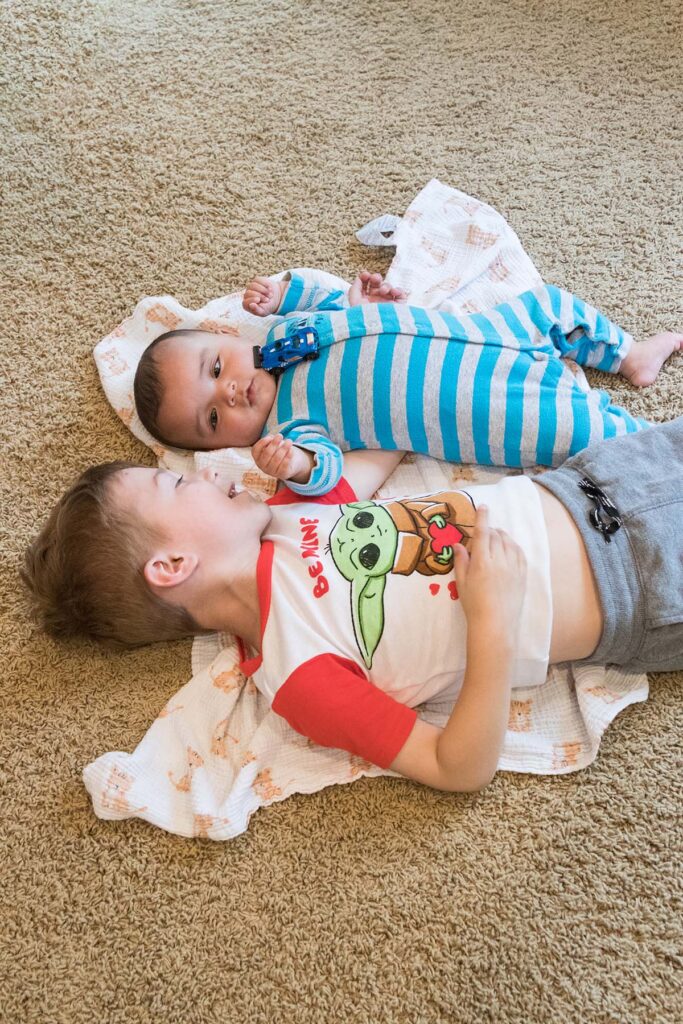 You can find all of my baby/toddler updates for all three kids as well as general family updates and other family-related posts in the family section of the blog.