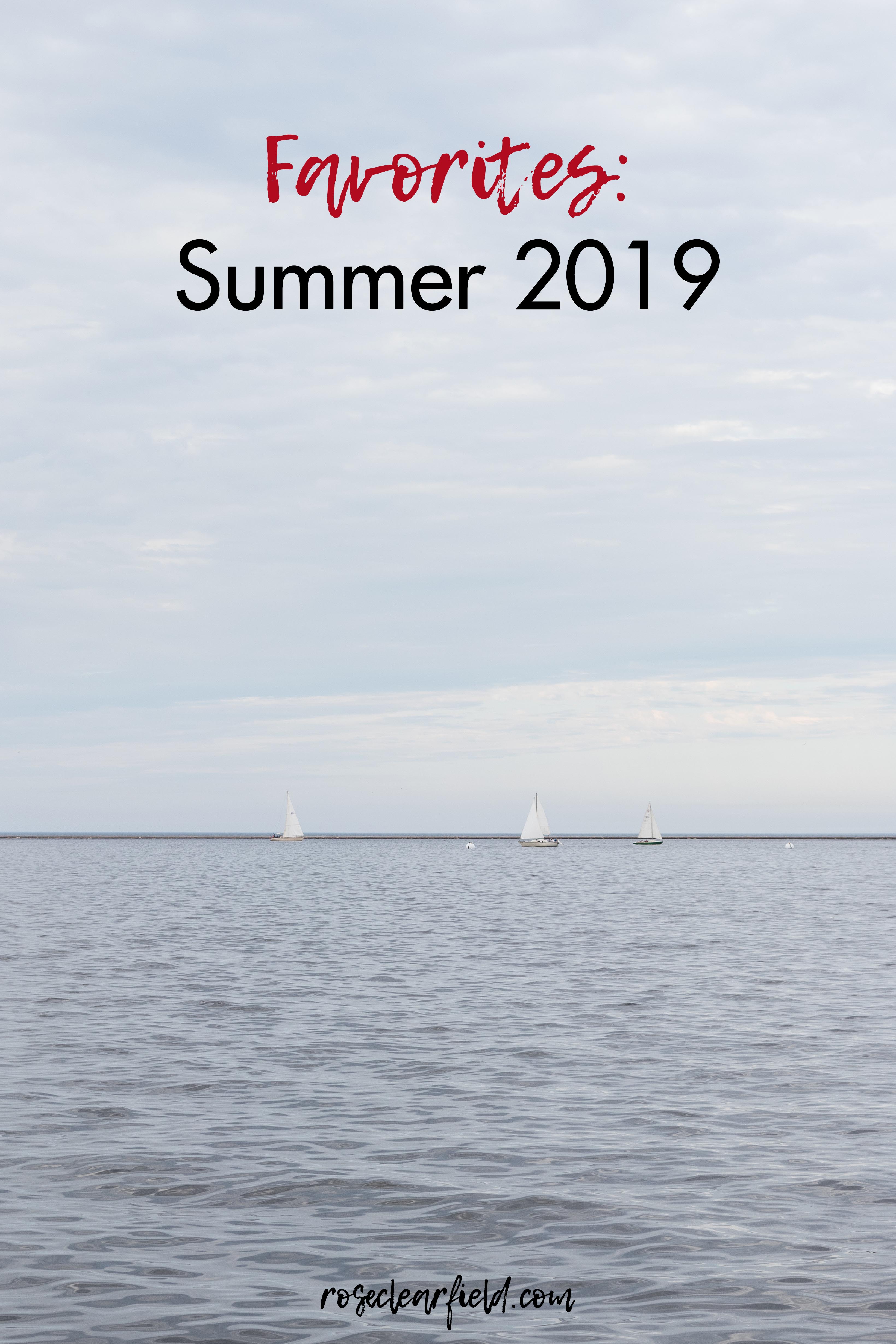 Today I'm sharing a few of the things I've been loving this summer!
Madewell Whisper Cotton V-Neck Tank. The v-neck tank is basically the tank version of the pocket tee, which I also love so much and have had in regular rotation all summer. I picked up a few of the tanks (a couple solid colors and one in stripes) for summer and love them, too. They're actually not as low-cut as the pocket tee, too, which is a plus for me. They still have lots of availability for the neutral colors, and it's on sale now, so I would definitely pick up a few for winter getaways and next season.
Bare Traps women's Tayna sandal. I'm not exaggerating when I say that I've never owned a pair of sandals in my life as comfortable as this pair of Bare Traps. I've worn sandals more than sneakers this summer, which is a first for me, and I actually have tan lines on my feet from the Bare Traps. I can wear them for hours, even when I'm on my feet. There are so many other cute Bare Traps styles as well, such as the Jennifer sandal or the Sammie gladiator-style sandal. I bought my Bare Traps at DSW, which has a ton more styles.
Steve Madden Dina Sandal. After the Bare Traps, my go-to sandals this summer have been the Steve Madden dina sandals. I haven't done quite as much walking in them. But I have worn them for several long stretches, and they've been amazingly comfortable. The style is so versatile. You can dress them up and down for so many occasions. And you can't beat the price point.
Essie Gel Couture. I held off trying the Essie Gel Couture for ages because I already own a lot of regular Essie polishes. But I finally bit the bullet and have been so impressed. I am really hard on my manicures because I cook, clean, and craft all the time. My nails also grow really quickly. I don't ever expect to get a completely chip-free at-home manicure that will last a full two weeks. But the Essie Gel Couture is pretty darn close. I can go a full week nearly chip-free. By far my favorite Gel Couture color so far is Stitch by Stitch.
My vintage dictionary page printables. I know, it's a little annoying to talk about one of my own posts as a favorite thing from this summer. But it truly is one of the things that I've been most excited about, and now I can't stop working with them to create free printables. I'm thrilled to start rolling out the new printables next month and have lots of plans for dictionary page printable wall art over the next year.
Armitron Sport Women's Quartz Sport Watch with Resin Strap. I have only worn my new Armitron watch a handful of times. But I'm so impressed with it and now it's one of those items I'll be recommending over and over in gift guides. I have a Daniel Wellington watch, which I love. But it's not waterproof, and sweating through the NATO band in summer gets gross. I also can't wear it when I'm with Tommy at the pool, splashpad, beach, etc. So a waterproof Armitron watch has been perfect. It's so comfortable and surprisingly small, which I love because I'm not really all about the current oversized watch trend. The color options are awesome, too.
ThunderFit Silicone Ring. A silicone ring is one of those items I never in a million years would have imagined loving, much less recommending. My anniversary band is sterling silver, not gold or platinum, and it gets easily discolored in chlorinated water. So I tend to go without rings when I swim, which has been every single week in 2019. I don't really like that. The silicone ring is a perfect alternative and fits really well. You forget you're even wearing it.
OMOTON Cell Phone Stand. A cell phone stand is one of those items you don't even know you need, and then you can't live without it. This stand is ridiculously low priced and incredibly sturdy. You can easily use it with larger Kindles and other tablets with no problem. Among many uses, it's perfect for looking up recipes and watching videos and shows while you're cooking. It also comes in great colors (hello, rose gold).
PopCorners Popped Corn Chips. I tried the Aldi's version of these popcorn chips at a moms' splash pad play date this summer and am obsessed now. I love kettle corn, and these chips taste exactly like kettle corn. And they're not even incredibly unhealthy. PopCorners has a bunch of other flavors, too I'm sure at some point I'll branch out and try a few of them. I've linked it on Amazon, which doesn't have a terrible price. But I would keep an eye out for it (or a similar brand) in stores, as I know you can find it for cheaper.
As always, my TV game has been truly behind the times. But people always want to know what I'm watching, so I like to include it in these favorites posts. Jake and I did make our way through the newest season of Archer, which was so funny, possibly the best of the spin-off seasons. I'm excited to see what they'll do when they return to the more traditional plot next season. We've also slowly been working our way through Cobra Kai Season 2. The show continues to be surprisingly deep and well developed with great characters, some of the best teenage characters you'll see on any TV show today.
I just finished Half a Chance, which turned out to be such a fun little summer read. It's sweet and simple, and of course, I love the photography angle. This type of book is so much better than a popular beach recommendation like Elin Hildebrand, which frankly, just never comes close to living up to the hype. I'm excited to read some of Cynthia Lord's other books now.
OxiClean Max Force Laundry Stain Remover Spray. Laundry stain remover is a total mom nerd favorite to include in this type of post. But it really is an amazing product that's changed my life this summer. I've used multiple stain remover sprays over the last decade. OxiClean Max Force is so much better than all of them. It's completely taken out dried blood, blueberries, and chocolate from Tommy's clothes. I'm linking it through Target, as it's one of those products that's much cheaper in stores than on Amazon.
[Disclaimer: There are a few affiliate links in this post. Thanks for your support!]
What have you been loving this summer?
Feel free to leave links in the comments!
Previous favorite posts: