Simple DIY birthday cards are some of the most versatile homemade greeting cards you can have on hand. You never know when you'll be invited to a birthday party at the last minute or when you'll suddenly decide to give cash or a gift certificate and need a card for it. Having handmade birthday cards ready for such occasions is always a good idea.
In truly cliched fashion, I'm releasing this post on my birthday. These simple DIY birthday card designs are 100% my taste. I've used a lot of polka dots. I've used a lot of bright colors. I may have paired turquoise and red together. I think cute and colorful always works for birthday cards. Of course, you can switch up the designs any way you like to fit your own tastes and those of the card recipients.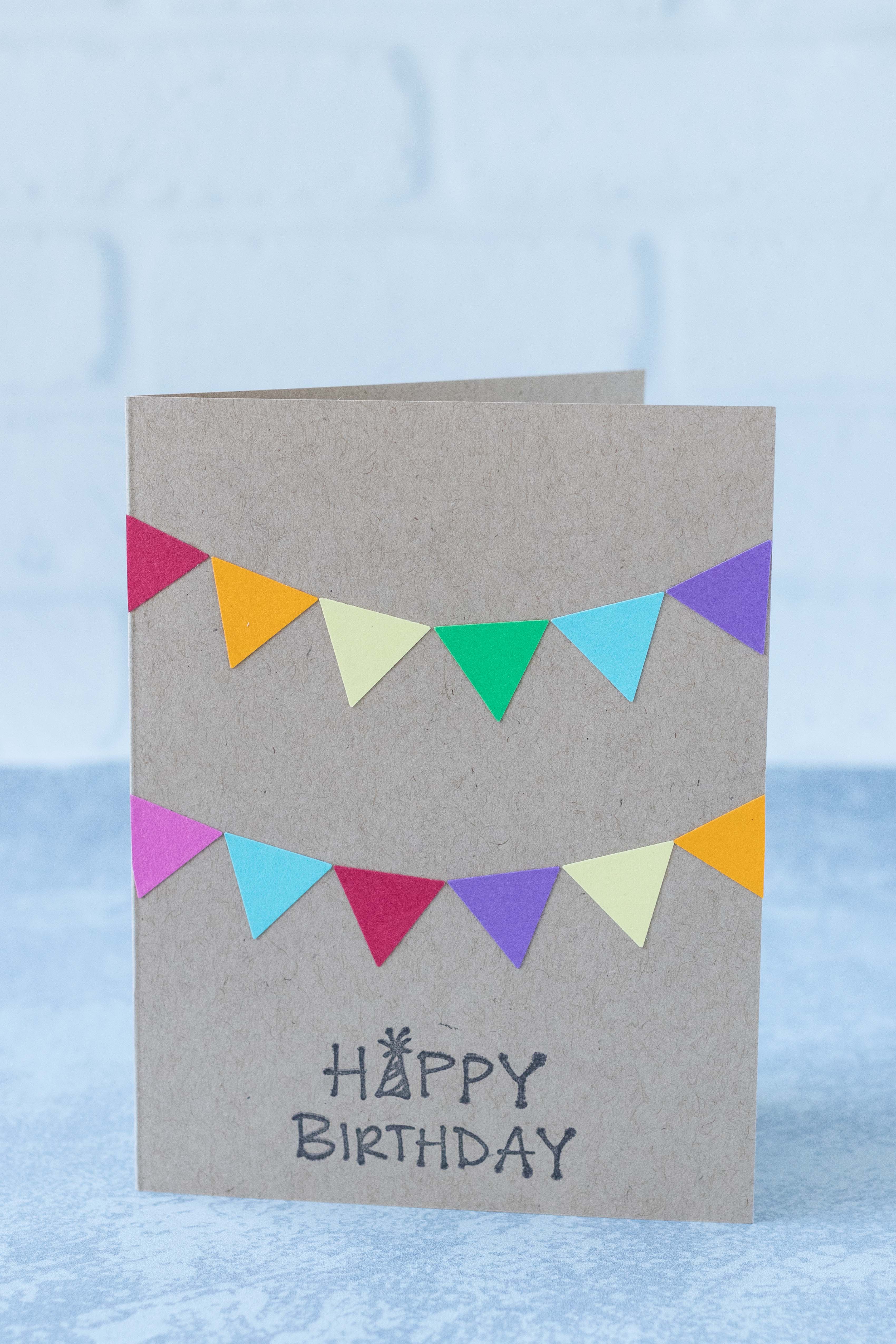 Nothing says birthday like colorful bunting, right? Creating tiny bunting for a greeting card is so sweet and not too finicky. I like the double rows of bunting to fill out card nicely while still leaving room for "happy birthday." A triangle punch makes the bunting construction quick and seamless, but you can cut the bunting by hand, too.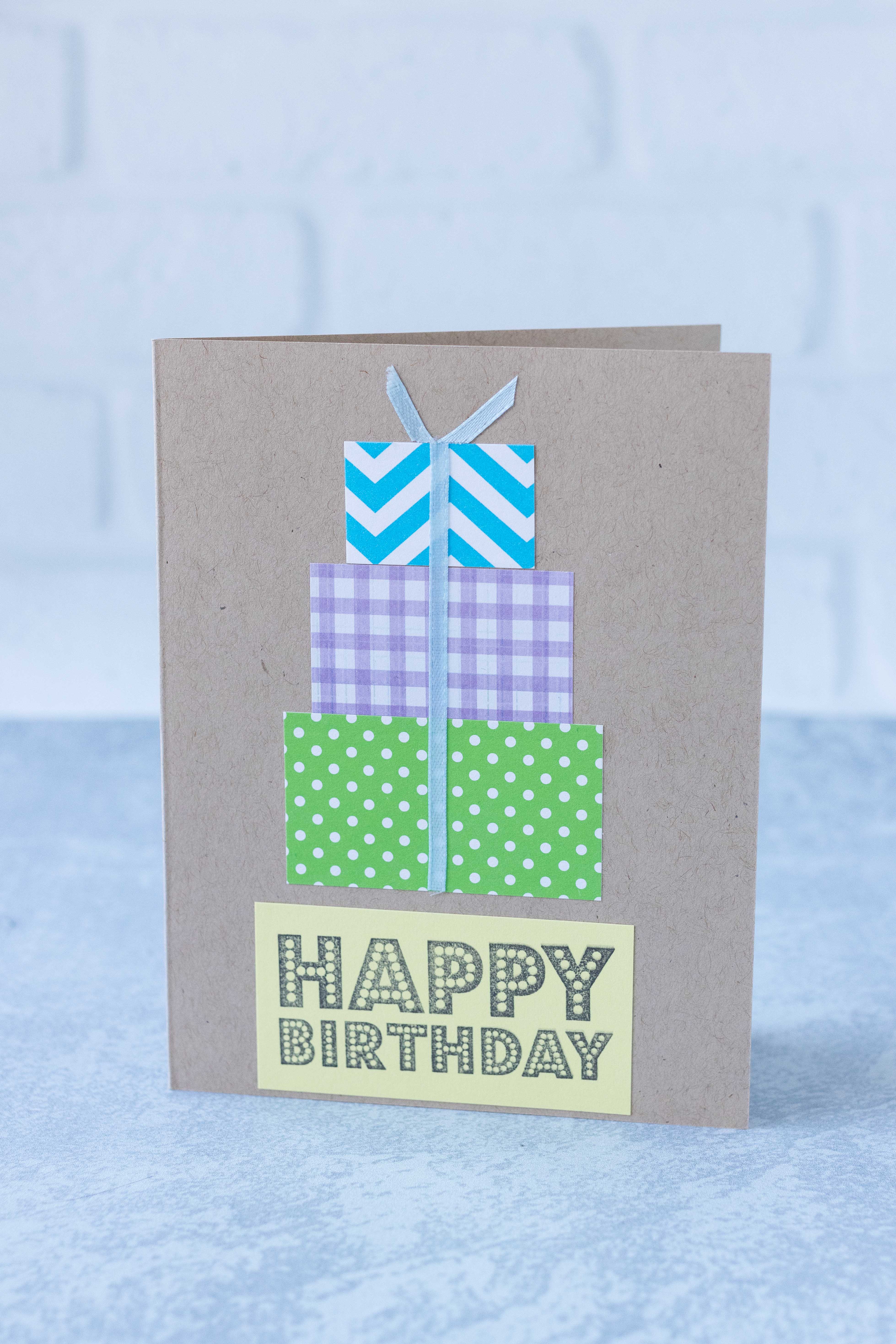 I love the stacked present aesthetic, with each present wrapped in a different color paper. The wrapped present design is one of a few designs here that's perfect for using up paper scraps, which I always love.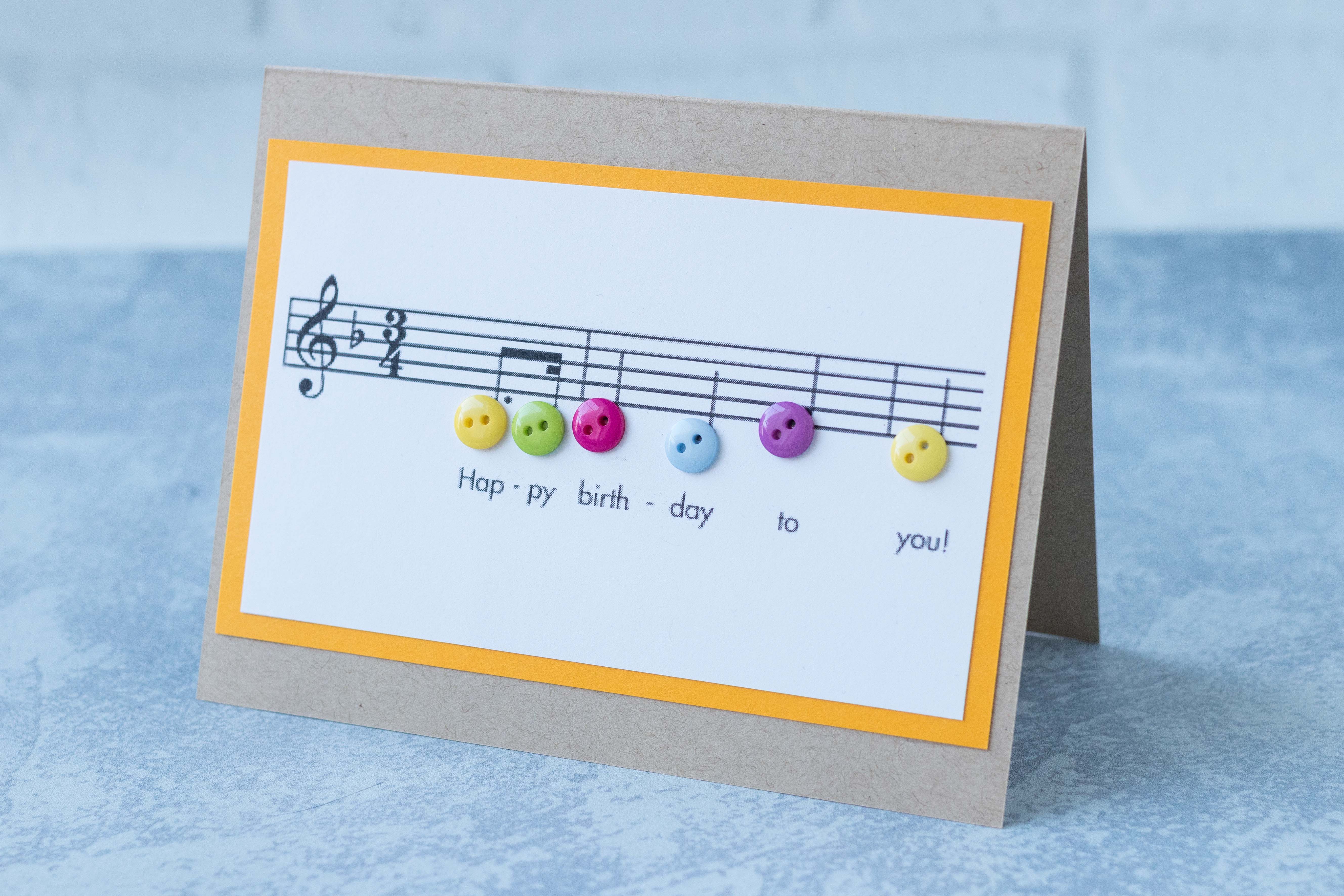 I have to give credit where credit is due here to Nikelcards whose sheet music happy birthday card design is all over Pinterest. She has a similar Christmas design as well, which is also all over Pinterest. I certainly didn't invent it. But I had to try it for myself. I formatted the happy birthday sheet music to fit buttons just under 3/8″ in diameter. (You'll find the sheet music in the templates section below.)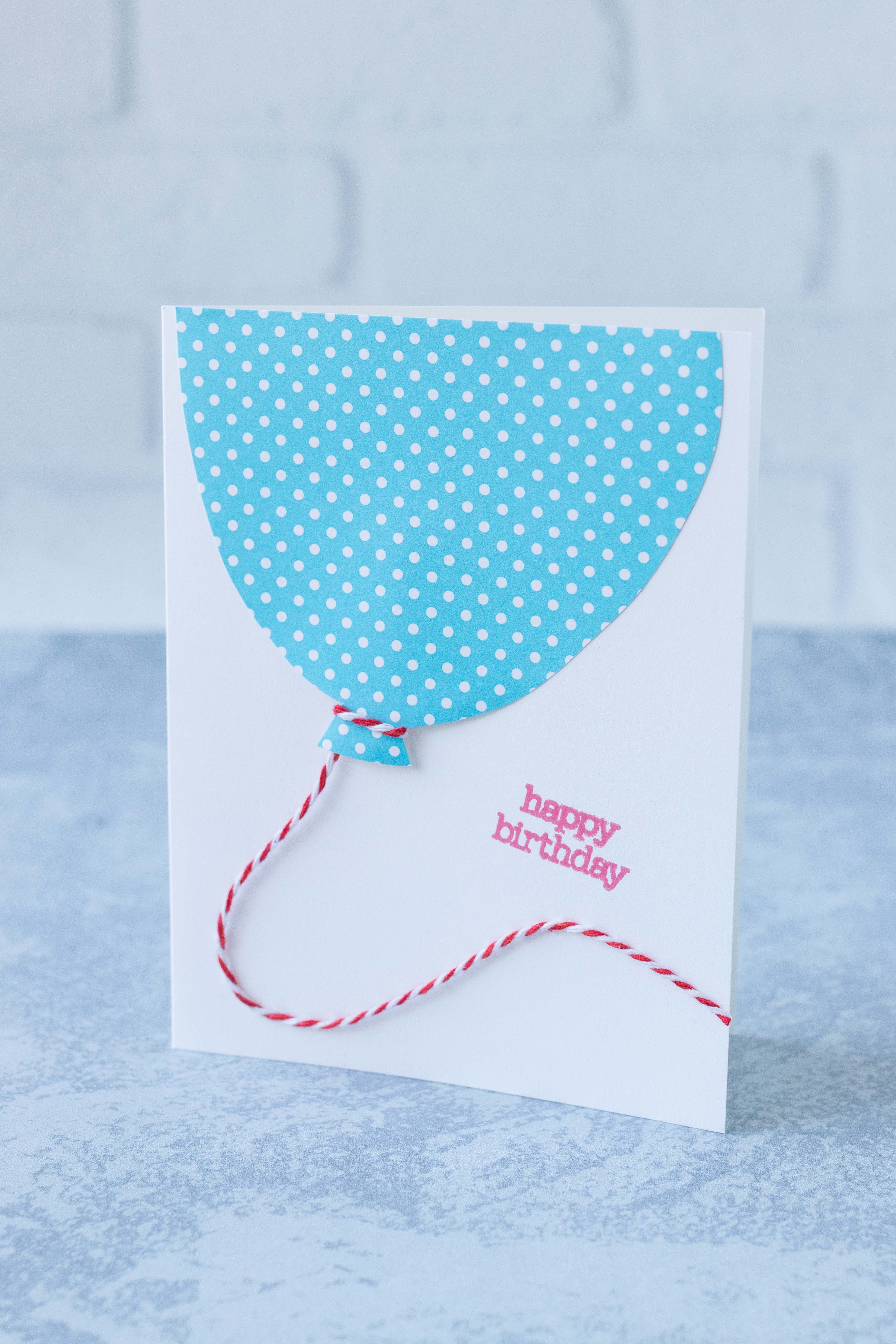 I love this large half balloon birthday card design so much and can't believe how easily and quickly it came together. I thought that it might be tricky to arrange and secure the balloon string. It really wasn't, though. I added a few strategic glue spots along the string, and it held great.
The row of colored birthday candles is another great DIY card design to use up little paper scraps. Alternatively, if you get a set of colors/patterns you like, cut up a whole bunch of paper strips, so you can put together this design any time you need a last-minute birthday card. I freehand cut the flames, which means each one is a little different. If you want to get an idea what the card would look like with uniform flames, check out the final card idea in this post.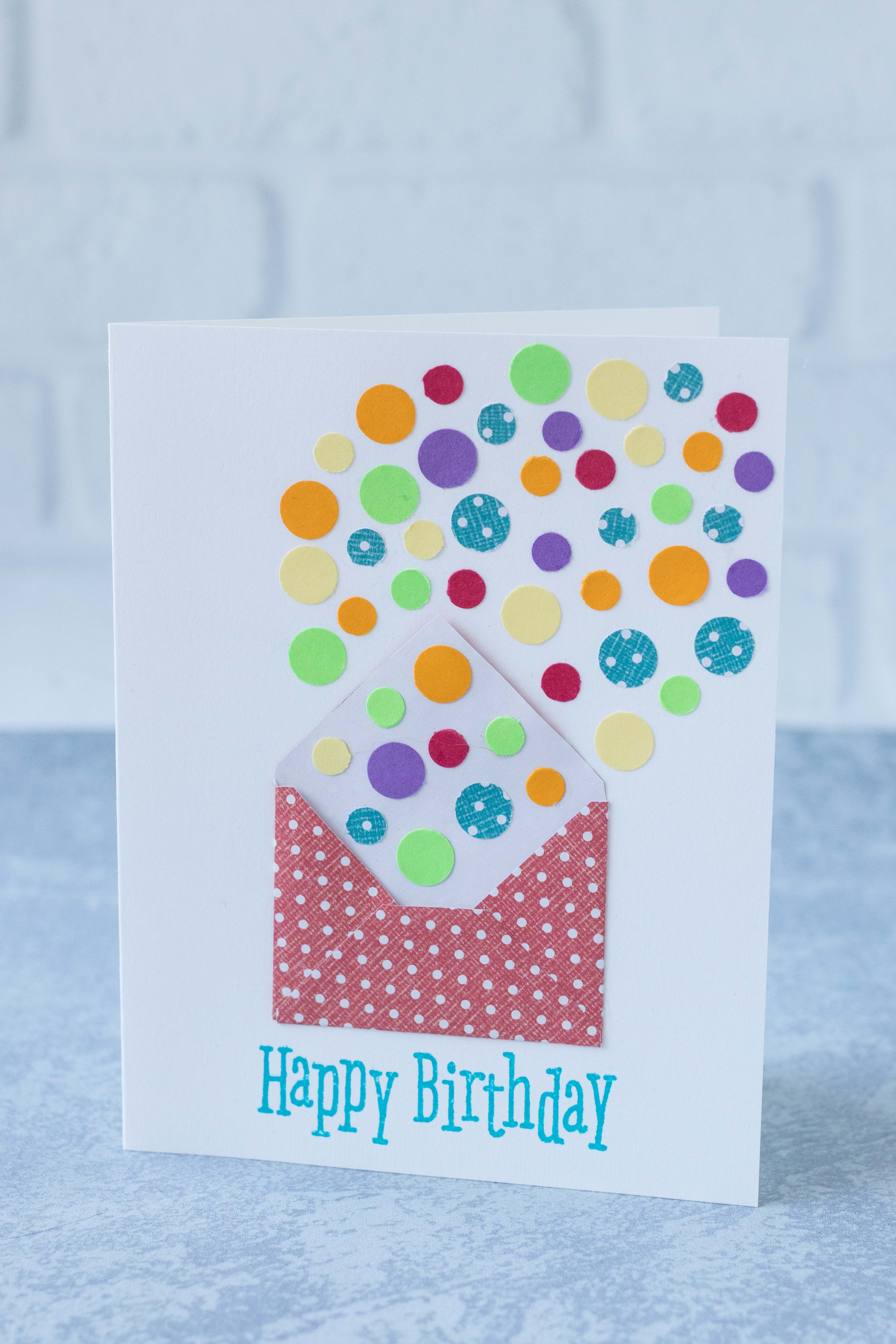 An envelope with colored dots spilling out of it looks like a really easy design. It took me a little time to get it just right. Hopefully, I'm giving you the tools to help you put it together quickly. First, not all tiny envelope tutorials are created equally. The one I've linked in the templates section is by far the best I've ever found. Second, arranging the dots to look like they're flowing effortlessly is easier said than done. I highly recommend laying them out until you're happy with the results before you start gluing.
As the circles are so small, the envelope with colored dots spilling out of it is yet another perfect handmade card design for using up the smallest paper scraps.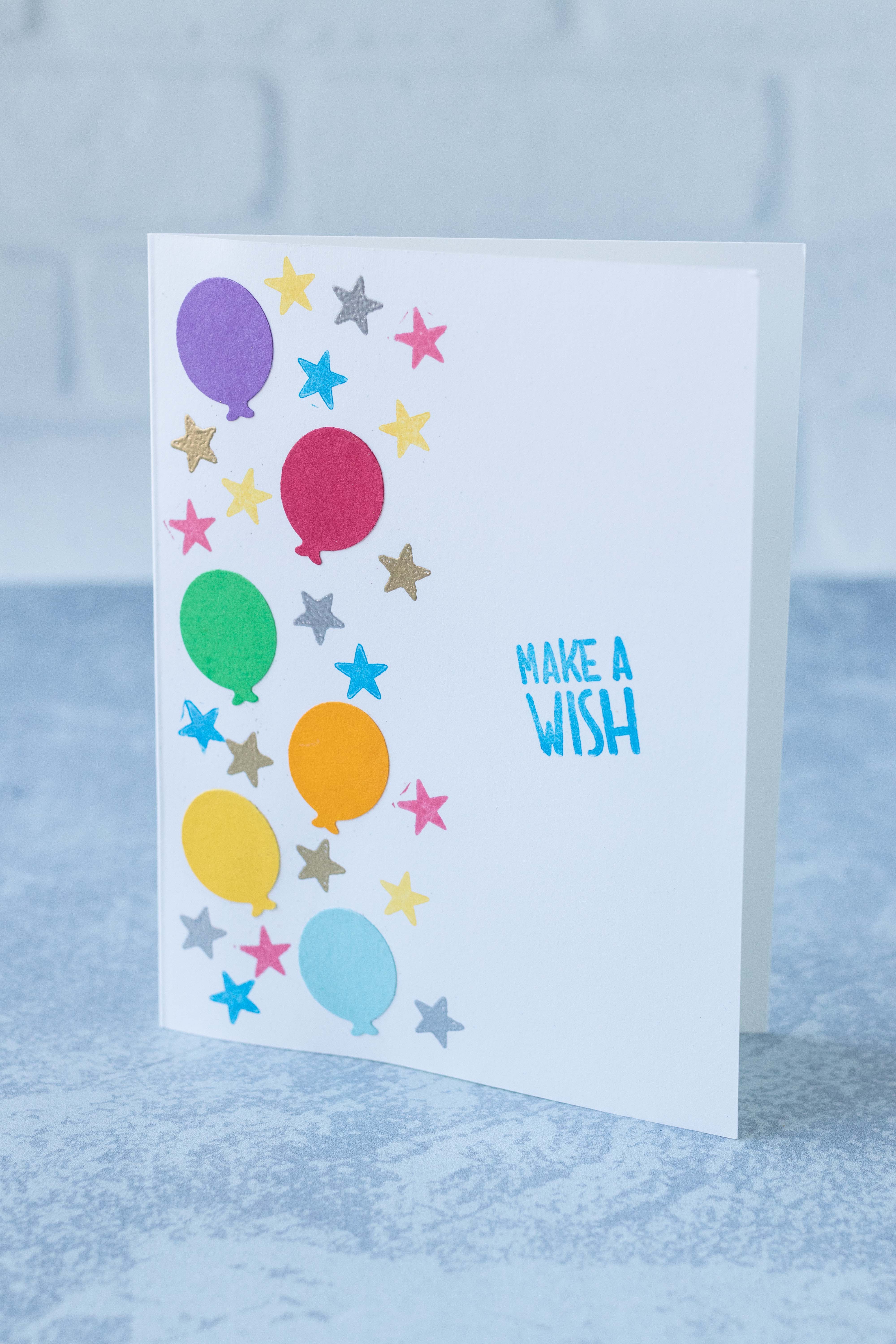 I'll be honest: I'm a complete newbie when it comes to heat embossing. I have seen a few greeting card designs with heat embossed metallic stars or hearts and wanted to try my hand at it. It took a bit of trial and error, and believe me, the final result is not perfect. But I like that it's a little rough around the edges. It's a handmade birthday card, after all. If you're experienced with heat embossing, your final result will look more polished.
I suggest assembling the card in the following order: gluing the balloons, stamping and heat embossing the metallic stars, and finally, stamping the regular ink stars. If you stamp the regular ink stars first, they're likely to end up with bits of metallic embossing powder in them.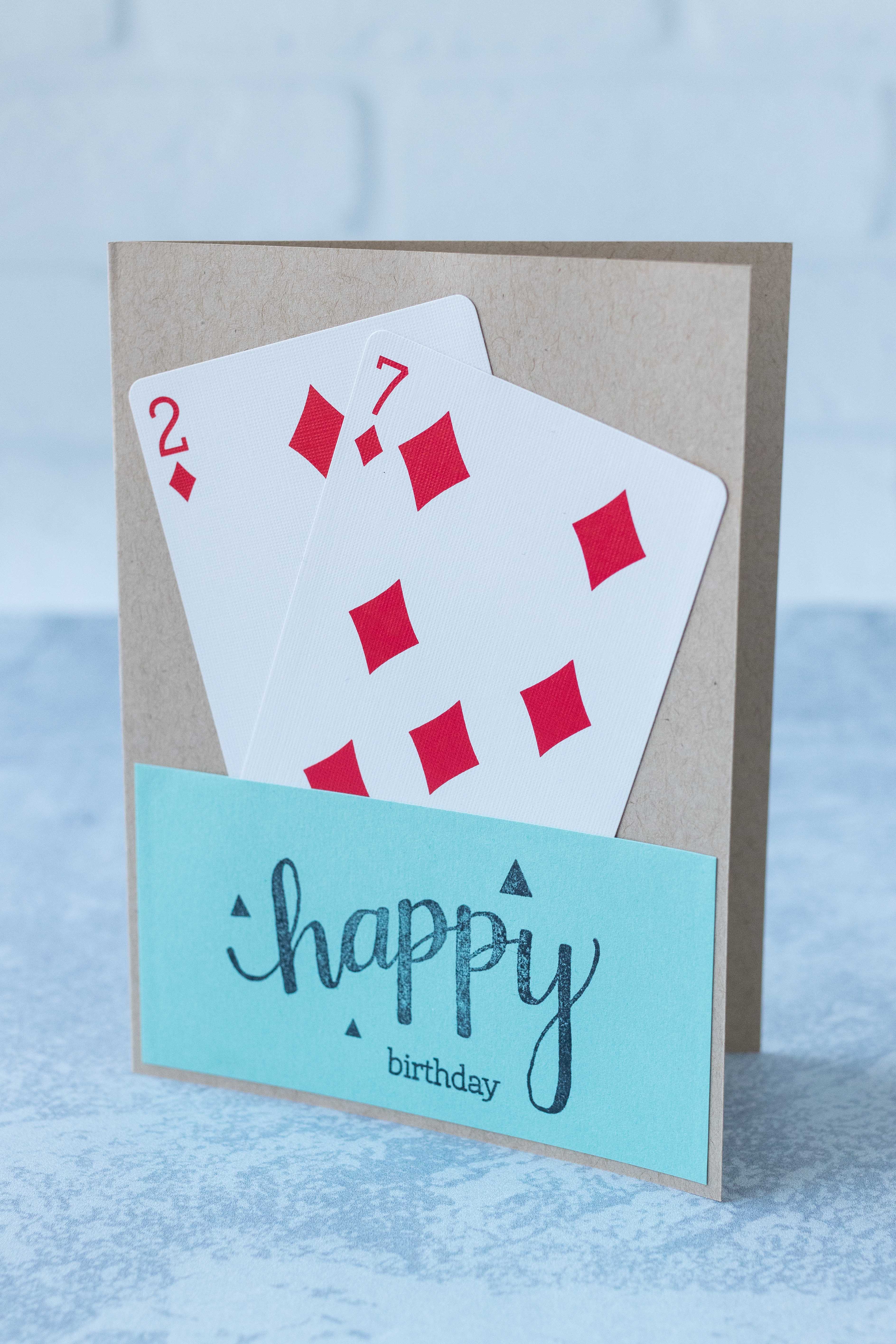 I have no idea why using playing cards for a DIY birthday card is so appealing. The concept couldn't be more simple, and it works so well. I love the contrast of the sleek new playing cards with the stamped "happy birthday."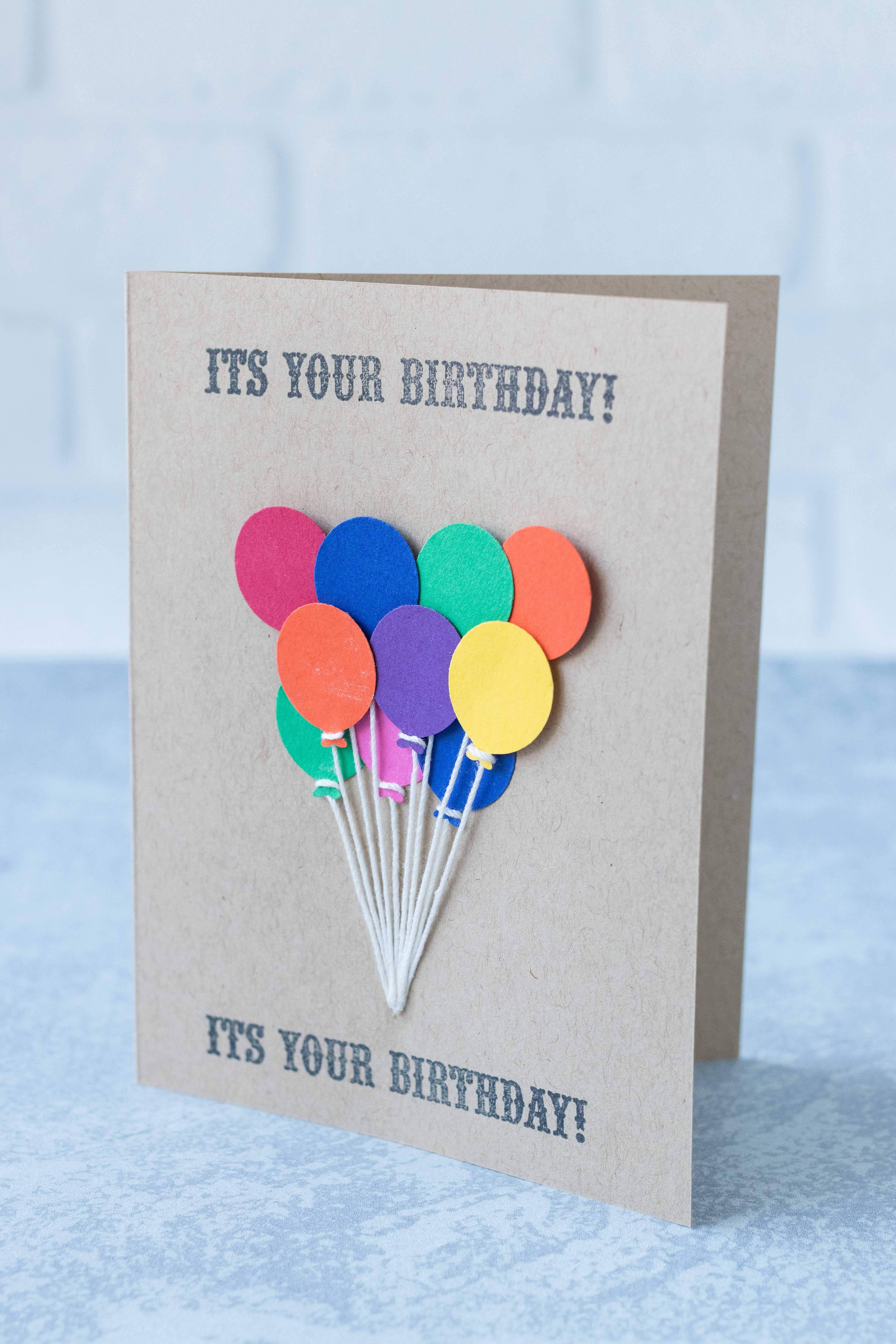 I put the birthday balloon bouquet so far down in this post because it's the most finnicky design here. Even though it's such a classic concept for a birthday card, getting the balloons tied and positioned just right takes patience and a little trial and error. I glued the bottom row of balloons to the card and mounted the middle and top rows with foam adhesive squares.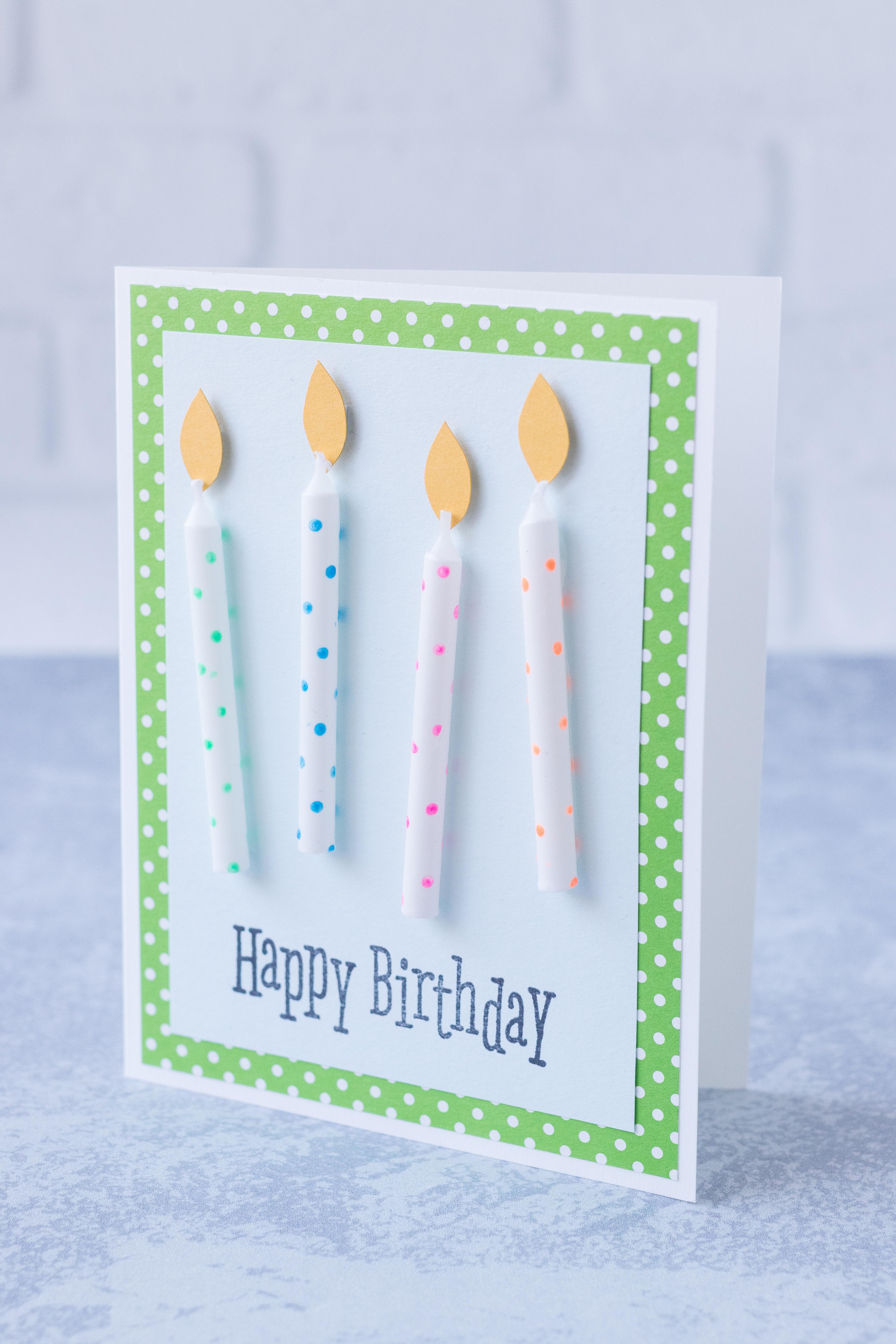 I saved the polka dot candles for last because it's my favorite. I'm sure that's a little obnoxious to declare a favorite since I created all of these cards. I'm declaring one anyway. I love how the light blue offsets all of the polka dots and how the 3D mounting of the flames really makes the candles pop. I picked up the candles at the grocery store. You'll find cute, inexpensive candles any place that carries cake baking and/or birthday party supplies.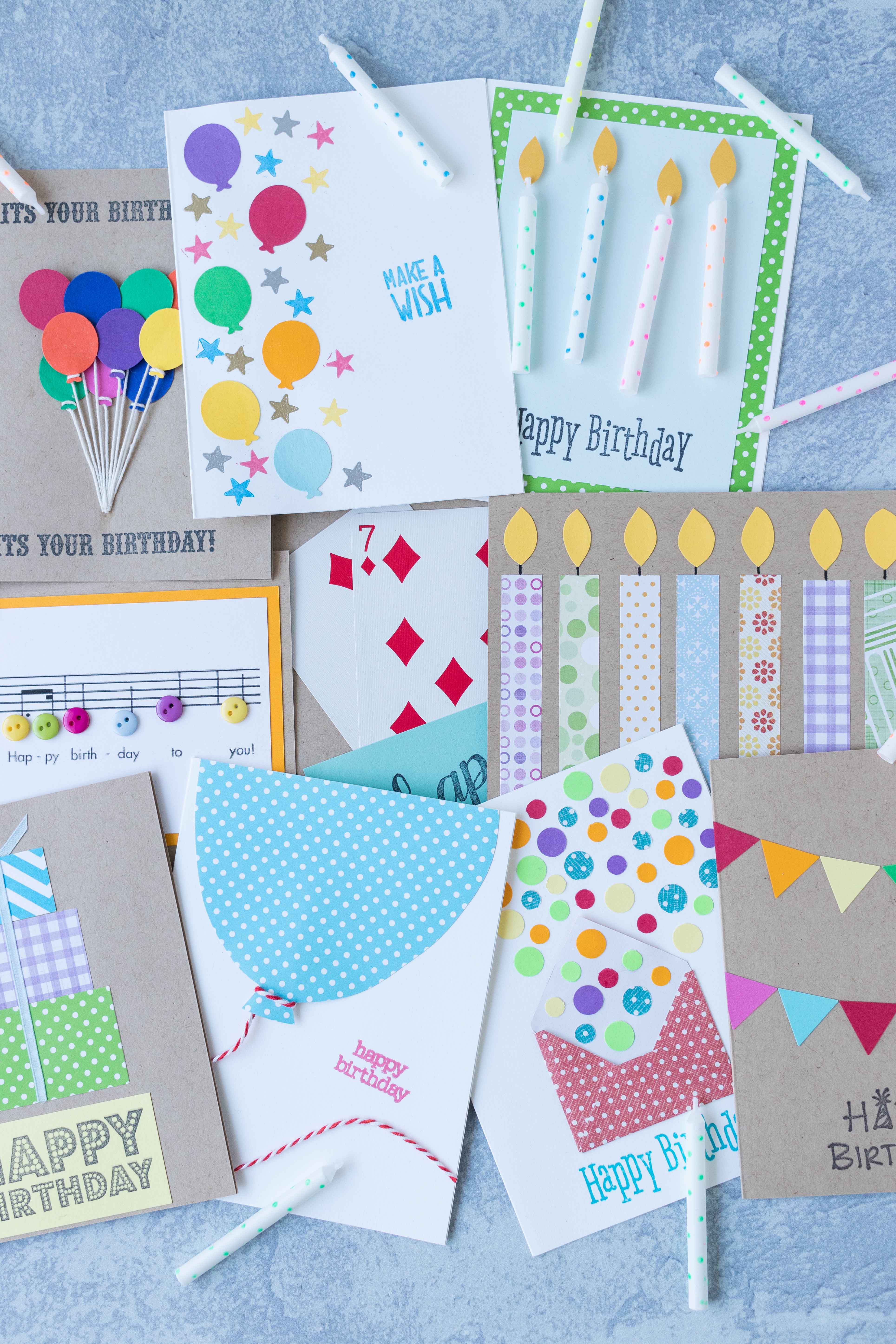 I intentionally left my simple DIY birthday cards blank inside. It's up to you to include messages inside your handmade cards!
I have a comprehensive post covering all of my favorite basic greeting card supplies and tools, which covers all of the staple card supplies that I used for my DIY birthday cards, such as card blanks and a paper cutter.
Additional supplies for simple DIY birthday cards:
1″ triangle punch | 1″ balloon punch | Hero Arts birthday stamp set | Hero Arts Stamp and Cut Happy Stamp with Matching Die Cut Set | Happy Birthday party hat stamp | hole punch | 3/8″ circle punch | polka dot candles | assorted baker's twine | adhesive foam mounting squares | tiny star stamp | embossing heat tool | embossing inkpad | gold embossing powder | silver embossing powder | no-spill embossing plastic tray
I know that this is a large supply list for creating easy handmade birthday cards. However, with the exception of the heat embossing design, you only need 1-2 supply items for any given card. If you're planning to make a variety of cards, I highly encourage you to check out the Hero Arts birthday stamp set, as it offers a great range of designs for the price point.
Templates:
Envelope (original source) | large half balloon (original source) | "happy birthday" music (original source)
[Disclaimer: There are a few affiliate links in this post. Thanks for your support!]
Did you make one or more of the simple DIY birthday cards in this post?

I want to see them! Tag your images #RoseClearfield on Instagram or Twitter or post a photo to my Facebook page.
Pin this post for easy access to the easy DIY birthday card ideas later!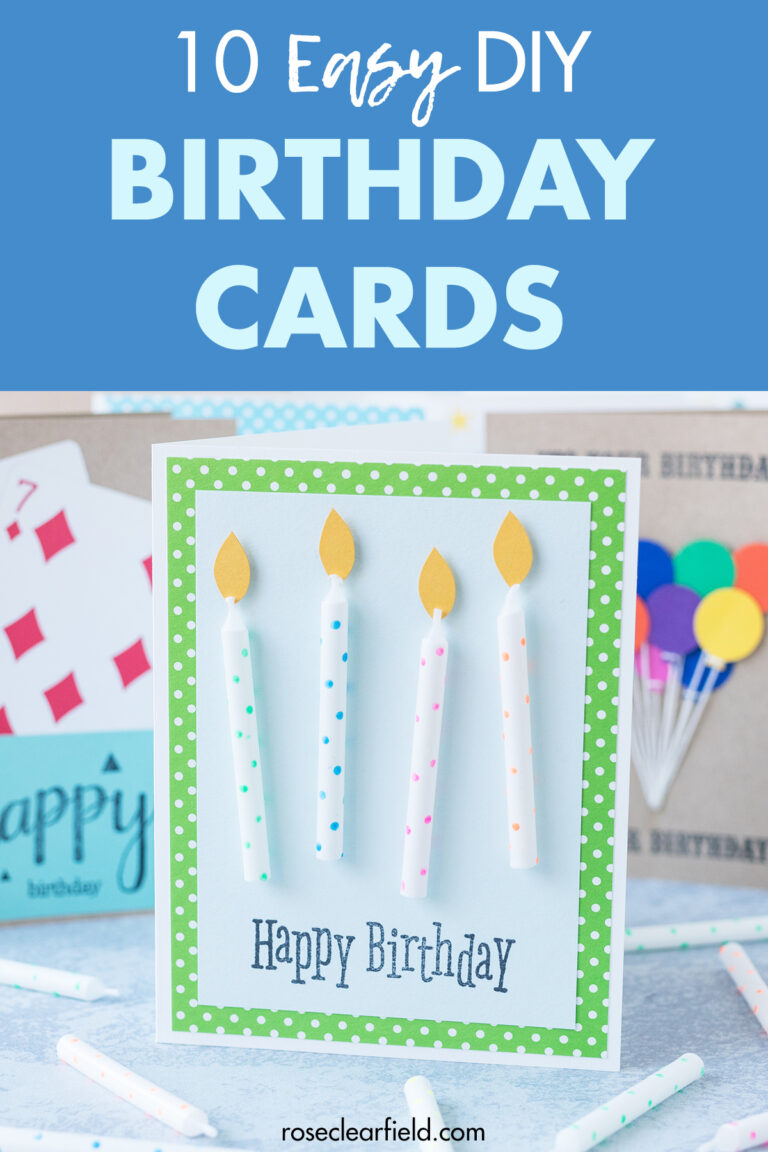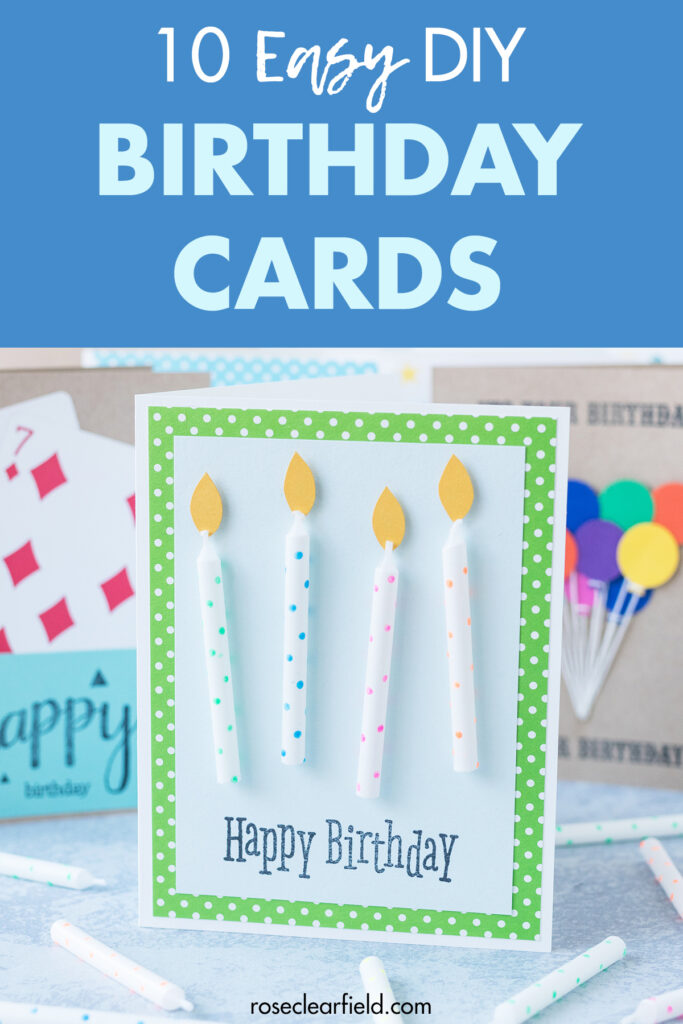 More DIY greeting cards:
Visit the greeting cards section of the blog for even more handmade greeting tutorials!