Welcome to another round of homemade greeting cards, this time simple DIY Easter cards!
I love making handmade cards all year round and enjoy the challenge of creating designs for different seasons and holidays. Easter cards are so much fun for teacher gifts, sending kid pictures to grandparents and other relatives, and tucking into Easter baskets. Including a handmade card with a gift always makes the gesture a little more meaningful.
If you've been following my blog for any length of time, you know that I believe in creating DIY projects that are simple and require only inexpensive materials. There is nothing wrong with spending on more costly craft supplies. But you shouldn't ever feel like you have to spend a lot of money to create beautiful crafts. You can make all of my simple DIY Easter cards with supplies you already own or can pick up in a single trip to Michaels.
I've designed a mix of religious and non-religious DIY Easter cards. I'm not a big fan of overly cute Easter cards, but I also know that not everyone is looking for religious Easter cards. I've tried to strike a nice balance here. Happy crafting!
Note: I link all of the templates that I use at the end of the post.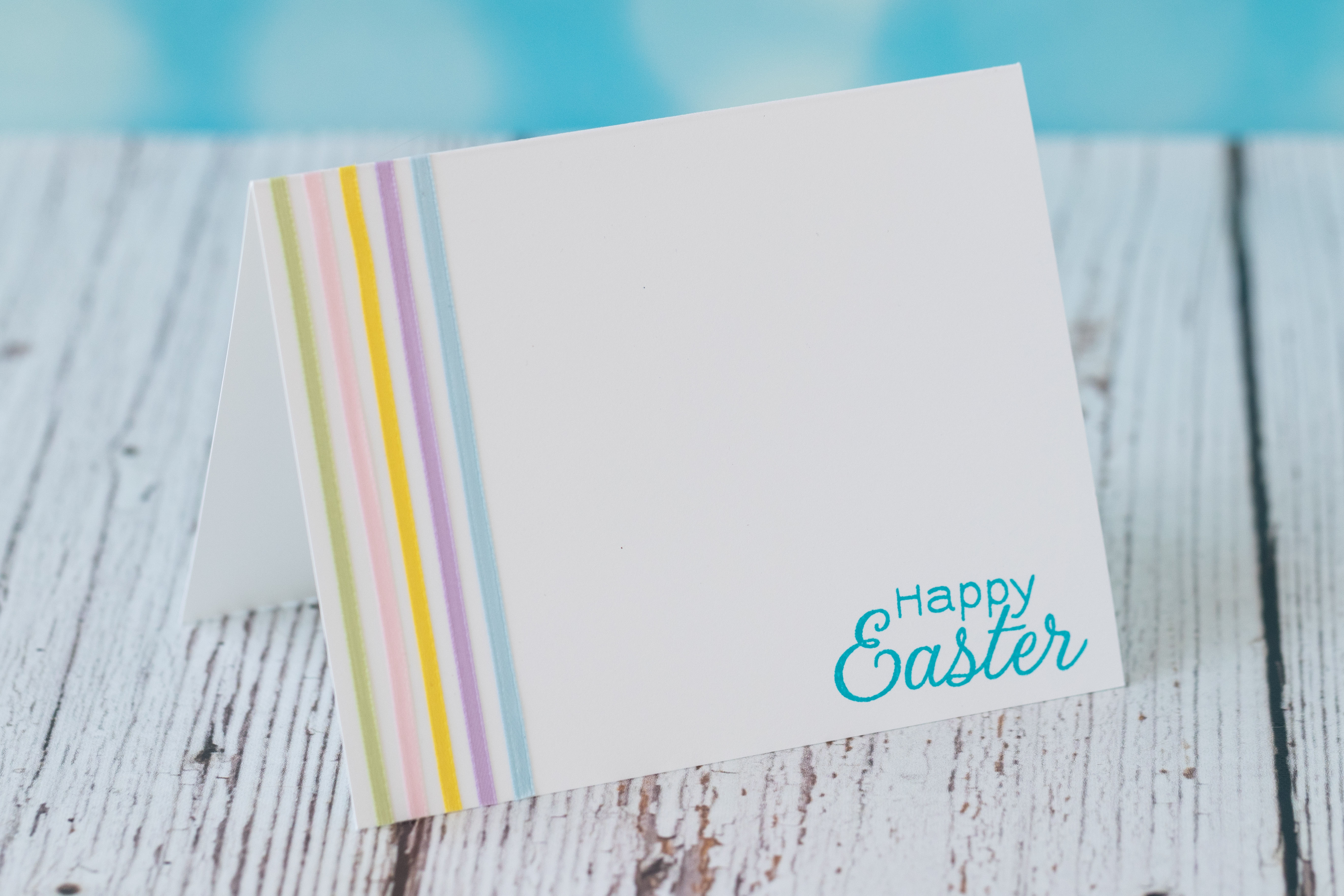 I don't create a ton of minimalist card designs because it's not really my style. But I'm a huge ribbon hoarder and thought it would be fun to start simple with ribbon stripes with all of the pastels in my collection. I love this aesthetic so much.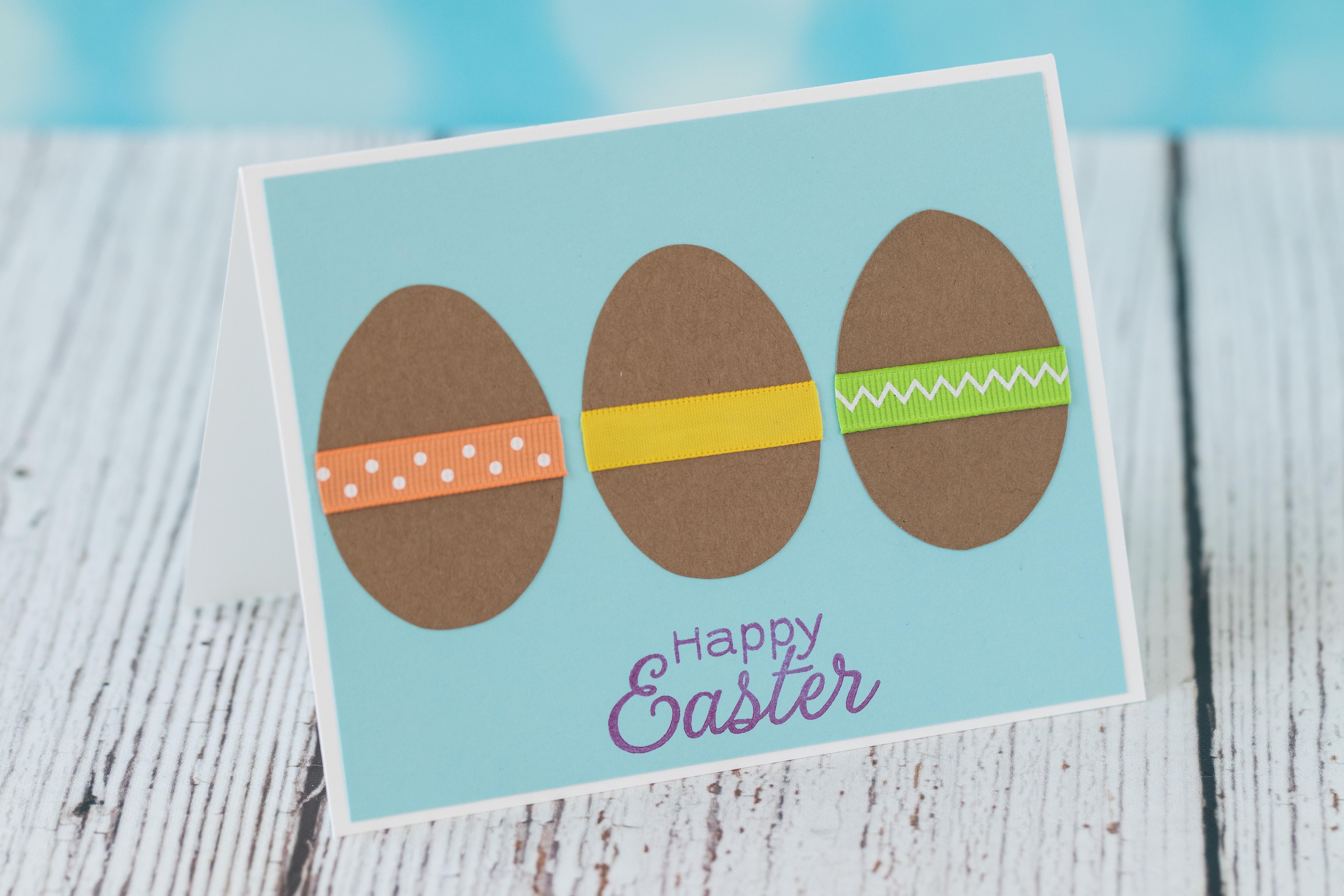 I love the pairing of kraft and pale blue with a little pop of color from the ribbon embellishment on the eggs. Of course, you can switch up the color theme for this ribbon-wrapped egg concept any way you like to create a bolder or completely neutral aesthetic.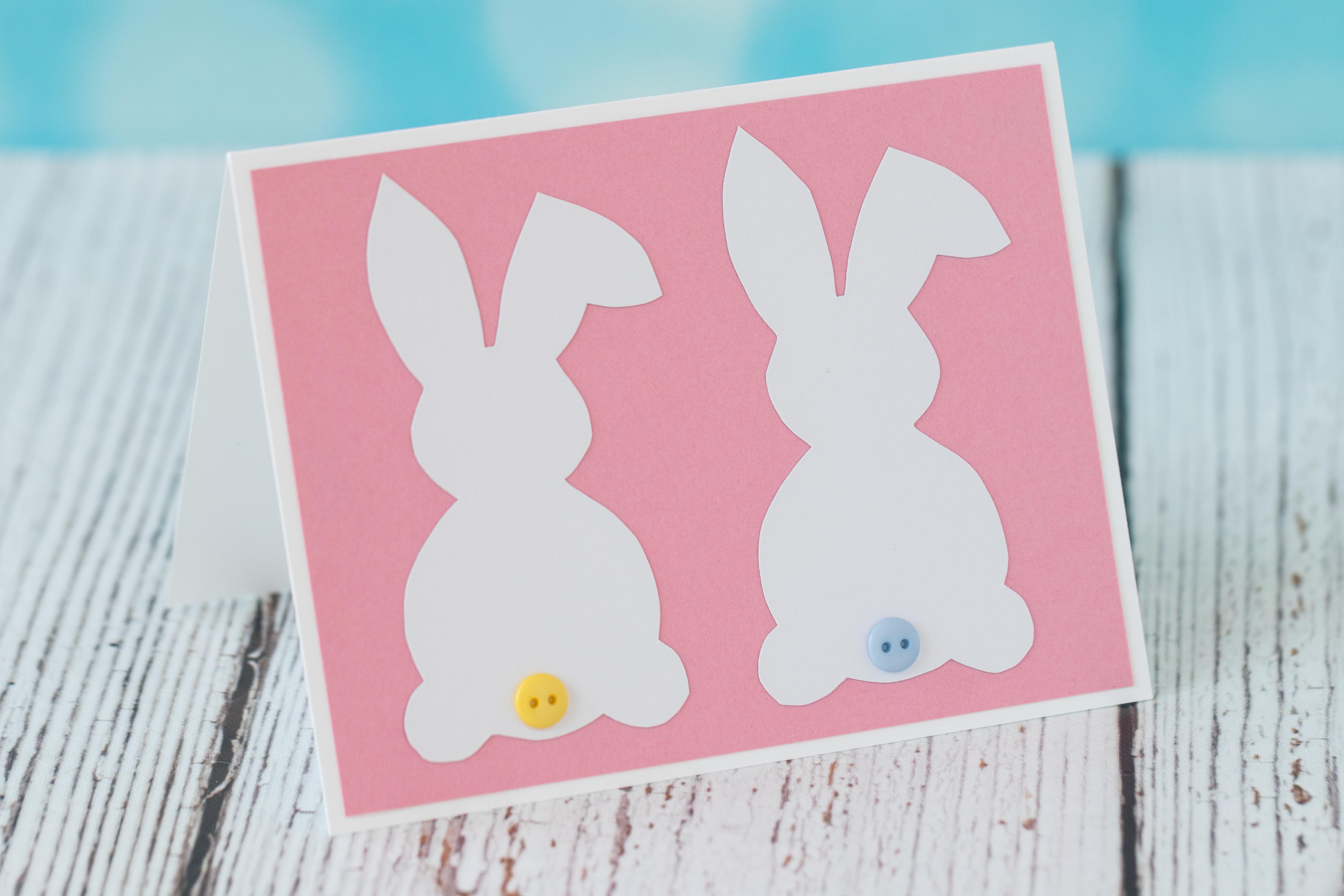 My bunnies card is a take on the Easter bunny canvas wall art I created last year. I love it just as much as a card as I do wall art. I think that a little bunny family would be really cute for an Easter card, too.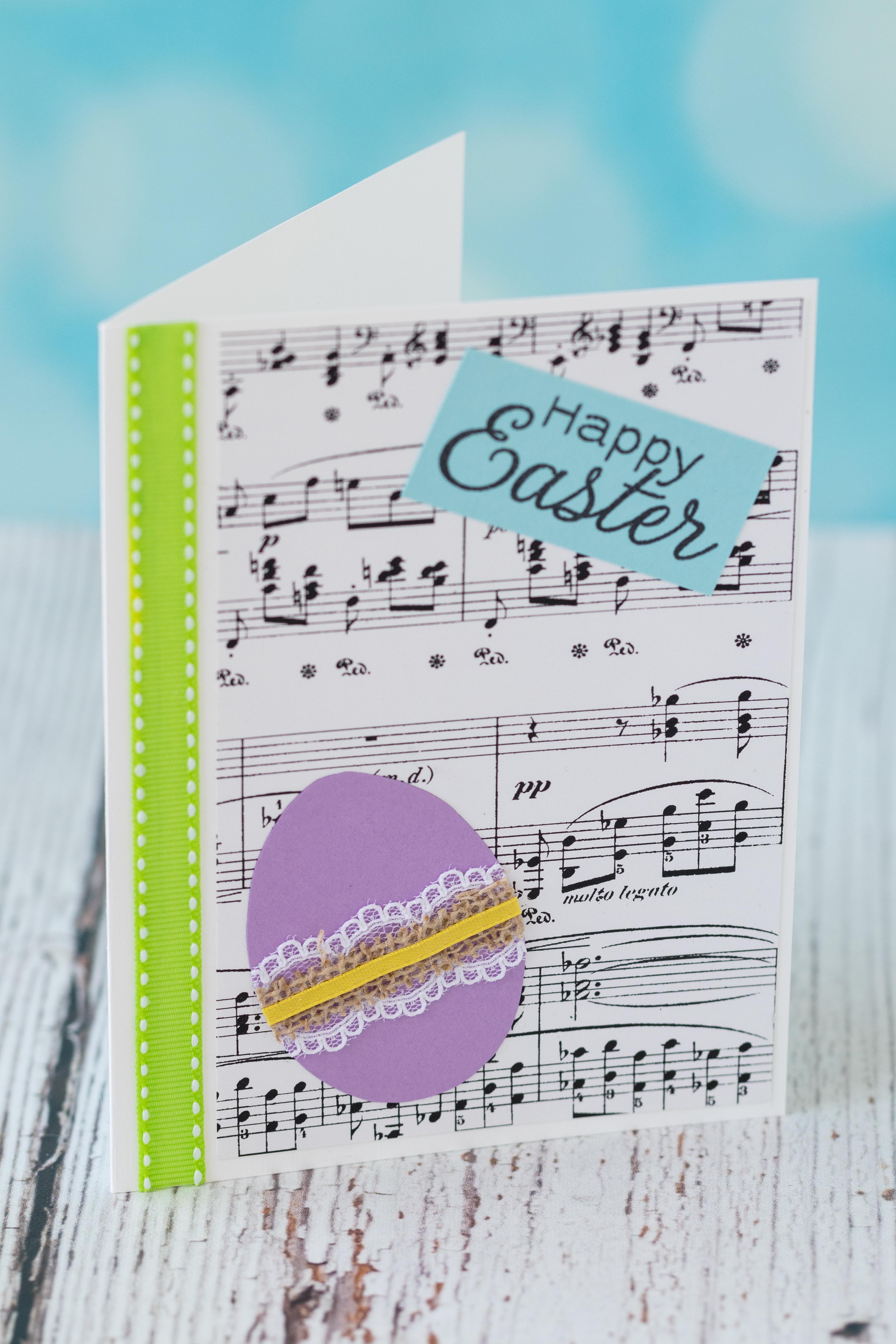 You know that I have to create at least one music themed card. I still haven't gotten over ribbon and lace wrapped eggs and just wanted some simple Easter elements over the classic music background. But there are so many other directions you could take with a music Easter card, such as an Easter bible verse text over a favorite Easter hymn.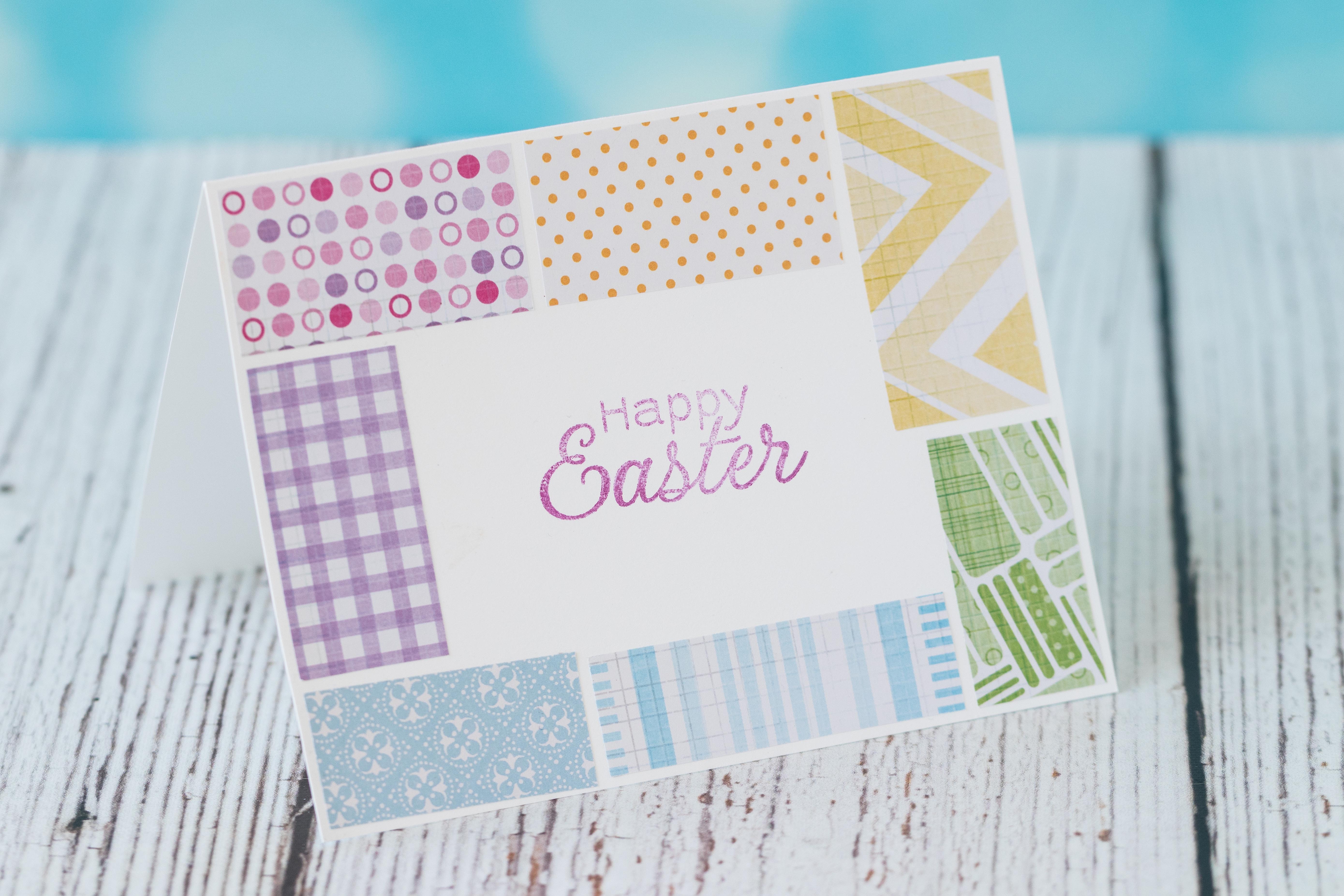 I love scrappy DIY projects that help you use up leftover bits of scrapbook paper, fabric, ribbon, etc. I wanted to make a border card for Easter because I love these mini fabric cards so much. This concept as a full patchwork quilt is really great, too.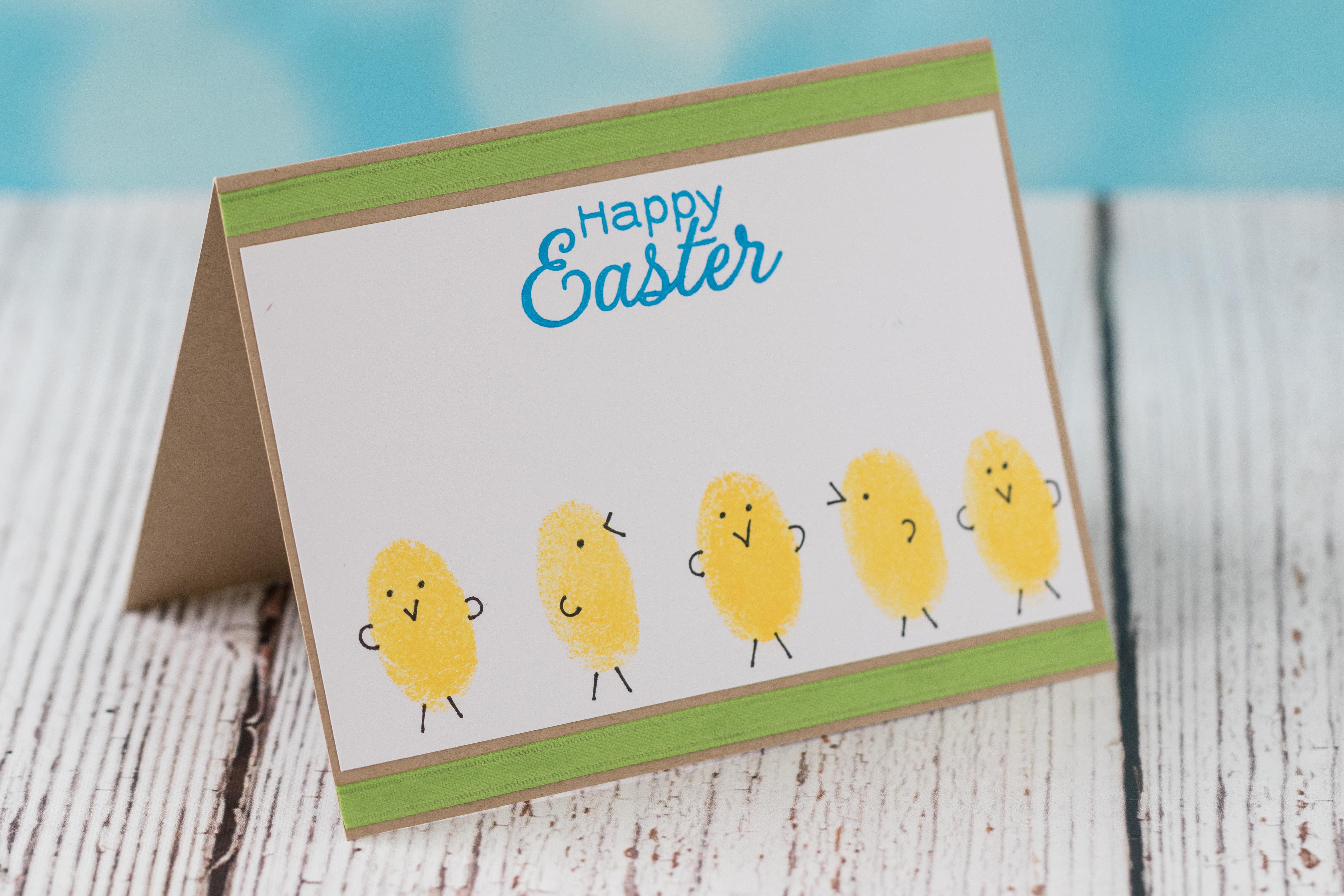 Who doesn't enjoy thumbprint animals? If you've spent any time on Pinterest searching for Easter DIY projects, I know that you've seen this adorable "hoppy Easter" design floating around. I finally had to try something similar for myself. Please note: the thumbprint concept only works with stamping ink. You can't use acrylic paint. For my chicks card, I used ColorBox – Sunflower.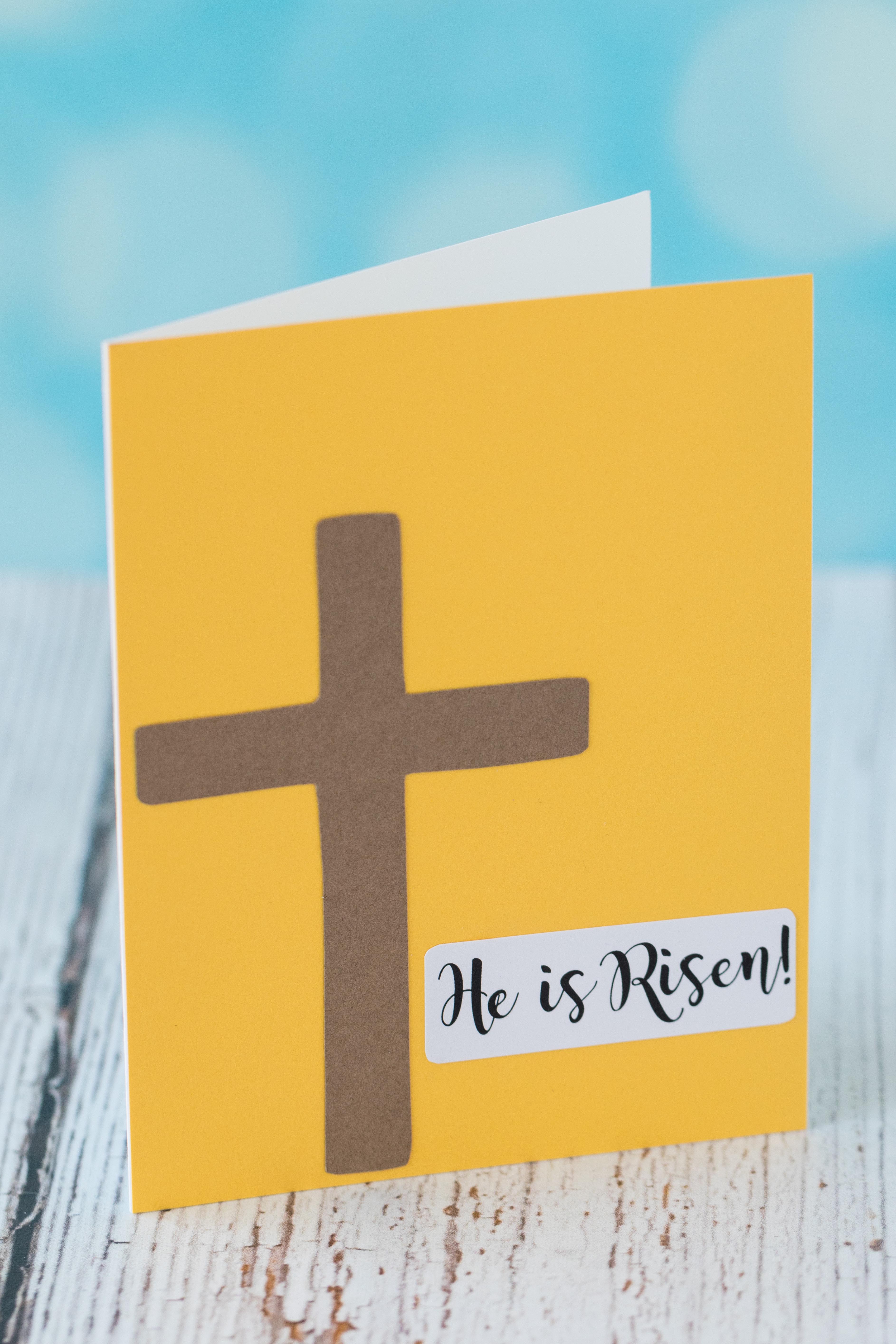 I feel ridiculous using the "word" simple again…since the whole post is intended to be simple DIY Easter cards. But, I just felt drawn to super simple religious Easter card designs this year. You can certainly run with this concept and embellish it a bit if you like.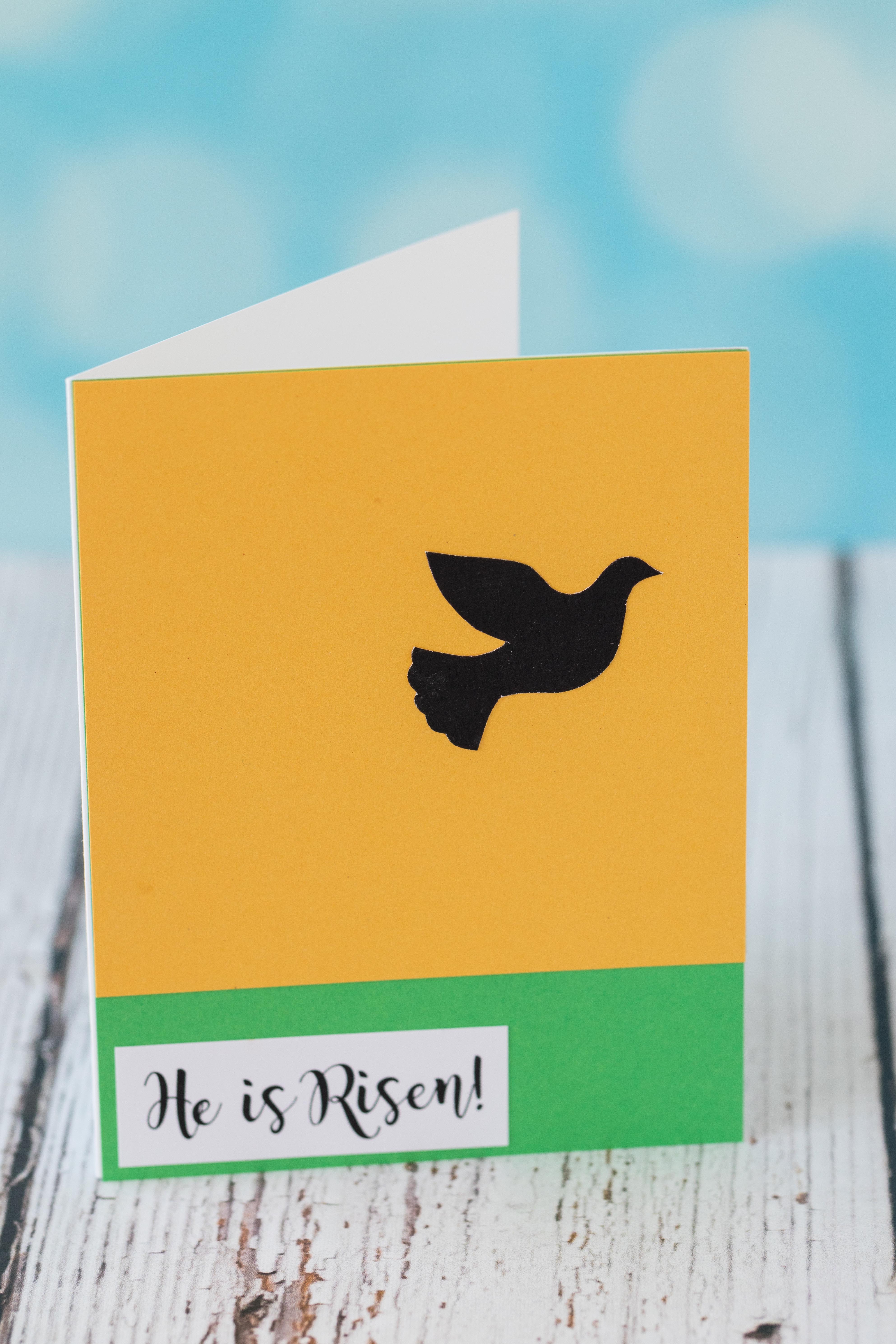 Then I put the dove silhouette against the same yellow background because I love this style of silhouette photography. It's like you're standing on the grass looking out on the horizon at sunset and see that single dove against the glow.
I brought the mason jar back for Easter (and probably will for all holidays in the foreseeable future). This time I filled it with flowers. This design is perfect for virtually any occasion or holiday in the spring.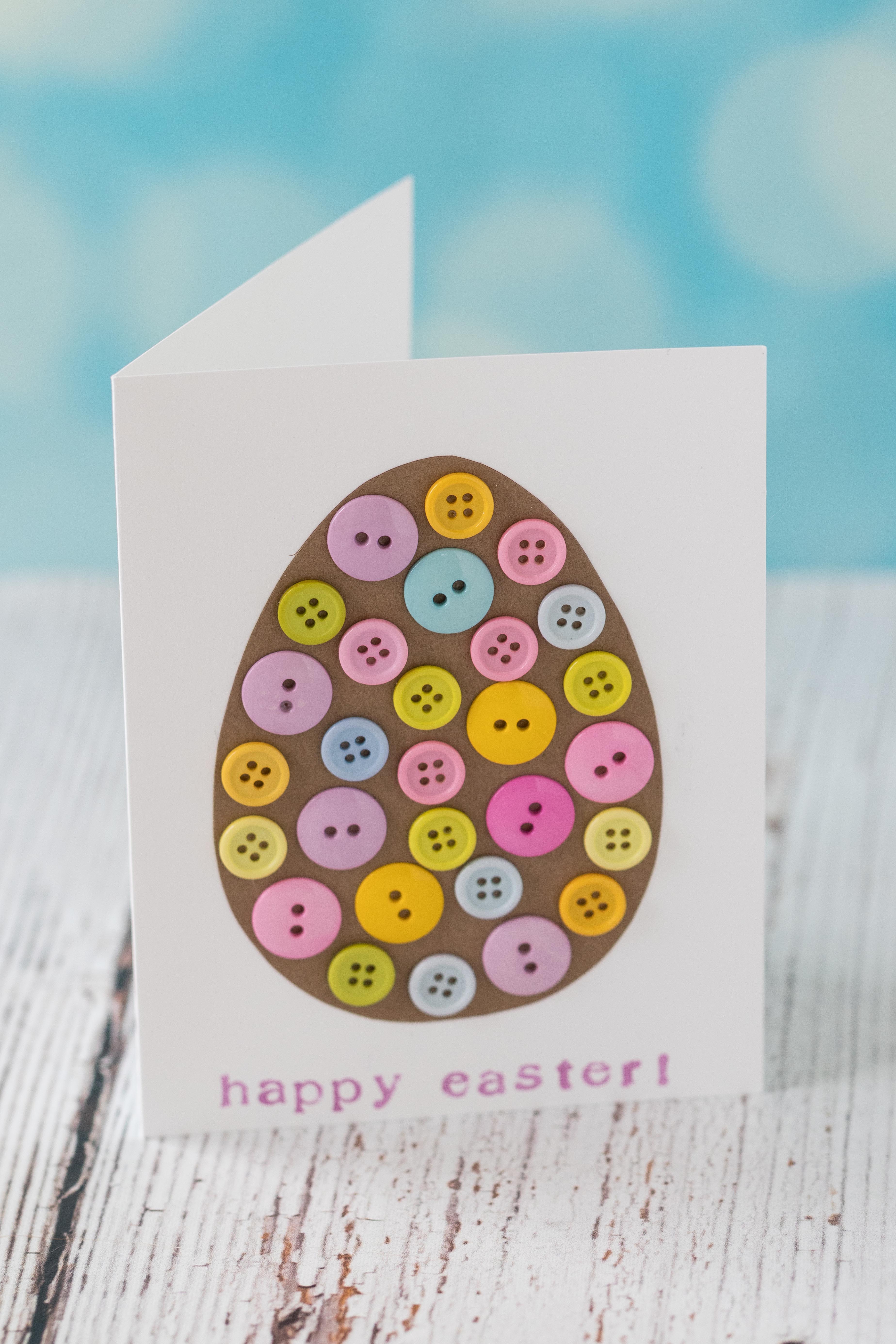 Finally, after years and years of crafting with buttons, I had to make an Easter egg and fill it with pastel buttons. Again, the kraft and pastel pairing spoke to me. Don't feel limited to this color palette.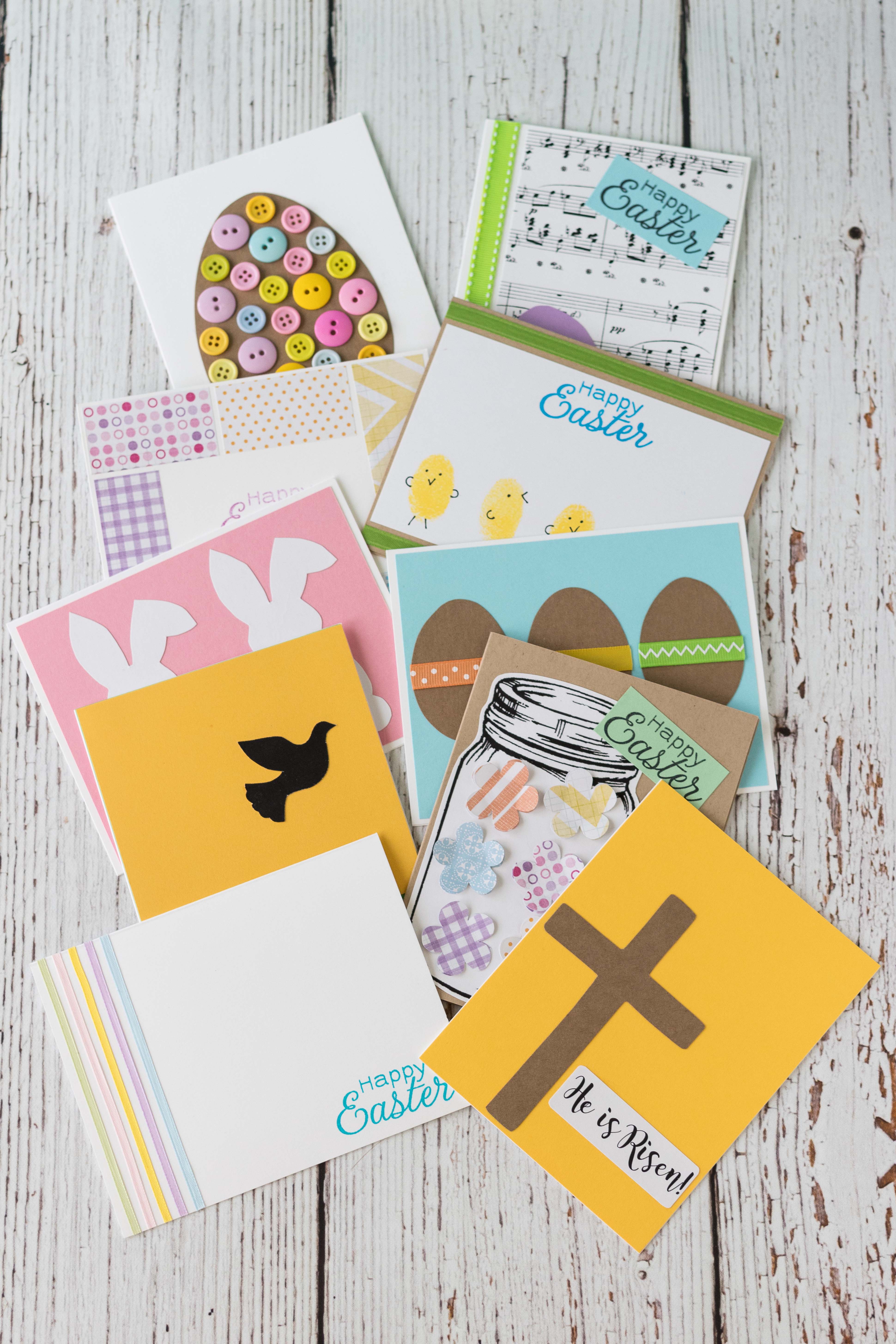 I left my DIY Easter cards blank inside. It's completely up to you if you'd like to include messages inside the cards!
Templates
Small Easter eggs (original source) |Easter egg outline – A2 Size (original source) | Mason jar – A2 Size (original source) | Bunnies – A2 Size (original source) | Religious card components – A2 size – cross, dove silhouette, "He is Risen!" text (original sources – cross, dove silhouette)
I have a full post about my favorite basic card making supplies and tools that I used to create my simple DIY Easter cards and other greeting card posts!
Do you need a few more Easter egg templates for your simple DIY Easter cards?
My friend Natasha has a fantastic round-up with 25+ free printable Easter egg templates and coloring pages in all sizes and designs!
Did you make any of the simple DIY Easter cards?

I want to see them! Tag your images #RoseClearfield on Instagram or Twitter or post a photo to my Facebook page.
Pin this post for easy access to the Easter card tutorials later!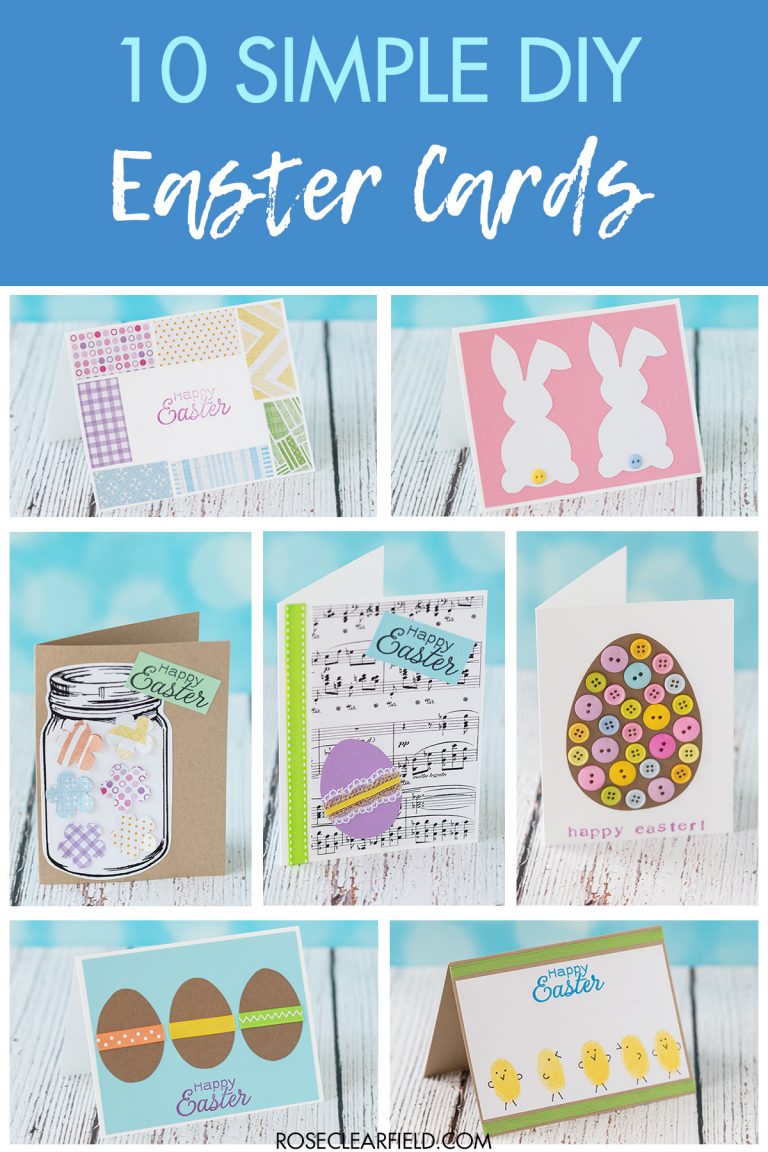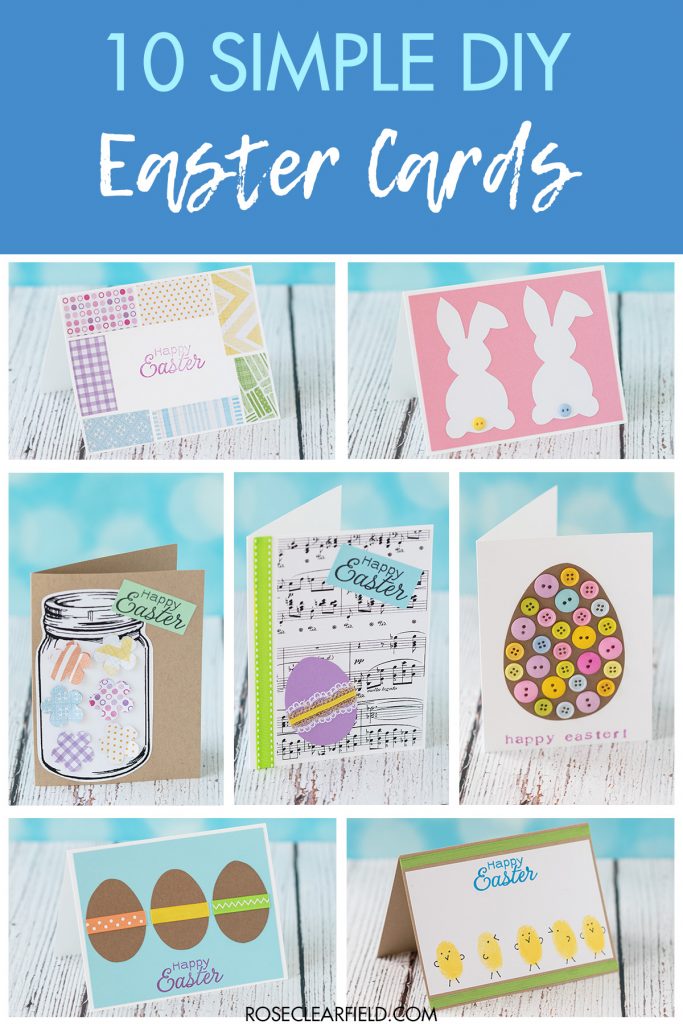 More DIY Easter projects: