Learning how to make new paper look old is a fun way to add vintage flair to a wealth of DIY projects.
The process is straightforward, quick, and very affordable. Most likely you already have everything that you need at home to transform brand new paper into antiqued paper, which means you can get started right away. Happy creating!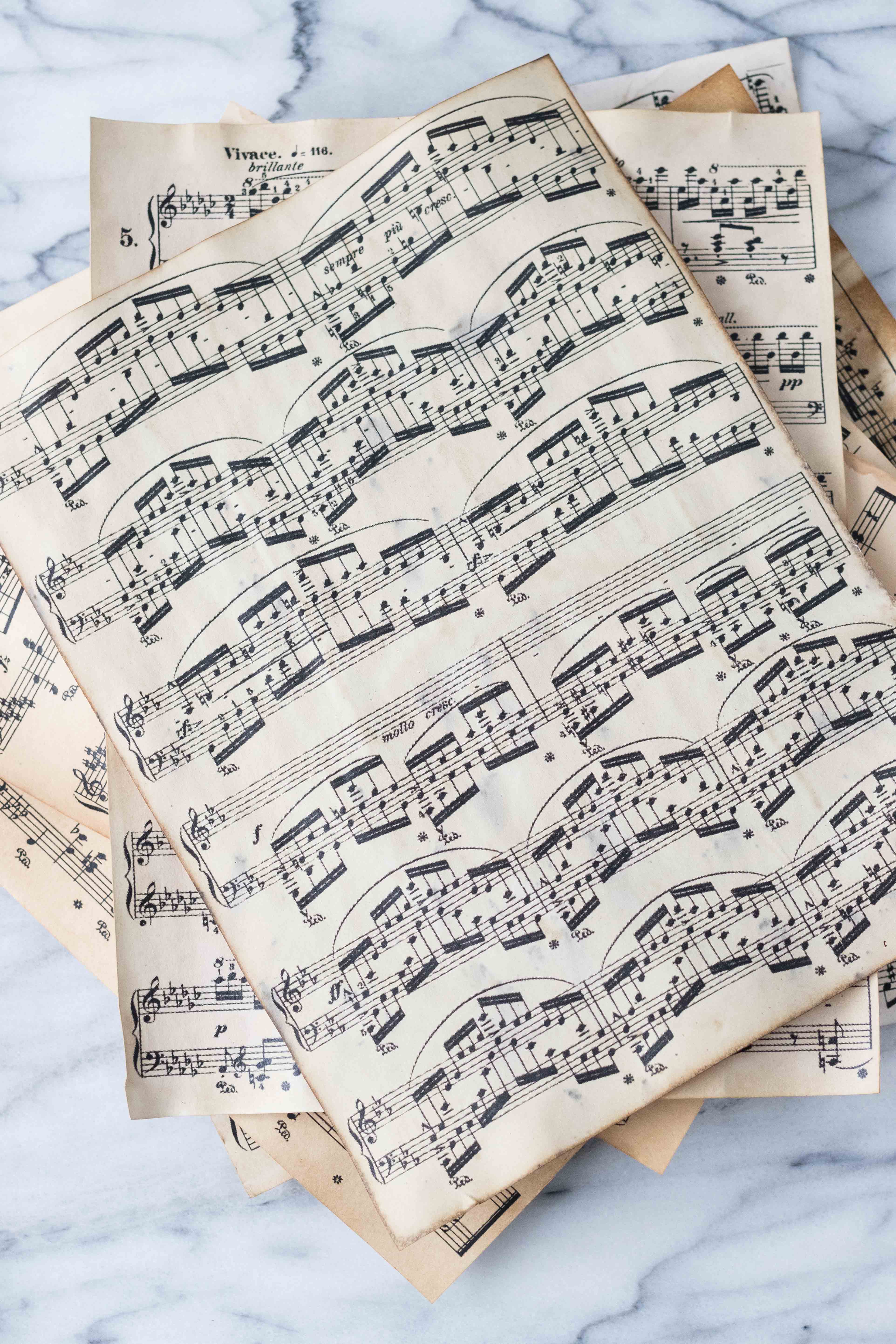 Why do I want to make new paper look old instead of purchasing vintage paper?
Most people reading this article already have a specific purpose in mind for their DIY antique paper. Additionally, most likely you also already know that you'd rather make it instead of buy it. If so, skip ahead to figure out exactly how you're going to age your paper for your particular project.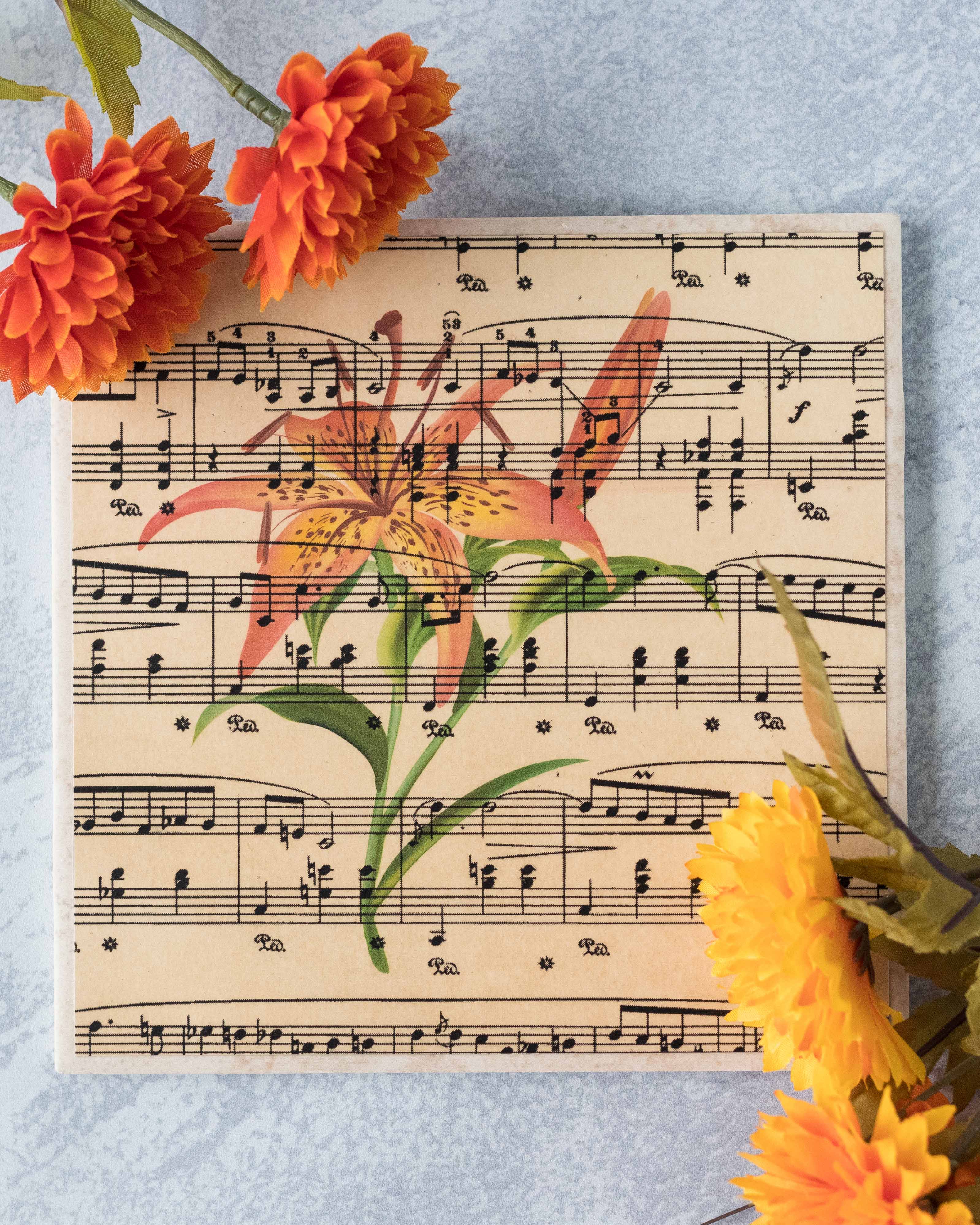 However, if you're still on the fence, there are a few key reasons to learn how to make new paper look old for craft projects and other creative endeavors.
Full creative control. Aging your own paper allows you to create the exact aesthetic you want with the exact paper you want.
Cost. Making new paper look antique is extremely affordable. I spent exactly zero dollars to create all of the examples in this post because I already had everything on hand. You'll spend money on genuine vintage papers or many high-quality printables. You'll also spend money printing free vintage papers in full color.
No time wasted searching for vintage materials. While it does take time to make new paper look old, you won't spend hours searching for just the right genuine vintage book, sheet music, or other material.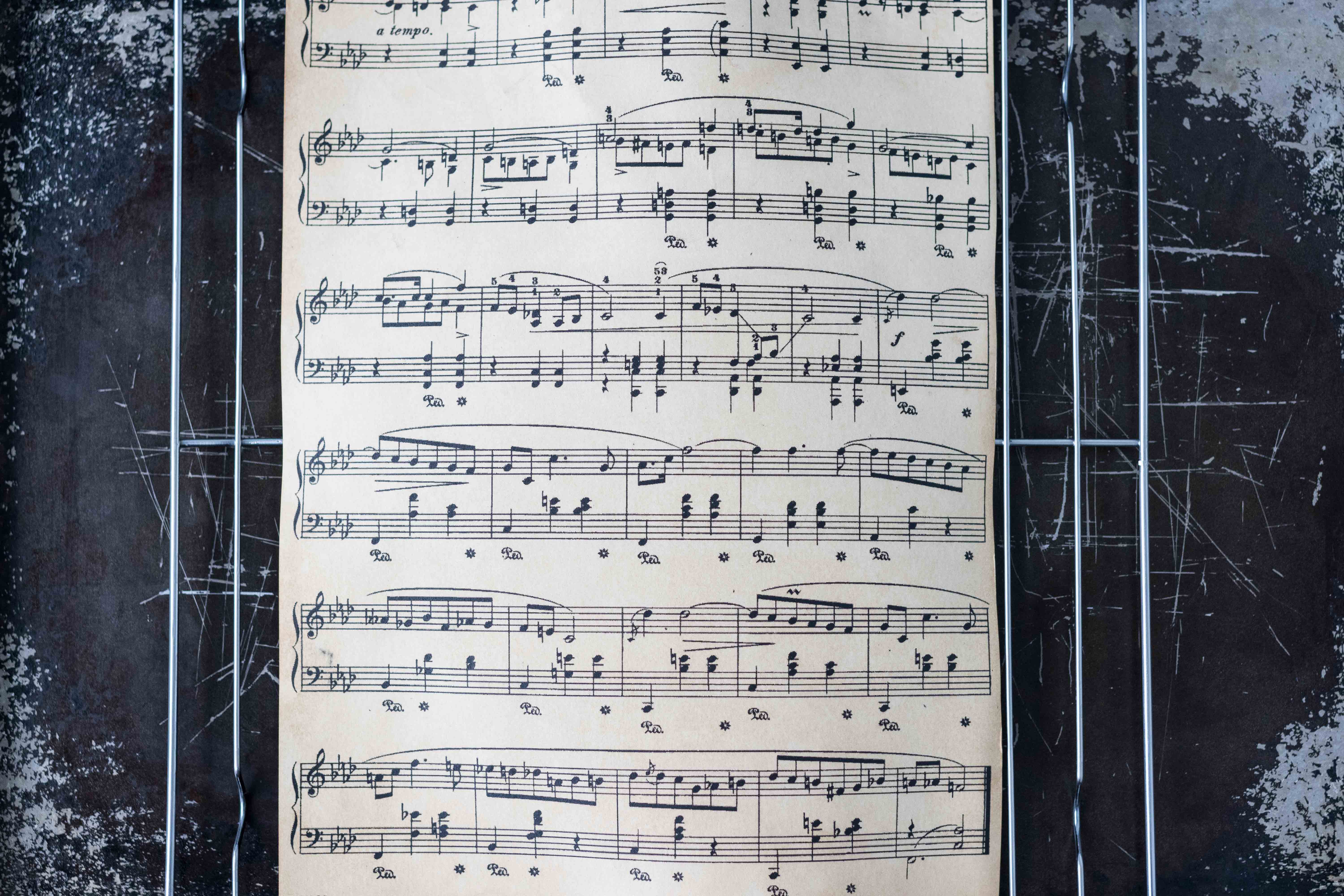 The basic process for how to make new paper look old
The process of making new paper look antique or vintage is very straightforward. After I walk you through the basic steps, I'll go into more detail about the variations you can use to achieve different aged aesthetics.
Collect or print out the new paper you want to look old. If you're using ink-jet printed paper, give it a couple of coats of spray acrylic. Let it dry completely before proceeding.
Select an aging medium.
Set up your paper on old cookie sheets, so you can apply your aging medium without making a mess. If you opt to dry your paper in the oven, use an oven-safe cookie sheet or other pan.
Apply the aging medium using the application technique of your choice.
Allow it to air dry or dry it using an oven or heat gun.
If you'd like a darker vintage look, repeat the application and drying process.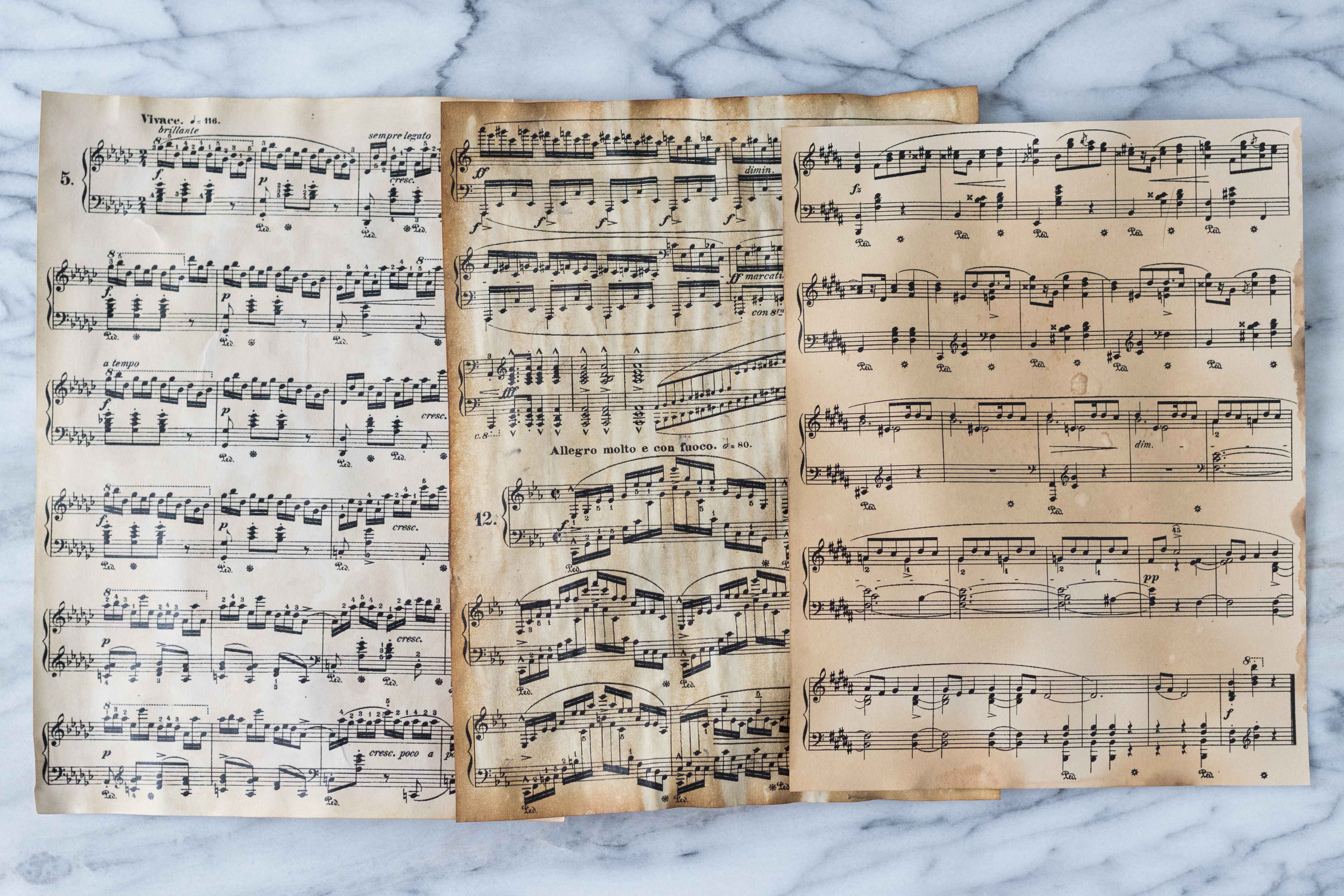 Aging mediums
There are three most commonly used aging mediums to make new paper look old. While there are other tactics, I stuck with these timeless methods.
Tea. Tea produces a light-medium antique aesthetic with air or heat drying.
Coffee. Tea produces a medium-dark antique aesthetic with air or heat drying.
Lemon juice. You have to heat dry lemon juice for the paper to turn dark. You also have to dry it for considerably longer than you need to dry paper treated with tea or coffee. I discuss this concept more in the drying techniques section below.
Setup for application and drying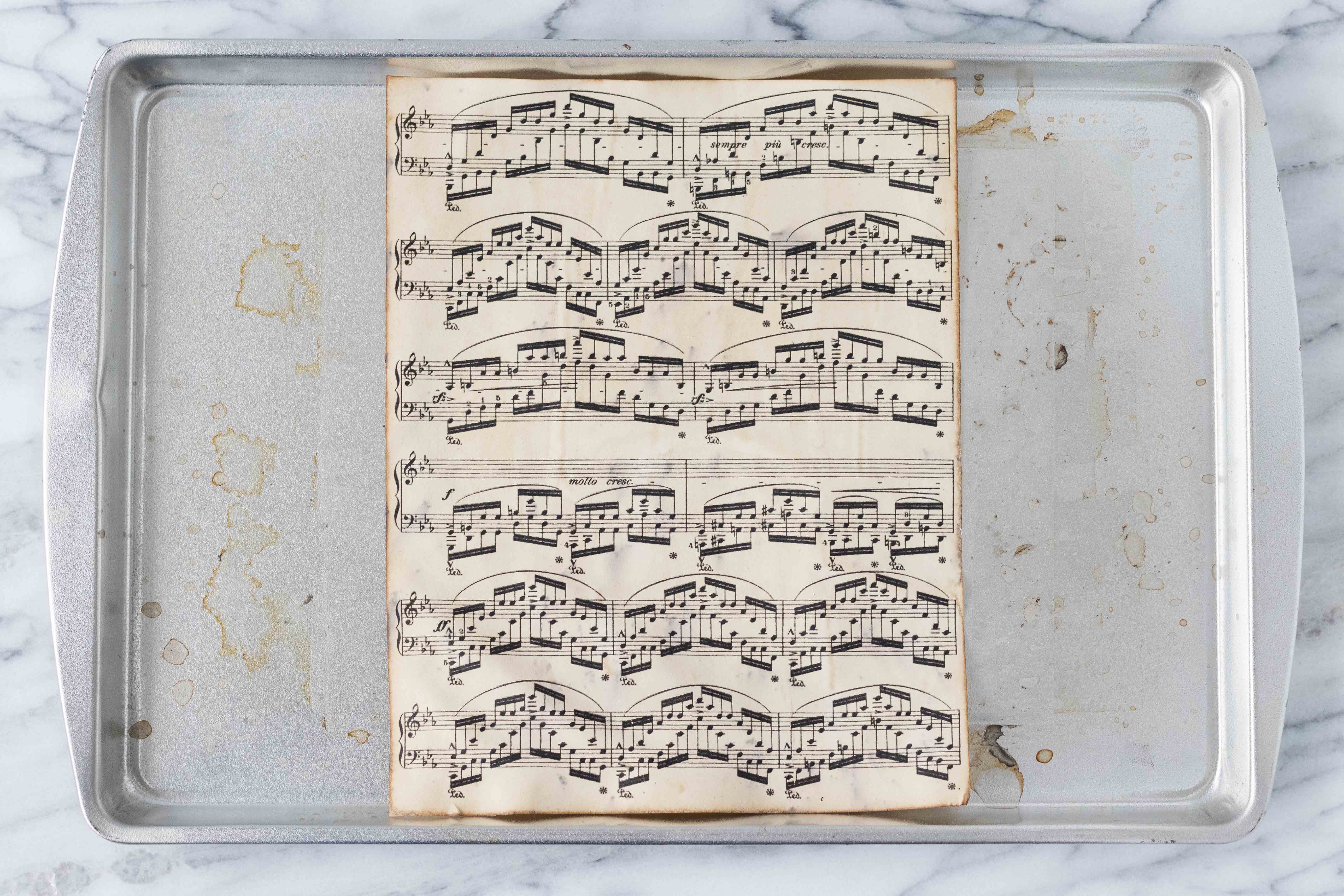 I create all of my vintage paper on cookie sheets. When I let the paper air dry, I use super cheap super cookie sheets that are solely for craft purposes. They are trashed, and I don't care if they get stained. When I dry the paper in the oven, I use mid-level baking sheets (aka not the high-end USA Pans I use for baking cookies and rolls).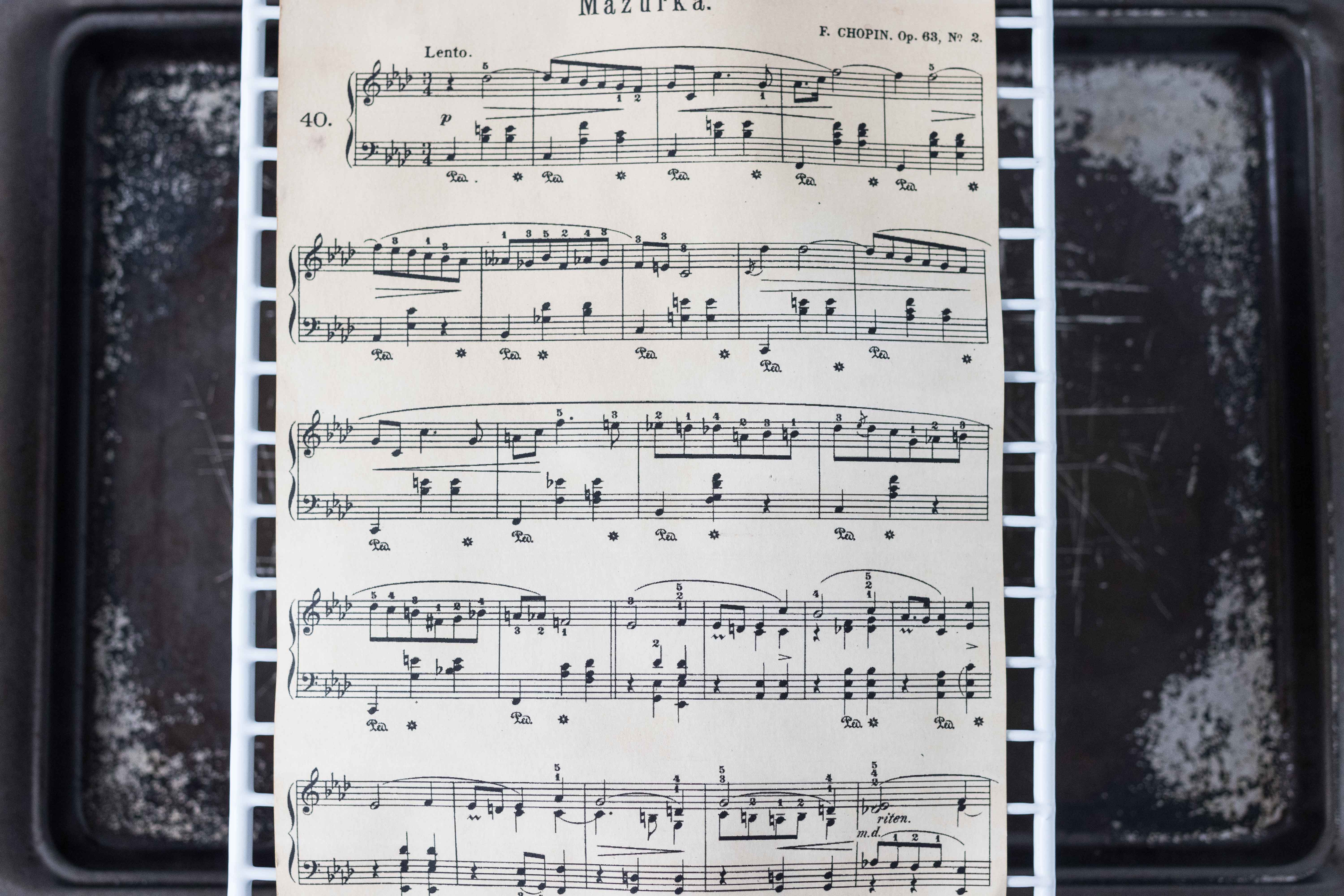 You can let vintage paper air dry right on the cookie sheets. To speed up the drying process slightly, transfer the paper to a flat dish drying rack or cookie cooling rack. I put the cookie sheet right under the drying or cooling rack to catch any drips.
Application options
There were two primary ways that I made my brand new paper look antique, which are as follows.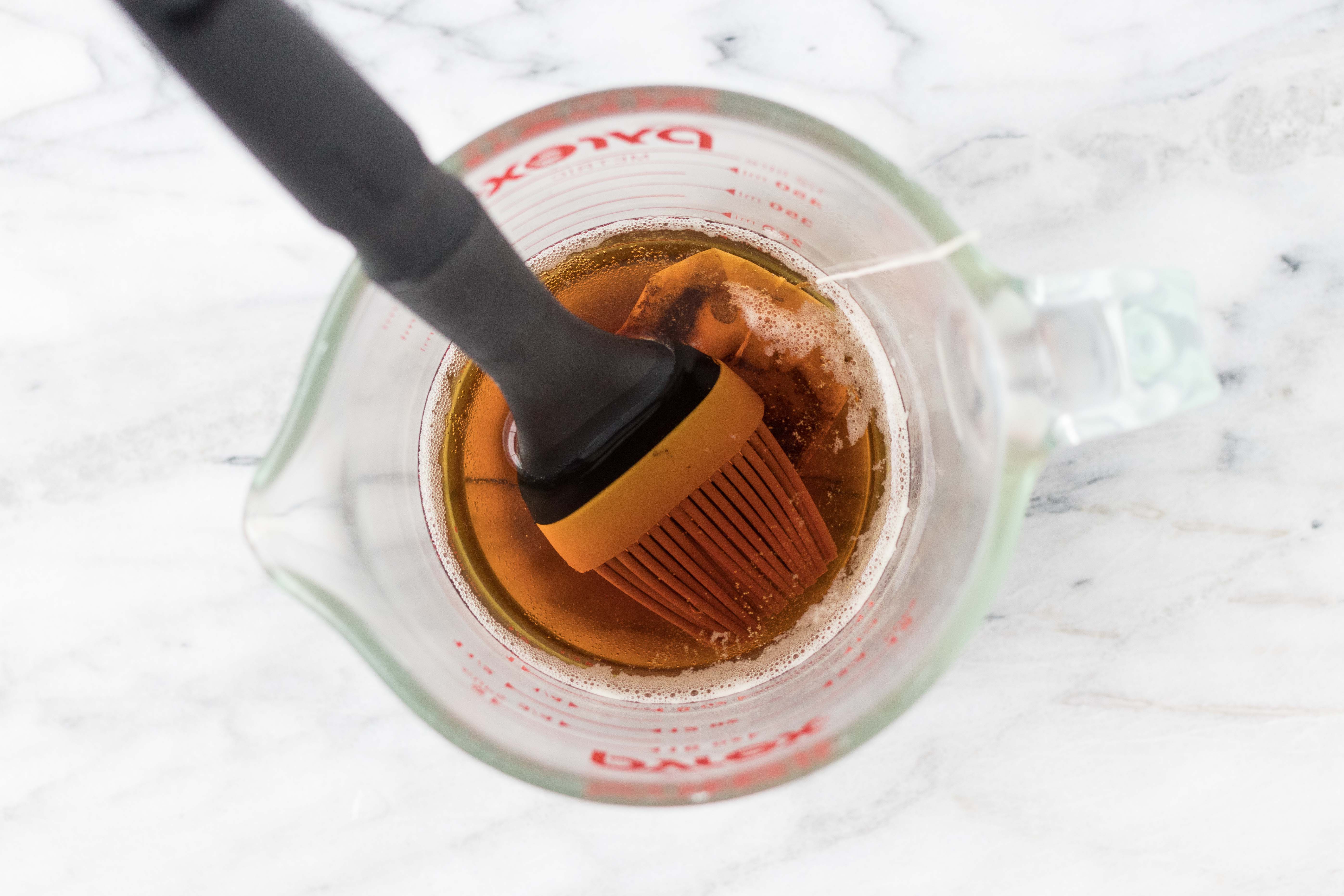 Brushing or spraying
For a lighter vintage aesthetic, brush or spray on your aging medium. I used a pastry or basting brush and plastic spray bottle, as I had both of these items on hand. If you opt for a brush or spray technique, you will have to apply multiple coats of aging medium, unless you want a very light vintage look. It takes about three hours for each brushed or sprayed coat to dry.
Let the paper dry completely between each layer. Similar to watercolor painting, there is an extent to how much medium the paper can soak up at one time. When you want a darker aesthetic, apply multiple brushed or sprayed layers.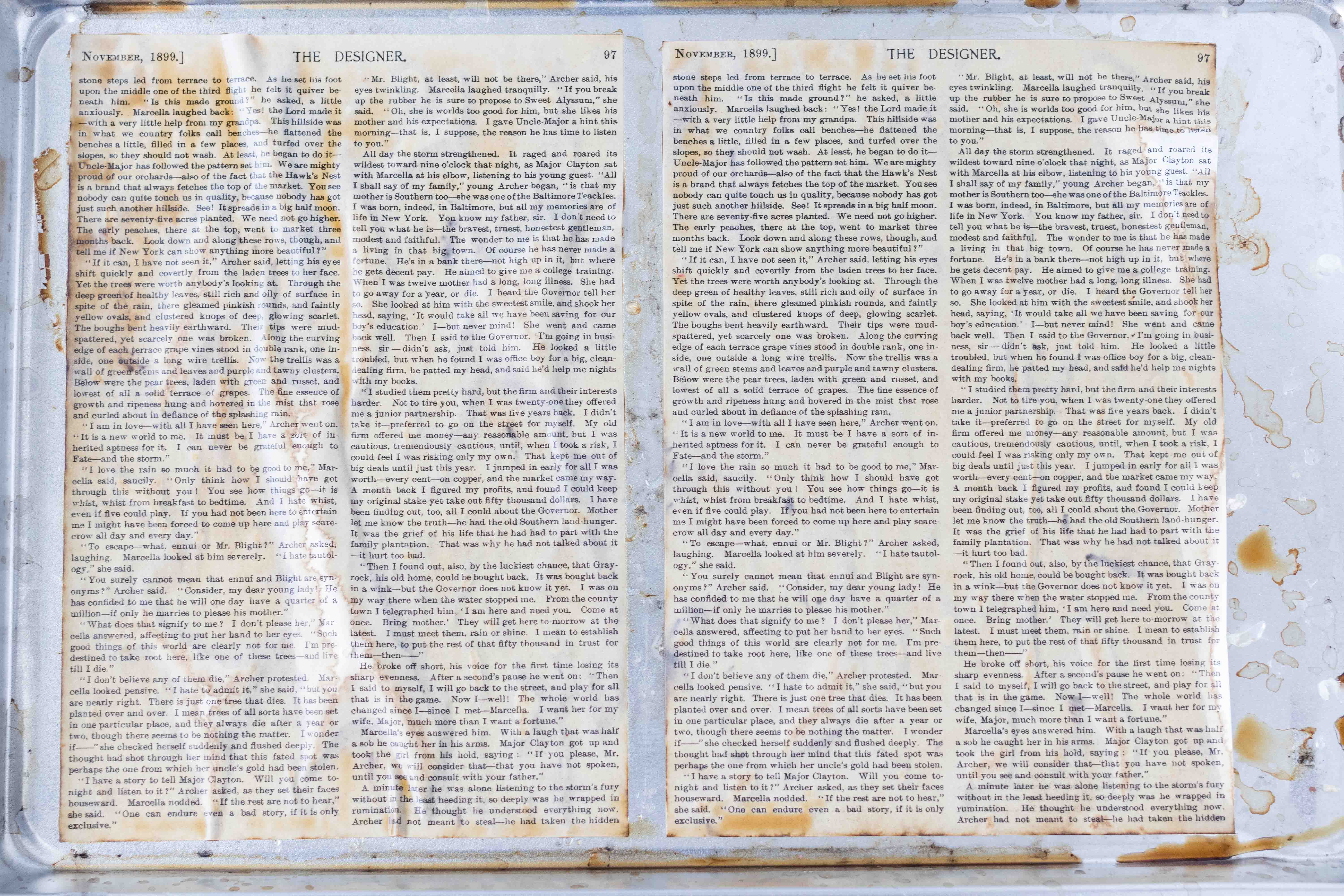 Pouring
For a darker vintage aesthetic, pour your aging medium over the entire piece of paper. Paper with poured aging medium takes considerably longer to dry. I've had poured papers take anywhere from 12-24 hours to dry. To be safe, I would plan to leave it overnight.
Drying techniques
There are two basic ways to dry newly aged paper, which are as follows.
Air drying
Air drying is the easiest option for drying vintaged paper, as it requires no further effort. Unless you're using a pouring application technique with coffee, it will produce a light-medium aesthetic. Air drying also takes considerably longer than heat drying.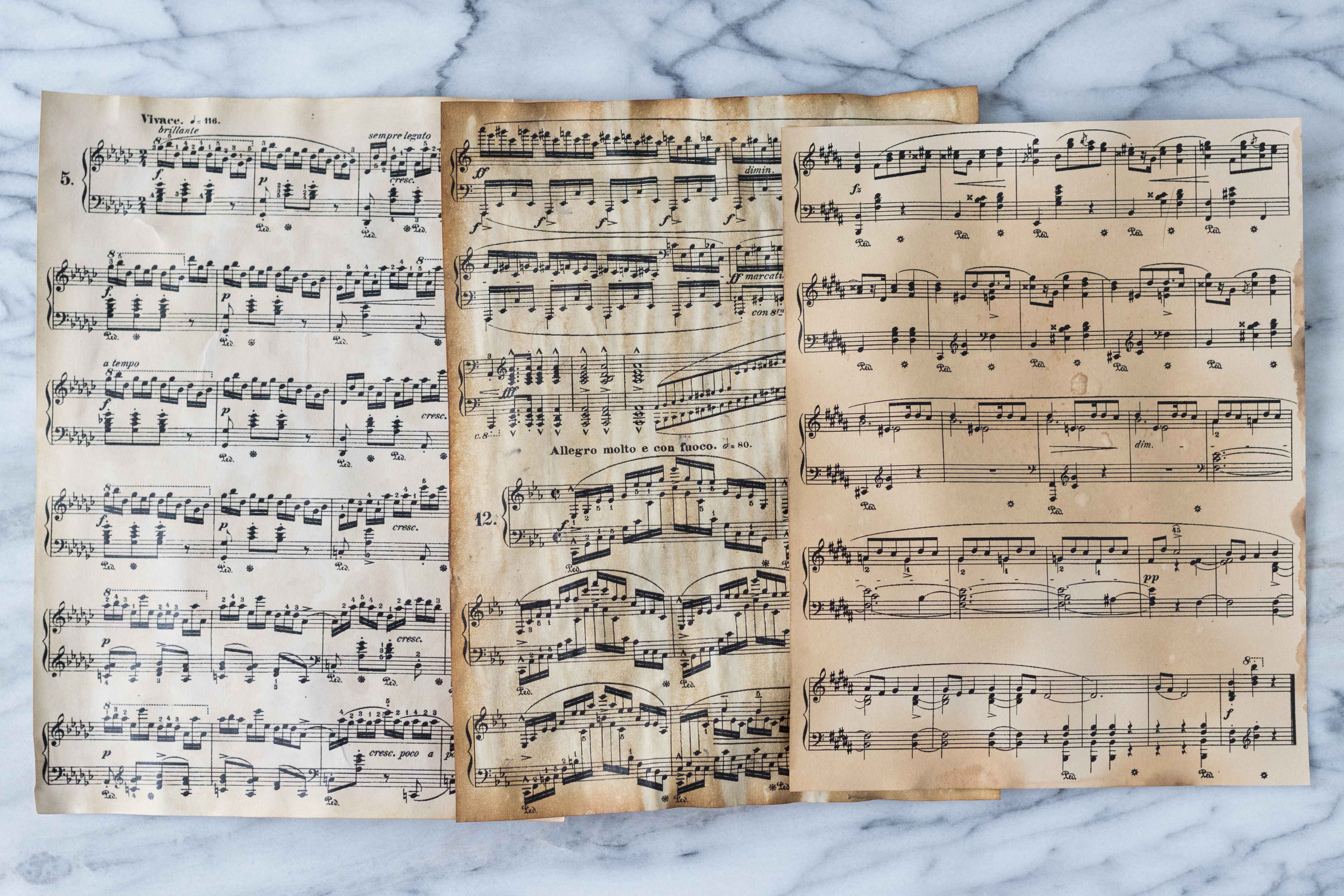 Oven or heat drying
You can speed up the drying process for making paper look old and produce a darker aesthetic with the same number of coats by drying paper in the oven or with a hair dryer or heat gun. I set my oven to 350 degrees and used the following baking times for the above pictured papers (as listed below, left to right).
Coffee: 5 minutes
Tea: 10 minutes (added a second coat after 5 minutes)
Lemon juice: 20 minutes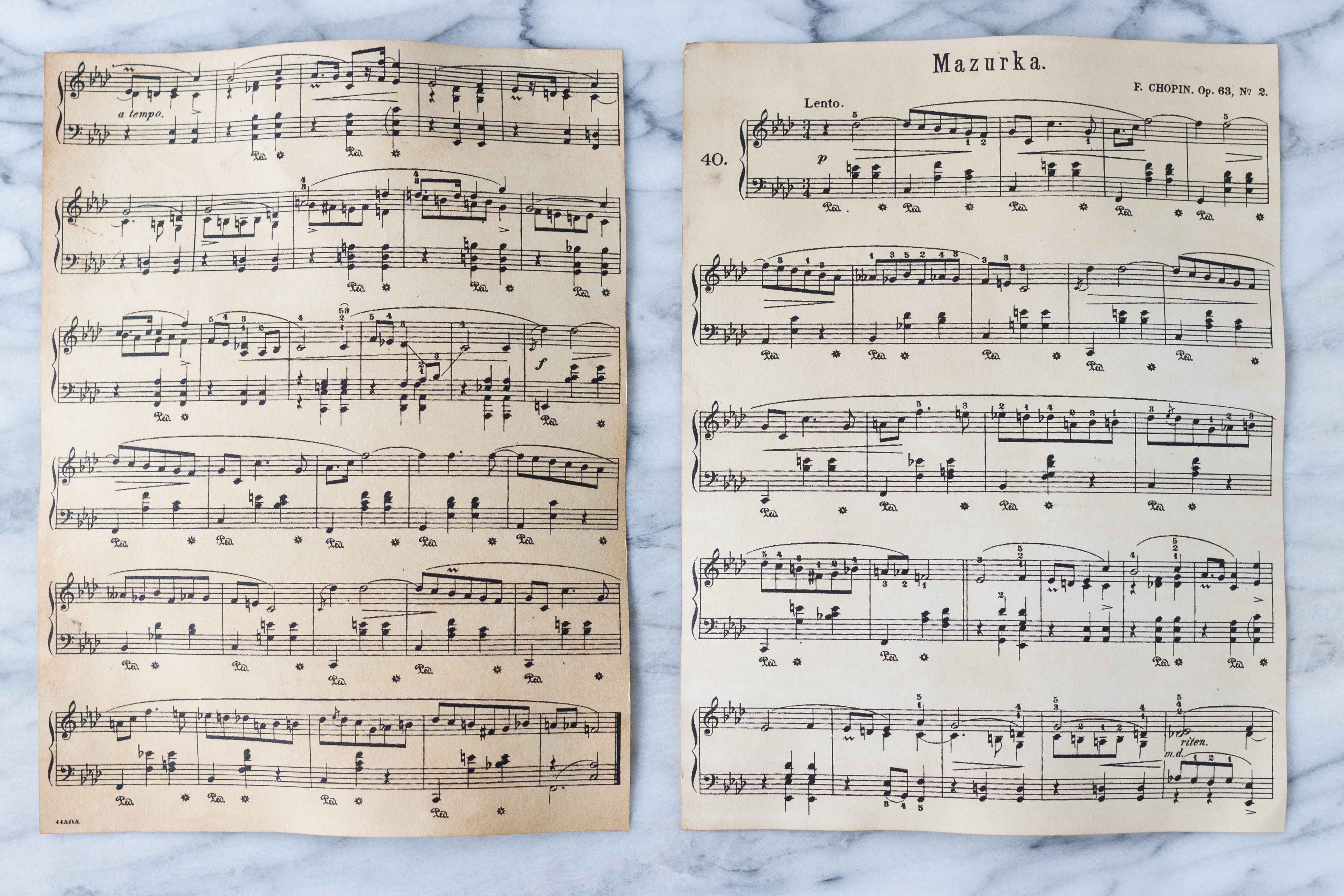 It takes approximately 15 minutes to heat dry antiqued paper using a hair dryer or heat gun. I wouldn't purchase a heat gun solely to make new paper look old. But it's a good option if you already own one. Otherwise, a hair dryer is just as effective. I set the hair dryer on low with high heat. Using a setting above low produced a bit of a burned smell.
Hair dryer and heat gun drying help aged paper dry flatter. I also flipped my paper periodically while using the hair dryer and heat gun, which I think helped with the flattening process. Oven and air dried paper tend to require flattening before they can be used for DIY projects. I just let my papers hang out under some heavy books for a couple of days, which helped considerably. You can also apply a light iron to flatten your aged paper quickly.
The hair dryer and heat gun methods don't produce darkened edges. Air and oven drying do produce this aesthetic.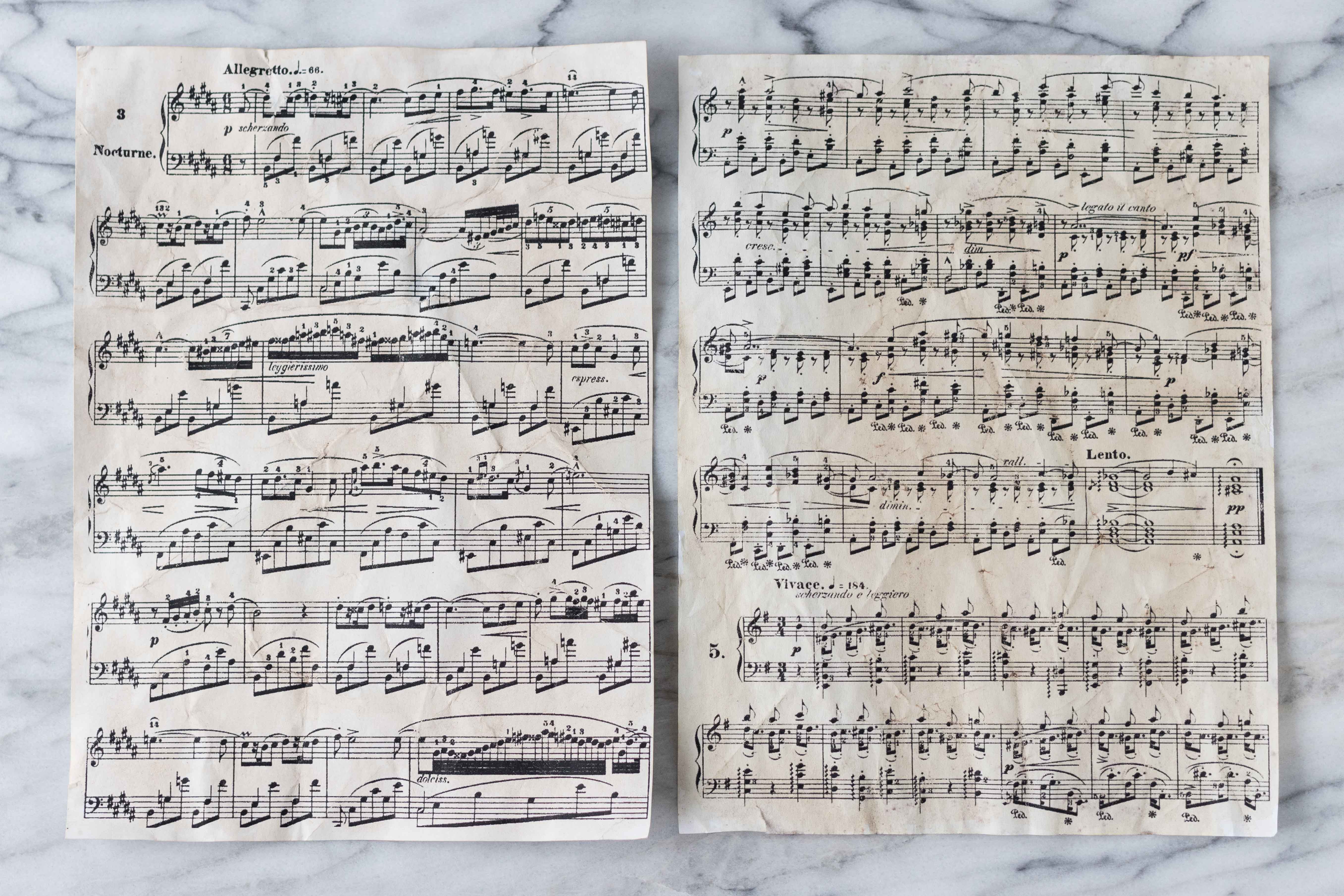 Do I need to crumple my paper to achieve an antique look?
A number of aging paper tutorials recommend crumpling your paper. I crumpled some of the papers you see here before aging them and left others flat. With proper aging medium and sufficient drying time, you will achieve an antique look with or without crumpling your paper. Crumpling adds to the aged look because it gives the paper creases and even tears. It's up to you if you want these elements as part of your final aged aesthetic.
I create a lot of DIY crafts with sheet music printed on card stock, such as my just a note sheet music greeting cards. As such, some of the papers you see here are card stock. Not surprisingly, card stock rips a lot more easily when you crumple it. Take this factor into consideration when deciding how you want to age your paper.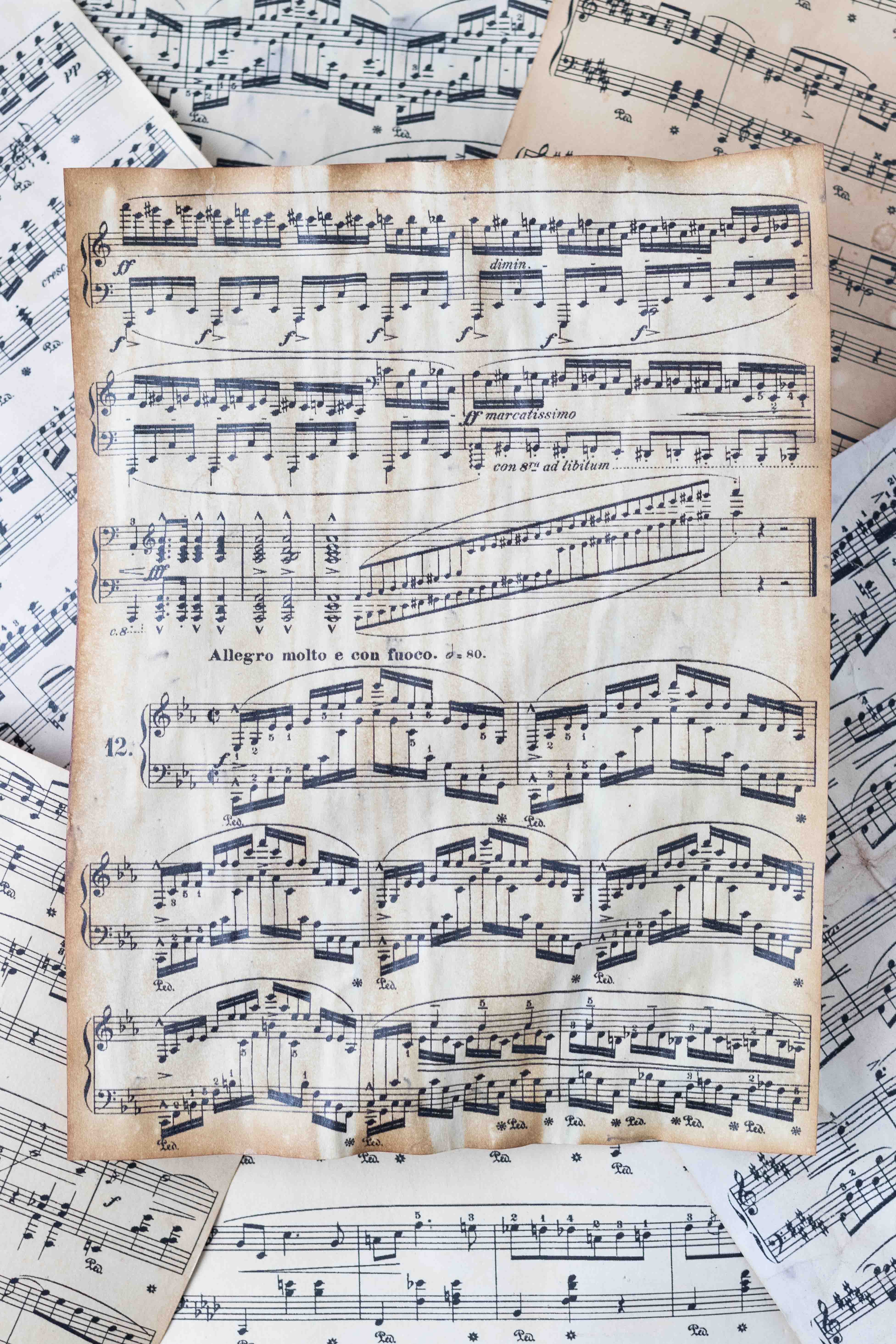 Practice makes perfect
I hope that the tips I've outlined will help you achieve your desired look for your vintaged paper fairly easily. However, if you want to hone your technique and produce a really consistent aesthetic, it will take practice. Don't be afraid to experiment with different aging mediums and drying techniques.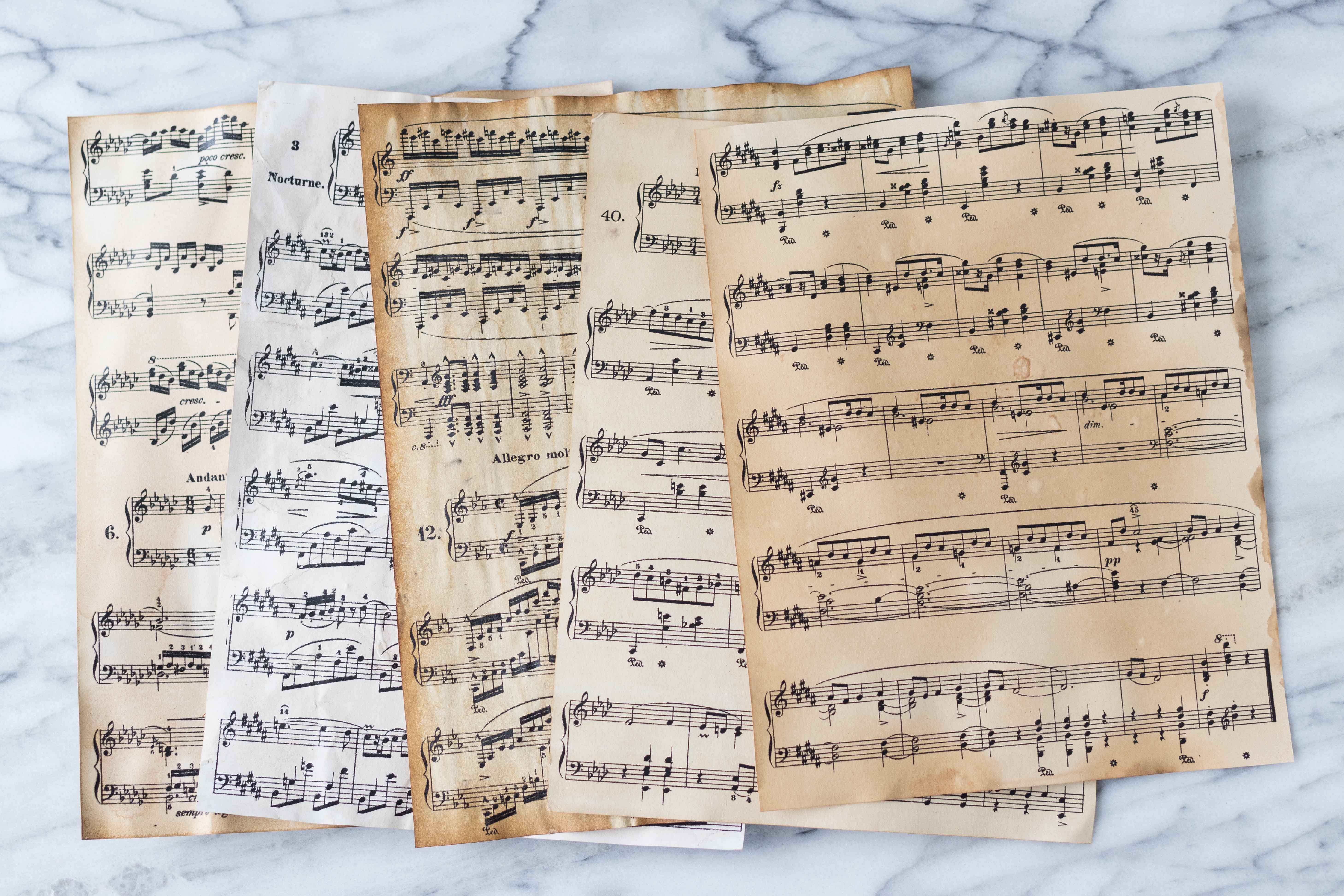 One final note about making new paper look old
If you're using any type of inkjet-printed paper, I highly recommend applying a couple of coats of spray acrylic before applying an aging medium. Apply spray acrylic in a well-ventilated area, and allow it to dry completely before using the paper. Without spray acrylic, your ink will run. You do not need to coat laser-printed or commerically-printed paper.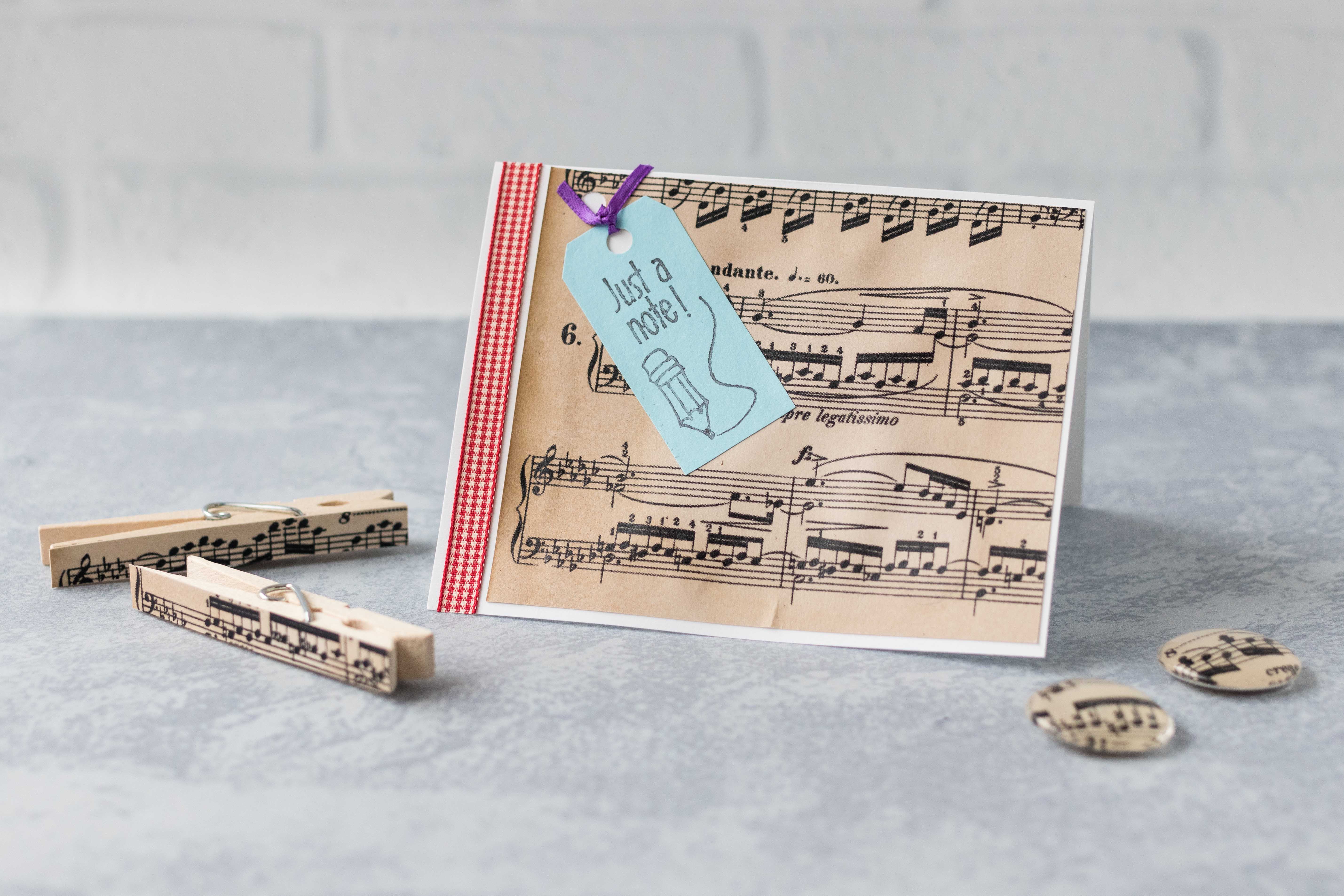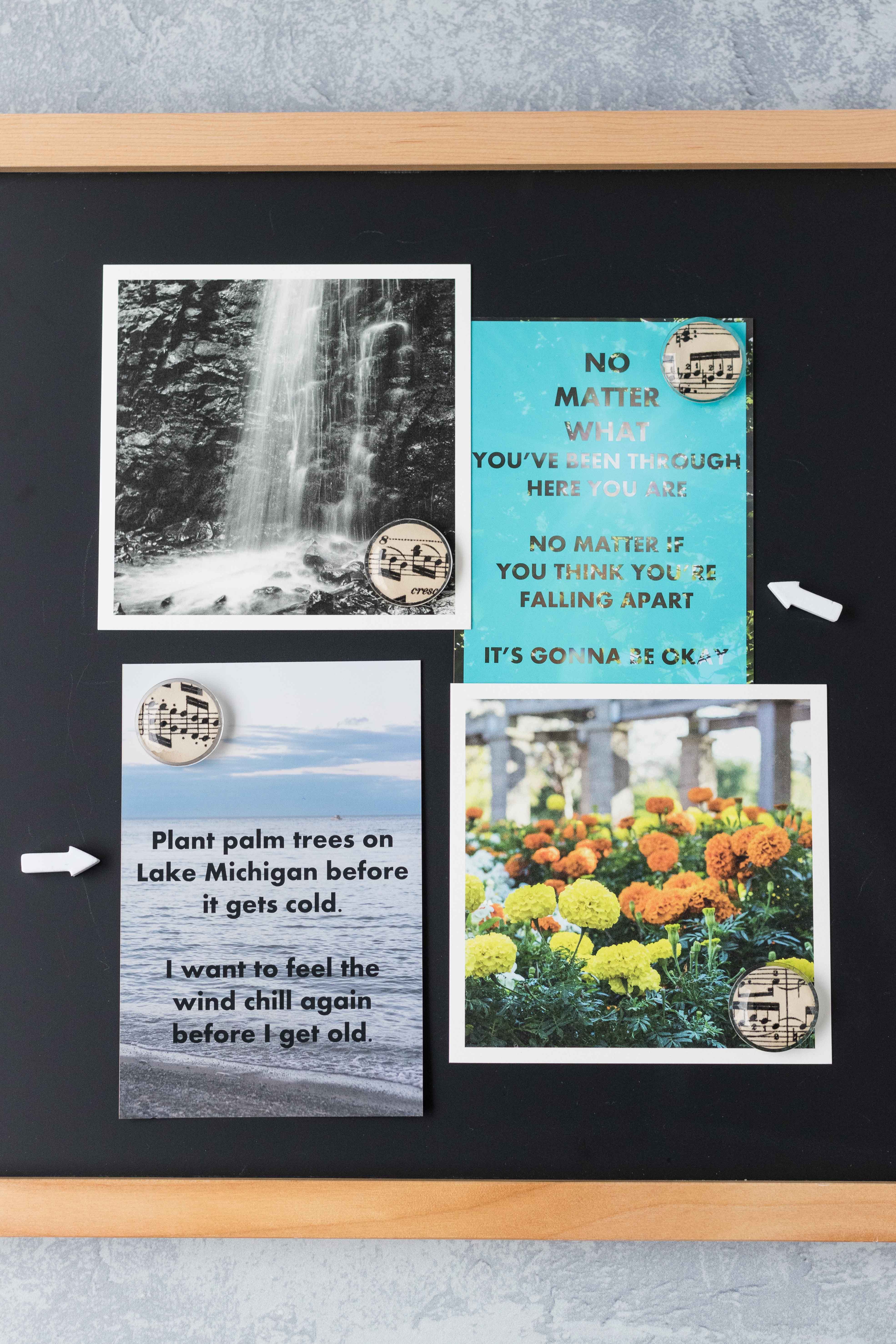 What can I make with aged paper?
There are so many fun DIY projects and other creative uses for vintage or antique paper. They include, but are not limited to, the following.
Greeting cards
Holiday ornaments
Glass and bottle cap magnets
Coasters
Clothespins
Mason jars
Candles
Paper flowers
Paper cones for food or flowers
Gift wrap and gift tags
Scrapbook embellishments
Art journals or junk journals
Seasonal and general home decor, including wall art
Wedding components: centerpieces, table numbers, etc.
Mixed media projects
Decoupaged trays
Furniture (i.e., tabletops)
A few of my own DIY tutorials that are awesome for aged paper: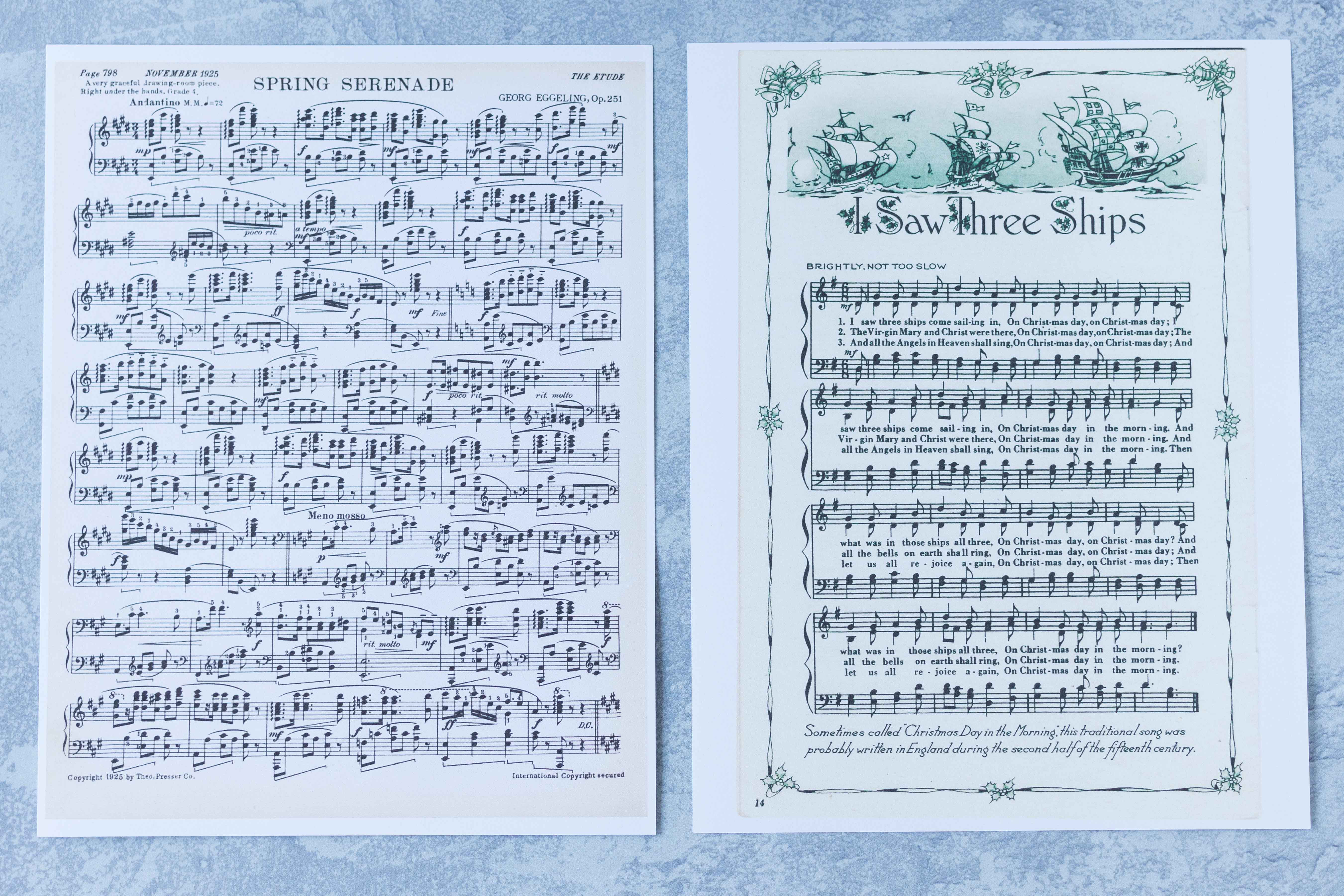 I would rather print vintage paper than make my own vintage paper. Where can I find vintage paper online?
There are numerous free and for pay digital vintage paper resources online. The list below includes a small handful of the best free resources available.
I have a few of my own free printable vintage paper resources and will be adding more over the coming months!
A few of my other favorite resources for vintage paper:
To find for pay digital vintage paper, search Etsy. To find genuine vintage paper (i.e., sheet music, dictionaries), search eBay.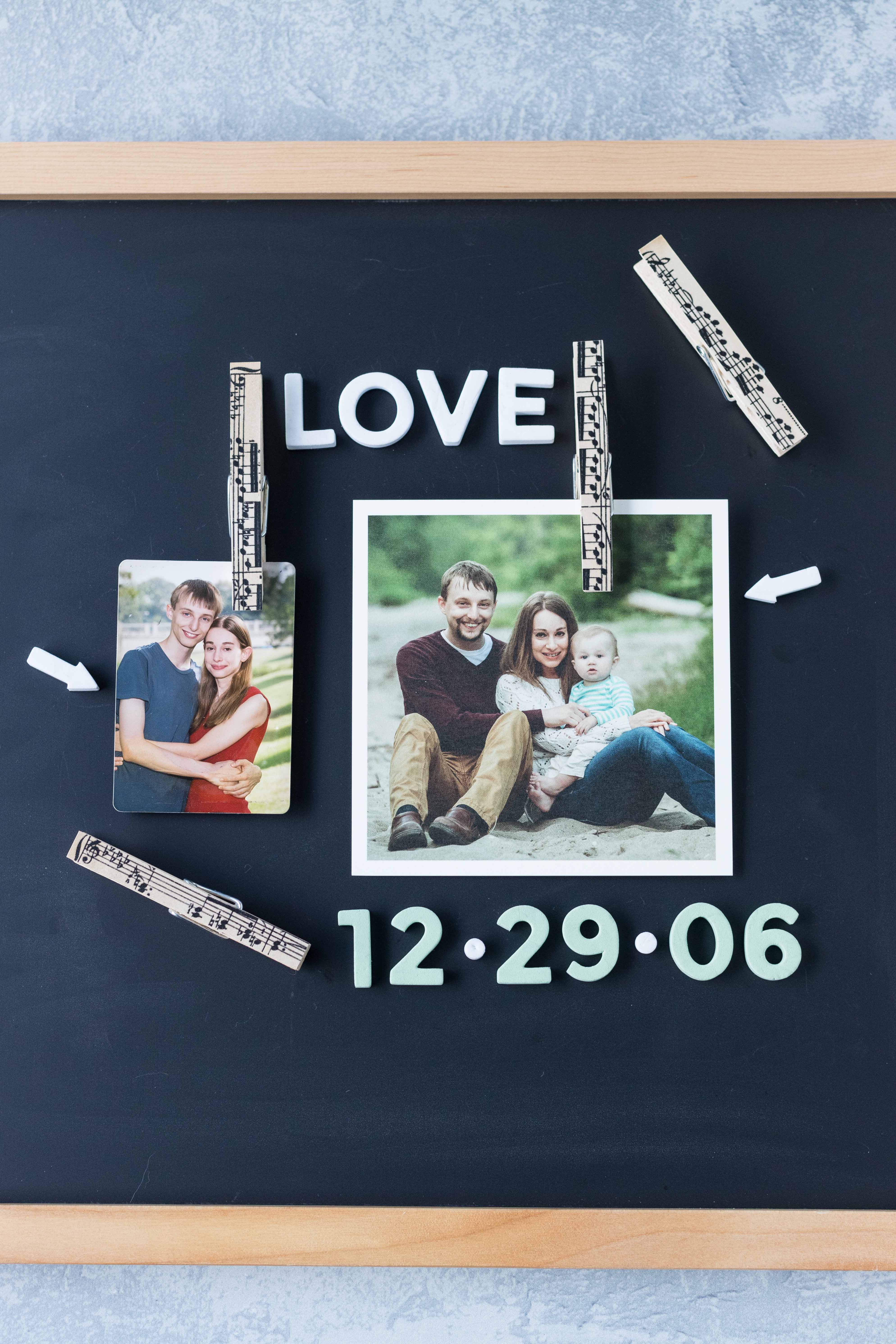 [Disclaimer: There are a few affiliate links in this post. Thanks for your support!]
Did you make new paper look old?
I want to see your vintaged paper and any projects you make with it! Tag your pictures #RoseClearfield on Instagram or Twitter or post a photo to my Facebook page.
Pin this post for easy access to the antique paper tutorial later!