It's no secret that I love making greeting cards for every occasion. Valentine's Day is no exception. Simple DIY Valentine's Day cards are the perfect finishing touch for homemade gifts and also make great gifts in and of themselves. Who can be mad that you forgot to pick up flowers or gifts when you pull out a handmade card?
Simple DIY Valentine's Day cards are just that: simple. I don't use any expensive or complicated crafting materials, and you don't need any artistic skills, like drawing or painting, to make them. If you're crafty, most likely you already have the supplies you need at home. If you don't do a lot of crafting, you can pick up everything you need at Michaels.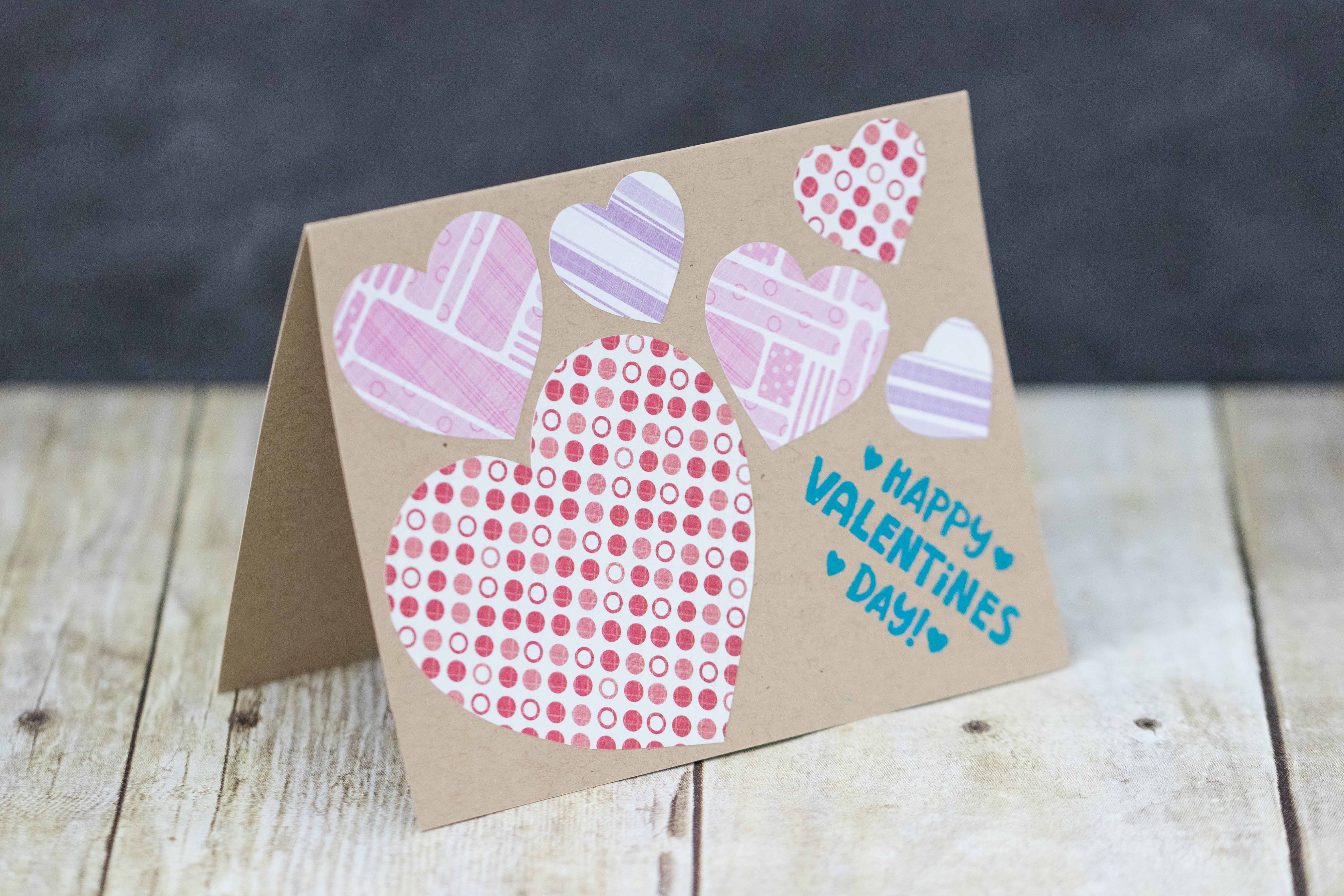 I used a Valentine's Day stamp I picked up in the dollar section at Target and the assorted hearts template that I link at the end of this post with a few different scrapbook papers. I recommend cutting out a bunch of different sized hearts. Then play around with them to figure out what will work best for your particular card size.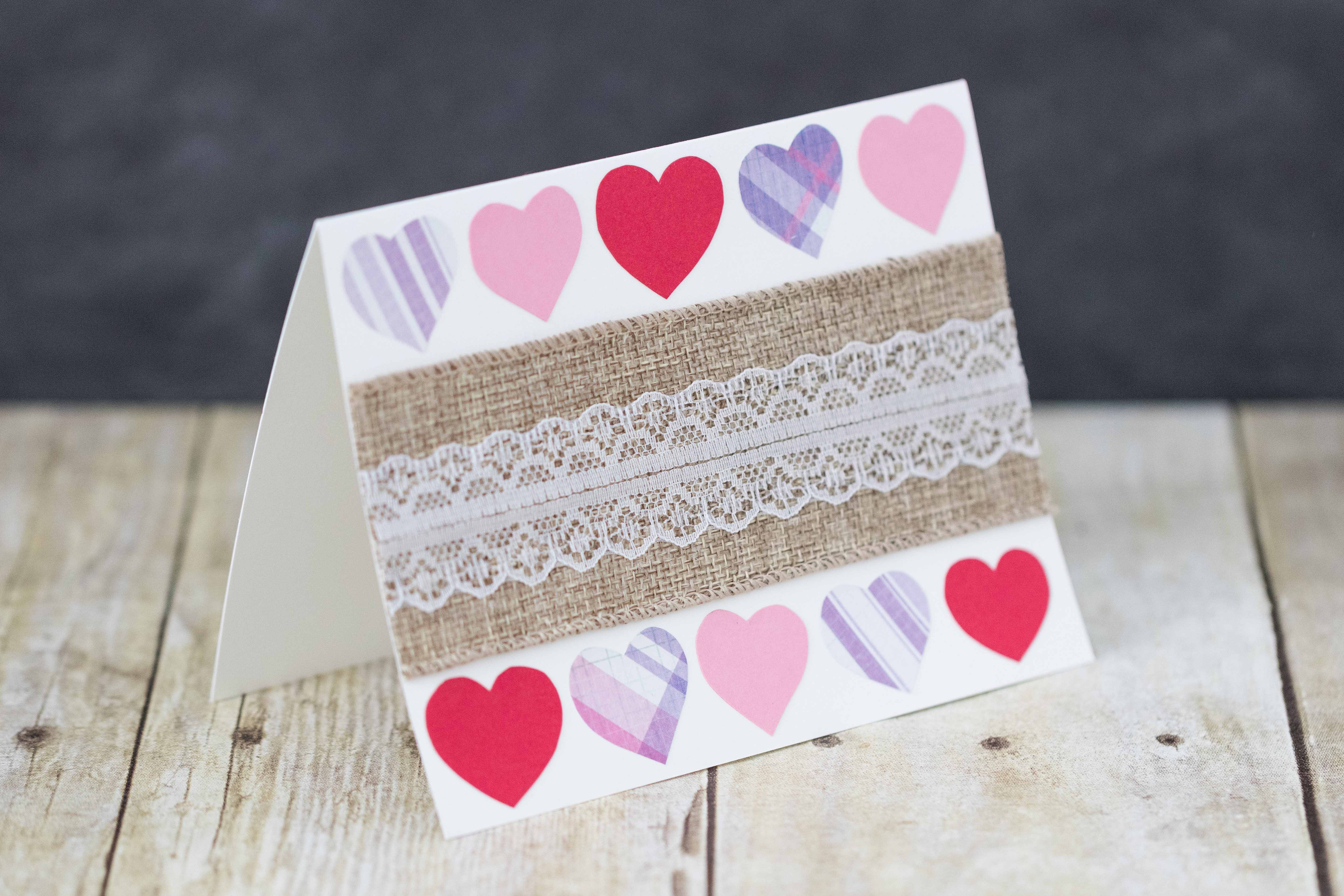 I originally purchased this burlap lace as a photo prop but love it for Valentine's Day cards (and decor!), too. I ran a strip of burlap lace across the middle of the card and added a mix of solid color cardstock and patterned scrapbook paper cards along both edges. If you want a softer look, I would choose all pastels.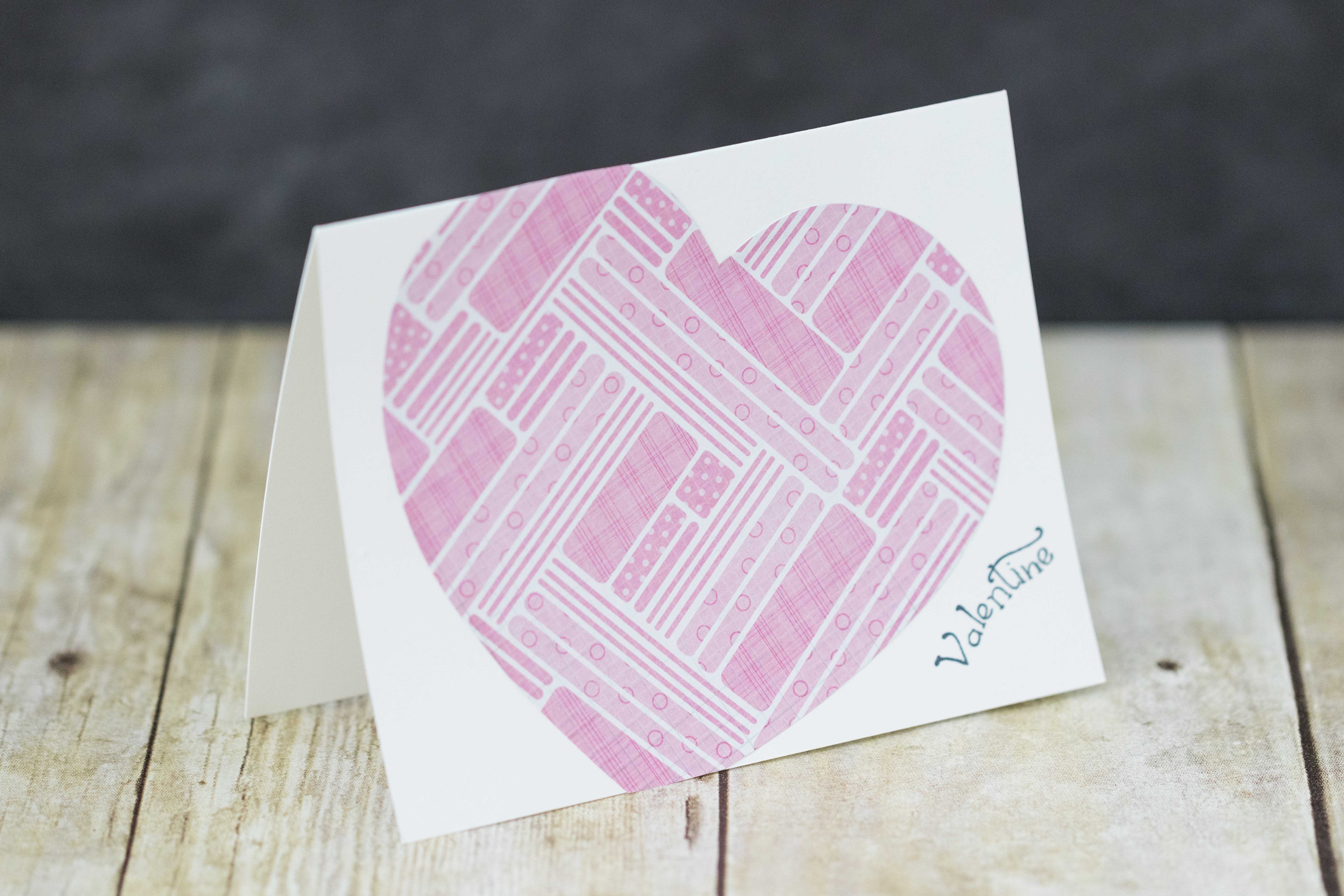 I love the dimension you get by cutting off just a couple of the edges of the heart. To get a clean finish, I recommend gluing the entire heart shape and then slicing the edges. I paired the large patterned heart with a simple Valentine stamp in black.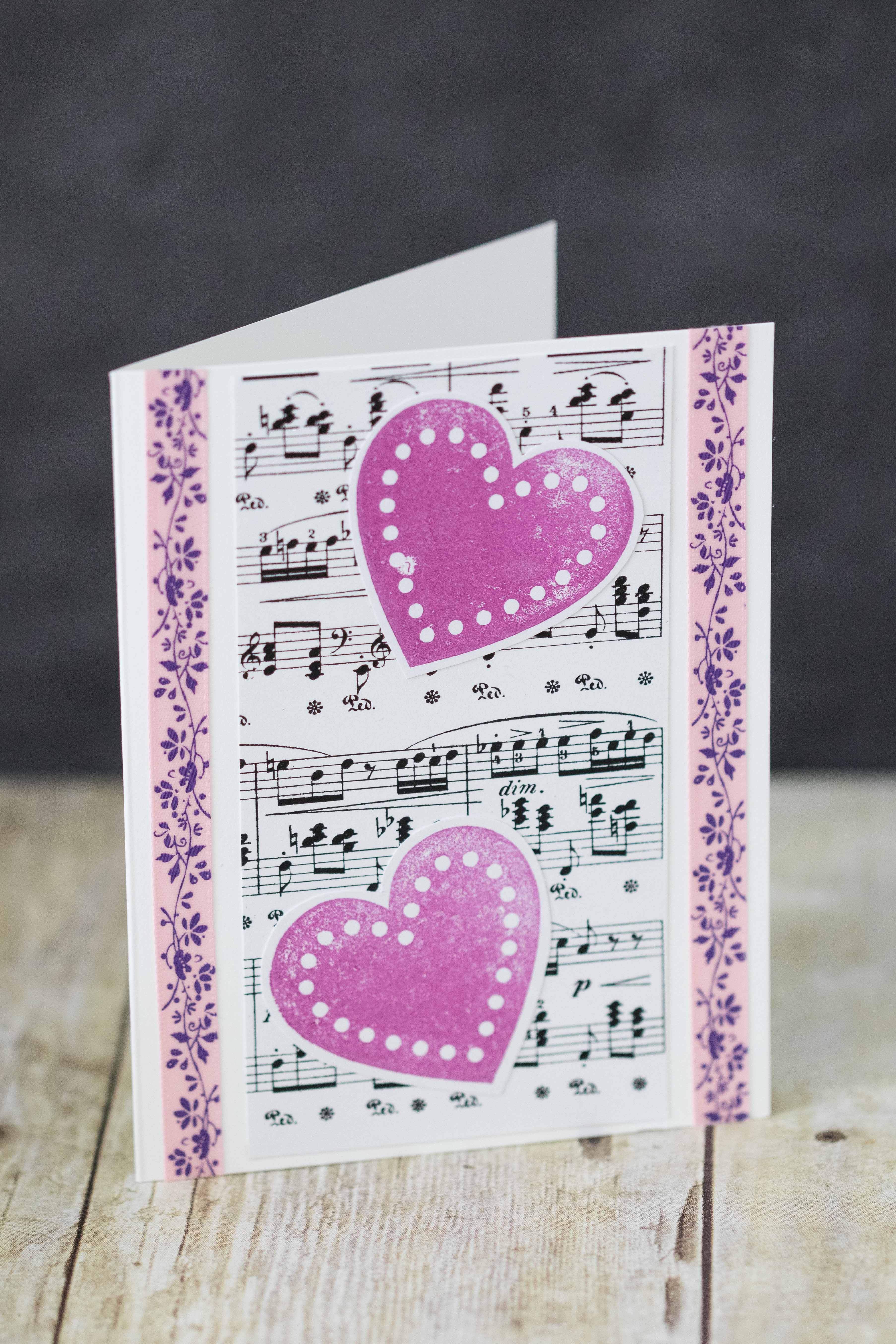 Of course, I had to create a couple simple DIY Valentine's Day cards with sheet music. The first design is basically my just a note design but with a heart stamp. I use All Piano Scores and print the music on cardstock for my greeting cards. The stamp and ribbon are both Michaels dollar bin finds.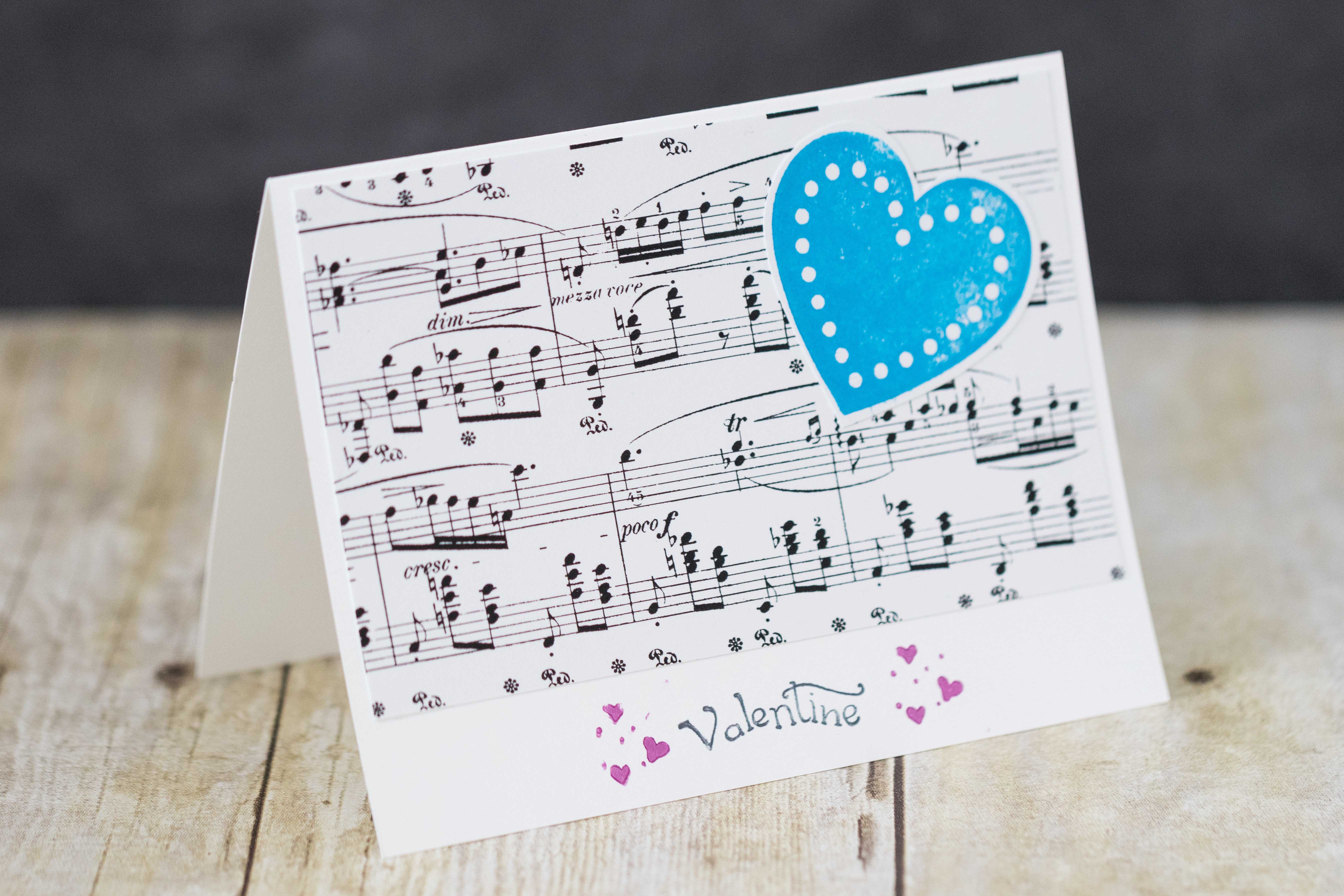 I kept the second Valentine's Day sheet music card design simple as well. I layered a single stamped heart over the sheet music and added a Valentine stamp with stamped hearts at the bottom.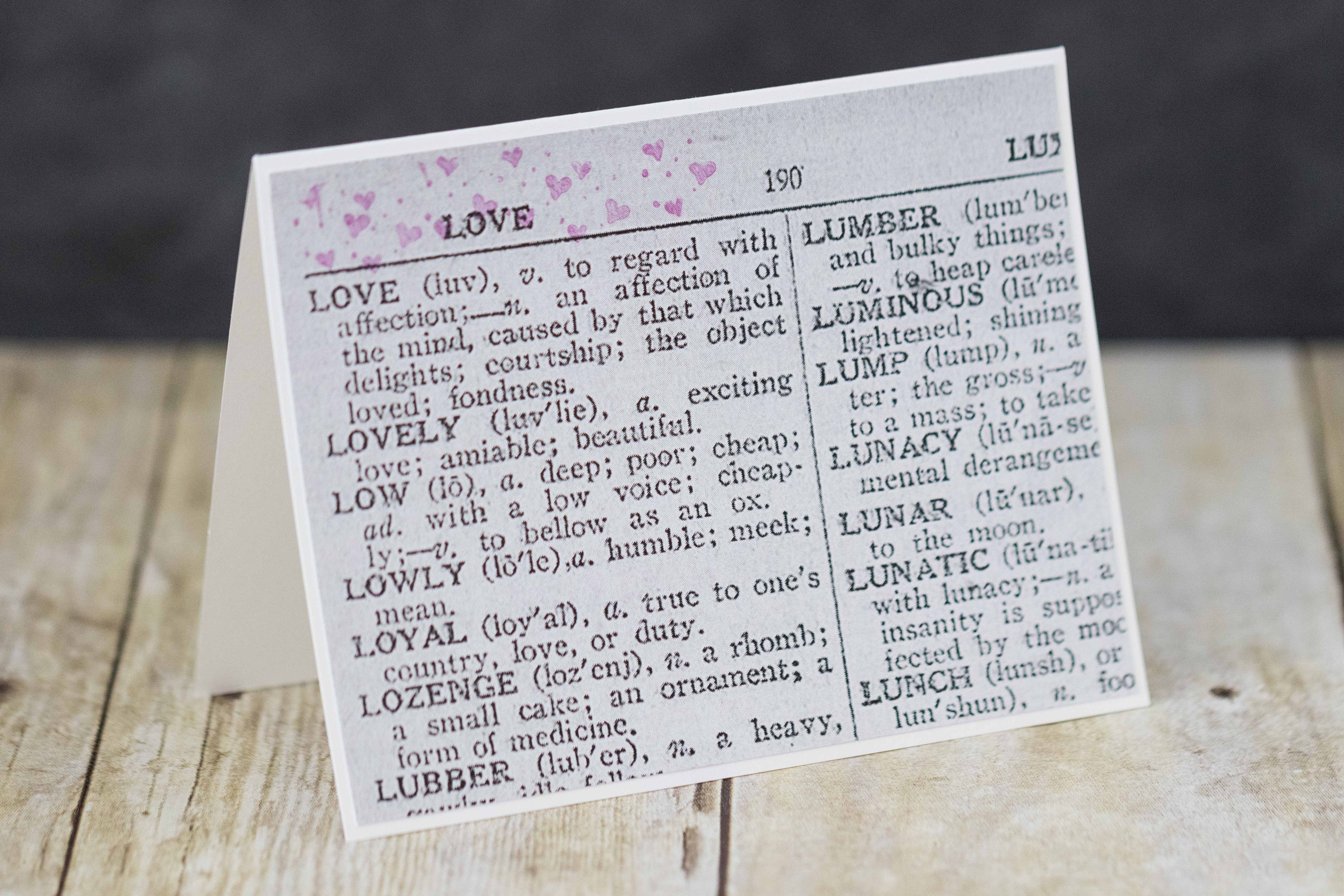 A love dictionary page (source) is another really simple cute background option for a Valentine's Day card. I printed it on my black ink only laser printer, so it doesn't have a yellowed vintage aesthetic. You'll get that aesthetic if you use a color printer. I simply cut out the love corner to fit my card and added a few tiny heart stamps.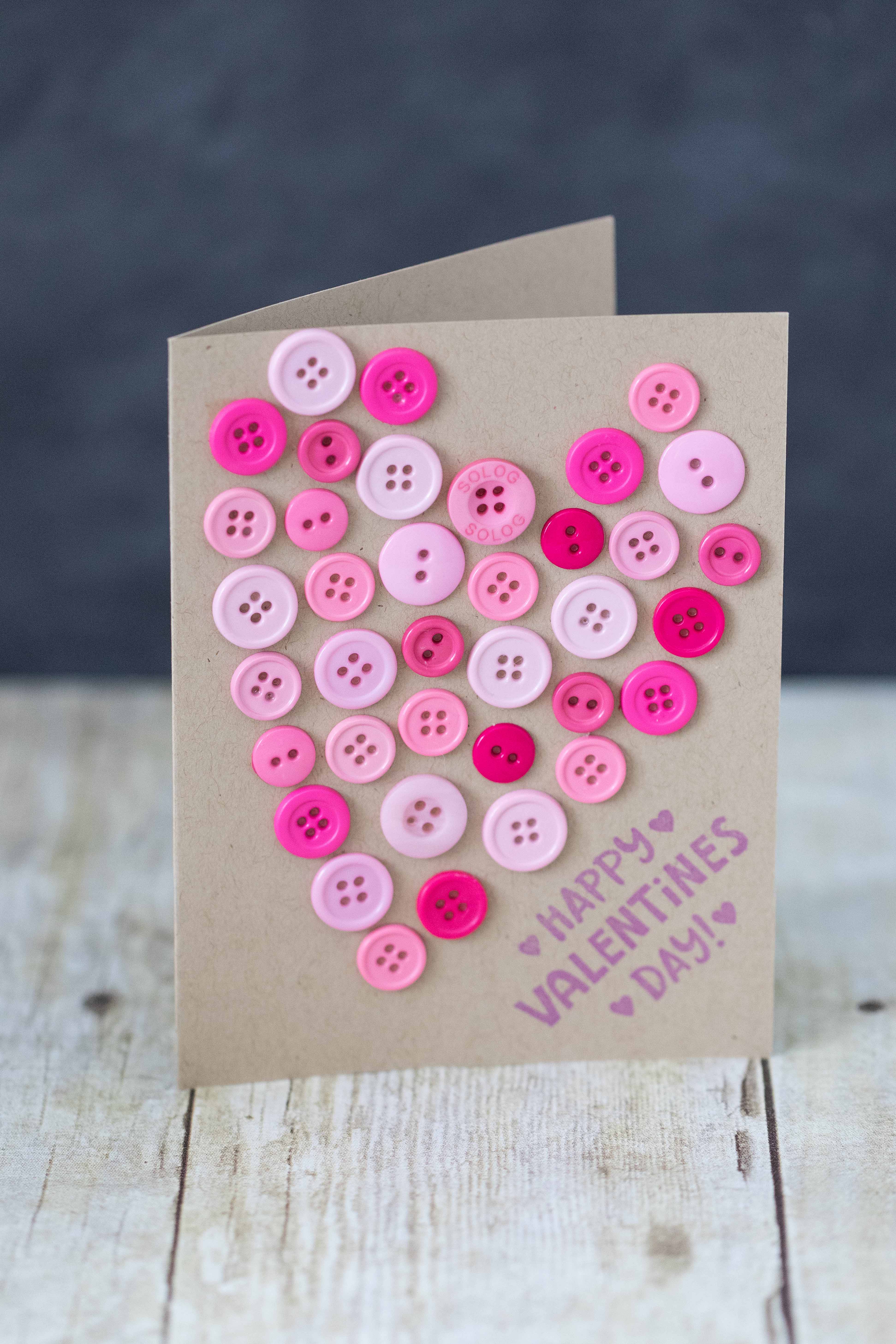 The last four simple DIY Valentine's Day cards I'm sharing are a little more time intensive than the first six but don't require any special tools or skills. I have wanted to make a button shape card or decor piece forever. I finally tried it for this post and couldn't be happier with the results. The button heart is great on its own, but I wanted to add the "Happy Valentine's Day!" stamp to fill out the corner.
To create the button heart, I found it worked best to choose buttons of roughly the same size. I've been crafting with buttons for years now and have a huge stash. They get pricy quickly, so I always recommend looking for bulk buttons. Currently, my favorite Etsy shop for bulk buttons is MellowMoonSupply.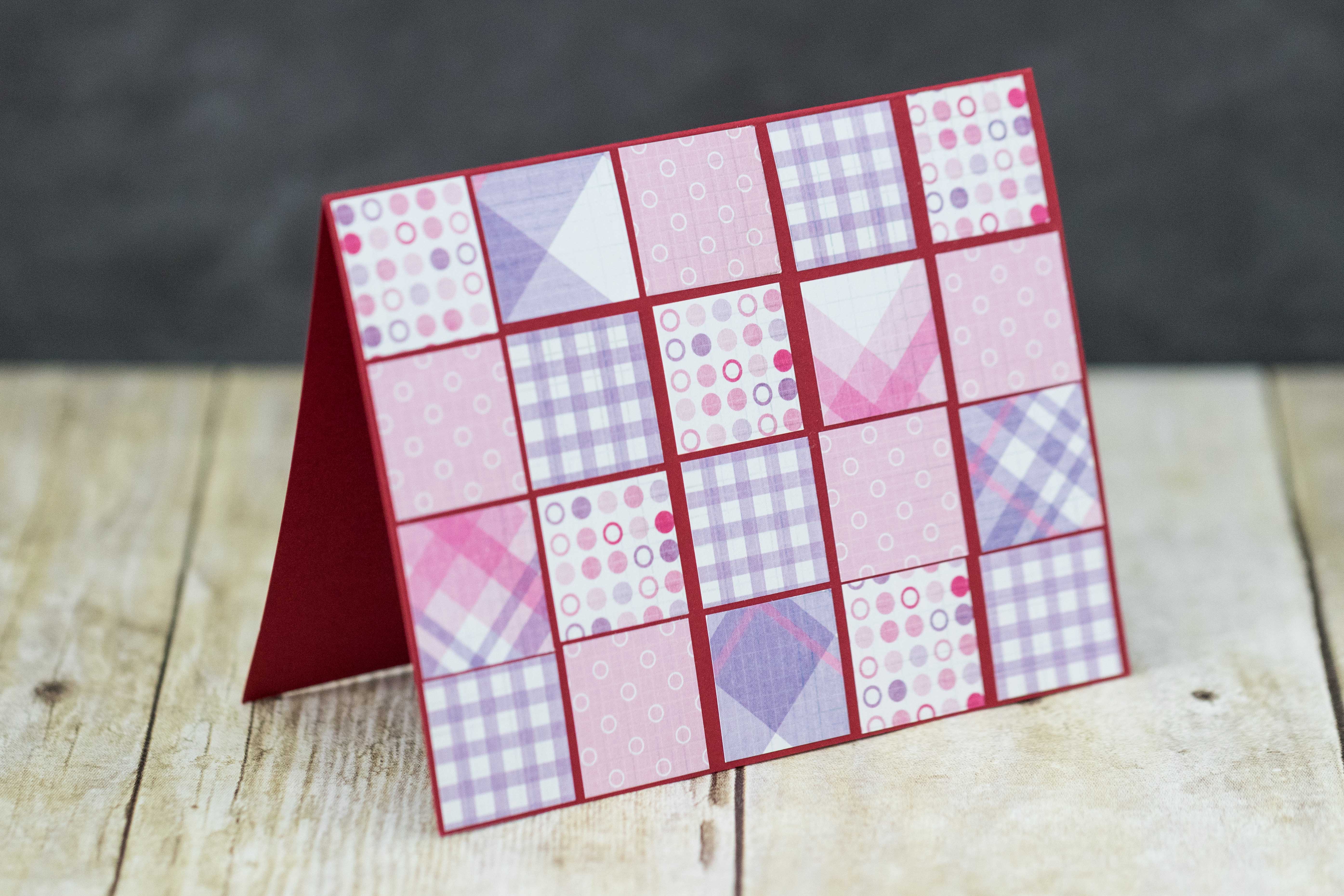 The quilt design is not one for the perfectionist, unless you don't mind taking the time to get everything lined up perfectly. Clearly, I don't and am fine with a bit of imperfection. This type of design is perfect for using up little paper scraps.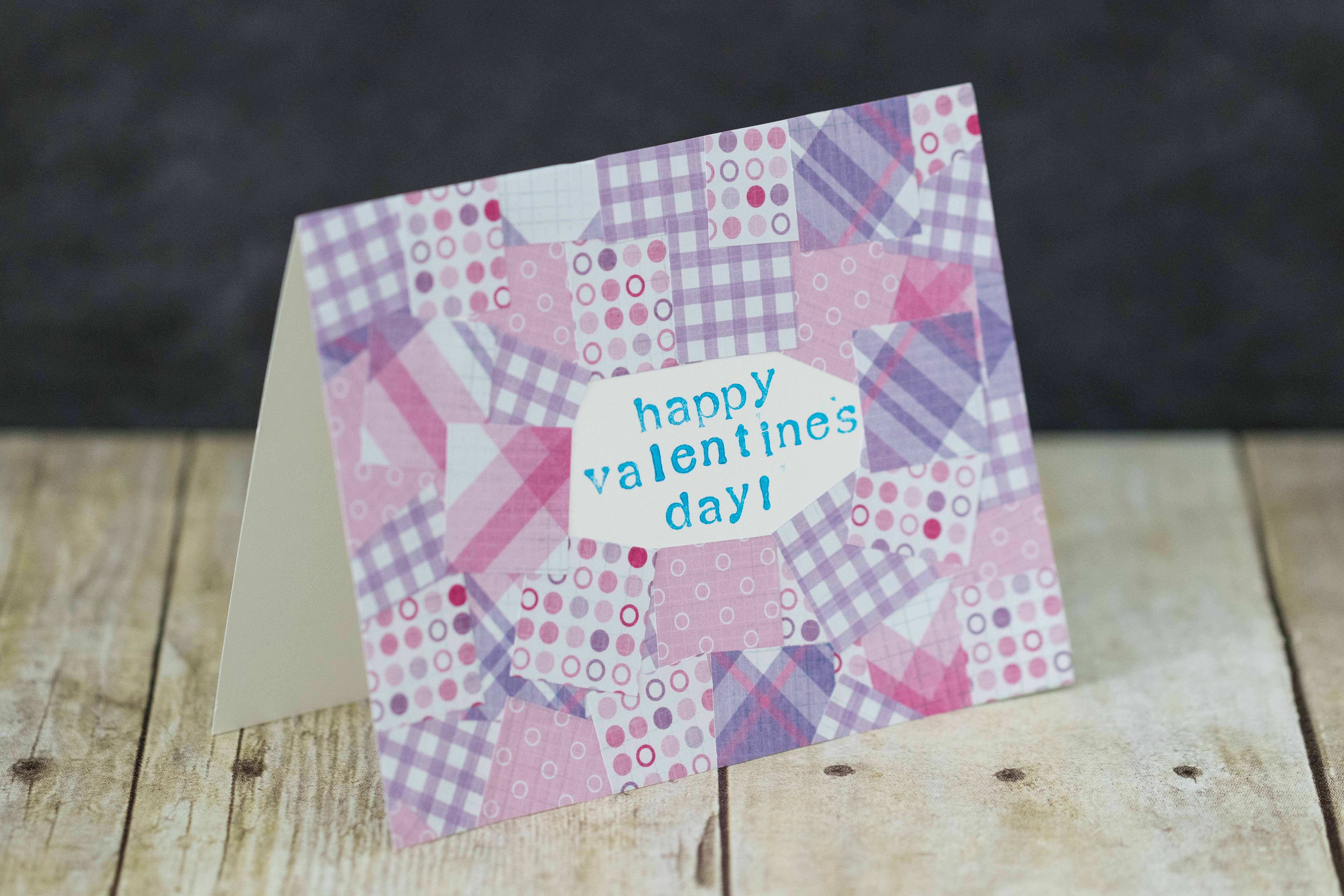 A collage style card is another great way to use up little paper scraps. I stamped Happy Valentine's Day! and then added the collaged paper. Again, I glued over the edges and trimmed it up when I was finished. The little alphabet stamp set I used is from Target. I see these type of sets pretty regularly at both Target and Michaels in the dollar section or one of Michaels $1 stamp bins.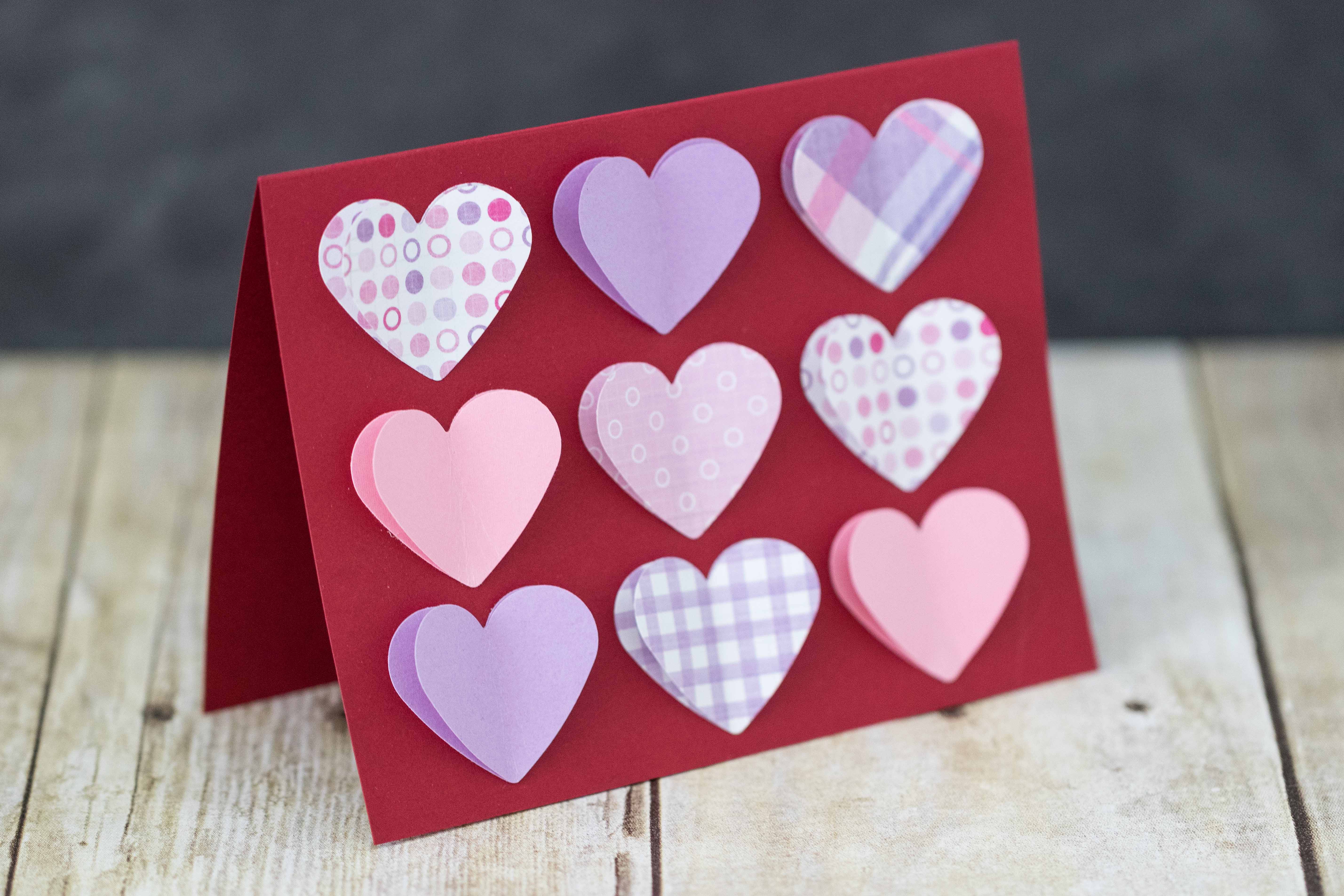 Hearts are a really easy shape to cut freehand. However, I recommend using a paper punch for this final design to get perfectly uniform hearts to layer over one another. Arrange and glue the bottom layer of hearts. Fold the top layer hearts down the center and glue just the spine to the middle of each bottom layer heart to give them dimension.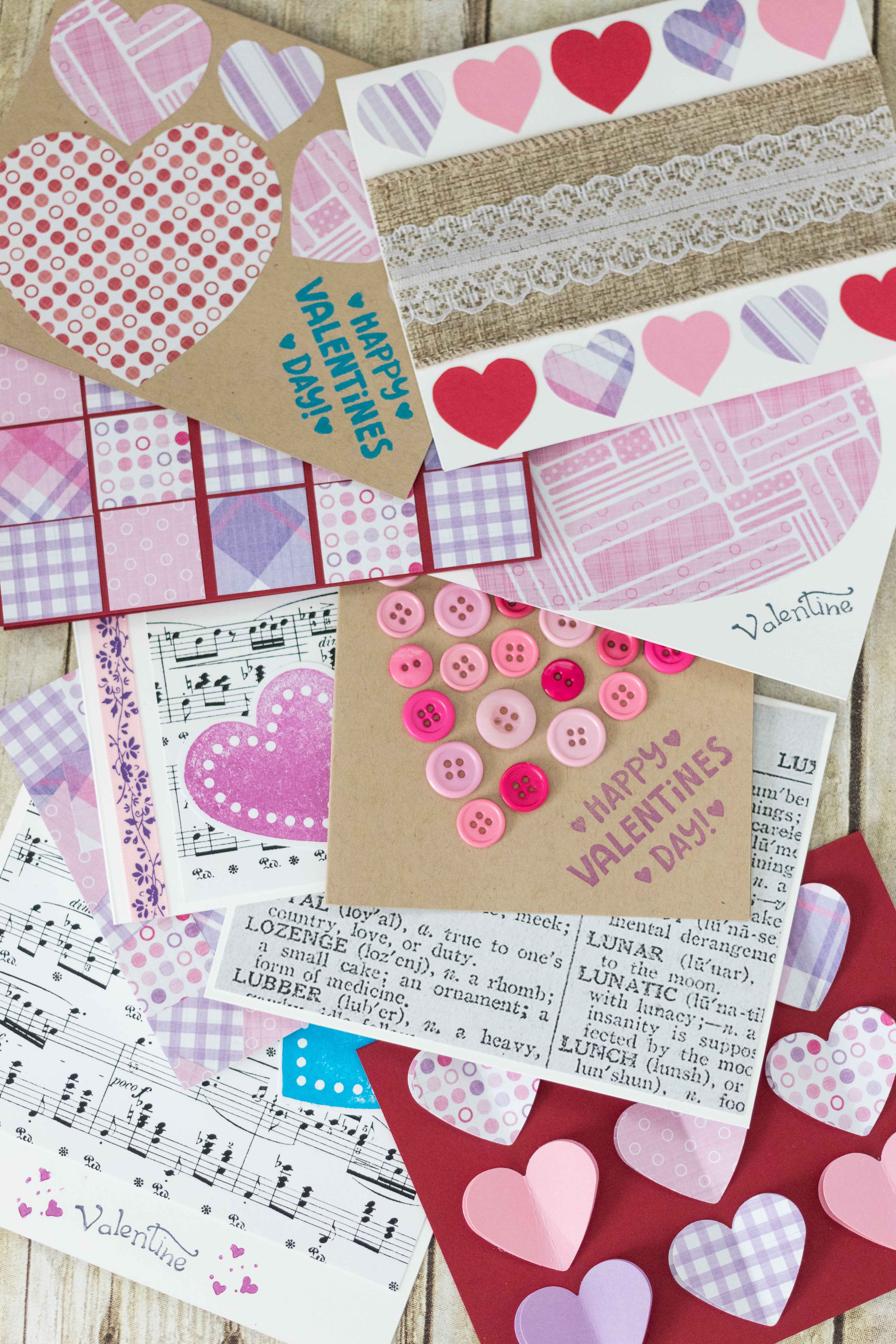 I left all of my simple DIY Valentine's Day cards blank on the inside. It's up to you to write messages as you wish!
All of the simple DIY Valentine's Day cards I'm featuring here are size A2. I get my card blanks from Paper Source and my envelopes from Uline. Right now my favorite stamp pad brand is Memento (there is a Memento Luxe line, too). The Memento/Memento Luxe colors I use for these cards are Tuxedo Black, Lilac Posies, and Bahama Blue.
Printable heart resources:
Assorted sizes | 4 Large Hearts | 2 Large Rounded Hearts
I have a whole post about my basic card making supplies and tools, which has more information about the additional supplies I recommend for DIY greeting cards!
Basic Card Making Supplies and Tools
[Disclaimer: There are a few affiliate links in this post. Thanks for your support!]
Did you make one or more of the simple DIY Valentine's Day cards?

I want to see them! Tag your images #RoseClearfield on Instagram or Twitter or post a photo to my Facebook page.
Pin this post for easy access to the simple DIY Valentine's Day card ideas later!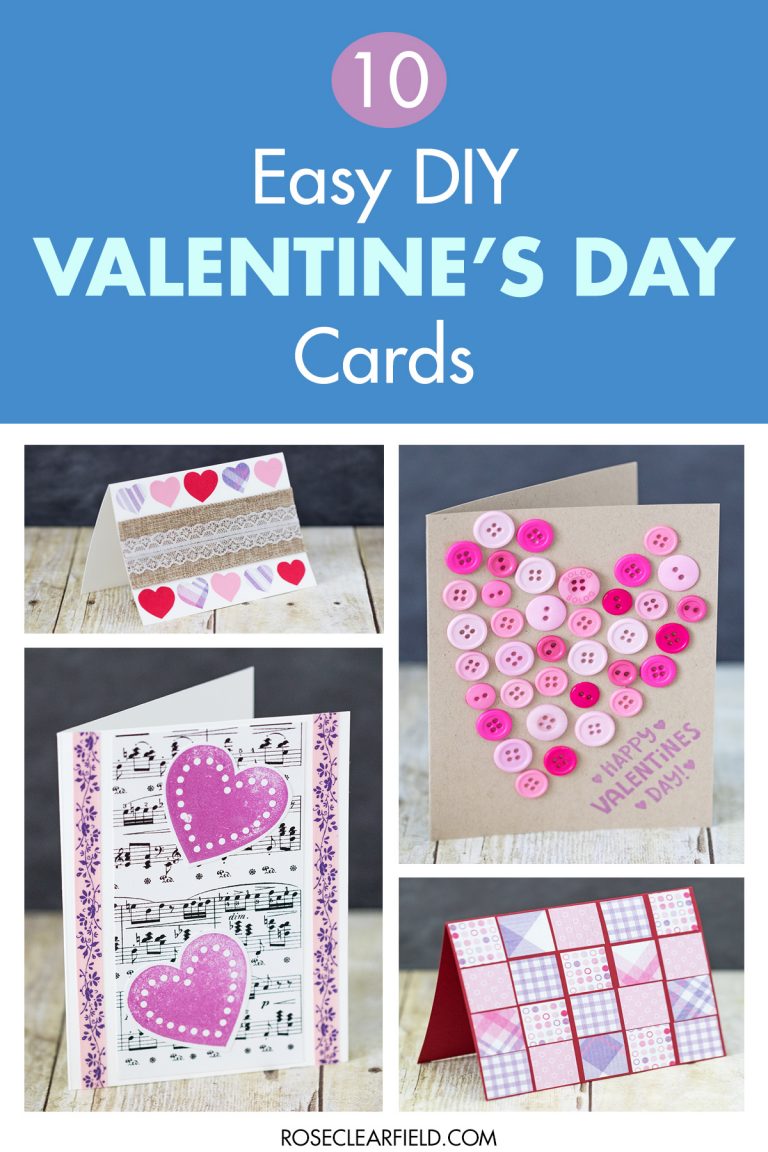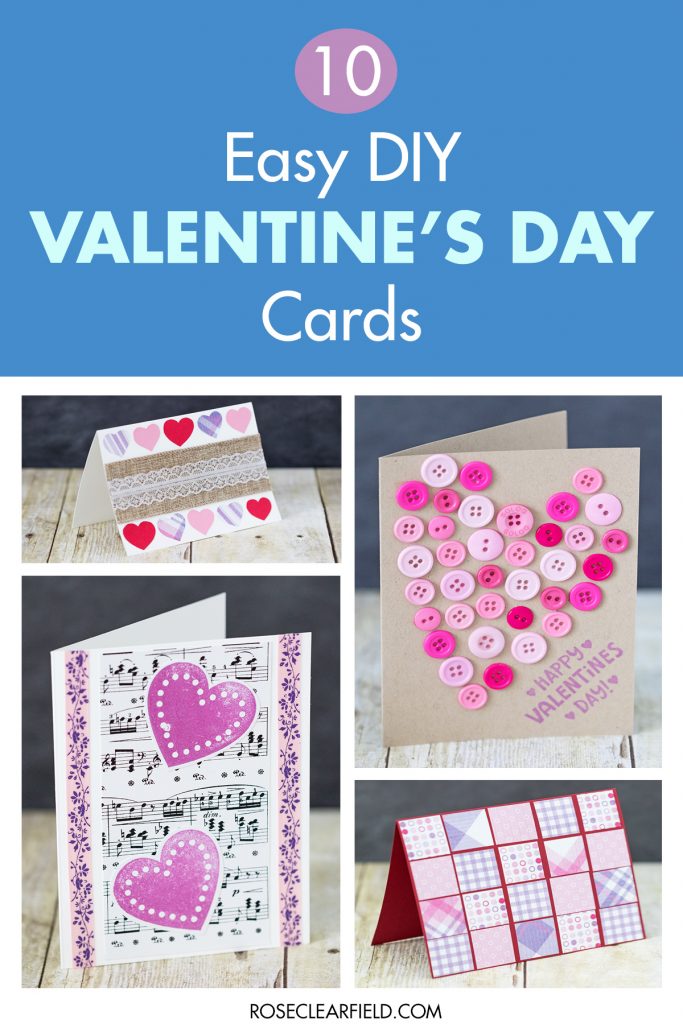 More Valentine's Day resources: