Are you still taking down your Christmas decorations? No judgment if that's your current situation. If we put up a fake Christmas tree, it would probably stay up until March.
Even when I get my decorations down in a timely fashion, it still feels like it was just Christmas yesterday…but suddenly, it's February. Last-minute DIY Valentine's Day decor ideas are ideal. You'll get your house looking festive in no time without too much effort and without breaking the bank.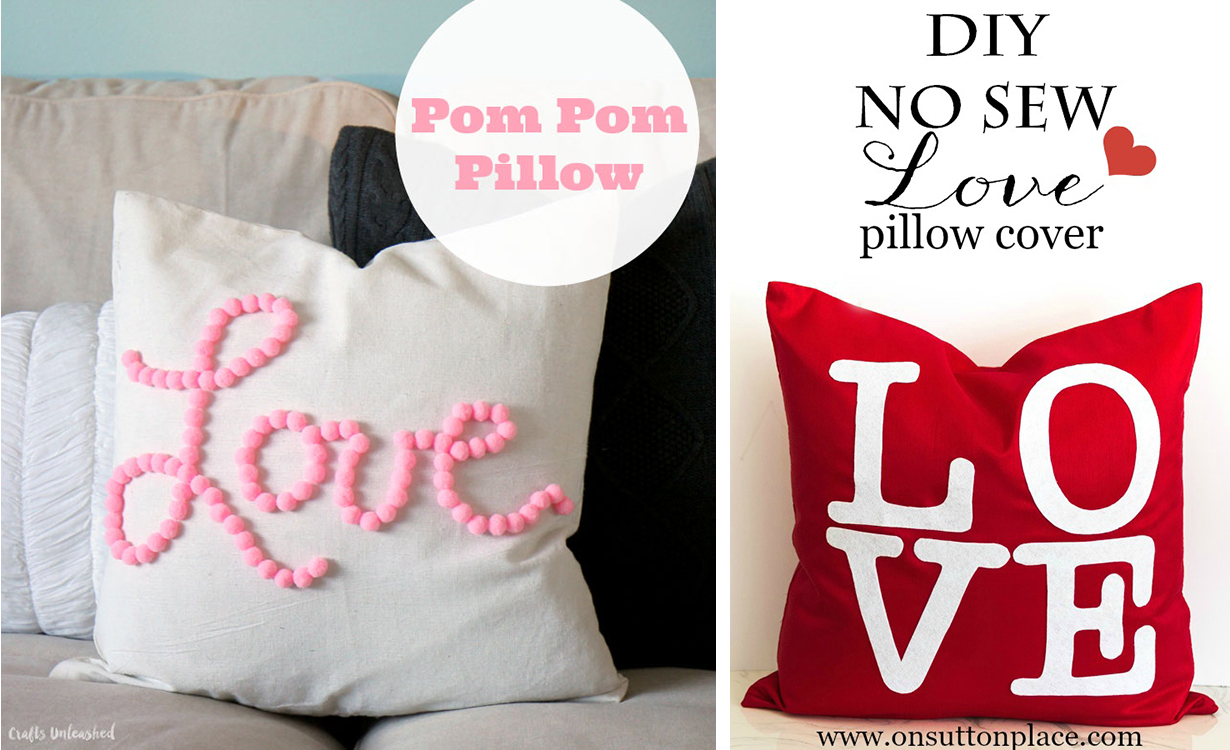 Throw pillows are one of the simplest, most affordable ways to change up your home decor for different seasons and holidays. Personally, I like to buy separate pillow forms and covers because covers take up so little storage space, and you can replace the pillow forms as needed. I chose a couple of no-sew pillow covers. Check out the pom-pom pillow cover at Crafts Unleashed and the love pillow cover at On Sutton Place.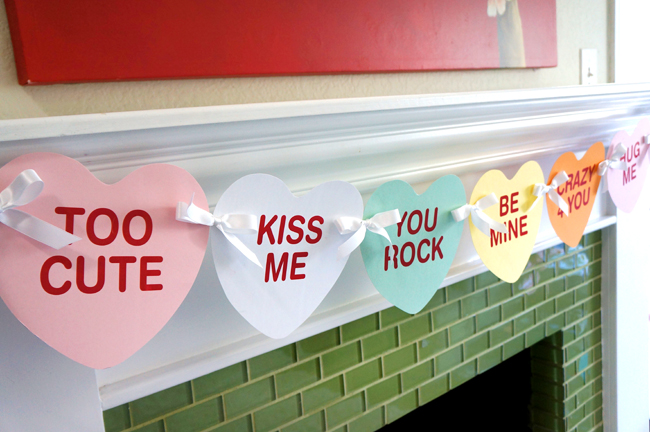 How cute is this conversation heart banner? It's perfect for a mantel or large doorway. Sandy Toes and Popsicles has a free conversation heart printable. The only supplies you need are colored cardstock, ribbon or string, a hole punch, and scissors.
Hearts attached to real branches are so simple and sweet. I love the way Lisa of Money Hip Mamas styled hers in the cute pitcher with the pink XOXO in front of it. If you want to make a more colorful version, stop by Alisa Burke for inspiration. You can use a heart punch, but hearts are so easy to cut out, you don't even need a punch. Additionally, you'll often find pre-cut foam or felt hearts at the dollar store or in the dollar section at Target or Michaels around Valentine's Day.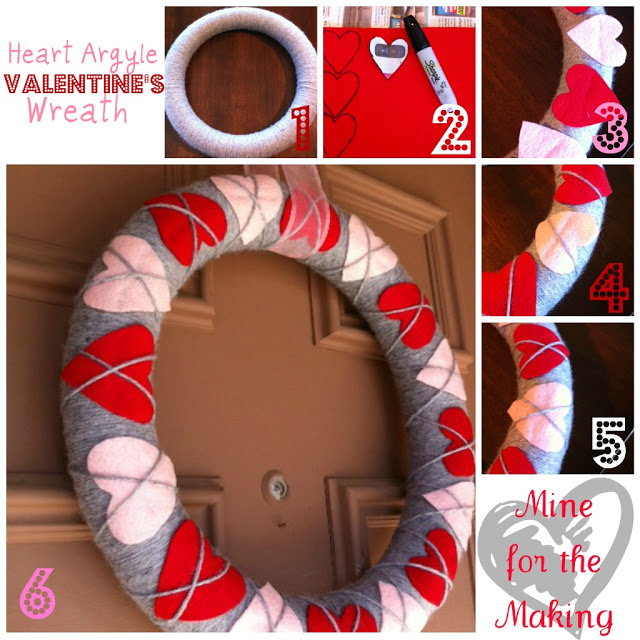 A wreath is a classic way to decorate for any holiday. If you're worried about your wreath getting damaged on your front door, hang it somewhere inside! A wreath looks cheery in an entryway, living room, or kitchen. There are so many cute wreath tutorials out there these days. I'm sharing a heart argyle Valentine's wreath from Mine for the Making because I love argyle. How fun to create an argyle pattern with hearts and string!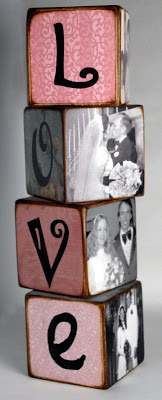 Of course, I had to share a photo tutorial for Valentine's Day. I picked a letter block project from Stories by Me!. In an age where so many people take hundreds of photos on their phones, most likely you'll have no problem finding pictures to use for your blocks. Scans of old family photos work perfectly as well. If you print photos on an inkjet printer (the type of printer most people use at home), give them a couple coats of acrylic spray. The spray will prevent the ink from running when you apply the glue. Search "wooden photo blocks" on Pinterest for more inspiration.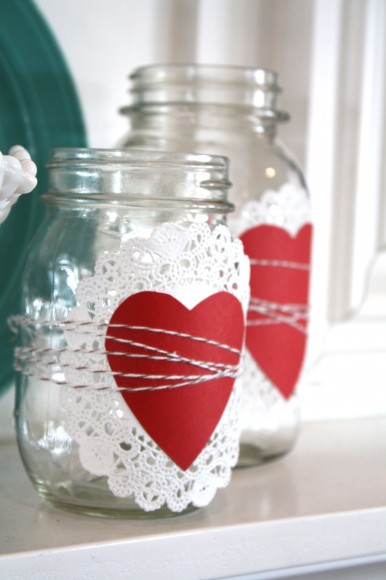 The mason jar trend is still going strong. You can find mason jar tutorials for every occasion and holiday, including Valentine's Day. I'm featuring a simple design with clear jars, doilies, paper or felt hearts, and baker's twine or other string. Pictured source: The Pleated Poppy, original tutorial: Crescendoh (link no longer available). Kelly of KA Styles has a couple really cute Valentine's Day mason jar tutorials, too: heart stamped mason jars and latex painted mason jars.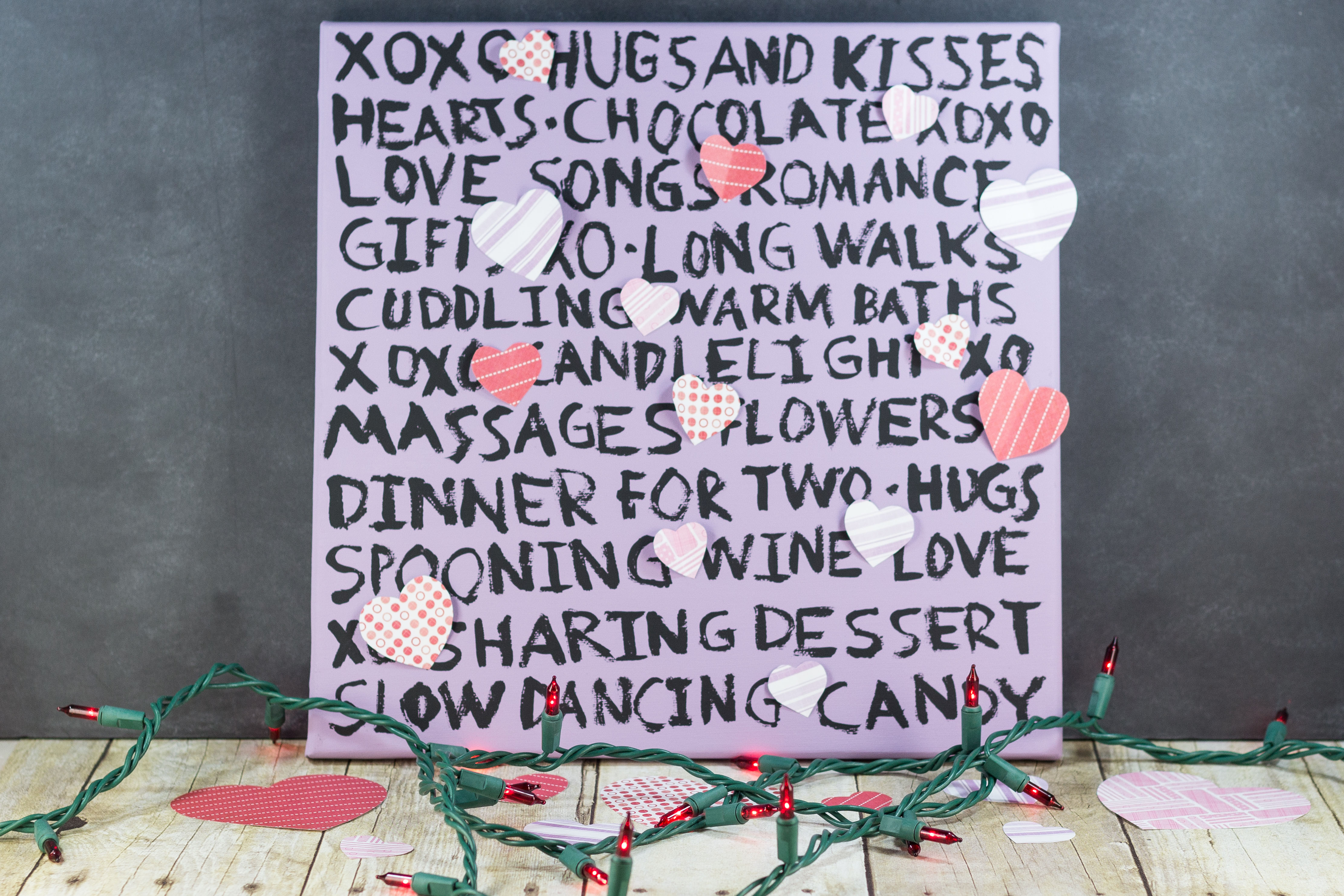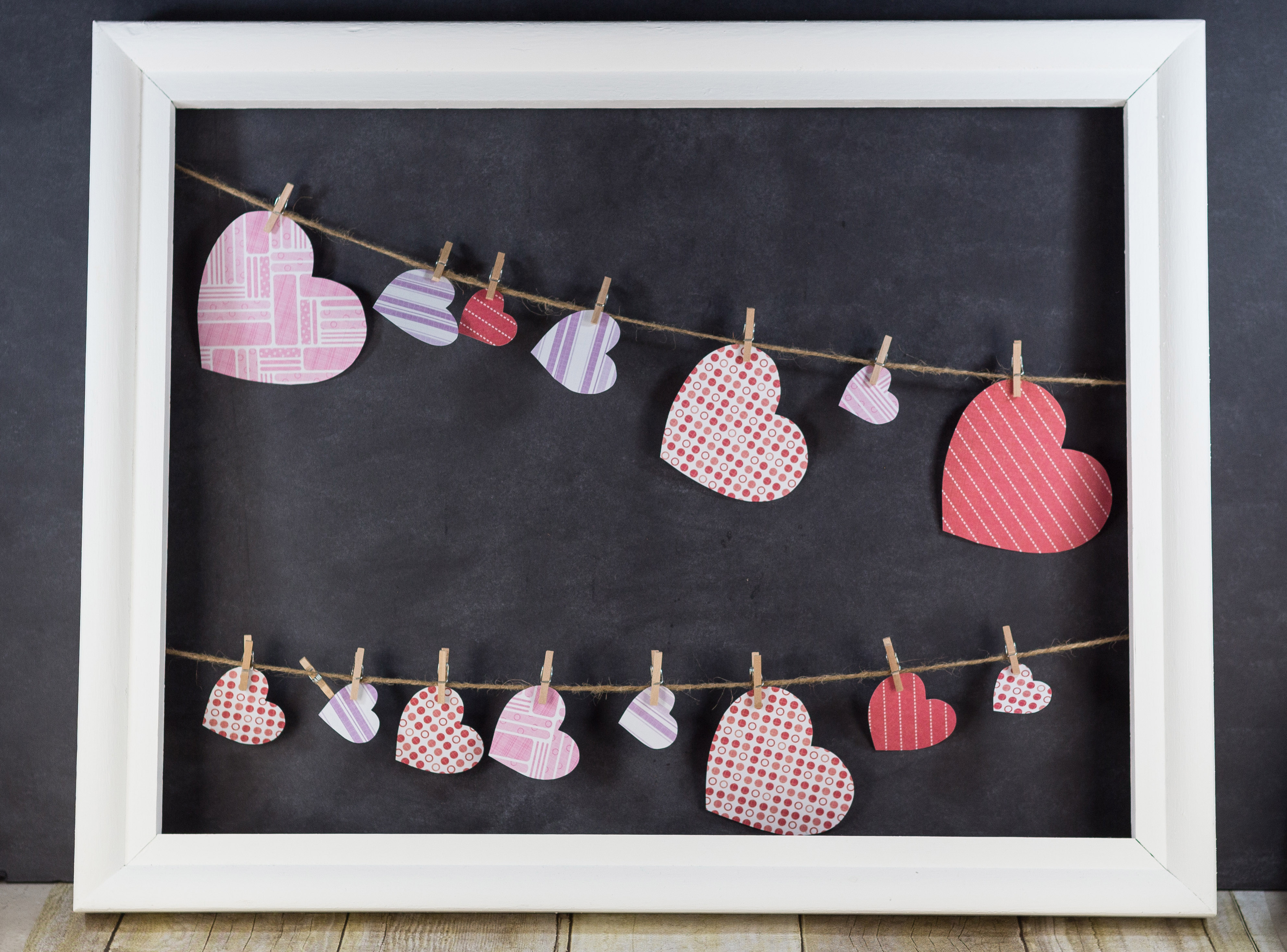 Finally, I have to mention my own Valentine's Day decor, the easy DIY subway wall art. You can create the DIY canvas pieces and the hearts for your open frame or other holiday hanging decor display in an afternoon. Now that I have a handful of open frame items completed, I can get the frame ready for a new season or holiday in just a couple of minutes. For me, keeping the majority of my holiday decor really simple ensures I'll actually put it up in time for the holiday.
Did you make one or more of the last-minute DIY Valentine's Day decor projects?

I want to see them! Tag your images #RoseClearfield on Instagram or Twitter or post a photo to my Facebook page.
[Disclaimer: There are a couple of affiliate links in this post. Thanks for your support!]
Pin this post for easy access to the late-minute DIY Valentine's Day decor projects later!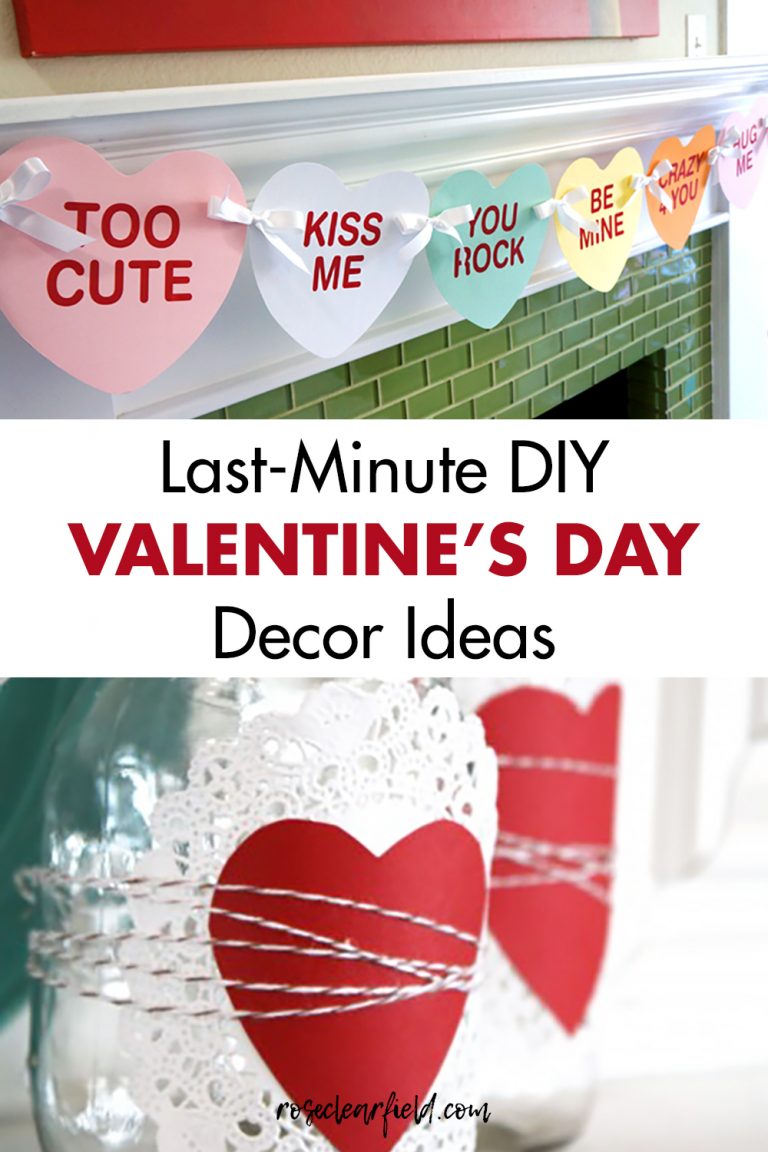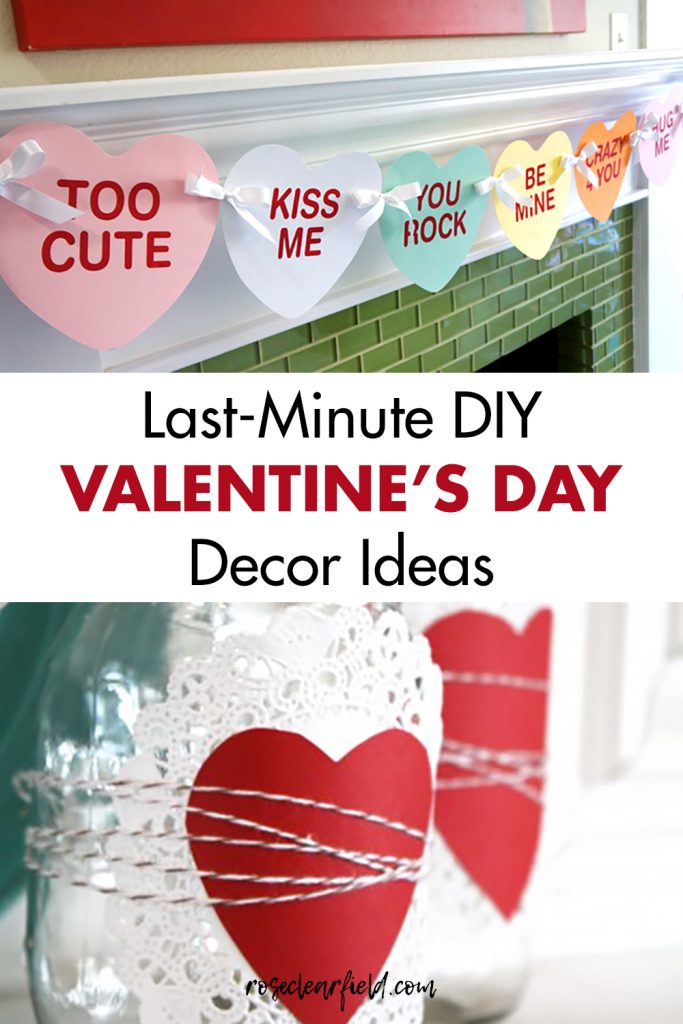 More DIY Valentine's Day resources:
Save
Save
Save
Save
Save
Save