Easy acid reflux-friendly pasta recipes will give you quick lunch and dinner ideas that are filling, reasonably healthy, and don't trigger GERD symptoms.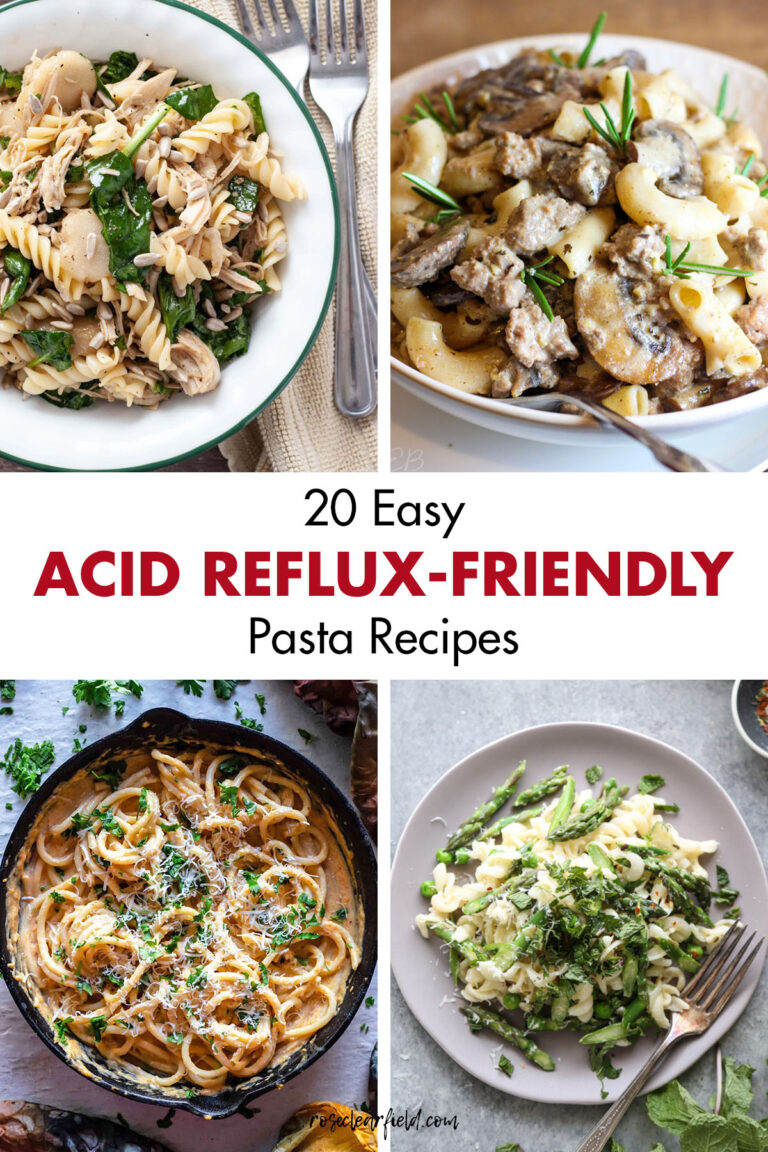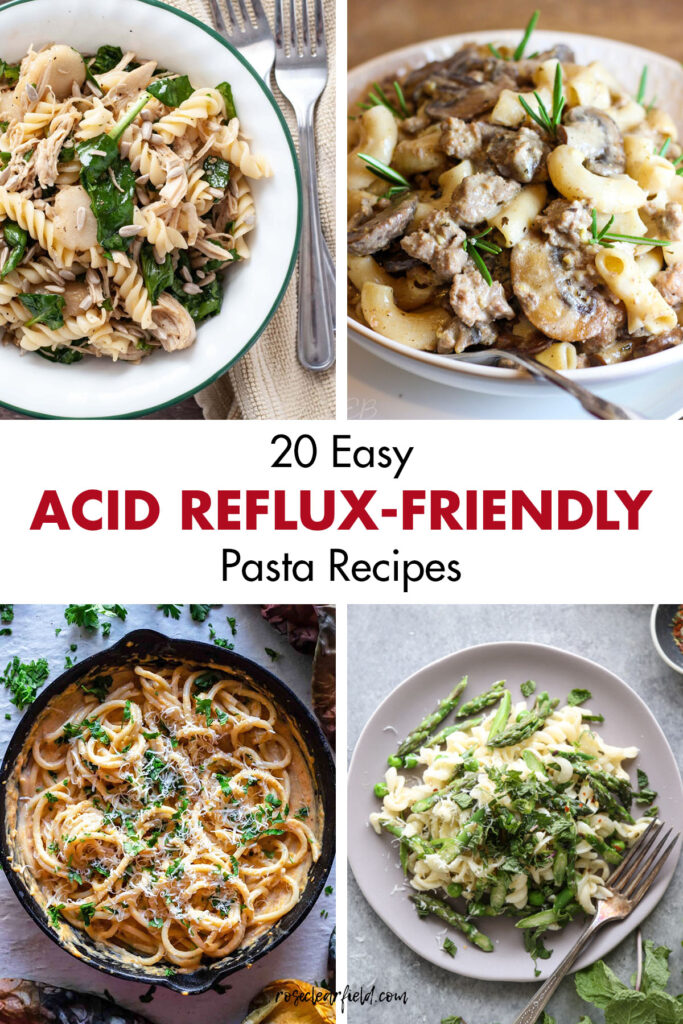 When you have a new diet-related medical diagnosis, it's easy to get hung up on all of the foods that you can't eat. Adjusting to a new diet is tough, even when you know that it's for the best. Having new recipes in your rotation with familiar ingredients that you love, such as pasta, will make it easier to stick to the new diet.
You'll find lightened-up, dairy-free versions of popular pasta dishes, such as carbonara, alfredo, primavera, and Cacio e Pepe as well as stuffed shells, Pad Thai, one-pot pasta, and more.
Disclaimer: I am not a physician. I'm a life-long acid reflux sufferer. I've been treating it actively through medication, diet, and lifestyle changes my entire adult life. I cite a handful of medical resources in this post. All of the other information that I'm sharing here pertaining to acid reflux is based on my own personal experience. If you have any questions about your diet or any other elements of your GERD treatment, please consult a physician.
The best and worst foods for acid reflux
As I put together acid reflux-friendly pasta recipes, I concentrated on the best foods for GERD symptoms, being careful to steer clear of the most common triggers as much as possible.
The best foods for soothing acid reflux symptoms include green vegetables, root vegetables, whole grains, meat and seafood, healthy fats, eggs, non-citrus fruits, fennel, ginger, and herbal tea.
The most common triggers for acid reflux include tomatoes, chocolate, greasy foods, spicy foods, citrus fruits, alcohol, caffeine, mint, and carbonated beverages.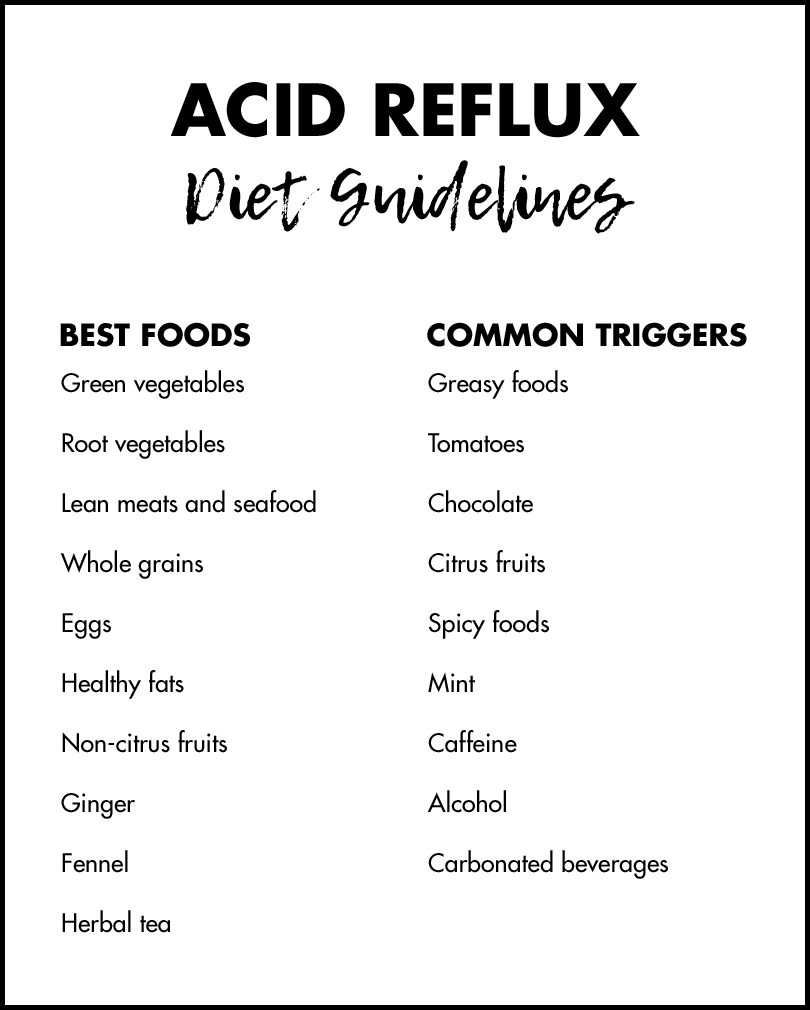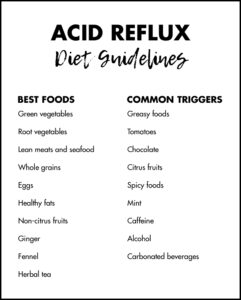 I've put together a free printable reference sheet with the best and worst foods for acid reflux. Keep it on hand in the kitchen to help you plan meals and combat reflux flares.
[Download your FREE printable acid reflux foods reference sheet!]
Eating-related tips to further minimize symptoms
Creating an acid reflux-friendly diet will significantly reduce your GERD symptoms. Generally, you'll have the highest level of success with eliminating your symptoms when you pair an acid reflux-friendly diet with a few simple eating tips.
Eat slowly
Eat smaller meals
Wait a minimum of two hours to lie down following eating
Don't eat the last two or three hours before you go to bed
Steer clear of caffeine and alcohol, particularly in the evening
Additional lifestyle tips to minimize symptoms
The following lifestyle advice will help you reduce your acid reflux symptoms even further.
Avoid tight clothing and high-waisted pants, dresses, and skirts
Add another pillow to your bed to help you eliminate symptoms while sleeping
Maintain a healthy weight
Take an antacid
Avoid peppermint- and mint-flavored gum
Quit smoking
The importance of identifying triggers
For most acid reflux sufferers, there are a few key foods and lifestyle adaptations that will make the most difference for overall gut health. When you're able to pinpoint these triggers and get rid of them effectively, most likely, you won't have to adopt other acid reflux management tactics. For example, if your biggest food triggers are tomatoes and spicy foods, don't worry as much about avoiding mint and chocolate.
Keep a food diary for a minimum of one week, noting the following information:
Food you eat
Time of day you eat
Symptoms you experience
This information will help you make important adjustments to your diet and eating schedule for optimal acid reflux management.
[Acid reflux sources – 1 | 2 | 3]
A few notes and substitution ideas for the easy acid reflux-friendly pasta recipes
If you've spent any time searching for pasta recipes, you know that it's virtually impossible to find dishes without tomatoes, cheese, garlic, and onions, all of which are huge reflux triggers. I've worked very hard to find recipes with as few of these ingredients as possible. However, you may see one of them pop up occasionally, especially garlic, ricotta, and Parmesan cheese. The good news is that there are easy, acid reflux-friendly substitutes for these ingredients.
Garlic. There are two easy substitutions for fresh garlic that are much less triggering for GERD: garlic powder and garlic-infused olive oil. It's best to add garlic powder during the cooking process. You can use garlic-infused olive oil during the cooking process or immediately afterward to finish a dish with a little garlic flavor. If even garlic powder is triggering, swap in a milder spice, such as Mrs. Dash or season salt.
Ricotta. There are a few recipes in this post with ricotta cheese. Kite Hill makes a great dairy-free ricotta cheese that is readily available in major grocery stores.
Parmesan cheese. If you're avoiding dairy products altogether, dairy-free vegan Parmesan cheese is a great option for pasta dishes.
Additionally, I know that there is a lot of debate about whether or not gluten aggravates GERD symptoms. [Source] If you do find that gluten aggravates your symptoms, use gluten-free pasta. Most major grocery stores carry multiple varieties, and there are lots of places to purchase it online.
Finally, when I say "easy" recipe, I mean a recipe that can be prepared in one hour or less with ingredients that are easy to find at major grocery stores. If there are elements of a recipe that require more time, in virtually every instance, you can complete that prep in advance, such as roasting vegetables or making a sauce.
Easy acid reflux-friendly pasta recipes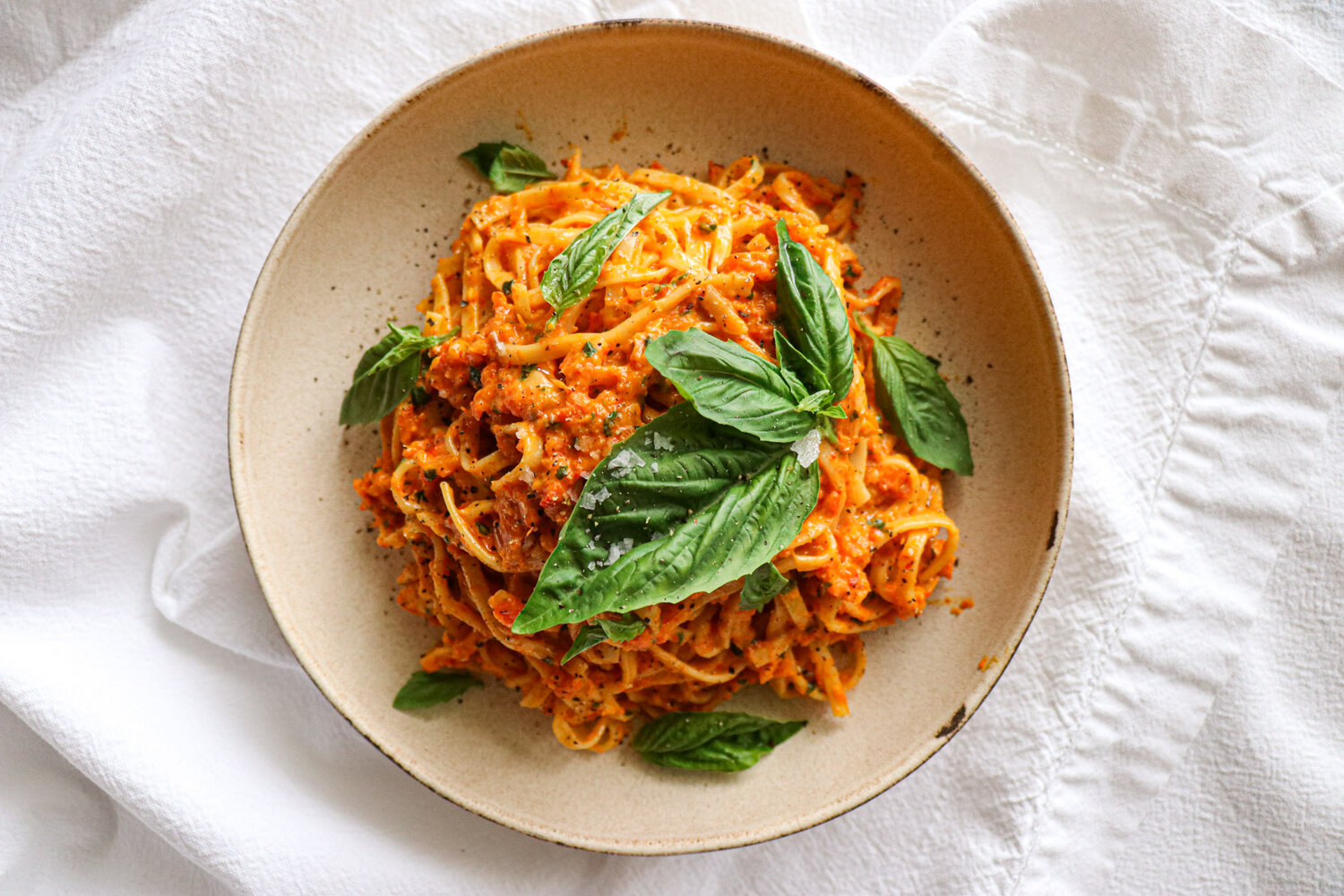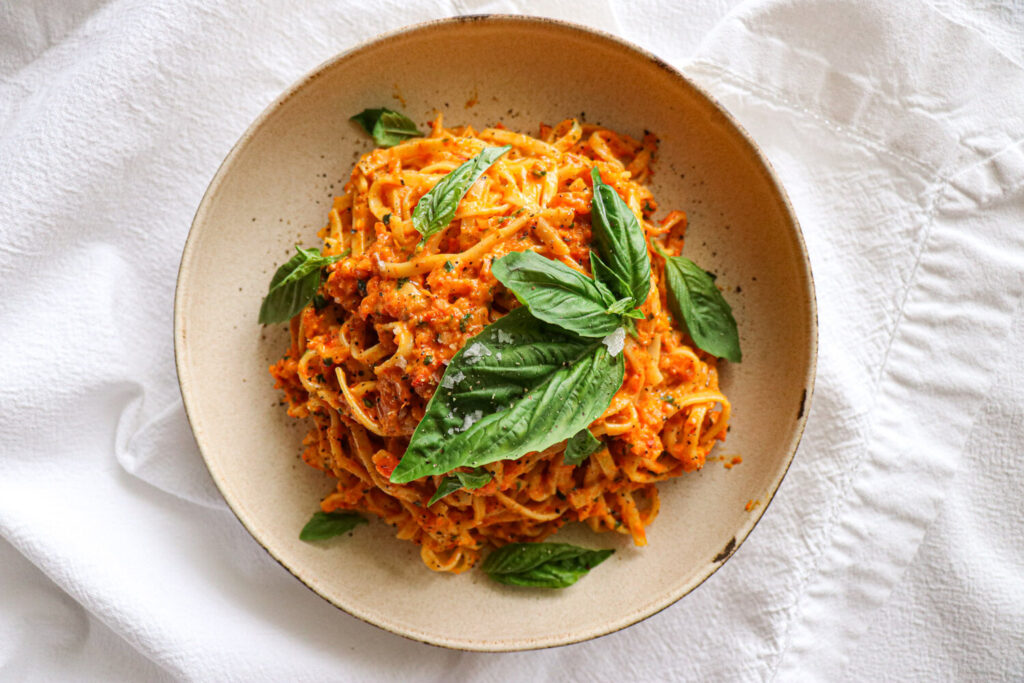 1. Tomato-less red sauce
I don't think that I need to explain that one of the most difficult aspects of eating pasta with GERD is avoiding tomatoes, including tomato sauce. Everyday Allergen-Free's nomato (tomato-less) red sauce will change your life. If you eat tomato sauce often, prepping this red sauce will quickly become part of your weekly routine, so you always have it on hand.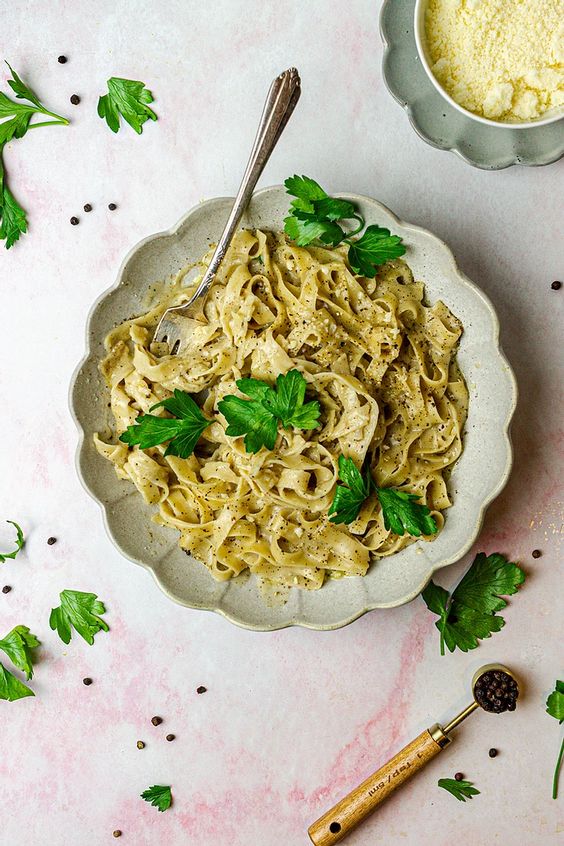 2. Cacio e Pepe
Pretty Delicious Life's Cacio e Pepe couldn't be simpler or more delicious. The ingredient list is very straightforward, and it's easy to make a few swaps for a gluten-free, dairy-free dish. You'll never get tired of creamy, flavorful Cacio e Pepe.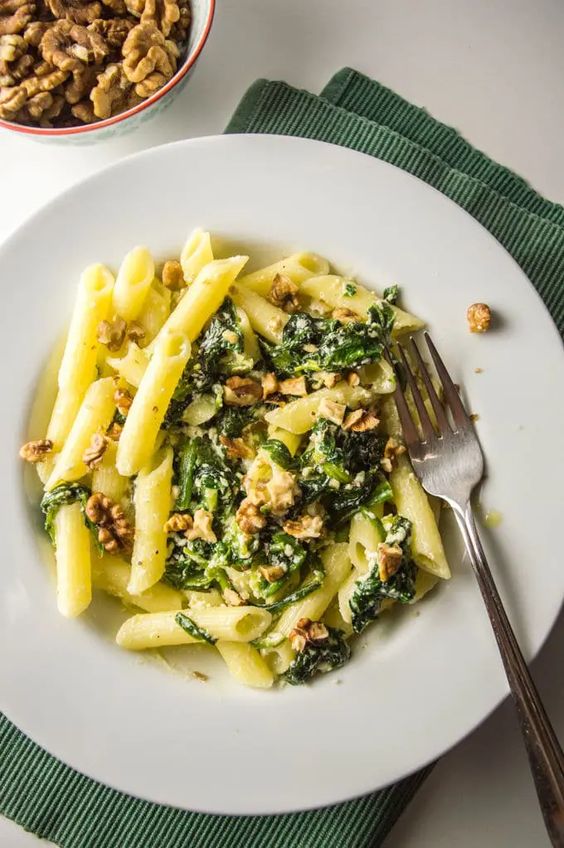 3. Creamy spinach and ricotta pasta with walnuts
My Gut Feeling's creamy spinach and ricotta pasta with walnuts has such a classic flavor pairing with spinach and ricotta, finished with walnuts to add even more flavor and texture. If you want to make this dish dairy-free, look for Kite Hill brand ricotta.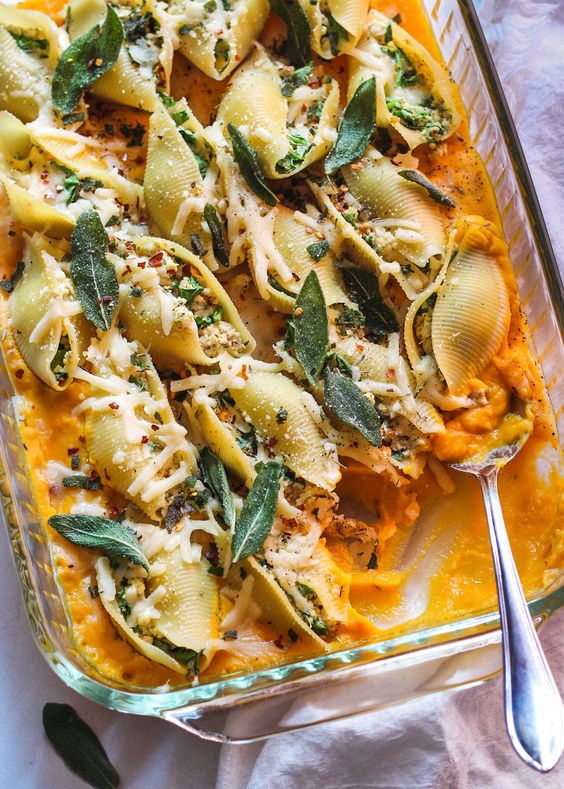 4. Butternut squash stuffed shells
It's All Good Vegan's butternut squash stuffed shells are the ultimate fall comfort food. The recipe includes directions for vegan ricotta using tofu. Simply leave out the lemon juice if it's a trigger for you.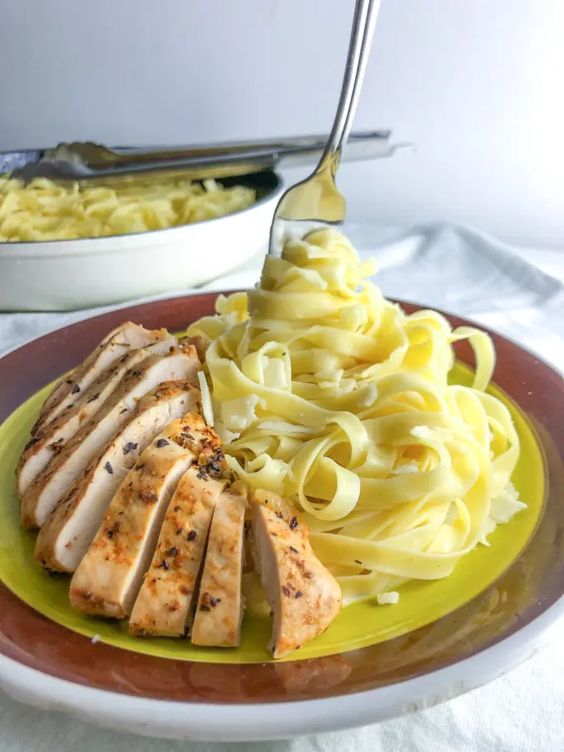 5. Chicken alfredo
My Gut Feeling's chicken alfredo is a lightened-up version of the timeless recipe without heavy cream. The perfectly seasoned grilled chicken pairs perfectly with the creamy noodles.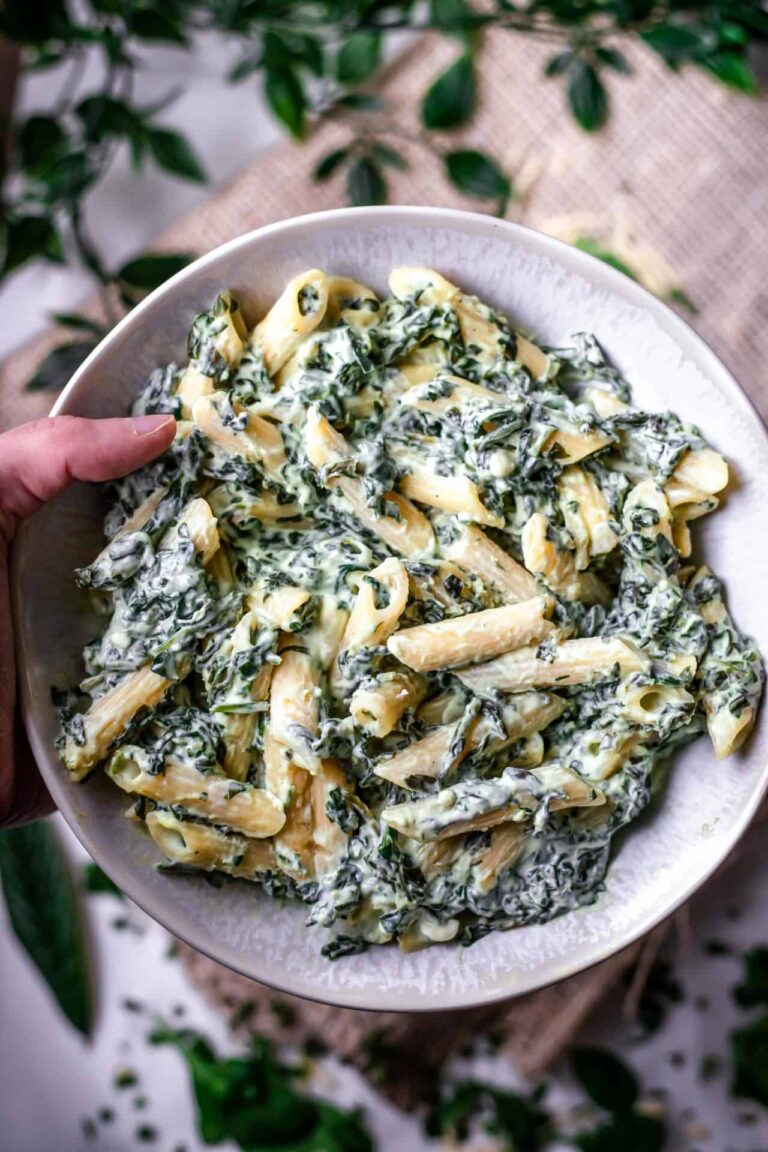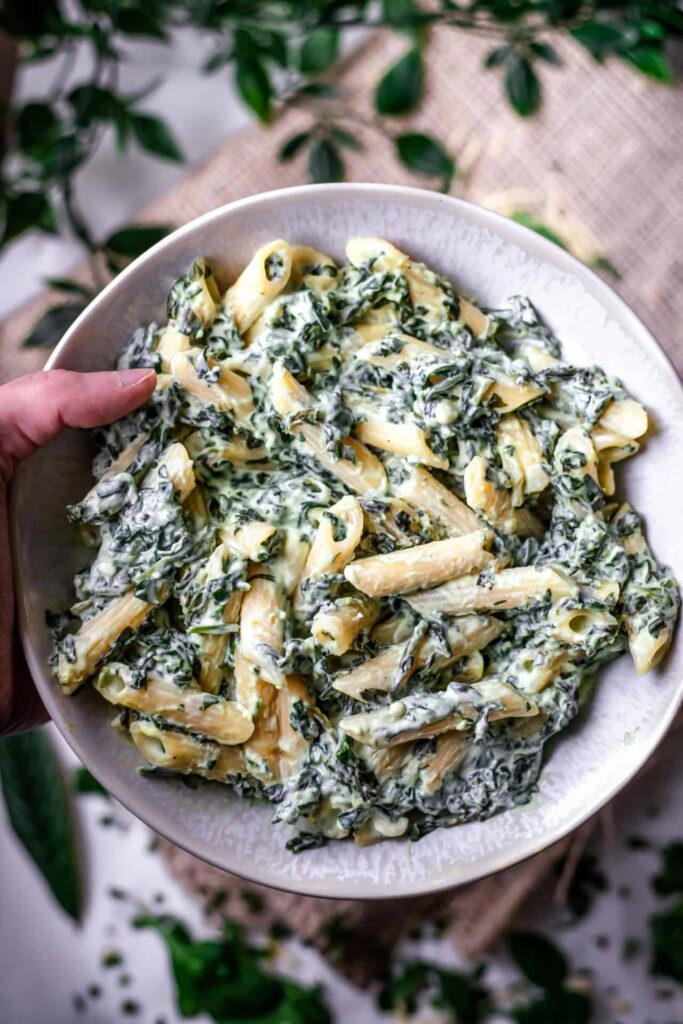 6. Creamy spinach pasta
Gluten-Free Stories' creamy spinach pasta contains just five ingredients and only takes 20 minutes, making it an ideal choice for busy weeknights. Simply use lactose-free or vegan cheese options to make this recipe dairy-free.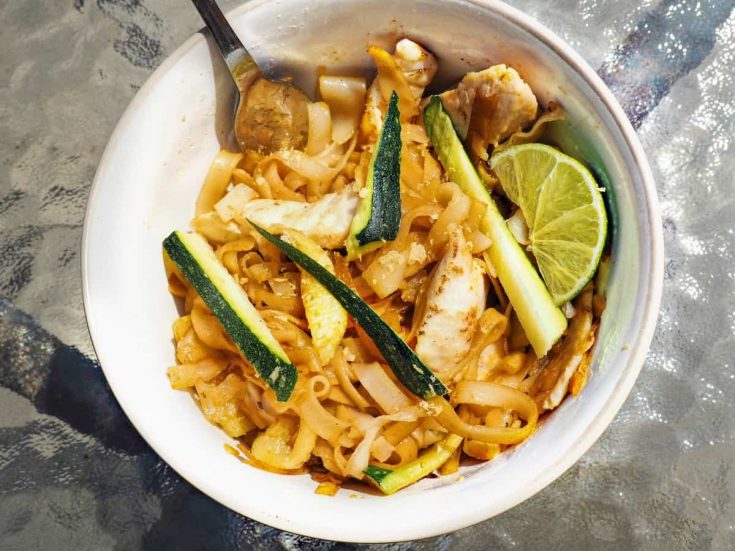 7. Pad Thai
A Balanced Belly's pad Thai has all of the flavor that you want in pad Thai without any dairy. If you've missed ordering this popular dish in restaurants, you'll love being able to make it at home now. Simply omit the lime slices and swap in garlic powder for the fresh garlic.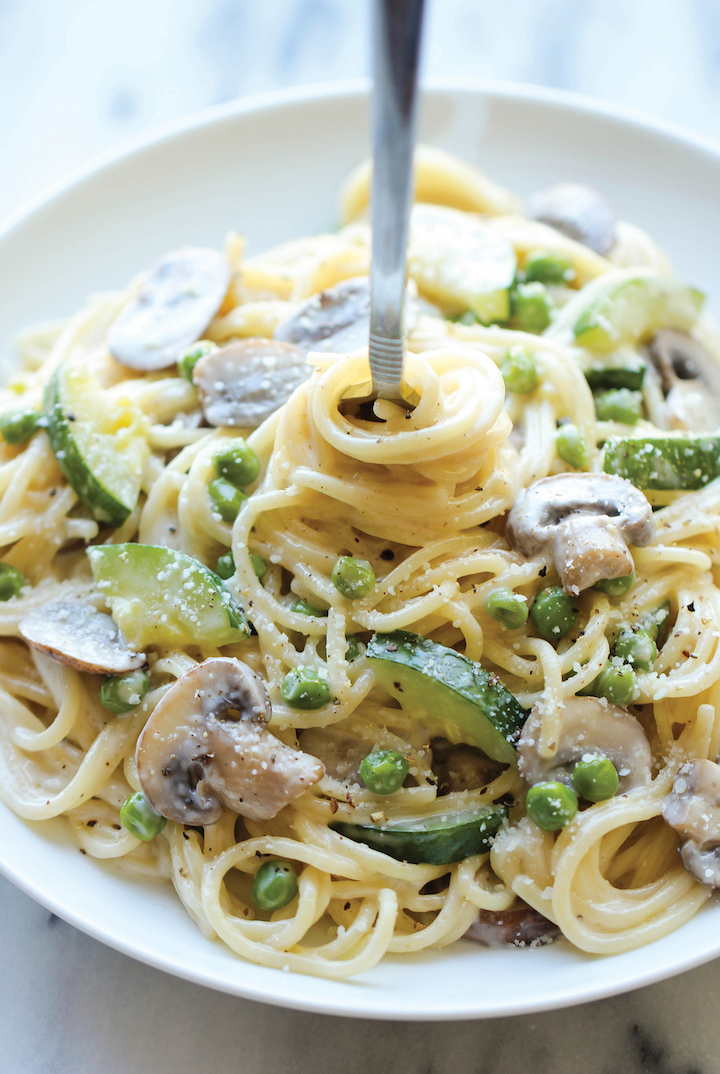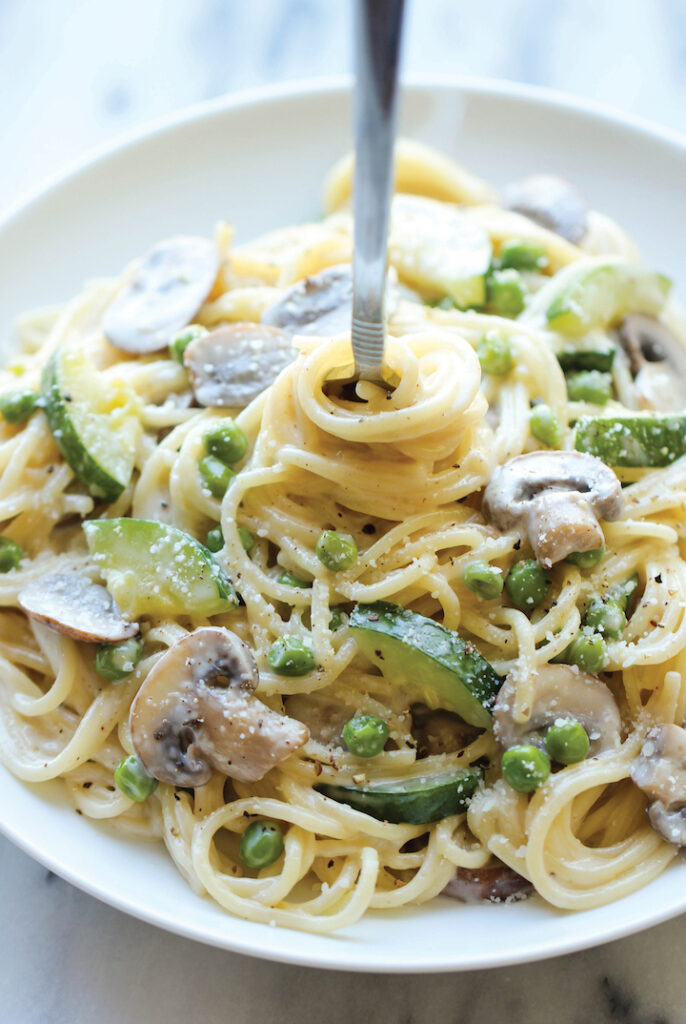 8. One-pot zucchini mushroom pasta
One-pot pasta is such a fantastic concept. I love being able to cook pasta and vegetables all in a single pot for easy clean-up. For Damn Delicious's one-pot zucchini mushroom pasta, swap in garlic powder for fresh garlic, use dairy-free Parmesan, and use dairy-free heavy cream or swap in any dairy-free milk of your choosing. Many reviewers recommend reducing the amount of pasta, so there's a better pasta to veggies ratio, and boosting the flavor slightly by adding chicken bouillon and other spices, such as onion powder. There are so many ways to modify this recipe while still keeping your gut happy.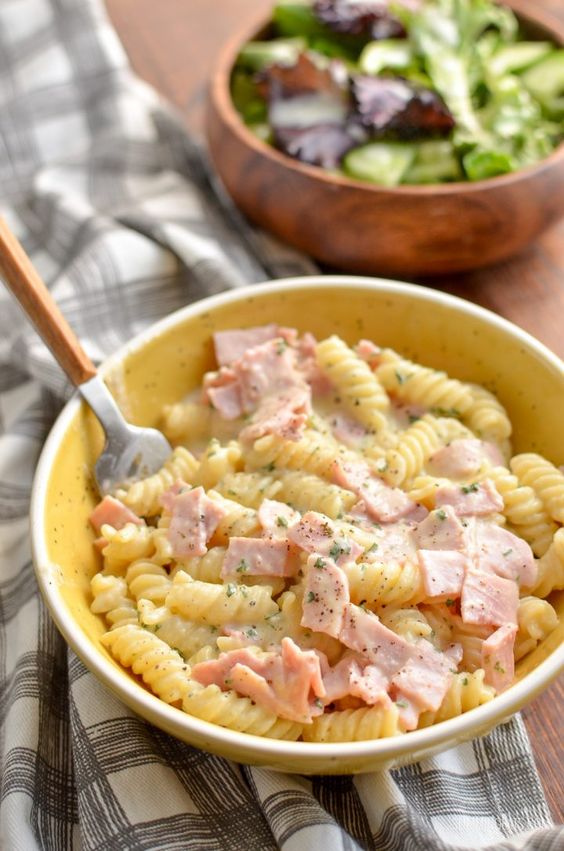 9. Creamy pasta with ham
Slimming Eat's creamy pasta with ham is so simple and satisfying, making for an easy lunch or dinner. The recipe calls for quark, which is all but impossible to find in the United States. You can use homemade quark or substitute a creamy cheese or dairy-free alternative of your choosing.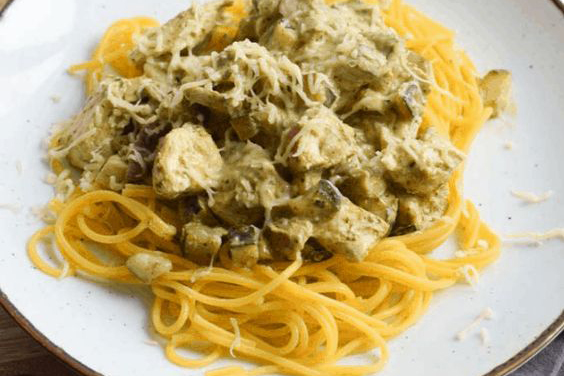 10. Pasta pesto with chicken
Karlijn's Kitchen's pasta pesto with chicken is such a classic dish and is surprisingly easy to adapt for acid reflux sufferers. I recommend making your own pesto with garlic-infused olive oil and no lemon juice.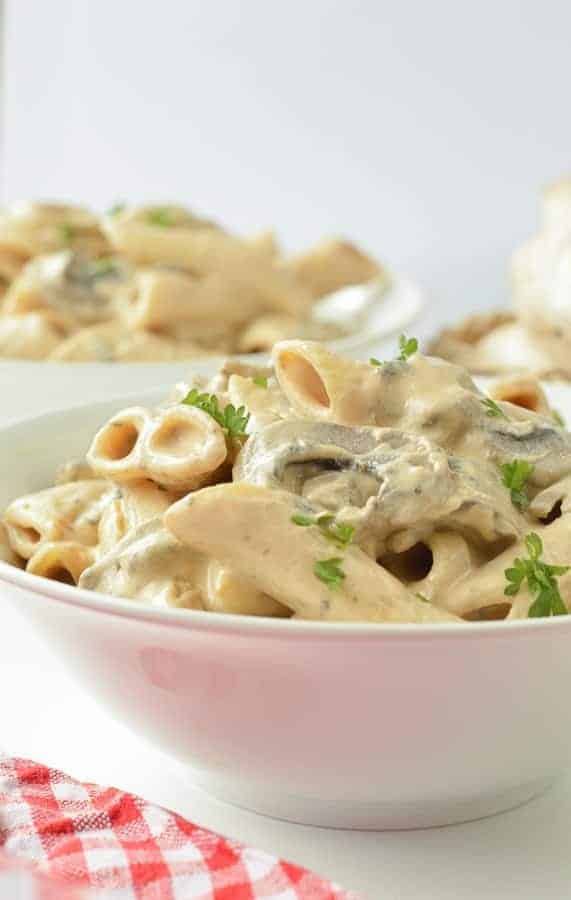 11. Creamy mushroom pasta
The Conscious Plant Kitchen's creamy mushroom pasta has all of the decadence of traditional creamy pasta without dairy. It features a vegan cashew cream sauce, which is so easy to make. The only adaptation that you'll need to make here is omitting the lemon juice from the sauce.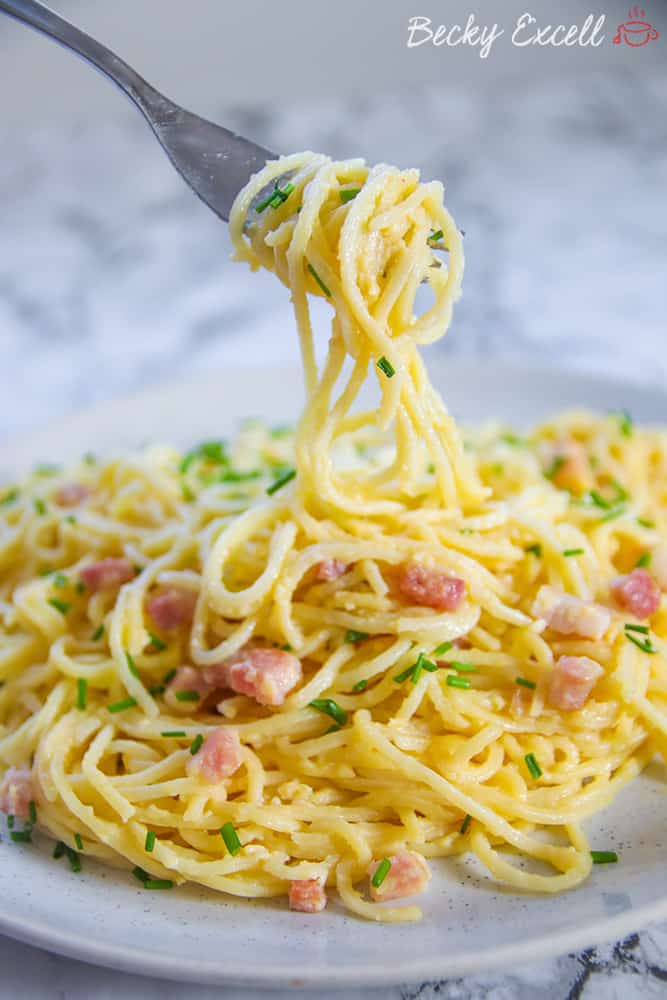 12. Spaghetti carbonara
Once you've made spaghetti carbonara at home, you'll be shocked at how easy it is to create a restaurant-worthy version right in your own kitchen. Gluten-Free Cup of Tea's spaghetti carbonara is everything that you want in this classic dish. You can substitute dairy-free Parmesan if needed.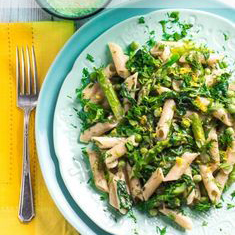 13. Pasta primavera
FODMAP Everyday's pasta primavera is made in one pan and loaded with vegetables and fresh herbs. It's such an easy recipe to customize with vegetables that are in season right now or simply what you have on hand at any given time. Omit the lemon juice if it's a trigger for you.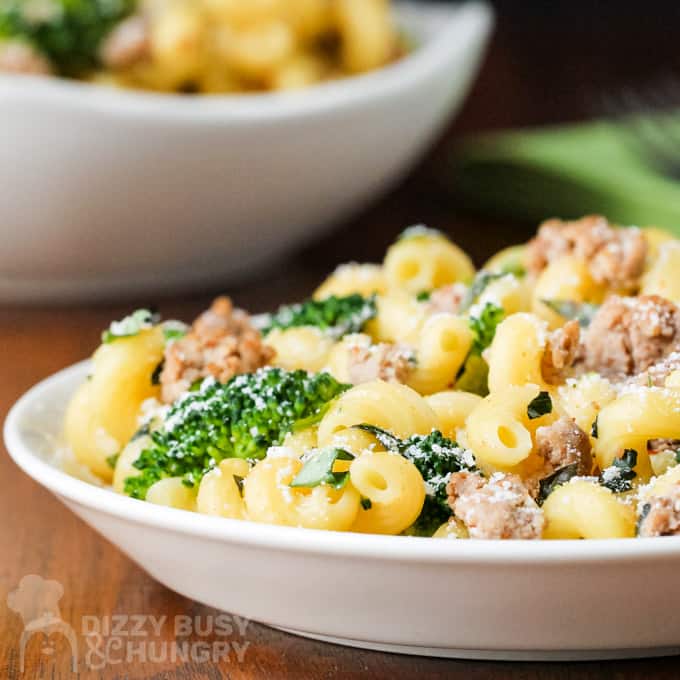 14. Ground turkey skillet pasta
Dizzy, Busy, and Hungry's ground turkey skillet pasta is one of those easy weeknight dinners that you'll turn to time and time again because it's so simple and the whole family loves it. Any ground meat works well here. Swap in dairy-free Parmesan if needed.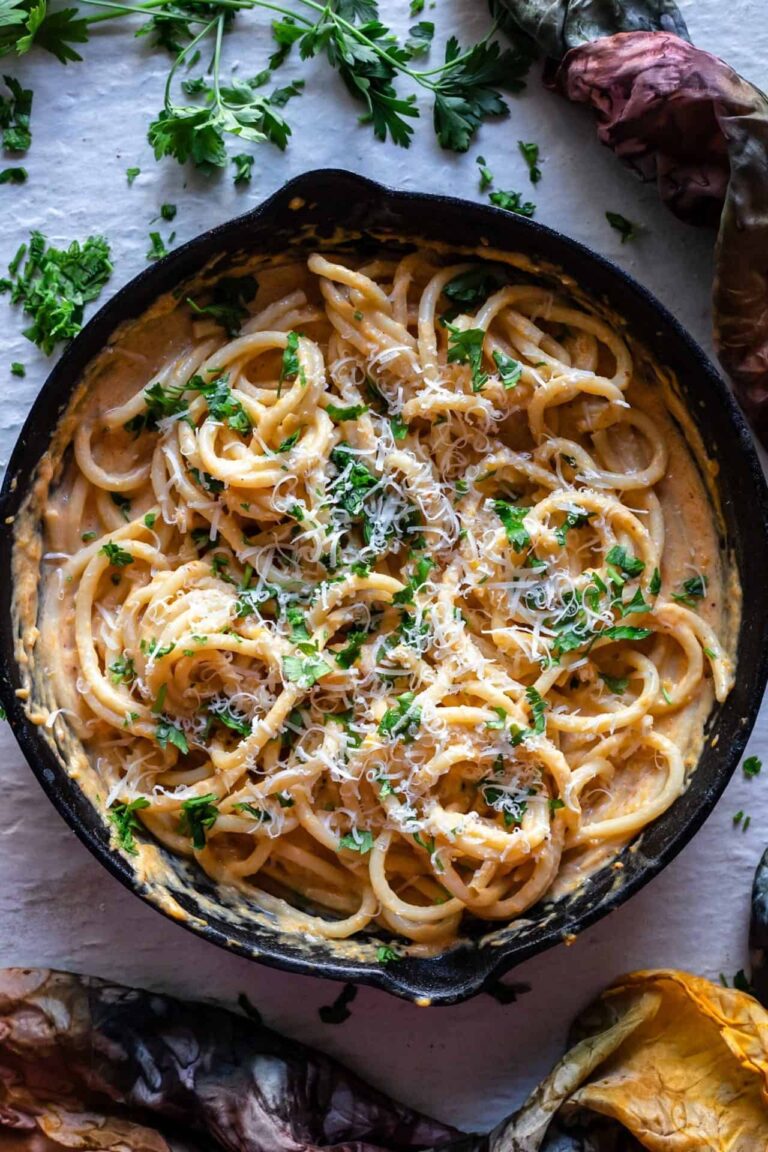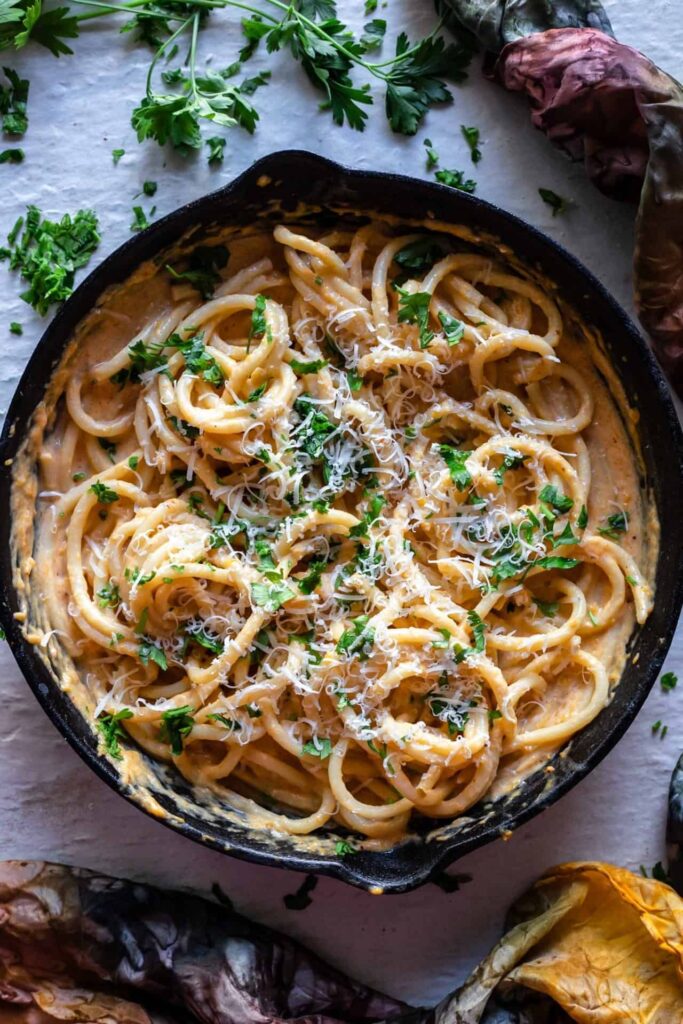 15. Pumpkin pasta
Pumpkin pasta is another ideal fall comfort food. Gluten-Free Stories' pumpkin pasta is just nine ingredients and takes only 15 minutes to make. Swap in garlic-infused olive oil and lactose-free dairy products as needed.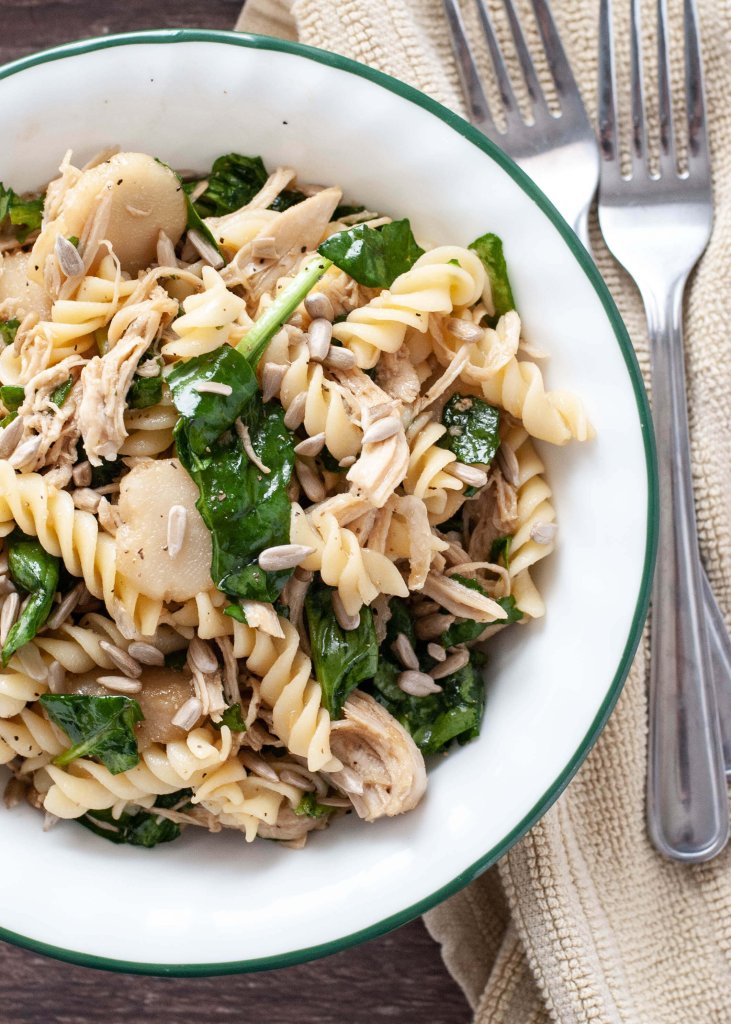 16. Asian pasta and spinach salad
Allergy Awesomeness's Asian pasta and spinach salad is a spinach salad and pasta salad all in one dish, finished with an easy Asian dressing. There is so much crunch and flavor here, and you don't need to make any adaptations.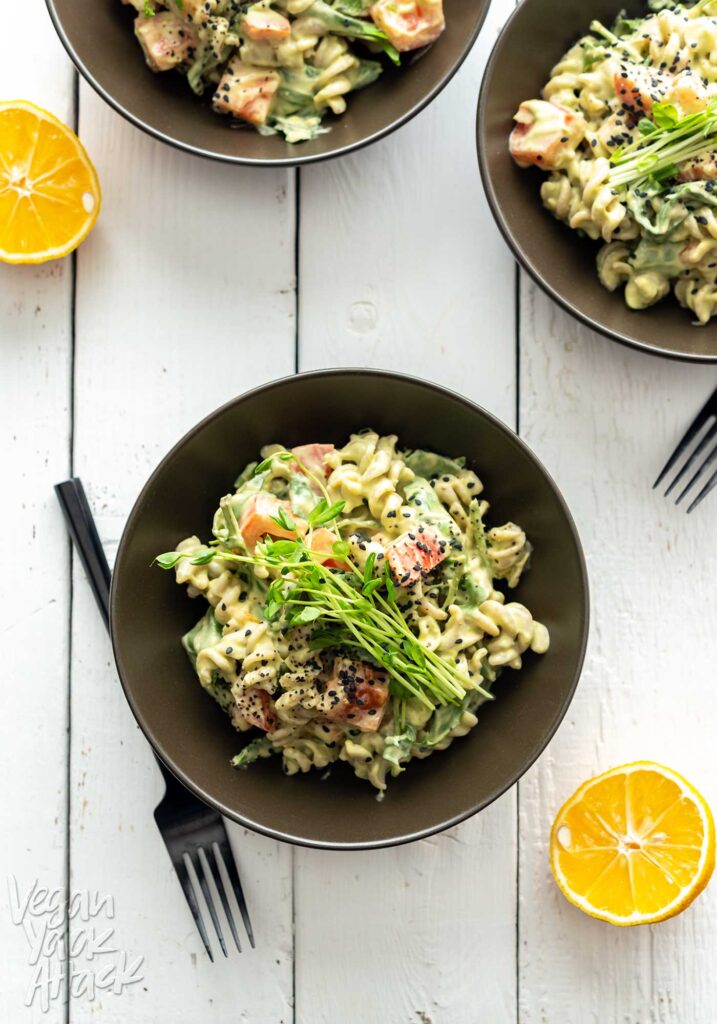 17. Avocado tahini pasta
Avocado and tahini is such a fabulous flavor pairing for creamy, healthy pasta. Vegan Yack Attack's avocado tahini pasta is so easy and flavorful. Omit the tomatoes and lemon juice.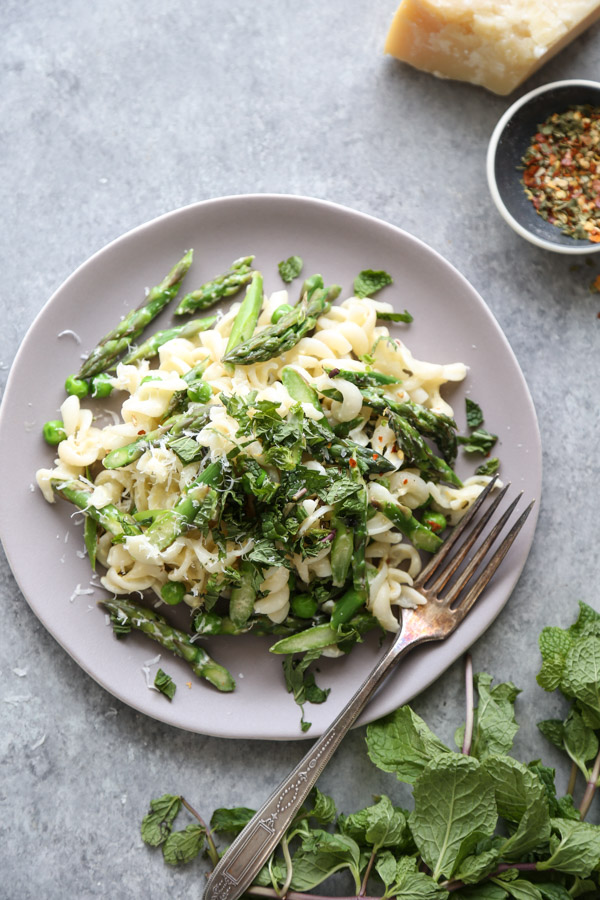 18. Carbonara pasta with yogurt, asparagus, and peas
Feed Me Phoebe's carbonara pasta with yogurt, asparagus, and peas is a lightened-up version of the classic dish loaded with vegetables. Swap in dairy-free products as needed.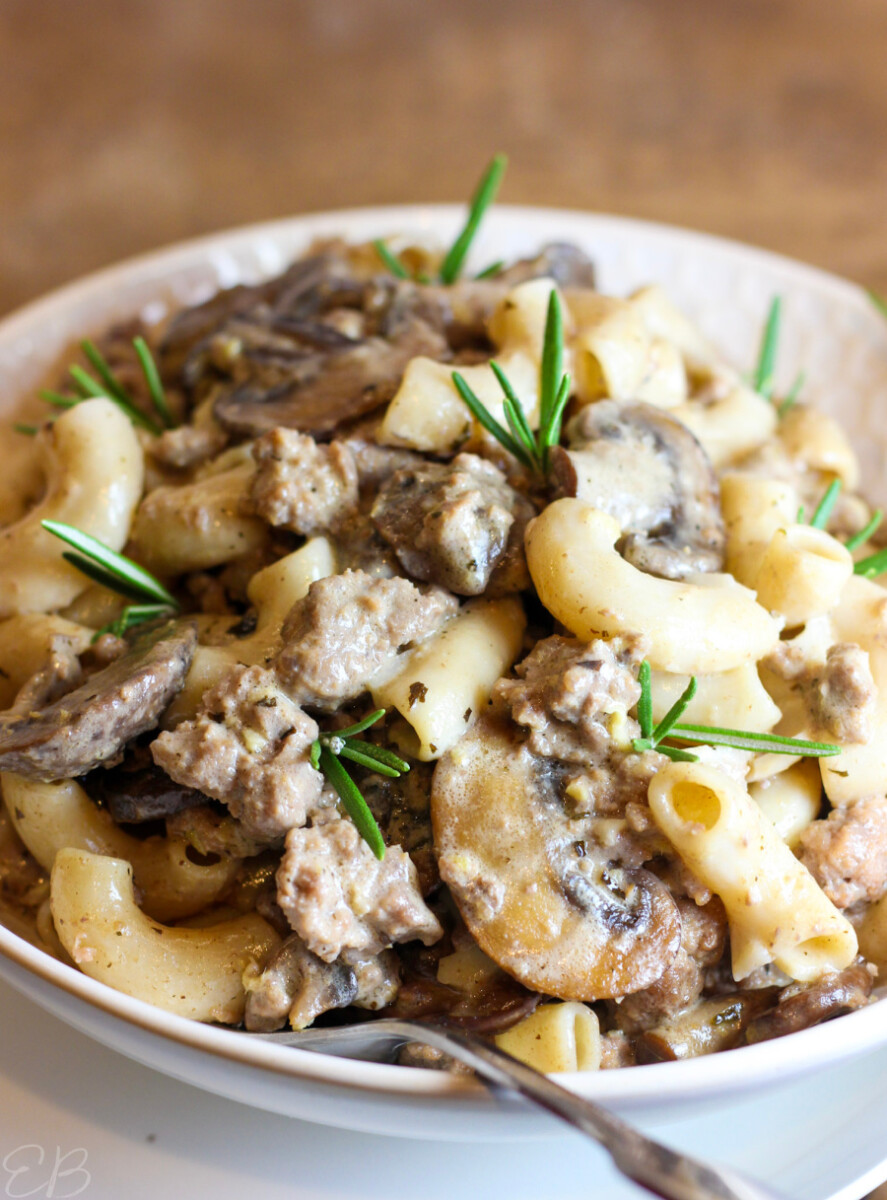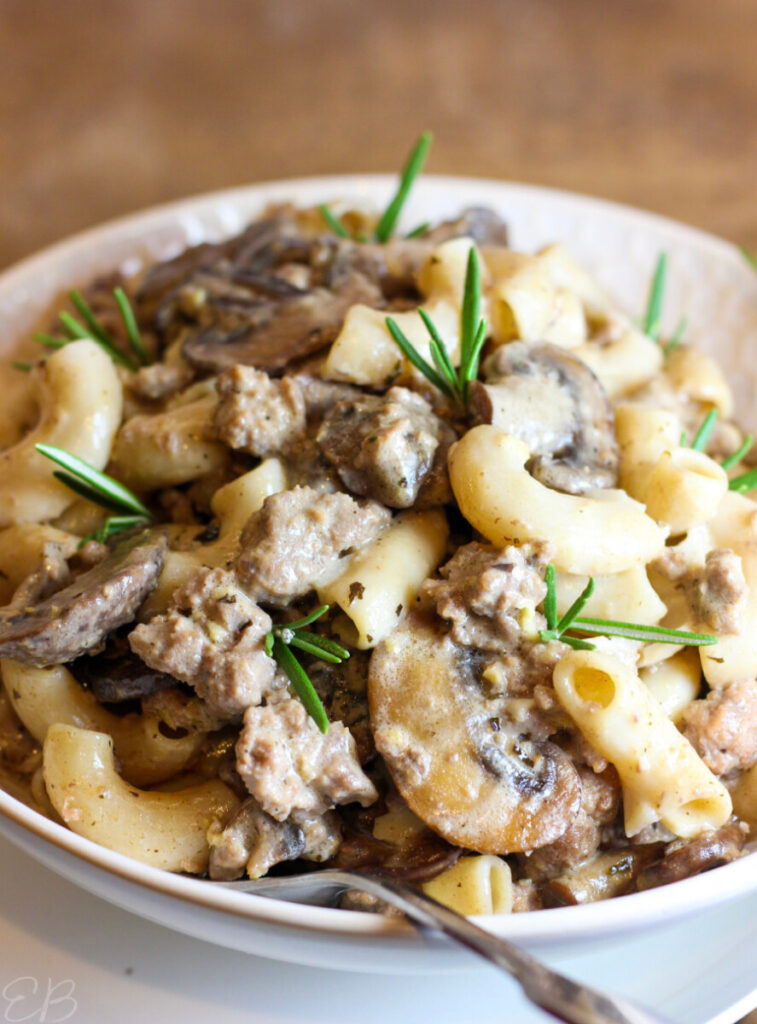 19. Hamburger macaroni
Eat Beautiful's hamburger macaroni is a one-pot meal that comes together in 30 minutes and makes great leftovers. Simply omit the garlic or substitute garlic powder. There is so much flavor in this comforting dish. You won't miss the cheese or tomatoes that you usually find in this recipe at all.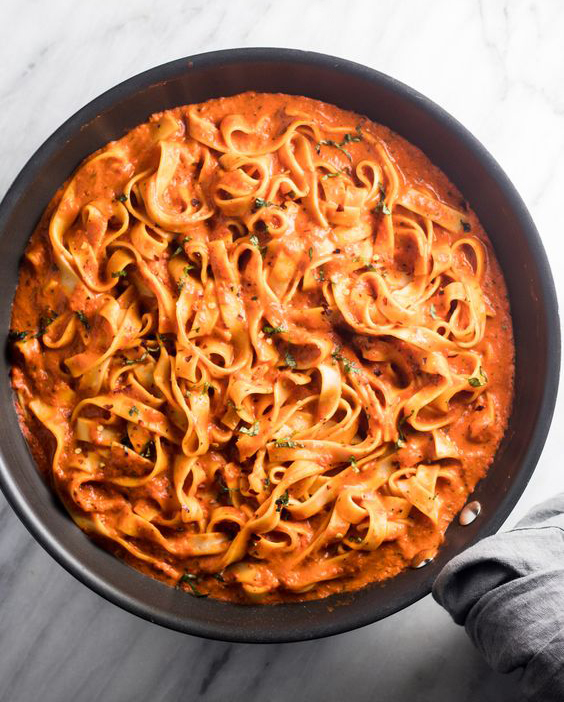 20. Roasted red pepper pasta
Fun Without FODMAPS' roasted red pepper pasta is an ideal way to enjoy pasta with a flavorful red sauce without the trigger you get from tomato sauce. The dish is great as is or can be filled out with shrimp or chicken.
[Disclaimer: There are a few affiliate links in this post. Thanks for your support!]
Pin this post for quick access to the easy acid reflux-friendly pasta recipes resource later!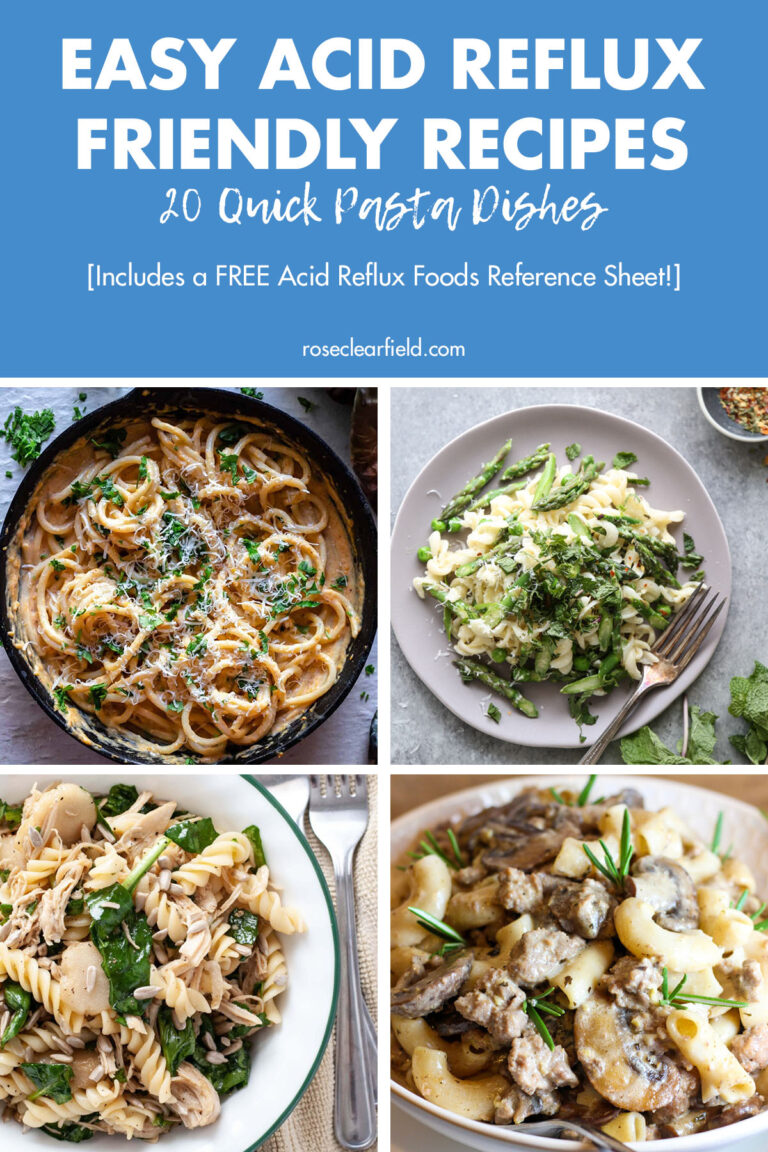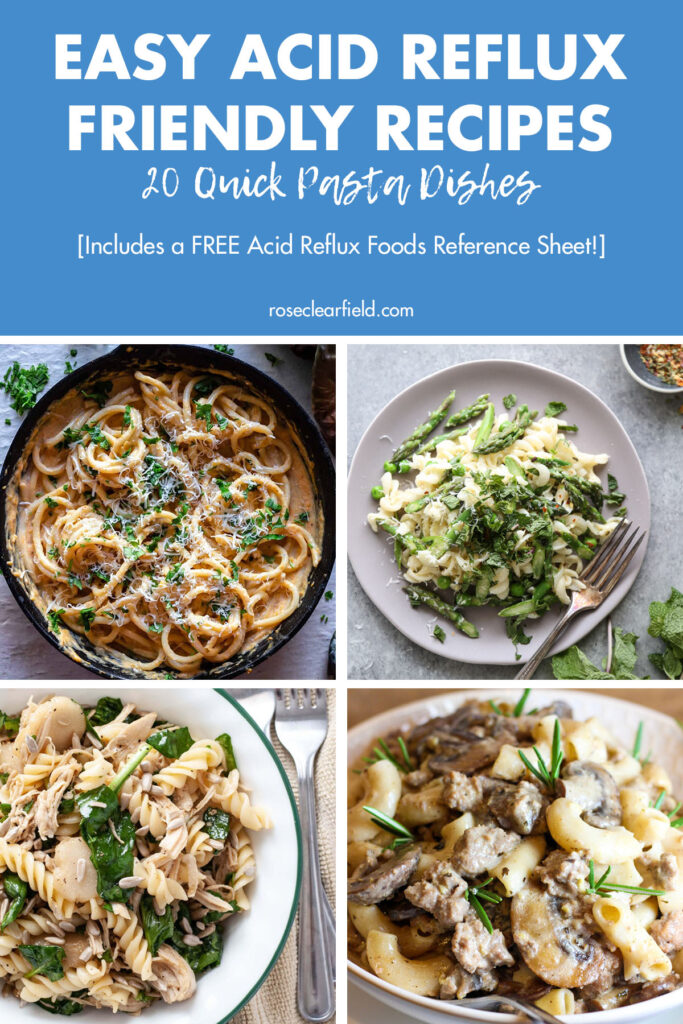 I share my best tips for eating chocolate with acid reflux!
More acid reflux-friendly recipes: