Easy healthy acid reflux-friendly dinner ideas will help you plan quick weeknight menus that are nutritious and don't trigger GERD symptoms.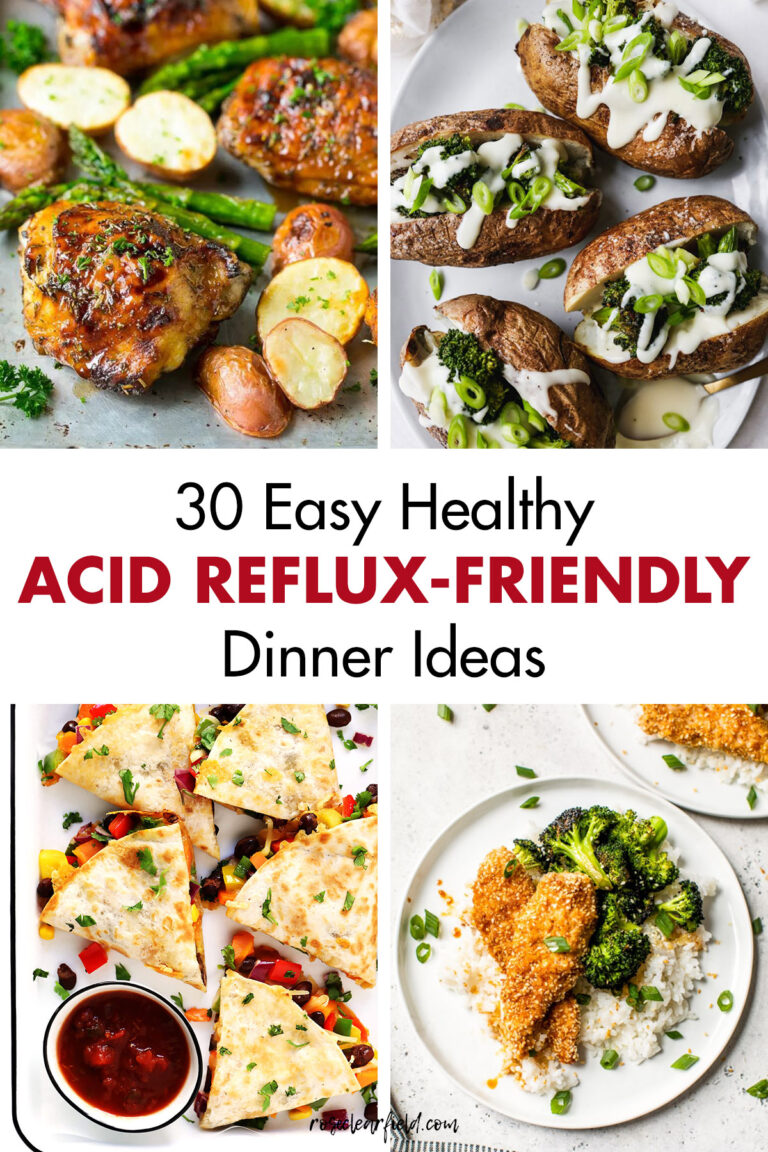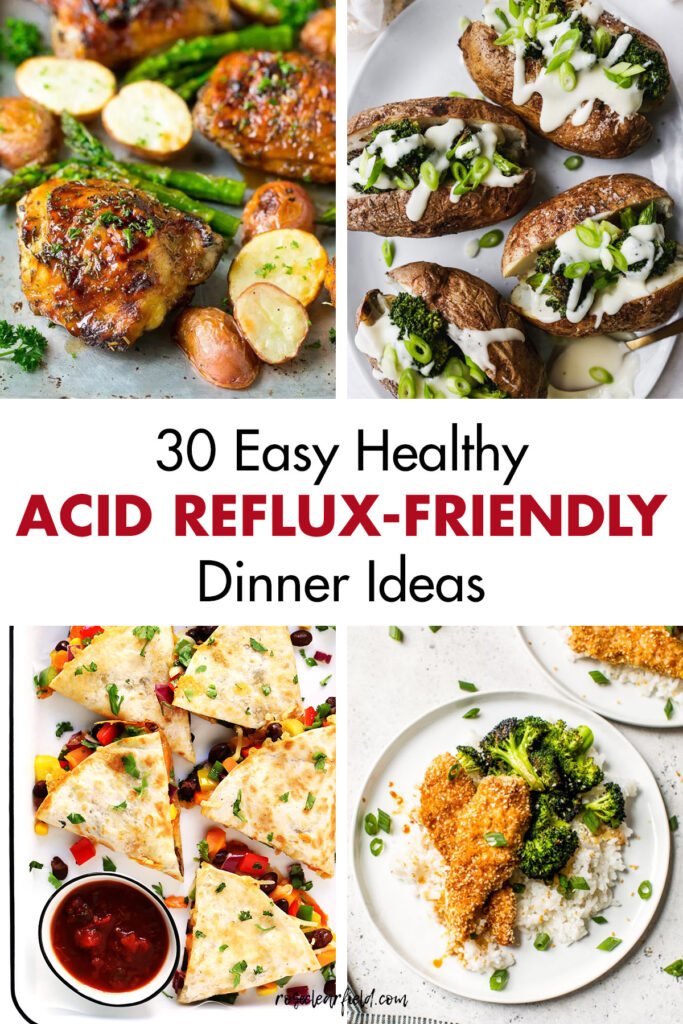 When you're faced with a new medical diagnosis related to diet, it's easy to focus on all of the foods you can't eat. Having to adjust to a new diet is a struggle, even when you know that it's for the best. Coming up with a rotation of acid reflux-friendly meals that you love will make it easier to stick to a diet that makes you feel great.
Disclaimer: I am not a physician. I've had acid reflux my entire life and have been actively treating it through medication, diet, and lifestyle changes my entire adult life. I cite a handful of medical resources in this article. All other information pertaining to acid reflux is based on my own personal experience. Please consult a physician if you have questions about your diet or any other aspect of your GERD treatment.
The best and worst foods for acid reflux
As I compiled acid reflux-friendly dinner ideas, I focused on the best foods for GERD symptoms, taking care to avoid the most common triggers as much as possible.
The best foods for soothing acid reflux symptoms include green vegetables, root vegetables, lean meats and seafood, whole grains, eggs, healthy fats, non-citrus fruits, ginger, fennel, and herbal tea.
The most common triggers for acid reflux include greasy foods, tomatoes, chocolate, citrus fruits, spicy foods, mint, caffeine, alcohol, and carbonated beverages.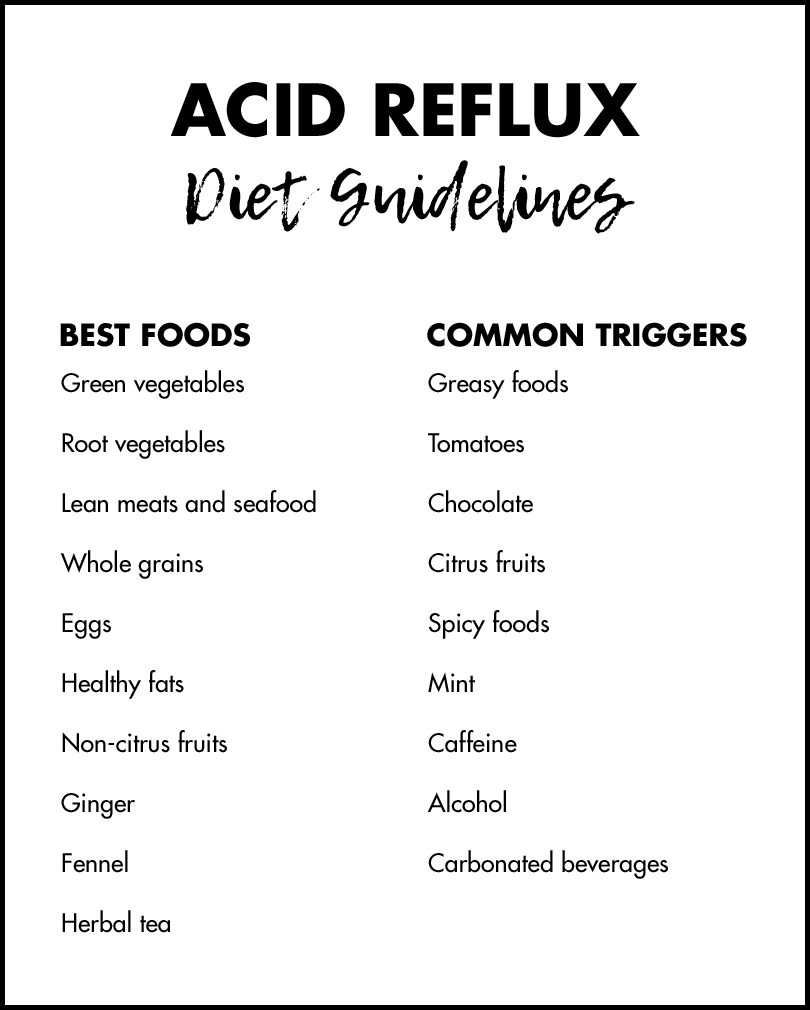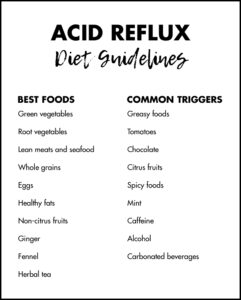 I've put together a free printable reference with the best and worst foods for acid reflux. Keep it handy in the kitchen to help you plan meals and combat reflux flares.
[Download your FREE printable acid reflux foods reference sheet!]
Eating-related tips to further help reduce symptoms
Developing an acid reflux-friendly diet will go a long way toward eliminating your GERD symptoms. Most likely you'll have the greatest success with keeping symptoms at bay when you combine an acid reflux-friendly diet with the following eating tips.
Eat smaller meals
Eat slowly
Wait at least two hours to lie down after eating
Avoid eating at least two or three hours before going to bed
Avoid alcohol and caffeine, particularly in the evening
Other lifestyle tips to reduce symptoms
The following additional lifestyle tips will help you further reduce acid reflux symptoms.
Take an antacid
Avoid tight clothing and high-waisted pants, skirts, and dresses
Add an extra pillow to your bed to help eliminate symptoms while sleeping
Maintain a healthy weight
Steer clear of mint- and peppermint-flavored gum
Stop smoking
The importance of keeping a food diary
For many people, there are a handful of foods and lifestyle changes that will make a significant difference in their overall gut health. When you're able to identify these triggers and eliminate them effectively, you don't have to go full force on other elements of acid reflux management. For example, if your biggest food triggers are tomatoes and chocolate, don't stress as much about avoiding citrus fruits and spicy foods.
Keep a food diary for at least a week, tracking the following information:
Foods you eat
Time of day you eat
Symptoms you experience
This information will help you make key adjustments to your diet and eating schedule for better acid reflux management.
[Acid reflux sources – 1 | 2 | 3]
Easy healthy acid reflux-friendly dinner ideas
Please note: Most acid reflux food resources will tell you to steer clear of garlic and onions. It's really difficult to find easy healthy dinner recipes without one or both of these ingredients, especially garlic. I've done my best to limit them, but you'll see them pop up occasionally. If garlic and onion are triggers are for you, I recommend substituting garlic powder and onion powder. You'll get the flavor you crave without the full acid trigger of fresh garlic and onions.
When I say "easy recipe," I mean a recipe that comes together quickly (under one hour) with common ingredients. If you don't already have the ingredients on hand, you'll be able to find them at most grocery stores or online. If recipes take more than one hour, I promise you'll be able to do at least part of the prep (i.e., making the pizza dough, baking the spaghetti squash) ahead of time.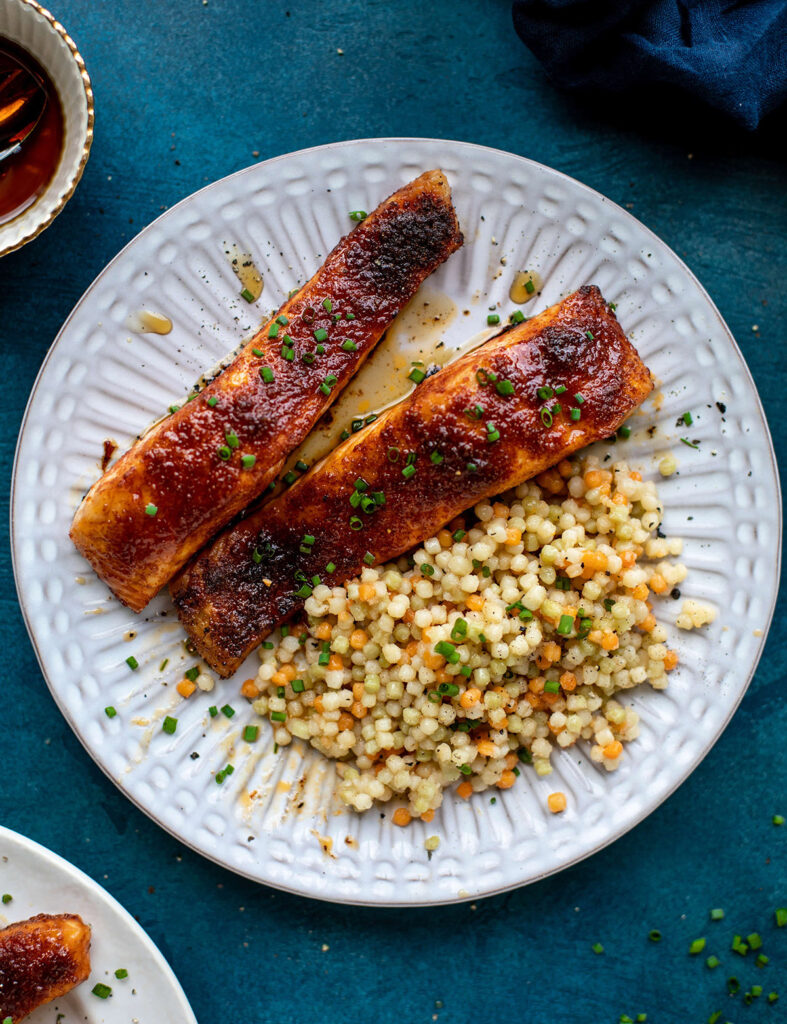 1. Maple BBQ Salmon
How Sweet Eat's maple barbecue salmon with brown butter couscous is the ideal weeknight dinner recipe. The salmon comes together quickly and is packed with flavor, and the brown butter couscous complements it perfectly. Round out the meal with roasted veggies or a green salad.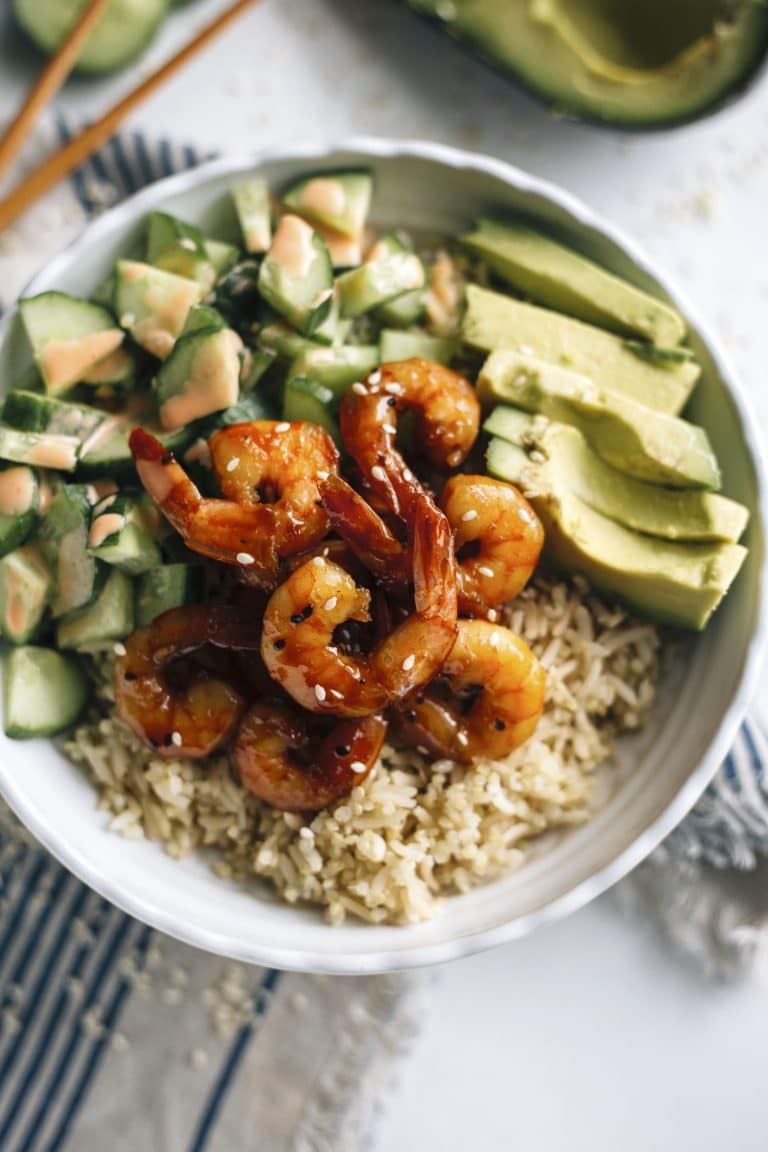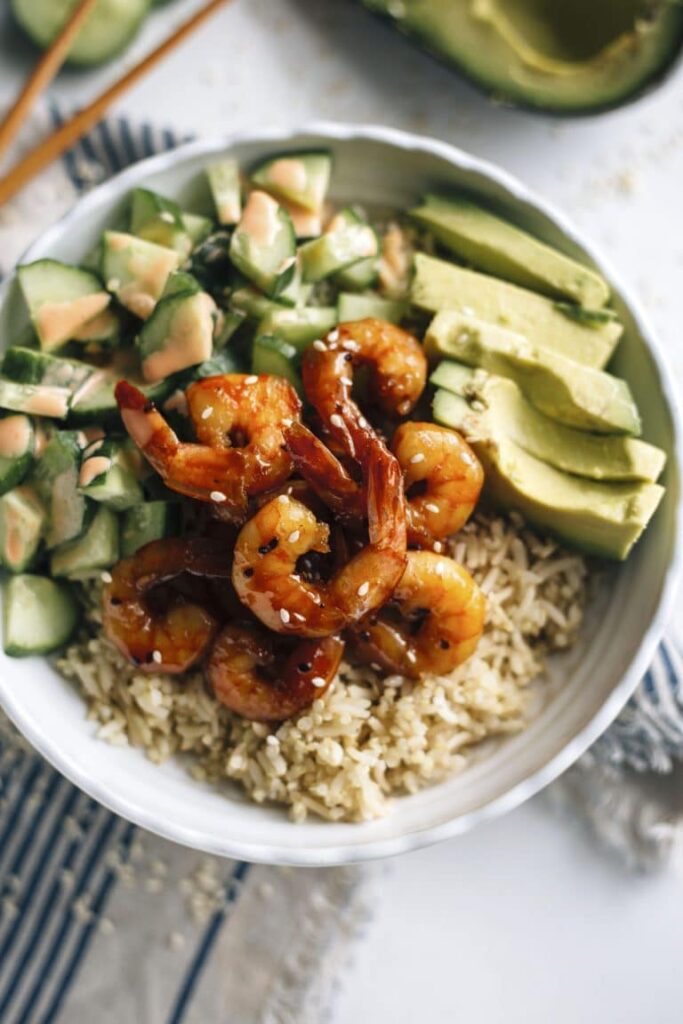 2. Teriyaki Shrimp Sushi Bowl
I'm all about better-than-takeout recipes. The Almond Eater's teriyaki shrimp sushi bowl fits the bill perfectly. Erin uses both brown rice and quinoa, which is a great combination, and definitely elevates the restaurant-like quality of the recipe. One or the other on its own works well, too. If you don't want the sauce to be spicy, simply decrease the amount of sriracha.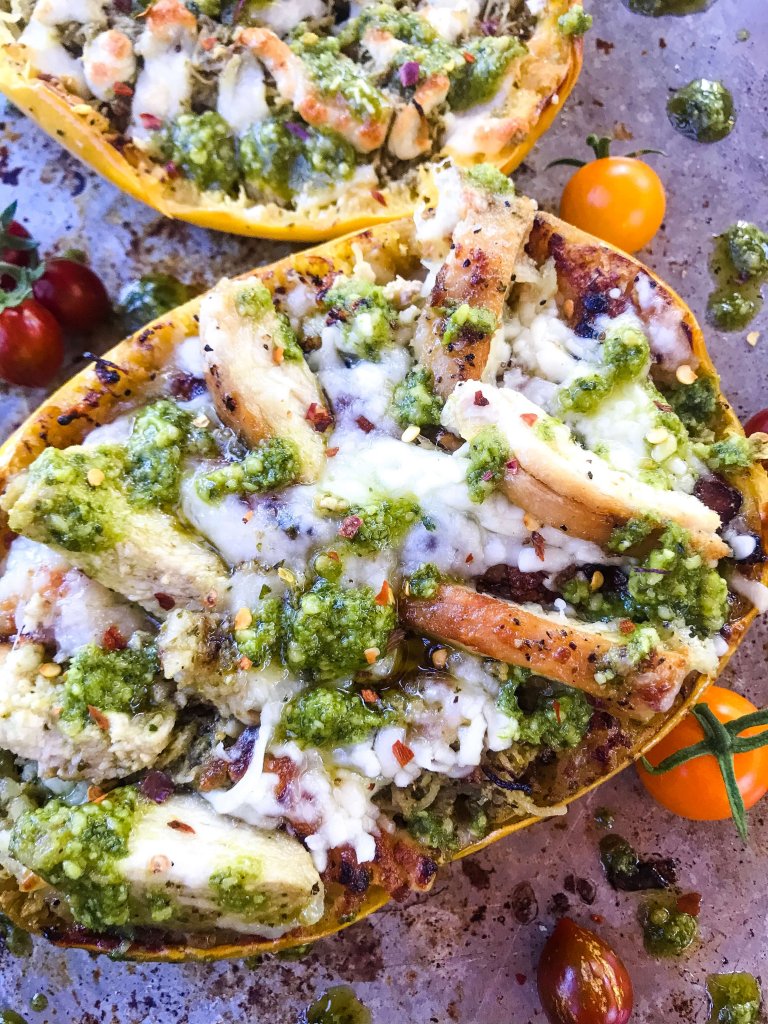 3. Cheesy Chicken Pesto Spaghetti Squash
Chicken, pesto, and cheese is one of the all-time best flavor combinations. Pairing it with spaghetti squash for Three Olives Branch's cheesy chicken pesto spaghetti squash is the perfect way to make it a healthy, low-carb dish. For this type of recipe, I make the chicken ahead of time in the slow cooker, so dinner comes together quickly when you're ready to eat.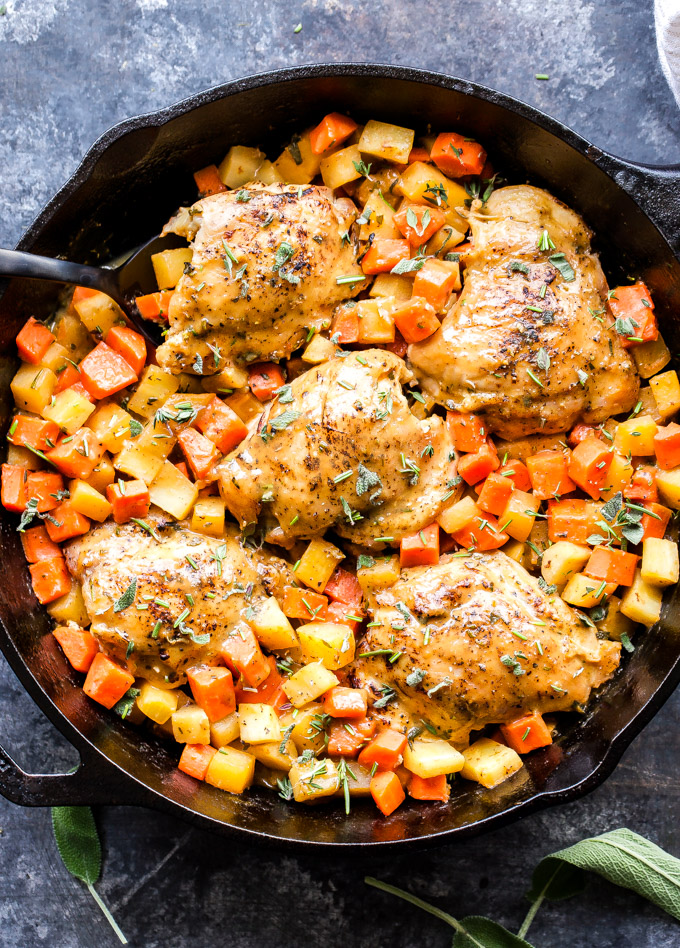 4. Apricot Chicken Thighs with Root Vegetables
I'm one of those annoying people who doesn't love super sweet desserts but does love sweet savory dishes. Recipe Runner's apricot chicken thighs with root vegetables is right up my alley. I love root vegetables, but green vegetables or even cauliflower is perfect for this recipe, too.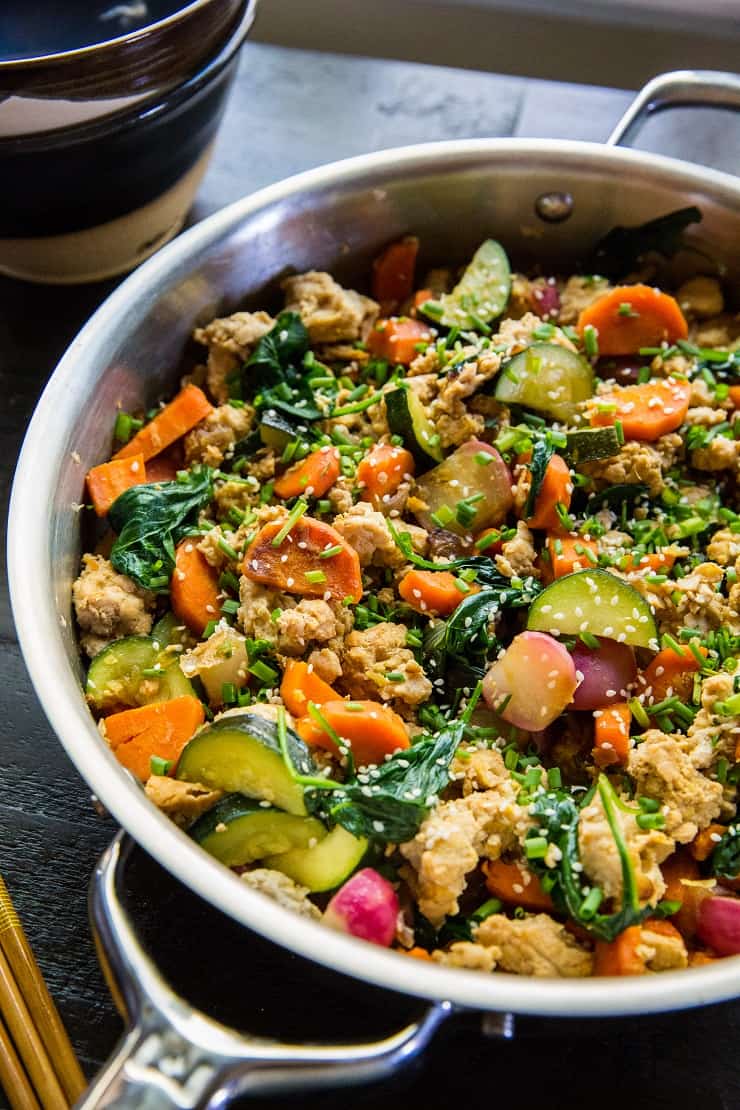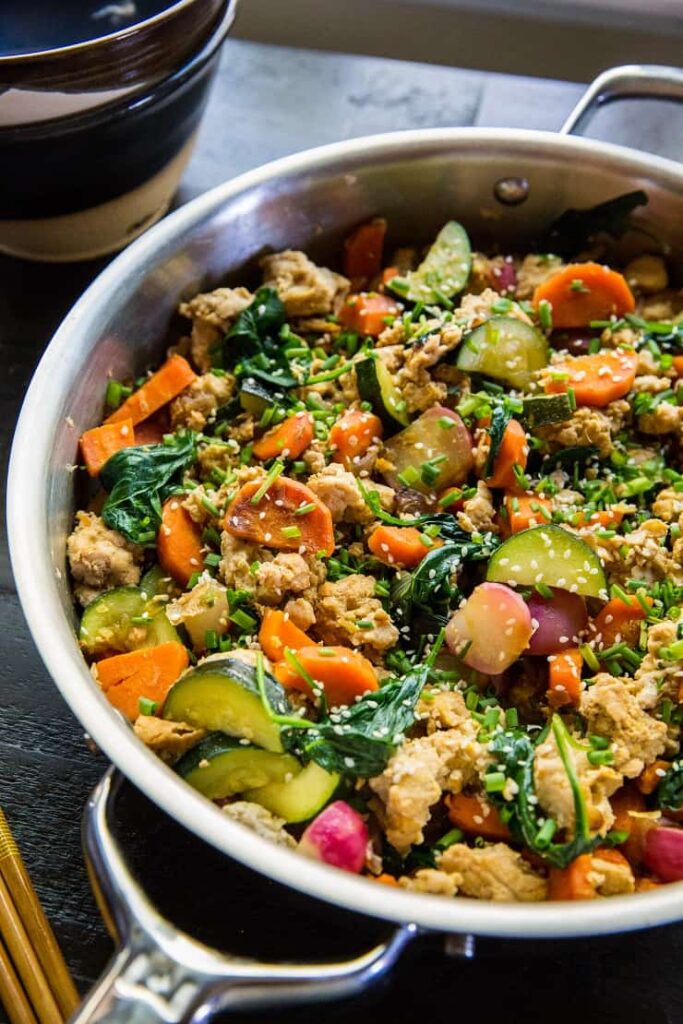 5. Teriyaki Turkey Skillet with Vegetables
Teriyaki is a bit of a theme among acid reflux-friendly dinner ideas. You get a ton of flavor without straight garlic or onion. The Roasted Root's teriyaki ground turkey skillet with vegetables comes together quickly and fits a number of popular diets. It works great with ground chicken as well.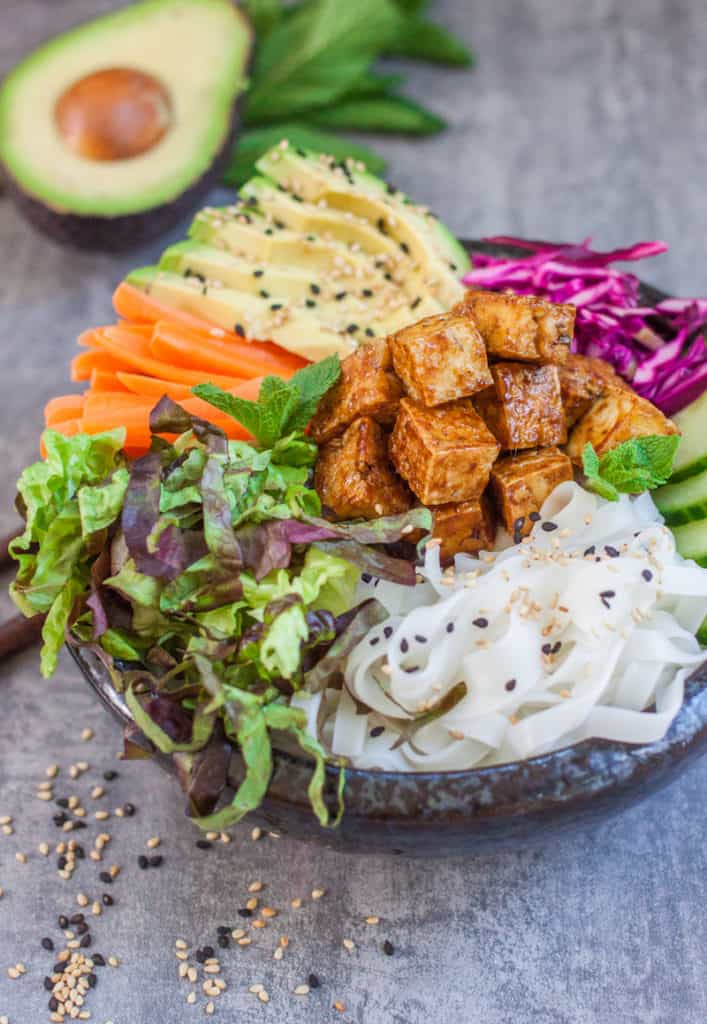 6. Banh Mi Bowls with Sticky Tofu
Choosing Chia's banh mi bowls with sticky tofu are a lightened-up vegetarian version of the banh mi sandwiches that we all love so much. You can easily swap in the meat of your choice for the tofu.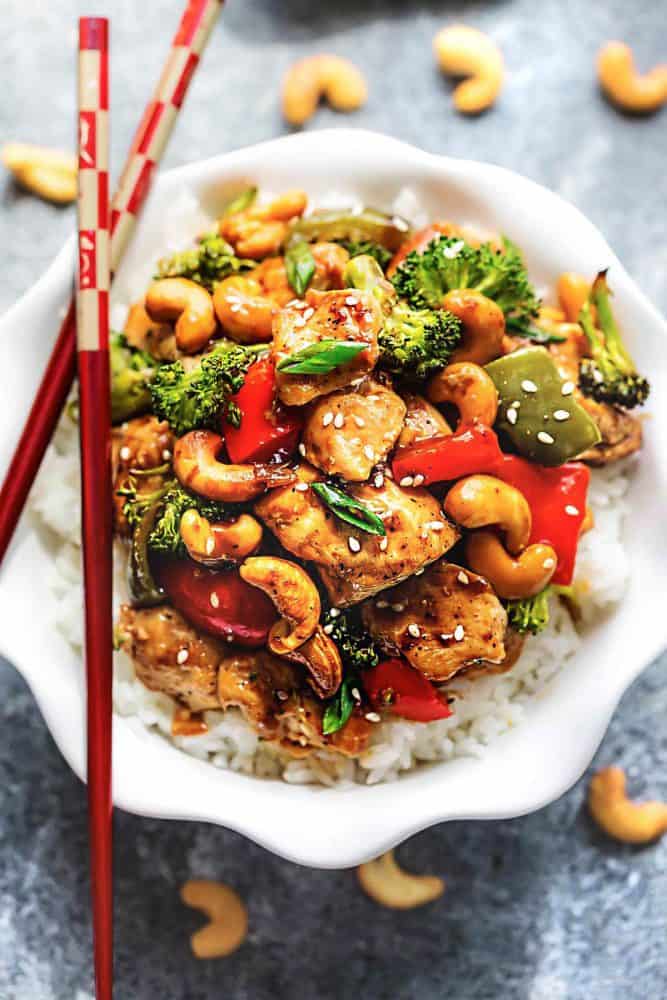 7. Sheet Pan Cashew Chicken
I love the concept of sheet pan dinners, but it's tough to find ones that allow all the ingredients to cook evenly. The Recipe Critic's sheet pan cashew chicken is great because you cook the chicken a bit on its own before adding the veggies. The dish can be served over any type of grain.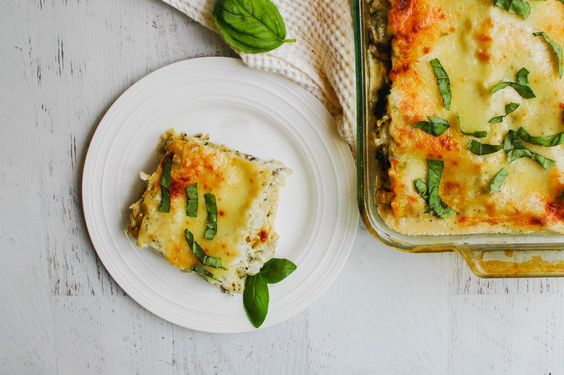 8. Roasted Vegetable Lasagna
I wanted to make sure that I found a few white sauce versions of popular Italian dishes for acid reflux sufferers looking to steer clear of tomato-based recipes. For the Love of Gourmet's roasted vegetable lasagna fits the bill perfectly. You won't miss the tomato sauce at all when there's so much delicious cheese.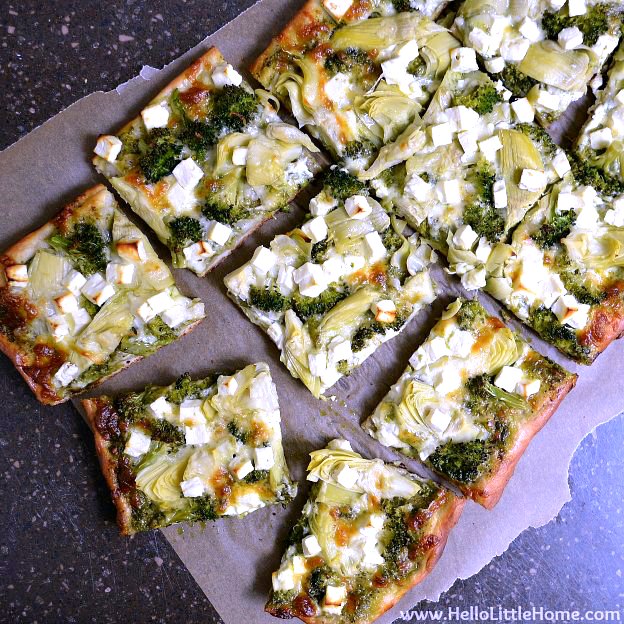 9. Green Pizza with Pesto, Feta, Artichokes, and Broccoli
I never get tired of pesto pizza. Hello Little Home's green pizza is topped with pesto, feta, artichokes, and broccoli for so much flavor and texture.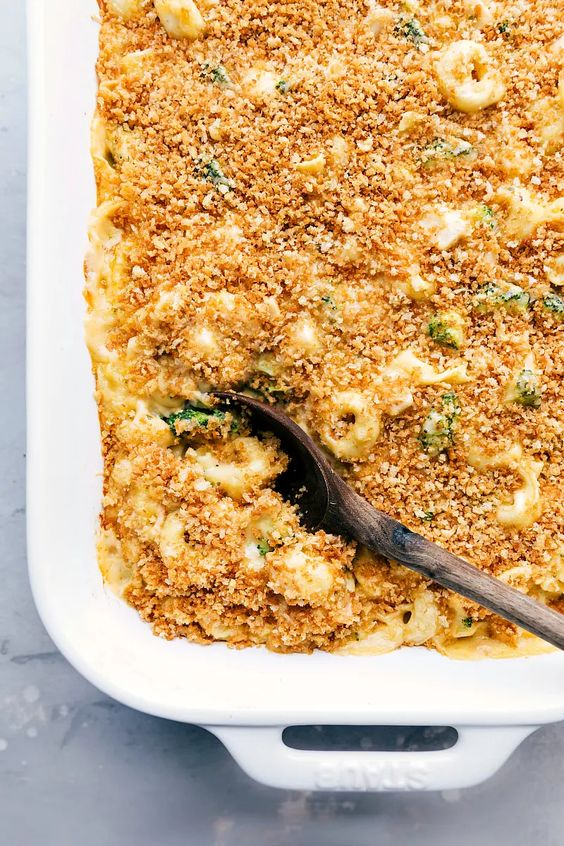 10. Chicken Tortellini with Broccoli Bake
Chelsea's Messy Apron's chicken tortellini with broccoli bake is comfort food at its best. Cheese tortellini, chicken, and broccoli come together with a cheese sauce. The baked dish is topped with more cheese and a Panko breadcrumb mixture.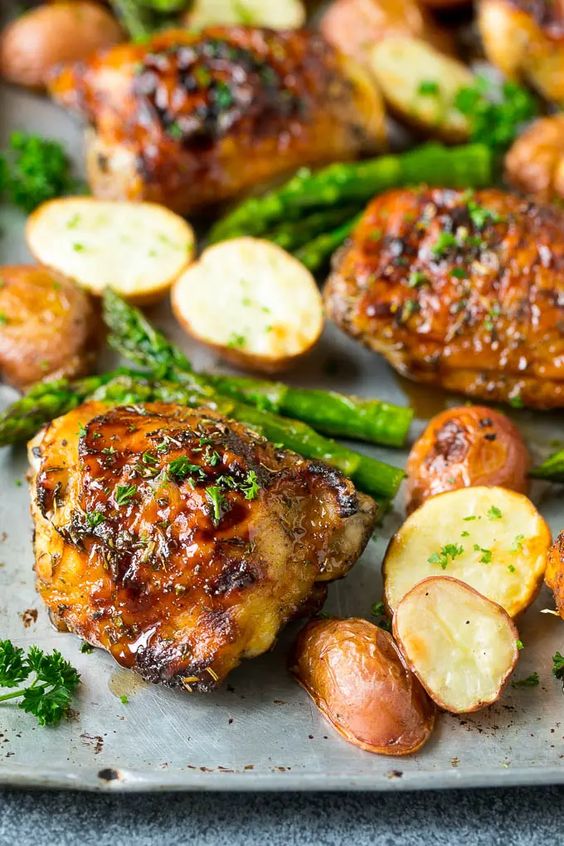 11. Balsamic Chicken
I know that I have a lot of Asian-inspired recipes here. If you're looking for an alternative to Asian sauce for a sheet pan meal, Dinner at the Zoo's balsamic chicken is a great option. This is another dinner dish where you add the veggies to the sheet pan at the end, so everything cooks evenly.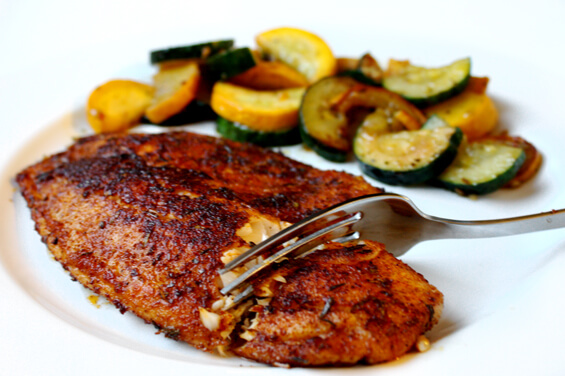 12. 10-Minute Blackened Tilapia
Gimme Some Oven's 10-minute blackened tilapia is a recipe that will quickly become a staple in your weeknight dinner rotation. Tilapia is such a versatile entree for just about any veggie or pasta side dish, and you can't beat a 10-minute prep time.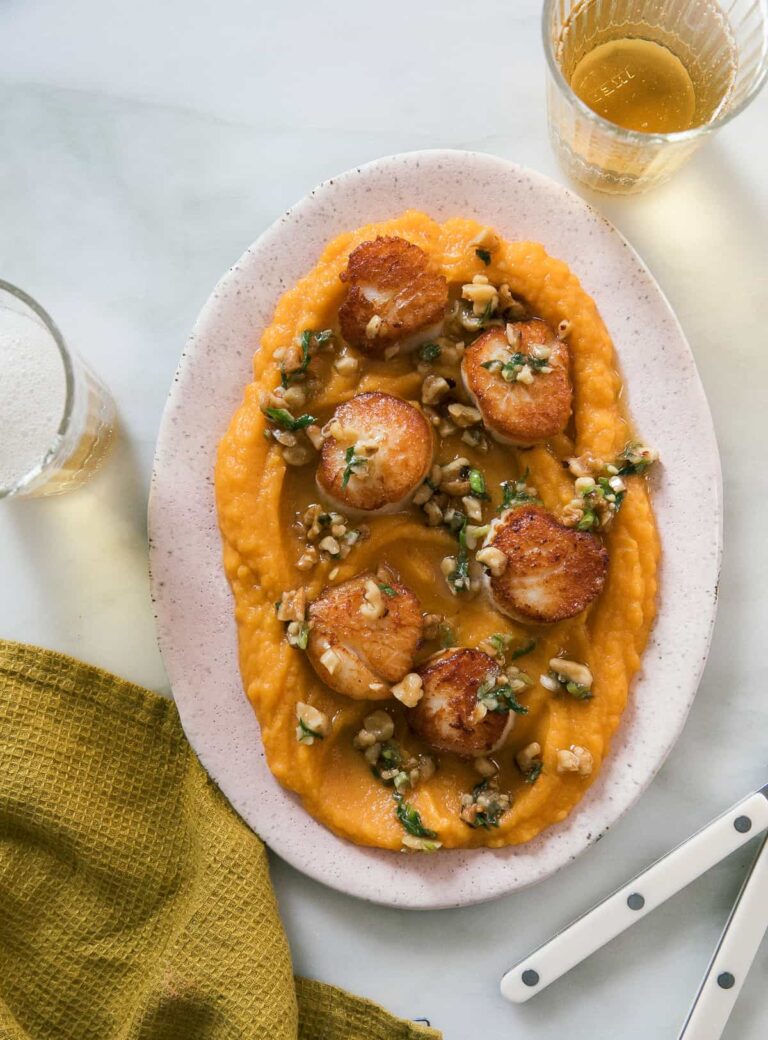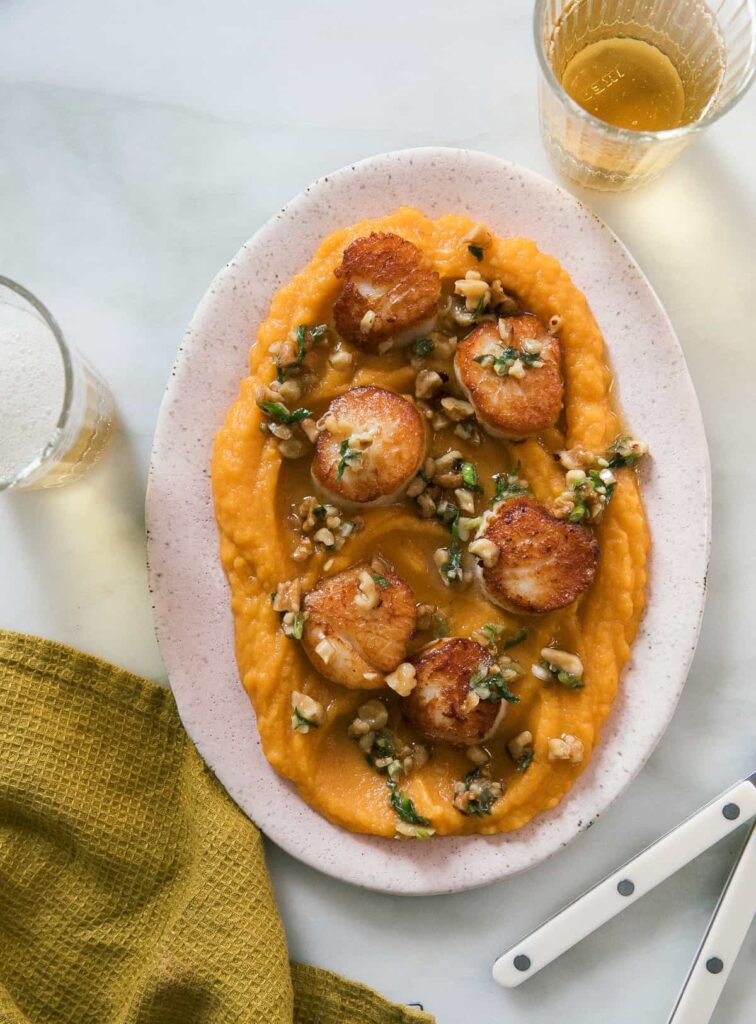 13. Seared Scallops with Acorn Squash Mash
Scallops are one of those foods I will always go for when I'm eating out at a restaurant. They're surprising easy to make at home as well. A Cozy Kitchen's seared scallops are elevated to restaurant level, thanks to the acorn squash mash, which you can prepare ahead of time.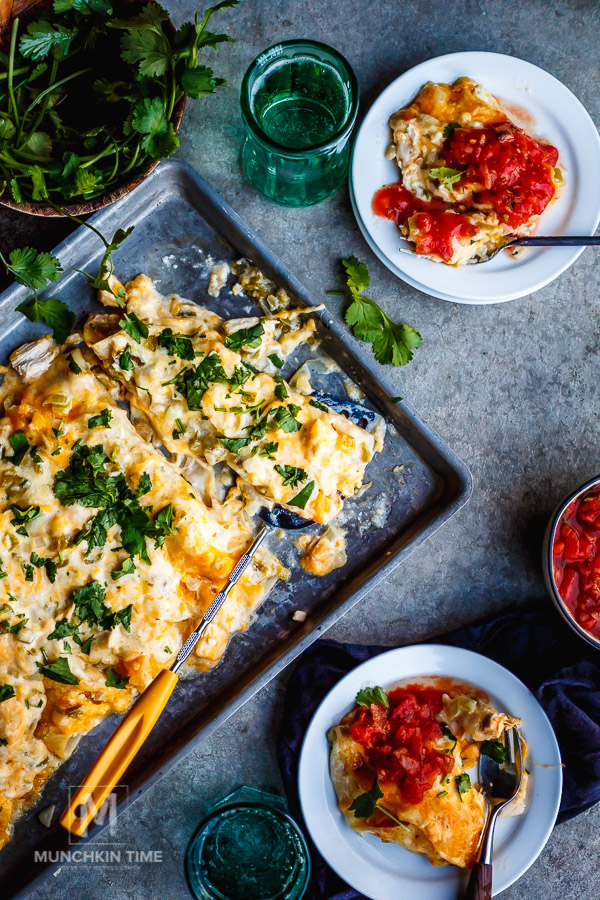 14. Creamy White Sauce Chicken Enchiladas
Enchiladas are another dish that tend to be red sauce-based, which is tough when you have acid reflux. Munchkin Time's creamy white sauce chicken enchiladas are so good, though, that you'll never want to eat another enchilada. Making salsa verde from scratch is so easy and brings the entire dish up a notch.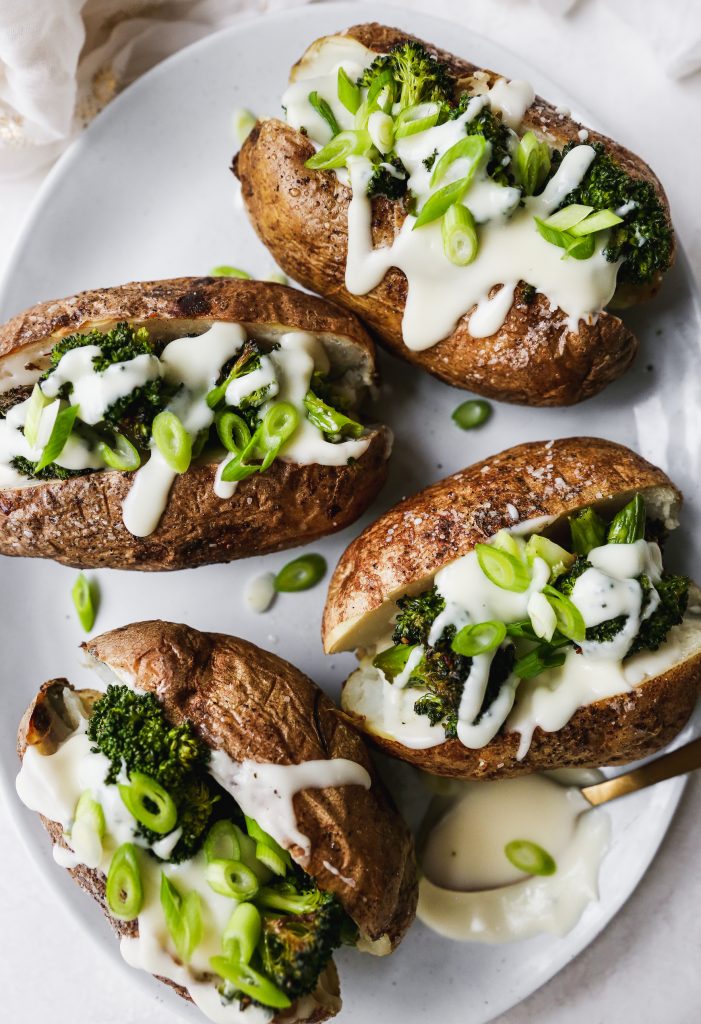 15. Cheesy Broccoli Loaded Baked Potatoes
Potatoes have a ton of health benefits and taste amazing when topped with cheese and roasted broccoli. There is so much flavor in Yes to Yolk's cheesy broccoli loaded baked potatoes. Skip the green onions if you're worried they'll trigger your reflux.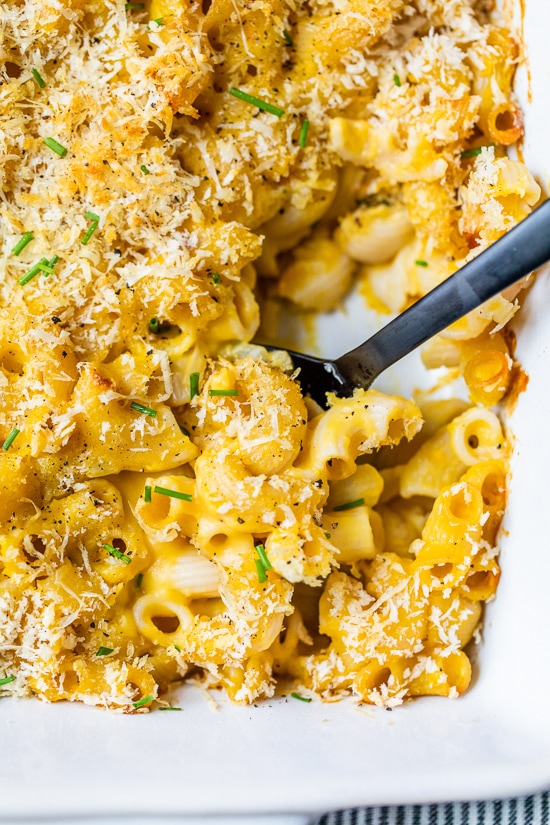 16. Butternut Squash Mac and Cheese
Adding butternut squash to macaroni and cheese is one of the easiest ways to boost the nutrition without compromising the flavor. Skinnytaste's butternut squash macaroni and cheese is about as simple as it gets, which is what you want with macaroni and cheese because there isn't anything that needs improving with this favorite dish.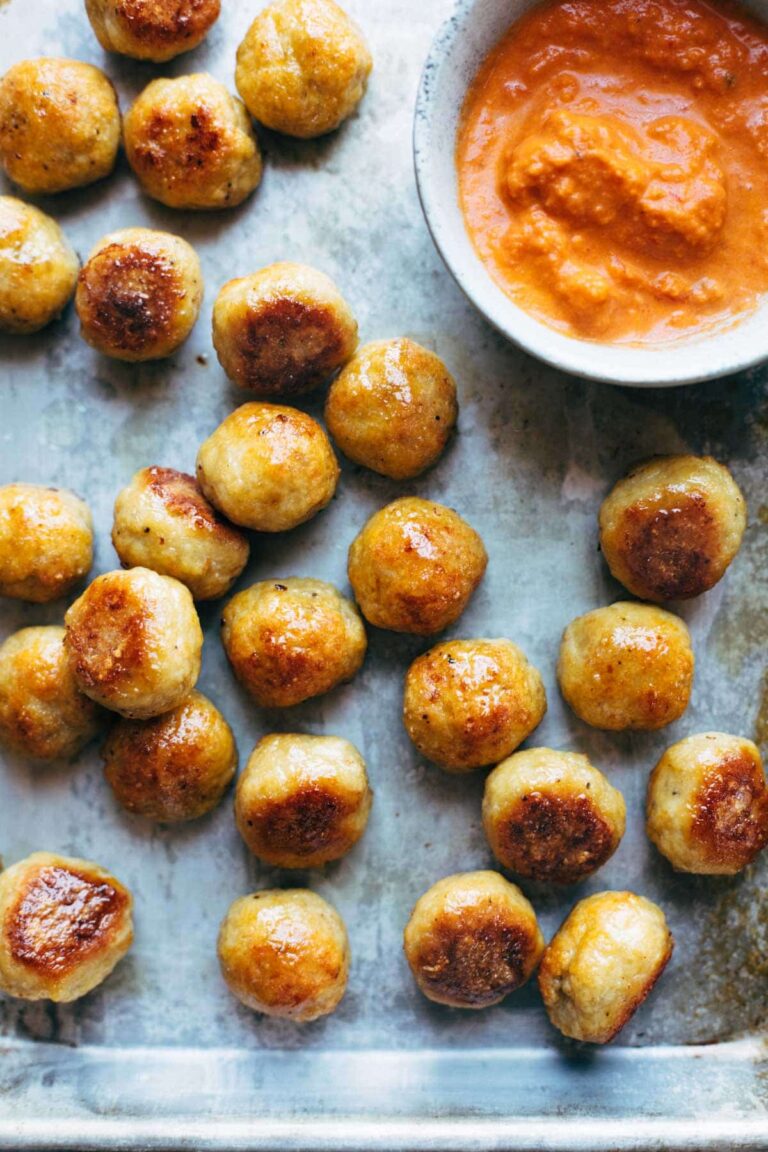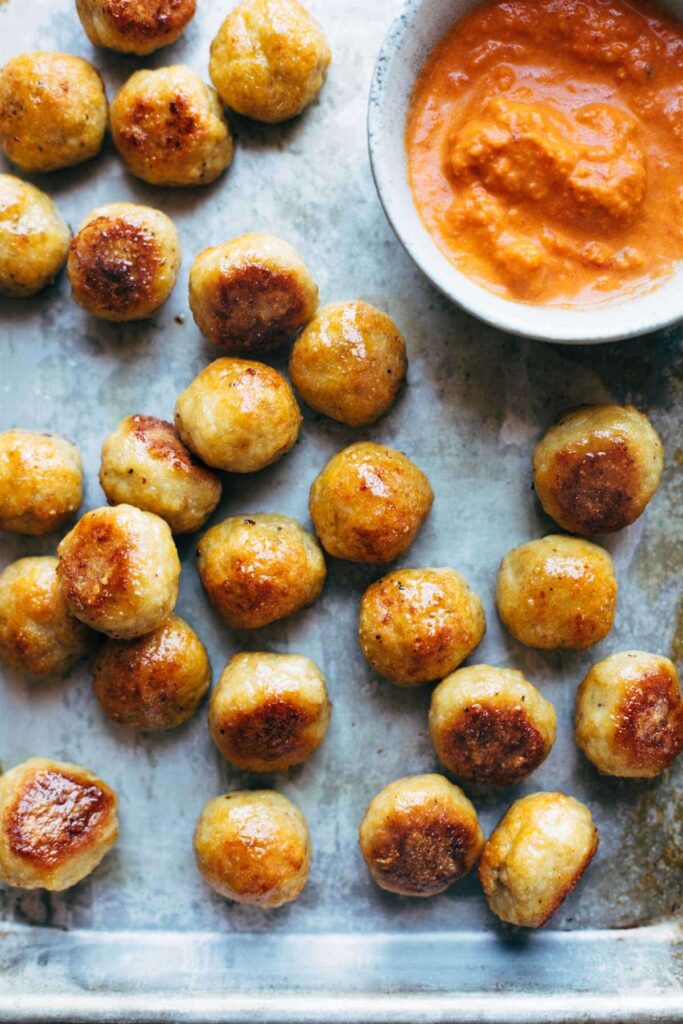 17. Baked Chicken Meatballs
Making meatballs from scratch seems intimidating until you try it. Then you'll be hooked and will start making meatballs from scratch often. I love Pinch of Yum's baked chicken meatballs recipe because it's so simple. You can customize the meal however you like with pasta, sauce, veggies, etc.
18. Summer Squash Pasta Skillet
You can never have too many pasta recipes in your life, right? How Sweet Eat's summer squash pasta skillet is an ideal weeknight dinner recipe packed with flavor and texture thanks to the brown butter, pine nuts, goat cheese, and basil.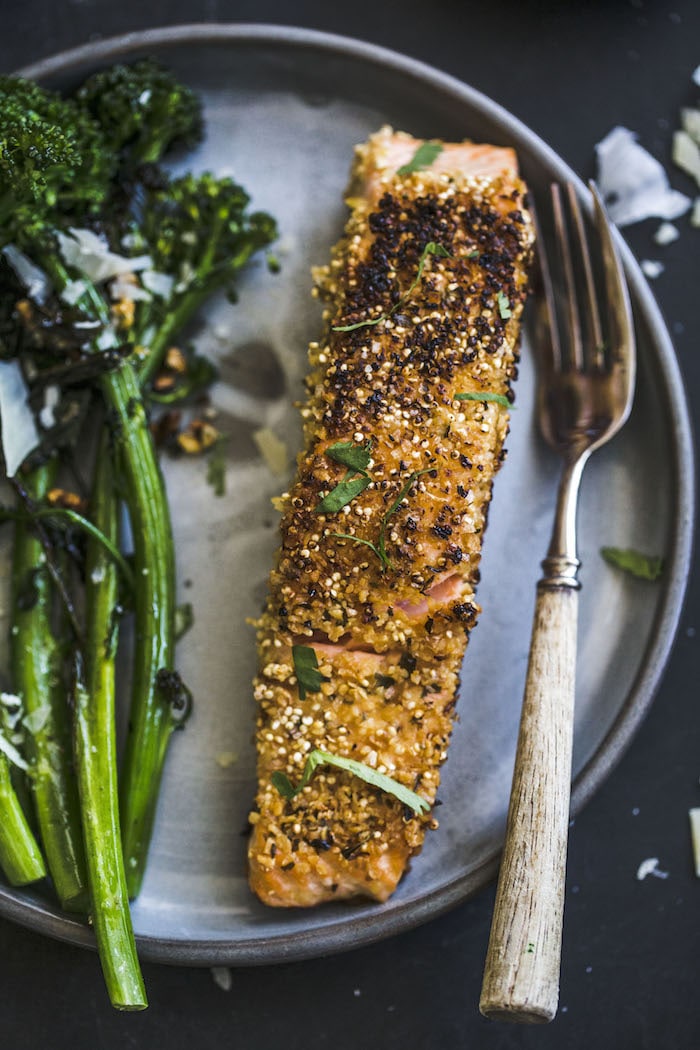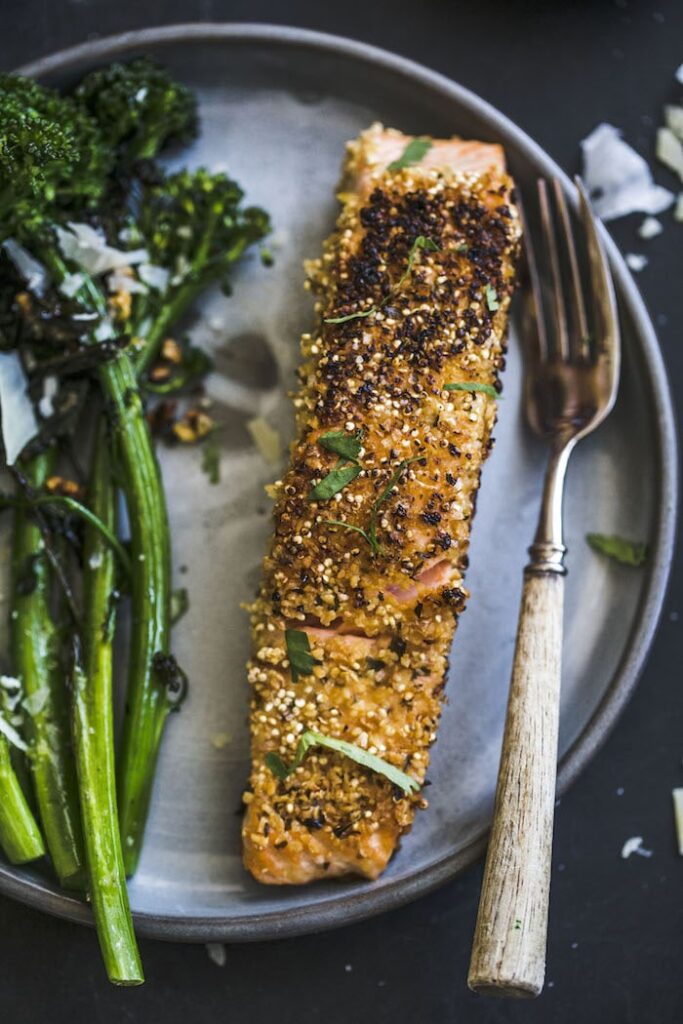 19. Quinoa Crusted Salmon
I love The Almond Eater's quinoa crusted salmon, which has quinoa right in the coating for added texture and nutrition. Most likely you already have everything you need to make this recipe right now. Serve it with a green salad or roasted veggies.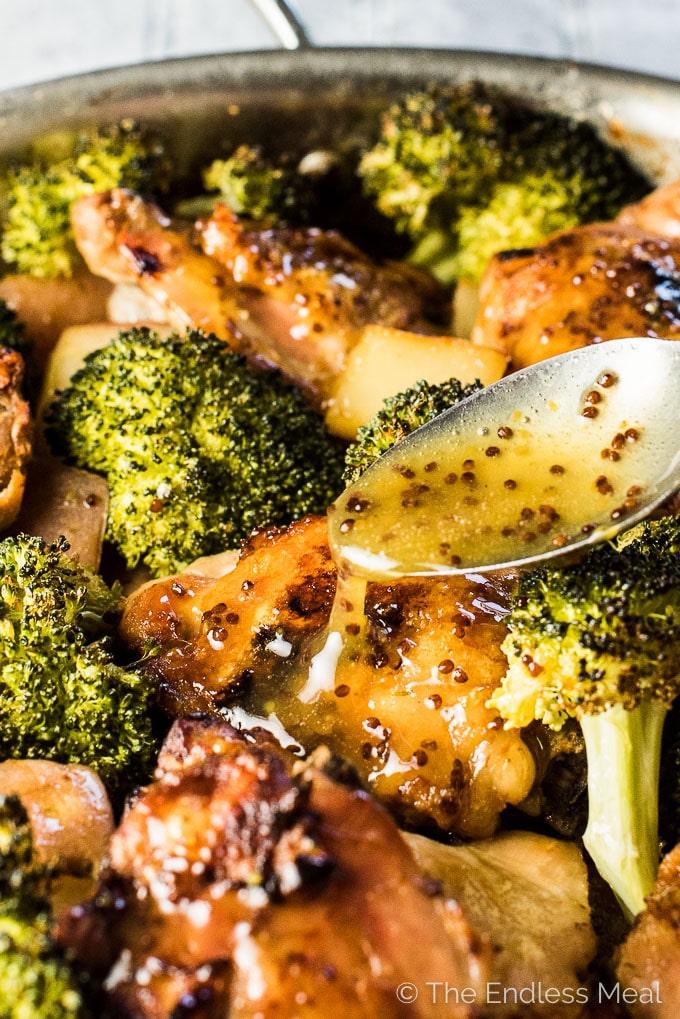 20. One Pan Honey Mustard Chicken and Potatoes
The Endless Meal's one-pan honey mustard chicken and potatoes only requires about 10 minutes of prep. Then you can walk away while it finishes in the oven, only checking on it once halfway through to add the broccoli.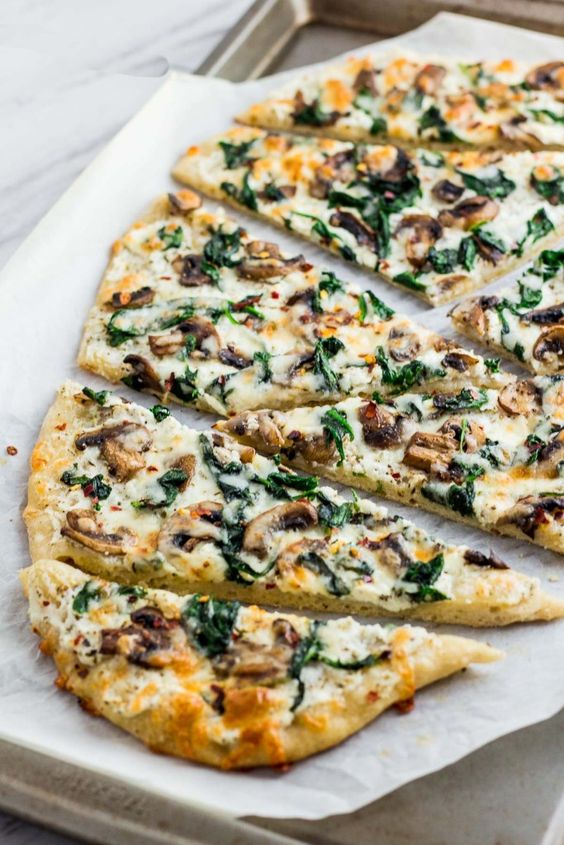 21. Mushroom Spinach White Pizza
My Eclectic Bite's mushroom spinach white pizza has a creamy basil Italian ricotta base that you'll want to start putting on everything. It pairs perfectly with mushrooms, spinach, and mozzarella, but again, is so good and so versatile that you can switch up the toppings easily as you like.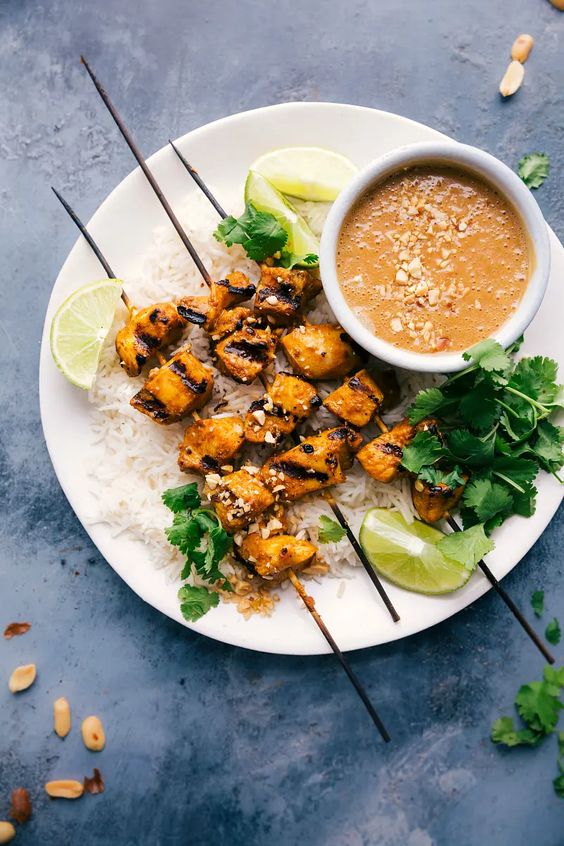 22. Coconut Curry Chicken with Peanut Dipping Sauce
Chelsea's Messy Apron's coconut curry chicken is already packed with flavor, and then the peanut dipping sauce takes it up another notch. This easy pantry staple dinner comes together so quickly. You can make the chicken on the stovetop or the grill.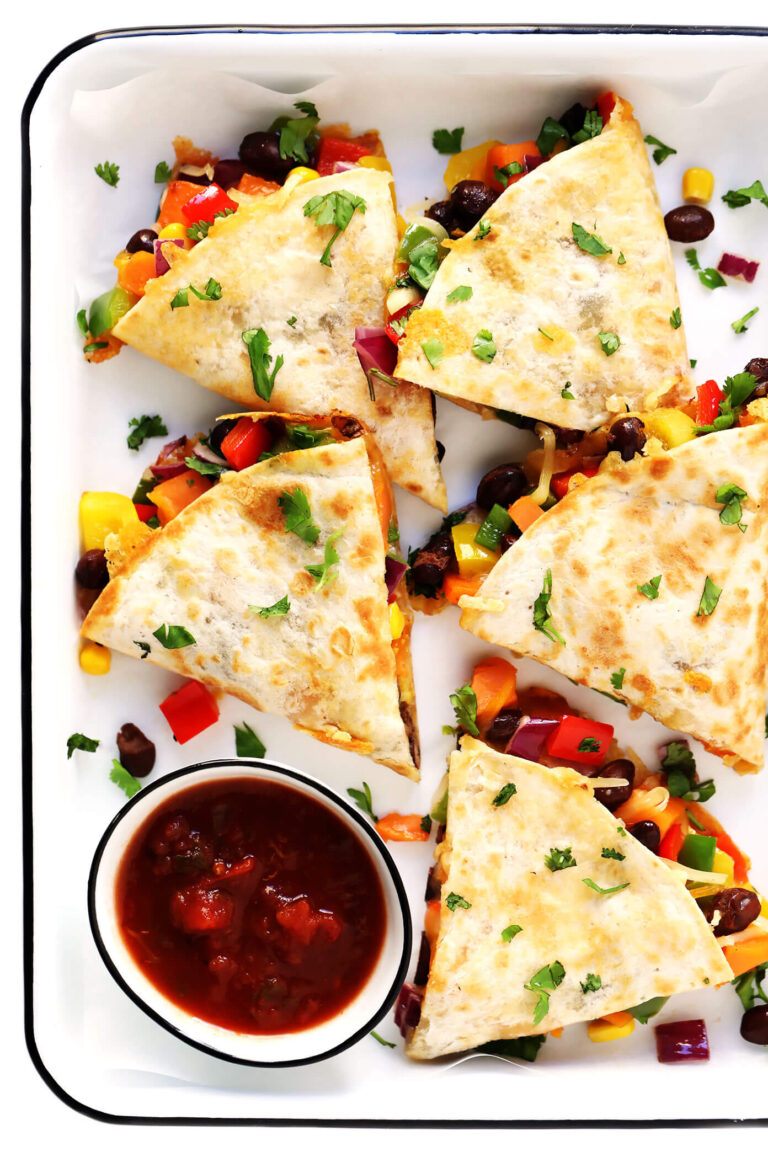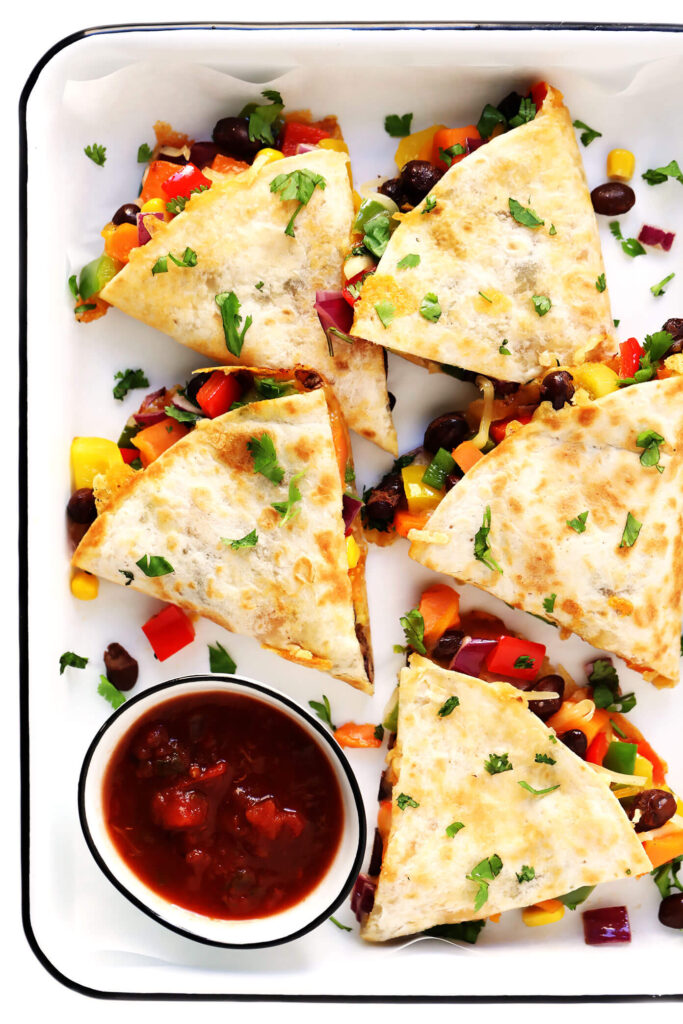 23. Easy Veggie Quesadillas
Gimme Some Oven's easy veggie quesadillas really couldn't be simpler and can be customized with whatever veggies you have on hand. She has lots of suggestions for different add-ins as well as toppings.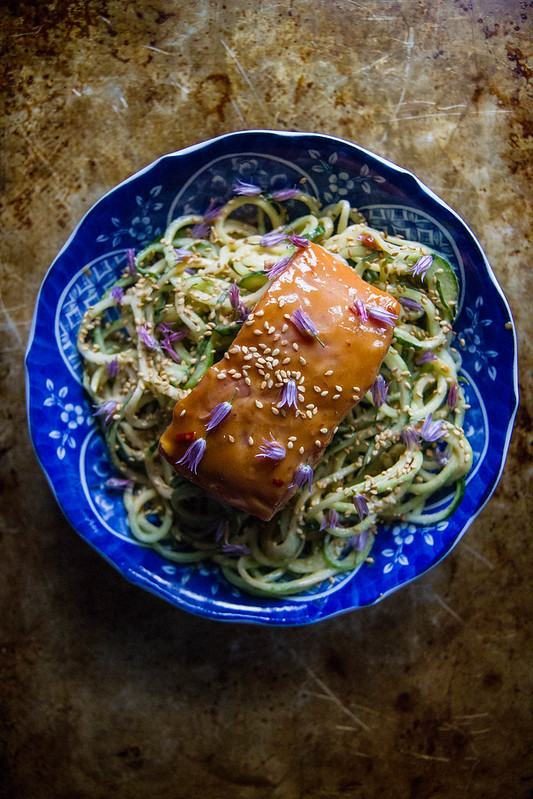 24. Grilled Tahini-Glazed Salmon with Cucumber Noodles
The tahini in Heather Christo's grilled tahini-glazed salmon gives the fish such a rich flavor. If you don't love cucumber noodles, sub in the vegetable noodles or grain of your choosing.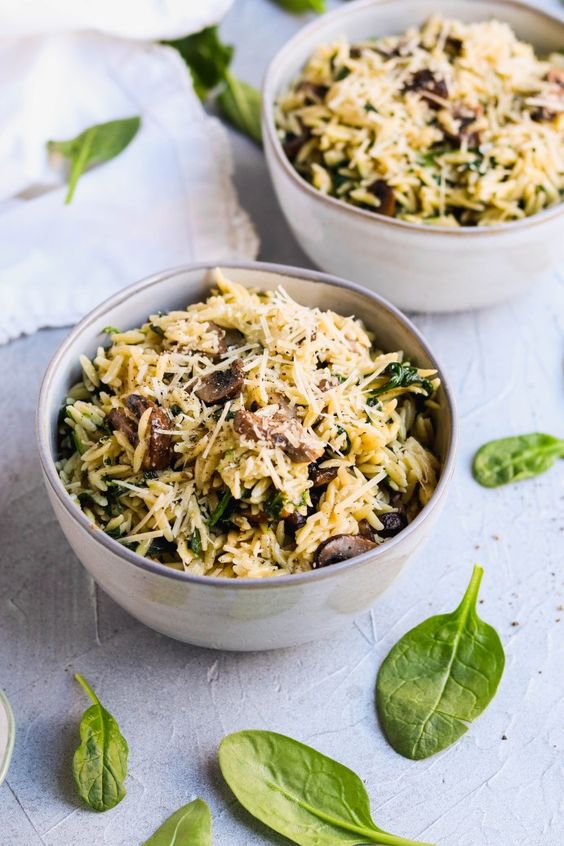 25. Parmesan Orzo with Mushrooms and Spinach
Cheesy orzo is one of my go-to side dishes for tilapia, pork chops, and chicken. For the Love of Gourmet's Parmesan orzo with mushrooms and spinach is plenty hearty to be the main dish on its own, you can easily add a protein to fill out the meal.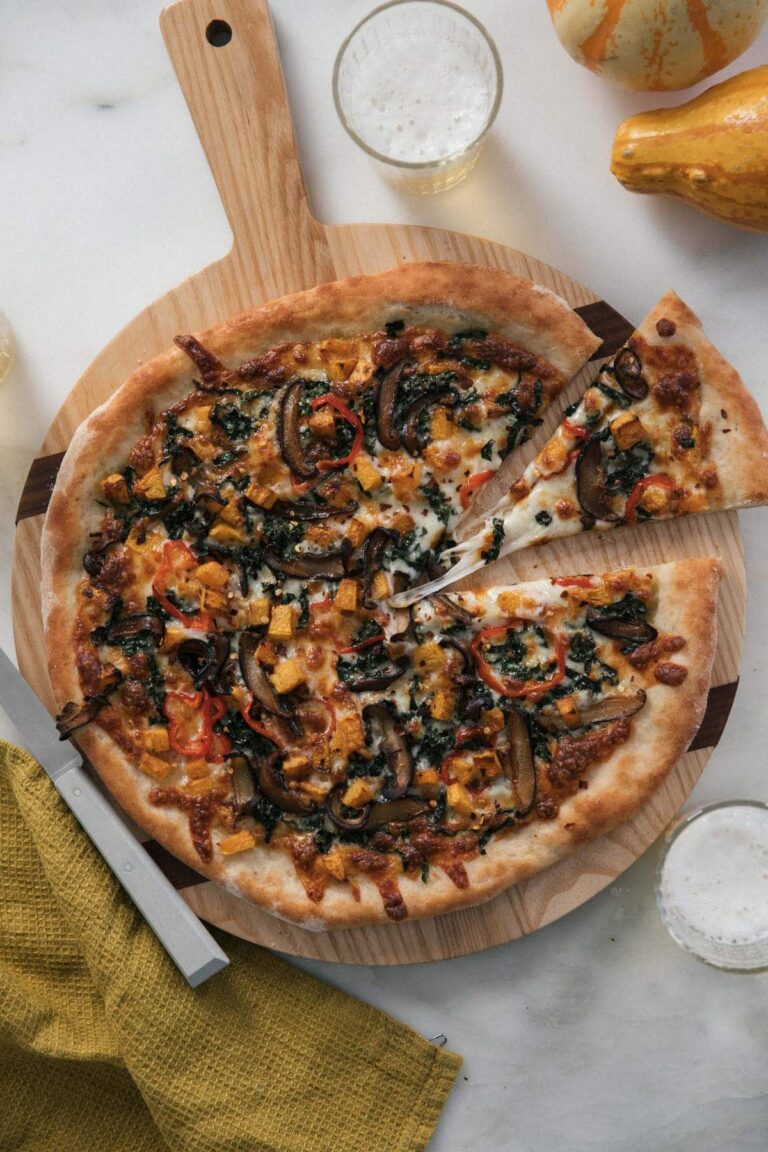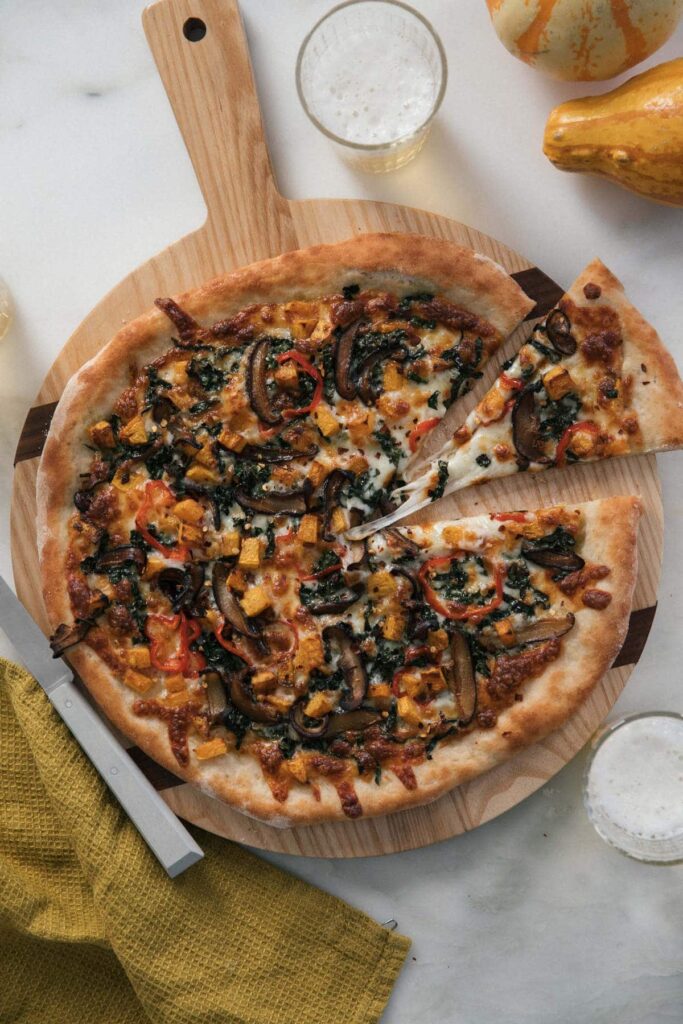 26. 30-Minute Fall Veggie Pizza
Thanks to RapidRise yeast, A Cozy Kitchen's fall veggie pizza really does come together in just 30 minutes. It's topped with kale, mushrooms, and squash, which is perfect for cold weather.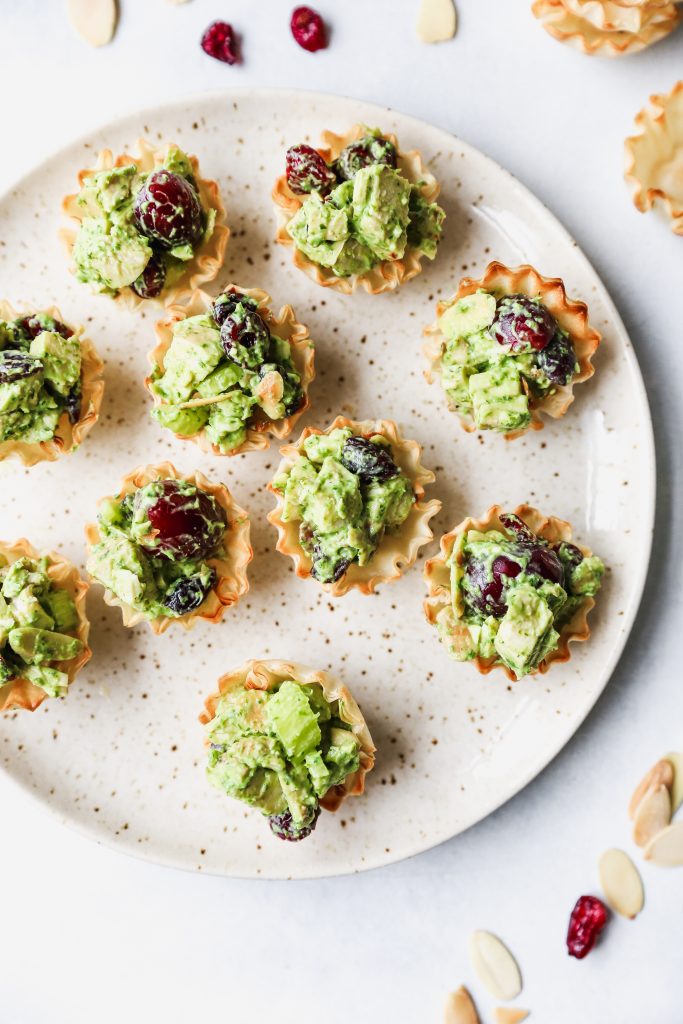 27. Green Goddess Chicken Salad Phyllo Cups
I love chicken salad and am always looking for recipes that don't call for tons of mayo. Yes to Yolk's green goddess chicken salad has a green goddess sauce, which is delicious and refreshing. I love the aesthetic of serving it in Phyllo cups, but you shouldn't feel limited to this option. Chicken salad is great on its own, as a sandwich or wrap, over greens, or on crackers or chips.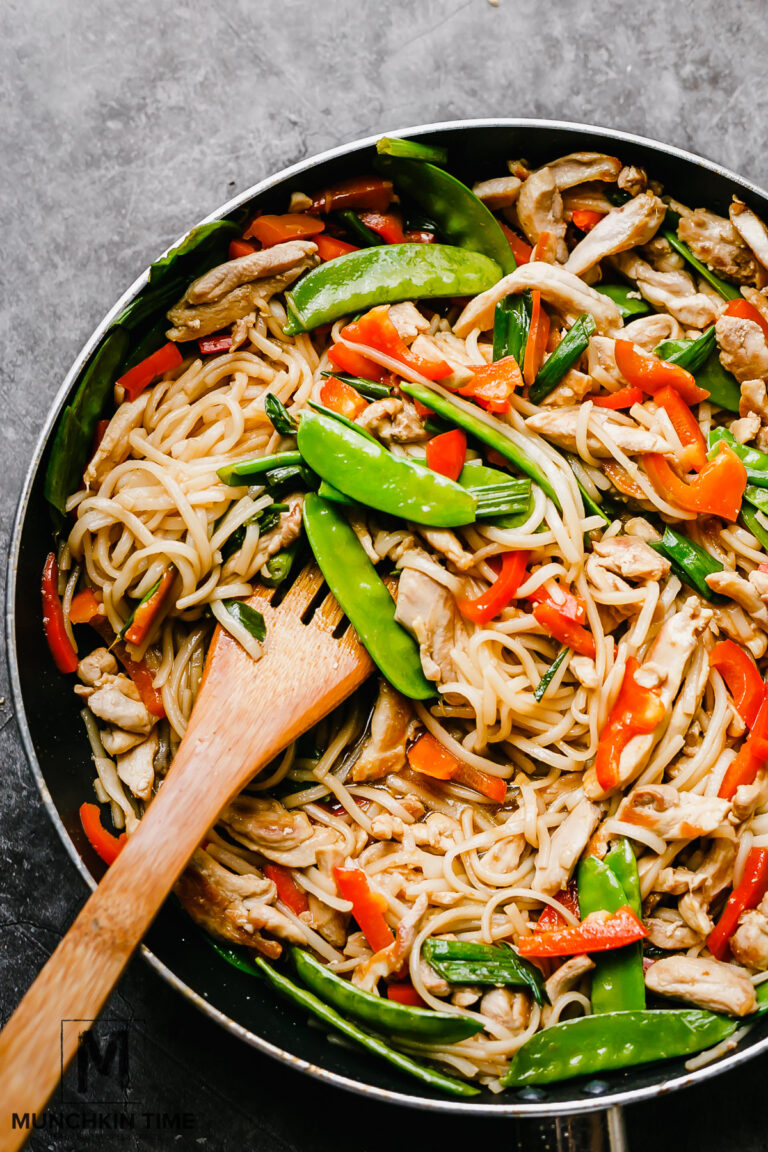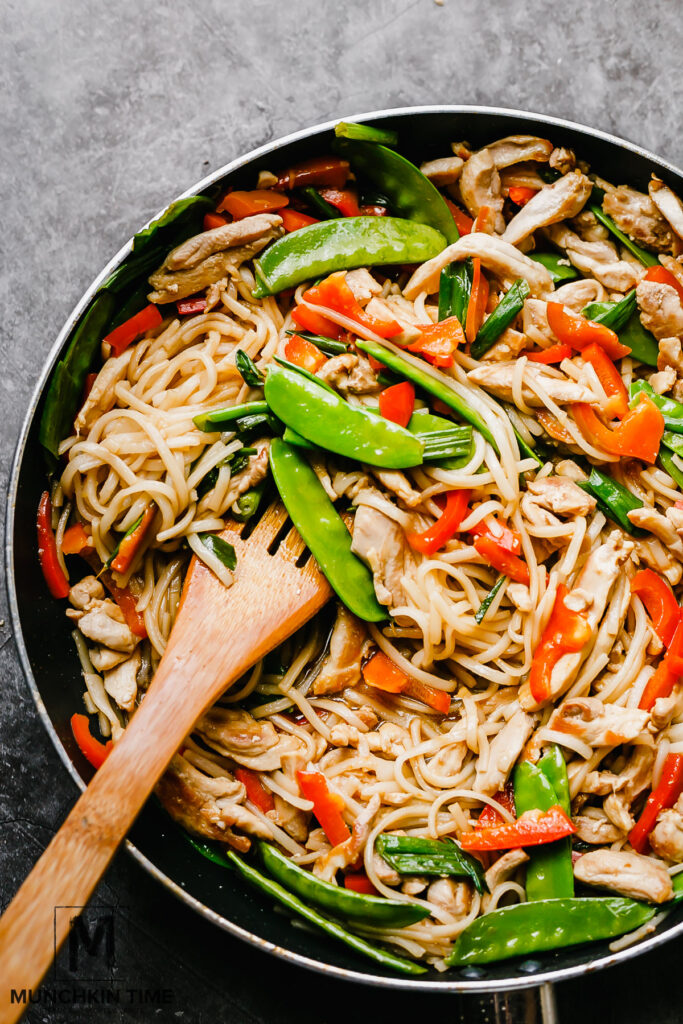 28. 30-Minute Chicken Stir Fry
Munchkin Time's 30-minute chicken stir fry is an easy healthy recipe the whole family is sure to love. Fresh veggies come together with sticky chicken and rice noodles. If you're serving picky eaters, keep the noodles and chicken separate from the veggies.
29. Mediterranean Farro Salad with Arugula and Chickpeas
Aggie Kitchen's Mediterranean farro salad with arugula and chickpeas is an ideal reset meal after lots of holiday parties, traveling, or eating out. It's a hearty, healthy vegetarian dish (although you could easily add meat) with lots of protein and fiber.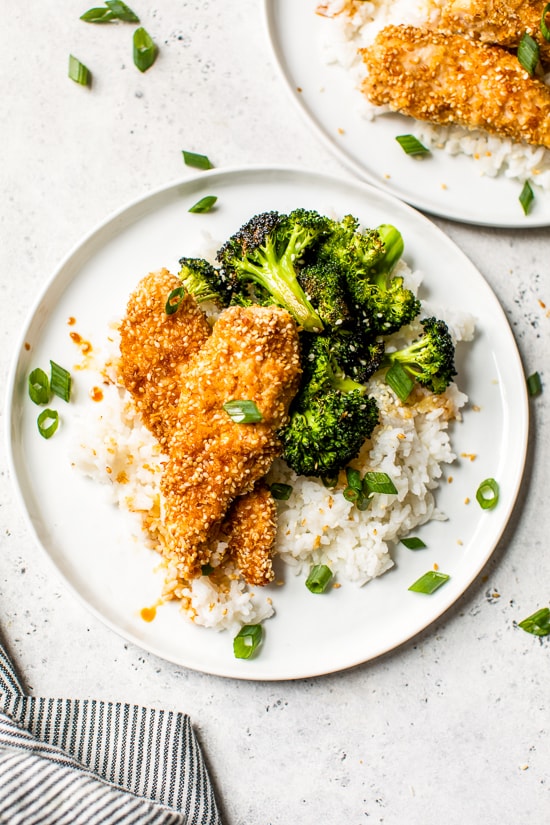 30. Sesame Encrusted Chicken Tenders
Skinnytaste's sesame encrusted chicken tenders are a great twist on traditional chicken tenders with sesame seeds and a little soy sauce. You can bake them or cook them in an air fryer.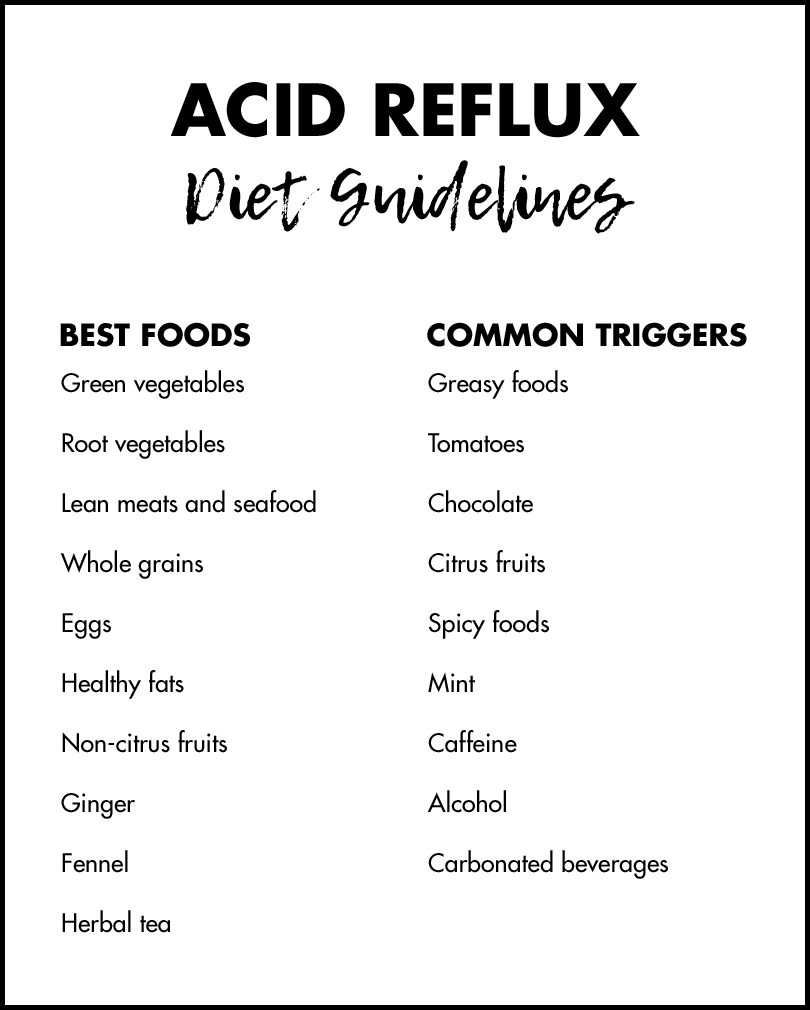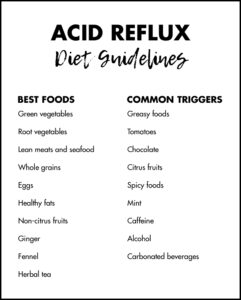 Don't forget to grab your FREE printable reference sheet with the best and worst foods for acid reflux!
[Best and Worst Foods for Acid Reflux Reference Sheet]
[Disclaimer: There are a few affiliate links in this post. Thanks for your support!]
Pin this post for easy access to the easy healthy acid reflux-friendly dinner ideas and other acid reflux resources later!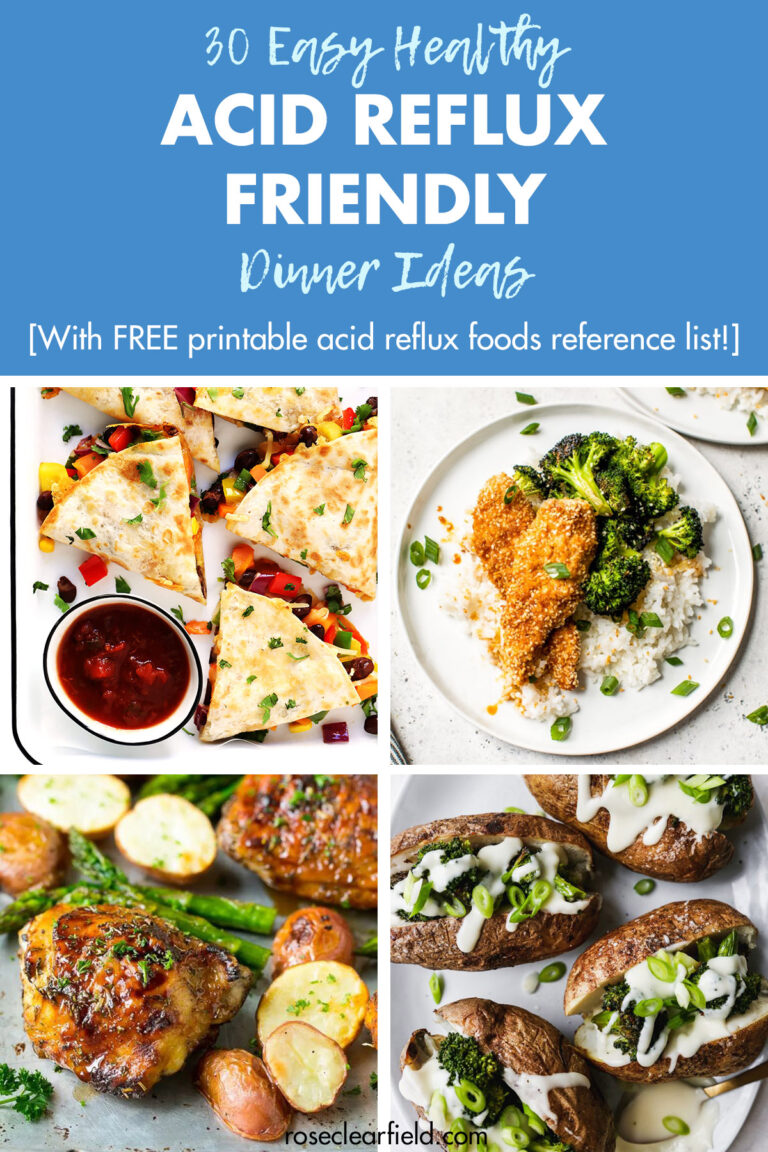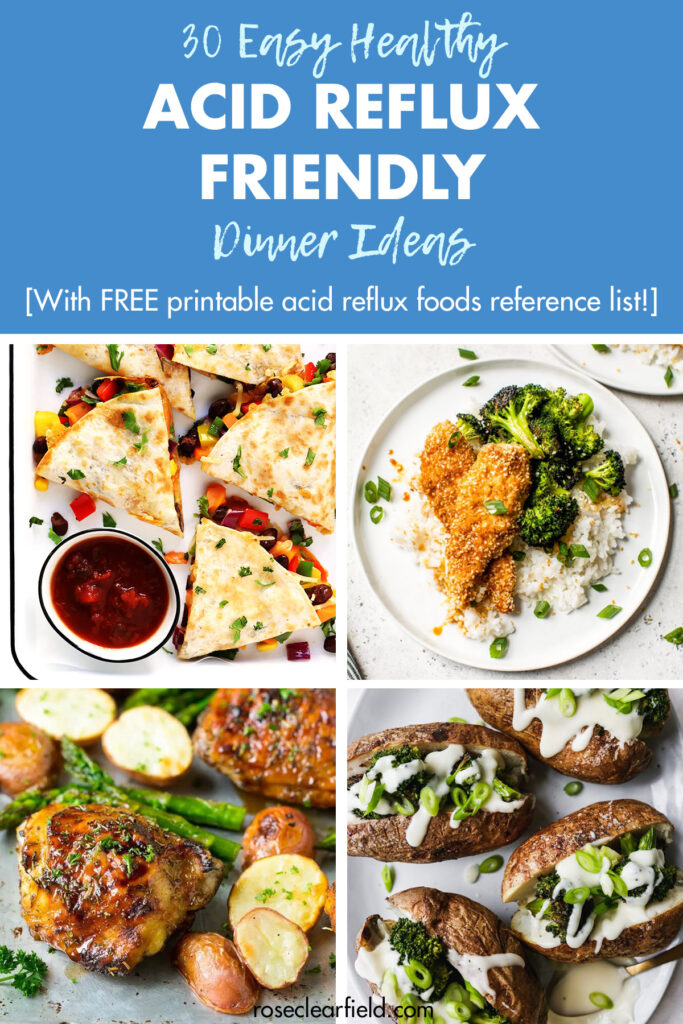 I share my best tips for how to eat chocolate with acid reflux.
More acid reflux recipes:
More healthy eating resources: