Easy healthy acid reflux-friendly breakfast ideas will help you plan and prepare quick weekday breakfasts that are nutritious and don't trigger GERD symptoms.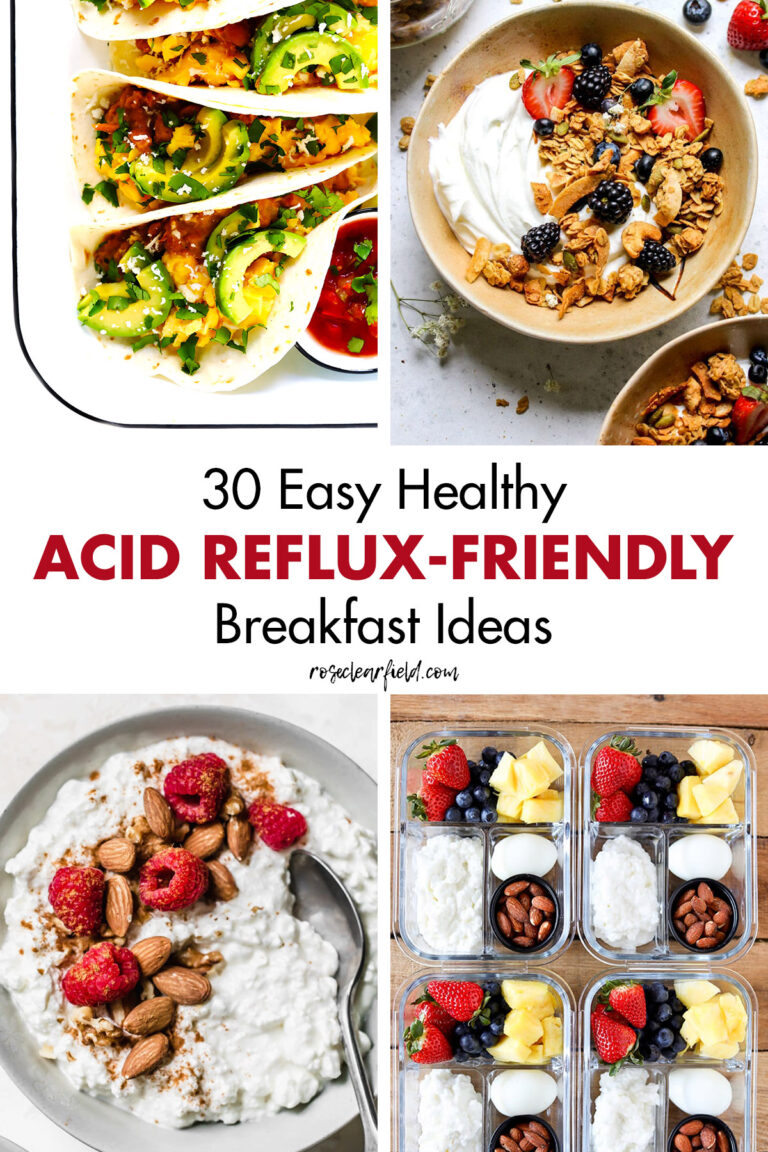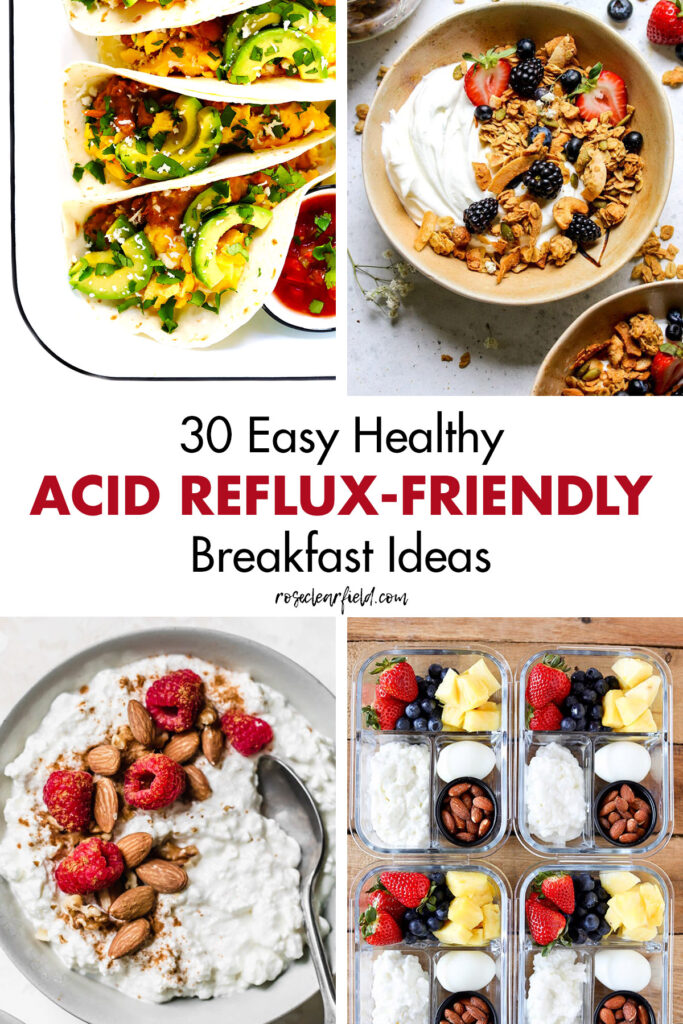 When you're faced with a new medical diagnosis that involves dietary changes, it's easy to get hung up on the foods you can't eat. Having to adjust to a new diet is tough, even when you know that it will help you feel better. Breakfast is particularly tough, as many sweet recipes contain chocolate and many savory recipes contain tomatoes and/or onions. Developing a nice mix of acid reflux-friendly morning meals that you love will make it easier to stick to the new diet.
Disclaimer: I'm not a physician. I've had acid reflux my whole life and have been treating it actively through diet, medication, and lifestyle changes my entire adult life. I cite a few medical resources throughout this post. All other information pertaining to acid reflux comes from my personal experience with the condition. Please talk to your doctor if you have any questions about your diet or any other aspect of your GERD treatment.
The best and worst foods for acid reflux
As I put together acid reflux-friendly breakfast ideas, I concentrated on the best foods for GERD symptoms, doing my best to avoid the most common triggers as much as possible.
The ideal foods for calming acid reflux symptoms include green vegetables, root vegetables, whole grains, eggs, lean meats and seafood, healthy fats, ginger, non-citrus fruits, fennel, and herbal tea.
The most common triggers for acid reflux include tomatoes, onions, garlic, greasy foods, chocolate, spicy foods, citrus fruits, caffeine, alcohol, mint, and carbonated beverages.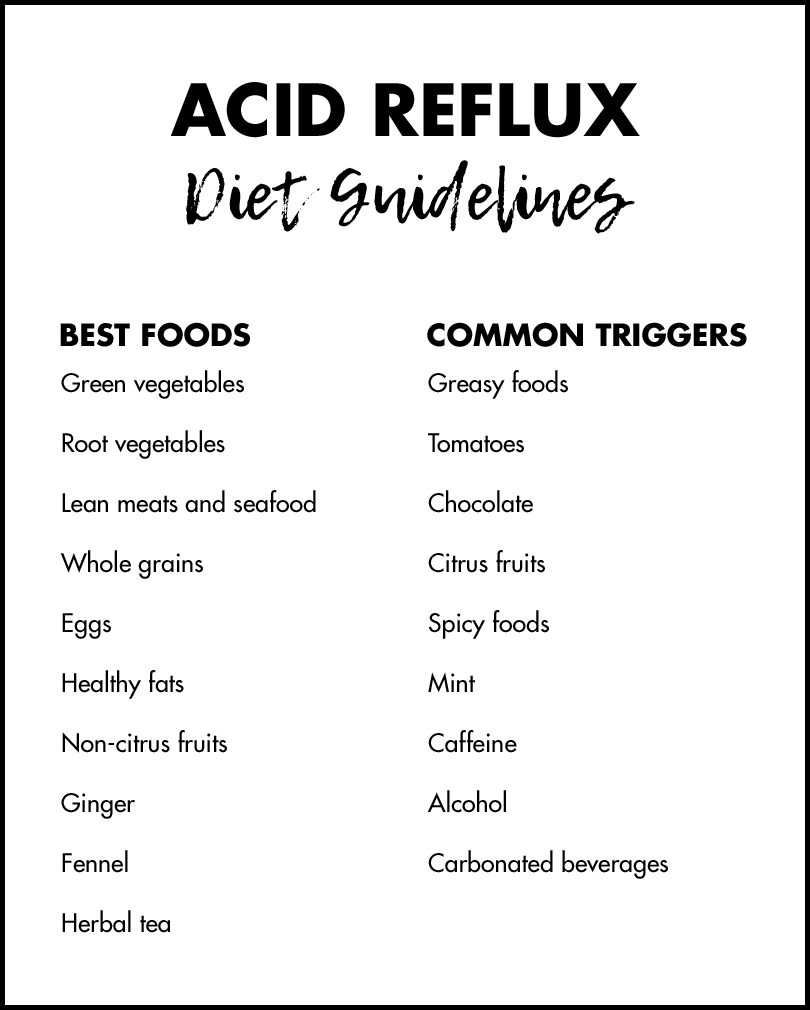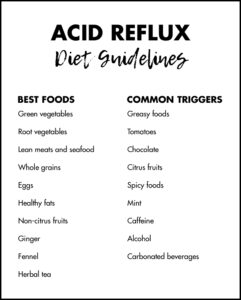 I've put together a free printable list with the best and worst foods for acid reflux. Keep it in a convenient spot in your kitchen to help you plan meals and head off reflux flares.
[Download your FREE printable acid reflux foods reference sheet!]
Eating-related tips to further minimize symptoms
Creating an acid reflux-friendly diet will make a significant difference in reducing your GERD symptoms. Most likely you'll have the highest level of success with keeping symptoms at bay when you pair an acid reflux-friendly diet with the following eating tips.
Eat slowly
Eat smaller meals
Wait a minimum of two hours to lie down after eating
Avoid eating at least two or three hours before heading to bed
Avoid caffeine and alcohol, especially in the evening
Additional lifestyle tips to minimize symptoms
The following lifestyle tips will help you reduce your reflux symptoms even further.
Take an antacid
Add an extra pillow to your bed to eliminate symptoms while sleeping
Avoid tight clothing and high-waisted pants, dresses, and skirts
Maintain a healthy weight
Avoid peppermint- and mint-flavored gum
Quit smoking
The importance of keeping a food diary
For many people, there are a few key foods and lifestyle changes that will make the most difference in their general gut health. When you're able to identify these triggers and eliminate them successfully, you may not have to go full force on other components of acid reflux management. For example, if your biggest food triggers are garlic and onions, don't stress as much about avoiding chocolate and tomatoes.
Keep a food diary for at least one week, noting the following information.
Foods you eat
Time of day you eat
Symptoms you experience
This information will help you make critical adjustments to your diet and eating schedule for optimal acid reflux management.
[Acid reflux sources – 1 | 2 | 3]
Easy healthy acid reflux-friendly breakfast ideas
Please note: I know that easy recipes are of utmost importance for breakfast, especially weekday breakfasts. All of the recipes in this round-up that require more than 10-15 minutes of prep can be done the night before or over the weekend, such as baking zucchini bread or cooking quinoa for breakfast bowls.
For me, easy recipes also mean recipes that you can make with ingredients you already keep on hand or can find easily at most grocery stores or online. I promise that you won't have any trouble finding everything that you need to make these acid reflux-friendly breakfasts.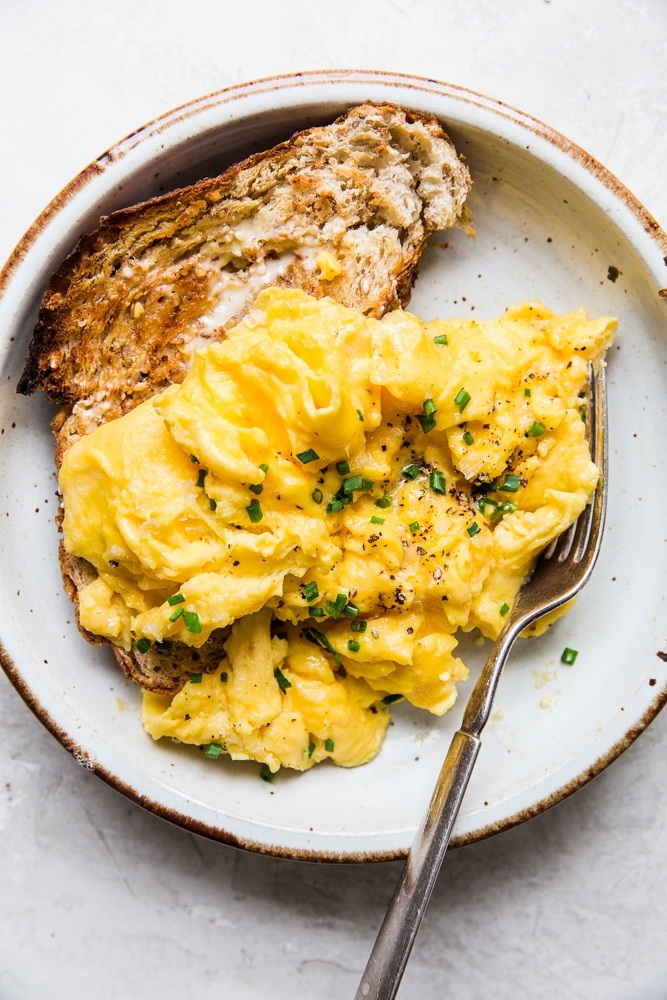 1. Soft-Scrambled Eggs
Learning how to make soft-scrambled eggs will completely change your breakfast routine for the better. Soft-scrambled eggs taste amazing on their own and are great in breakfast sandwiches and paired with veggies, cheese, and/or meat. The Modern Proper walks you through everything you need to know to make perfect soft-scrambled eggs.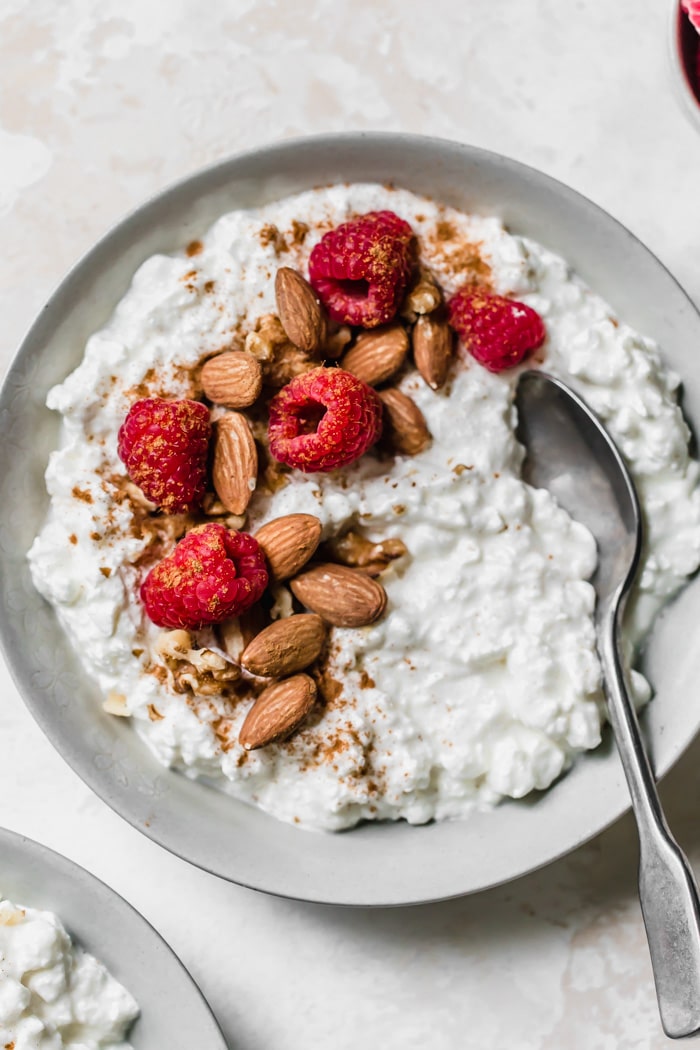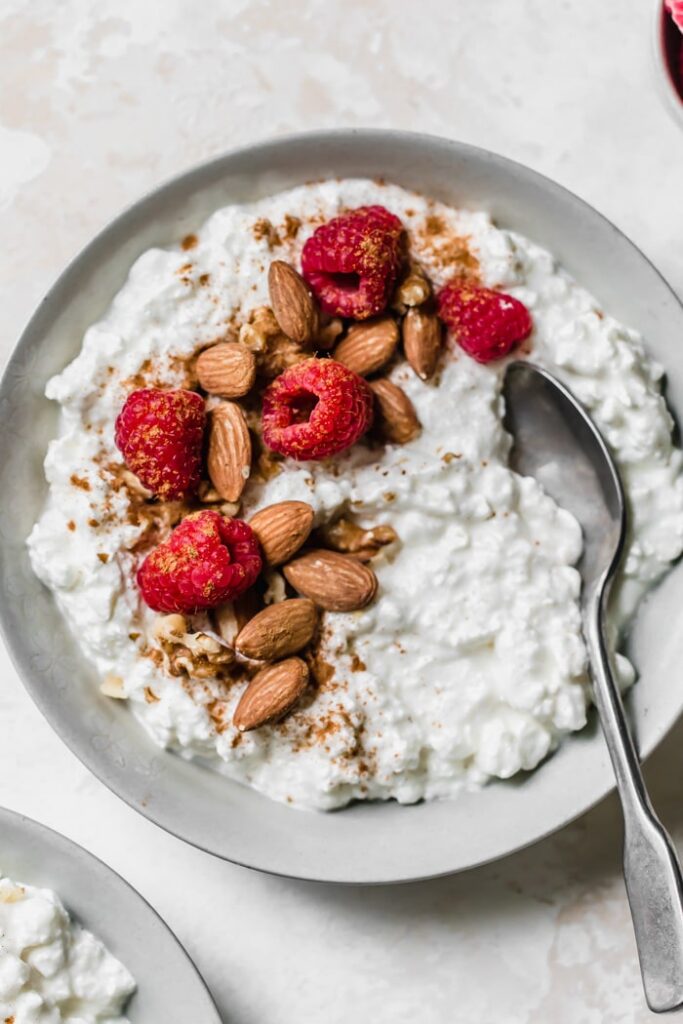 2. Cottage Cheese Breakfast Bowl
The Almond Eater's cottage cheese breakfast bowl is made with cottage cheese and then topped with the nuts and berries of your choosing for a quick, naturally-sweetened, protein-packed breakfast. You can even prep it the night before and keep it in the fridge until morning.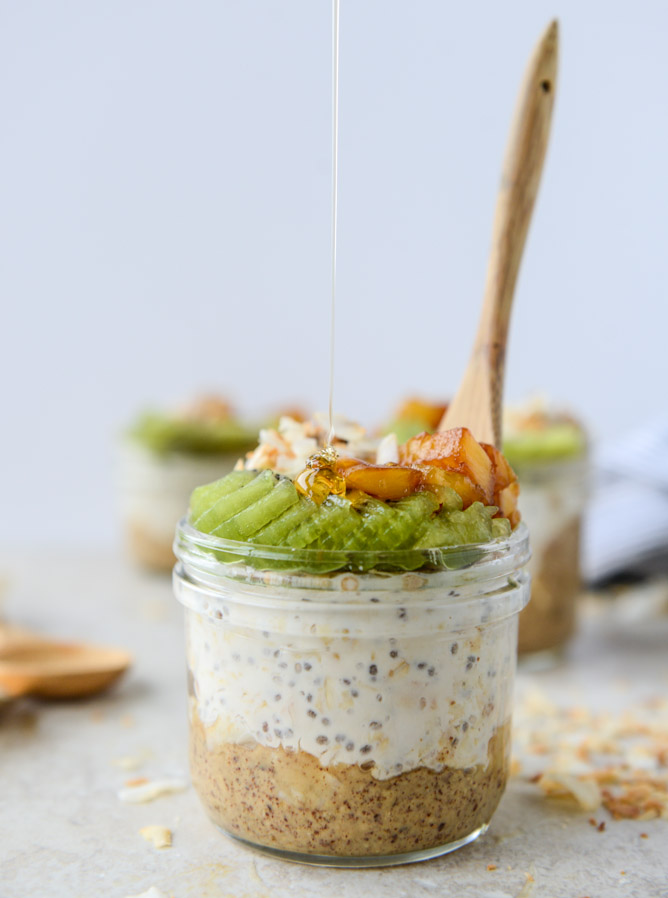 3. Toasted Coconut Overnight Oats
How Sweet Eat's toasted coconut overnight oats are everything that you could want in a sweet breakfast that's actually good for you and not loaded with sugar. It's well worth setting aside time to make the honey caramelized pineapple topping when you prep overnight oats.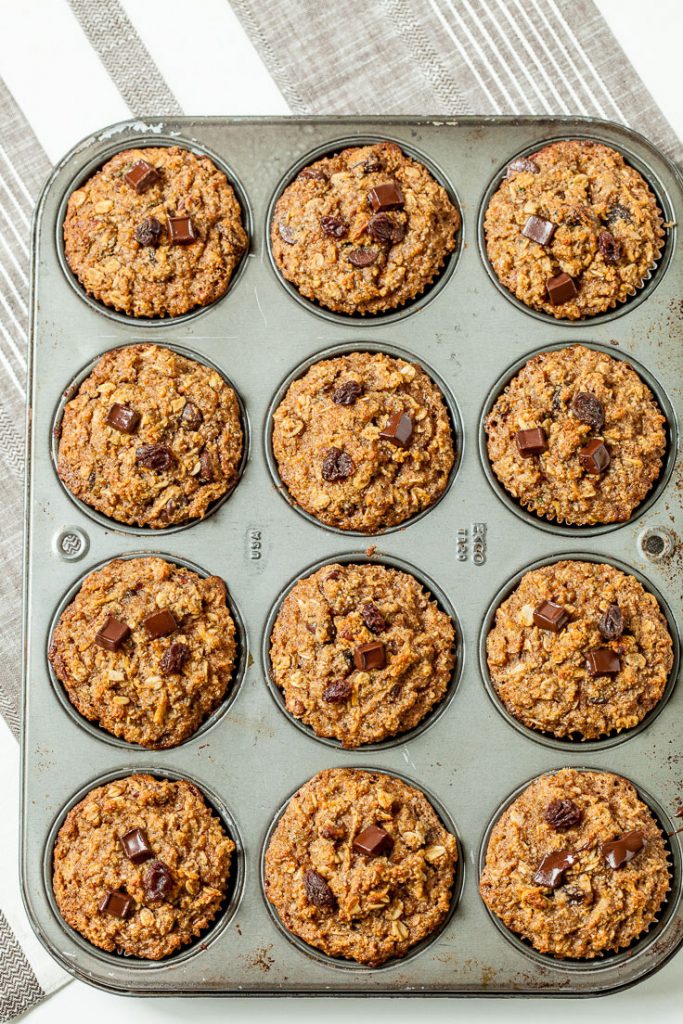 4. Apple Zucchini Carrot Muffins
Chew Out Loud calls her apple zucchini carrot muffins superhero muffins because they're packed with so much nutrition and leave you ready to run laps. You give your body everything it needs and your taste buds everything it wants. The pictured recipe includes chocolate, but you can easily leave it out and won't miss it at all.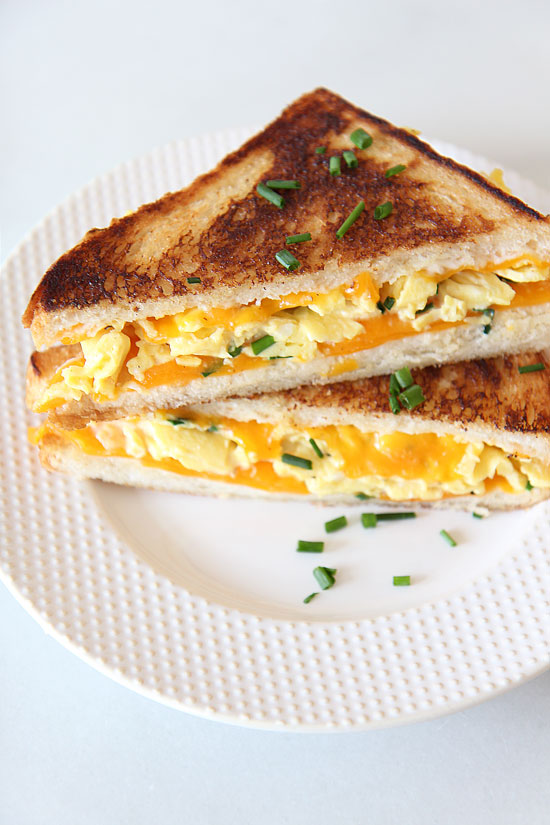 5. Breakfast Grilled Cheese
Chop Happy's breakfast grilled cheese involves adding scrambled eggs to grilled cheese for the ultimate easy, protein-packed breakfast sandwich. A little mayo and herbs will take the flavor over the top.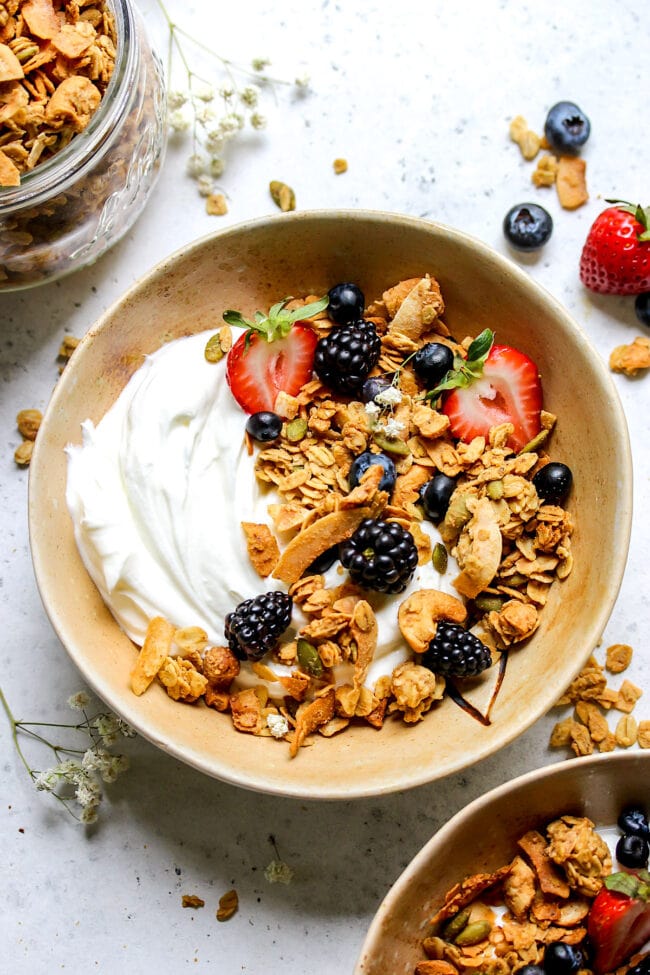 6. Cashew Coconut Granola
I love all things coconut, so I'm including Two Peas and Their Pod's cashew coconut granola recipe. There are so many other amazing homemade granola recipes out there that don't include chocolate, if you don't love coconut, though. Granola is ideal for breakfast because it's so versatile. Serve it with milk like cereal or sprinkle it in yogurt, smoothies, or smoothie bowls. You can also make granola bars if you want a grab-and-go breakfast option.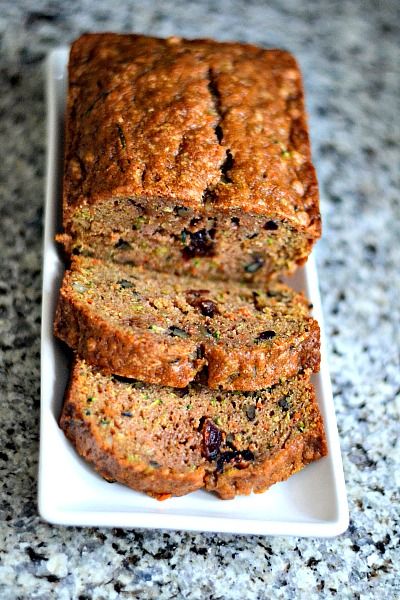 7. Spiced Carrot and Zucchini Bread
Peanut Butter Runner's spiced carrot zucchini bread is a great option for breakfast because it's loaded with spices as well as cranberries, walnuts, and orange zest. There is so much flavor and nutrition here. Top it with a little peanut butter or cream cheese.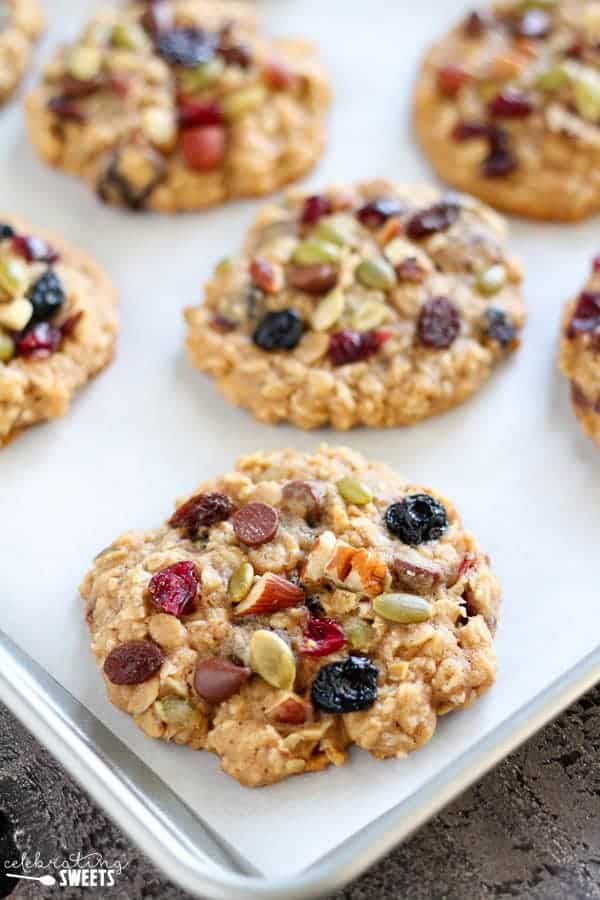 8. Oatmeal Trail Mix Cookies
Celebrating Sweet's oatmeal trail mix cookies are perfect for any time of the day but especially convenient for breakfast when you want a healthy grab-and-go option. Instead of chocolate chips as the recipe calls for, substitute peanut butter chips to keep it acid reflux-friendly.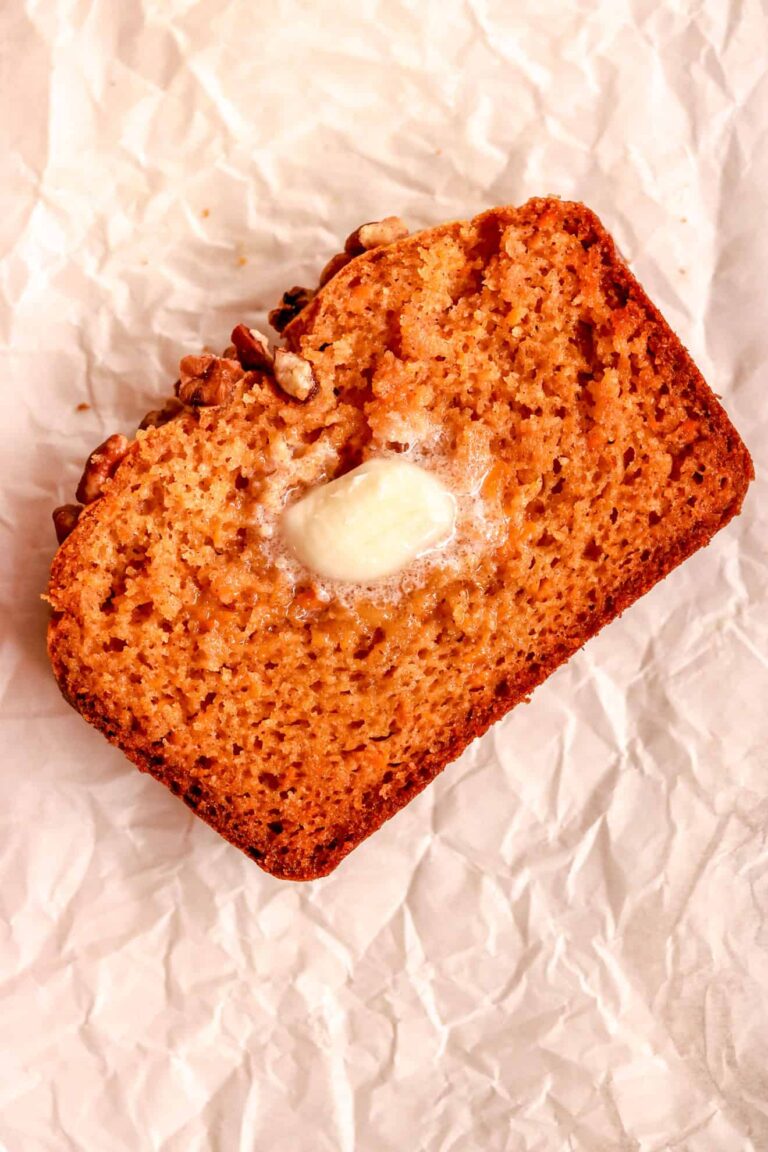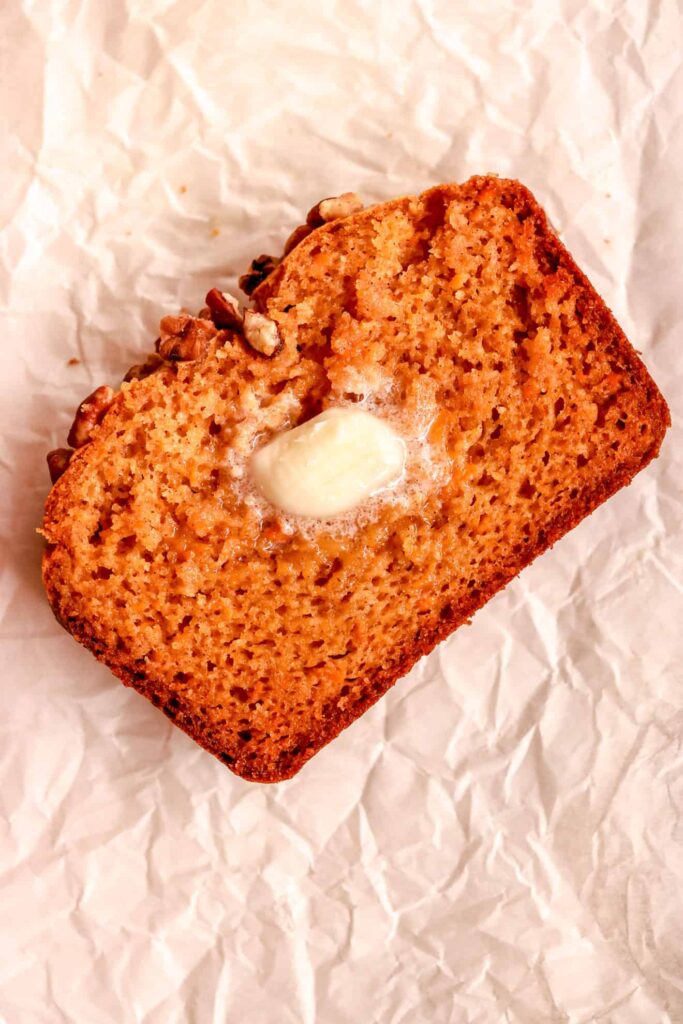 9. Gluten-Free Sweet Potato Bread
The Toasted Pine Nut's gluten-free sweet potato bread gives you all the health benefits of sweet potatoes for breakfast without feeling like you're eating sweet potatoes for breakfast. It's more like a pumpkin bread. For breakfast, I'd spread it with a little cream cheese or peanut butter. You can use any flour if you're not concerned about keeping the recipe gluten-free.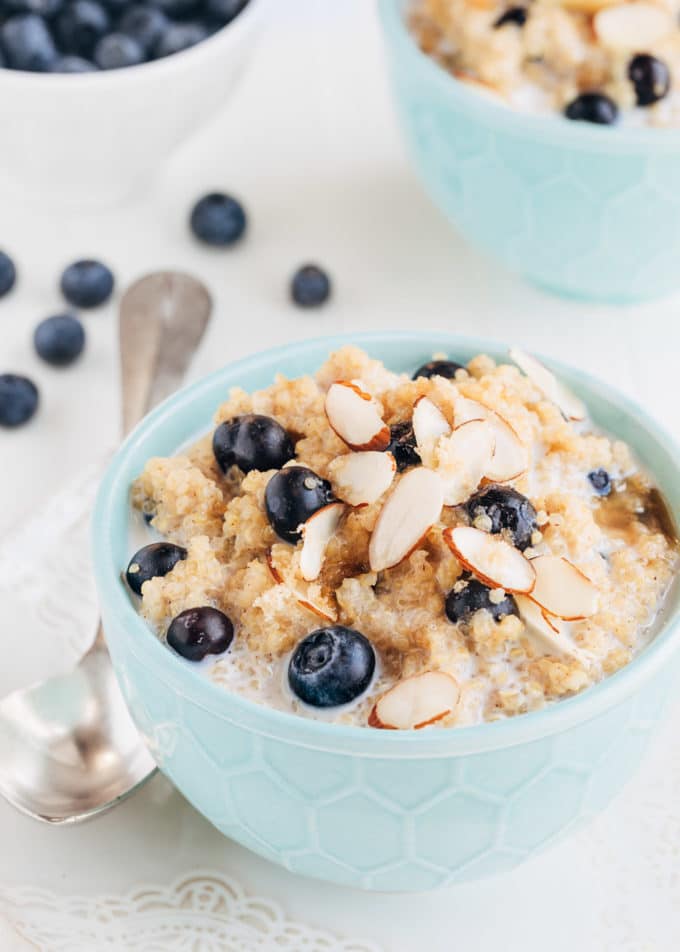 10. Blueberry Breakfast Quinoa
Quinoa is an easy, healthy alternative to oatmeal when you want to mix up your breakfast routine. There are endless options for creating sweet and savory breakfast dishes with it. Striped Spatula's blueberry breakfast quinoa takes the sweet route with vanilla, brown sugar, and cinnamon.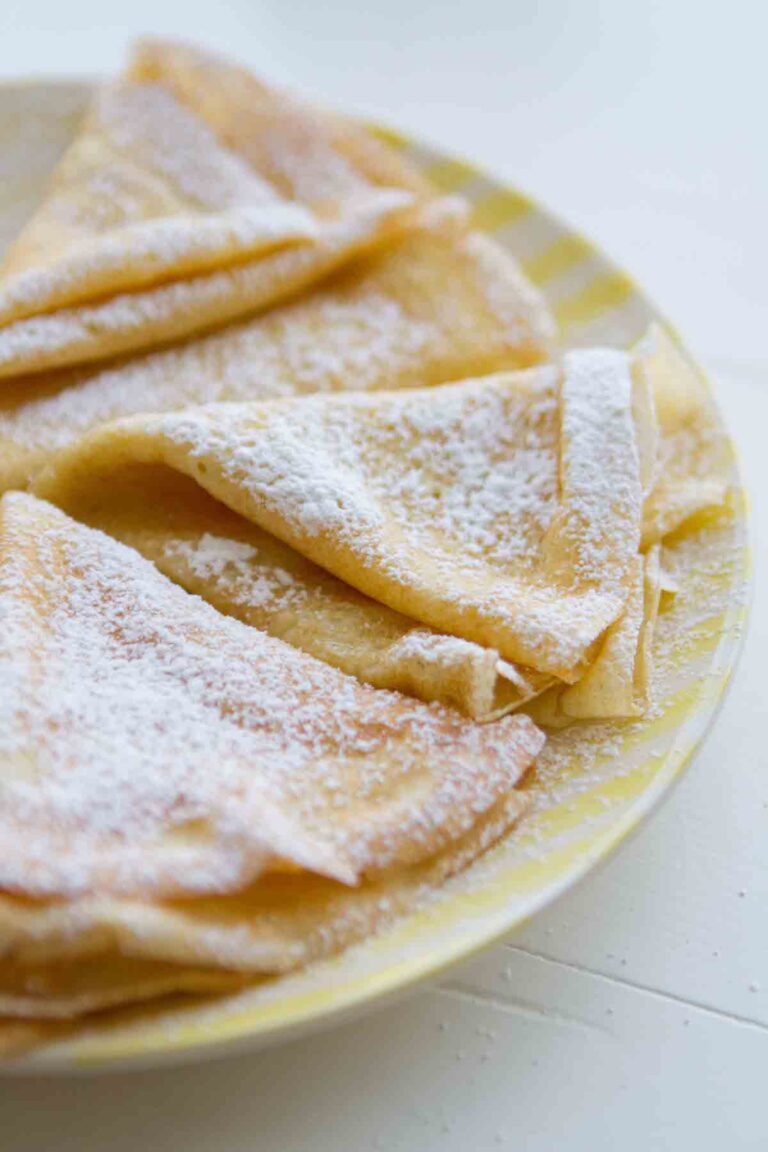 11. Crepes
Lauren's Latest's crepes are the perfect base for creating your ideal healthy breakfast. You can make them sweet or savory and as light or as hearty as you'd like. She has lots of filling suggestions in the recipe post.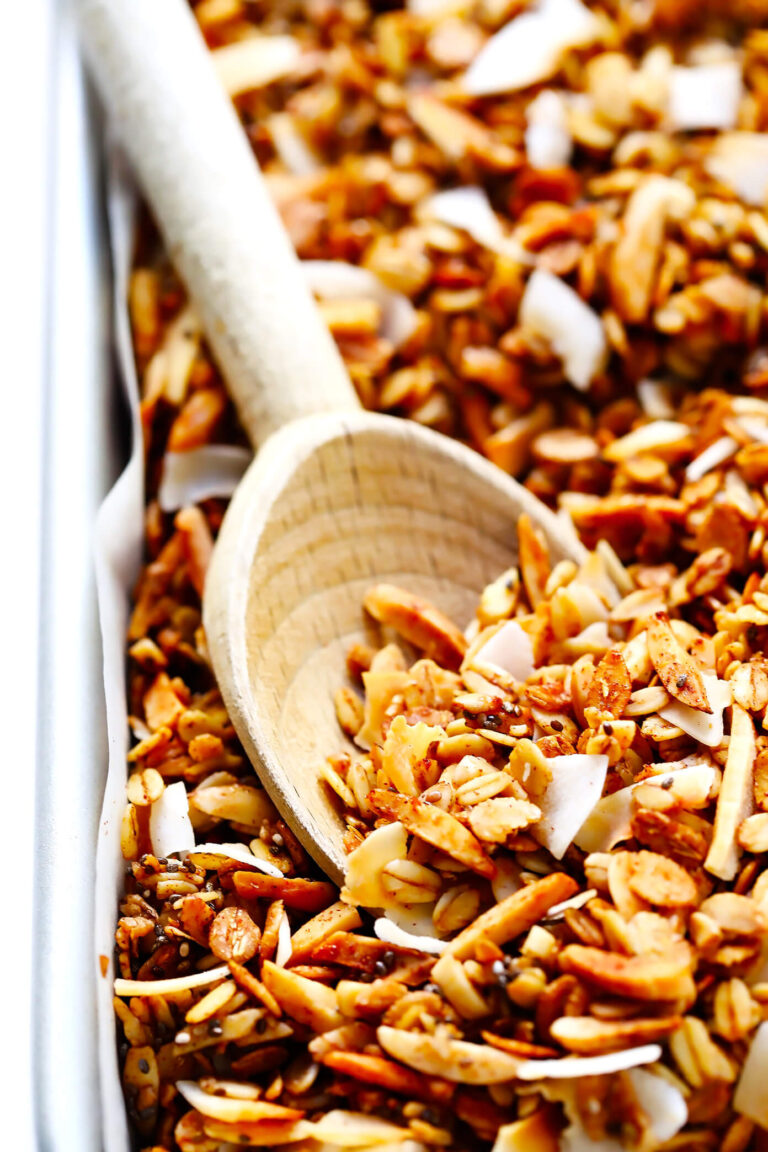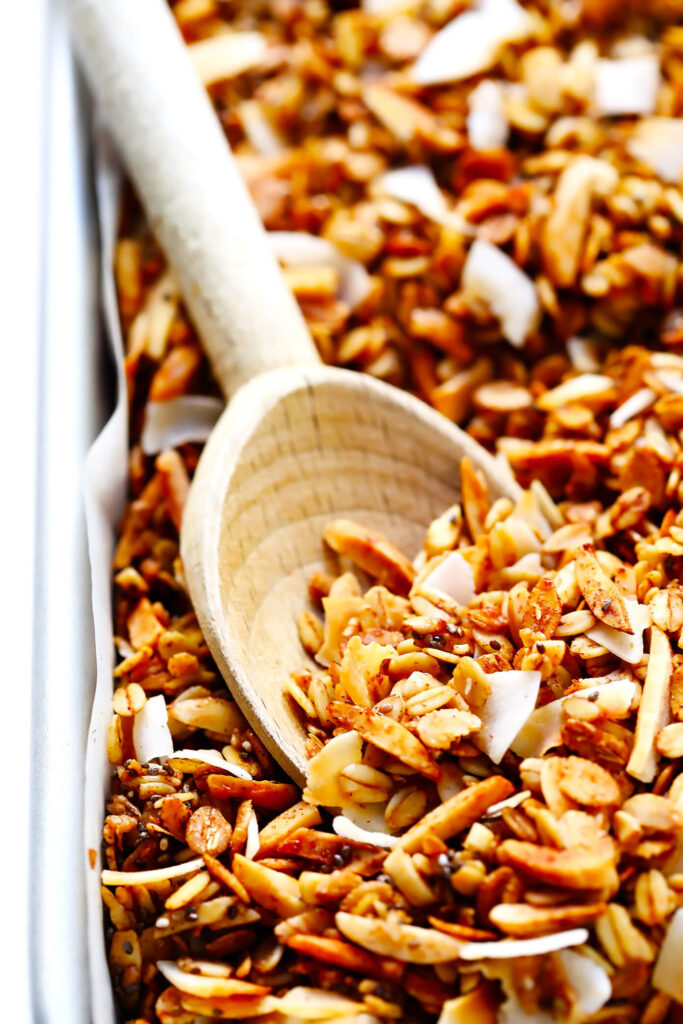 12. The Best Healthy Granola
Gimme Some Oven's healthy granola is exactly what you want in a healthy granola recipe: simple and not loaded with sugar. Personally, I like a mix of honey and maple syrup better than just maple syrup as she has in this recipe. It's up to you exactly how you'd like to sweeten your granola and if you want to add any other ingredients.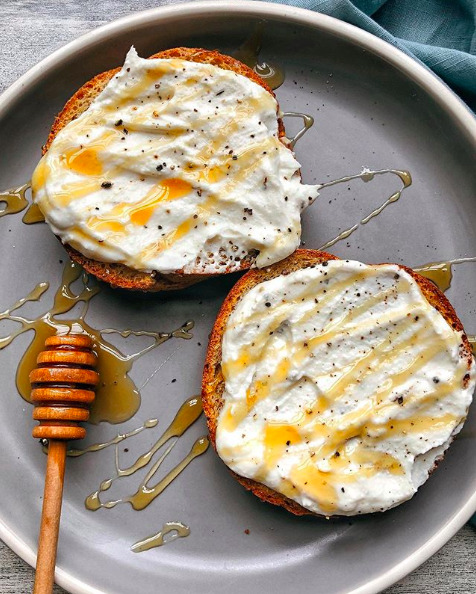 13. Honey Whipped Ricotta Toast
Whipped ricotta is one of the best things ever. Having a batch ready to go in the fridge will make your entire week better. FeedFeed's honey whipped ricotta toast couldn't be quicker to make when you have whipped ricotta prepared. You can easily bulk up the toast with sliced fruit or veggies.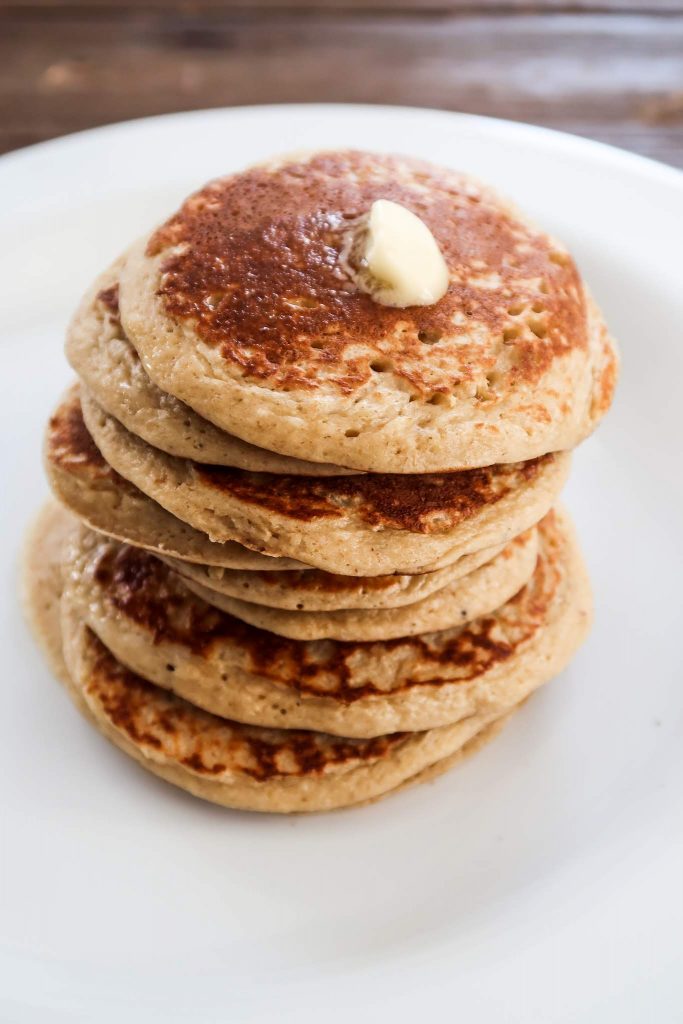 14. Oatmeal Pancakes
Oatmeal pancakes will quickly become a new way to enjoy healthy pancakes. Toddler in Action has rounded up five healthy oatmeal pancake recipes for you. There are options with and without banana as well as other fruit, ensuring you'll find one that you and your whole family will love.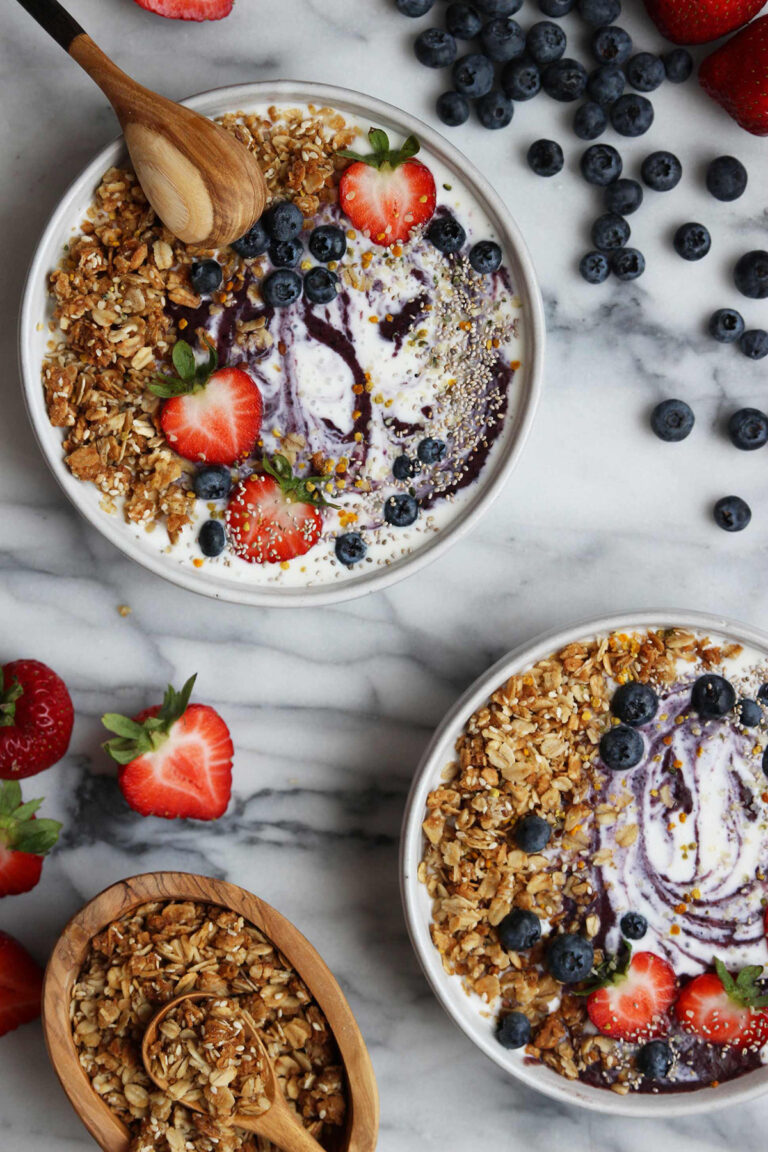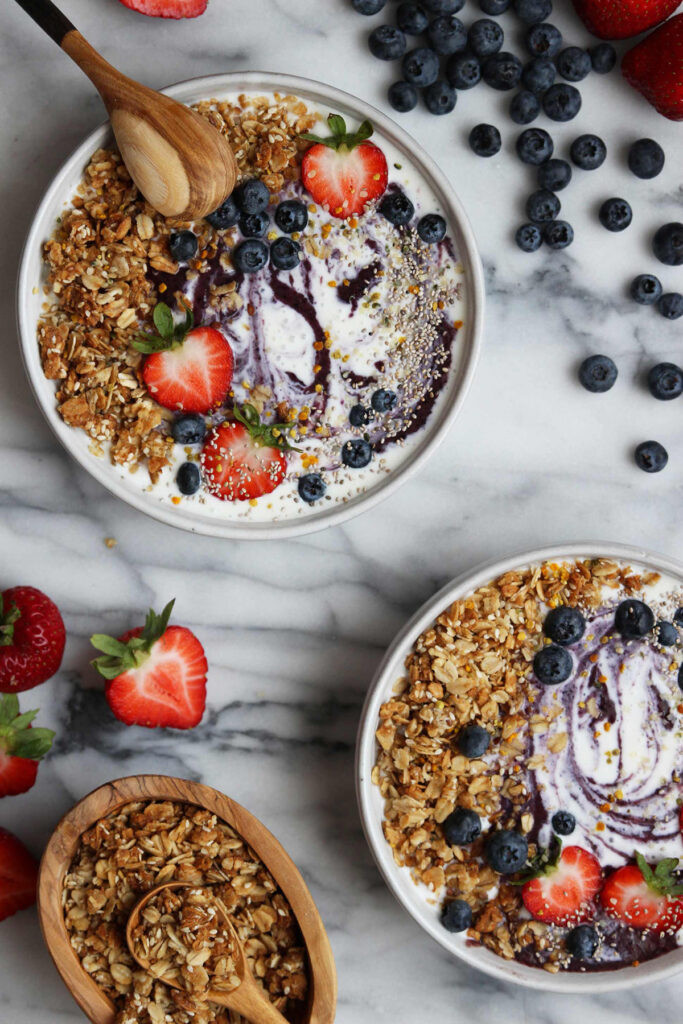 15. Kefir Bowl
When you're burning out on yogurt for breakfast, kefir is a great alternative. It offers the same probiotic benefits and is slightly sweeter and more tart. Honestly Yum has everything you need to know about building healthy, flavorful (and beautiful!) kefir bowls.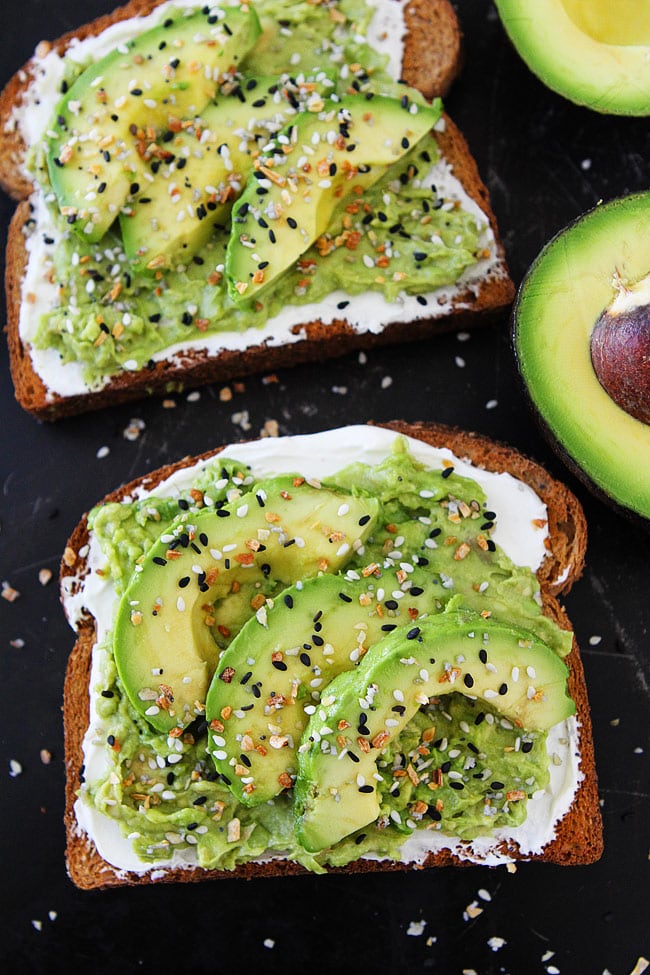 16. Everything Bagel Avocado Toast
Two Peas and Their Pod's everything bagel avocado toast will quickly become the meal that you want to eat any time of day. Cream cheese and avocado are the perfect pairing, and the everything bagel seasoning takes the flavor over the top. The toast makes a great mid-afternoon snack as well.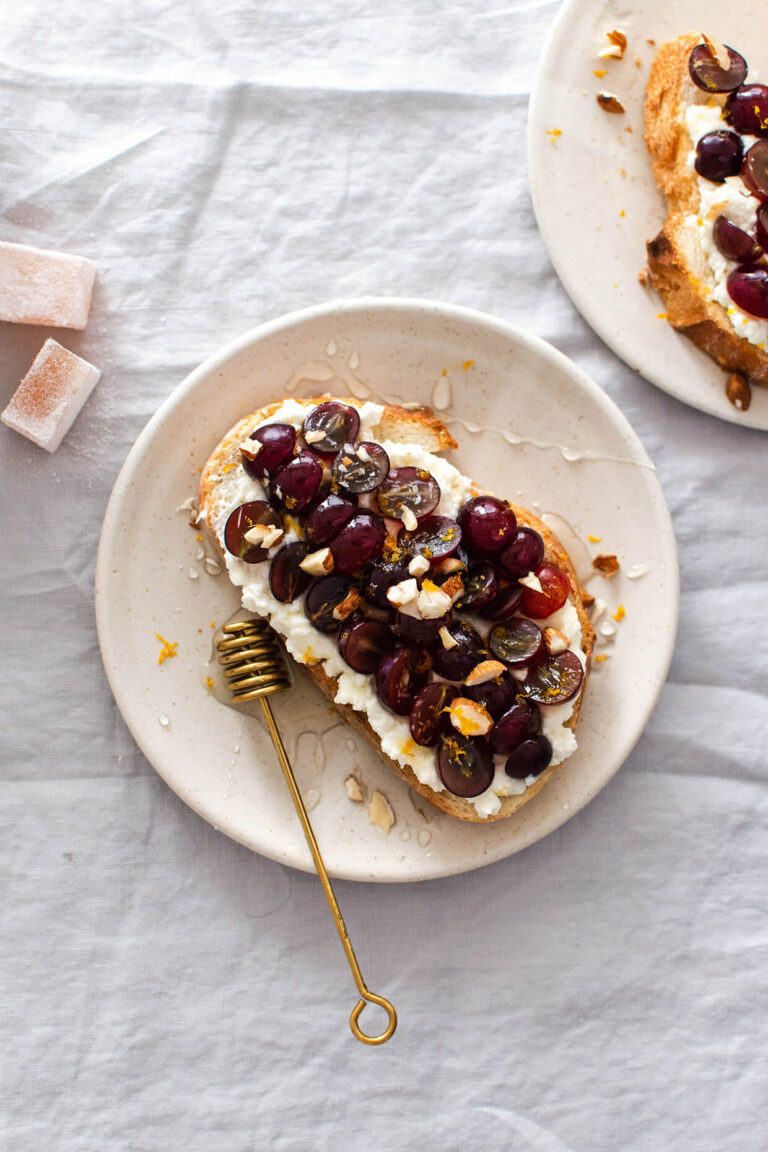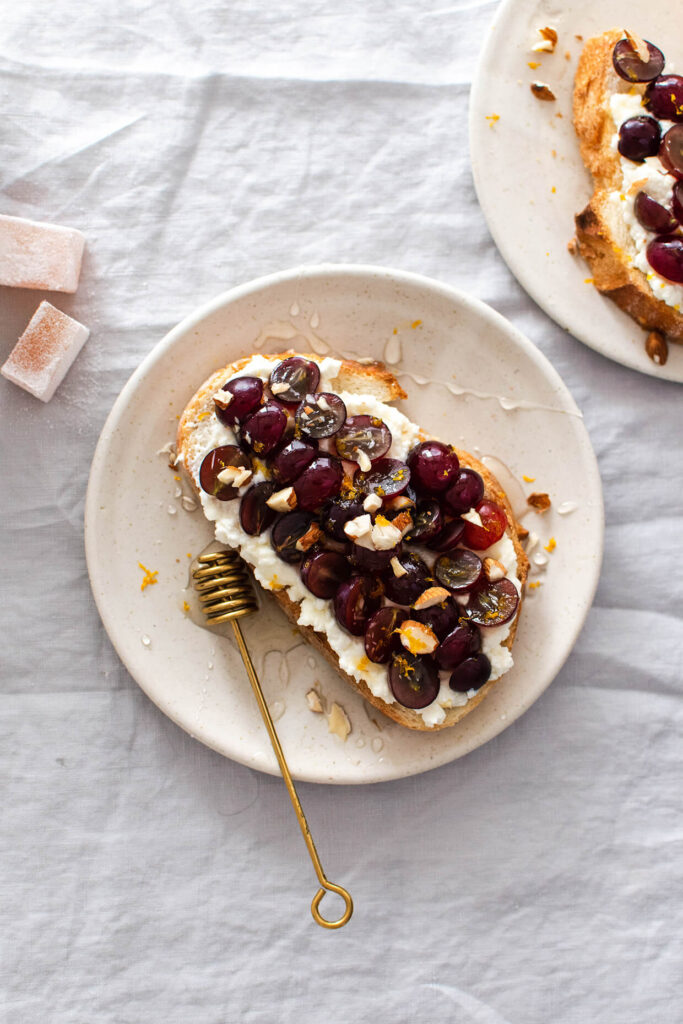 17. Cottage Cheese Toast With Grapes
Sugar Salted's sweet cottage cheese toast with grapes isn't a combination I would ever think of putting together on my own but would enjoy eating once in a while. Sliced grapes are such an easy addition and take the crunchiness factor over the top. They make a great compliment to the cottage cheese.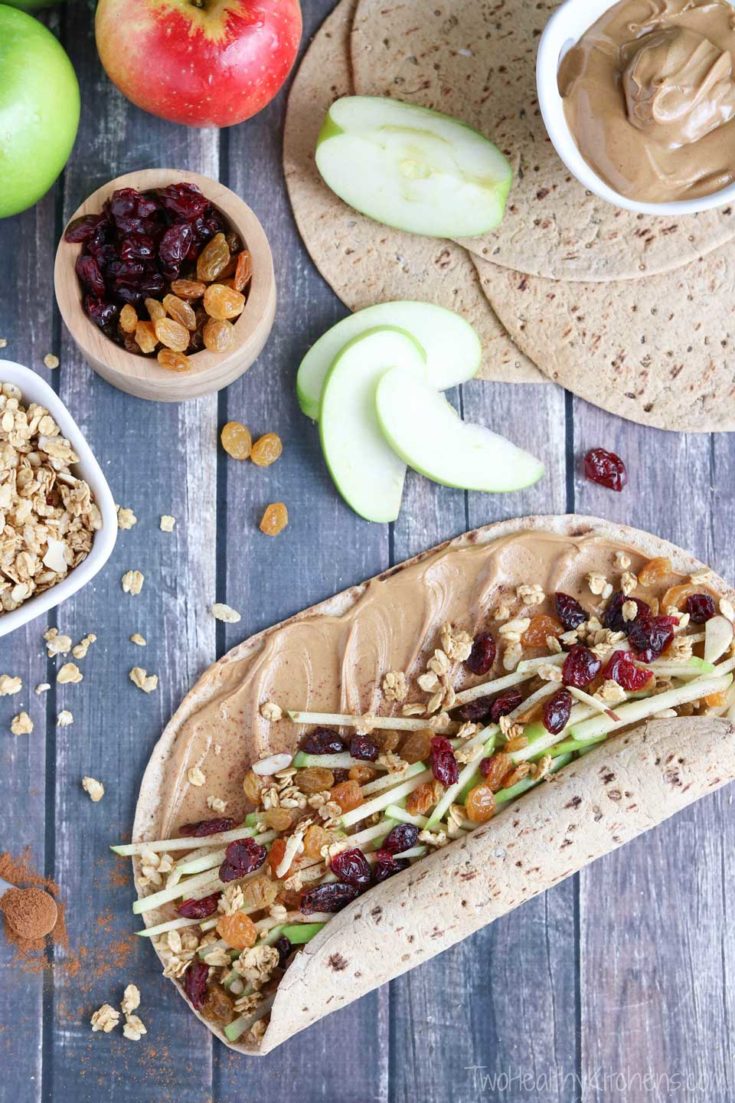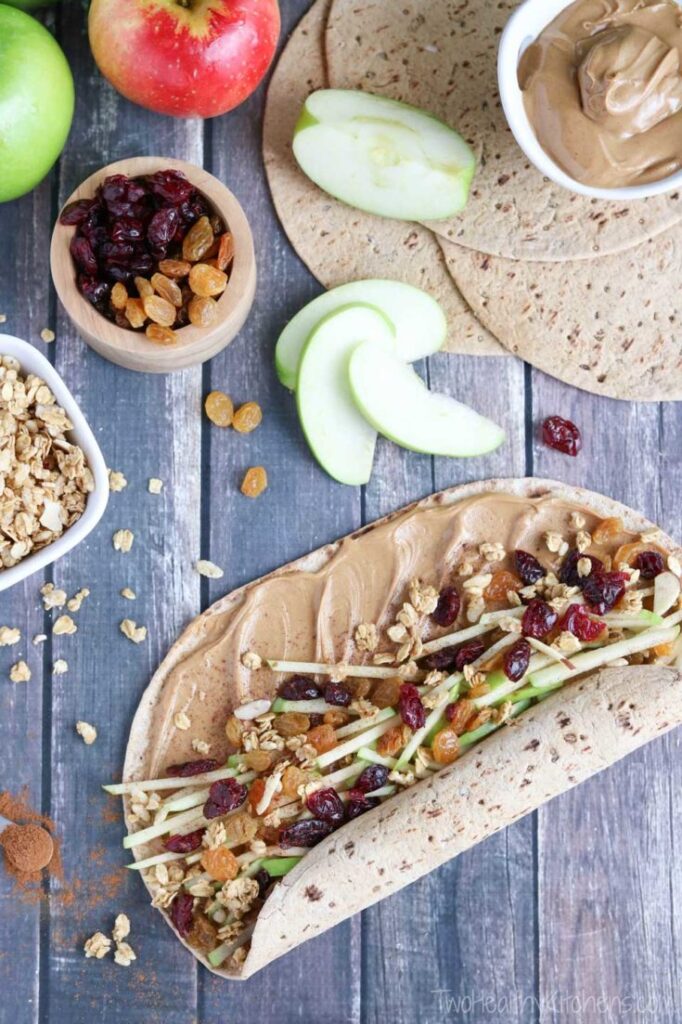 18. Granola Crunch Apple Peanut Butter Sandwich Wraps
Two Healthy Kitchen's granola crunch apple-peanut butter sandwich wraps will quickly become a favorite in your household for breakfasts, lunches, and snacks. Everyone will enjoy eating them, and they're so easy to customize.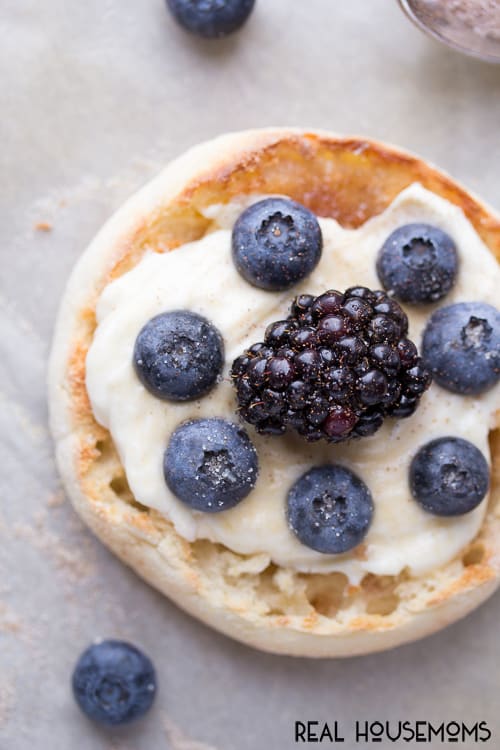 19. Cinnamon Sugar Berry Breakfast Pizzas
English muffins make Real Housemom's cinnamon sugar berry breakfast pizzas so easy. I'm a huge sucker for cinnamon and would never get tired of this recipe. You can easily use this concept to make savory pizzas as well.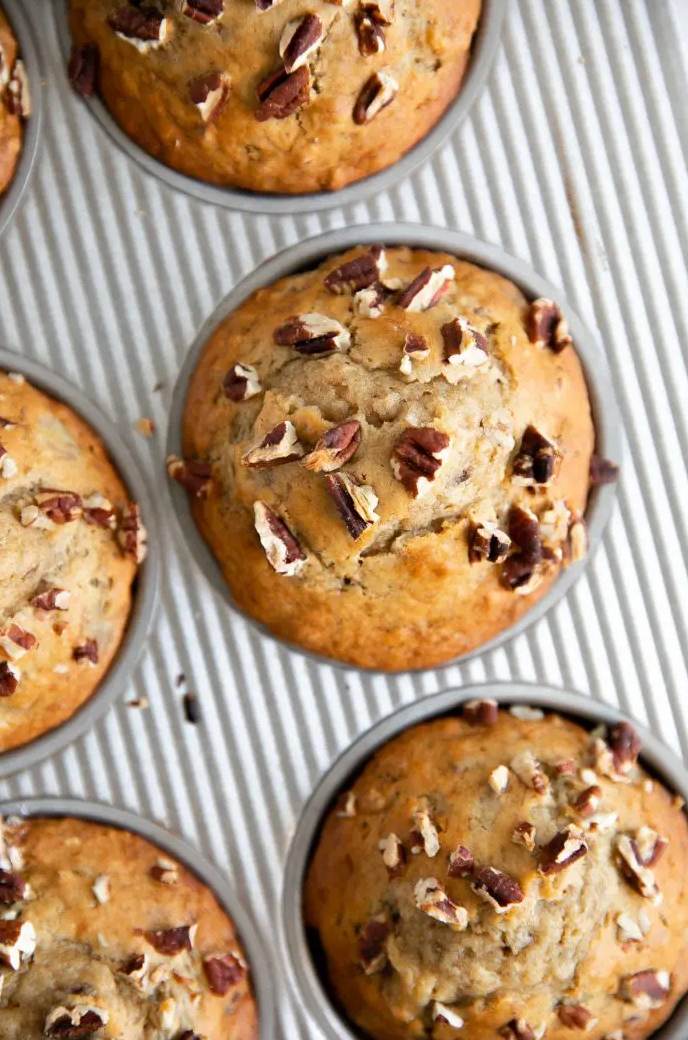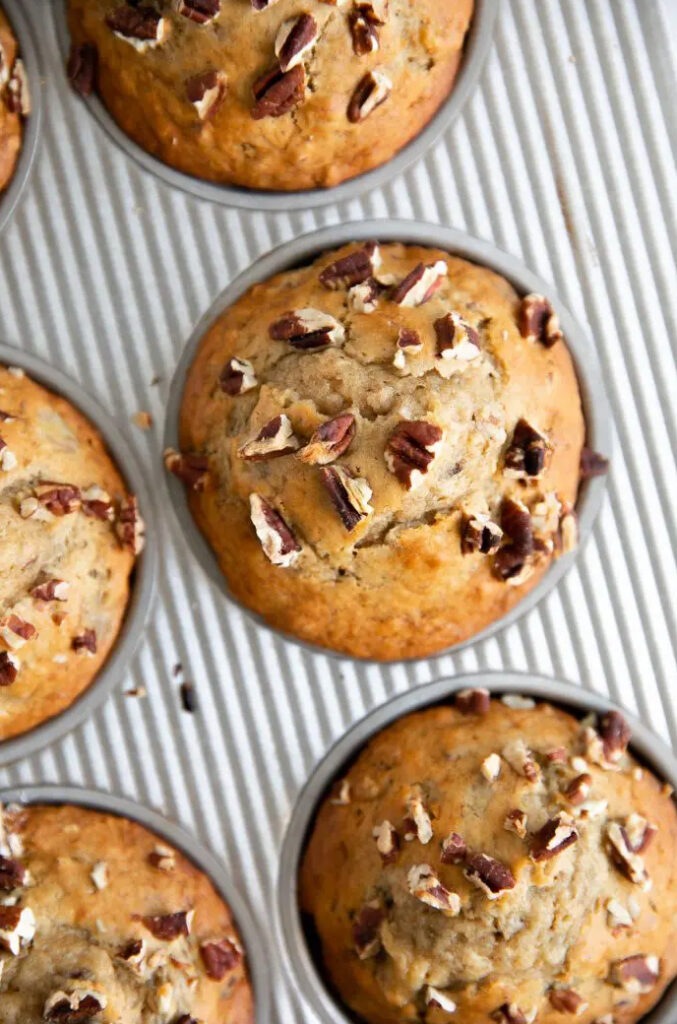 20. Banana Nut Muffins
The only way that I really love bananas is in baked goods, like breads and muffins. I love The Forked Spoon's banana nut muffins for breakfast because they're bulked up a bit with nuts to keep you full and energized all morning.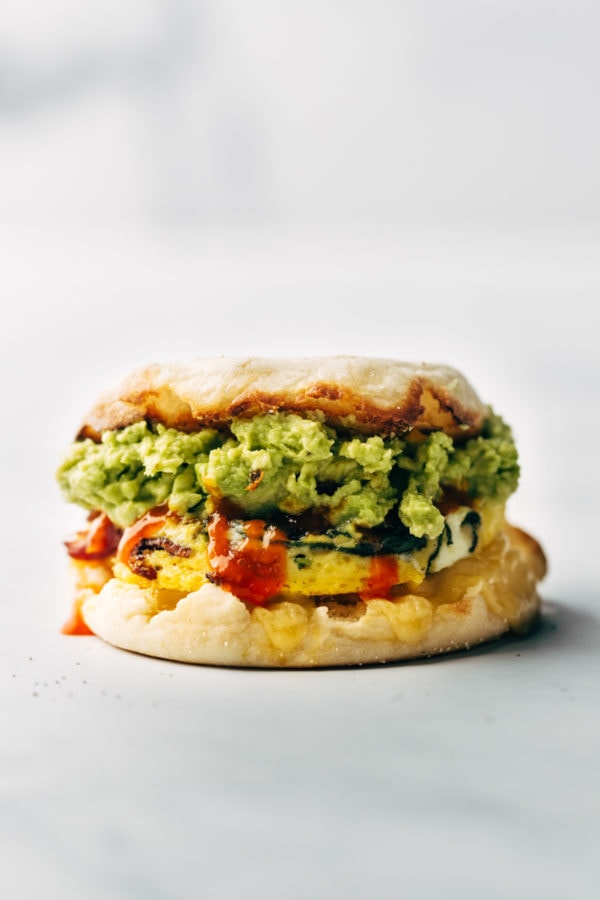 21. Meal Prep Breakfast Sandwiches
Pinch of Yum's meal prep breakfast sandwiches are made with English muffins and loaded with eggs and spinach and then finished off with a little bacon and cheese. They'll completely change your mind about make-ahead egg recipes. It's well worth the time required to prep a batch of these sandwiches over the weekend.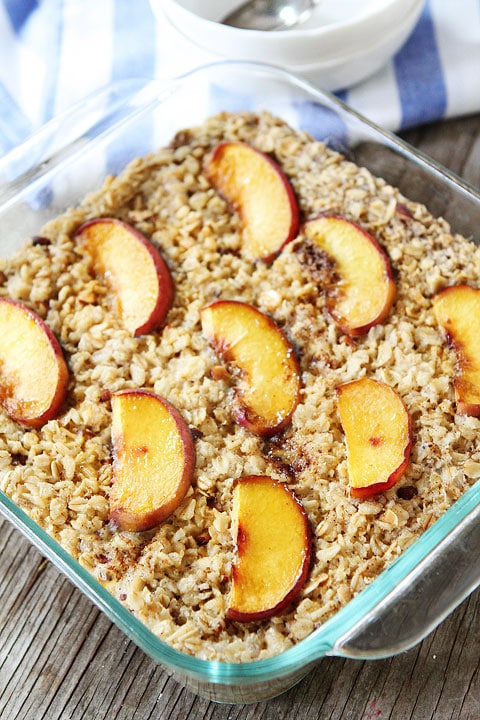 22. Baked Peach Almond Oatmeal
Most baked oatmeal recipes are amazing but more of a weekend or brunch treat, not a staple weekday breakfast. Two Peas in their Pod's baked peach almond oatmeal is lightly sweetened and packed with fruit, making it a great baked oatmeal choice any day of the week. You can even add something like chia seeds or hemp hearts to boost the nutrition without significantly changing the flavor.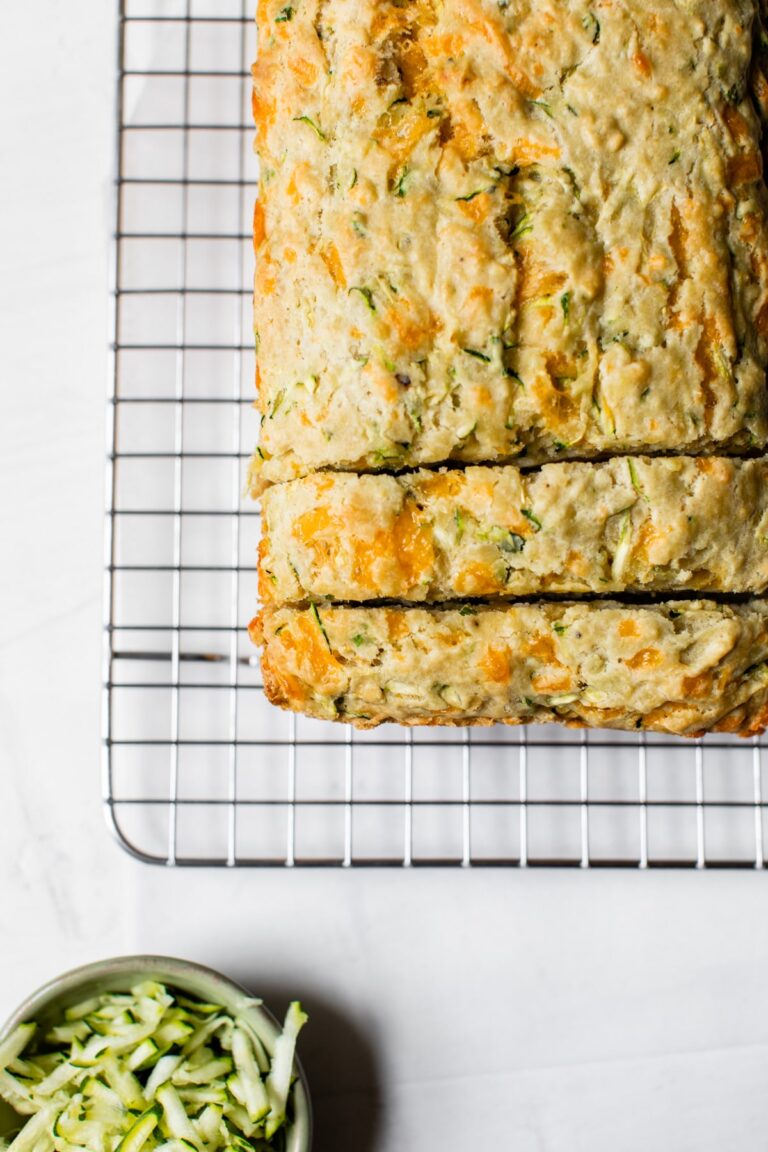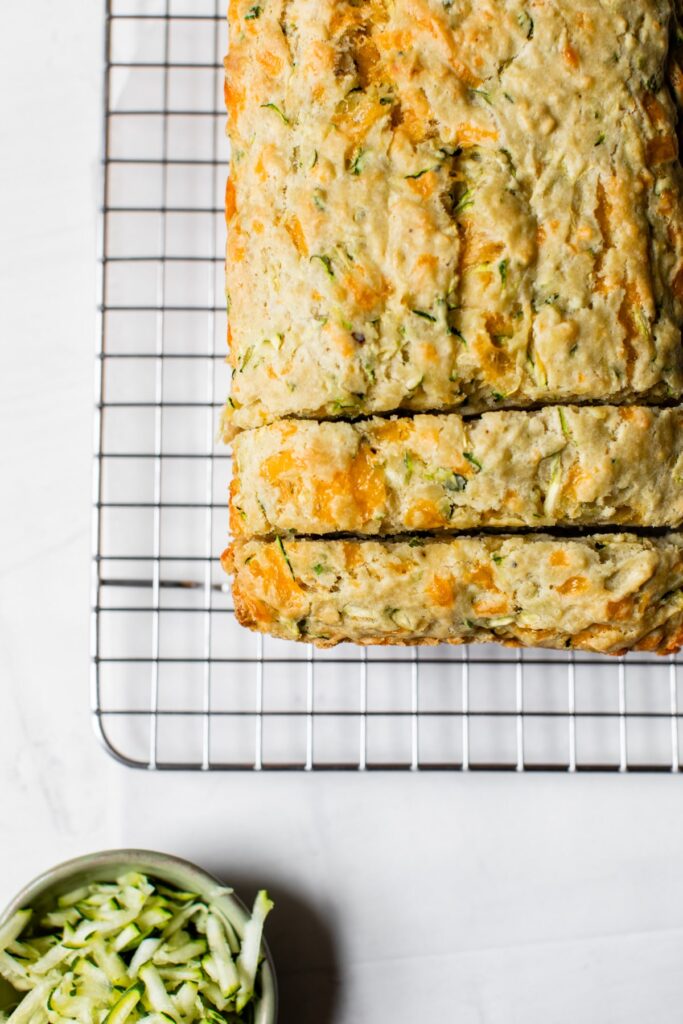 23. Savory Zucchini Bread
The Almond Eater's savory zucchini bread has chives and cheddar cheese and pairs perfectly with cream cheese. Add a sliced tomato, a little spinach, and some fresh herbs or microgreens as well.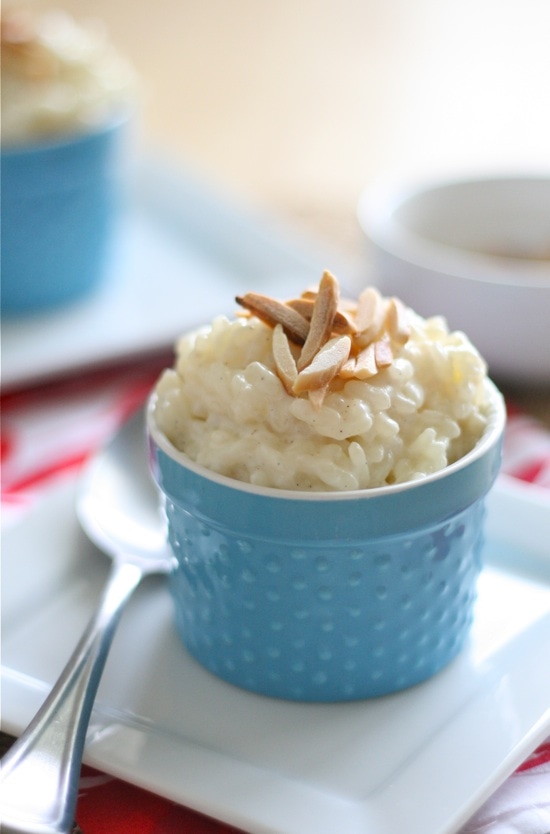 24. Vanilla Almond Rice Pudding
I would never think to make rice pudding for breakfast. But Lauren's Latest's vanilla almond rice pudding has me sold on the concept. It's naturally gluten-free, low-fat, and lightly sweetened.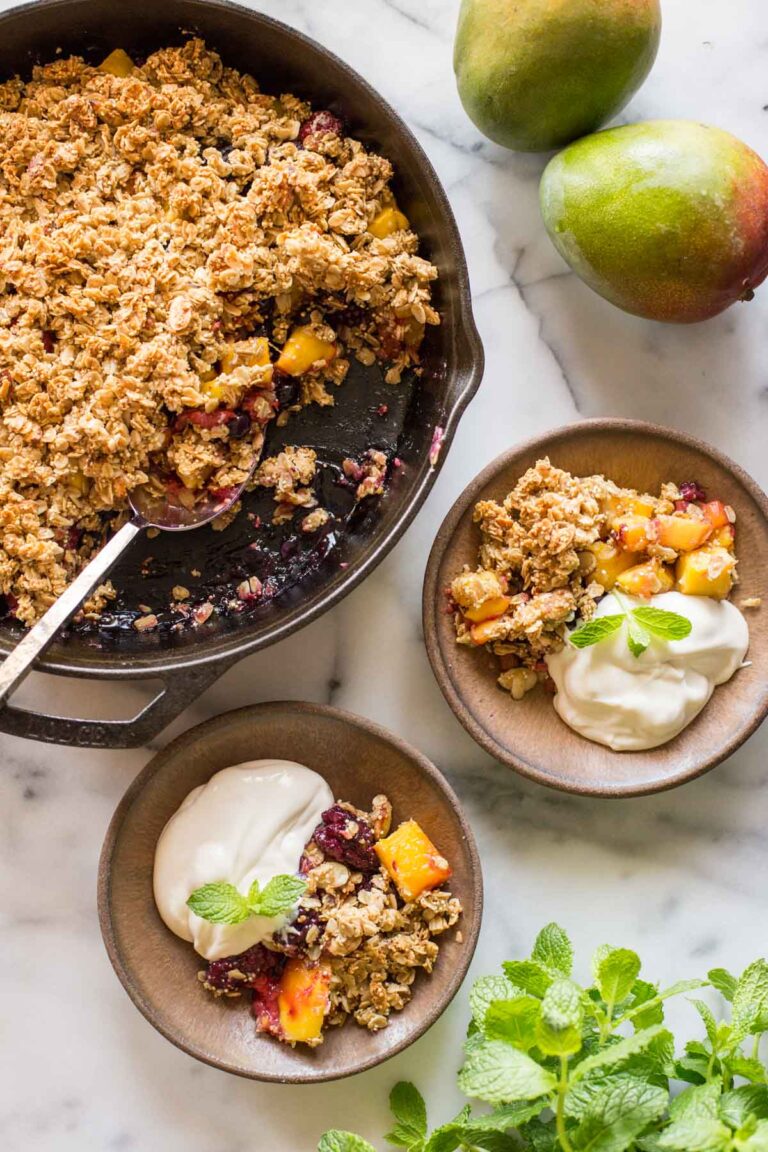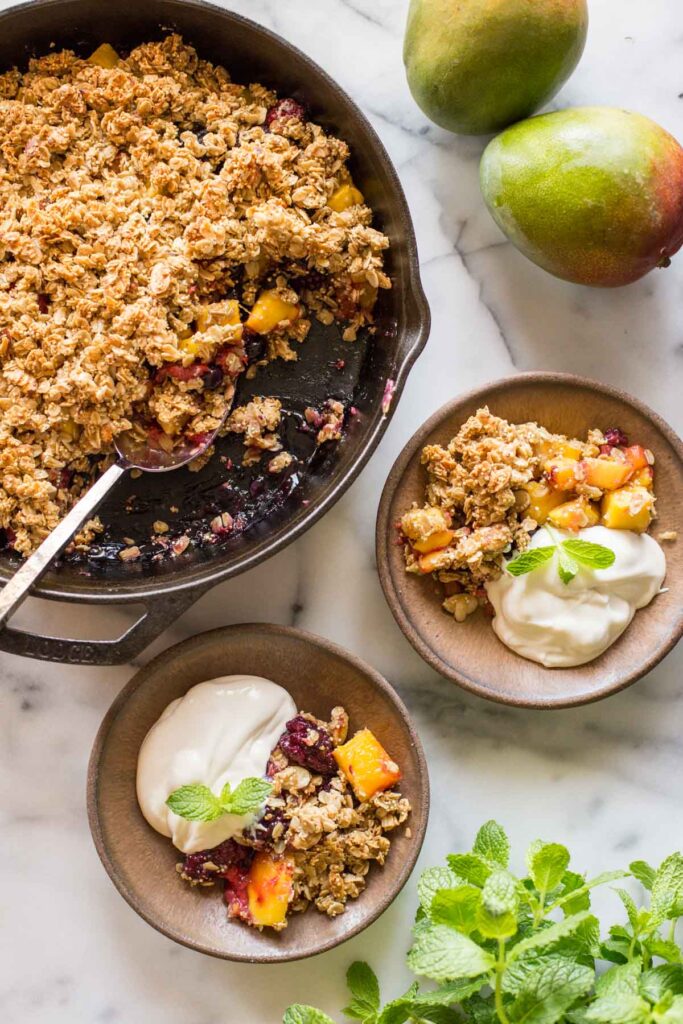 25. Mango Berry Breakfast Crisp
I love that Lovely Little Kitchen's mango berry breakfast crisp includes mangoes for a slight change of pace from the usual berry crisp. It's also bulked up with quinoa and flaxseed.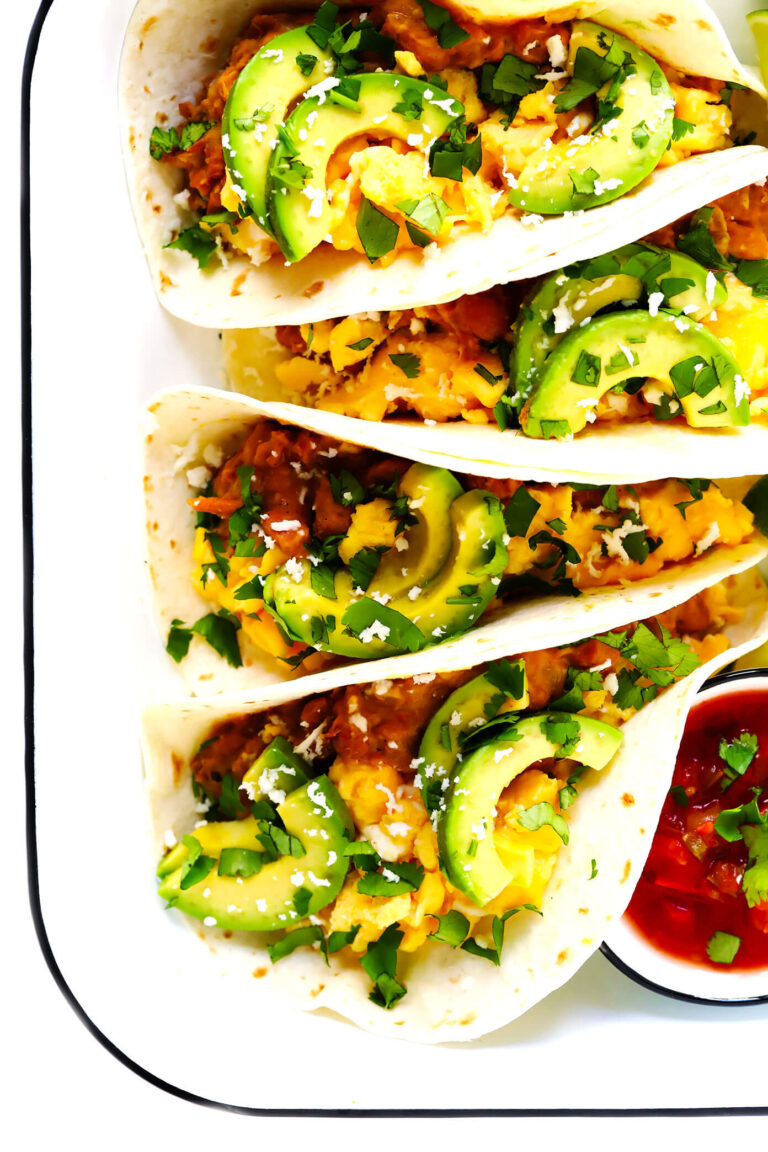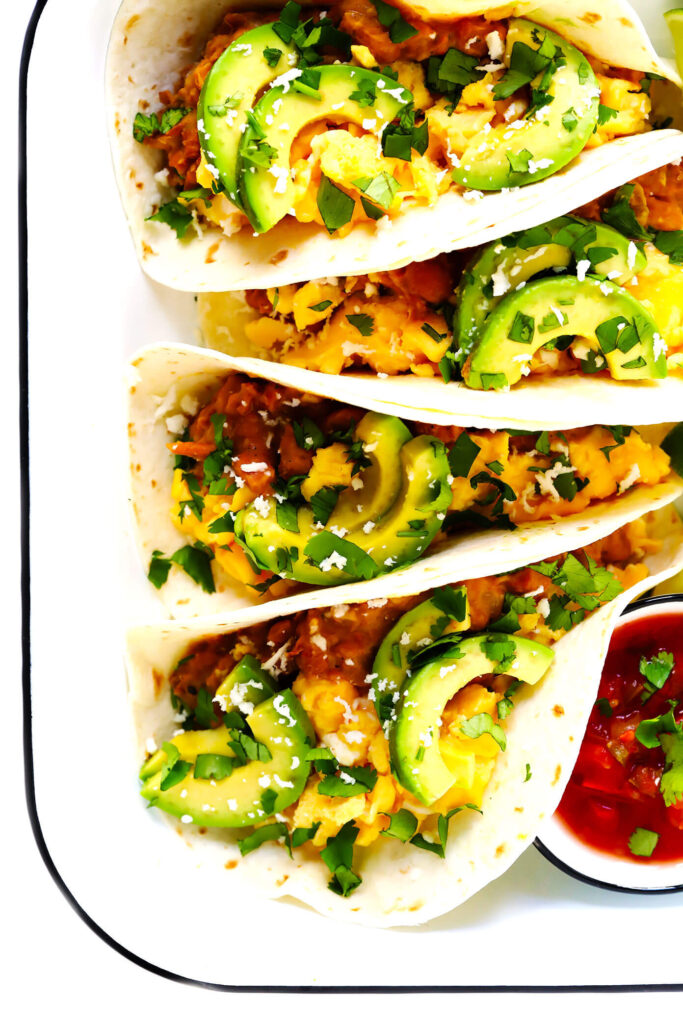 26. Easy Breakfast Tacos
I searched hard to find a breakfast taco recipe that didn't include tomatoes or green onions. Gimme Some Oven's easy breakfast tacos fit the bill perfectly for acid reflux sufferers looking to avoid these two ingredients. She has lots of ideas for acid reflux-friendly variations as well.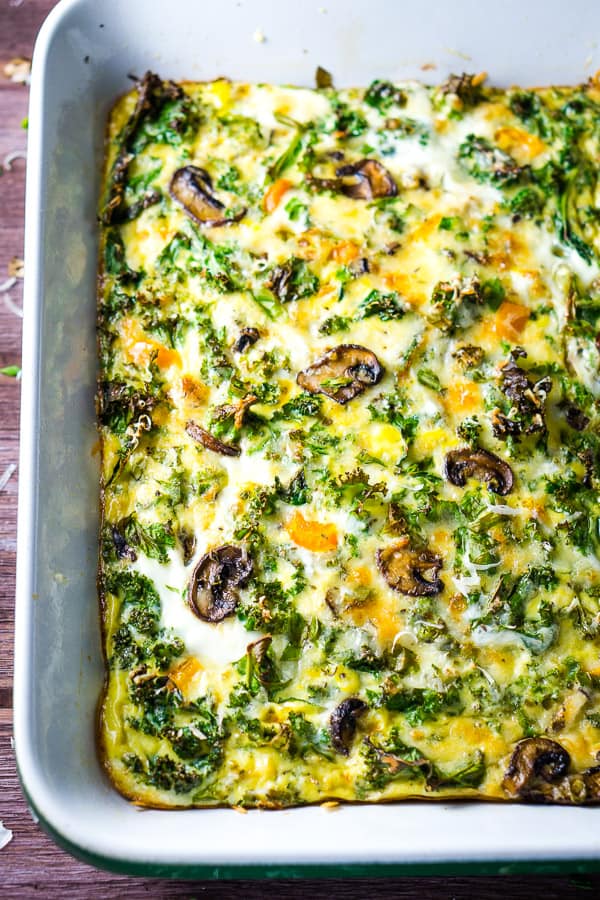 27. Crustless Quiche
The Kitchen Girl's crustless quiche is lean, low-carb, and packed with veggies. She includes meal prep and make-ahead tips as well. You can customize it easily with the veggies, cheese, and spices of your choosing. If the fresh garlic will flare your reflux, sub in garlic powder.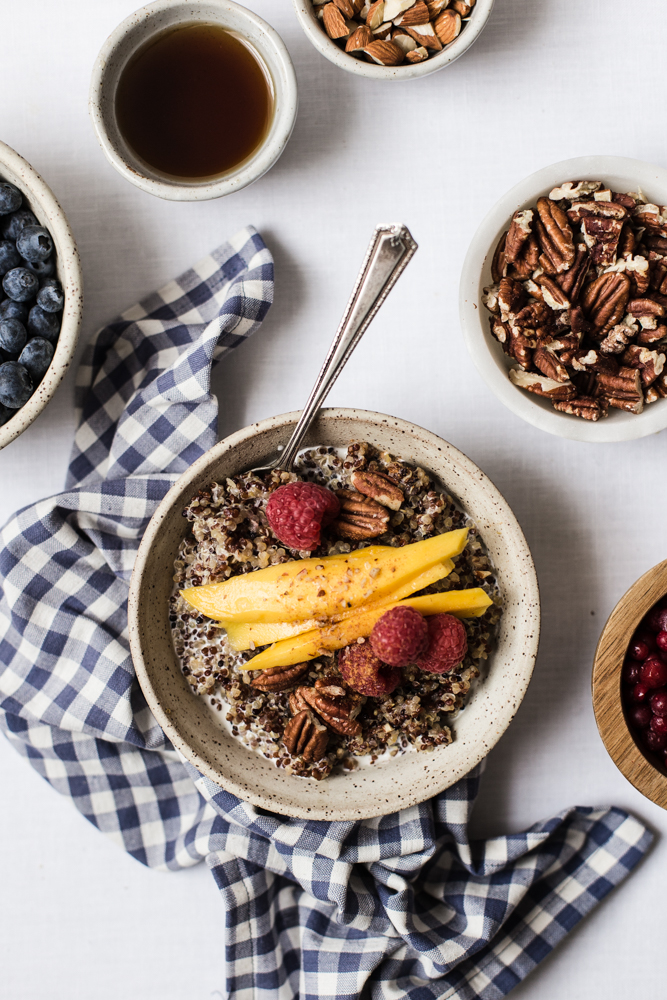 28. Six-Ingredient Breakfast Quinoa
The Modern Proper's six-ingredient breakfast quinoa is simple, flavorful, and filling. It's a little heavy on the sugar for a healthy breakfast, but you can easily balance it out with fruit and add-ins like hemp hearts or adjust the sugar level down to your liking.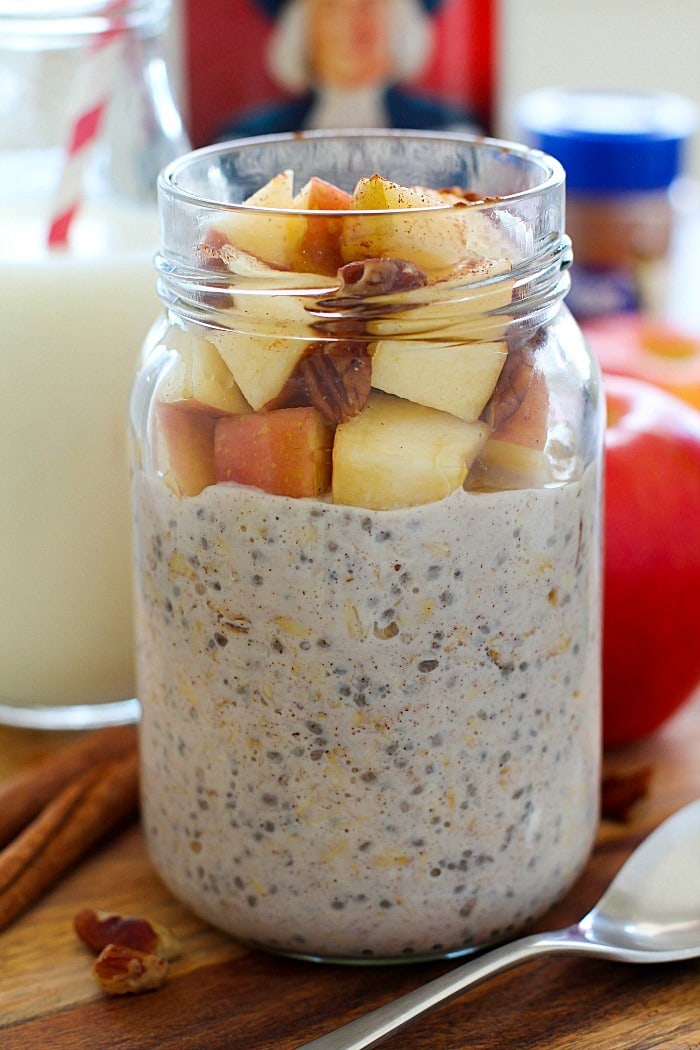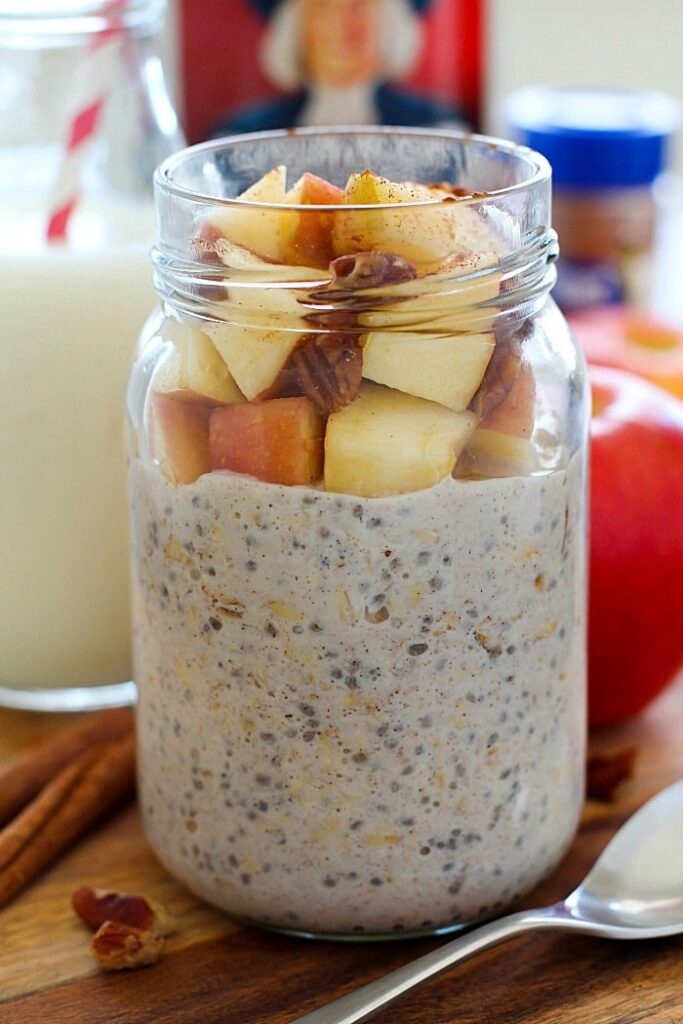 29. Apple Pie Overnight Oats
Yummy Healthy Easy's apple pie overnight oats taste so good that you won't believe that they're just lightly sweetened and loaded with healthy ingredients.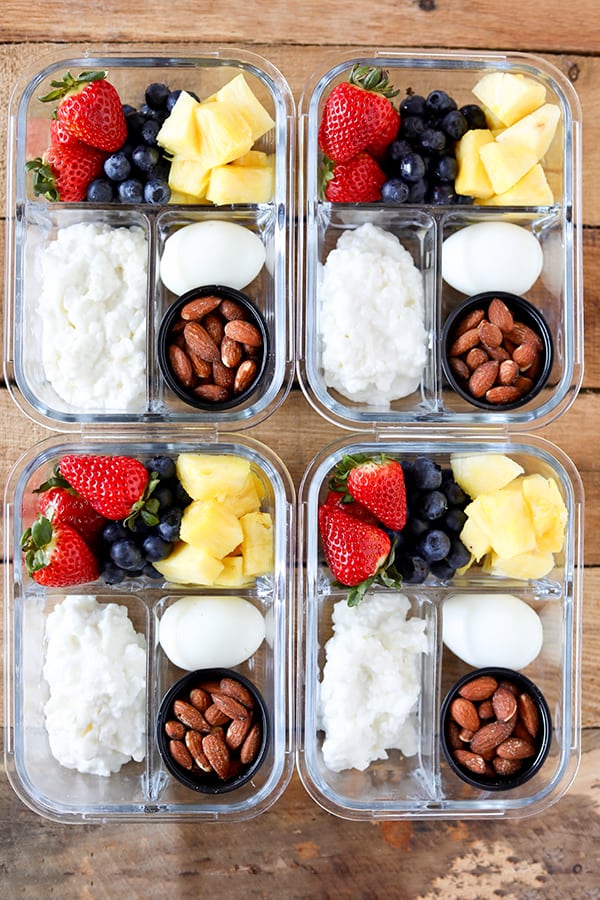 30. Breakfast Protein Box
No 2. Pencil's breakfast protein box is ideal for people who like to take breakfast right to work or a morning meeting and want more than a granola or protein bar. It has fruit, cottage cheese, nuts, and a hard-boiled egg, so you get a little bit of everything.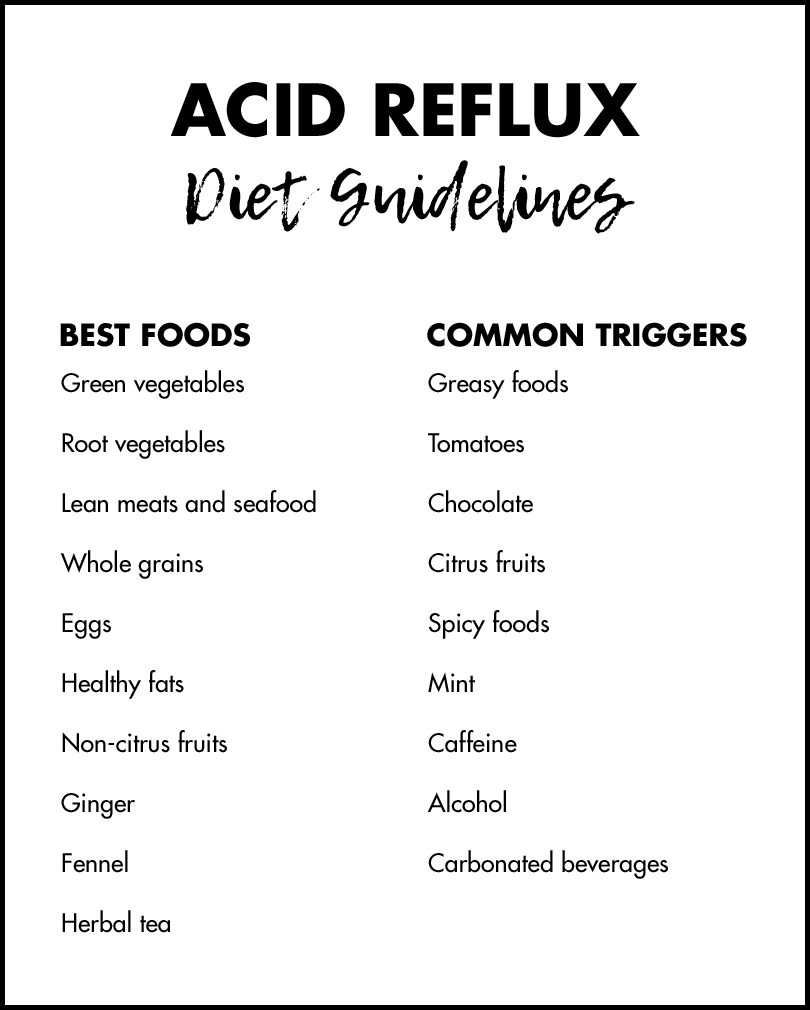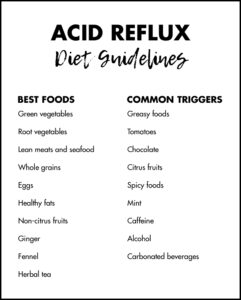 Don't forget to grab your FREE printable acid reflux reference sheet with the best and worst foods for GERD symptoms!
[Best and Worst Foods for Acid Reflux Reference Sheet]
[Disclaimer: There are a few affiliate links in this post. Thanks for your support!]
Pin this post for easy access to the easy healthy acid reflux-friendly breakfast ideas and other acid reflux resources later!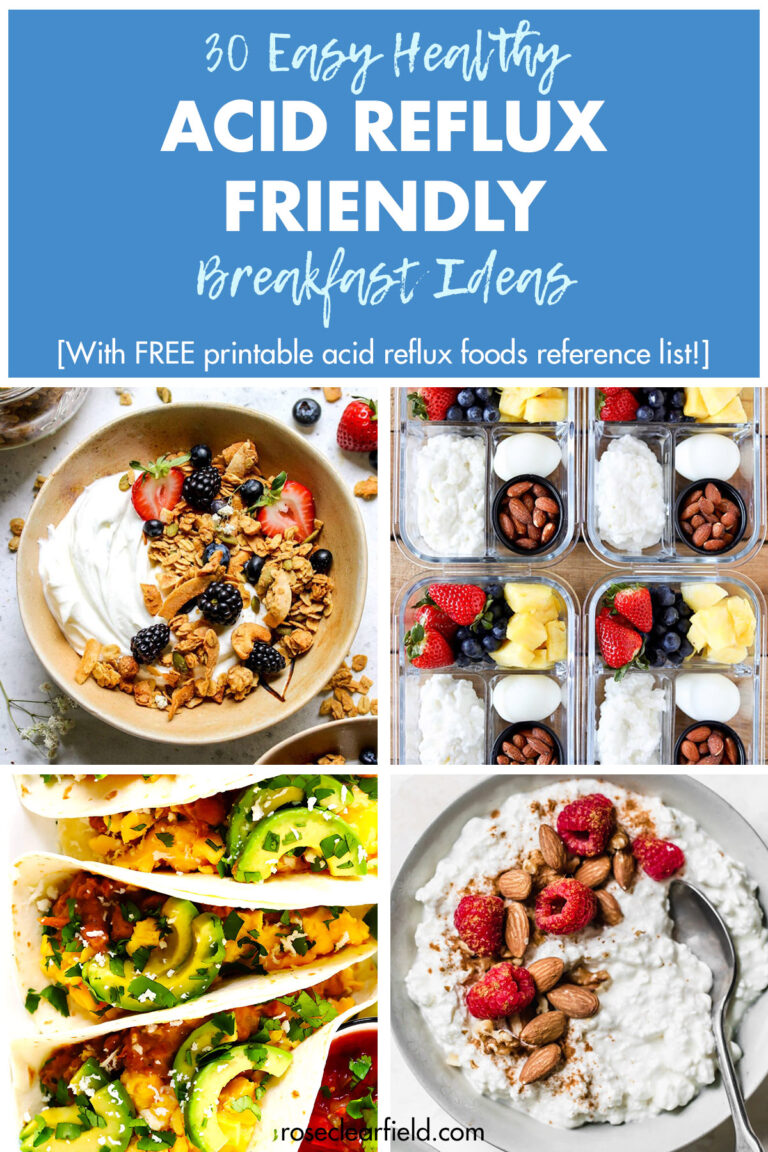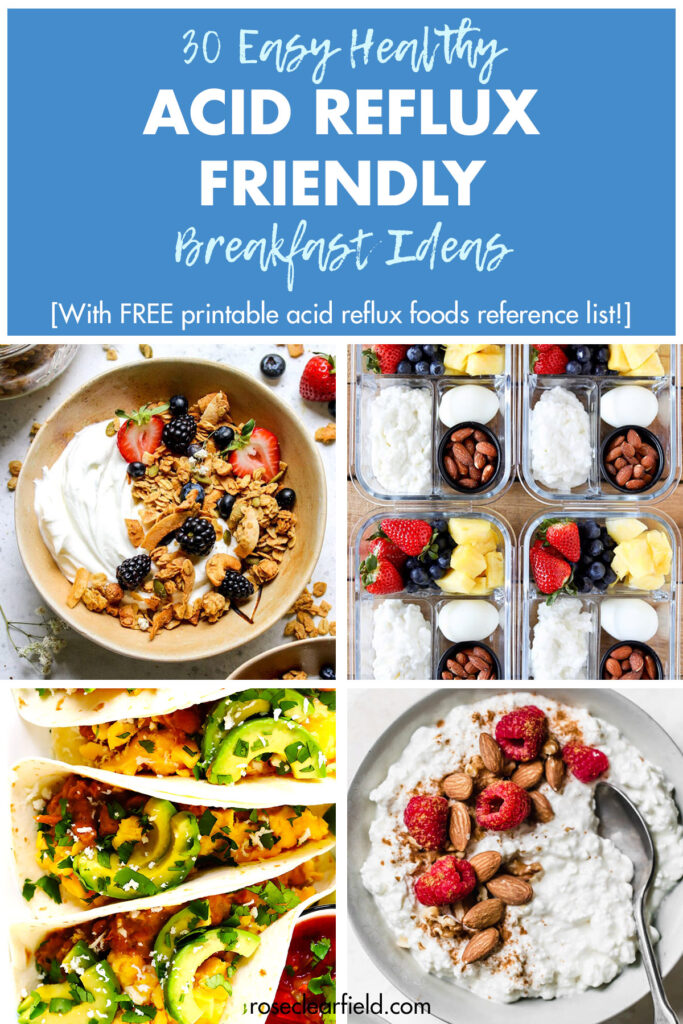 More acid reflux resources:
More healthy eating resources: