My all-time favorites holiday gift guide consists of 25 of the items that I own and use every week, if not every day, and love to give as gifts.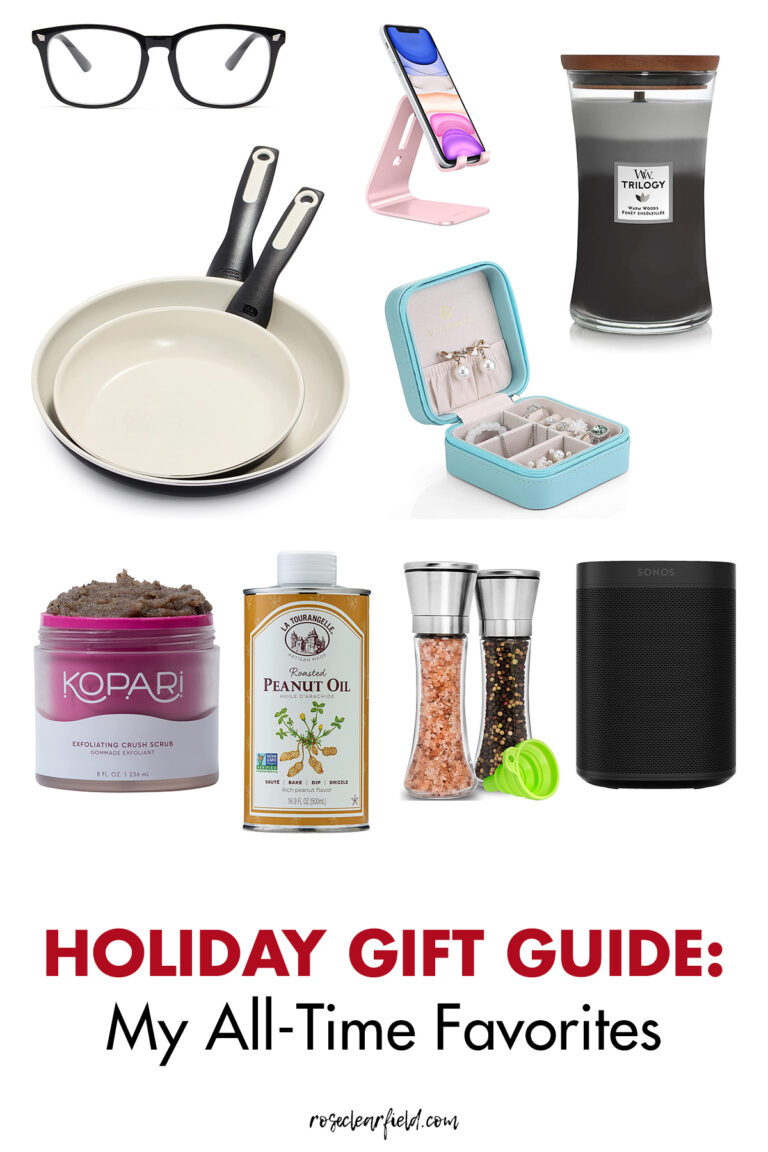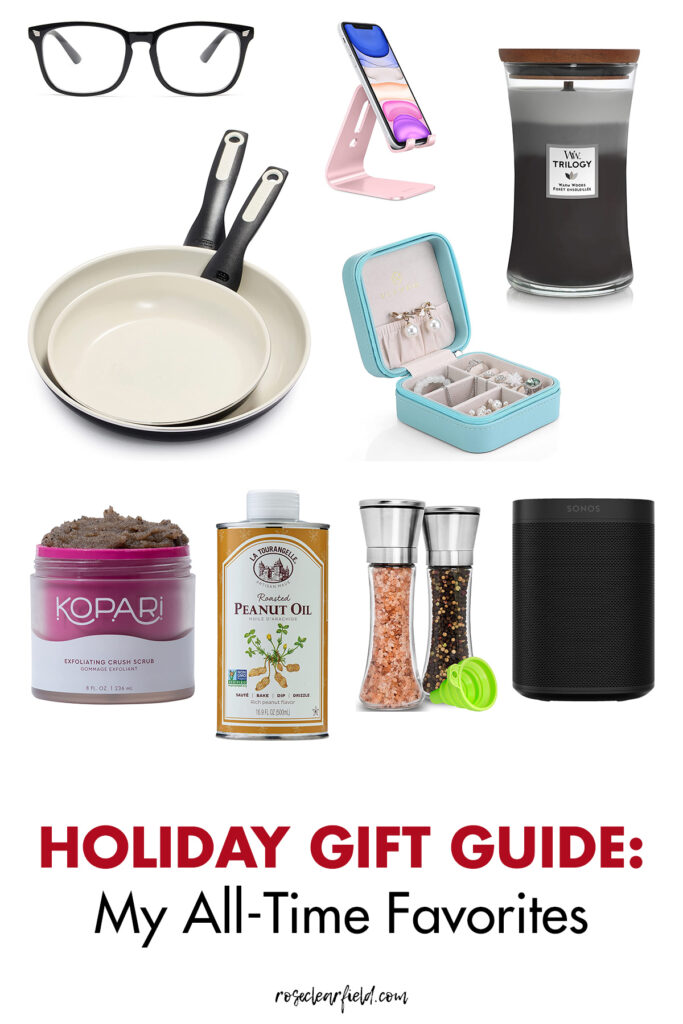 I've rounded up my all-time favorite items that I own and use weekly, if not daily, and that also make great gifts. I'm sharing items such as candles, blankets, mugs, and jewelry as opposed to the more boring everyday essentials, such as white athletic socks and dental floss.
Gifting people practical but beautiful items brings more joy to their daily lives. Using a gorgeous mug for your morning coffee or pulling out an extra soft blanket at the end of a long day makes every single day just a little bit better.
I was not sent any of these items for this gift guide, nor do I receive any compensation simply from mentioning any of these items. I'm sharing items that I've purchased or received as gifts over many years and truly love using in my daily life. I've included kitchen items, home decor, clothing, accessories, beauty basics, and one of my family's all-time favorite tech items. While this gift guide is primarily aimed at women, there are lots of gifts here for men as well.
Salt and pepper grinders
Freshly ground salt and pepper tastes so good, elevating your meals every single day. I use my grinders for everything from potatoes to stir-fried vegetables to pork chops. It's worth investing in a set with stainless steel grinders. I have the Bavaria salt and pepper mills from Crate and Barrel and have been so happy with them. If you're looking for a purchase option on Amazon, the HOME EC salt and pepper grinder set is extremely well-rated.
Roasted peanut oil
These days I put roasted peanut oil on everything from salad to pot stickers to steak. It's such an easy finisher with so much flavor. If you're looking for other premium oil options, you can't go wrong with toasted sesame oil. If you're looking for something a little more unusual, try roasted hazelnut oil or chili oil.
Cherry blossom coffee mug
I make a lot of single-serving tea. The cherry blossom mug is perfect for it. I've been using the mug four or five times per week the last few years. It's held up so well. The mug truly isn't hot to the touch, even after it's been in the microwave, and the design is so cute. The cherry blossom design is also available as a tumbler.
Katie Daisy mugs
My other favorite mugs right now are from Katie Daisy's Etsy shop thewheatfield. I love so many of her designs. They're so beautiful on mugs. I have a couple of her ceramic mugs. The camp mugs are so much fun, too.
GreenPan frying pans
I own two GreenPan frying pans. They've been worth every penny. The pans heat so much more evenly than any other pan I've owned. The nonstick coating doesn't hold up perfectly, particularly on my larger pan. But again, it's so much better than anything else I've ever owned. I purchased my GreenPan frying pans from Crate and Barrel. You can also find a variety of their pan sets on Amazon.
No products found.
Acacia wood slab lazy Susan
I've owned a lazy Susan for years that I've used for different purposes in different kitchens. Currently, I have it on the kitchen island and use it for oils, garlic, honey, and salt and pepper grinders. When my first one broke a few years ago, I got the Acacia wood slab lazy Susan as a replacement. It's gorgeous, such a statement piece for any dining room or kitchen, and with so much functionality.
Jessica's cookbooks
I've been following Jessica's blog How Sweet Eats for over a decade. I cook from her blog more than any other blog by a long shot. Her second and third cookbooks, The Pretty Dish and Everyday Dinners, have absolutely gorgeous photos and feature so many great weeknight dinner recipes with simple ingredients.
Edi's photo frames
Edi of memoriesforlifesb on Etsy is one of my oldest online friends. I've gifted so many of her picture frames to family members and as wedding gifts over the years. She designed all three of my kids' newborn frames with their birth stats and footprints. Edi has lots of great designs in her shop and takes custom orders.
WoodWick candle
WoodWick candles have some of the best candle scents I've ever found. They aren't too strong, and they have a nice selection that aren't too sweet. The wood wick is amazing as well. We love the crackle sound, and it remains easier to light and extinguish over repeated lightings than regular wicks.
Hair towel
A hair towel is one of those items that you don't know that you need. Once you own one, you don't know what you'd do without it. A hair towel helps your hair dry more quickly and with less breakage. It's so lightweight that you can even travel with it easily.
Kopari coconut sugar scrub
The Kopari coconut sugar scrub is the best sugar scrub that I've ever used. The texture and smell are so good, and it makes such a difference for your skin. Unfortunately, you can't buy it through Nordstrom or Sephora anymore. But Amazon still carries it.
Vintage Brand t-shirts
I tracked down Vintage Brand's 1969 Milwaukee Bucks t-shirt after I saw another mom wearing it out in Milwaukee last year. I've been a big fan of Vintage Brand ever since. Their t-shirts are so soft and really hold up well. Vintage Brand has so many colleges and sports teams in their inventory and is adding more all the time.
Madewell Whisper cotton v-neck tank
I actually like the Madewell Whisper cotton v-neck tanks better than the t-shirts. They aren't quite as low-cut. As a tank top design, it's so good with nice wide straps. They seem to carry neutrals all year round and sometimes offer colors during the warmer months of the year.
Nightshirts
The PNAEONG women's nightshirts are a great length and fabric weight. You can easily layer them or wear them as is, and they come in so many fun colors and prints. I own multiple designs. They've held up well through repeated washings over a couple of years.
Barefoot Dreams socks
Barefoot Dreams socks are some of the softest socks imaginable. They're perfect for days around the house. They're also nice as a layer when you have to go out on really cold days. In past years, I've gotten some really cute Christmas designs during the holiday season. It's always worth keeping an eye out for them.
Jo Malone perfume
I'm super picky about perfume and think that most perfumes are way too strong and have a chemical smell. Jo Malone perfumes are some of the few I've found that are light and actually smell good. My favorite Jo Malone perfumes are Wood Sage & Sea Salt, which I love for the cooler months of the year, and Peony & Blush Suede, which I love for the warmer months of the year.
Daniel Wellington watch
I've owned a Daniel Wellington watch for about six years now and have only had to change the battery once. I wear it every single day, and the face still looks great. The strap does get dingy after a while. But that's to be expected, and it's really easy to change the strap yourself. You can find lots of compatible straps on Amazon.
Onegarnetgirl rings
I own multiple rings from Onegarnetgirl on Etsy. They're some of my absolute favorites. She has one of those shops where I want every other item. Everything is so well-made and unique but timeless.
Dooney & Bourke bag
I know that Dooney & Bourke isn't the hippest brand right now. But I've had my Dooney & Bourke bag for nearly a decade, and it's held up so well. There's just a little wear around the edges. I've always shopped I Love Dooney.
Jo Totes bag
Once my kids are out of diapers, I'll carry my Jo Totes bag when I'm out with them the vast majority of the time. It's just the right size for my Canon 80D with the 40mm lens or my Panasonic mirrorless camera. And it has more than enough room for everything else that I need. I actually have the Jo Totes Allison bag in butterscotch. But I'm linking the black version, as it's the one that's currently available.
Travel jewelry box
The travel jewelry box is absolutely perfect for any kind of trip. It's so beautiful and well-made with ring slots, movable dividers, and a pocket. The packaging is so beautiful for gift-giving.
Barefoot Dreams blanket
I know that the Barefoot Dreams blanket is overhyped and expensive. But it's so amazingly soft and so big. It's the one blanket that I don't let my kids or my cats use.
Phone stand
I keep my phone stand on my nightstand and absolutely love it. The stand is so inexpensive that it's worth buying a few to have one in the kitchen, office, etc. as well.
Blue light blocking glasses
I have no idea what I did before blue light-blocking glasses. Maybe it's a placebo effect. I don't really care because I get so little eyestrain with them.
Sonos
The Sonos system is one of the few tech items that has completely changed our home life for the better. We use it every single day in multiple rooms in the house. I'm super picky about speakers and have been so impressed with the Sonos speakers. The range of sound is great. I love that you can start with just one unit and see how you like it before spending a lot of money to rig up your whole house.
[Disclaimer: There are a few affiliate links in this post. Thanks for your support!]
Pin this post for easy access to my all-time favorites holiday gift guide later!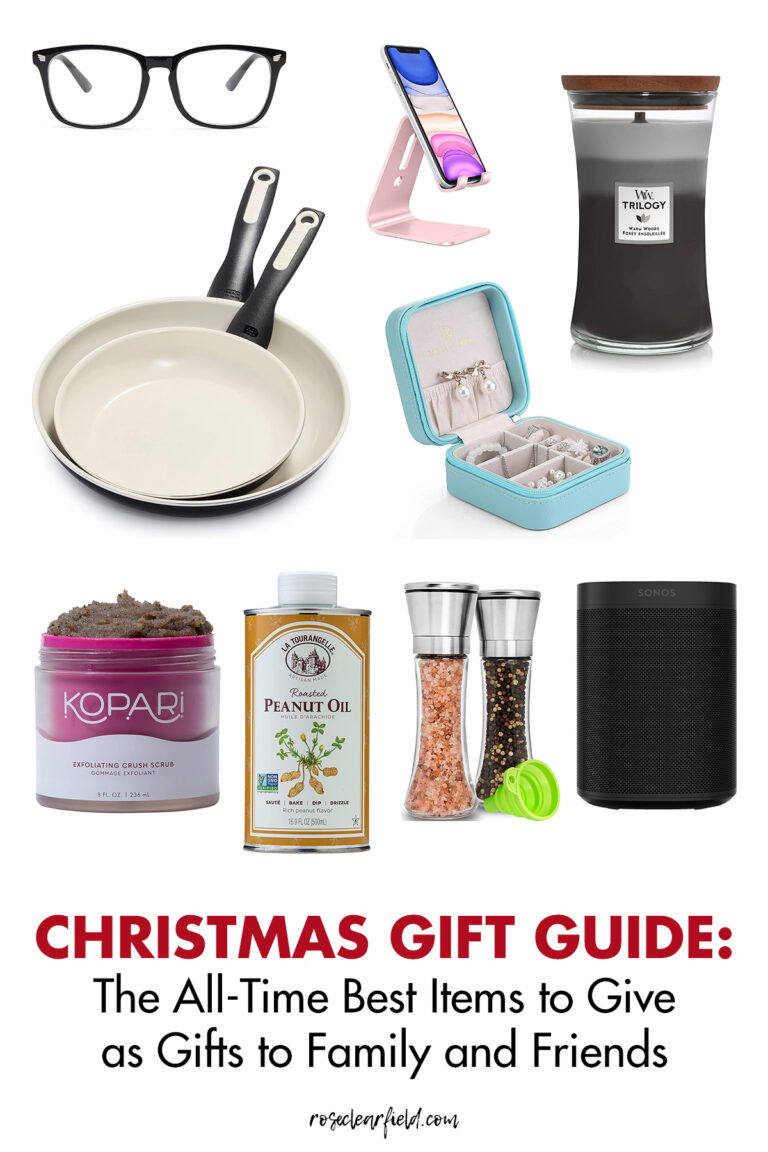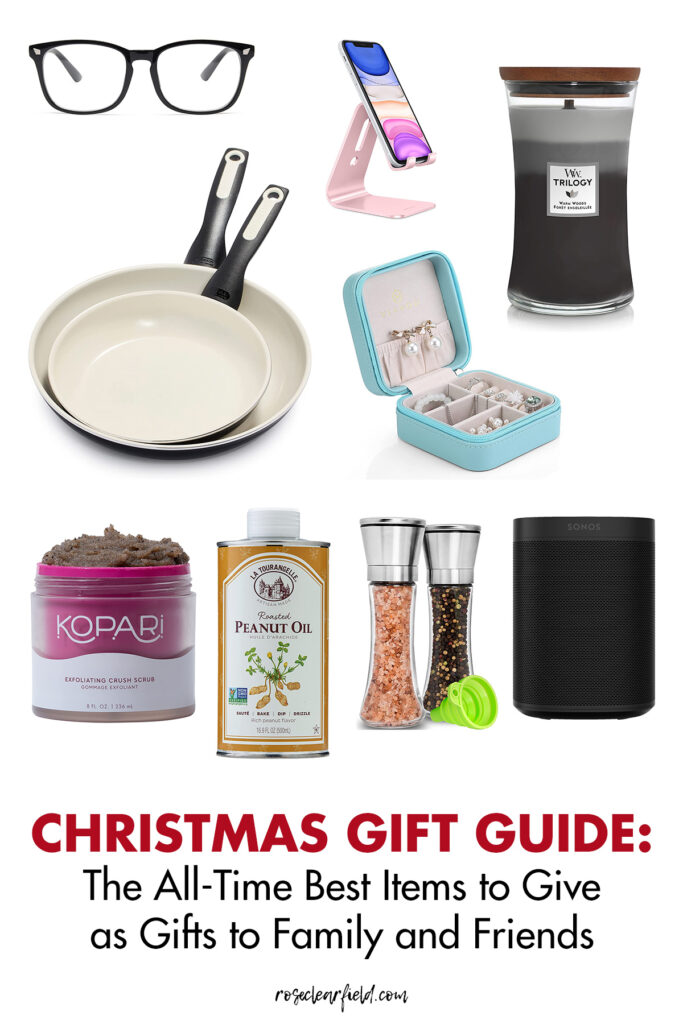 More holiday gift guides: