I set some really ambitious 2017 goals for myself. I posted regular monthly updates for my goals through May and then continued to work on the goals through the remaining seven months of 2017. I'm sharing my overall outcome with my 2017 goals before sharing my 2018 goals.
Goal #2B was to reach 1,000 Instagram followers. I started 2017 with 415 Instagram followers. I ended 2017 with 670 followers. Needless to say, it's not really worth noting this amount of growth. I didn't even gain an average of one new follower per day.
If you read any of my goal updates in 2017, you know that there have been many times that I've been frustrated with Instagram. While I'm not so hung up on it these days, many of the frustrations are still valid. Thousands of users continue to struggle with shadow banning. The main feed algorithm is a mess, and it makes it impossible to keep up with all of the accounts you follow. The follow/unfollow game remains as vicious as ever.
Here are the two main strategies I set out to use to grow my Instagram followers in 2017.
Commenting on non-follower Instagram accounts daily.
I have cut back on posting on Instagram a bit since Tommy was born. But more importantly for this goal, I've cut back on actively trying to grow my followers. Frankly, it's exhausting. While seeking out new accounts to comment on isn't too time intensive, it's an ongoing effort. And I didn't see a ton of results from it, even in the early months of 2017, when I was making a conscious effort most days. In comparison, with a similar amount of effort, my Pinterest follower count did start to pick up and continued to grow. I haven't felt like I've clawed my way to every single one of those followers the way I have with Instagram.
Joining Later and scheduling Instagram content in advance.
I still love Later and will not be giving it up anytime in the foreseeable future, regardless of Instagram follower count. It makes the entire scheduling process so easy and convenient. I love being able to do the vast majority of the work on my computer, where I already store my photos, and then just a tiny bit of work on my phone. While I'm not as intentional about what I'm posting these days, it's still nice to make sure that I'm spacing out my posts and not posting about the same thing several days in a row. As we get into 2018 here, I hope to be a little more intentional about my posting and make an effort to shoot and post content that's more in line with my blog again, instead of having mostly personal content.
As I become more consistent and intentional with posting again, I'll see whether my follower count grows at all organically and decide if it's worth trying to comment on non-follower accounts. Meanwhile, even without a lot of new followers in 2017, my engagement increased significantly. I was shocked when I saw my liked post numbers from 2016 and 2017.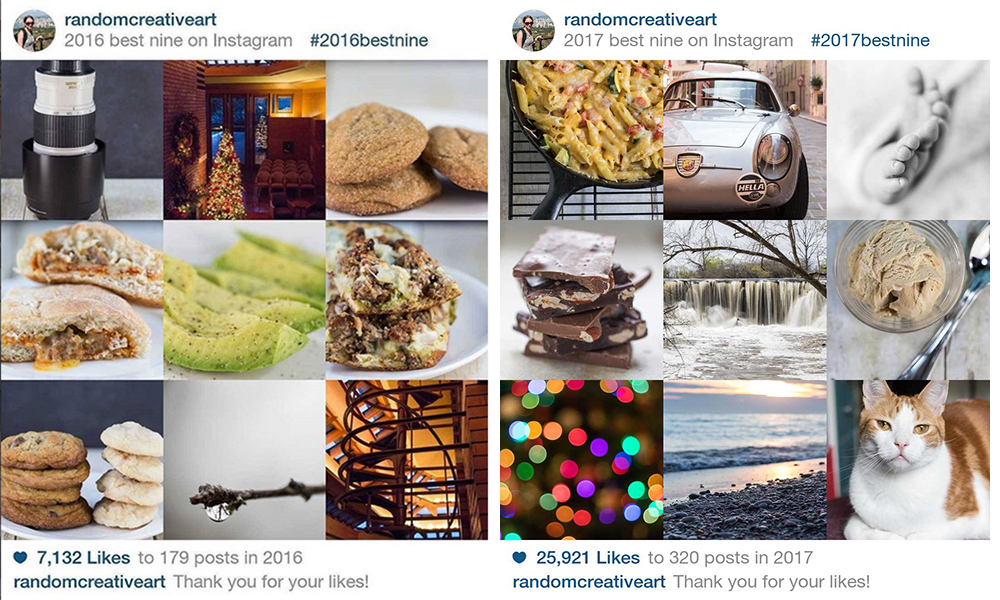 The above graphics are from the best nine sites – 2016, 2017.
My average number of likes per post increased from 40 likes in 2016 to 81 likes in 2017. It more than doubled! Again, I was shocked. I really needed to see that right at the end of 2017 as I was wrapping my goals and was fully convinced that I'd made no progress on Instagram this year.
So we'll see how Instagram goes for 2018. I'm not setting a followers goal, but I will remain as active as ever and may give occasional updates here.
I'll pick up my 2017 goals summary posts again next week. Stay tuned!
How did your 2017 goals go?
What goals have you set for 2018?