I set some really ambitious 2017 goals for myself. I posted regular monthly updates for my goals through May and then continued to work on the goals through the remaining seven months of 2017. I'm sharing my overall outcome with my 2017 goals before sharing my 2018 goals.
Goal #3 was to finish all major home painting projects, home framing projects, and other home organization projects. I accomplished a lot on our "forever" home in late 2015 (when we moved in) through the end of 2016 and wanted to get as much as possible wrapped up by the end of 2017. Contrary to popular belief, I do not love home decorating. I felt like I had to do a lot with this house because we intend for it to be our forever home. Although you're never really done working on a house, I needed to feel like there's an end point to the big projects. Hence, I set this goal.
"Finish all major home projects" was too general, so I made a short list of the highest priority home projects I wanted to accomplish in 2017.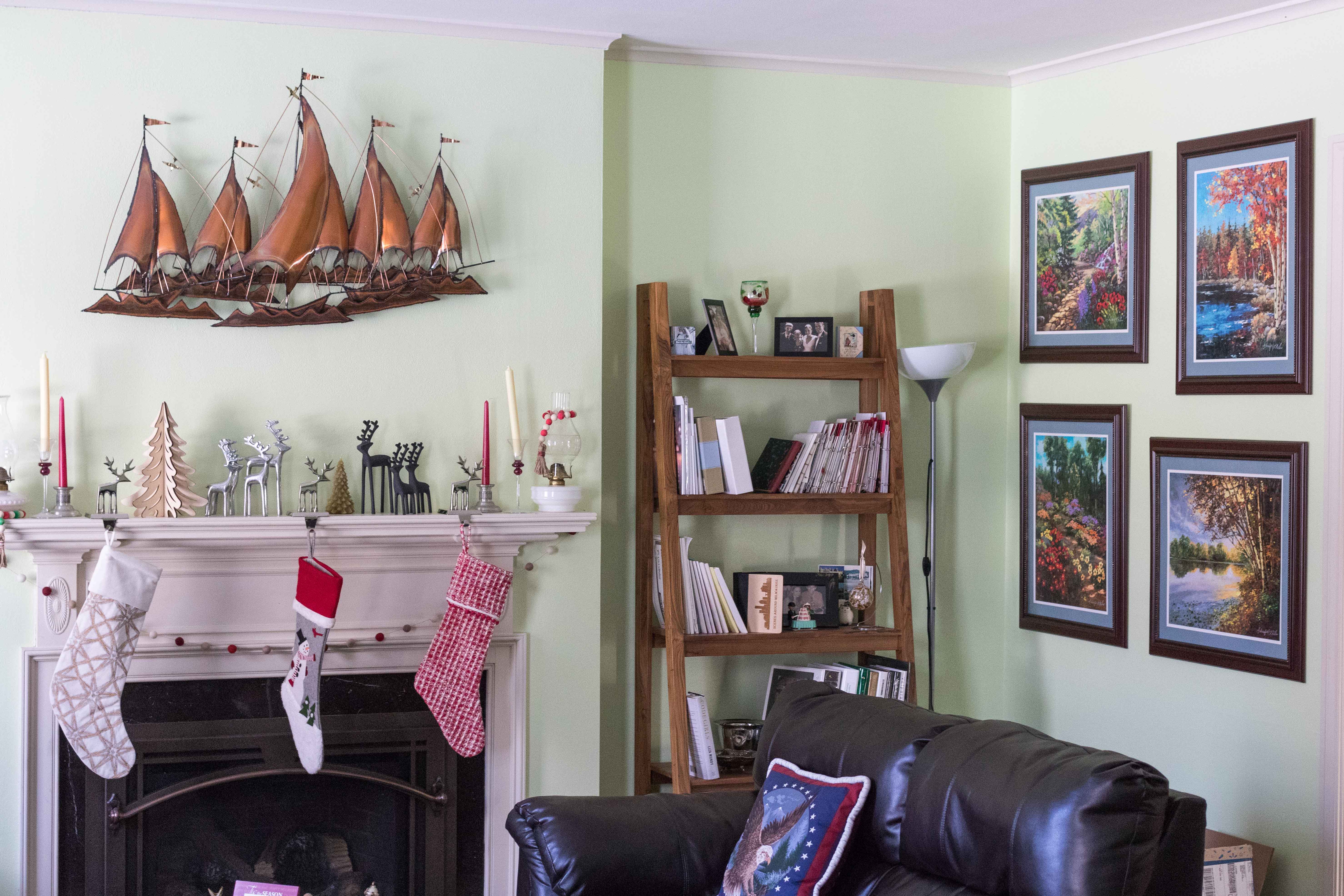 Paint the living room and hang our living room art on the walls.
100% finished. At the start of 2017, we already had the paint picked out and purchased. I tackled the painting in March-April. I have shared it before, but again, this color is Prairie Grass by True Value. The above picture shows off the new paint color (and new bookcases!) as well as a few of the wall pieces. We ended up purchasing quite a bit of art through Park West on our Europe cruise and didn't get it all framed and hung until early fall. The ships over the fireplace piece is new as well. We didn't hang any of our existing living room pieces until we figured out how they'd fit in with the new art. But it's all done now! We also added a stereo system for Christmas. I'm planning to share more about all of these new home developments in future posts. We don't have any more projects for the living room for the foreseeable future, which feels so great.
Paint the basement staircase trim on the basement stairs.
0% finished. I had the paint and other supplies (i.e. carpet covering) purchased at the start of 2017. And I still haven't gotten to this project yet. It will be very satisfying to complete, but it's a tedious task that just never made the top of the list. After I finish my one and only big painting project for 2018 (more on that soon), I may try to tackle the remaining trim projects, including the basement staircase.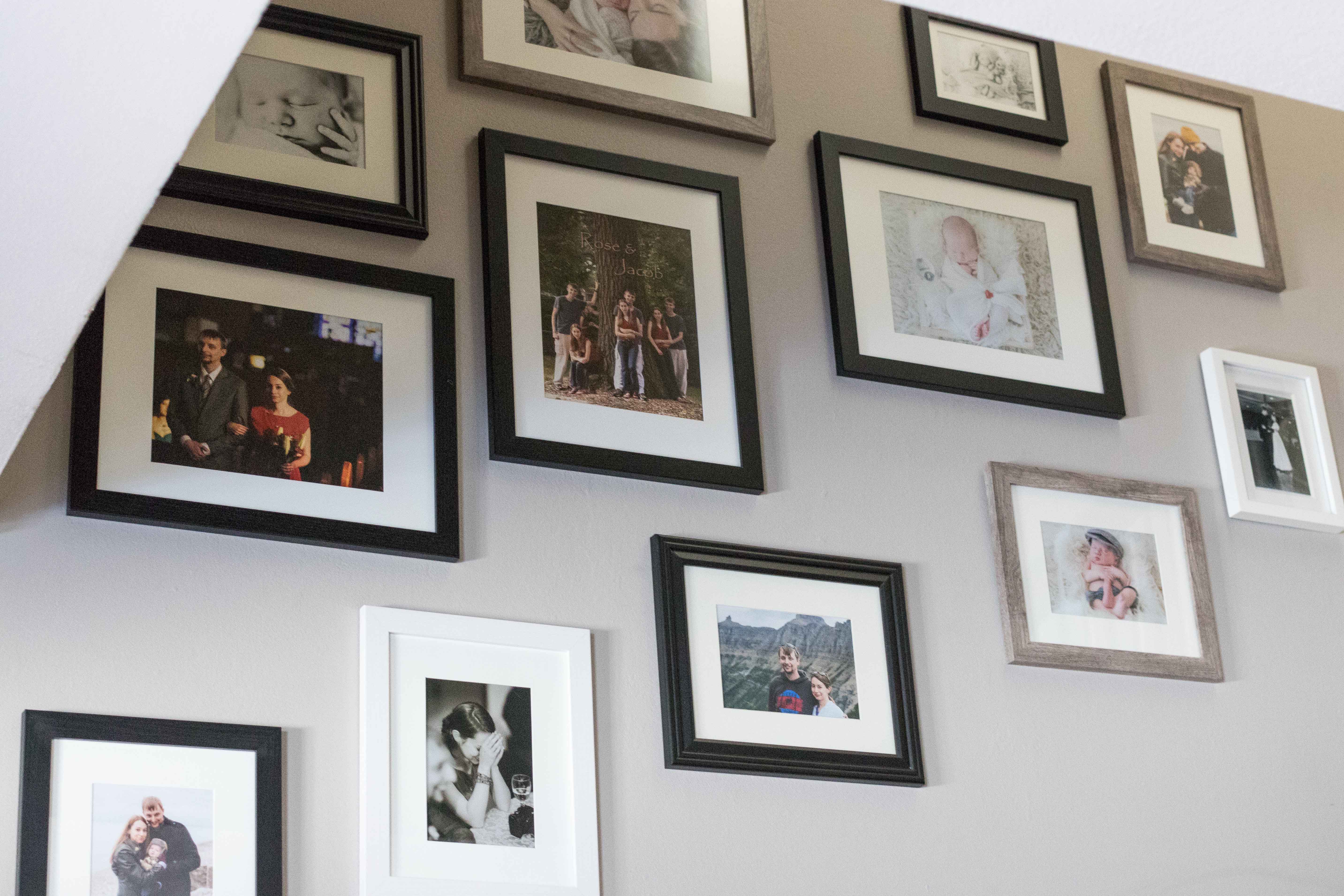 Find places to hang the dozen or so remaining frames that still need places on the walls in this house.
85% finished. Again, we ended up purchasing a lot of new art while we were traveling, which significantly upped the total amount of hanging required in 2017. We've finished the frames and other wall decor in the following rooms: entryway, living room, dining room, kitchen, sunroom, my office, master bedroom, Tommy's bedroom, guest bedroom, and all three bathrooms. I also added a gallery wall to the upstairs stairwell (pictured above). We're still finishing up the frames and other wall decor in the bonus room (which serves as Jake's office, my craft space, and open kid space) and second kid's bedroom.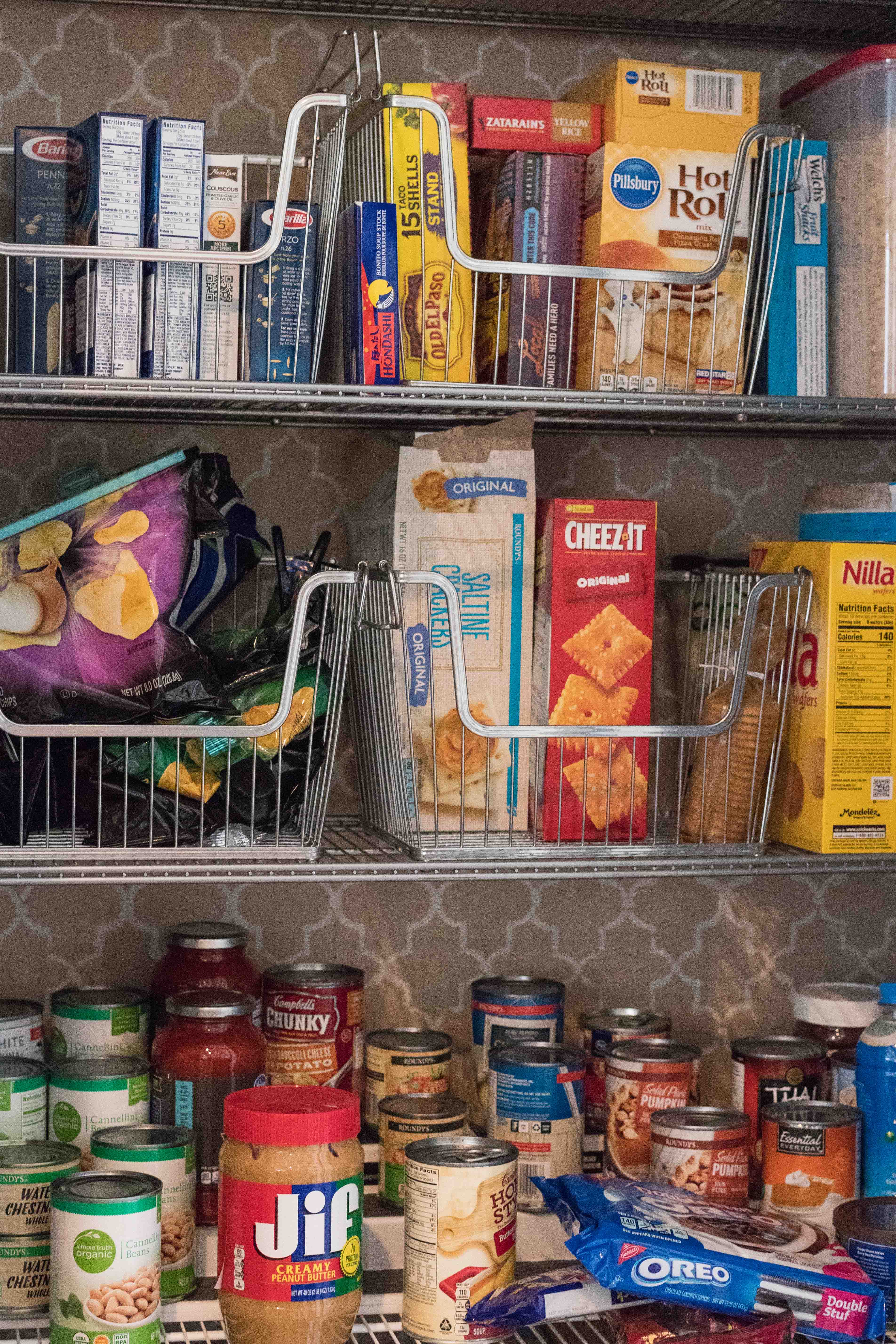 Organize the pantry.
90% finished. We have half the pantry space or less than we did in our previous house. I've struggled a lot to create order in the space and stock it with the pantry items I really need on a weekly basis. I have all the organizers I want for the pantry for the foreseeable future, and I have a pretty good idea what I want to keep stocked in there. The above picture is real life; I didn't style it or change anything before taking a picture. I still want to clear out a little more space, so I can store a couple of less frequently used kitchen appliances in there.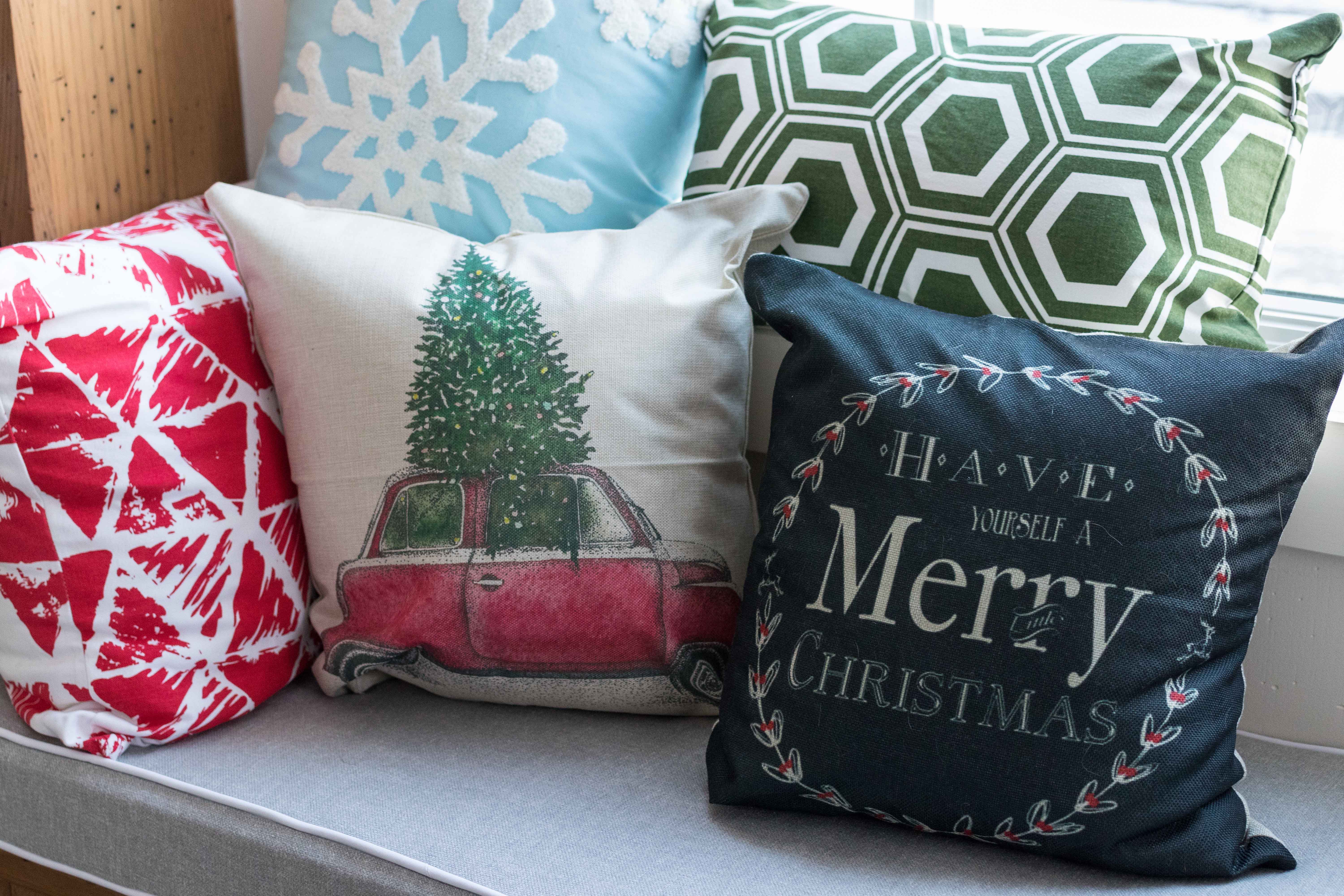 Finish the projects for my office.
The projects I wanted to finish in my office in 2017 were as follows.
Move my teaching files into my new file cabinet. 100% finished. I absolutely love owning a 4-drawer cabinet and having tons of storage for the files I access all the time and tons of storage for my teaching files. It was great clearing out needed closet space where I'd been storing those teaching files.
Purchase a new window seat cushion and more new throw pillow covers. 100% finished. I purchased new cushions for both window seats (we have one upstairs as well) and overhauled my entire throw pillow collection with new square and rectangular pillow forms and cases for different seasons and holidays. I share just a few of my favorite throw pillow covers in this post.
Condense my office supplies into one set of plastic drawers, which I'll then organize and makeover. 25% finished. This project is still a work in process. I have cleared out quite a few supplies. I haven't moved the remaining supplies into one cabinet and made it over yet.
In total, I completed about 70% of the projects on my major priority list, which is definitely progress. Of course, I wish that I could say it's 100%, but I'm still happy that I fully completed several items on my home projects list and made significant progress on several more items. Truthfully, the tasks I didn't get to aren't high priorities. It would be nice to have them done already. But it really doesn't matter if it takes a while longer to get to them.
I do have one major home project for 2018, which I'll be discussing in my 2018 goals post later this month. Stay tuned!
What home projects did you accomplish in 2017?
Are there any projects on your to-do list for 2018?