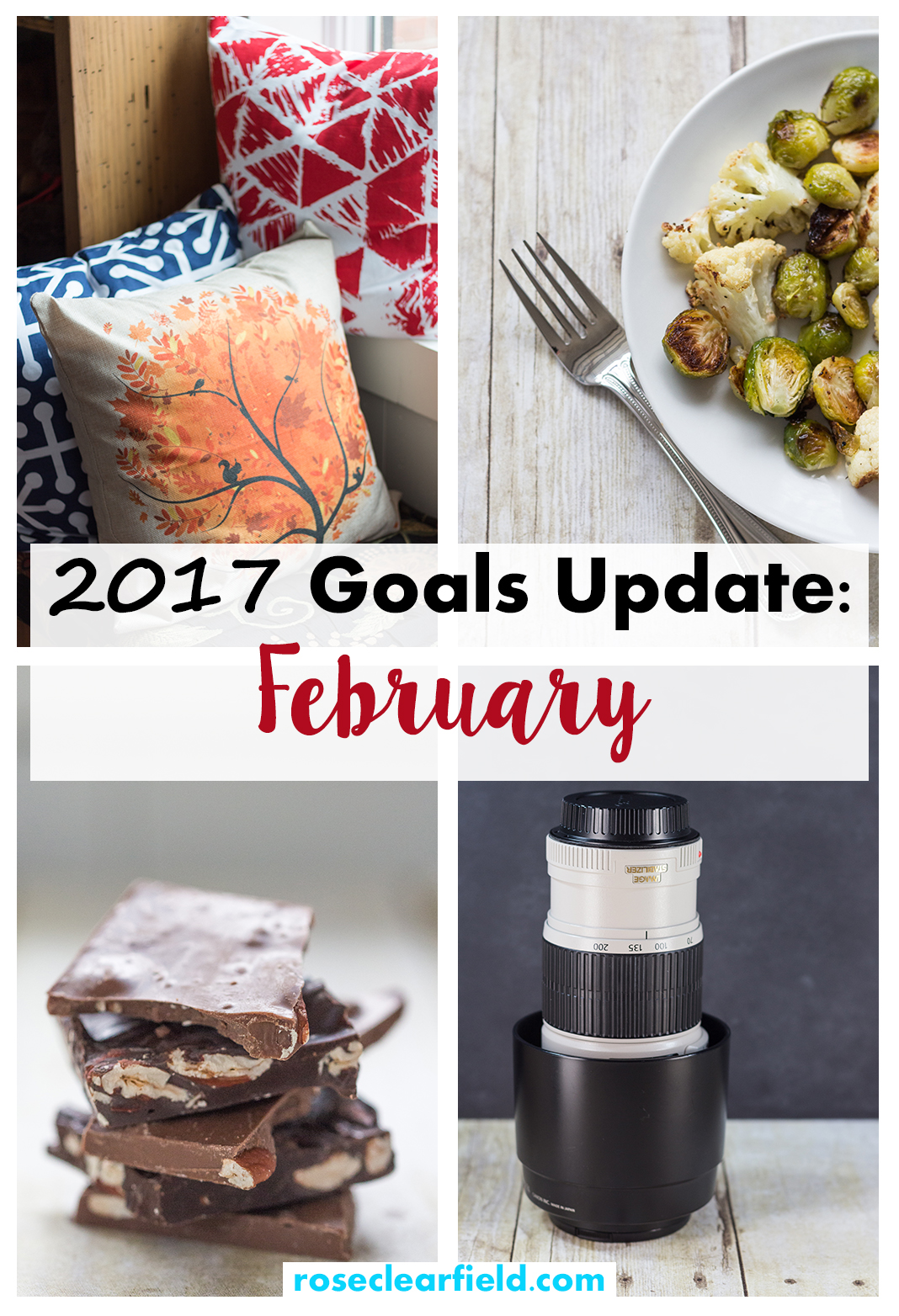 I set some really ambitious 2017 goals. In an effort to keep myself accountable, I'm sharing my monthly progress here on the blog.
Reach five figure monthly blog page views.
My monthly blog page views for December 2016 were 3,093 views. To reach 10K visitors by the end of December 2017, I need to increase my page views by about 570 per month. Here are my monthly blog page view benchmarks and actual views thus far in 2017.
January benchmark – 3,663, actual – 5,561
February benchmark – 4,233, actual – 3,505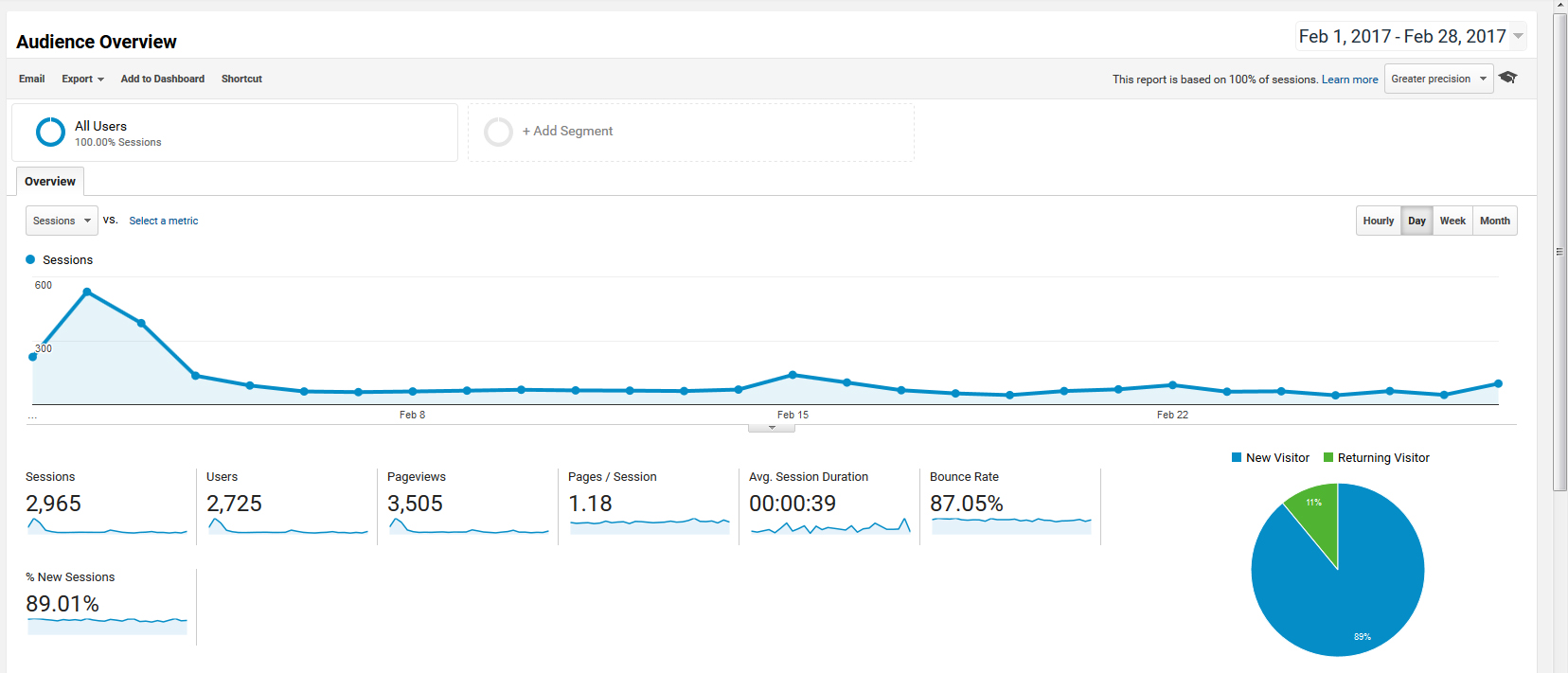 Aside from the few high traffic days at the beginning of the month, my traffic in February wasn't great. After such a fantastic January, it was definitely disappointing. I was hoping to see some major traffic for Valentine's Day, and I just didn't. I'm trying to focus on the bigger picture and not think of February as some huge setback because it definitely wasn't. My February page views were still above my December 2016 page views, even with three fewer days in the month, and were considerably higher than my October and November 2016 page views.
A couple more positives: In February, I had much more diversity in my page views. All of my traffic spikes thus far have come from a single post. It's still doing well, but I'm seeing regular traffic to a lot of other posts, too. Also, while Pinterest and Facebook remain my top traffic sources respectively (with Pinterest far and away my top traffic source), I had a few other regular traffic sources, which was great.
Reach 2,000 Pinterest followers and 1,000 Instagram followers.
My projected social media figures for February were 1,325 Pinterest followers and 515 Instagram followers. My actual February 2017 figures were 1,350 Pinterest followers and 514 Instagram followers.
In my goals post, I talked about my four primary social media strategies for 2017, which are as follows.
Participating in Facebook blogging groups.
Using Boardbooster and adding new pins weekly.
Using Later to schedule Instagram content in advance.
Commenting on non-follower Instagram accounts daily.
I'm happy that I crushed my Pinterest followers goal and was just one follower under my Instagram followers goal. I'm not happy that I've seen significantly less traffic from Pinterest. You'll see in the graphs below that my profile and people you reach numbers are up but my domain numbers are way down.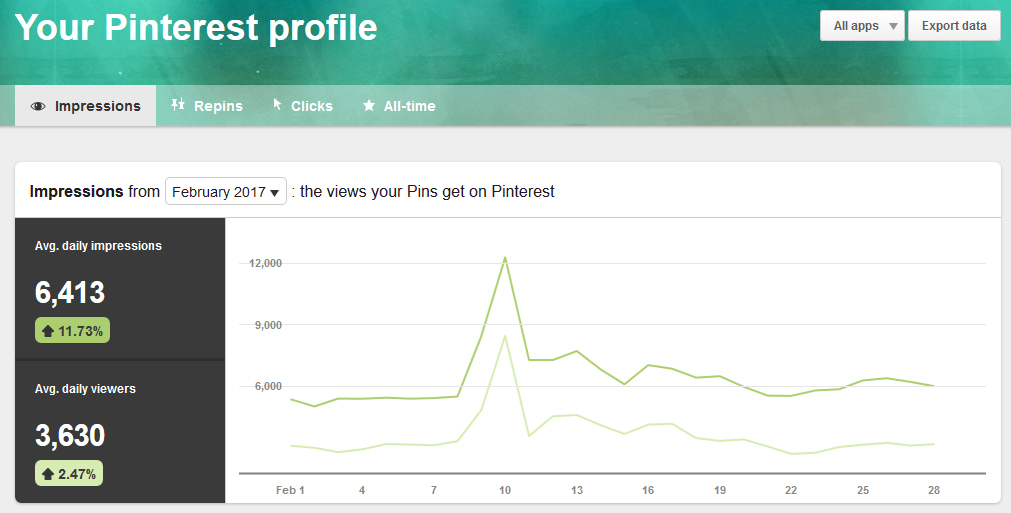 I don't know why Pinterest is showing down arrows. My January 2017 numbers were 133,597 average monthly viewers and 3,647 averaged monthly engaged.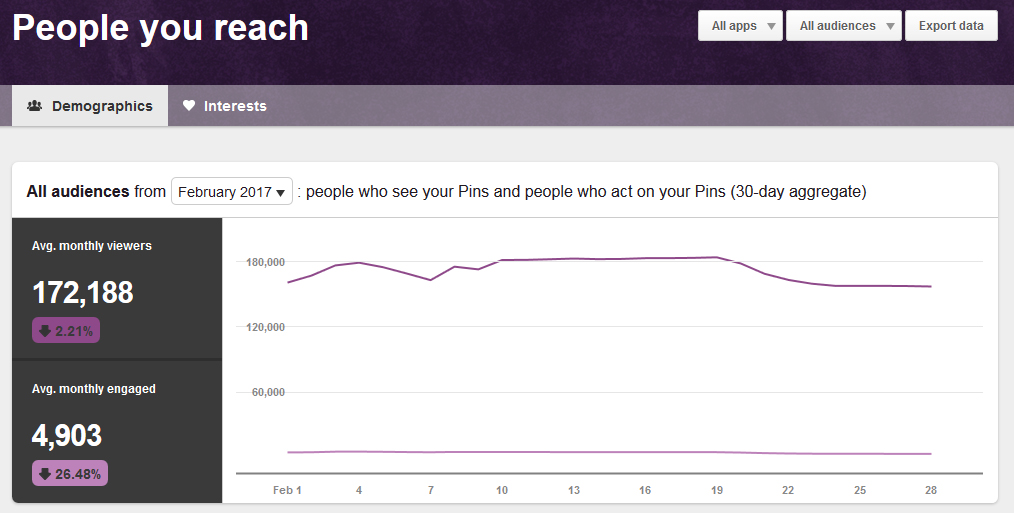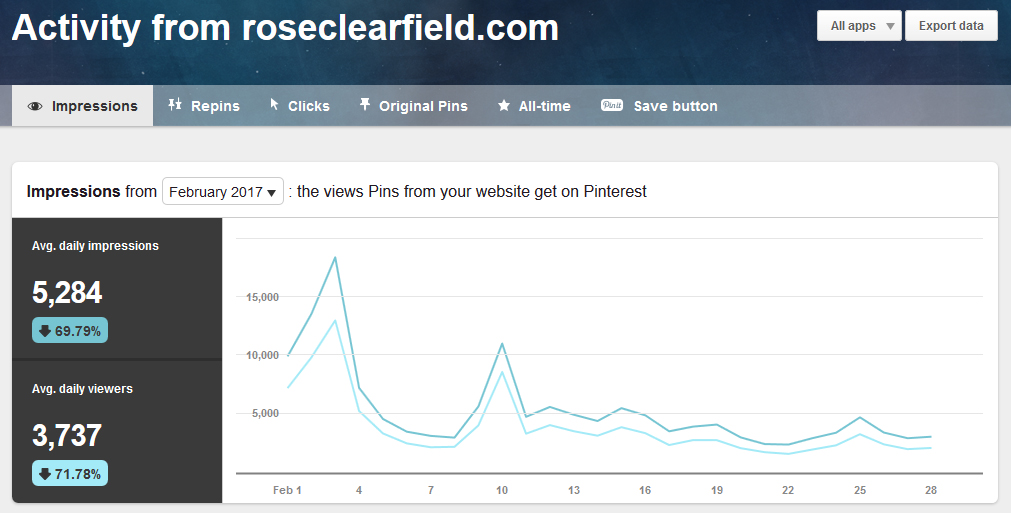 In March, I'm modifying my social media strategy slightly and switching the majority of my scheduled pinning from Boardbooster to Tailwind. I have a free month credit via a referral and am curious to see if it makes any difference. After my drop in traffic this month, I'd be experimenting with it anyway. But I'm also frustrated with a few aspects of Boardbooster and am hoping I'll be happier with Tailwind.
Finish all major home painting projects, home framing projects, and other major home organization projects.
After January was a total wash with this goal, it felt great to make a little progress in February. This month I accomplished the following tasks.
Finished ordering throw pillows for my office.
Hung up my new Minted art in the nursery.
Finished off and cleaned out a bunch of items in the pantry.
Organized and cleaned up a couple of sorely neglected areas of the kitchen.
Moved all of the art for the living room out of the space to prep the room the room for painting. I'm hoping to finally get painting in there in March!
Finish editing, exporting, and backing up all of my 2015 and 2016 photos.
To finish out all of my 2015 and 2016 photos by the end of 2017, I need to work through about 1,200 photos per month in addition to editing 2017 photos. I ended January 2017 at 5,230 2015 photos and 8,160 2016 photos. I ended February 2017 at 4,820 2015 photos and 7,140 2016 photos.
I did hit my goal of 1,200 photos this month (I actually went slightly over it) because I did a better job keeping close track of this goal this month than I did in January. Also, I've continued to keep up with my 2017 editing, exporting, and backing up. I do have a few in progress folders from 2017, but I've edited the majority of the photos in those folders already.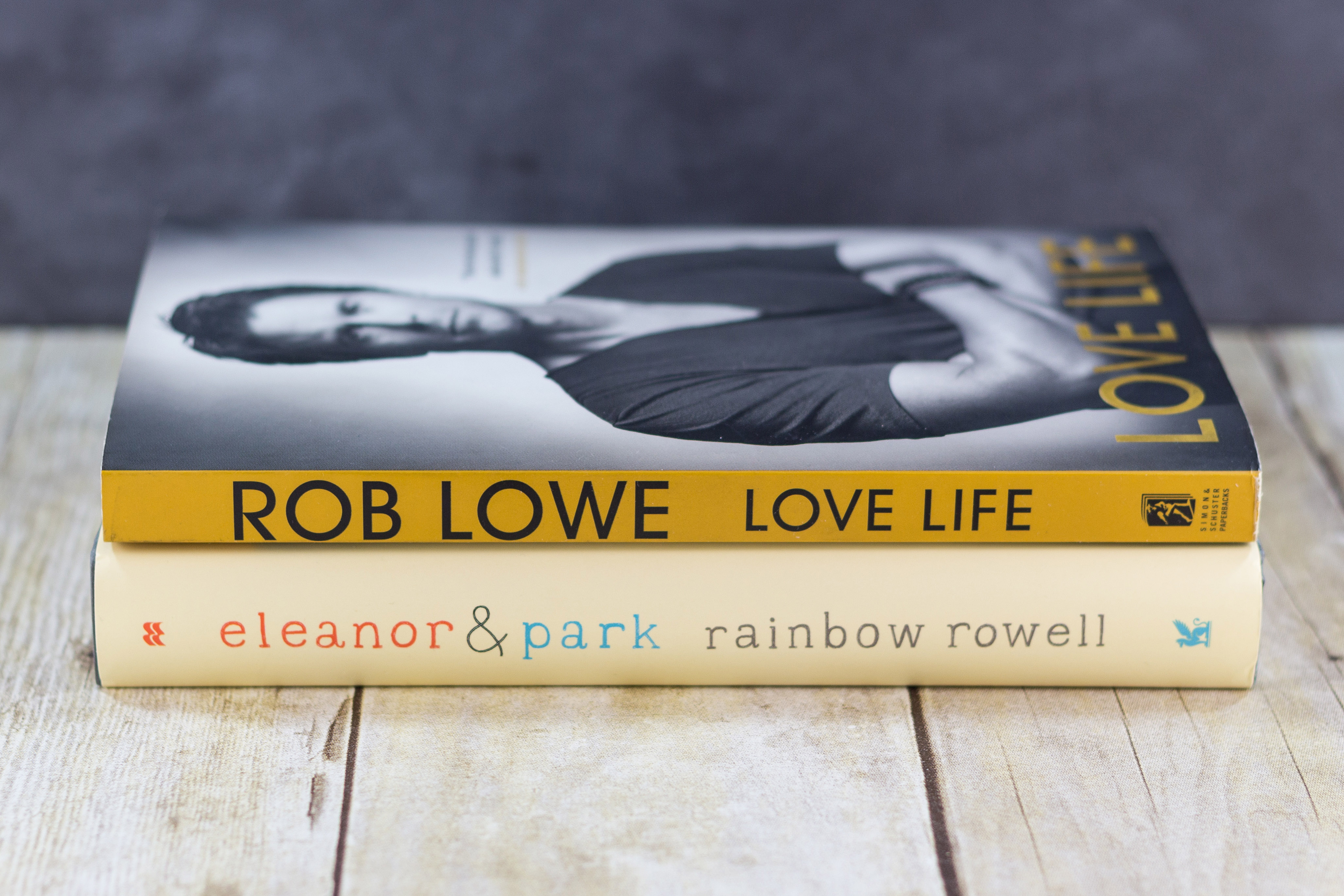 Read 30 books.
In February, I finished listening to Gumption: Relighting the Torch of Freedom with America's Gutsiest Troublemakers by Nick Offerman (a bit inconsistent, but solid overall) and listened to Last Dance by John Feinstein (solid), Tales from Q School by John Feinstein (okay, but not his best), The Residence: Inside the Private World of The White House by Kate Andersen Brower (so interesting), Neil Patrick Harris: Choose Your Own Autobiography by Neil Patrick Harris (funny, plus I love the creative concept), and 41: A Portrait of My Father by George W. Bush (solid, I got more out of it having just visited the Bush Presidential Library). I finished reading Rescue Road by Peter Zheutlin (great, but a tough read) and read Love Life by Rob Lowe (really good, I enjoyed both of his books a lot) and Eleanor & Park by Rainbow Rowell (really good, it lived up to the hype). 2017 running total: 13 books. To meet my goal, I need to read/listen to 2-3 books per month, so I'm continuing to knock this goal out of the park.
A couple pieces of news!
Next week, I'm officially re-releasing my product photography ebook with completely overhauled content, 22 new pages, and a new affiliate program for roseclearfield.com! Stay tuned for that announcement on Monday.
I just started a Photography Tips and Tutorials Pinterest group board. If you have your own tips and tutorials to share, leave a comment with your email address, and I'll add you to the board. If you simply love photography, please follow the board!
[Disclaimer: There are a few affiliate links in this post. Thanks for your support!]
How are your 2017 goals going?
If you wrote a goals update post for February, leave a link in the comments!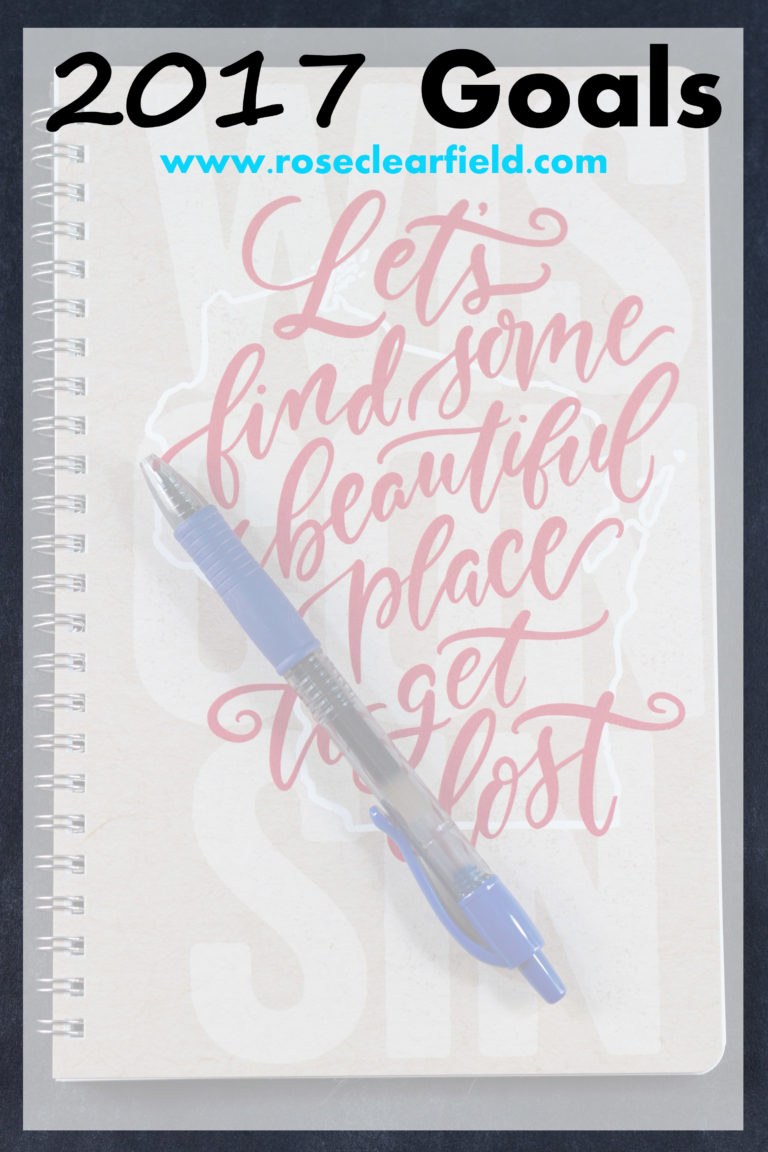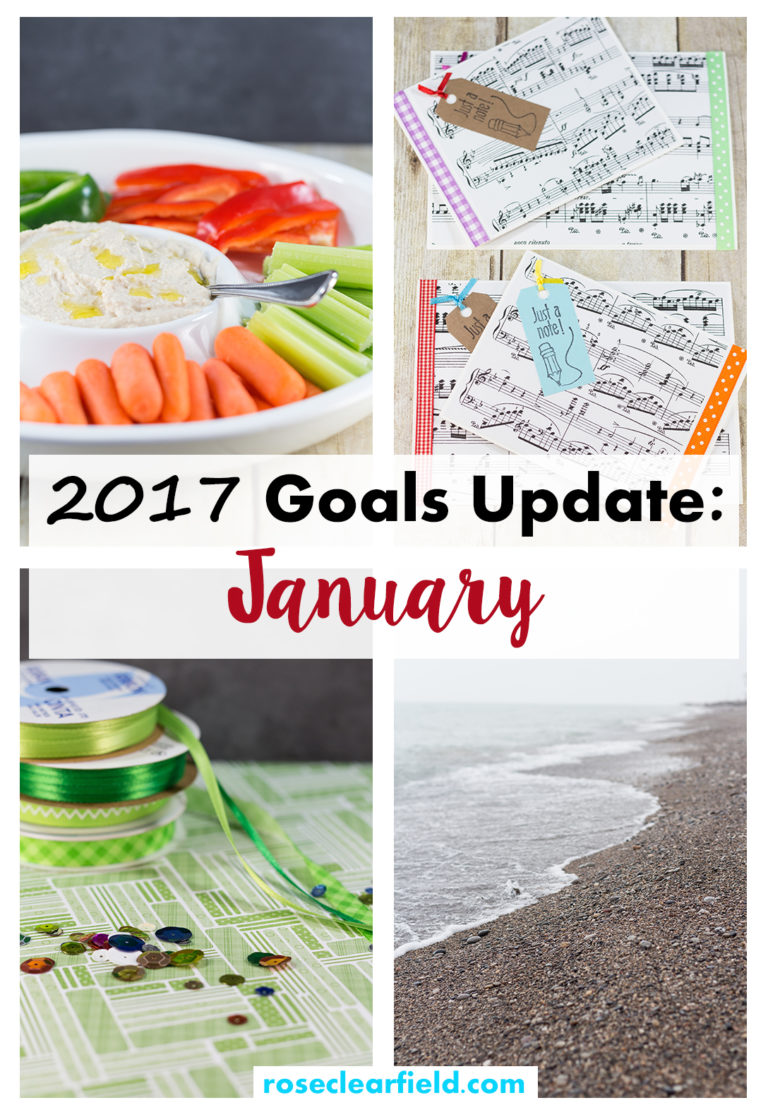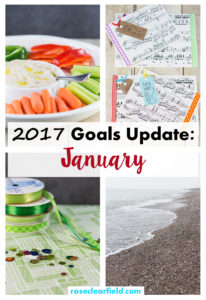 Save
Save
Save
Save