The 4th of July is such a fun holiday to celebrate with toddlers who will look forward to riding decorated bikes, making festive cookies, and watching fireworks all summer long. Planning 4th of July activities for toddlers ensures your little ones have entertaining, age-appropriate activities the entire week leading up to the Fourth as well as during celebrations throughout the 4th itself.
I've rounded up 25 of my favorite 4th of July activities for toddlers with something for everyone. I find that many toddler and young kid activity round-ups are just endless lists of art projects (which is one reason why I created my 40 activities for 18-month-olds list). It's great if you have a little one who loves craft projects. My son does enjoy art but needs other activities to stay engaged over the course of an afternoon or evening. As such, I've done my best to branch out and include a more comprehensive range of options.
Have a wonderful 4th of July with your young children!
1. Bubbles
I talk about bubbles in every single toddler activities post because my son never gets tired of them. You don't need any sort of organized activity for bubbles to be tons of fun for toddlers. They're ideal for the 4th of July when you'll be spending hours outside with family and friends. Our all-time favorite bubble wands are the Joyin big bubble wands, which hold a ton of high-quality bubble solution, produce great bubbles, and are very durable. I also love Fubbles as a no-spill option for toddlers. If you're looking for patriotic bubbles for the holiday, check out these cute mini patriotic bubble bottles. I Heart Crafty Things also has a great tutorial for patriotic DIY bubble wands that are so easy and that kids are sure to love.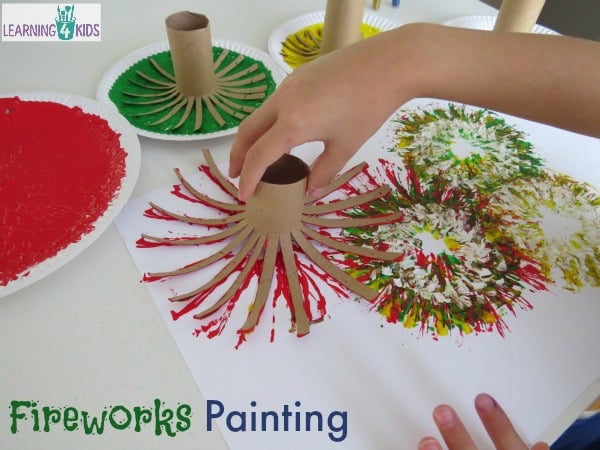 2. Fireworks painting
Fireworks painting with recycled toilet paper or paper towel rolls is a simple, fun art activity for toddlers and preschoolers that produces great results. You can mix up the colors any way you like for endless color combinations. Grab the full instructions and lots of tips over at Learning for 4 Kids (pictured). Just a couple of other neat fireworks painting ideas for little ones include Glitter on a Dime's water squirter fireworks painting and Gluesticks Blog's salt art fireworks painting.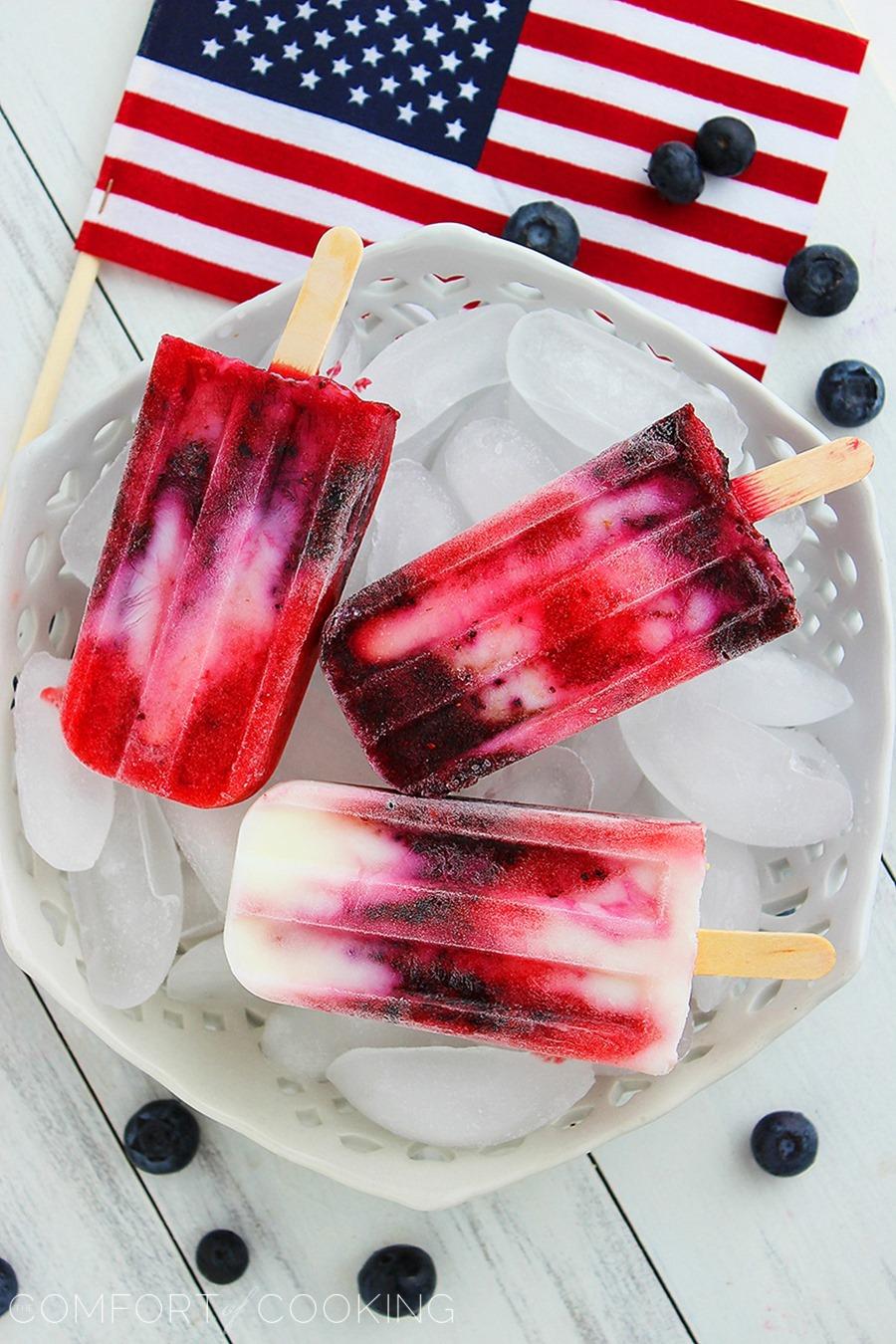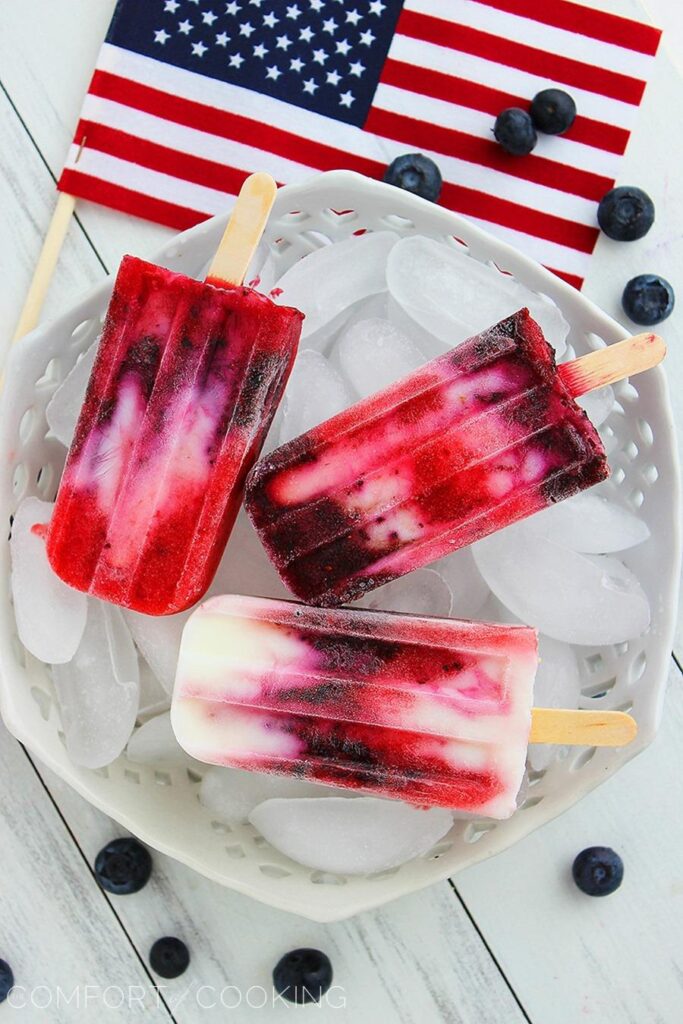 3. Homemade Popsicles
Have your toddlers help you whip up a batch of homemade Popsicles to enjoy during the 4th of July festivities. For kids, I love The Comfort of Cooking's firecracker berry frozen yogurt pops (pictured) , The View from Great Island's red white and blueberry yogurt Popsicles, Oh My Creative's fresh fruit red white and blue Popsicles, and Kelly Leigh Create's no-drip patriotic Jello Popsicles.
4. Scavenger hunt
A kid-friendly 4th of July scavenger hunt is ideal for a low-key holiday because you don't have to go very far to find all of the items on the list. For toddlers and preschoolers, I love this super simple patriotic scavenger hunt with just nine items (original source not available). If you're looking for a slightly longer hunt, grab a scavenger hunt printable from Editable by Erin Thomson via Teachers Pay Teachers (it's free, you just need an account) or Moritz Fine Designs.
As an added element of fun for scavenger hunts with kids, take pictures of the items on your cell phone as you find them.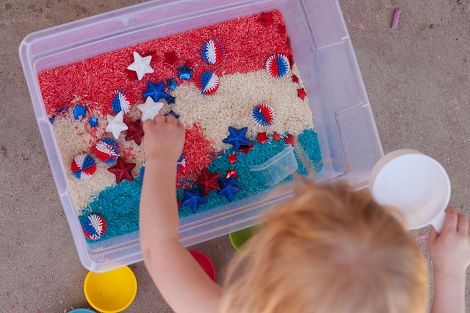 5. Sensory bin
Sensory bins, play stations, and bottles are always a great activity for toddlers and preschoolers. There are tons of sensory activities themed for every season and holiday. The 4th of July is no exception. My favorites include Little Bins for Little Hands' search and find stars bin, Second Story Window's patriotic sensory bin (pictured), and Life Over CS's red white and blue sensory bin.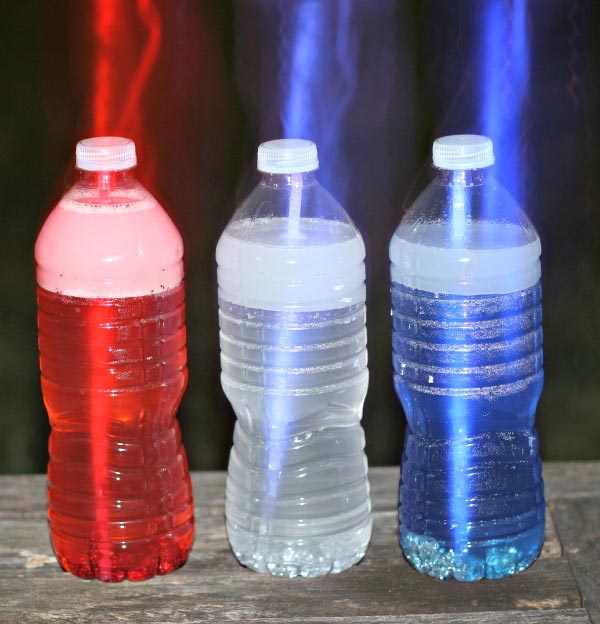 6. Glow-in-the-dark activities
Glow-in-the-dark gear and activities are a welcome addition to any nighttime gathering with kids. You can't go wrong with classic glow-in-the-dark bracelets and glow sticks. I also love these red and blue glow sticks/bracelets for the 4th of July. Apparently, glow-in-the-dark tattoos are a thing as well. I'm linking a couple of different 4th of July options, both of which are highly-rated.
For glow-in-the-dark activities with toddlers, I love these red, white, and blue glow-in-the-dark sensory bottles from Edventures for Kids (pictured).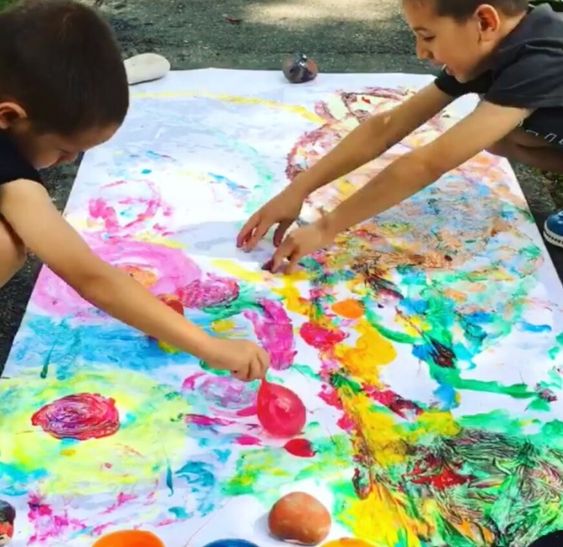 7. Water balloons
Water balloon activities are a welcome change of pace when the 4th of July brings scorching hot weather. One Crazy House has a great round-up of 15 water balloon games for kids. I also love Raising Dragon's water balloon painting (pictured) and Design Dazzle's glow-in-the-dark water balloons.
Water balloons with refill kits are a great idea for water balloon fun all summer. You can also buy self-sealing water balloons to make the assembly process a little quicker.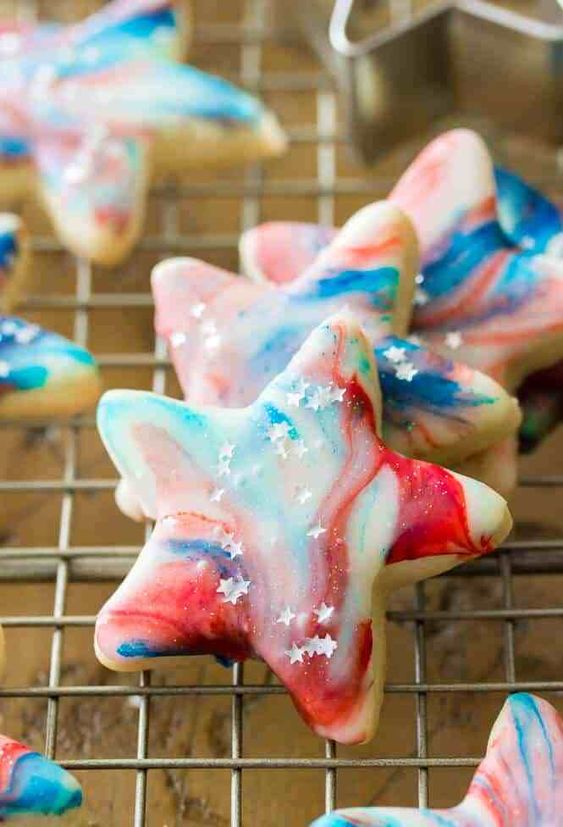 8. Cookie decorating
Cookie baking and decorating with little kids never gets old, and there are so many fun ways you can customize the activity for different events and holidays. I always recommend Bake at 360's perfect cut-out sugar cookies, as her recipe is the best. I absolutely love Sugar Spun Run's star-spangled cookies (pictured) with toddlers and preschoolers. They'll also have fun helping you put together The Bearfoot Baker's patriotic cookie platter.
If you plan to make the star-spangled cookies, pick up star cookie cutters and silver and gold sprinkles (which includes both silver and gold stars!). For 4th of July cookie decorating with toddlers, I also love red white and blue mini stars, Sweet Indeed's patriotic sprinkle mix, and patriotic cookie cutters.
9. Coloring pages
Print out a few patriotic coloring pages to pull out when your little ones need a quieter activity to wind down before nap time or bedtime or simply to take a break during the craziness of the holiday. My Teaching Station has a nice selection of free printable 4th of July coloring pages that aren't too intricate for toddlers and preschoolers. I'm linking one page here. When you click through to it, you'll see additional coloring pages in the related section.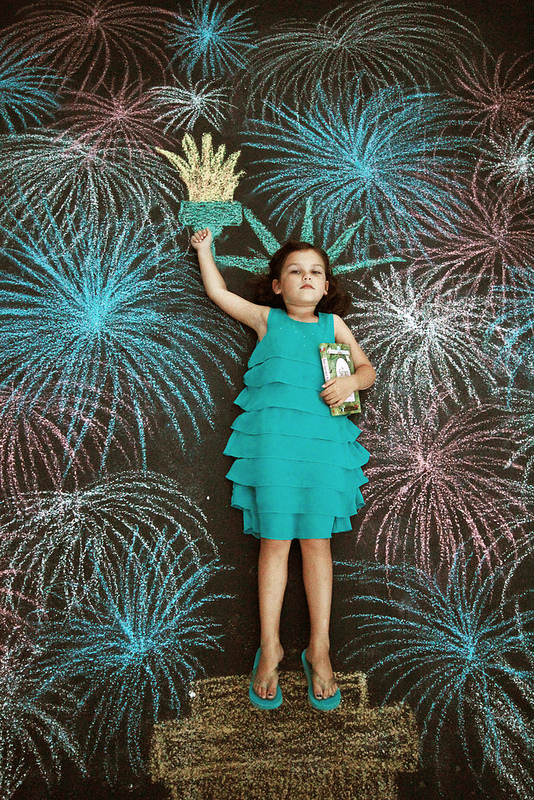 10. Sidewalk chalk art
There are some crazy creative sidewalk chart art ideas for the 4th of July that make for great photo ops with your little one. Inspired Motherhood has great Statue of Liberty and Uncle Sam drawings. The Burgh Baby also has an awesome take on the Statue of Liberty (pictured) as well as riding an eagle while carrying an American flag.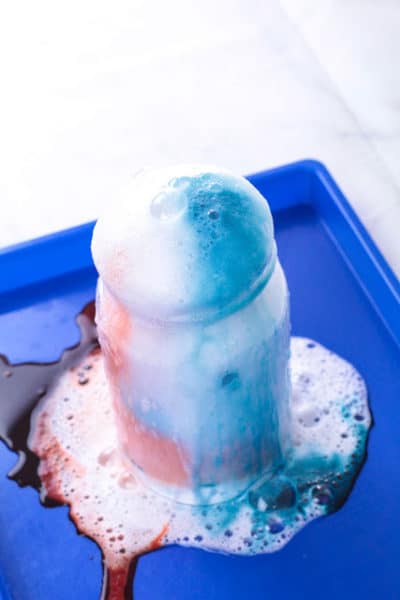 11. Baking soda science activity
Kindergarten Worksheets and Game's red, white, and blue baking soda project couldn't be simpler and produces great results. Most likely you already have everything that you need to make it at home. Most toddlers and preschoolers will love it so much that they'll want you to repeat it at least one or two more times.
12. Balloon game
Similar to bubbles, I always have to include balloons in my toddler activity ideas posts because my son is so crazy about balloons. He loves any excuse to blow up a few more balloons. I love Mess for Less's patriotic balloon game. It's so simple and requires just a few items that you already have on hand. Make sure to prep the paddles with your kids ahead of time, so they're ready to go on the Fourth. Your little ones will enjoy playing with balloons and their new red, white, and blue paddles throughout the holiday.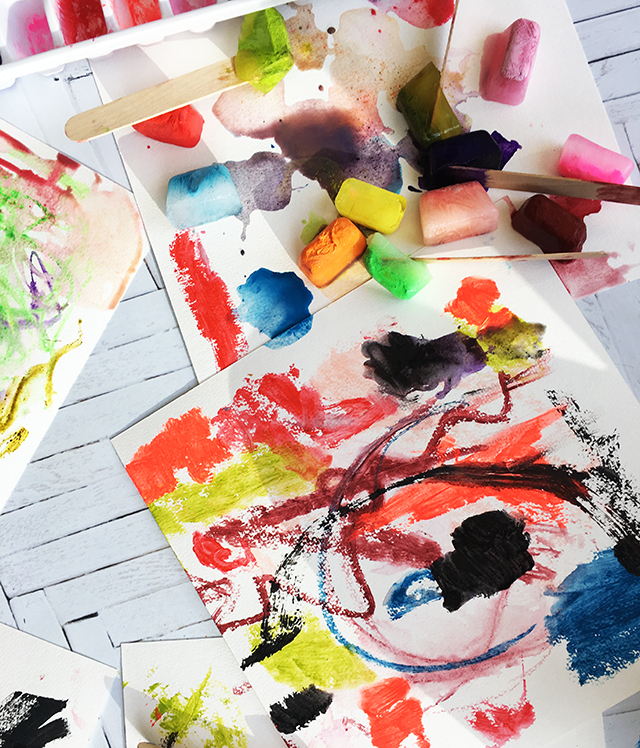 13. Ice painting
Ice painting is an ideal sensory toddler art activity that is as much about the process as it is about the final result. It's perfect for the 4th of July, as it will help your young children stay cool. Alisa Burke has a full tutorial with everything you need to know about ice painting. Stick to red and blue for the patriotic holiday, or let your kids go nuts with as many colors as they want.
No products found.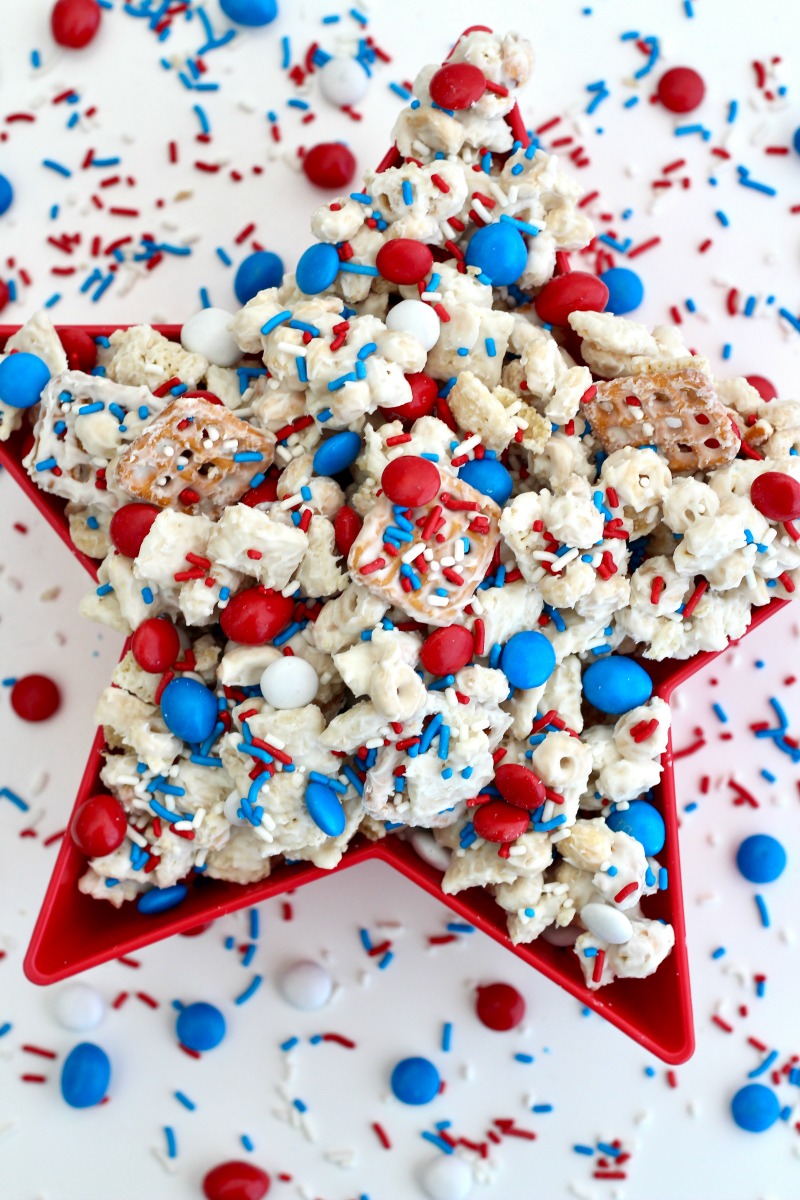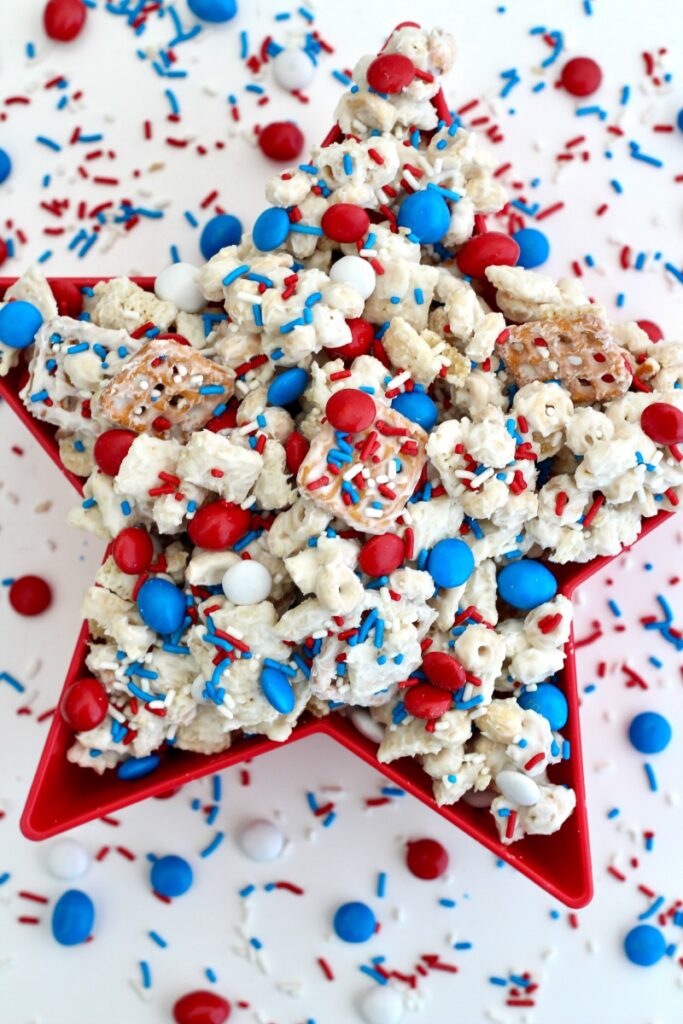 14. Patriotic snacks
Step up your snack game for the holiday, and put together a fun patriotic spread for your little ones. You can't go wrong with a sweet and salty snack mix. The Baker Mama's patriotic party mix (pictured) is so pretty and very addictive. A patriotic fruit tray is also a classic choice. The Diary of a Debutante has a beautiful patriotic fruit tray with cherries, strawberries, blueberries, and yogurt-covered pretzels. Finally, no one ever gets tired of cheese boards. The Preppy Hostess has a beautiful patriotic cheese board.
15. Decorate bikes, scooters, or wagons
Whether you're heading to a large 4th of July parade or spending the entire holiday right on your own street, it's fun to make kids' vehicles a little more festive for the holiday. Patriotic crepe paper and star garlands make bike decorating simple and stress-free, even with active young kids who are just ready to ride their bikes and scooters already. I also love attaching a couple of pinwheels to a bike basket.
16. Have your own parade
Even when you're attending a large 4th of July parade, kids will still have a blast having their own parade around the block or to a nearby destination, such as the grandparents' house. When you've already decorated bikes, scooters, or wagons, keep the fun going a little bit longer with a small neighborhood parade.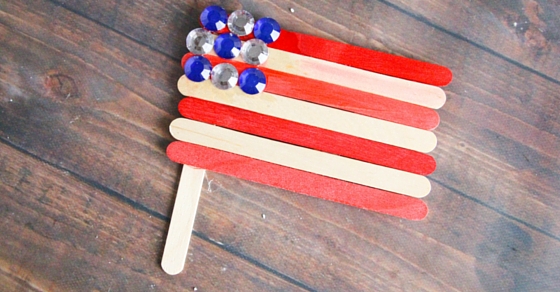 17. Make your own flags
There are so many cute, really simple DIY flag projects that are perfect for toddlers and preschoolers. Start with Meaningful Mama's do-a-dot American flag art, which includes a free printable. If you print the flags on card stock, you can cut them out and glue them to Popsicle stick handles for your kids to wave around after they've completed the art portion.
If you want a slightly more ambitious flag craft for your little one, I also love School Time Snippet's paper towel American flag, Housing a Forest's paper strips and paint dots American flag, and The Kindergarten Connection's Popsicle sticks and rhinestone "jewels" American flag (pictured).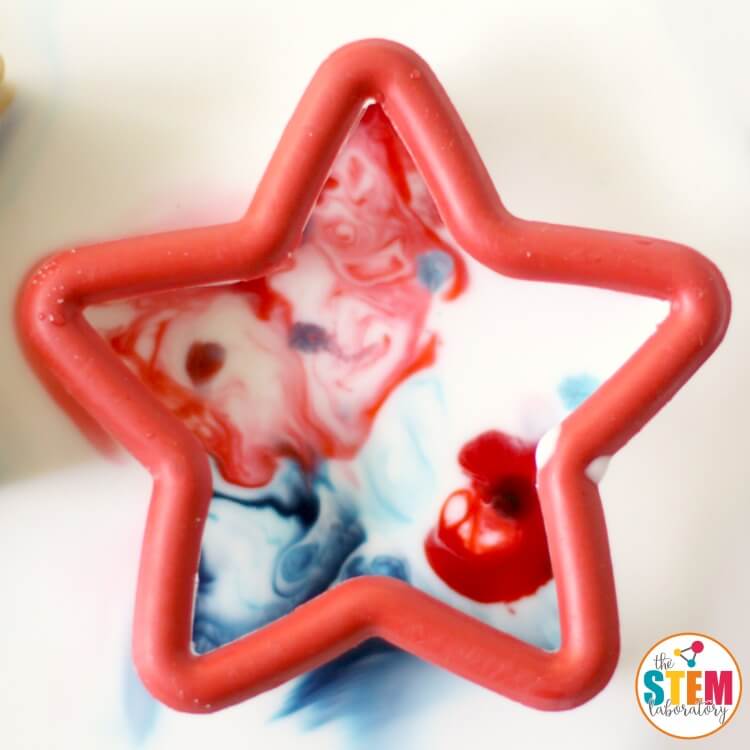 18. Magic milk fireworks
The STEM Laboratory's magic milk fireworks is another really easy science experiment to conduct with toddler- and preschool-age children that they'll want to repeat over and over again. For the 4th of July, it calls for star cookie cutters and red and blue food coloring. You can customize this concept with any sort of container and colors for different holidays and occasions.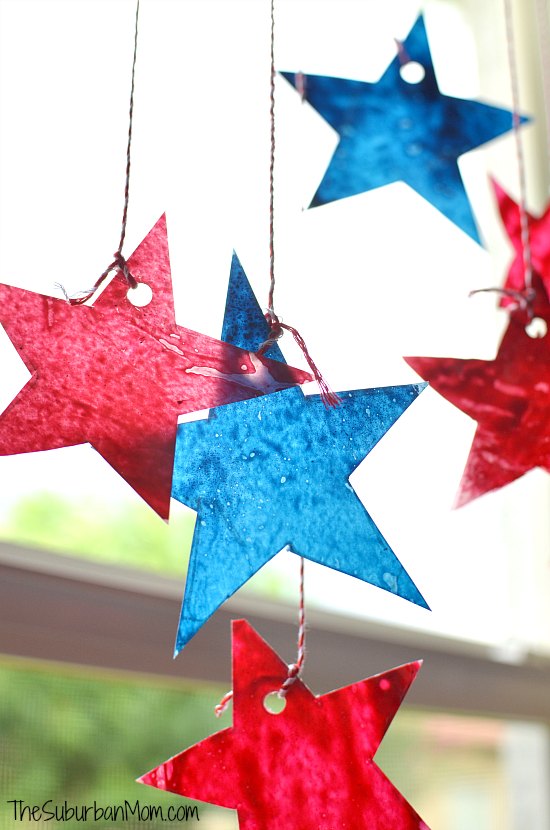 19. Sun catcher
Sun catchers are easy to create and make a beautiful decoration for any window in the house that gets ample sun throughout the day. The Suburban Mom's 4th of July star sun catchers are a perfect way to use up bits of old crayon as well. Kids will love helping you collect and sharpen down broken crayons and then cut out their stars once the hot wax has cooled.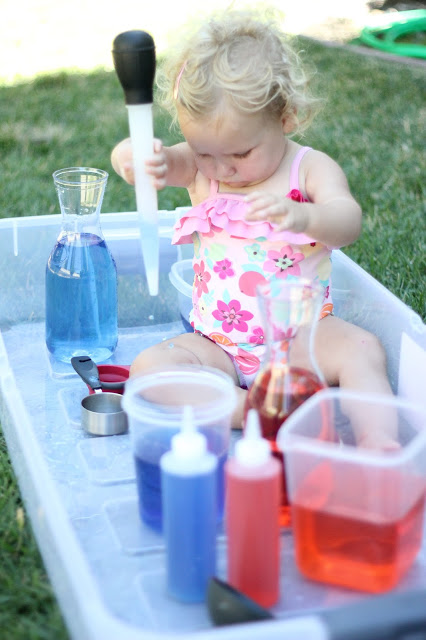 20. Color lab
Toddler Approved!'s 4th of July color lab combines color lab science with a kids' pouring station. Your little ones will have hours of fun with tons of sensory exploration. If you have a toddler or preschooler at home, most likely you already know how much they love water play. I can't even tell you how much they'll enjoy colored water, squeeze bottles, and turkey basters. I highly recommend setting up your color lab outside for easy cleanup.
21. DIY wands
Homemade wands are fun for kids to make and provide something for them to wave during 4th of July parades and other holiday festivities. Sunlit Space's patriotic wands are about as simple as you get, which is perfect if you want a nice quick activity. If you're looking for a slightly more involved craft project, check out Mama in the Now's patriotic ribbon wands and Craftstock Warehouse Paper Company's star shaker wands (pictured), which involve a noisemaking component.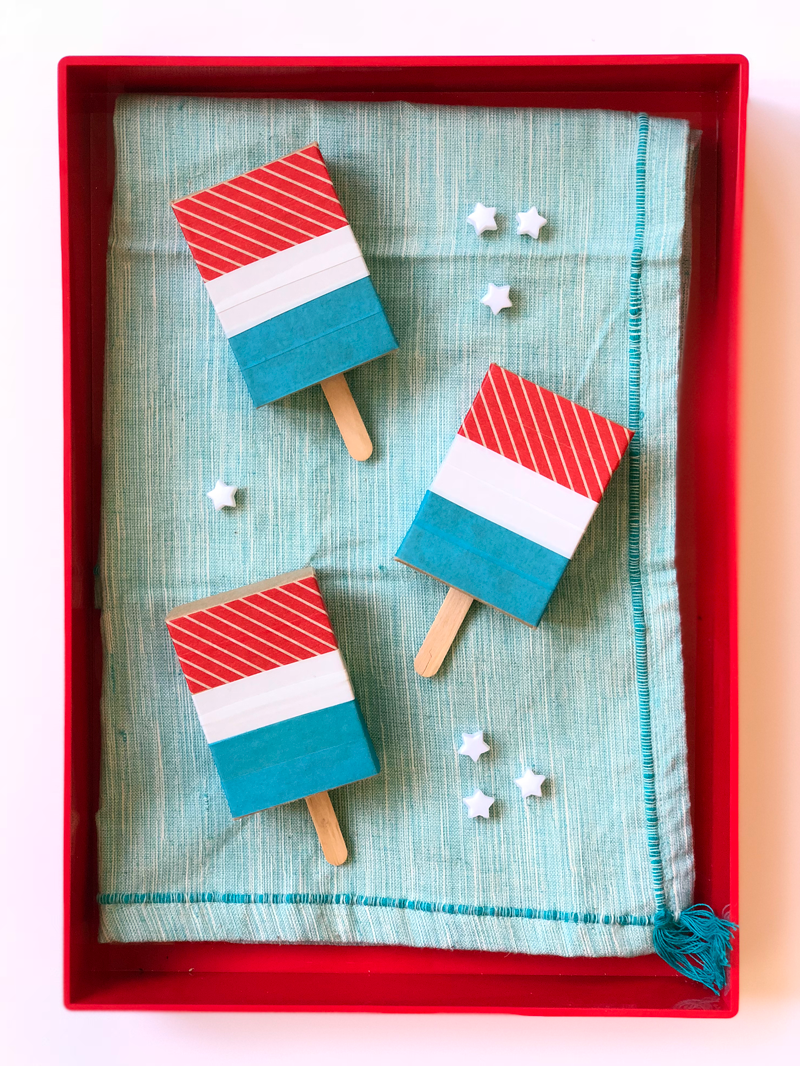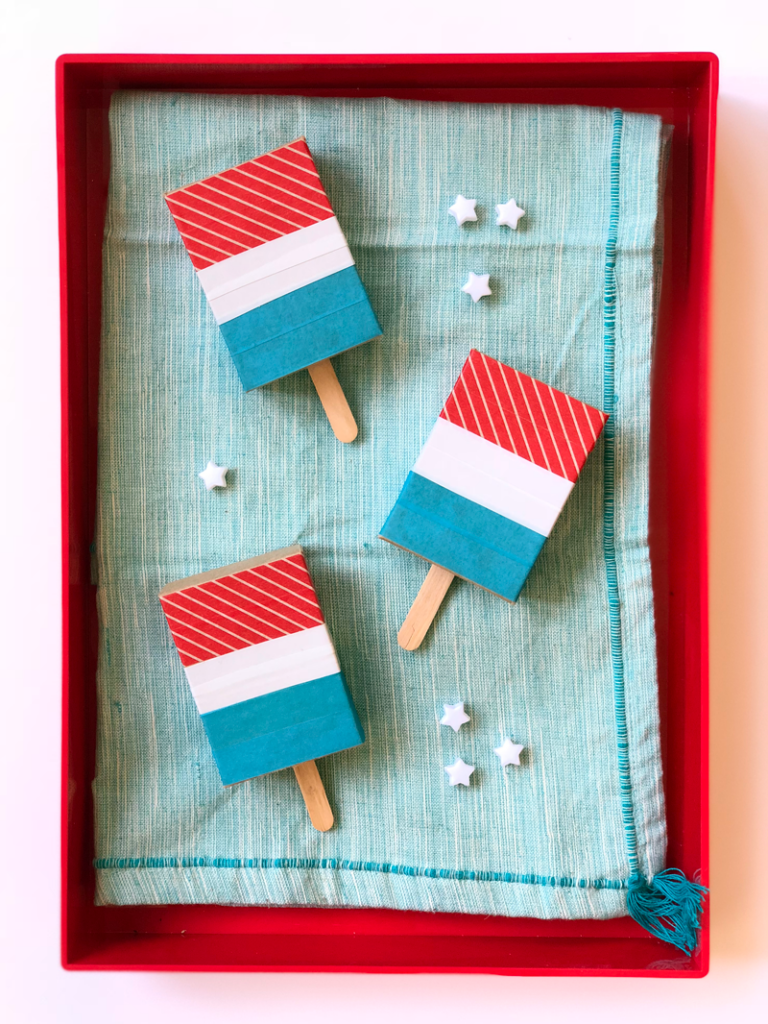 22. DIY noisemakers
Similarly, handmade noisemakers are an entertaining Fourth of July week activity that will keep kids amused as they wait for a parade to start or when they're hanging out with family and friends. Noisemakers do require a little more help from adults with the assembly process but are well worth it. I love Project Kid's Popsicle noisemakers (pictured), Raising Arizona Kid's firecracker noisemakers, and Craftaholics Anonymous's clacking noisemakers.
23. Listen to patriotic songs
It's never too young to introduce kids to patriotic songs. Search Amazon Music, YouTube, Pandora, Spotify, or another music service of your choosing for "patriotic songs," and you'll find a wealth of great options.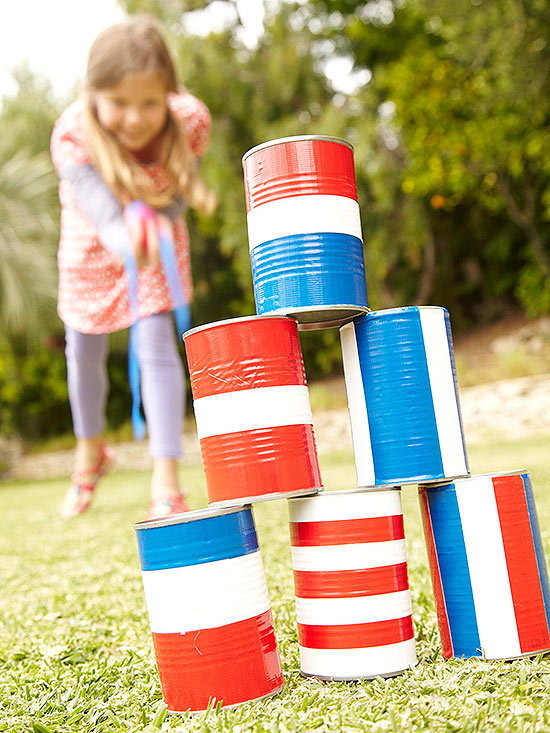 24. Backyard games
The 4th of July is the perfect time to introduce a couple of brand new to them backyard games for your kids. A wooden ring toss set in patriotic colors will offer hours of fun for kids and adults of all ages. If you'd like to make your own toddler-appropriate backyard game, Parent's canned goods can toss (pictured) and Chica and Jo's bean bag toss are both great options. I also love this pool noodle fishing game, which you can easily customize with patriotic colors. The post includes a handful of other fun pool noodle games as well.
25. Decorate t-shirts
Choose a day to decorate t-shirts during the week before the 4th of July holiday, so the paint is dry and the shirts are ready to wear on the holiday. Michaels has the best selection of low-priced blank t-shirts that I've seen anywhere. They're available in all sizes and a range of colors. 3D fabric paints and fabric markers are classic choices for decorating t-shirts quickly and easily with fun designs in bright colors.
[Disclaimer: There are a few affiliate links in this post. Thanks for your support!]
Did you use one or more of the 4th of July activity ideas in this post?

I want to see your 4th of July festivities with toddlers and preschoolers! Tag your images #RoseClearfield on Instagram or Twitter or post a photo to my Facebook page.
Pin this post for easy access to the 4th of July activities for toddlers later!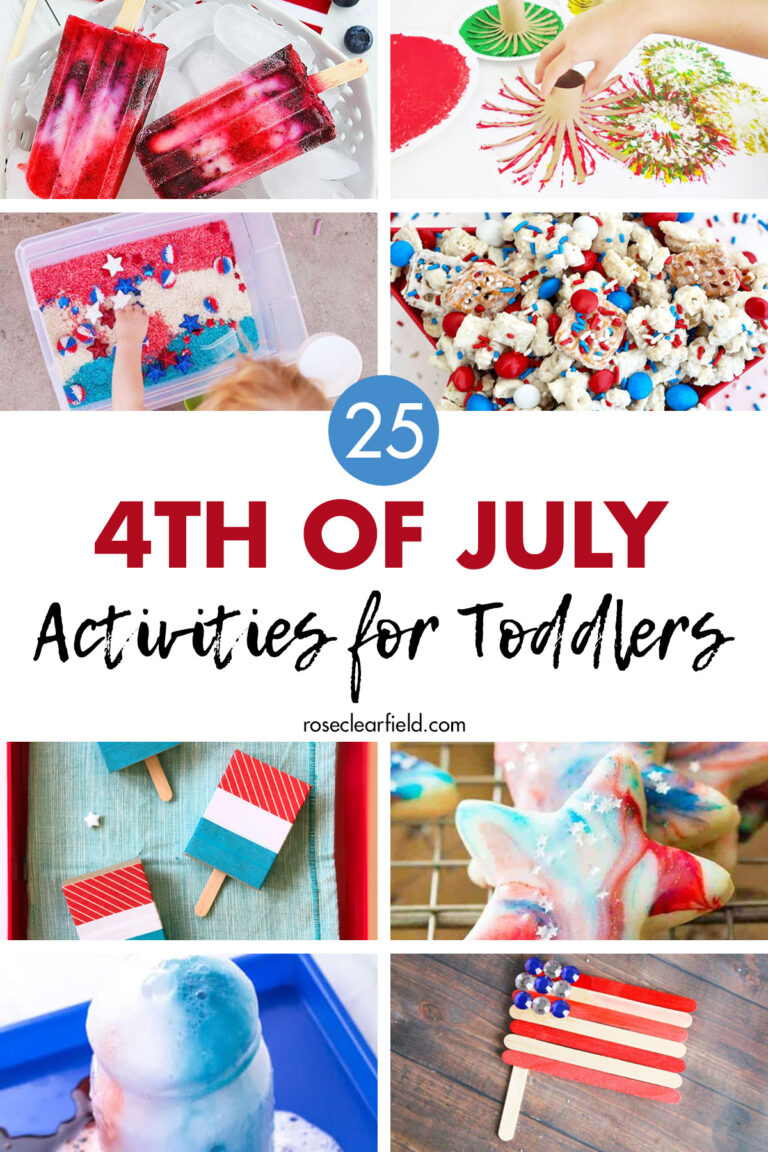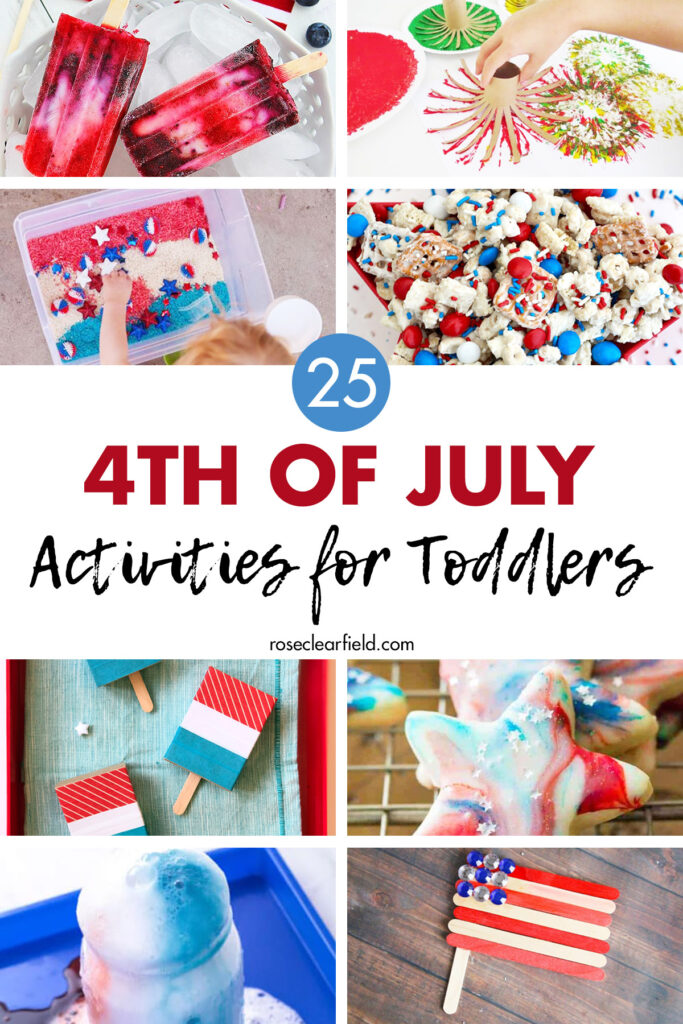 More toddler holiday activity ideas:
More 4th of July inspiration: