While New Year's Eve with toddlers won't be a rowdy event that goes until the early hours of the morning, it can still be a ton of fun. Planning New Year's Eve activities for toddlers for your family gathering or social event ensures that the kids will stay entertained and everyone will have a good time.
I've rounded up 20 of my favorite New Year's Eve activities for toddlers. There is something for everyone on this list. I find that a lot of toddler and kid activity round-ups are just long lists of art projects (which is one reason why I wrote 40 activities for 18-month-olds). It's great if you have a toddler who loves every art project imaginable. My son enjoys art but needs other activities to stay entertained over the course of an evening. So I've done my best to branch out and include a wider range of options.
Have a wonderful New Year's Eve and a great year ahead!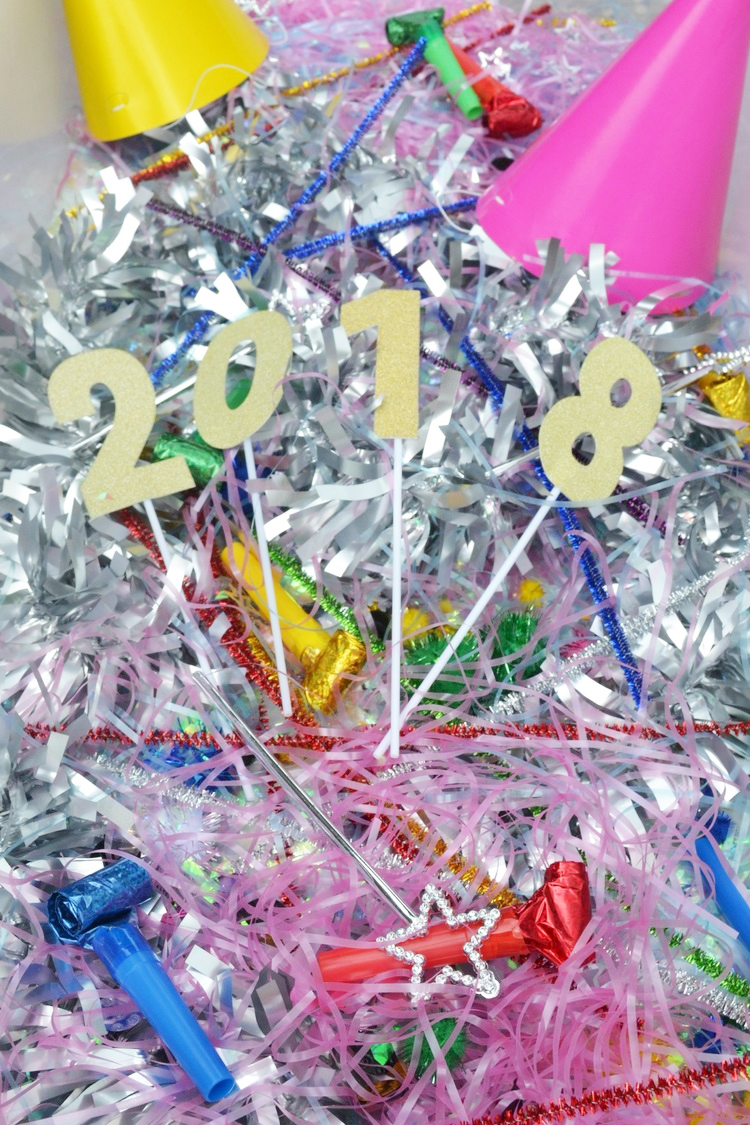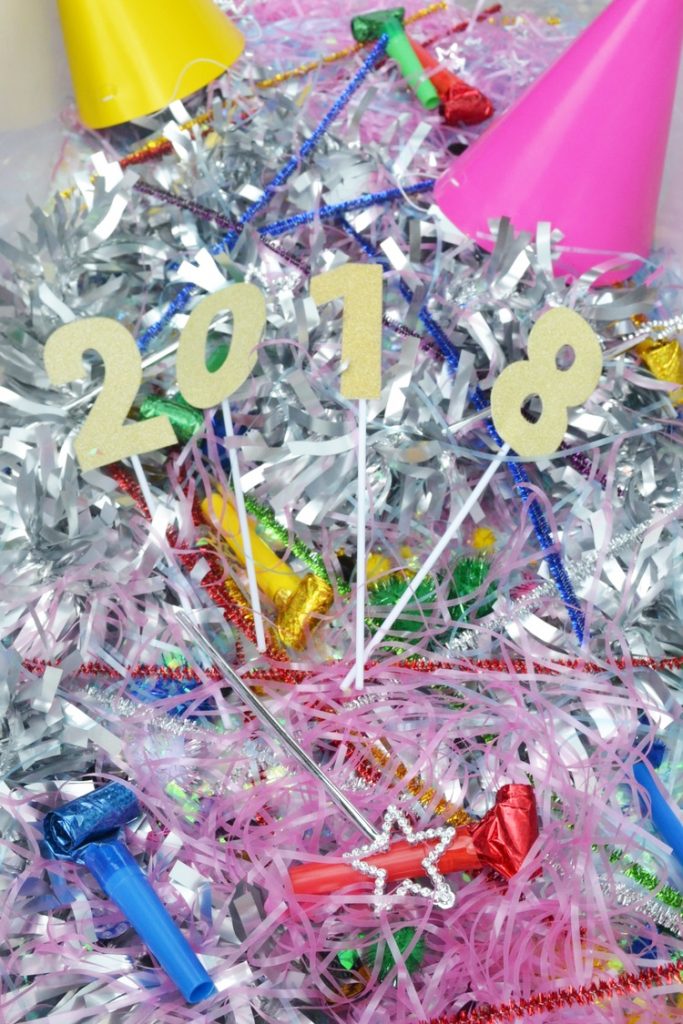 1. Have a New Year's-themed sensory bin
A sensory bin is a simple way for toddlers and preschoolers to explore colors, shapes, scents, textures, and more. A themed sensory bin provides a natural talking point for a season or holiday. You'll find a lot of New Year's Eve sensory bins on Pinterest. My favorite is from Fun with Mama because I like her range of materials and texture/feel options the best.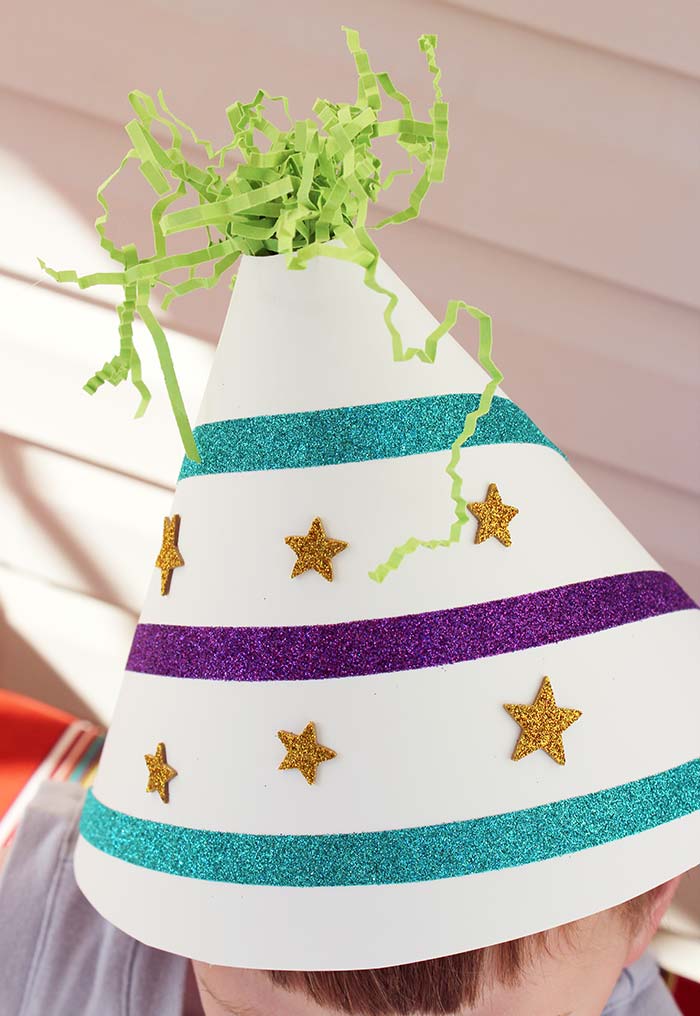 2. Decorate and wear paper party hats
Toddlers love getting to decorate an item that they can use right away. Of course, party hats are perfect for a New Year's Eve celebration. Sunny Day Family has a great tutorial for DIY party hats that are large enough for kids to wear without an elastic band. I also love Artsy Craftsy Mom's free printable New Year's Eve party hats to color.
Additionally, you can buy easy-to-assemble white party hats (which are smaller but have easily removable elastic bands). For decorating party hats, I would give toddlers metallic markers, star stickers, and large self-adhesive rhinestones.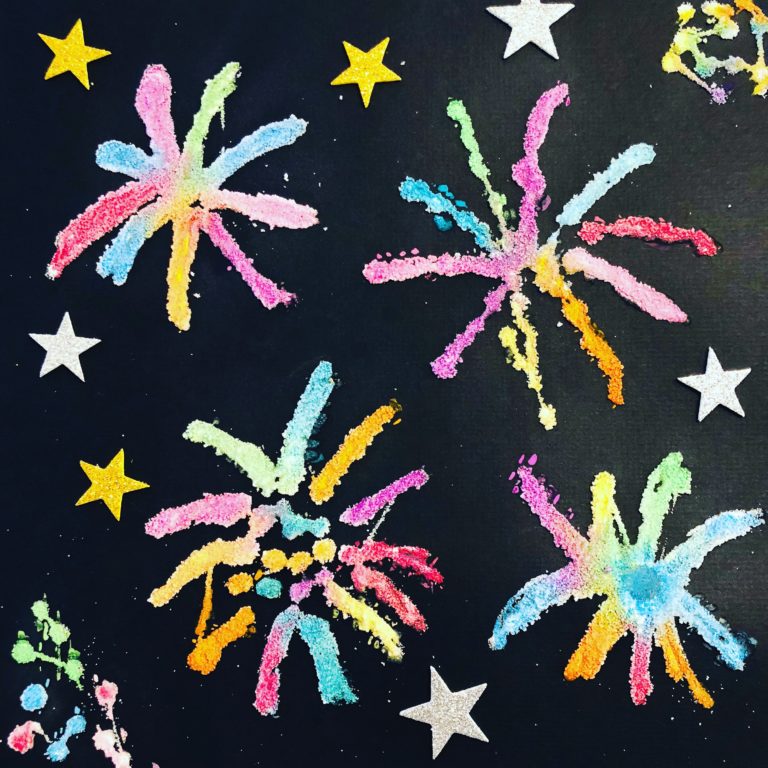 3. Do fireworks painting
There are so many fun ways to paint fireworks that are perfect for toddlers. Just a few projects that I love include In the Playroom's toilet paper roll glitter fireworks, Glitter on a Dime's salt painting fireworks (pictured), and Fun Learning for Kid's dish brush fireworks painting.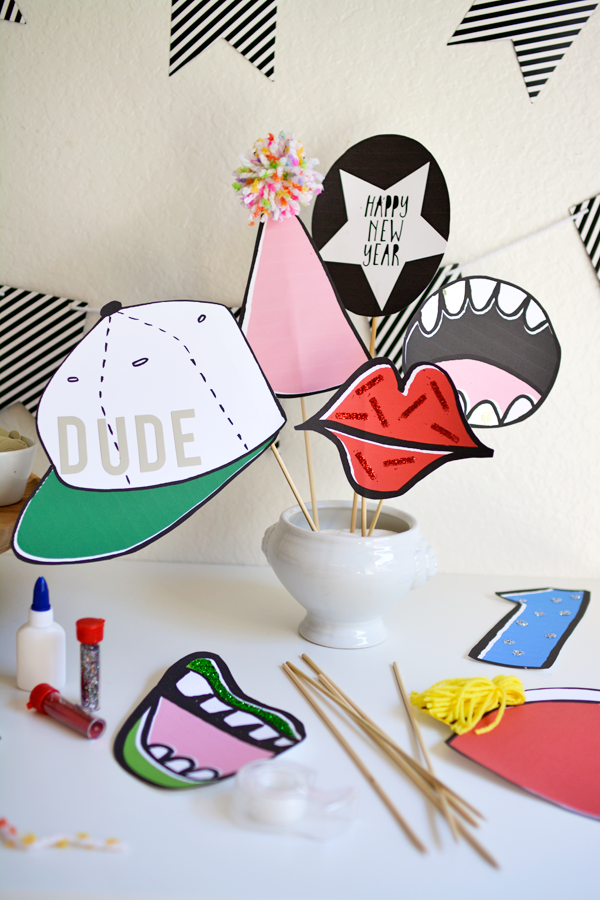 4. Make photo props and take funny pictures together
Toddlers absolutely love making silly faces and doing silly things for the camera and then seeing the results immediately afterward. Grab a few free photo props from Cupcakes and Cutlery or make your own props. Unfortunately, I couldn't find more free printables to link to that are current, but you'll find a ton of inspiration on Pinterest. Then have fun taking pictures! Cell phone photos are great, but I love using an instant camera for these occasions as well.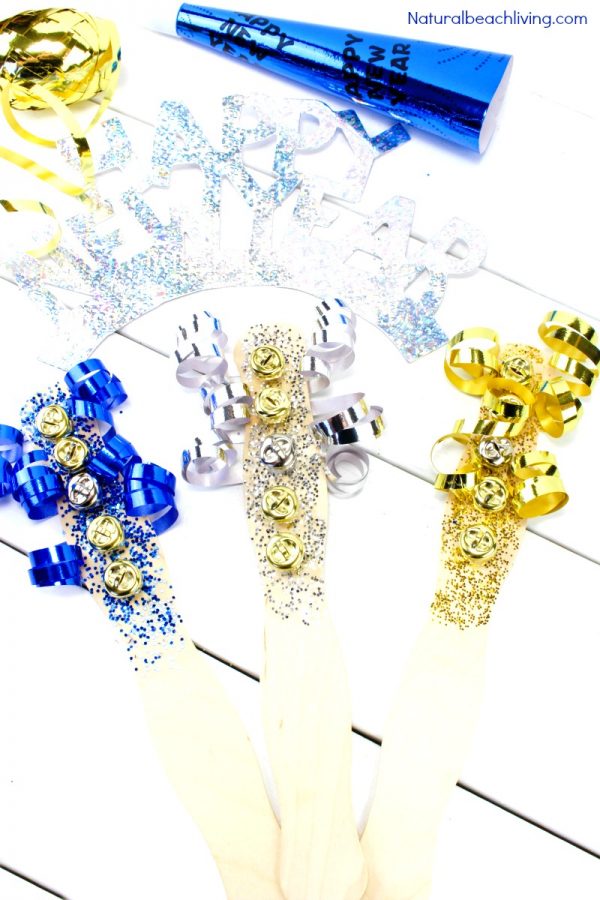 5. Make your own noisemakers and have a dance party
Toddlers also absolutely love dance parties and do not care one bit that their parents may not be great dancers. There are tons of tutorials for easy, kid-friendly DIY noise makers. For New Years, I love the projects from Natural Beach Living (pictured), The Crafting Chicks, and Miss Mae's Days. Toddler dance parties are also perfect for busting out egg shakers, wrist bells, and other kid-friendly percussion instruments.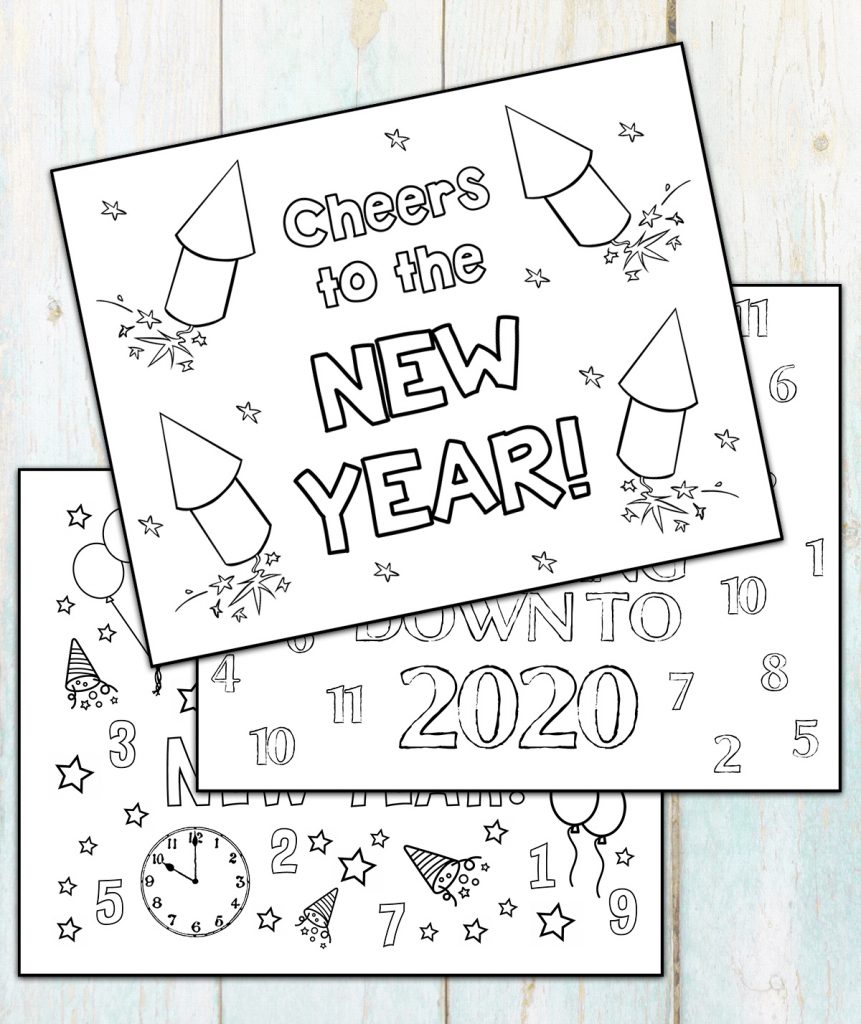 6. Print and color New Year's-themed coloring pages
New Year's coloring pages are great to have ready when kids first arrive at your house for a party or to get out when they need a break from running around like crazy (or the adults need a break). Of course, I have to share my own free printable New Year's placemats to color, which is what's pictured above. You can use them as actual placemats or simply as coloring pages. There are a few additional New Year's coloring page options at Just Color and Super Coloring.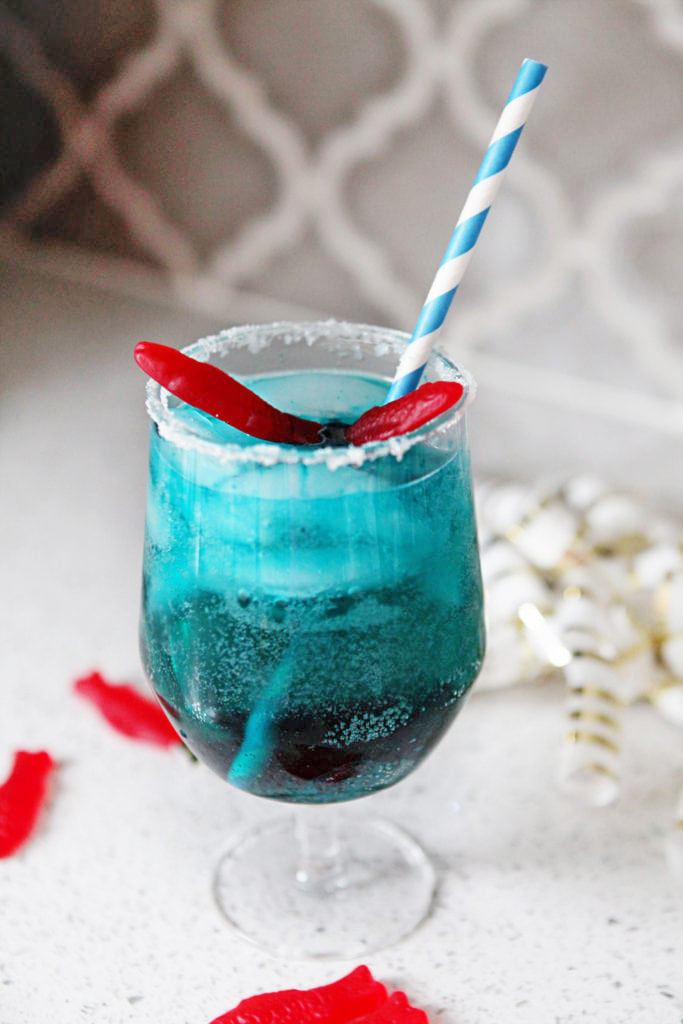 7. Mix up and enjoy a non-alcoholic party drink
You know that I'm all about the non-alcoholic drinks for parties. Kids and anyone who isn't planning to drink shouldn't have to miss out on the fun drink options. The Everyday Mom Life and For Modern Kids both have fantastic round-ups of non-alcoholic, kid-tailored party drinks that I love for New Year's. The Everyday Mom Life's round-up includes the pictured One Fish, Two Fish Dr. Suess-inspired drink.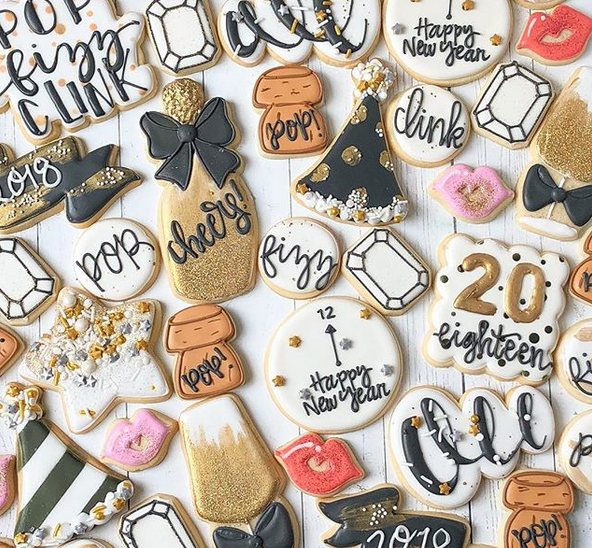 8. Bake and decorate New Year's cookies
If you aren't completely burned out on baking from Christmas, plan to bake and decorate New Year's-themed cookies for the holiday. Bake at 350 has the perfect cut-out sugar cookie recipe, which is ideal for cutting out and decorating cookies with your little ones. For decorating inspiration, check out I am Baker and The Cookie Kitchen.
9. Play New Year's bingo
Toddlers who are two and a half or older are able to understand the basic concept of bingo and will do well with a very simple version of New Year's bingo. I love Playdough to Plato's large-format New Year's Eve bingo and would create something similar for toddlers with all pictures, no words or numbers.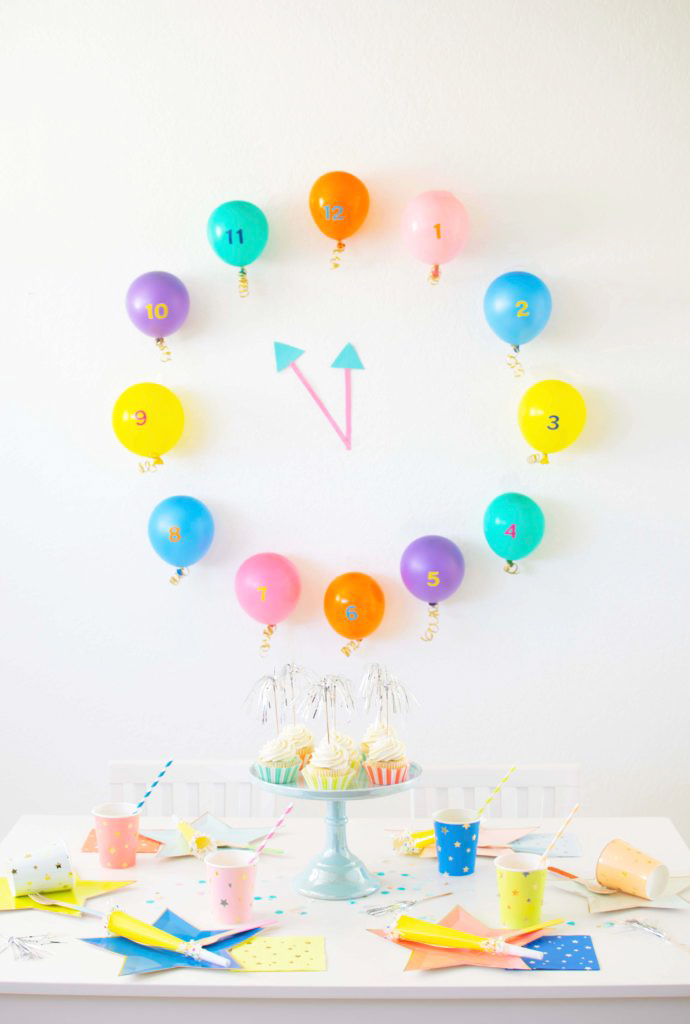 10. Have a clock countdown
There are two popular ways to have a New Year's Eve clock countdown with kids. The first way is to make a clock out of balloons with paper hands. As you work your way around the clock, you move the hands accordingly. Some people opt to pop the balloons as they go. I have an example of this concept pictured above from Twinkle Twinkle Little Party. The post has a lot more detail.
The second way is to make a clock on a paper plate with movable hands that you can adjust accordingly throughout the night. You can see a good example of this concept at Buggy and Buddy.
11. Blow up balloons and play catch
My toddler son is crazy about balloons and never gets tired of playing catch with balloons, either air-filled or helium-filled. For a New Year's party, I would spring for a couple of helium-filled balloons from the grocery store or dollar store and then fill out the mix with gold confetti balloons. You can even by these confetti balloons pre-filled.
12. Have a cotton ball snow fight
My toddler son's final Kindermusik class before Christmas break included a "snowball" fight with cotton balls, with festive music playing in the background of course. The kids thought it was the best. They distributed the cotton balls in sandwich-sized Ziplock bags. Once the cotton balls were out of the bags, the kids could scoop them off the floor. I can't recommend this activity enough. It's so cheap and will keep your toddlers entertained for a solid 10-15 minutes.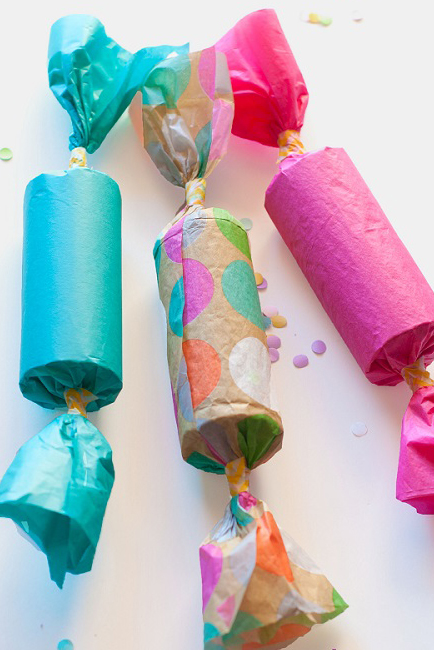 13. Make and pop your own party poppers
Craftaholics Anonymous has an easy homemade party poppers tutorial that is more simple than you can ever imagine and just perfect for toddlers. Set aside time a day or two before New Year's Eve, and have your kids help you assemble the party poppers. Then make sure you get them out and pop them during your New Year's Eve celebration.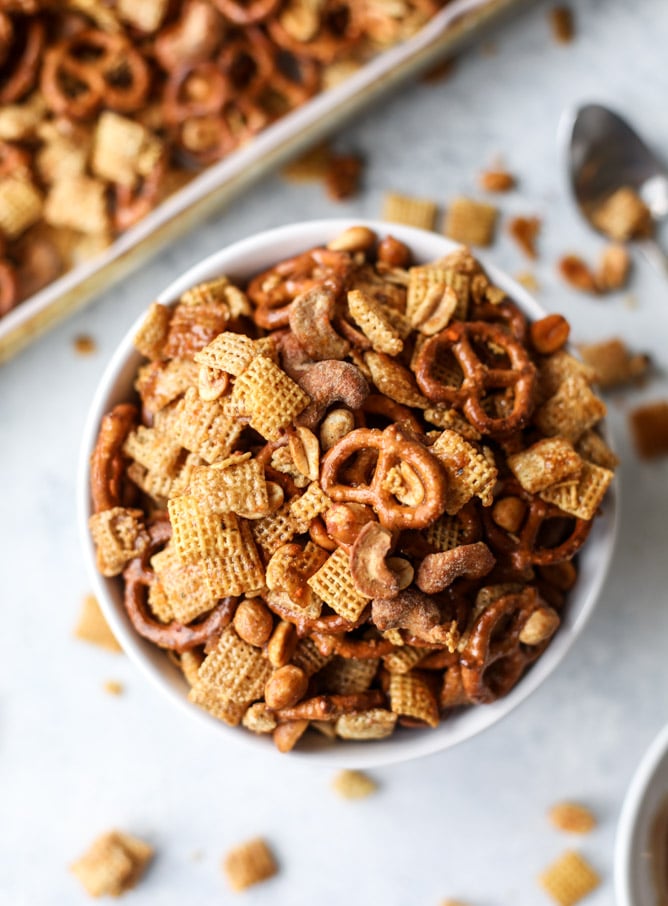 14. Prepare and enjoy a special snack mix
Kids are sure to get excited about a good sweet and salty snack mix. When you're serving dinner on New Year's Eve, make sure to have snacks/appetizers available ahead of time, especially when there are kids in attendance. Snack mixes are a perfect addition to the spread. I love How Sweet Eat's chipotle caramel Chex Mix (pictured) and the most addicting sweet and spicy homemade snack mix. If you want to go sweeter, consider The First Year's New Year's Eve white chocolate puppy chow or An Oregon Cottage's homemade moose munch.
15. Make and play with glitter Play-Doh
When your kids play with Play-Doh all the time, busting out the glitter Play-Doh for New Year's Eve will take their interest level up a notch. I love Marigold Mom's perfectly sparkly playdough. Play-Doh also offers a sparkle compound collection.
16. Decorate and display large numbers for the new year
Decorating large numbers for the new year is an easy way to make a New Year's Eve decoration with toddlers. Playground Parkbench has a tutorial for creating transparent New Year's numbers that are perfect for displaying in a window. You can simplify this concept by printing large numbers on card stock. Cut them out, and let your toddlers have fun decorating them with the materials of your choosing.
17. Read a few New Year's Eve books
Having books readily available for kids at a party is an easy way for them to stay occupied and to have a natural opportunity to get away from the crowds. Reading a few New Year's Eve books is also an ideal way to help toddlers calm down before heading to bed. Check out The Night Before New Year's, Happy New Year, Spot!, and Squirrel's New Year Resolution.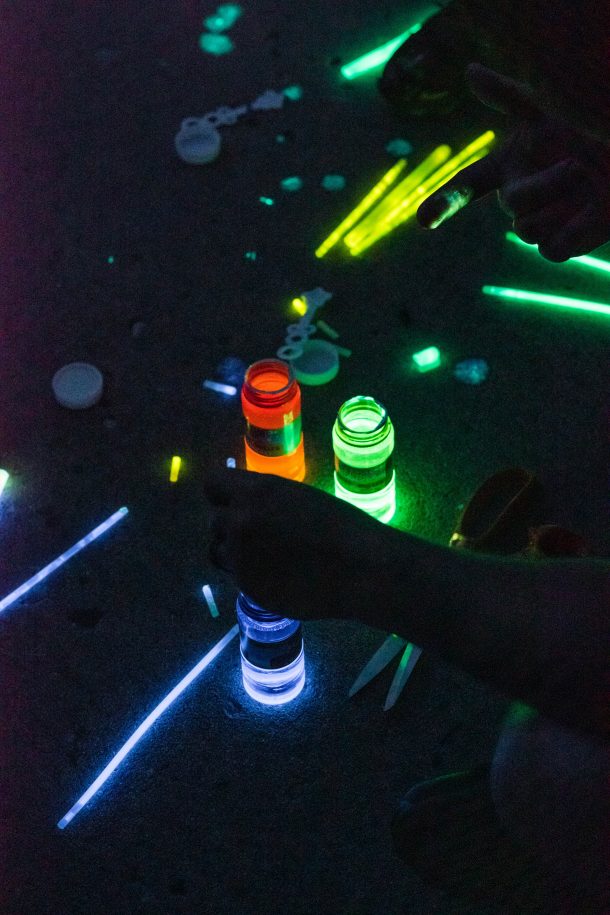 18. Play glow-in-the-dark games
Glow-in-the-dark adds a fun element to any nighttime activity, especially for toddlers who may not get to stay up late very often. Kid Activity Blog's glow-in-the-dark bubbles (pictured) and My Litter's glow-in-the-dark ring toss are both great options. If it's too cold to blow bubbles outside, choose an area of the house that you can make completely dark and that won't make cleanup too much of a hassle, such as the basement.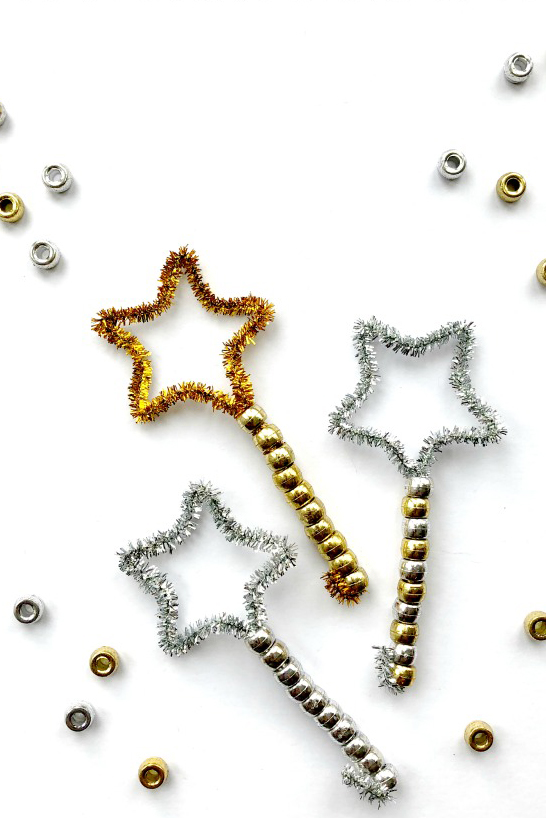 19. Create your own glittery bubble wands for bubble play
Red Ted Art's New Year's Eve toddler bubble wands are another fun way to play with bubbles on New Year's Eve. If your little ones don't have the patience to assemble the wands, put them together ahead of time.
20. Conduct a fizzy science activity
There's Just One Mommy's New Year's fizzy science activity is perfect for toddlers. It involves just the right amount of excitement and not too much glitter. Make sure to place your glass on a baking sheet for simple, stress-free cleanup.
[Disclaimer: There are a few affiliate links in this post. Thanks for your support!]
Pin this post for easy access to the New Year's Eve toddler activities later!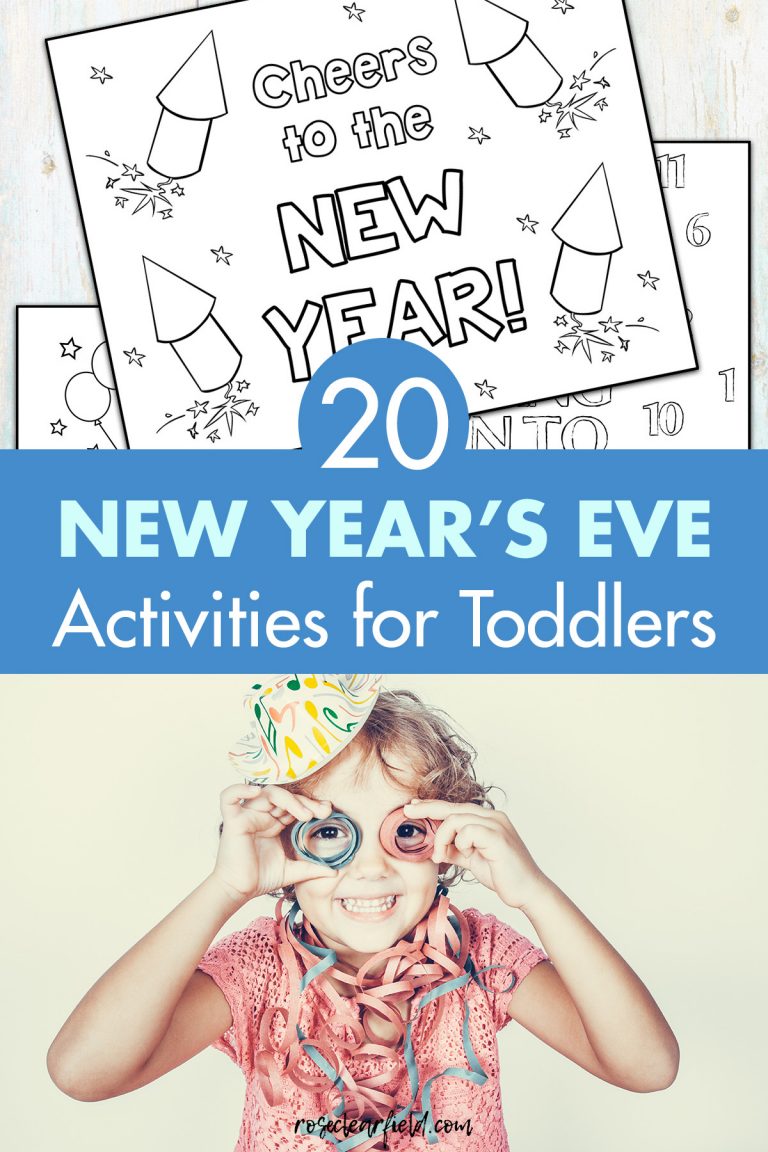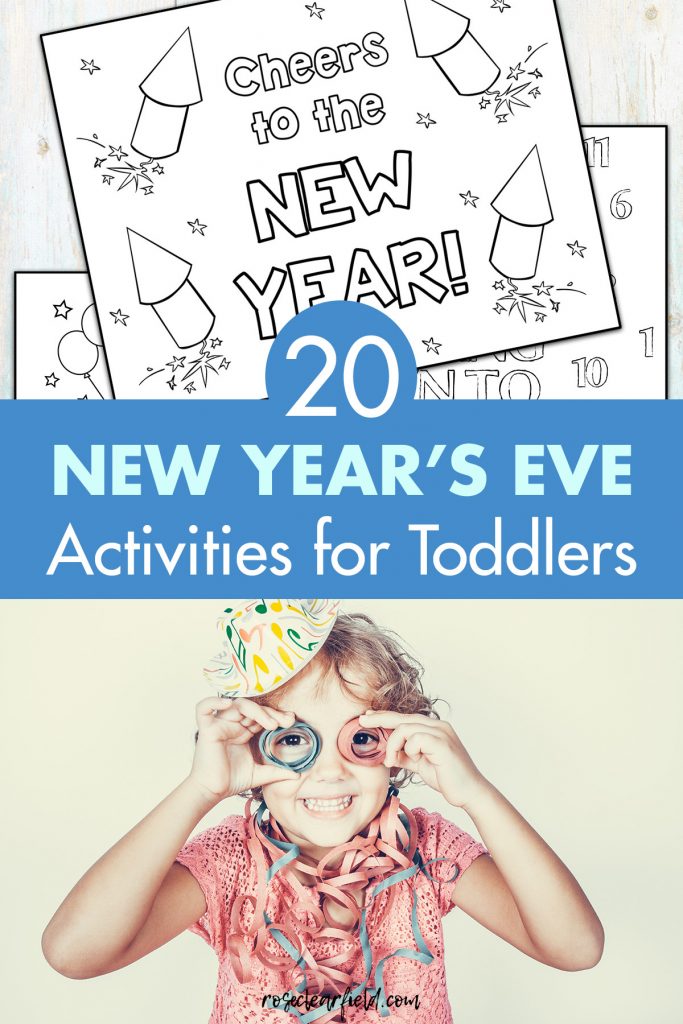 More New Year's Eve resources:
More toddler resources: