While St. Patrick's Day with toddlers won't be a rowdy night of bar hopping until the early hours of the morning, it can still be so much fun. Planning St. Patrick's Day activities for toddlers ensures toddlers have engaging, age-appropriate activities the whole week leading up to the holiday as well as during any evening celebrations on St. Patrick's Day.
I've rounded up 25 of my favorite St. Patrick's Day activities for toddlers. There is something for everyone on this list. I find that most toddler and kid activity round-ups are simply long lists of art projects (which is just one reason why I wrote 40 activities for 18-month-olds). It's awesome if you have a toddler who goes crazy for art projects. My son does like art but needs additional activities to stay entertained over the course of an afternoon or evening. So I've done my best to branch out and include a more extensive range of options.
Have a wonderful St. Patrick's Day with your little ones!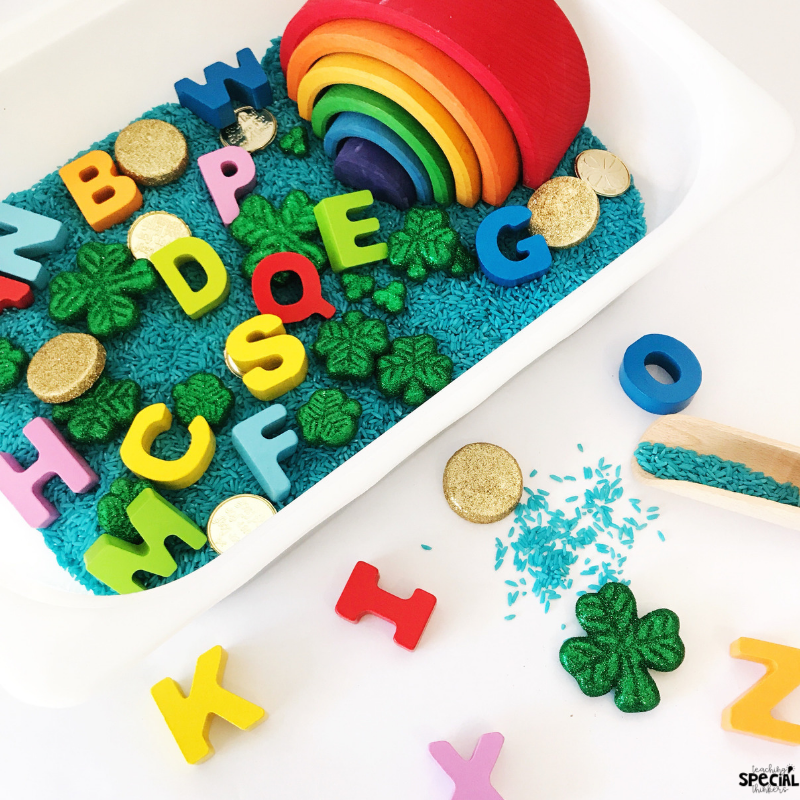 1. Make a St. Patrick's Day-themed sensory bin
A sensory bin is an easy way for toddlers and preschoolers to engage with colors, shapes, textures, smells, and more. A themed sensory bin offers a natural talking point for a season or holiday. You'll find numerous sensory bin ideas for every season and holiday on Pinterest. I especially like the St. Patrick's Day sensory bin ideas from Teaching Special Thinkers because she offers some of the best tactile experiences.
2. Learn about the color green
As a parent with young children at home, you'll find yourself talking about colors and differentiating between different colors all the time. St. Patrick's Day is an ideal opportunity to focus on green. Start by rounding up green items at home or doing a walk through the house to find green items. If the weather allows, continue your search outside. Make a point of noticing green items when you're out and about during the week, such as at the grocery store.
A couple of other easy ways to talk about the color green with toddlers include making your own green paint by mixing yellow and blue and finding all the green crayons in a large box and talking about the different shades of green.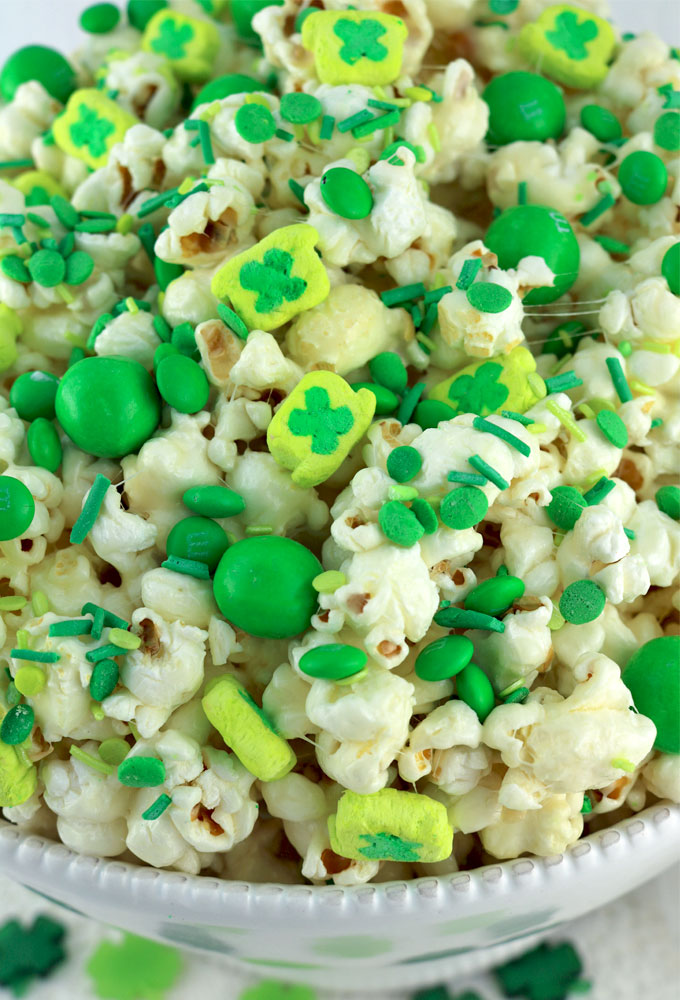 3. Have a St. Patrick's Day-themed snack
No toddler holiday is complete without a holiday-themed snack. St. Patrick's Day is no exception. When you're having a party with family and friends, whip up a more indulgent St. Patrick's Day snack the kids are sure to love, such as Two Sisters Crafting's St. Patrick's Day popcorn.
For a regular morning or afternoon snack on St. Patrick's Day, you may want to stick to a healthier selection of green foods. Think about building a snack plate with some combination of cucumbers, green apples, kiwis, honeydew melon, celery, green peppers, and broccoli. Mom to Mom Nutrition has a cute snack presentation with little cups for each item. She also shares a Greek yogurt dipping sauce recipe that's great for green fruit.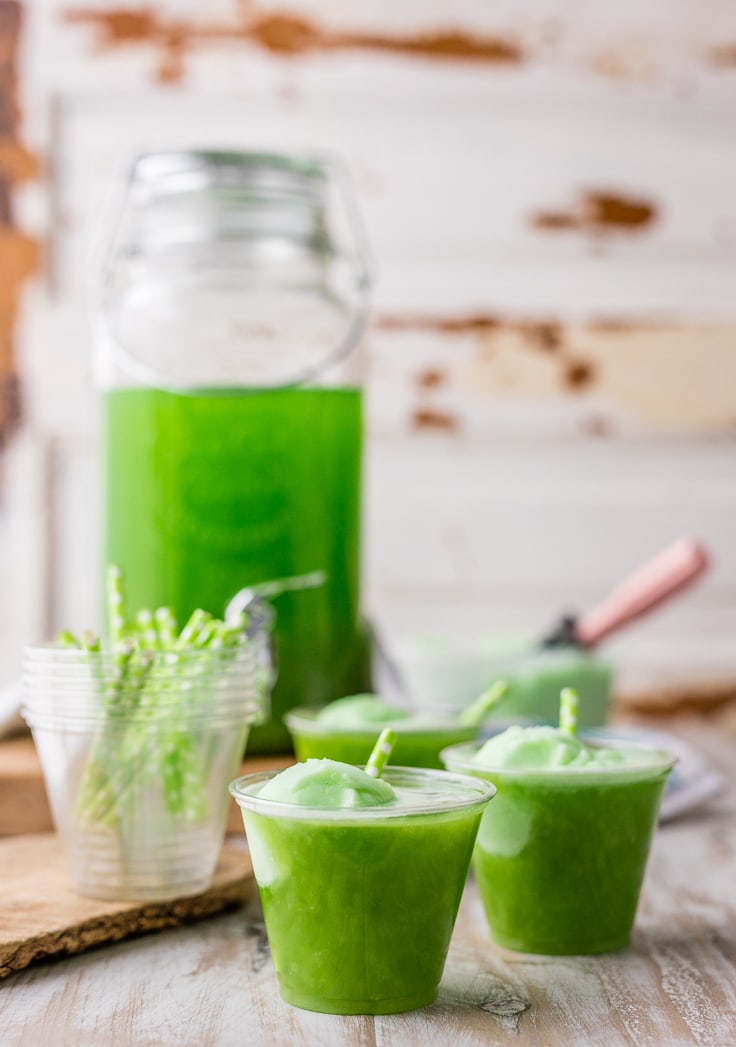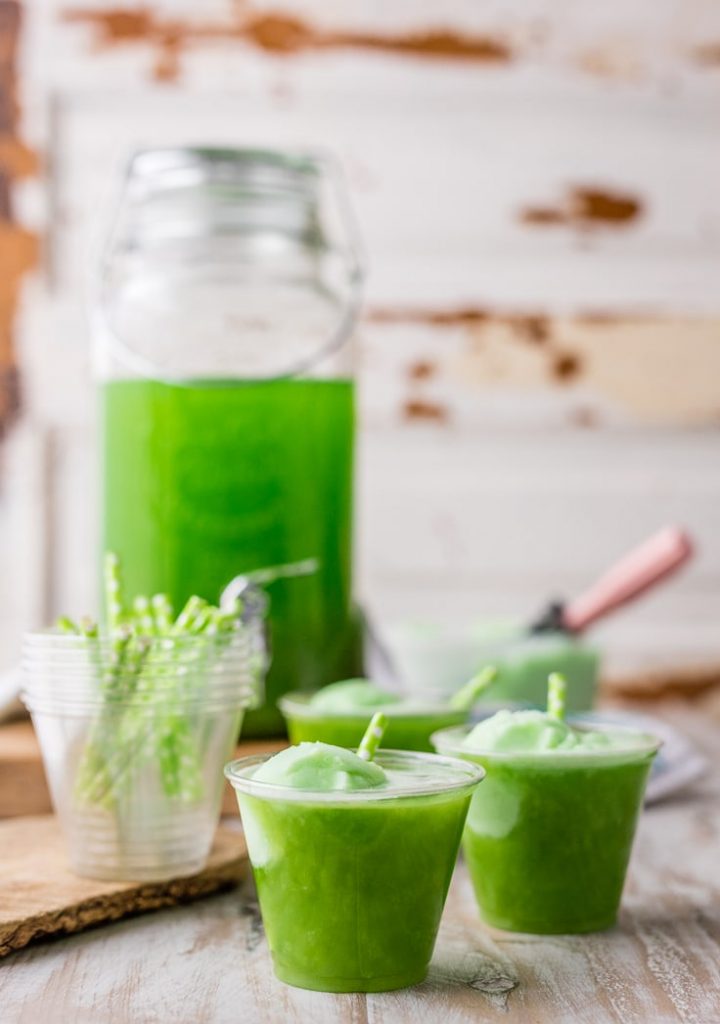 4. Whip up a non-alcoholic St. Patrick's Day drink
You know that I'm all about serving non-alcoholic drinks for holidays, especially when there will be kids in attendance. Even when you're just having a family dinner at home on St. Patrick's Day, your little ones will love getting a special holiday drink for the meal.
For kids, I really love The Cookie Rookie's lime sherbet punch. I'm working on a full round-up of non-alcoholic drinks for St. Patrick's Day that will be hitting the blog next week.
5. Take in a St. Patrick's Day parade
There's nothing quite like going to a parade as a little kid. Make the local St. Patrick's Day parade an annual family tradition that kids look forward to all month. To find the nearest parade, Google "[your city] St. Patrick's Day parade" or keep an eye out for details in your local paper.
6. Create mosaic shamrocks
I love Happiness is Homemade's DIY mosaic shamrocks because they're colorful and allow toddlers to explore different colors and patterns with very minimal mess. The finished shamrocks are beautiful decorations you can display on the fridge or elsewhere in your house.
My friend Natasha has free printable shamrocks in assorted sizes, which are perfect for this craft project. The only other supplies you'll need are scissors, Elmer's Early Learners glue, green cardstock, and St. Patrick's Day scrapbook paper.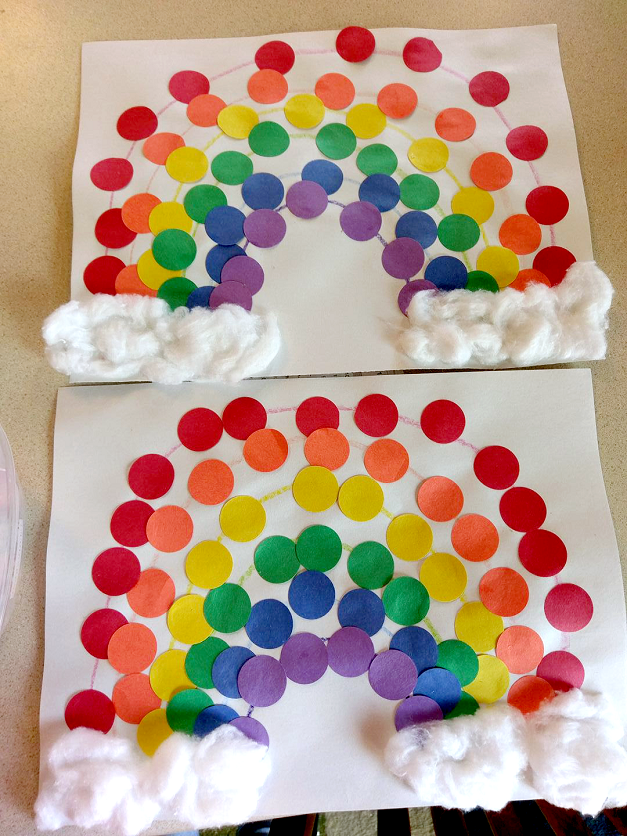 7. Draw or color rainbows
It wouldn't be St. Patrick's Day without a few rainbows. Depending on the skill level and artistic interest of your toddler, he/she may do better coloring versus drawing a rainbow or vice versa. For toddlers who want to color rainbows, I love my friend Natasha's 10″ rainbow with clouds. If you're looking for a slightly more involved rainbow toddler activity, check out The Nerd's Wife's rainbow preschool craft or Crafty Morning's easy dot rainbow craft.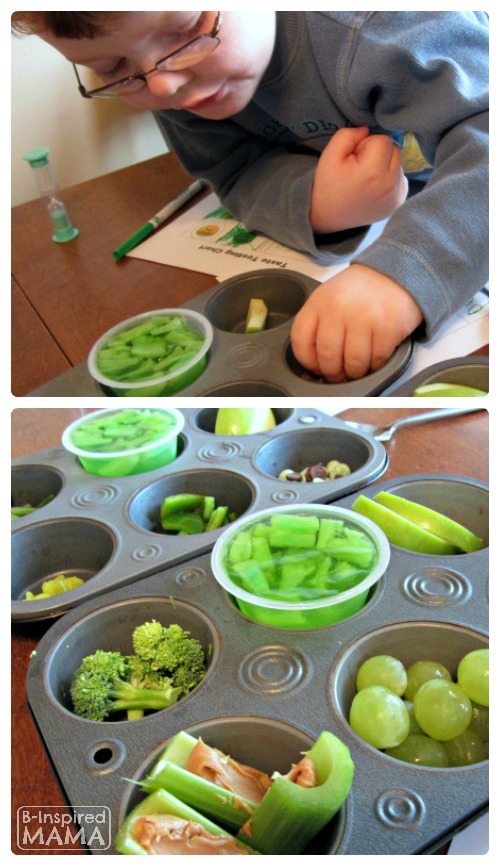 8. Have a green foods taste test
Take the green snack idea to the next level with a green foods taste test. A taste test activity is a fun way for picky eaters to experiment with trying different foods without the stress that often comes with unfamiliar foods at mealtime.
B-Inspired Mama has a great post about creating a St. Patrick's Day green foods taste test, complete with a printable chart kids can use to rate the different foods. Strive to include a mix of fruits, vegetables, and treats, and make sure to include at least one or two foods that you know your kids'll be excited to eat. I also love her idea of presenting the food in muffin tins.
9. Make a paper shamrock balance beam
Creating a foam shamrocks balance beam is an easy, fun way to keep toddlers entertained while helping them work on a variety of gross motor skills. The OT Sandbox has a nice list of suggestions for balance beam variations (i.e., raising the beam off the floor, adding curves) and ways to stretch kids during the activity (i.e., adding arm motions).
You can also switch up the paper shamrocks on the floor idea, and create a paper shamrock path through the house.
10. Create pipe cleaner shamrocks
Pre-Meditated Leftovers has an easy tutorial for making shamrocks out of green pipe cleaners. For toddlers, most likely you'll want to assemble the shamrocks for them.
Many toddlers will be happy to wave their pipe cleaner shamrocks and carry them all around the house without any sort of organized activity. You can also use them as stamps. Dip pipe cleaner shamrocks in tempera paint or other kid-friendly paint and make shamrock art.
11. Read a few St. Patrick's Day books
Rotating holiday books into your kids' bookshelves ensure the selection stays fresh and everyone is excited to read a few new books. There is a wealth of books available for toddlers for every holiday. Just a few of my favorite St. Patrick's Day books for toddlers include the following.
12. Put up St. Patrick's Day window clings
Window clings are one of the simplest ways to decorate for holidays with little kids. They love putting up and taking down window clings over and over again. For St. Patrick's Day, I love large see-through shamrock window clings. The sizes and shapes are easy for toddlers to handle independently. And the colors you get with see-through window clings are so beautiful. Yes, your toddlers will likely rip at least a few of them before St. Patrick's Day. But it's worth it for the enjoyment they'll get out of this activity.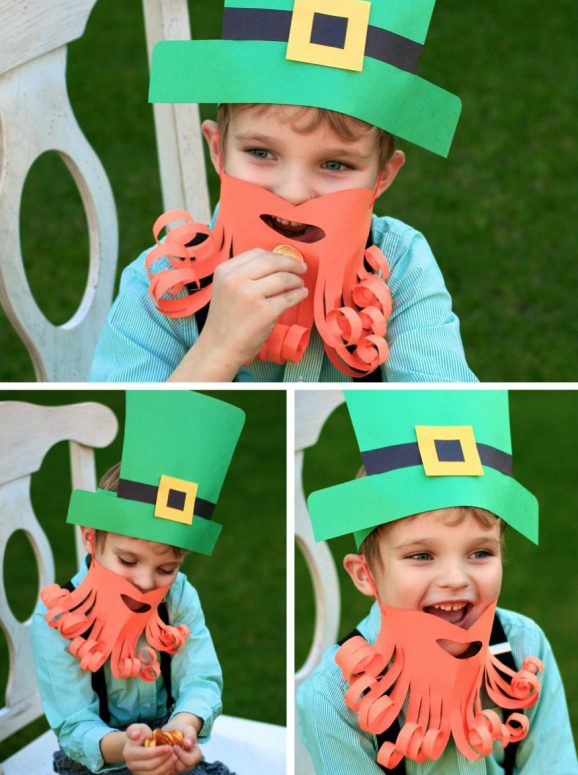 13. Make leprechaun hats
Many toddlers love to wear hats. Their imaginations are already so strong. Adding a hat to a pretend game is an easy way to take the activity up a notch. Paging Super Mom has a free printable template for DIY leprechaun hats as well as beards. For toddlers, I recommend tracing and cutting out the hat components and then having your toddlers help you glue them together.
14. Blow up green balloons and play a few balloon games
I've talked before about how my toddler son is absolutely crazy about balloons. He loves batting them in the air and carrying them all over the house. For holidays and birthdays, I splurge on a few helium balloons from the grocery store and then complete out the mix with air-filled balloons.
Of course, green balloons are a must for St. Patrick's Day. I also love these gold confetti balloons. You can even buy them pre-filled.
15. Create St. Patrick's Day cards to send to family and give to teachers
Receiving handmade cards from young family members always puts a smile on people's faces. If your kid is in any sort of classes (i.e., swimming, gymnastics) and/or a preschool program, it's also nice to give out cards to the teachers on holidays.
With toddlers, I would keep this activity really simple. Create your own folded cards out of green card stock. Then let your little ones go crazy with shamrock foam stickers and other assorted St. Patrick's Day foam stickers.
16. Find, count, and eat gold coins
St. Patrick's Day is the perfect excuse to pick up a few bags of chocolate gold coins from the dollar store. There are a handful of popular ways to create gold coin counting activities for toddlers and preschoolers. Check out methods from Eat Sleep Play, The Pinay Homeschooler, and JDaniel4's Mom. Of course, when the counting activity is completed, you'll have to eat some of the gold coins.
17. Learn about a different St. Patrick's Day word each day during the week leading up to St. Patrick's Day
For each day of the week leading up to St. Patrick's Day, focus on a different St. Patrick's Day-themed word. For example, one day the word will be leprechaun, the next day the word will be rainbow, and so on. Choose at least one or two activities that day centered around the word, such as books, snacks, and art projects.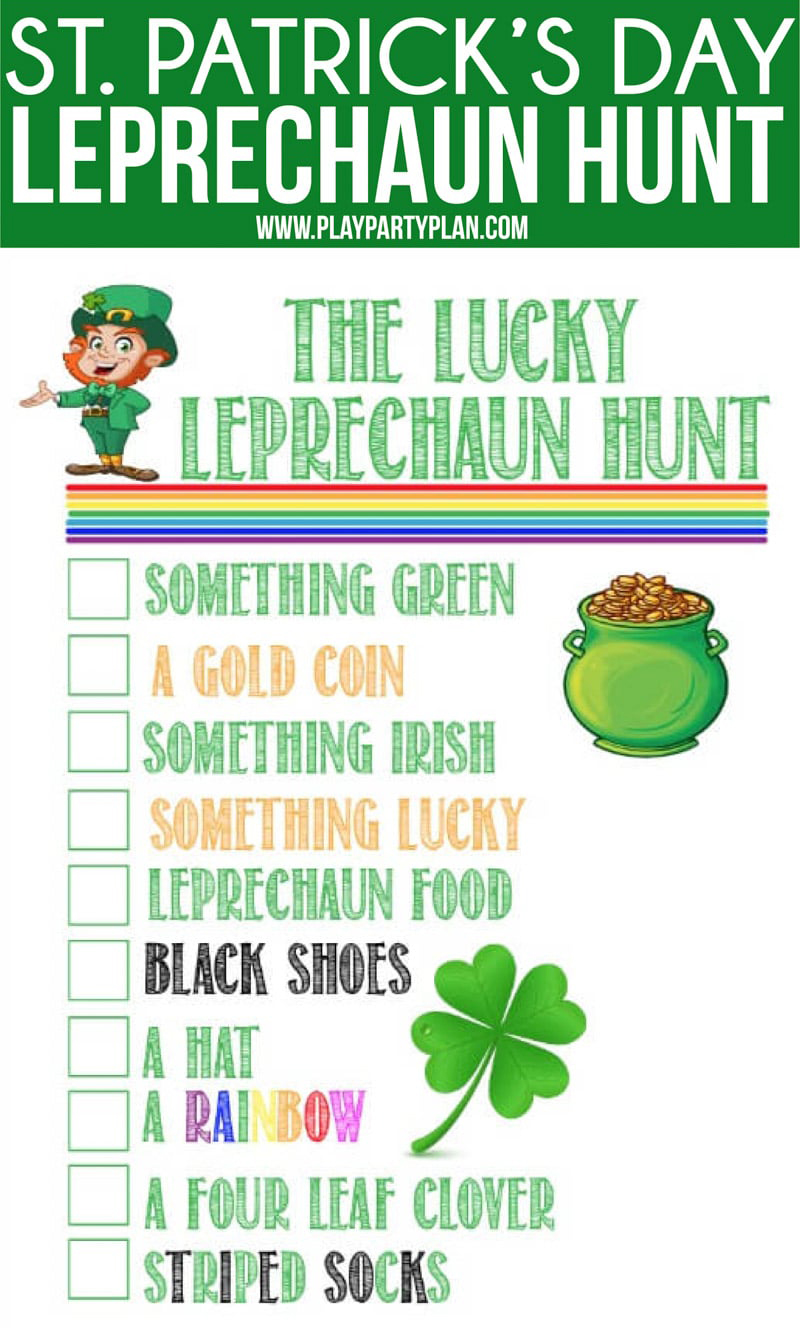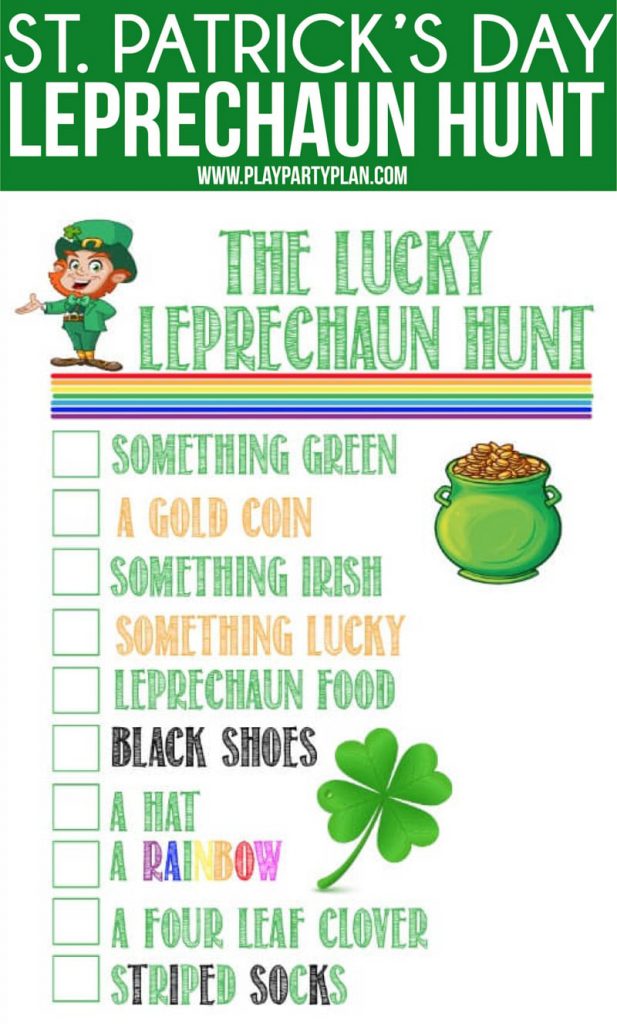 18. Go on a St. Patrick's Day scavenger hunt
For toddlers, I would simply have them hunt for St. Patrick's Day-themed items around the house or yard. Instead of creating written clues, which most likely will be more complicated, give basic clues about where to look when they get frustrated. I love Play Party Plan's free printable The Lucky Leprechaun Hunt sheets for a toddler scavenger hunt.
19. Make a green baking soda volcano
The classic baking soda and volcano activity with kids never gets old. Happy Brown House outlines the basic procedure, using ideal supplies for little kids. Green food coloring is a natural choice for St. Patrick's Day.
20. Have a pot of gold coin toss
A coin toss is a perfect game for toddlers that are you can customize for different holidays. You'll find inexpensive plastic buckets in different colors at dollar stores. Playground Park Bench has complete directions for setting up and playing St. Patrick's Day coin toss with toddlers.
21. Do a rainbow dot stamping sheet
Dot stamping is an ideal fine motor skill activity for toddlers who love art activities. Keep a set of dot stampers on hand for your little ones. The most popular dot stamping activity for St. Patrick's Day is rainbows. You can grab a free version from Modern Preschool. I didn't find a lot of other St. Patrick's Day dot stamping sheets, free or paid. But you'll find a selection of additional dot art sheets on Amazon and Teachers Pay Teachers.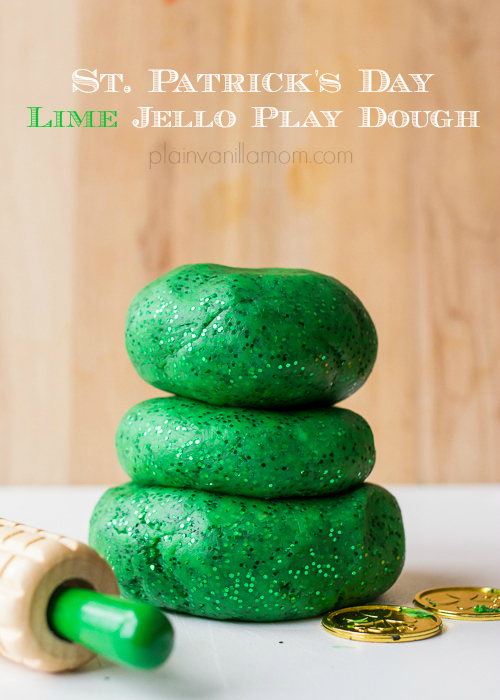 22. Make green or green glitter Play-Doh
A holiday is a great excuse to whip up a new batch of Play-Doh for all sorts of imaginary play. Homemade Play-Doh couldn't be easier and offers endless potential for customization. I love the green glitter Play-Doh recipes from Plain Vanilla Mom and A Mom's Inspiration. Feel free to leave out the glitter if it stresses you out too much.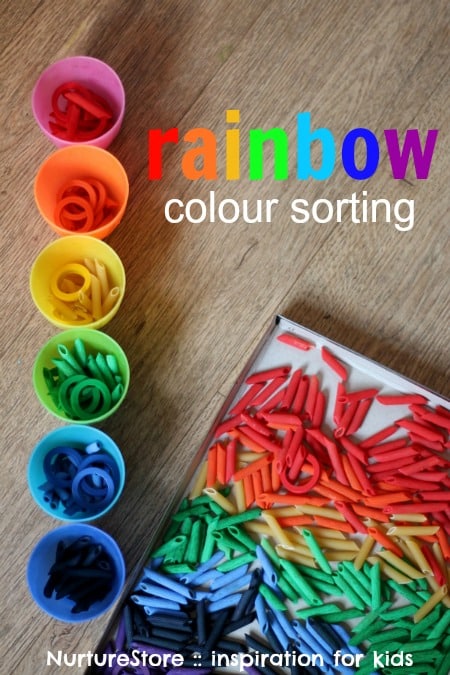 23. Complete a rainbow sorting or matching activity
There are endless sorting and matching activities just perfect for toddlers. A rainbow activity is fitting for St. Patrick's Day. But you can customize this concept for any holiday or simply for your toddler's favorite colors. Just a few rainbow sorting and matching activities I love for toddlers include NurtureStore's rainbow dyed pasta sorting, Fairy Poppin's pom pom sorting with tongs, and Fairy Poppin's rainbow color sorting mats.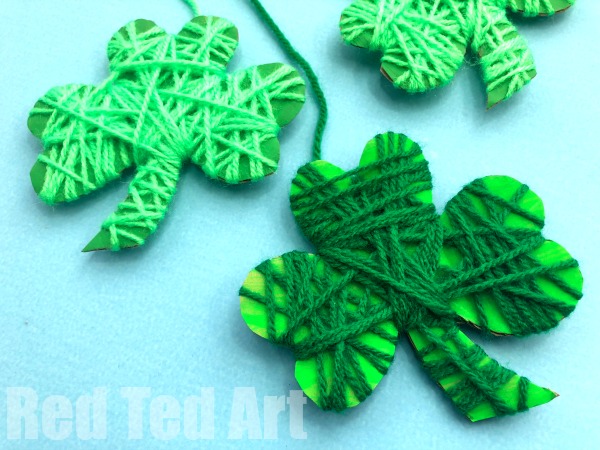 24. Wrap up card stock shamrocks with green yarn
Wrapping items in yarn is a simple, inexpensive fine motor activity for toddlers. Wrapping the yarn around shamrocks is a fun twist for the holiday. This idea comes from Red Ted Art, who adds a face to her kids' finished shamrocks, turning them into cute ornaments or fridge decorations.
Again, my friend Natasha's free printable shamrocks are perfect for making your own card stock shamrocks. Any sort of recycled card stock or cardboard, such as a cereal box, works perfectly. Pick up light green and dark green yarn, and you're ready to go.
25. Learn about the meaning of St. Patrick's Day
It's never too early to start teaching kids about the meaning behind holidays. Toddlers won't understand everything they're learning, which is completely fine. You're planting the seeds for years of future lessons about St. Patrick's Day. Grab a St. Patrick's Day facts sheet, and work through a few at a time throughout the week of St. Patrick's Day.
Do you have any additional favorite St. Patrick's Day activities for toddlers?
I'd love to hear about how you celebrate the holiday with your little ones!
[Disclaimer: There are a few affiliate links in this post. Thanks for your support!]
Pin this post for easy access to the St. Patrick's Day activities for toddlers later!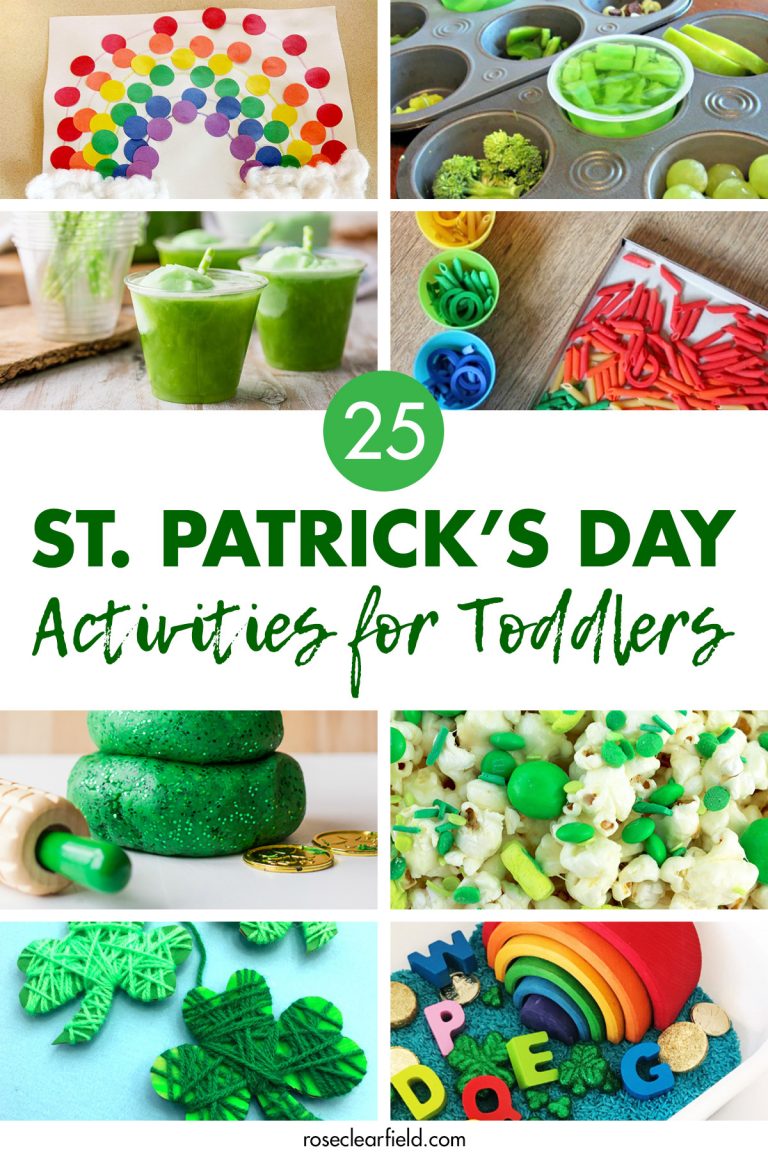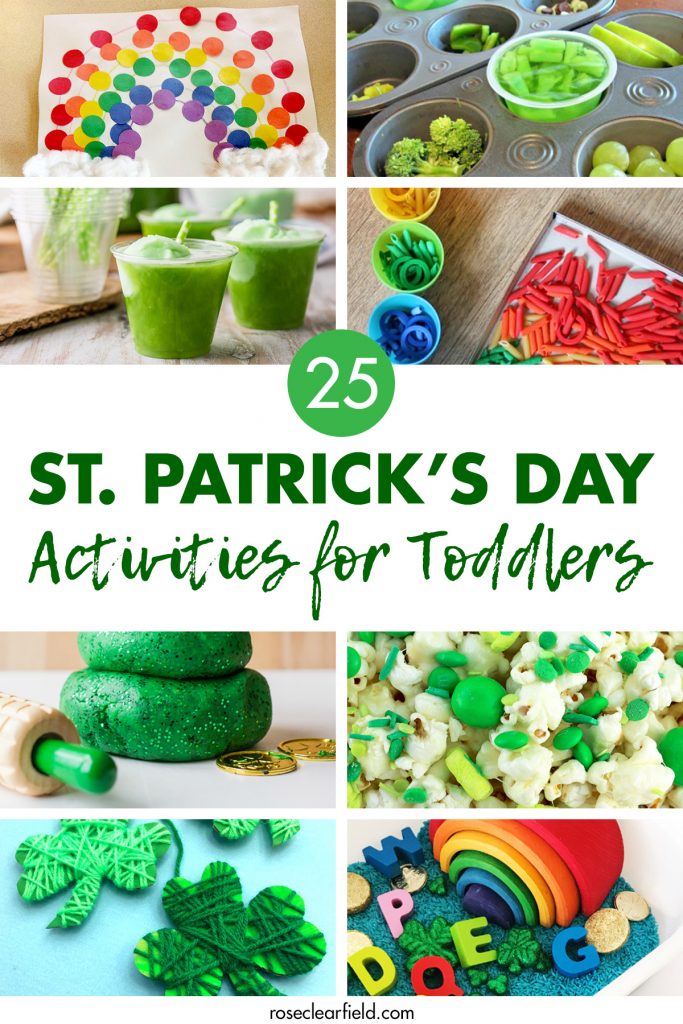 More St. Patrick's Day resources:
More toddler resources: