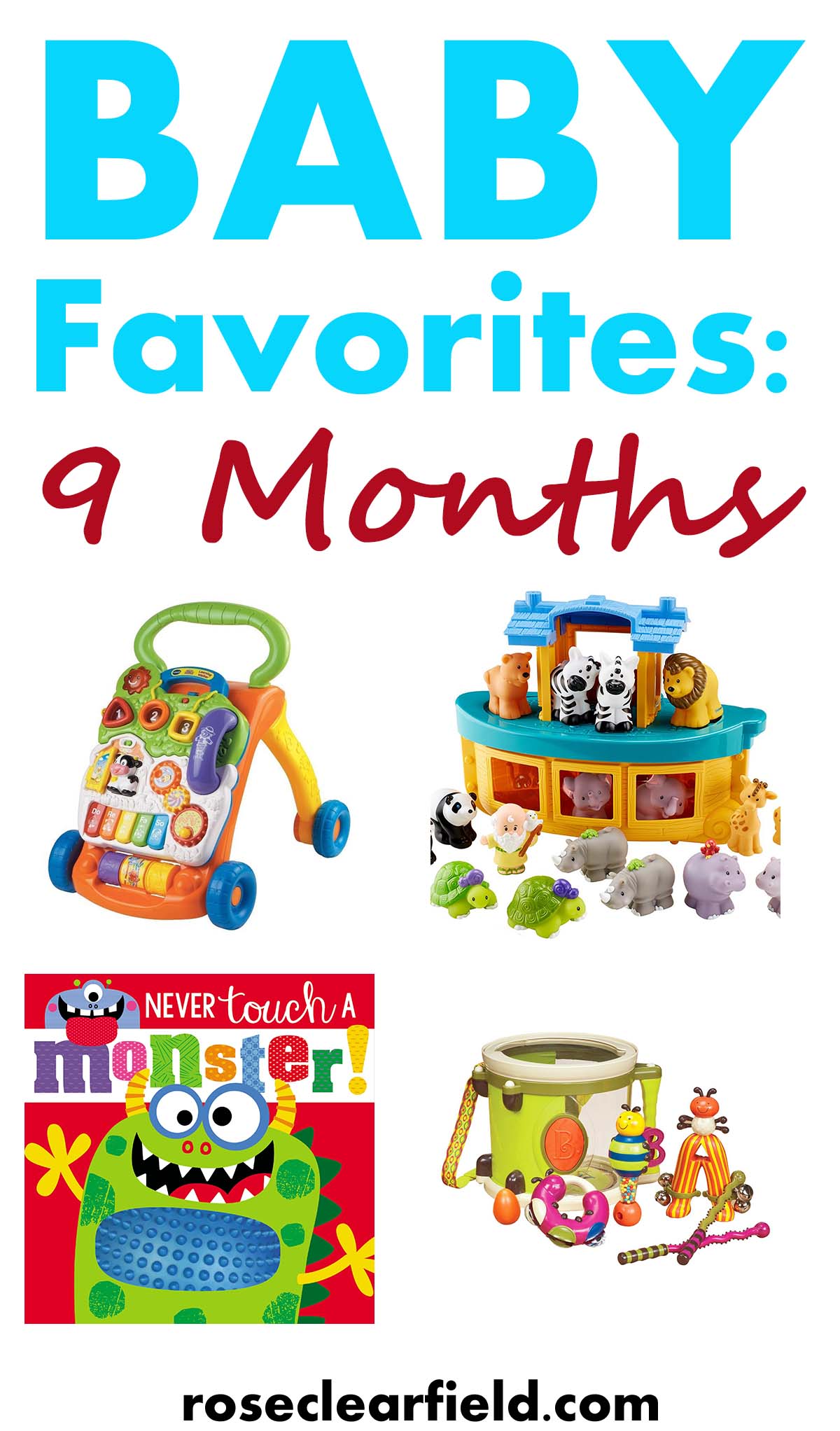 Today I'm sharing a few of the favorite items Tommy has been loving since my baby favorites: 6 months post. Enjoy!
There are quite a few items that (we and) Tommy are still loving that I covered in the six months post, and I'll be talking about again, a little more briefly. We all know that babies just seem to fly through clothes and toys, so anything that you can use for more than a few months is definitely a plus!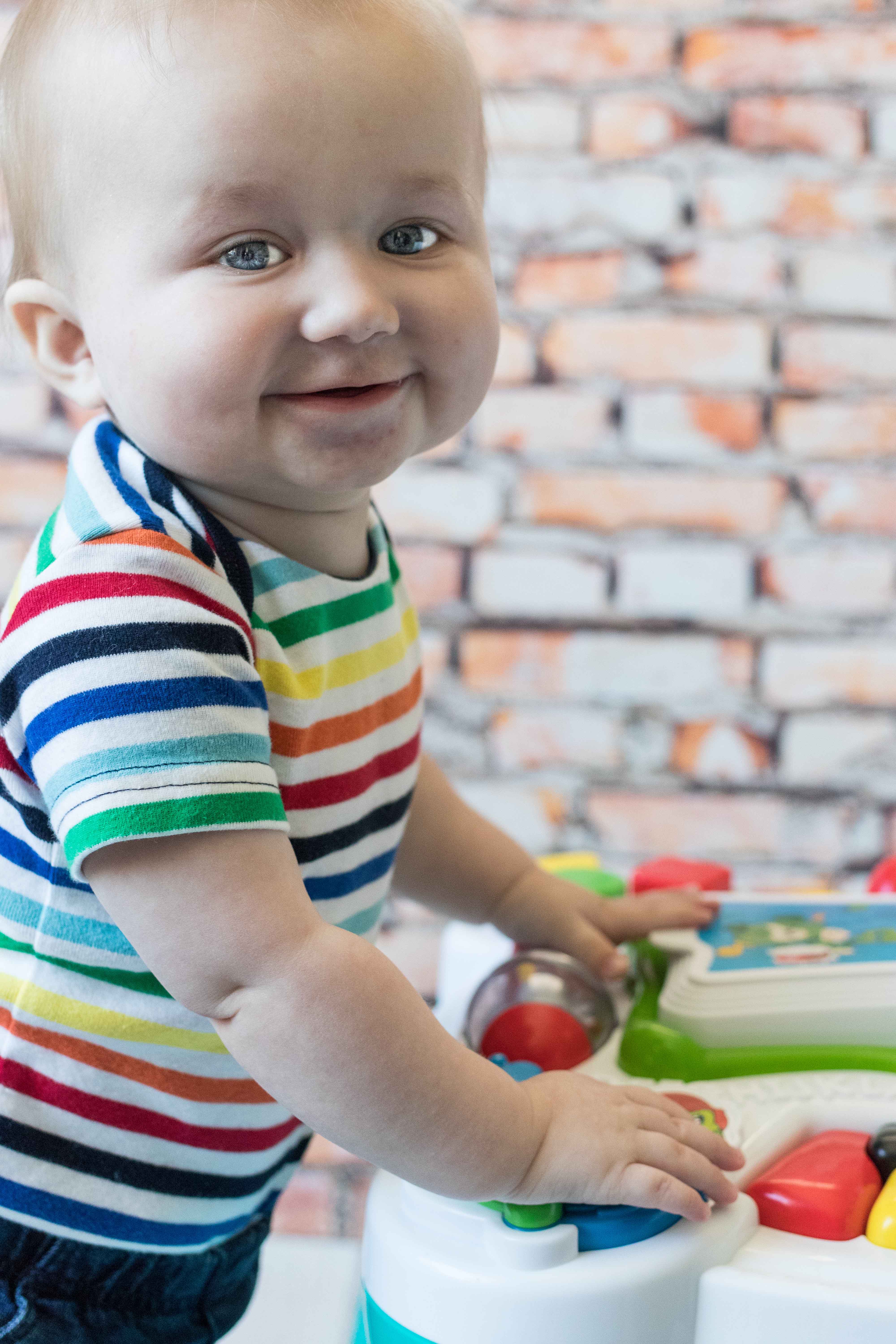 As Tommy builds his standing skills, the LeapFrog Learn and Groove Musical Table has been perfect. He is so motivated to stand, way more motivated than he ever was to do tummy time, where he's needed a ton of distractions to stick with it. But anything that you can do to keep him standing, the better. He's really proud of his standing skills and loves showing off what he can do at the table. You can also take off the table legs and just use the musical piece on the floor.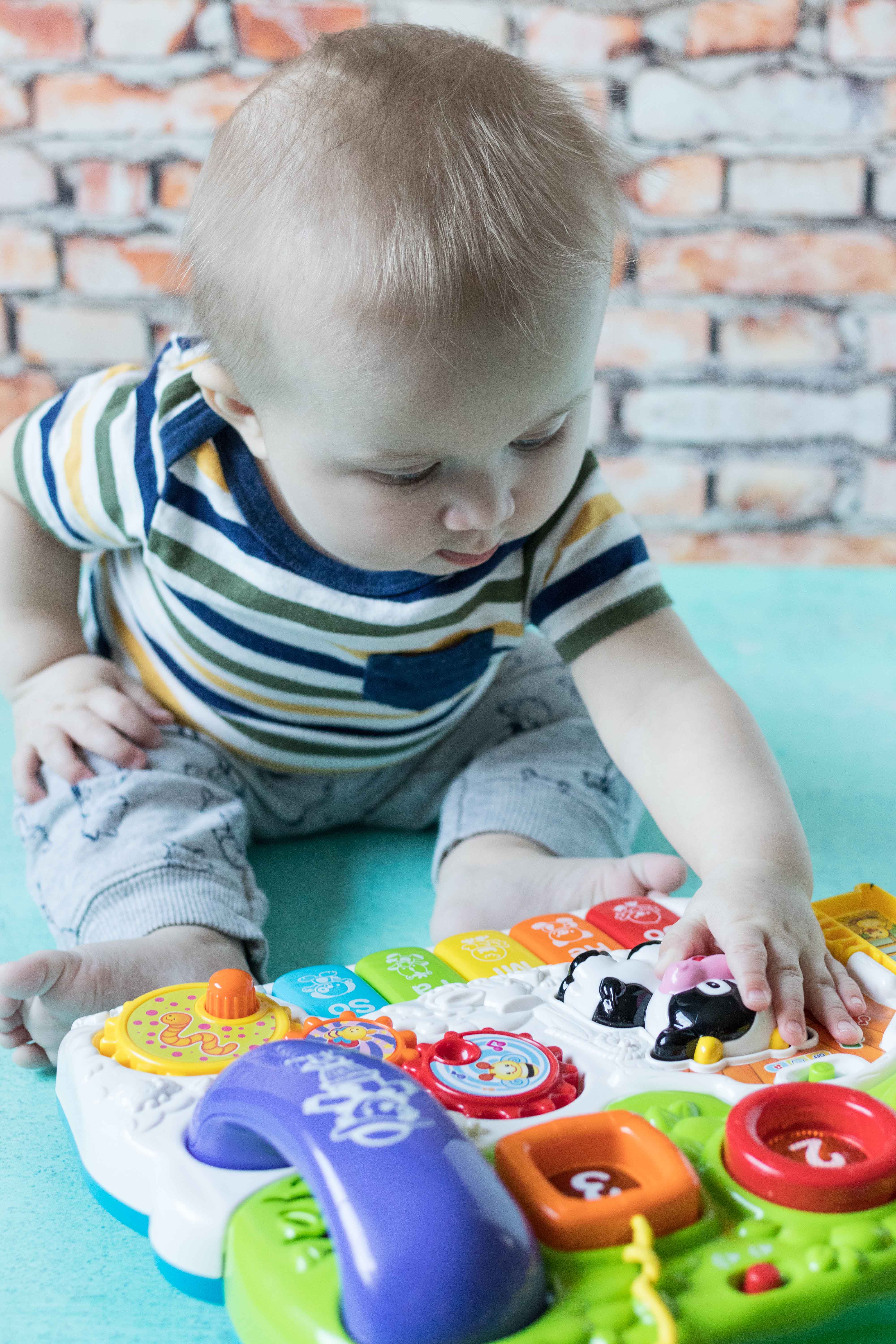 The VTech Sit-to-Stand Learning Walker has also been a huge hit during this transition to standing and walking. Again, the musical component detaches, making it a great on the go toy when Tommy needs something that's sure to keep him busy and noisy toys are okay. He's still a little young to use the walker independently but loves using it with assistance.
Tommy loves any and all percussion instruments. It sort of blows my mind how babies who are months and months away from talking know exactly how to play a whole range of percussion instruments. He's had a classic Fisher-Price rattle and a harder, smaller ratttle (similar to the rattle in this set) for months and still loves both of them. For Easter, I bought him a set of egg shakers, which have been a big hit. This set is so sturdy and really pretty with hand painted details.
More recently, I bought him the B. toys Parum Pum Pum percussion set, as it has the only drum I could find that's really appropriate for an under 18-month-old. It is great for this age. I definitely want to get him a smaller wooden drum when he's a little older as well. The percussion set comes with a tamborine, bells shaker, rattle, egg shaker, and drum sticks, all of which fit right in the drum for convenient storage. We tend to rotate through the percussion instruments, so they stay fresh and engaging.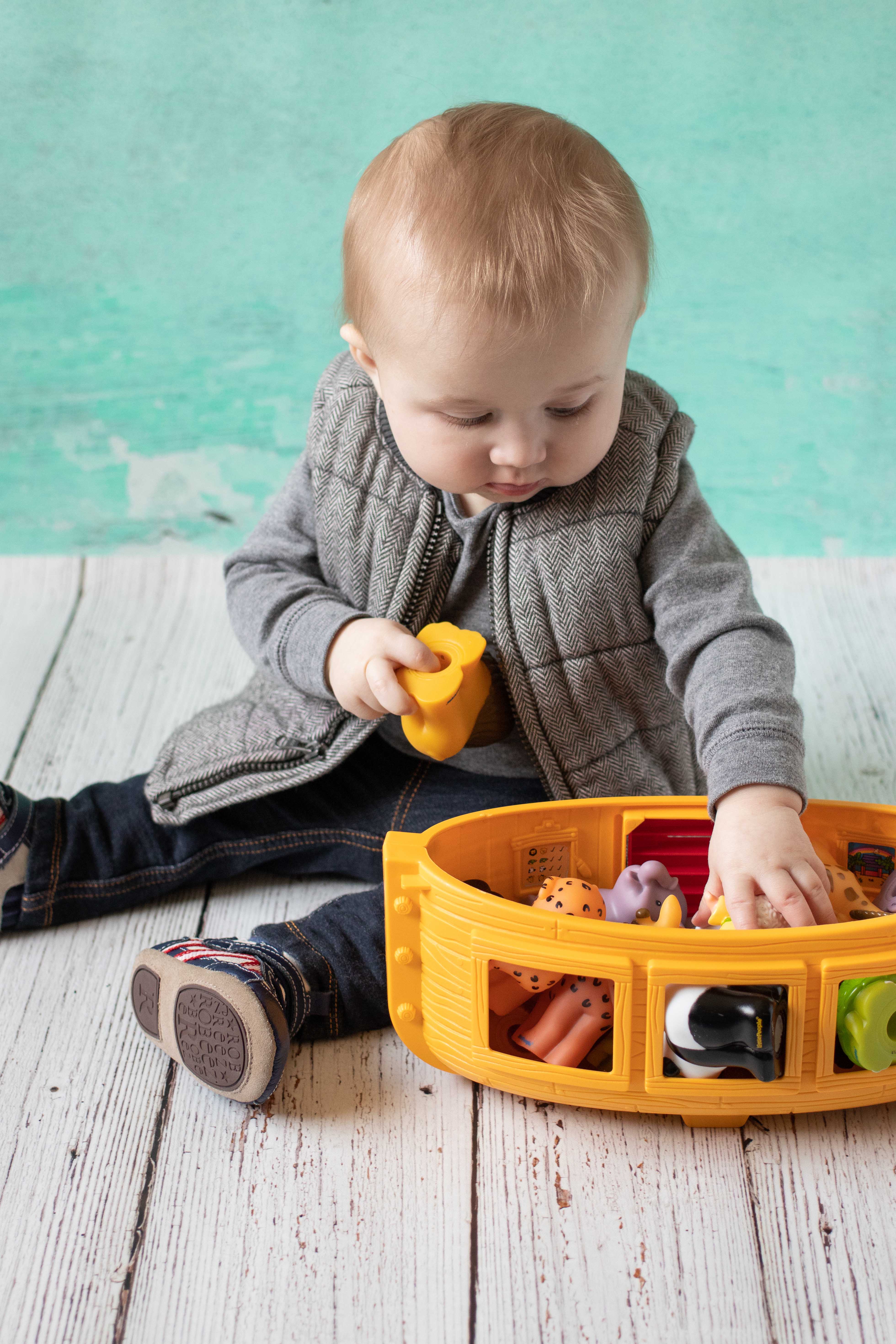 Currently, Tommy's other favorite toys include the Fisher-Price Noah's Ark and Farm Animal Friends. I love toys like the Noah's Ark because Tommy enjoys them so much now and will continue to enjoy them well into preschool age. We bought the farm set, too, because the Noah's Ark animals are zoo animals. So it fills out the animal collection nicely and leads to more discussions about what sounds animals make (because while giraffes are super cool animals, it's hard to talk about the sounds they make).
After Never Touch a Dinosaur went over so well at Christmas, we also picked up Never Touch a Monster for Tommy. They remain some of his favorite board books. We also love the 0-2 Highlights. Honestly, I had no idea Highlights made younger reader magazines until I had a kid and they started sending me info. The 0-2 issues are sturdy and have fun kid themes and nice pictures. It makes such a great gift, too!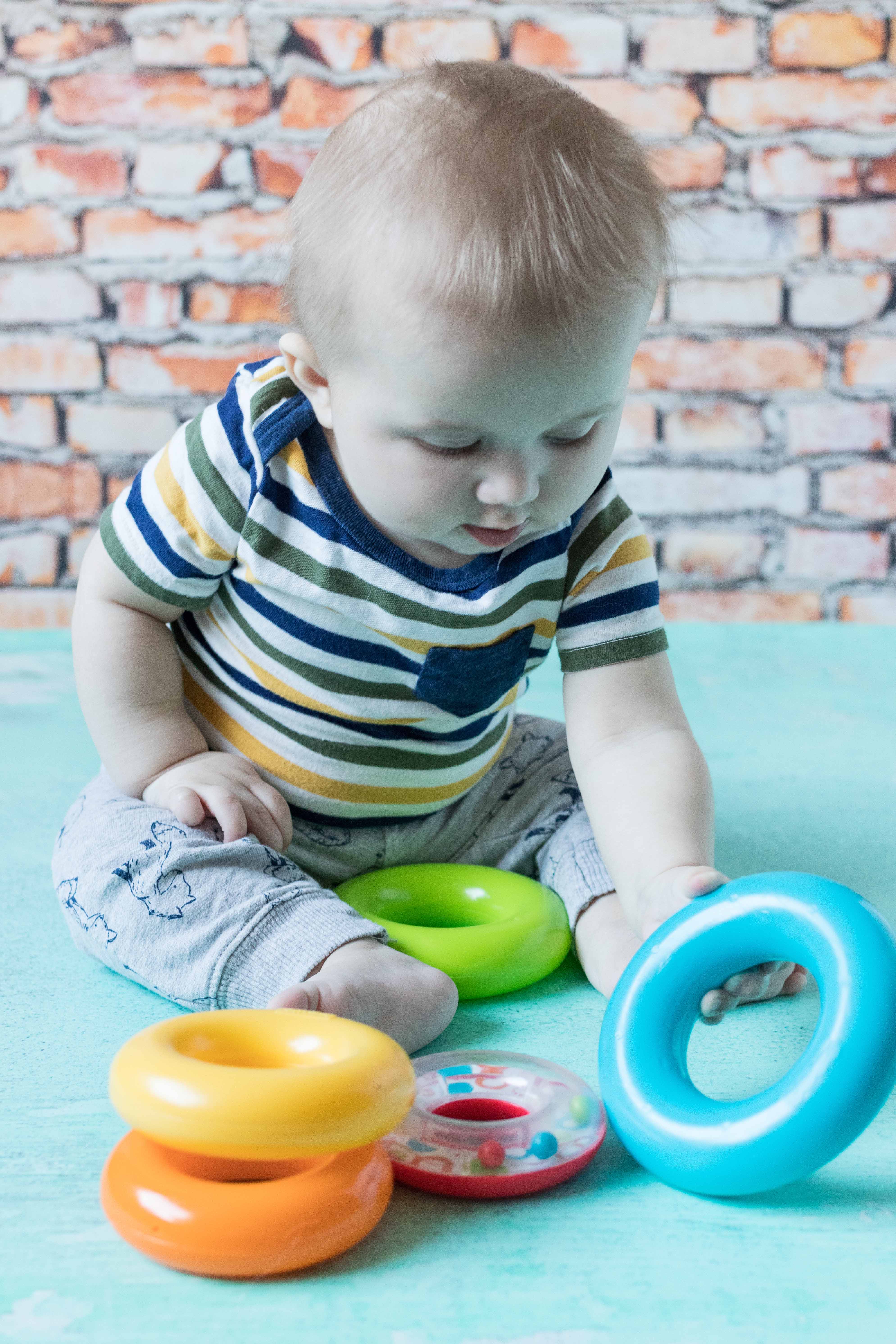 Can we take a minute to give a shout out to the classic stacking rings set? We actually have several, so there's always a set within easy reach at home, and it's become one of my staple on the go toys because it's lightweight, fairly small, and not very noisy. The stacking rings have been in regular rotation since Christmas, and Tommy never gets tired of them. If you prefer wooden toys, there is a great Melissa & Doug stacking set, too.
Also, I couldn't write this baby update without mentioning the WubbaNub giraffe. We don't go anywhere without the WubbaNub giraffe now. Nothing calms Tommy down like having his giraffe. Within the past few months, he's learned how to put it in his own mouth and frequently grabs it when he needs it. We actually have two giraffes, which is great because I can rotate one through the wash every once in a while without there being a crisis. (Yes, they can go through the wash! Another plus.)
In the past couple of months, Tommy has really taken off with eating regular food. We have a Graco Simpleswitch Portable High Chair and Booster for at home and a portable booster seat for on the go (friends' houses, restaurants that don't have high chairs, etc.). He's wearing Bumkins bibs for eating regular food. I love that you can wash them right out in the sink, and they air dry quickly. His favorite puffs flavors are peach and sweet potato. He's also a big fan of the Good Thins crackers (we rotate through a few different flavors regularly), in case I needed another excuse to buy them regularly. Otherwise, I don't have a lot of go-to feeding supplies yet.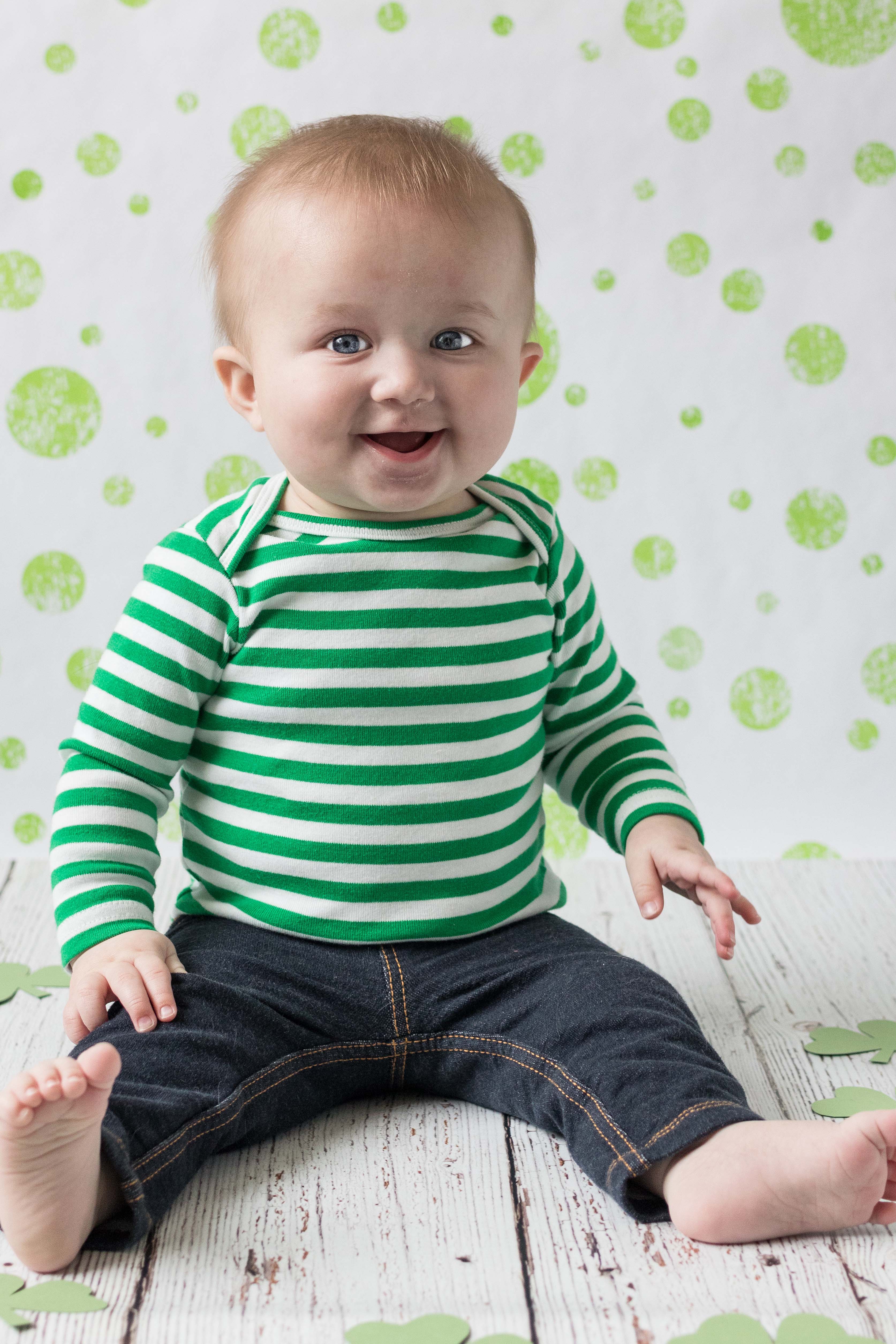 My favorite places to shop for Tommy's clothes remain Primary, Hanna Andersson, Old Navy, and Gap. We've been gifted a handful of Offspring and Zutano clothes, which are also really nice. Hanna pajamas really are as good as people say they are. The fabric holds up so well, and Tommy is getting 6+ months wear out of them, even the smallest sizes.
I continue to be impressed with the accurary of sizing and extended wear of so many Old Navy and Gap pieces, too. I'm not quite sure why I'm so surprised because I wear a lot of Old Navy and Gap items and have never had issues. But baby clothes are different. Both stores also have a surprising number of very affordable items (there are always sales and online coupons) without obnoxious wording and other silly details. I consistently find jeans, khakis, onesies, and button-up shirts in really classic styles. I've also bought several winter and spring jackets from Old Navy and been very happy with them. They are not the cheapest, but you get what you pay for. You can easily put multiple kids through them.
My brother and his wife bought Tommy some muslin Aden + Anais pajamas for Christmas, and they have been amazing. You never see baby clothes in this type of material. Tommy runs warm and does not need super fuzzy pajamas, even in winter. The muslin pajamas have been perfect, and Tommy will get a solid six months of wear out of them.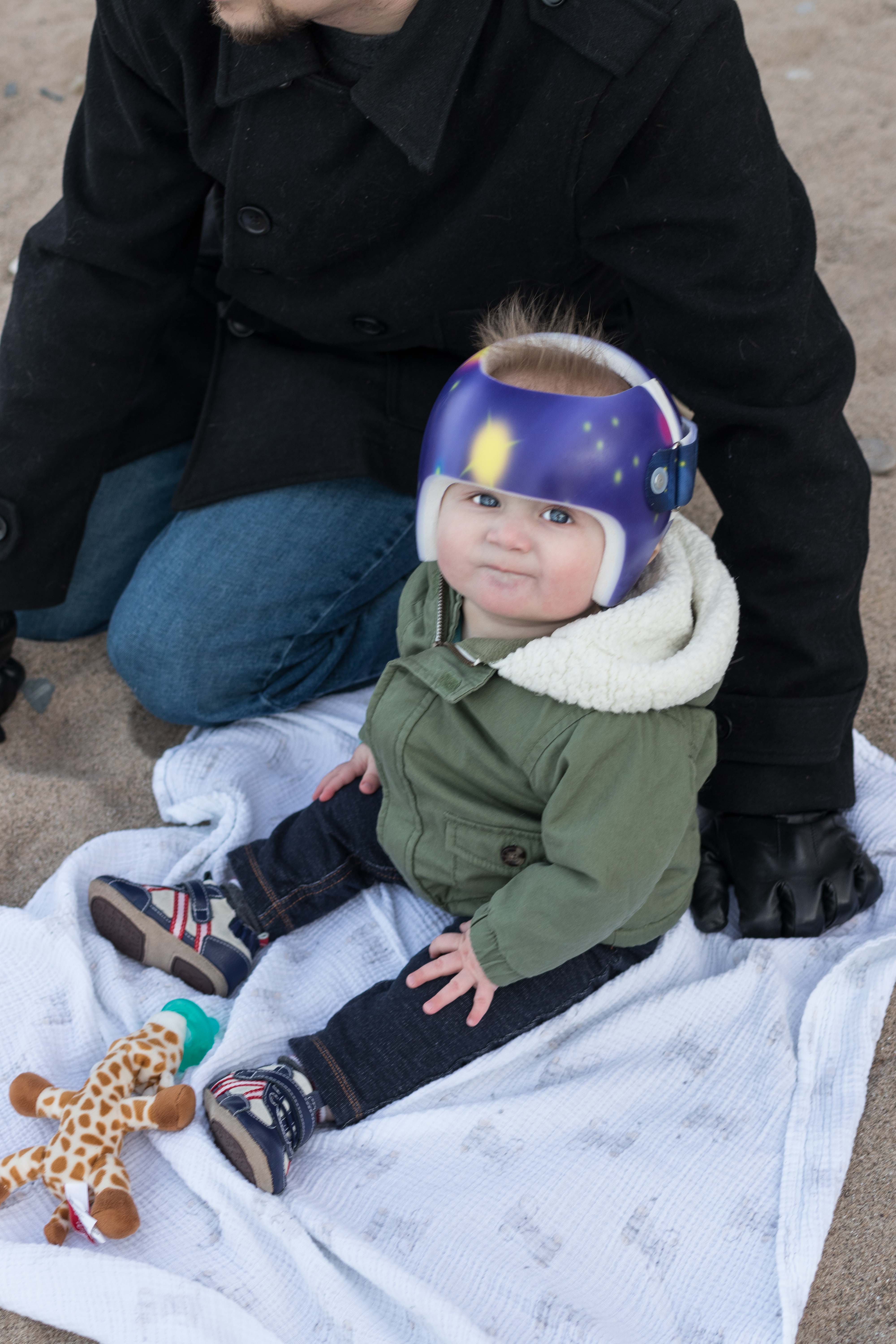 Tommy's first shoes have been Robeez, which are great. His feet are a little small for his age, so he's still in size 3, just starting to be able to wear size 4, too. They are not cheap but so nice and perfect if you have a little guy like me who doesn't love wearing shoes and socks. If you have friends or family who like to shop for baby clothes (and seriously, who doesn't?), ask for some Robeez. Tommy will be rocking both Robeez shoes and sandals through the fall.
My only new go-to mom item from the past few months has been the YETI tumbler with the straw lid. The straw lid is a must for me. Personally, I find that the 20 oz. size is plenty big enough, even for long days of visiting Chicago, running errands, going to the zoo, etc. I still love my Hydro Flask, too, and will have both bottles in full rotation this summer.
[Disclaimer: I was not sponsored to talk about any of the products in this post. All of the items that I discuss are items we bought ourselves or received as gifts. There are a few affiliate links in this post. Thanks for your support!]
Mamas, what items do you own and love for yourself or your little one?
Feel free to link products in the comments!
More baby favorites: