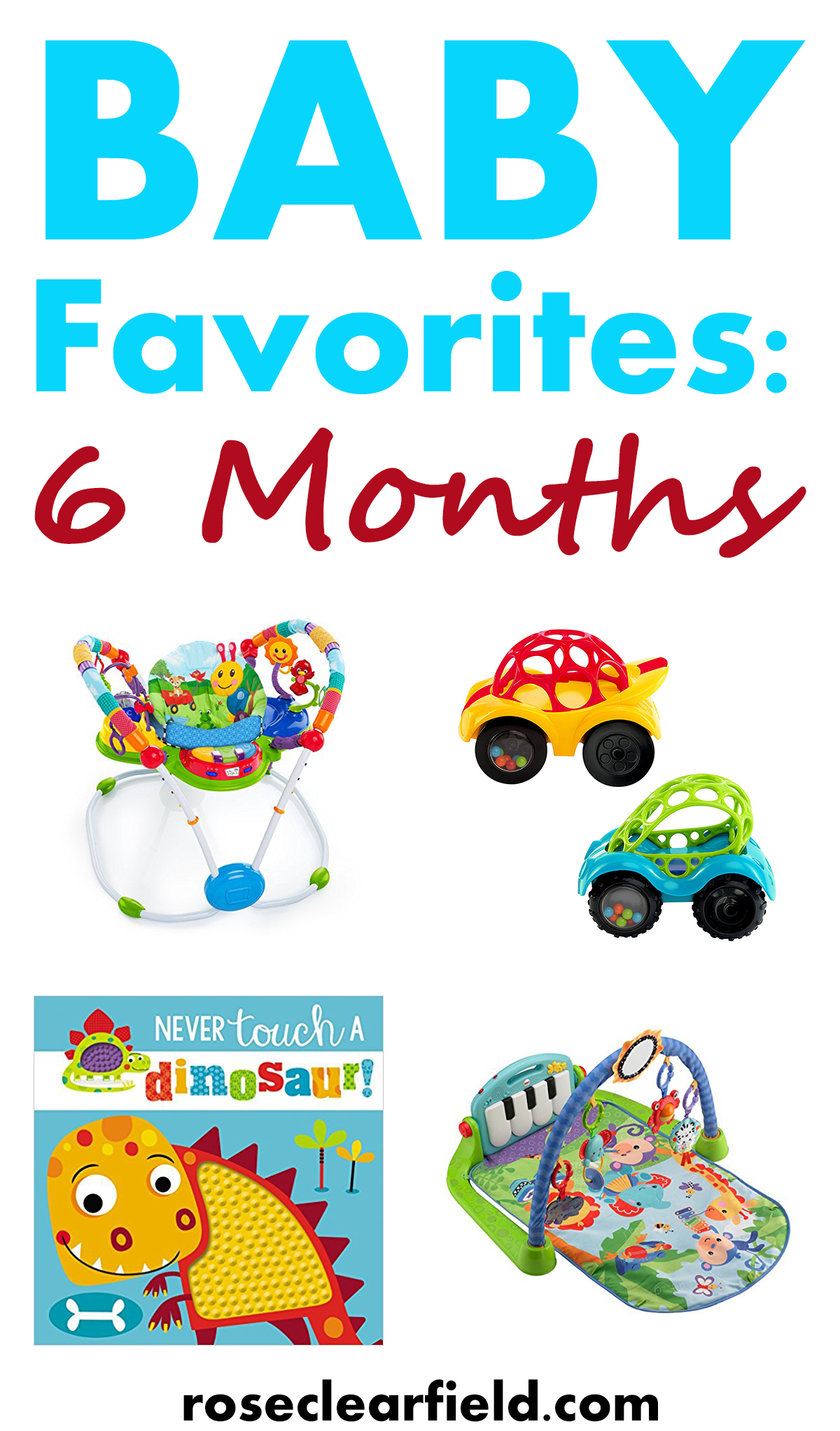 Today I'm sharing a few of the favorite items Tommy has been loving since my baby favorites 2.5 months post. Enjoy!
Rattles. Rattles are Tommy's favorite toy right now, hands down. He has a classic Fisher-Price rattle, which he likes, and a harder, smaller rattle (similar to the rattles in this set) that he got as a gift, which is his preferred choice. The size and shape are just right for him. We also have several O Ball and Skip Hop rattles, which have an awesome grip for babies. Tommy received the frog and bug (similar) as gifts, and I bought him the car and helicopter (currently unavailable online) for Christmas.
Fisher-Price Laugh & Learn Storybook Rhymes. Some friends brought over one of the Fisher-Price music books for their toddler back in the fall. Tommy loved it. I hadn't seen him show that level of interest in a toy or book before. So we put this one on his list for Christmas and have been enjoying it with him this past month. It's one of those books I can see him enjoying well past eighteen months or even two years.
Tommy loves regular books, too. Right now we mostly read board books and sensory books with him. He already has quite an extensive library for many years of reading in the future. Our most recent favorites include Dr. Seuss board books and the Indestructible baby books. Tommy got the Indestructible I Love You, Baby book for Christmas. His holiday haul also included Never Touch a Dinosaur!, which is such a cute sensory book, and the Moomin's Little Books of Numbers and Words, which are just perfect for Tommy at this age.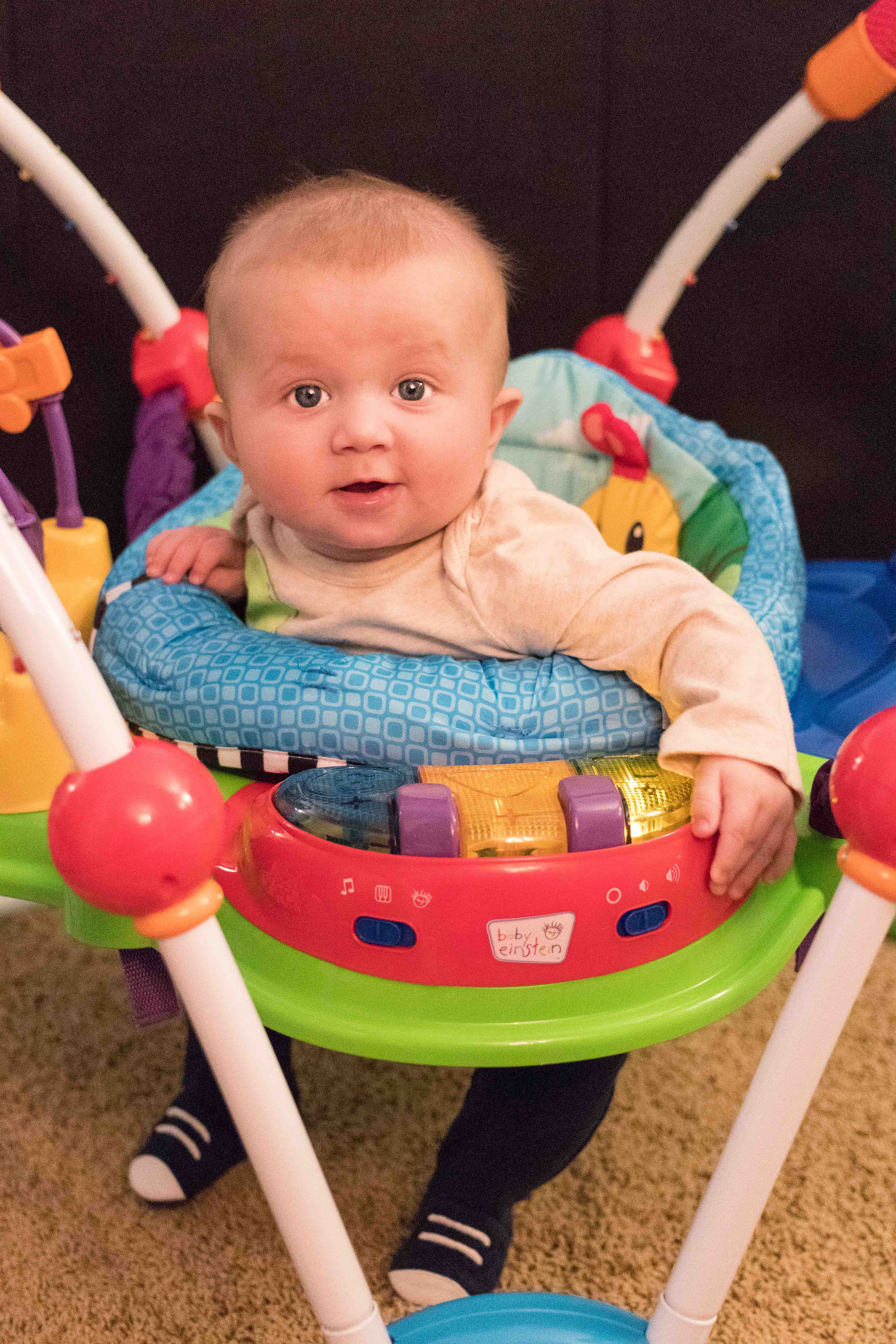 Baby Einstein activity jumper. Some good friends very generously bought this for Tommy for Christmas. They sent it in early December, so it's been in regular rotation for over a month now. It's crazy how fast the Baby Einstein went from being completely overwhelming to a total favorite. He can already bounce on the lowest height setting and engages with all of the toys. I think Tommy is only going to have more fun with it as he gets a little bigger.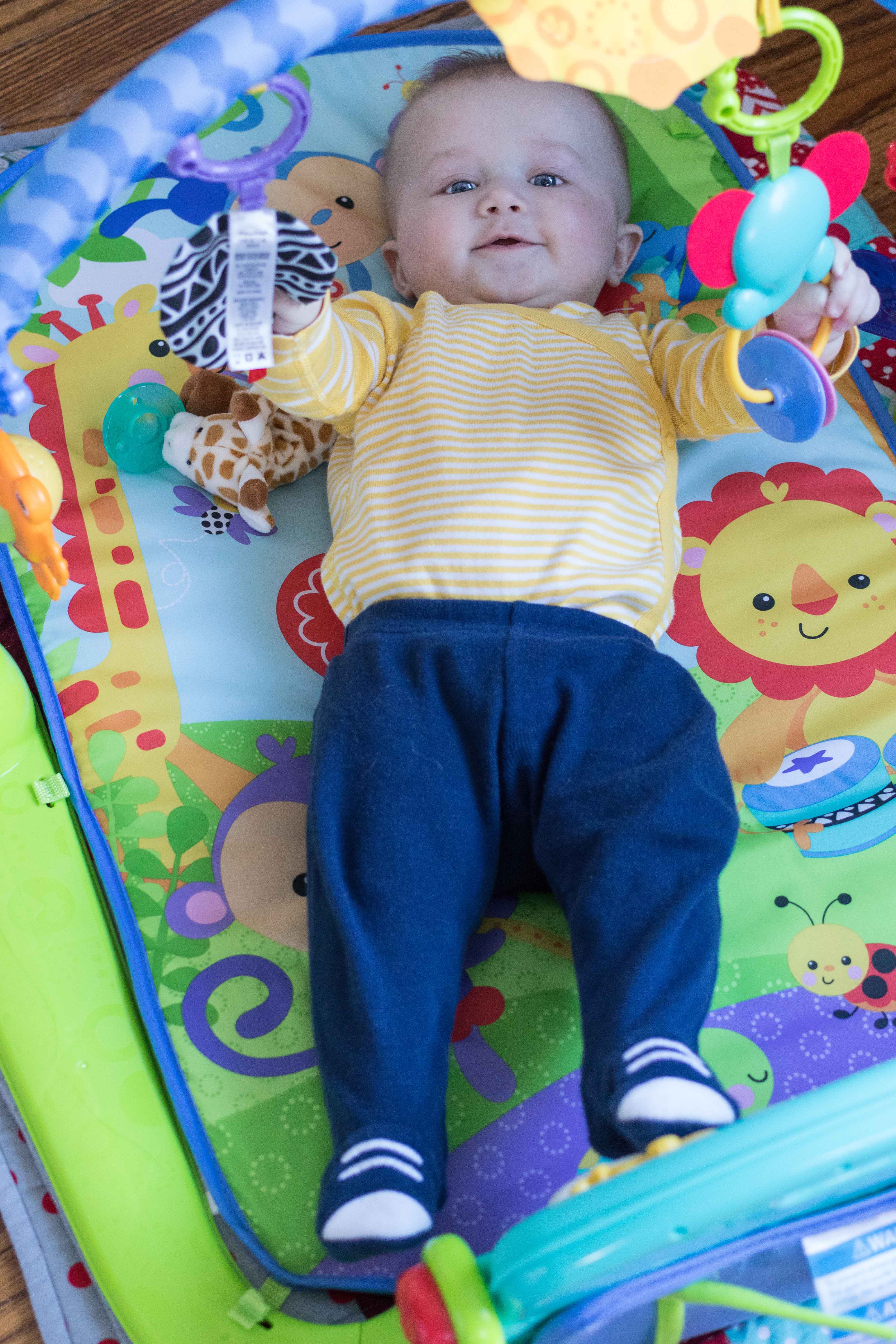 Fisher-Price kick 'n play piano gym. The kick 'n play is something I never would have thought to request as a gift for Tommy if we didn't have tons of friends with kids already. But lots of people love it, so I put it on his list this year, and it's been such a hit already. It's a great item to put in rotation with the activity gym (which he still loves) and Baby Einstein jumper, and he loves the added feet element. It's really lightweight and easy to move, making it a great toy to throw in the car for a day at a friend or family member's house. We brought it with us to a friends' place on New Years Day, and it was perfect.
At almost six months, Tommy still loves his bouncy chairs (Jake's co-workers gifted us a chair very similar to this one, and I would recommend it to anyone) and Leachco podster. He can bounce right out of these seats now, so he's always strapped into the bouncy chairs and has close supervision in the podster. If anything, Tommy loves his bouncy chairs more and more as he's gotten older and can bounce independently. So we'll keep using them as long as he has an interest.
Colorful plastic rings. Similar to the O Ball and Skip Hop rattles, the colorful plastic rings sold for babies are just perfect for them to grip at a very early age. You can attach plastic rings to any type of activity gym, kick 'n play, jumper, pack n' play, or car seat. Tommy often pulls them off the toy I'll attach them to in his activity gym or pack 'n play and then play with the rings on their own.
Somehow in my 2.5 months baby favorites post, I didn't talk about the Boone grass dryers. They have been a lifesaver from day 1 with Tommy, as I wash bottles 1-2 times daily. The grass dryers work so well, keeping the bottles safe and organized and separated from our other hand dry kitchen items. I have two grass dryers (there is also a larger lawn size), so I can move one upstairs for late night and first thing in the morning feedings. I even got the travel one for a short flying trip this fall, which was worth every penny. I can't even imagine what a mess the bottles would have been in the hotel otherwise.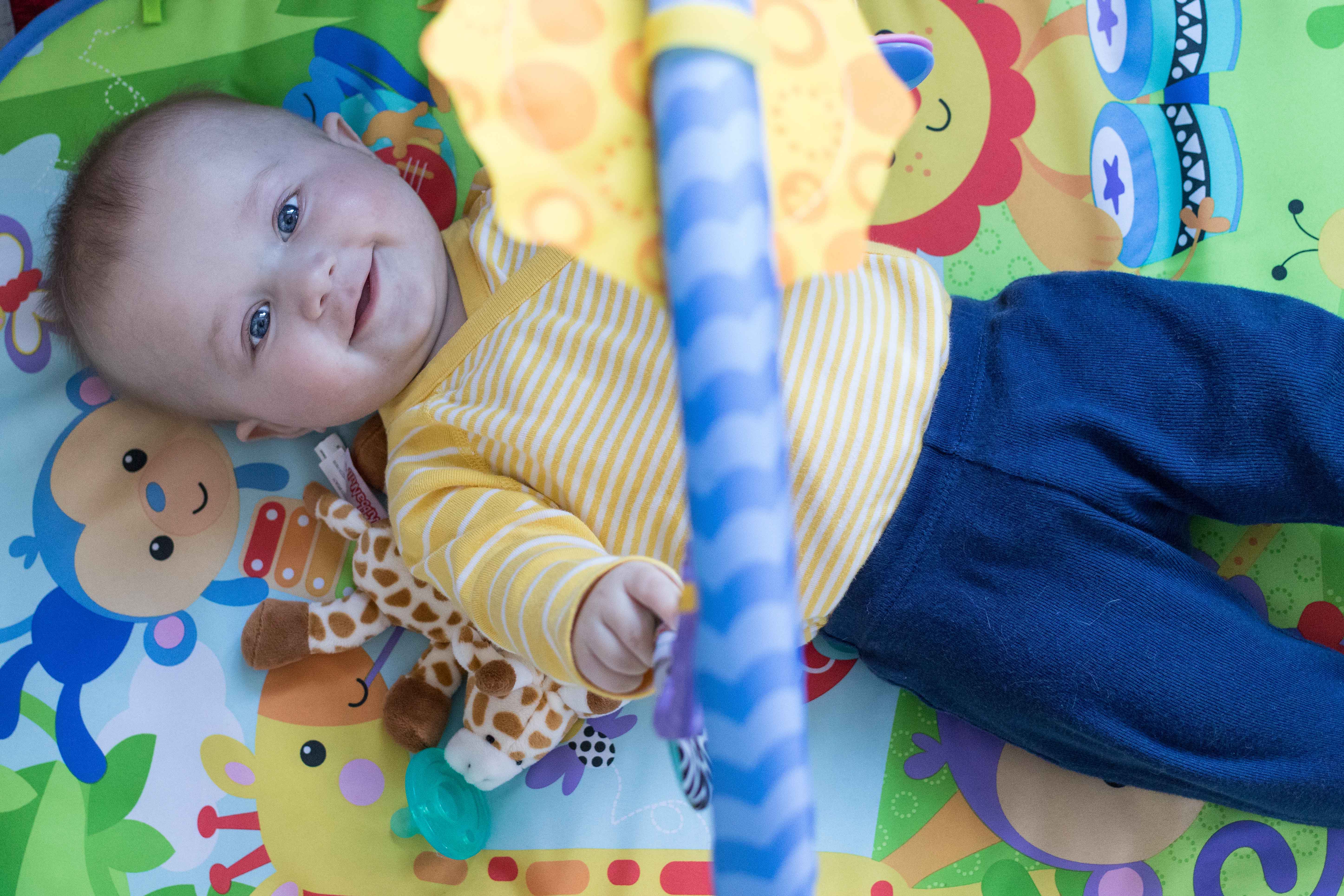 My favorite places to shop for Tommy's clothes are Primary and Hanna Andersson. A ton of people, like Jessica from How Sweet Eats, have raved about Hanna pajamas, and they're absolutely right. I love the wrap style of their baby onesies as well (pictured above). The baby shop in town carries the Offspring brand, so a few people have gifted us their clothes, which are really nice. My brother's wife has picked out a few Zutano pieces, which have some of the best baby prints ever. She and my brother also bought Tommy some fabulous Aden + Anais (muslin!) pajamas, which Tommy will be able to fit into later this winter and into the spring.
I talked about some of my favorite essentials as a mom in my 2.5 months favorites post. Not much has changed since then. I'm still loving my new pajamas, Hydro Flask water bottle, and gel UV nail light for home manicures and pedicures. Also, I overhauled almost my entire makeup collection after Tommy was born, replacing or updating basically everything I'd been using for the past six years or longer. I want to write a more in-depth post about the overhaul at some point. The biggest product that has been a game changer for me is the (now discontinued, of course) Urban Decay Naked Smoky palette. It's similar to this Mac smoky palette. It's so versatile, offering endless fabulous combinations. I've never had anything like it before.
[Disclaimer: There are a few affiliate links in this post. All of the products I've linked are products I own and love. Using these links to shop is a simple way to support my blog. Thank you!]
Mamas, what items do you own and love for yourself or your little one?
Feel free to link products in the comments!
More baby/toddler favorites: